It was back to the basics once again for this once-premier regional event, which is still chugging along in its thirteenth year. What better way to celebrate the weekend of Earth Day than eating some of its tastier creatures cooked over a charcoal fire?
For the second time, though, there was no KCBS competition element. However, there was a competition wrapping up just as we arrived regarding which of the four competitors selling pulled pork had the best, along with a local craft beer pairing. Actually it sounded like a pretty good deal for $10 and it's a pity I missed it.
There was still a pretty good food court, though, dubbed "Pig Out Alley" with some out-of-towners hawking their barbecued wares.
The guys from Smoke Shack BBQ were hard at work keeping up with demand.
There seems to be a psychological effect where the place with the longest line is thought to have the best ribs. As it turned out, Kim stayed in the Smoke Shack line for about a half-hour while I walked across the way to get mine from the former Salisbury denizen Famous Dave's, strolling right up to the counter and ordering. Maybe that's why their location here only lasted a couple years.
So this is what I got.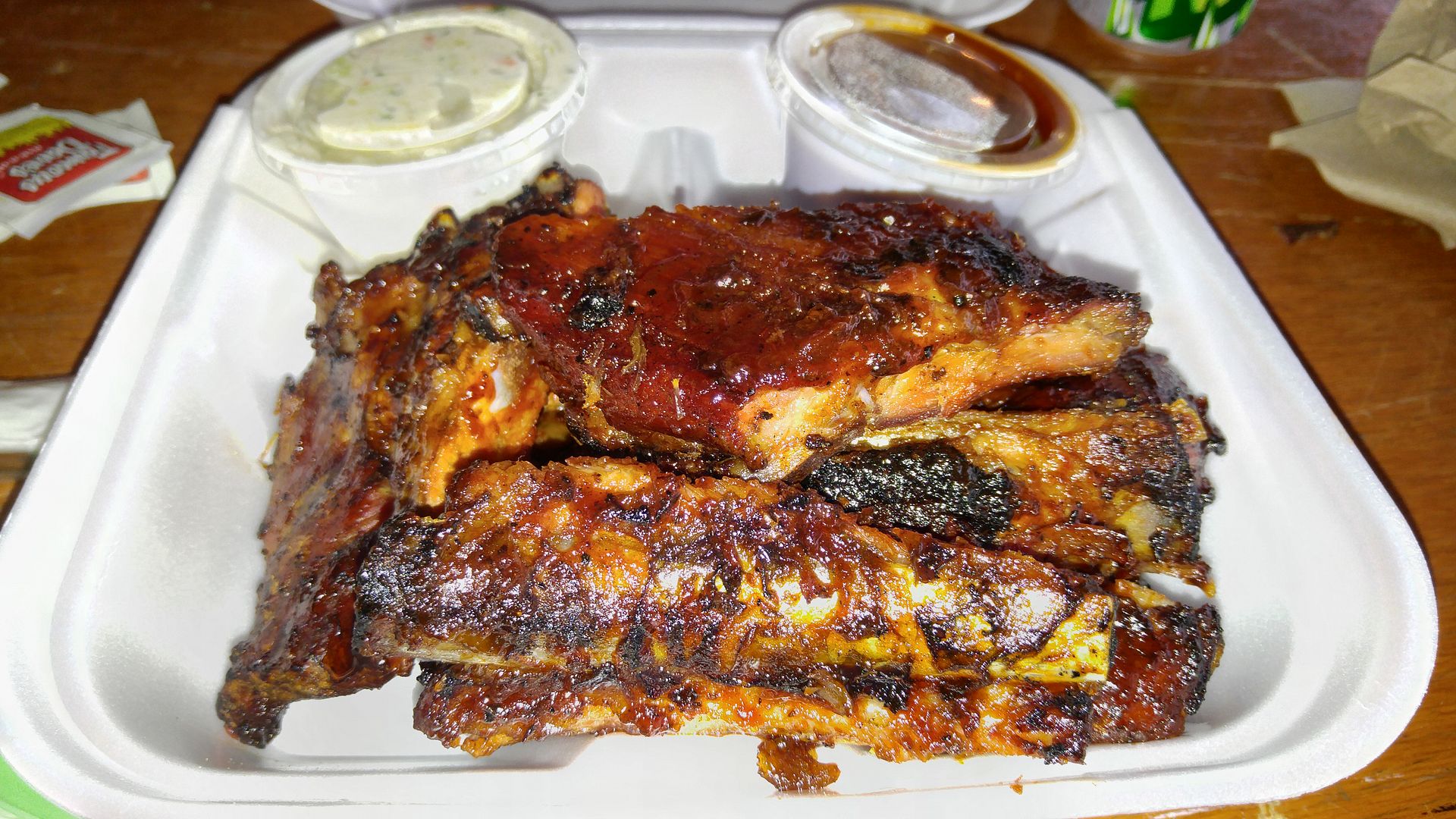 Funny thing: both Kim and I agreed that the Famous Dave's ribs were better. Smoke Shack was somewhat pricier as well, but that comes with the territory I suppose. We could have gotten Hess's ribs as well, for they didn't have a long line either. But as I recall we had theirs last year, when Pork in the Park nearly failed.
Nicer weather helped with the attendance, which seemed to be improved from 2015. It wasn't to the level of past years but perhaps they can rebuild the festival.
One holdover from 2015 was the kids court, with the row of bouncy houses.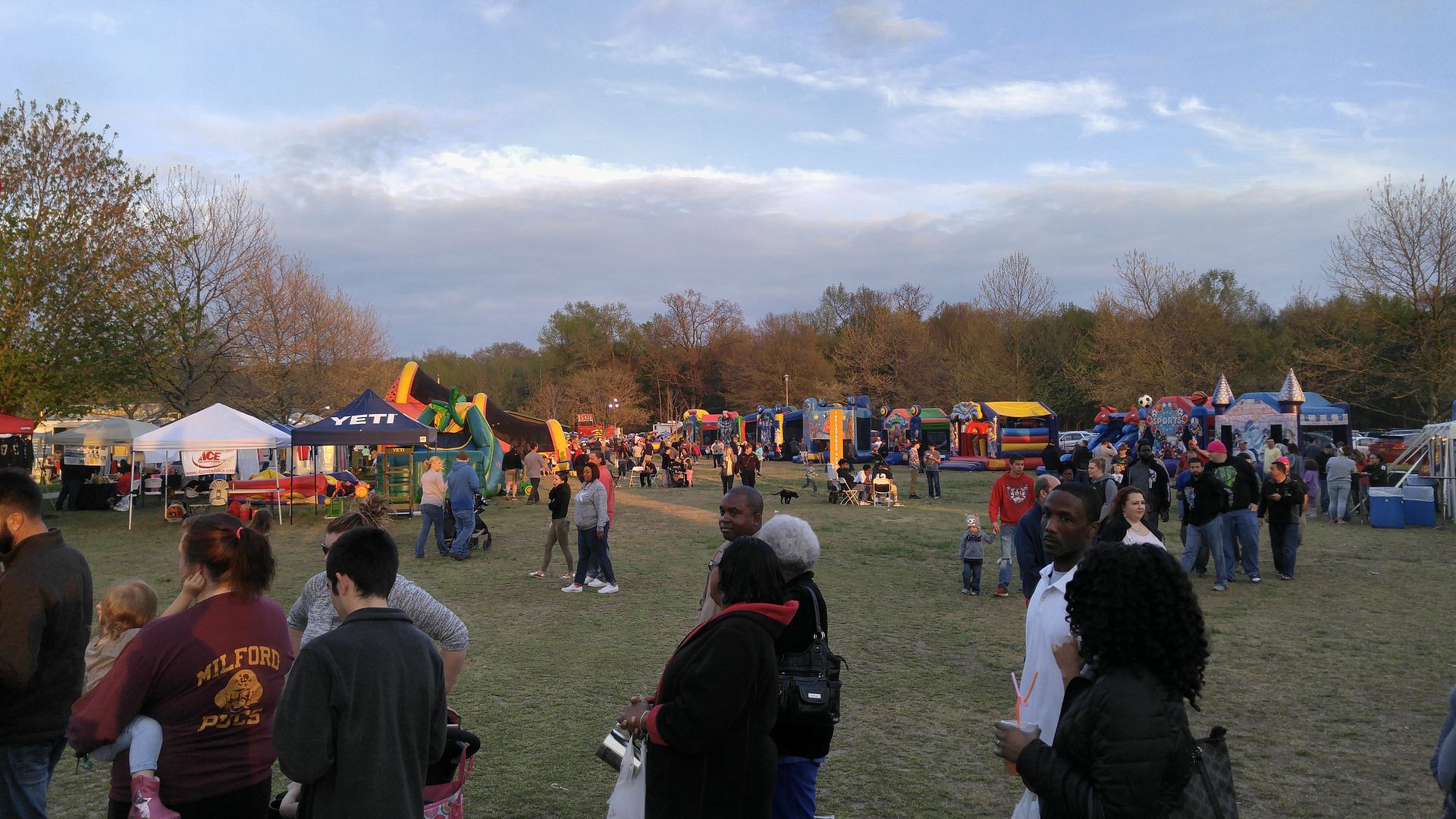 It was actually a pretty good arrangement, as they separated the kids zone from the beer tent and other adult areas. It wasn't like you couldn't hear the band, which was wrapping up as we got there.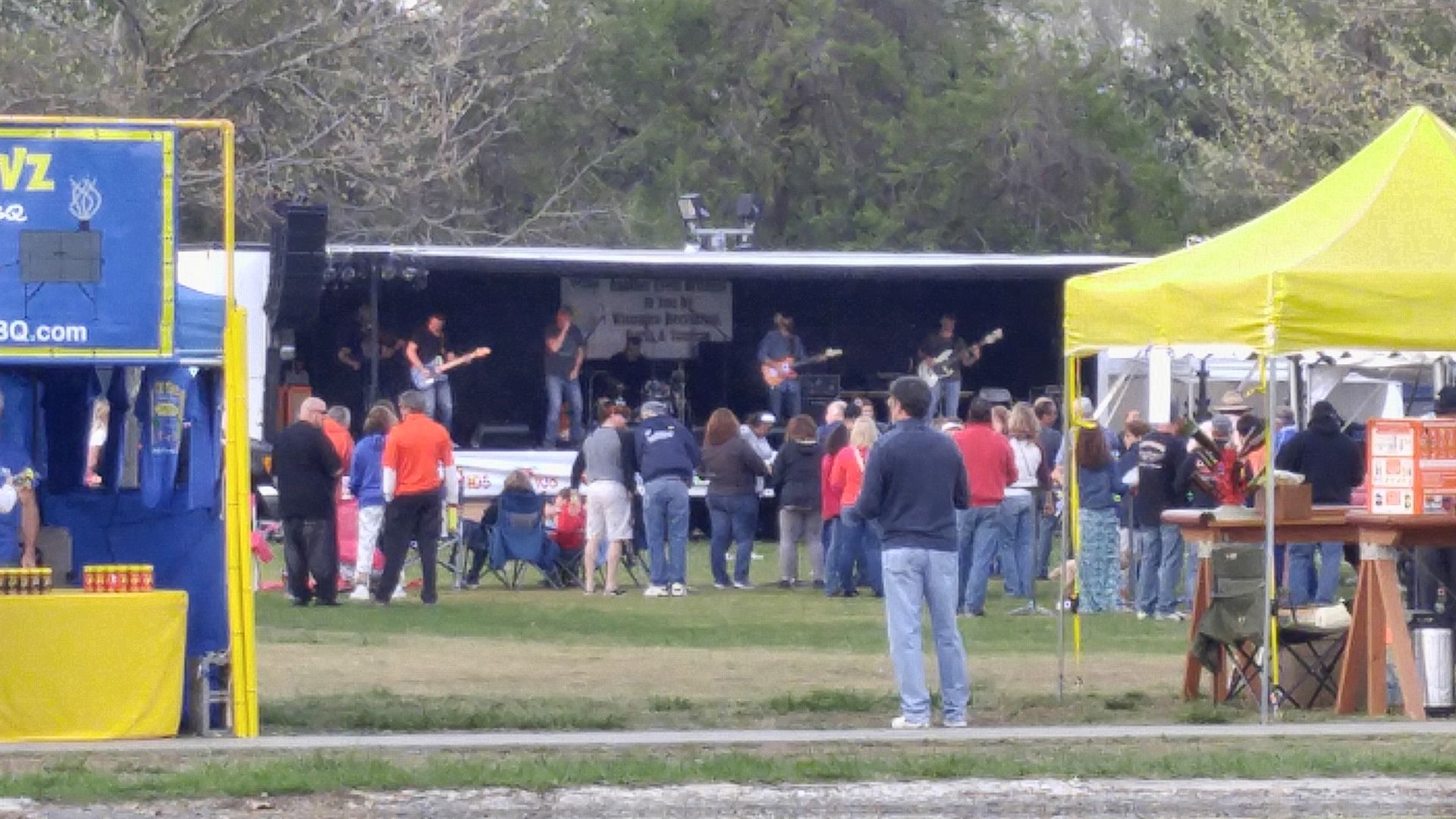 According to the entertainment page of the PitP website the band was Delta Spur, a country cover band. Since I'm not into country, they didn't do a lot for me until they ended the show with some Lynard Skynard (that one I recognized.) But it looks like quite a few were into them.
One thing new they were trying was Balloonville, where you could check out these balloons and perhaps take a (tethered) ride in one, for a price.
I would have to say that this year's rendition is improved over last year's, but whether it can turn the corner without the competition element remains to be seen. It's worth noting that most of the banners various rib vendors use to commemorate their victories are several years old – seems that the number of these competitions have waned as tastes move away from everything barbecued and onto other culinary options. Perhaps someone somewhere has a banner that brags about winning Pork in the Park, but that's not happening this year.
But if you don't mind paying a little extra for some good ribs, this isn't a bad place to bring the family if you're around Salisbury. They have the kids' area so the little ones can blow off steam and it's only $3 to get in for the adults. It's a beautiful day on Delmarva as well – aside from some rain yesterday afternoon, they lucked out with the weather. You have until 5:00 today.
So come on out and see if we can make it bigger and better for 2017.