Every year I go to the WCRC Crab Feast I take this shot because I like it.
The same seems to be true about the Wicomico County Republican Club Crab Feast, as people come back year after year because they enjoy the event. Whether it's the crabs…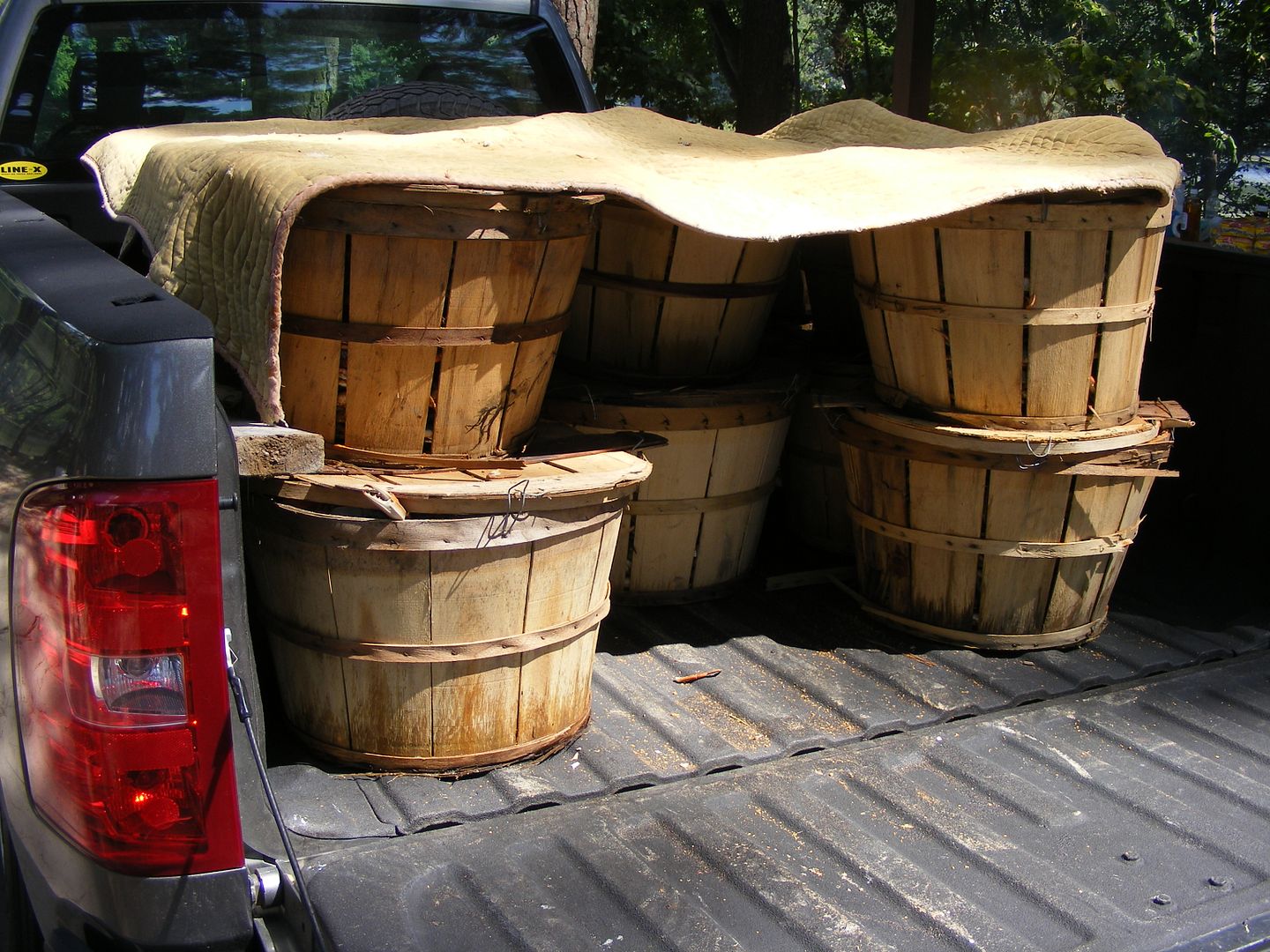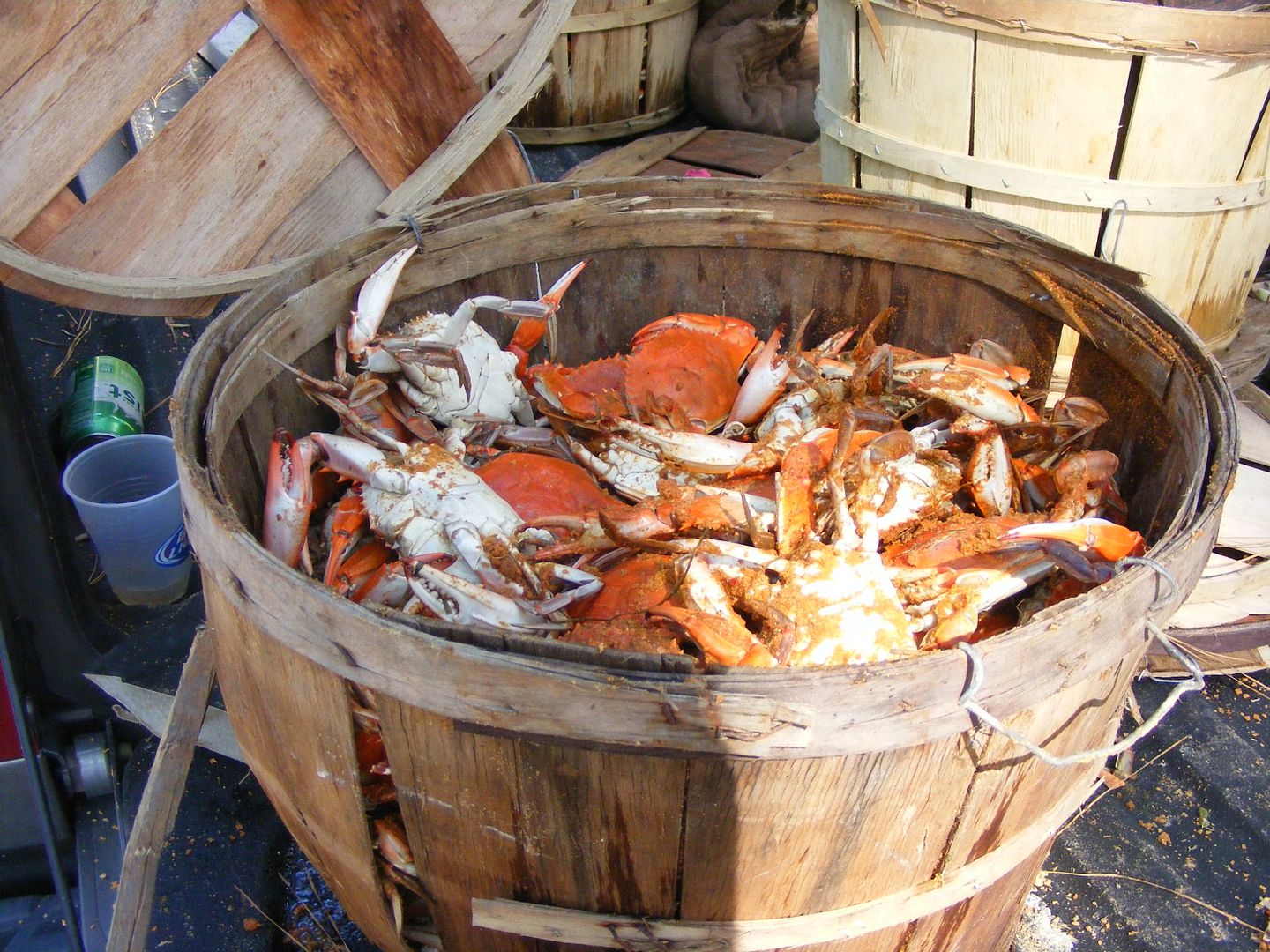 …the company…
…or the chance to talk one on one with many of their elected officials, they line up to get their crabs when the event opens.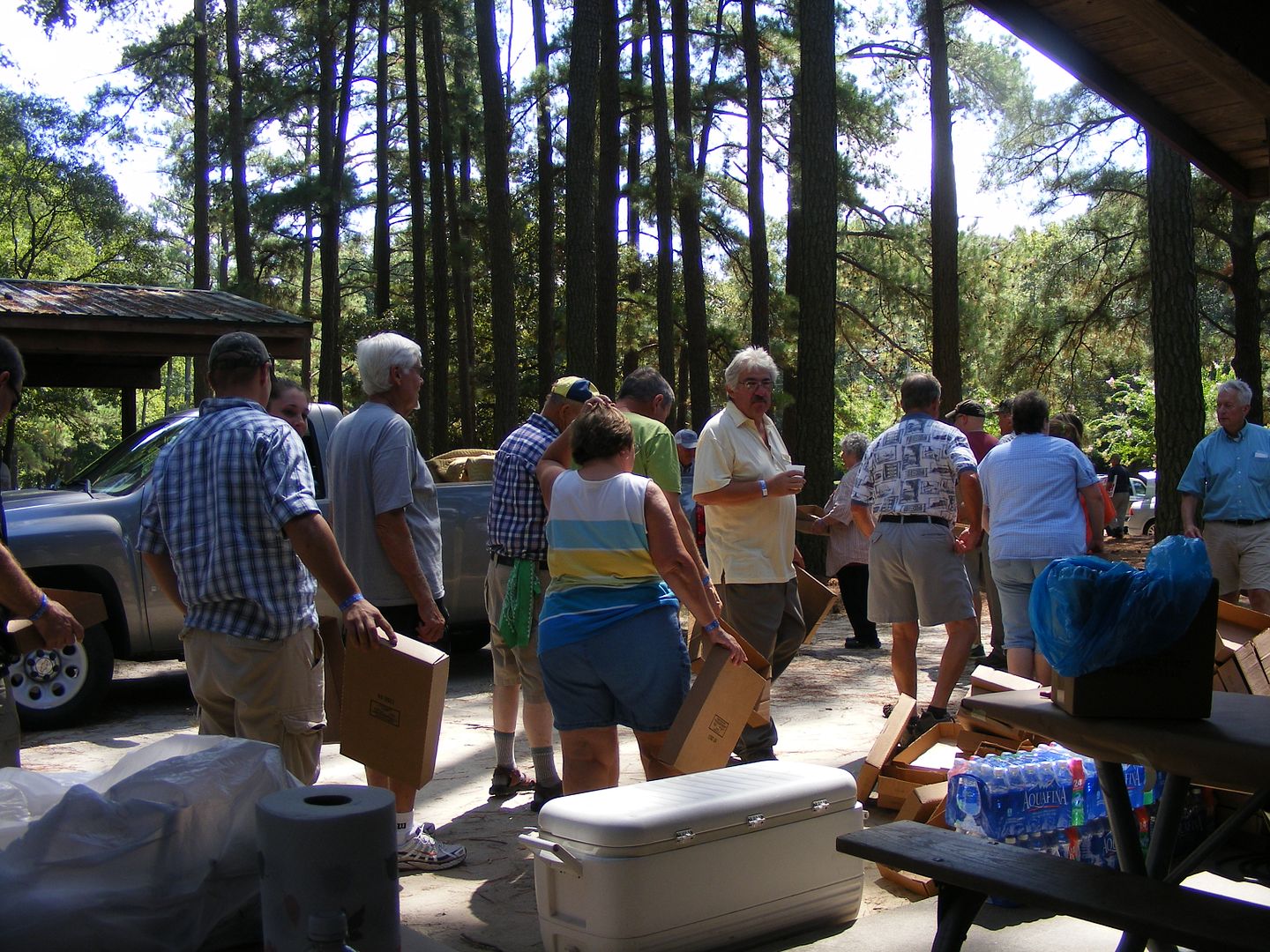 For those who didn't care for crabs, Muir Boda was cooking up some mean burgers and hotdogs.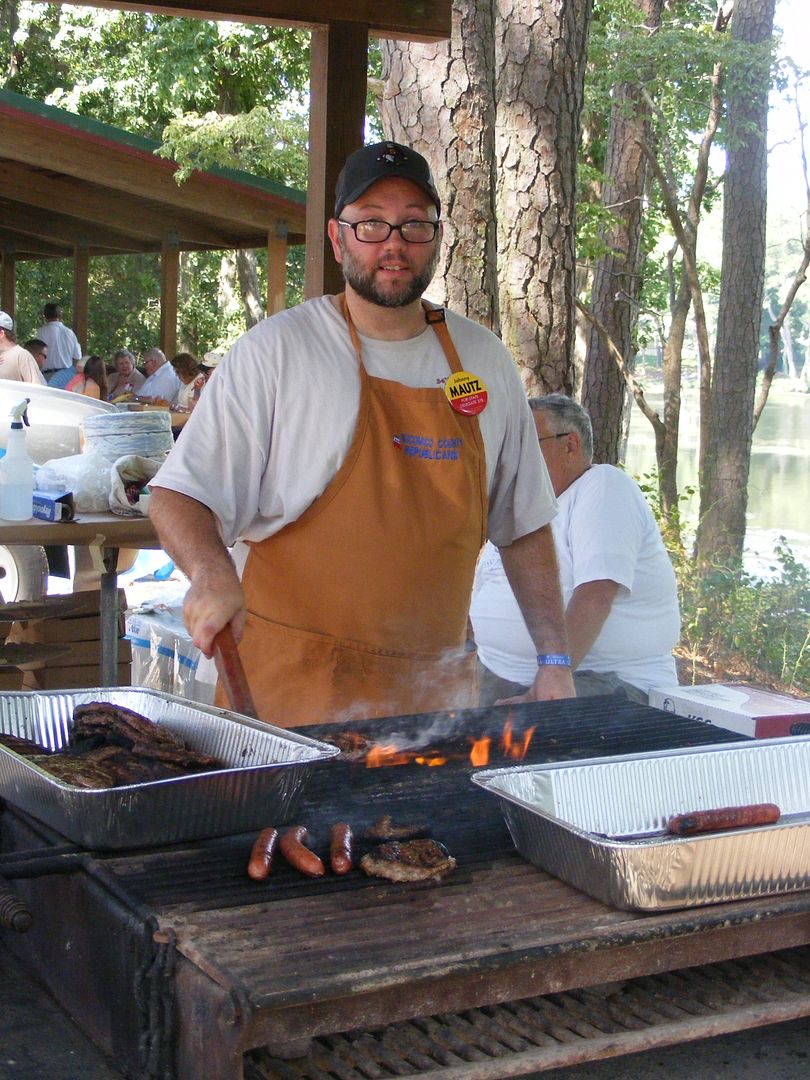 And it's not like people don't know where it is located. This was after David Warren put out a batch of Andy Harris signs.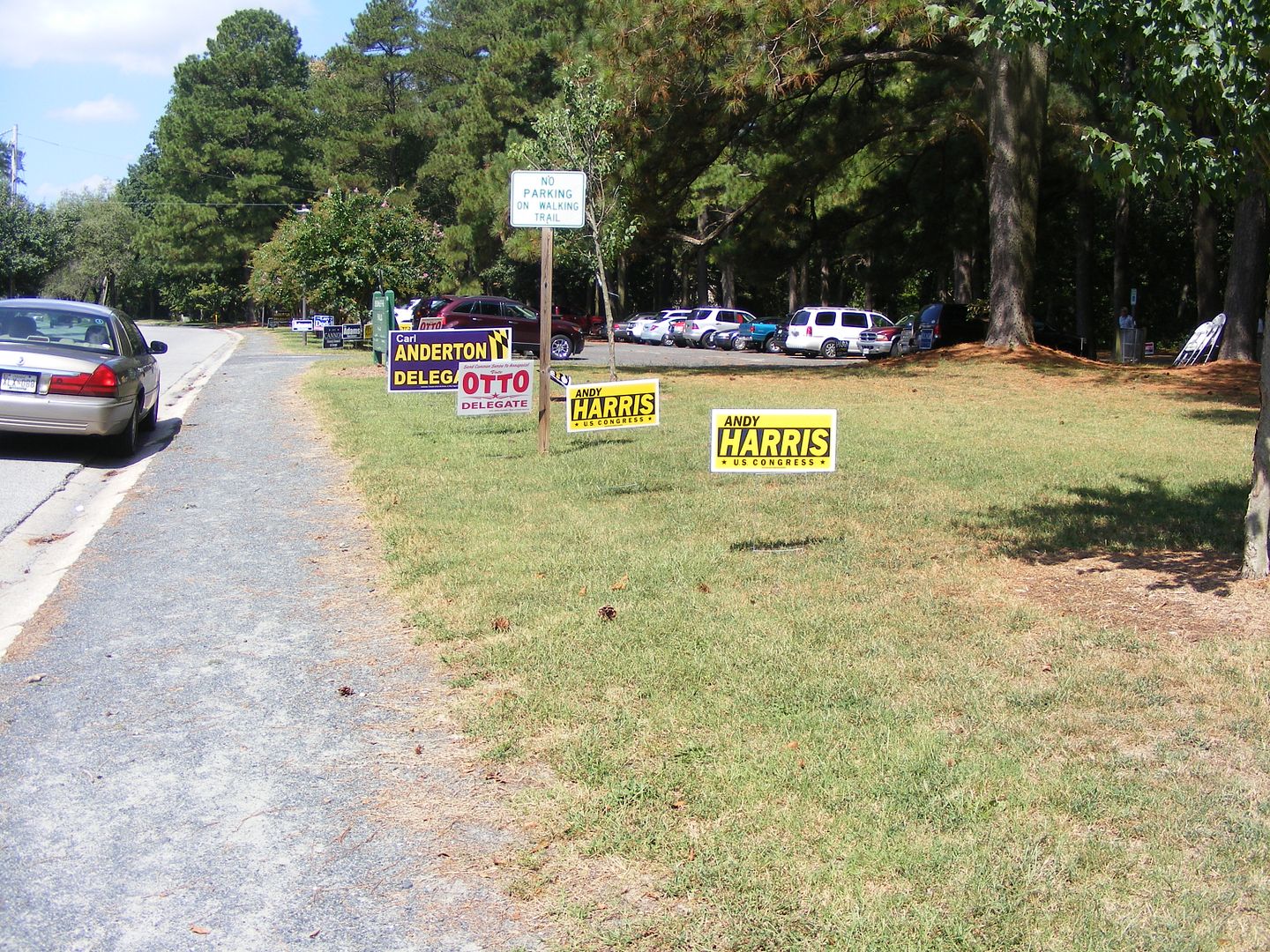 As always, we had a silent auction table. It didn't seem like we had quite as much as we have in previous years.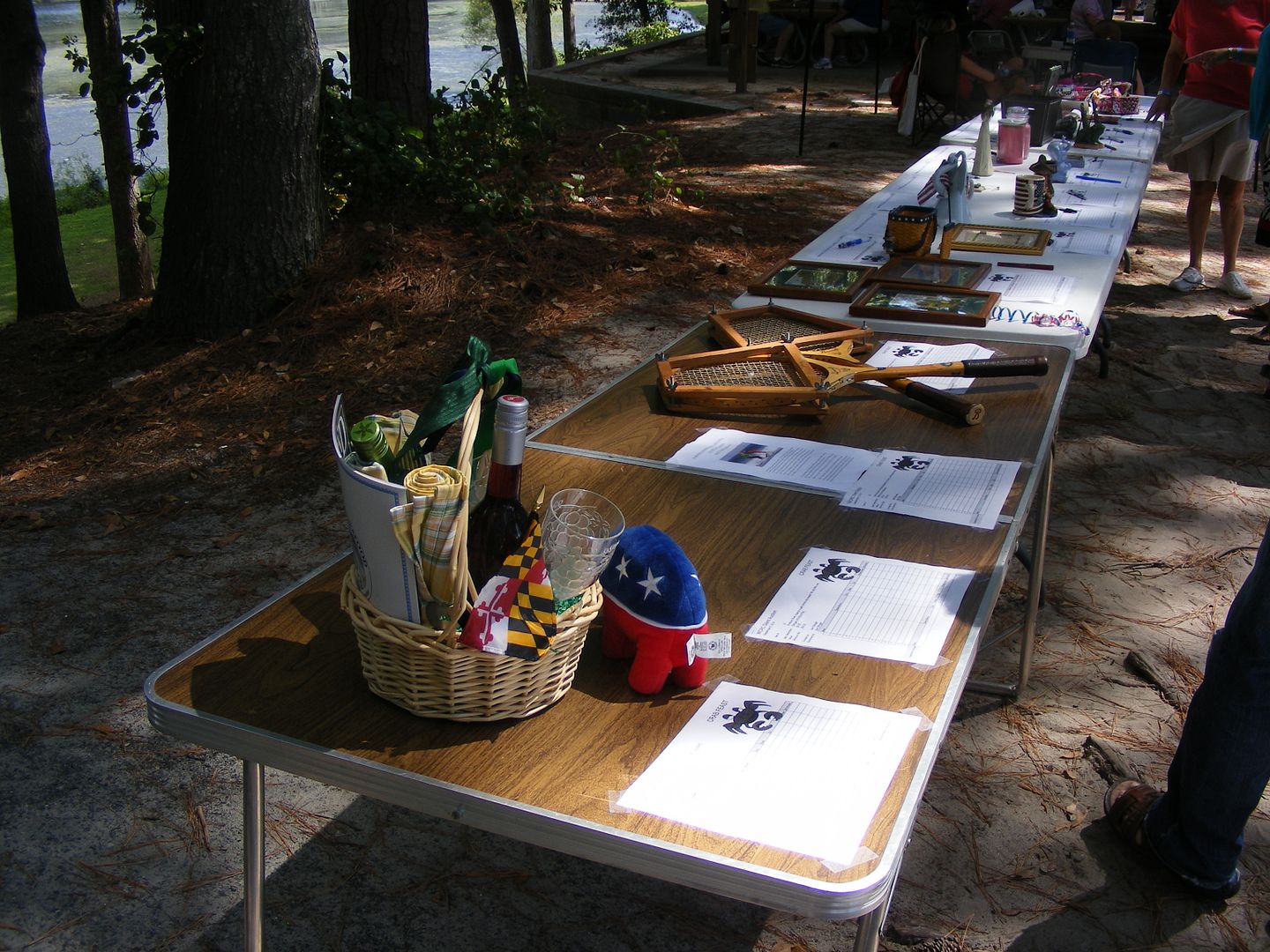 But they still lined up to put in last-minute bids. There was one rule, though: no hovering.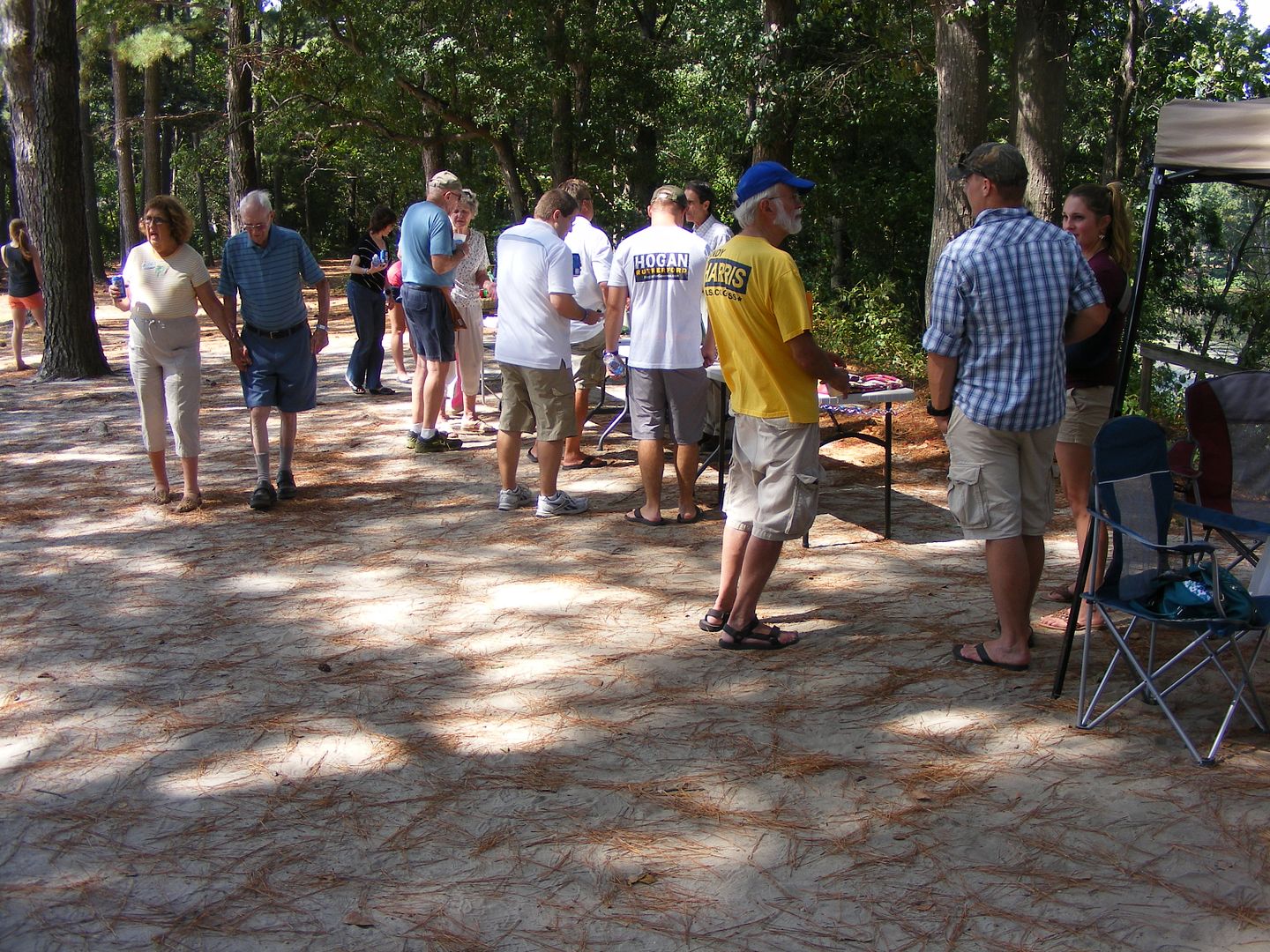 A trend the event has had the last couple years is the move away from candidate remarks, which used to be a staple of the event. Once upon a time, candidates would get a couple minutes but now we just figure they will mix and mingle. This was true last year and pretty much remained the same, with two exceptions.
One was a reminder from our county chair Dave Parker about the Patriot's Dinner with Allen West on September 27.
We also heard from retiring Orphan's Court Judge William Smith, who thanked us for 12 years of support and urged us to vote for the one Republican on the ballot, Grover Cantwell, as well as the two incumbents who opted to run again. They're both Democrats, but one – Melissa Pollitt Bright – was at our event. Considering the good judge turns 91 soon, he's earned a retirement.
Naturally, there were a lot of local candidates there for at least part of the event, so here are some shots I took. In the first example, here are two folks with a pretty good chance to be representing us in Annapolis, Johnny Mautz and Mary Beth Carozza.
Mary Beth was all over, speaking to a lot of voters and other candidates. Here she's with County Council District 2 hopeful Marc Kilmer (center) and Central Committee-elect member Greg Belcher.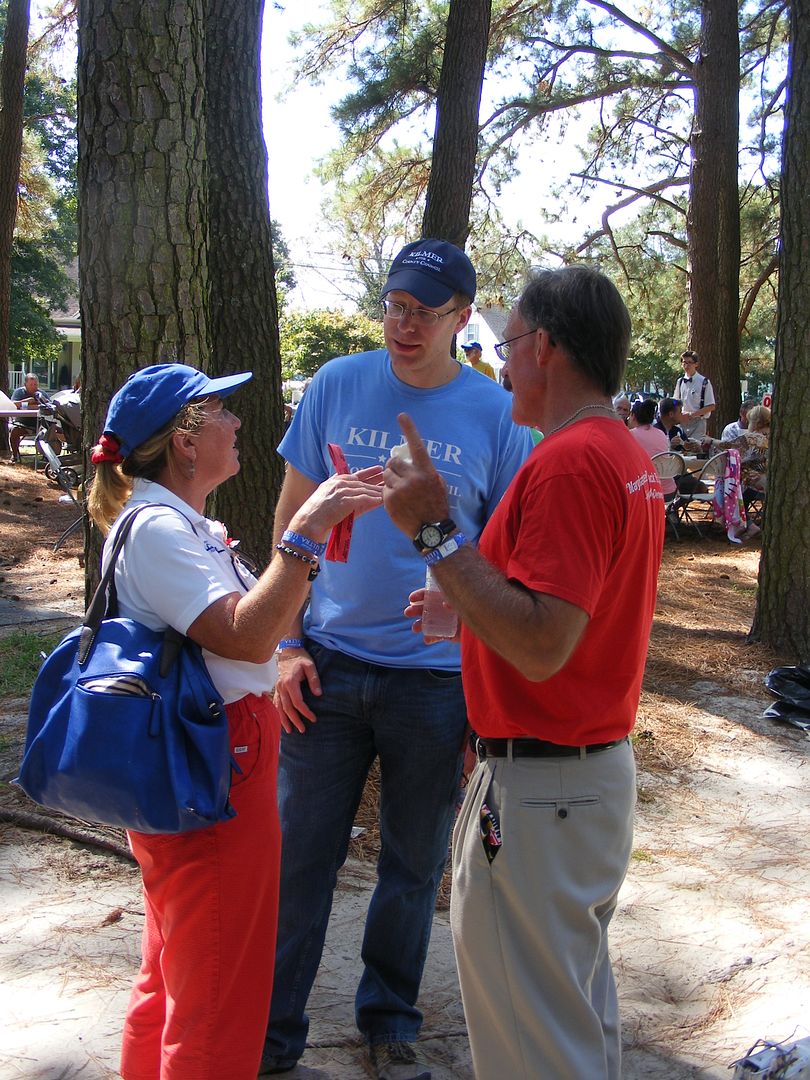 It must have been the shoes Mary Beth had on.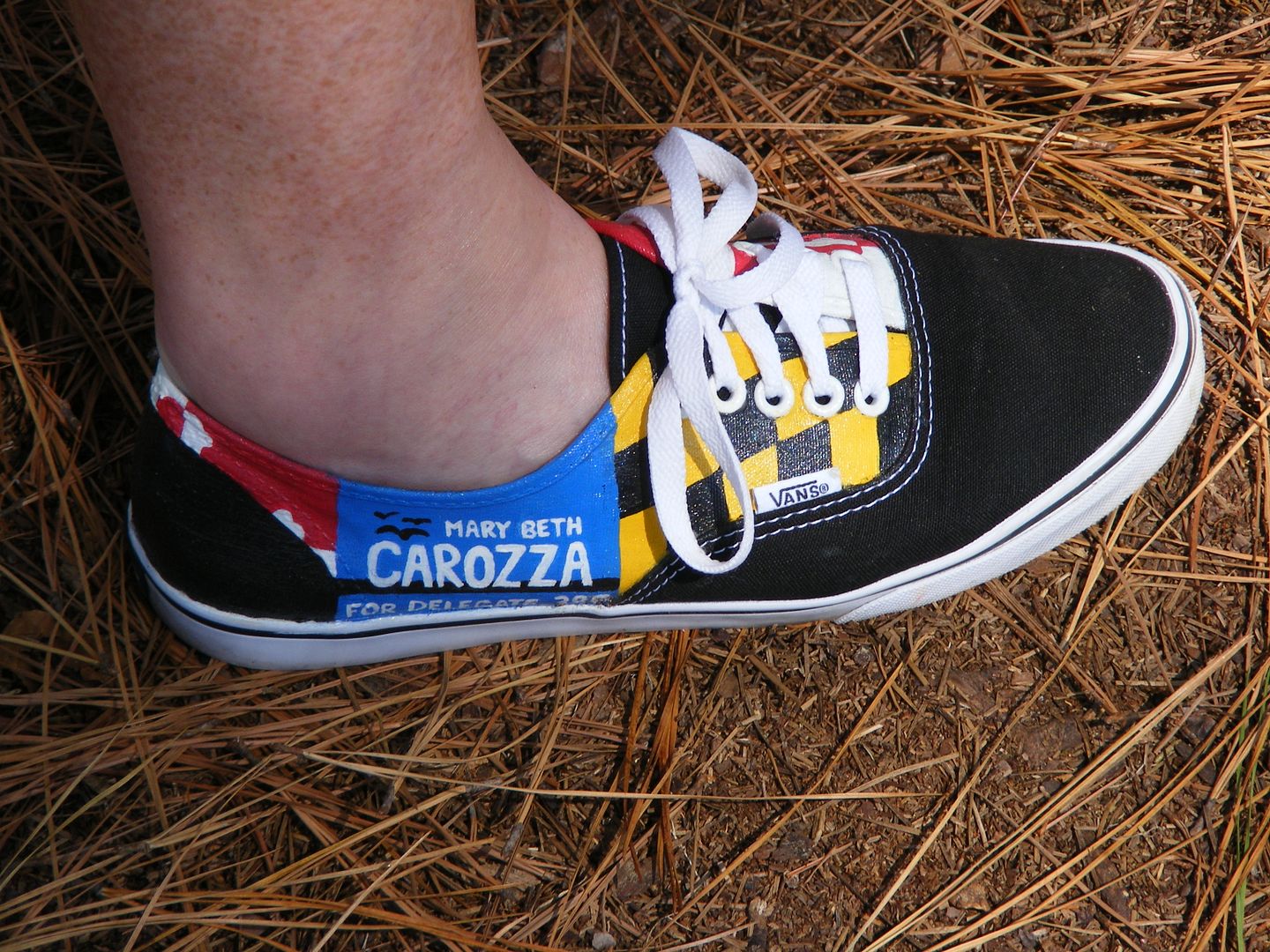 Under a tree, District 3 County Council candidate Larry Dodd was speaking to WCRC President Jackie Wellfonder.
Jackie also took the time to pose with District 38B Delegate candidate Carl Anderton, Jr. (left) and Wicomico County Sheriff Mike Lewis.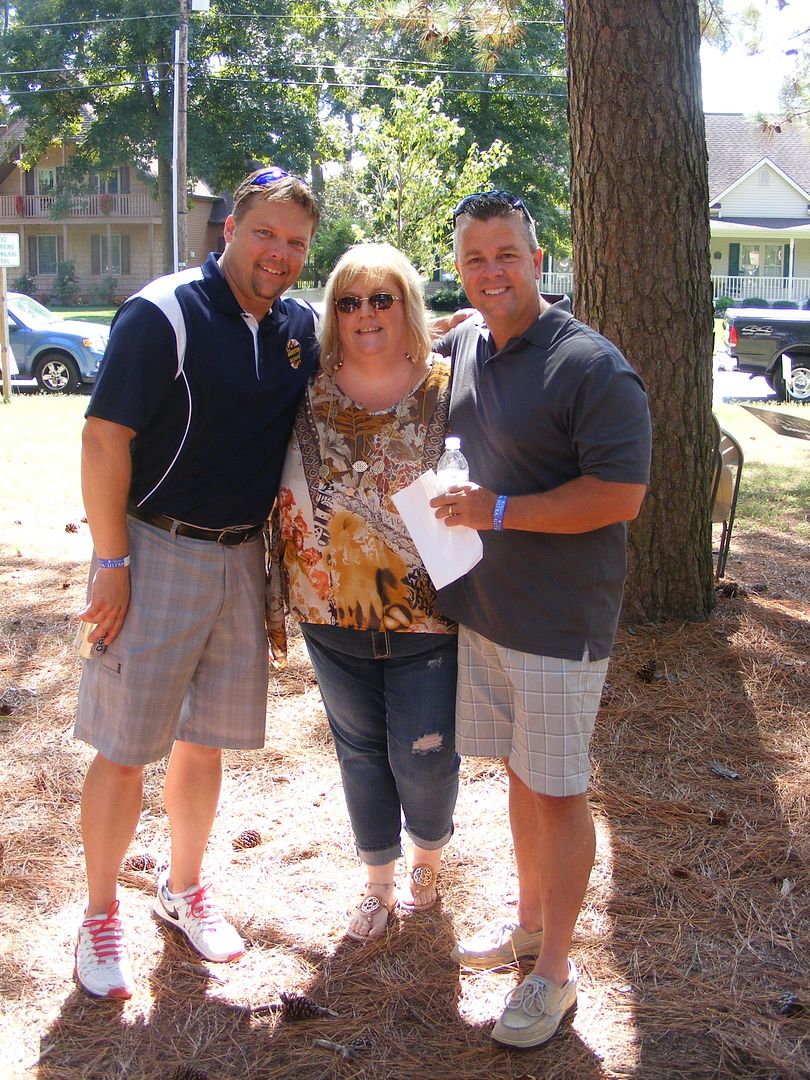 Far and away, the most popular person there was our Sheriff, fresh from national headlines about his pro-Second Amendment stance. As Jackie would put it, Lewis was a "rockstar" and photos with him were in demand.
A candidate looking for a return to County Council after four years away, John Cannon (pictured with his lady friend) was talking to Lewis about recent shooting incidents.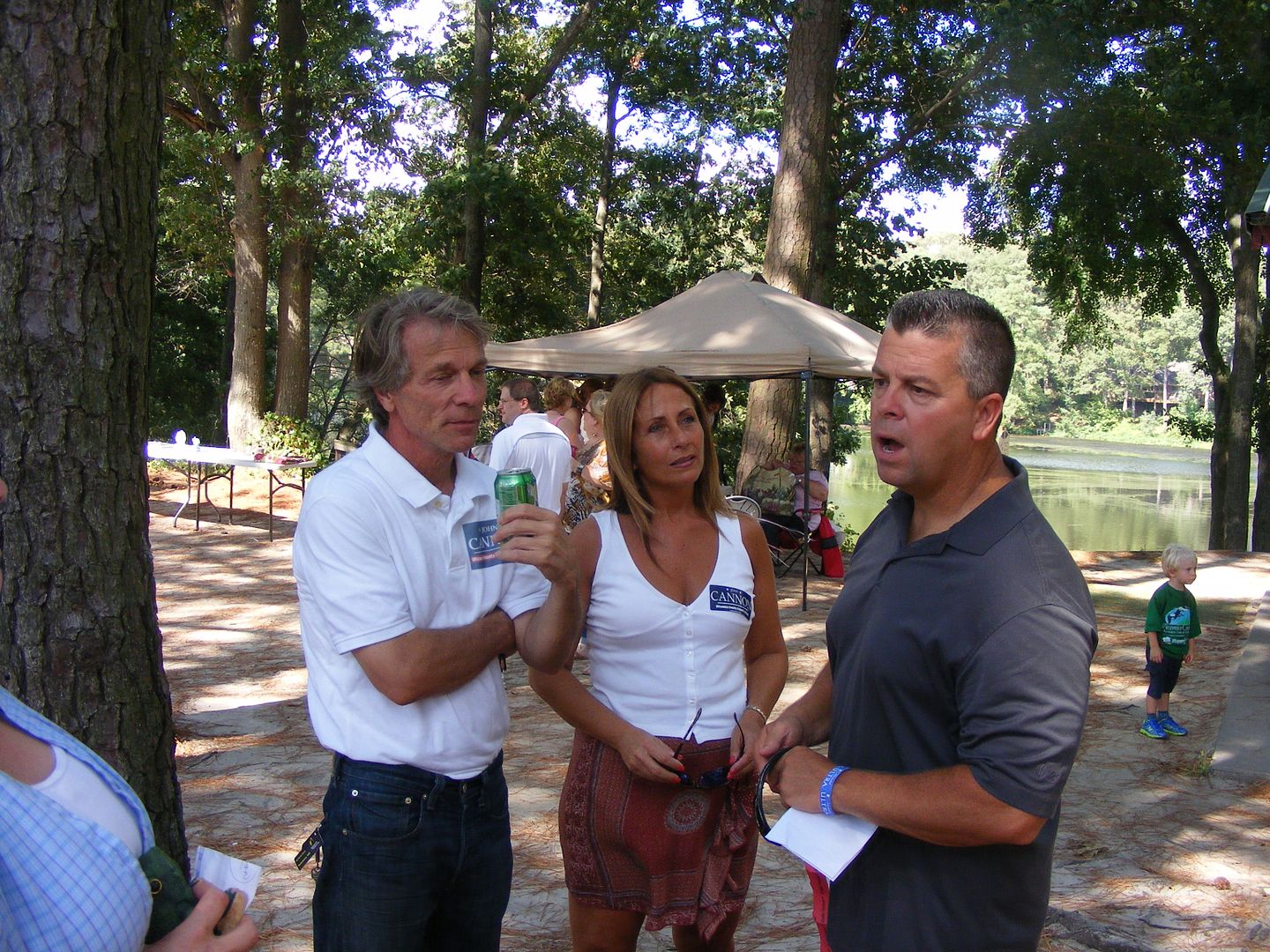 So while it was hot, fortunately the rain didn't hit until last night and the event went off without a hitch. Many of these participants will reconvene later today at the opening of the Eastern Shore Victory Headquarters here in Salisbury. The crabs? Well, we had just a couple bushels left to sell at the end and killed the beer kegs, so people must have been satisfied with the event.
Next year the event should take place in the midst of our municipal campaign and the early stages of a race for a 2016 U.S. Senate seat, so it will likely have a much different feel. But as long as the crabs are steamed just right, people will still be here to enjoy it.