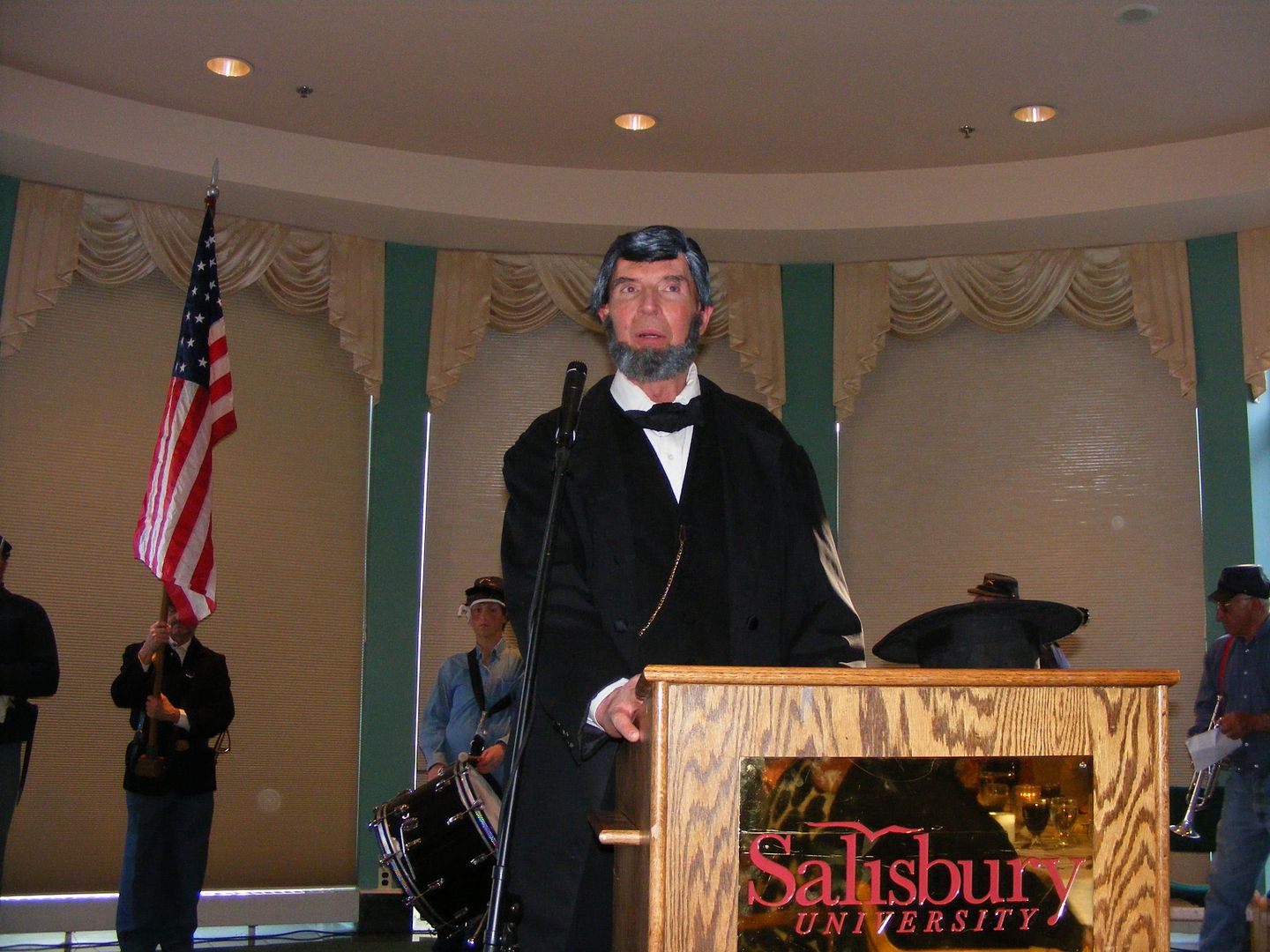 It wouldn't be a Wicomico County Lincoln Day Dinner without the guest of honor, now would it?
But it was that and much more as about 100 people enjoyed the festivities last night in Salisbury. I was a little disappointed in the attendance, but those who missed the affair missed some stirring words from both our four featured speakers – the GOP gubernatorial candidates – save Jeannie Haddaway pinch-hitting for David Craig, who was in Frederick tonight – and Delegate Mike McDermott.
Our event is set up so guests have an opportunity to talk to candidates before and after the proceedings. So before dinner was underway, acquaintances were made and renewed, such as Delegate Ron George speaking with the newly-goateed Delegate Charles Otto.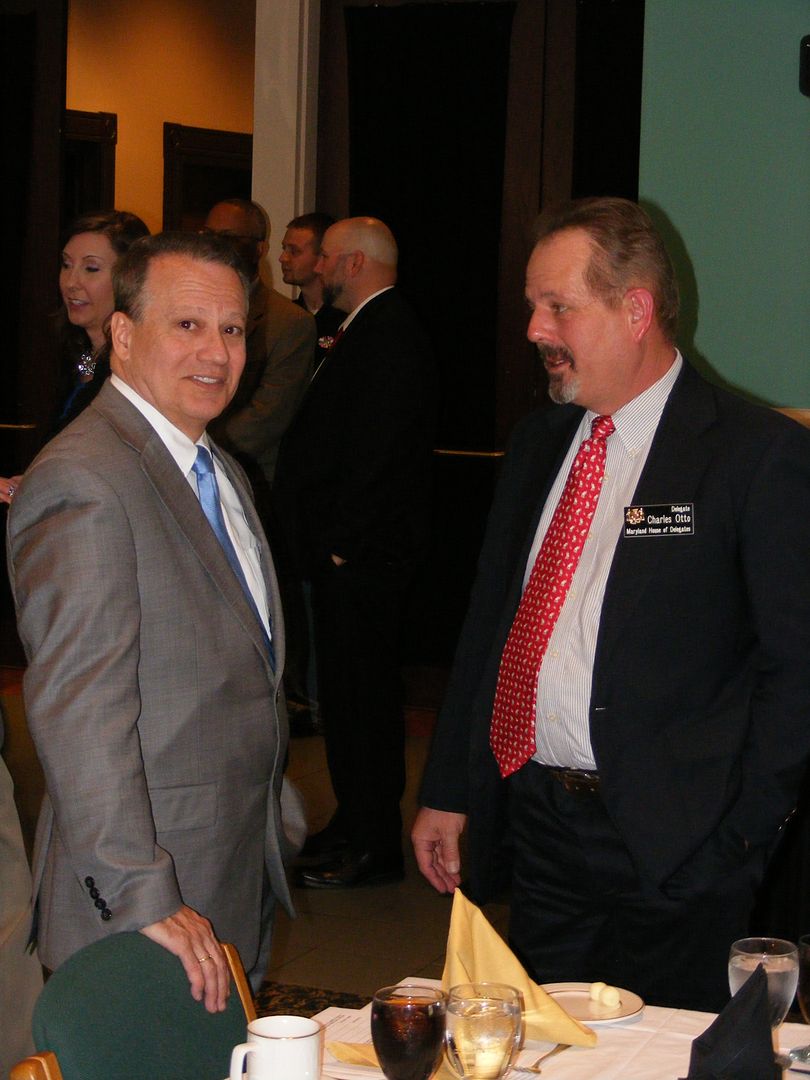 I like that look on Charles. Meanwhile, Larry Hogan and wife Yumi spoke to Wicomico County Council member Joe Holloway. I believe fellow Council member Bob Culver is back to camera.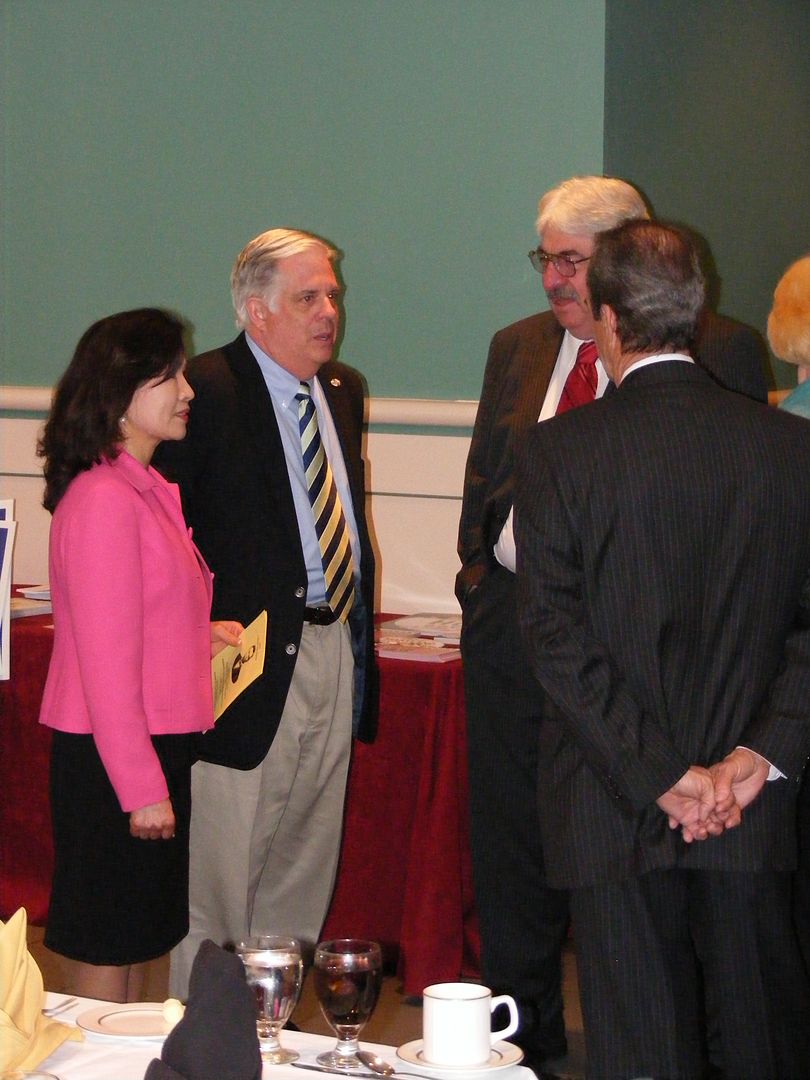 As I noted earlier, Jeannie Haddaway was taking the place of David Craig and visiting her alma mater. In the background is Larry Hogan's LG pick, Boyd Rutherford.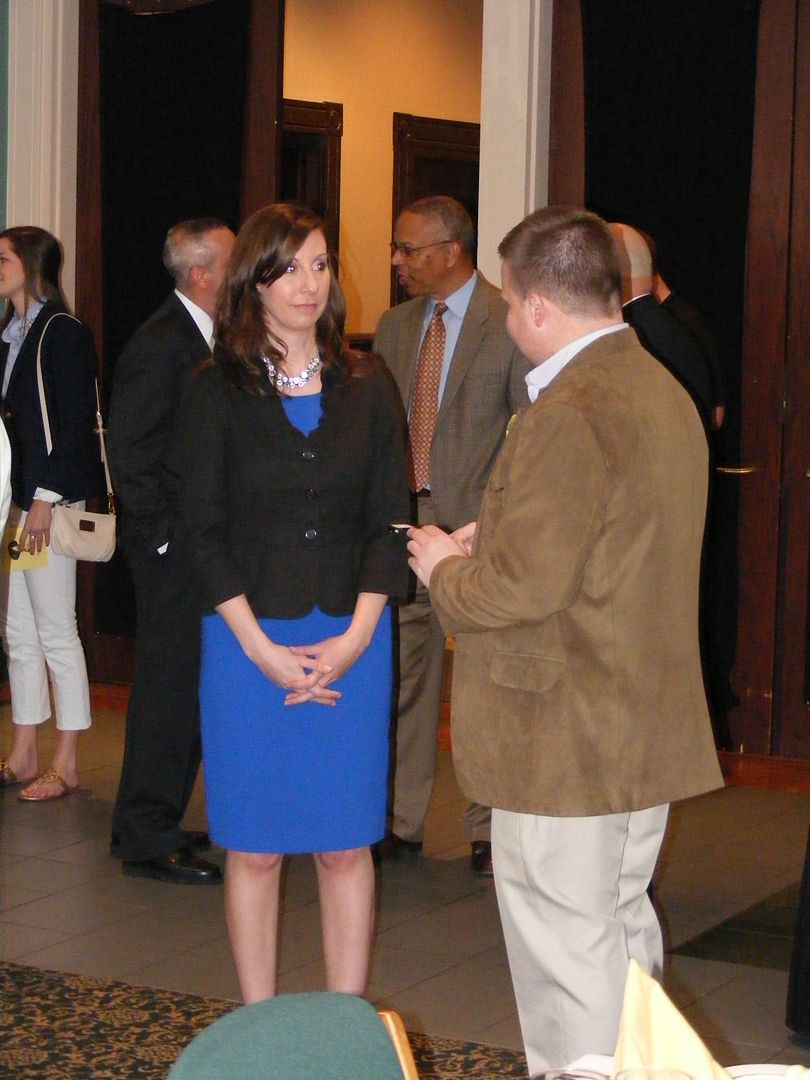 Candidates were also taking advantage of the space provided for literature and signs.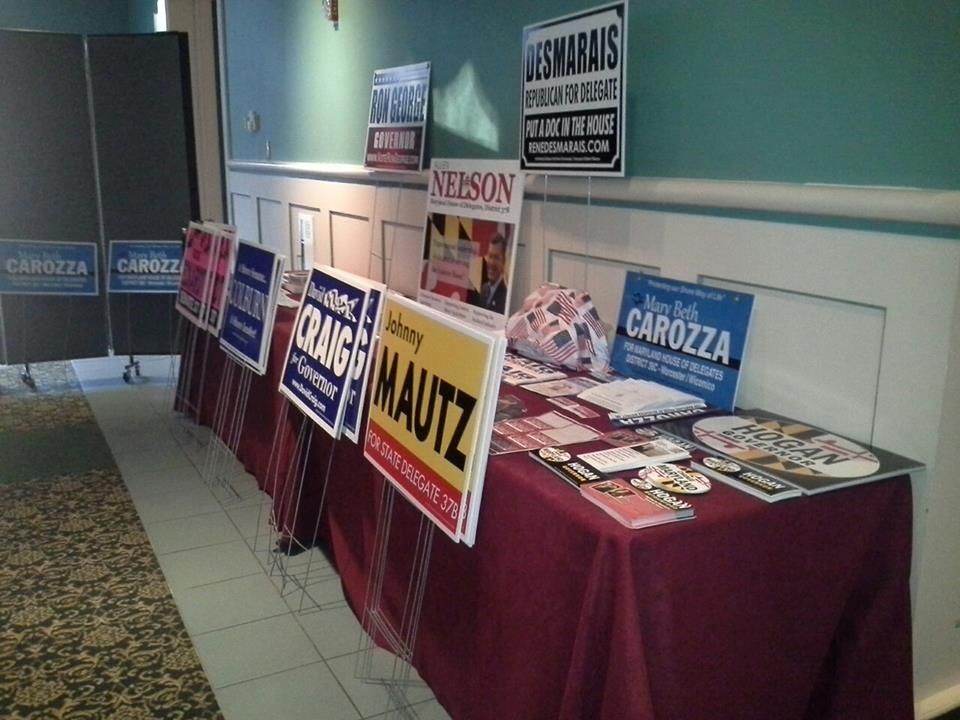 Things began to get going when the Union troops and band arrived in the room.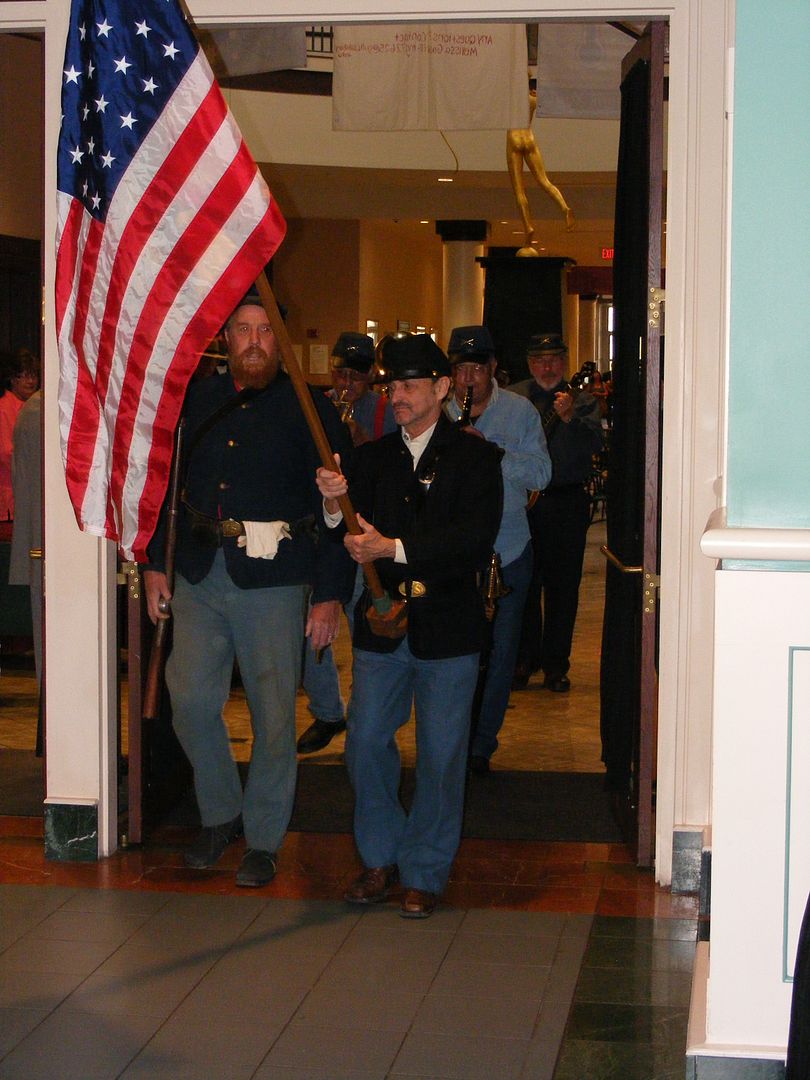 This heralded the arrival of our sixteenth president, who is a popular subject. In this case, it was with Senator Rich Colburn (left) and John and Gail Bartkovich. Gail is the outgoing Council member from District 3, while the good doctor John was our county chair for several years.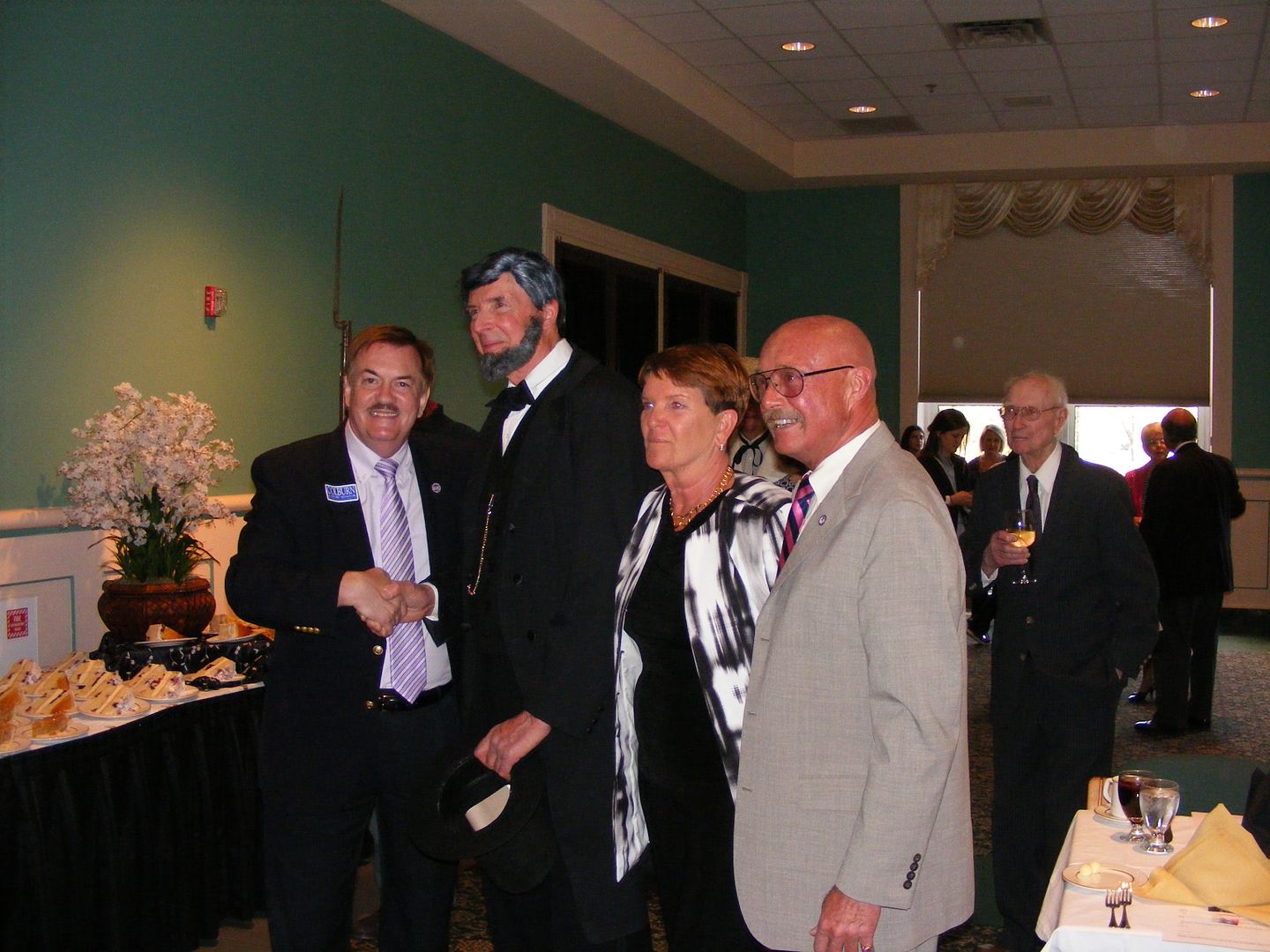 One new wrinkle we added this year was a Union band, described by Lincoln as "the Eastern Shore detachment of the 3rd Maryland Irregular Regimental Band," which played traditional music during the prelude to the ceremonies.
The troops sat behind Lincoln as he made his remarks, with a little banjo accompaniment toward the end.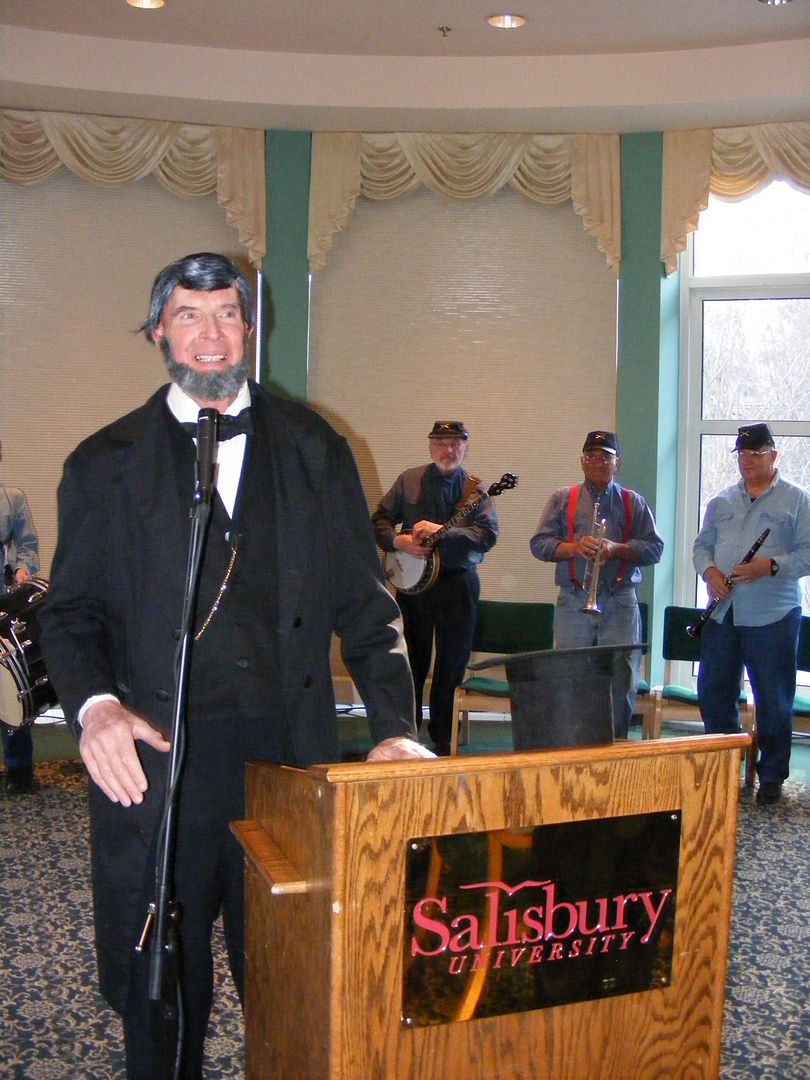 As he always does, Lincoln made remarks which tried to use the words of yesterday to relate to today's world, leading off with a tale about General George McClellan, one which he concluded by stating the case "the lunatics are running the asylum."
"Our greatest enemy is voter apathy," he continued. "It cheats honest citizens."
And just as the British Empire sparked a revolution by resorting to tyranny, Lincoln called the modern situation "mental torture." Now, "A lying tyrant is in control," Lincoln added, "We need to be a stumbling block to tyrants." But he ended on a hopeful note, believing "America shall not pass away."
Our county Chair Dave Parker then secured the floor for a number of announcements as well as praise for one outgoing member of our Central Committee.
First of all, we learned that there will be a gubernatorial debate among the GOP candidates here on May 31, at Salisbury University. Once the June 24 primary is history, we will convene for the Wicomico County Republican Club Crab Feast on September 6.
But the huge event was the one slated for September 27. After twice being unsuccessful at getting a Lincoln Day date, we got the next best thing: Lt. Col. Allen West will be appearing in Salisbury for a series of events September 27. Those who attend Central Committee or Wicomico County Republican Club functions already know this, but we put out the formal word tonight at Lincoln Day.
Before we heard from the gubernatorial candidates, we also took a few moments to honor one of the few Republicans in Maryland whose Presidential vote has truly counted – this man served on the Electoral College from Maryland in 1972 for Nixon and 1984 for Reagan. For the better part of five decades Blan Harcum has been a fixture in Wicomico County GOP politics, but after this election he will take a well-deserved retirement from the Central Committee. "I've enjoyed every minute of it," said Blan about his tenure.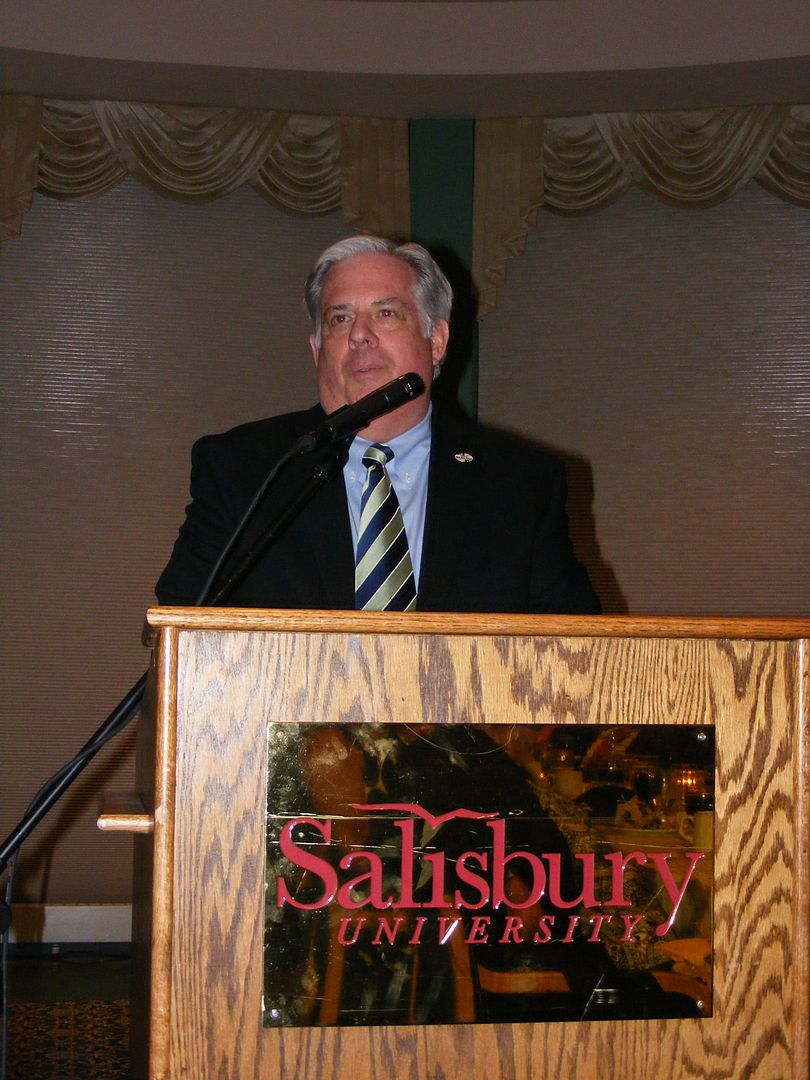 And as it turns out, Larry Hogan has known Blan "for a long, long time." He drew the opening slot among our four, and in doing so decided to play up his experience in both the private sector and executive branch under former governor Bob Ehrlich. "I've spent a lifetime challenging the status quo," Hogan said, accusing our current leaders of "actually causing the problems." Rather than "be something," he wanted to do something about them and that was why he decided to run.
Naturally, Hogan spoke about Change Maryland, noting that it "successfully changed the dialogue in this state." He could sense the frustration with the "huge disconnect" between the people and their government as well as the belief the state was heading in the wrong direction. Regarding the "arrogant, out of touch monopoly" in Annapolis, he believed it was "about time the politicians in Annapolis listened to the rest of us."
As he has often done in his stump speeches, Hogan returned to three main points: creating jobs, helping out the middle class, and getting government off our backs. He related his day in Salisbury, with stops in several area businesses as well as a Little League opening day and the downtown Easter Egg hunt.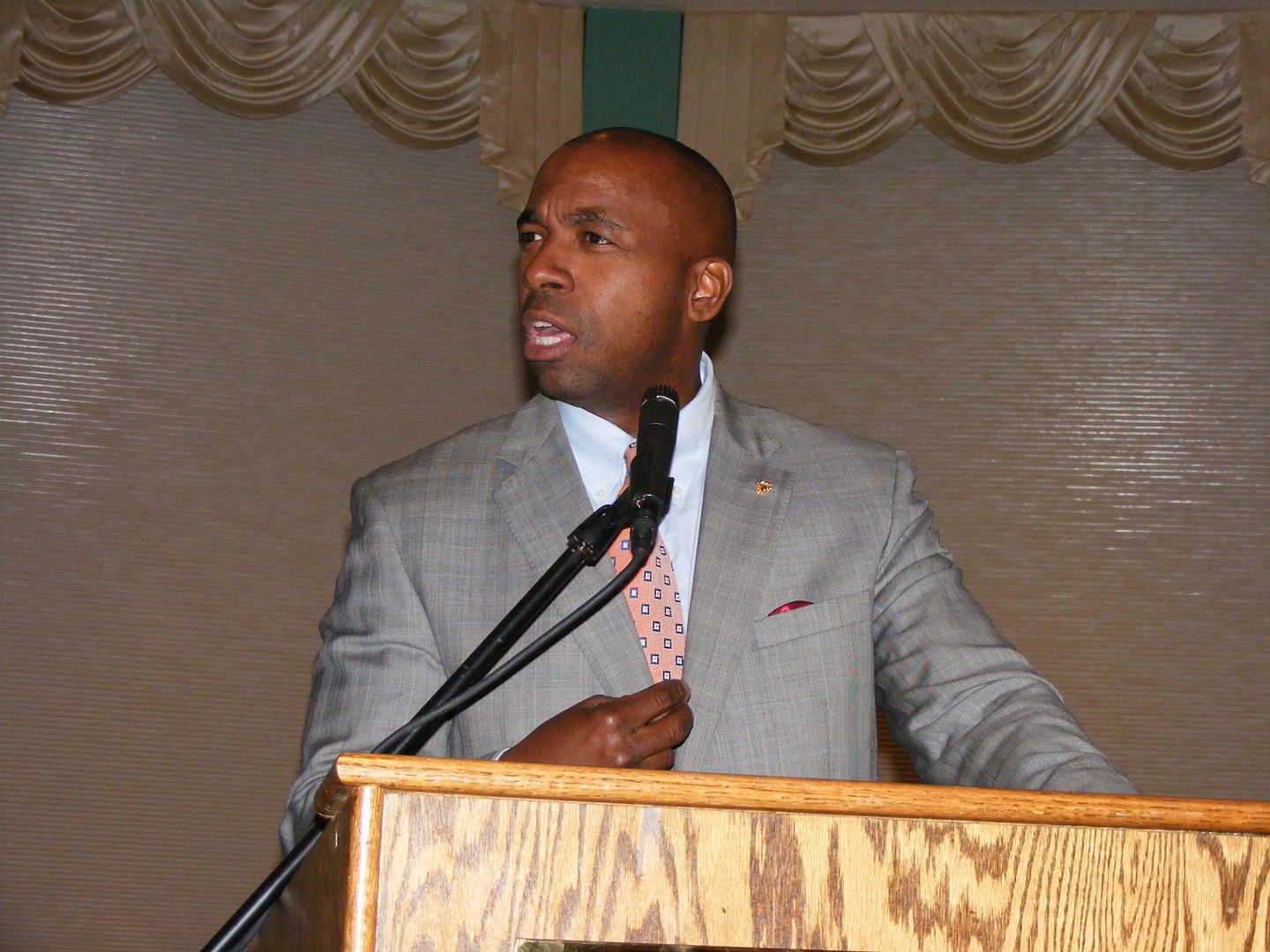 Charles Lollar also told us about his day, one spent taking the fight to Democratic strongholds and crossing paths with Democrat Anthony Brown on three occasions, debating him once. He was inducted into the 100 Black Men of Prince George's County, heard Brown say at a Howard County forum that "Maryland is doing fine" – while 1 out of 3 in portions of Baltimore are jobless – and went to a Veterans for Democracy meeting back in Charles County where he was "disinvited" to speak because of "political pressure" his name has brought. On top of that, his second daughter is going to her first prom tonight. "I'm not doing this for me…we're doing this for you," said Charles.
But his message to the Republicans was that whoever the nominee for governor may be, he has to have the "intestinal fortitude and integrity" to speak our convictions. His basic agenda would be one of economic solvency, installing a Taxpayer's Bill of Rights to slow budget growth, and eventually eliminating the personal income tax – a proposal which got him the support of economist Arthur Laffer.
He knew it would be difficult, but concluded that "I don't play politics very well, but I do enjoy a good fight every once in awhile." Whoever wins the primary has to care about the ideals of the minority community to earn their votes, Charles stated in closing.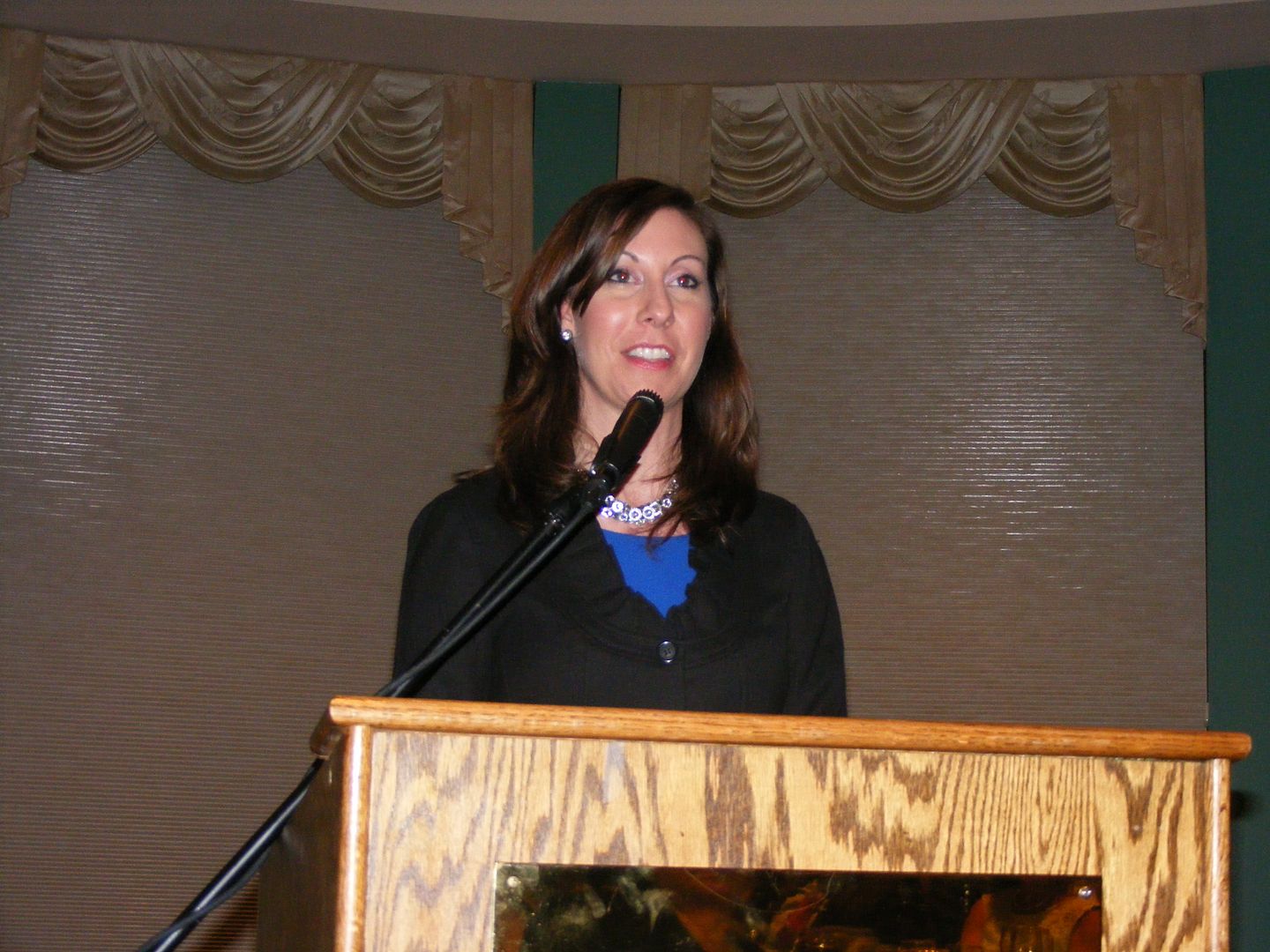 Representing David Craig, who couldn't be here tonight but was instead over in Frederick County, was his lieutenant governor candidate Jeannie Haddaway. We're out "covering the state as much as we could," she explained. Reflecting on the recent General Assembly session, Haddaway remarked that "there are people in Annapolis fighting for you." Some of the more controversial bills only passed by slim majorities, added Jeannie, because Democrats are reluctant to vote for them but have to contend with their "top-down agenda." Thanks to what's gone on the last few years, "our state is in really bad shape," said Jeannie.
She corrected Larry Hogan's remark about private sector experience, noting David Craig worked in a factory when not teaching and her own work as a small business owner. Their priority would be to straighten out the budget then "put money back in your pocket" through elimination of the income tax.
Haddaway pointed out 40 percent of Democrats were undecided, perhaps because they didn't like the options and may consider a Republican who would "try something different." And even in heavily Democratic districts, Craig had won. "We have won collectively 14 general elections," she said. "Whoever turns out is going to win this election." She promised that if Craig won and she became the state's first Eastern Shore lieutenant governor, "the Eastern Shore will be forgotten no more."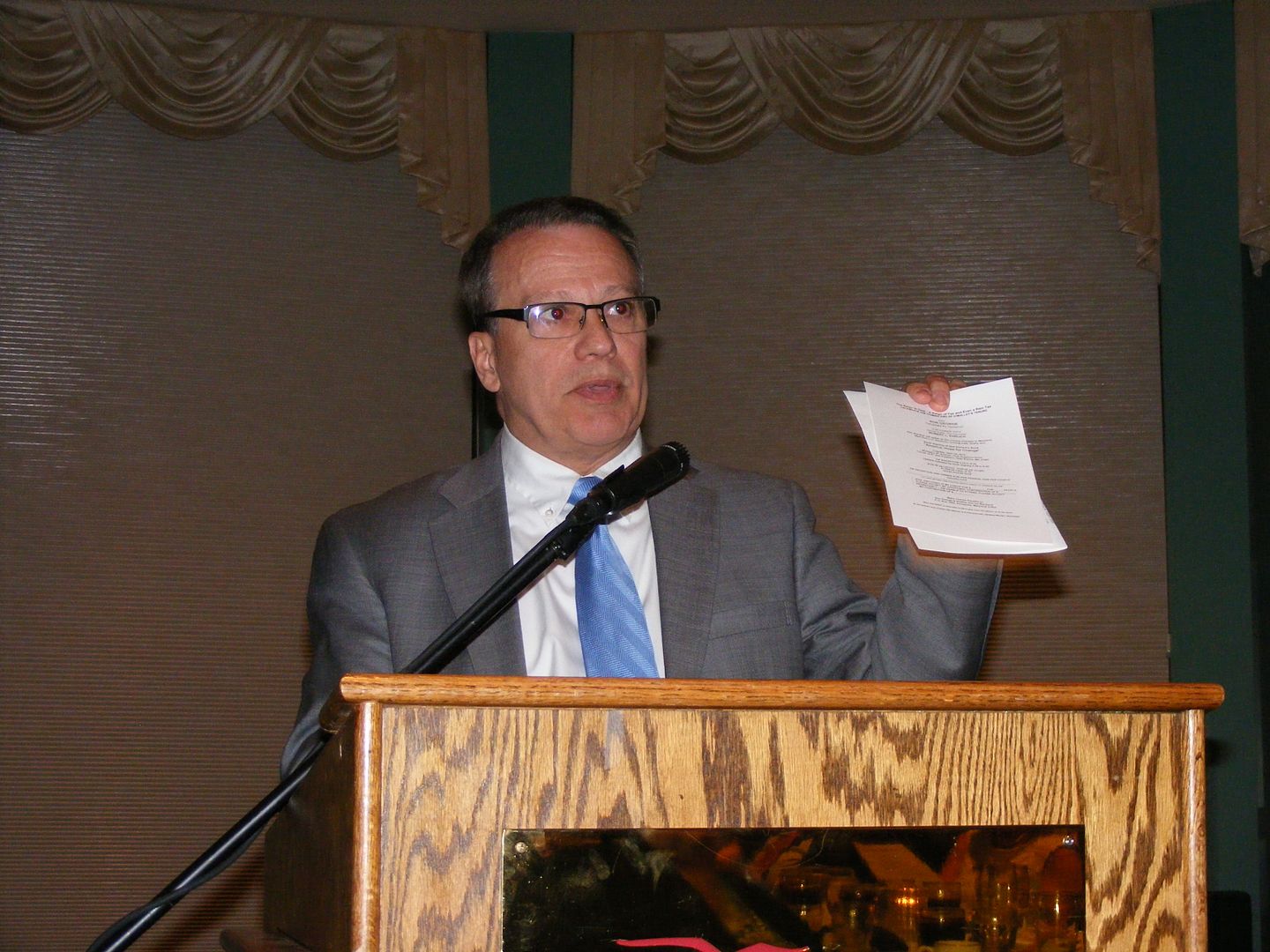 While he was holding up the flyer for an upcoming event in Ocean City in the photo above, Ron George opened up by discussing running mate Shelley Aloi – like many of us, I met her for the first time tonight. (She and Ron happened to sit at our table, along with our next speaker and his wife and the Parkers.)
Ron spent much of his time talking about the General Assembly: "I felt like I needed Rolaids constantly," remarked George – but considered it an "honor" to serve with our Republican "warriors." His pitch was combining his business experience with time served at the "front line" of issues as a member of the General Assembly – one who formed the Doctor's Caucus "to build consensus" and a related group called the Physician's Advisory. That group had uncovered waste within the exchange and the failures of health care contractor Maximus early on.
Ron also spoke about his work on the electoral process, closing a loophole for the next cycle so a donor couldn't form multiple LLCs just to circumvent campaign finance limits. Audits, too, were another major part of his platform since he'd found where Prince George's County "totally misused" $400 million. "That kind of waste has got to stop."
George went over a couple parts of his ten-point promise, one which "will fix the drain that Baltimore is" and strive to rebuild the state's manufacturing base in small communities like ours. "I cannot cut welfare payments unless I have those entry-level, mid-level jobs," said Ron.
He also made an announcement about a Monday event to be held in conjunction with Dan Bongino and David Craig, endorsing Anthony Brown for governor…of Connecticut. "How's that (health care) working out for us?" added Jeannie Haddaway.
But the rhetorical storm was brewing.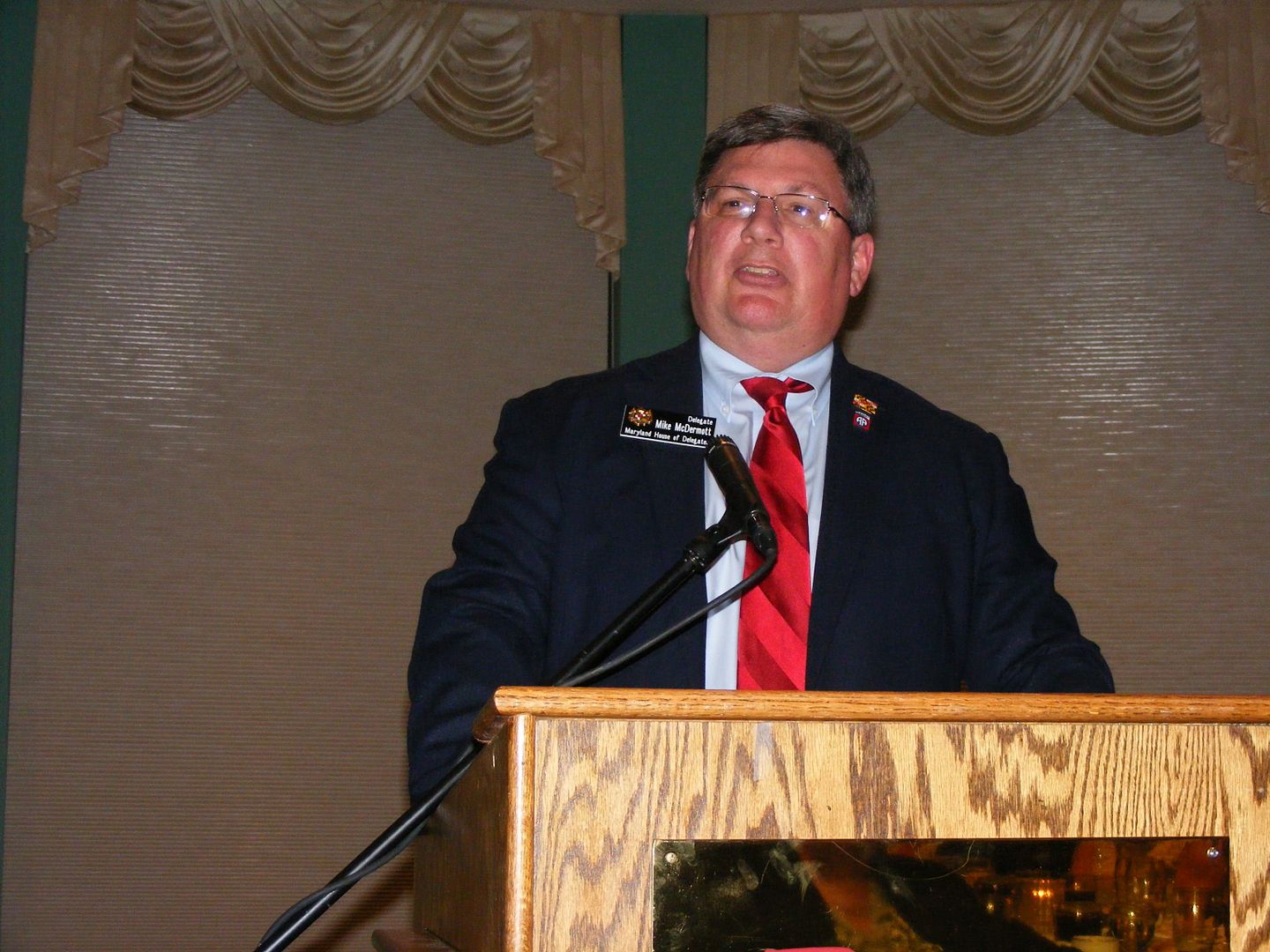 You knew Delegate Mike McDermott was working on a stemwinder when he noted, "the problem with Democrat math is that they follow Common Core logic." This after he noted losing the two GOP Senators in 2010, including the seat he seeks, "opened up the floodgates of hell on the social side." This didn't count the pilfering of various trust funds or the "blank check" to uncovered patients for the budget.
But once he got going on the "outrage" on the bathroom bill, it was on. "It should be unacceptable to all Marylanders," he said. We gave each gubernatorial candidate ten minutes – Mike was still going strong after fifteen.
"The tragedy of Maryland politics can be turned around," he said. "Don't send a governor to the governor's mansion without sending them reinforcements" of five Senators." His voice rising, McDermott made the case that North Carolina "worked on making government work for the people" after the GOP took over and raised its business friendliness rating from 46th to 17th in two years. "They've brought that state back! It can happen here."
"If we can't make the case for change this year," Mike thundered, "the Republican Party can never make it."
"We can take Wicomico County by storm! If there was ever a county which needed good leadership and change, it's this one. I'm tired of being up there, and being in a welfare county…I challenge you to take it back," an emotional McDermott concluded. He had to dial it back some for the benediction that he delivered.
Our friends in Worcester County have the chance to have a great team in Annapolis: Mike McDermott in the Senate, and Mary Beth Carozza and Charles Otto in the House.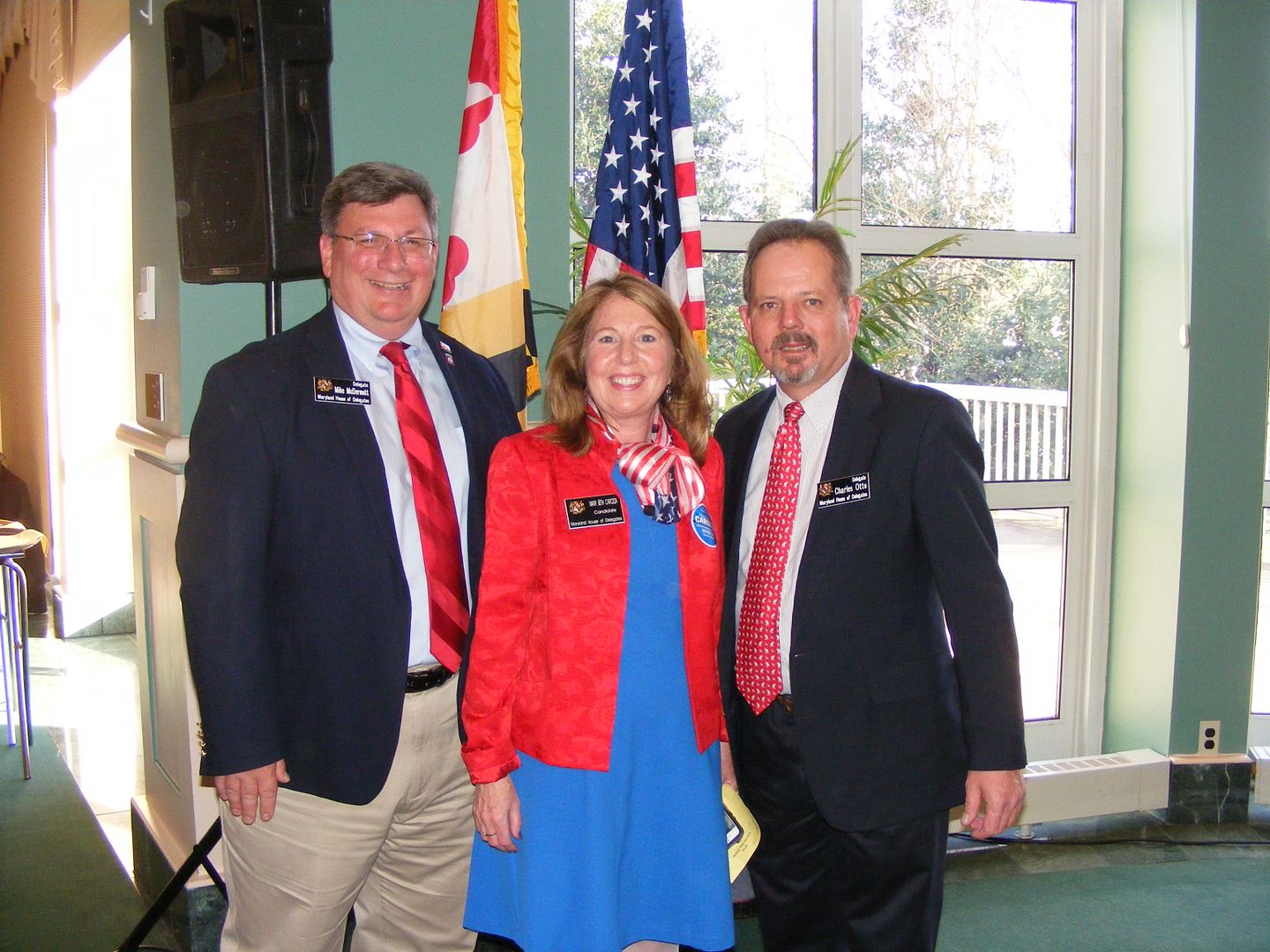 So ended another Lincoln Day Dinner. It wasn't quite what we bargained for when we started planning it last year, but those who were there were treated to a good event nonetheless.
Over the last couple days, a segment of the Maryland Republican Party is scratching its head over the absence of gubernatorial candidate Charles Lollar from several high-profile events: last month's Andy Harris First District Bull Roast, the Conservative Victory PAC Ken Cuccinelli fundraiser (which was sponsored by several Maryland politicians), the Prince George's County Lincoln Day Dinner with Lt. Col. Allen West, and most recently the state party's Oktoberfest gathering in Timonium Saturday night. The conventional wisdom argument is that these were lost opportunities to impress the party brass.
But this may also presuppose Lollar wasn't out meeting with "regular Joe" voters, and some say a lot of these gatherings would be time better spent knocking on doors or making phone calls. So which is it? I don't know, but my feeling is that we all need to get back to basics and begin to compare just where each of the three major declared candidates stand on important issues facing the state.
A year and a half before the 2012 Presidential election, I began a process of grading the candidates in the race at the time on a number of issues. I think it's time to repeat the process, with some different parameters because the issues aren't always congruent between state and national elections – for example, I don't have to worry about trade or the Long War but I do have concerns about agricultural issues and necessary changes to the state political system, meanwhile, some issues grow or contract in importance because of recent state developments. But I like the 100-point system so I will adapt it to suit.
So the 2014 monoblogue endorsement will be based on the following formula:
Election/campaign finance reform (3 points)
Illegal immigration (5 points)
Dealing with Obamacare (7 points)
Energy policy (8 points)
Education (9 points)
Second Amendment (11 points)
War on Rural Maryland (12 points)
Role of government (13 points)
Job creation and transportation (14 points)
Fiscal conservatism/taxation (15 points)
Once I add or subtract three points for various intangibles of my choosing, I'll come up with the candidate who I think will best serve Maryland. Granted, my endorsement will only be worth the pixels they're darkening but at least some thought will be put into why this candidate is the best one for Maryland. (Keep in mind that any of these three would be vastly superior to Anthony Brown, Doug Gansler, Heather Mizeur, or anyone else Democrats put up.) Otherwise, I come in with no preconceived notions with the exception that the other declared GOP candidates in the race don't have the campaign or the presence to achieve any more than a tiny percentage of the vote so they're not included; also, this is subject to update if/when Larry Hogan enters the race.
So now that you have the basic concepts, how about some specifics of what I'm getting at for each point? These are questions I may be able to find answers for within the candidates' own websites, but it's more likely I need further guidance. I have had the chance to hear all three declared candidates speak on at least two occasions apiece so I might have a decent idea where they'll go, but it never hurts to ask. With that, here goes:
Election/campaign finance reform: Will you aggressively pursue the redistricting revision case in court; if we succeed can we have 141 single-member districts? Where do you stand on current reporting requirements: too tight, too loose, or just right? What about getting after local boards of elections and telling them to clean up their voter rolls?
Illegal immigration: Will you take the 287 (g) program used in Frederick County statewide? How about rescinding recent changes to drivers' license laws in Maryland? And what about in-state tuition – do you revisit this issue? What about withholding a portion of state funds from sanctuary cities? Cooperation with the federal E-Verify program? What about policies allowing status checks such as those in Arizona?
Dealing with Obamacare: Do we eliminate the state exchange? Would you pursue a waiver for the state if one becomes available? Are you in favor of defunding or letting the law go into effect and watching it collapse? What steps would you take to encourage more insurance competition in the state? What about returning Medicaid limits to minimum levels?
Energy policy: When can we expect fracking to begin in Western Maryland? And what will you do with the renewable portfolio standard? Will you move to re-regulate Maryland's electrical utilities? Can Martin O'Malley's offshore wind scheme work? What about offshore oil drilling – is that an option for you? Will you maintain Maryland's membership in the Regional Greenhouse Gas Initiative?
Education: Will Common Core be the law of the land in Maryland, or will you eschew Race to the Top funding? How about school choice, or money following the child regardless of school? How will you protect homeschooling? Instill more local control? What about promoting elected school boards in those counties still without them? Emphasis on vocational education? How do you message against the certain opposition of the teachers' unions?
Second Amendment: Will you work to repeal the so-called Firearms Safety Act? What about concealed carry, and making licenses easier to get? If the federal government gets too onerous, will you fight them? What's your interpretation of the Second Amendment?
War on Rural Maryland: Can we count on you to repeal the Septic Bill and tier mapping? Will nitrogen-removal systems still be required? Will the Hudson family be made whole by the state, since it was with the state's assistance they were legally harassed? How will you assist the poultry industry in the state and keep them here? What about cleaning up behind the Conowingo Dam and fighting the mandated burden on rural counties, as well as the rain tax on urban ones?
Role of Government: Where do you stand on a regulation moratorium, and would you veto new mandates passed through the General Assembly? Are there any agencies you'd work to abolish? What about divestiture of surplus state land? Is a consolidation of primary state government functions in Annapolis on your agenda? Can we count on you to repeal as many laws as you create? Where do you stand on public-private partnerships? Do you support citizen-based petition to referendum for new laws (as opposed to those passed by the General Assembly)? What about the right to recall elected officials?
Job creation and transportation: We know you'll lower the corporate tax rate – what about eliminating it entirely? What about reform of unemployment insurance? What other steps will you take to make it easier to do business in Maryland? As far as infrastructure goes, will you kill the Red Line and Purple Line in favor of more useful means for transporting goods, such as expanding the interstate network in Maryland and surrounding states? Will you hold the line on tolls? What about another Bay crossing – where would you put it? What non-tax code incentives would you offer for rural area job creation? What policies would you adopt from other states?
Fiscal conservatism/taxation: Can Marylanders expect a flatter income tax system? How about eliminating it entirely as some states have done? Or would you prefer a sales tax decrease or elimination? Would you agree to a TABOR, or at least a budget utilizing those principles? Can we get per-capita spending closer to the national norm? And how will you deal with the outcry of the press, such as the old "tax cuts for the rich" saw?
Intangibles: Positions on abortion, expansion of gambling and/or return to legislative control (as opposed to Constitutional amendment), protection for religious objections to gay marriage, your perception of the TEA Party and pro-liberty movement, and so forth. Mainly social issues.
Yes, that's a hell of a lot. But somewhere, someone else is asking some of the same questions and if I'm going to make a decision I want it to be informed. And while I'd like to make these issue posts on about a weekly basis, that's probably a quite aggressive timetable.
But I'm sure that a) people from the respective campaigns read my website, and b) they will bend over backwards for new media. (At least that's what I'm counting on.) And it's likely they haven't even pondered some of these queries, so I don't expect miracles – but I'll take them anyhow.
Yet I'm sure that some high-dollar Beltway Republican consultant will tell their candidate that he'd be nuts to get into specifics this far out because all it would provide is fodder for the Democrats and the press (but I repeat myself) to harp upon as the campaign heats up. News flash: they will do that anyway, even if they have to make stuff up (e.g. "a fee is a tax.") So get it out now and I'll take those clowns on myself, even as I point out that it's not like I don't have a few allies in this fight.
Just let me know you have the balls to stand for something, okay?
Once again taking what would normally be a fairly localized race and nationalizing it, Sixth District Congressional candidate Dan Bongino announced his first major national endorsement today: former Congressman and conservative darling Lt. Col. Allen West.
In a statement released today, Bongino simply noted:
I am both proud and honored to receive the endorsement of Lt. Col. West, a man who has developed a large national following due to his reliance on principles and not cheap party politics.
There will be a formal event October 10 in Washington, D.C. to officially make the endorsement, in which Dan is joined by three other officeseekers.
But this is important in nationalizing the race because West's Guardian Fund has plenty of support nationwide, despite the fact West was a one-term Congressman from Florida. Needless to say, I don't think Dan is going to honor opponent David Vogt's call for a campaign finance limit in the race, perhaps because incumbent Congressman John Delaney has plenty of money himself.
Meanwhile, Dan continues to rack up support from potential TEA Party peers in Washington and beyond – but it brings a point to mind. Obviously. since we are nowhere near the Sixth District, I have no idea how the grassroots in that region are taking to Bongino since he's an outsider to the district. I know he had plenty of support in his statewide race from a plethora of volunteers, but I need to be convinced that the same passion is there this time around. While some had fun at Vogt's handling of the Richard Douglas endorsement, having someone familiar with the lay of the land like Bud Otis can be an advantage as well. It means Vogt might be showing up at the right events and meeting the correct people therein.
But can that compete with the influence and power of Allen West? Only time will tell.
In case you haven't heard – and there's a pretty good chance you haven't, what with all the summer activities going on – there's a D.C. March for Jobs coming up on Monday, July 15.
[gview file="http://monoblogue.us/wp-content/uploads/2013/07/DCMarch_Flier_June_3_2013.pdf"]
Cathy Keim of the Wicomico Society of Patriots alerted me to a local bus which is going to the event, embarking from Salisbury at 5:30 a.m. It won't cost riders anything but their time and may be a tipping point in killing this amnesty bill once and for all.
And note the group which is putting this together: the Black American Leadership Alliance. While it's a fairly new group, they have managed to secure a little bit of media coverage, survived a Twitter attack, and aroused the ire of People for Against the American Way. They've also put together a good roster of speakers for the March for Jobs, including former Congressman Lt. Col. Allen West and Senator Ted Cruz, who was just added to the list.
Overall, they restate a good point which has been made by others – allowing those here illegally to stay without significant punishment will only intensify the competition for the lower-rung jobs many in the black community rely on. And while my long-term preference would be for all members of our society to improve themselves so that they can take on tasks requiring more skills, the reality is that we'll always need ditch diggers and they're not going to be paid a whole lot. At the current time many in the black community face direct competition in the job market from illegal aliens who are happy to work under the table for less money. (Anecdotal evidence also suggests illegal aliens who have been here awhile and began to move up the job chain are also worried about a new influx of even cheaper workers, sort of like how the Chinese have been aced out by even cheaper Vietnamese labor.)
But there is the emotional argument about separating families by deportation and how it wasn't the kids' fault the parents came here illegally. It's how we were saddled with in-state tuition for illegal aliens; too many voters believed the sob stories and forgot we are a nation based on the rule of law.
This brings up a point somewhat unrelated to the D.C. March for Jobs, but an idea worth discussing nonetheless. While I'm normally well in line with the Competitive Enterprise Institute – citing CEI is common around these parts – I tend to disagree with them on the immigration issue. Yet they came up with this:
(T)o prevent individuals from overstaying their visas, Congress should scrap time-restricted work visas and move to a system where the IRS withholds a certain percentage of guest workers' wages until they either naturalize or return home.
It's part of a sequence which, to them, would also include a higher number of guest worker visas. I may not mind that either, provided those who are here illegally return home to apply for them. Somehow I don't think all that many would take up that sort of offer, and why should they when we bend over backwards to cater to them despite their shadowy status?
But returning to the main subject of this piece, hopefully there will be a good showing of local people at this Washington event. Yes, it is very early in the morning but Cathy figures on a 2 p.m. return so there's time for a siesta upon arrival in Salisbury.
I'm not sure this is the most overly newsworthy item out there, but those many readers I have in the Dan Bongino fan club may enjoy this Next Generation TV appearance he had with Lt. Col. Allen West. (I don't subscribe to Next Generation, and I'm not sure they allow embedding anyway. So follow the link.)
I did watch it, though, and what impressed me most is how well Dan seems to be handling the constant media demands on his time. He seems to have become the go-to expert on all things Secret Service, too.
But this continues to provide me with the thought that Dan Bongino may be Maryland's answer to Sarah Palin. At times, I think he seems to be evolving into a figure which is too big for state politics – think of it this way: could you see Sarah Palin running again for an office in Alaska? Granted, there's a big difference between serving in a political office as Sarah did for several years before becoming a governor and vice-presidential nominee versus running one time for U.S. Senate and getting only a little over 1/4 of the vote, but you would have to admit that Dan is perhaps the most famous failed one-time Senate candidate in the country right now, at least in casual conservative circles.
That's not to say that Dan hasn't worked for this limelight; he is certainly a gifted speaker and very articulate in presenting his political platform. Unlike any other Maryland politician with the possible exception of Martin O'Malley – who is an elected official and head of the Democratic Governors' Association – Dan is perhaps the most well-known politician from the state of Maryland. Granted, we don't have a lot of statewide officers to begin with and our two United States Senators don't seem to be the type that naturally gravitate toward the camera, so Maryland is essentially not regarded for its politicians. Dan fills that vacuum well.
Another parallel to Bongino could be that presented by his interviewer, Lt. Col. Allen West. While West did serve a single term in Congress, his political impact would seem to be greater as a media celebrity; one for whom a fledgling internet television network was created. With as many media appearances as Dan makes, the possibility of that being his outlet exists as well.
So when the discussion for 2014 begins, Dan is obviously portrayed as one of the first dominoes which needs to fall. Given that there are already several good candidates in the quest for the governor's chair and no Senate seat is up for grabs next year, it seems like the coming three years will present themselves as an opportunity to build the Bongino brand as a spokesperson for conservatism across the country. Unlike the situation in 2010, where most Republicans waited on pins and needles to see whether Bob Ehrlich would make a second run at O'Malley, no one is going to step aside for Dan should he opt to run for governor.
Could Dan win in that situation? It's hard to tell – certainly he'll have to do well in the minority community to have any shot, but the remainder of the state may well be fed up with the O"Malley tax-and-spend regime.
But I think this decision has to be made sooner than later. As we learned in 2010, being coy and not allowing the political process to sort itself out leads to disappointing results in November. The 2014 primary will be in late June, which gives both parties ample time to heal their wounds and fight for control of the state, but there's a lot of work to do between now and then. I have all the respect in the world for Dan, but if he wants to do something in terms of running for office in 2014 it's getting time to let us know. Otherwise, I'll be interested to see who his Cede No Ground PAC focuses on.
When I last left you at CPAC, I was ready to return upstairs to see Sarah Palin (and ran into Dan Bongino in the process.)
But I wanted to digress beforehand and explain a little bit about my vantage point for the event.
When I walked in early on and finally found the media check-in, they gave me this.
Obviously that gave me floor access, but for most of my time there (except when I walked up to take pictures) I was back in this area.
By the way, the woman sitting in front of me in the multi-colored shirt was my friend Jackie Wellfonder, who was covering CPAC for Viral Read. Nice work for her!
We were segregated into the area – which had some perks, like free coffee and pop – with the one problem being the obstructed view. But we had a good place to work and power to plug in our laptops.
The only complaint I would have was the internet access. It was provided by the TEA Party News Network, which I appreciate. But it was overwhelmed, with the best analogy I could give being that of sending a Yugo to run a NASCAR race.
I would have liked to do more Tweeting from the event, but it simply wasn't possible.
Since I knew Sarah Palin was slated to speak at noon, I was upstairs a little early. I came back just in time to see a former Democrat speak.
Artur Davis is a former Congressman (and onetime Obama supporter) who has come around to the conservative side. Davis pointed out that the 43 million conservative voters in America are the country's largest voting bloc. "This is our America too and we are not going anywhere!," he exclaimed.
At last, Sarah Palin was introduced.
No, that's not Sarah nor is that a mistakenly-placed picture. "As all of you know, I'm not remotely cool enough to be Sarah Palin," opened Senator Ted Cruz. "She drives the media batcrap crazy."
But he stepped out to proclaim that Sarah Palin was among the biggest reasons he was in the Senate. "She picks winners," said Cruz, citing as examples Rand Paul, Marco Rubio, Tim Scott, Pat Toomey, and Nikki Haley in 2010, along with Deb Fischer, Jeff Flake, and Cruz last year.
"I would not be in the Senate today if it weren't for Governor Sarah Palin," concluded Cruz. "She is principled, she is courageous, and she is a mama grizzly."
Palin's speech has been reviewed as one chock full of one-limers and quips, and it was.
However, she made time for chastising the Senate for not passing a budget. She also pointed out that leaders take risks while campaigners make promises and made the case that "we'll never win a contest of identity politics." Sarah also warned us to not let the media intimidate us and had the prescience to quip "the last thing we need is Washington, D.C. vetting our candidates." She advised the inside-the-Beltway crowd to "get over yourself."
But Sarah Palin's seminal moment was the Super Big Gulp. I think the Southland Corporation owes SarahPAC a pretty hefty contribution for the free advertising they received from this one gesture – somewhere around National Harbor a 7-11 should be advertising that they sold Sarah's Big Gulp. I wondered why the lights were dimmed before Sarah's performance – the three roadies were delivering her prop.
(The picture is actually a photo of the monitor in front of me at the time.) But my burning question: was it Coke or Pepsi?
After Sarah finished, I decided to do a little more exploring. Going upstairs I saw the screening room for a number of movies sponsored by Citizens United.
There were also breakout sessions going on, like this one wrapping up from TEA Party Patriots.
But the real reason I went there was that a flyer had advised me of a Breitbart News-sponsored event dubbed "The Uninvited."
I got a picture of Steve King which turned out this time, as he introduced the event by speaking about Andrew Breitbart, a man whose "integrity was essential." Breitbart's CEO Larry Silov added that "we mjust be willing to discuss issues."
This was an event was intended to address some items which weren't featured prominently enough on the main CPAC stage: global jihad, persecution of Christians, gutting the military, and immigration were cited. Among the "uninvited" speakers was Pamela Geller, who was also featured at Turning the Tides. They had a packed house.
I didn't stay for the event, which is the thing about CPAC: it's way more than one person can see. (The same goes for several of the films screened there as well as the breakout sessions, which occur at the same time as speakers and panels downstairs.) The Uninvited event is covered well on Breitbart's site, though.
Instead, I had a meeting of sorts to attend. Some of you who have seen my Facebook page have already seen this shot.
When I had stopped by the PJ Media booth earlier, I was told Lt. Col. West would be there at 1:30 and I arrived just in time to be behind Jackie Wellfonder in line. So I took advantage.
By this time, I decided to head back up so I could see Mia Love, a rising star in the conservative movement. But because they were running somewhat behind, I caught some of the stories of the "Conservatives Under 40″ featured as a panel.
Next up was a panel headed by former Senate candidate and Hewlitt-Packard CEO Carly Fiorina, who believed "this is the century of brain power and innovation." She was joined by Texas Comptroller Susan Combs, who cited the "U-Haul test" and quipped "California is Washington, D.C. is waiting," and New Mexico Congressman Steve Pearce, who asserted that our business is what separates us from South Sudan – they have no "kinetic energy." The panel eventually suggested that perhaps a million small-business march on Washington may be needed to build awareness of their issues.
Brent Bozell spoke next, pleading his case that we need to stop listening to professional politicians and consultants who are most responsible for our "trainwreck." He also ticked off a list of things which "aren't conservative" like the new Ryan budget, House leadership, Jeb Bush, Bob McDonnell (who can "forget his national aspirations", according to Bozell), and Karl Rove. The mention of Rove drew a chorus of boos from the audience.
We would work with these guys, said Brent, but it would have to be on our terms: "our days of playing second fiddle to moderates are over," concluded Bozell.
We finally got to listen to Mia Love, who was introduced by comedian Stephen Crowder as a woman "liberals check under their bed for." Somehow I had a lot of good pictures of her, this was the best.
"The pundits of doom and gloom would have you believe all is lost," said Mia. But her upbeat message was of great cause of confidence: we can restore our confidence in this country and stand out as examples of what is good and right.
Next up was the final panel of the day. a confab called the CPAC All-Star panel.
I'll admit that I spent the better part of my time this panel was speaking in writing the first portion of Part 1 of this series, but my ears perked up when Larry O'Connor of Breitbart News mentioned Andy Harris's evisceration of CDC director Tom Frieden over the effects of the sequester.
After the All-Star Panel concluded its work, Dinesh d'Souza spoke on the upcoming film "America," which as he stated, highlights the idea of the self-made man. This "couldn't be more different than Obama's idea," which to d'Souza seemed to be one that the free market is a form of theft.
The film will ponder the question "what if America didn't exist?"
RNC Chair Reince Priebus noted that the "House Republican budget is right for America" while the Democratic budget never balances. He also believed we need to introduce the government to the Tenth Amendment.
"Conservatives have to hold the government accountable," Priebus concluded. "I applaud the new generation of liberty-minded Republicans."
NRA head David Keene embraced Priebus after being introduced to speak, saying "he is a guy who gets it." He also recounted a long history of conservative vs. establishment Republican battles dating back over a half-century and reminded us that 50% of voters under 30 voted for Ron Paul – but party leaders don't really want voters in their clique, Keene said.
Political movements have two choices, said Keene: they can grow, or they can die. It was interesting to hear a member of the old guard speak to a crowd mainly comprised of those two generations younger, as we shall soon see.
Rep. Cathy McMorris Rogers was another warmup act, one who cautioned us that "for too long we've been talking like bookkeepers rather than leaders." She added, "we need to be the party of the 100 percent."
After giving out the video of the year award to the University of Georgia College Republicans and the Blogger of the Year award to Katie Pavlich, who accepted the award and told us bloggers "we have the world in front of us to conquer, so let's do it," we finally got to one of the last featured speakers.
Ann Coulter was her usual snarky self, particularly snapping at onetime Coulter favorite Chris Christie: "Even CPAC had to cut back on its speakers this year, by about 300 pounds." Later, when answering an audience question about whether Christie should have been invited to CPAC, Coulter said "I'm now a single-issue voter (on immigration), so Christie is off my list."
She also made the point of tax hikes, rhetorically asking the question sure to come from the media: Are you saying that you wouldn't even take $1 in tax increases for every $10 in spending cuts? "See, the problem is, we're the Indians and the Democrats are Andrew Jackson," replied Coulter. "We've been through this before."
But she got serious during her remarks, telling the audience "the reason we don't have the Senate is because Republicans keep screwing up. I can think of about ten Senate seats in the last three election cycles that we've pissed away through narcissism, greed, or stupidity."
"Passion is great, but scoring is all that counts," said Coulter. "On the basis of this one boneheaded statement by Todd Akin out in Missouri, Democrats finally had their talking point: the Republican were waging a 'war on women.'"
But, countered Ann, "your average Democrat actually believes things much crazier than Todd Akin – but the Democrats don't let their candidates open their mouths and say stupid stuff."
Philosophy is not the Republicans' problem, though. "Conservatism is about the only thing Republicans have going for them."
She was also harsh on the pro-amnesty wing of the Republican Party, saying "if amnesty goes through, America becomes California and no Republican will win another national election." Instead, Republicans shouldn't be desperate and adopt amnesty because Democrats want it. "People always announce their complete triumph a moment before their crushing defeat," concluded Ann. "Our job, Republicans, is to insure Democrats have that crushing defeat."
After Coulter finished, the CPAC straw poll results were announced. What blew me away was the percentage of under-25 people who participated, although it should have been apparent in the crowd. Rand Paul and Marco Rubio paced the field. Coming in a distant third was the top 2012 candidate on the ballot, Rick Santorum. (My vote was among the 'other' category, since I preferred Indiana governor Mike Pence.)
Finally, we reached the penultimate speaker, newly elected Senator from Texas Ted Cruz.
In his remarks, it's noteworthy that Cruz spoke in front of the podium, which to me suggests either he memorized his remarks or spoke completely off the cuff, or both.
He opened up by commenting on being called a 'wacko bird' by John McCain: "If standing for liberty makes me a 'wacko bird' then count me as a proud 'wacko bird.'"
Cruz revealed one of the biggest surprises he received upon entering the Senate was their defeatist attitude, as he countered that "for the last three weeks, conservatives have been winning."
On the Rand Paul filibuster, Ted pointed out that the filibuster drew more support as the night went on. "Each of you engaged," said Cruz. It was something not seen in a long time – "standing on principle." Ted also revealed the filibuster was the very first time he had spoken on the Senate floor.
Cruz also believed we were winning on sequestration, based on the lack of reaction to Barack Obama's "scare America tour." The sequester was a "small step" in reining in the debt.
As part of that, another victory in Cruz's book was the vote on an amendment her offered to repeal funding for Obamacare. "Now I'll confess: a couple weeks ago when I said initially I was going to offer that amendment, more than a few of my colleagues were not thrilled. And yet we saw every single Republican in the Senate vote unanimously to defund Obamacare," said Cruz. On the other hand, all the Democrats voted to keep Obamacare, "even if it pushes us into a recession," as Cruz charged.
But the key to continue winning is twofold, to defend the Constitution and champion growth and opportunity. "Defend the Constitution: liberty is under assault from every direction," stated Ted. He cited threats to several parts of the Bill of Rights, particularly the Second Amendment and the Fourth Amendment. "We need to repeal the NDAA ," said Cruz to thunderous applause.
He also mentioned threats to our sovereignty. "We (the state of Texas) stood up to the President of the United States – who happened to be a Republican – and I went before the Supreme Court of the United States and said no President, Republican or Democrat, has the Constitutional authority to give away U.S. sovereignty." Adding that Republicans stand up to Republican presidents, Cruz continued "where were the Democrats when Rand and the rest of us were standing on the floor on drones?"
On growth and opportunity, Cruz charged "we are in the midst of what I call 'the Great Stagnation.'" Only twice in the postwar era have we seen less than 1 percent growth – from 1979-83 and over the last four years. "Obama didn't learn the lesson from Reagan," said Cruz. Instead, we need to embrace "opportunity conservatism," a philosophy to ease the means of ascent up the economic ladder. To do this, we need to do a laundry list of things: repeal Obamacare and Dodd-Frank, eliminate corporate welfare, build the Keystone pipeline, rein in the EPA, audit the Fed, stop QE infinity, abolish the Department of Education, champion school choice, stand with Israel, and stop sending foreign aid to nations that hate us.
Speaking to the audience, Cruz told us it was up to us to spread the message. "There are no longer gatekeepers that can decide what the American people hear and what they don't get to hear."  He named his site as one means of doing so, but concluded by saying "we're here because we're not willing to give up on America."
Okay, I'm out of pictures, but I'm not quite finished yet.
One goal of mine was to meet fellow bloggers and promote my site. I handed out a few dozen business cards, found a couple promising leads for freelance work, and did what networking I could. But perhaps the best part was getting to meet a few of the bloggers I'd read from afar as well as make a couple new acquaintances, such as Bill Hughes, who, like me, drove down to CPAC for the day from New Jersey and was my next-door neighbor for part of the day at the media table, or Deb from Kansas (bloggers would know her as Nice Deb.) That introduction was made as I was talking with Cynthia Yockey, who I met for the first time after being linked to her for quite awhile.
And I'll be interested to see how I turned out on DaTechGuy's video, since I was among the last to be featured. Maybe next year I'll get some cannoli. I also got to meet a woman whose link from my site, if I'm not mistaken, was her first: Becca Lower from my native state of Ohio. If I heard correctly, she was a CPAC volunteer, which is really cool and commendable.
Nor can I forget some of my biggest fans, who saw me as I walked in the door: Larry and Rosemarie Helminiak spotted me and said hello, which made me feel a little more at home.
So that's how my day went. Last year I stated making it to CPAC was one of my goals for 2013, and I accomplished it despite the limitations placed on me by my other jobs and funding. Next year, though, I'd like to experience the whole event, an endeavor which could run into the four-figure range depending chiefly on accommodations. 2 1/2 hours each way is a bitch of a commute, as I found.
I don't normally ask this, but if you liked my coverage of CPAC and want to see more, the best way to insure that is rattling the tip jar early and often. People want to know how the mainstream media can be countered, well, here's an opportunity to get the straight story if you care to support it.
To be honest, the picture part of this will be pretty lean. But here's one of all the signage lined up along Glen Avenue:
This Election Day was a little unusual because I had to work – in previous years I was able to use a vacation day but my outside job is extremely busy this time of year. So I didn't get to my assigned polling place (which happens to also be my voting location) until about 2:30.
As I noted on Facebook, the Obama representative was already there.
It is worth noting that in the time I was there I had only a few campaigners keep me company: one from the Bongino campaign who was there throughout, one volunteer representing the Maryland Marriage Alliance who was there about 3/4 of the time (and had also been there in the morning), a Democratic operative who was there for perhaps a couple hours, and at the tail end this guy:
Truthfully, by the time Muir got there I'm not sure it did much good, nor did about half of the 130 or so palm cards I had regarding the ballot questions. But he did get almost 4% of the vote, in line with previous LP candidates here.
One thing I noticed about this polling place – perhaps as opposed to the Delmarva Evangelistic Church where I had worked a couple times before and perhaps due to early voting – was that business just died after 6 p.m. or so. Once the rush of people coming from work subsided, we had little to do but talk among ourselves.
According to the state Board of Elections, just about 32,000 people came to vote on Election Day in Wicomico County after around 6,400 took advantage of early voting. So only about 1 in 6 voters decided to vote early here, but I think part of that was the crowd who used to come after 6 previously.
One thing I have heard in the post-election discussion, though, is how bad the turnout was nationwide compared to 2008.  Barack Obama lost about 10 million votes overall while Mitt Romney failed to meet John McCain's total by a couple million votes. Give or take, about 12 million people sat this one out and the question is why. But that's one for another day and perhaps another analyst.
What I knew, though, was when I arrived at Republican headquarters to watch the votes be counted I could tell the mood wasn't joyous. It simply didn't have the sound of a victory celebration, and most likely it's because so many of us were sure and assured that Mitt Romney would pick up about 52% of the vote. Instead, it seems like Rasmussen, the group out in Colorado whose economic math forecast a Romney victory, and even the Redskin Rule were all wrong.
Instead, the evening was a disaster for conservatives in Maryland and elsewhere:
Despite the thought that Romney could outperform John McCain, the final totals once again reflected a 62-37 landslide for Obama. Instead of losing by 25.4% Romney lost by 25.1%, meaning that we'll catch up by the 2264 election.
The good news: Ben Cardin only got 55% again. Unfortunately he won by 28 points over Dan Bongino. But even with upstart candidate Rob Sobhani taking away more votes from Dan than Ben, it's likely the final margin would have been comparable to the 2010 U.S. Senate race between Barb Mikulski and Eric Wargotz had Sobhani saved his millions.
All the time and effort getting signatures to place various ballot issues on the docket seems to have gone for naught as all three of those efforts passed. The closest ballot issue was Question 6 but the destruction of traditional marriage still passed with 51.9% of the vote.
Far from taking advantage of the Democrats having to defend 23 of 33 Senate seats up for grabs, the GOP lost 2 seats in the chamber and now sit at a 45-55 disadvantage. While poorly considered remarks by Republicans Todd Akin of Missouri and Richard Mourdock of Indiana were played up in the media, they somehow failed to notice the holes in the record of Elizabeth Warren (a.k.a. "Fauxcahontas") of Massachusetts, who won.
Black conservatives took a hit as well: Allen West is trailing his Democratic opponent pending absentee ballots and Mia Love lost narrowly in Utah. While the House stays in GOP hands, the margin will decrease slightly so Obama had some minor coattails.
So what do we do? Well, on that I have to ponder some more. I just know I left the GOP party once Pennsylvania and Wisconsin were called because those were the linchpins of Romney's strategy. And it will forever be debated locally whether the Maryland GOP's insistence on helping elsewhere may have hurt the cause of local officials, but given the large margins of defeat it likely would have made no difference.
I've said before that Election Day is my Super Bowl and right now I have an idea of how those who were on the wrong side of the blowouts common during the 1980s and 1990s felt in the days afterward. I have a low opinion of many in my adopted home state who eschew logic and rational thought for free stuff and feelgood policies which will be detrimental in the long run.
But there is always hope and another election coming around the corner. The work has already started for that one.
More dollops of blogworthy goodness, neatly bundled up in short, paragraph-or-three packages. I put them together and you raptly absorb them. It seems to be a good formula.
If you believe it's time to ditch Dutch, you may want to know your contributions are paying for this. Here's 30 seconds from State Senator and GOP hopeful Nancy Jacobs:
Now this is a good message, but oh! the cheesy video effects. It sort of reminds me of the Eric Wargotz "Political Insidersaurus" commercial, which had a message muddled by production. Sometimes people try too hard to be funny, but that shot of Dutch peeking around the Capitol dome might have the same effect clowns do on certain people who find them creepy.
A longer form of communication comes from a filmmaker who somehow got in touch with me to promote his upcoming documentary. It may not be "2016: Obama's America" but Agustin Blazquez is an expert on communism, having left Castro's Cuba as a young man nearly 50 years ago.
Perhaps it's hard to read, but the gist of the film is that it exposes "Obama and his supporting network of organizations that helped him win the Presidency…and the connections with George Soros and the Communist Party U.S.A."
I'm not going to speak to the merits of the film because I haven't seen it. But this is a good opportunity to relate something I've encountered in my personal experience – the ones who seem to be most concerned about America's slide leftward are those who have experienced Communist oppression firsthand, risking life and limb in many cases to escape to America. And they have no desire to go back.
One more video in that vein is the most recent web ad from First District Libertarian candidate Muir Boda.
One may debate whether we have a purpose for being in Afghanistan and Iraq, although in both cases we are in the slow process of withdrawing. But Boda goes farther and talks about rescinding foreign aid entirely, and that changes the terms of the debate dramatically. We can also include the idea of withdrawing from the United Nations in there.
It's unfortunate that Andy Harris has chosen to skip the debates this time around because, in the wake of the Chris Stevens murder in Benghazi ("Obama lied, Chris Stevens died": new foreign policy slogan) the time has come for a robust debate about how we treat both foreign relations and our dealings with Islamic extremists such as the ones who attacked our compound there.
Meanwhile, we also have to worry about our own border security in the wake of the killing of Border Patrol Agent Nicholas Ivie last week. The Center for Immigration Studies rushed out their assessment of the situation, which bolsters an argument that we need to mind our own borders. They add:
Nicholas Ivie's name is now added to the large and growing list of individuals killed on both sides of the border as a result of failed and corrupt policies.
We need border security, but perhaps it's time to be more libertarian and consider the impact of our War on Drugs. I can't promise it would eliminate the Mexican cartels, and honestly their battles with a corrupt Mexican government may end up as a civil war on our doorstep. But one also has to consider what the crackdown does to American youth as well.
You'll note I panned Andy Harris for his apparent refusal to debate a couple paragraphs ago. That works for both sides, and especially so in the wake of Barack Obama's recent debacle.
Fifth District Congressman Steny Hoyer claims people know where he stands, but he's obviously afraid to defend his views onstage and challenger Tony O'Donnell takes exception to that:
Regardless of where we stand on the issues, this election is not about where we both have been, it is about where we are going.  The citizens of our district reserve the right to witness the passion I encompass when I know our rights are in jeopardy.  Representative Steny Hoyer has lost this spark and is merely a smoldering ember underneath the smokescreen of his 45 years as an elected official in Maryland.  It's time to blow the smoke away and ignite a new fire.

My campaign has invited Representative Hoyer to debate in front of the citizens in each county and once on television.  In addition, The Chris Plante Show attempted to arrange an on-air debate.  Also, citizens throughout the District have called for a debate.  Yet Representative Hoyer rebuffed all requests.
That's because Hoyer knows he has some built-in advantages: the power of incumbency along with the franking privilege, a willing and compliant press, and lots of money in the bank to create 30 second commercials. In a debate he can't control the narrative, and that's a position of a politician who knows he's not as popular as he may let on.
I would expect that attitude of arrogance mixed with fear from Steny Hoyer, who's long past his sell-by date, but I hoped Andy Harris would be better than that.
In Hoyer's case, this ad from Americans from Prosperity should be beamed into his office. It's simple but powerful in its message.
Time to try something different indeed. I received a number of reactions to the latest unemployment report, including ones from the Competitive Enterprise Institute and Lt. Col. (and Congressman) Allen West which flat-out accused the Obama administration of making it up. That's okay, the Democrats lie on Medicare too.
Even Andy Harris responded, noting that:
I agree with what Vice President Joe Biden recently said when he stated that the middle class was "buried" over the past four years.

That is why the House voted to stop President Obama's tax hike proposal on small business owners and the middle class, which would destroy over 700,000 jobs. We need the President and the Senate to work with House Republicans instead of continuing to promote job-destroying policies that the American people can no longer afford.
Even before the unemployment figures came out, though, the Republican Study Committee hammered President Obama and the Democrats for incomes which had fallen faster during this so-called recovery than during the preceding recession, particularly at a time where gasoline prices are skyrocketing.
The jobless recovery even extends to Wicomico County. As local researcher Johnnie Miller writes in an e-mail I obtained:
Wicomico has 132 fewer workers this year as compared to the same period last year – (08/12 vs. 08/11).  Even though the unemployment rate has declined in Wicomico from 8.8% to 8.2% – the real indicator points to the fact that those receiving unemployment checks have now exhausted their benefits and still not found jobs.
More alarmingly, somehow the county lost 1,613 workers from their labor force between July and August. 190 of them simply disappeared off the unemployment rolls as well, allowing the county's unemployment rate to drop to 8.2%.
If this is recovery, I'd hate to see a depression. I could only imagine what the county's U-6 unemployment rate would be.
I suppose there's the possibility that these employment rolls may have been kept up like voter rolls are – perhaps they forgot to remove a few deceased workers. After all, the deceased really can vote in Maryland, according to the watchdog group Election Integrity Maryland:
While just scratching the surface of voter roll research, having looked at 35,000 voter registration records so far in Maryland, EIM has discovered 1,566 names of deceased still on the voter rolls.  Of these names, apparently two voted and three registered to vote after their deaths.
Talk about a serious case of rigor mortis.  But there are about 3.5 million registered voters in Maryland so if you extrapolate the numbers in a statewide race that's 200 voters who would have been discovered, not the mention the potential for 156,600 zombie voters. It's long past time to cull the voter rolls AND enact photo voter ID.
But let's go back to the economy for a little bit, since those dead voters seem to be among those supporting a Governor who seems to be killing Maryland's prospects for economic recovery in the next decade.
After Governor O'Malley appeared on CNBC yesterday, his nemesis Change Maryland immediately found significant fault with his remarks. Larry Hogan, Chairman of the group, delivered the real story:
We are very familiar with Martin O'Malley putting out falsehoods about his own record when it comes to Maryland's economic performance. Maryland is a laggard in economic performance in our region, so he compares us to states like Michigan and Nevada.  The difference in those hard-hit states is that there top elected officials are dealing with structural problems in their economies while our Governor enjoys seeing himself on TV and making partisan attacks.
Martin O'Malley does seem to suck up a lot of airtime these days. I'll bet a debate with him and Larry Hogan would be fun to watch in much the same manner some watch NASCAR rooting for the 14-car pileups. We all know the engineer of that train wreck would be Martin O'Malley, so the trick would be seeing if Larry Hogan could keep a straight face during all that. I'm sure I couldn't.
What I can do, though, is leave you on that note as my e-mailbox is in much better shape. I do have some Question 7 and SB236/PlanMaryland/Agenda 21 items to discuss, but those merit their own posts. Three score odds and ends are in the books.
You know them, you love them…bloggy bits of goodness I expound upon which run from a sentence to a few paragraphs. Here's my latest batch from a chock-full mailbox all but neglected over the weekend.
Actually, the first item doesn't come from my mailbox but was shared with me on my Facebook page by Jim Rutledge, who urged me to read and share this piece by Diana West about how we'll never win if we kowtow to Islamic radicals.
West writes about the saga of Marine Lance Cpl. Greg Buckley, Jr., who was killed in a "green-on-blue" attack last month. Chillingly, Buckley predicted, "one day they are going turn around and turn those weapons on us." And so they did.
Of course, that leads to the obvious question of why we remain in Afghanistan, which has no clear-cut answer. At this point, it truly makes no difference to the most radical Islamist whether we stay or go as we're the Great Satan just the same. Right offhand, I have no idea what the body count is on their side, but I'm sure it could be a lot more if we didn't pull our punches. Once we bombed Tora Bora back to the Stone Age to get Osama bin Laden, but it was a more precise Seal Team Six which sent bin Laden to those 72 virgins, with Obama trying to heist the credit. Certainly there are those Afghans who love the accolades they receive from their comrades when an American is cut down as well.
All in all, the Patton rule still applies: "The object of war is not to die for your country but to make the other bastard die for his." Just substitute "religion" for "country" on their part.
Another old saw from the Left is that not throwing money at education produces inferior results. But that theory is debunked by a study recently released by State Budget Solutions. If the liberals'  theory was correct, then states which spent the most per pupil would have the best results – but the numbers suggest otherwise. In announcing the results, SBS noted:
From 2009 to 2011 the national average for state educational spending as a percentage of total spending dropped from 30 percent in 2009 to 29.3 percent in 2011. The top state spenders across all three years were Texas, Vermont and Arkansas, all spending at least 4 percent more than the national average. Michigan made the top five in 2010 and 2011. Virginia earned the #4 and #5 position in 2009 and 2011, respectively.

The states that spent the least as a percentage of total spending during 2009-2011 were Alaska, which came in last all three years, Hawaii and Tennessee. New York and Massachusetts also made the bottom five in 2010 and 2011.

For states that spent the most, only Vermont saw significant results from 2009 to 2011.  In fact, four out of the five states spending the most on education failed to produce correspondingly high graduation rates or ACT scores. Arkansas remained in the top five states in spending for all three years, yet Arkansas' average ACT scores consistently fell below the national average, and continue to decline annually. In 2010 and 2011, Texas ranked first in the nation in spending, 36.9 percent each year, but fell below the national average in graduation and ACT scores.
One can have whatever educational Taj Mahal the taxpayers willingly – or begrudgingly – pay for, and teachers who receive the highest pay around, but if they can't teach then all the money is essentially wasted. Otherwise, why would bright homeschooled children be the academic leaders of this country?
At this time in the election cycle, endorsements are always news. Recently the Conservative Victory PAC added two new Republican hopefuls to a growing stable of CVPAC-backed candidates as Second District Congressional hopeful Nancy Jacobs and Third District candidate Eric Knowles got the CVPAC blessing.
On Jacobs the group wrote:
CVPAC supports Ms. Jacobs's education reform agenda, including expansion of Charter Schools in failing school districts, means-tested tax credits for parents with children in religious schools and other private schools, and tax credits for Maryland businesses that invest in schools or hire graduates from local schools.
CVPAC Treasurer Ruth Melson had this to say about Knowles:
Let me tell you why Eric Knowles must be your next United States Congressman from Maryland District 3.  Eric knows about defending the United States Constitution against foreign enemies and he will defend it at home the same way; he is a US Air Force veteran.   He knows about our terrible economic plight; he works as a bartender talking to regular folks every day.  In the United States Congress, he will always represent the interest of Marylanders like you and me.  He is not an ivory-tower politician building castles in the air; he is pragmatic.  Government, he says, must stay within its constitutionally enumerated powers; government must be rolled back to what we can afford.
Along with U.S. Senate candidate Dan Bongino, the Conservative Victory PAC has endorsed four of Maryland's six Republican Congressional challengers: Ken Timmerman, Faith Loudon, Jacobs, and Knowles. I suppose they have a few weeks to add Fifth District challenger Tony O'Donnell and Seventh District aspirant Frank Mirabile to the list.
Bongino, meanwhile, keeps adding to his national profile by getting key endorsements of his own; most recently Lt. Col. Allen West added his vocal support:
The differences cannot be any clearer in the race for United States Senate. Ben Cardin has been an elected official for 45 years and you need to question 'Is Maryland better off than it was in 1967?' It is time the people need to elect someone who has some real experience, and that is why I am endorsing Dan Bongino for U.S. Senator for Maryland.

We need someone who has walked a police beat and not someone who all he knows how to do is walk into a chamber and vote aye and nay all day long!
West is a conservative darling who some believed would have been a great VP pick.
On the other hand, "establishment" Republicans may have been enamored with an endorsement closer to home – former Governor Bob Ehrlich:
Dan has the unmatched integrity and unique depth of experience necessary to defeat an entrenched incumbent like Senator Cardin. His background in law enforcement and federal investigations, combined with an entrepreneurial spirit and business acumen, afford not only a broad overview of the political arena but also personal expertise in job creation, fiscal responsibility, and community involvement.

We cannot continue down the same non-productive road we've traveled for the last 45 years. It's time we elect someone new – someone who can relate to the needs of the average Maryland family. Dan's message resonates strongly with both Democrats and Republicans alike, and he is the right person at the right time to represent Maryland and shake things up in Washington.
Gee, Bob, that sounds a little bit like your 2010 primary opponent I voted for. While it's nice to have the endorsement, honestly I'm not sure the Ehrlich name carries the cache it formerly did among rank-and-file Republicans, let alone those who call the TEA Party home. They were more enthused by the Allen West statement, I'm sure.
Speaking of those who have spanked Ehrlich electorally, Martin O'Malley is once again getting beclowned by Larry Hogan and Change Maryland as they point out Maryland's unemployment rate is rising as the national percentage drops:
Maryland's unemployment rate inched up to 7.1%, marking months of consecutive upticks since January's rate of 6.5%,  in the latest state employment picture released today by the Bureau of Labor Statistics.

The preliminary August numbers show a slight gain in employment due to July numbers that were revised downward by 1,600 jobs.  In August, Maryland payrolls increased by 1,400 over July.

The slight change in employment numbers, however, is not enough to lift Maryland out of the doldrums when it comes to competing with neighboring states.

"We are lagging in job growth in the region and are simply not competing with our neighbors," said Change Maryland Chairman Larry Hogan. "This year's performance on job growth is abysmal as it has been since 2007."

On a percentage basis of jobs lost, Maryland's decline of 1.4% since January of 2007 is the second-worst in the region after Delaware.
And Change Maryland had even more fun at O'Malley's expense, reminding its audience that each and every Republican governor berated by DGA head O'Malley scored higher on job creation than he did:
In recent remarks in Iowa, O'Malley said, "We are the party that grows our economy; they are the party that wrecked our economy.' This false statement is borne out today in the latest August employment numbers released by the Bureau of Labor Statistics that show Maryland's loss of nearly 7,000 jobs this year is worse than Florida, Ohio, Louisiana, Wisconsin, Virginia, Texas, New Jersey and Maine. In some cases it is much worse.  For example, under Gov. John Kasich, Ohio has created 68,300 jobs this year; Florida Gov. Rick Scott, 50,500 jobs; and New Jersey Gov. Chris Christie, 26,200 jobs. So far this year under Gov. Rick Perry, the Lone Star state has created 140,000 more jobs than Maryland, which some have dubbed the "Fee State" as opposed to the official "Free State."

"Martin O'Malley has no credibility whatsoever talking about jobs," said Change Maryland Chairman Larry Hogan.  "What he can talk about, but chooses not to, are the 24 taxes and fees he has raised since taking office which remove $2.4 billion annually from the pockets of struggling Marylanders."
I know Jim Pettit doesn't necessarily write these releases to be laugh-out-loud funny, but when you consider the material he has to work with, you have to laugh to avoid crying – particularly if you still live in Maryland. As I've put myself on the record saying, take away the nation's capital and Maryland is Michigan without all the lakes – or the jobs. (By the way, even that state is creating jobs much faster than Maryland.)
A surefire way to curtail job creation, however, is to overregulate land use to a point where no growth is possible. Whether consciously or not, the effect of new state rules may be the eventual death knell to the Eastern Shore's economy.
There is an upcoming "Growth Offset Policy Meeting" Thursday morning to discuss these proposals, dryly described as follows:
The meeting will include a presentation by staff from Maryland Department of the Environment about the draft Growth Offset policy and the proposed timeframe for acceptance and implementation of the policy. Following the presentation, the remainder of the meeting is dedicated for a question and answer period. Participants are invited to ask questions and express concerns to staff from Maryland Department of the Environment, Department of Agriculture, and Department of Planning.

The Harry R. Hughes Center for Agro-Ecology is organizing this event and would like to thank the Town Creek Foundaiton (sic) for their generous support which allows the Center this opportunity.
You can register here; it's no surprise that plenty of seats are still available. I'm sure the Radical Green in this area will take time off their public-sector, taxpayer-funded jobs to try and convince these people that every acre in Wicomico County not already developed needs to return to its pristine, pre-settlement state.
If we were to take a path, I say join the one being blazed by Cecil County and say "to hell with the maps." If Rick Pollitt wants to do something useful for a change, this is something to consider when you think about how similar Cecil County is in population to Wicomico.
Finally, turning to the national race: there's a constituency group out there which is always assumed to be a solidly Democratic bloc and that's the Jewish vote. But according to this ad from the Republican Jewish Coalition, voters are turning away:
Perhaps borne out by this ad, a survey by the American Jewish Council of 254 registered Jewish voters in Florida showed only 69% would vote for Obama. It's noteworthy the survey was conducted prior to the 9-11-12 Islamic attacks on our embassies in several Middle Eastern countries, most notably Libya. On the other hand, they didn't ask about the respondents' 2008 vote so in that respect the survey has limited value – we have no basis of comparison to truly determine a trend.
But another number from the AJC survey serves as a way to tie this post together: 62% of those Jewish voters surveyed either strongly or moderately support U.S. military action against Iran's nuclear program. 74% of them would support Israel doing the same.
It all comes back to wars and rumors of wars, doesn't it?
Well, Mitt Romney's selection of Paul Ryan as his vice-presidential candidate was probably a safer choice than Sarah Palin was in 2008 and those of us who are Miami University graduates are thrilled to have a fellow alum with a chance at the second-highest office in the land. (He graduated six years after me, so we weren't on campus at the same time.) But there are some who are fretting that Paul Ryan's not conservative enough or too much of an establishment choice. Personally, I thought Lt. Col. Allen West would have been an interesting selection.
Yet you can't deny that Paul Ryan knows his stuff about budgeting, and even though I was disappointed that his budget blueprint took decades to work the federal budget into balance it was at least acknowledging the largest domestic problem we face. Hopefully we elect a number of good conservatives to the House and Senate to pick up Ryan's pace of motion toward fiscal sanity.
And Democrats naturally tried to seize the narrative. This e-mail blast came from David Axelrod:
In Ryan, Romney has selected a running mate best known for designing the extreme GOP budget that would end Medicare as we know it, and — just like Romney's plan — actually raise taxes on middle-class Americans to pay for an additional $250,000 tax break for millionaires and billionaires. As a leader of the House Republicans and a Tea Party favorite, Congressman Ryan has led the relentless, intensely ideological battle for these kinds of budget-busting policies that punish seniors and the middle class.

Today, Romney doubled down on those policies.

But most Americans don't know Paul Ryan. In the coming days, the other side will spend a lot of time trying to define Romney's choice and what it says about his candidacy — so we put together a brand-new website on Romney-Ryan with everything you need to know. (Emphasis in original.)
But I love this howler in Axelrod's screed:
Ryan talks tough on balancing the budget, but his own plan would fail to do that for a generation. The burden of balancing any Ryan budget falls squarely on the backs of seniors and middle-class families — while no one at the top is asked to pay even a dollar more.
And Obama has made progress on balancing the budget when? Please inform me of this, Mr. Axelrod.
To Obama, a budget deficit is a small price to pay for maintaining the levers of power and "spreading the wealth around." That argument of "no one at the top is asked to pay even a dollar more" conveniently forgets that the wealthiest taxpayers already pay more than their fair share and, even if they were taxed at 100 percent and all their assets seized, wouldn't come close to solving the total indebtedness (including unfunded liabilities) of our nation. That's what happens when the national debt exceeds annual GDP.
And it's sort of funny that the Obama crew has dubbed Romney/Ryan the "Go Back Team." I wouldn't mind going back to unemployment under 5 percent and a shrinking annual budget deficit – how about you? America has two choices: it can fall for the class envy propagated by a current regime desperate to avoid discussion of its real record, or it can vote for a chance at a way out of our mess.
If Obama wins, it's likely we will never see unemployment below 5 percent again unless they change the way the numbers are calculated to make "President Choom" look better. Nor will we come anywhere close to a balanced budget because that's not what this administration wants – I've become convinced they're looking to hook as many people on the narcotic of government handouts as possible, and even if taxes are raised on the wealthiest taxpayers (and they would be) what little benefit is accrued will be far less than the new spending desired.
It's the sign of a campaign which can't rely on the exhausted mantras of hope and change anymore that they immediately go on the attack. Quite simply, Obama and Biden have nothing good to say about themselves or a positive record to defend. It's going to be a long 2 1/2 months to Election Day.
Yes, it's time to clear out the e-mail box and since "random thoughts on the passing scene" was sort of taken by Thomas Sowell I call this exercise "odds and ends." Usually I put up anywhere from a sentence to three paragraphs or so for items not long enough to stand a full post but interesting to me nonetheless.
Perhaps I'm reading more into this than I should, but the other day I found out Andy Harris is likely no fan of the FairTax. This is because, as part of an e-mail I received from him on real estate issues he wrote:
I oppose plans that would result in net tax increases by restricting or eliminating the home mortgage deduction.
Now maybe this is only in context with his next statement:
Reduction, modification, or elimination of all or some of the current tax benefits for homeowners will remain a risk as long as the Administration strives to reduce debt by raising tax revenue without getting wasteful and unnecessary spending under control.
This is where Andy was discussing recommendations by Obama's deficit commission that would eliminate the mortgage interest deduction for certain (presumably wealthy) homeowners or cut these deductions across the board in an effort to raise revenue.
Andy makes the correct point in his note that we need to cut spending, but I'm hoping he's not shut the door on a consumption-based taxation system.
One thing I can also say about Andy is that he's not on any vice-presidential radar screen. But I got the results of a survey the other day which surprised me.
The Liberty News Network, which purportedly is representative of the TEA Party given its parent company is Grassfire Nation, conducted an online poll asking who Mitt Romney should select as his running mate. While the piece claims a "majority" of TEA Partiers prefer Marco Rubio, the last time I checked 36.6% wasn't a "majority." That, friends, is only a plurality.
Despite that LNN headlining faux pas, Rubio won the poll but I also find it interesting that the "racist" TEA Party's top three choices were Marco Rubio, Allen West with 23.4 percent, and Condoleeza Rice, who had 18.2 percent. No one else was over 5.2% of the vote. Apparently almost 80 percent of these "racists" are fine with a Latino or black vice-president – I would be more happy with West than Rubio or Rice, though.
Speaking of Latinos, but more generally of the variety of those having dubious legality to be in our country, I was alerted to a Washington Post story that glowingly describes the city of Baltimore's efforts to repopulate itself via the immigrant population. Shani George, the Post employee who occasionally feeds bloggers items of interest from the paper, wrote in her e-mail:
The welcome mats thrown out by struggling cities and states stand in stark contrast to the reception immigrants have faced in places such as Arizona and Alabama. Most of the immigrant-friendly measures around the country are in their infancy, so it is difficult to assess how effective they are.

Critics say cities that lure immigrants end up with high numbers of undocumented migrants. That also is difficult to measure, particularly now that immigration from Mexico, the largest source of illegal immigration, has dwindled to essentially zero.
And the story, by Carol Morello and Luz Lazo, starts right out with the emotional punch to the gut:
A native of Puebla, Mexico, (Alexandra) Gonzalez feels more at home in Baltimore with every passing year. She attends city-run nutrition and exercise classes in Spanish and takes her two young children to a Spanish-language storytelling hour at her neighborhood library. She plans to earn a GED and become a teacher.
Both of Gonzalez's young children were born in America, so they are American citizens; meanwhile, the accompanying photo captions to the story say Alexandra and her husband are here sans permission. And it doesn't sound like they're looking to assimilate anytime soon, since she's taking Spanish-language courses and sending her kids to similar classes. William Donald Schaefer is slowly spinning in his grave.
Of course, Pat McDonough weighed in. I did not change the text of this excerpt of his release – indeed, it is all caps:
THE MAYOR'S 'AMNESTY ATMOSPHERE' IS CREATING UNFAIR COMPETITION FOR JOBS AND ENTRANCE INTO COMMUNITY COLLEGE FOR THE LEGAL RESIDENTS OF BALTIMORE. THE MAYOR IS PANDERING TO THE HISPANIC VOTE, CREATING A SUPER MAGNET FOR AN INFLUX OF ILLEGAL IMMIGRANTS.

(snip)

I AM SURPRISED THAT THE MEDIA, PRESS, AND OTHER ELECTED OFFICIALS HAVE NOT CHALLENGED HER IN THESE EXTREME AND RECKLESS POLICIES.
For the most part Pat is right, but how many people are going to kill the messenger? Dude, lighten up a little, stop being a publicity hog, and fire whoever is writing your stuff in all caps. You just might be the reason no one is challenging these policies.
And it's a shame because being a bull in a china shop like that, in many instances, drowns out more reasoned arguments like this one from writer Hans Bader about upcoming proposed rule changes in Maryland schools. In many, the inmates would end up running the asylum. (Sorry about the link – Examiner is really overdoing it on intrusive ads.)
Finally, I want to send out a bat-signal to a couple of my loyal readers who have items before the County Council, ones which will certainly be decided during their next meeting. Both the Charter Review Committee and Redistricting Committee have finished their work, and I know the County Council held a work session on both in their last meeting.
If I can get an executive summary of the proposed Charter changes and a copy of the proposed map, I would find it most helpful for analysis of both. The briefing book County Council used in their last meeting is 90 pages long with a lot of extraneous information. Even though I've been described as "wordy," "verbose," and "wonky," I like concise information.
The next County Council meeting will be Tuesday, August 7, and it should be the monthly evening meeting. From what I've read on the Charter changes, they should be palatable to most but I just want to make sure my interpretation is correct. Meanwhile, I understand the county's district map had to change quite a bit and I think it would be helpful for my commentary on it to have a copy for sharing!
So there you have it, the odds and ends of life.
Today is a bad day for those fighting the American decline, on two fronts. One is the prospect of gay marriage passing in the Maryland House of Delegates – if it gets past that hurdle, the Senate is likely to quickly follow suit.
But more germane to this post is the fact the House passed a payroll tax cut extension by a 293-132 vote, with Andy Harris voting in the minority. Why would he vote against a tax cut? Because there was no compromise by the other side:
I support the tax cut element of the proposal. However, the other parts of the bill increased spending in 2012 by $45 billion, while taking 10 years to pay it back.  That's the kind of bad fiscal policy which got us into the mess we're in – Washington has to stop spending money we don't have.
While I certainly support Andy in this stance – even though I know the Democrats will use this against him in the 2012 campaign – it also leads me to ask why couldn't House leadership just have a "clean" bill? The payroll tax cut is one section out of 20. We have that little bit of power, why not use it?
On the other hand, Rep. Allen West of Florida has a more eloquent statement:
Americans are exhausted, out of work and many have simply lost hope in the political system. They have been struggling now with nearly five consecutive years of record job stagnation, increased foreclosure rates and an economy that continues to struggle.

All of these reasons are why I cannot in good faith vote for this payroll tax cut deal. It is not that I don't believe Americans should have relief in their paychecks or be afforded a safety net of unemployment insurance, it is because, unlike some on Capitol Hill, I am looking beyond this election cycle.

I am looking at the ramifications of adding billions of American taxpayer's dollars to a trillion dollar deficit with no answers as to how or when we will pay for this bill.

I am looking beyond immediate gratification and instead looking at an American political system willing to cave to political pressure to give Americans a temporary Band-Aid that in the long run only makes things worse for their future.

The facts are simple.  This supposed payroll tax decrease is really a backdoor tax increase on homeowners and first time homebuyers. The deal is being paid for by added fees on FHA-backed loans. Homeowners with FHA-backed mortgages represent more than one-third of mortgages in the United States. Those Middle Class Americans will be footing the bill for this political gimmick.

Homebuyers with a $200,000 standard 30- year loan will have to pay an extra $10,000 over the course of their loan. It would take roughly 250 paychecks with $40 extra from the payroll tax holiday to pay for the added increase to the life of an FHA-backed mortgage loan. That represents ten years of consecutive employment.

In addition, some may argue the payroll tax deal will not affect Social Security. This could not be further from the truth. The federal government's general operating account will be used to compensate for the lost revenue in the Social Security Trust Fund, which will increase the deficit and add to the nation's debt.

My position on the Payroll Tax Extension has not changed. In December of 2011, I supported a responsible one- year extension that was fully paid for, and would have put money back in the pockets of American workers while protecting homeowners, Social Security, and not adding to the deficit and our ever-increasing national debt.

This current deal is not good policy – but it is political posturing.

The payroll tax cut deal is a result of politicians telling Americans what they want to hear, while seriously harming them and our nation in the long run. Americans sent a new wave of leaders to Capitol Hill in 2010 to stand up for conservative principles and turn this country around. I will continue to be a voice for those Americans. (Emphasis in original.)
And people wonder why West is a TEA Party favorite and mentioned as a dream pick for Vice-President? He seems to be one of the few who calls out Barack Obama for what he is. (Maybe it's because the Left can't use the race card on him, aside from calling him an "Uncle Tom", "Oreo", or any other similar derogatory name.)
But I believe he and Andy Harris made the right choice today. All we are doing is "giving" (read: taking less from) people on the one hand but punishing them with the other. Unfortunately, until Washington has more bold leadership like Harris and West, it's not going to matter how much or little we're taxed because the spending will far outpace whatever is taken in.
It's not about money, it's about control. Learn that lesson well.