For the second time, I have graded all the legislators in the Delaware General Assembly based on their voting patterns on a number of key issues. The final product can be found in its usual sidebar location, or right here.
One new feature because Delaware has staggered elections is an indicator of whether the legislator is running for another term, and if so what sort of opposition he or she faces. Some have a free ride through the primary, while a select few have no general election opponent.
Without getting too much into it – after all, I want my friends in the First State to read and share the information – it was another discouraging session for the Delaware General Assembly. But even the darkest sky has a few stars in it, and one shone very brightly as a beacon of conservatism.
The 25 votes I used were split with nine being dealt with in 2017 and 16 having final action this year. At least one of these bills took nearly the full two sessions to be finalized, but most of them came along earlier this year. In truth, I had the tallying completed several weeks ago but, like in Maryland, I had to wait for the prescribed post-session signing deadline to come and go. It's my understanding that bills not signed within thirty days of the end of the second-year Delaware legislative session are pocket vetoed, and two of the mAP – DE bills were in that category. By my count, thirty days (excluding Sundays) from the end of session fell on this past Saturday: hopefully I won't have quick editing to do.
And if you were sharp-eyed last night, you would have noticed I did the usual "soft opening" by updating the widget before this post was finished and set to be placed up at this early hour.
So, Delaware, here is the voting guide you need this fall – use it wisely.
If you've been keeping up with my infrequent musings of late (admittedly, it's not hard to do) you'll probably know that I've been keeping an eye on the struggle to bring common-sense, job-creating right-to-work legislation to Delaware – as has the national internet site The Daily Signal.
On that front I bring you some good news and some bad news: first, the bad news.
As a prospective resident of Sussex County, I was dismayed to find out that the County Council there is four shades of gutless. That represents the four County Council members who let the vague threat of lawfare scare them into rejecting a bid to make the county the first in the state and region to become a right-to-work county. Only Rob Arlett, who represents District 5 – a district that takes in much of the southern third of the county, including Delmar, Millsboro, and Fenwick, but not Laurel – voted for the measure he sponsored.
Granted, the ink wouldn't have been dry on the ordinance before Big Labor found a friendly judge to slap a TRO on it (and that would have been done out of Wilmington or Philadelphia, since there's not a ton of union presence in Sussex County) but it also would have allowed a second circuit to rule on the law, just as the Sixth Circuit Court of Appeals that covers Kentucky ruled favorably on a county-level law there. (Later, the entire state adopted right-to-work legislation.) Since Delaware is in the Third Circuit and it's fairly dominated by Democrat appointees, it's likely they would have ignored the Tenth Amendment and found some excuse to thwart the county's will. (Bear in mind that the County Council didn't seem to object on the aims of the law but only the fact it would create a legal hassle.) Yet once two circuits come to a split decision, the next step is the SCOTUS and maybe this is a good time for them to decide on it.
So it was left to the town of Seaford to accomplish what their larger governmental unit could not, approving a right-to-work ordinance in December that was announced today. Good for them, and that was definitely good news.
And it may well be good for them. The timing was probably coincidental, but it was also announced today that a former industrial plant in the city would be getting new life as an intermodal rail and truck facility. So if you figure there's going to be needed renovations that create construction jobs as well as a handful of jobs for distributing the freight from railcar to tractor-trailer and vice versa, that could be the difference between sitting at home making a wage of zero and working for someone making a reasonably decent wage. It could even be a union shop, with the key difference being that not everyone would be forced to join or pay dues.
Here's the thing. What unions seem to be most afraid of isn't the fact that they would have to compete and sell new workers on the benefits of joining, but the prospective loss of political power they would suffer if the number of dues-paying members drops off. Wisconsin is a good example of this: the unions' dues-paying rolls are off 40 percent since right-to-work legislation passed in 2011.
(As an aside, isn't it interesting that union members have time to go picket and speak at public meetings? So who is doing their jobs?)
Assuming the Seaford measure isn't taken to court, which it probably will be for the reasons stated above, perhaps more businesses can help boost Seaford's bottom line. Unlike a lot of other similar-sized towns, they have the slight advantage of having infrastructure for growth already in place thanks to a number of shuttered or underutilized industrial sites left over from the days it was the "nylon capital of the world." I'm sure they don't care if they get back to making nylon, or even if they're the capital of anything – they just want to thrive.
While Big Labor may beg to differ, even the average union guy on the street knows the true minimum wage is zero. And in an area that cries out for good-paying jobs, why not make yourself as attractive as possible to secure them?
After resurrecting one long-dormant series over the weekend, today we make it two. It hasn't quite been a year since I did an 'odds and ends" and there's not a year's worth of stuff, but the creative juices are flowing anyway.
Let's begin with some good news from our national pastime. If you recall, back in July the Shorebirds made headlines for playing the longest game in their 21-season history, spreading out the drama against the Lexington Legends over two days thanks to a storm that broke over the stadium after 20 innings were in the books. It took just one inning the next evening to settle Delmarva's 7-6 defeat, but the contest was the Fans' Choice for a MiLBY Award. It had (ironically enough) 21% of the vote among 10 contenders. (Alas, the actual MiLBY went to some other game.)
The other sad part about that story, besides the folks at the Minor League Baseball site misidentifying us as Frederick: it turned out that one inning of baseball would be all that was played that evening as another heavy storm blew through just at scheduled game time. (I remember it well because I was at work.)
The Shorebirds were also a MiLBY bridesmaid in the blooper department with their September "goose delay."
And while Astros-Dodgers didn't have the same cachet as the Cubs finally breaking the Curse of the Billy Goat last season, the 28 million viewers of Game 7 completed a World Series where it again kicked the NFL's ass (as it should, since football season doesn't start until the World Series is over anyway.) And with the erosion of the NFL's appeal thanks to the anthem protests and – frankly – rather boring games where fundamentals are ignored, the window of NFL dominance may be closing.
Speaking of things that are dominant, a few weeks back I detailed the effort to bring the sanity of right-to-work to Sussex County, Delaware. An update from the Daily Signal detailed some of Big Labor's reaction when it came up again. And again I respond – having the choice to join the union is better than not having the job at all.
Delaware was also the subject of one of a series of pieces that ran over the summer and fall from my friends at Energy Tomorrow. They cleverly chose a theme for each of the 50 states and the First State's July piece was on "the beach life in Delaware." Now what I found most interesting was just how little energy they produce compared to how much they consume, given they have no coal mines and little prospect of fracking or offshore drilling. And I was surprised how little tourism contributes to their state economy given the beach traffic in the summer.
Maryland's, which came out last month, is quite different, as it has a companion piece about prosthetics. It obviously made sense with Johns Hopkins in the state, but what struck me was the quote included from Governor Larry Hogan. He's the guy who betrayed the energy industry by needlessly banning fracking in the state. Unfortunately, Larry seems to suffer from the perception that energy companies are solely interested in profit when the industry knows they have to be good neighbors and environmentally responsible, too.
That's quite all right: he doesn't need those 22,729 votes in Allegany and Garrett counties when he can have a million liberals around the state say, "oh, Hogan banned fracking" and vote for Ben Jealous or Rushern Baker anyway.
Regularly I receive updates from the good folks at the Maryland Public Policy Institute, which tends to look at state politics in a conservative manner. But I can't say this particular case is totally conservative or for limited government:
If Maryland lawmakers want to get serious about combating climate change and reducing pollution, they can simply tax the emission of carbon and other pollutants, thereby encouraging lower emissions and greater efficiency. No one likes a new tax, but it is a much cheaper and more effective way to cut pollution and fight climate change than a byzantine policy like the renewables mandate. Besides, revenue from a carbon tax could be used to reduce other taxes and fund other environmental initiatives. Problem is, though a carbon tax would be good for the environment and human health, it wouldn't funnel money to politicians' friends in corporate boardrooms and on Wall Street.

Maryland's renewables standard isn't about the environment and human health; it's about money.
The last two sentences are the absolute truth, but the remainder of the excerpt is a case of "be careful what you wish for." If the state indeed enacted a carbon tax, businesses and residents would waste no time fleeing the state for greener (pun intended) pastures. You can bet your bottom dollar that a carbon tax would be enacted on top of, not in place of, all the other taxes and fees we have.
Now it's time for a pop quiz. Can you guess who said this?
Soon, our states will be redrawing their Congressional and state legislative district lines. It's called redistricting, and it will take place in 2021, after the next Census takes place. That may seem far off, but the time to get started on this issue is now.

This is our best chance to eliminate the partisan gerrymandering that has blocked progress on so many of the issues we all care about. Simply put, redistricting has the potential to be a major turning point for our democracy. But we need to be prepared.
Maybe if I give you the next line you'll have the answer.
That's where the National Democratic Redistricting Committee comes in. Led by Eric Holder, my former Attorney General, they're the strategic hub for Democratic activity leading up to redistricting. In partnership with groups like OFA, the NDRC is building the infrastructure Democrats need to ensure a fair outcome.
Our former President is now involved in this fight for a "fair" outcome – "fair" being defined as gerrymandered like Maryland is, I suppose.
To be honest, we won't ever have truly fair districts until the concept of "majority-minority" districts is eliminated and districts are drawn by a computer program that strictly pays attention to population and boundaries such as county, city, or township lines or even major highways. With the GIS mapping we have now it's possible to peg population exactly by address.
And if you figure that most people with common interests tend to gather together anyway – particularly in an economic sense – simply paying attention to geography and creating "compact and contiguous" districts should ensure fair representation. To me it's just as wrong to have an Ohio Ninth Congressional District (where I used to live) that runs like a shoestring along the southern shore of Lake Erie and was created so as to put incumbent Democratic Congressmen Dennis Kucinich and Marcy Kaptur in the same district – Kaptur won that primary – as it is to have a Maryland Third Congressional District that looks like a pterodactyl. When I was growing up, the Ninth basically covered the city of Toledo and its suburbs where we then lived but as the city lost population they had to take territory from the Fifth District that surrounded it at the time. After the 1980 census they decided to follow us and take the eastern half of Fulton County, west of Toledo – much to my chagrin, since my first election was the one Kaptur beat a one-term Republican. (She's been there that long.) Since then, the Ninth has been pulled dramatically eastward along the lakeshore to the outskirts of Cleveland, connected at one point by a bridge.
Finally, I guess I can go to what one might call the "light-hearted stack of stuff." Again from MPPI, when it came to the Washington Metro and how to pay for it, this was a tax proposal I could really get behind. I'm just shocked that it would make $200 million a year.
On that scary note we'll see how long it takes before I get to the next rendition of odds and ends.
So here I am, just thumbing through my e-mail for the day, and I find this on the Daily Signal website.
I would quibble enough to say that Delaware isn't really part of the Northeast – particularly Sussex County, although many who have arrived there in recent years hail from the states commonly considered the Northeast – but the prospect of a right-to-work law in the heart of Delmarva could be enough to get a second look from prospective employers.
Councilman Rob Arlett introduced the proposed ordinance on Tuesday, according to the Daily Signal report, and it would need the support of two other Sussex County Council members to pass. (All five are Republicans, although not necessarily conservative ones.) The matter will be up for public discussion, per the article by investigative reporter Kevin Mooney, at the next Sussex County Council meeting on October 24. (As an aside, it should also be noted that Arlett was the state chair for the Donald Trump campaign so perhaps he has some of Trump's business acumen.)
The article also details an interview with Seaford Mayor David Genshaw, who pointed out, "Right to work is a tool we need to compete for jobs. If you compare right-to-work states with non-right-to-work states, you can see where this could mean big gains for Delaware."
I have a little bit of knowledge about the way Sussex County's economy works as an erstwhile employee of one of their leading homebuilders. The eastern half of the county, basically from U.S. 113 to the beach but mainly close to Coastal Highway (Delaware Route 1) is booming with new developments, primarily homes that are purchased by retirees from nearby states who sell their $500,000 houses there and buy a $350,000 house in Delaware with the proceeds. On the other hand, the western half of the county languishes and Seaford may be the poster child for those doldrums as it's littered with older housing stock and vacant storefronts throughout the city. While the population has increased by about 25% over the last 25 years (from 5,700 to the latest estimate of around 7,700) its growth is well off the pace of Sussex County as a whole, which has nearly doubled in that timespan.
So adopting right-to-work isn't really going to affect the beachfront areas where the jobs are primarily retail, health care, or other service positions. But in those areas along the U.S. 13 corridor (in order from the Maryland line: Delmar, Laurel, Seaford, Bridgeville, and Greenwood) that have some infrastructure in place for new manufacturing facilities, this could be the economic shot in the arm they need to tip the scales their way.
Of course, I'm sure the union apologists will say that all right-to-work does is drive down wages. (Delaware's minimum wage is currently $8.25 an hour, with legislation pending to eventually raise it to $10.25 an hour by October, 2020.) But the best argument to counter that is to simply remind this person that a person with no job makes $0 an hour, and anything that can bring jobs in will be beneficial to Sussex County. (The rest of Delaware would be unaffected.)
And you can bet your bottom dollar that, if this passes, Big Labor and their leftist allies will go running to the Delaware-based Clinton appointee who sits on the Third Circuit for a restraining order. While Mooney's story notes a similar law has passed muster in the Sixth Circuit – which heard the case of a Kentucky county passing similar legislation – it's much more of a crapshoot in the Third because most of its judges were appointed by Democrats and they tend to be more receptive to what passes for logic from the standpoint of Big Labor.
But there ought to be a little bit of interest in the fate of this bill in Annapolis and Salisbury. While Maryland is doing its best to attract new industry, they are still a closed shop state and large manufacturers have tended to prefer locating in right-to-work states. Should Sussex County succeed in its quest it's incumbent on the state government to respond in kind by allowing the Eastern Shore to be a right-to-work area. (Perhaps our home rule would allow us in Wicomico County to do this, but I tend to doubt that's the case in Maryland law.)
This is a story that could be huge for local economic development, so it's a head-scratcher that a Google search for news on "Delaware right to work" didn't find anything aside from the story linked above. I guess they would rather find other controversy to discuss for the umpteenth time. So maybe my local friends have heard it here first.
The result of a special election in Delaware's 10th Senate district, way up there in New Castle County, was discouraging to First State Republicans who were thisclose to regaining the State Senate for the first time in decades. Instead, the Democrats reached into their vastly deep pockets and bought themselves a seat, spending about $100 a vote to hold on to the State Senate in a district they were already about 6,000 votes in based on registration. (While they didn't have a majority of the registered voters, they had the most significant plurality. In fact, the results indicated either unaffiliated voters slightly favored the GOP or the Republicans did a little better turning out their voters – just not good enough.)
Perhaps the most interesting takes were from libertarian Delaware-based writer Chris Slavens. Taking to social media, he opined the time was now to work on an old idea for which the time may have come: a state of Delmarva that takes in the remainder of the peninsula. My thought on this: what would the makeup of this new state really look like – would it be a red state?
Let's start with the basics: based on the 2015 Census estimates this state would have a total of 1,444,288 people.
945,934 in Delaware (556,779 in New Castle County, 215,622 in Sussex County, 173,533 in Kent County)
453,226 in Maryland (102,382 in Cecil County, 102,370 in Wicomico County, 51,540 in Worcester County, 48,904 in Queen Anne's County, 37,512 in Talbot County, 32,579 in Caroline County, 32,384 in Dorchester County, 25,768 in Somerset County, 19,787 in Kent County)
45,128 in Virginia (32,973 in Accomack County, 12,155 in Northampton County)
Having that number of residents would allow for two Congressional seats, with the most likely and logical divisions being either New Castle + Kent County (DE) or New Castle + Cecil + Kent (MD) + the northern extent of Kent (DE). It's most likely they would split evenly, with a Democrat representing the Wilmington area and a Republican winning the rest.
On a legislative level, there's somewhat of an apples-to-oranges comparison because of the nature of each state's districts – Delaware's 41 representatives and 21 Senators represent smaller districts than the 12 Delegates and 4 Senators who come from Eastern Shore counties in Maryland. (In reality, there's a small portion of Harford County that gives the Eastern Shore its delegation of 12 and 4, as the 35th District straddles Cecil and Harford counties.) Meanwhile, the Eastern Shore counties in Virginia are represented by one Delegate and one Senator they share with the other side of the bay. It's only a fraction of a Delegate district.
Regardless, in terms of raw numbers, Delaware's Senate is split 11-10 in favor of Democrats – however, Maryland balances it out with a 3-1 Republican split among its districts to push the GOP ahead 13-12. But Eastern Shore Virginia voters send a Democratic senator to Richmond so the parties split 13-13 in this case.
As for their lower houses, the Democrats control Delaware by a 25-16 margin but that would be tempered by the 11-1 edge Republicans have on the Maryland Eastern Shore. With a 27-26 advantage, Republicans would control the Delmarva House 28-26 when the one Republican Delegate is added from Virginia.
That closeness would also be reflected in election results. In 2016, the Delmarva race would have been watched to practically the same extent as New Hampshire, which also had four electoral votes and was razor-close. Based on the totals in all 14 Delmarva counties, the result would also have mirrored that of the Granite State:
Hillary Clinton – 322,702 votes (47.58%)
Donald Trump – 320,387 votes (47.24%)
Gary Johnson – 21,690 votes (3.2%)
Jill Stein – 8,351 votes (1.23%)
all others – 5,094 votes (0.75%)
In most states, the margin would have triggered an automatic recount. But imagine the attention we would have received from the national press on this one! Hillary carried New Castle County, of course, but the other county she carried was on the other end of the "state" and population range – Northampton County, which is the smallest of the 12.
Even the Congressional race would have been close. I am using the three Congressional race results (Delaware – at-large, Maryland – 1st, Virginia – 2nd) as a proxy for a Senatorial race.
generic Republican – 316,736 votes (48.8%)
generic Democrat – 308,891 votes (47.59%)
generic Libertarian – 14,739 votes (2.27% in DE and MD only)
generic Green – 8,326 votes (1.28% in DE only)
all others – 398 votes (0.06%)
This despite a voter registration advantage for the Democratic Party, which holds 441,022 registered voters (43.24%) compared to 317,263 Republicans (31.1%) and 261,735 unaffiliated and minor party voters (25.66%). Note, though, that the unaffiliated total is bolstered by nearly 34,000 Virginia voters, none of whom declare party affiliation.
So if there were a state of Delmarva, there would be a very good chance it would rank as among the most "purple" states in the nation, with frequent swings in party control. (Because each state elects a governor in a different year, there's no way to compare these totals.*) Most of the counties would be Republican-controlled, but the largest county would have its say in state politics. Yet it would not dominate nearly as much as it does in the present-day state of Delaware as the additional population leans to the right. Moreover, practically any measure coming out of the legislature would have to be bipartisan just by the nature of the bodies.
But if a state of Delmarva ever came to pass, everyone's vote would definitely count.
* Based on the McAuliffe-Cuccinelli race in Virginia (2013), the Hogan-Brown race in Maryland (2014), and the Carney-Bonini race in Delaware (2016) it comes out:
total Democrats (McAuliffe/Brown/Carney) – 292,196 votes (50.41%)
total Republicans (Cuccinelli/Hogan/Bonini) – 273,928 votes (47.26%)
total Libertarians – 7,342 votes (1.27%)
total Green (DE only) – 5,951 votes (1.03%)
total others – 235 votes (0.04%)
Note that Carney provided 248,404 votes of the Democrats' total since he ran in a presidential year, while Hogan put up only 100,608 GOP votes to the total because he ran in an offyear election. (Virginia's aggregate was less than 15,000 votes.) That's why it's hard to compare, because Hogan actually prevailed by a larger percentage margin than Carney did.
I'm not patient enough to wait on the final Maryland results, but if they hold fair enough to form they will conform to a degree with my prediction.
Evan McMullin will get the majority of counted write-in votes, eclipsing the 5,000 mark statewide. I think Darrell Castle comes in next with around 1,100, which almost triples the 2012 Constitution Party candidates Virgil Goode and James Clymer (both ran under that banner as the party had split factions.) This would be astounding when you consider there were over 10,000 write-in votes cast in 2012 but most of those weren't counted…Thanks to McMullin, though, this year the stigma behind write-ins will be broken somewhat.

On the Wicomico County level…Evan McMullin will beat (Jill Stein) by getting 0.6% of the vote. Of the other 100 or so votes, I figure Darrell Castle gets about 45.
If I had to make a living predicting write-in votes I would go broke in a week. However, there is something very instructive about how they did turn out.
Just based on the state results that are in, and making an educated guess about the remainder, it looks like Evan McMullin will handily exceed the 5,000 mark. Based on the number of votes left to be counted and where they come from, I wouldn't be surprised if McMullin picks up close to 9,000 statewide. But compare that to the 34,062 Jill Stein received as the bottom on-ballot candidate. McMullin's success comes in a field of write-ins that is far outshadowed by the "other" write-ins category they don't count (that category is beating Stein so far but its numbers will dwindle as counties sort out the results.)
On the other hand, my expectations of Castle may be twice what he actually draws, as he's looking at about 500 to 600 votes when all is said and done. However, there is a chance he may finish third among the group of write-ins depending on how many wrote in Michael Maturen of the American Solidarity Party – I would describe that group as having a left-of-center Christian worldview and the counties that remain to be counted would be more likely to support that than a conservative, Constitutional viewpoint. (99 votes separate the two.)
Here in Wicomico County I think double-digits could be a stretch, although the comparable Cecil County gave Castle 17 votes. (Proportionately, though, Somerset County cast 6 votes for Castle, which put him at 0.1%. So my vote for Castle may have quite a bit of company.)
But think of all the press coverage Evan McMullin received during his brief run of 3 months; by comparison we heard next to nothing about Darrell Castle accepting his party's nomination in April of this year. I did a Bing search just a day or two before the election and found out that McMullin had five times the number of mentions that Castle did. Although that rudimentary measuring stick alluded to a large disparity, it doesn't factor in the depth of coverage, either. McMullin got a serious number of pixels from #NeverTrump personalities such as Erick Erickson and Glenn Beck, so people had an awareness of a candidate whose campaign turned out to be more or less a favorite-son quest in Utah to deny Trump 270 electoral votes.
And there is a legitimate argument to be made for a very pessimistic point of view regarding this. My friend Robert Broadus remarked yesterday on Facebook that:
Considering that among all these choices, Castle was the only candidate representing a pro-God, pro-Family, pro-Constitution platform, I think it's safe to say that conservatives are a negligible minority in the United States. Either it's time for conservatives to adopt a new philosophy, or it's time for a new party that can attract conservative voters, rather than abandoning them to liberal Republicans, Democrats, Libertarians, Greens, and all the other flavors of Communism that exist on the ballot.
Nationwide, Evan McMullin has 545,104 votes (with ballot access in just 11 states and write-in access in 31 others) while Darrell Castle is at 190,599 with ballot access in 24 states and write-in access in 23. If nothing else, this shows the power of media, but I disagree that conservatives are a negligible minority. Rather, they fall prey to the notion that the election is a binary choice and the two major parties aren't exactly going to go out of their way to say, hey, we know you may not agree with us so you may want to consider (fill in the blank.)
But it's also clear that ballot access makes a difference. In looking at the states where Castle was on the ballot and McMullin a write-in, the limited amount of data I could find (the state of Missouri and a sampling of Wisconsin counties – they report that way) suggested that a Castle on the ballot far outdistanced a McMullin write-in. Castle received nearly ten times the votes in Missouri, for example, and generally defeated McMullin by a factor of 2 to 4 in Wisconsin.
So if you are the Constitution Party (which, based on their platform, would be my preference as an alternate party) – or any other alternate to the R/D duopoly not called the Libertarian or Green parties – job one for you is to get ballot access.  Granted, the Constitution Party only received between .2% and 1.1% of the vote in states where they qualified for the ballot, but that was vastly better than any state where they were a write-in.
Maryland makes this a difficult process, and this is more than likely intentional. To secure ballot access, a party first needs to get 10,000 valid signatures to the Board of Elections stating that these voters wish to create a new party. To maintain access they then need to get at least 1% of the vote in a gubernatorial election or 1% of the total registered voters – at this point, that number would be about 38,000. The Libertarian Party maintained its access in 2014 by receiving 1.5% of the vote, while the Green Party managed to once again qualify via petition, so both were on the ballot for the 2016 Presidential race. The Constitution Party did field a candidate for Maryland governor (Eric Knowles and running mate Michael Hargadon) with ballot access in 2010, but did not qualify in subsequent elections.
I also looked up the requirements in Delaware:
No political party shall be listed on any general election ballot unless, 21 days prior to the date of the primary election, there shall be registered in the name of that party a number of voters equal to at least 1 0/100 of 1 percent of the total number of voters registered in the State as of December 31 of the year immediately preceding the general election year.
In the First State the same parties as Maryland (Democrat, Republican, Libertarian, Green) qualified for the ballot; however, the Green Party made it by the skin of its teeth as they barely broke the threshold of 653 they needed – they had fallen below that earlier in 2016. At this point Delaware would be adding the American Delta Party (2016 nominee: Rocky De La Fuente, who has 6 Maryland write-in votes so far) and maintaining the other four; meanwhile the Constitution Party sits at 311 of what is now a requirement of 676. (The Conservative Party is also in the same boat with 432. Perhaps a merger is in order? Also worth noting for the Constitution Party: Sussex County could be a huge growth area since they only have 36 of the 311 – they should be no less than Kent County's 135.)
So the task for liberty- and Godly-minded people is right in front of them. While it's likely the Republican Party has always been the "backstop" party when there are only two choices, more and more often they are simply becoming the lesser of two evils. Never was that more clear than this election, as most of the choices they presented to voters were the "tinker around the edge" sort of candidate who will inevitably drift to the left if elected.
Of course, Broadus may be right and those who are "pro-God, pro-Family, (and) pro-Constitution" may be a tiny minority. But so are homosexuals and they seem to have an outsized role in culture and politics. (I use that group as an example because they have successfully created a perception that homosexuals are 20 to 25 percent of the population.) It's time for the group I write about to become the "irate, tireless minority, keen on setting brushfires of freedom in the minds of men." It may be a stretch when most people think Samuel Adams is a brand of beer, but I choose to try.
I'm sure that many millions of people like me who stayed up until almost 3 this morning (yet had to get up and go to work) were of several minds: anything from watching a slow-motion trainwreck to openly savoring the bitterness coming from the hearts of the so-called "experts" who predicted a massive blowout loss for Donald Trump. And until the last maybe week to 10 days I was among that group, but it seems there is a reservoir of support Trump could keep tapping into that other Republicans could not.
That subject is one I will get to in due course (that being part two) but for the moment I just want to work through my series of predictions and see if my crystal ball has been fixed. Just as I reeled them out from national to local, I will wind them backward to wrap them up.
And just as an aside, while early voting had historically high turnout, the reason will end up being that people just wanted to wash their hands of this election.
I think that panned out to a fair extent. Turnout is lining up to be right around or perhaps slightly below where it was in 2012, depending on how many absentees or provisional ballots there were. Including early voting, Maryland brought out a little over 2.5 million voters. Considering the state has about 300,000 more voters in this cycle, I think the turnout percentage will decrease or stay about where it was – the timing of votes was what shifted.
Across the border, I fear Delaware will vote for more of the same then wonder why their state isn't getting better. Basically the state will have the same political composition with different names on the nameplates in Congress and state executive offices – not that Sussex County agreed with it, but they will be outvoted as usual by the New Castle Democrat machine.
In the state of Delaware, Hillary Clinton beat Donald Trump by a 53%-42% margin, Democrat Congressional hopeful Lisa Blunt Rochester won 56%-41% over Republican Hans Reigle. and in all three state government races, the Democrats won by almost identical margins: 58%-39%, 59%-41%, and 59%-41%. Aside from an extra 10,000 or so votes cast in the governor's race to accommodate the Green and Libertarian candidates, the Democrats' totals were all within 2,000 votes and the GOP within 2,500.
But if you break it down by county and the city of Wilmington, you find that Hillary won 84.8% in Wilmington, 59.4% in the rest of New Castle County, 44.9% in Kent County, and 37.2% in Sussex County. The problem is New Castle County's Hillary votes were more than the combined overall total of either Sussex or Kent County. Sussex only went 41% for Rochester, 45% for governor-elect John Carney, 47% for lieutenant governor-elect Bethany Hall-Long, and 40% for new insurance commissioner Trinidad Navarro. Going forward they need to keep statewide Democrats in the 20s in Sussex County, but that may be a tall task as those who retire there generally come from Democratic core states and apparently don't change their voting patterns.
On the questions, I believe Question 1 will get in the neighborhood of 80% statewide but maybe 75% here. The biggest controversy will be that Question A's Option 2 will win a plurality of the vote but not quite a majority – a spirited Democrat effort will pull Option 2 down to 48% but Option 1 will get just 32%, with 20% opting for the hybrid. Otherwise, all the charter amendments will pass by healthy margins of 65 to 80 percent in favor.
Question 1 got 73.6% here (so I was close) but I underestimated the statewide wisdom to some extent, as the partisan measure passed on a 72-28 margin overall (as opposed to 80%.) I was just 3 percentage points off on Question A but Option 2 managed a slight 51% majority rather than a plurality. The Democrats probably got a late start in backing Option 1 because it underperformed my estimate by 7 points while the hybrid Option 3 outperformed by 5 points. The other questions ranged from 63 to 77 percent in favor, so I was in the ballpark. Maybe my public opposition brought them down 2 to 3 percent each.
Andy Harris will be returned to Congress, but not by as much as previous years. He will get 60.7% of the vote both overall and in Wicomico County, but Joe Werner's 35.9% of the vote districtwide will shrink to 33.8% here. The Libertarian Matt Beers will have 3.2% districtwide but do somewhat better here, with 5.2% support in Wicomico County.
I was somewhat correct with Harris. He got 7% better than I predicted districtwide, but I was correct that he did decline slightly from 2014, when he was a shade over 70%. That extra came from Werner as he came up 7.9% short of what I thought he would and Matt Beers came in 1% better at 4.2%. Here in Wicomico, though, I was much closer: Harris underperformed my guess by 1.7% while Werner jumped 3.3%. The Libertarian Beers came in 1.5% less here. It's worth noting, though, that the Libertarians' share of the vote has increased slightly with each election they participate in – back in 2008 they had 2.5%, in 2010 3.8%, in 2012 3.8% (but Muir Boda came close to edging the write-in Democratic candidate here in Wicomico with 5.9% vs. 6%) and now 4.2%.
Looking at the U.S. Senate race, I think that Chris Van Hollen wins no more than eight counties but those will be enough to propel him to victory with 61.1% of the vote, compared to Kathy Szeliga's 37.8%. Margaret Flowers will get 0.6% and various write-ins the rest. Wicomico will be one Szeliga wins, but not quite as strongly as Trump – she gets 59.3% of the vote while Van Hollen has 40.3% and Flowers 0.2%.
Van Hollen won just six counties, but unfortunately for Szeliga they included the four biggest so she was trounced. I gave Van Hollen about 1% more credit than he deserved, but Szeliga got no benefit as she was 1.4% short. All the underage went to Flowers, who grabbed over fivefold the share I predicted at 3.2%. Just as some on the right may give Libertarians the vote in a race they know is safe (I've done this several times in the past) I think those well out on the left figured it wouldn't hurt to push the Flowers total up. But when Szeliga undercuts my modest expectations (to have a shot, she really had to be in the 75% range here and elsewhere on the Eastern Shore) by a full 5.7%, it's a short wait for a concession speech. Van Hollen only lost our supposedly conservative county by 10.4 points (and beat my guess by about 3 points) but a shocker was that Flowers did about as well here as she did statewide. I thought she would be lucky to get 100 votes locally; she picked up 1,163.
I'm going to stop with that because I want to see the write-in votes for President before I comment on that race. But I will say that I am shocked at the number of write-in votes, as over 40,000 were cast statewide. I'm sure many of these won't be counted, but it won't be 85% of them like it was in 2012. I may have been overly pessimistic on Evan McMullin, Darrell Castle, Tom Hoefling, and so forth as they may split 15 to 20 thousand votes (although McMullin will get the lion's share.) We won't know for a few days, though, and when we do I will pick up with the second part regarding the Presidential race.
I have finally come around to the Delaware state races after speaking on Congressional races both in the First State and the First District of Maryland as well as the U.S. Senate race here in my adopted home state. Unlike Maryland, Delaware's top two statewide offices are elected in separate ballots, meaning it's theoretical that the governor represents a different party than his or her lieutenant governor.
I will begin with the race for governor, which features four on the ballot and one write-in hopeful. As I have done previously, we'll go in alphabetical order on the ballot which means the GOP standardbearer leads off.
Colin Bonini (Republican Party)
Key facts: Bonini has held elective office as a State Senator since 1994, which is the vast majority of his adult life as he first won at the age of 24. He also previously ran for state Treasurer in 2010, losing narrowly, so this is his second run statewide. Colin also works in the financial industry for a bonding agency and owns a small venture capital firm. Bonini is 46 years of age. Of the four on-ballot candidates for governor Bonini was the only one with a primary challenger, and he defeated Sussex County businesswoman Lacey Lafferty by a nearly 70-30 margin.
Key issues: Education, Economic Development, Crime, State Budget, 2nd Amendment, Regulations, Personal Freedom and Liberty
Thoughts: In looking at Colin's platform and some of what he is about, he strikes me as a relatively by-the-book conservative who wants to make government work better yet also has the potential of rightsizing government in a number of ways. Because of the nature of Delaware's budget, Colin may have the better mindset for a potential pitfall to come based on a recent federal court decision regarding Delaware's unclaimed property laws. Two definite items in his favor: an advocacy to make Delaware a right-to-work state and a pledge to pull Delaware out of the RGGI boondoggle – a step Larry Hogan should also be taking in Maryland to relieve pressure on state utilities.
John Carney (Democrat Party)
Key facts: Carney was supposed to be governor eight years ago (as the survivor of the Democrats' primary is the odds-on favorite to win) but he was displaced in the primary by now-outgoing Governor Jack Markell. Carney was the favorite because he served eight years as the Lieutenant Governor under fellow Democrat Ruth Ann Minner, but voters rejected him in 2008. He's also been the state Secretary of Finance and the deputy chief of staff for another former Democrat governor, Tom Carper. But when the Delaware Congressional seat opened up in 2010 because Mike Castle wanted to move up to the U.S. Senate, Carney was Johnny-on-the-spot and bucked the TEA Party trend sweeping the nation as one of just a handful of newly elected Democrats. Like many other Democrats running, Carney has spent practically his whole adult life in government, although he briefly served as the chief operating officer of a wind energy company during his downtime from being LG to winning the Congressional seat. Carney is 60 years old.
Key issues: John's "Vision for Delaware" includes sections on The Economy, Education, State Budget, The Environment, Healthcare, Criminal Justice, and Agriculture.
Thoughts: Truth be told, his is not the worst, most liberal platform out there (although it definitely has its pitfalls.) But the overarching problem with state assistance in a number of areas is that it becomes state control rather quickly. Carney's policies to me come off as Wilmington-centric, which addresses the population as currently comprised but fails to account for the growth area of the state, which would be Sussex County. (Kent County is also growing faster than the state average, which is held down by New Castle County and Wilmington.) It's likely Carney would govern in the same manner that Jack Markell has done – business-friendly enough to please those interests, but liberal enough to keep the machine which has propped up his political career for most of the last 35 years backing him.
Sean Goward (Libertarian Party)
Key facts: Goward is an Air Force veteran who made a lengthy career of it before retiring two years ago. Now he works as a railroad signal technician. Goward is 37 years old and making his first run for political office.
Key issues: Education, Civil Liberties, Criminal Justice Reform, Fiscal Policy, Accountability
Thoughts: Goward has some interesting ideas about the state of the state, but they seem to be lost when he makes civil liberties and criminal justice reform priorities over the economic issues people truly care about. I know that Libertarians are for smaller government, but where Goward fails in making the sell is relating the benefits of limited government to the voters of the state. It's one thing to promise to cut spending in half in four years, but the reality of the situation would dictate a much less rapid winding down as well as an education course on why this would be a good thing. Also, Goward hasn't updated his site since April so why should I take him seriously?
Andrew Groff (Green Party)
Key facts: Like the other Delaware Greens, Groff doesn't have a formal website. What I did find is that he is 58 years old, and while he's not run for governor before he ran for the U.S. Senate seat in both 2014 and 2012 – the 2012 race was run with the additional blessing of the Delaware Libertarian Party.
Key issues: From the limited reading I have, Groff is well entrenched with the Green Party line which would entail a much larger government.
Thoughts: As a party, the Green Party barely made the 636 registered voter cutoff for ballot access this year. (As a comparison, Maryland has 8,614 registered Greens in a state about sevenfold Delaware's population.) So it's not like Groff will make a large dent, but the fact he's not making it easy for people to learn about him makes things even more difficult.
There is also one write-in candidate for governor by the name of Benjamin Hollinger, Sr. but I found nothing on him. So I will turn to the two LG candidates.
La Mar Gunn (Republican Party)
Key facts: Perhaps he's one of the few Republicans to be the head of a local NAACP chapter, as he leads the Dover chapter. Gunn ran for the Kent County Recorder of Deeds in 2014 and won the vote on election day by two votes, but four non-identical recounts later (two of which expanded Gunn's lead and one that was a flat tie) it was deemed in court that the office was vacant, and Governor Jack Markell appointed his fellow Democrat. Gunn is a financial consultant by trade.
Key issues: Placed under two non-specific categories, "Jobenomics" and Fighting for Delaware.
Thoughts: Jobenomics is a carefully thought-out plan, but it's way more complex than the average person wants to consider in a political context. If he could have boiled it down to a couple pages and related it to actual policy it may have been more helpful. As for the rest, it's extremely skimpy. Granted, lieutenant governor may be a "bucket of warm spit" position (as evidenced by its vacancy over the last two years) but I think there needs to be more of an accessible platform for people to understand.
Bethany Hall-Long (Democrat Party)
Key facts: Hall-Long is one of the few Delaware candidates to be born in Sussex County, although she has spent the last 14 years in the state legislature representing portions of New Castle County. However, she spent several years outside the state, particularly in the Washington D.C. area (her husband was stationed in the Navy) and served as a Fellow in both the U.S. Senate and Department of Health and Human Services. She has a background in nursing, is 52 years old, and won a six-way primary for the LG nomination with just 29% of the vote.
Key issues: Jobs and growing the economy, Health, Education, Environment, Infrastructure
Thoughts: When I read the word "invest" four times in five paragraphs, I know I have to hold on to my wallet. Yet while Gunn is remarkably detailed in one area until one's eyes glaze over, the platform of Hall-Long has the depth of a cookie sheet. And while I am not a grammar Nazi, I must say whoever wrote the copy for her website needs lessons in sentence structure. Again, there's really not a great deal of function to the position but Hall-Long has some of the worst platitude speaking I've seen in this campaign. She may be a mom, a nurse, and a state senator but I have to wonder how much she knows about the role of government.
As far as those I would recommend to Delaware voters, there are really two clear-cut choices here. Since Colin Bonini knows John Carney fairly well, he can keep John around as an advisor on business issues. But the more aggressive job creation approach from Bonini is the one Delaware needs right now. And having a laserlike focus on job creation isn't the worst thing in the world for a lieutenant governor to have, either. Remember, I'm looking at this not as a voter (because I live in Maryland) but as one who wants the First State to succeed because my employment depends a lot on it. The more people find Delaware attractive, the better chance my employer succeeds.
And I didn't forget about Insurance Commissioner, but that balloting isn't one that's really important to me right now. So I have no opinion on it.
So if you are a Delaware voter, it's in your best interest to vote for Colin Bonini and La Mar Gunn on Tuesday. They are clearly the better choices in their respective fields.
No, I do not have a vote in this one; however, since our family makes most of its living in the First State this race is worth my trouble to talk about. Plus I have a fairly decent contingent of readers residing north of the Transpeninsular Line who actually will have a voice.
Unlike the Maryland First District race I covered a few days ago, this one will be an open seat. (In fact, thanks to term limits, vacancies, and primary election results I believe all of Delaware's statewide races are open-seat races this year.) I will do this in a similar format as the Maryland races, although perhaps with a little less detail. We will begin with the candidates on the ballot, and in alphabetical order it means the minor parties go first.
Scott Gesty (Libertarian Party)
Key facts: For the third consecutive cycle, Gesty is the Libertarian nominee for Congress. In the previous two renditions, he finished fourth of the four just slightly behind Green Party nominee Bernard August. Gesty advised the Delaware Libertarians that this year would be his last run. Gesty is 46 and is a licensed CPA in Delaware.
Key issues: National Debt, Taxation, Education, Personal Privacy, Foreign Policy, Health Care
Thoughts: Gesty's philosophy and run seems to me very similar to that of our local Libertarian Congressional candidate Matt Beers. They both have a relatively straightforward adherence to the Libertarian line of smaller government, a more isolationist foreign policy, and reticence to discuss social issues on their websites. Unlike the First District, though, Delaware has a Congressional district which tends to lean left (as a statewide district, it includes the urban environs of Wilmington) so the Libertarians don't fare as well there. I give kudos to Gesty for maintaining his stance (and limiting himself as opposed to becoming the dreaded perennial candidate) in the face of all that.
Mark Perri (Green Party)
Key facts: Perri is making his first run for Congress but was the Greens' gubernatorial candidate in 2012, finishing third of the four on-ballot candidates. He is one candidate who does not have his own website, which is unusual as he is listed as the web admin for the Delaware Green Party. He is a 56-year-old PhD who works as a clerk, oddly enough.
Key issues: Perri describes them as C.O.R.N. – Climate Crisis, Overpopulation, Racism, Nuclear War
Thoughts: In reading through some of the items on Perri (again, a slow process because he doesn't have a typical political website) he is another who fits the Green Party mold of radical statist government – a belief system that everyone will give up their freedom to advance for the false assurance that outcomes can be equalized. One quote that struck me was, "Encourage immigration, but we Americans must learn to consume less (by a factor of 2 or even 10) resources and energy." Why? We are the economic driver of the world, and our leadership and innovation has raised the global standard of living. That may not be a popular sentiment in Green Party circles, but I believe it to be true. I believe in American exceptionalism – not because we are necessarily better people, but we live under a better system despite the best efforts of leftists to knock it down several pegs.
Hans Reigle (Republican Party)
Key facts: Reigle has spent his career in the aviation field as an Air Force Reservist, commercial pilot, and until recently was the assistant director of the aviation program at Delaware State University. He also has served as a councilman and mayor of the town of Wyoming; this is his first run for a statewide office. Reigle is 52 years of age.
Key issues: Job Growth, Education Reform, Spending, Security and Immigration
Thoughts: Reigle seems to have a fairly moderate-to-conservative approach to issues, which begins to border on "tinker around the edges" territory. I don't see any radical changes in government here, although he does advocate for a modest reduction in the federal budget over time. He's been billing himself as an "outsider," which is true, and has a unique combination of military and political experience that has long been a training ground for potential Congressmen.
Lisa Blunt Rochester (Democrat Party)
Key facts: Her career has primarily been spent in government: a caseworker for Congressman Tom Carper, she eventually served as the state's Deputy Secretary of Health and Human Services, Secretary of Labor and state Personnel Director. She is 54 years old, and while she's been involved in government for much of her life this is her first try at federal office.
Key issues: Jobs, Equal Pay for Equal Work, Women's Health, Preventing Gun Violence, Affordable and Accessible Education, Campaign Finance Reform and Expanding Voter Rights, Social Security/Medicare, Protecting Obamacare, Public Safety
Thoughts: She gives the game away when she mentions "Lisa's election in 2016 would mark the first time The First State has sent a woman or person of color to Congress." I didn't realize there was a quota to fill. And it's patently obvious by the subjects she chooses to highlight that she is in favor of a larger, more intrusive federal government – perhaps not to the extent of the Green Party that seems to exist to make Democrats look moderate by comparison, but more than would be healthy for the First State. If voters are wise, they will wait until a more qualified "woman or person of color" enters the Congressional race at some future date.
There are also four write-in candidates: Robert Nelson Franz III, Rachelle Lee Linney, Campbell Smith, and Scott Walker. Of that group I found in a little bit of research that Franz bills himself as a "conservative Democrat," and Walker is a 65-year-old Milton resident who is a landlord and wants to address discrimination as Delaware's Congressman. He ran and lost in the Democrats' primary to Rochester. As for the other two, they are not obvious on the World Wide Web.
If I were a Delaware voter, it's quickly obvious that my choice comes down to Reigle vs. Gesty. Yet one important area for me isn't addressed, and that is social issues. Certainly I prefer the limited government ideas of Gesty, but I also have to be mindful that Libertarians tend to be very liberal on setting those boundaries. (They sometimes forget that liberty is subordinate to life for a reason, because to have liberty you must have life. And there is truly no other measuring stick to determine when life begins than conception; thus the unborn's right to life trumps the mother's so-called "right to privacy" that some consider a form of liberty.) I saw Reigle supported a ban on abortions after 20 weeks, which is in his favor, but Gesty didn't return the survey.
So I don't feel like I have enough information to make a formal endorsement to my Delaware friends, but if I were to make a guess at this time as to how I'd vote I would still lean toward Scott Gesty. It's almost like my heart would be telling me to vote for Gesty but my head would say to vote Reigle because he has a more legitimate shot at winning. Let's just say you have two good choices on the ballot and leave it at that.
It may not be as apparent to the average American as "vacation day" patriotic holidays like Memorial Day or Independence Day, but today a small band of Salisbury residents came to City Park along the Wicomico River and celebrated the 229th anniversary of the signing and delivery of our nascent Constitution to Congress for approval. Once approved, it was sent to each of the thirteen colonies for ratification (Delaware was first, on December 7, 1787) and by the middle of the next year the requisite nine states had ratified the document, which was not yet amended with the Bill of Rights. (That would come a few years later, in 1791.)
So I arrived fashionably on time and was pleased to see the turnout.
It seems like there were a few more people than last year's gathering, and I think the morning start time (as opposed to afternoon last year) may have had something to do with that.
We were presented with a proclamation from Salisbury mayor Jake Day reiterating that the city would be celebrating Constitution Day today. Day is one of the few who could stand and say he was actively defending the Constitution as an Army officer on active duty.
The event also was the culmination of an essay contest where the top two winners were present to be honored with a certificate from the Maryland General Assembly, presented by members of the local delegation Mary Beth Carozza (who was speaking), Christopher Adams, Carl Anderton, and Johhny Mautz. The winning entry was read by Carys Hazel of Mardela High School, with runner-up Nathaniel Sansom of Salisbury Christian School also present to receive his award.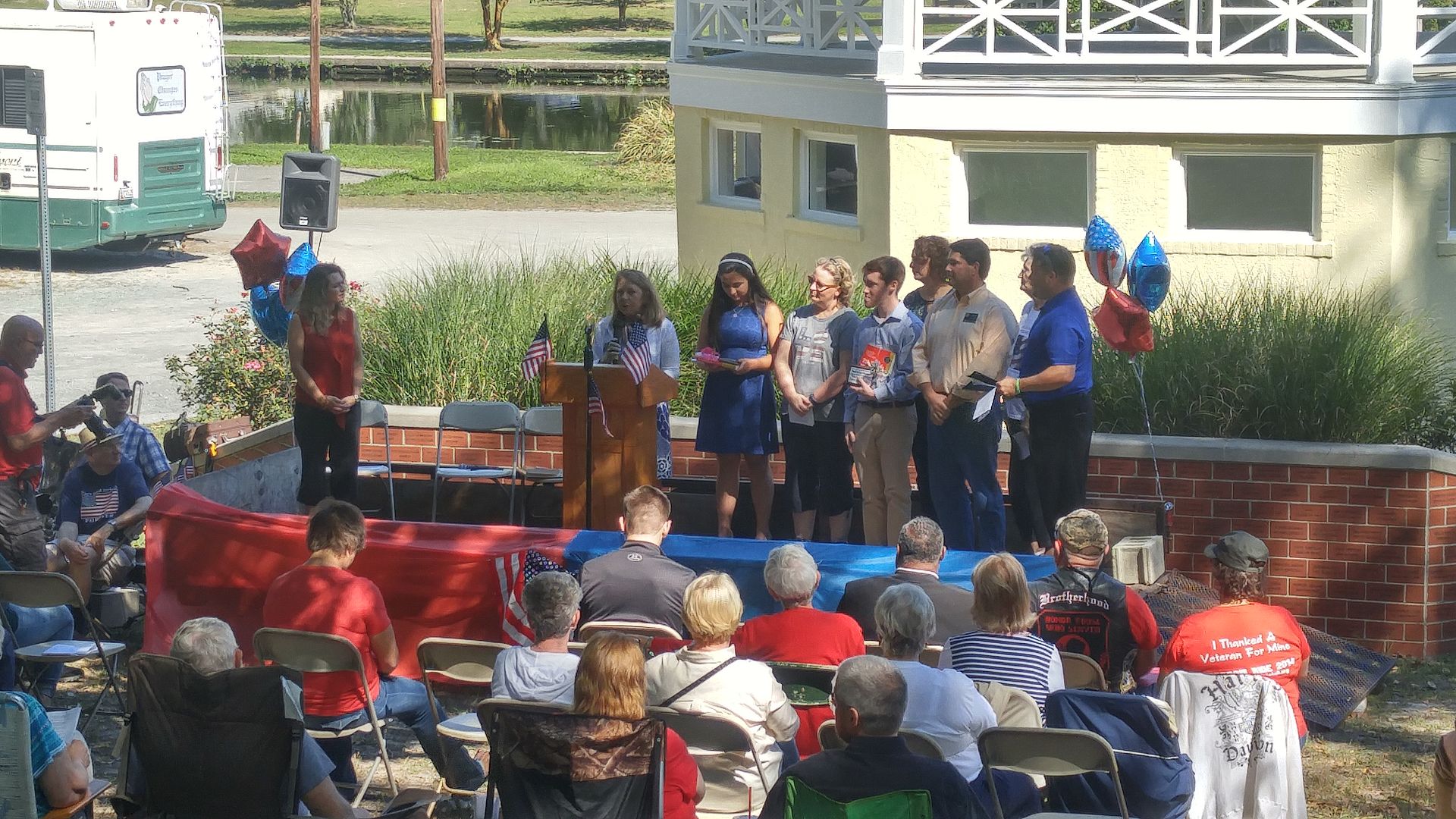 The keynote speaker was Wicomico County Sheriff Mike Lewis.
I wasn't really at the Constitution Day event to give blow-by-blow coverage, but I used the photos to both set the scene and cue up my own remarks, with the address Sheriff Lewis gave as a jumping-off point. Mike spoke at some length about the role of the military overseas and their fight against radical Islam. Certainly I understand the reason that they have embarked on such a mission, but to me it also begs a pair of questions for which we need an honest answer.
To a varying extent, the nation has been on a war footing since 9/11. In that time we have adopted the PATRIOT Act and sent thousands of troops overseas to fight against the proxy forces of radical Islam: the Taliban in Afghanistan, the Saddam Hussein regime in Iraq, and the Islamic State known as ISIS (or ISIL.) But the first question I have is: where does the balance tip too far toward security at the expense of the liberty afforded to us in the Constitution?
This question isn't really new, either: during the Civil War (or War Between the States or War of Northern Aggression, if you prefer) President Lincoln suspended the writ of habeas corpus and arrested members of the Maryland General Assembly to prevent them from meeting as a means of preserving the Union. Eight decades later, President Roosevelt interned Japanese-Americans as a result of their ancestral homeland's attack on American soil. In both instances America was in an active war within its borders or territories, but against a nation-state rather than an ideology as we are today. However, being in a state of war such that we are should not be an excuse for excess and there are many who have pondered the "War on Terror" and its response in the PATRIOT Act and whether the government is using this Long War as a flimsy excuse to consolidate power.
The idea of the government consolidating power leads to the second question: are we truly following the Constitution anymore or is this all just lip service?
Surely there are some who believe the Constitution has been eroding practically since the ink dried on the parchment. Whether they point to Marbury v. Madison being the moment where the judiciary became the most powerful of the three branches, the Civil War being the death knell for state's rights since they no longer had the right to secede if they were dissatisfied with the nation as a whole, or the Sixteenth and Seventeenth Amendments that gave the federal government taxation authority on individuals specifically prohibited in the original and ended the practice of state legislators electing Senators to represent their interests in Washington, there are a fair number that think we need to start over – perhaps with a Convention of States, otherwise known as an Article V Convention. (Years ago I contributed a couple ideas for new amendments, which are still sorely needed. Back then I had good discourse, too.)
I don't want to get into the weeds of determining the merits or problems of such a convention, but the fact that there are people who believe the Constitution needs a tune-up to fix excesses on one side or the other bolsters the argument that the government we have now is not the one originally envisioned by those men who toiled during the spring and summer of 1787 to write a replacement for the Articles of Confederation that the United States was bound to for the first decade or so of its existence. Granted, the Article V method is one prescribed in the document but there's no guarantee the amendments proposed would pass or the resulting Constitution any better for the people.
So the occasion of Constitution Day is bittersweet. Yesterday I wrote on the subject for the Patriot Post, noting that:
Contention over – and advocacy of – limitations to government based on constitutional principles has become a theoretical exercise at best, perhaps in part because few understand the ideas and arguments that were made during the drafting of our government's founding document.
Those who have sworn an oath to enlist in the military or (in my case) to take public office know that we swear to support and defend the Constitution as opposed to an oath to the United States. This is a clear distinction because the interests of the United States may vary by whoever occupies the offices of government at the time, but the Constitution is the set of ground rules which are supposed to define our nation. The key reason I resigned from the Central Committee was because I could not trust the Republican presidential nominee to support or defend the Constitution – rather, I believed he would tear the GOP from what few limited, Constitutional government roots it had remaining. Thus, I felt as a public official that supporting him was a violation of the oath I swore to the Constitution.
Many of those same men who pledged their lives, fortunes, and sacred honor to the American nation and survived the war that brought us independence were those who argued and debated the contents of the pieces of parchment that we consider our supreme law of the land. I pray that a group that is just as divinely inspired can lead us back to a nation that more closely reflects the intentions of these earliest Americans with respect to restoring a government that seeks the consent of the governed, and that those who are governed understand their responsibility in the equation as well. The fact that so few seem to have this inspiration or the desire to take this responsibility as citizens seriously may be what was most troubling about this day in the park.
I do not live in the First State of Delaware, but I work there as does my wife. So despite the fact I have no vote in the process, to me tomorrow's primary is important enough to devote a post to. As originally intended, I had a pair of questions to ask of each of the four gubernatorial candidates regarding development and job creation that I sought their answer to so I e-mailed them to each candidate and listed it as a press inquiry. For the record, I only received a response from the campaign of Republican Colin Bonini asking for my phone number to do an interview. But I decided that wouldn't be right to be that one-sided, nor am I a great fan of not having answers in writing. So this piece became more of a general overview.
In a political sense, Delaware is a lot like Maryland: dominated by Democrats who live in one heavily-populated area of the state, while the downstate area is more Republican and conservative. To buttress that point, Democratic gubernatorial candidate (and current Congressman) John Carney was born and lives in the Wilmington area while the two Republicans facing off to oppose him, State Senator Colin Bonini and businesswoman Lacey Lafferty, live in Kent and Sussex counties, respectively.
And in John Carney you also have a Ivy League liberal who's been in government for most of his adult life as an appointee who moved up to Lieutenant Governor for two terms but was defeated in his effort to succeed his "boss" (in a manner of speaking, since the positions are elected separately in Delaware) in the 2008 Democratic primary by current Governor Jack Markell. Undaunted, John just waited until the opening came in 2010 to run for Congress since then-Rep. Mike Castle opted to run for the Senate seat that opened up when Joe Biden became Vice President. (The seat had a placeholder appointee until the 2010 election, which was to finish the last four years of Biden's term. This was the primary Castle lost to Christine O'Donnell.) John Carney won the Delaware Congressional seat Castle was vacating and probably would have been happy to stay in Congress except that Joe Biden's son Beau, who was the odds-on favorite to run for and win Delaware's highest office in 2016, passed away from cancer last year. So Carney seems to be the recipient of the "Delaware Way" of particular officeholders cycling between political jobs.
One thing I noticed in taking a cursory read of Carney's campaign site: he uses the word "invest" a lot. Those in the know realize this means a LOT more government spending and that, to me, is bad for business. Higher taxes aren't the way to attract the clientele that keeps my employer going, either.
But the winner of the GOP primary faces the long odds of trying to overcome Carney, who has name recognition aplenty and will certainly be burning up our local airwaves in the next couple months since Salisbury (and Rehoboth Beach, where the local NBC affiliate's broadcast orignates) is actually the TV market serving southern Delaware.
It's a contest between a man who has been in political office since 1994 (and was elected at the age of 24, meaning he has spent nearly half his life in office) and a woman who apparently began her run almost as soon as the votes were counted from the 2012 gubernatorial election.
There are definitely some things to like about Colin Bonini: he has the good idea to make Delaware a right-to-work state and would encourage the streamlining of state government by offering longtime employees an early retirement package. Legislatively, he has ranked as the most conservative legislator in the Senate (although out of 21 that may not be the greatest achievement.) However, he has the luxury of running from cover as his legislative seat isn't up for election this time and, quite frankly, this may not be the year for entrenched politicians on the Republican side.
At least that's what Lacey Lafferty is hoping for. Now I have heard Lafferty on the radio a couple times (since I often listen to Delaware talk radio) and she seems to have the political style people associate with Donald Trump insofar as running as an outsider. (Like Trump, she was once a Democrat, too.) And the rhetoric isn't far off, either:
Sen. Bonini is the choice of the establishment, but Ms. Lafferty believes she will win.

She's been critical of her primary opponent, referring to him on Twitter as "lazy" and a "buffoon." Sen. Bonini represents part of a failed political culture, Ms. Lafferty said, noting he did not officially unveil his campaign until recently.

"This is what people are sick of," she said. "They're tired of this. They want somebody that they can depend upon."

Sen. Bonini has referred to her as a "fringe candidate," and more recently, he stressed Republican voters should select the person with "the best chance to win in November."

As of Aug. 14, he had about $66,000 on hand, while Ms. Lafferty had $4,400.

Delaware State University professor Sam Hoff foresees Ms. Lafferty pulling in about 15 percent of the primary vote, largely from more left-leaning Republicans.
Apparently there aren't a lot of polls done in Delaware, but the poll I did find has the race at 29-22 Bonini. And since I have heard Lafferty identify with Trump on several occasions, I don't think she would be t
he choice of "left-leaning" Republicans.
I have to give credit to Lafferty for working hard to build a grassroots campaign, with the best philosophical idea I noted from her being that of stressing vocational education. I agree that not all students are college material, but those who can work with their hands and aren't afraid of a little effort can succeed quite well in life. She has quite the distinctive yard signs, too. (Don Murphy would hate them but you have to admit they are artistic.) And I see quite a few of them driving around Sussex County.
So Republican voters of Delaware have an interesting choice to make tomorrow for governor. They can pick the candidate who has lots of experience in lawmaking and owns a very conservative voting record; someone who is likely perceived as the safe choice but may not have the appeal for people to cross party lines.
Or they can select someone who is, to be honest, more of a wild card. We have no idea whether she will be polished on the stump or self-destruct when the people begin to pay attention. It's possible she was a tough-talking conservative the entire campaign but finds out there's not the waste, fraud, and abuse she thinks there is in state government – not to mention has to deal with Bonini as a state senator who would have to push her agenda.
I would be remiss if I didn't note there will be other candidates on the November gubernatorial ballot, including Libertarian Sean Goward – who may be hoping for a boost from the national ticket with Gary Johnson polling in the high single digits. Goward hasn't been one to update his website much, though.
On the other hand, the contest for Lieutenant Governor is solely on the Democratic side, as La Mar Gunn is the only GOP stalwart to run. (He's best known for "losing" the Kent County Recorder of Deeds race in 2014 by two votes – the first recount that the Democratic incumbent Betty McKenna won after Gunn won on Election Day by two votes and won two recounts by similar – but not those exact – margins.) Between the six candidates on the Democratic ballot (Sherry Dorsey Walker, Brad Eaby, Greg Fuller, Bethany Hall-Long, Kathy McGuiness, and Ciro Poppiti) you find varying levels of political experience but more or less the same amount of liberalism – basically peas in a pod.
There's also a Congressional race with one Republican (Hans Reigle), one Libertarian (Scott Gesty), and (again) six Democrats – Sean Barney, Mike Miller, Lisa Blunt Rochester, Bryan Townsend, Scott Walker, and Elias Weir. In looking through their positions, this November you can decide between Reigle, who seems to me a right-of-center sort who would probably fall midway between the most conservative and liberal Republicans in Congress, the fairly classic small-government, non-interventionist Libertarian Gesty, and the Democrat who will be way left of center whoever he or she is. Again, peas in a pod.
I'm not involved with the Delaware Republican Party, but it seems to me they have a harder time getting candidates than even our loony-bin left state of Maryland does. In one respect this prevents bitter primary fights, but there's also the aspect of leaving rank-and-file voters out of the decision. Between the statewide races this year (governor, lieutenant governor, insurance commissioner, and Congressman) the Republicans only have six candidates on the ballot. Democrats match that in either of two prominent races. Note that the voter registration numbers are less dire in the First State compared to Maryland – in Delaware only 48% are Democrats, 28% Republican, and 24% "others." (There are more Democrats in New Castle County, however, than Republicans or "others" in the entire state.)
Unlike Maryland politics, I look at the situation in Delaware as an interested observer rather than an erstwhile participant because, as I said up top, I work in the state. But as one who lives across the Transpeninsular Line I think I speak for the people of Delaware who want their state to succeed. Above all, I want it to be attractive to new residents and prosperous for those already there because that helps to make my paycheck, so vote wisely in the primary.
In the wake of the successful Brexit vote I knew someone would resurrect this old idea.
Certainly the idea of the state of Delmarva (or as I would call it, the state of Chesapeake) has been around for generations. It's only natural given the geographic isolation both the Chesapeake and Delaware bays provide, but reality's heavy thud divided this sandbar somewhat unevenly into one full state and parts of two others. The full state is one of the smallest in the country by both population and geography while the states split by Chesapeake Bay have practically all of their population across the Bay – less than 10% of Maryland residents and barely 1/2% of Virginia residents live on this side.
Yet if there were a referendum on the subject, we would have a plethora of possible choices, with perhaps the top three being: one new state for the entire peninsula with a brand new slate of laws, the merger of the Eastern Shore portions of Maryland and Virginia into a greater state of Delaware, or remaining as we are. Perhaps Wilmington and New Castle County of Delaware may feel better with a more urban state like New Jersey. But then what happens to institutions like the University of Delaware, which is in New Castle County?
Obviously the politician in me likes the idea of a greater Delaware that would become a "purple" state where Republicans have a good shot of taking control. Since New Castle County boasts a population of 556,779 (according to the latest estimate) out of a state that has 945,934 (based on that same data) it's always going to run the state of Delaware. (If you think Maryland is bad, remember no jurisdiction has more than 15% of its population. New Castle County is over half of Delaware's.) Adding the Eastern Shore of Maryland and Virginia would basically negate the Democratic-leaning population of New Castle with a broad area nearly equal in population but definitely more conservative-leaning.
Yet even if we can't be part of Delaware, there are a number of things that can be done to bring us closer. My favorite (and this has been tried before) is to eliminate the sales tax from Eastern Shore counties in Maryland. (The same could be done in Virginia, although being separated by about 40 miles of Maryland makes the "Del" and "Va" a less likely pair of rivals.) Creating a business zone based on Delaware laws as applicable for the Eastern Shore could be of assistance as well.
But while this idea has plenty of benefits, it probably won't happen in my lifetime because political power is more important than the people, It's still a shock to me that the people of Great Britain were allowed such a referendum in the first place – obviously the liberal EU assumed everyone loved them. I expected a result more like the bid to split California up into six states, which failed to qualify for this year's ballot. The last state to be split up was when the Union-leaning western part of Virginia seceded from the Confederate state of Virginia in 1863 – Virginia was eventually readmitted but not reunited with its former territory, which is now West Virginia. To create a new state or expand Delaware it would take the approval of all parties involved and that's not going to happen because they need our money – and when it comes to politics we know they follow the golden rule: he who has the gold, rules.
It is nice to dream, though.