It may not be as apparent to the average American as "vacation day" patriotic holidays like Memorial Day or Independence Day, but today a small band of Salisbury residents came to City Park along the Wicomico River and celebrated the 229th anniversary of the signing and delivery of our nascent Constitution to Congress for approval. Once approved, it was sent to each of the thirteen colonies for ratification (Delaware was first, on December 7, 1787) and by the middle of the next year the requisite nine states had ratified the document, which was not yet amended with the Bill of Rights. (That would come a few years later, in 1791.)
So I arrived fashionably on time and was pleased to see the turnout.
It seems like there were a few more people than last year's gathering, and I think the morning start time (as opposed to afternoon last year) may have had something to do with that.
We were presented with a proclamation from Salisbury mayor Jake Day reiterating that the city would be celebrating Constitution Day today. Day is one of the few who could stand and say he was actively defending the Constitution as an Army officer on active duty.
The event also was the culmination of an essay contest where the top two winners were present to be honored with a certificate from the Maryland General Assembly, presented by members of the local delegation Mary Beth Carozza (who was speaking), Christopher Adams, Carl Anderton, and Johhny Mautz. The winning entry was read by Carys Hazel of Mardela High School, with runner-up Nathaniel Sansom of Salisbury Christian School also present to receive his award.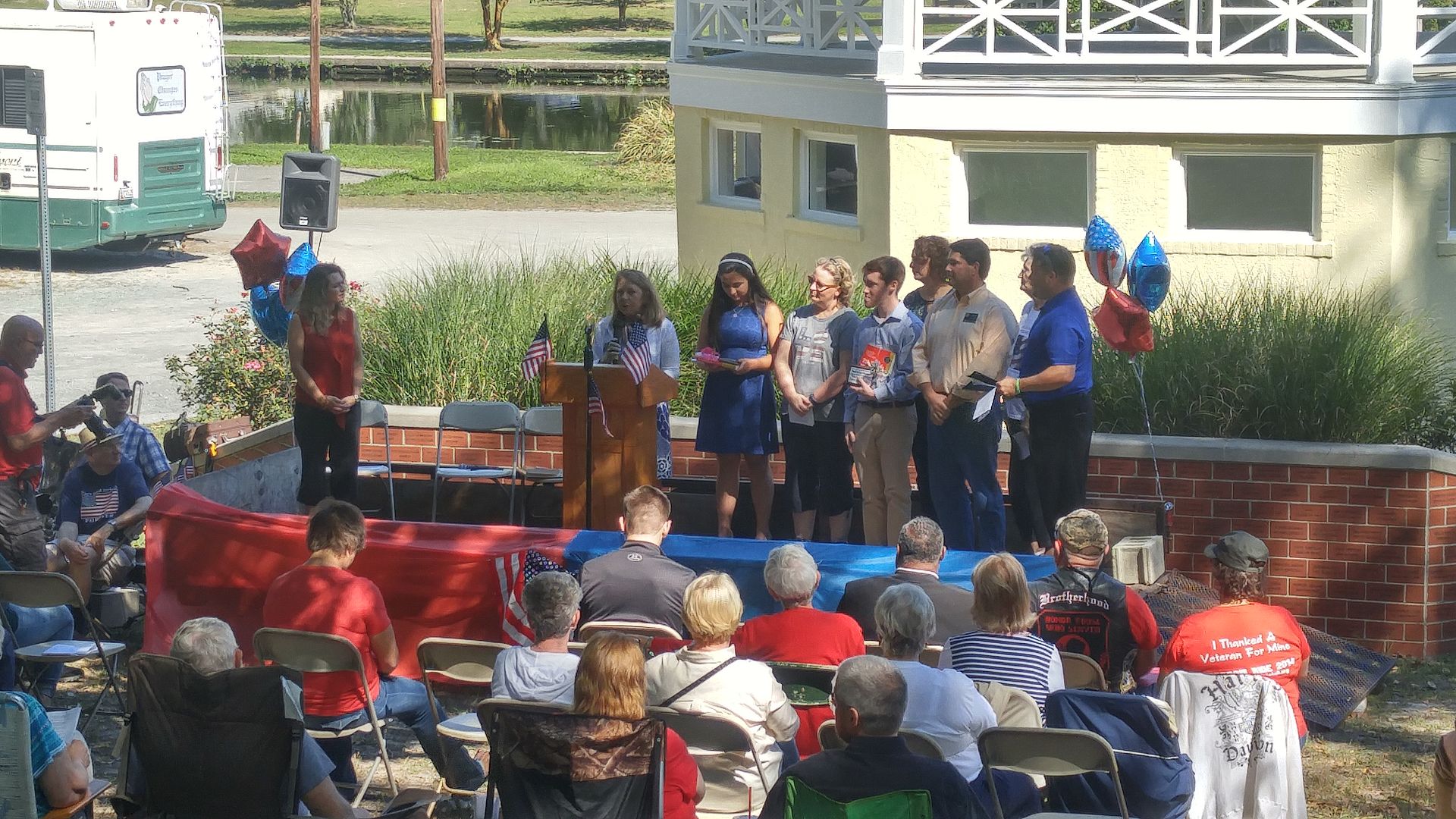 The keynote speaker was Wicomico County Sheriff Mike Lewis.
I wasn't really at the Constitution Day event to give blow-by-blow coverage, but I used the photos to both set the scene and cue up my own remarks, with the address Sheriff Lewis gave as a jumping-off point. Mike spoke at some length about the role of the military overseas and their fight against radical Islam. Certainly I understand the reason that they have embarked on such a mission, but to me it also begs a pair of questions for which we need an honest answer.
To a varying extent, the nation has been on a war footing since 9/11. In that time we have adopted the PATRIOT Act and sent thousands of troops overseas to fight against the proxy forces of radical Islam: the Taliban in Afghanistan, the Saddam Hussein regime in Iraq, and the Islamic State known as ISIS (or ISIL.) But the first question I have is: where does the balance tip too far toward security at the expense of the liberty afforded to us in the Constitution?
This question isn't really new, either: during the Civil War (or War Between the States or War of Northern Aggression, if you prefer) President Lincoln suspended the writ of habeas corpus and arrested members of the Maryland General Assembly to prevent them from meeting as a means of preserving the Union. Eight decades later, President Roosevelt interned Japanese-Americans as a result of their ancestral homeland's attack on American soil. In both instances America was in an active war within its borders or territories, but against a nation-state rather than an ideology as we are today. However, being in a state of war such that we are should not be an excuse for excess and there are many who have pondered the "War on Terror" and its response in the PATRIOT Act and whether the government is using this Long War as a flimsy excuse to consolidate power.
The idea of the government consolidating power leads to the second question: are we truly following the Constitution anymore or is this all just lip service?
Surely there are some who believe the Constitution has been eroding practically since the ink dried on the parchment. Whether they point to Marbury v. Madison being the moment where the judiciary became the most powerful of the three branches, the Civil War being the death knell for state's rights since they no longer had the right to secede if they were dissatisfied with the nation as a whole, or the Sixteenth and Seventeenth Amendments that gave the federal government taxation authority on individuals specifically prohibited in the original and ended the practice of state legislators electing Senators to represent their interests in Washington, there are a fair number that think we need to start over – perhaps with a Convention of States, otherwise known as an Article V Convention. (Years ago I contributed a couple ideas for new amendments, which are still sorely needed. Back then I had good discourse, too.)
I don't want to get into the weeds of determining the merits or problems of such a convention, but the fact that there are people who believe the Constitution needs a tune-up to fix excesses on one side or the other bolsters the argument that the government we have now is not the one originally envisioned by those men who toiled during the spring and summer of 1787 to write a replacement for the Articles of Confederation that the United States was bound to for the first decade or so of its existence. Granted, the Article V method is one prescribed in the document but there's no guarantee the amendments proposed would pass or the resulting Constitution any better for the people.
So the occasion of Constitution Day is bittersweet. Yesterday I wrote on the subject for the Patriot Post, noting that:
Contention over – and advocacy of – limitations to government based on constitutional principles has become a theoretical exercise at best, perhaps in part because few understand the ideas and arguments that were made during the drafting of our government's founding document.
Those who have sworn an oath to enlist in the military or (in my case) to take public office know that we swear to support and defend the Constitution as opposed to an oath to the United States. This is a clear distinction because the interests of the United States may vary by whoever occupies the offices of government at the time, but the Constitution is the set of ground rules which are supposed to define our nation. The key reason I resigned from the Central Committee was because I could not trust the Republican presidential nominee to support or defend the Constitution – rather, I believed he would tear the GOP from what few limited, Constitutional government roots it had remaining. Thus, I felt as a public official that supporting him was a violation of the oath I swore to the Constitution.
Many of those same men who pledged their lives, fortunes, and sacred honor to the American nation and survived the war that brought us independence were those who argued and debated the contents of the pieces of parchment that we consider our supreme law of the land. I pray that a group that is just as divinely inspired can lead us back to a nation that more closely reflects the intentions of these earliest Americans with respect to restoring a government that seeks the consent of the governed, and that those who are governed understand their responsibility in the equation as well. The fact that so few seem to have this inspiration or the desire to take this responsibility as citizens seriously may be what was most troubling about this day in the park.
Since the inception of this website I have written a 9/11-themed piece almost every year (I skipped 2006, which was the first year monoblogue existed.) If you're interested in my personal 9/11 story I wrote it back in 2007.
But now that we have made it to year 15, I think the more apt paragraph is that which I wrote a year ago for the Patriot Post. This was part of my original submission but edited out for length. It's still the truth, though.
As time passes away from the 9/11 attack, we tend to forget that those who best recall the horrific day as working adults are becoming less and less a part of the prevailing culture. The fall of the World Trade Center occurred just before my 37th birthday; in a week I turn 51. On the other side, those entering college this year were toddlers at the time and may not recall the shock we felt as adults.
Add another year to those totals (since I'll turn 52 in a couple weeks) and realize that a child born on that date is most likely a high school sophomore now. Those in our high schools and college now were probably too young to remember their experiences that day – maybe the college seniors will think about how it affected their nap time in kindergarten (if they still do that anymore.) For them, the link is now their history books or their parents, not personal experience.
And as that generation comes to adulthood, they have also been soured on the patriotism and purpose that accompanied our fight against radical Islam, to the point where neither Hillary Clinton nor Donald Trump wishes to commit a great deal of resources to the effort; rather they would use surrogates to do the actual fighting. It's a far cry from the thousands who signed up for the military to take the fight to Osama bin Laden in the weeks after the World Trade Center and Pentagon were targeted. Rather than patriotism, kids now emulate the custom of kneeling during the National Anthem as a form of protest.
While we haven't had an attack equivalent to 9/11 recently, the threat from radical Islam is still there. Since our last observance of Patriot Day Americans were gunned down by Islamist radicals in San Bernardino and Orlando, with other major incidents abroad in Paris, Indonesia, and Istanbul, just to name a few. The world remains a dangerous place and we live in interesting times.
The fact that Pearl Harbor Day and 9/11 occurred almost sixty years apart provides the opportunity to make one direct parallel. While Islamic terrorism is still a campaign issue 15 years after 9/11, we expended a lot of blood and treasure over the following four years after Pearl Harbor, with one of those war heroes successfully being re-elected President in 1956. There was a finality to World War II because the opponent was a governmental entity – once the regimes in Imperial Japan and Nazi Germany surrendered, the war came to an end. But in this case there may not be an end for generations. A decisive military defeat could hasten the process, but subduing this threat isn't solely a military process, just a piece of the puzzle. By definition, terrorist attacks aren't conducted by military forces but by civilians who may use military-style tactics.
So we once again come to the anniversary and remembrance of 9/11, an occasion that almost 1/4 of our population (73.6 million) has little to no memory of because they are under the age of 18. Some of the timeless images will remain, but the actual memories of how Americans were affected will be lost as those who were of Social Security age back then are passing away – this was the generation that fought in Korea and World War II, and we are losing them by the hundreds daily. The rest of us are getting older too.
Let's just hope that we aren't simultaneously losing our collective identity as a liberty-loving nation thanks to the threat presented by the terrorists. In the end, that may be the legacy of 9/11 we have to reject.
By Cathy Keim
Totalitarian

adj.

Of, relating to, being, or imposing a form of government in which the political authority exercises absolute and centralized control over all aspects of life, the individual is subordinated to the state, and opposing political and cultural expression is suppressed: "A totalitarian regime crushes all autonomousinstitutions in its drive to seize the human soul" (Arthur M. Schlesinger, Jr.)

Totalitarian government. (n.d.) American Heritage® Dictionary of the English Language, Fifth Edition. (2011).
We are used to thinking of totalitarian ideologies as the two horrors that the United States fought in the 20th Century: Nazism, which we defeated in WWII, and communism, which we supposedly defeated through the Cold War. We now face a third form of totalitarian ideology, but due to our advanced immersion into politically correct thinking we are no longer able to mount a coherent defense. The new threat is Islam – not radical Islam, but Islam.
As I was researching this piece, I was looking for people that were willing to state that Islam is a totalitarian ideology equal to, but not the same as, communism and Nazism. What I found was that when these two ideologies first popped up, they were compared to Islam to explain their totalitarian thrust.
In an excellent article, Geert Wilders, Western Sages, and Totalitarian Islam, Andrew Bostom, who I had the pleasure of meeting last January at a conference, shows that contemporaneous with the advent of Bolshevism and Nazism, people were making the connection. I find this interesting because due to the PC mindset we are currently controlled by, you don't see many of our political leaders or media personalities being willing to admit to this rather obvious connection.
Why do I find this connection so important? Because this gives us an historical precedent for resisting a totalitarian ideology. Our current leaders are unable to state the truth. The George W. Bush administration hid behind the Radical Islam moniker, stating that Islam was a religion of peace and the radical jihadists were not reflective of the great world religion, Islam. Under President Obama, this concept has morphed into the more ridiculous position that we cannot even call terrorist attacks perpetrated in the name of Allah, Islamic terrorism. Jihad is transformed into an internal spiritual battle rather than the violent struggle to subdue the kafir that it really is.
The distinction as to whether Islam is a religion of peace being perverted by evil men or whether Islam is a totalitarian ideology committed to subduing the entire world to a one world government (caliphate) under sharia law makes a huge difference in how you deal with practical matters, particularly immigration.
If it is the former, then you can try to screen out potential terrorists by checking on their backgrounds like you would a criminal. If it is the latter, then you have a much different problem on your hands. Would it be wise to bring in thousands and thousands of adherents to this totalitarian ideology and hope that they will become peaceful Americans?
First, let's look at a lengthy quote from Dr. Bostom's article where Karl Jung and then Karl Barth compare Nazism to Islam:
[D]uring an interview conducted in the late 1930s (published in 1939), Karl Jung was asked: " … had [he] any views on what was likely to be the next step in religious development?" Jung replied, in reference to the Nazi fervor that had gripped Germany:

We do not know whether Hitler is going to found a new Islam. He is already on the way; he is like Muhammad. The emotion in Germany is Islamic; warlike and Islamic. They are all drunk with wild god. That can be the historic future.

Also published in 1939 was Karl Barth's assessment (from The Church and the Political Problem of Our Day) of the similarity between Fascist totalitarianism and Islam:

Participation in this life, according to it the only worthy and blessed life, is what National Socialism, as a political experiment, promises to those who will of their own accord share in this experiment. And now it becomes understandable why, at the point where it meets with resistance, it can only crush and kill — with the might and right which belongs to Divinity! Islam of old as we know proceeded in this way. It is impossible to understand National Socialism unless we see it in fact as a new Islam, its myth as a new Allah, and Hitler as this new Allah's Prophet.
Next Dr. Bostom presents the contemporary comparison between Communism and Islam:
Jules Monnerot's 1949 Sociologie du Communisme was translated into English and published asSociology and Psychology of Communism in 1953. Monnerot elaborated at length upon a brief but remarkably prescient observation by Bertrand Russell, published already in 1920, which compared emerging Bolshevism to Islam. Russell had noted in his The Practice and Theory of Bolshevism:

Bolshevism combines the characteristics of the French Revolution with those of the rise of Islam. … Those who accept Bolshevism become impervious to scientific evidence, and commit intellectual suicide. Even if all the doctrines of Bolshevism were true, this would still be the case, since no unbiased examination of them is tolerated. … Among religions, Bolshevism is to be reckoned with Mohammedanism [Islam] rather than with Christianity and Buddhism. Christianity and Buddhism are primarily personal religions, with mystical doctrines and a love of contemplation. Mohammedanism and Bolshevism are practical, social, unspiritual, concerned to win the empire of this world.
These quotes show that prior to our politically correct environment, Islam was viewed as a totalitarian ideology on par with fascism and communism. So, how did we deal with them?
We fought WWII to crush the evil of fascism and we waged the Cold War for decades to curb the expansion of communism, declaring victory with the dissolution of the USSR and the fall of the Berlin Wall.
After the 9/11 attacks, the United States attacked Afghanistan and Iraq to destroy the governments that were giving shelter to terrorists. Due to our need for oil, we never identified the correct problem, nor the correct solution. Instead our leaders spoke of bringing democracy to the Middle East. We ousted the governments of Afghanistan and Iraq and installed new governments with constitutions based on sharia law.
If our leaders had bothered to understand the problem, they would not have ever uttered the words democracy and sharia law in the same sentence. Next came the Arab Spring, which was hailed as a breaking out of democracy all over the Middle East. In the ensuing years, the chorus of joy on the parts of our elites has changed to the cry to bring in refugees by the thousands as they flee the war, chaos, and starvation that has followed.
Libya is a dysfunctional state now controlled by terrorist factions. Syria is rent by a brutal civil war. Iraq is being ravished by ISIS with its Christian and Yazidi populations facing genocide. Egypt was sinking under the control of the Moslem Brotherhood until the military seized control. Turkey is faltering as Erdogan pushes it ever closer to sharia fundamentalism. Iran has made kidnapping pay and is released from any restraints on its rush to nuclear weapons.
Islam, like the Nazis and the communists, is never content to peacefully coexist with its neighbors. Its only mandate is to conquer, kill, subjugate, and then move on to the next territory until the entire world is prostrate beneath them.
Dr. Bostom continues with a quote from Bernard Lewis explaining the goals of Islam and Communism.
Quite obviously, the Ulama [religious leaders] of Islam are very different from the Communist Party. Nevertheless, on closer examination, we find certain uncomfortable resemblances. Both groups profess a totalitarian doctrine, with complete and final answers to all questions on heaven and earth; the answers are different in every respect, alike only in their finality and completeness, and in the contrast they offer with the eternal questioning of Western man. Both groups offer to their members and followers the agreeable sensation of belonging to a community of believers, who are always right, as against an outer world of unbelievers, who are always wrong. Both offer an exhilarating feeling of mission, of purpose, of being engaged in a collective adventure to accelerate the historically inevitable victory of the true faith over the infidel evil-doers. The traditional Islamic division of the world into the House of Islam and the House of War, two necessarily opposed groups, of which the first has the collective obligation of perpetual struggle against the second, also has obvious parallels in the Communist view of world affairs. There again, the content of belief is utterly different, but the aggressive fanaticism of the believer is the same. The humorist who summed up the Communist creed as "There is no God and Karl Marx is his Prophet" was laying his finger on a real affinity. The call to a Communist Jihad, a Holy War for the faith – a new faith, but against the self-same Western Christian enemy – might well strike a responsive note.
Now that the Middle East is in shambles and hordes of refugees are overwhelming Europe and heading towards the United States, it would be helpful if our leaders would find the backbone that our forefathers had and would come up with a strategy based on the reality before them to deal with Islam, rather than continuing to murmur lies about a religion of peace and how we should welcome the stranger.
Despite the fact I'm a sports fan, rest assured I'm not discussing the Stars, Mavericks, Cowboys, or Rangers. Actually, I would much rather be discussing less weighty subjects but I feel compelled to add my two cents.
All morning I heard on the news that this was the worst police fatality incident since 9/11, which is actually a little bit of a surprise given the amount of targeting they have had over the last few years. And apparently the shooter was distressed over recent shootings in Louisiana and Minnesota, so he took it out on the Dallas police before turning the gun on himself.
But I can't get my head around the logistics of the incident. You mean to tell me one man had eleven clean shots at police officers, without hitting anyone else in what had to be a melee after the first shot or two was fired? Unless they were in a group where they were easily mowed down, it seems to me that the initial reports of multiple assailants would be closer to the truth and then we have to ask where these others are. Of course, conveniently, the perp isn't talking anymore.
I have to say, though, this game of tit-for-tat is getting old. We lose five police officers in response to two (perhaps unjustified) civilian shootings, which may have occurred because the cops are on edge thanks to continuing protests and incidents like the one in New York City in December 2014 where two officers were murdered by Baltimore resident Ismaaiyl Brinsley, who "planned to kill police officers and was angered about the Eric Garner and Michael Brown cases." Innocent people are shot to death here, police officers are gunned down there. Depending on who you believe, the cops are always at fault unless the gun itself did it – and if the gun did it, that obviously means we must relieve people of their weapons, say those on the Left.
This morning I was listening to WGMD radio where Wicomico County Sheriff Mike Lewis was discussing the Dallas incident, and he revealed that four local officers had resigned over the last week. (Lewis was caredul not to specify which agencies, though.) Mike also believed that this climate was making it harder to recruit police officers because the risks are getting too great, and I can believe this. The Eastern Shore may seem like a backwater region without much potential for such an incident, but these shootings can happen anywhere.
So the question becomes: who stops first? Obviously concealed carry and the BLM threat is making police officers more nervous, and the Dallas shootings aren't going to ease their tension. There's no doubt race plays into this as well, as I'm sure every traffic stop involving a white officer and black driver will be tense.
Normally I have some ideas on how to improve the situation, but in this case I'm fresh out except for suggesting prayer – both for the families of the victims and for healing of the long-festering wounds racism on both sides have brought our nation.
It started out so innocently, somewhat like a warm late-summer day did almost a decade-and-a-half ago. But somehow things became so much bigger and darker.
There's no doubt a Facebook disagreement pales ever-so-greatly in comparison to 9/11, but the reauthorization of the James Zadroga 9/11 Health and Compensation Act became yet another excuse for partisan bickering, with many of these comments criticizing the heartless Republicans. It's certainly not hard to garner sympathy for the families of those who were affected by the fall of the Twin Towers.
Yet being the adult in the room isn't always the most popular thing.
I have no problem with state and local funding of first responders provided they can justify the need for it. Salisbury and Wicomico County are in the process of ironing out a long-standing disagreement over the city providing fire and EMS services for outlying areas close by the city. (Due to haphazard annexation, there are significant pockets of county population completely or nearly fully surrounded by the city limits. I used to live next door to a county resident while I lived within the city limits – the city limit split our shared driveway. The house I lived in literally was the single piece of property that made that relatively large neighborhood area a county island.)
But I would like to know how it became the federal government's responsibility to take care of these first responders to begin with. It seems to me that this act of terror was equated with an act of war and first responders were elevated to a status not unlike our veterans. And while the families of these firemen and police officers have suffered greatly as these first responders have, there should already have been a state-based workman's compensation program in place. In short, they are deserving but it's not the federal government's place to pay these bills because they had no contract with Uncle Sam like veterans have. Saying so, though, makes one out to be a bad guy.
Beyond this, there is the question of what role the federal government should take.
It seems to me anymore that we assume the federal government will always be our backstop, there to cover us in the event of disaster. Because of this, we aren't preparing ourselves for a world where the government can't or won't be able to help us. How many people have based their retirement dreams on the fact that Social Security and Medicare will always be there, despite the math that equates both to Ponzi schemes? I haven't checked in several years because I had a lengthy unintentional hiatus from full-time work, but I don't think it would take too many years for me to go through the amount I had taken out of my checks over the years for Social Security.
At some point, we need to have the cord cut. The question is whether we will have the willpower to do it ourselves or simply have the rug pulled out from under our feet without warning or a chance to prepare. Those who seem to think we can stay on the same course when it comes to the direction of our federal government are sadly deluded. Donald Trump may be the GOP frontrunner, but he has the wrong approach to entitlements. (By the way, I think I'm really doing a disservice by referring to them as "entitlements" because I would like to know exactly where in the Constitution these programs are. Would you consider yourself entitled to Donald Trump's wealth if you did nothing to earn a portion of it? That's what the government seems to think.)
For the families of these first responders things will turn out all right because it's likely the provision will be placed in a must-pass appropriations bill and we will be paying for these luckless police officers and firemen until they pass away. It's not really our federal government's proper place, but giving out money to people we deem deserving always feels good. Things will feel great until the day the golden goose lays dead from exhaustion.
This little experiment we embarked upon almost 250 years ago was supposed to be one where government was limited, with authorization to only do a small number of tasks. Somehow we have come to a point where government is unlimited and unchecked. This 9/11 example, to me, buttresses the old adage, "A democracy will continue to exist up until the time that voters discover that they can vote themselves generous gifts from the public treasury." The same seems to go for what we thought was a constitutional republic.
Instead of a post here to commemorate 9/11, I was asked by the Patriot Post to write a piece on it, tying in the intelligence burnishing that's been in the news lately. (Just as a little blowing of my horn I have an original piece there most Fridays, today being one.)
But there was one thought I had, a reference which was edited to be shorter. So I will expand on it briefly here.
As time passes away from the 9/11 attack, we tend to forget that those who best recall the horrific day as working adults are becoming less and less a part of the prevailing culture. The fall of the World Trade Center occurred just before my 37th birthday; in a week I turn 51. On the other side, those entering college this year were toddlers at the time and may nor recall the shock we felt as adults.
My point is that the passage of time and world events change our perspective. I see the world quite a bit differently now just before my 51st birthday than I did at 36. Part of that comes from the school of hard knocks, but the passage of 14 years changes almost everything.
Most of my readers can't do this from actual experience because they weren't around, so imagine the world of December 7, 1955 – fourteen years after Pearl Harbor. Our nation fought (and won) one world war but we existed in an uneasy truce from a more recent fight at the time over in Korea. There was also the "Cold War" going on between the United States and Soviet Union, with rumors rampant of Communist enemies at the highest levels of government.
In many respects, the unfinished business of confronting radical Islam is similar to what we faced with the Soviet Union. It took nearly 50 years to eradicate the old Soviet Union and free Eastern Europe, but the Russian bear now shows signs of coming out of hibernation. We may have that same timeline with radical Islam, but the kids of today exist in a world where everything is relative. America is often portrayed as the bad guy, and to a certain group of people we are to blame for the problems of the world.
If there's anything different about the post-9/11 era compared to that of a generation ago, it's the perception that America isn't always right. Even if the cause is just, too many assign ulterior motives to our actions and this confusion is why we can't all get on the same page. It will take a leader to restore our faith in the idea of America before we can get serious about winning the Long War.
It may seem an odd way to begin a post about 9/11, but remember Pearl Harbor?
While most casual observers think that World War II began when we were attacked by Japan on December 7, 1941, the reality was that hostilities began over two years earlier when Nazi Germany invaded Poland on September 1, 1939. It was the culmination of several years of concessions to appease Adolf Hitler that proved to have the opposite effect.
The Long War between America and the forces of radical Islam came into sharp focus on 9/11, but there were several skirmishes leading up to that date. I'm old enough to remember the takeover of the American Embassy in Tehran in 1979 and the 444 days we watched as Americans were held hostage. Certainly some had flashbacks to that incident during the events in Benghazi, Libya two years ago on 9/11.
And then we had the original World Trade Center bombing in February 1993, an event which made clear that building was a target. Eight years later, the planners changed their tactics from a single truck bomb to two jet aircraft hijacked for the purpose of becoming civilian-laden missiles.
But like Pearl Harbor or, to borrow a different violent event, the assassination of John F. Kennedy, the lives of millions of Americans were defined that day in such a way that most remember what they were doing when they heard the news. (I was at work at the former Hobbs+Black Architects office in Toledo, on a glorious late summer day.)
A key difference between Pearl Harbor and 9/11, though, is that America knew who the enemy was and spared no expense or effort in fighting it. Less than four years later Hitler was dead, Japan had surrendered, and the world began a transition from a global war of destruction to an uneasy peace between adversaries in the sense of liberty – a peace defined by the knowledge of mutually assured destruction if either pulled the nuclear trigger. But America had vanquished all of its Axis foes, yet was assisting in rebuilding where it could.
On the other hand, we responded to 9/11 with somewhat conventional warfare but found out that it's a model which doesn't last and is ineffective against an enemy which glorifies death and rarely fights in a conventional manner.
Since the Benghazi incident in 2012, we're more aware that 9/11 is a pivotal date on the calendar .People are looking over their shoulders today, waiting on the other shoe to drop and another terrorist attack of some sort. They all but expect it given our current weak leadership.
But just a few years after abandoning Iraq and in the midst of doing the same to Afghanistan, now it's Barack Obama believing we can dispatch the Islamic State with a minimum of blood and treasure. I don't see it happening, at least not unless we go back to fighting like we did in World War II and junk the ridiculous rules of engagement and political correctness. Blasting the whole thing into a sea of glass appeals to some, too.
History always repeats itself somewhere, sometime. A millennium ago Christians began a series of Crusades to beat back the Islamic invaders, and this may signal the need for a second round our grandchildren may yet fight someday. The instruments of war are far different, but the toll on advancement of civilization is often the same.
Twelve years ago, timed to the moment this post will come out in the morning, our nation was changed forever. And while we debate the merits of intervention in yet another far-off country, it's worth repeating that this American won't forgive or forget.
But as I wrote a year ago at this time:
With the exception of the very first year I had this website, I have chosen to write a tribute of sorts on 9-11. I've told you about my experience (twice), reflected on how it affected the presidency of George W. Bush, the "different and lacking resolve" of Barack Obama, and how we need to stay strong. I even reviewed a 9/11 book recently.

So it's somewhat hard to lay out new ground to cover. But I still feel the somber occasion of 9/11 is important enough to devote a post to…

…Few who experienced the day would want to live through it again, but I think it's vital to dredge up the unpleasantness because the fight is far from over.
When I wrote this, however, I had no inkling of the events which would transpire later that evening in Benghazi, Libya. That rendition of 9/11, in any other administration, would have spelled imminent doom with an election less than two months away. But somehow our President (who shall not be named today) got away with murder, at least in the metaphorical sense. So I would be remiss if I didn't point out a bid by Watchdog Wire for the usage of the hashtag #BenghaziWatch today.
Yet one has to wonder how much more Americans will take. It's not hard to recall the images surrounding the seminal event of our lives: four planes hijacked and turned into missiles, destroying two of our most prominent structures and badly damaging another, the grounding of our private airline fleet and subsequent birth of Department of Homeland Security, the ruin and rebuild of our financial nerve center, and so forth. Not much can halt professional sports, but 9/11 did: a week's worth of baseball and NFL games were postponed by the events along the East Coast.
It's not a perfect analogy by any means, but there was a period in our nation's history, spanning perhaps thirty to forty years, where we lived in dread knowing a situation wouldn't be solved without the high likelihood of bloodshed. Even in the days of our nation's founding, the question of slavery was a vexing issue which was kicked down the road through a series of compromises until no more middle ground could be had and the two sides fought a war to determine whether states could choose their destiny or not.
Similarly, radical Islam seems incompatible with the ideals of a Constitutional republic such as ours. In some respects, what we did in Afghanistan and Iraq was a compromise because, frankly, in the immediate aftermath of 9/11/01 there would have been few Americans who objected to turning the Middle East into an uninhabitable sea of glass. We certainly possess the capability to do so, although it obviously would risk a far larger Armageddon. Yet the question which we will have to ponder is whether compromise is possible, or if 9/11 turns out to be the first battle in a latter-day Hundred Years' War.
Their side has no problem waiting, so how long can we be vigilant in response?
After several days of trying to nail this busy lady down, I finally had the chance to speak with writer and author Diana West. You may recall her from the recent Turning the Tides 2013 conference, although I've actually linked to her website for some time.
She is the author of The Death of the Grown Up: How America's Arrested Development is Bringing Down Western Civilization (2007) and the forthcoming American Betrayal: The Secret Assault On Our Nation's Character. Diana is also a syndicated columnist whose work appears in dozens of outlets around the country.
**********
monoblogue: We actually met last Saturday – I'm going to bring my readers up to speed – you and I met last Saturday at Turning the Tides and you did a talk on "Toward a Conservative Foreign Policy." I noticed this morning that it's now up on your website, which is very convenient for the readers. I guess the question I would start out with is that you're more known as a cultural speaker, so how did you get put into talking about foreign policy?
West: Well, really it goes back to 9/11. That's really when I started writing about how our culture was being changed by this conflict with Islam. And most writers, most thinkers, most pundits and politicians, (they) continued to look at the last decade as a decade of terrorism. Most of the voices you hear discussing how to keep America safe, defend American interests, and so on are really looking at this as how to combat attacks (such as) terrorist attacks (or) military attacks – and while those are, of course, important because no one wants to be attacked at an airport or a stadium – coming from a more cultural lens I started looking at this in terms of how we were being changed culturally by this conflict.
I guess the first part of my writing career definitely had a focus on culture, although I did cover politics as well, but again with a definite cultural emphasis. This past decade I have definitely been looking at the war as a cultural event, and that's why I'm so interested in things like what's known as "civilization jihad," which is, again, the turning from within of our civilization.
monoblogue: Right. And as I read your book, which I did finish – it's very good – I noticed in The Death of the Grown-Up you started out in the vein that you described, just talking about our culture, but then as the book wrapped up you interspersed a look at the Islamic effect on our culture. The book's evolution mirrors what you just said…
West: Yes.
monoblogue: …where you started out as talking about culture but then wrapped in the element of Islamic terror after 9/11.
West: Yes. And there's a backstory to that book, really, which I'm glad you brought up. It explains the way of thinking about some of these problems. I was actually thinking about that book and working on it before 9/11, and it would have been a very different book. It would have definitely outlined the cultural decline as I saw it in terms of this increasing emphasis on youth and this increasing fear and denial of adulthood, and what went with it.
After 9/11 – I was living outside New York at the time, in Westchester County about 45 minutes from Manhattan – after 9/11 happened I shelved the book because I thought 'who cares, what does it matter?' We're in this terrible fight, we've been attacked, and trying to understand these new issues I put that project aside. A year or so later, it suddenly became very apparent to me that the cultural decline that I had been trying to work through had a terrifying application in the post 9/11 age. That was how the book became a description of where we had come in terms of an infantile culture and how dangerous that cultural development was for our chances in battling this totalitarian threat which, if you look back through Islamic history, the hallmark of non-Islamic populations living under Islamic law is really one you could describe as infantilized in the sense of not having full rights, not being allowed to speak out, being afraid – these are the hallmarks of non-Islamic populations across centuries, across cultures, across continents.
I looked at this and said, oh my gosh, we are ripe for this kind of takeover and indeed, I ask your readers to look at our speech codes that we willfully put on ourselves. We are afraid to discuss Islam in any kind of rational, logical, and truthful manner. I would ascribe that to this very infantilization that I tried to see in the culture. The book is an argument to see this development and understand how  we have to overcome it if we're going to withstand this.
monoblogue: Well, 9/11 kind of synthesized and crystallized your thesis then is what you're saying.
West: Yes, I'm glad I didn't write the book beforehand because I really felt that application was much more compelling – for me, anyway – and certainly seemed to have more significance for our future.
monoblogue: The other thing that's interesting, and it's a matter of how they paired the speakers up at the Turning the Tides Conference, was that you spoke right after Pamela Geller, and Pamela got most of the attention – and she's the lightning rod for…
West: Sure.
monoblogue: …for pro-Islamic protests. But your message is almost as powerful as hers in the fact that, yes, this Islamic influence is not a good thing for America.
West: Well, I suppose that's true. Of course, Pamela is a well-known activist at this point, and I think that as an activist she is certainly going to draw the attention of the CAIR demonstrators and things like that. I work strictly as a writer, journalist, and author, so I move in a different track although I would say we have similar goals and very often discuss similar topics so there is a commonality of theme here, but we have different roles and different careers.
monoblogue: That's fine, but it seemed interesting to me – they're actually out there protesting her and not you for your message, which – you kind of get to fly under the radar in a way.
West: I suppose so (laughs.) I work, perhaps, in more of the journalistic milieu – maybe it just doesn't rile them up quite as much.
monoblogue: That's all right (laughs), sometimes it's good to be stealth. I've found that out myself. But when we heard you last Saturday, I noticed that you were coming in and saying 'this isn't really my forte, I hadn't been thinking about that sort of thing as a broad foreign policy.' And like I started out, it was interesting to hear you talk about that when you're more known for culture. So how long did you have to prepare for this speech?
West: Oh, I guess I worked it out over about a week. I mean, in terms of – if you go to my website and comb through some of the back archives I have not written on culture per se for, really since 9/11. And while I definitely examine the cultural impact of war, I have also been looking very minutely and intensively – for example, in war policy, in military doctrine, in examining the wars in Afghanistan and Iraq – so I wasn't quite the fish out of water that I may have made you think in terms of thinking about a foreign policy address.
What I was trying to say was, when I was asked to come up with a conservative foreign policy for the conference, I think I was asked because I'd been thinking through jihad, the Islamization of the United States military, which is something I write a great deal about (and) my sense of the futility, and indeed dangers, of nation-building in Iraq and Afghanistan. So what I was trying to explain was that I had not put these things together in the sense of a comprehensive political policy.
I think with that address, I kind of wish that Mitt Romney had made such a foreign policy address as mine, in terms of putting these various cultural and national security concerns together because I don't think you can talk about – you can successfully talk about and battle the threats to our country in terms of terrorist events, in terms of a bad man with a bomb getting into a building, what we tend to do – and this gets back to what Pam is so good at, and others in this field, is understand that these actions (like) bringing bombs to a building are the expression of an ideology, and this ideology goes back to classical mainstream Islam. It is jihad, it is Islamic law to the entire world, to the caliphate – which is something else that I write about a lot – it is jihad to exert Islamic law over the world and everyone in it, including non-Muslims. And this is where we come in, and I've always felt that Islam itself doesn't interest me, except insofar as the nexus between expansionist Islam and our life.
Where you come in to understand this is the impact of jihad and something called dhimmitude. Dhimmitude is the condition of the dhimmi, which are Christians and Jews living under Islamic law, and it is in effect a third- or fourth-class degree of citizenship. That's where I've become interested in Islam; it is a cultural interest but, again, it also becomes a national security interest. In trying to knot this all together in a talk for a whole foreign policy address, of course it also involves things like border security and the importance of Congress becoming more involved in foreign policy. At this point, I think we have a very dictatorial foreign policy that is set at the White House, mostly, and Congress is merely there to rubber-stamp funding for whatever it is the President wishes to do.
These were some of the things I was trying to bring together into a more macro sense than I was accustomed to doing as a weekly columnist and almost daily blogger.
monoblogue: Right. And that's something – I just happened to look (yesterday) morning and here's the speech that you happened to give at Turning the Tides, which is very convenient. The website, by the way, is dianawest.net – I'll plug that for you – and you also have the syndicated column.
West: Yes. I have the syndicated column and the speech actually was published at American Thinker as well. But mostly I write my column, which runs in something around 100 papers at this point, and I also write books. I have my new book coming out in May, which is called American Betrayal, which, again, is a foray into history, actually, and how we got into this condition we're in. I think of it as a prequel to The Death of the Grown-Up, really; it goes deeper and back a little farther to kind of set things straight.
monoblogue: That's good, I'll be interested to see how that does when it comes out. Obviously you've been working hard on that because, I recall as I was getting this set up and talking to you for (this interview) that you originally had this coming out in April, but now it's going to be May.
West: Yes. (laughs) It's been done for quite awhile. It's a long book, and in talking about the old-fashioned way of doing things (referring to our small talk prior to the interview) publishers are doing things somewhat old-fashioned. It turns out that getting everything straight, typeset, and properly footnoted and everything just simply takes more time, so we had to push it off to May. But I do not believe there will be any further delays.
It's been done – actually it was turned in back in May of 2012, and we've been editing over the months and so on. Books just take time, especially a large book that is very heavily footnoted.
monoblogue: Chock full of information.
West: Yes it is! Definitely value for the dollar. (laughs) A heavily researched book; it's no cut and paste job here.
monoblogue: And I would expect no less. It sounds like you're a very thorough-type person, and that's good. We need more of those on our side. We have to put up with a lot of lies from the other side, people who just make it up as they go along and don't check their facts. It's refreshing to see our side portrayed in that way. You're crafting.
West: Thank you. Yes, I try very hard and try to be thorough and try to be correct because it is very important. And I also try to admit when I change my mind or make a mistake – I think that's equally as important. That's one complaint I have with general journalism is that there is very little interest in correcting mistakes, and also changing minds. Sometimes the facts appear and there is reason to reconsider, and that is actually, I think, a sign of human growth and not anything less.
People tend to get very entrenched in their views of the world and vested in them so it becomes very difficult to reconsider and reformulate policies, which is one of my complaints with, for example, the Bush administration over its period in Iraq and Afghanistan, and certainly the military over these many years of fighting the same war, even as it became more and more apparent that "winning hearts and minds" in the Islamic world was not going to happen short of conversion to Islam. It's that clear-cut; there's no room for wiggle here. It is an absolute brick wall in terms of trying to persuade or win over an Islamic culture to a Western way.
You would think after a decade of trying there would be some reconsideration here, but I think there's even less willingness to consider  a larger picture, much to the detriment of our country and just too many of our fellow citizens from the military.
monoblogue: Right, and in a way I can tie this to together to conclude it, this gets to be a battle between infantilization and maturity. We're not showing the maturity to evolve our thought process as situations dictate.
West: That is certainly one way to think of it; it does seem to be that way. I think there's also people with careers in mind, and reputations they're too vainly wed to – these are some of the very human characteristics, yes, but I would say they are not of the more mature side. Certainly the ideal to which we aspire – and of course, we're all human so there's not some super standard that we all hit all the time every day – these are very serious problems and none of it is theoretical, none of it comes from an academic milieu where a theory can be argued.
We've been battle-testing these theories, which have led to loss of life, loss of limb, and tremendous losses to our national treasury, to our fitness of our fighting forces – I mean, it's really been a cataclysmic decade and there's really no end in sight (nor) any interest in looking back and actually saying what went wrong and how can we make it better for the future. I hope that that changes.
monoblogue: I hope it does too, and that actually turns out to be a good spot to wrap this up. Your book comes out in May, and I wish you the best of luck with it. I appreciate you taking the time to talk to me.
West: Thank you, Michael, I enjoyed it.
**********
We actually chatted for a few minutes after the interview, comparing notes on the conference and other topics. A thought we extended on during the impromptu conversation was regarding the process of writing her book since I obviously chose a different path in getting my book to market because I wanted it out before the 2012 election. It boggles my mind that her manuscript has taken so long in the editing process, although I'm sure verifying the footnotes is a tedious batch of work.
The key thing was that I learned a lot in speaking with Diana, and hopefully you did as well in reading this. I haven't determined next week's guest quite yet, so stay tuned.