After a hiatus from blogging, political hatchet man turned fiction writer Joe Steffen – best known as the "Prince of Darkness" – turned his attention to my old friends at Red Maryland. At the risk of getting carpal tunnel problems, I have a few observations about this argument between the two sides.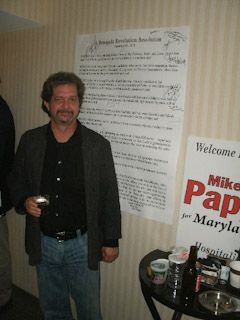 First of all, let's discuss the characters. You may recall the fall 2010 convention, where I took these photos. The bottom photo may be hard to read at this scale, but it was posted on the wall at our fall 2010 state convention – GOP activists may recall that gathering as the wake for those who believed Bob Ehrlich would be the savior or our party because he had just been trounced by Martin O'Malley on an even worse scale than his 2006, despite overt help from the state and national Republican parties. So we had a lot of interest for Chair that year and Joe decided to make his statement as part of the "Renegade Revolution." In short, we were a group which was fed up with the whole incumbent protection attitude, which led to the Rule 11 resolution Heather Olsen and I spent 2011 trying to get approved, to no avail.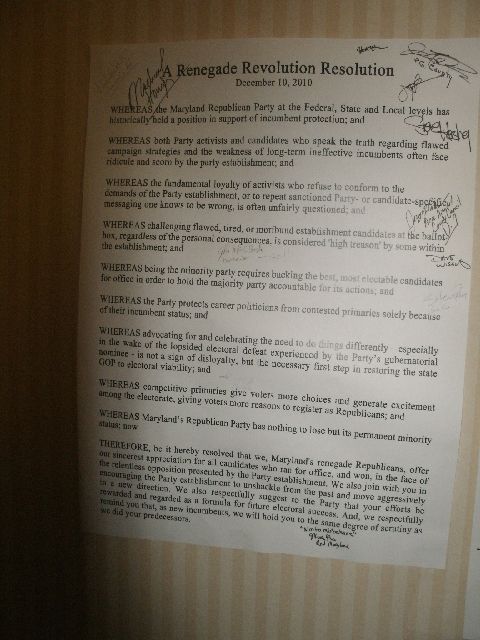 As for Red Maryland, most longtime readers are aware I am what they refer to as an "erstwhile" contributor. I crossposted there perhaps a couple dozen times between about 2007 and 2011 – more, I'm sure, than some of those they still list as contributors. For a couple years afterward I was still listed as a contributor, but the list was culled probably about the time I threw in my support for Collins Bailey for state party Chair over Red Maryland co-founder Greg Kline. Despite that, I've also been a guest on a number of their extant radio shows, with the exception (oddly enough, since we are both officers in the same political club) of Jackie Wellfonder's show and perhaps the one Mark Newgent hosts now. I've probably been on their airwaves a half-dozen times, enough to be heard but certainly not a frequent guest.
Also, to keep the players straight, it should be known that Jackie Wellfonder (and Andrew Langer, while he was there) are exclusively radio hosts and don't blog with Red Maryland. Sorry if all this bores you, but I want to make sure people know just who is involved here. Generally when I start discussing Red Maryland, at least one of the players gets up in my face about something I wrote, and I think one of their favorite descriptions of me is that I'm "passive-aggressive." Water, meet duck's back. If I didn't think I had something to add, I would ignore this tete-a-tete.
Anyway, I read what Steffen had to say about this purloined letter the good folks at Red Maryland sent out to Maryland GOP candidates in order to drum up business, one Joe calls a "protection racket." Honestly, I didn't have a problem with that letter – sure, I'm questioning the wisdom of $5 a spot on their radio shows when one on a terrestial station which reaches a broader and more diverse audience can be had (at least here locally) for just a few dollars more, but it is what it is. I haven't caught a Red Maryland radio show recently to see how this approach is doing. (Jackie's is the only one I listen to on a semi-regular basis – the others just aren't my cup of tea.)
Moreover, I'm quite aware they are now a part of the Baltimore Sun, which seems like a case of strange bedfellows but they got the gig – bully for them. But herein lies the rub.
In the letter, the editors of Red Maryland write:
Using our platforms at BaltimoreSun.com, RedMaryland.com, and the Red Maryland Network we can help introduce you to the public and make sure that your message gets heard.
So are they going from "the premier blog of conservative and Republican ideas in the Free State" to promoting just those candidates and ideas which supply a paycheck? That's how I read the letter – and trust me, all of us bloggers could use a little extra money – but something tells me takers are in short supply. What do we get if no one ponies up?
As I write this, the posts on their front page deal with Charles Lollar's reaction to David Craig's income tax package, the probable minimum wage increase, a piece panning an idea to adopt a Utah-style "hybrid" primary system (proposed by the aforementioned Collins Bailey), several promotions for radio shows, Sun editorials, and their monthly poll, and one piece by contributor D.C. Russell on the state of Prince George's County politics. With the exception of Russell's article, there was really nothing I could construe as introducing candidates or making sure a message gets heard; on the other hand, they have already endorsed a handful of candidates, including gubernatorial hopeful Larry Hogan. Conversely, Charles Lollar has been regularly criticized on Red Maryland – sometimes deservedly so.
Steffen goes on to be critical of Jackie Wellfonder and Mark Newgent for their roles outside Red Maryland, claiming they do take money for what he termed "political favors." That fact both Wellfonder and Newgent have political clients for their various enterprises isn't in dispute, though – it's whether they have adequately explained their roles.
Now perhaps it's because I know Jackie quite well, but I've been aware for awhile that she has a consulting company and has been on the payroll of at least two campaigns this election cycle – Senator Steve Hershey, as Steffen mentioned, and also Christopher Adams, a candidate for Delegate. However, she has featured a number of candidates on her website and radio program and I think she treats them rather fairly. Yes, she is a Larry Hogan backer but candidates seem to know this up front and agree to speak with her anyway.
By the same token, I'll take Mark at his word that he's gone through the Hogan situation, as it came up one time in a chance conversation we had that he was doing work for Change Maryland. And that's fine, too. As Red Maryland has explained, it takes the unanimous vote of the four editors to make the endorsement, and obviously sharp eyes will be going over Larry's campaign report to see if any campaign funds went their way. (Newgent has also admitted to being on the Hogan team for opposition research.) So whatever Newgent is getting, he's only a fraction of the team.
Now this brings me to the crux of the matter: why would this e-mail be received by saying, "(a) bunch of us got this, and had a nice little laugh" – isn't Red Maryland supposed to be a "premier" blog?
I suppose if I wanted to I could argue a claim to the premier blog insofar as "ideas" go, since I have come up with some discussion items, suggestions, and resolutions in the past. Now if you want to talk about a premier marketing blog, yes, they've more than earned that title – otherwise, why would we even be discussing Red Maryland in the first place? For all I know, this unnamed group may laugh at my website too but no one knows about it.
So when did Red Maryland cross the point of derision? Was it the fawning over Larry Hogan, or maybe Greg Kline's bid to become Maryland GOP Chair where he finished a distant third? Maybe self-promotion has gotten into the way of their original purpose, but all I know is that they (and their detractors) have become the sideshow sucking up all the oxygen in the room. Are we really that bored with the candidates we're putting up – the ones who are working hard to get elected?
Respect takes a long time to earn, but can be gone in an instant. The Red Maryland crew continues to claim that #IntegrityMatters, but it's apparent that a number of people question whether they have any left.
There's an old saying that you draw the most flak when you're over the target. Well, over the last six weeks or so I must have been circling around the heart of the Maryland political conversation because I've seen my name in a lot of other quarters and have had to defend myself a lot. It happened again yesterday.
I actually was in the midst of writing a long, drawn-out post to rehash these assumptions when I came to a conclusion that I have better things to do, thus I broomed it. Just leave the past in the past and concentrate on being a better, more effective writer and better man. So I apologized to the latest writer for any misunderstanding.
I think at times we all forget we in the Maryland conservative movement, particularly those who choose to be the writers, are all part of the same team, and what we are going through would equate to the same clubhouse dissention that you'll find on a ballclub which is a perennial cellar-dweller. As it turns out, though, we're catching the other team on a losing streak of sorts, that being expressed in tax hikes, a flawed Obamacare rollout, and the people growing weary of the general attitude of entitlement the other side exhibits. Many members of our team point these out, although not everyone seems to be aware of this.
Yet we have our problems as well, particularly in management – in fact, we have no manager. Instead, we have four men who are doing an extended interview for the job and different factions of the team support different candidates – the left side of the infield strongly backs one guy so much so they endorsed him, starting pitchers and bullpen are divided, and the left fielder who likes to play deep has his choice. Veterans are in their camp and the brash rookies probably don't agree. In and of itself, that's not so bad because, as I said, we're still picking a manager. The game hasn't started quite yet.
Me? I'm just trying to stay in the starting lineup and trying to decide who I think will be the best leader. Once in awhile I toss a wild pitch but I believe I throw mostly strikes, and those umpires who stop by here generally agree. Maybe the other bloggers feel differently about their roles, but I look at my job as one of keeping the team in the game. I may be the hoary veteran of the bunch, but I still want the ball every day so I can help the team. I'm all about turning things around and getting us that long-awaited championship, rewarding not just our long-suffering fans but everyone else, too.
That's enough of the ballclub analogy for today. I can almost guarantee some will take this in a way I wasn't intending, so my advice can be heeded or fall on deaf ears – that's not up to me anymore. I said my piece, so it's time to carry on.
Today marks the 3,615th post in the (now) eight year lifespan of this website.
If you haven't noticed, I'm heavily into milestones because to me they best represent certain points in life. For example, I usually mention the fact I'm on a post number with a multiple of 500 as it should be sometime in 2014 when I make it to 4,000. By the same token, almost every December 1st since this site's first anniversary in 2006 I've written a piece about where this enterprise has been and where it is going. Today won't be an exception.
One would have figured this to be a down year for monoblogue because it wasn't an election year in 2013, but the signs point to my readership actually increasing slightly. For most of 2013 the readership line on my Google Analytics stayed 10% to 30% ahead of 2012′s numbers, aside from a barely slower summer this year. Unfortunately my Analytics was down for about a month last fall; however, I determined from looking at my StatCounter reports that naturally my October 2012 numbers were 58% higher than 2013′s but those figures from November of last year vs. November of this year will likely be nearly identical once I get the summary later this week. So I would expect October 2014 to be a banner month, and the state probably did me a favor readership-wise by pushing the primary to June, which is generally one of my slower months. It won't be next year.
I chalk that increase up to being a better promoter of my work, although I think being named one of the country's best state-based political blogs by the Washington Post didn't hurt, either.
When I wrote this summary last year, I had two writing goals in mind for 2013. One was to finally make it to CPAC, and even though it was just for one day I indeed
attended the venerable event held outside Washington, D.C. It allowed me to meet a number of my cohorts from around the country, which was a plus. Certainly it would have been more helpful in that regard if I could have made it to the Blogger's Bash, but when you are an hourly employee and work comes on someone else's time schedule sacrifices sometimes have to be made.
One way I was hoping to escape that economic necessity was by working on my second book; alas, I made very little progress on that front. Maybe I haven't sold myself on the idea I've chosen, which I think is unique but requires more dedication than I've given it. Perhaps I'll find a little more time in 2014 but honestly I'm not holding my breath with my current situation.
Yet I think there is a way I can provide a useful service. Not everyone agrees with my methods, and others pout about how they believe I judge moral equivalence, but those who exist behind the scenes and don't seek to grab the headlines or attention are perhaps the most loyal members of my fan base. If my numbers went up (or at least held serve) between an election year and a non-election year, that seems to indicate I have a fair idea of what I'm doing and have some talent. Never mind I've also outlasted dozens and dozens of Maryland political sites – go back to this list and ask yourself where the others went.
So the question becomes one of how I improve the situation to make myself more useful to the pro-liberty movement? I know readers have helped a little here and there by rattling the tip jar or buying my book – for some reason, November has been by far my best sales month of the year – and I certainly appreciate the support.  But while monoblogue serves me as a great base to practice my craft, this enterprise isn't nearly enough financially – and that's all right. Unless people are going to start throwing a couple grand a month at me to advertise here, I really don't think that by itself monoblogue is going to be my financial savior. It's a hobby which takes on the average an hour or two of my day and it makes a small profit, so I'm okay with that.
But in reading a lot of the GOP candidate websites, I have to say that their writing style and conveyance of message leaves a lot to be desired. I've talked to insiders who complain about the same thing, and actually alerted one of the gubernatorial candidates about a glaring error in his platform, which has since been fixed. Yet when reading the websites on the other side, I don't often see these problems – the message may be counter-productive to the state as a whole, but it's presented in a readable way. So maybe I can be of service? I mean, I won't work for free, but I don't think I'll be all that expensive and proofreading is really your friend. Just let me know.
As for the site itself, I think it's in a pretty good place. It may need some freshening up in spots and those improvements will come as needed. On the front I just discussed I have a couple advertising leads from candidates, but I'd love some good ads for products and services which will appeal to a potentially large Maryland-centric audience. (I can think of a couple businesses which could use exposure throughout the state, but are locally centered around Salisbury. They would be great clients if they want to take the leap.)
One feature I think will become a jewel is the one I started recently called GO Friday. (The GO stands for "guest opinion.") It's off to somewhat of a slow start but there's true potential for growth there. GO Friday was intended to give voice to up-and-coming bloggers trying to build their own audiences out of my reader base, but it's open to anyone with a good opinion. It also gives me a breather to work on other avenues, such as the aforementioned potential writing tasks.
And don't think I'm abandoning some of my other features like Shorebird of the Week or Weekend of local rock. I think there's still plenty of mileage left in both, although the latter hasn't been as prominent lately.
When I started this enterprise, I said from the beginning it wouldn't be totally political because then I'd get burned out. There are days I've struggled to keep pace with my personal goal of daily updates (and I missed one this year because of an internet outage) but with that rare exception it's been one goal I've accomplished. Fortunately I'm not prone to writer's block and have something I want to say so the combination works well.
Anyway, this is where monoblogue is at as it begins its ninth year. Hope you enjoy the ride as long as I do.
Every so often I have to just sit and shake my head.
As I usually do when I look at Facebook, I take a look at what various groups post on their pages. Last night I spied the Wicomico Society of Patriots page and found that Andrew Langer had posted a link to a Red Maryland article claiming Matthew Adams of Somerset County was behind a fairly new blog that seemingly, in the eyes of those on Red Maryland, exists only to bash them and those who work with that group, particularly my friend Jackie Wellfonder. The Red Maryland post, written by Mark Newgent, is based on photos from this post at the MD Watch site.
So I was appalled to see over 170 comments on that Facebook post, most consisting of a running argument between Langer and various local WMSOP members including Julie Brewington, who's had her own share of run-ins with Red Maryland leading to her naming by the blog as Maryland's least valuable conservative player.
Yet in reading all of the blow-by-blow regarding this situation, there's one question Mark Newgent, who's usually a pretty good investigative reporter, missed: who is the "we" referred to in the MD Watch post? Obviously Matt Adams was there at the Hogan event and I'll allow the allegation that he was in the Executive Committee meeting to take the unflattering photo of Jackie from behind to stand for the sake of argument, given the case put together by Mark.
But is it Matt Adams who is writing as a collective "we" of the Lollar campaign or did someone else use the photos attributed to Matt in writing the Hogan/Wellfonder hit piece, which is authored by "James"? "James" is one of the two attributed writers on the MD Watch site; the other is "Veracruz." Other posts have no attribution. Find out who "James" and "Veracruz" are and we'll get a long way toward solving some problems.
Lord knows I haven't often agreed with Matt Adams on many things – for example, he was a Diana Waterman backer – but I don't see the evidence he did anything but take the pictures and own the domain name to the administrative part of the Lollar website. I've figured out that the guys at Red Maryland don't care much for Matthew Adams and Julie Brewington (and seem to have a pretty dim view of the Lollar campaign in general) but I don't see the leap to the accusations they made in their post. We may find out the owner(s) of MD Watch have nothing to do with any campaign and just like stirring crap. If so, sad to say they did a good job.
Then again, as poorly written as that MD Watch website is I would probably hide behind anonymous pseudonyms, too. Rehashing press releases is one thing, and I often use excerpts myself. But at least I try to advance conversation with them. And, for heaven's sake, use spellcheck and proofread!
However, I do agree with a point Andrew Langer made in the long Facebook discussion – where is Julie Brewington in condemning the Wellfonder photo, particularly given Julie's past history with being the subject of leering, candid photos, or shots she was the subject of but thought better about later on? I get the "freedom of speech" part, but don't act the victim then when it's pointed at you.
When I write, I try to use facts and learned opinion in my argument. My learned opinion of the Wellfonder photo is that it was garbage and doesn't belong in a serious discussion. If anything, I would suggest that there's a little jealousy of Jackie in play here, since she's rather rapidly become part of the insider GOP crowd in the state. To make fun of her size, well, I thought we got past that once we left junior high. (And yes, I'm on the portly side too. Jackie likes her Starbucks, I like my chocolate.)
Still, it's unfortunate that there's no shortage of bad blood these days from a few who apparently fall within the tent of Charles Lollar supporters directed at Jackie, who's doing her best to make a living at disseminating the campaign knowledge she's learned over the last few years. She's starting small, running a Delegate race, and so far seems to be successful with her instincts. We'll see how it all works out come June, both in the Delegate race she's running and her bid for our county's Central Committee, which wasn't news to me. Guess I won't be on the bottom of the ballot this time.
Red Maryland is what it is; we've had our differences and I'm sure they may crop up again. Personally, I have to say these two wrongs don't make a right.
You know, I'm not from Maryland, so I didn't really know a lot about the whole blue crab thing growing up. (But I know what a buckeye is, both the object and the food product.) One tidbit I've learned since moving here, though, is that a group of crabs, when caught in a crab pot, will work together in one key respect: to pull down the leader who tries to escape. Obviously that's good for those who are looking for dinner, but Maryland Republicans seem to have this crab mentality down pat.
We can argue now, but I want to make sure that on June 25 it's full speed ahead getting rid of the Democratic dominance in this state. I know some will protest about my choice of words and say they should have the right to defend themselves, but I think most would agree that petty crap like this has to come to a halt. Just remember who perpetuates it henceforth.
I think I plugged this once or twice early on, but as I wrote on the subject a couple weeks back I figured I had no shot of winning a Mobbie Award for Best Political Blog or Best News Blog simply because it's more or less a popularity contest. I have good readership, but not necessarily within the Baltimore Sun's primary readership area.
So now that I lowered expectations enough, I found out last night I finished 10th of 14 in Best News Blog (won by Baltimore Brew) and 8th of 18 in the Best Politics Blog (Maryland Reporter came out on top.) Although I cracked the top 5 last year in the latter category, over the years I have generally ended with about the same overall placement I came in this year. Mine was the top finisher outside the I-95 corridor, though, so I'll take it.
At least I beat out Governor O'Malley.
There were a couple winners in other categories for whom I cast a few votes, most notably Chesapeake Journal in the Lifestyle Blog category and The City That Breeds in Best Humor Account.
But I would like to thank all those who nominated me and took the time to cast a ballot or two my way. I'd be curious, though, to know how this would have turned out if you could have voted for more than one in a category.
In the meantime, I hope those who attended the bash enjoyed the free food. While they were partying I was getting stronger signals that a particular rumor may be true – we'll know for sure soon enough. Once I find out, you can bet I'll be analyzing the effects of the change as the days pass. It's what I do.
When you think about it, the number of people represented by the Red Maryland poll is generally about 1/10 of 1 percent of the potential Republican electorate in the state. So why do I see e-mails and Facebook messages from the three candidates encouraging me to vote in their poll?
Well, before I answer that question, let me state that as a blogger I understand the reason behind the poll. Truth be told, it's not necessarily to provide an accurate barometer of the race – it's to bring eyes and ears to the Red Maryland blog and network, respectively. It's the reason I've done polls, and often I see a bump in the numbers if I put up an interesting horserace. It might even attract a little notice for me outside the blogosphere.
But Lord knows none of us have the scratch to come up with a scientific method of gauging the true snapshot of the electorate – not that it can't get blown out of the water by potential events anyway – so we do the next best thing. If they have 500 or 600 responses to their poll, well, that means 500 or 600 people read their website over the period in question. (Obviously some read the site without responding to the poll, so in reality they have hundreds more who stop by during the week they have it up.) Same goes for the radio show where the results are revealed. I may be a dumb country hick from the Black Swamp of northwest Ohio, but I can figure out that much about marketing.
So let's take this e-mail Ron George sent out as one example:
The November Red Maryland Poll is open for the next two days, so please cast your vote for Ron George for Governor. With your help, Ron came in 1st place in the October Poll, and we look forward to winning back to back months.
Not to be outdone, David Craig mentioned via Facebook:
Maryland deserves a leadership team with vast experience and a real record of accomplishments. Please take a moment to show your support for that team by voting for "David Craig" in this month's Red Maryland Poll.
I haven't seen anything from Charles Lollar yet, but he and the Red Maryland crew probably aren't the best of pals right now anyway. Last month he came in just south of "undecided" but he had otherwise polled relatively well there. (Along with "undecided" all three polled in a narrow range between 20 and 30 percent.)
Of course, these aren't scientific polls so we have no clue how these candidates would do with a "real" electorate. I guess the real value of the poll – as I have said on occasions before, which holds true in this case as well – lies in the poll providing a gauge of passionate supporters. So, at least in October, Ron George had the largest number of passionate supporters, although no one was really short on them overall. Insofar as that polling has shown, it's been a solid three-way race throughout.
Winning an internet poll may not give you a boost in the real polls but it provides some good press for the winning campaign, so there is that.
Now, speaking of polls, for the fourth time in five years I've found myself nominated for a Mobbie Award. (Actually, two.)
I harbor no illusions of winning an award, seeing that it's essentially a popularity contest and my website is probably not nearly as well-read as some of the others nominated. Let's face it: a blog discussing Ravens football is going to cream mine in readership and probably voting as well. Even among the nominees in the News Blog and Political Blog categories, I'm sure other contenders have higher traffic (although I enjoyed a somewhat better than average week last week, with nice consistency. Thanks, folks.)
Knowing that, I don't figure on winning the Reader's Choice Award. But I don't want to finish last, either. So if you feel inclined to do so, I would appreciate the support. If you can't bring yourself to support me, vote for Raging Against the Rhetoric (Jackie Wellfonder's site) because I nominated her in the political category.
Someone might get the perception I have a halfway-decent website if I happen to win, and who knows? It may attract a couple dozen advertisers and other major sponsors. You can beat the rush, though, and get in on the ground floor – just go here for details.
Perhaps it's a sign that we're outgrowing our britches, but a couple recent developments have shown that dealing with new media can make for a dangerous servant and – particularly – fearful master. (Indeed, under the person in question government may become even more forceful.)
In browsing the internet yesterday I came across this post on the Maryland site DMV Daily. written by Hassan Giordano, which alleged that Anthony Brown's campaign denied his requests for comment on what they considered "slanted coverage" favorable to the campaign of opponent Doug Gansler. "(We) were rebuffed our attempt with the firm statement that 'the Brown campaign doesn't acknowledge or respond to bloggers'," Giordano wrote.
Of course, that assertion came with the caveat "they would make an exception for the senior political writer of this publication," for which Giordano wisely refused the bait.
So let's compare this to the way new media is treated on the Republican side.
In compiling my dossier on candidates for future publication, I've come across candidate interviews for all three GOP hopefuls (as well as a possible fourth) and participated in a couple myself. While I use Jackie Wellfonder's Raging Against the Rhetoric site as an example, the candidates have been open to other sites as well, particularly Red Maryland and their various radio shows. Certainly I've found the candidates willing to speak with me and answer questions; in fact Ron George woke me up this morning responding to a Facebook post (because my phone whistles with these notifications.)
I'll grant that all candidates, regardless of party, have their list of bloggers and media people (in both traditional and new media) that they have found friendly or at least fair. Even back in the early days of this site there was the question of whether untrained journalists could be fair, and the situation continues to this day despite the fact new media is much more prominent and (almost) mainstream.
So this leads to my question of the day: if a candidate doesn't want to answer legitimate tough questions from citizens, is he or she worthy of support? I would certainly place a black mark next to their name.
I think I've trod down this road before, but a post Sunday by DaTechGuy (aka Peter Ingemi) brought the name Jimmie Bise back out. And the points he made echo the points I made when I wrote my piece in early 2012 and the thoughts Bise had back in 2009. So I wouldn't call this a tragedy – because Bise is still very much alive – but more like a case of lessons not being learned.
Yesterday I wrote at length about a piece in the Baltimore Sun which was repeated by a fairly liberal blogger who happened to be a statehouse reporter for decades. I don't know who else, if anyone, wrote about this report but considering the paucity of Maryland-based conservative outlets it's pretty likely I was the only one. (I checked a few and indeed I seemed to be the only one paying attention; then again, it fit in with my interests.)
And when I say paucity of conservative outlets I think it's safe to say that our combined efforts – and by "our" I'm including the dozen or so regularly updated conservative sites in Maryland, including this one – might reach an audience perhaps 1/10 of what the Sun draws for its print edition daily (about 170,000 readers). Note that doesn't count their online services, which probably draw another 100,000 or so per diem.
So what if some conservative bought the Baltimore Sun? This isn't completely far-fetched, since there was some interest in the Sun's parent company from the Koch brothers, but the likelihood of the owners selling to overt conservatives is slim.
That leaves the internet, which is the venue of choice for most of those whom we want to reach anyway.
It's helpful for this exercise to remember that a person is only allowed to donate a maximum of $10,000 to Maryland candidates this election cycle, with $4,000 the maximum to a particular candidate. If you figure even $1,000 per person donated to the ten most conservative members of the General Assembly (or conservative challengers) that's going to give you 10 members of the body out of 188, assuming they were all elected – and in the state's current political climate that's one hell of a crapshoot. If you want to build a conservative movement in Maryland, you have to do better and begin with spreading the message among the populace.
I know Bise talked about running a national news agency on $500,000 a year, but if you took even half that money and spread it around the twelve or so top conservative sites in the state we could build a tremendous online following. We could work day after day pounding home the proper message, pointing out the frequent hypocrisy of the liberal state regime, and figuring out new ways to reach the desired audience. It would be an investment repaid eventually in better opportunities for all who live and work in Maryland.
As it stands, we in the conservative blogosphere along with a handful of talk radio hosts around the state probably feel like the 300 Spartans desperately fighting our own Battle of Thermopylae against the hordes who would tax and spend Maryland into oblivion, driving away the productive and leaving only the parasites who feed off the government and those producers unlucky enough to be still stuck here.
And it's not just Maryland, either. Most of the northeastern part of the country, the West Coast, and pockets of the Midwest suffer the same problems our state endures. Certainly there's a conservative movement crying out for help in those areas, with the thought that changing hearts and minds make winning elections down the road much easier.
People tell me that we may as well give up on Maryland, but I cede no ground. It doesn't take a majority to "get it" to instill change, just a majority of those who vote. If we don't have the conservatives in Maryland ready to not just dash to the polls the moment they're open but also grab their like-minded friends and neighbors to do the same, we'll be in for yet another four-year cycle of misery. And contrary to popular belief, our misery doesn't love company – our special brand of misery drives company away.
We can do much, much better, with a little help. (Why not rattle my tip jar? My annual server fee is coming due soon.)
While I was helping the Delaware Breast Cancer Coalition and my friends Jim and Michele Hogsett by attending and supporting their (Save the) BreastFest fundraiser last night in Ocean City (more on that in a future installment), Friday the 13th also marked the quiet return of a local voice in the blogosphere. I'm pleased to see that Right Coast Conservative is back, or as they say, "baaaaaaaaack!" (Generally it's one contributor but she has a number of guest posts, so I refer to it as a collective.)
Julie has been more active locally in the last few weeks, so it's not a complete surprise she's returned. Few can walk away after that bite of the apple, and she still has the passion:
My intent is to focus primarily on Maryland politics and local news. However, if something strikes my fancy, I may just go off the reservation now and again. I won't be twerking or anything, but I may not always stay on task.
Her first piece is on a new candidate for Wicomico County Council, Marc Kilmer. If you've read my website for awhile you may have seen Marc leaves the occasional comment and once in awhile I will use his op-eds as a starting point for my thoughts. If you could find someone more qualified for the job than someone who looks at public policy for a living, well, good luck. I also have it on good authority that another quality young candidate will be formally announcing next week.
Quietly our fair county is in the process of turning over a new leaf of leadership to a younger generation, and that process will likely accelerate now that three longtime members of County Council are leaving – between Council members Sheree Sample-Hughes, Gail Bartkovich, and Stevie Prettyman the Council loses a combined 36 years of experience; there is the potential that we could see a turnover comparable to the 2006 election where none of the four Democratic incumbents at that time chose to seek re-election, (That was the year the county shifted from a commission-style system where County Council served as the executive body to having an elected County Executive.) After the 2006 election Bartkovich and Prettyman were the only holdovers from the previous Council because the other person who sought re-election lost in the primary.
But I digress from my main point: it's good to gain another voice on local political affairs. Having seen the contentious times which marked the infancy and adolescence of local blogging, here's hoping the discourse stays on a more mature level. Welcome back to the Right Coast Conservative!
It's time to comment on more idiocy from people who have something to sell. Let's begin with this gem:
I work In business development with Newsmax Media, in Boca Raton, FL. I just wanted to drop you a line and say I am a big fan of your site, and I am interested in a digital partnership with Monoblogue

The goal of this campaign is to place a 300×300 box on Heavy for pay.

Newsmax can generate a substantial amount of passive revenue by adding a small, but valuable bit of content that your readers will enjoy.

We currently have over 700 publishing partners, You can see examples of our "newsfeed" on (redacted)

By adding the newsfeed, you are generating a tremendous amount of guaranteed revenue, you are increasing run time, you will be engaging your readers longer, and most importantly, you will not be cluttering your page with ads. We value your sites readership and will provide world class health/finance/world/ political news for them to enjoy.

The newsfeed is a non-performance based model, unlike Outbrain and Taboola which are perforce based or ppc products, we will guarantee you a fixed monthly fee every month for hosing the newsfeed. It doesn't matter if the newsfeed gets 1 click or 1,000,000 you will receive your fee.

As far as compensation, I would be happy to review your traffic , and discuss the revenue Newsmax can generate for your site. We pay a $.50, CPM, because this is an editorial based module, we pass less than banner or display ads.

When a reader does click on a newsfeed story, a new window will populate, helping increase your sites run time.

During the test period we track clicks/impressions, our long term goal is to come to a 12 month agreement.

Please let me know what you think, all feedback is welcome. Please let me know what I have to do, in order to satisfy your needs.

Thank you so much for your time and efforts.

I look forward to hearing from you.

Best,

Kevin Mallon
Admittedly, this guy is apparently a living, breathing human being. But I think I need to make a little more than a couple dollars a week since that's what 50 cents CPM would translate to. In fact, for most sites it would be pocket change, although at one time Newsmax was getting 3.8 million pageviews a month – that would be $1,900 in revenue based on their own calculations – and they're a PR7 site with a top 300 Alexa rating in the U.S. I don't read it all that often, but Lord, do I hope this guy doesn't do their actual writing.
But if you think that offer is funny (or insulting), the skewering this guy gave them was priceless.
Even so, I actually made this guy's e-mail look a lot better than it was – it came double-spaced but still riddled with the errors you see there. As I often say, proofreading is your friend. I'll grant you probably sent this out to 200 blogs at a time (hence, the way the field took the word "monoblogue" with an additional space) but there's no excuse for some of these errors.
So, Kevin, my friend, if you are out there and you REALLY are a fan of my site, you would see that I have a menu item up top called "Ads." In it, you would see that an advertisement such as the one you seek is $100 per year. My public school math tells me that's $8.33 per month, or revenue in your case from 16,666 impressions. If you "value my site's readership" you should be falling all over yourself to pay that premium to advertise on one of America's best state-based political sites (not my words, it's in the Washington Post.) I'm not just some schmuck out there.
Oh, and for the rest of you: feel free to clutter my page with ads.
Apparently I've also become popular with Mike Thomas, the "Success of a Salesman" pitcher from last time. He reminds me of that bit from Animal House with the hapless fraternity pledge being whacked with a paddle: "Thank you sir, may I have another?" Well, here you go:
My name is Mike and I am hoping you can show your support for fair trade by mentioning this fair trade directory. I had done some searches about fair trade and found this page of yours where you talked about it:

monoblogue.us/2013/05/09/shorebird-of-the-week-may-9-2013/

I was hoping that you wouldn't mind just adding a link to the words fair trade in here to the directory:

(redacted)

Maybe there is a better fit page or you would like to add something to your blog. If you would like, we could write an original post on any topic related to fair trade for you.

Also, if you would like to be added to the directory you need to become a member and contact us to add your company. To do so you will need to first link to the directory and than we will add your company. That is all it takes to get more traffic to your site coming from this directory.

Let me know which option you would like to take and I really do appreciate your time in helping to show your support for fair trade. If you have any questions or comments please let me know.
I about busted a gut laughing at the idea of getting "fair trade" from a Shorebird of the Week post. Upon reading the piece in question I figured it out:
There's no doubt Branden Kline would like to go to Baltimore and ply his baseball trade as a member of the Orioles, but his next step would be to go home. (Emphasis mine.)
Talk about a deep search! Of course, now that I have mentioned those key words in this post, Mike will be writing me back in a few weeks and pestering me about adding his content to this post. No thanks; shoot, you're not even dangling the princely sum of 50 cents per CPM like old Newsmax Kevin above.
I probably don't get a player to be named later in the trade, either. Then again, I may be negotiating from weakness as evidenced by yet another SEO guru wishing to help:
Dear Sir,

- Your site has been affected by Google Penguin due to over optimized with poor quality links. There is more than thousands of anchor text links found in poor quality directories and bookmarks sites.

- As per coding error validation, there are errors in coding found. This creates big problems in the path of search engines crawlers when they visit and navigate through your website.

-Your site has Alt-tag missing. You need to optimize the images from search engine's point of views.

- Keyword stuffing: There are over use of keywords in your site which is all spamming.

-All your pages haven't been indexed. Only a few pages have been indexed. It shows Google has banned some of your web pages.

Above mentioned are some of the most important issues which need to be taken care of, if rectified, these issues can rank your website on the top of search engines like Google and you can easily dominate the market.

If you are interested, we can help you to recover and improve your site.
Oh yes, I'm sure I can easily dominate the market. But I don't feel like dealing with the "more than thousands of links" and "errors in coding." Really?
Listen, I just write. I don't write to please a Google Penguin master, and I don't have a lot of time for "Tania Delmar" with an address of website (dot) marketing (dot) sales (at) (common e-mail provider) – who, by the way must suffer from multiple personality disorder because he/she has a Skype handle with "Tony" in it as well. Maybe he/she is related to marie felipe from last week.
But it's interesting to me if Google indeed banned some of my web pages; after all, I am a conservative so I suppose I can wear this with a badge of honor.
Perhaps this is the start of a new business idea, though: I can take the vast sum of money Newsmax is promising me and open a new website, hiring Mike Thomas to wrote all the content, and getting Tania/Tony/Sybil to optimize it for SEO. That's the ticket, problems solved!
I'l just sit back, collect a cut off the top and laugh at the dog chasing its own virtual tail.
A few weeks back I poked fun at the hapless people who have plenty of advice on how to build my business through link sharing and SEO suggestions. They didn't get the hint, so I decided to make this an occasional series and really ridicule them.
First off, someone's Maryland site needs help:
Good day!

My name is Marie and I am the site administrator of the site (redacted). I'm emailing you because our site is quite new and we need help from our fellow Maryland blog.

Can you please let me guest post at your website's blog with the link of our site at my bio at the end of the article. Since your blog is about Maryland news, I can write about that or I can write about any topic you would want me to write.

It would be a pleasure if you would allow me to guest post at your blog. Thank you and I'm hoping for your positive response.

–
If Content Is King, Then Keywords Is Queen…
Number one, who in Maryland uses the salutation "good day"? I think "marie felipe" is somewhere across an ocean.
Second of all, why would I mess up my brand by awarding guest posts willy-nilly? I have had guest posts in the past, but they are germane to the broad subject at hand. Moreover, if you could write about any subject I wanted, it would likely have nothing to do with the site you claim to represent.
But the postscript gives it away. To me, content IS the absolute king and keywords might be the royal taster. Or maybe it cleans out the royal stables. My keyword is integrity. And shouldn't it be "keywords are queen"? Seems awful plural to me, although I suppose the analogy would have to be extended to "keywords are queens" and that may raise the ire of some special-interest group.
Speaking of keywords, these damn SEO experts still seem to think my Google page ranking isn't high enough. By the way, aside from redacting the free advertisement I post these exactly as written.
Dear Website Owner,

While searching the web we found that your website does not rank page 1 on google. 85% of users searching the web will never find your website unless you're ranked on first page of Google, MSN and other major search engines. On the top of this with all these google update animals around ( Penguin & Pandas ) Its not easy to get page 1 and stay there to keep getting business.

Would you be interested If we can help you rank your online business first page of major search engines ?

Our company is on the first page when you search on Google for our primary search term "SEO Company." We would like to do the same for your web site so you can come up for your main keywords as well? All of our processes use the most ethical "white hat" Search Engine Optimization techniques that will not get your website banned or penalized.
Leave aside the fact this is poorly written and came from an e-mail address with "carolyn" in it but was signed "Billy S." There is a conundrum they don't address: how is it they found my e-mail address and website if it wasn't on the first page of Google? (And yes, Billy/carolyn, Google is always capitalized. Proofreading is your friend, although being actually fluent in English would be a close second for you.) Obviously I have enough of a ranking they felt they had to address the issue.
So why does my website: monoblogue.us needs SEO? (Yes, that's the way it was written in the subject line.) Hell if I know, so I think I'll pass on the generous 15-day free trial they offer. So far I've done well enough with the 2,700+ day free trial of building my audience from scratch in an SEO-free manner. And by the way, my wager is that they are Page 1 because they sponsored a link. If I wanted to pay I could be on page 1 that way as well.
They didn't even argue content was king.
Finally, we have this:
My name is Mike and I noticed you talked about sales success and CRM software so I thought you would be interested in this infographic resource on the Success of a Salesman.

The reason why you want to post this (besides the fact that people like visual resources) is because it has a lot of great statistics and information for those interested in sales. For example, searching for information takes up to 24% of a sales person's time which costs approximately $2.6 billion a year in lost revenue for a Fortune 500 company. Having an infographic like this will bring traffic to your site for years to come.

If you want to post it, all you need to do is copy and paste the text above the graphic. If you have a piece of content that you are trying to get out there please let me know. Also, to return the favor, let me know the URL you post it on so I can build links to your page, increasing your traffic, rankings and authority for that page.

If you have any questions or comments please let me know. I look forward to hearing back from you.
I'm not sure I've talked all that much about sales success, but I can pretty much guarantee you I've been silent on the subject of CRM software, well, until today that is.
The one thing Mike failed to mention is just how "an infographic like this will bring traffic to your site for years to come." Now I will admit this seems a lot more legitimate than most offers I receive in that Mike had contact information at the bottom of the e-mail and the company he represents has an internet presence selling – you guessed it – sales CRM software. But I have several pictures and cartoons on my site and all they seem to bring me are spam comments. Yes, they are there to tell a story so they are indispensable but the one he was marketing did not.
And I think I know how I attracted their attention. This is from the company's PR release announcing its American operations:
At the foundation of the development of the company and the Pipeliner product is a business philosophy based on the Austrian School of Economics.
With my somewhat libertarian leanings I'm sure my site has devotees who favor the Austrian School. This one wasn't so bad but I simply have no context in which to place their infographic. Now if they want to buy space, we can perhaps work something out.
Maybe the Google search for "libertarian-leaning sites which poke fun at spam e-mailers" struck gold with that one.
No, this is a G-rated post. But it was the tagline of a Tweet I received the other day:
@ttownjotes a naked appeal for help: The Vail Spot: Laid Off… http://t.co/7EXRwH8jXb

— Rich Vail (@rvail136) July 10, 2013
I've mentioned Rich before in the context of how it is to be a blogger (even part-time as he currently is) and struggle financially. In his case, though, the job he lost was his primary source of income and as a fellow casualty of the moribund building industry I can relate quite well to Rich's plight. So I looked at his site and read this most recent tale, finding that unfortunately the unemployment insurance system doesn't apply for him and the initial bottoming out of the recession not only affected his livelihood, but the potential for him to create his own work.
Yet it could be a matter of survival for his former employer as well, as Rich relates:
The really sad thing, is the company I worked for, kept the 2 illegal workers from Peru, instead of keeping an American.  After all, why shouldn't they?  They don't pay taxes on them in any shape or form…nor do they pay overtime.  That's what really angers me.  Why should any American company pay an American citizen, or legal resident, a living wage, when they can pay an illegal worker less than half?  I mean really?  Why bother to hire citizens, after all, we can live off of the dole, can't we?
The frustration evident there slaps you in the face.
Now I can even tie Rich to my Bob McCarty story from earlier in the week, since he once had an avalanche of attention come his way when he passed along a rumor (from what he considered a credible source) that Barbara Mikulski was retiring as Senator. Unfortunately for both him and us, this turned out to be false – but Rich had thousands of readers for a time.
That spark soon died out, though, and Vail returned to the occasional post and perhaps making a few dollars a month from donations and ads. But now he needs a lot more.
As you may have noticed, I also have a few ads, mostly text link ads now since some of my other former advertisers are struggling as well. So in the spirit of paying something forward I took the ad revenue I received for last month out of my PayPal account and sent it along to him – my rent is paid for the month and I still have a job, part-time as it may be (along with my writing client.) It's not a lot, but he can use it more than I can.
Maybe someday I'll get it back in spades, but even if not that's all right. As he noted:
I had hoped that I might be able to get a single dollar from each person who visited this site, so that I could at least have a faint hope of keeping a place to live…

My original hope was to get people to hit the tip jar for a dollar or two…and help me cover my rent for July. We'll lose our apartment @ the end of the month, as the management company is very aggressive in going to rent court if you are 2 weeks late.
So I'm spreading the word.
But what really saddens me is that there are probably 500 Rich Vails in our country right now, bloggers who have used their ability simply to put out a "bleg" because it's their last hope before they're out on the street. Seeing that Rich and I are about the same age (he's 50, I'm 48) and remembering the good economic times in America we were both blessed to grow up and live our first 40 years or so in, I have to sit and wonder if this really will be the "new norm."
To me it's a generational thing: those who are Baby Boomers will suck all the oxygen out of the economy as they age, while those of us who inhabit what's known as Generation X will be saddled with the bill, as will our children of the Millennial Generation and so forth. Perhaps their children will get out from underneath the load, but first their parents will have to quit worrying about which Hollywood couples are making up or breaking up and devote some serious thought about real change in this country. (That is, if they can find jobs.)
I lived through what was supposed to be "the worst economy in the last 50 years," the recession of 1991, and that slowdown put me out of work for a couple months – I was laid off on the very day my ex-spouse and I got the keys to our first house – before I found a job as a CAD instructor at a local college; eventually, my old firm called me back after five months. Before that, I lived in a city which struggled during the 1980s as Detroit transitioned from a city with an unquestioned Big Four automakers to one shellshocked by worldwide competition that was selling a superior product. (Then and now, Toledo also lived and died by the auto industry.) Those were some tough times in the first half-decade or so after I graduated from college in 1986 – it took me six months after graduation to get my initial job in Toledo, as the work was simply not there.
But those recessionary times have nothing – NOTHING – on the pitfalls I have seen over the last five years. I'm not going to sit here and blame Obama, blame Bush, or blame anyone else – I'm just going to ask a question: Does anyone really care about fixing the economy for all of us, or are they simply out to exploit their fellow man in a game of grabbing all they can while the opportunity is there?
I'm seeing way too little of the former and way too much of the latter these days. Don't know if we need a revival, an upheaval, or a do-over, but this shit can't stand. So much for the G-rated post, but that's how I see it.
Anyway, help a brother out if you can.