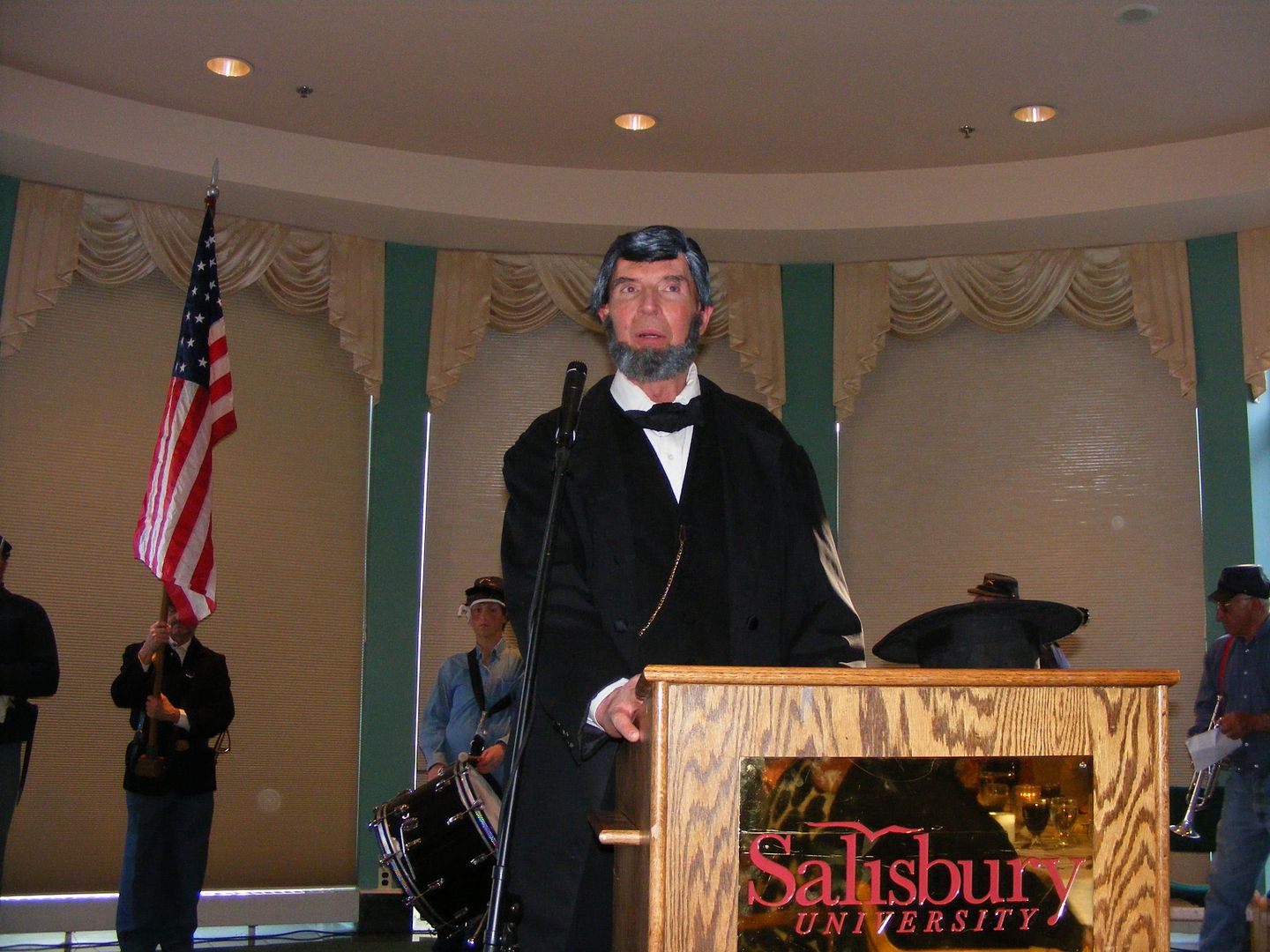 It wouldn't be a Wicomico County Lincoln Day Dinner without the guest of honor, now would it?
But it was that and much more as about 100 people enjoyed the festivities last night in Salisbury. I was a little disappointed in the attendance, but those who missed the affair missed some stirring words from both our four featured speakers – the GOP gubernatorial candidates – save Jeannie Haddaway pinch-hitting for David Craig, who was in Frederick tonight – and Delegate Mike McDermott.
Our event is set up so guests have an opportunity to talk to candidates before and after the proceedings. So before dinner was underway, acquaintances were made and renewed, such as Delegate Ron George speaking with the newly-goateed Delegate Charles Otto.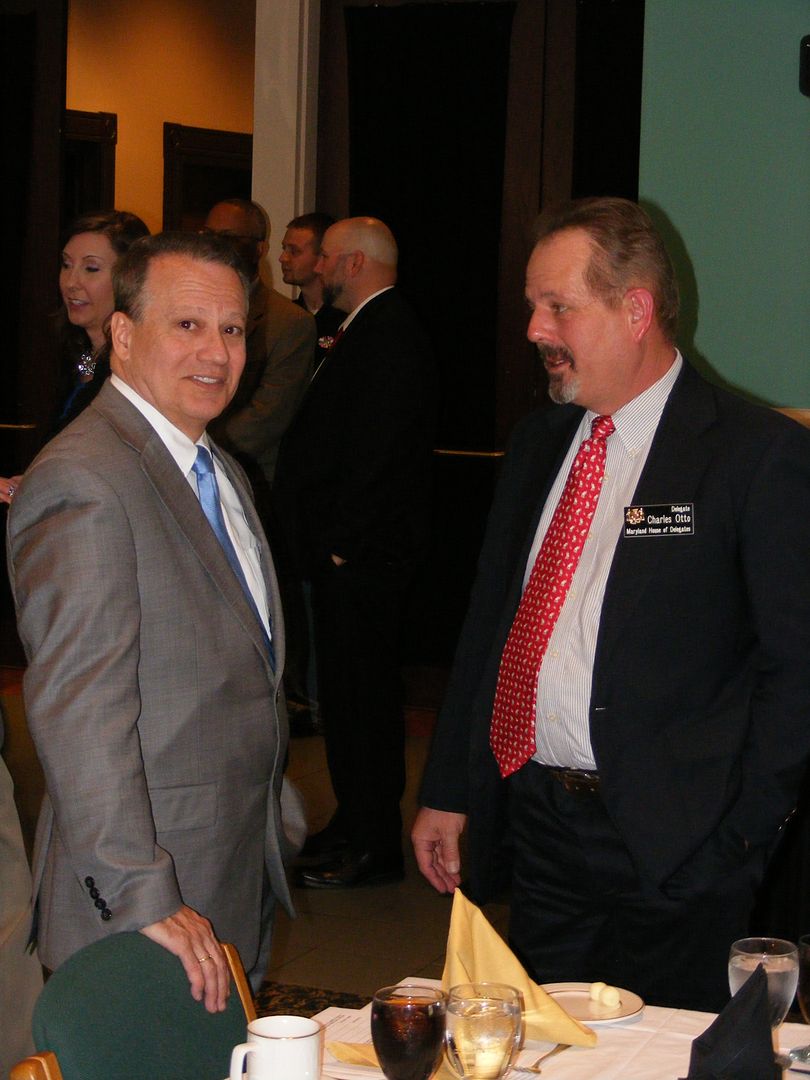 I like that look on Charles. Meanwhile, Larry Hogan and wife Yumi spoke to Wicomico County Council member Joe Holloway. I believe fellow Council member Bob Culver is back to camera.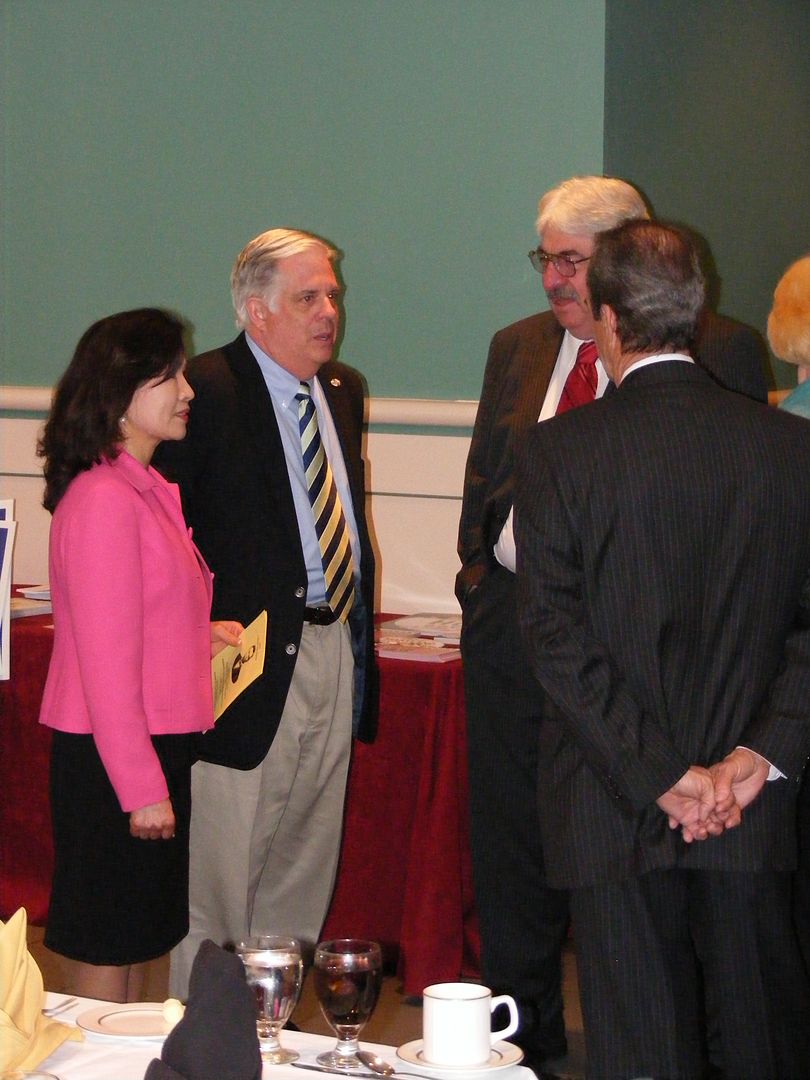 As I noted earlier, Jeannie Haddaway was taking the place of David Craig and visiting her alma mater. In the background is Larry Hogan's LG pick, Boyd Rutherford.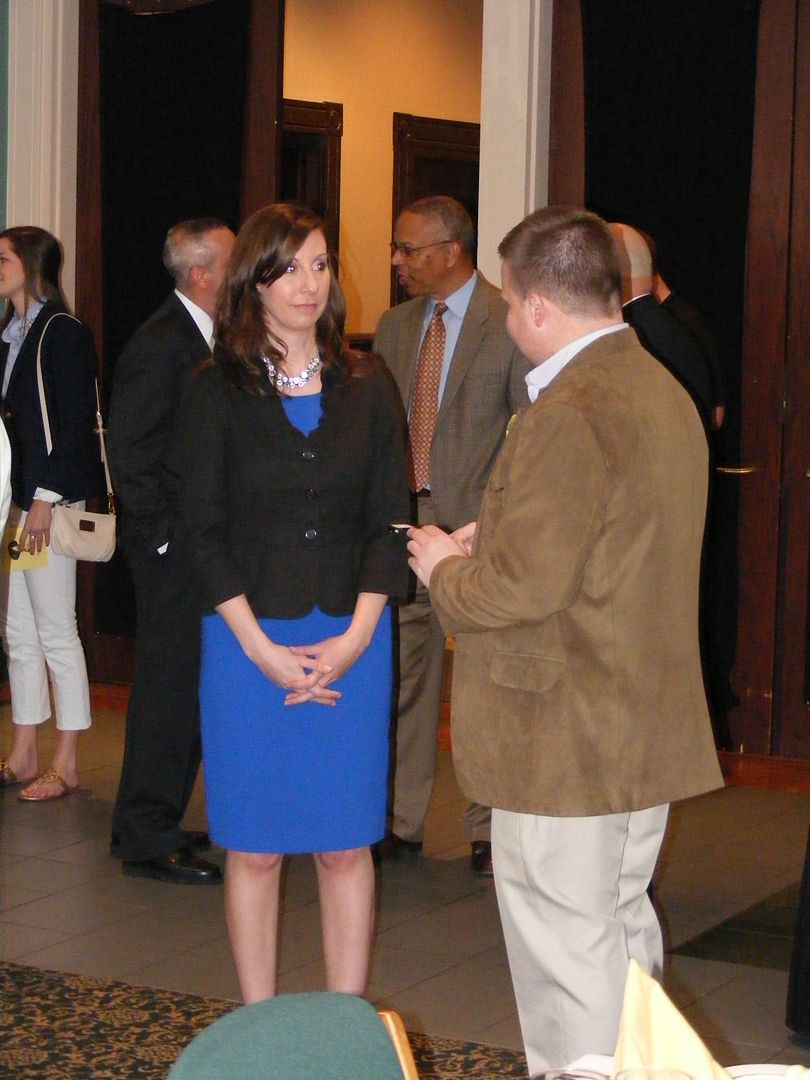 Candidates were also taking advantage of the space provided for literature and signs.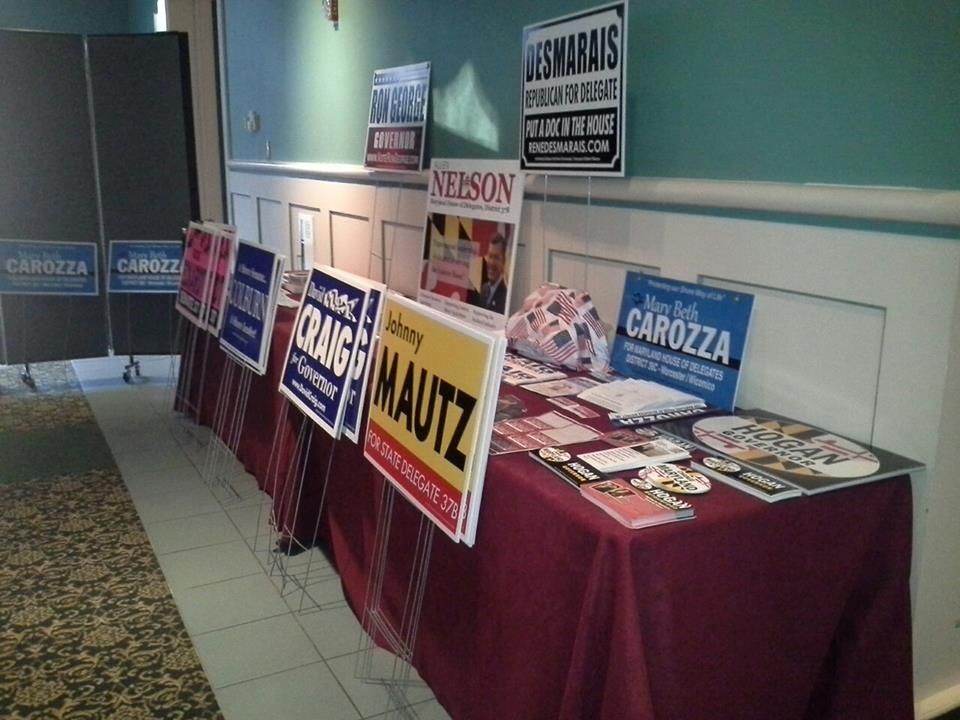 Things began to get going when the Union troops and band arrived in the room.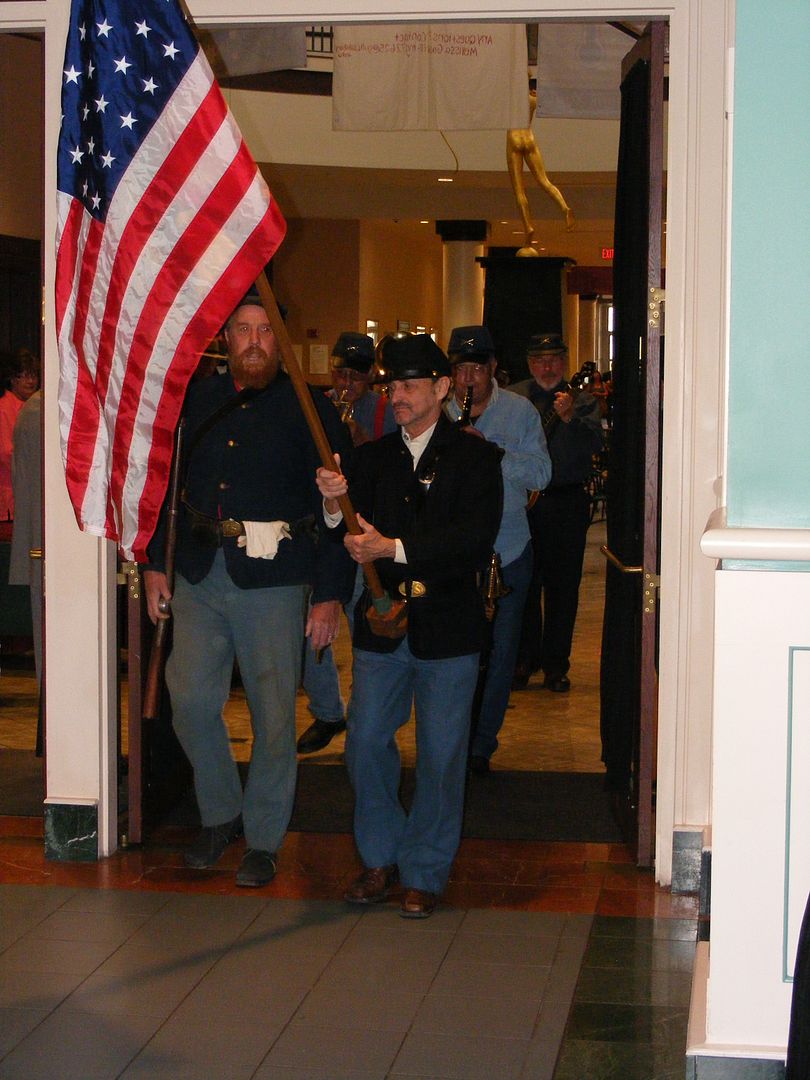 This heralded the arrival of our sixteenth president, who is a popular subject. In this case, it was with Senator Rich Colburn (left) and John and Gail Bartkovich. Gail is the outgoing Council member from District 3, while the good doctor John was our county chair for several years.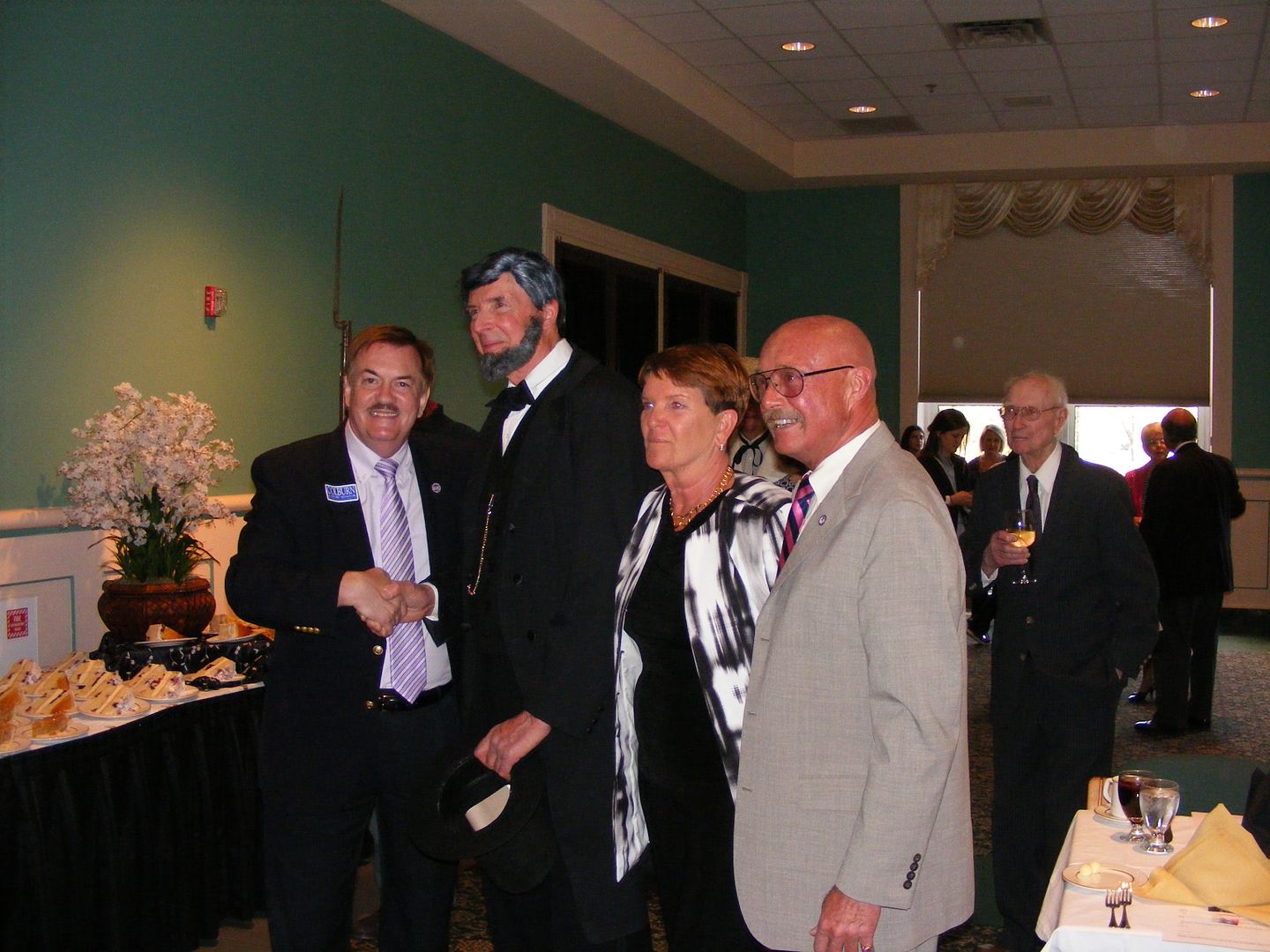 One new wrinkle we added this year was a Union band, described by Lincoln as "the Eastern Shore detachment of the 3rd Maryland Irregular Regimental Band," which played traditional music during the prelude to the ceremonies.
The troops sat behind Lincoln as he made his remarks, with a little banjo accompaniment toward the end.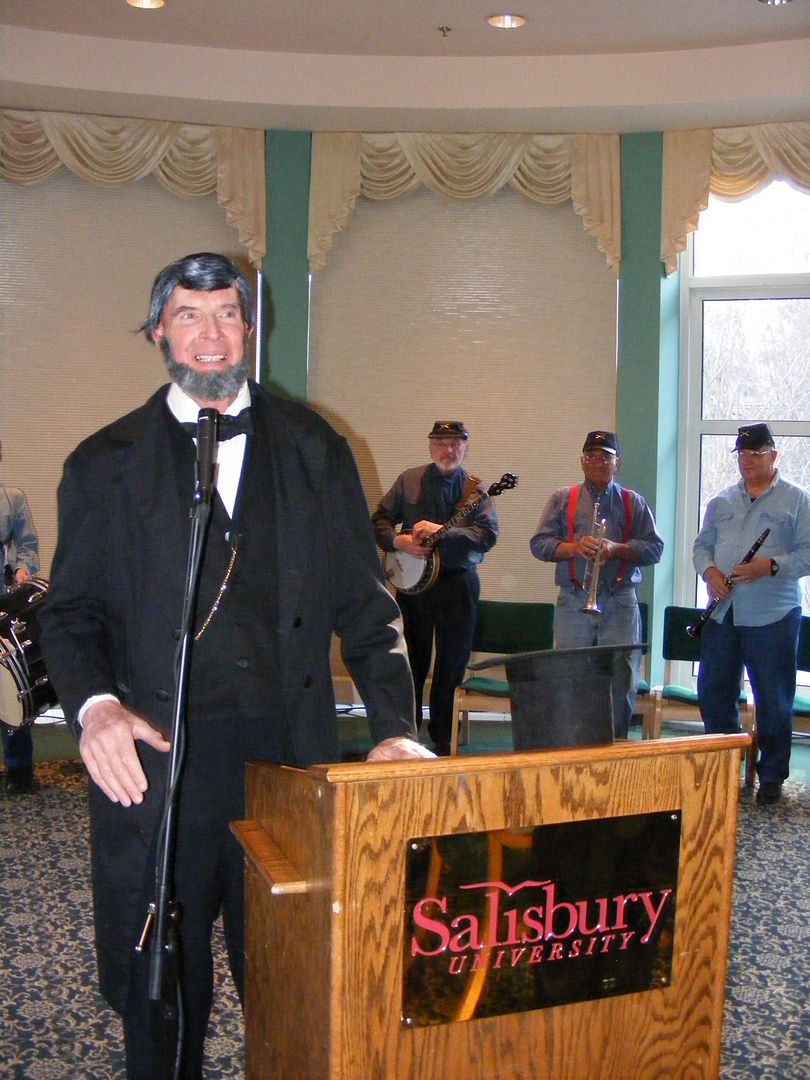 As he always does, Lincoln made remarks which tried to use the words of yesterday to relate to today's world, leading off with a tale about General George McClellan, one which he concluded by stating the case "the lunatics are running the asylum."
"Our greatest enemy is voter apathy," he continued. "It cheats honest citizens."
And just as the British Empire sparked a revolution by resorting to tyranny, Lincoln called the modern situation "mental torture." Now, "A lying tyrant is in control," Lincoln added, "We need to be a stumbling block to tyrants." But he ended on a hopeful note, believing "America shall not pass away."
Our county Chair Dave Parker then secured the floor for a number of announcements as well as praise for one outgoing member of our Central Committee.
First of all, we learned that there will be a gubernatorial debate among the GOP candidates here on May 31, at Salisbury University. Once the June 24 primary is history, we will convene for the Wicomico County Republican Club Crab Feast on September 6.
But the huge event was the one slated for September 27. After twice being unsuccessful at getting a Lincoln Day date, we got the next best thing: Lt. Col. Allen West will be appearing in Salisbury for a series of events September 27. Those who attend Central Committee or Wicomico County Republican Club functions already know this, but we put out the formal word tonight at Lincoln Day.
Before we heard from the gubernatorial candidates, we also took a few moments to honor one of the few Republicans in Maryland whose Presidential vote has truly counted – this man served on the Electoral College from Maryland in 1972 for Nixon and 1984 for Reagan. For the better part of five decades Blan Harcum has been a fixture in Wicomico County GOP politics, but after this election he will take a well-deserved retirement from the Central Committee. "I've enjoyed every minute of it," said Blan about his tenure.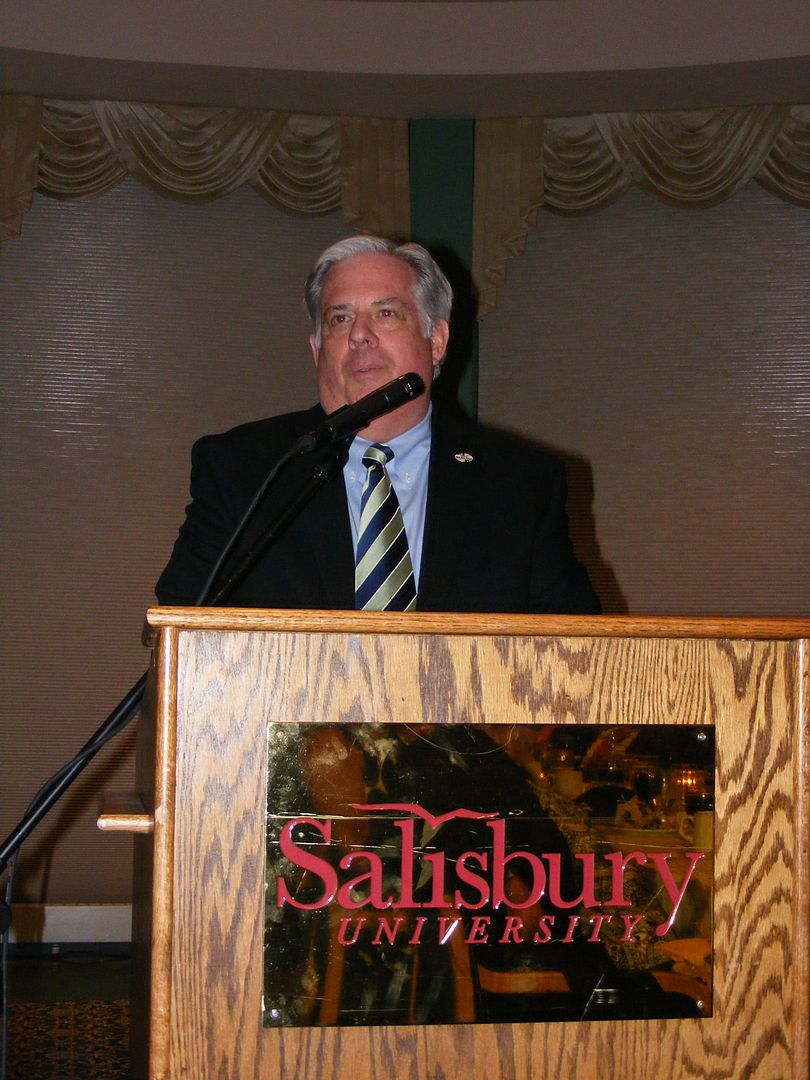 And as it turns out, Larry Hogan has known Blan "for a long, long time." He drew the opening slot among our four, and in doing so decided to play up his experience in both the private sector and executive branch under former governor Bob Ehrlich. "I've spent a lifetime challenging the status quo," Hogan said, accusing our current leaders of "actually causing the problems." Rather than "be something," he wanted to do something about them and that was why he decided to run.
Naturally, Hogan spoke about Change Maryland, noting that it "successfully changed the dialogue in this state." He could sense the frustration with the "huge disconnect" between the people and their government as well as the belief the state was heading in the wrong direction. Regarding the "arrogant, out of touch monopoly" in Annapolis, he believed it was "about time the politicians in Annapolis listened to the rest of us."
As he has often done in his stump speeches, Hogan returned to three main points: creating jobs, helping out the middle class, and getting government off our backs. He related his day in Salisbury, with stops in several area businesses as well as a Little League opening day and the downtown Easter Egg hunt.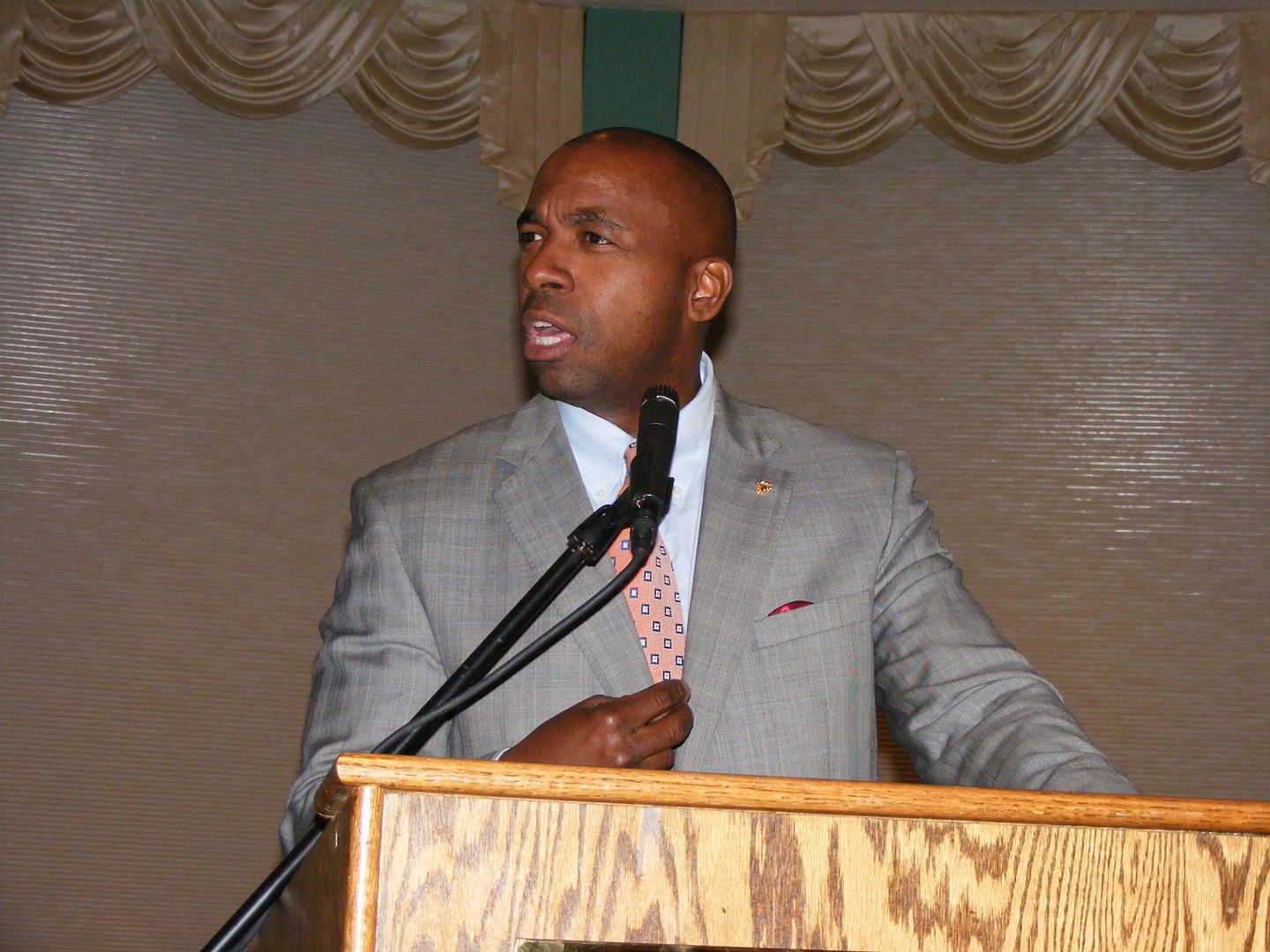 Charles Lollar also told us about his day, one spent taking the fight to Democratic strongholds and crossing paths with Democrat Anthony Brown on three occasions, debating him once. He was inducted into the 100 Black Men of Prince George's County, heard Brown say at a Howard County forum that "Maryland is doing fine" – while 1 out of 3 in portions of Baltimore are jobless – and went to a Veterans for Democracy meeting back in Charles County where he was "disinvited" to speak because of "political pressure" his name has brought. On top of that, his second daughter is going to her first prom tonight. "I'm not doing this for me…we're doing this for you," said Charles.
But his message to the Republicans was that whoever the nominee for governor may be, he has to have the "intestinal fortitude and integrity" to speak our convictions. His basic agenda would be one of economic solvency, installing a Taxpayer's Bill of Rights to slow budget growth, and eventually eliminating the personal income tax – a proposal which got him the support of economist Arthur Laffer.
He knew it would be difficult, but concluded that "I don't play politics very well, but I do enjoy a good fight every once in awhile." Whoever wins the primary has to care about the ideals of the minority community to earn their votes, Charles stated in closing.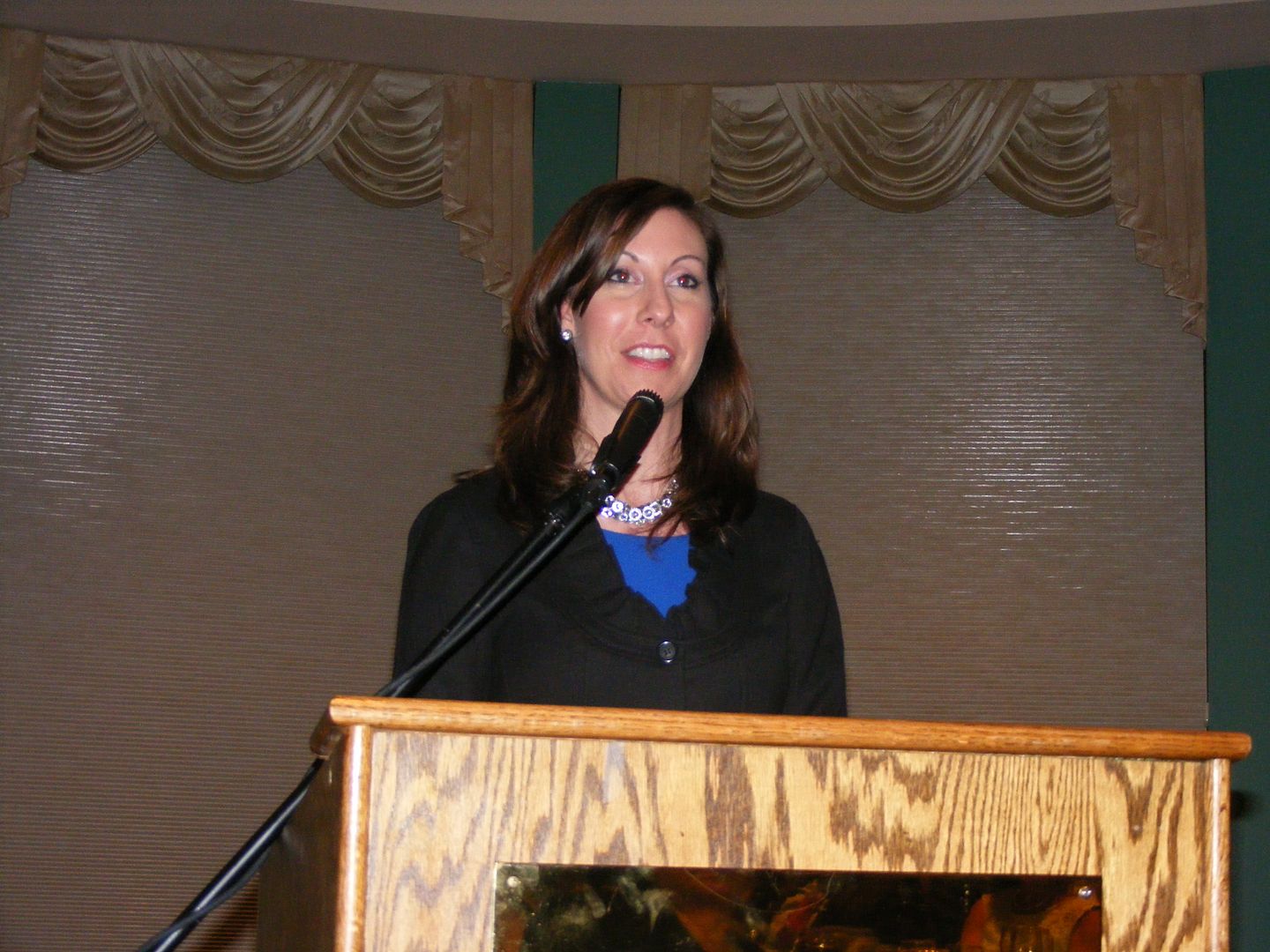 Representing David Craig, who couldn't be here tonight but was instead over in Frederick County, was his lieutenant governor candidate Jeannie Haddaway. We're out "covering the state as much as we could," she explained. Reflecting on the recent General Assembly session, Haddaway remarked that "there are people in Annapolis fighting for you." Some of the more controversial bills only passed by slim majorities, added Jeannie, because Democrats are reluctant to vote for them but have to contend with their "top-down agenda." Thanks to what's gone on the last few years, "our state is in really bad shape," said Jeannie.
She corrected Larry Hogan's remark about private sector experience, noting David Craig worked in a factory when not teaching and her own work as a small business owner. Their priority would be to straighten out the budget then "put money back in your pocket" through elimination of the income tax.
Haddaway pointed out 40 percent of Democrats were undecided, perhaps because they didn't like the options and may consider a Republican who would "try something different." And even in heavily Democratic districts, Craig had won. "We have won collectively 14 general elections," she said. "Whoever turns out is going to win this election." She promised that if Craig won and she became the state's first Eastern Shore lieutenant governor, "the Eastern Shore will be forgotten no more."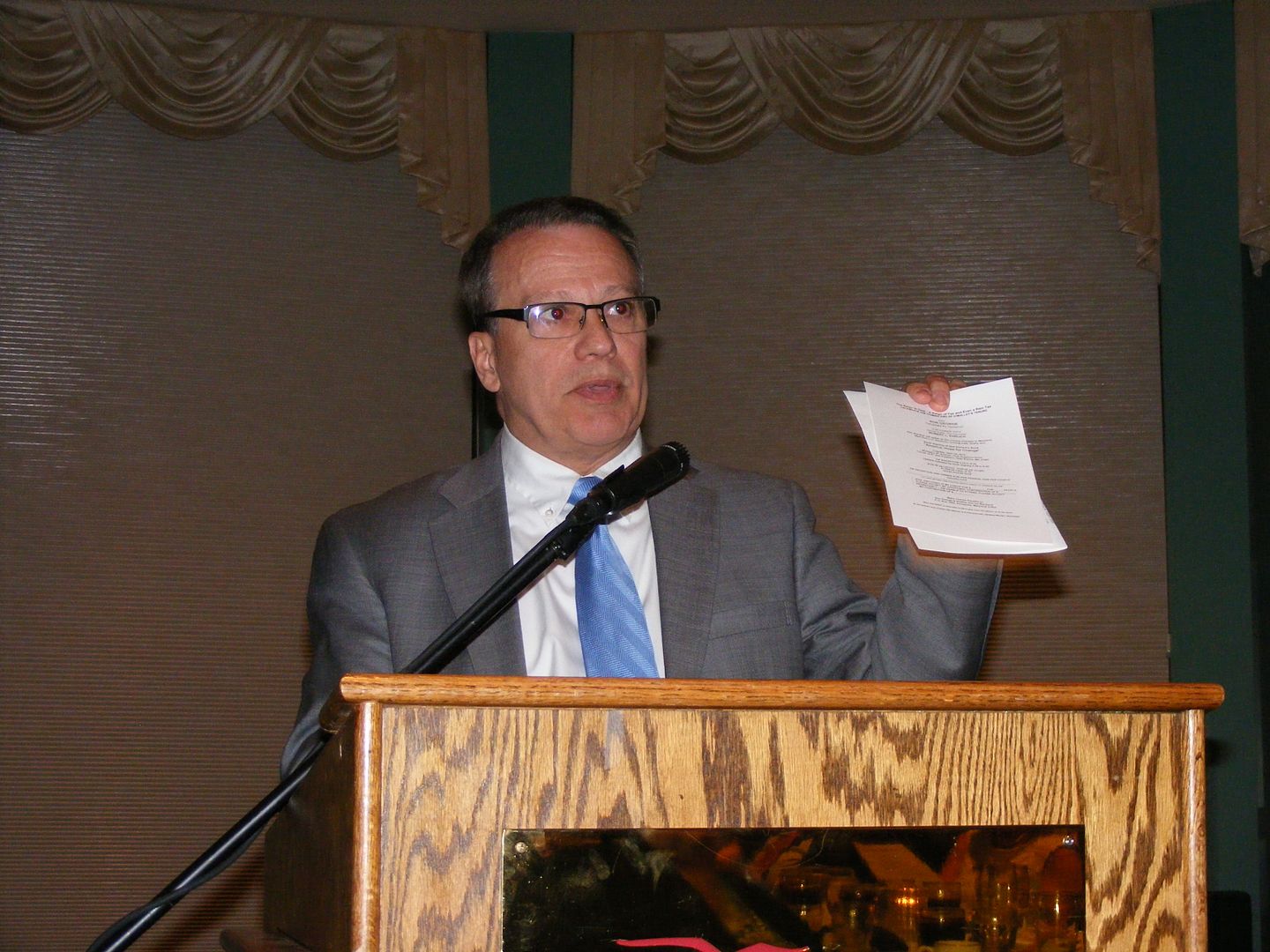 While he was holding up the flyer for an upcoming event in Ocean City in the photo above, Ron George opened up by discussing running mate Shelley Aloi – like many of us, I met her for the first time tonight. (She and Ron happened to sit at our table, along with our next speaker and his wife and the Parkers.)
Ron spent much of his time talking about the General Assembly: "I felt like I needed Rolaids constantly," remarked George – but considered it an "honor" to serve with our Republican "warriors." His pitch was combining his business experience with time served at the "front line" of issues as a member of the General Assembly – one who formed the Doctor's Caucus "to build consensus" and a related group called the Physician's Advisory. That group had uncovered waste within the exchange and the failures of health care contractor Maximus early on.
Ron also spoke about his work on the electoral process, closing a loophole for the next cycle so a donor couldn't form multiple LLCs just to circumvent campaign finance limits. Audits, too, were another major part of his platform since he'd found where Prince George's County "totally misused" $400 million. "That kind of waste has got to stop."
George went over a couple parts of his ten-point promise, one which "will fix the drain that Baltimore is" and strive to rebuild the state's manufacturing base in small communities like ours. "I cannot cut welfare payments unless I have those entry-level, mid-level jobs," said Ron.
He also made an announcement about a Monday event to be held in conjunction with Dan Bongino and David Craig, endorsing Anthony Brown for governor…of Connecticut. "How's that (health care) working out for us?" added Jeannie Haddaway.
But the rhetorical storm was brewing.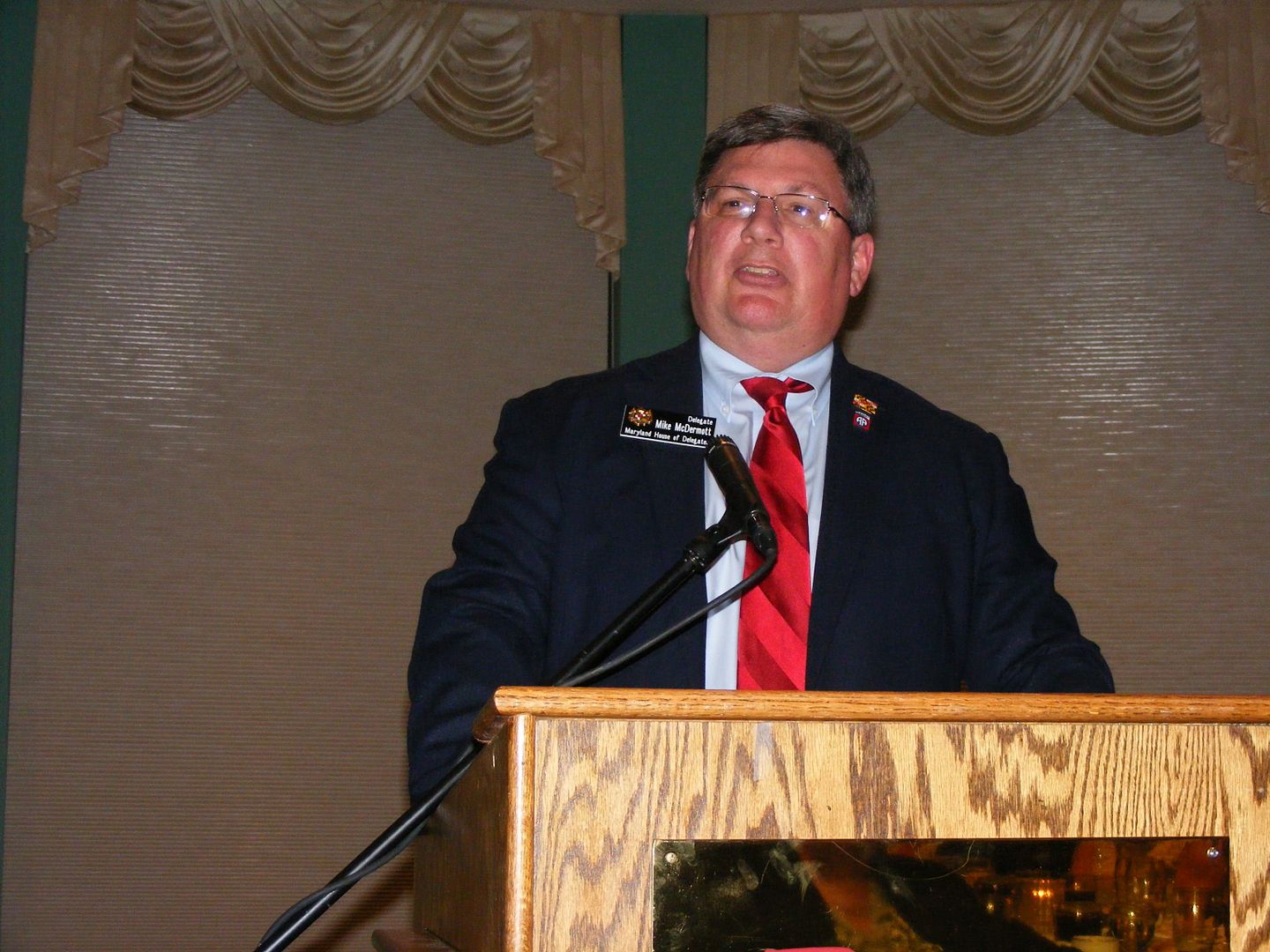 You knew Delegate Mike McDermott was working on a stemwinder when he noted, "the problem with Democrat math is that they follow Common Core logic." This after he noted losing the two GOP Senators in 2010, including the seat he seeks, "opened up the floodgates of hell on the social side." This didn't count the pilfering of various trust funds or the "blank check" to uncovered patients for the budget.
But once he got going on the "outrage" on the bathroom bill, it was on. "It should be unacceptable to all Marylanders," he said. We gave each gubernatorial candidate ten minutes – Mike was still going strong after fifteen.
"The tragedy of Maryland politics can be turned around," he said. "Don't send a governor to the governor's mansion without sending them reinforcements" of five Senators. His voice rising, McDermott made the case that North Carolina "worked on making government work for the people" after the GOP took over and raised its business friendliness rating from 46th to 17th in two years. "They've brought that state back! It can happen here."
"If we can't make the case for change this year," Mike thundered, "the Republican Party can never make it."
"We can take Wicomico County by storm! If there was ever a county which needed good leadership and change, it's this one. I'm tired of being up there, and being in a welfare county…I challenge you to take it back," an emotional McDermott concluded. He had to dial it back some for the benediction that he delivered.
Our friends in Worcester County have the chance to have a great team in Annapolis: Mike McDermott in the Senate, and Mary Beth Carozza and Charles Otto in the House.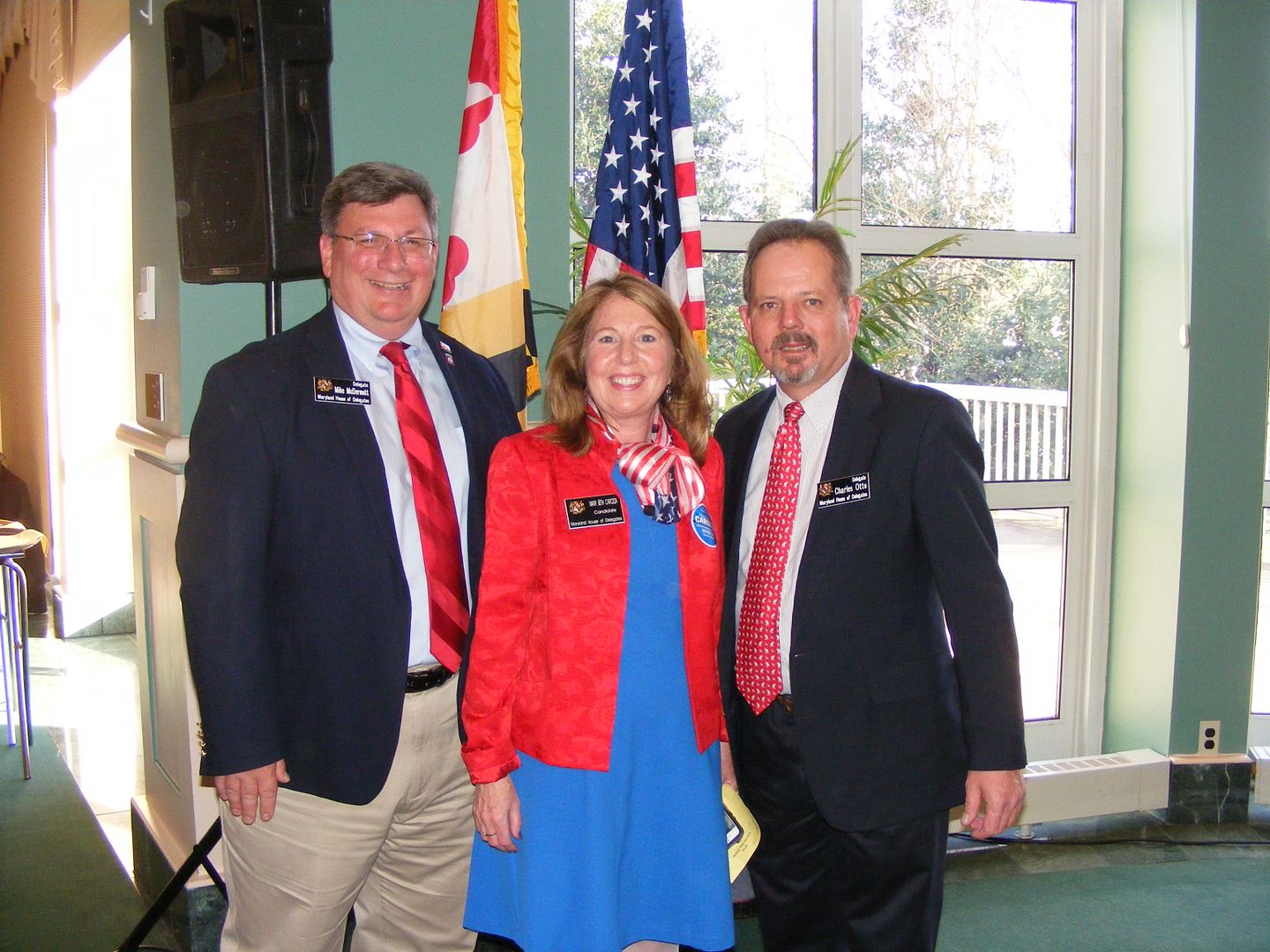 So ended another Lincoln Day Dinner. It wasn't quite what we bargained for when we started planning it last year, but those who were there were treated to a good event nonetheless.