With the problem of new media in the form of the RedState Gathering being held on the same weekend – and drawing the attention of most of the Republican candidates – the plug was pulled on the Iowa Straw Poll for this year.
While it was a bellweather event, the ISP was not a very good forecaster, even of the Iowa caucuses held just a few short months later. Out of six events from 1979-2011, the summer winner only went on to win the Iowa caucuses half the time and whiffed in both 2007 and 2011. Only in 1999, when George W. Bush won, was the winner the man who went on to be president. Not a really good track record.
But the poll did have some effects on the field – ask Tim Pawlenty about his 2012 campaign which ended shortly after his fellow Minnesotan Michele Bachmann won the last event in 2011. Then again, that was just about the peak of Bachmann's campaign, which ended immediately after the 2012 Iowa caucuses. In fact, the leftist publication Mother Jones mockingly thanked Bachmann for killing the Straw Poll.
While straw polls can be useful, their function of being a prediction of eventual support for candidates was superseded by both regular polling and social media. Want to know who the hot candidate is? Just check out the number of Facebook likes for their campaign. For example, Rand Paul recently eclipsed the 2-million mark in "likes" and Ben Carson is north of 1.5 million, whereas a candidate like Lindsey Graham isn't even to 114,000 yet. (By comparison, Hillary Clinton has about 885,000 and our old buddy Martin O'Malley 70,855.) It took me five minutes to find that information and, unlike the Iowa Straw Poll, I didn't have to pay for dinner nor go to Iowa to participate.
So this year it looks like we will have to wait until later this fall to start eliminating candidates. I have already started with my research, though, and over the coming weeks I'll share what I'm finding as I make my own decision on who to back for 2016.
I said the other day that I wanted to look more deeply at a poll done by the Washington Post last week, and my focus is on how the outstate areas that overwhelmingly supported Governor Larry Hogan compare with the rest of the state on these issues.
For example, the right direction/wrong track polling showed statewide respondents had a 48-40 opinion that the state was on the right path, but those who answered from outstate were the most pessimistic by a 36-55 margin. It was eight points down from any other group.
Yet those who voted for him from the hinterlands were still not sold on Hogan's efforts. Their 43-24 approval of Hogan's performance was almost identical to the 42-24 statewide numbers. On the other hand, they were slightly more confident in his ability to turn things around, believing he would by a 61-30 margin compared to the statewide average of 58-33.
Tellingly, the number of outstate repliers who believed the state should be governed more conservatively was several notches above the average, with 44% agreeing we need a more conservative direction as opposed to 36% overall. Only 22% favored more liberalism among outstaters compared to 28% as a whole.
And when the polling turned to the performance of General Assembly Democrats, the 49-43 favorable margin among all voters melted down to a 36-58 disapproval outside the I-95 corridor. The strong disapproval of 35% from those polled outstate was by far the highest. Outstate voters also differed from the norm as they believed the hot issue the General Assembly needs to work on was the state economy (21%) followed closely by public education and taxes at 20% each. Overall, Maryland picked public education at 26%, with taxes at 18% and the state economy at 16%.
We on the geographic fringes also didn't fondly recall Martin O'Malley, giving him a 37-57 approval-disapproval number compared to 49-43 for the state at large.
There was also a tendency to see particular issues in a more conservative way, which is to be expected from the regions of the state which aren't urban or suburban. In general, the Post lays out its geographic regions to specifically cover Prince George's, Montgomery, Anne Arundel, and Howard counties, along with Baltimore City and its suburbs. The rest of us are lumped into the "rest of state" category, which covers a wide swath of the state from border to border in both directions.
One thing the Post did not poll on was the Phosphorous Management Tool, the enactment of which Hogan delayed within hours of taking office last month. Naturally, counties where this was sold as another tactic to clean up Chesapeake Bay would likely be against this change, which the rest of the state (particularly the Eastern Shore) may be solidly behind Hogan's action.
If you ever wanted real proof that there is more than one Maryland, this poll is a pretty good indicator of the differences.
While it can be dismissed as an internal push poll, given its conclusion that Larry Hogan "is well positioned heading into the final week," or the final add of, "Having the resources to go toe-to-toe with Brown on TV will be crucial in turning his current lead into a victory on Election Day," a survey by pollster Wilson Perkins Allen Opinion Research has buoyed the Hogan camp and led to another upcoming visit from New Jersey Governor Chris Christie this coming Sunday evening at Patapsco Arena in Baltimore.
Yet other polls suggest a significant Brown lead, most particularly a YouGov poll which has stubbornly put Brown up by double-digits every month (and is computed in the RCP average.) Not added to the RCP total, though, is a survey by Gonzales Research which showed the race was far closer and as an added benefit gives the breakdown of expected turnout.
One could even argue that the "calibration error" problems with voting machines – which only seem to be turning Republican votes to Democratic ones, and not vice versa – is the sign of a party desperate to hold on to the governor's chair. (A source tells me here in Wicomico County, at least one early voting machine was put out of service after the error was replicated on it. The personnel at the early voting center were reluctant to get involved, according to my insider.) Add to that the allegation of non-citizen voting and it's no wonder Republicans are sweating out the prospect of the same fishiness which plagued the 1994 gubernatorial election some swear was stolen from Ellen Sauerbrey.
Yet as the old adage says, you just have to beat them by more than they can cheat.
There's no question that Democrats are less enthused about this election than they have been in the past. But let's go back and look at some key numbers from 2010, the second Ehrlich-O'Malley rumble.
As I said, I really like Gonzales polling because they give an honest breakdown and analysis. In October 2010 their poll had Martin O'Malley with a 47-42 advantage over Bob Ehrlich – a race that O'Malley eventually ran away with. In fact, out of the last several polls this was the one which gave the last fading hope of an Ehrlich upset.
But there were some warning signs – for example, Ehrlich's 17% support among Democrats "won't do it," said Gonzales, nor would the 8-point advantage in the Baltimore suburbs. In the recent Gonzales survey, Hogan doesn't do a whole lot better among Democrats than Ehrlich (19-73 for Hogan vs. 17-72 for Ehrlich) but is significantly stronger in the Baltimore suburbs (55-37 Hogan vs. 49-41 Ehrlich.) On the other hand, Brown does a little better in the Washington suburbs at 70-25 (vs. O'Malley's 65-25) but Hogan counteracts this with a strong showing among the growing unaffiliated ranks (46-32 Hogan vs. 42-36 Ehrlich.)
To me, the truth is somewhere in between the five-point Hogan lead in the WPA poll and the 2 points Gonzales has him down, probably closer to the latter. All I know is I think it will be close and every vote will have to be carefully scrutinized by the person casting it. (My source also told me there may be a robocall put out to remind Republicans to check their ballot before leaving.)
Yet the idea isn't just to be satisfied with a Republican governor – we need to give him plenty of help and local voters can oust a number of thorns in the conservative side next week. Let's paint the Eastern Shore red from Cecil to Somerset, from the Bay Bridge to Ocean City.
On Saturday I pointed out the Gonzales Poll Larry Hogan has cited as proof he's within striking distance in the governor's race. The news wasn't quite as good in a more recent Washington Post poll, but it wasn't as bad as previous polls in that newspaper.
But again it's a question of turnout, and the Post simply replicated the pattern of registered voters in the state. If Republicans come out to a greater extent than Democrats – many of whom aren't excited about Brown – that cuts into the Brown lead. Considering the Post poll is of randomly selected adults, I suspect the turnout model they're using favors Brown in the poll.
So instead of the 15 to 18 points Brown has led by in previous polls, this poll by itself drove the RCP average down from 15 to 12 points.
But the breakdown on issues is interesting. Remember, this is a sample that is probably slightly oversampling Democrats, but the key issue is taxes. Yet on a number of other issues the only ones which reflect closely the partisan breakdown are social issues and public education. It's hard to believe that fully half prefer Brown on the issue of health care considering how he botched the state's website, but others like gun laws, job creation, and illegal immigration lean Hogan's way in comparison to the partisan breakdown of the sample.
Given the crosstabs, though, the best way for Hogan to cut into Brown's lead is to chip away at the Democrats on the issues that he's closest to moving ahead on. It's absolutely essential for Larry to somehow get to about 25 percent of Democrats going his way, with this polling suggesting he's at about 14 percent. If Democrats get the 62% turnout this poll suggests (with Republicans at 65% and unaffiliated at 48%) that's the only way he can win.
Somehow the case has to be made to the low-information crowd that a third term of Martin O'Malley is too much for the state to bear. Those of us who have a lick of common sense already know this, but too many people must actually think a poor economy is a good thing.
It goes without saying that Larry Hogan is excited about the most recent polling results and how they affect the perception of the race.
Everyone now knows this race is too close to call. This week, we told you about the Gonzales poll showing us within striking distance of Brown. Yesterday, the media validated these numbers. And today, the Cook Political Report has reclassified this race from "Solid Democrat" to "Leans Democrat"!

The Maryland governors race started as "Solid Democrat" and has moved TWO SPOTS to its current classification.
This varies from the Real Clear Politics version of the race, which hasn't updated in the month since the YouGov poll that Hogan questioned. They still show the race as "Likely Dem" with a 15-point margin. So which is right?
In my opinion, the fact that Anthony Brown is trying to paint Larry as a TEA Party Republican by stressing the gun law and abortion rather than discussing the state's moribund economy points to a tightening race. That seems to be the conventional wisdom of the Hogan camp and I'm inclined to agree.
Yet the tale will begin to be told with the debates that begin next week. One thing Marylanders really haven't seen is how the two candidates perform on the stump to an audience which hasn't been attuned to the race aside from thirty-second commercials. How will the two fare under the pressure of direct questioning and close media scrutiny? Elections aren't won with debates, but they can be lost.
So what will be the strategies of the two participants? I would look for Brown to continue his recent line of attack on Hogan by stressing social issues and gun safety in an attempt to hold the female vote – you know, that whole thoroughly discredited War on Women meme. He'll avoid direct questions on the lack of job creation by saying he has a plan to address it – which he does, all 17 pages of it –  but not go into the specifics of how it may affect Maryland workers.  For example, a "Blue Ribbon Commission on Tax Reform" just means at least two more years of the status quo and inaction, not addressing the issue.
On the other hand, Hogan will stress the "most incompetent man in Maryland" theme for Brown, while sticking with his bread and butter issues of jobs, the middle class, and restoring the state's economy. It's carried him this far, so why stop now?
That task will likely be made more difficult by the questioning, which will probably cater more to Brown's strategy of marginalizing Hogan than tough questions on how the state of the economy got to where it is under the O'Malley/Brown team.
I'm hoping to see a couple polls come out after the debate to gauge the true state of the race. In truth, I think it's probably closer to the margin of error than the 15-point RCP average. It doesn't mean Hogan has it in the bag, but we could have a far closer race than 2010′s blowout.
There's some concern in Larry Hogan's campaign about a New York Times/CBS News/YouGov Battleground Tracker Poll showing Hogan again trails Anthony Brown by double digits, particularly after a Republican pollster showed Hogan trailing by just three points last month. This outfit's July poll of over 1,400 registered voters showed Brown on top by 13 points in July, and is computed in the Real Clear Politics average.
The Republican's campaign contends the poll is "so flawed and so misleading that Politico hammered the New York Times for lending their name to this internet survey." YouGov's methods are different than most pollsters, as they conduct their surveys among an audience which opts into the poll via the internet, then weighs the results among demographics. The overall survey even solicits new customers, requesting people to "Join YouGov today to take part in surveys like these and earn money…"
Maryland's race is also interesting because of the relative lack of responses compared to other states. Out of 35 states surveyed, Maryland only beats 12 states in terms of participation. Most of the states Maryland beats are fairly rural and sparsely populated: Alabama, Hawaii, Idaho, Kansas, Nebraska, Oklahoma, Rhode Island, South Carolina, South Dakota, Tennessee, Vermont, and Wyoming. It's not a tremendously representative sample.
Nor is it necessarily reflective of the Maryland electorate. The unweighted sample actually has independents well over their voting strength at 29%, with Democrats comprising 45% and Republicans only 25%. (It's actually close on the GOP.) But weighting the sample as YouGov does places the Democrats at 52%, independents at 26%, and Republicans at only 22%. In reality, according to the latest voter registration figures, Democrats have 55% share, Republicans 25.7%, and independents just 19.3%. So both major parties are undersampled by about 3% apiece.
Polling is all about turnout. While the YouGov survey claims these are "likely voters," in reality those not affiliated with a party are the least likely to turn out for a gubernatorial election. Yet when I reset their polling numbers to a very likely turnout model (that of the 2010 election, which was a muted TEA Party wave election in the state) and distribute the "not sure" voters in the same proportion as those who have decided, I come out with this possible result:
Brown 57.5%, Hogan 40.2%, other 2.3%
I think the reason this turns out the way it does is that the YouGov sample has Brown winning Democrats at roughly the same rate Hogan wins GOP voters. In a lot of ways the YouGov poll is almost a worst-case scenario for Hogan, who needs to both boost turnout for his side to levels last seen in 2002, when almost 68% of Republicans and over 45% of independents came out to vote – in 2010 those numbers were about five points lower – and get far more than the 6% of Democrats the YouGov poll has voting for him. If Anthony Brown can convince Democrat voters to stay loyal to the nominee, the game is over, and that's why Brown's going negative.
In fact, Hogan's campaign added that:
If the MD Democratic Party – with their two-to-one registration advantage over Republicans – honestly thought Brown was ahead, they wouldn't need O'Malley's Democratic Governors Association to spend $750,000 in special interest money on attack ads to bail out his campaign.
So I think the reality is somewhere between the 14 points this poll has Brown leading by and the 3 points Hogan claims he is behind. It just proves there's a lot of work to do in explaining the real record of Anthony Brown and the damage his policies would do to Maryland if he's elected.
I'm breaking into my normal Sunday to bring you the latest polling on this race.
While it's not precisely what Maryland Republicans are hoping for, there is a little crack as the Hogan electoral door is slightly ajar. Bear in mind that a projected matchup polled by the Washington Post last month had Brown leading 51-33, so his support is retreating while Hogan's has grown. Perhaps people are realizing what I wrote last month on Brown's lead:
It's a counter-intuitive result when you look deeper into the poll's questions to find that Democrats want the next governor to lead the state in a different direction from Martin O'Malley by a 58-34 margin. Yet they have given Anthony Brown a significant primary lead and would presumably back him in the general election.
Then again, it's very rare that Maryland votes in its own best interests anyway – they would rather genuflect to an all-encompassing government which distributes crumbs in an arbitrary and capricious manner, depending on the favored status of prospective recipients, than breathe the air of freedom and opportunity for all. But there's always a first time, and as for the rest some areas of the state still have common sense.
So Hogan has picked up a little bit, but more importantly Brown has been driven under the 50% mark. Conventional wisdom holds that an incumbent under 50 percent is in trouble, so this should be added motivation for conservatives to work for an upset.
Depending on how you slice the data, the June 24 primary would be a Larry Hogan victory, with the only question being the margin.
The two major Maryland media outlets polled the race earlier this month, and a summary of the results had the same approximate order of Larry Hogan, David Craig, Charles Lollar, and Ron George. But it's worth also pointing out that the sample size between polls conducted by the Washington Post and Baltimore Sun varied widely.
The Post's polling data split into two parts: registered voters and likely voters. And while Hogan had a statistically sizable lead among likely voters, it practically melted away among simply registered voters. Likely voters (with a previous Post poll in February as comparison):
Larry Hogan – 35% (up from 22%)
David Craig – 19% (up from 13%)
Charles Lollar – 13% (up from 6%)
Ron George – 5% (stayed in place)
Among them, Larry Hogan finally climbed ahead of Mr. Undecided, who's now at 20%. Out of simply registered voters, though:
Larry Hogan – 23% (up from 17%)
David Craig – 18% (up from 13%)
Charles Lollar – 12% (up from 10%)
Ron George – 8% (up from 4%)
Mr. Undecided still leads there with 25%.
What this tells me is that, for anyone but Larry Hogan to win, the campaigns need to push their GOTV effort among supporters. The Post's sample sizes are exceedingly small – 228 registered Republicans and just 110 likely ones – leading to very high margins of error of 7.5 and 11 points, respectively. And perhaps it's not coincidental that both Post-endorsed candidates are leading their respective races.
You may also recall that awhile back Larry Hogan touted a poll where he trailed Anthony Brown by single-digits. Unfortunately, the Post did a projected Hogan vs. Brown matchup and it came out 51-33 Brown. It's a counter-intuitive result when you look deeper into the poll's questions to find that Democrats want the next governor to lead the state in a different direction from Martin O'Malley by a 58-34 margin. Yet they have given Anthony Brown a significant primary lead and would presumably back him in the general election.
A few days earlier, the Baltimore Sun came out with their poll, which also showed Larry Hogan out in front. They did a similar poll in February as well.
Larry Hogan – 27% (up from 13%)
David Craig – 12% (up from 7%)
Charles Lollar – 12% (up from 5%)
Ron George – 6% (stayed in place)
Again, Mr. Undecided was the clear winner with 37%, and in the Sun's case both polls are of likely voters with a much more significant sample size of about 500 voters – it makes the margin of error 4.4%. Except for Ron George, who basically had to disappear from the campaign trail while the General Assembly was in session, every one of the contenders essentially doubled their support in three-plus months.
If you take the most recent polls and combine them using the sample sizes, which gives higher weight to the larger Sun poll, you come up with these figures, which I also compare to a post I did in February:
Larry Hogan – 26.9% (14.4%)
David Craig – 14.5% (9.3%) (-12.4)
Charles Lollar – 12.0% (7.5%) (-14.9)
Ron George – 6.3% (5.1%) (-20.3)
If the undecideds fall along that line, the results would be:
Larry Hogan – 45.1%
David Craig – 24.3%
Charles Lollar – 20.1%
Ron George – 10.6%
I would say there's a 50-50 chance that Hogan makes it to 50%, given that some who were thinking of voting for one of the bottom-tier candidates (particularly George) may decide to go with the guy leading the most-touted polls. Because Hogan's already above the 40% mark I think that's now a prospect, which may help the MDGOP rally behind Hogan as a nominee. Obviously that support wouldn't be universal, but getting over 50% would be better than just a plurality for unity's sake.
So it's apparent that the message of "change," no matter how vague and shallow – combined with a lot of money out of the candidate's pocket and a dose of public financing – seems to appeal with Maryland Republicans who, at this juncture, believe Hogan is the best candidate. In order for second-place contender (based on poll average) David Craig to win, supporters of the Charles Lollar and Ron George campaigns would have to abandon that choice to throw their support behind Craig, and that's a dubious prospect.
Hey, what do you know? After saying my piece yesterday I got an internal poll. (Well, actually Jeff Quinton got it, but I can use it to make my point.) I did receive the presser which alerted me to the fact that Larry Hogan was polled to be within striking distance of Anthony Brown.
One other aspect of the Wilson Perkins Allen internal poll that I thought interesting was the "blind ballot test" question (page 2 here), where an ersatz candidate with Hogan's background leads a Brown stand-in by a 45-44 margin. Yet, as Quinton points out, we don't have the crosstabs or other information to correlate with the actual electorate. Using a 2010 turnout model – which may well be overstating Democrat turnout this time around and underestimating the GOP's – and cross-referencing it to current partisan registration gives a model reflected below:
Democrats – 2,055.678 (55.2%) x 54.84% = 1,127,334, or 56.1% of electorate
Republicans – 952,320 (25.6%) x 62.45% = 594,724, or 29.6% of electorate
unaffiliated/others – 716,830 (19.2%) x ~ 40% = 286,732, or 14.3% of electorate
2,008,790 voters means first to a million wins. But the polling should reflect these numbers on a partisan basis; in fact I would be inclined to add a couple points to the GOP column so we really are punching a little beyond our weight. O'Malley fatigue may keep some Democrats home and motivate the Republicans.
Also remember that the rerun of Bob Ehrlich for a third time may have kept a few GOP stalwarts home, just as the 1998 rematch between Ellen Sauerbrey and Parris Glendening was far less exciting than the 1994 version. 1994 was a wave year for the GOP, and there are some signs 2014 may be the same if the GOP doesn't snatch defeat from the jaws of victory as it has done before. Certainly turnout was better on all fronts in 1994: that year 64.93% of Republicans, 60.98% of Democrats, and 46.34% of "declines" turned out. Democratic turnout has slumped 8.37% from its 1998 peak, while Republicans have dropped 4.99% from their 2002 high-water mark in gubernatorial elections. Strictly unaffiliated voters have dropped off 8.35% from their 1994 high point.
For Republicans, turning out at 2002 levels could mean an extra 50,000 votes and perhaps that would swing some local races.
While playing with the numbers is fun for any candidate, there is that minor detail of getting past the GOP primary, and the poll doesn't indicate whether Hogan remains in the GOP lead. Reputable polls so far have shown that Mr. Undecided is the clear favorite, but it's impossible for him to win here in Maryland so someone else will have to prevail. It's likely that whoever wins will not have a majority in the race, so he will have a lot of fences to mend.
But while Hogan and his cohorts have been speaking on the economy – and rightfully so – a close second in importance to many voters is education. This is why what David Craig had to say yesterday at Townhall.com was important. An excerpt:
If (former GM executive turned author) Bob Lutz is a car guy, then you can call me an "education guy." I spent 34 years in Maryland's public schools as a teacher and an assistant principal. My career started as our nation was on top, coming off an age when we sent men to the moon and returned them safely to the earth. There were no waivers, no Common Core, no 'No Child Left Behind,' and no U.S. Department of Education.

What I had back then, and what Governor Pence needs now, and what my home state of Maryland urgently needs, is to give control to teachers in the classroom. Maryland has rushed head first to adopt every federal program in the last several years including Obamacare, Common Core and EPA stormwater regulations, to name a few. The results are always the same – poor execution, millions of dollars wasted and excessive regulation and taxes.

Here is a simple message to anyone concerned about making education work for students and not education bureaucrats. Let teacher's (sic) teach, let them do their job.

Nobody will ever capture a child's imagination in the classroom from Washington D.C. Common Core is bean counters and bureaucrats run amok. They will destroy our education system. No amount of tinkering or re-branding will ever fix it. End it and return control of the classroom to teachers and local school boards.
Craig is perceptive enough to sense the concern that Indiana is adopting Common Core under another name. Yet the question sure to come up in any debate is how we would do without the federal grant money. I can also guarantee Craig will be painted as heartless and out-of-touch if he questions the wisdom of expanding pre-kindergarten, even with its dubious benefits.
Try as some might, education is not a one-size-fits-all commodity. What works well for Dylan in Maryland may not do the trick for Amy in California. And while I've had some thoughts in the past about education I still think are worth pursuing, we have to backtrack from where we're at in order to get pointed in that right direction. The next generation is all we have at stake.
Hey, if Roch Kubatko can do it, I figure I can too. There were a few things I wanted to discuss in the post-convention aftermath.
One storyline was the low number of hospitality suites and rooms there were. Generally there are six to eight separate parties going on during a typical Friday night at the convention, but in this case I think two closed up shop relatively early so the other three became the centers of action. So it seemed to me that there was a crush of people for about an hour or so, but things cleared out pretty quickly after most of the food was consumed.
But I heard a grumble that the reason there were so few suites was the high price the MDGOP was charging. But since they don't get a cut of any of the room-sized suites, their only recourse is to charge a premium price for the lobby spaces. Gubernatorial candidates seem to be willing to pay, though: last spring it was Blaine Young taking the spacious lobby of Timonium, in November they had Larry Hogan use the main space of the Annapolis Doubletree, and this time Charles Lollar took the Bethesda Doubletree restaurant.
In November I would imagine at least one Chair candidate using a large space, but that event will likely return to the higher number of rooms common to previous conventions as various party office hopefuls try to gain advantage.
Similarly, I don't recall there being so few vendors. Maybe it was the way they were set up, but it seemed to me that previous conventions had more tables out. Yet as I noted in my main story, there were a number of counties well under-represented – nowhere close to preventing a quorum, but Diana Waterman pointed out in her remarks that a large number had registered on Saturday morning; more than expected. She had a right to be upset, but I think with so many proxies this couldn't be helped.
Speaking of proxies, they were blamed for Charles Lollar winning the MDGOP Straw Poll. Here's a press release Lollar put out:
The Lollar-Timmerman team for Governor and Lieutenant Governor of Maryland won a key straw poll today at the conclusion of the Maryland State Republican Party convention in Bethesda.

Today's straw poll at the Party's spring convention marks the last gathering of the State GOP leadership before the June 24 gubernatorial primary. Elected representatives from all 23 counties and Baltimore City cast their votes in today's poll in favor of the Lollar-Timmerman team.

"We are grateful for this tremendous show of support from the elected leadership of the Maryland GOP," said gubernatorial candidate Charles Lollar, a Charles County businessman and reserve officer in the U.S. Marine Corps.

"Today's poll results mirror the sentiment we have been hearing from grass roots supporters across the state," Lollar added.

Conservative Carroll County Commissioner Richard Rothschild enthusiastically endorsed the Lollar-Timmerman ticket on Friday night. "Everywhere I go, people have told me they are supporting Lollar-Timmerman," Commissioner Rothschild said. "Those are the only names I hear."

Both Lollar and Timmerman were attending other events on Saturday, but delegates at the state party convention erupted in cheers, jumping to their feet when they heard the results.

This latest straw poll victory from central committee members from across the state follows on the heels of a victory at the annual convention of the Maryland Federation of Republican Women in Calvert County.

The Lollar-Timmerman team has also won three successive Montgomery County GOP straw polls, including one on March 26 following the only debate where all four GOP gubernatorial candidates showed up.

"Ken and I thank you for your support and we will not let you down as we march to victory in November," Lollar said.
I don't recall the "jumping to their feet" part, but it was somewhat of a surprise to hear Lollar won. However, he didn't mention that it was far from an overwhelming victory – if all the undecideds came down for third-place finisher David Craig, he would have won. The only one who finished poorly was Ron George; coincidentally or not, he was barely visible at this convention. Shelley Aloi was well-meaning and worked hard, but Ron's table was unstaffed and volunteer sheet almost blank when I saw it Saturday.
We do know, though, that the party faithful who care enough to come to the convention have much more decisiveness about the race than a group of relatively random respondents selected for the St. Mary's College Maryland Poll. The big winner in that poll was Mr. Undecided – nearly seven of ten hadn't made up their minds yet. In that poll Larry Hogan leads by a somewhat comfortable margin, but at just 16 percent of the vote – a total of 43 votes out of 270, which wasn't much larger than the room full of party activists.
Put another way, even Charles Lollar or Ron George has to convince just 34 more voters out of that remaining sample than Larry Hogan does to prevail. If either can start raising money, it's doable.
On another subject, perhaps Don Murphy was right when he remarked that local candidates should have been out knocking on doors rather than at the convention. There were a handful of such candidates there who were pressed into service as Central Committee members or proxies, but I saw few General Assembly members about Bethesda over the weekend. Maybe they showed for the dinner, but they weren't even there Friday night for schmoozing so they were likely following Murphy's advice.
We also found out the next convention will be December 5-6 at Turf Valley, the site of our Fall 2012 convention/wake. Let's hope for Maryland's sake history doesn't repeat itself.
In case you missed part 1, which dealt with Friday night, you can catch up here.
I was in bed reasonably early for a convention, in part because there weren't a whole lot of hospitality suites to be found and in part because I wanted to cover breakfast with this immediately recognizable guy.
The former GOP national chair is always a welcome guest at MDGOP proceedings, and as a breakfast speaker he set a good mood for the day by predicting "we're going to be back in our winning ways this year."
But his message went back a few years, to when Michael took over the national party, which had become too "comfortable and cozy." He saw his mission as one "to rebrand a party which had become moribund," one where the gap between rhetoric and principles had become so large it snapped. "I'm so sick and tired of people blaming our principles for their failure to lead," said Michael. "What we believe in is time-honored and true."
Similarly, Steele noted that the state party had gone through its share of "definitional moments" and was ready to do so again. We needed to avoid being a party defined by what we are against and not what we are for, as we've "often found ourselves at odds with the very people that we want to represent." We need to "talk about freedom but connect it to life."
Taking that to a more local level, he noted that people are expecting leadership from the Central Committee members in the effort to "turn the elephant."
Revolutionizing the MDGOP has to be our first priority – Michael Steele. #MDReps #mdcons

— Michael Swartz (@monoblogueUS) April 26, 2014
"We're not looking back, we're looking forward," said Michael. "Revolutionizing the (Maryland Republican) Party is our number one priority." People are hungry for authenticity, leadership, and vision, he added. He got a token of our appreciation, too.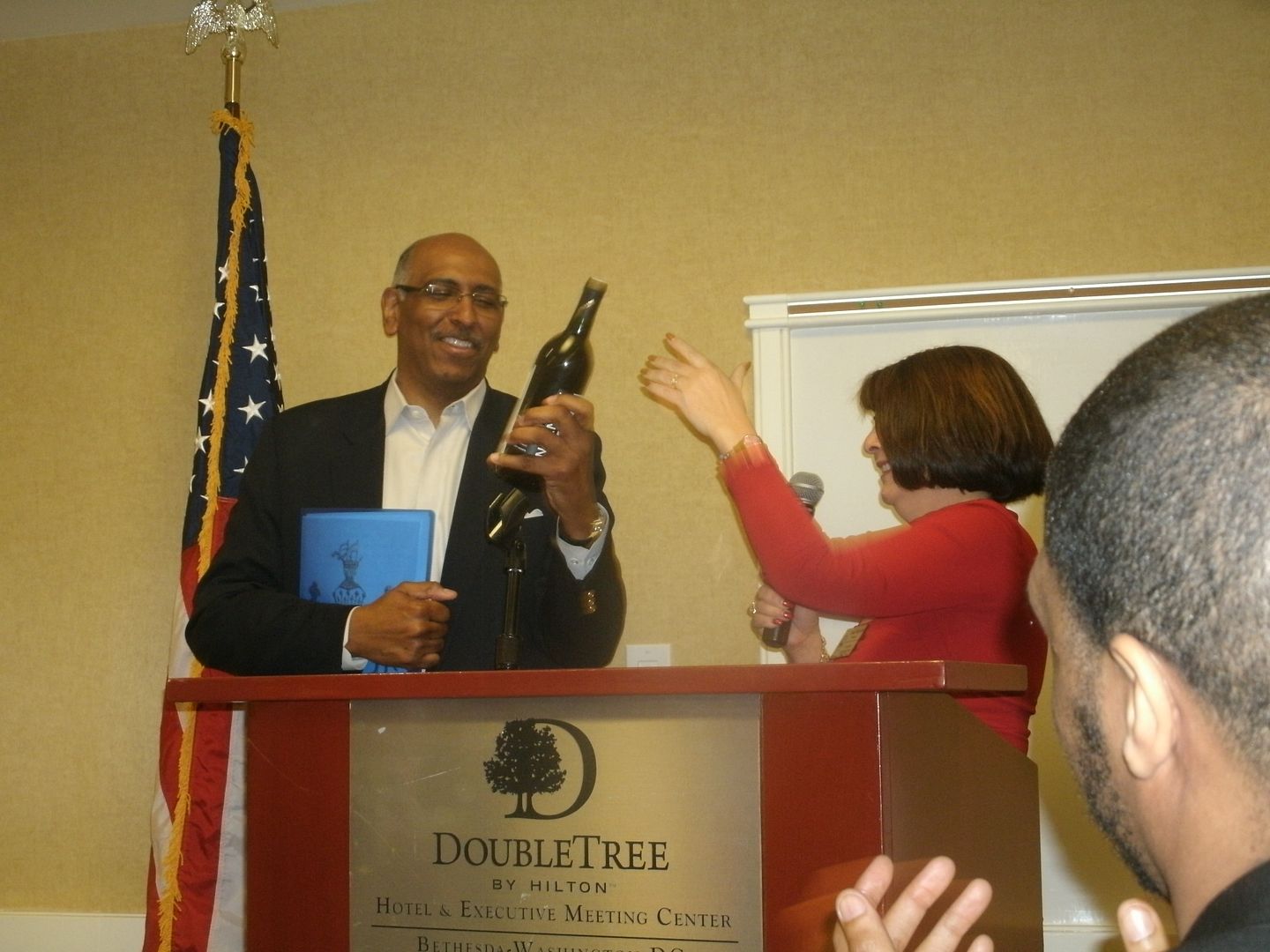 The wine is a Maryland red wine from Linganore called Black Raven. Diana thought it was a "providence" that she was thinking about how to thank our speakers as she drove by the winery. I had a shot of the bottle but, alas, I was too close and it came out way too bleached out. After breakfast, I had to gather my things and check out as well as make one other stop.
Instead of having a Friday evening suite, Larry chose to host a breakfast suite with Chick-fil-A items. Of course, all I was hungry for was information, so I spoke to Hogan about his experience on the Eastern Shore with our farmers. I found he has a fairly good idea about what they stand to lose should phosphorus regulations go through, so that was a plus. And I added to my weekend collection, a shot which included Larry's wife Yumi.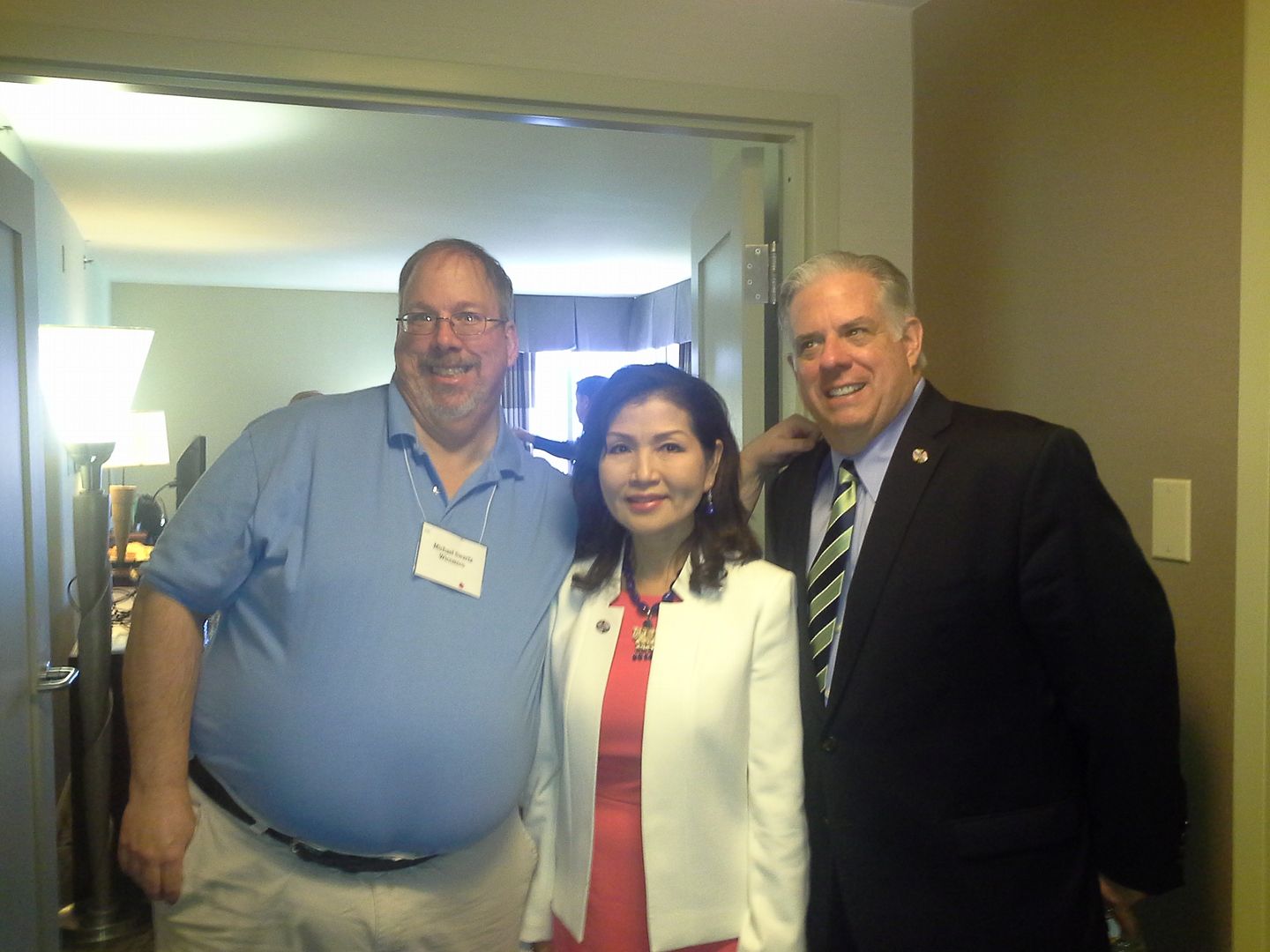 It's a bit askew because I was looking at two cameras at once. So I grabbed a Hogan-labeled bottle of water as I walked out and headed back down. With the stops, I missed much of what – from the part I did hear – was an interesting panel discussion by conservative black Maryland Republicans.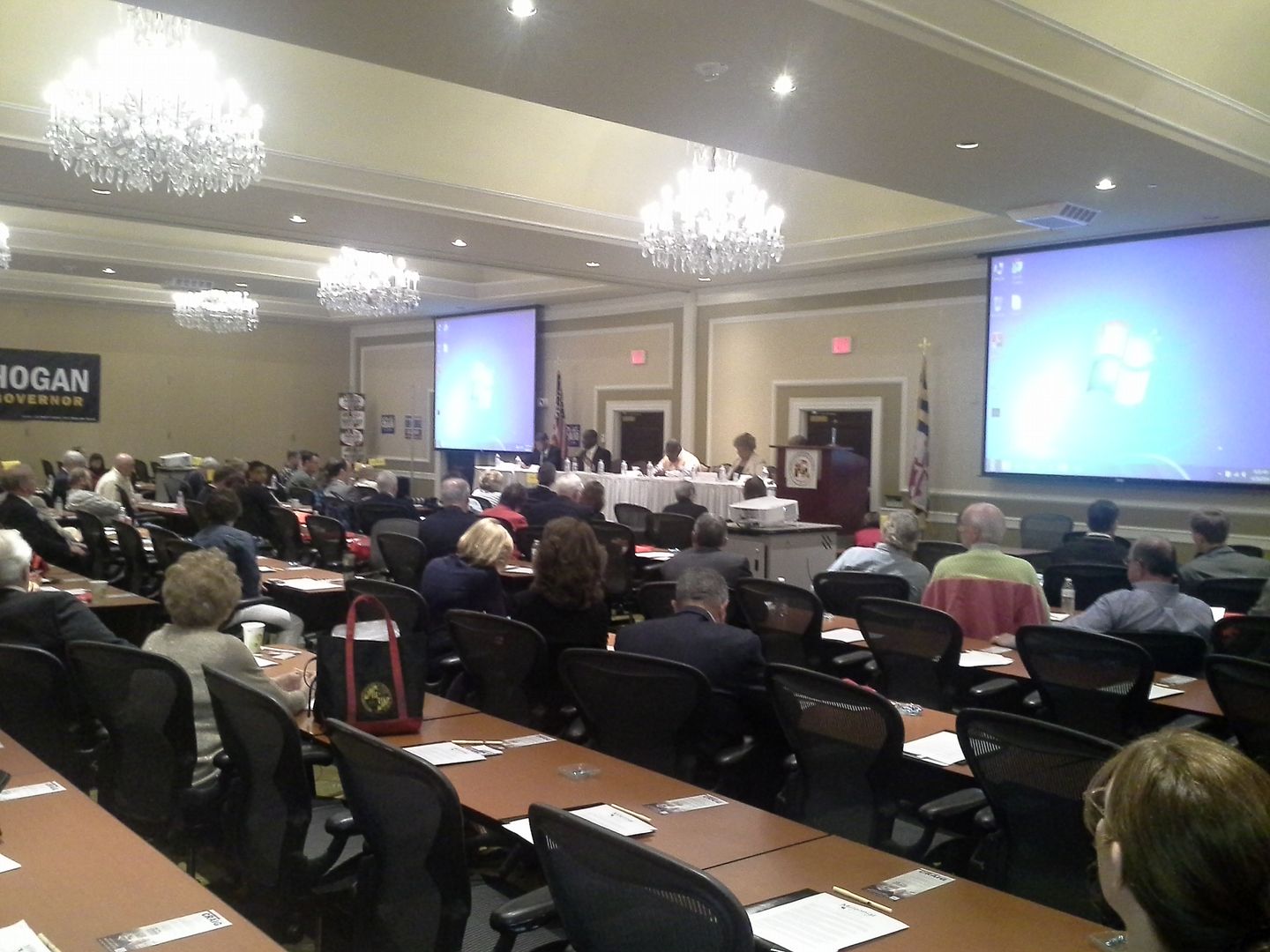 After that finished, I checked out some of the displays in the lobby. This one was new that morning.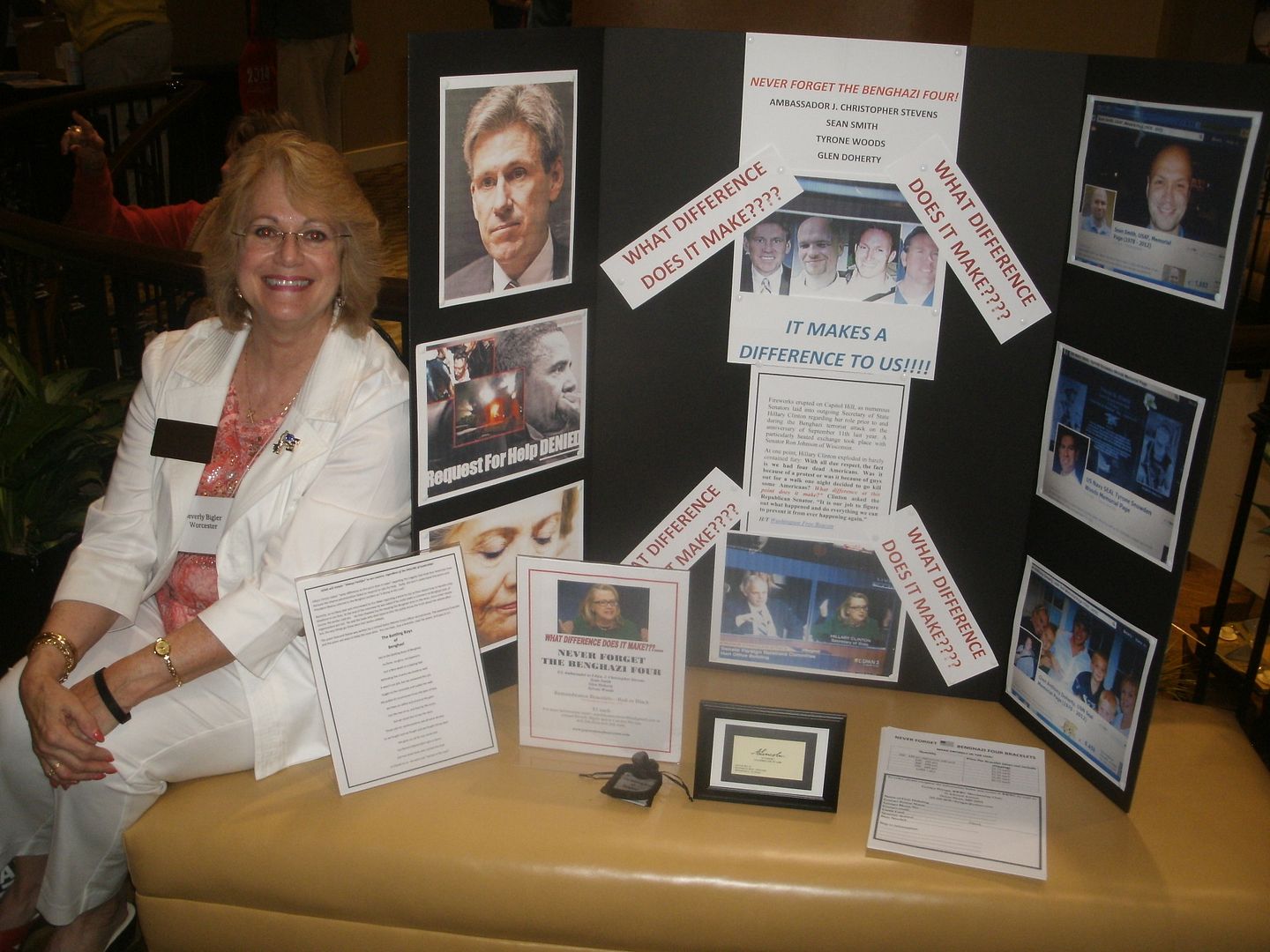 As I understood it, my Worcester County cohort was selling "Benghazi bracelets," which will be gray and black. Obviously that's still on the minds of many people to whom it does make a difference. I also spied a more modest display that morning from the Lollar team.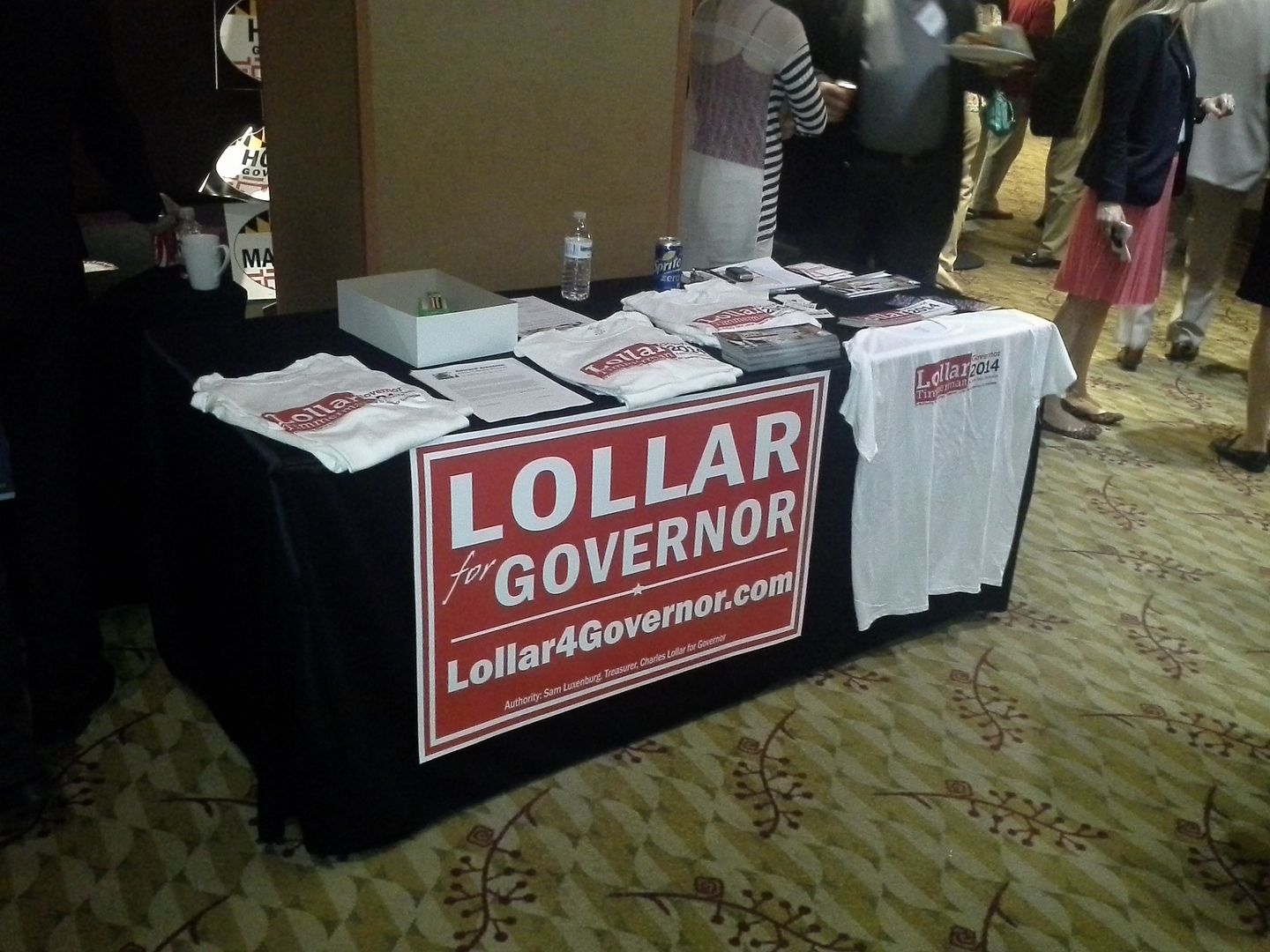 I was remiss in not getting a photo of Ron George's table, although I think it's visible in the lobby photo in part 1. Of the four candidates, though, Ron had the least presence with just the table. Craig had a table and suite, as did Lollar, while Hogan had his breakfast suite, a folder at each table place, and hallways festooned with these.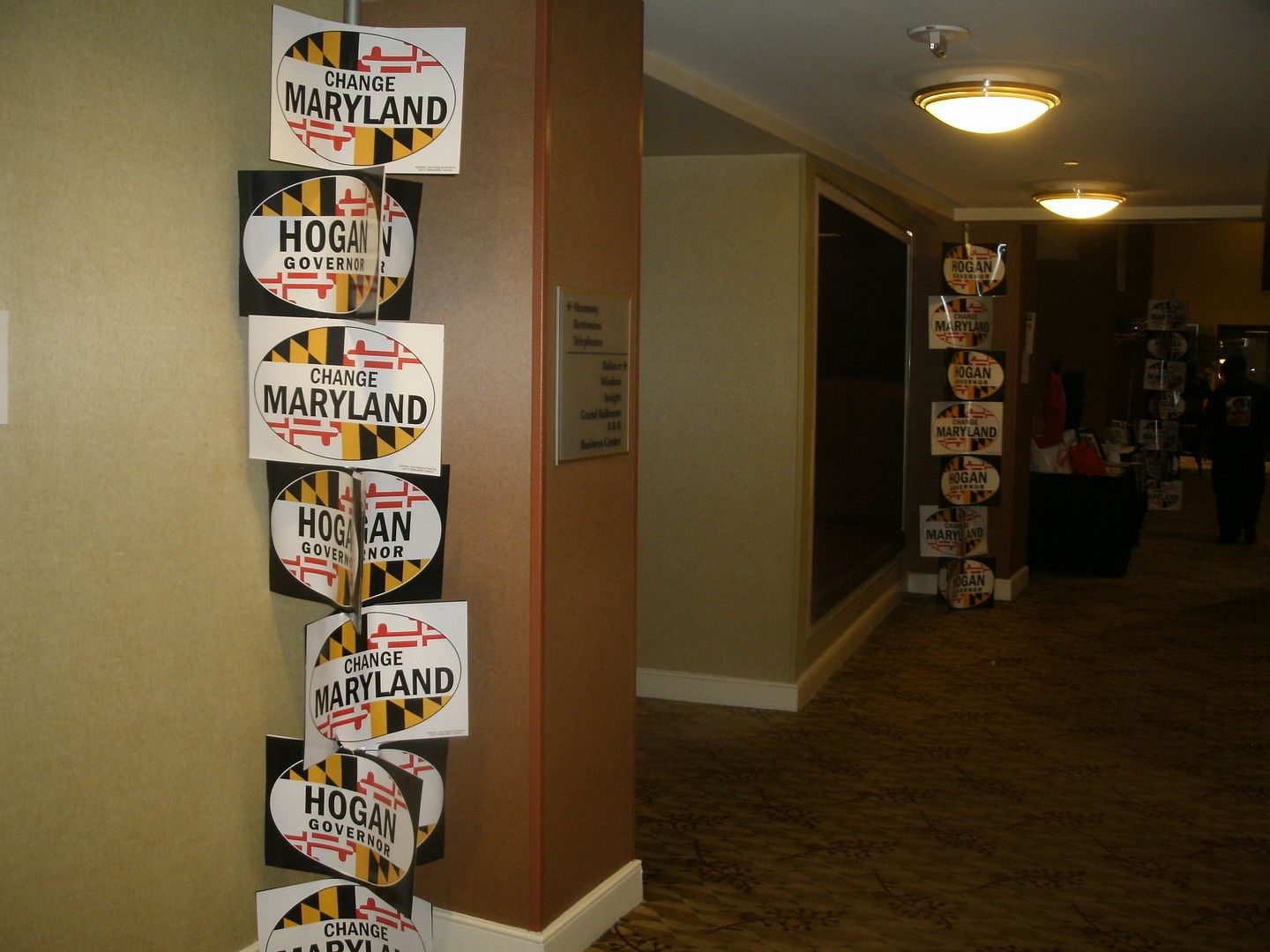 In due course, you'll understand why I thought it was important to make that comparison. Once that mini-tour was complete and I was checked out, it was time to begin the convention proper.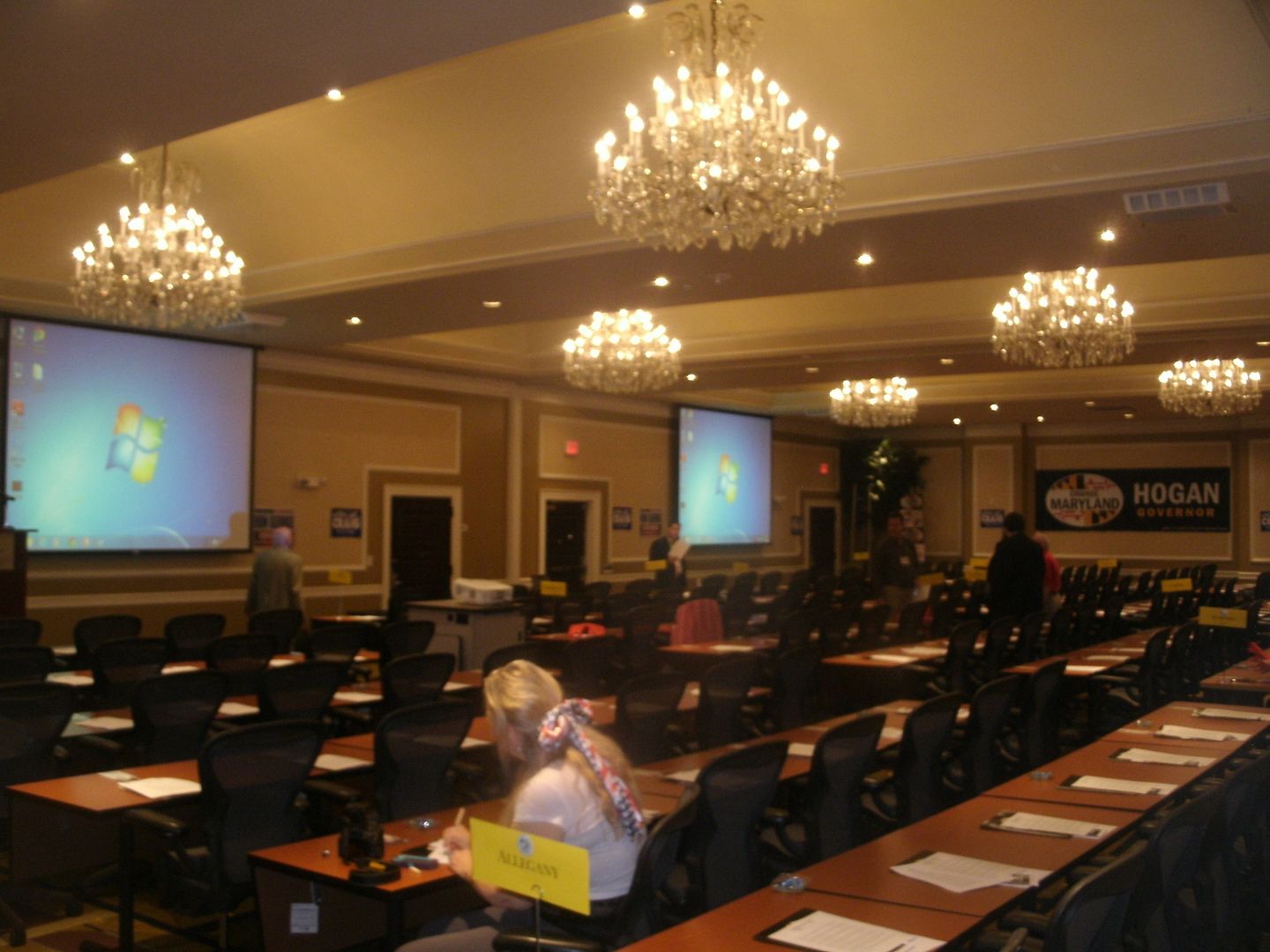 The first report was a legislative report from Delegate Gail Bates, who's now running to become a Senator. She pointed out we don't get our way much, but did achieve some good things: recoupling the estate tax to federal law, pieces of election reform – particularly on voter rolls – and straightening out the pit bull mess to place responsibility on dog owners regardless of breed. These, however, were outweighed by a litany of bad: a budget which continues a pattern of overspending revenues, increasing the minimum wage despite outcry from small business, decriminalization of marijuana, the "bathroom bill", and the health exchange, said Bates.
We next received the bad news of the treasurer's report from Executive Director Joe Cluster. The one positive note was that we were "right on course to meet our goals this year" after a slow start. This wasn't her convention podium, but I wanted to show a shot of Party Chair Diana Waterman to signify her Chairman's report.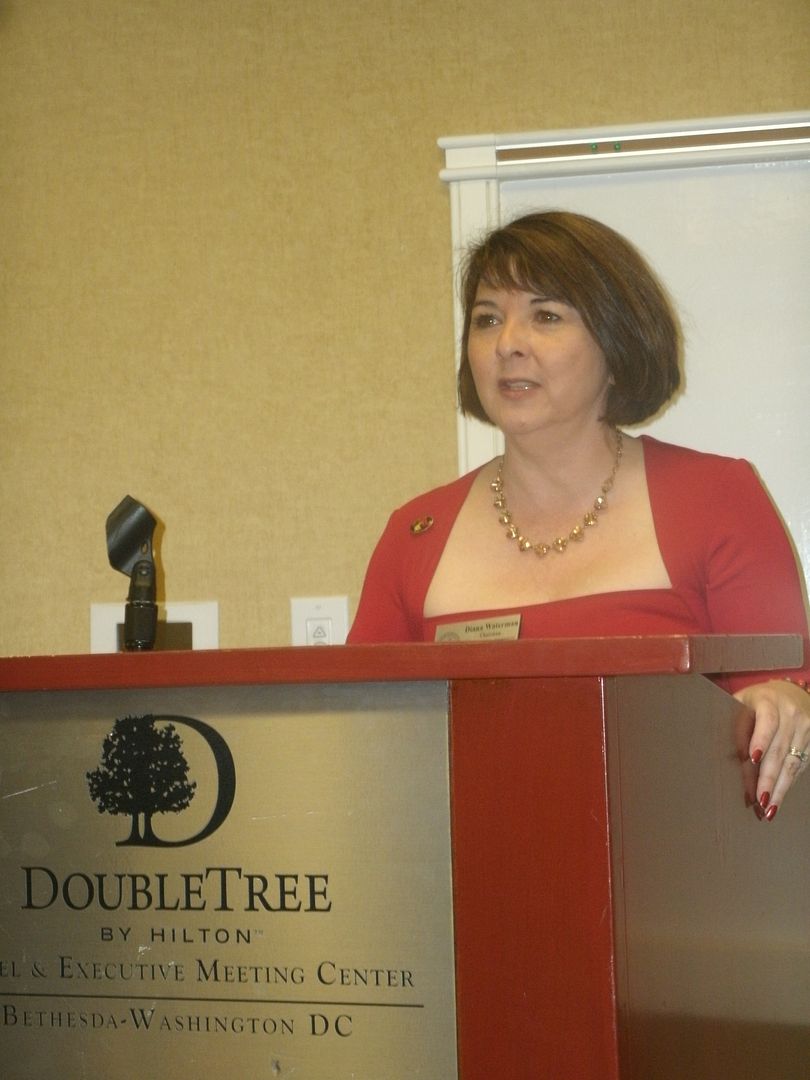 She had one key announcement:
@DianaWaterman: All four candidates will be at May 31 Salisbury #MDGOP guv forum. Look forward to being at SU.

— Michael Swartz (@monoblogueUS) April 26, 2014
She also recounted recent events like the Reagan Ball and Johns Hopkins gubernatorial forum, but her message stressed the needs for turnout on Election Day and unity after the primary.
In an extension of the forum he moderated, Tony Campbell decried the lack of credibility the party had built in the 16 years he had been involved, and stressed that we needed to find issues that people connected with. This election was the combination of time and opportunity we had been waiting for, though.
Brian Griffiths gave a brief Young Republican report mainly focused on upcoming events, while the College Republicans gave no report because their incoming president, Christine McEvoy of Johns Hopkins, was studying for exams. Thus, the morning continued with National Committeewoman Nicolee Ambrose and her visual aids.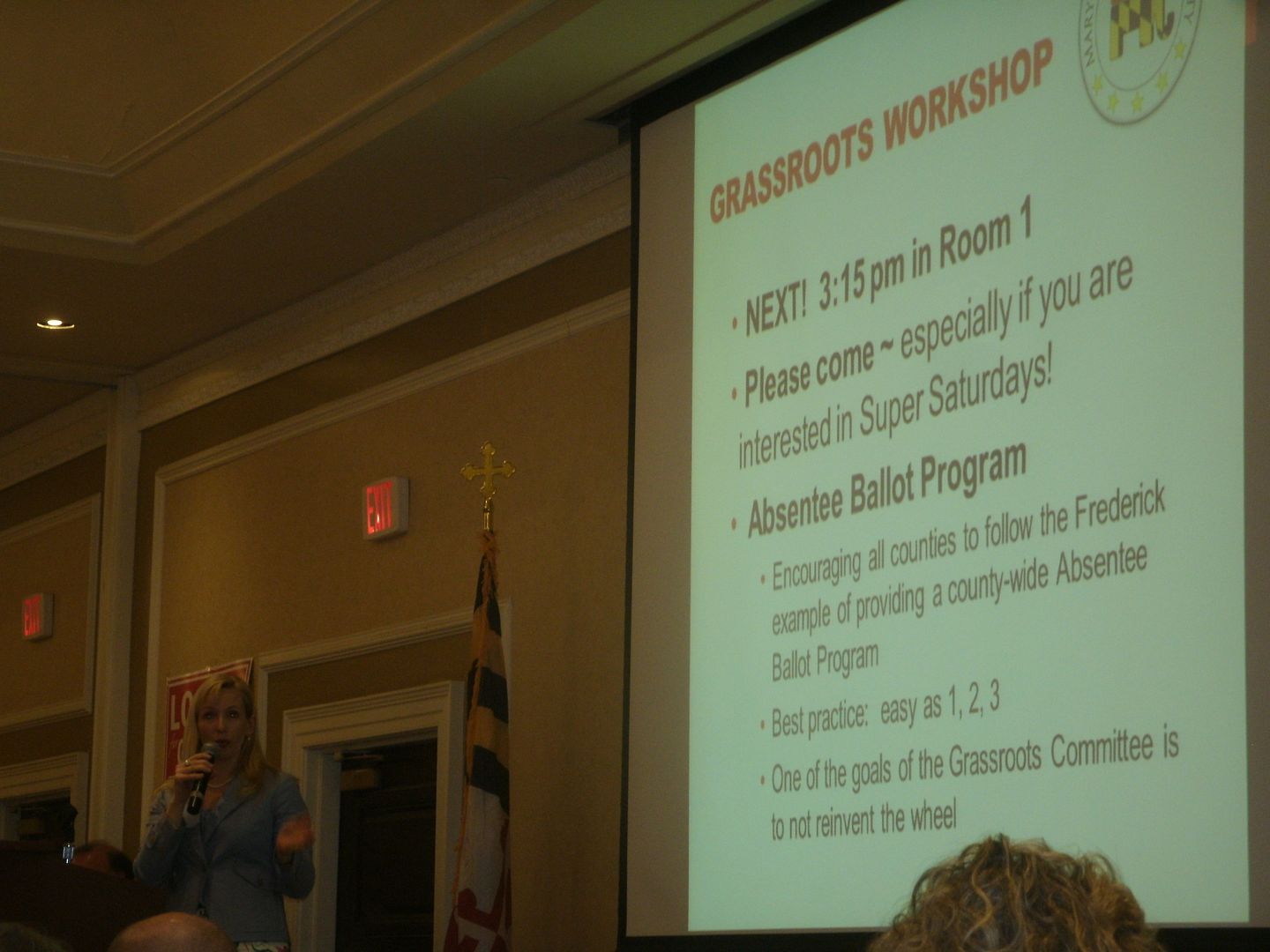 While Ambrose talked briefly about what the national party is doing, her focus has been on grassroots work in Maryland, particularly the Super Saturday program. Next Saturday, May 3rd, that program comes to Ocean City just in time for Springfest. A second one is in the works for June 21 in Montgomery County. Further ones for the fall will be determined over the summer, as there is an application process. She also stressed that every county should be looking into an absentee ballot program, particularly the larger ones.
But I thought this slide of upcoming events was cool.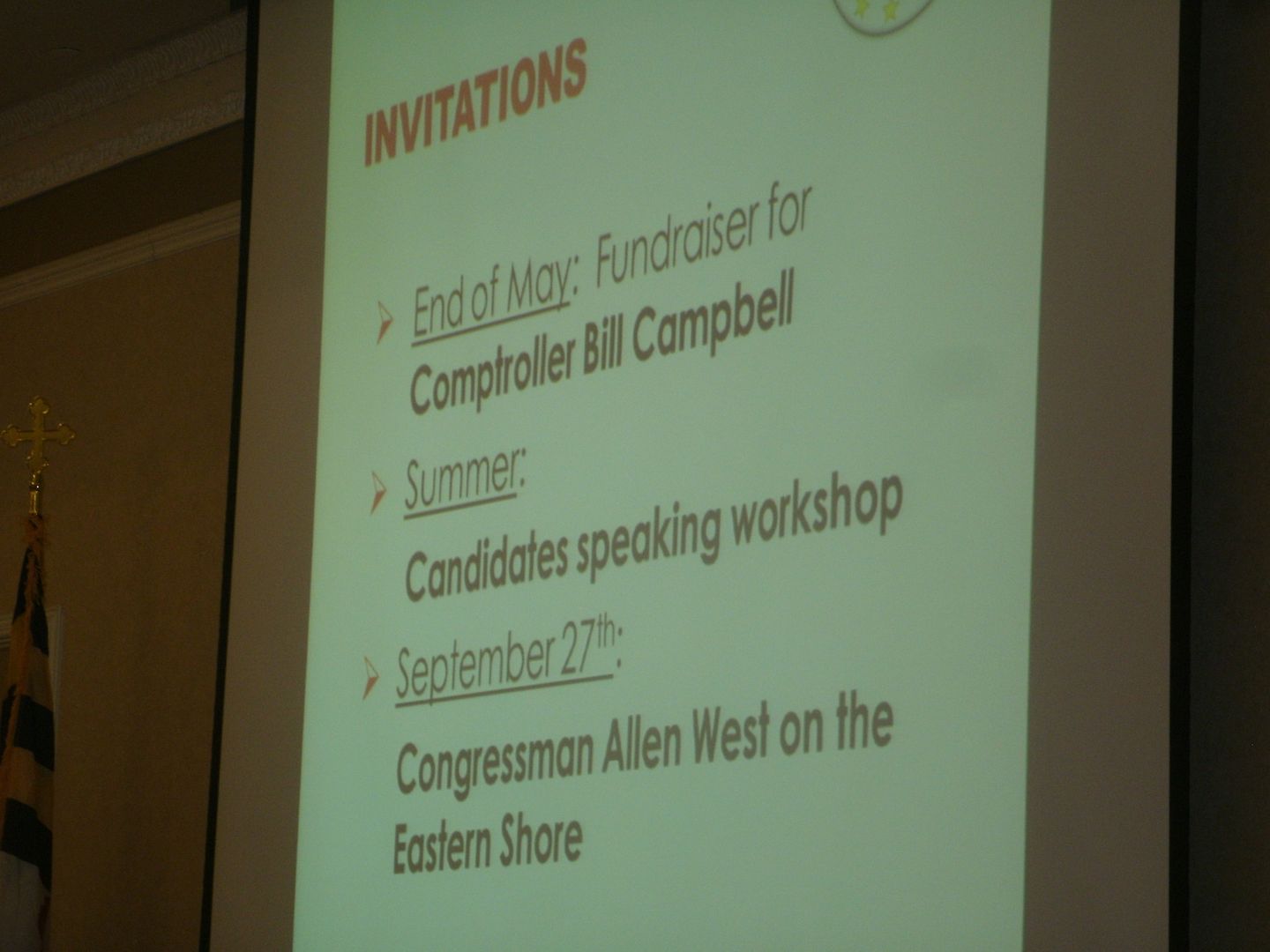 It's not just on the Eastern Shore, though, it's right here in Salisbury. Do we need a better excuse to have a Super Saturday for Wicomico County? After all, the good Lt. Col. West shouldn't arrive until the afternoon.
Louis Pope piled on to what Ambrose said as he gave his National Committeeman report, but also believed the June primary was an advantage to Central Committee members – those who win have a four-month period to learn the ropes, while the returning/retiring members could mentor the newbies.
Turning to the 2014 election, Pope quipped, "if you liked 2010, you'll really like 2014." The national GOP's goal was to take the Senate, and with the recent Florida special election showing "it's all about turnout," coupled with the McCutcheon decision by the Supreme Court, the potential was there for a great year.
On a state level, Pope believed Wisconsin is a "model" for us – similar size, and a state controlled by Democrats until the last cycle. It all comes down to turning out Republicans.
Finally, we were through most of the reports, and we found out we had a quorum of 236 of 303 members present. But it was troubling that several counties were well short of their allocation. We're used to this from Baltimore City, which, try as they might, has a hard time getting people to serve. But there were over half the members absent from Allegany, Calvert, Caroline, Dorchester, and Talbot counties as well. Granted, it was the last convention of the term and not much was on the docket but that's still a concern to me.
The last item we dealt with before lunch was a resolution condemning the introduction of House Bill 1513, sponsored by both the Harford and Baltimore County Central Committees. Thanks to a parliamentary maneuver, the resolution passed by unanimous consent in a voice vote.
We were actually well ahead of schedule, even with lunch, so Diana Waterman added two speakers to the agenda: Attorney General candidate Jeffrey Pritzker and Comptroller hopeful Bill Campbell.
Pritzker was blunt: "Maryland is in trouble." He reminded us he was the first to call for a special prosecutor in the health exchange debacle – a position Doug Gansler would prefer to do away with. "The people need a lawyer," Jeff said. He promised to create a task force to address the laws, seeking to prune away the unnecessary and redundant.
Campbell made the case that we needed to go to places where we were uncomfortable in order to win. For example, he addressed the Maryland State Education Association – not expecting their endorsement, but to make his case nonetheless. Reportedly he got 40% of the teachers' votes, which Bill considered to be very good impact.
We also had the Executive Director's report from Joe Cluster, who told us to focus on four numbers: 6, 19, 48, and 16. These weren't for Powerball, they were 6 of 10 County Executive seats, 19 of 24 county councils or commissions, 48 Delegates, and 16 Senators. "It would make us relevant in this state" if we achieved all these milestones, said Cluster. Joe continued by pointing out both Barack Obama and Martin O'Malley had approval numbers under 50 percent. "People are tired of what they've done to taxpayers," Cluster said. "I don't see any incumbent Republican losing."
He also announced there were plans for Victory Centers in Towson for District 42, and in the District 38 area – Salisbury is in District 38, as is Ocean City. We then got to new business.
#MDReps Regional chairs resolution fails to make it to floor in lopsided vote.

— Michael Swartz (@monoblogueUS) April 26, 2014
The Tweet tells you the result, but how we got there was interesting. I was one of perhaps four who spoke in favor of moving it to the floor, but by the crowd reaction to myself and other speakers I knew the effort was doomed. By the time the roll call got to Baltimore County (only fourth in) the result was obvious: just Caroline County (and its one representative), Dorchester, Howard, Kent, and Queen Anne's favored it (Wicomico was 6-3 against) and the motion died by a weighted vote of 385-91. (In terms of bodies, it was 192-42, with one abstention.) Ten counties were unanimously against it. I thought it would get between 1/3 and 1/2 of the vote, so less than 20% was shockingly low.
But it is typical of the party's "we've always done it this way" mindset.
Before adjourning, we heard yet another plea for unity and turnout from Diana Waterman, who was stalling a little bit because there was a full hour before the afternoon seminars were scheduled. But we finally received the results of the straw poll conducted at the convention.
@Charles_Lollar wins MDGOP straw poll with just 29% of votes, @Hogan4Governor 2nd with 27% @DavidCraig2014 with 26%.

— Michael Swartz (@monoblogueUS) April 26, 2014
Brian Griffiths, a confirmed Hogan supporter, came over to Jackie Wellfonder and I and huffily said, "that's the last thing (Lollar's) going to win." He chalked up the loss to proxies who were in the Lollar camp.
Here are the actual vote numbers:
Lollar – 68 votes (29.8%)
Hogan – 62 votes (27.2%)
Craig – 60 votes (26.3%)
George – 29 votes (12.7%)
undecided – 9 votes (3.9%)
I remember looking quickly at Wicomico's ballots before I handed them over and we split among the four candidates. I think it was 3 Hogan, 3 Craig, 2 Lollar, and 1 George.
But look at what was put into the convention by the candidates. Granted, Charles Lollar had a large and very visible party and David Craig had a lively suite of his own. All but Larry Hogan had lobby tables, with Ron George having very little other presence. I didn't even see him there, although I did see Shelley Aloi frequently making the rounds.
Yet Larry Hogan spent a lot of money for sponsoring the programs, the folders at each seat, the breakfast suite, and the multitude of signs only to come in second by just two votes. (I have it on good authority that one Hogan supporter I know may be switching to Craig – had that person came to that conclusion a little sooner, there would have been a second-place tie.) I would have expected Hogan to get 35 or 40 percent based on the hype.
Unfortunately, my traveling companion needed to get back to Salisbury so I couldn't stay for the seminars. It never fails – had we started at lunchtime, we would have argued the bylaws change clear through dinner. But out of the seventeen conventions I've now attended, this was one of the more quiet and non-controversial. I guess we're fairly united despite the straw poll vote.
It was definitely time to go home and get to work.
I know a fair number of people will consider this a cheap shot, but is this something a legitimate candidate would cite?
As I pointed out yesterday, I get a lot of e-mail from candidates asking me for money. But in building his case for his campaign, Larry Hogan made the following statement:
My campaign for Governor has a commanding lead in the Republican primary. In fact, a recent poll shows that we garner more support than all the other candidates combined, with over 50 percent of voters supporting us. We can win this race!
Really? You're citing the Red Maryland poll, which even the authors admit isn't scientific and is backed by a website which endorsed you before you even formally entered the race? How low of information voters do you think you'll reach?
Granted, I've made news before from a Larry Hogan poll of my own but at least at the time I fessed up to the fact it wasn't a scientific poll.
And maybe it's not Larry's fault, since the e-mail itself traces back to a firm called SalientMG. But it is a little deceptive to say you already have over 50 percent primary support when no reputable poll puts you over 20 percent at the moment.
In many respects Hogan's statement is like bragging about winning a straw poll, which a fellow candidate has done on a couple occasions only to be mocked for doing so. Then again, we can be far more certain those running the straw polls probably weren't in the tank for the winner. The Red Maryland poll wasn't quite like the Crimean referendum, but it was sort of close.
I'll be more interested to see the fundraising reports in a couple weeks. If Larry Hogan has raised over 50% of the Republican money then maybe I'll see him as a more legitimate front runner – right now I think it's still anyone's race. Some have a lot more work to do than others, but we still have almost three months.