By Cathy Keim and Michael Swartz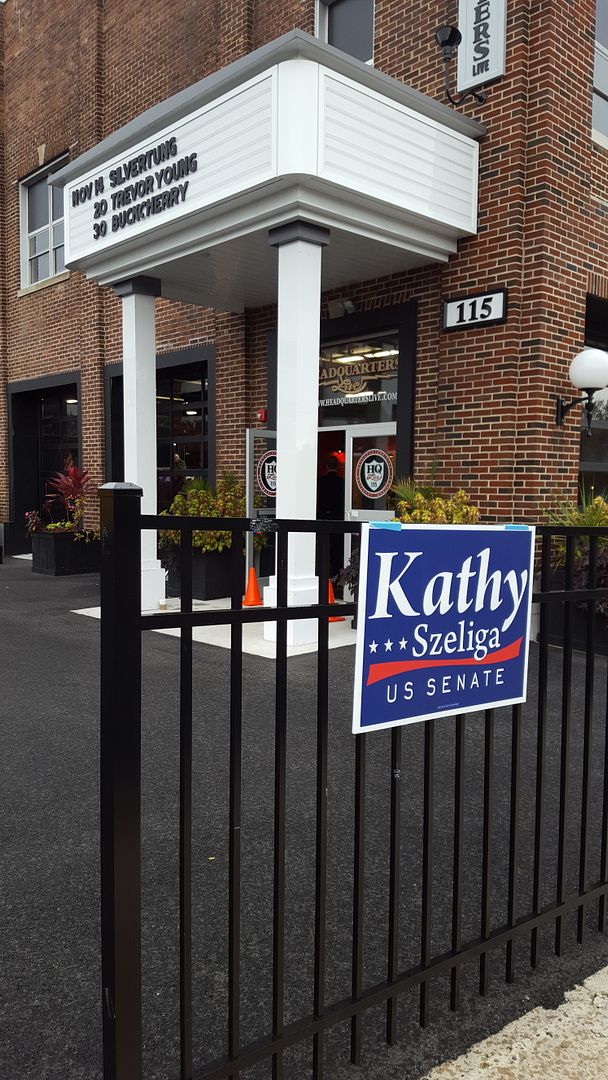 This afternoon about fifty people gathered at Headquarters Live in Salisbury for the Kathy Szeliga for U.S. Senate announcement tour. It was a political who's who for the Eastern Shore with Delegates Carozza, Otto, Anderton, and Adams there to support their fellow delegate, Kathy Szeliga, as she formally jumped into the U.S. Senate race. Also present were State Senator Addie Eckardt, County Executive Bob Culver, County Councilman Marc Kilmer, Sheriff Mike Lewis, and State's Attorney Matt Maciarello.
Congressman Andy Harris started off the introductions for Delegate Szeliga, who once served as his chief-of-staff. He was enthusiastic in his support for her Senate bid.
Businesswoman Michelle Fager was next on the podium proclaiming Kathy Szeliga as the poster girl for the American Dream. Fager related the story about how Szeliga started with very little, but began building a construction company with her husband while raising two sons and going to college.
College Republican Elizabeth Swan followed saying that Delegate Szeliga's life story inspires college students to believe that the American Dream is still alive.
Finally we reached the main speaker. Delegate Szeliga gave a stump speech emphasizing her common man background. She met her husband in Ocean City thirty-six years ago when he was a Bonfire busboy and she made subs. They eloped a few months later when she was only 18. They believed in the American Dream and worked hard to achieve it.
Once they had a construction company, she realized the amount of regulation and paperwork that inundates small businesses. She is for reining in government because of this experience.
She went on to work as Andy Harris' Chief of Staff when he was a State Senator and then was elected to the House of Delegates in 2010.
In her remarks, Szeliga noted things are finally moving in the right direction in Maryland with the election of Governor Hogan, so now it is time to switch to Washington. As a grandmother, she added, you look at your grandchildren and wonder if they will have the opportunities that you had or will they just have a pile of debts? Is the American Dream fading?, asked Szeliga.
It is not too late to turn it around, she said. Szeliga is running with three goals: to improve the quality of life, improve security, and improve the schools. As she described it, the federal government is too big, too distant, and too gridlocked. The paralyzed federal government can't meet our basic needs in the areas of health care or fighting terrorism.
America is exceptional, Szeliga continued. Americans are motivated by love of life, love of family, and love of country, and she will work for these goals. She asked for our votes so that she can go to Washington.
Given yesterday was Veterans Day, Szeliga also pointed out she is an Army brat. Her father served 20 years in the Army, and she didn't meet him until she was one year old because he was deployed when she was born. Moreover, her grandfather signed up on the day after Pearl Harbor and fought in North Africa during WWII. With that in mind, she believed we needed to fix the VA.
Szeliga made a point that Michael has brought up on occasion regarding vocational education. We need kids to consider honorable jobs like plumbing rather than just assuming all the good jobs require a four year degree – after all, you can't outsource your plumbing to China. Every child is unique.
I asked her about a bill she sponsored last year, HB 1513, better known for being the effort to change the composition of the Harford County Republican Central Committee.
Kathy seemed quite perplexed why I would bring up old stuff. I said I was asked to inquire about that. She said that bills often get proposed to start a conversation, but once they get discussed and unintended consequences become evident, then they are dropped. That bill never went anywhere when it was realized that it was not worth pursuing. This is good that many bills never make it out of committee because many of them do not deserve to move forward, but they do allow conversations to occur.
I also asked her about this quote:
GOP lawmakers in Washington currently are divided over an effort to tie government funding to cuts for Planned Parenthood. Asked about the debate, Szeliga said she would support legislation to keep the government open even if the measure did not address funding for the organization, which performs abortions and other medical procedures.
"I think it is unwise to shut down the government," Kathy said. She said that when government is shut down the taxpayers are just giving the government workers a paid vacation, but the contractors and small businesses don't get paid and it is hard on them.
She would be willing to shut down the government in exceptional cases, though.
I should add there were no questions from the floor, so I asked my questions privately later. It was a love fest, not a serious PR time, although the Daily Times had a reporter there and WBOC and WMDT had cameras there.
The Salisbury stop was the last on a three-day announcement tour. And while he wasn't there to make the announcement in person, it should be recorded that City Councilman-elect Muir Boda made his first endorsement as an elected official:
Kathy has served diligently in (the) Maryland House of Delegates and earned her right as a leader in the House of Delegates serving as the Minority Whip. She is an extraordinary legislator and I believe her experience and her abilities will serve her well in the United States Senate.

With all of that said, I wholeheartedly endorse Delegate Kathy Szeliga for the United States Senate. Kathy stands out above all others in the field who are running for the Senate and I firmly believe she is the best choice for Maryland to represent us in the United States Senate.
So her campaign is coming together, although polling would suggest she's slightly behind another (undeclared) candidate for the nomination. With fundraising reportedly off to a strong start, though, Szeliga should be considered among the top tier of challengers for now.