For whatever reason, these days I get a lot more e-mail from the Democratic Party than I do the Republicans. (Perhaps the GOP stuff ends up in my junk mail somehow?) A lot of the time the Democrats' stuff is comedy gold, although they are getting more than enough mileage out of vilifying the already easy to vilify Donald Trump.
Now I'm going to do something I try not to do here, and that is accept their word as gospel for the sake of argument. Lord only knows what kind of Astroturf George Soros, Peter Lewis, and other big-money far-left donors can gin up for rent-a-mobs, but as I said this can suffice as their case. This is an excerpt from an e-mail I got today.
Republicans are frantically trying to dodge their constituents who want answers about what's going to happen to their health care.

Virginia Congressman Dave Brat recently complained that "since Obamacare and these issues have come up, the women are in my grill no matter where I go." Another Virginia Republican, Congresswoman Barbara Comstock, skipped out on "office hours" with her constituents after dozens showed up to ask about her Obamacare replacement plan.

When Arkansans showed up at Senator Tom Cotton's office to ask about their health care, staffers locked the door and turned them away. Sixteen constituents showed up at Congressman Peter Roskam's office in West Chicago to voice their concerns about repealing the Affordable Care Act and were told their meeting had been abruptly canceled. Congressman Mike Coffman from Colorado was caught on camera sneaking out of a constituent event through a side door to avoid his constituents' questions about health care.

After more than 200 people submitted questions for a Facebook town hall with Sen. Thom Tillis, the senator logged off 11 minutes into the 30-minute event.

The Affordable Care Act is more popular than ever. Millions of Americans are reaping the benefits of access to affordable care — and 30 million stand to lose their health care if the law is repealed.
Again, this all may be "fake news" but here's something that's not fake: those who don't want Obamacare repealed are probably the few profiting off of it at the expense of the many, which constitutes a great deal of working America. Since the RCP average has tracked the question in 2009, there has never been a majority in favor of Obamacare. To say it's "more popular than ever" is true to the extent that it's less of a dog than it has been.
And the other "fake news" is that oft-repeated claim that Americans will lose their health care if the Affordable Care Act is repealed, and that's not so. It's federal law that emergency care has to be provided regardless of ability to pay. Nor is this considering how many people have decided to take their chances with the tax penalty since it would be less expensive than health insurance.
So this is a message to Republicans who are getting cold feet about repealing Obamacare: find yourself a fire and warm them up – let's do this thing. The Democrats are so full of crap their eyes are brown: America wants Obamacare to be gone!
Yet there is the question of cost, because medical expenses are, well, expensive. I have a theory on that, though, and it relates to a similar phenomenon in another aspect of life.
Look at the cost of college tuition as an example. To some, the cachet of a degree at a prestigious university is irresistible, and they will pay whatever it takes to get it. Some people who are more academically suited to a state university still demand to go to an Ivy League school, and those schools know this. They also know that a) these students will likely go many thousands in dollars in debt, and b) they get paid up front by the federal government. Whether the student pays back his or her loans or not is immaterial to them because they got their money, and because of that these schools are padding their tuition and fees because they can. Maybe it's to increase their endowments, but oftentimes it's to provide non-educational amenities.
Let me share a story with you. I went to college from 1982-86 at Miami University in Oxford, Ohio. It was selected because it had the program I sought to major in and was in-state so my tuition was lower – although higher than most others, as it had the reputation of being the best state school in Ohio academically. (So there was a little bit of cachet factor, too.) Very nice campus, relatively solid education. I would have been happy to see my older daughter go there, but she had other plans.
My wife at the time was a non-traditional student who had gone to another school before having the older daughter in question (I'm her stepdad.) So, after we married, she enrolled at the University of Toledo, which is more of a commuter school. Yet one thing they had was a state-of-the-art recreation center, paid for by the state since UT is a state school, too. I got to enjoy the facilities on occasion since my ex was a student, and they were nice. Soon enough, all of the other state schools were getting in line to have similar facilities put up and sometime in the 1990s, well after I graduated, Miami got theirs. While it may have been beneficial for the small percentage of those who majored in physical education, the real reason these were put up was so each of these state universities would have something to attract students. More students = more tuition and fees = job security for the thousands of university employees. And as I said: they got their money up front, never mind the students were saddled with debt for a decade or more. (As I recall, I didn't finally pay my student loans off until 2001 or so.)
Now look at the medical field. Obamacare placed it in a similar position to that of state universities because it was flush with federal cash – as originally envisioned, people would either have their medical care paid for directly by the federal government (Medicaid) or they would give insurance companies a captive audience with relatively few choices via the exchanges. Insurance companies, in turn, were supposed to have "risk corridors" and other accounting tricks and bailouts to make them whole – the only people who would be left holding the bag would be the ones who actually paid for the insurance, and many of them on the individual market received subsidies from Uncle Sam, too as well. No wonder it cost a trillion dollars a year.
The weakness of the Obamacare system is that there's no real incentive to cut costs. Yet there are two groups of beneficiaries who stand to lose the most if the ACA is repealed: those who are getting the subsidies or "free" insurance from the government and those providers who have been able to just keep raising prices because there's a massive pot of money they want to get their paws into. Therein lies the rub: Obamacare is now in a place where it cannot be just cut cold turkey – there has to be a year or two transition period, and of course that gets into election time.
It's worth reminding readers that Obamacare has its roots in what some dubbed Romneycare: the insurance mandate Massachusetts put into place several years before. To be quite honest, that is where the solution lies. Perhaps it would be appropriate to block-grant funding to states for a interim period of up to three years and allow them to tailor their own programs and set up funding mechanisms. States can choose to have all the bells and whistles or they can choose to invest their resources elsewhere, and that's the way it should be. I think this would take care of most (but not all) of those who are getting the largest benefits. The others can vote with their feet if they so choose: government is not supposed to be all things to all people.
On the cost side, I think any and all federal insurance coverage mandates should be scrapped, allowing states to set their own systems and priorities. Now it can be argued that having 50 different systems would be difficult for a health insurance provider to navigate, but auto insurers already do this. There are advocacy groups out there that suggest how states can streamline the process by being similar to other states, so I suspect most states will have health insurance requirements that are fairly similar. Maryland may have the extreme in required coverage on one end while Texas may be the flip side. Because of this, I'm not sure selling insurance across state lines is necessarily doable in the respect that I can't buy a Texas policy living in Maryland. But states should be encouraged to allow insurance products that reflect everything from the catastrophic coverage health insurance was originally to the Cadillac plans that pay for everything, even your hangnail or gender reassignment surgery.
So, the replacement for Obamacare is a more free market and freedom of choice to participate. Sorry, Democrats, but Obamacare has to go to help make America a healthy nation again. If Andy Harris has a townhall, hopefully he will stand his ground and make the case for repeal.
This week is the week many of us get our bad news. Yes, health insurance premiums are going up again.
While I haven't been at my new job long enough to really compare rates and coverage, we were informed ours was increasing by an unspecified percentage – I think it's in the 5 to 10 percent range if my memory of the old rates serves. Meanwhile, my fiance's employer is seeing increases of between 10 and 13 percent, depending on plan.
Knowing that, I pulled out a calculator and did some quick number-crunching. Based on a 10 percent increase and her rates for a family plan, I deduced the annual deduction would increase by over $1,100.
Now stop and think for a minute. In these days of tight belts but comparatively low inflation otherwise, the average wage-earner gets an increase of 3% this year. Let's say you are a median wage-earner in this region, which is just under $40,000 – I'll make it 40 large for easy figuring. If you figure that 3 percent raise is $1,200, it means almost all of that raise was swallowed by your insurance increase. So much for that vaunted $2,500 annual premium decrease.
And so much for your family vacation, putting aside money for college, and those nice little extras. Add in the increasing deductibles and co-pays and it seems like you got no raise at all – in fact, you may wonder how you will make it through a month when everything seems to be increasing by 3% a month. (Granted, we are catching a break with gas prices edging back down – a $1 decrease per gallon is like a tax-free $400 to $600 annual raise.)
Now I don't blame the insurance companies because they have to keep themselves in business at a time when there are more and more mandates placed on them. (For example, I'm sure a few pennies of that increase go to covering in-vitro fertilization for same-sex couples, which this month became yet another mandate under state law.)
So if you're wondering why you can't seem to get ahead, this little bit of basic math may be an explanation.
By Cathy Keim and Michael Swartz
The twin byline is present because Cathy came to me with her thoughts on these bills, writing up a post quoting Delegate Parrott at some length along with some of her thoughts. I liked the direction of the piece, but thought I could add more and she was amenable to the changes. So here you go.
Recently Delegate Neil Parrott sent out a newsletter that had some information about two "shockingly bad bills" that are about to pass in the General Assembly. We had both heard from Robert Broadus with Protect Marriage Maryland about the first bill, but Delegate Parrott alerted us both to the second bill. Both have more or less passed under the radar in a session which has focused more on the budget, gubernatorial appointments, and environmental regulations.
In his message to constituents and other interested observers, Delegate Parrott stated:
Two shockingly-bad bills…are on their way to passing.

(snip)

HB 838/SB 416 is going to cause your health insurance rates to go up, when Maryland already has some of the highest health insurance premiums in the nation. This bill forces Maryland insurance companies to cover the cost of expensive In-Vitro Fertilization (IVF) treatments ($12,500 each time) for same-sex married couples.

Our high insurance costs in Maryland are primarily due to the great number of insurance mandate laws already in effect, and this new bill will simply make the problem worse. Governor Hogan and I both support leading Maryland towards more fiscally-responsible laws and policies, and the voters overwhelmingly agreed in the last election. However, the majority of Delegates and Senators still voted to create more complex and unnecessary insurance mandates in our flawed health system.

(snip)

Under current Maryland law, a husband and wife must donate their own sperm and egg to be eligible to receive insurance benefits for IVF treatments. If the couple requires a donation of an egg or sperm, IVF treatments would not be covered under current Maryland law. Under this new law, a same-sex couple would obviously need to get a sperm donor to have a child. This is a very unequal situation.

Same-sex couples have been allowed to adopt or have children, but many studies have been done that confirm that children born into a family with a mother and a father do the best in all measures – economic, social, educational, and emotional. Not only does this law create an unequal and less-stringent requirement for same-sex couples, but our insurance premiums will also be paying to have a child brought into the world to a situation where they will most likely be statistically worse off than other children. By passing this law, we are intentionally putting a child into a "family" where a father will knowingly be absent.

This sort of social engineering and fiscally-irresponsible law-making, solely for the pleasure of adults without any regard for the children that will grow up in these situations, is reprehensible. What homosexuals cannot do naturally, the General Assembly has now mandated must be provided by all insurance plans, creating a false sense of equality, with little to no regard for the children who will be negatively affected.

This leads to the concern of what could come next if this bill is passed. Will the General Assembly pass a mandate requiring insurance companies to cover the costs of hiring a surrogate to carry the child for male, same-sex marriages? (Emphasis in original.)
As Cathy wrote Sunday, our culture is under attack to redefine and destroy every institution that has sustained us as a nation since our founding. Marriage and our families are worth defending. The progressives only exist to tear down. We are the ones that believe in ideals that are true and good and have stood the test of time. When this country is a faint memory, the family will still exist. They may destroy our culture, but they cannot destroy truth. The family is the basic building block of society. Despite the malice and ridicule heaped upon the traditional family with a father, mother and children living and growing together in love, the family will still survive.
Delegate Parrott has made the case, as Cathy has before, that children do best when raised in a home with a married mother and father. Why should the state pay to circumvent this?
Senator Jim Mathias and Delegate Sheree Sample-Hughes both voted for this bill. When somebody says the Eastern Shore is conservative, just remember to check how Senator Mathias and Delegate Sample-Hughes vote.
The second bill that Delegate Parrott wrote about was HB862/SB743, which as Delegate Parrott notes:
…allows people to rewrite history. It would allow someone who gets a note from their doctor saying they are transitioning from male to female or from female to male to literally change the gender on their birth certificate. The new birth certificate would not even indicate that it has been "Amended," as is the case when an individual decides to legally change their name. The change would not require that the individual has had a sex-change operation, but just relies on hormone therapy and how the person feels at the time. The change caused many of the legislators who work in law enforcement to question how they could even solve crimes given these false records. For example, suppose they are looking for the DNA of a male, but all they have is a female suspect.

Changing factual birth records without leaving a record of the change could have significant and harmful consequences for our society and is simply irresponsible policy.
Senator Mathias also voted for this bill as did Delegates Carl Anderton, Jr. and Sample-Hughes. Needless to say, we're both disappointed with Delegate Anderton's vote as he represents us in Annapolis. We would have expected this out of his predecessor, but Carl was supposed to be different.
At this point in time these bills are on their final step to passage, and it seems like the skids are being greased as the House versions of the Senate bills are passing without any amendments – this is important because no conference would be necessary.
Yet besides the many objections Delegate Parrott raised, both bills also raise a number of ethical questions about child rearing. Regardless of who has to pay for in vitro fertilization, there's also the ongoing concern about the rights of the third party which needs to be involved with any same-sex attempt at creating progeny – either the surrogate mother for a gay couple or the sperm donor for the lesbian pair.
And much like the Hobby Lobby situation with abortifacient drugs, there's a legitimate question of whether a religiously conscientious business should be forced to cover this procedure since it involves two partners of the same gender. It's a situation which becomes quite complicated and I feel this is needlessly so.
As for the birth certificate bill, it would be more palatable if there was a notation of amendment. A law such as this may open the door to parents who are trying to raise a child as if it were the opposite gender (such as this recent case) to amend his or her birth certificate as a minor.
We believe that gender is not a mistake, nor was it an error that a person of each gender was required to create a new life. Even with in vitro fertilization, there's no escaping the need for a male to do his part and a female to be the willing host for the embryo.
While there is an element of humanity in the selection of gender, I think I speak for Cathy when I say we believe that it was our Creator who made the ultimate decision as to whether we were male or female. Taking hormones, undergoing genital mutilation surgery, and identifying as someone of the opposite gender doesn't change the fact one was born with the chromosomes and genitalia of a particular gender in all but a few extremely rare cases. It's what the birth certificate should reflect.
However, it's likely these bills will pass the General Assembly, so we call on Governor Hogan to use his veto pen on these ill-considered measures. And it's all but certain these votes will be among those I use for the monoblogue Accountability Project later this spring.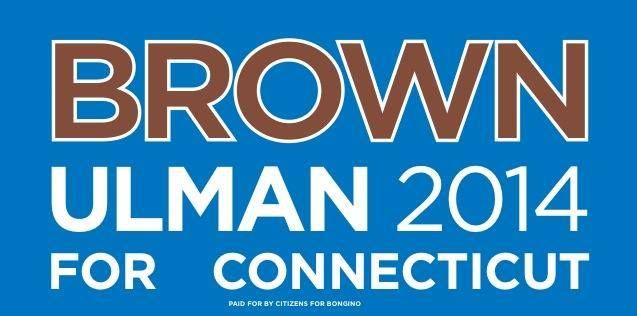 It's unfortunate the press conference wasn't a couple weeks earlier, because the announcement had all the makings of a great April Fool's joke. Unfortunately, the joke has been on Maryland taxpayers so earlier today Congressional candidate Dan Bongino and gubernatorial candidates David Craig and Ron George made their endorsement of Anthony Brown for governor of the Nutmeg State, Connecticut.
Having it on April Fool's Day may have helped with media coverage, though. The main rags of the Baltimore Sun and Washington Post didn't give the rally any coverage aside (at least not yet) with the only mention a three-day old piece in the Sun.
Be that as it may, I get the point that the tongues were firmly in cheek this morning. Then again, people like me only represent maybe one percent of the electorate and aside from perhaps a slight thought about the monetary aspect of the money blown on the initial iteration of the Maryland Health Connection website, those who have maintained their health insurance throughout may just shrug their shoulders. We're all used to government boondoggles. The joke may be lost on them.
In an effort to make news out of this, Ron George put out a release noting "Ron George joins Dan Bongino to Endorse Brown/Ulman for Connecticut." The first paragraph packs most of the punch:
When Obamacare was rammed through a partisan Democratic Congress, no one was happier than Maryland Lieutenant Governor Anthony Brown. He leapt at the opportunity to get out from behind his boss' shadow and prove why he was the most capable candidate for the next Governor of Maryland. Two years and $260 million taxpayer dollars later, Anthony Brown is dodging any and all responsibility for the failed Maryland Health Exchange and is part of an administration that is actively covering up this massive scandal. Anthony Brown's solution to the mess he created is simply to spend hundreds of millions more in taxpayer dollars to adopt the "Connecticut" model of government-run health insurance.
Naturally, Ron didn't mention David Craig, who was also there – as shown on his Facebook page.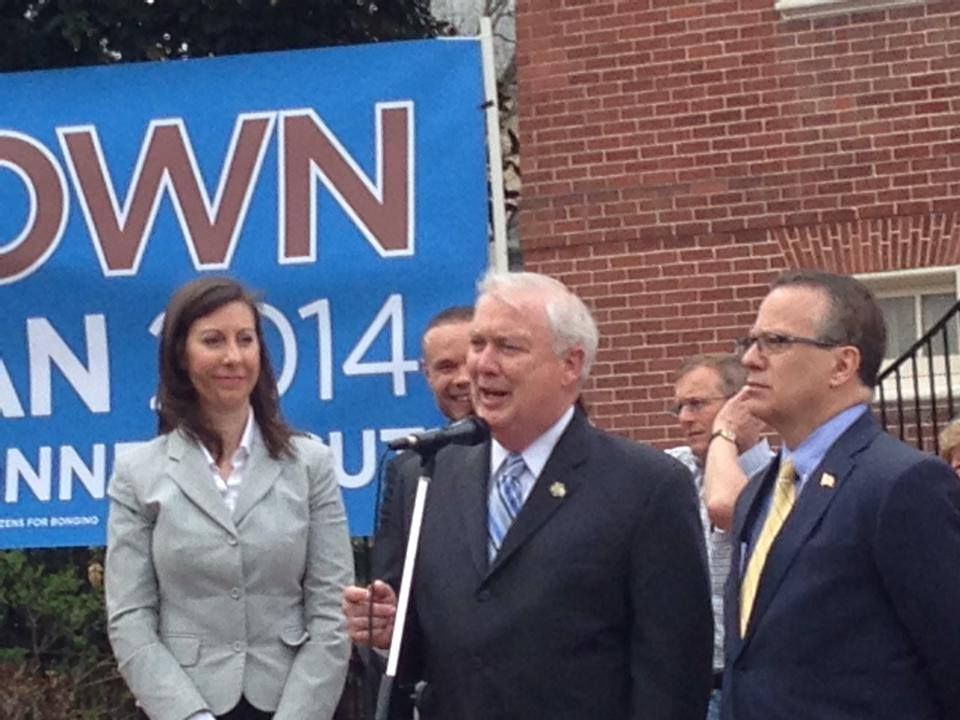 Honestly, I'm not sure this is more than a blip on the radar. But as time goes on, the question which really should be asked is whether the Connecticut system, which was designed for a state roughly half Maryland's size, will fit out of the box. More importantly, where will the extra millions needed to make this work come from? We're already a long way in the hole just to buy the original pig in the poke, so what will give? Will it be insurance rates, reimbursements to providers, or the old standby of sticking it to future generations by raiding other funds and bonding to backfill the hole?
It's almost too bad Doug Gansler didn't stop by to make it a bipartisan backing of Brown for governor of Connecticut. Instead, he's choosing to spend a little money on a simple website which asks the question "did Anthony Brown come clean today?' (It's also handy for gathering contact information via the attached "petition.")
If we really wanted to improve the prospects for those who rely on health insurance coverage in Maryland, how about talking about measures which could open the market up more? After all, Barack Obama allowed some to keep their "substandard" plan that they liked, so what are the standards now? Make everything available, from bare-bones catastrophic coverage on the one side to something that pays for two hangnails a month among the other elements of a "Cadillac plan" on the other, and the market will find its level. I'll bet it doesn't waste millions of our tax dollars, either.
Update: Added David Craig:
Today's announcement was an opportunity to highlight the failed policies of the last seven years and Anthony Brown's inability to successfully lead Maryland's healthcare exchange.

Jeannie and I believe the best solution to this disaster is for Anthony Brown to resign like Kathleen Sebelius, the former HHS Secretary.
I can't really say I predicted this, since I more or less just added a quick dose of my opinion to a post the other night by stating the obvious: "rates will either have to increase, or insurers will cede the field. Neither is a good choice, but that's where we are going."
But reports yesterday stated that Aetna, a leading Maryland health insurer, is indeed pulling out as it was denied the rate increase needed to stay profitable in Maryland given the uncertainty of the state's insurance situation. While those who hold policies through Aetna may be able to continue on, a significant portion will have to shop in the newly-created state exchange at a time when rates are much more expensive – up to 83 percent, according to a release put out by gubernatorial hopeful David Craig:
Craig announced today that Marylanders can expect a dramatic increase in health care insurance premiums under Obamacare, calling it a "massive new tax." Maryland's least expensive Obamacare plan will be 83% higher than the lowest-cost plan sold in the state this year. The analysis comes from a Government Accountability Office report that compares rates this year to what the Maryland Insurance Administration announced they will be under the new state exchange scheduled to launch October 1.

The state's insurance agency locked down rates with private carriers last month and the new exchange for individuals is marketed as the "Maryland Health Connection."

"What we have here is Maryland's health disconnection," said Craig. "This entire contraption will fall apart unless untold thousands of healthy people inexplicably decide to go online and buy expensive insurance instead of making a car payment. Private insurance carriers are not participating and not enough healthy, working people will either, and this is not going to work."
Craig also commented on the Aetna situation.
It is deeply troubling that Maryland has yet again soured relations with major employers and job creators. Another company acquires one of Maryland's last remaining Fortune 500 companies and takes their business elsewhere because regulators tell them what to charge. This irony is lost only on the one-party political machine in Annapolis.
Fellow gubernatorial candidate Ron George also weighed in:
This insurance exchange is already resulting in expensive rate increases for cash-strapped Maryland families. Maryland currently has one of the lowest discretionary income rates in the country, and this exchange will take more money away from your family vacation, school funds and holidays.
Noting that the exchange, which is supposed to increase competition, is comprised of just seven companies owned by only four separate entities, George went on:
This is a classic example of the Democratic machine in Annapolis picking winners and losers based on political relationships instead of free market realities. Additionally, the higher costs to businesses will lead to less job creation. Also, many physicians are now considering earlier retirement.
Perhaps the biggest problem with the exchanges is the broad coverage they have to provide. Marc Kilmer of the Maryland Public Policy Institute illustrates this well in a recent Baltimore Sun op-ed, pointing out that:
To be fair, the lowest-cost plans for sale today are not the same as the lowest-cost plans that will be sold in the exchange. The exchange plans will be much more comprehensive. Many of the cheapest health insurance plans available for sale in the individual market today have high deductibles and may not cover as many situations as do the other plans. But that's not a bad thing — it gives Marylanders choices in prices and in how much risk they're willing to carry themselves or put on the insurer. For most Marylanders, the cheaper plans are excellent choices, but for some Marylanders they're not.

Currently, you can also buy both the cheap plans and the comprehensive plans in the individual market. But you won't have the choice to buy high-deductible, low-cost plans in the exchange. You have to buy a plan that is designed by bureaucrats and politicians in Washington and Annapolis.
These plans basically come as a one-size-fits-all, take it or leave it proposition with a limited variety of choices – remember, there are only seven approved players in the game, and just four if you consider just the separate entities. Vanilla, chocolate, strawberry, and butter pecan might be great for most, but if you prefer cookie dough like I do you're out of luck.
And what happens when the exchanges only have six insurers? Or three? Unless new entries can figure out a way to make a profit, they're not going to get into the game. Perhaps they can build wind turbines on the side to gain the state's favor?
The point is our system was flawed, but the solution is equally (if not more) flawed because of the heavy hand of government. Why not come up with some true free-market solutions – for one, allowing insurance to be sold across state lines so we can buy a policy out of a state with fewer mandates – and let the market dictate its direction? Not in Martin O'Malley's and Anthony Brown's Maryland.