As has often been the case, I am splitting this into two parts. One will come out today and one tomorrow, since the news is of the sort that it will keep. Always leave them wanting more.
Anyway, my traveling companion Dave Parker and I arrived in Bethesda in the pouring rain, and after checking in I retreated to my room with a view…well, sort of I guess.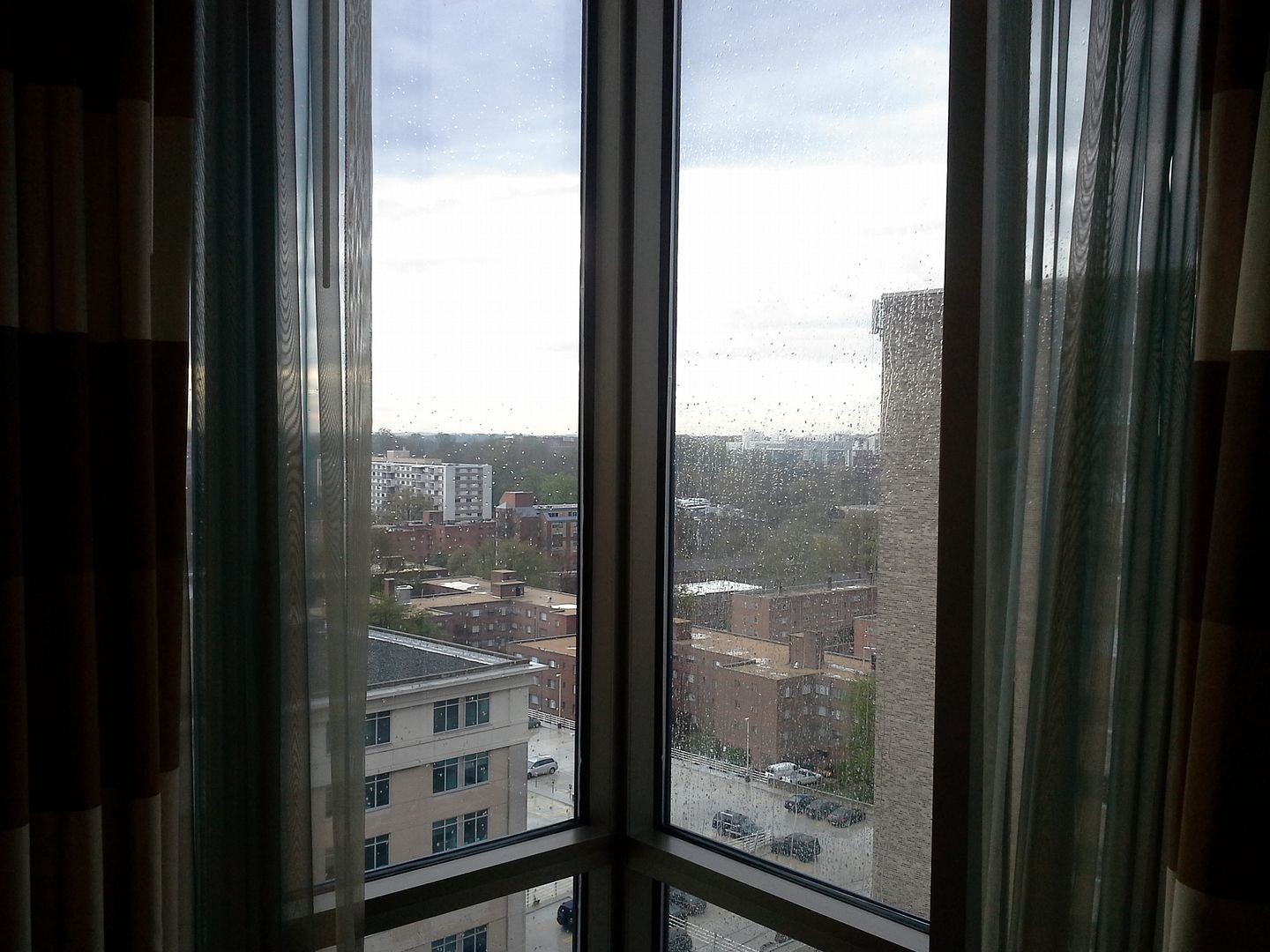 It was almost a three-hour trip, so when I got myself unpacked it was just about time to get registered for the convention and go to the Executive Committee meeting.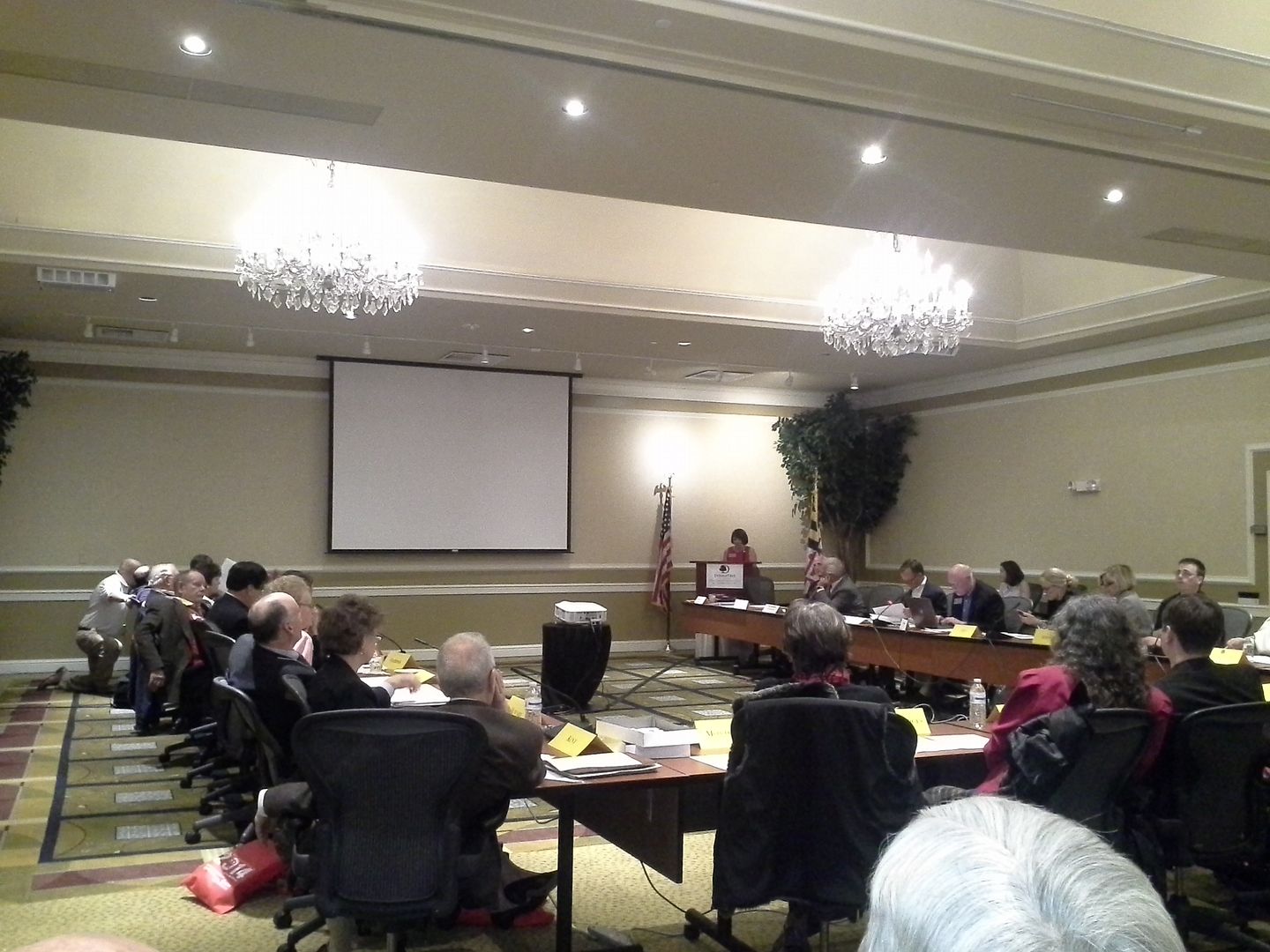 After MDGOP Chair Diana Waterman informed us she was "excited" about filling out the statewide ballot, she began on the subjects she would stress over and over during the event: turnout and unity. We would have had a Republican governor over the last four years if we had turned out our base, said Diana.
We also learned who would be the speaker at the annual Red, White, and Blue Dinner June 19 at Turf Valley. I Tweeted the news:
RWB dinner for #MDReps June 19 – Rep. Trey Gowdy featured speaker.

— Michael Swartz (@monoblogueUS) April 25, 2014
Diana then introduced party executive director Joe Cluster, who remarked "this state is tired of Martin O'Malley and Barack Obama," based on their approval numbers sagging below 50 percent. He also predicted that, "incumbent Republicans will do very well in this election." It was the "chance of a lifetime to really put a dent in the Democrats," Cluster added. While the Treasurer's Report was its usual depressing self, we were doing slightly better than expected on fundraising. It's no secret the party is still carrying some debt, though. Waterman added that members could help by participating in the Old Line Club, where people could pledge as little as $8.25 a month to assist the party.
Diana also announced that there would be no open primary committee business on this convention agenda – we would address it after the 2014 election. She also announced the state Board of Elections denied a bid for online absentee ballots and same-day registration.
Cluster returned to the microphone later to talk about Andy Harris being "very supportive of the party" and began to speak about him not having a credible opponent. But Waterman cautioned that she would have a "very frank discussion" if Central Committees acted in a manner backing one contender over others. "We do not take favorites" in the primary, Diana warned. It was fine for individual members to do so, depending on local bylaws, but this cannot be done as a committee unless there's only one contender. "I'd much rather have one candidate in every race," she added, but conceded this wasn't always possible.
We also discussed the proposed bylaw amendment for regional chairs and conventions. It was not recommended for approval by the Bylaws Committee, who held a conference call on it, but sponsor Kevin Waterman planned to bring it up from the floor. And while Diana Waterman believed it was "vitally important" to have regional chairs, the Bylaws Committee considered it a "distraction." One county chair remarked, "if there was a call for (regional conventions), we would already do it." Most of us already knew it was Diana's birthday, but a surprise awaited as I Tweeted:
We get a cake for Executive Committee – it's @DianaWaterman's birthday.

— Michael Swartz (@monoblogueUS) April 25, 2014
That pretty much marked the end of the open part of the meeting, as a brief closed session was held – it took place while I wandered one floor down to check this out.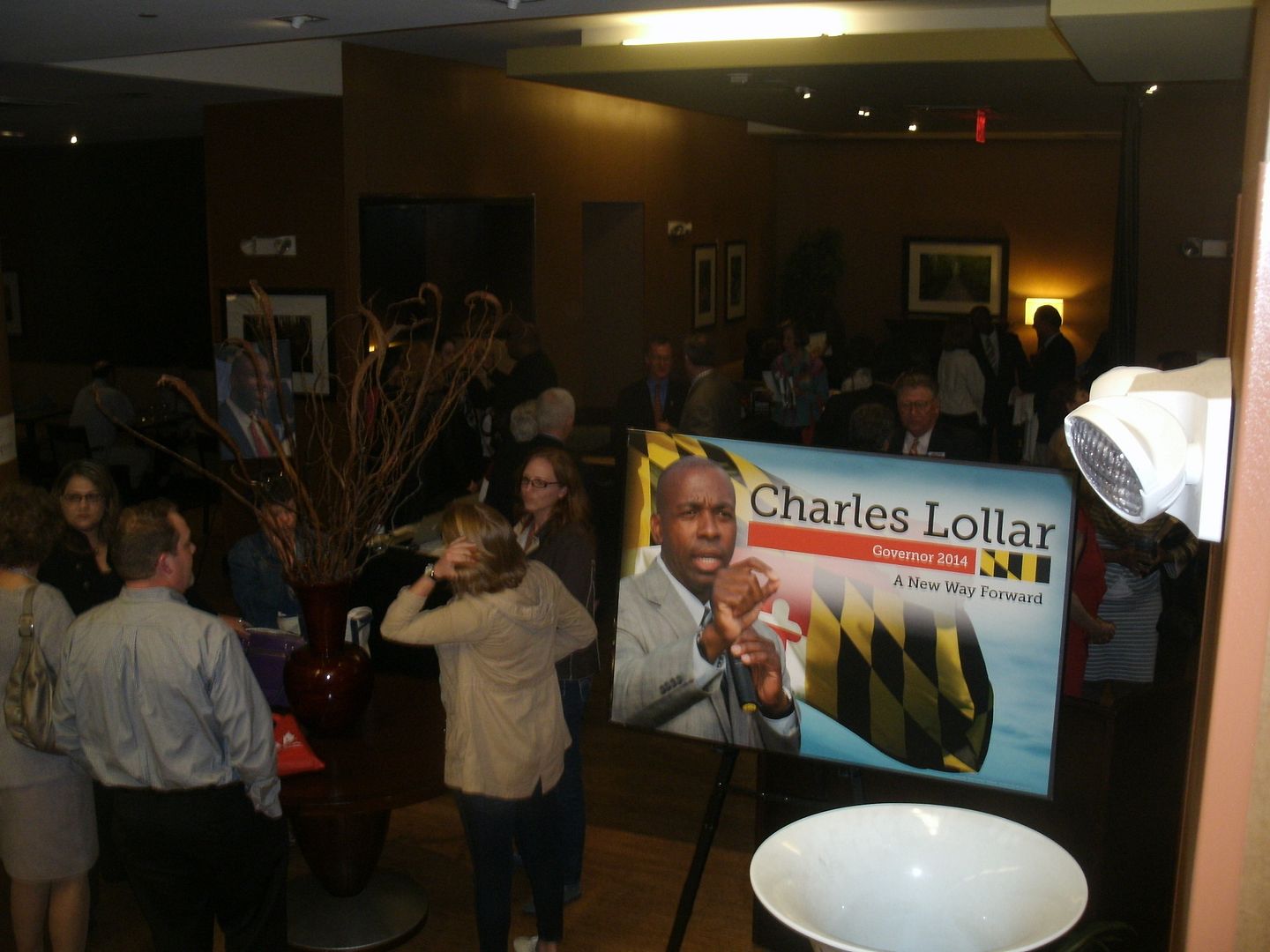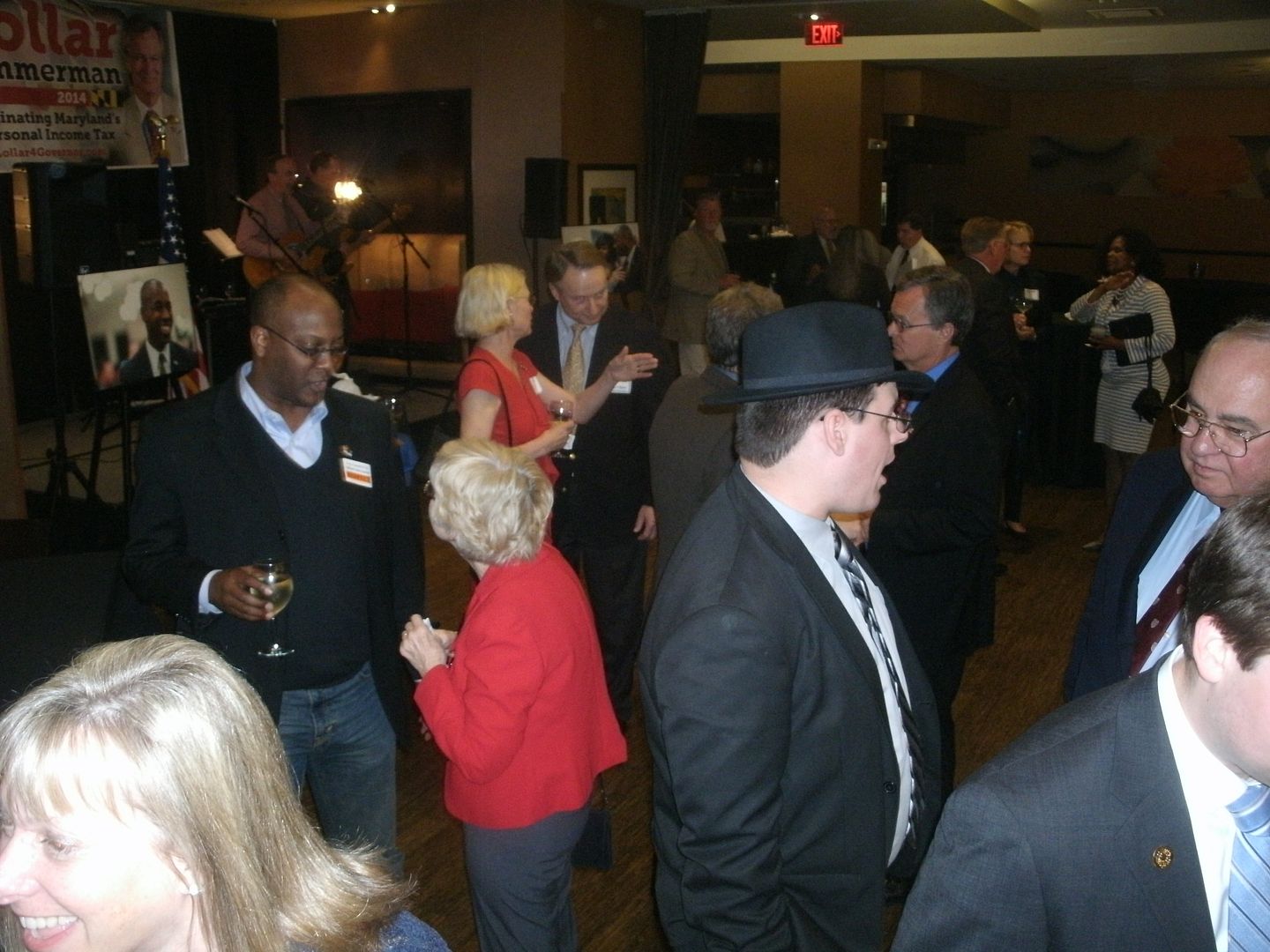 They even had a two-piece band for entertainment, mostly classic rock from what I could hear.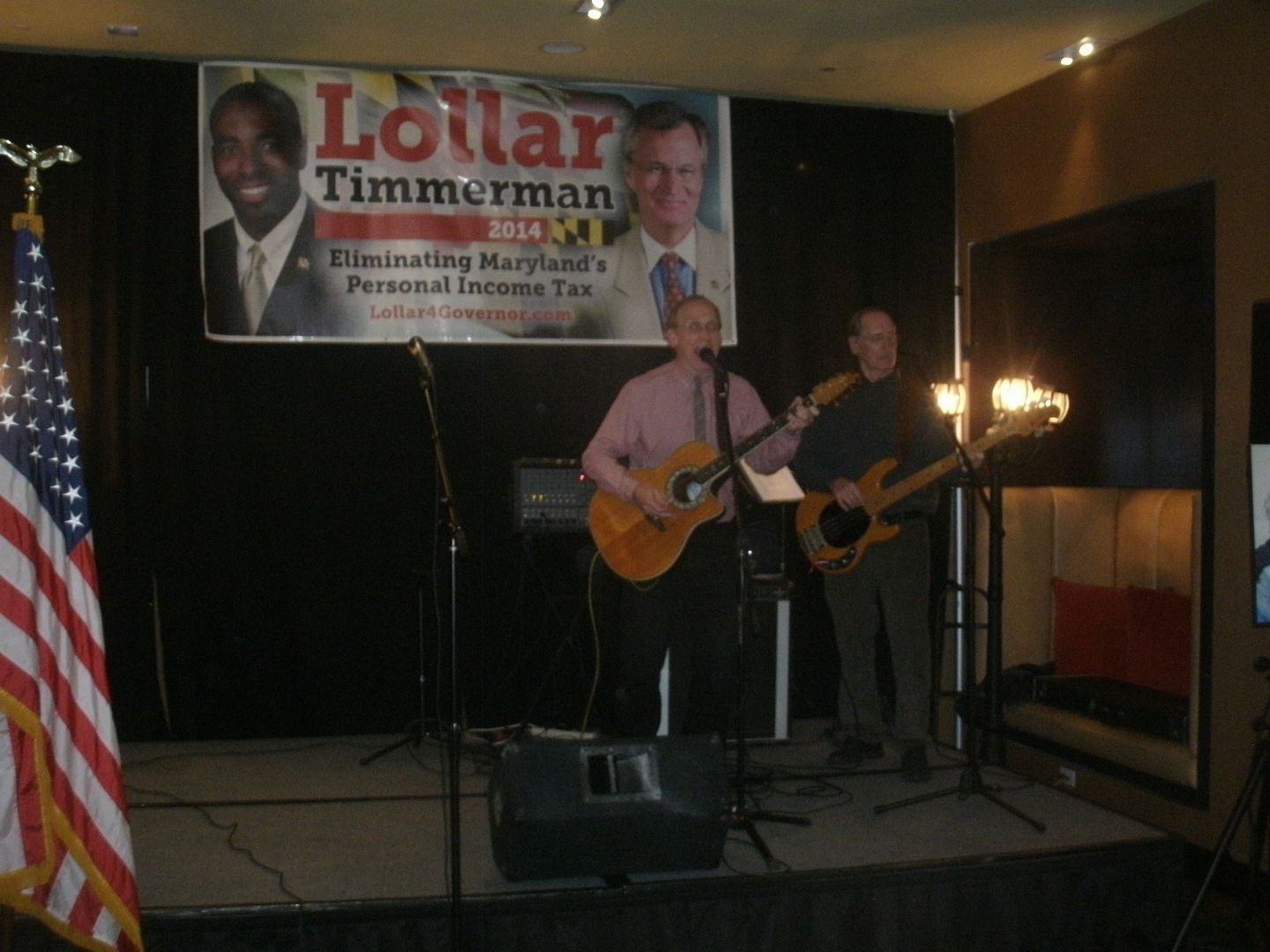 I actually meant to take this photo of Charles Lollar hanging in the back meeting with campaign staffers, but it evolved into a conversation about engaging voters on the other side of the aisle after I noted he looked a little tired. You be the judge.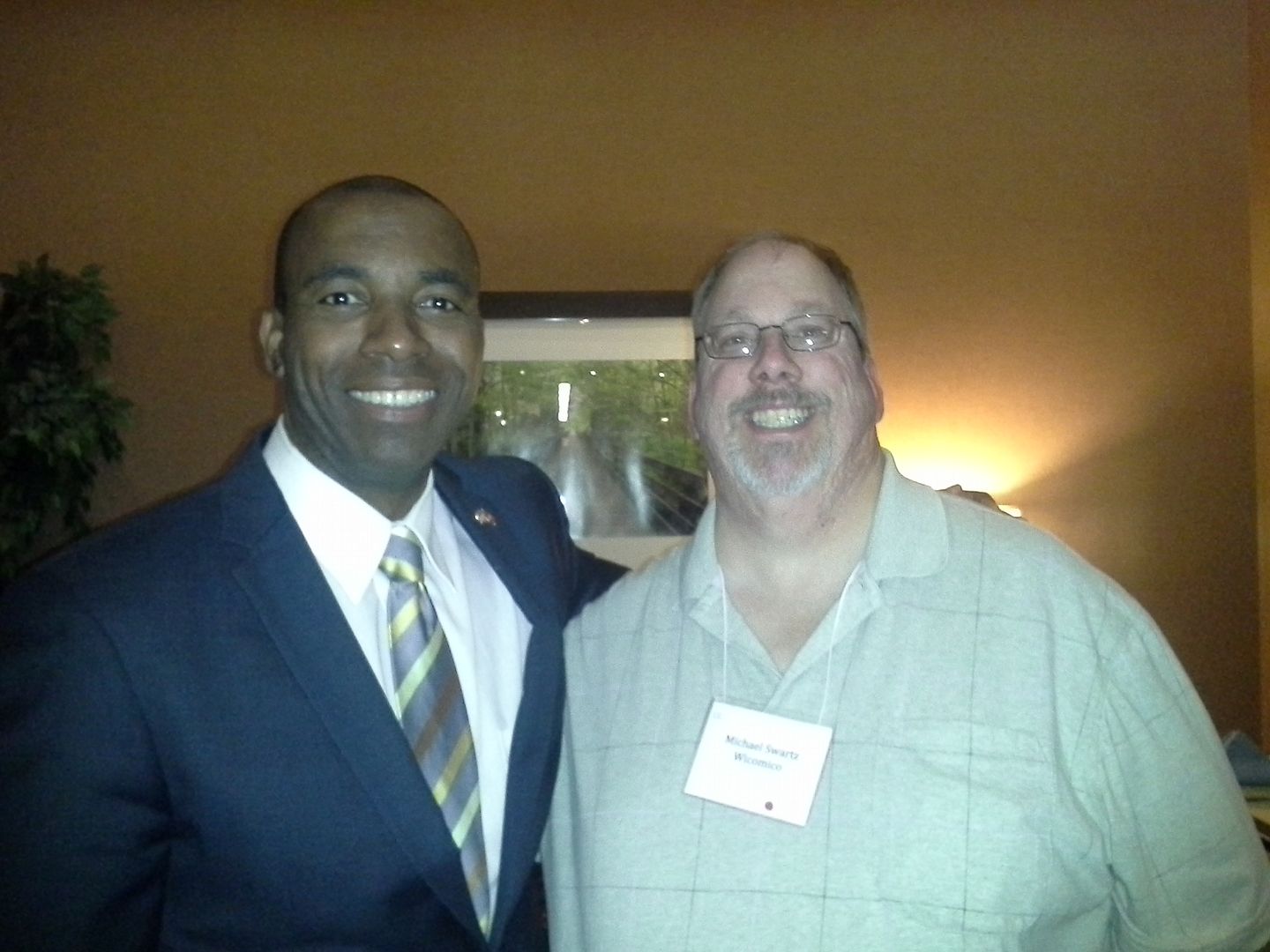 Charles told me he considered the event a success, and it was a lively affair while it lasted.
But before I went upstairs to see what else was up, I ran into another statewide candidate.
Not literally, of course – since Shelley Aloi is a karate expert that may be a sure way to get hurt. I just figured it was one way to document who was there among statewide candidates. (If you look closely at the second Lollar photo you'll see his running mate Ken Timmerman and Comptroller candidate Bill Campbell also enjoying themselves, so they are covered.)
There were a number of interesting vendors in the lobby.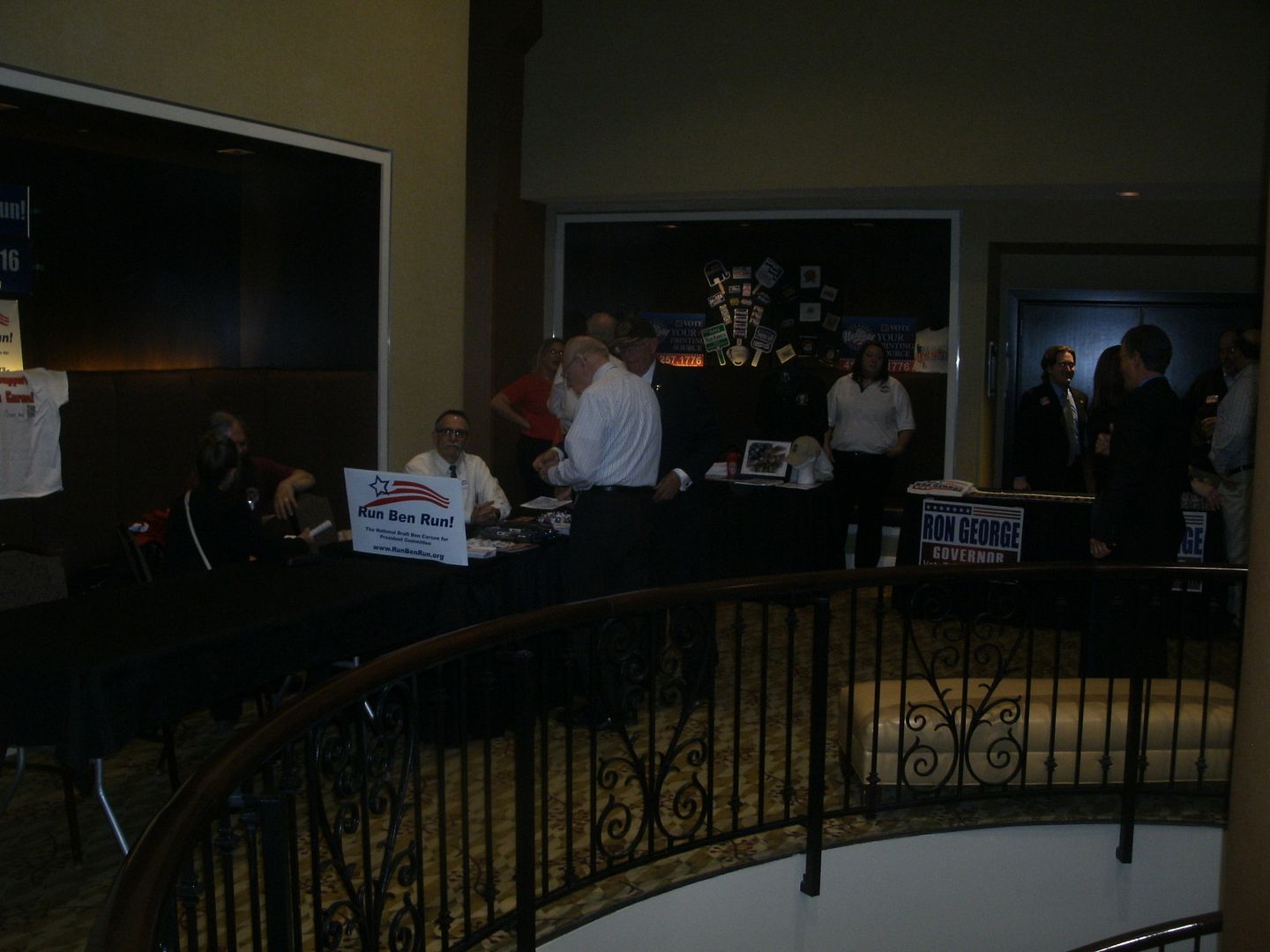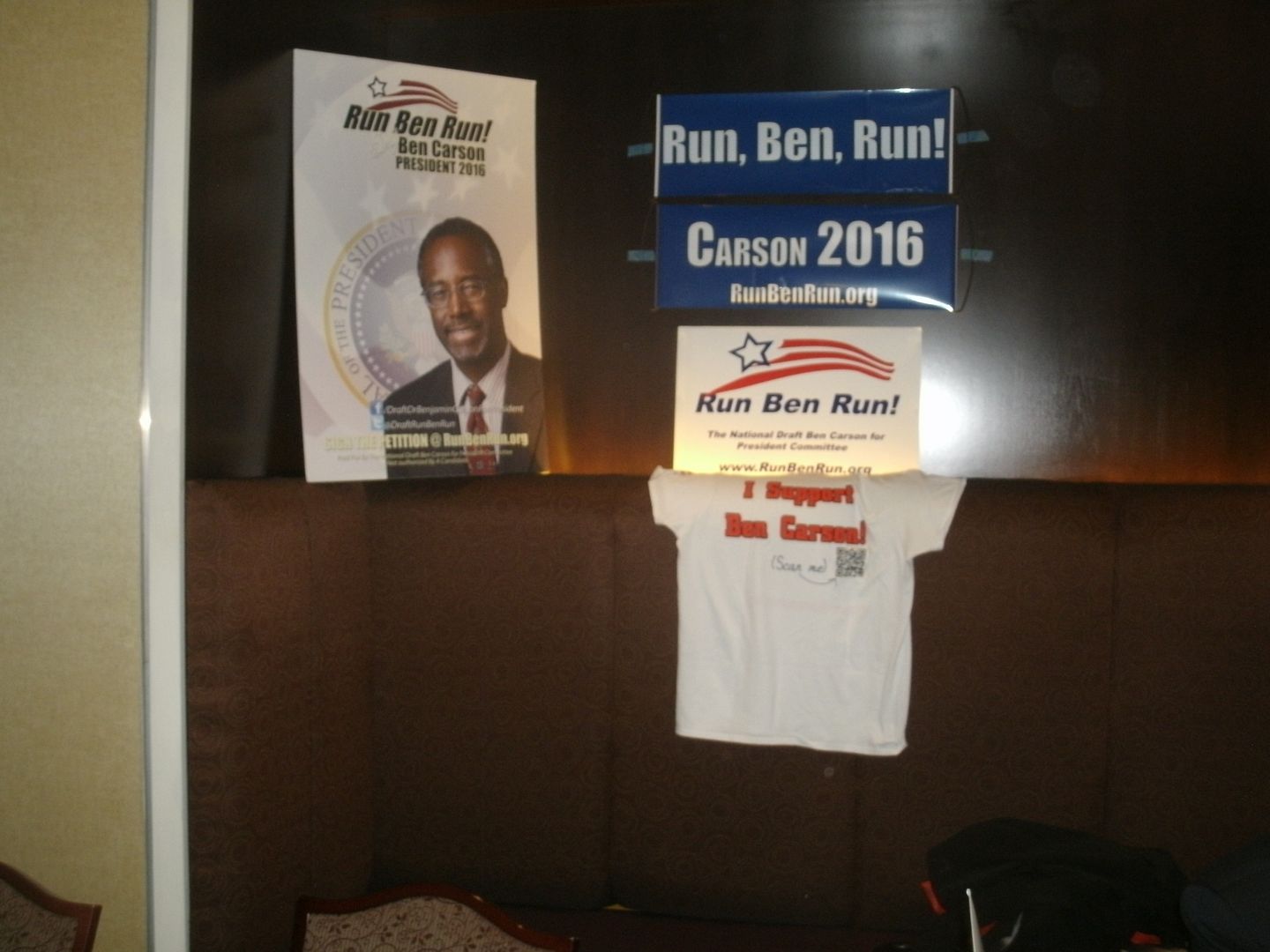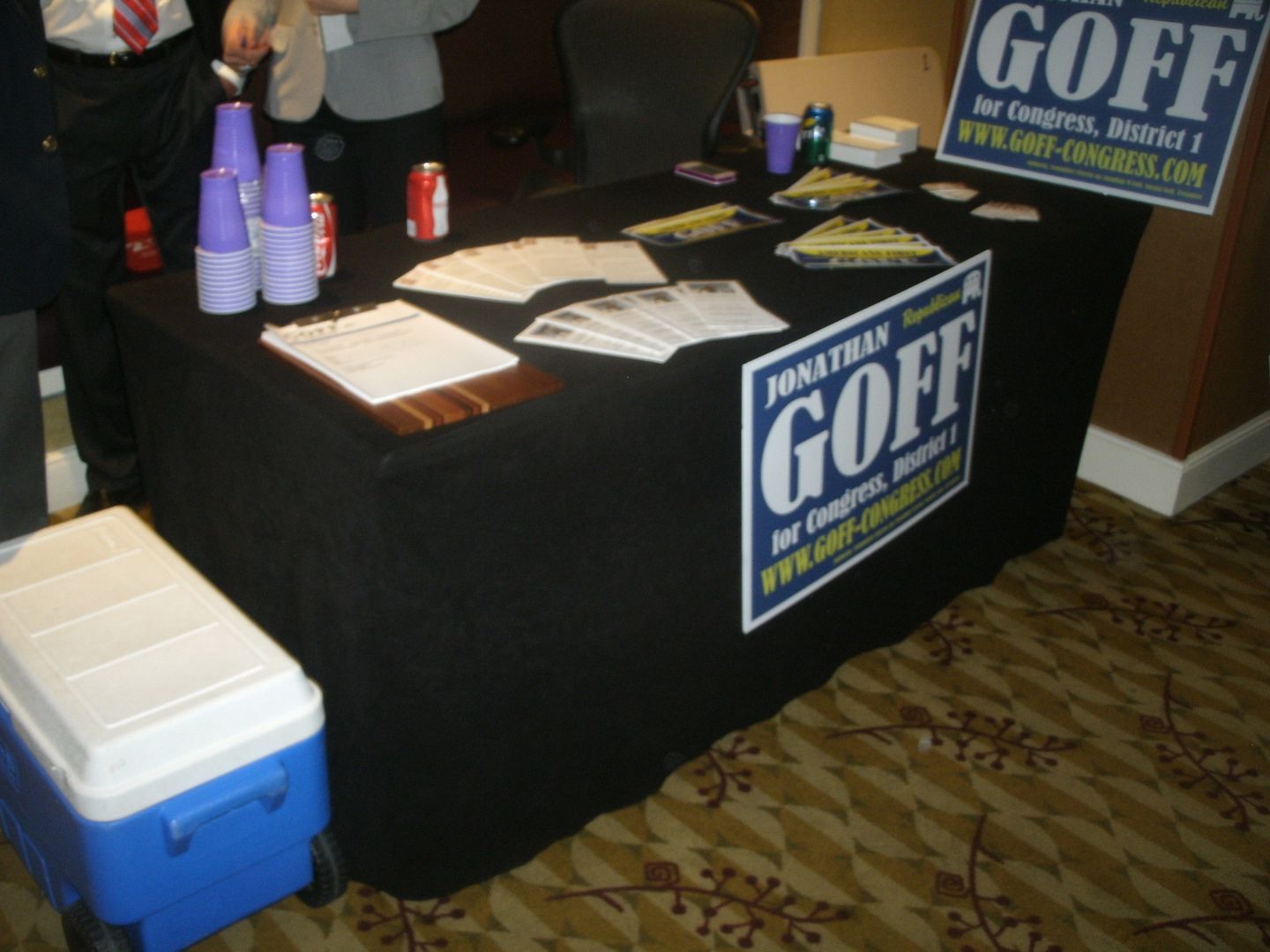 As you might be able to see, there were the usual campaign-related sellers there, but there was also a table of supporters for a draft Dr. Ben Carson for president movement as well as a table for First District Congressional candidate Jonathan Goff, who is running against the aforementioned Andy Harris for the nomination.
I also realized that the Maryland Liberty Caucus was holding their own party down the hall, although it appeared to be winding down as I arrived.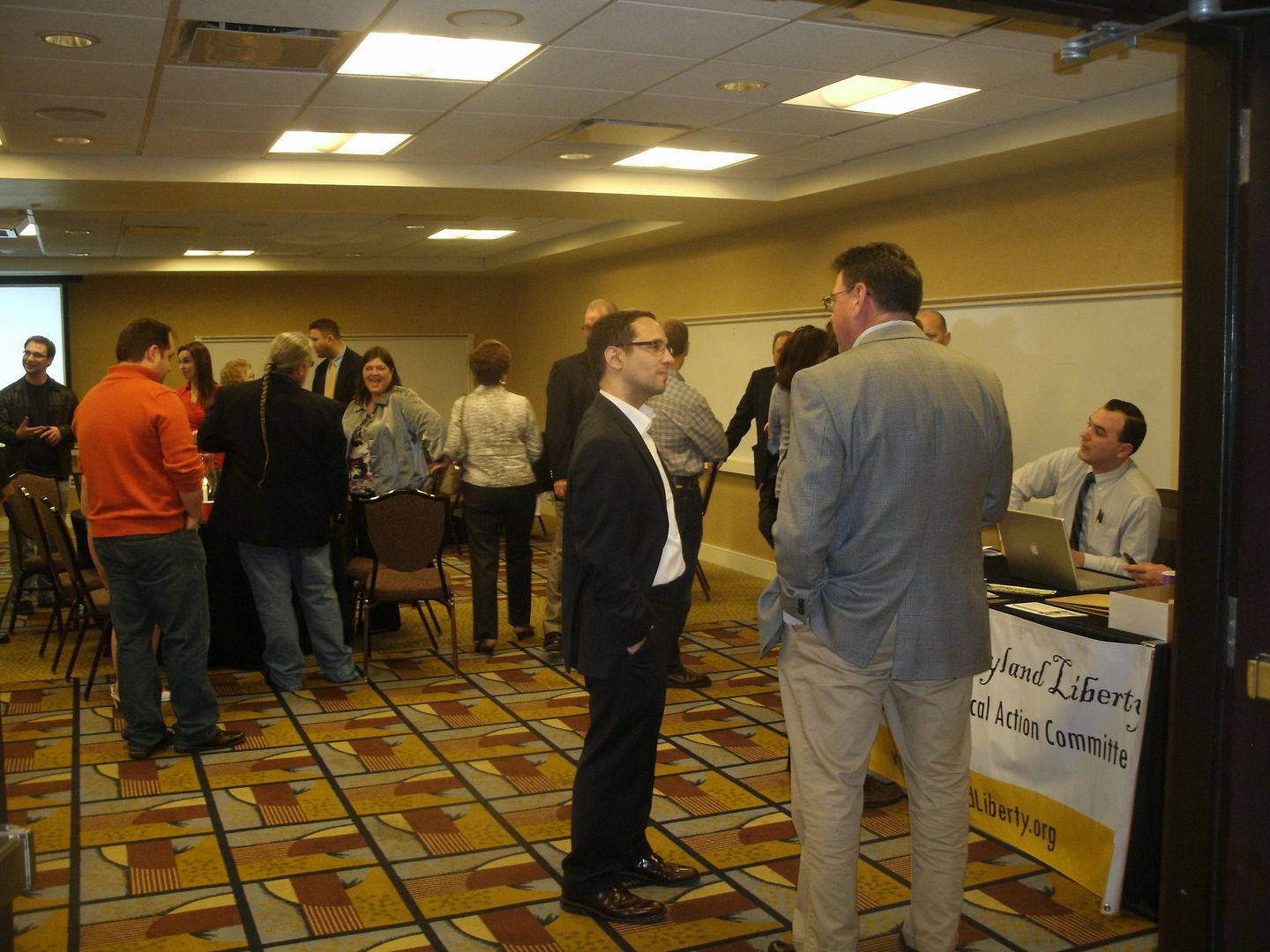 Yet there still seems to be a strong pro-liberty streak in our party.
So I finally went upstairs and decided to work my way up, which led me to find this in the elevator.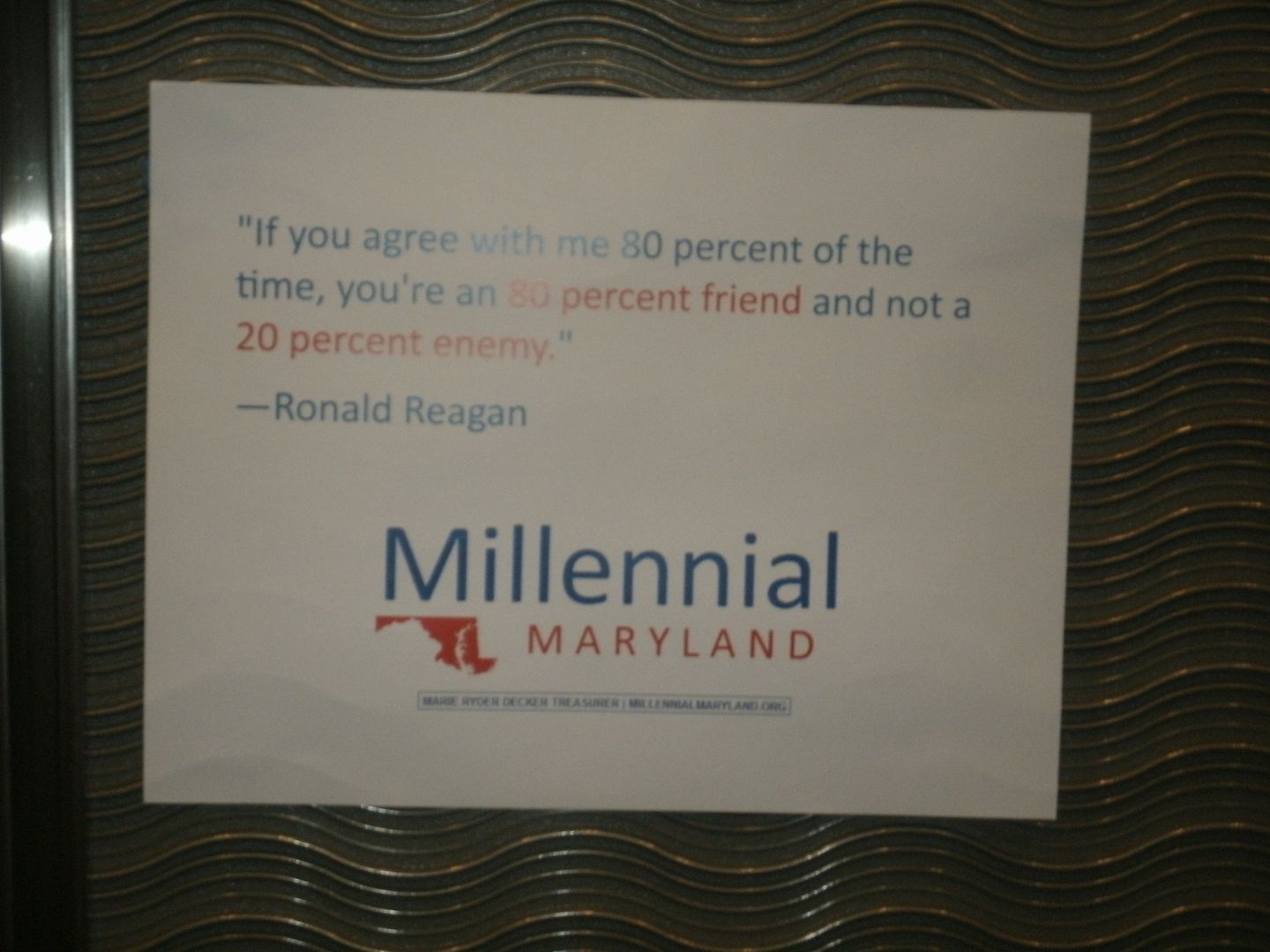 On Saturday, we all found a handout at our chairs detailing what Millennial Maryland really stood for:
We represent all Republicans, the old-white-straight-Christian males, and, well, all the others. We're here to show that Republicans are listening to gays, to immigrants, to black and Latino Americans, to those concerned about the environment, education, and the poor. We represent the GOP in all its diversity, and while we may be more moderate at times than some, we would never advocate excluding someone for disagreeing with us. We're here to make the tent bigger, more diverse, and more electable.
Judge for yourself whether that would be the case. Onetime MDGOP Chair candidate Mike Esteve is the head of this group.
My first stop after getting off the elevator was the MoCo suite. Very crowded.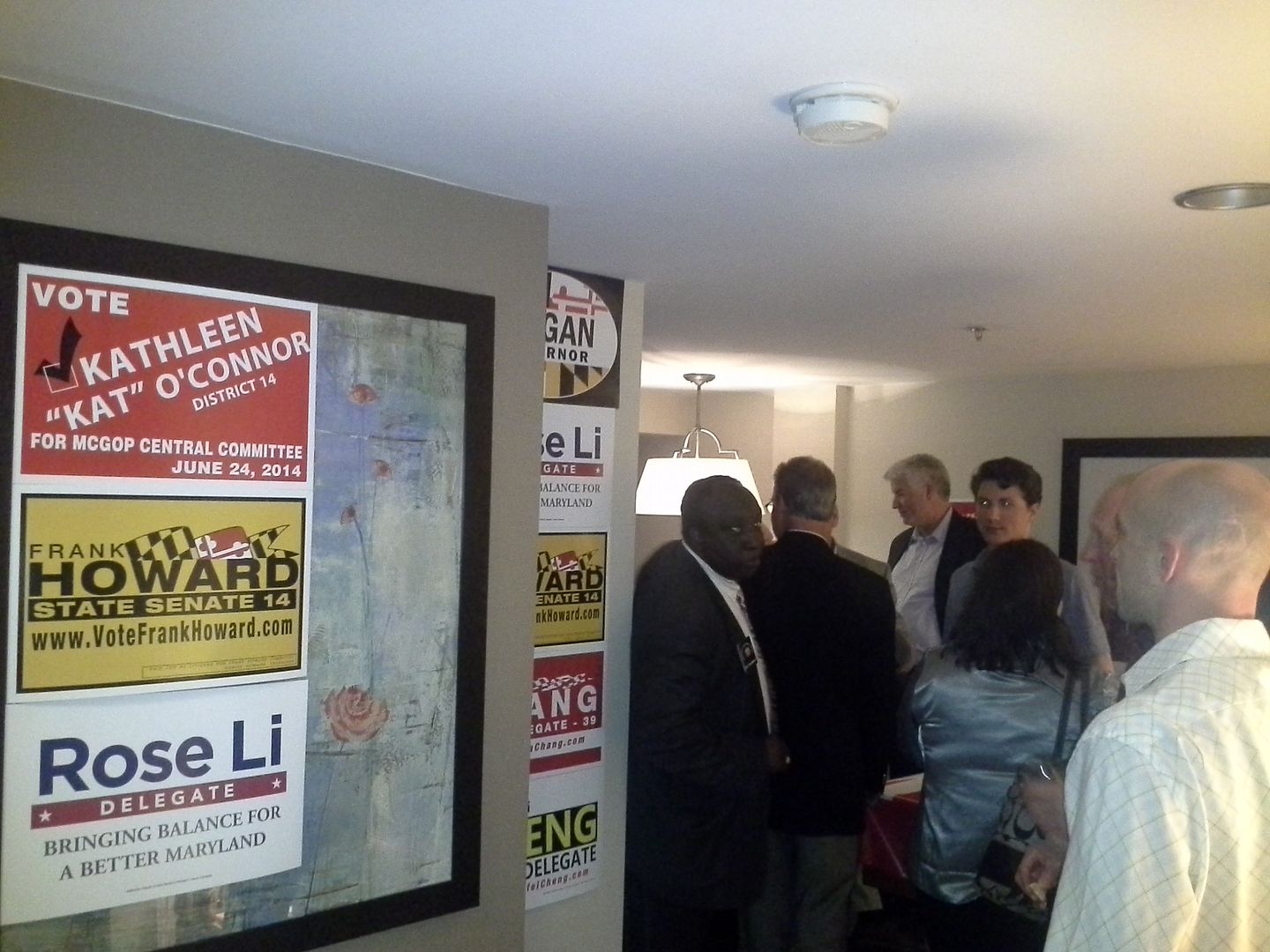 So I went up two floors to find an equally lively David Craig suite.
@DavidCraig2014 has the lively space right now since @Charles_Lollar shut down for the night. #MDReps

— Michael Swartz (@monoblogueUS) April 26, 2014
But in the back corner I found Lieutenant Governor candidate Jeannie Haddaway and a man seeking to replace her, Dr. Rene Desmarais, having an enlightening discussion.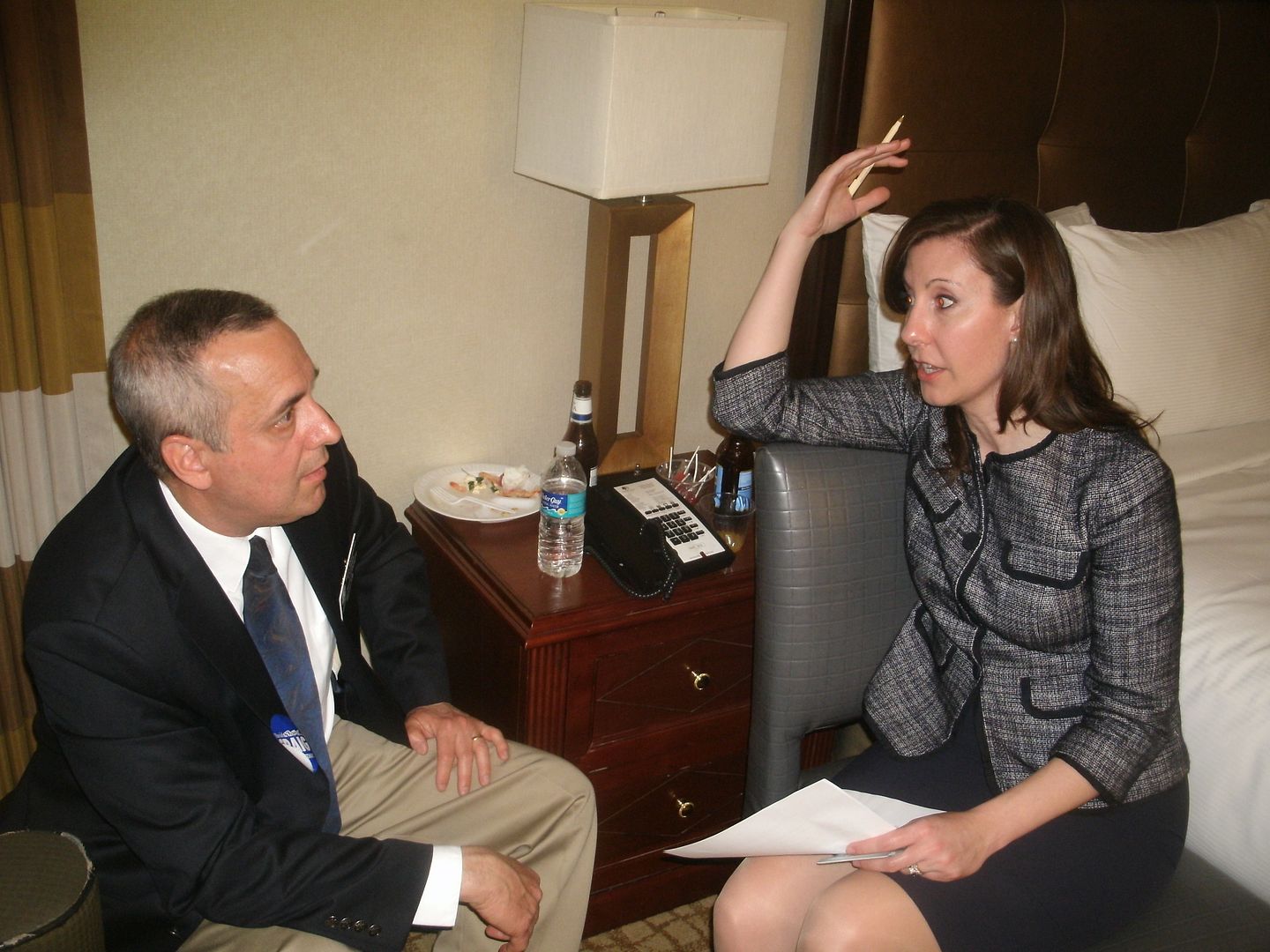 They were gracious enough to add to my collection of candidates, as did David Craig.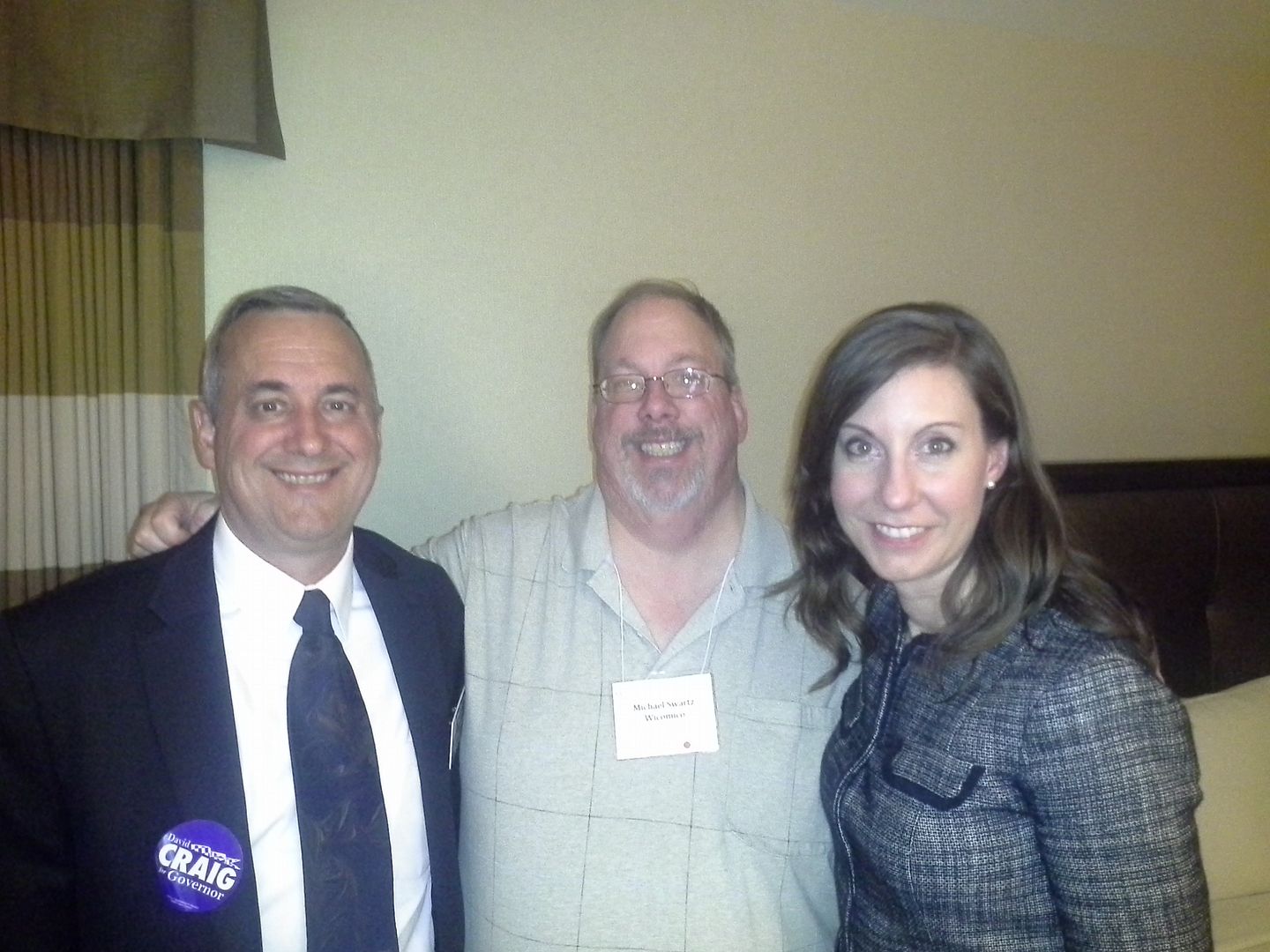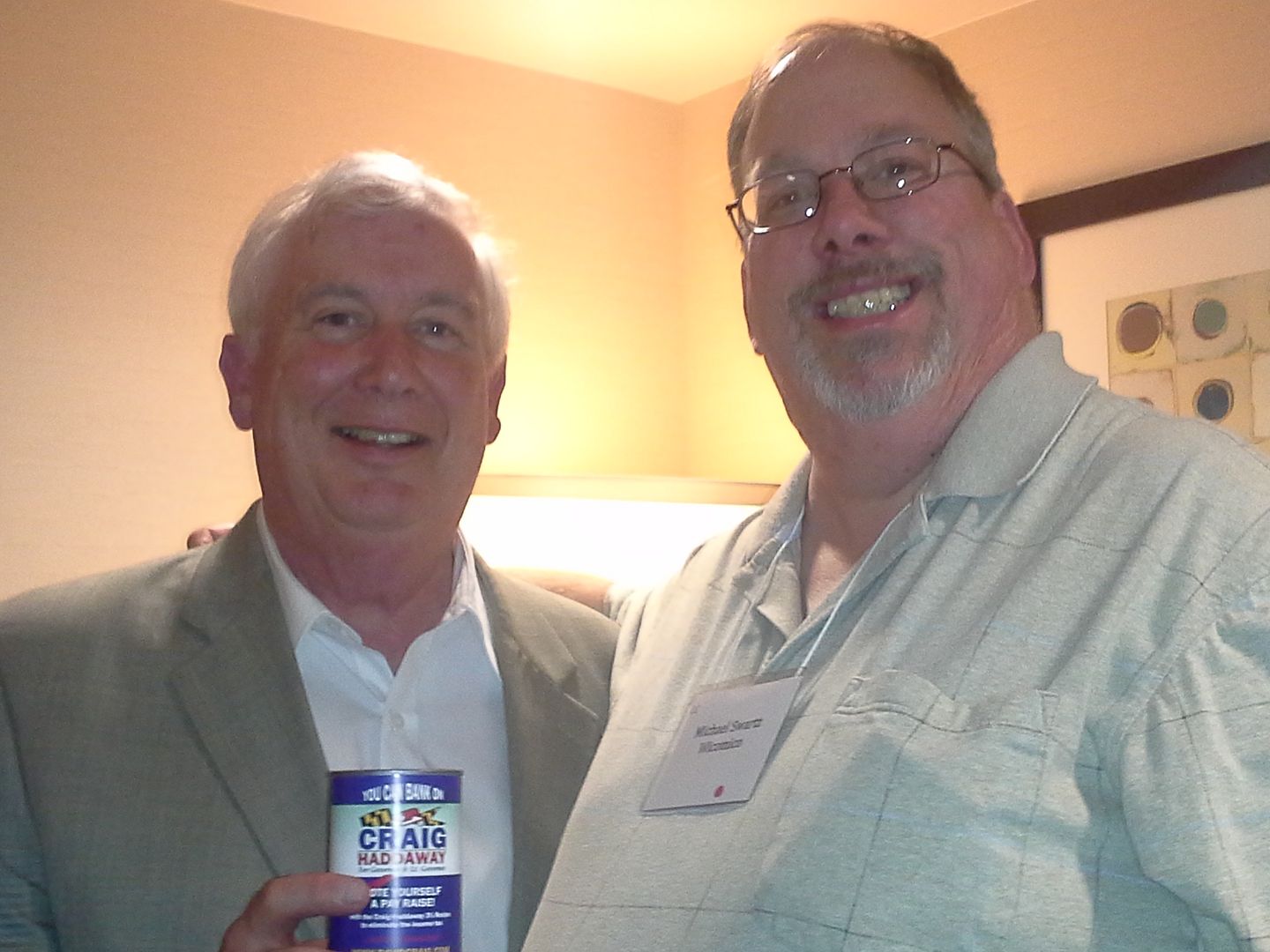 The mini-bank Craig was holding came with a few pennies inside so it would rattle. He was giving them away as trinkets.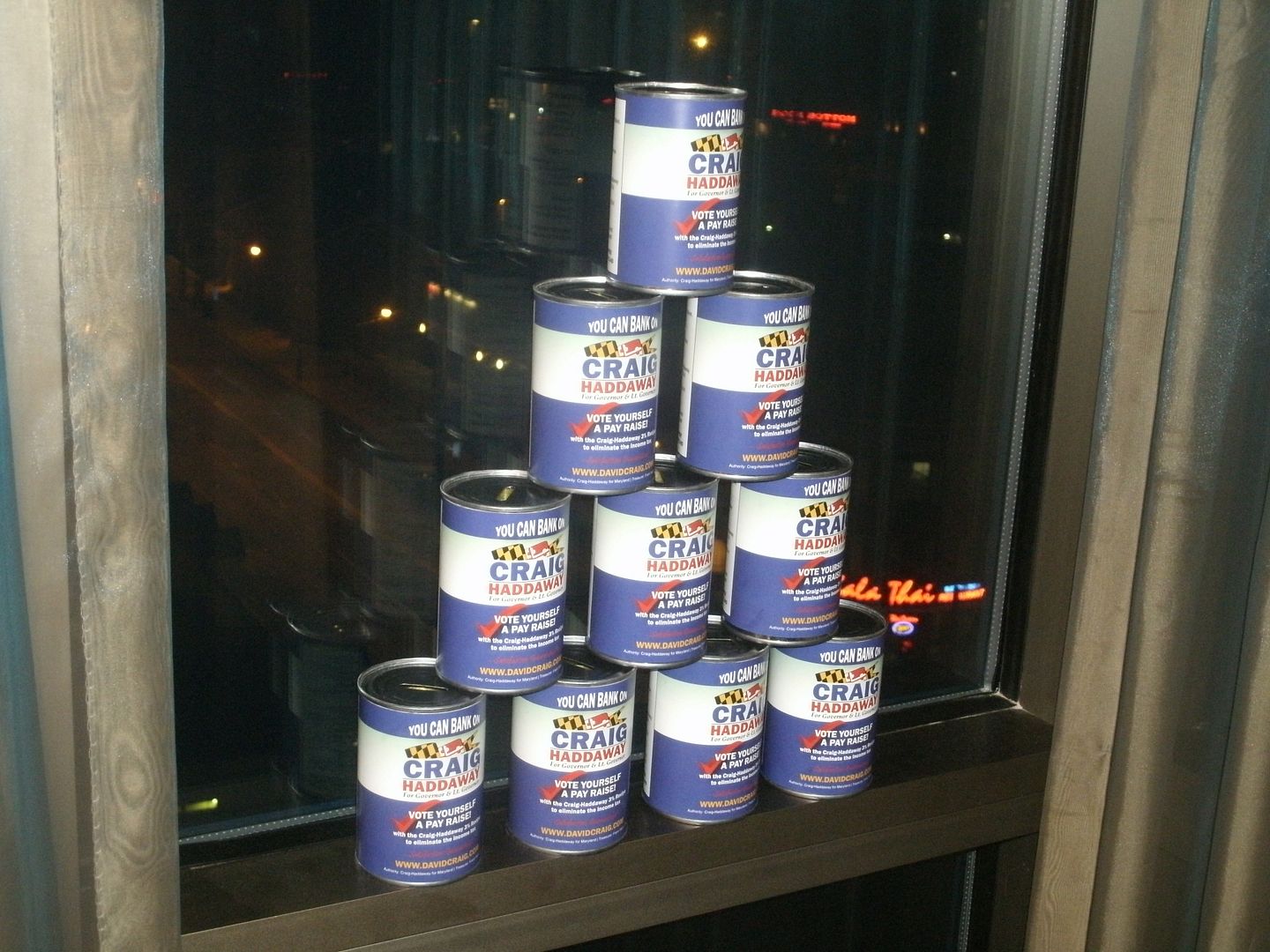 After those good photos, I wandered upstairs to the last suite, that of Eugene Craig III and the Young Conservatives. Things were starting to wind down.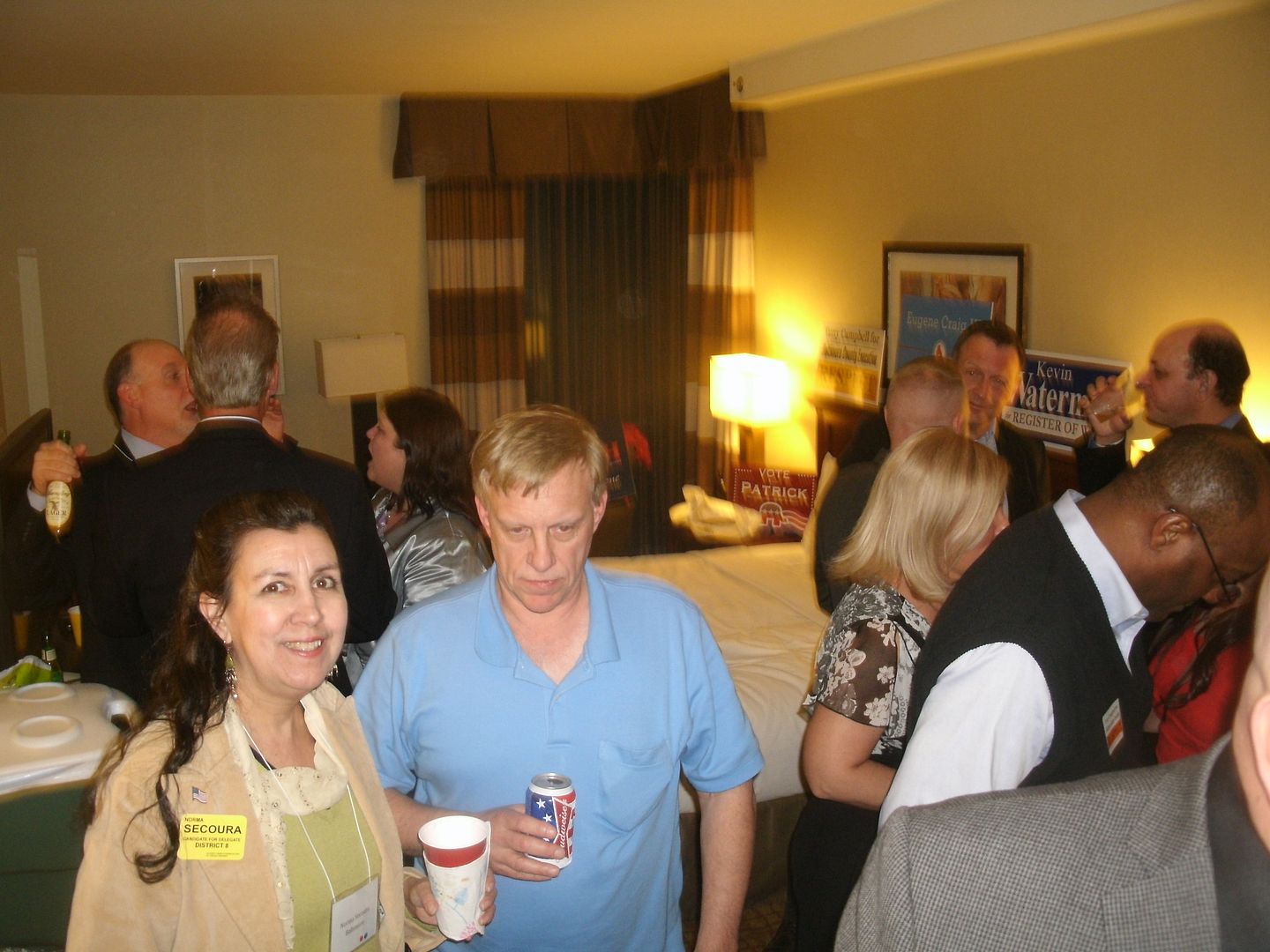 I think David Craig's was the best suite, simply because it had the best food – had I made it to the Young Conservatives suite earlier, though, I may have been persuaded otherwise. With so few party suites, food was a little harder to come by as the night wore on.
So I made it to bed about midnight or a little after, which is about the time I'm wrapping up this post. For the evening I will complete part 2 detailing many of Saturday's events.