We'd built up the event for months, so it was no surprise we filled the room for our first-ever Patriot's Dinner featuring former Congressman, author, fill-in radio host, and most importantly Lt. Col. Allen West. It was the culmination of an afternoon of events which featured a reception with Republican youths from around the area, VIP events for West's Guardian Fund and the Maryland Republican Party, and the dinner itself.
West promised to speak for about 25 minutes and answer questions afterward, directing his remarks toward the "criticality" of our situation. He first asked if this was really the home of the brave when we outsource our fight against Islamic terrorists to the Free Syrian Army while decimating our military capability to levels unseen since before World War II. West pointed out that Barack Obama was bombing his seventh country, but chided Congress for its lack of bravery because "no one is asking if we are at war."
"If someone is dropping a bomb on my head, we are at war," said West, continuing that Congress was failing its Constitutional obligation to declare war. West was very critical of both Barack Obama and outgoing Attorney General Eric Holder, calling them "the two biggest violators of the Constitution."
West went out to state that in many respects, we we not keeping our Republic, as Benjamin Franklin warned us we had to, but sliding into a monarchy. We need people who would be the "loyal opposition" to tyranny, added the Colonel. Moreover, we're failing to meet this challenge because we aren't educating ourselves on how to keep this republic. Even the verbiage has been altered, as West later went on to talk about the co-opting of the word "liberal," noting "true conservatives are classical liberals."
Turning to the state of the Republican Party, Allen explained that the sole reason for the GOP's founding wasn't to abolish slavery but to maintain Thomas Jefferson's words that "all men are created equal." Unlike the era of its founding and its shackles of physical bondage, the black population today was under the "shackles of economic hardship," a condition West termed was "even worse than physical bondage." The letters G, O, and P should stand for growth, opportunity, and promise, said West. "We believe in equality of opportunity."
West also had harsh words for the welfare state. There should be a safety net, he opined, but that safety net "is meant to bounce you back up." Instead it's become a hammock, and like all hammocks over time it begins to rot and eventually will collapse under the weight.
Allen also made the case that the promise of America was to keep us safe. He decried the "cowards" who preach political correctness, maintaining the argument that "political correctness will only get you killed."
Finally, West challenged the group. "I'm pointing a finger into your chest," he said. "Stop being worried about them calling you names." He challenged us to engage 5 of our more liberal friends and set a goal of changing the minds of three. Noting Barack Obama has only a 40 percent approval rating, he called those 40 percent the "stuck on stupid folks," lastly repeating Franklin's assertion that "you have a republic, if you can keep it."
After the standing ovation, West took questions. Naturally the first one asked if he would consider being Vice-President, to which West replied "if God determines I will be in that position."
On a question relating to our military, West repeated his point that we are in "one of the weakest states we have seen," adding that, "the world is Machiavellian." West compared the release of Army Pvt. Bowe Bergdahl – "in the socialist mind, Bowe Bergdahl is a hero" – to the fate of Marine Sgt. Andrew Tahmooressi, who has languished in a Mexican jail since April for accidentally bringing a gun into the country. West criticized the fact Tahmooressi wasn't brought up in the June meeting between Barack Obama and Mexican President Enrique Pena Nieto, thundering that he'd demand Tahmooressi, along with his gun and his car, back in the country before Nieto was let in.
The next questioner wondered if it was too late to reverse this tide, with West noting we're "almost at the tipping point." Allen added that there's "no self-esteem (gained) from sitting in the hammock." Instead, we needed leaders to emerge like Dan Bongino, who West's Guardian Fund is supporting because Bongino "has a lot of fight in him."
Two questions about the state of our monetary system followed, dealing with the prospective collapse of the dollar and its effect on gold and silver. West pointed out that, in his belief, "we do not have a free-market economy," feeling instead that "the bubble is coming" because of a circular exchange of money primed by the continual printing of dollars. He felt there was a strong possibility that if a Republican in elected in 2016, the Federal Reserve will suddenly end this practice just to do damage to the economy under a Republican president. West also opined we may have to return to the gold standard.
When asked about the lack of bold leadership, Allen made it simple: "Start electing them." Pointing to the candidates at the head table, he added, "start building your farm team." We need to communicate our ideas with the American people, West added, noting that the other side "plays chess while we play checkers." Referring to the campaign placed against him in his 2012 Congressional re-election bid – a race made difficult because Florida Republicans redistricted him to a new district – West also believed that "if I'm their number one target, I feel good about it."
The piece of advice he would give about minority outreach? "Talk to them about who they really are," said Allen, who also challenged their mindset about rights, asking if not God, who do your inalienable rights come from? It led into the final question about education, where West made the case that "the most important elected position is school board" and couldn't believe ours was appointed. West also believed the time had come to establish more of our own universities, using Hillsdale College and Liberty University as examples to follow.
As part of the leadup to West's speech, he was presented with a Benghazi bracelet by Bev Bigler of the Worcester County Republican Central Committee. The poem "The Battling Boys of Benghazi" was also included with the program.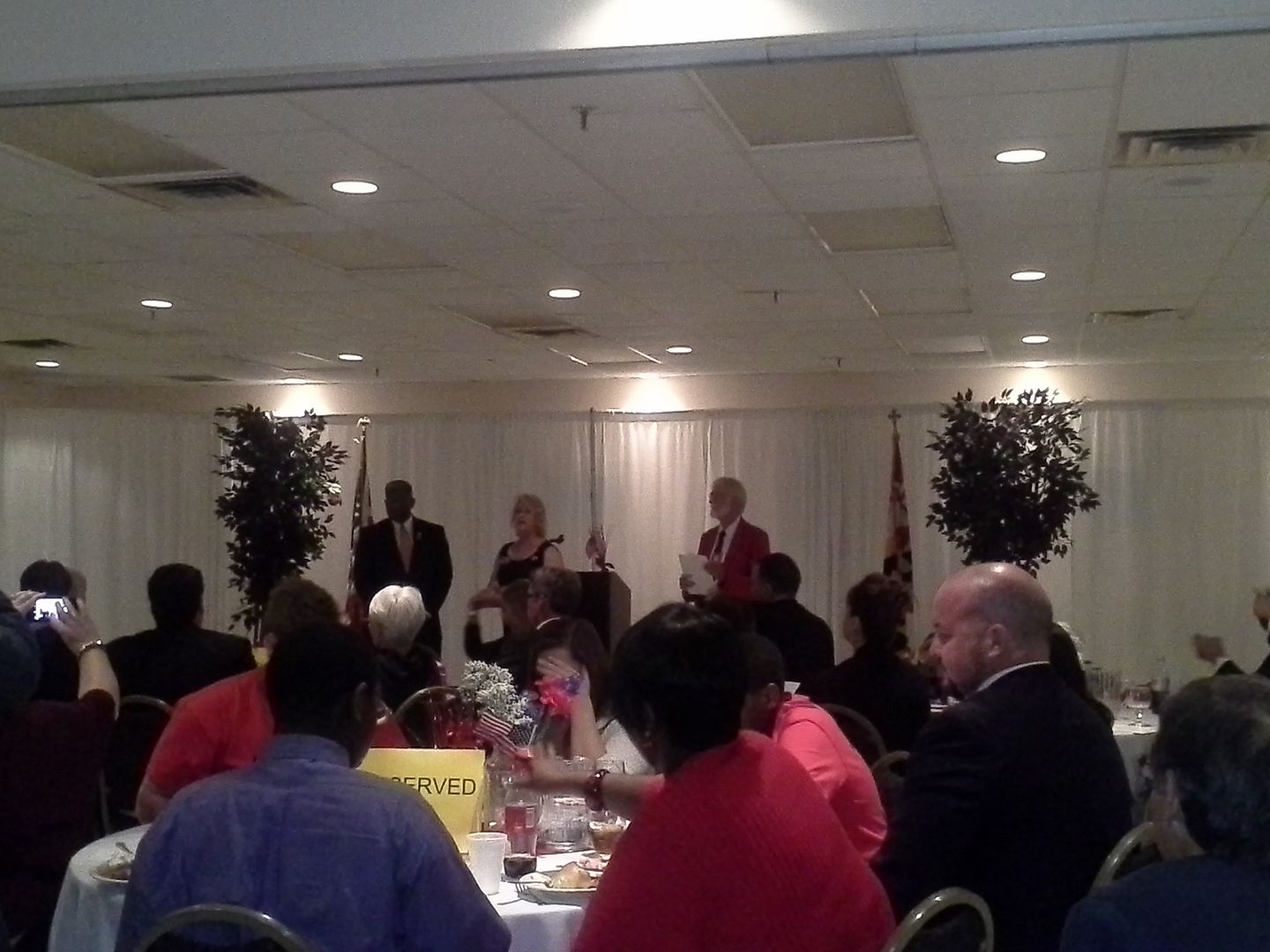 This was part of their effort to keep the Benghazi incident (and subsequent questions about a coverup) fresh in mind.
A number of elected officials and candidates took time out of their busy schedules to attend the proceedings, with some taking advantage of the moment to pose with Lt. Col. West. It was interesting to have a contingent from southern Maryland there, with those clad in red at the table in the preceding picture's foreground part of the campaign team of District 27 State Senator candidate Jesse Peed. (Peed has the uphill battle of taking on Senate President Mike Miller, a man who desperately needs to be retired.)
So the months of preparation, back-and-forth communication between the several parties involved, and last-minute scrambling to get the details just so made for an entertaining and informative evening. There may be a thing or two for me to add to this post, but I think I can speak for the Central Committee in saying that we enjoyed the living daylights out of it, but are glad it's over so we can focus on the election.