Let's face it – if a minor league player puts up a slash line of .196/12/67/.635 OPS, comes from a relatively small and unheralded baseball program, and wasn't drafted until the 29th round, the chances of extended employment generally are bleak. Yet all three describe Conor Bierfeldt, and the Orioles' faith in him after his struggles with Delmarva last year has been rewarded thus far with an improved average and the South Atlantic League RBI lead for Conor, who leads his now-injured teammate Alex Murphy, 36 to 28. No one else has more than 26 knocked in.
It's not that Bierfeldt can't drive in runs – the 67 he drove in last season led the Shorebirds and he was among the NYPL leaders in both home runs and RBI when he played with Aberdeen in 2013 – but the average had to be a concern, particularly when he hit .264 with the Ironbirds. While "on pace to" is always a dangerous assumption, so far Conor is working toward 15 or more home runs and well over 100 RBI over a full season. In 208 pro games Conor has 29 home runs (and plays home games in a notoriously tough park for home runs, as just 5 of his 17 Shorebird home runs have come at home), so it's obvious the longball potential is there.
So it looks like Bierfeldt is making the adjustments needed to maximize what Buck Showalter likes to call the "contact to damage ratio." A team can live with a .236 batting average if those hits drive in runs – as an example, I snapped the photo above after his only hit of yesterday's game, a 2-run triple. The 1-for-4 performance only fractionally affected his average, but the 2 knocked in allowed him to pad his league lead and opened the scoring for the day, staking Delmarva to an early 2-0 lead (although they eventually lost 6-5.)
If you look ahead for Bierfeldt, there's a reasonable chance he may not be here the full season to see if he can secure that RBI title. Making the adjustments to increase his average is the key to moving up, and there are a couple weaker links in Frederick's outfield which could be replaced. We'll see if Conor rewards the Orioles' patience with him as the season develops.
I can't believe I'm picking Bennett Parry as my Shorebird of the Week – again.
You see, at the tail end of the 2013 season when I originally tabbed Bennett, he was in the midst of some great starting pitching. Here we are in May of 2015 and Parry is doing the same thing for Delmarva, shutting out Asheville for six innings on two hits last Thursday before Tuesday's almost as stellar losing effort against Augusta, where two consecutive doubles did him in for a 1-0 tough luck loss. Parry allowed just three hits in five innings in that start, and has allowed only 23 in 31 2/3 innings pitched so far this season. He's only given out eight walks against 25 strikeouts, leaving himself a sub-1 WHIP for the season.
So why hasn't my 2013 forecast that Parry was "a contender for Frederick's starting rotation (in 2014)" come true? Beats me. If you look at Parry's Delmarva body of work over those parts of the last three seasons he's been here, you really can't argue that with an ERA under 3, strikeout-to-walk ratio of better than 2.5-to-1 (with about a strikeout per inning), and overall WHIP of 1.22 – mainly as a starter, by the way, so he's facing batters multiple times per game – he doesn't deserve a shot at the next level. Yet in five pro seasons Bennett has never gotten past Delmarva.
I've seen Bennett pitch a few times over the last three seasons, including a couple starts this year. One thing I notice is that he's the kind of pitcher you watch for awhile and realize, hey, he's in the fifth inning and throwing a shutout (or at worst keeping the team in the game.) It's not flashy, but he does get his outs and they add up to innings and suddenly you're applauding another solid six-inning effort.
I will concede to my above point that Bennett is a little older than the league now (he turns 24 in August) and was drafted in the 40th round in 2011. (Under current draft rules, that would be the final round.) When you're 1,205th on the totem pole, nothing comes easy and apparently it hasn't for Bennett, either. But here's hoping that, for the second half of the season, Parry finally gets to try his luck at the next level and see if he can compete there.
A pleasant surprise on the offensive side of the ledger for the Shorebirds has been shortstop Jared Breen.
The name is familiar to Delmarva fans because Breen spent the latter half of 2014 with the Shorebirds, getting into 70 games but only putting up a slash line of .217/0/29/.569 OPS. Considering Breen was only a 24th round pick from Belmont University, one would not have been surprised to see the Orioles cut him loose over the winter given he had played over 130 games and hit barely .220 with no power. I've seen players with better stats and draft position let go.
Instead, the Orioles gave him another season here and so far Jared has taken advantage, bumping his average up to .296 in the first quarter of the season. You won't confuse him with a power hitter, since Breen only has four doubles among his 25 hits, but he's done a good job of getting on base and keeping innings going with a .393 on-base percentage. The recent road trip to Savannah and Augusta was great for Breen, who hit .400 (10-for-25) in his native state. That pushed his average over .300, although an 0-for-2 return home (with 2 walks) dropped him back down under that mark.
There's no question this is the make-or-break season for Breen, who will turn 24 next week. While third base seems to be the premier position up and down the line for the Orioles, shortstop has been more of a mixed bag over the years. Aside from Manny Machado, a converted shortstop who has moved over to third base, the cupboard is relatively bare at that position in the organization. (Adrian Marin, a Shorebird in 2013, is the only shortstop listed among the top 30 prospects and he's 21st.) So Jared could open a few eyes if he continues to do well with the second chance.
Early on, pundits were convinced that Jomar Reyes would be the Shorebirds' third baseman this year. The obvious question, though, was how the bonus baby – to the tune of $350,000 when signed just weeks before his 17th birthday in January 2014 – would handle himself in full-season baseball after a season with the Gulf Coast League Orioles last year.
It's a small sample size, but through the first 19 games Jomar is playing quite well. His .284/1/4/.799 OPS slash line is very comparable to his GCL numbers (.285/4/29/.758 OPS in 53 games) and it took him until last night in game #19 to commit his first error (after committing 13 in 45 games last year.) You may not get the defensive wizardry of Manny Machado, but it appears Reyes can hold his own.
Another "wow" factor is his transition from the Dominican Republic to the United States. Most often, players from that nation spend at least a season with the Orioles' Dominican League teams, but Reyes began his career here in the States and is playing full-season ball just a couple months past his 18th birthday as one of the youngest players in the South Atlantic League. According to Baseball Reference, Jomar is 3.5 years younger than the average SAL player, who is often a year removed from college or three years out of high school. Many kids his age are playing as seniors in high school.
The high expectations for Reyes began early, but so far he's on track to meet them. And while some believe he may be in Frederick by mid-season, I don't think there's any rush to move Reyes up. Currently manning third base at Frederick is another gifted hitter fans may be familiar with in Drew Dosch, so unless the upper levels are ravaged by injury or a series of poor performances I wouldn't be surprised if Reyes stays here all year and gets the opportunity to grow into some monster numbers. It only took him a couple weeks to move up the batting order from seventh to fifth, and I think he could be a solid #3 hitter by season's end. Let's see how he does now that the weather is getting warmer.
At this level, where pitchers generally are held under an innings limit, throwing complete games is a rarity – in the entire SAL last season there were only 31 thrown. This is even with the higher number of shortened games, such as those played as part of a doubleheader. Long story short, those guys who pitch in innings 6 to 8 are a key part of the pitching staff.
Zeke McGranahan is one of those guys, and in his last outing he was stretched to a career-long 2 2/3 innings against Hagerstown. Exclusively a reliever in his brief career, the 2014 23rd round pick just missed (by one spot) being the first player ever drafted out of Georgia Gwinnett College. So far in 2015 he hasn't allowed an earned run in four appearances covering 7 1/3 innings, scattering just three hits along the way.
Zeke profiles as a power pitcher – a high number of strikeouts (10 so far) but a high number of walks as well (five so far.) It's a continuation of his play from last season, which he mainly spent in the GCL (2-1, 1.50 in 18 innings with a WHIP of exactly 1) before getting four appearances with Aberdeen (allowing three earned runs and seven hits in five innings, a 5.40 ERA and 2.20 WHIP.) In those 23 innings, he gave up just 16 hits but walked 13. The former is great, the latter too high for advancement. It's great that McGranahan misses bats, but he can't miss the plate so often.
Zeke is on the older side for this level, as he turned 24 in January. But his professional career is barely 30 innings old so if he can work on improving the strikeout-to-walk ratio he will certainly be given the opportunity to catch up, as it were. And the guys who serve as the bridge between the starter and closer or soak up the late innings to back a struggling starter can be the ones who become starters (or closers) down the line. The way Zeke goes will be dictated by how he performs in his first full season.
Last season the Shorebirds had the best hitting catcher combo in the South Atlantic League – hard to argue against a pair which had a SAL batting champ and a backup who hit a respectable .252 behind the dish.
While time will tell how well the 2015 combo does, Alex Murphy is certainly doing his part to keep up this new tradition. You might recall Murphy had a brief cameo here early last season when Chance Sisco went down, going 3-for-15 in 4 games. Despite a tough doubleheader last night that dragged his average down to .269 (on 7-for-26 hitting), those hits have seemed to be timely ones as the 20-year-old out of Calvert Hall High School in Baltimore leads the SAL in the early going with 9 RBI.
Murphy was one of four promising young catchers Baltimore snagged in the 2013 draft. 2014 Shorebirds Chance Sisco and Austin Wynns were two of the quartet; both are now toiling for Frederick. Coming up behind them are Murphy and teammate Jonah Heim, who will split the duty this season. As a sixth round pick, Murphy was actually the third of the quartet taken, after Sisco and Heim.
Alex has been a solid hitter in his brief career, sporting a .263 lifetime mark mainly based on a fine .277/3/25/.715 OPS performance as Aberdeen's primary receiver last season – he also made several starts as the DH, which is likely the plan for this season as well. It's something the Orioles almost have to do to get their catchers a sufficient opportunity to hone their offensive skills given the extraordinary organizational depth they have at the position with a number of major league-experienced catchers at the higher levels and four high draft choices moving up from the bottom.
So while Murphy may seem to be at the bottom of the totem pole, bear in mind that the Orioles can deal from strength at that position and may trade away one or more of these catching prospects in coming years. Being a hometown product, though, I'm sure the Orioles will make a little more effort to keep Alex within the fold. In the meantime – unlike the case in several previous Shorebird campaigns – we shouldn't consider this catcher an easy out at the plate.
I begin this year with a "local boy makes good" story.
One tendency the Orioles have is their willingness to give hometown or regional talent a chance, even if they don't draft the player. A good example of this is former Shorebird Glynn Davis, who has advanced over the succeeding years to Bowie and is considered one of the Orioles' better outfield prospects.
Yet Nik Nowottnick is an even more local story to us, as he attended Colonel Richardson High School in Caroline County. Moving on to Towson University, Nik pitched well enough there to get Baltimore's attention and signed on in late July of 2013 – just in time to get some innings in at the Gulf Coast League in August of that season.
Last year the 23-year-old righthander moved up to Aberdeen to start the campaign, going 2-2 with a 3.30 ERA and 1.4 WHIP in 30 innings. While a 18-to-14 strikeout to walk ratio wasn't the most desirable one, Nik only allowed three walks in his last five Aberdeen appearances covering 13 2/3 innings while striking out seven. That stretch merited a mid-August promotion to Delmarva, where Nowottnick allowed just three earned runs in seven appearances covering eight innings, and was not scored upon in his last five outings. Here he struck out six and walked four for a 1.38 WHIP.
So the key for Nik this season will be to improve on his walk ratio a little bit – 18 free passes in 38 overall innings last year is a little bit high. As he did at Tuesday's exhibition, it's likely we'll see Nik as a late-inning guy but not necessarily the closer.
One note: as I took the photo in last season's Labor Day finale, this year Nowottnick will be wearing #31. Nik is one of a handful of carryover players from last season, mostly from the pitching ranks. In all, the "break camp" roster included 12 players who spent at least a few days with Delmarva last season, with most joining the team in the second half.
Last season the Delmarva Shorebirds rode a crop of talented prospects like Hunter Harvey, Mike Yastrzemski, Drew Dosch, and Chance Sisco to their first winning half-season in six years with a 38-31 first-half mark. Some of those players departed for Frederick after the break but overall Delmarva had its best record since 2008, finishing just below .500 at 66-73.
The 2014 Shorebirds had good pitching prospects like Harvey, Jon Keller, and the now-departed Steven Brault (sent to Pittsburgh in the Travis Snider deal) but its hallmark was an offense that set a team record for overall batting, led by Chance Sisco who became the team's first-ever SAL batting champion. Except for Brault, it's all but certain these players will be advancing to Frederick and beyond this season.
So who will be taking their place?
You may recall I tried this exercise last year and out of 25 I only got 15 correct – in part because I did it a few weeks earlier in the middle of spring training. (A handful came along later in the season as opposed to opening day.) This time I'm compiling the list closer to the end so I would imagine most of these guys will be the ones coming north with the team. [It's also worth pointing out I predicted that "(i)t doesn't appear the Shorebirds will be an offensive juggernaut, but their pitching should be very good. We may see a lot of 3-2, 2-1 style games at the ballyard." So much for that theory.]
Undaunted, here's my thoughts on the roster, with pitchers first, then catchers, infielders, and outfielders in alphabetical order. I'm thinking we may have a 13-man pitching staff with 12 position players.
Pitchers (13):
Augey Bill, lhp - Augey was one of those guys I predicted would make the leap from Aberdeen last year but did not. Yes, he is a very low round pick (39th) and probably isn't considered a great prospect. But there is always a place for a lefthander and his 6′-9″ stature and outstanding walk/strikeout ratio (27 strikeouts to 6 walks in 33 innings last season puts Augey in what could be called a "sink or swim" category considering the fact he just turned 24, which is old for the SAL. He could be a useful bullpen piece.
Tanner Chleborad, rhp – Tanner is a 16th round pick from last season and was mainly a starter for Aberdeen. He went 2-3 with a nice 2.78 ERA in 32 1/3 innings, but had a high WHIP of 1.51 because he gave up over a hit an inning. He isn't a strikeout pitcher, either, with just 15 Ks, so he probably works to the back end of the rotation.
Stefan Crichton, rhp – Stefan's numbers weren't all that elegant (2-5, 4.47 ERA with a 1.42 WHIP) but he's another pitcher who seemingly would rather pitch to contact than walk a batter since he only allowed seven free passes in 44 1/3 innings. He led the IronBirds in appearances in 20 and was second behind the traded Stephen Tarpley in innings pitched. Crichton may get the last starting job or be the first guy out of the bullpen.
Dariel Delgado, rhp – The Cuban native was one of the late-season pickups for the Shorebirds, coming up in July to take the place of Jon Keller in the bullpen and eventually making five August starts where he pitched rather well. Overall Delgado was 0-3 with a 4.09 ERA and 1.30 WHIP, and it's likely the 21 year old will be in the middle of the rotation.
Keegan Ghidotti, rhp – Ghidotti is probably the 13th pitcher on the staff. He was a 38th round pick who only pitched 19 1/3 innings for the GCL Orioles last year – but he had 5 saves and a 1.40 ERA. He allowed eight walks but only nine hits, so the 0.88 WHIP is quite good.
Brian Gonzalez, lhp - The Orioles' initial pick in last season's draft (in the 3rd round), it's been figured all off-season that Gonzalez would probably be our opening day starter. Although he was pedestrian in two Aberdeen starts (5 runs and 10 hits in 9 innings, both losses) he pitched to a 1.34 ERA and 0.92 WHIP overall between eight starts the Gulf Coast League and the two with Aberdeen. It's most likely that Brian will be kept on a pretty short innings leash, so he may make a number of three- and four-inning starts in the early stages of the season. He definitely cuts an imposing figure at 6′-3″ and 230 pounds, surprising for a 19 year old.
Kevin Grendell, lhp – After spending two seasons in the Gulf Coast League and one offseason in Australian baseball, Grendell may be the guy who comes in to back up some of the other pitchers with a couple innings of long relief. He was 2-3, 3.79 in the GCL last year with a 1.35 WHIP but struck out 39 in 35 2/3 innings at the GCL level. He was a relatively high draft pick out of high school (11th round) so the Orioles probably have some significant expectations from him.
Ivan Hernandez, rhp – While four saves may not seem like much, it was enough to lead the Aberdeen squad last season. Hernandez did a good enough job as their closer to merit a late-season promotion to Frederick, but I think he will start this year's season with Delmarva. Ivan, a Venezuelan native who began his Orioles career in the Dominican Summer League in 2010, pitched to a 1-2, 3.81 mark between the two teams last season with a 1.34 WHIP and 26 strikeouts in 28 1/3 innings. He is a converted starter but I would guess he'll be our closer to begin the campaign.
David Hess, rhp - A 5th round pick last year, Hess made it to Delmarva for two late-season starts, allowing 3 runs and 7 hits in 8 innings here. More importantly, he struck out 12 SAL batters without walking any. This was after going 2-1, 3.20 with a 1.18 WHIP in Aberdeen and averaging over a strikeout per inning through the season. I think he's the #2 starter behind Gonzalez, making a great left-right combo against opponents.
John Means, lhp - Means pitched 37 innings last season as a starter for Aberdeen and was the O's 11th round pick in the 2014 draft. Now 1-4 with a 3.46 ERA and 1.19 WHIP for the campaign (all but 2 innings with the IronBirds) may not seem that much better than average, but a 36-to-2 strikeout to walk ratio in 39 innings may grab some attention. I see him as the #3 starter for Delmarva, meaning we can go left-right-left against opponents.
Nik Nowattnick, rhp - Another holdover from 2014 and a local product (Colonel Richardson High School), Nik has parlayed his free agent status into a nice job as a reliever: overall he was 3-2 with a 3.32 ERA and 1.40 WHIP last year, including his seven appearances with the Shorebirds. He'll be an addition to the bullpen as one of those middle-inning guys.
Max Schuh, lhp – The numbers for Aberdeen weren't all that great (2-0, 5.25 in 12 innings, with 12 strikeouts and 4 walks) but the Orioles like to move early-round college pitchers quickly and Max qualifies. Likely to go in the bullpen, but I could see them stretching him out as a middle reliever.
Austin Urban, rhp – More effective as a reliever than a starter for the Shorebirds last season, this may be his last shot. The Orioles claimed him from the Cubs after Chicago let him go without throwing a regular-season pitch for them, but in order to succeed he will need to cut down on his walks. In a full season here, Austin was 3-4, 4.01 with a 1.6 WHIP and 32 walks to 38 strikeouts in 60 2/3 innings. He'll be another guy who backs the starters.
It appears to me the starting rotation would be Gonzalez, Hess, Means, Delgado, Chleborad, and Crichton, with Hernandez as the primary closer and Bill and Ghidotti also being late-inning guys. The others will be the first out of the bullpen in the fourth through sixth innings, providing two to four innings as needed.
For position players, (R) is for right-handed hitters, (L) for lefties, and switch-hitters with (S). I'll begin with the catchers.
Catchers (2):
Jonah Heim (S) – His bat may not be ready for the SAL (just .143 in 70 at-bats for Aberdeen last season) but Heim's defense draws rave reviews from the Orioles' brass and he's one of the few Delmarva players who's been on the big league spring training travel team, even as a late-inning replacement. Heim may bat ninth in his starts, but the 19 year old will likely bump an older player off the Delmarva roster.
Alex Murphy (R) – Another of the young crop of catchers the Orioles selected in the initial rounds of the 2013 draft – a group which includes 2014 Shorebirds Chance Sisco and Austin Wynns, as well as the aforementioned Heim – Murphy has the better bat of the pair, with a .271/3/26 /.698 OPS slash line, mostly for Aberdeen. He was 3-for-15 in a brief Delmarva stint last season when Chance Sisco went down.
If Delmarva opts to carry three catchers (the third would most likely be Tanner Murphy, who played here briefly last year) we could have a similar scenario to 2014 where either Sisco or Wynns caught and the other served as DH. I'm assuming two catchers, which we had most of last season.
Infielders (6):
Austin Anderson (L) – While Anderson served primarily as Aberdeen's third baseman in 2014, the 9th round pick from last year may move over to shortstop for Delmarva to accommodate the highly-touted third baseman Jomar Reyes. Anderson hit well with the IronBirds, putting up a .307/1/19/.758 slash line in 2014.
Federico Castagnini (R) – The Italian-born Castagnini spent the first half of 2014 with the Shorebirds, hitting .234/0/5/.576 with the club as a starting second baseman. Sent to Aberdeen at mid-season, he developed into more of a utility player with time split mainly between second base and third base, with a little shortstop thrown in. In a pinch he can also play the outfield.
Ronarsy Ledesma (R) – If it comes down to five infielders, Ledesma may make the cut over Castagnini because he has the versatility to be the emergency catcher (he caught ten games in the Dominican Summer League in 2010-11.) Primarily a second baseman last season, Ledesma played three games at third for the Shorebirds and went 4-for-13 to end a season where he hit .289/7/28/.824 OPS overall, mostly in the Gulf Coast League.
Derek Peterson (R) – A free agent signee last season, Peterson hit .283/0/18/.758 OPS last year for the GCL Orioles (this includes the 0-for-2 he posted in two late-season Aberdeen games.) He played mostly first base in the GCL, but filled in as needed at shortstop and third base.
Jomar Reyes (R) – He's barely 18 years old, but the experts believe Reyes will be Delmarva's starting third baseman this year. They have good reason to do so, since he handled the Gulf Coast League to the tune of .285/4/29/.758 OPS. Notably, the Dominican-born Reyes did not need a stint in the Dominican Summer League, instead coming directly to the States to play. First base may be in his future, but for now he will play at the hot corner.
Hector Veloz (R) – A second bite of the Delmarva apple may be in Hector's future, although it's more likely he'll play at first than at third as he did for the Shorebirds. Hector only hit .160 here in 25 games but improved to a .236/7/26/.709 mark with Aberdeen, finishing second on the team with those seven home runs.
Outfielders (4):
Jay Gonzalez (L) – Drafted for the third time in 2014, the Orioles secured this speedy center fielder in the 10th round. A .259/0/10/.640 OPS slash line isn't that great, but Jay led Aberdeen with 14 steals so it's likely he'll move up to full-season ball this year.
Oswill Lartiguez (R) – We saw him go 2-for-10 in four late-season games last season, but overall Oswill hit .251/0/11/.618 OPS as primarily a right fielder for Aberdeen. The Venezuelan product is entering his sixth pro season at the age of 22.
T.J. Olesczuk (R) – Probably the fourth outfielder, Olesczuk was the last man drafted by the O's last year. But he did well in the Gulf Coast League, hitting .265/0/12/.659 OPS in 34 games.
Riley Palmer (L) – Palmer is another low-round pick who did well at Aberdeen, splitting time between first base and right field. His bat was solid as well as he put up a slash line of .273/5/21/.752 OPS in 59 games. If he makes the team as the first baseman, it may bump Peterson or Veloz off the team and give someone like Conor Bierfeldt another chance.
I'm not quite sure what to make of this team. I don't think they will have the offense last year's group did, but there is the potential for firepower throughout the lineup. A lot will depend on how the young players adapt – if Reyes and Brian Gonzalez are breakout stars they could carry this club to success.
Now let's look at a potential batting order:
Jay Gonzalez, cf (L)
Derek Peterson, 1b (R)
Jomar Reyes, 3b (R)
Ronarsy Ledesma, 2b (R)
Riley Palmer, rf (L)
Alex Murphy, dh (R)
Austin Anderson, ss (L)
Oswill Lartiguez, lf (R)
Jonah Heim, c (S)
We will see how I do come Tuesday when the Shorebirds play their annual exhibition game against Salisbury University. Most of those players who make the trip north will comprise the opening day roster.
Next week will also mark the beginning of season number 10 of Shorebird of the Week. It's hard to believe I have made it this far with the feature, but this may also be the season my Shorebird of the Week Hall of Fame reaches twenty players. And who knows which of these guys could be in the SotWHoF Class of 2017, 2018, or beyond?
All this fun begins next week. Are you ready for some baseball? I know I am!
Update 4-3: Well, you can scratch two of my prospective players. Augey Bill did not swim and Fernando Castagnini indeed was the casualty among the infielders as both were released. The pair were among eight men out, a group that also included former 2013 SotWs Creede Simpson and my Shorebird of the Year that season Lucas Herbst.
If they want to stay with a lefthander, my guess would be that they add Elias Pinales to the roster – he's a 22-year-old who briefly made it to Aberdeen last season but mostly pitched in the Gulf Coast League. As for the spare infielder, one intriguing possibility is Logan Uxa, He spent one season in the Cincinnati Reds organization with some success but was released in June of last season by Cincinnati. The first baseman was signed by the Orioles in January.
Once again we interrupt our off-season slumber by the hot stove to bring you what will be the smallest class of inductees to the Shorebird of the Week Hall of Fame since 2010, when Brandon Snyder was my only addition as the third member added. Appropriately enough, Christian Walker wears his SotWHoF rank on his back, as he is number 18 for both the Orioles and the membership roll.
Walker was almost an accidental addition to the SotWHoF. I figured his outstanding minor league season would give him an opportunity at some point, but he didn't have to be added to the 40-man roster this year, the Orioles were in a pennant race, and first base is a relative position of strength for the club. And while he was added to the postseason "taxi squad" working out in Sarasota just in case, I suspected it was more of a nod of appreciation for a great season, one which showed he was almost ready and perhaps ticketed for a 2015 debut. Chris Davis's suspension for violating league policy, though, opened up the door for Walker's advancement and as you will see since the SotWHoF page has been updated, he took a little bit of advantage.
The class could have been two if events had turned out just a little differently. Tim Berry was recalled by the Orioles on June 6 as "just in case' bullpen help but did not see any action before being sent back down to Bowie the next day. He didn't get a September callup, though, because he went on the disabled list in August.
But Berry is a good candidate to finally make it to the Show in 2015. Normally I take a stab at predicting who would be in the next class based on the players who make it to the 40-man roster and/or are assigned to the Arizona Fall League. SotW players in the former category include Oliver Drake, Eduardo Rodriguez (traded for Andrew Miller in July and now on Boston's 40-man roster), and Ty Kelly (a 2010 SotW and veteran minor leaguer who was elevated to the Cardinals' 40-man roster after a trade from Seattle) while AFL participants were Garabez Rosa, Michael Ohlman (also on 40-man), Zach Davies, Mychal Givens, and Parker Bridwell. However, Givens and Bridwell were left unprotected on the 40-man roster and could be snatched up in the Rule 5 draft next week. Another SotW who was high on the Dodgers' prospect list last season, pitcher Jarret Martin, was recently outrighted off the 40-man by Los Angeles.
Out of all those players I suspect that those with the best chance of success would be Berry, Rodriguez, and maybe Drake. I can see a class returned to three or four players with some of the prospects moving up to the AA and AAA levels making a debut in 2015.
On the other end of the spectrum, there are now players who were added to the SotWHoF who have apparently called it a career or had other setbacks. Joe Mahoney made it official at mid-season after not being able to find a willing team during the off-season, while Ryan Adams, Matt Angle, Zach Clark, and Kyle Hudson were released from their organizations during the season. The same may be true of Brad Bergesen, although my understanding was that his 2013 season was cut short by injury. The injury bug also got Brandon Snyder and cost David Hernandez all of 2014, with his rehab extending into 2015. Many of those players are now looking for jobs as minor league free agents, particularly those in the large SotWHoF Class of 2011.
Because of that, Bergesen and Mahoney have had their photos removed just so I can denote active and inactive players. It's one change I'm making to the Hall of Fame, which is getting to be quite the long page with nearly 20 inductees.
Finally, I'm going to try again what I did last season and attempt to predict 25 players who will play for the Shorebirds sometime in 2015. Out of 25 players I projected, 15 spent some time with the Shorebirds in 2014, although three came on board later in the season. Of the other ten, three did not play (they were released during spring training and did not sign), one played at the rookie-ball level for another organization, one went to the independent leagues, two played for Aberdeen all season, and three advanced past Delmarva to Frederick. So we'll see if I can be a better prognosticator in 2015.
With that, the Shorebird of the Week Hall of Fame page is restored and updated to reflect the 2014 season. Here's hoping 2015 brings a lot of new inductions and some Hall of Fame-worthy players to Delmarva to begin the cycle anew.
To be perfectly frank and honest, this could be a very short entry because I read last year's version and the wish list is exactly the same. Attendance was up 3,358 from last season's all-time low, but we filled three more dates (65 openings vs. 62) so the average attendance per opening declined by 102 patrons, or 3 percent. Out of the last ten years (where records are handily accessible) the average is the third-lowest.
It's interesting to me that the team's support has deviated so little over the last decade despite the poor economy we've been saddled with, arguably since around 2007. From 2009 to 2011 the average plummeted 14%, but that's the extent of the difference as the Shorebirds have averaged no fewer than 3,072 per game nor any more than 3,576 per contest in that span of a decade. Over the course of a year that translates to about 35,000 extra fans but we're always at the mercy of the elements – I'm sure Shorebirds GM Chris Bitters prays for the stormy weather to hit here during roadtrips, or at the very worst on a Thursday night when maybe 1,500 are rattling around the stadium.
Instead, what happened this year was that storms seemed to hit on the nights fireworks or other events were scheduled – witness the August weekend where two games were lost due to wet grounds. If I recall correctly, the first was Faith and Family Night (always a packed house) and the other day was the Float for the Fund date where local celebrities scoop root beer floats for the Shorebirds' charity. Both had to be rescheduled, and that's a hassle. It's why we had Sunday evening fireworks on Labor Day weekend.
As it turned out, many of the games I attended were at the tail end of the schedule and I just got the sense that a lot of people around the place were relieved the season was almost over. On the other hand, I wish we had back the old Maryland Fall League (which existed for one year, 1998) and its Delmarva Rockfish.
But since I have no new complaints, I want to bring up a couple points.
Consider, for example, that the Shorebirds will be celebrating their twentieth season next year. Although they're not the oldest franchise in the South Atlantic League (eight of the other thirteen are longer-established), Perdue Stadium is roughly in the middle of its expected lifespan in this day and age. Seventeen of the thirty major league parks were opened in 1996 or later, with one of those (in Atlanta) already slated for replacement in the next few years.
A new stadium is not in the cards anytime soon for us, and the prospect of a downtown stadium like many other cities have doesn't seem to fit Salisbury. But there should be some thought given to long-range planning for a new facility, perhaps in the same location. Once there were plans to replace the Civic Center with a new building next door to Perdue Stadium so it could share parking and I think that's a superb idea. Many communities have adopted the idea of having sports facilities share those same common resources – Baltimore, Philadelphia, and Detroit are just a few examples where NFL teams exist close by their MLB counterparts. It may be a problem once or twice a season, but generally the arrangement works well. Similarly, my birthplace of Toledo did the same with its Huntington Center – home of the Walleye hockey team – which is just a block from Fifth Third Field and the Mud Hens. Between the two, there's only one "dead" month – the Mud Hens play from April-September while the Walleye play from October-April.
I understand that the focus of Salisbury city leaders is the revitalization of downtown, but there's potential for another entertainment district on the outskirts of town. As part of extending water lines to the area just down Hobbs Road from the stadium, parcels of land along Hobbs were annexed to the city a few years ago – so development would be a shot in the arm for our town.
The to-do list I've had for Perdue Stadium and the Shorebirds' operations is one thing, but it wouldn't hurt attendance to make the area around Perdue Stadium more than just a one-stop destination. The concessionaires of Ovations may lose a portion of their sales in the short run, but that could be made up if we get back to the days of 250 or even 300 thousand making it out to see the Shorebirds. We've done well to keep a team 20 years, but there are always greener pastures beckoning. Let's work to keep the Shorebirds here for generations to come.
One has to shake their head and ponder what might have been.
In the season's first half the Shorebirds had their best half since 2008, finishing with a 38-31 record and contending until the final days of the half before Greensboro and Hagerstown proved to be too strong of adversaries. Those two teams will tangle for the right to be this year's Northern Division champion by virtue of winning one of the two season halves, but Delmarva went in the opposite direction after the break, staggering home with a 28-42 second half record. Still, the 66-73 overall mark broke a string of four straight seasons where we couldn't even manage to win 60 games and was the team's best finish since their 66-70 record in 2009.
Unlike the last few years as well, the team actually had some semblance of offense. Instead of being mired among the bottom-feeders, the 2014 Shorebirds had some decent overall numbers, to wit:
A .267 team batting average was 4th in the league. This is the highest the Shorebirds have ever ranked in team batting and set the record for best overall average in franchise history.
Yet 592 runs was just good for 8th in the league. One scratches their head about this when it's noted their 1,267 hits was also fourth in the loop (and another franchise record.)
The 230 doubles ranked ninth overall, while 39 triples were good for fourth once again.
Perhaps the reason for the slow run production was the fact their 53 home runs were dead last, with West Virginia next up with 62.
We finished seventh with 538 runs batted in.
We also finished eighth in total bases with 1,734.
We only drew 369 walks, which ranked 12th in the SAL. On the other hand, 1,129 strikeouts was third-most.
We finished 10th in stolen bases with 118 and were caught 51 times, which tied for ninth.
Our .327 on-base percentage was ninth in the league, with a slugging percentage of .365 ranking tenth. This meant our OPS of .691 (thanks to rounding) was 10th.
As opposed to 2013 where just one player even batted .300 in limited action, a full half-dozen regular players reached that mark. (As it turned out, all six were Shorebirds of the Week so details to follow.) Indeed, as a whole the offense belied my preseason prediction:
It doesn't appear the Shorebirds will be an offensive juggernaut, but their pitching should be very good. We may see a lot of 3-2, 2-1 style games at the ballyard.
So about that pitching. If there was a culprit in their second-half decline, it was from the mound. For most of the first half the team ERA was in the top three or four, but the pitching numbers went south by season's end thanks to injuries and callups. We ended up eighth in the league for ERA with a 3.80 mark.
Some other pitching numbers:
Our 10 shutouts were good for fifth in the loop.
We had the fifth-highest number of saves with 37.
With 1,210 1/3 innings pitched, we were sixth in the SAL.
1,173 hits allowed was fourth-lowest. Yet the 606 runs we gave up was only good for seventh and the 511 earned runs tied for sixth. (We had the fifth-fewest errors with 146, leading to 95 unearned runs, which was sixth fewest.)
Maybe it's because Perdue Stadium is a tough home run park, but we gave up the fourth fewest with 70.
Nor were we afraid to pitch inside, hitting the second-most batters with 83 (West Virginia had 95.) It had to be that, because the 394 walks we allowed were fourth-lowest.
1,105 times opposing batters walked away muttering to themselves because they struck out, making us fifth in the league. One of my Shorebirds of the Week was the league leader in that category.
Finally, our WHIP (walks+hits/innings pitched) was third in the league at 1.29.
So the pitching wasn't exactly the strength and the hitting wasn't as bad as I thought it may be. As a sum of its parts, the season had its moments but a team that saw several of its record seven league All-Stars leave as the second half began and progressed found its depth left something to be desired.
Unfortunately, the help we received this year from an Aberdeen team which made the playoffs in 2013 won't be as likely next year. The IronBirds flopped in their defense of a division title, going a league worst 27-48 after starting the season 1-16. At the Gulf Coast League level, those Orioles went 29-31 but the Dominican League teams did well, with the two Orioles teams going a combined 77-63 and one making the playoffs. It usually takes a couple seasons for those players who even make the jump to the States to get to Delmarva.
On the levels above, only AA Bowie finished above .500 with a 72-70 record. Frederick ended up barely missing the playoffs despite a 65-72 record, while Norfolk was well out of the running at 65-79.
The question before us now is how this year's crop of Shorebirds of the Week fared, so let's review.
April 3 – Drew Dosch
When I selected Drew, he was the ultimate pig in a poke – as a 2013 draft choice and having missed all of the 2013 rookie league season with an injury, I had no idea how he would perform with Delmarva. For all I knew, he could have been consigned to extended spring or Aberdeen after a tough start. Instead, all Dosch did was make the SAL All-Star Game and set a new Shorebird record for hits with 157. Overall in 128 games Drew hit .314/5/50/.783 OPS in exactly 500 at-bats. It's unfortunate he missed the last handful of games because he was a prime candidate to get a cup of coffee with Frederick. Drew also led the team with 76 runs scored, walks with 47, and total bases with 202, and was in the hunt for the batting title until the last couple weeks. He was also one of the seven All-Stars to come from the Shorebirds, and is likely to be manning third base for Frederick next season.
April 10 – David Richardson
Unfortunately, David's second tour of duty with the Shorebirds was cut short by an injury at the midway point. Up until then, Richardson was putting together some good numbers: a 1.95 ERA in 32 1/3 innings, with just 24 hits allowed, a 24/11 K/BB ratio, and 1.08 WHIP. He was a candidate for promotion to Frederick if not for the injury, but if he can begin the season on time should have a legitimate shot at moving up.
April 17 - Hunter Harvey
We knew he was a top prospect coming in, and he didn't fail us in that regard. Until a strained flexor mass in his elbow shut him down in late July, Hunter was one of the league's ace pitchers, representing Delmarva at the league's All-Star Game as well as in the Futures Game just before his shutdown. So while his 7-5 record wasn't ace material, the 19-year-old fanned 106 in just 87 1/3 innings while walking just 33 and allowing only 66 hits (for a WHIP of 1.13.) While only six of his 17 starts were considered "quality" starts, it was oftentimes because he didn't complete the requisite six innings to qualify – ask Lakewood about the quality of his May 12 start where Harvey mowed them down for seven innings with just one hit, striking out 10. Fortunately, the only issue which should arise from that injury he suffered in July down the road is that Frederick's coaching staff may have to watch Harvey's innings in 2015.
April 24 - Jeff Kemp
Jeff put in a workmanlike season for Delmarva, mainly splitting his time between shortstop (61 games) and second base (40 games.) While a .254/4/42/.653 OPS slash line wasn't the greatest, the average improved over his 2013 season with Aberdeen as did his fielding overall. Yet he also regressed in both slugging percentage and on-base percentage, so his OPS dropped about 30 points between seasons despite the higher average (.254 this year vs. .240 at Aberdeen in 2013.) But Kemp will probably go into spring training as one of those players fighting for a position within the organization given his somewhat pedestrian numbers, low draft status as a 33rd rounder, and age as he will turn 25 next March. If Kemp doesn't make the Frederick roster, it's not likely he'll return here.
May 1 - Conor Bierfeldt
Conor led the team in home runs with 12 and RBI with 67. Unfortunately, at the plate that's about all the good news for Bierfeldt as he struggled all year to stay above the Mendoza line and finished hitting just .196 for the season. After pushing for a respectable average through the middle of the season, Conor staggered home in an 11-for-81 slump after August 1st and hitting .136 for an extended period like that isn't good for professional longevity, especially after a strong rookie campaign in Aberdeen where he hit .264/12/36/.862 OPS. Amazingly, the right-handed hitter hit .093 this season against left-handers, without a home run. When the OPS drops like a stone from .862 to .635 in a second season of pro ball, it's not likely there will be a third. Like Kemp, Conor is an older player (turns 24 next April) who was a relatively low draft pick so he may not get another chance – if he does, it would probably be repeating here.
May 8 - Dylan Rheault
Dylan was often the guy in the right place at the right time in the season's first half and led the team in victories for a large portion of the season (he was finally overtaken by Steven Brault.) Sort of an overlooked member of the staff thanks to a generally solid starting corps, he got his due as a late addition to the SAL All-Star Game roster. Overall for the Shorebirds, Rheault went 8-4 with a 2.82 ERA in 67 innings, stemming from a team-leading 34 appearances. Dylan allowed 60 hits, struck out 50 and walked 25 for the Shorebirds, resulting in a solid 1.27 WHIP. In terms of record, the reverse seemed to be true upon his mid-August promotion to Frederick, as he went 0-3 but had a respectable 3.38 ERA in 5 1/3 innings pitched among four appearances. One issue there was walking 5 while striking out just 2, but I suspect he will have the opportunity to iron out those problems with Frederick next season.
May 15 - Mike Yastrzemski
Mike was a man on the move this season. After playing the first half of the season in Delmarva and making the SAL All-Star team thanks to a .306/10/44/.919 OPS slash line here, he moved up to Frederick and eventually Bowie. His impact on the Shorebirds and the SAL was quite dramatic – even in just a half-season here Mike's 10 triples still tied for the league lead for the entire season. (Note above the team only had 39 total.) After just 23 games at Frederick, where Yastrzemski put together an impressive .312/1/19/.827 OPS mark, the Orioles sent him to Bowie to finish out the year. There he looked more average, wrapping up with a .250/3/12/.723 OPS line in 43 games. I would imagine he should begin next year with the Baysox, which is an appropriate level given his age and baseball pedigree.
May 22 – Jimmy Yacabonis
Another player who made an outsized impact in just one half, the SAL All-Star closer finished the season third in the league in saves with 14 while playing  just half the year here. Had he stayed it's likely Jimmy would have been the runaway leader. But Yacabonis wasn't staying after a dominant half where he struck out 31 in 25 1/3 innings. His 15 walks would have been more of a concern had he allowed more than 9 hits over that span – for the Shorebirds Jimmy's WHIP was 0.95 because hitters only batted .113 against him. In the second half, though, he found out walks can come back to haunt him as Carolina League hitters were far more patient. In 28 1/3 innings at Frederick, Jimmy went 0-4 with an 8.58 ERA, walking 28 while striking out 23. Batters hit .301 against Jimmy at the higher level. Yacabonis may be one of those guys who stays in extended spring to work on his control if it doesn't come around right away, but likely would be ticketed for a repeat at Frederick.
May 29 - Trey Mancini
Another late addition to the SAL All-Star Game, Mancini repeated his success at Aberdeen in 2013 for the half-season he was here, hitting .317/3/42/.779 OPS for the Shorebirds. But while the .251 average may not have been where he would have liked it, Mancini had a successful second half for Frederick as he hit seven home runs and knocked in 41, with a .691 OPS. He also maintained a good glove at first base. I'm not sure Mancini did enough to merit another promotion quite yet, but he's got a good chance of following 2013 Shorebird Christian Walker up the organizational ladder as a would-be successor to Chris Davis in Baltimore.
June 5 - Chance Sisco
It's apparent Chance was upset at not being picked to the league's All-Star team, because all he did in the second half was hit .361 to become the first Shorebird to win the SAL batting crown with a team-record .340 mark. (Actually, the snub may have been from missing a handful of games to an injury.) In any case, the league made up for it by selecting Sisco as a post-season All-Star. Moreover, Chance hit five home runs and knocked in 63, collecting a .854 OPS in the process. There are some things Sisco needs to work on behind the plate – for example, he allowed 95 stolen bases in 74 games and only threw out 20% of would-be base stealers, while allowing 16 passed balls (compared to just 8 for Austin Wynns, who caught 62 games) – but the offense appears to be there. Chance may actually follow a similar career path to current Oriole catcher Caleb Joseph, who spent several years at Bowie while his defense caught up to his offensive talents, but also remember Sisco doesn't turn 20 until the opening days of spring training next season.
June 12 - Sebastian Vader
Somehow I managed to pick all seven SAL All-Stars before the break, with Vader being the final piece. Sebastian briefly stayed for the second half but there was no denying that an 8-4 record with a 3.04 ERA and 1.13 WHIP in 13 starts was enough to move Vader up. He was the most durable Shorebird pitcher as the only one to average over 6 innings per outing, and most of them were very good. The numbers weren't quite there with Frederick, as Sebastian went 3-4, 4.60 in 9 starts covering 47 innings. Most tellingly, the 55/15 K/BB ratio Sebastian had here was narrowed to 34/26 with Frederick, and the WHIP increased to 1.55. Vader has repeated levels in the past, as he spent two seasons in the Gulf Coast League and two seasons with Aberdeen before making his full-season debut this year, so I wouldn't be surprised if he doesn't repeat Frederick as well.
June 19 - Anthony Caronia
While Caronia was up and down between Frederick and Delmarva last season, and played here the final week of the 2012 season, too, this was the first time he was picked as a SotW. It's too bad he only played in 53 games – missing several weeks after being beaned early on – because he did serious hitting all season while he was in the lineup, hitting .364/1/18/.848 OPS. Yes, he was repeating a level for the third time, and he's predominantly a singles hitter with just 10 extra base hits among his 64 total. But the guy can steal a base (he had 12) and played a decent if not outstanding second base this season. You have to root for this type of player to get an honest shot at Frederick, even if he's one of those lower-round draft picks who turns 24 next season – if he hits .179 as he did last time after 150-200 at-bats (as opposed to the 28 he got the first time there) then at least he got a fair shake.
June 26 - Steven Brault
Steven quietly ended up leading the team in wins with 9 and tied for fifth in the loop with 115 strikeouts in 130 innings pitched. Two other numbers jump out at you, though – he walked only 28 and allowed just 107 hits, so among all qualifiers (a minimum of about 112 innings required) Brault led the league in WHIP with a 1.04 mark. His 3.05 ERA was fifth as well. So Steven got the August call to complete the season in Frederick and pitched even better, going 2-0 in three starts (16 1/3 innings) and matching his ERA and WHIP as both were a sparkling 0.55. Perhaps the one knock was that he only struck out nine in that limited audition, but I would expect him to stay and anchor Frederick's rotation for a time in 2015.
July 3 - Jon Keller
An outstanding reliever for Delmarva this season (3-0, 1.59 ERA and 0.94 WHIP thanks to a 66/14 K/BB ratio and 39 hits allowed in 56 2/3 innings), Keller's promotion to Frederick was cut short by injury in late July after just two appearances where he walked seven and struck out five in 4 1/3 innings, allowing 4 earned runs and 8 hits. So the 8.31 ERA may not be representative of ability, but the severity of his injury may determine where he ends up next season. Jon certainly has nothing to prove at Delmarva but it may be a step on his comeback trail.
July 10 - Austin Wynns
As the flip side to the catching rotation of Sisco and Wynns, Austin held his own offensively most of the way before fading in August with a .181 mark to finish his Delmarva portion of the season with a slash line of .252/1/33/.619 OPS. Not great compared to his catching counterpart, but we've done far worse behind the dish offensively in recent years. Wynns even got to Frederick for a brief 5-game tryout, going 3-for-14 there with a double and 4 RBI. I noted above that Austin was the better defender of the duo, and he nabbed 37% of would-be base thieves with Delmarva. It very well could be the same combination in Frederick next season.
July 17 - Austin Urban
Urban was the first pitcher I saw this year for Delmarva because I recall he started the SU exhibition game April 1. He stayed in the rotation for the first few weeks, but eventually moved to the bullpen and was more effective – as a starter, Urban was 1-3 with a 5.26 ERA and 1.68 WHIP and 13/13 K/BB ratio in 25 2/3 innings, but in relief he was 2-1, 3.09 with a 1.54 WHIP and 25/19 K/BB ratio in 35 innings. It all added up to 3-4, 4.01 until he went on the disabled list in early August. Given the fact he's playing with house money as a free agent signee after being released by the Chicago Cubs organization, I would have to say his chances of getting back here are remote but not impossible, depending on how long it takes for the injury situation to be resolved.
July 24 - Josh Hart
Another guy who missed a chunk of the season to injury, Josh put in a decent campaign for Delmarva. Out for about a month and sent to the Gulf Coast League to rehab (where he hit just .167 in 24 at-bats) his 85 games with the Shorebirds resulted in a .255/1/28/.586 OPS stat sheet. But Hart showed a little speed with 11 stolen bases and a little power as he hit his first pro home run at Hickory August 15. When you consider the fact he doesn't turn 20 until next month and only hit .218 in 36 games in his first taste of pro ball last season, it's not out of the question for Hart to begin here next year and the Orioles to be just fine with that slow development.
July 31 - Creede Simpson
My lone repeater from 2013, Creede traded places with Trey Mancini at mid-season after batting just .214/7/22/.693 OPS at Frederick. Here he did far better in 64 games, putting up a .302/4/29/.779 OPS mark, which was a vast improvement on the .248 he hit here last season. But instead of versatility, Creede exclusively played first base on his Delmarva return and wasn't quite up to Mancini's standard in the field. His biggest enemy, though, is time. Creede turns 25 next week and that's old for this level, so his may be another case where he has to latch on with Frederick next season or draw his release – problem is first base is getting to be a crowded position in the organization, with several solid prospects.
August 7 - Luis Gonzalez
Right about the time I selected Luis, the Orioles named him their organizational pitcher of the month for July. I'm not sure if that was a jinx, but after that designation Gonzalez fell apart and allowed 26 earned runs over his last 15 innings – it was a brutal August that saw him go 0-4 with a 15.60 ERA, allowing no fewer than six runs in any start. So the 6-0, 2.20 mark on July 31 morphed into a 6-4, 4.83 final mark in 17 games (16 starts) covering 76 1/3 innings. Still, a 72/29 K/BB ratio is impressive and all that August damage only pushed his WHIP up to 1.34, so he's still in contention for a job someplace in 2015. It may be Frederick or it may be here, which wouldn't be the end of the world considering Gonzalez will be 23 and hadn't pitched above rookie ball until this season.
August 14 - Donnie Hart
Another mid-season addition to the staff, Donnie put up solid numbers during the time he was here, coming from extended spring. A 1-3 record was coupled with a 3.68 ERA and 1.23 WHIP in 24 appearances. He struck out 31 and walked 11, allowing 25 hits in 29 1/3 innings, while lefthanders hit just .200 off him. Overall, the numbers translated well from what Hart did at Aberdeen last season, but he runs into the same problem some of the other guys who played for the Shorebirds face – advancing age and low draft status. That's not to say he couldn't make it with Delmarva (or Frederick) next year, but in either case Donnie needs to get in a full season as he turns 24 later this month.
August 21 - Mitch Horacek
I noted this when I picked Mitch, but with 151 strikeouts he both led the SAL and joined a fairly exclusive club of Shorebird hurlers who struck out 150 or more in a season – all but one made it to the major leagues, if only briefly. For Delmarva, Mitch went 6-10 with a 3.80 ERA, pitching 137 1/3 innings, allowing 139 hits, and walking just 35 to go with the 151 Ks. The 1.27 WHIP was good. But Mitch achieved his high strikeout total by generally piling up 6 to 9 strikeouts a start, although he fanned a season-high 10 on August 19 at Lexington. Horacek also made one last start at Frederick, pitching 6 innings and allowing five runs on seven hits with three strikeouts and three walks, taking the loss. I'd still figure him for Frederick, though.
August 28 - Garrett Courtright
The last SotW finished up on a sour note, roughed up for five runs in his last 1 2/3 innings and increasing his ERA to 3.94 as a Shorebird. For Delmarva he pitched 32 innings in 19 appearances, going 1-3 with a 1.44 WHIP. He allowed 35 hits, walked 11 and struck out 22. Garrett began the season with Aberdeen but pitched 9 2/3 innings with an 0.93 ERA and 1.03 WHIP, meriting the promotion despite a 5/5 K/BB ratio there. I noted he was the last 2013 Oriole draft pick, but he probably can latch on back here in the bullpen and try to improve on his numbers in some respects.
*********
Each year I have a difficult time picking a Shorebird of the Year, but one observation I have about this year's crop is that there's truly the potential for it to have six, seven, or perhaps even eight of its members get into the SotW Hall of Fame by making it to The Show. Although I hold out hope for a few players, the most I've ever had from a particular season to date is five, and a couple seasons have been all but barren – 2010, for example.
Just look at the All-Stars which were selected. Had Mike Yastrzemski played here in the second half, there's no telling how much better the already-solid offense could have been and he could have put up some monster numbers. The same goes for fellow callup Trey Mancini, who had potential to be in a pitched battle with Yastrzemski for the team's RBI lead. Meanwhile, Jimmy Yacabonis was on his way to leading the league in saves, and a few years back I picked a Shorebird of the Year for doing just that.
But I have an unwritten rule for Shorebird of the Year that a player has to be here for about 2/3 of the season, which eliminated those three All-Stars as well as Sebastian Vader, who was having a fine season as well. I believe that, given his position as a middling draft choice, Mike Yastrzemski has worked his way into being my Prospect of the Year.
The South Atlantic League did a pretty good job of establishing contenders for the SotY prize, as one can argue a case for most of those they selected.
A strong starting staff also made for some very good contenders for the honor. As I noted above, Mitch Horacek led the league in strikeouts, Steven Brault was the leader in WHIP, and Hunter Harvey had the potential to flat-out dominate. I would have liked to have seen what he would have done in August, with perhaps 5 to 6 more starts. He may have led the team in wins and finished a strong second to Horacek in strikeouts.
On the position player side, though, it clearly became a two-man race between Drew Dosch and Chance Sisco.
When I began to think about this a month or so ago, I had pretty much decided it was a three-person race based on what was going on at the time, although the month Luis Gonzalez was having was putting him in as the dark horse. Brault and Horacek were having good seasons, but not to the extent others were on the offensive side; meanwhile, I thought Harvey's injury sort of put his chances on the back burner. It depended on how my other two contenders did in August.
Dosch and Sisco both made the case for themselves in the last month. It's not like neither was an unknown quantity as they were both high draft choices, but both had a little adversity coming into this season as well. As I pointed out above, this was Dosch's professional debut. Meanwhile, the question on Sisco was how well he could play against guys a couple years older yet handle the duties that come along with catching.
Here is a list of my Shorebirds of the Year, going back to the award's inception in 2006:
2006 – Ryan Finan
2007 – Danny Figueroa
2008 – Sean Gleason
2009 – Ron Welty
2010 – Brian Conley
2011 – David Walters
2012 – Brenden Webb
2013 – Lucas Herbst
In looking back, my runner-up would have easily garnered the crown in most of those other years. But what separated Dosch and Sisco to me was the fact that, while both had consistently good seasons, one was doing it a year removed from high school and handling the most defensively challenging position on the diamond.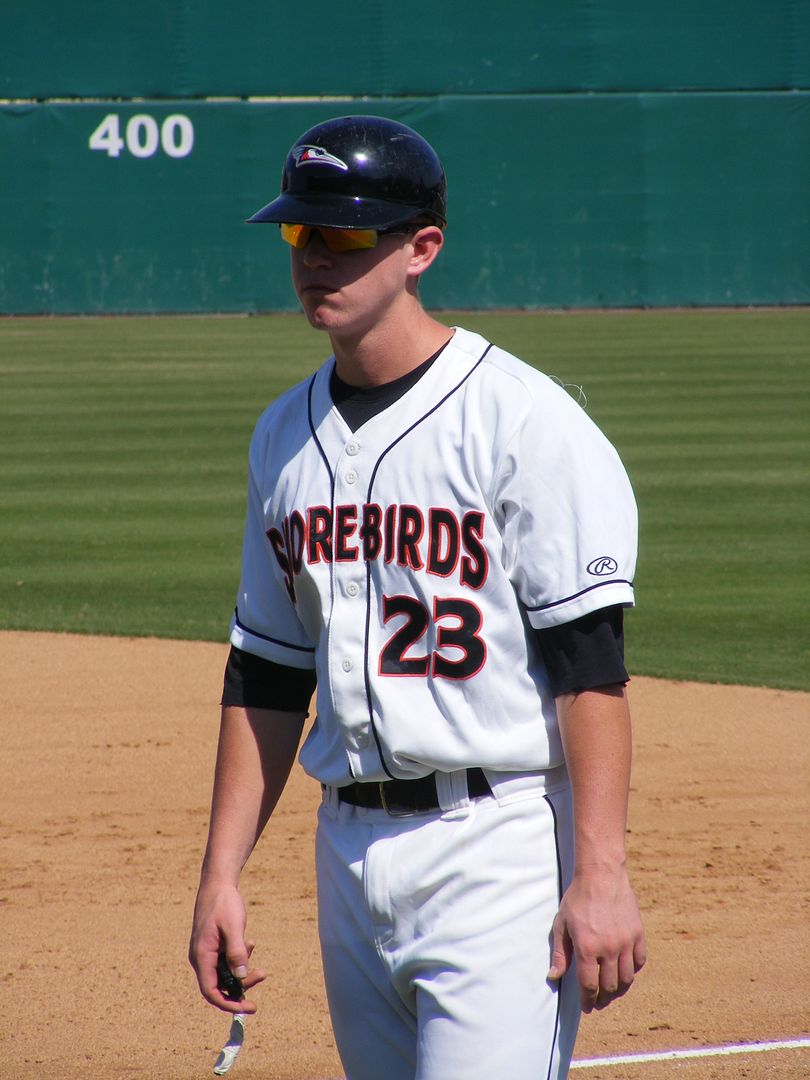 Only one Shorebird has ever won a South Atlantic League batting title, and that guy is your Shorebird of the Year, Chance Sisco.
So that's a wrap on the player side for 2014. Next week will be my picks and pans feature speaking as a fan, and then in December I will certainly update my Shorebird of the Week Hall of Fame. It was oh-so-close to having another addition this year when Tim Berry was recalled by the Orioles in June, but alas it was for one day and he didn't play. There are a few guys on the Orioles "taxi squad" in Sarasota who could become the Class of 2014, though, so I still hold out hope.
Then sometime around the start of spring training I'm going to try and predict the 2015 roster. As it turned out, 15 of my 25 picks were in Delmarva at some point in the season so I didn't do half-bad I guess. Next year, if the creek don't rise, will be the tenth season of Shorebird of the Week. But you can rest assured I won't put the Shorebirds on the shelf for seven months.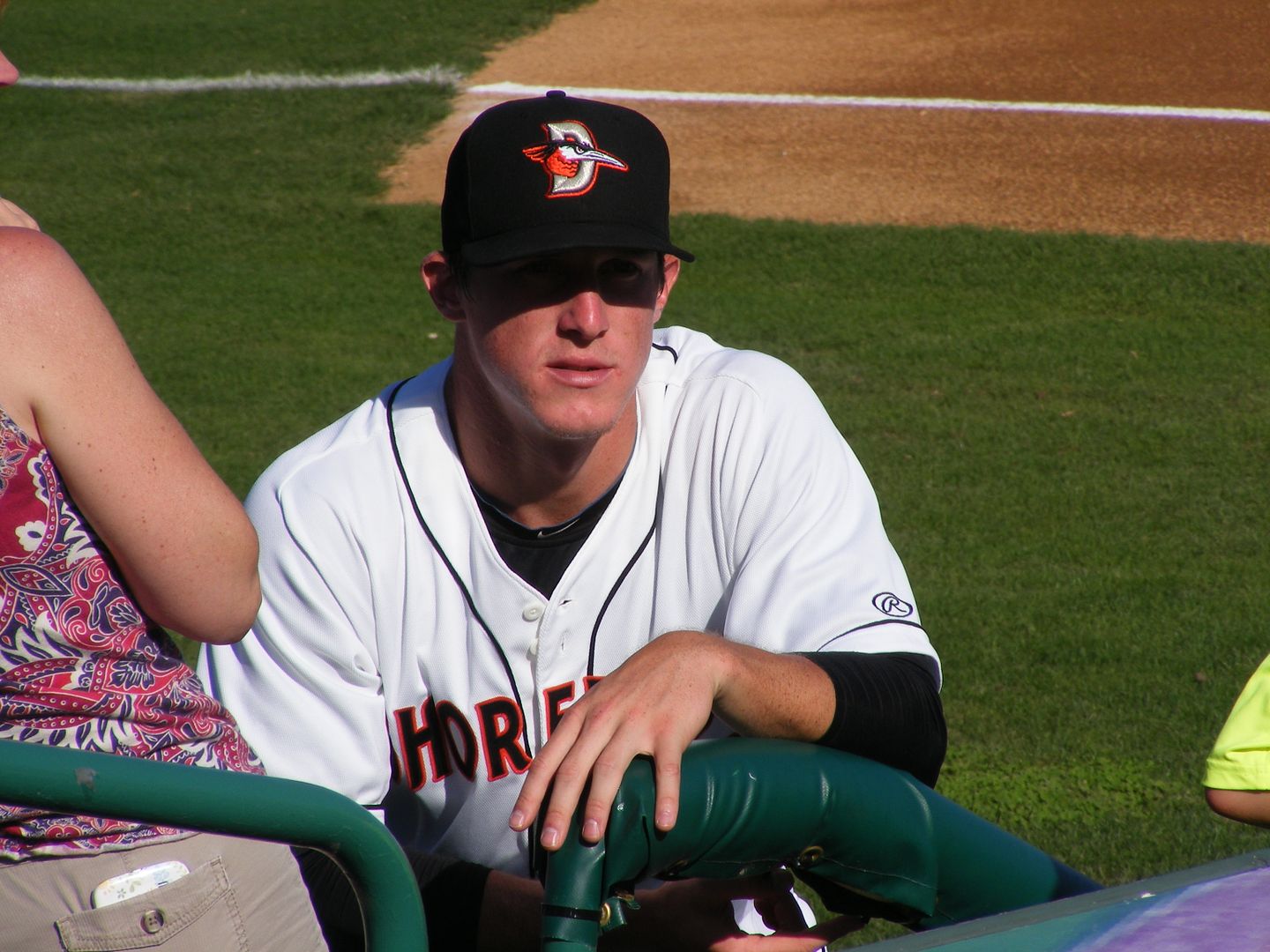 For the Shorebirds in the second half, it's been a tale of patching together a rotation and bullpen. Injuries and players moving around have meant that just two of the original Shorebirds staff are still here; meanwhile, over half have arrived since the second half began. One of those earlier arrivals has done a nice job in the bullpen and leads the second wave with 18 appearances. Until a rough outing last night, Garrett Cortright was statistically the best available bullpen arm.
It's always difficult to pick the last two or three SotW players, but Garrett has pitched well since his July 1 arrival so he gets the nod for the final spot. This is perhaps quite appropriate given Garrett was the last player selected by the Orioles in the 40th round of last year's draft and was the lowest player selected in the 2013 draft to actually play in 2013. (One player drafted after him made his debut this season, but Cortright was the 1,209th player of 1,216 selected.)
Still, the New York native and product of Canisius College has pitched well in the GCL and with Aberdeen over the last two seasons. After going 5-1 with a 1.11 ERA in the Gulf Coast League (40 2/3 innings in 11 games, with a 29/14 K/BB ratio) Corrtright took advantage of a cup of coffee with Aberdeen to pitch five scoreless innings in 2 games at the tail end of 2013. And once he began 2014 in much the same manner – allowing just 1 earned run in 9 2/3 innings – the Orioles decided to push him to Delmarva.
It hasn't been quite as easy here, although Garrett had a sub-3 ERA until last night. Now he's 1-2 with a 3.77 ERA in 18 appearances, spanning 31 innings. He's allowed 33 hits, struck out 21, and walked 11, so Cortright is finding this to be more of a challenge but doesn't appear overmatched. And since he doesn't turn 23 until after the season, there's a chance he could be here to begin 2015 but also the prospect of cracking Frederick's bullpen. Many of the pitchers we're seeing now, though, will be the mainstays of our 2015 staff.
As always, next week I will review the fate of the 22 players who were picked for Shorebird of the Week this season, look at how the Shorebirds stacked up to the rest of the league in various categories, and select my Shorebird of the Year. The week after that I'll do my annual picks and pans, then wrap up until the Shorebird of the Week Hall of Fame Class of 2014 – if there is one – takes center stage in December.