For the tenth year in a row, I have graded all 188 legislators in the Maryland General Assembly based on their voting patterns on a number of key issues. Beginning with sine die back in April, I started looking into both floor and committee votes trying to find those which reflected conservative principles, with an eye on civil liberties as well. The final product, all 27 pages, can be found right here or in its usual sidebar location.
You'll notice the look is a little different this year, as I decided to scrap the old two-column format and just give it more of a standard form that's easier to read. I also changed the font to something a little more stylistic. On the charts themselves, I decided to eliminate the committee votes from the main chart and instead added two new pages for those votes so that all of the legislators on the committee can be more directly compared.
As for the votes themselves, the overriding theme to me was fiscal. Democrats don't like not being in the governor's chair to spend money, so they are trying to use their legislative majority to force Governor Hogan to spend more. To the majority, there are two advantages to this approach: not only can they give handouts to favored constituencies, but they can prevent Hogan from finding the savings he can use to cut taxes and fees. Their goal seems to be putting our governor in a position where he has to raise taxes, which is music to the ears of people like Mike Miller and Michael Busch.
So you'll notice quite a few floor votes deal with these sort of mandates. There are also quite a few intended to strip power from the Executive Branch (which wasn't an issue just two short years ago) and tie the hands of businesses because government needs something to justify its existence.
I note in the conclusion that there were far fewer correct votes this year, and a large part of that was the mix of bills I selected. Last year I had an average House score of 39.82 and Senate count of 41.15. This was because a lot of Democrats got scores in the 20s, and that was based on their support for marijuana and civil liberties legislation I favored. This year, not so much as the averages plummeted to 27.1 in the House and 23.26 in the Senate. Being a more hardline fiscal conservative this year (because they addressed the issues they were with me on last year) changed a lot of Democratic scores from 24 to a big fat zero. On the other hand, I had only seen two perfect scores in nine previous years but got two in one session this year for the first time.
I've been warned that the third year of the cycle is always the most ambitious for policy, although liberals are dangerous any year. There are a few things that were stopped this year that we will surely see in 2017, such as paid sick leave. I also expect a bid to extend the fracking moratorium as part of a broad environmental package – the wackos were strangely quiet this year but I think 2017 brings some interim deadlines and reports on Bay cleanup. Add in the trend to mandate more spending and 2017 will be an interesting time.
One final change comes in the sidebar. I'm leaving the 2015 report available as part of a long-term process to show trends for the 2015-18 term. As one example, I think the candidacies of Kathy Szeliga and David Vogt affected their voting patterns – you'll be able to judge for yourself now.
Feel free to print yourself a copy for your use, just don't forget where it came from.
I have generally associated Friday afternoon before a holiday weekend news dumps with the party of our current President, but Governor Hogan took advantage of the impending holiday weekend to announce he's allowing 39 Senate and 45 House bills to become law without his signature. Hogan is vetoing just six bills at the end of this session, with two of them being crossfiled versions of a bill that would increase renewable energy mandates that will be featured on my monoblogue Accountability Project. In his veto letter for HB1106/SB921, Hogan conceded the idea was sound but that this measure took things too far when ratepayers are already shelling out a collective $104 million in compliance fees in 2014, the last year for which data was available.
The renewable portfolio standard wasn't the only mAP bill Hogan vetoed – two other ones had to do with transportation and the fallout from Hogan's decision to pull the plug on Baltimore's Red Line. Back in April, Hogan vetoed the infamous Maryland Open Transportation Investment Decision Act of 2016 only to have General Assembly Democrats rise up and override him. The veto vote was the one I used for the HB1013 slot of the mAP.
Hogan also chastised General Assembly Democrats for their support of SB907, which would have mandated a $75 million annual payment toward a replacement for the Harry W. Nice Memorial Bridge, which carries U.S. 301 over the Potomac River between Maryland and Virginia. Hogan noted that this project is already in the pipeline, calling the legislation "absolutely unnecessary." This will also be an mAP vote.
A third bill that I didn't use as an mAP vote – but which also deals with transportation – was HB1010, which would have created the Maryland Transit Administration Oversight and Planning Board. Governor Hogan called it "a sophomoric attack on sound transportation policy," noting also that the board would be stacked with members from the urban counties.
The other two bills Hogan vetoed were comparatively minor. One dealt with a proposed mixed-use project at Morgan State University in Baltimore, while the other claimed the proposed Maryland Education Development Collaborative ran afoul of the state constitution by placing General Assembly members in a position where they would be doing executive functions.
I'm sure some part of the equation whether Hogan vetoed the bills or not had to do with the likelihood of a veto being sustained, so here are the margins of passage for each of these bills:
HB1106: House 92-46, Senate 32-14. Override possible by 11 votes in House, 5 in the Senate.
SB921: Senate 31-14, House 91-48. Override possible by 5 votes in Senate, 9 in House.
SB907: Senate 33-12, House 90-50. Override possible by 7 votes in Senate, 7 in House.
HB1010: House 87-51, Senate 28-19. Override possible by 6 votes in House, but Senate can uphold veto if all 19 maintain their votes.
SB540 (Morgan State): Senate 41-0, House 113-22. Override likely: Senate would need to find 19 votes and House 35.
SB910 (MEDC) passed without objection in both houses, but will likely have GOP support for a veto. If so, they need 5 Senate Democrats or 7 House Democrats to join them.
Given those results, I'm quite disappointed Hogan didn't veto more bills. Not only does it put Democrats on record opposing a popular centrist governor, but it also slows down the General Assembly and hopefully makes the more centrist members of the majority rethink their support of bad legislation. It was pointed out to me recently that Hogan won 71 legislative districts but only 50 Republicans were elected to the House – thus, in theory the GOP can get a majority for the first time in generations in 2018. Dream big. (Sometime I should look into this claim.)
One other issue with this is that Hogan's slow veto deliberations removed any opportunity to petition the most egregious legislation to referendum. However, I say this knowing that we aren't taking advantage when opportunity knocks – I honestly believe felon voting should have been petitioned to referendum (as an act this year thanks to the veto override vote, it could have.)  Let's see if 80 percent really oppose it.
So it will turn out that the vast majority of bills on my mAP – all of which I opposed for the floor vote – will become law anyway. I think we're reaching way too far across the aisle in this state considering how little we get in return, so in my view Hogan should have really played hardball. At some point a number of these bills are going to bite us, but now we won't even get the luxury of a repreieve for a few months. Thanks, Larry.
The fact that Memorial Day occurs on a somewhat rare fifth Monday of the month this year provided the WCRC with an "extra" meeting this year, and they took advantage by scheduling something that's becoming a tradition: the annual Legislative Wrapup. All six Republican members of our local delegation (from Districts 37 and 38) were invited – but thanks to a number of calendar conflicts, only two of them came. It was ladies' night for the delegation as Delegate Mary Beth Carozza and Senator Addie Eckardt gave their accounts of the recently completed session. (Delegate Chris Adams made the attempt to stop by, but came just after we wrapped up.)
So once we did our usual Lord's Prayer, Pledge of Allegiance, and introduction of distinguished guests, Eckardt got the meeting underway by praising the state's $42 billion budget, which needed no new taxes for balance. The reason for this was that the Hogan cabinet was finding more efficiencies in their respective departments, enabling the state to become more business-friendly. One way they were doing this was through fee reduction, although Eckardt noted that some Democrats were fretting that fees were getting too low. Yet the budget allowed for a reduction in the structural deficit and did not feature a BRFA, the omnibus bill where spending mandates are often buried. This year's spending had "full transparency," said Addie.
But the push to reduce taxation was one goal of the Augustine Commission, explained Addie. Sadly, the broader tax reform package could not pass thanks to the question of passing a package mandating expanded paid sick leave - despite the fact changes to the earned income tax credit would have helped thousands of working Maryland families that I thought the majority party deigned to represent.
On the other side of that Augustine coin, Addie continued, was the idea of being responsive to constituents; to "change the tenor of government." This went with a drive to bring things to the county level, as Addie noted "local control is important to me."
One complaint Eckardt had about the session was the "crusade to get the Red Line back." It led to the passage of what's known as the "Maryland Open Transportation Investment Decision Act of 2016." (I call it the "Revenge for Not Funding the Red Line in Baltimore" Act.) While the bill overall is terrible, Eckardt noted it was amended somewhat to give local jurisdictions a little more priority.
And while she was pleased Wicomico County would be receiving an additional $8.7 million from the state for various projects, Addie was more passionate about a series of initiatives to bolster mental health and combat addiction around the state. She was also happy to see the Justice Reinvestment Act pass, which was a bipartisan effort at criminal justice reform. The state was also doing more to address mental and behavioral health, particularly since she claimed later in the evening it took someone who was addicted and incarcerated two years to re-integrate fully. This led to a discussion about what the state and local governments were doing to deal with the issue of homelessness, to which Muir Boda revealed the city of Salisbury would be embarking on a Housing First program modeled after one in the state of Utah.
Between Eckardt's main presentation and the later discussion about mental and behavioral health issues, we heard Delegate Carozza's perspective. She began by praising the club for being a group of workers and doers when it came to advocacy, with the optimistic view that "this is our time…Governor Hogan is turning the state around." But that was a process which would take at least eight years, said Mary Beth. As an aside, she also believed that Kathy Szeliga was "the candidate that can win" the U.S. Senate seat, which would also lay the groundwork for Larry Hogan's re-election campaign.
Both she and Eckardt, added Carozza, were in the position to support the budget thanks to their respective committees. They could succeed making suggestions for "walling off" funds for supplemental budget proposals, of which there were two or three each year. And while this budget allowed for what Carozza termed "a well-rounded tax package," only a minor tax break for Northrop Grumman made it through. But the "good news" out of that was that it was making Mike Busch and Mike Miller talk about tax relief, making it a stronger possibility we may see some in 2017.
As for some of her priorities, Carozza was happy to see the bomb threat bill she sponsored make it through the General Assembly in its second try. (A similar proposal was introduced by then-Delegate Mike McDermott in 2013, said Mary Beth.) She commented about how the broad community support, combined with the "sense of urgency" provided by a series of bomb threats making the news earlier this year, allowed the bill to pass easily. Another bill she was happy to shepherd through was the ABLE bill, which allows the disabled to save money for dealing with their medical-related expenses without jeopardizing their means-tested benefits.
She also stressed that killing bad bills was a part of the job as well, citing the defeat of the poultry litter and "farmer's rights" bills where she praised Delegates Carl Anderton and Charles Otto as they "led the charge" against those measures. Mary Beth also took the unusual step of personally testifying against the assisted suicide bill and worked to amend the sick leave bill to exempt more seasonal employees. On that bill, she predicted "we're going to see it again next session."
Even after hearing all that information, we had some business to do, like the treasurer's report and Central Committee report that Dave Parker delivered. He called the recent state convention the "get over it, people" convention, noting the party seemed pretty well unified afterward. Even local radio host Don Rush had difficulty finding disunity among a group of Republicans who were his guests last Friday, Parker added. On the other hand, "Hillary can't close the deal" on the Democratic side.
I added my two cents about the convention to his report, pointing out the National Committeeman race was perhaps the biggest bone of contention and that was relatively minor. But the Fall Convention may be interesting because we will be electing a new Chair, and the question is whether it will be someone who will work more for Larry Hogan's re-election or to bolster the GOP numbers in the General Assembly. A Hogan win, I added, would make redistricting the key focus for the second term – personally, I think we should strive for single-member districts and Eckardt agreed based on its impact to minorities.
Shelli Neal updated us on the Greater Wicomico Republican Women, who would be holding their next meeting June 16 at Adam's Taphouse. They had two tickets to the Tawes Crab and Clam Bake in Crisfield to raffle off as part of a membership meeting for the newly-christened organization.
Another fairly new creation was the Wicomico Teenage Republicans, which had "a great start of a club" according to Nate Sansom. While their next meeting was slated for this coming Friday, they planned on taking a summer break and reconvening in August once school started back up. With a group of "passionate people, happy to be involved," Sansom believed his group would focus on statewide campaigns like Kathy Szeliga's as well as the local We Decide Wicomico campaign for an elected school board.
Representing the statewide College Republicans, their Chair Patty Miller was hoping to reach each county Central Committee at one of their meetings over the next few months and "see what they need from us." Her first stop will be this week in Calvert County.
Jim Jester reminded us the Crab Feast would be September 10, but stressed the need for more volunteers – particularly to handle admissions and the silent auction.
Shawn Jester pointed out the WCRC Scholarship winners had a brief story in the Daily Times. But, since the subject was volunteering, he was also looking for people to help out at Third Friday, which we missed this month because no one was available. On that note, a signup sheet was passed around. (We will also need help for upcoming events such as the Wicomico County Fair, Good Beer Festival, and Autumn Wine Festival.)
After all that discussion, and seeing that we had a legislative update where the topic wasn't addressed, I added one thing to the conversation. General Assembly Democrats sponsored a large number of bills this year that mandated spending. To me, this is an effort to handcuff Larry Hogan when it comes to budgeting but also leaves less room for tax reform. Many of these bills may become law without Hogan's signature, but they will be law just the same. It's an issue that I think needs a strategy to address, perhaps a reverse BRFA to eliminate mandates.
We are going to try and get the guys who didn't show up this month to come to our June meeting, so stay tuned. It will be June 27.
The other day I received a reminder that Heritage Action had updated its Congressional scorecard. And for those who believe that our Congressman Andy Harris isn't as conservative as he makes himself out to be, it should be noted that his 90% rating puts him in the top 20 on Congress overall, or the 95th percentile if you will.  It's a score that Harris currently shares with some of the more libertarian heroes of Congress, such as Justin Amash and Thomas Massie, as well as Presidential candidate Marco Rubio. (Ted Cruz was among the top 3 at 100%, along with Mike Lee and Ken Buck of Colorado.)
But one weakness I'm finding with the Heritage Action scorecard is just what issues they consider important – there's no easy way to determine what bills and votes they deemed important enough to include. Certainly I trust the Heritage Foundation to be a conservative watchdog as they have been for many years, but it would be nice to have their scorecard reflect what the scores are based upon.
On the other hand, I present no such problem with my monoblogue Accountability Project because I explain just why I vote as I would. (By and large, it's opposition to the lunacy Democrats put out on an annual basis, although I am also far more of a budget hawk than most as well.) In this year's roster of legislation, there were anywhere from five to fifty-odd votes per bill on my side in the House and two to twenty per bill in the Senate. None of those I sided with this year became law, unlike last year where I won a couple.
If you follow monoblogue on social media (and you should) you'll notice I'm making steady progress on this year's edition, which I am slating to release June 6. Actually, what pushes this into June is a fairly recent phenomenon.
Back when Martin O'Malley was governor, I never had to worry about vetoed bills and pretty much everything that was placed in front of him by the Democratic-controlled Maryland General Assembly was signed in short order. But with Larry Hogan in office, I have to pay attention to what's called the "date of presentment." This tripped me up last year in discussing the post-session because I thought Hogan had 30 days after session to sign/veto bills, not realizing there was a date of presentment involved. (O'Malley always seemed to sign things as quickly as possible.) This year the date of presentment was May 1 (20 days after session) so the drop-dead date for a Hogan veto is May 31, or 30 days after presentment.
Where this affects me is what I call the "disposition" of each bill. Not only do I tally the votes, but I make sure readers know the fate of each bill. It was easy (if depressing) when MOM was in office because I could simply write something along the lines of "Governor O'Malley signed this bill May 5." Now I have bills that are allowed to become law without Hogan's signature and actual vetoes to deal with, so it makes me wait until the coast is clear June 1 to figure out final disposition. Hence, I have to wait to put it out. In truth, the compiling is easier than ever because I've done it so long and can fill out the spreadsheet I use rather quickly.
So you are two weeks away from getting your hands on this hot little item, which so far has been a great horse race as I compile votes and find multiple members still have a chance at a perfect score. Now if we could only get that number of perfect scorers up to 188, or at least a good working majority in each chamber, this state may be getting somewhere.
Back on Tuesday I promoted Marita Noon's most recent column on social media with the promise to do a Maryland-centric follow up "If I think about it this week." (I planned to all along, but sometimes I forget so I figured I better cover myself.) Anyway, the passage that piqued my interest was this one:
In California, where (billionaire and liberal Democrat political backer Tom Steyer) has been a generous supporter of green energy policies, he helped pass Senate Bill 350 that calls for 50 percent renewable energy by 2030. California's current mandate is 33 percent by 2020 – which California's three investor-owned utilities are, reportedly, "already well on their way to meeting." It is no surprise that California already has some of the highest electricity rates in the country. Analysis released last week found that states with policies supporting green energy have much higher power prices.
In doing research for the monoblogue Accountability Project, which I am in the process of completing now, I stumbled across two bills which dovetail nicely with both this article and another recent commentary by Noon regarding solar power mandates and incentives. I'll tackle the latter issue first.
For several years the state of Maryland has mandated a certain percentage of electrical power be derived from renewable sources, with a proposed new version of the law (HB1106/SB921)retaining the 13.1% share required for 2017 but increasing the carveout for solar energy from 0.95% to 1.15%. This bill also proposed that the share of both renewables and solar power increase at an accelerating rate, eventually ratcheting up the requirements to 25% and 2.5%, respectively. While that would be great news for the solar industry, it would be bad news for consumers – according to the information provided with these bills the increase in monthly electric bills to an average consumer if this measure is enacted could be as much as $3.06 per month by 2020. However, Maryland's Department of Legislative Services cautions (page 7 of the Fiscal and Policy Note) predicting this increase can only be "for illustrative purposes" because of all the factors involved.
The reason behind the rate increases is the payment to the state called the Alternative Compliance Payment (ACP), which also is affected by the bill. The proposal actually would decrease slightly the ACP for all renewable energy sources except solar from 4 cents to 3.75 cents per kilowatt-hour, or, in a more practical term, from $40 per megawatt-hour (MWh) to $37.50 per MWh. (An average home is considered to use 1 megawatt-hour of electricity per month.) It also gives utilities a temporary break on the solar energy carveout, where the fee for a shortfall would decrease from a scheduled $200 per MWh in 2017 and 2018 to $195 and $175 for 2017 and 2018, respectively. The fee would increase in the out years, however.
When the Fiscal Note predicts that the state itself would incur an additional $2.2 million in electrical costs by 2021, it's obvious that this proposal would be a costly one for consumers. At this point the bill is in limbo, as it was passed by both the House of Delegates and Senate but has not been signed or vetoed yet by Governor Larry Hogan.
Now let's turn to the most recent commentary from Noon, where she notes California will mandate 50 percent renewables 14 years hence. Unfortunately, Maryland is not that far behind them as they just enacted SB323, which will take effect in October. Instead of letting this silly notion that our little state can actually do something about climate change by reducing our energy consumption expire – as it would have with no action - this bill instead maintained a 25% by 2020 mandate and increased the mandated energy reduction to 40% by 2030. As an analysis Noon used in her piece shows, Maryland is among the states with the highest electricity bills and follies such as these are a reason why.
Don't get me wrong: I am definitely for energy efficiency, but it should be in terms of consumer choice rather than government fiat. Those who create and pass the laws rarely embark on any sort of dynamic cost/benefit analysis for their policies, so in this case they're not considering the effect on ratepayers and job creators in balance with the very dubious pie-in-the-sky notion of affecting our climate. (After all, if it was once warm enough to have the polar expanse of Greenland actually be green, as it was around the turn of the previous millennium – well before the Industrial Revolution or the car-happy society we inhabit now – then how much effect do we really have?) We can hardly predict with any certainly the weather two weeks from now, so why should we trust the accuracy and inerrancy of a climate forecast for 2050 when it's used as an excuse for confiscatory policy that indirectly benefits those making the forecast?
As I brought up the monoblogue Accountability Project earlier, it shall be noted that the votes on both these bills will be used for this year's mAP. It's a shame that just 39 Delegates out of 141 and only two (yes, two!) Senators out of 47 have the potential for getting both these votes correct. Maryland has a relatively powerful environmental lobby thanks to its straddling of Chesapeake Bay, but these were cases where the state's budding attempt to be more business-friendly and hopefully end its economic reliance on big government should have held sway. While Governor Hogan erred in signing the climate change folly, he can do a more concrete favor for businesses and ratepayers by vetoing HB1106/SB921 and creating a proposal to sunset the ACP for next year's session.
And while we are at making energy policy, I encourage Governor Hogan to follow the lead of his friend and cohort New Jersey Governor Chris Christie and remove Maryland from the membership rolls of the Regional Greenhouse Gas Initiative. Utilities (and their ratepayers) will thank him from getting us out from under that wealth transfer boondoggle.
When I last left you, I was commenting on having to get up at 6:45 for breakfast. Given that this was our election day and the polls were yet to open, this was the scene around the hotel on available spaces.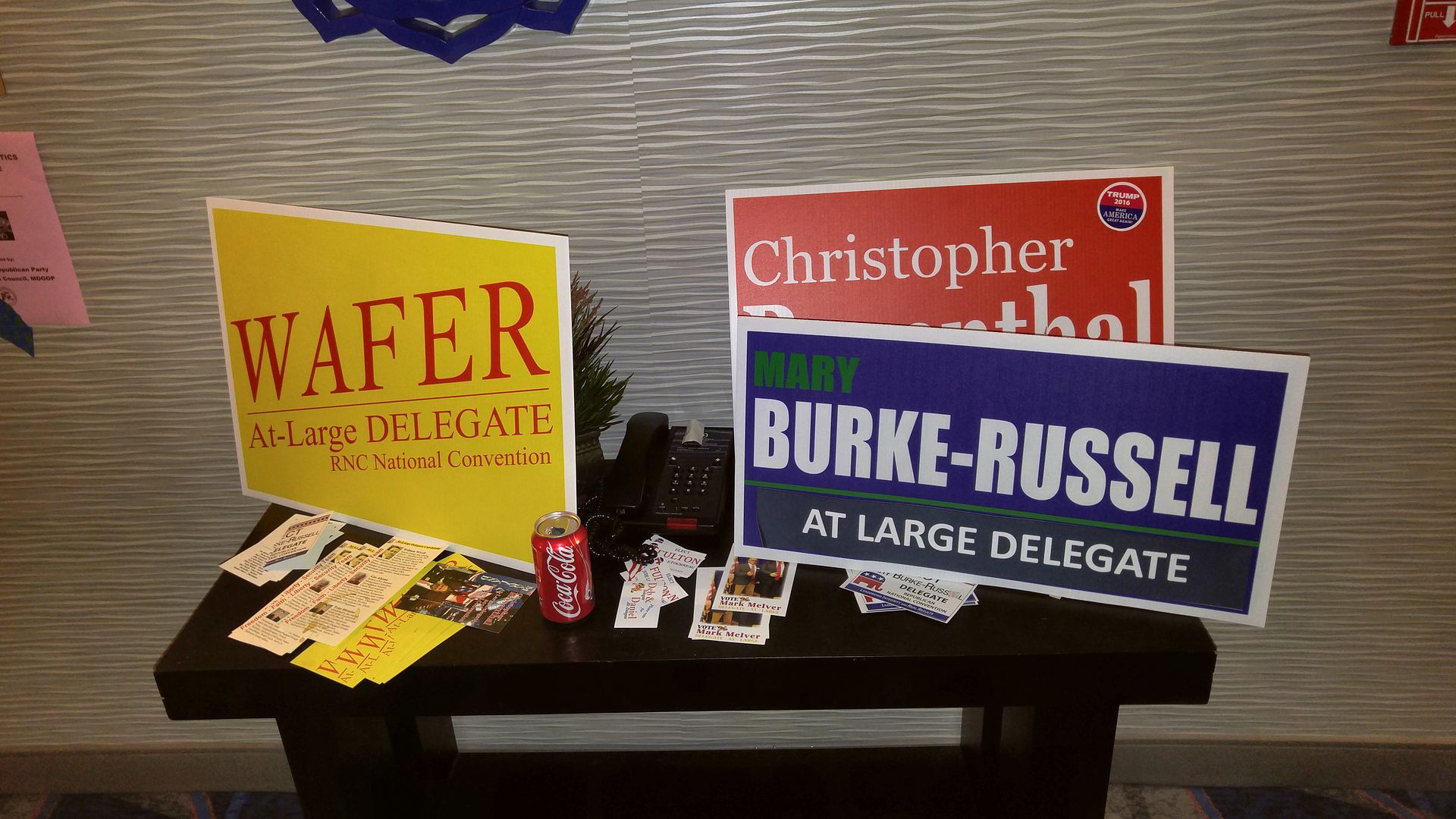 Aside from the Coke can (which, as an aside, is a drawback to this hotel because Pepsi products are difficult to come by), I often wonder what non-political guests think about all this. I'm sure they are amused.
On the way back to breakfast from putting my stuff in the car (on a glorious morning) I snapped this shot of the convention hall.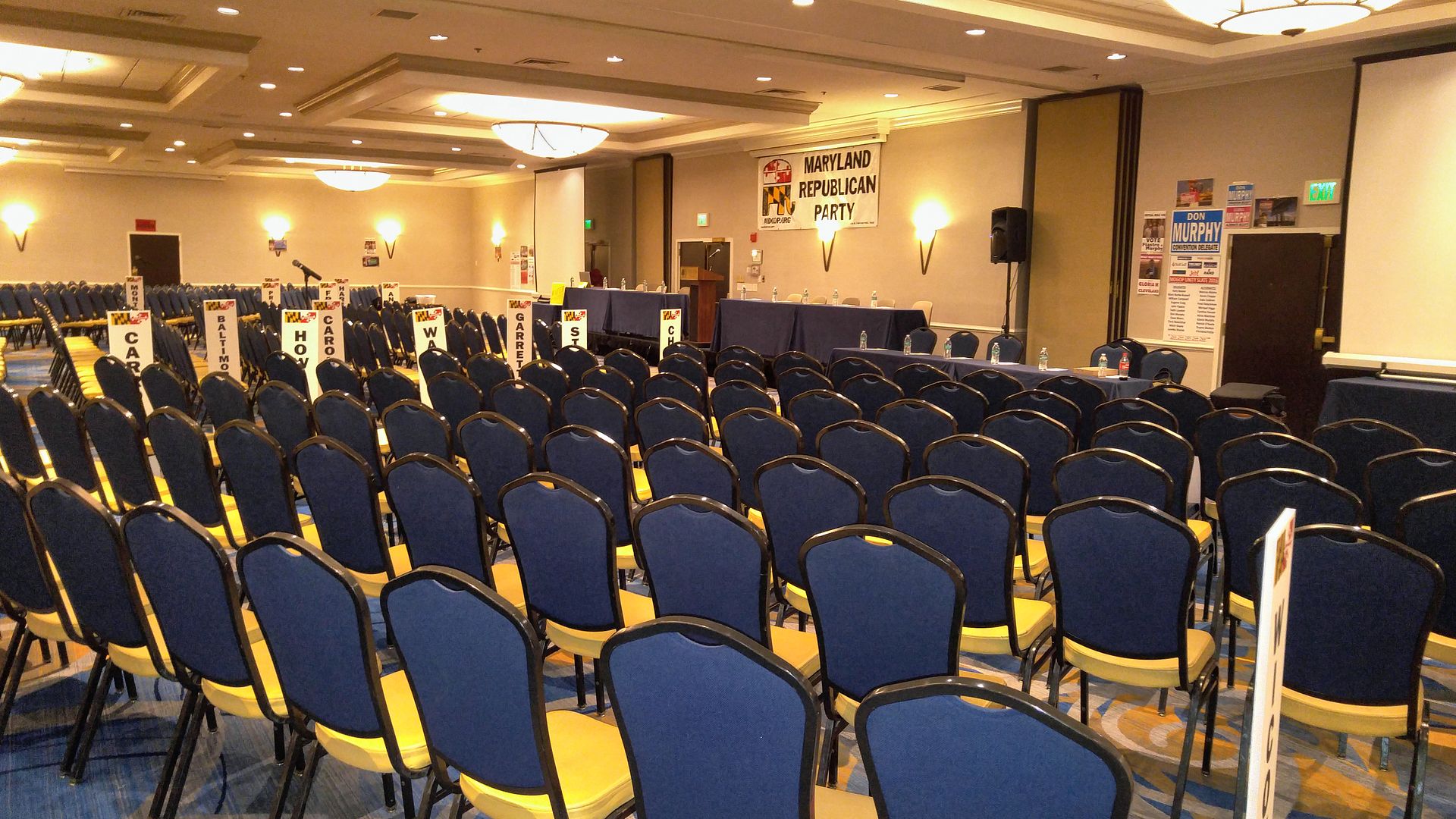 One tangible improvement was our county signs, which have finally been upgraded after a decade.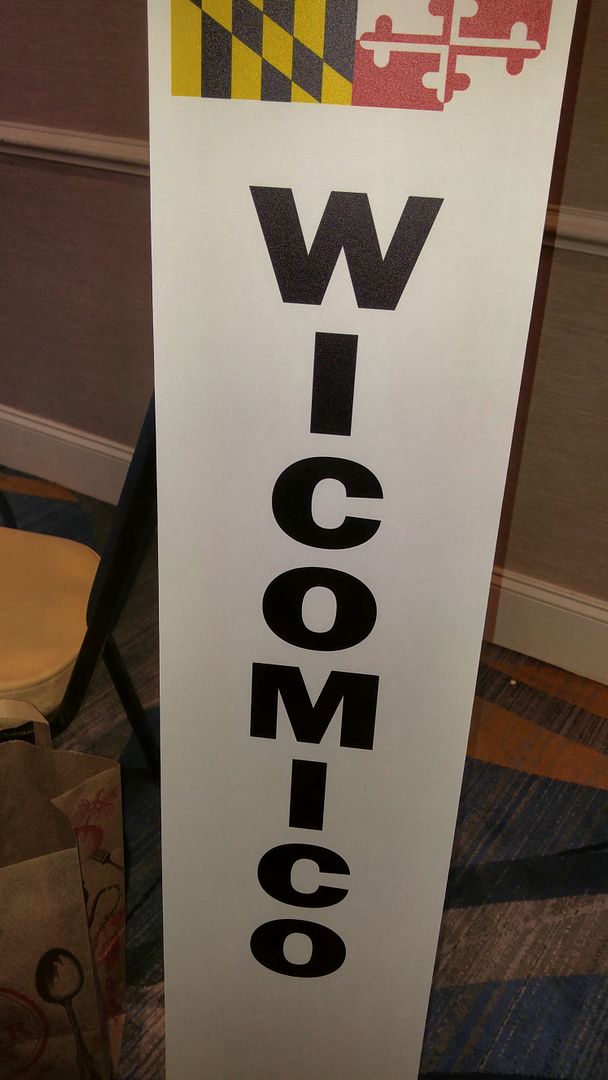 Our breakfast speaker was introduced by the recovering MDGOP Chair Diana Waterman, who was thrilled to report her hair was growing back after the chemo and surgery she has endured for her fight against breast cancer.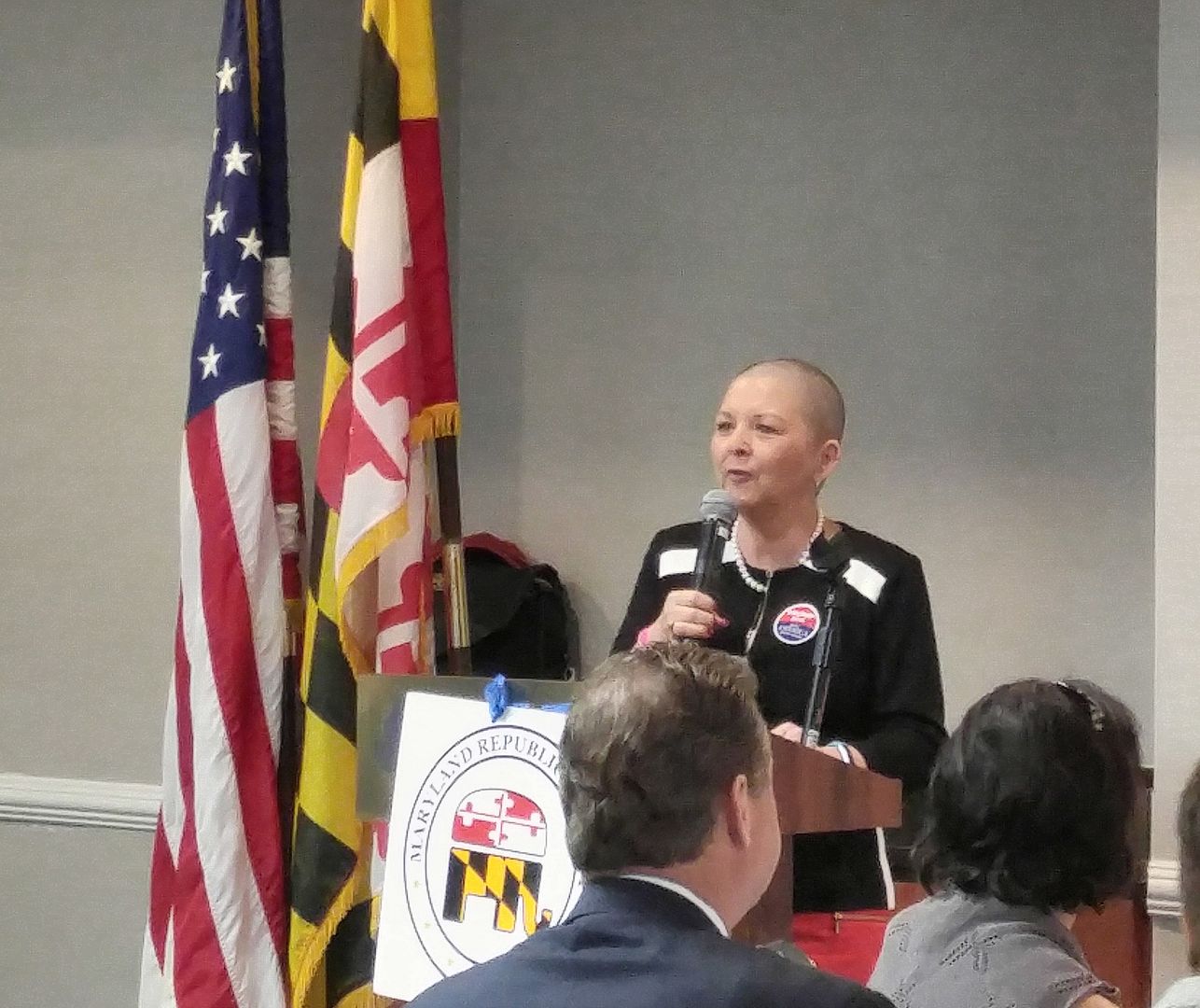 She called Anne Arundel County Executive Steve Schuh "a great Republican." Schuh began his remarks by noting this was the "most unusual election in at least 100 years."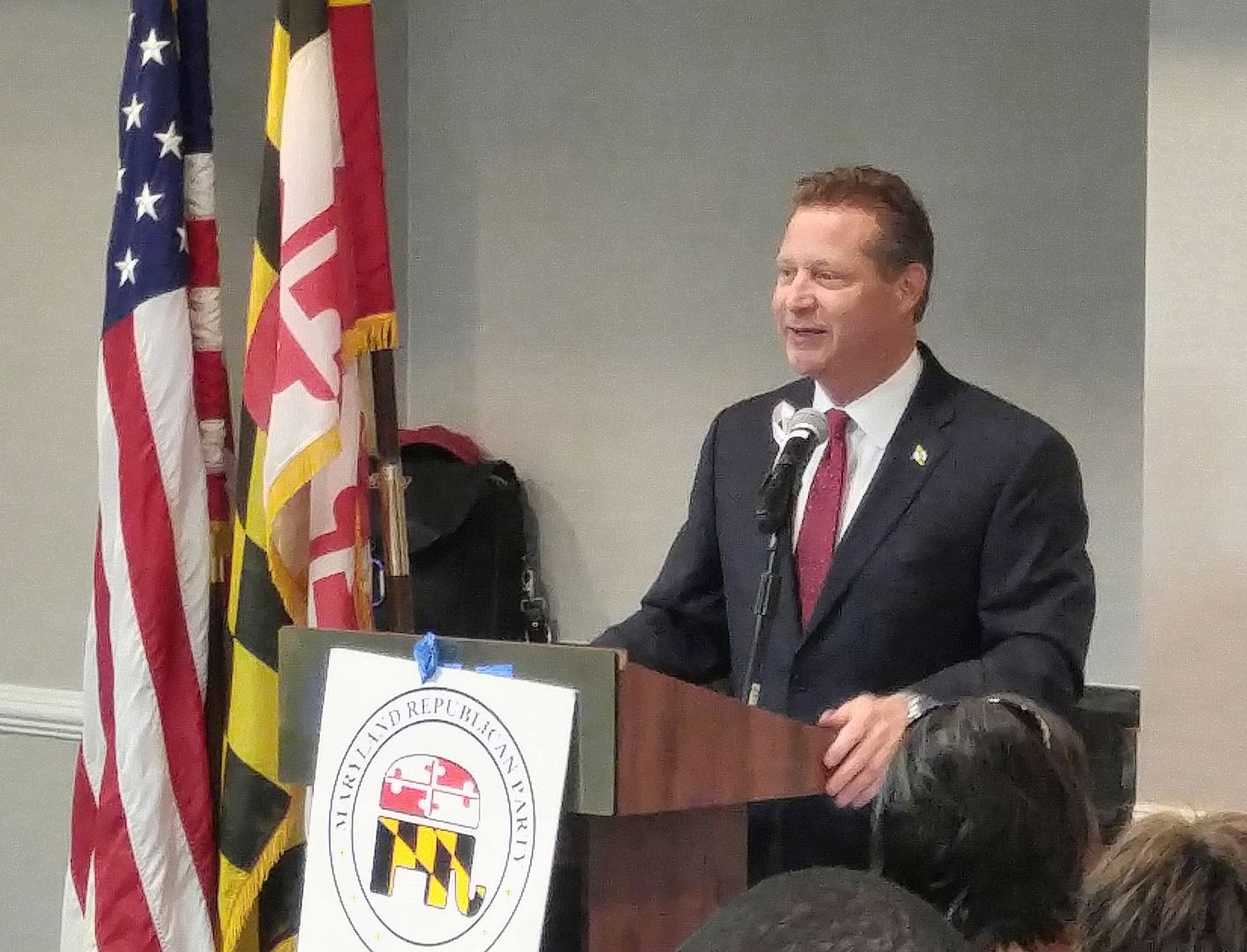 But Schuh went on to praise Donald Trump for tapping into several "electoral undercurrents," particularly when he brought up the issues of immigration and national security. Yet while he said the "misgivings were understandable," Schuh has "come to peace with a Trump candidacy." Steve then outlined a number of stark differences between Democrats and Republicans: the role of government, immigration, Second Amendment, free speech (where the Left uses "shoutdowns as a weapon of choice"), taxation, private property, and life itself. It was a "belief in limited government and personal responsibility" that set the two major parties apart, Schuh added.
Schuh's rather brief remarks allowed me to grab a good seat for the convention itself, which featured a number of reports in the morning. I wasn't satisfied with how most of my photos came out inside the hall, so you will have to read about most of what was said inside without the visual aids.
Annapolis Mayor Mike Pantelides welcomed us to his city, noting that the Maryland GOP "got involved in my race in a very big way" and allowed him to win by a narrow 59-vote margin. Encouraging us to note on social media that the event was being held in Annapolis, Pantelides also called both County Executive Schuh and Governor Hogan "mentors to me." His was the one city in Maryland with Republican leadership across the board: mayor, County Executive, and Governor, Mike added. Solid Republican principles and leadership could provide solutions, concluded Pantelides.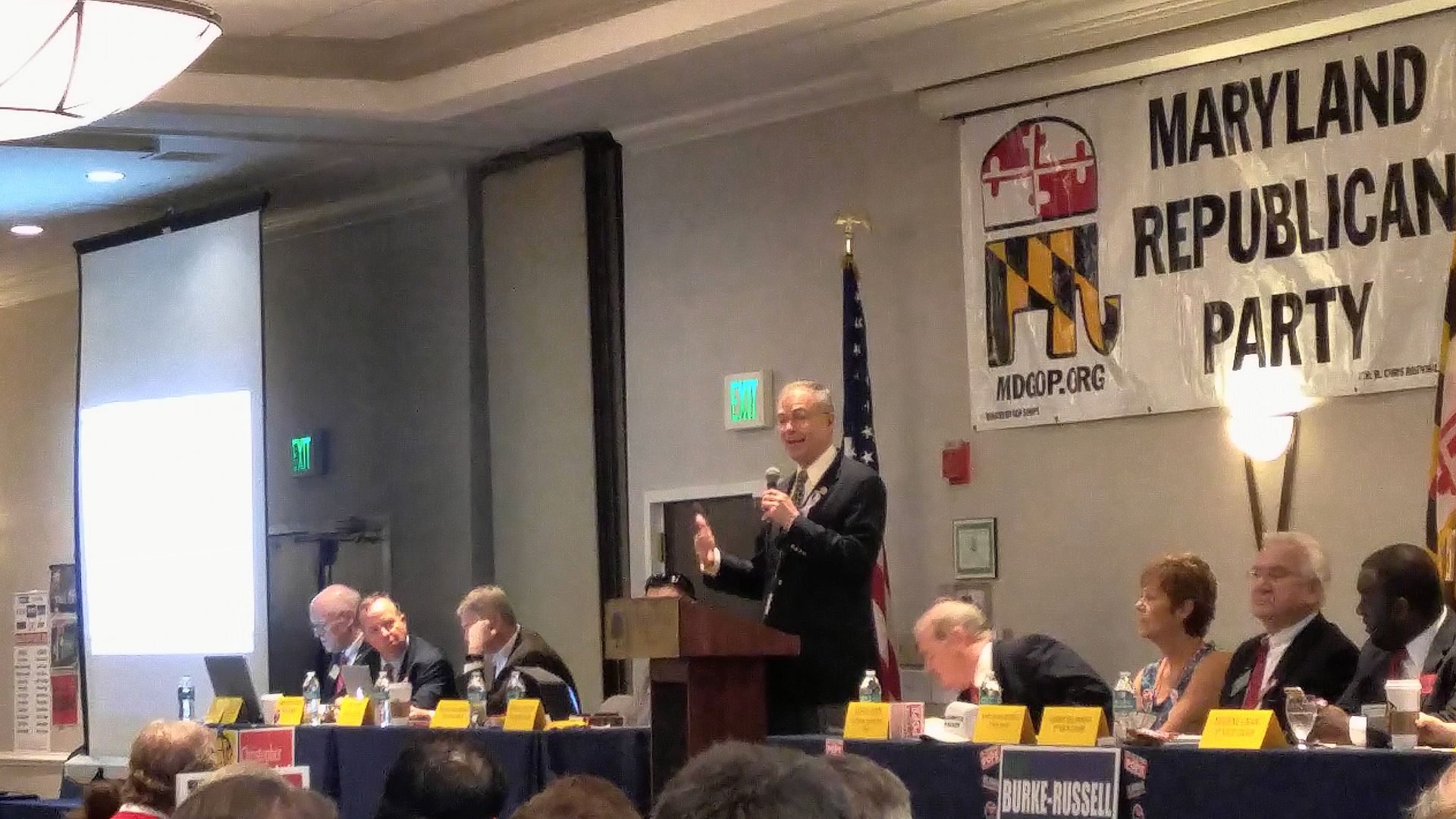 This photo of Congressman Andy Harris came out all right, and so did his message. He warned us that the Democrats have "a lot of assets" to throw at Governor Hogan in two years, so we needed to raise millions of dollars to assist him. But there were some advantages we had, too: for example, the sign denoting the reduced toll rates at the Bay Bridge is "like a Republican ad."
Turning to the national scene, Harris noted we could not have another four years of liberal policy. And even though he endorsed Ben Carson in the GOP race, he came out to say, "I'm a Donald Trump guy 101% now." He also told us there was no fight between Trump and Speaker of the House Paul Ryan, despite what the media would lead you to believe.
We had two legislative reports, one from Delegate Nic Kipke and the other from Senator J.B. Jennings.
Kipke believed that we were "at the precipice of…another surge of Republicans" added to the House ranks. "There are a lot of seats in play for us," he assessed, particularly when Larry Hogan won in 21 more House districts than the Republican House candidates did. And the Democrats "are losing their minds" about it: Kipke gave the example of the bill allowing felons to vote before completing their sentences. Despite the fact 80% of Marylanders disagreed with this, and many of the General Assembly Democrats agreed with the veto, "the Democrats require compliance," said Kipke – so the veto was overridden.
There were Republican-backed items we should be proud of, though, said Nic – another budget with no new taxes, the elimination of preschool testing, and the adoption of P-TECH schools, beginning in Baltimore City. Republicans are "leading on issues, big and small, that make sense," said Kipke. He also awarded their Republican of the Year award to state Executive Director Joe Cluster.
Regarding the felon vote, Jennings later added that it actually failed 28-18 the first time, but was allowed to be reconsidered and passed 29-18.
One thing Senator Jennings stressed was the devious ways Democrats tried to flout the rules; in one example they tried to put one Senator on two committees, which is a no-no. They also worked hard to fix bad bills to make them more palatable.
But the problem Senate Republicans have is that "we are short five votes." Getting to 19 votes would allow Republicans to sustain filibusters and kill the worst legislation. And there may be a lot of it next year: Jennings remarked that year 3 of an administration is where major pieces of legislation come out.
In between the legislative reports, MDGOP Chair Diana Waterman gave her report. She opened by welcoming new members but also remembering members who had recently passed, including my late cohort Blan Harcum who passed away earlier this year. She also announced the traditional June Red, White, and Blue Dinner would be pushed back to a date in early September because of the convention.
Diana also had a comment about the so-called "Republican war on women" when she asked "where is the 'war on women' when the Republicans have two (federal candidates) running and the Democrats have none?"
Waterman also gave the newly created Chairman's Elephant Award to Dwight Patel, but the key remark to me was an offhand one where Diana referred to chairing "my last convention" in November. If so, Diana would conclude a remarkable four-year run where she took over a party in crisis and guided it to electoral success.
We then heard from our National Committeewoman and National Committeeman, respectively Nicolee Ambrose and Louis Pope.
Much of what they said was a rehash of what they told the Executive Committee on Friday night, although this time Nicolee came equipped with a slideshow. Here are the party's goals for the new Precinct Captain recruitment program.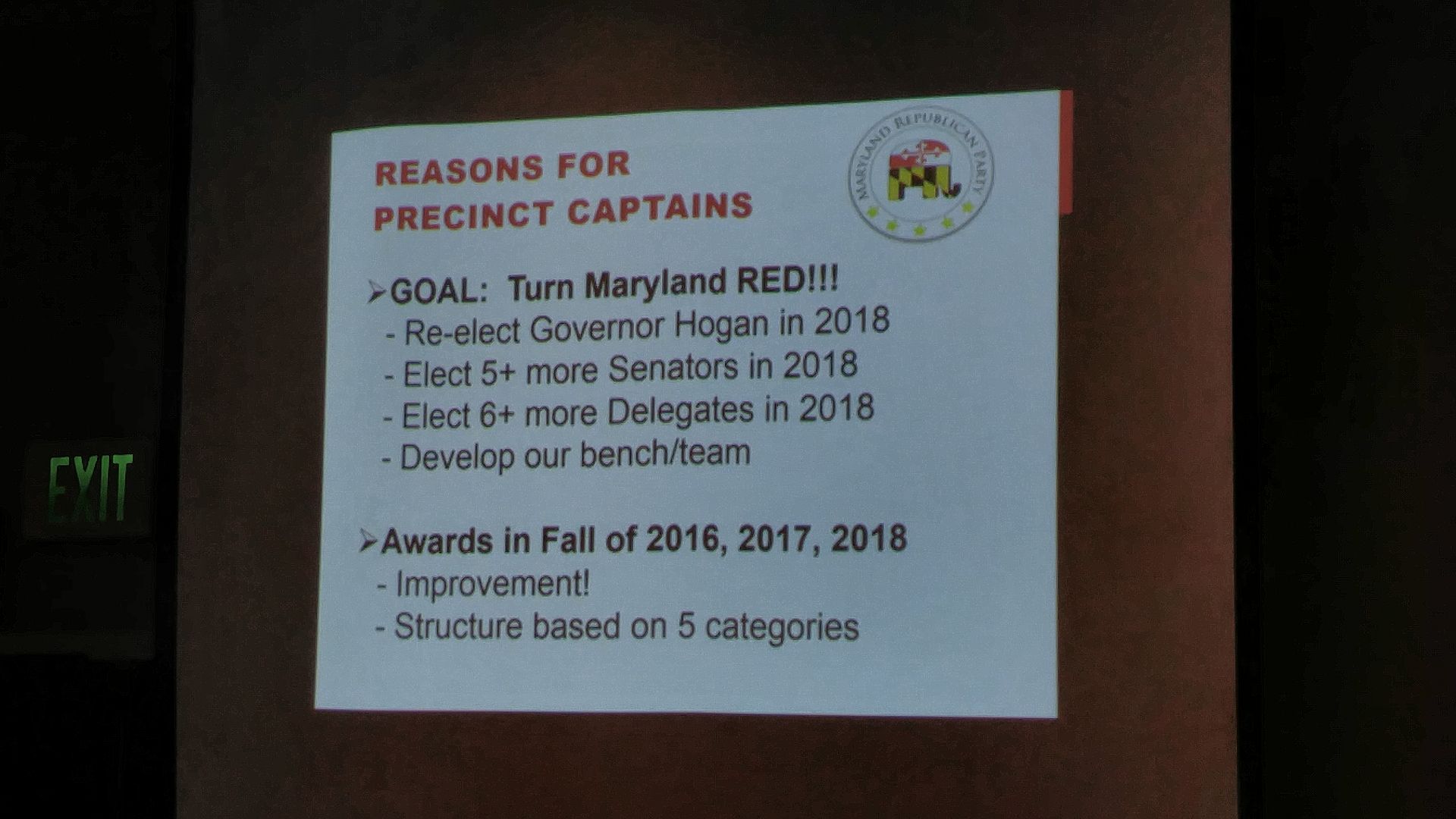 She also had a lot of these handy flyers to distribute.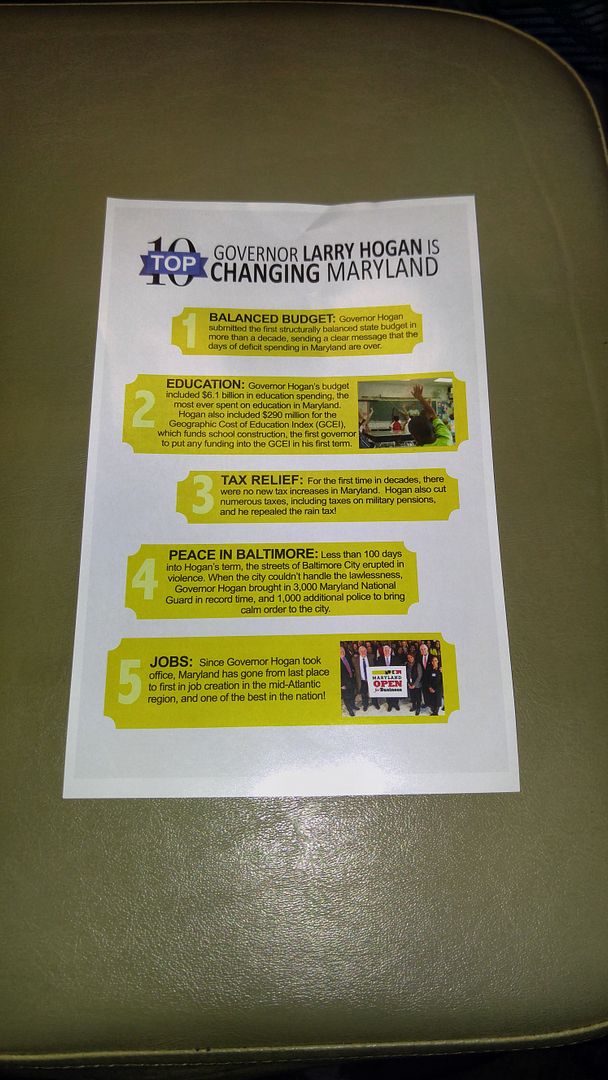 I'm only giving you the top five – for the rest, come see us when we are out and about in the community.
Louis reiterated that this year's convention "will be about unity," for it's the RNC's "#1 job" to elect the President. And while Pope believed the GOP has "an amazing array of tools to make sure we win this year" and has "tremendously expanded minority outreach" over the last four years, it all comes down to our candidate. Pope conceded that "Trump changes our plans quite a bit," and added it may "take a little bit of sculpting of (Trump's) policies" to have effective minority outreach. But Louis also contended the "Trump effect (on downticket races) is not going to materialize."
Pope's remarks concluded the morning session. I went out to eat my lunch (with Andy Harris, no less) and saw this nice display from someone who would like to join him on Congress.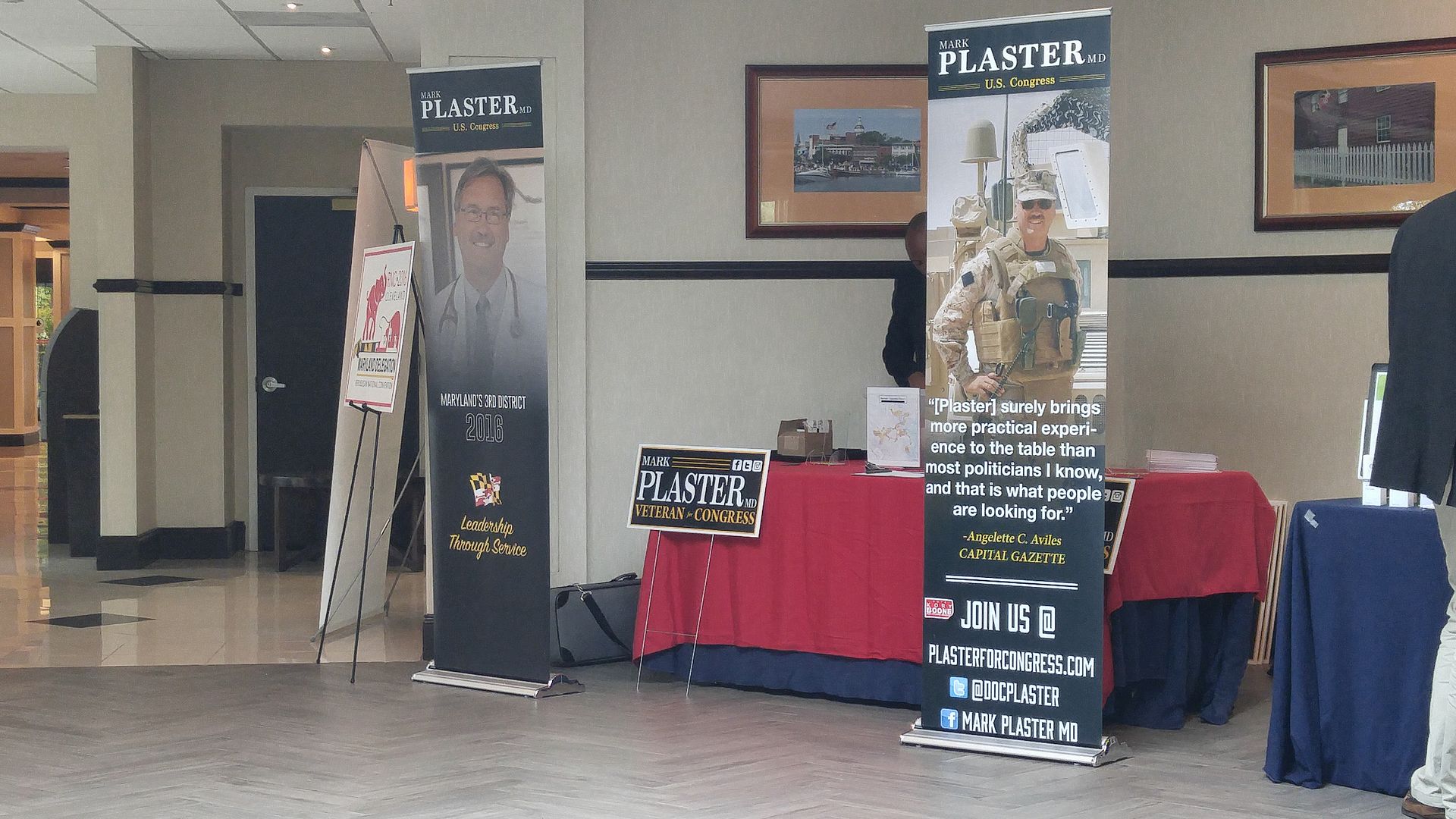 I was less interested in this swag, although I could have picked up a Cruz hat, too.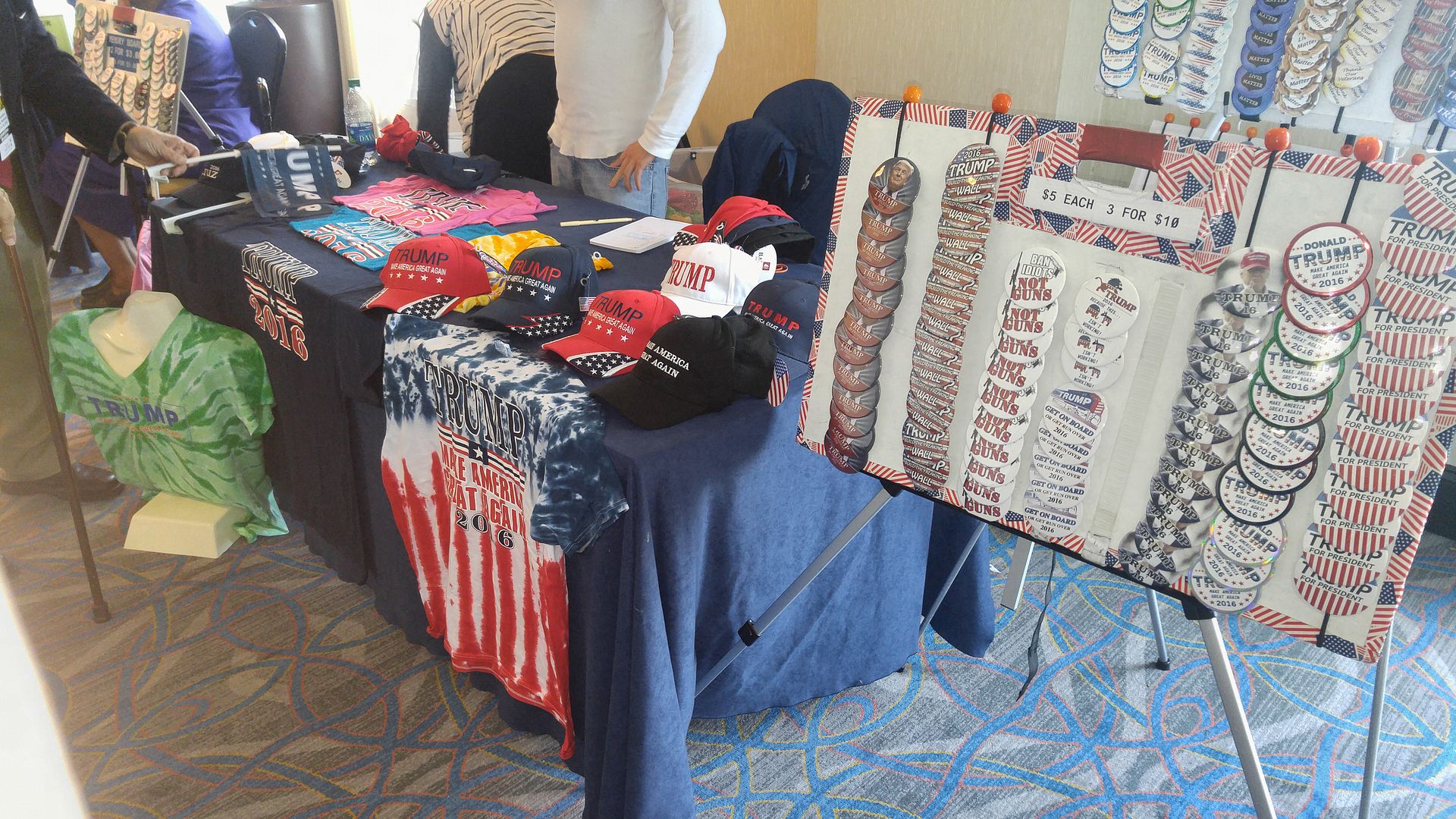 I also spied the potential National Committeeman making last-minute preparations.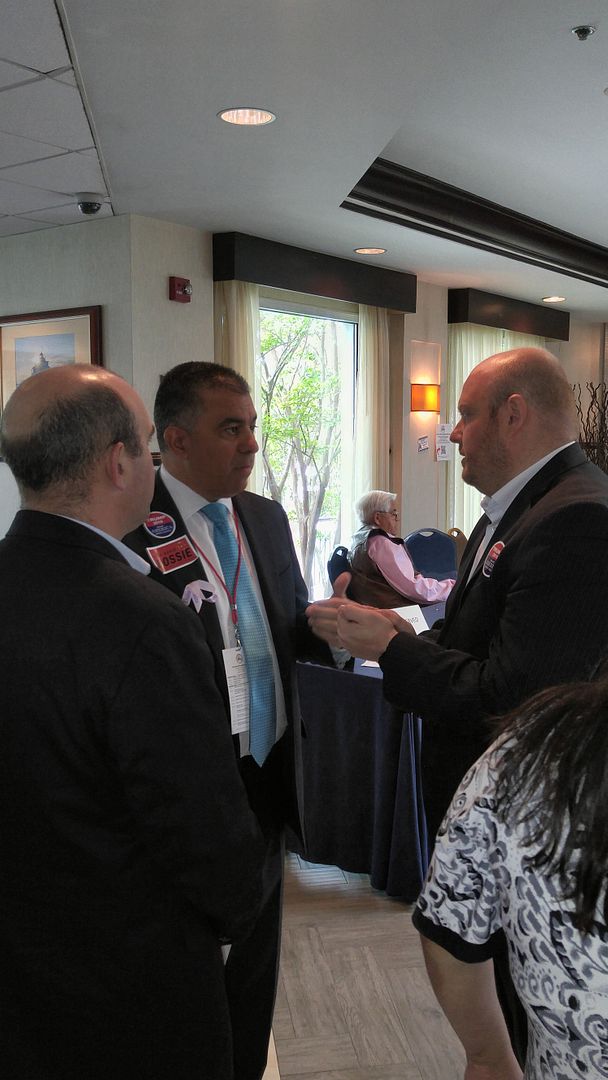 One other task I had to perform was voting for Delegate and Alternate Delegate. Because I refused to add to the Trump slate I only voted for four winners, including the guy voting immediately after me.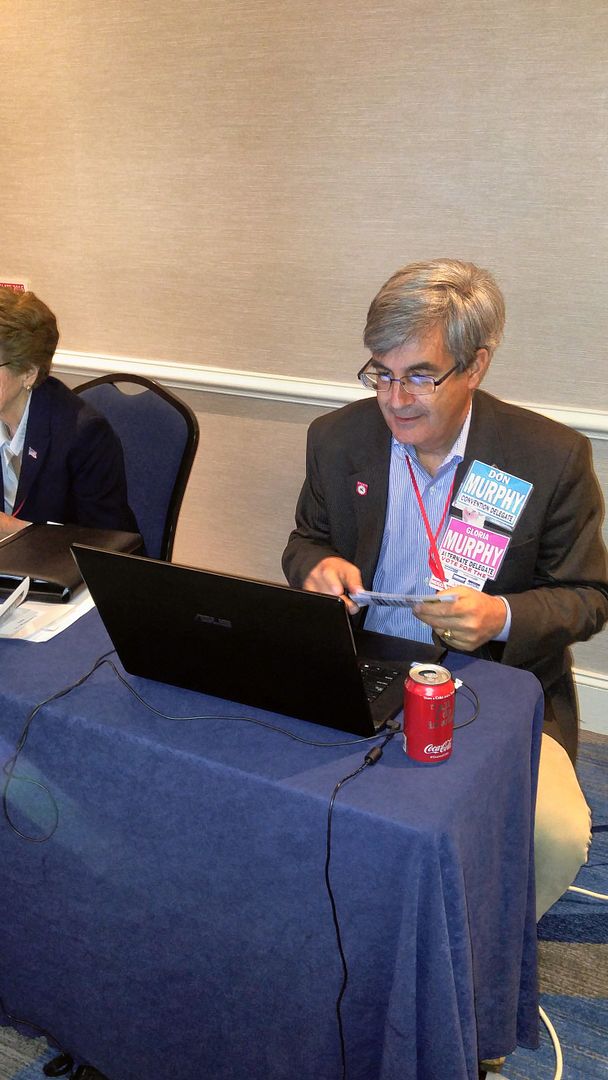 At these conventions it seems like Don Murphy is my shadow. But he and Gloria should enjoy Cleveland, since they were two of my four that won.
The system was neat and easy – we knew the winners five minutes after we voted, as I will explain shortly.
Up first was the National Committeewoman election. Since that was a walkover for Nicolee Ambrose, I can simply comment that she had one of youngest members of the General Assembly, Delegate Robin Grammer (a member of the "Dundalk Revolution") nominate her and Senator Steve Waugh second her. Both were results of the hard work Nicolee has done to elect more Republicans as both flipped Democratic districts. And I really liked Waugh's line about how Republicans "focus on putting air conditioning in the classrooms and not transgenders in the bathrooms."
We then had the National Committeeman election. Because the nominating and seconding speeches came in alphabetical order of the candidates, Bossie's went first. Nominating Bossie was the highest elected federal official in the state, Andy Harris, who said David represented "a new way of thinking" that we need.
But the jaws hit the floor for the seconding speech, as Joe Steffen notes on his site in more depth. None other than Nicolee Ambrose delivered the dagger to her associate's heart. "This is serious, serious business," said Nicolee, and "we need a fighter."
Despite that blow, Pope could counter with some firepower of his own. Lieutenant Governor Boyd Rutherford nominated Pope, recalling how he had worked with Louis for years in the Howard County party and that he's been fighting for the GOP. His seconding speech, delivered by Martha Schaerr of Montgomery County, added that Pope was "a tireless, trustworthy leader."
The focus shifted back to Bossie for his remarks, and he closed the sale by saying "I believe I can bring a lot…to the Maryland Republicans." It was "critical to have new blood in leadership," David went on, and while he promised to raise Maryland's profile, he also said "we must not cede ground to liberal Democrats, anytime."
Pope could only appeal to the masses with his experience and passion, countering, "I've spent a lifetime working for the Republican Party…I stand on my record of accomplishment."
But Pope's defense was to no avail. It was clear when the first four jurisdictions to report (Allegany, Anne Arundel, and Baltimore City and County) picked Bossie by a combined 56-8 margin that the rout was on. In terms of our voting system the count was 365-188, but in actual bodies it was 182 to 91 – a perfect 2-to-1 margin. Pope only carried eight counties (Caroline, Cecil, Frederick, Garrett, Howard, Prince George's, St. Mary's, and Talbot) and in four of the eight it was a 5-4 verdict. Only Garrett (6-0), Caroline (7-2), and St. Mary's (7-2) were big wins for Pope. (Wicomico County was 7-2 for Bossie.)
This was an emotional moment as the baton was figuratively passed, but we still had work to do.
There was a resolution that would allow the Bylaws Committee to perform what I would call a curative function, making minor changes to the bylaws in places where references were incorrect, misspellings, and so forth. They would report and we would review changes at the Fall Convention. That passed by a voice vote with one objection.
The first Bylaw amendment was an effort to both restore voting rights to the various ancillary organizations (Maryland Federation of Republican Women, College Republicans, Young Republicans, etc.) and set standards for their inclusion. But after some discussion and debate, it failed by a 188-361 vote (105-167 in terms of voters,) falling far short of the 2/3 majority needed.
The second one was less controversial, although there was enough of an objection to a lengthy lame duck period for party officers to transition after our organizing conventions (such as will occur this fall) that the date of takeover was amended back to January 3 rather than based on the day after the Governor or President of the United States is inaugurated. As amended it passed 438-99, although the amendment barely passed 283-258. (It was behind until Montgomery County sealed the deal.)
All this concluded just in time for the Delegate and Alternate Delegate results to be revealed.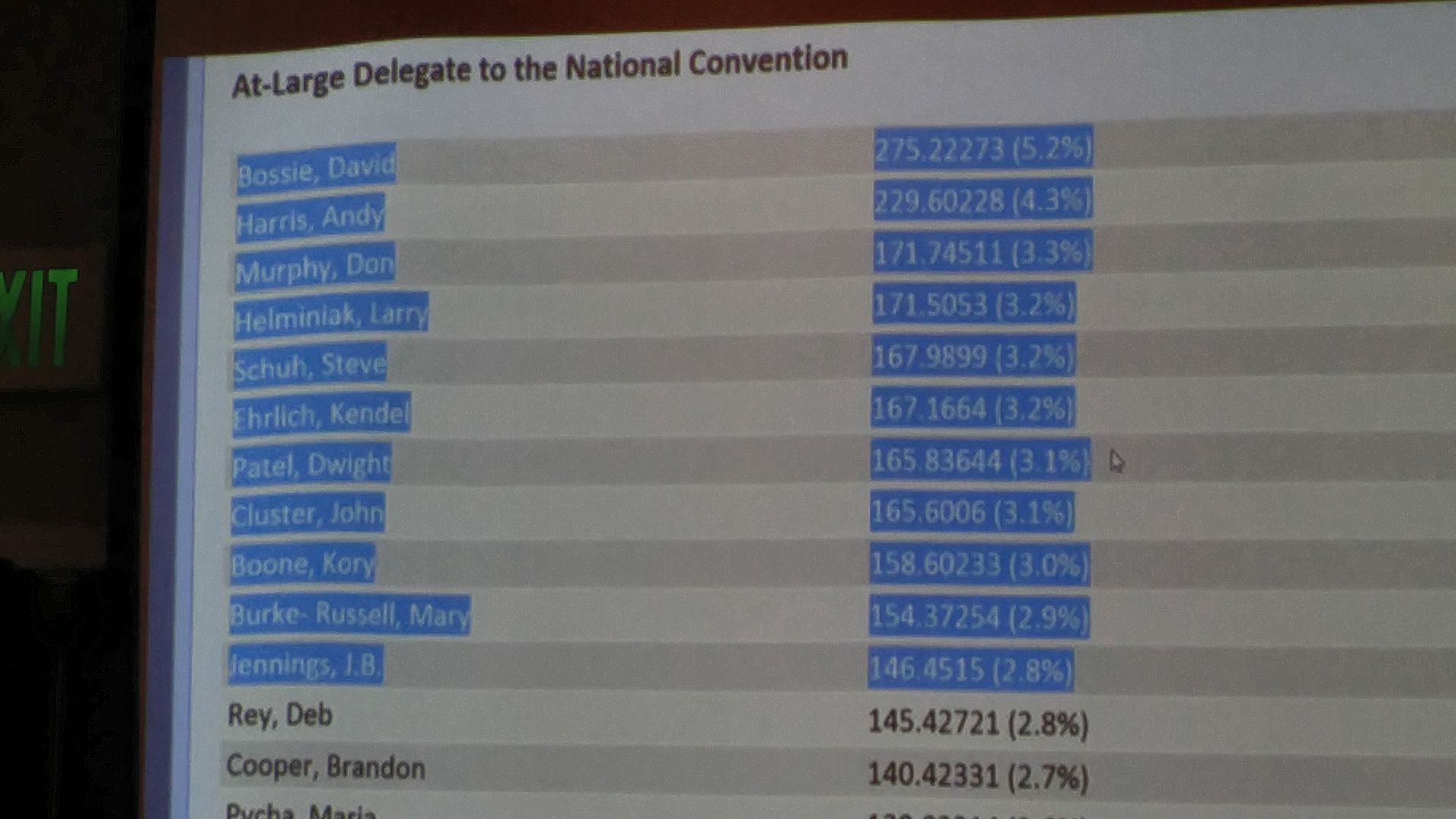 As I said above, I only ended up voting for four winners: the two Murphys, Christina Trotta, and Alirio Martinez, Jr.
We then got to hear from our candidate for U.S. Senate, Delegate Kathy Szeliga.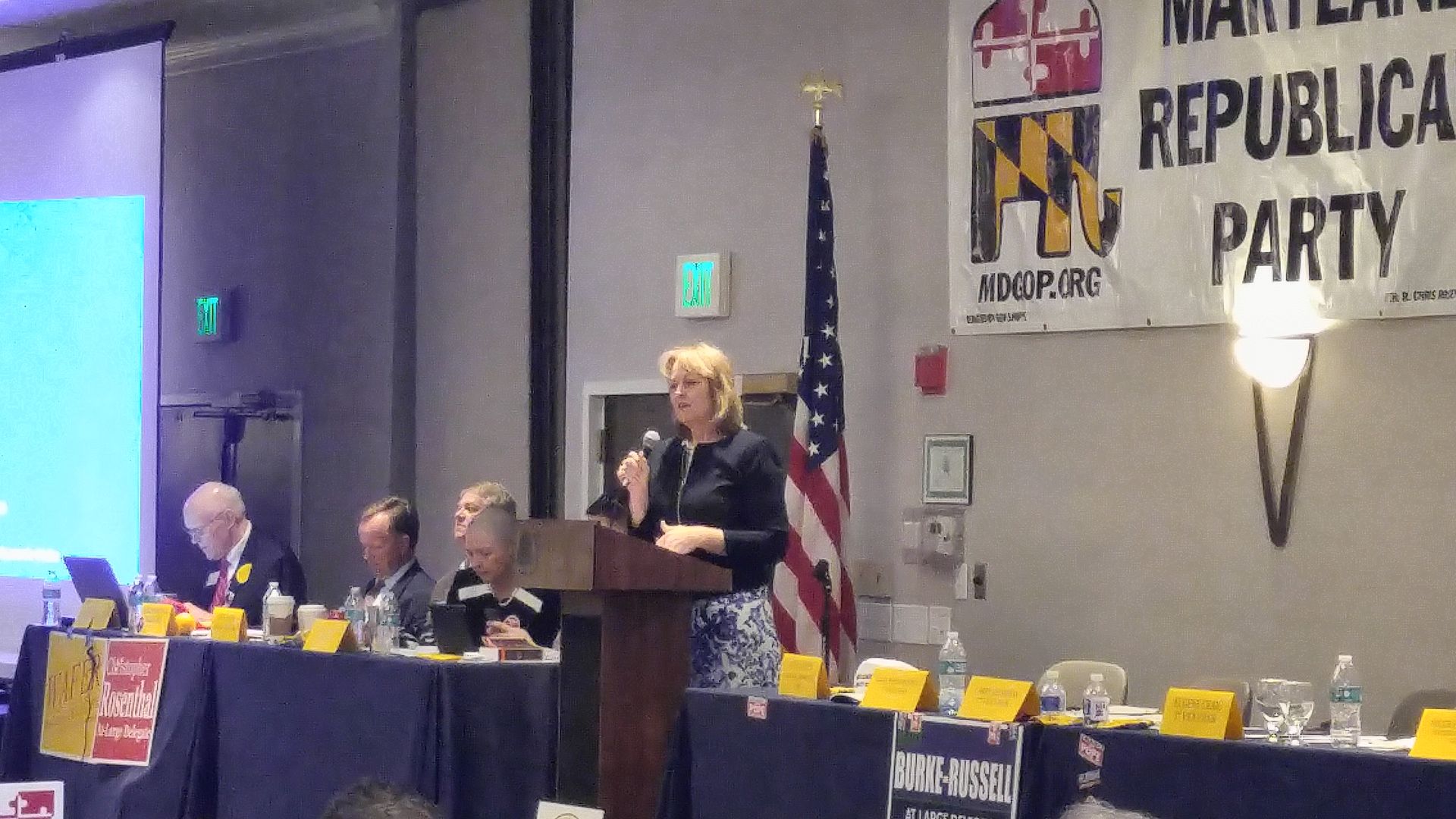 Kathy thanked us for her support, then added that Bossie and Ambrose are "going to do a great job for us." She also added that the fourteen U.S. Senate candidates are "unified and together."
And while she gave something of a standard stump speech recalling her middle-class background, she noted that the business they created was "struggling like many small businesses in the country." Repeating her message that Washington is broken, she chastised the Democrats for electing their "golden boy" Chris Van Hollen, pointing out that since he's been in office the national debt has tripled and calling Van Hollen an "attack dog" for Nancy Pelosi, Barack Obama, and Harry Reid.
"Together we can change Washington," the candidate, who Nic Kipke had earlier called "relentless," concluded.
Our final task was to select electors, which necessitated us gathering in groups by Congressional district. Our district has the largest number of Central Committee members so we all crammed into one corner of the hall to hear several nominations. For the second time in a row, I nominated the First District winner: Diana Waterman, who prevailed over five others. The others will be Tony Campbell, Jane Roger, Faith Loudon, Cathryn Grasso, Dick Jurgena, Loretta Shields, and Alan McMahon.
Once Diana Waterman announced her choices for the at-large electors would be Ellen Sauerbrey and Michael Steele, we could finally adjourn. Next time is slated for Frederick this November – the question is whether it will be a wake, a celebration, or some combination thereof?
It had been awhile since I had been to the DoubleTree in Annapolis, but seeing the place was like old home day. While the MDGOP often holds its conventions there, it hadn't hosted one in some time – in fact, Fall 2013 was the last one. But this time instead of the big news being the impending candidacy of Larry Hogan, it was the presumptive nomination of this guy.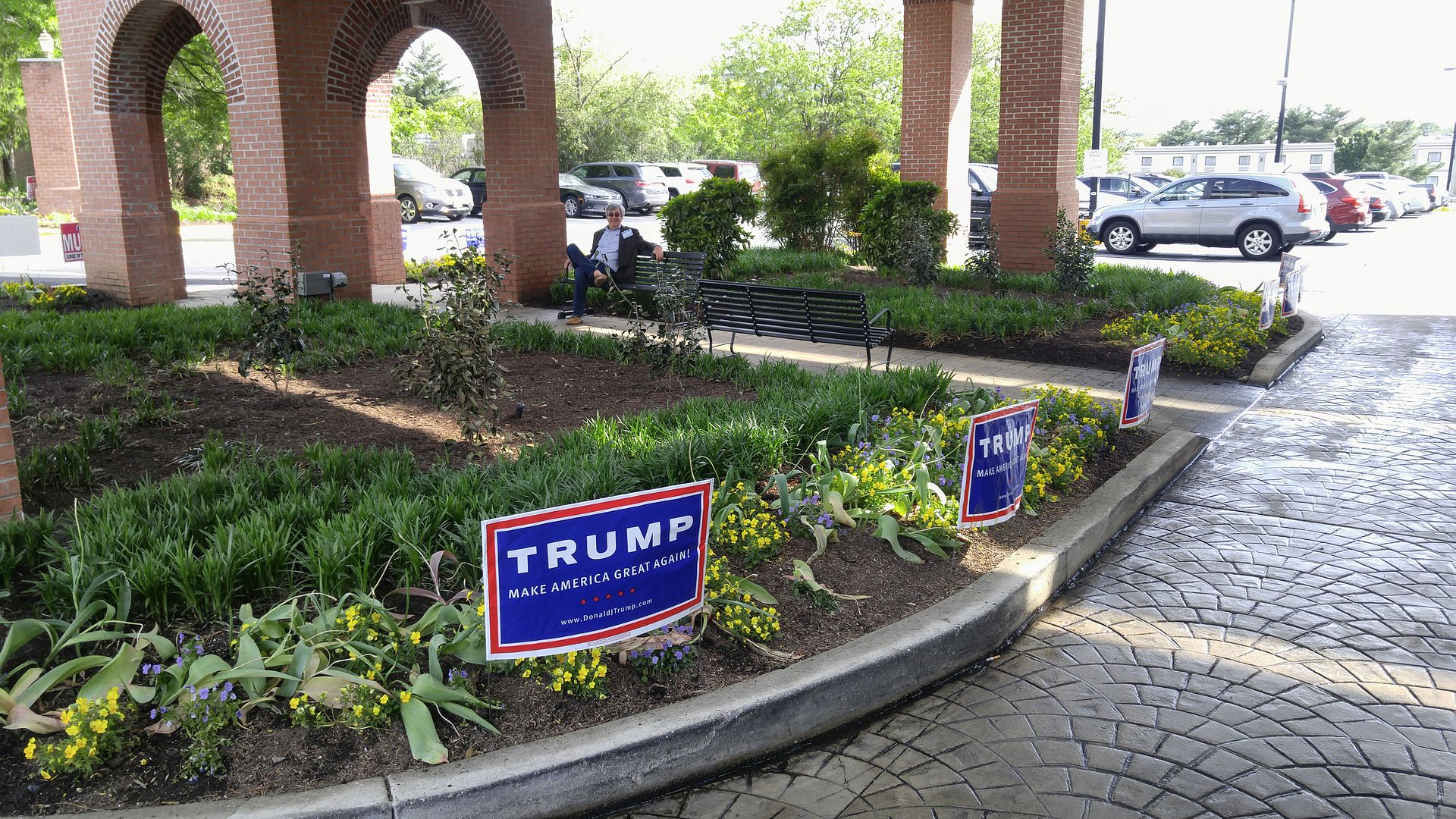 (No, not Don Murphy sitting on the bench – I'm referring to the guy who supposedly will make America great again.)
Also different than our last visit was the number of sponsors.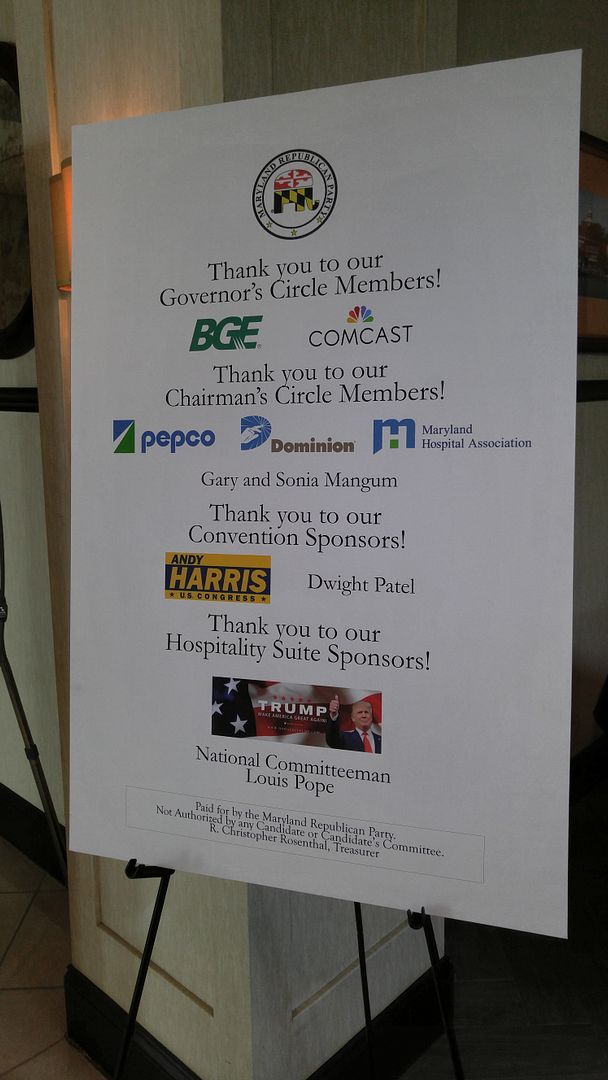 It sure doesn't hurt to have a governor from your party. But the story of this convention was all the electioneering going on. As I pointed out earlier this week, 98 people were seeking office and some were on this "unity slate."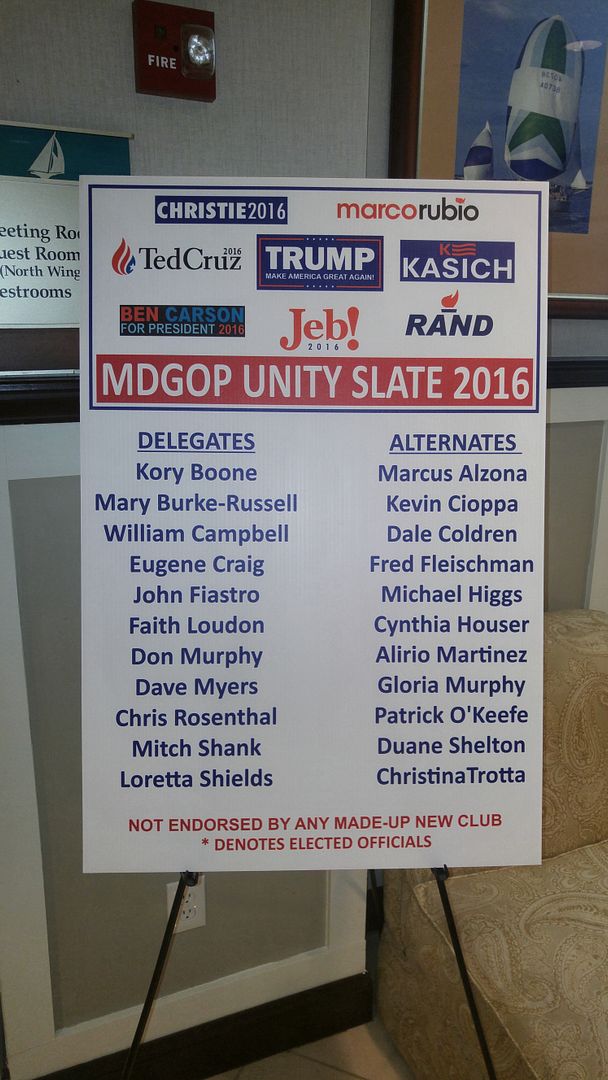 The idea was to take some folks from each of the campaigns and send them off to Cleveland to represent us. But after I had the chance to freshen up and get registered, those who represent us in the Maryland Senate made for my first stop of the evening. I could freshen up with some light snacks and an adult beverage.
(Note that Donald Trump is adding to that $2 billion in free media coverage on the adjacent TV. I didn't say it was flattering.)
Speaking of media coverage, these two erstwhile associates of mine were doing their semi-annual Friday night internet radio show from the convention lobby.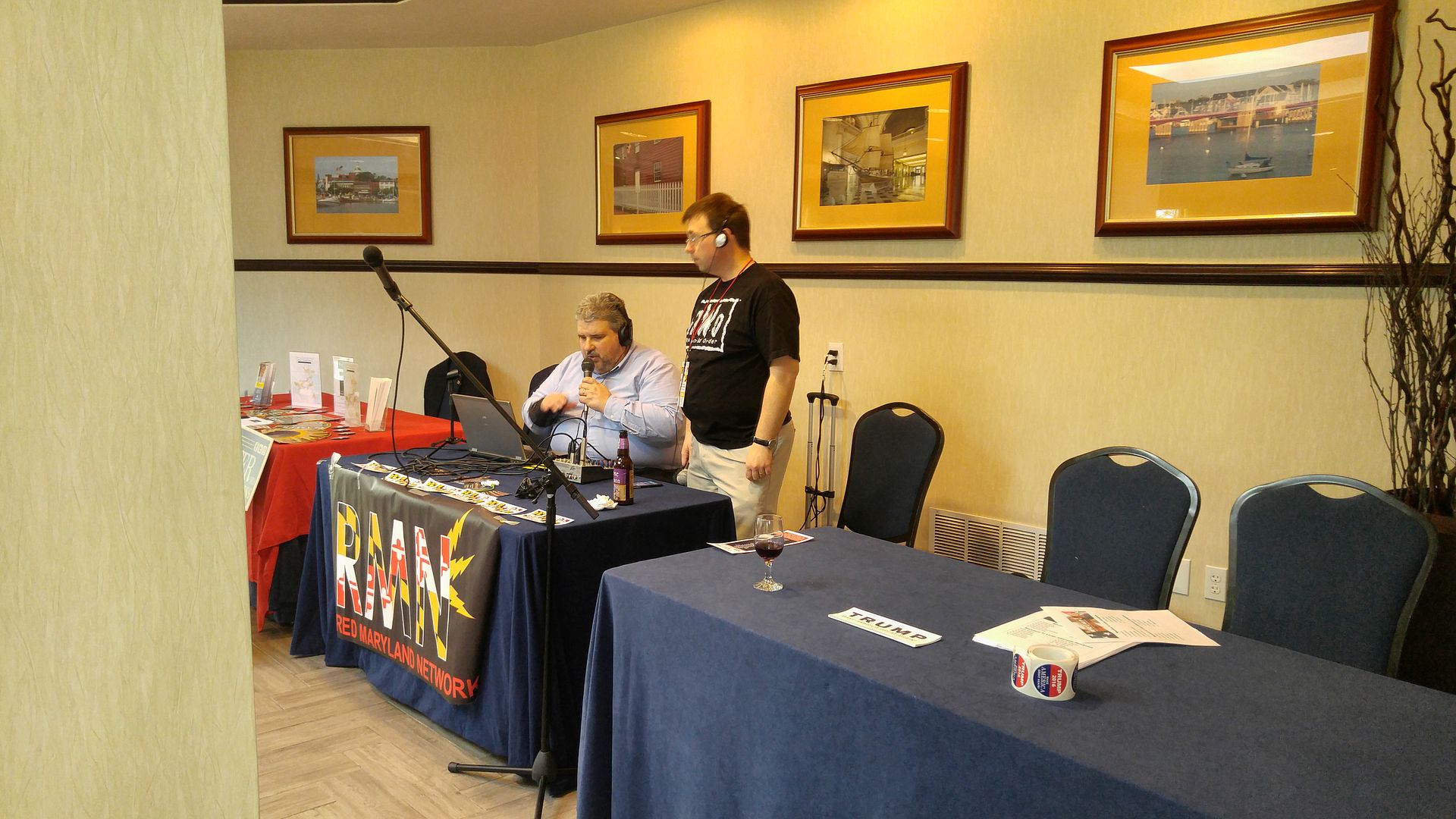 I wasn't listening so I have no idea who they dragged on as guests, aside from me not being one of them. I was downstairs at the Executive Committee meeting, where I found out the MDGOP had "a great fundraising quarter…our best since 2006," according to party treasurer Chris Rosenthal.
But Diana Waterman had a message. "We must get behind Mr. Trump," she said, "Trump is a helluva lot better than Mrs. Clinton." Yet she also urged us to be respectful to those who can't support our nominee.
She also pointed out that there's no Republican "war on women" in Maryland given the fact two of our Congressional nominees are women versus none for the Democrats.
After National Committeewoman Nicolee Ambrose updated us on some of the upcoming goals and events for the GOP, National Committeeman Louis Pope discussed the national scene, stating regarding this year's primaries, "the goal was to have as fair of a nominating process as possible." He added that the debate control "worked very well."
Pope was looking forward to Cleveland, saying he was "preparing for a unified convention" and predicting Donald Trump "will be a pretty cool nominee." As he saw it, the convention will be a "four-day infomercial for the Republican Party."
Yet the Presidential election was to the benefit of local parties as well, added Pope, because they could use the national race as a tool for local fundraising, allowing them to build up their war chests.
We also learned about two proposed bylaw amendments and a resolution, which I will simply foreshadow because they will be covered more in-depth in part 2.
The Executive Committee was done in remarkable time, meaning that shortly after 8 I could go see what was going on. This was my initial stop.
It wasn't a place I stayed long, for obvious reasons. But it appeared they were having a good time celebrating their presumptive nominee status.
My second stop was nearly as uncomfortable, but I did see Louis Pope there and wished him luck.
If you look closely in front of his sign, you can see Louis behind the other gentleman. He apparently held court in his suite for most of the evening, as I didn't see him circulating. Nor did I see his opponent David Bossie, who co-sponsored the suite I stopped at later.
First, though, the prize for most appetizing spread went to the host County Executive Steve Schuh.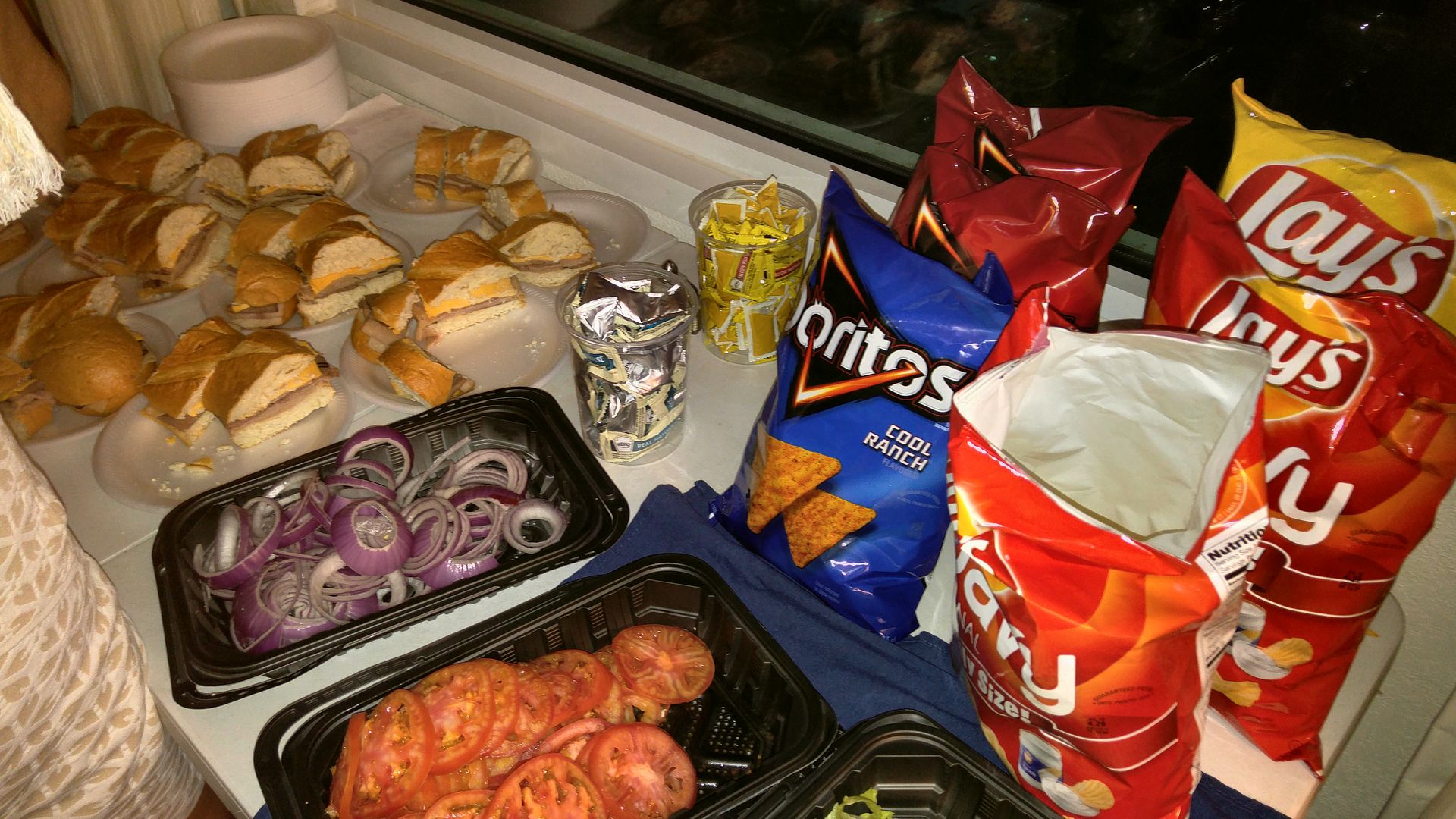 This doesn't show the vegetable tray and chicken on the other table. Oftentimes there's not enough good stuff to eat at these hospitality suites but between the spring rolls at the Maryland Senate pre-party and Schuh's suite, my appetite was satisfied. I was there quite awhile, eating and talking to Senator Justin Ready.
Next, I went upstairs to the Conservative Club suite. But since I didn't see Bossie, I didn't hang out too long there.
As it turned out – at least judging by the times on my photos – the Harris/Szeliga suite was where I stayed the longest. It was a happening place.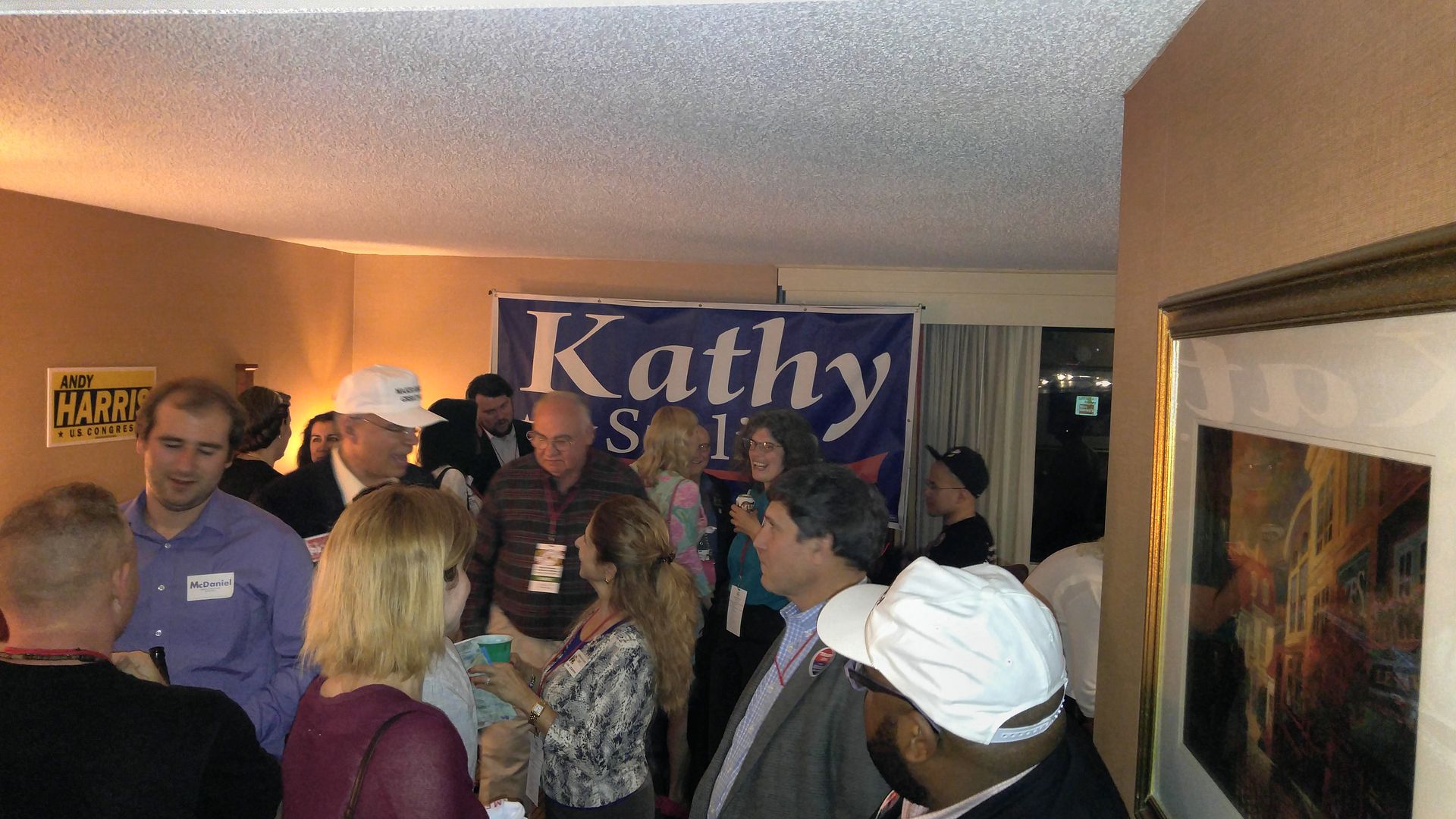 It's where I ran into an old friend of mine, Maria Ialacci of PG County, and my partner in crime Heather Olsen. So I was there awhile, although I retreated to the hall so I could hear and cool off – it was hot in there, and when I say it's hot it's downright uncomfortable to most people.
So I got to see the co-star of that show as she happened by.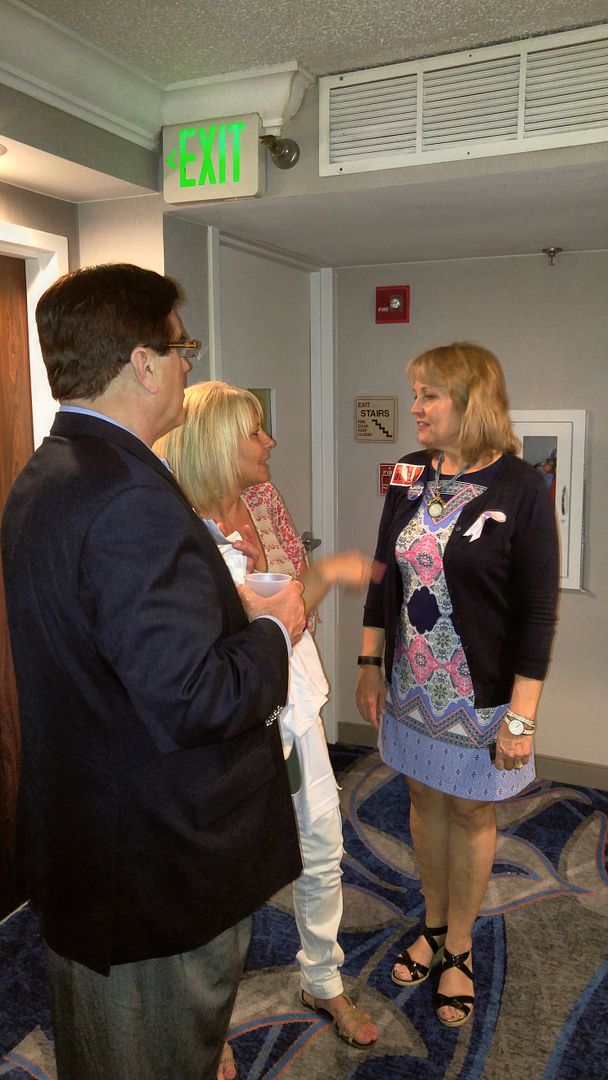 I still haven't spoken with Kathy Szeliga, but at least I have seen her so that's a start.
My penultimate stop was a suite that wasn't on the "official" list but somewhat underground – both literally and in spirit.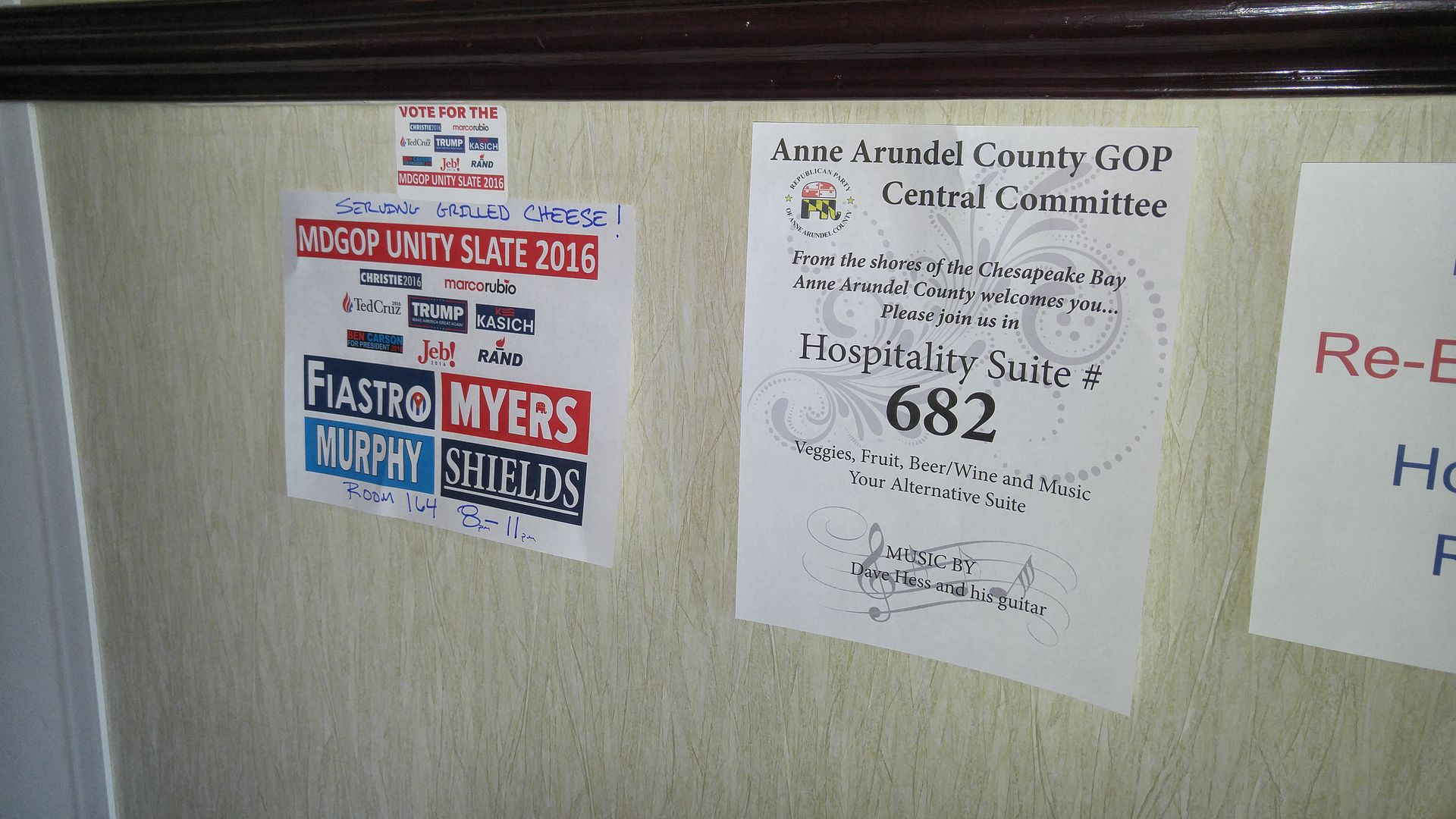 The only one down on the first floor, the combined suite of Don Murphy and John Fiastro was the famous grilled cheese suite, with Fiastro doing most of the flipping.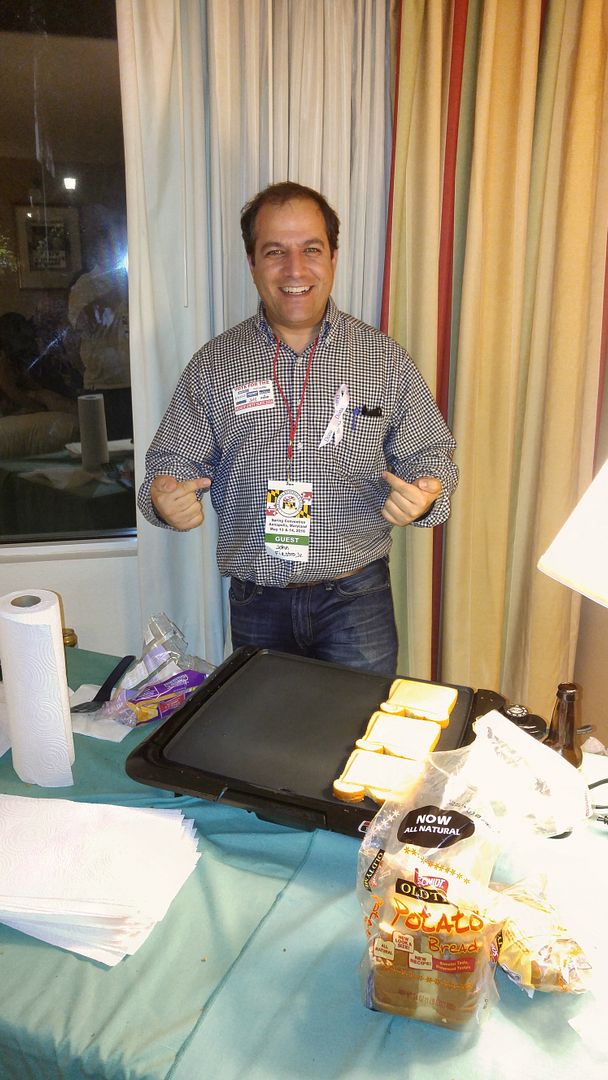 Let's see what they can do with this.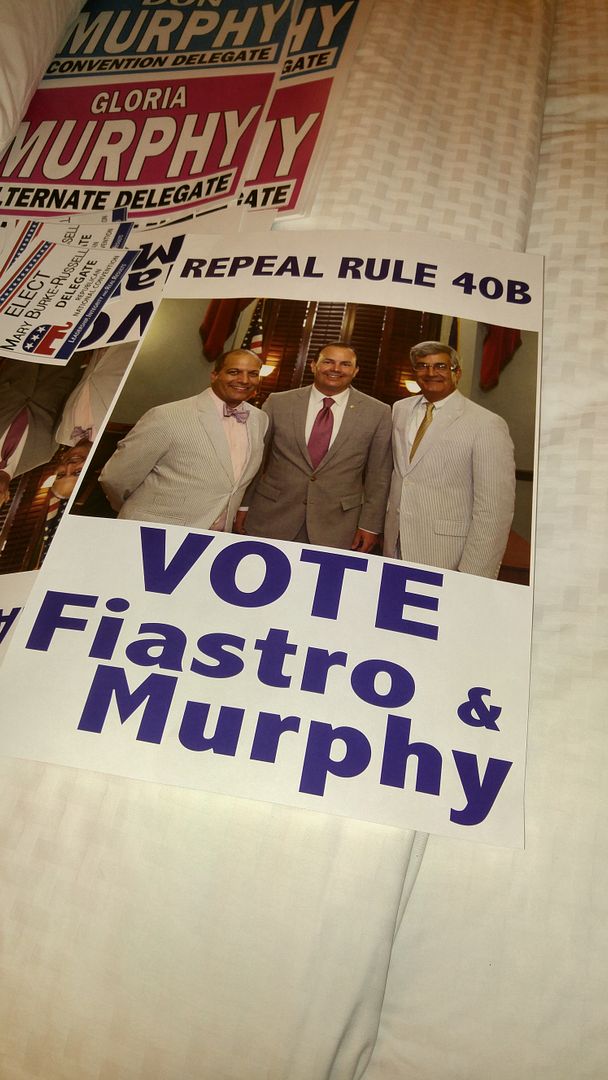 I did not take a picture at my last stop, which was definitely a shame because Delegate Tony McConkey and his wife Susan did an after-hours (after 10 p.m.) ice cream suite. (They also had it during our lunch break today, but I didn't go.) Now I was a little worried since it was situated just 2 doors from my room, but it must have died down by the time I talked to my sweetie and finally went to bed because I pretty much slept like a log. The hard part was getting up at 6:45 to get ready for breakfast, which is where I will pick things up tomorrow in part 2.
(Update: I was surprised to find Bossie read this piece and sent along pages of additional Presidential Coalition donations since 2006, to the tune of almost $140,000.)
Do you think Louis Pope is feeling the heat? I got a second letter from him Monday; this was the letter I alluded to Monday evening and was hoping to get to yesterday.
There were one passage in it that I found interesting. It talks about his opponent's lack of party experience and Pope's fundraising ability:
I now have competition in my race for re-election. My opponent has not yet served in any of the (party-related) jobs listed above, nor on a Central Committee or any party office. I wholeheartedly invite him to become more involved on the local & state level over the next few years. Experience pays in politics and I am one of the most experienced members of the Maryland Republican Party as well as the RNC. My seniority on the committee is important as I am able to direct RNC resources and funds back to Maryland.

The final piece of the puzzle needed for success at both the MDGOP and RNC is the ability to continually fundraise. Virtually ALL of our money comes through donations and you can only get those by making thousands of phone calls along with e-mails and letters to my personal donor base. Over the last two decades I have helped raise millions of dollars for MDGOP and our local & statewide candidates in Maryland, as well as Presidential candidates. (Emphasis in original.)
As we have seen in the last several months, GOP voters are perfectly comfortable with eschewing experienced politicians for someone who has done practically squat for the Republican Party until the day he decided to run for President representing it. And perhaps this is the problem with Pope's experience: those who have stayed in an office too long tend to lose touch with their electorate, and become immersed in a world divorced from reality. Pope moved up the Republican ranks over a couple of decades, making it to state party chair in a good year to do so (2002.) And it seems the glide path for a former party chair involves serving in a different capacity with the RNC, since both Pope and former National Committeewoman Joyce Lyons Terhes were state party chairs at one time – Audrey Scott thought she could get in on that, too, but the Central Committee voters thought differently four years ago.
But I have to question whether that much in "resources and funds" accrued to the state party before Larry Hogan became governor. When I first became a Central Committee member in 2006, the Maryland Republican Party was worse than bankrupt financially – for years we were saddled with debt and things really didn't come around until Hogan was elected. (And note that he used public financing to do so.) Perhaps Pope escaped Audrey Scott territory by being less than specific about dates and fundraising totals, but there were a lot of lean years while Pope was in office.
But Bossie's organization has been no slouch, either. As part of the Citizens United umbrella, their Political Victory Fund has donated $119,000 so far this cycle to 40 different candidates, including a $5,000 shot in the arm to Kathy Szeliga's Senate campaign (as well as a radio ad) and $3,500 to Andy Harris. In addition, this 2014 release shows the Presidential Coalition (another offshoot of Citizens United) donated over $33,000 to state candidates during that cycle.
I don't doubt the Republican establishment likes Pope, as he's been one of their loyal footsoldiers for many years. But perhaps it's time for a new chapter, some fresh ideas, and a different style. One thing that struck me about Pope's letter was how much it looked back at accomplishments rather than forward at goals. While there's the idea of supporting the GOP nominee for President, the fact that Donald Trump begins with a "yuuuge" 325,000 vote deficit here in Maryland to Hillary Clinton (in a state which only has 677,000 unaffiliated voters compared to almost exactly 1 million Republicans) means that a more realistic goal is to concentrate on keeping a Republican governor and chipping away at the Democratic majority in the General Assembly – if the GOP succeeds there, they can finally control redistricting for the first time in decades and perhaps have districts more fairly drawn based on geography and not politics.
As I said a couple weeks ago, twelve years is enough. Looking back into the past is nice, but I prefer to look forward when I can.
Yesterday Richard Falknor, who I gather is a Trump supporter, splashed a story onto his Blue Ridge Forum blog that asked whether the state Republican Party will welcome the 200,000 new voters that voted in 2016 compared to 2012. His conclusion to this?
Sending mostly non-Trump delegates-at-large to Cleveland will send a message that the Trump-inspired portion of the 195,000-plus new or returning 2016 Republican presidential primary voters are unwelcome in the Maryland Republican Club.

On the other hand, if some Maryland GOP nominees for the House and Senate endorse Trump now, they will be telling these new or returning voters they have gotten their message and should help with their campaigns.
I like Richard, but his comparison wasn't a very precise one for a number of reasons. If you recall, the 2012 primary here in Maryland was conducted at a point where Mitt Romney had pretty much sewn up the nomination, so naturally turnout was less. In 2008, Mitt Romney was the last realistic contender standing against John McCain; he dropped out days before the Maryland primary. By percentage, in 2012 voting for the Presidential race involved about 26.6% of Republicans, while in 2008 that figure was 36.1%.
I would draw a closer parallel to the 2000 election, which occurred relatively early in the process. The Republican primary had 376,024 voters out of 769,329 registered Republicans, but I believe there was a caveat that year because the 2000 Republican primary was open. So it's not the best comparison.
All in all, the increase from 2008 (the last fully open-seat election) to 2012 was about 9 percentage points – but how much of that was having a race that actually mattered as opposed to one which was anti-climactic? You really can't argue that the Trump candidacy brought a lot of people to the GOP, either – from January to March the GOP numbers only increased from 974,602 to 997,211. That's a nice bump, but Democrats added nearly 46,000 to their ranks and unaffiliated voters declined by a little over 19,000.
So here's the thing. Indeed, Donald Trump won the state, probably in part because he campaigned here the most. But I'm not sold on the argument that he either drove new voters to the GOP or motivated them as much as the simple fact that Maryland mattered – all three of the top candidates were in the state at least once. In addition, some fraction of the GOP increase was likely from an "anyone but Trump" movement that probably benefitted John Kasich more.
Moreover, I'm getting more and more convinced that Donald Trump is electoral poison. Call me establishment, but I have this quaint, old-fashioned notion that the Republican candidate should be at least a little conservative, and there are millions of Republicans around the country who agree. The hard part of a Trump nomination will be containing the bleeding down the ticket, which is why so few of the GOP leaders and candidates in Maryland are embracing him. Governor Hogan, who most Republicans respect, is not on the Trump train. In my estimation Trump may be the most divisive GOP presidential nominee ever, even counting Abraham Lincoln.
Even if all 200,000 additional Republican votes came out just to support Donald Trump, it's worth mentioning that Trump was over 300,000 votes shy of Hillary Clinton here in Maryland - and nearly 50,000 behind Bernie Sanders. Assuming all the unaffiliated voters who couldn't vote in the primary came out, Trump would have to win at least 75 percent of them to catch Hillary and that's not going to happen.
If there's a choice to be made, let's pray it's one of bold colors vs. pale pastels, not Tweedledum vs. Tweedledee.
It's not the most glamorous pair of positions, but every four years the Maryland Republican Party elects two of its three representatives to the Republican National Committee. The positions of National Committeeman (NCM) and National Committeewoman (NCW) are the two most powerful in the state when it comes to the nuts-and-bolts of national GOP politics.
Too often, states have used these positions to reward veteran movers and shakers in the party, and there was a drive four years ago to do just that as former MDGOP Chair Audrey Scott thought she could waltz right into the NCW post to succeed longtime activist (and a former MDGOP Chair herself) Joyce Lyons Terhes – fortunately, there was a good candidate opposing her in Nicolee Ambrose and the resulting breath of fresh air from her election breathed new life into a moribund and stale state party organization.
As it turns out, Ambrose and another party veteran, NCM Louis Pope, tag team in their reports during our semi-annual state conventions. Ambrose tends to talk about voter registration, campaigning, and GOTV efforts on a state and local level while Pope generally looks at the national GOP perspective and their fundraising. Pope has spent three terms in the NCM position, and while I wasn't here for his initial election he did have opposition for re-election last time around. But the crush of endorsements from other party leaders as well as a somewhat lackluster campaign from his opponent meant Pope was re-elected handily.
I first became suspicious about the prospects of there once again being an opponent for Louis when the letters began arriving a couple months ago. The first one came from Pope, but other party leaders have typed out snail mail and sent it to me beseeching me to stay the course and once again elect Louis Pope as NCM. I didn't know who the opponent would be, but these forces appeared to be quite worried. (Conversely, aside from Nicolee's letter to me, I have not seen a single thing pleading for her re-election – so she could well be unopposed, or the state establishment has another candidate in mind.)
So a week or so ago I was checking my junk mail when I saw an e-mail note from the leader of the group whose name liberals spit out as an epithet because of a famous Supreme Court case, Citizens United. In this note from David Bossie I found out he was the NCM opponent in question, and immediately this turned Maryland's NCM race from a standard-grade party election to something with a more national profile. In the introductory letter, Bossie noted:
The Maryland Republican Party needs new blood. I bring to the table the ability to raise Maryland's profile by bringing in high-level GOP leaders from across the country to raise money for the Maryland GOP's efforts. Just in the past year, I secured Donald Trump for the party's "Red, White, and Blue" dinner, and also helped bring into Maryland Senators Mike Lee (R-UT) and Tom Cotton (R-AR), as well as former Speaker Newt Gingrich to headline events for Republican candidates and elected officials.
Say what you will about Trump as a presidential candidate, but he provided a profitable RWB Dinner from the accounts I have seen.
Through our experience trying to secure Lt. Col. Allen West to do a dinner and fundraiser here for our local party, we have found out it's hard work to get the caliber of speaker we feel is worthy of a county of 100,000 residents. Certainly we could get Louis Pope to attend the affair - he's been to our LDD a few times over twelve years, and in looking at his giving history I believe he has made it at least once to each county's LDD over his tenure. Attending the county's dinner is a nice gesture of support.
Moreover, Pope has regularly conducted seminars at our state conventions on fundraising, and has been ready with helpful suggestions on how to write fundraising letters and other tricks of the fundraising trade. He's also a regular host of party events at his Howard County home.
But in speaking to David this morning with some questions about how the smaller counties such as ours could benefit from his tenure, I brought up the LDD as a fundraising standby most counties employ. It got me to imagine: what sort of attendance could you get for a Lincoln Day Dinner here with a Mike Lee or Tom Cotton? These two men, and many other heroes of the conservative movement, are on Bossie's Rolodex. As he noted, there's a big difference between just buying the ticket and helping secure the person drawing the ticket buyers.
More importantly, I think the NCM position needs the same kick in the pants that Ambrose has given on her side of the equation. She's not been afraid to lead or speak out if circumstances dictate, such as her stance on changing party rules almost immediately after taking office. It's notable that Pope was on the side of the status quo in that case, and while the NCM and NCW positions have served to become de facto party leadership in the state alongside the Chair position, at their heart they are legislative positions. The NCW and NCM are supposed to do the bidding of Maryland Republicans at the national level just as Andy Harris is supposed to in Congress. Admittedly, I have less information to go on regarding that aspect of the job but my instinct tells me Bossie would be a little bit less "establishment" and a little more "grassroots." We know where Pope has stood as he's worked his way up the party hierarchy, maintaining the status quo.
Louis Pope has given us twelve years as National Committeeman, and it's a tenure he can look back on as a net positive for the Maryland Republican Party. But given the successful change in direction that was made through the election of Nicolee Ambrose as NCW in 2012, I think lightning can strike twice at a point where we will need to focus on the twin tasks of re-electing Larry Hogan and (more importantly) getting more conservatives and Republicans in the Maryland General Assembly. If two people can be the ones to bring these races to the attention of the national party, I believe it will be the two I vote for two weeks hence.
So I'm urging my fellow Central Committee members around the state to re-elect Nicolee Ambrose as our National Committeewoman and, more importantly, bring some new blood to the state leadership by electing David Bossie as National Committeeman. I appreciate Louis Pope and what he's done for us as a state party, but twelve years is enough.
Now that I have had a couple of days to gather my thoughts and see other reaction on some of the races, here goes.
Beginning at the top: I think the choice of Carly Fiorina by Ted Cruz is relatively shrewd, as it accomplished several objectives – first of all, it blew the $2 billion man off the 24/7 news cycle the day after he won five primaries. (Worth noting: it's fortunate we didn't have "jungle" primaries in those states where the top two regardless of party advance because Trump would have been second in just two of the states. In all five he trailed Hillary Clinton, in three he was also behind Bernie Sanders.) Second, it positions him to do better in California, where Carly was the GOP nominee for Senate in 2010. With 172 delegates at stake, it's the best chance for Trump to get over the top. Fiorina wasn't near the top of my list for president, but step one of the #NeverTrump process is to get The Donald off the news, step two is throttling him in Indiana, and step three is defeating him in California – hopefully Trump will be eliminated from getting to the 1,237 delegate mark before we reach June.
Looking at the state level and the results, it seems to me that Kathy Szeliga won with the exact same kind of campaign Larry Hogan ran in his gubernatorial primary – very light on specifics. It worked out for Hogan in the 2014 gubernatorial election because he had the advantage of drawing a Democratic opponent he could tie to his predecessor's record and he avoided being dragged into discussions on social issues and the Second Amendment, try as the Democrats did to bring these up during the campaign. In an executive election it's easier to make it about economic philosophy, particularly when you've spent three years hammering the Democrats with a social media juggernaut called Change Maryland – that and $100,000 in his own money was where he gained his primary advantage.
But Szeliga will have a harder time prevailing on a message of change, especially because she has a voting record the Democrats will surely comb over (just as Republicans can – and should – do with Chris Van Hollen.) Certainly Chris is a Washington insider, but the secondary idea Republicans are hoping to exploit is that the party which screams constantly about a "Republican war on women" has exactly zero female nominees in its delegation. Wouldn't the words of Donna Edwards be an interesting piece of a 30-second spot?
"The state of Maryland is on the verge of having an all-male delegation," (Edwards) said. "When will our voices be effective, legitimate, equal leaders in a big-tent party?"
Well, if it's that big of a deal to the women of Maryland they know what to do. There's no doubt the Democrats will try to brush aside that little tidbit, and the job gets a lot easier if Donald Trump is the nominee because it negates that advantage.
It should be a lot easier for Andy Harris to succeed. He now has an opponent without a great deal of name recognition in the district, and all the advantages incumbency provides. As I said before, the election for the district was really held Tuesday and the margin of victory was tremendous. Going into the election, it seemed that Mike Smigiel would be a rather formidable opponent – a former Delegate who was very popular with the portion of the district's electorate which values liberty and the Second Amendment, as he made his name defending both. But the fact Smigiel had three opponents from Cecil County when he ran for re-election in 2014 suggests that maybe he had developed a reputation as all talk and no action, and the campaign he ran didn't seem to draw a great deal of interest. As I pointed out earlier this month, having a campaign event which draws no local voters doesn't lend itself to success. In Somerset (as well as Wicomico and Worcester) Smigiel actually ran third behind Harris and Jonathan Goff, and Smigiel only got 21.8% in his home county. So much for his push polls.
It may have been a doomed cause to begin with, but the decision to attend an event outside the district on the weekend before the election may have been the campaign in a microcosm – many times the perfect was the enemy of the good. Sure, Andy Harris leaves something to be desired in terms of conservative/libertarian leadership and initiative, but in my opinion Smigiel tried the same campaign Harris did to Wayne Gilchrest in 2008 – problem was Andy is nowhere near the center and isn't moving to the left at the rapid pace Wayne was. So the tactic wouldn't work, and in the end the difference in voting patterns and campaign tactics cost Smigiel my support.
Now that I have some of these thoughts and observations out of the way, it's time for me to move on to the next election. Tomorrow I'll be looking at an interesting GOP race that will be decided at our upcoming state convention.
Back in July of last year I attended the Tawes Crab and Clam Bake in Crisfield, and among those I met that day was one of the first to announce he was seeking the U.S. Senate seat in Maryland, Chrys Kefalas. Fast-forward nine months later and we have thirteen others on the ballot joining Kefalas in seeking the Republican nomination, and his diligence on the trail seems to be paying off – Chrys is within the margin of error from leading the race, according to a recent Washington Post/University of Maryland poll. (However, a subsequent WRC-TV/Marist poll has Delegate Kathy Szeliga leading Richard Douglas 20-13, with 9 percent backing Kefalas. No other candidates were mentioned by name.)
While both polls suggested it was a wide-open race, as nearly half had not decided on a candidate, you can easily take the fourteen who started and boil them down to perhaps a half-dozen with a real chance. Many of the aspirants are running campaigns on a shoestring, with a website and no resources otherwise to campaign around the state. Only five have achieved enough standing to participate in one of the televised debates: Douglas, Joe Hooe, Kefalas, Szeliga, and Dave Wallace; except for Hooe each of these have also visited the local area to participate in a statewide campaign. (If Hooe has come to Salisbury, I am not aware of it.) With the other four I have seen all but Szeliga personally, but Cathy Keim covered the Szeliga kickoff visit so that counts, too.
Over the last few weeks, my initial impressions of the candidates (and that extension of remarks) have not changed significantly in most cases. But there is at least one disqualifier that I have to report.
This is from Joe Hooe's campaign Facebook page.
Question: So, where do you stand as far as Trump is concerned?

Hooe: I support him, I've made phone calls for him and I liked the Christmas card that he sent to me and my family. I like his plan to secure the border, I like that he is a business person like me and I think that our plans can work together. I also believe that no matter what we need a Republican in the Whitehouse.
I realize that the one key issue Hooe is bringing to the table is his scheme to tax illegal immigrants $1,000 a year for permission to work here but on its face one has to question just how workable such a proposal is if people are already here illegally. Enforcement is already not our strong suit, and I can just see some bleeding-heart liberal saying, "oh, that's a lot of money for these poor immigrants to come up with – how about we give them a tax credit so it's not such a hardship for them?"
But to me being a Trump supporter shows a lack of judgment when it comes to conservatism. So Hooe is out.
Next, you have Kathy Szeliga. She has been on TV for several days with her motorcycle ad, and it has pushed her numbers upward from 15% to 20%. But it's still difficult to pin her down on a lot of issues because she's mastered the art of political-speak. She's gotten a little better over the last couple weeks, but Szeliga and Chrys Kefalas keep trying to out-Larry Hogan each other. Maybe it's a good electoral strategy, but one of my concerns is having a good conservatism strategy and I don't necessarily get that vibe from Kathy like I should given her General Assembly voting record. She would definitely be only what I call an 80 percenter in Congress, one who I agree with maybe 80 percent but who may not push as hard against the status quo as I wish she would.
Regarding Chrys Kefalas, here's a good guy who seems to have a following among the Millennial "let's not discuss social values" crowd – in fact, he may get extra points with them for some of his choices. (Let's just say he definitely worked against me in 2012 on Question 6 and leave it at that.) Yet to me that's a leg of the three-legged conservative stool that you can't just saw off and I don't understand how one can be "principled" without addressing this. (Since Hogan didn't address this either in his 2014 campaign, in that respect Chrys really is a "Larry Hogan Republican.") I will grant that these are not the most important of issues, but despite his advocacy for manufacturing I don't completely agree with Chrys that this is just a "jobs and economy" election. He came down on the wrong side of the Apple controversy, so I also wonder if Kefalas would respect and work for either our civil or religious liberties if elected.
Bear in mind that if either of these two emerge victorious, though. I can easily support them despite their flaws. I just won't be able to expect that I have a Senator working for me in Washington.
After I began to study the field and issues, it became clear for me that the choice is between Richard Douglas and Dave Wallace. I have had the opportunity to speak with both and heard both Douglas and Wallace at some length; not only that, they were willing to answer many of my questions. So I have a pretty good idea where both of them stand, and I think either would be outstanding Senators for the state of Maryland for different reasons.
But there are two things which tip the scale for my endorsee.
First is the experience and leadership he has shown – even when it wasn't an issue that was intended to make headlines, defending the very presence of the Bladensburg Peace Cross in the wake of a secular humanist attempt to have it removed as a so-called establishment of religion as opposed to a simple and longstanding memorial to the war casualties from Prince George's County shows conscience and respect for tradition, as well as a willingness to fight for our values.
Second is a combination of backbone and knowledge of the system. As we have seen with the Donald Trump campaign, there is more to gaining the Republican nomination than getting a plurality of the votes. The knowledge and understanding of the process that Ted Cruz is exhibiting is enabling him to outperform expectations. Similarly, understanding the rules of the Senate is a key to taking advantage and getting things done, and I don't want a shrinking violet up there.
Of all the years to have a tagline of "make Maryland great again," this is not the year given its immediate connotation. To make Maryland great is to balance ably representing the economic interests of those of us who do not work for the federal government with the national security, foreign policy, and oversight tasks entrusted to the Senate. In a time of crisis experience matters to me almost as much as principle, so I am endorsing and casting my vote for Richard Douglas for the U.S. Senate.
In each of the polls I have seen Richard Douglas is within striking distance of the lead, so it's up to us to put him over the top and select a man who can make mincemeat of the Democratic nominee in a debate. Maryland definitely needs "new blood" in the Senate, so let's make it happen.