For several years I have cited an annual survey of business friendliness put together by thumbtack.com. It was useful in illustrating how poor the Maryland business climate was.
Unfortunately, year one of the Hogan administration finds the state in a deeper hole, narrowly missing the bottom five of the 36 states for which the survey had sufficient data to compile. It is noteworthy, however, to point out Baltimore's grade basically drove the state grade so they may bear a significant share of the blame.
As for what the survey asked and found specifically:
Small business owners found Maryland to be one of the least friendly states for microenterprise, though they widely approved of local training opportunities, according to Thumbtack's annual Small Business Friendliness Survey.

Nearly 18,000 U.S. small business owners responded to the survey, including 442 in Maryland. The study asked respondents to rate their state and city governments across a broad range of policy factors. Thumbtack then evaluated states and cities against one another along more than a dozen metrics.

"Small business owners on Thumbtack have consistently told us that they welcome support from their governments but are frequently frustrated by unnecessary bureaucratic obstacles," said Jon Lieber, Chief Economist of Thumbtack. "Maryland offers decent programs to support business owners directly, but they tell us the regulatory environment is just too hard for them to understand and navigate."

"The taxes here are high," commented a property manager in Baltimore. "There is no support from the government, especially the housing office."
Here's where entrepreneurs will pin their hopes on the new Regulatory Review Commission, which should try and reach out to as many of these businesses as possible to get suggestions.
The biggest problems with our state insofar as this subject goes is that its grade is getting worse – declining from a C- last year to its D+ this time – and Virginia got an A on the same survey. (Delaware had fewer than the 50 responses needed to get a grade.) Business owners hated the state in particular for its environmental and zoning regulations and government friendliness, both of which were given big fat Fs from those surveyed. (The former category also gets a "see, now what have I been telling you for the better part of a decade" from this writer.)
If a state is going to brag that it's "open for business" it needs to be better than a D+ state. The work on regulatory reform should be in tandem with other avenues toward success like lowering the corporate tax rate (or, even better, figuring out a way to cut three cents out of every dollar in state spending and scrapping it entirely) and telling the liberals in Annapolis who keep whining about the need for combined reporting to pound sand. Another proposal I would have is adoping the proposed moratorium on new Chesapeake Bay regulations until the sediment at Conowingo Dam is addressed,
We have models for success all around the country so why should we be 31st out of 36? I can't fault Larry Hogan for a lack of effort or his difficult circumstances, but we need leadership in this regard and if it means telling the people the truth about where the problems lie (hint: they hold 124 seats in the General Assembly) so be it.
It's not quite the Jimmy Carter "malaise" statement, but onetime Virginia governor Jim Gilmore is trying again for our nation's highest office. He became the seventeenth and (presumably, anyway) last major GOP candidate to enter the race at a time when those who don't make the top ten debates may be considering an exit strategy. In fact, his abortive 2008 campaign was already done by this point on the political calendar thanks to emergency eye surgery.
Gilmore, though, was actually starting off well in my comparison of candidates from that year so it will be interesting to see how he does. Like many of the others, he has been the chief executive of a state (or, more precisely in his case, a commonwealth) so many of his accomplishments work around the successes he had way back around the turn of the century when he was governor. (Of all the candidates who have held similar office, Gilmore has been out of office the longest – over 12 years. It can be argued that Virginia's one-term limit may have worked against him.)
It's an all but foregone conclusion that Gilmore won't be a "top ten" candidate for the debates, so the question is whether his late start will allow him to survive the inevitable exit from the race of several bottom-feeders. (According to RealClearPolitics, that bottom tier consists of Rick Perry, Bobby Jindal, Carly Fiorina, Rick Santorum, George Pataki, and Lindsey Graham. Graham isn't even registering on their polls, which have Pataki last at 0.6%. Perry is a full point behind John Kasich and Chris Christie, who are both at 3.2%.) A late entry is not hurting Kasich, who only got in a week ago and has cracked the top ten.
Gilmore has started out by touting his Growth Code, a tax agenda which he calls "our way back to economic prosperity." It's nowhere near as radical as the FairTax, but does some tweaking and reworking. As for the rest, your guess is as good as mine although he stresses national security quite strongly in his announcement.
So we will see how he does, and I will try to integrate him into my ranking system as I go along. (I fear I may not be done before some of these candidates drop out. It's a long process with seventeen candidates.) But it's worth it to be an informed voter.
On Friday I received the latest update from Newt Gingrich in my e-mail box. Even though I don't always agree with him as to tactics – and his Presidential campaign in 2012 went nowhere but to Salisbury University – the one thing you cannot take away from him is the 1994 Contract With America, signifying a Republican resurgence in the post-Reagan era. And you have to respect him for thinking years or decades forward, such as he did in this case.
His piece on Friday looked at the economic prowess of states which did not collect an income tax in comparison to those that did. It even cited some of the same Art Laffer data that unsuccessful gubernatorial candidate Charles Lollar used in his pitch to eliminate Maryland's state income tax.
But the part which intrigued me came toward the end, when he wrote about the effort by Vince Haley, a State Senate candidate, to eventually eliminate Virginia's state income tax. Certainly it doesn't have a great chance of success in the near term with a Democratic governor, but one has to ask what the effects would be if the commonwealth made it all the way down that path – and how would it affect us?
For nearly four years, a significant part of the time of my outside job has been spent on the Eastern Shore of Virginia. I've been over most of that strip from Chincoteague to Cape Charles for some task or other, but if you just pay attention to the drive along U.S. 13 you can see that the ESV is not the wealthiest area, nor are many ingredients for prosperity present. Compared to Virginia's 4% population growth as a whole, the two counties which make up the Eastern Shore are leaking population, with Northampton County (the more southern of the two, closer to the Norfolk region) dropping by 2 percent and Accomack County (closer to Maryland) holding almost steady, with an estimated decline of less than 20 people in a county of just over 33,000.
By way of comparison, the two combined are less than half the population of Wicomico County, and there are good reasons for that: their geographic isolation at the end of the Delmarva Peninsula and a lack of job opportunities outside of the Wallops Island NASA station. Locally, their slogan is "You'll Love Our Nature" and that is one thing the area can boast given its coastlines on Chesapeake Bay and the Atlantic Ocean are often less than 20 miles apart and meet at its southern tip.
Elected officials of all stripes are trying to increase business at the Wallops Island complex as they see the potential of unmanned space flights from the facility, with the prospect of good-paying ancillary jobs the spaceport creates. But the benefit of not having an income tax would likely be an influx of well-to-do retirees and others with the disposable income residents of the ESV currently lack. It may even be a better attraction than coastal Delaware and its lack of a sales tax, since those outlets are a relatively easy drive away from the northern reaches of Virginia's slice of the peninsula.
Those who try to promote the area probably realize that prospects for certain types of businesses wouldn't be very good because the ESV lacks some of the infrastructure necessary for manufacturing. But if the area becomes advantageous in a financial sense thanks to an elimination of the income tax, it can become a playground of sorts for affluent retirees who would like to slow down and enjoy a more rural lifestyle, allowing the remainder of the residents to share in that wealth. On the other hand I can also understand where many ESV residents may object to eliminating the state income tax, especially if they receive Virginia's version of the Earned Income Tax Credit they call the CLI.
If all this came to pass, though, Maryland would be left in the middle, suffering from having a sales tax-free state siphoning off its retail industry and an income tax-free state choking off its wealth. (Don't forget that an income tax-free Virginia may have devastating effects on the capital region of Maryland, too.) Of course, we can work to eliminate both those issues but it would take a larger sea change in philosophy than Annapolis has the stomach for.
It may not be the golden ticket to prosperity, but given the slow decline of our Delmarva neighbors to the south a drastic measure like eliminating their income tax may be the only way to resuscitate the area.
I saw Delegate and Senate candidate Mike McDermott at a tri-county Republican Central Committee meeting the other evening, and he updated us on his campaign – in a nutshell, he said turnout would be key. Pretty basic stuff.
Unfortunately, that basic stuff seems to elude Maryland Democrats when it comes to the economy, as McDermott explained in a separate statement I received Wednesday:
As Americans, we understand that people can make mistakes. As we grow up, we learn from our mistakes so that we do not stumble a second time. Wise people do not often make the same mistake twice.

There is an old proverb which states, "Those who cannot remember the past are condemned to repeat it."

Governor O'Malley and Senator Mathias are not exceptions to this rule.

Eight years ago when these two men took office together, Maryland enjoyed a billion dollar surplus at the end of Republican Bob Ehrlich's first term as governor. Our state played host to 11 Fortune 500 companies. We were #25 on the list of "Business Friendly States," poultry operations were expanding, and the future of agriculture in Maryland looked bright. Our people were happy to live here and most had no thoughts of moving away.

Eight years with O'Malley and Mathias have shown the devastating effects of their big government economic policies and made it clear that they do not learn from their past or their mistakes. Their shared philosophy promoting government as the answer to any problem has turned our surplus into deficits. While every state experienced the recession, Maryland has struggled to regain its footing, and some of our counties are simply not recovering. It is a failure of policy, not our people.

Of those 11 Fortune 500 companies…only 1 remains in Maryland and that is McCormick Inc. Based on recent news accounts, even the folks who gave us "Old Bay" seasoning are soon to relocate to Pennsylvania. These companies have not gone out of business, they just cannot afford to operate in a state run by folks who do not know how to be "business friendly."

Being known as a "Business Friendly" state should be our goal. O'Malley, and his apologists like Mathias, have moved us from #25 all the way down to #42. We are surrounded by businesses that have closed shop, companies that simply do not exist anymore, and large retailers that have boarded up and moved away. Business has a thin bottom line that liberal lawmakers have never understood. Every increase to the cost of doing business must be passed on to consumers who have less money to spend. Liberals apparently skipped their Economics 101 class to attend Advanced Hole Digging 301.
It's obvious that Maryland's not doing it right. Just look at the survey of small business people I cited yesterday and compare us to Texas or even Virginia. We could do far worse than to replicate the business climate of Virginia or Texas – although every aspect may not be a perfect fit, the overall change would likely steer us in the right direction. Just look at North Carolina as another example – while they ranked 44th in State Business Tax Climate (Maryland was 41st in the same survey) the Tax Foundation study authors noted:
While not reflected in this year's edition, a great testament to the Index's value is its use as a success metric for comprehensive reforms passed this year in North Carolina. While the state remains ranked 44th for this edition, it will move to as high as 17th as these reforms take effect in coming years.
A leap like that would take North Carolina from a ranking which lags behind all its adjacent states and vault them into second behind Tennessee.
And while McDermott doesn't get into policy specifics, let me whisper something into his ear: a complete elimination of corporate taxes would only "cost" the state $1.011 billion, or less than 3% of its budget. The year-over-year increase was larger than that! If Larry Hogan has that $1.75 billion of waste in his pocket, someone should get that corporate tax elimination proposal on his desk before February is out. It would be nice to have the first session after an election be devoted to major tax cuts rather than big hikes like 2007 and (to a lesser extent) 2011 were. (See update below.)
It truly is Economics 101: if you take a smaller slice from business, their profitability grows and they can be larger players in supporting the regional economy by investing in new workers and equipment. Those new workers and equipment provide more value, which builds the tax base and allows government to cut rates just a little bit more.
At one time, Maryland was booming – a condition I can attest to because that's why I came here in the first place. Let's see what we can do to get back to those conditions.
Update: In a subsequent release, McDermott gave me half a loaf, advocating for a 50% reduction in corporate taxes. Not bad. On the economic front he also calls for cutting income taxes, streamlining bureaucracy and relieving the regulatory burden to give Maryland "an attitude as a state that our job is to 'permit' not 'deny'," and allow the first $50,000 of retirement income to be tax free.
Oh no, here comes that big bad TEA Party again. And the Democrats are using it as a fundraiser:
I've been working in Virginia politics for a long time, but I've never seen anything like what happened tonight.

Seriously: House Majority Leader Eric Cantor just lost his primary to a Tea Party challenger. Eric Cantor — Eric. Freaking. Cantor. — is officially too moderate to win the nomination of the Republican Party. And the results are not even close!

The Tea Party isn't just alive and well — it's taken wholesale control of the GOP.

We've got to stop these guys, and here's why: If they think that the House under Eric Cantor is too moderate, you can only imagine what Congress will look like if they win this November.
Those were the words of Mo Elleithee, DNC Communications Director. So I guess Matt Bevin and J.D. Winteregg won post-election recounts over Mitch McConnell and John Boehner, respectively, while Lindsey "Grahamnesty" Graham found a way to lose to one of a host of wannabe contenders last night. Oh wait, they didn't?
I only wish the TEA Party had "wholesale control" of the GOP, but the facts aren't there. Certainly we can move the needle a little to the right with Eric Cantor out, but this is hype. However, the Cantor defeat also should serve as a warning to Beltway insiders that there is a huge amount of frustration with GOP leadership right now.
The base does not – I repeat, DOES NOT – want any sort of amnesty, and they don't want to tinker around the edges of Obamacare, they want it gone. It matters not that the House is only half the Congress because they hold the power of the purse, and there are a lot of conservatives out there who found the Republican leadership was too spineless to stand for principle on that front, as the insiders kept pushing off a confrontation until it was too late and they had zero leverage.
Unlike Mitch McConnell, whose opponent's campaign imploded in the final weeks, or the split opposition to Boehner and Graham, there was only one challenger to Cantor and the TEA Party coalesced around Dave Brat enough to get him over the primary finish line. That seems to be the key in these races.
The real test, though, will be in November. Let's hope the TEA Party rises to put an end to failed Washington leadership from both parties.
In terms of determining just how massive the potential ticking time bombs of state debt and dependence on federal government subsidy are, there are few groups as useful as State Budget Solutions. The advocacy group recently released two studies to which those who run for office in Maryland should be paying particular attention.
First of all, SBS annually calculates the total amount of state debt each state labors under as it tries to get the financial house in order. While Maryland's debt is nowhere near as unmanageable as that of other states like California – which is nearly $800 billion in the long-term hole – their $94.2 billion unfunded liability is nothing to sneeze at. Of that $94 billion, SBS determined that $68.3 billion was unfunded public pension liabilities, $16.5 billion was outstanding bond debt, and $9.4 billion in what they call OPEB liabilities, described as "mainly retiree health care." Considering our latest budget proposal for FY2015 is just a shade under $40 billion, the debt we are carrying could theoretically take our entire state budget for the next 29 months or so.
SBS slices and dices up these numbers for every state, and in comparison to some others Maryland doesn't look that bad – while their overall debt is 14th in the country, it's only 20th per capita. We rank just ahead of Virginia on the overall debt, but Virginia's per capita debt is just 41st. On the other hand, while Delaware's overall debt is 43rd by virtue of its small size, their per capita debt ranks ahead of Maryland as Delaware is 17th.
The second study comes at a time when federal influence in state budgets is at an all-time high. The good people at SBS determined that the average state received 31.6% of its budget in the form of transfers from Uncle Sam. Surprisingly, Maryland is just a little below that mean as they only get 30.25% of their money directly from Washington, D.C. Obviously this doesn't tell the whole story because so many of Maryland's workers are employed by the federal government so they get the transfer from a middleman who might be a lowly clerical employee or a high-ranking Cabinet officer – as long as they reside in Maryland, the state derives some of its revenue indirectly from the federal government that way.
All this is made more interesting by the fact that Virginia received the third-lowest share from the federal government, with just 23.53% of state funds being federally-supplied. Delaware was also very low in the rankings, getting only 24.46% from the federal government. (The highest was Mississippi at 45.35%, lowest Alaska at 19.98%.)
But imagine the nation trimming its sails to Alaska's level: we would save about $51 billion annually.
Of course, the idea of block-granting various functions to the states using federal money has strong appeal to conservatives who believe the states could best determine how to spend their money. All that is true, but I never cared for the idea of government as pass-through conduit. To me it would be better just to have the state do all the work.
I'm hoping the four gubernatorial candidates on our side are familiar with this group's work because they could all stand to benefit from the insight.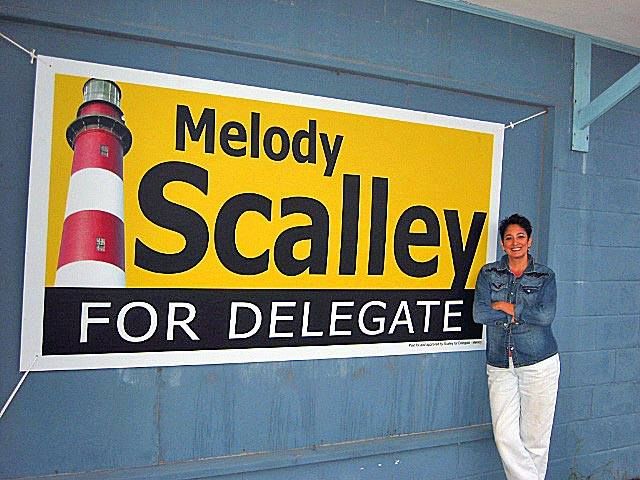 A longtime supporter and fan of this site is once again trying to parlay her talents and activism into a seat in the Virginia House of Delegates.
Thanks to what has become a cascading series of political openings, the 100th District House seat has been vacated by former Delegate Lynwood Lewis. Lewis squeaked by Republican Wayne Coleman by just 11 votes to fill the vacant 6th District Senate seat, an opening created when former Senator Ralph Northam, a fellow Democrat, ascended to the Lieutenant Governor's position in the November election. For residents of Virginia's Eastern Shore, this will be their third election in four months, as the 100th District encompasses the entirety of Virginia's Eastern Shore, with a handful of precincts in the Norfolk area. Accomack County makes up 45% of the district's voting population, with the other of the two Eastern Shore counties, Northampton, making up 18%.
In what's known as a "firehouse primary," Democrats selected their nominee yesterday. Willie Randall is a former Northampton County supervisor, and he will face either Scalley or Rob Bloxom, Jr. as both seek the GOP nod. Bloxom's father, Robert Bloxom, Sr., represented the district for a quarter-century before Lewis became Delegate in 2004.
Scalley was the last Republican to vie for the seat in 2009. Lewis won the 2013 election over independent John Smith, Jr. with 71% of the vote, and was unopposed in 2011. In 2009, Scalley got 35% of the vote against Lewis, who had also been unopposed in 2005 and 2007.
Since her 2009 run, Scalley has remained politically active, both as host of a weekly local radio program and, more recently, as a regional coordinator for Heritage Action covering Virginia and North Carolina. Previously she worked as part of Americans for Prosperity and as Congressman Scott Rigell's Eastern Shore campaign organizer.
She's working up to the Republican version of the "firehouse primary" which will be held at Nandua High School in Onley on Saturday, February 8 at 2:30 p.m. Voters are encouraged to arrive early as registration begins at 1:30. In speaking with her last week, she encouraged supporters to do what she calls "virtual door knocking" by sharing her campaign's Facebook page and make phone calls on her behalf. It's a far more compressed schedule than a normal campaign, as the special election for the seat will occur on Tuesday, February 25.
Scalley is basing her campaign on "common sense, conservative values" and adds that:
 We need someone who has a proven record of working for limited government and concern for the working people who earn the money — not the profligate spenders in state government who don't seem to understand where money comes from.
On Saturday we will find out if Melody's appeal is successful, or if people will vote for a familiar name. Unlike the Senate race, where control of the body hung in the balance thanks to two January special elections, the winner will join a House of Delegates solidly under GOP control as a common-sense counterweight to the liberal lunacy sure to come from the McAuliffe administration.
Apparently it is all about turning out the base.
In their victory lap and appeal to flip the House, national Democrats cited the recent decision in Virginia to embrace cronyism in the persona of Terry McAuliffe as well as a number of big-city mayors such as Bill de Blasio in New York as evidence they have momentum. It's the usual spin, considering they were whacked in New Jersey – a state with a Democratic voter registration advantage.
Yet look at the electorate which showed up in Virginia:
So McAuliffe, who won by less than two points, was elected by a D+9 turnout. Yet because Virginia is an open primary state and doesn't make voters select a political party upon registration, this simply means self-declared Democrats were the largest of the three groups, with independents next and Republicans last. Those who declared themselves independent actually voted more for Ken Cuccinelli than for Terry McAuliffe, so where the GOP may have failed was getting their likely voters to the ballot. Many may be kicking themselves now because they believed the polls when they showed McAuliffe up by 10 points and didn't turn out.
But the Democrats apparently believe that, because the 2013 model of turnout in Virginia turned out like the 2012 model, that the success will continue through 2014. They cling to this hope, as well as the polling data I wrote about a few weeks back where a generic Democrat leads in several Congressional races, in believing 2014 will be more of the same and they will get back the House to match the Senate.
The problem which their line of rainbow unicorn thinking is once you actually select a candidate the voters may not like his or her record or promises, particularly if they run on Obamacare. That, my friends, promises to be an albatross around the collective necks of the Democratic Party. Everyone who counters the lie we were told that "you can keep your insurance policy" is another potential Republican vote if done correctly in 2014 and 2016. Do you seriously think Hillary Clinton will change a thing about Obamacare when she had this bright idea two decades ago? She won't. Yes, I realize the Democrats will try their best to change the subject and/or demonize Big Insurance, but they have a mess on their hands right now which goes far beyond a balky website.
Yet there is a lesson for us as well. I'll grant this is a little bit of apples-to-oranges comparison because Virginia's voters are self-declared, but if you had even a 35-34 Democratic turnout they would have never sent the e-mail because Ken Cuccinelli would be the incoming governor.
In one of our Republican Club meetings it was noted that Bob Ehrlich was elected with 68% Republican turnout. That simply won't do. Martin O'Malley was re-elected with 1,044,961 votes in 2010, and even with 100% turnout and perfect GOP loyalty we are still almost 100,000 votes shy of that mark based on our current registration numbers. If we are going to win, we need to get that 20% of the Democrats who remain registered that way because their daddy was a Democrat to vote for us, and draw in independents, too.
Surely the opposition will paint us as extremists and try to play on voters' emotions as they did in the Virginia race. But what's so extreme about keeping more of your own money, presenting additional choices for the education of your children, and bringing the focus of government back to a local level? You tell me.
I refuse to believe the voters of Maryland will continue to vote against their own self-interest and will work accordingly to correct that. Education is a process which spans elections, but keep in mind we don't have to convince everyone – if just one out of roughly former O'Malley voters switches to our side, we win. Given O'Malley's tepid approval ratings it's not such a daunting task, is it?
Time to get to work.
By the way, as an aside: it's worth pointing out (as I was looking up the 2010 totals) that O'Malley won huge in two areas: early voting, where he received 62.9% of the vote, and absentee ballots, where he got 63.3%. But together they were only 18.1% of the total. Election Day is still important, but it won't hurt to try and bank a lot of votes beforehand.
Thanks to my reading of the other side – namely the Maryland Juice website – I was alerted to a poll conducted recently. It's a poll which shows that we as a movement and party have some work to do.
I'm going to reserve comment on the Goucher College survey insofar as the questions on minimum wage and pensions, the results of which gave me the sick sensation that people in this state really don't understand economics, and focus on the key question of name recognition. Obviously I knew every name on this list but it turns out most of Maryland is familiar with few of the people running for governor. In order of name recognition, the percentages of people who have heard of these candidates are as follows:
Anthony Brown – 62.3%
Doug Gansler – 57.9%
Dutch Ruppersberger – 49.1%
David Craig – 30.6%
Charles Lollar – 22.7%
Ron George – 21.6%
Heather Mizeur – 13.1%
Now this is a strict name recognition poll, and not a favorable/unfavorable one. But as you can see all of the GOP hopefuls trail all but one of the Democrats, which presents a problem but also an opportunity.
As we saw in the Virginia gubernatorial race, Ken Cuccinelli lost because he was defined by his opponent as hostile on social issues. Not only was the press generally favorable to Terry McAuliffe, he had a lot more money to spend in the latter days of the campaign to pour onto the thick layer of mud which had been slung for several months from both sides.
So an obvious goal of all candidates is to bring that name recognition number up, but also do it in such a way to present a positive image. With the rash of bad news Doug Gansler has endured, surely his recognition is up – but just as certainly his negatives are as well. The same can become true of Anthony Brown, since in the same Goucher Poll his boss Martin O'Malley only had a 41-40 favorable vs. unfavorable ratio, with strong unfavorables running 11.3 points ahead of strong favorables (e.g. a -11.3, which echoes the -15.1 O'Malley had in the recent Maryland Poll). Those two are as peas in a pod to me.
Besides, the factor Marylanders are most looking for in their next governor is trustworthiness. I don't trust any of the Democrats any farther than I can throw them – the closest is Mizeur, who makes no bones about being liberal.
If we can alert as many Marylanders as possible to our candidates with good and truthful words – accentuate the positive – it makes their job easier. Time to get to work.
For the most part, the votes are counted in the 2013 elections. A few conservatives won, but others lost – and that's always disappointing. I'm going to leave the finger-pointing to others, but some reactions to the Virginia and New Jersey races worth sharing came from national heavyweights Mark Levin and Rush Limbaugh as well as new media names like Peter Ingemi, Soopermexican, and Dan Riehl.
But for now I'm going to focus on the state races, which despite being a year away have attracted a fair share of headlines. One sidebar story to most, though, is roiling Maryland's conservative new media, as it's full-on open warfare between blogs and personalities supporting gubernatorial candidate Charles Lollar vs. blogs and personalities which are claiming to vet Lollar for a number of issues ranging from out-of-state tags on the announcement tour bus to pulling a salary during his 2010 Congressional campaign to missing key GOP events.
I thought one generous olive branch was extended by J. Doug Gill on his radio show this evening. Why not talk out these issues and get some explanation from the guy on top, the leader of the campaign?
I know people on both sides of this issue; for example I'm friends with Jackie Wellfonder and work with her closely as part of Wicomico County Republican Club leadership – having met her as a local leader in the Dan Bongino Senate campaign, yet I also know Julie Brewington as an earnest believer in her cause who worked in the development of the local TEA Party as well as the former Americans for Prosperity chapter we had here. She also stuck her neck out to try and change Annapolis by running for office. Certainly, the results weren't what Julie would have desired because she finished last, but few people make the commitment to run for such elected office. I consider her a friend as well. Sad thing is that there's probably 80 percent or more common ground there but Julie is a local leader for Lollar and Jackie is on record as pining for Larry Hogan, so there's now plenty of animosity there.
Yet look where this infighting has gotten us – talk of blackmail, mea culpas on subjects better left unsaid (and really irrelevant to the campaign), and talk of "vicious attacks." I don't know which wheel squeaked first – although as you'll see below I have a guess – but I hope my wheel is the one that squeaks last. If Charles Lollar is running a poor campaign, the voters will figure that out soon enough. There isn't a campaign among the four Republicans with a realistic shot of winning the nomination that I wouldn't support when compared to the Democrats in the field who promise the same old bromides of tax, spend, and redistribute in an effort to buy more votes.
My gosh, if we as conservatives have enough pride to not fall for the redistribution trap, let's not get bogged down in this crap. If people spent half as much time and energy working out the obvious flaws in Lollar's campaign – and yes, the lack of a website for a week was a legitimate criticism of an unforced error, as were some of the missed appearances – as they did in figuring out ways to trash the Red Maryland crew, which may be of use to them later, they would stand a much better chance of winning.
I think it was a main protagonist of Red Maryland, Greg Kline, who got this whole ball rolling with his June assessment that Lollar "does not seem ready to be a serious contender for the Office of Governor of Maryland." Since then, the Lollar camp has seemed hypersensitive to any criticism from that direction, which includes by extension Wellfonder (a Red Maryland radio host) as well as Jeff Quinton (also a former Red Maryland radio host.) Moreover, the blowback even extends to the Steve Hershey appointment. It almost seems like a cynical attempt to "slime the messenger" is at play here.
Now you can trust me when I tell you this "erstwhile contributor" to Red Maryland has had many differences with them over the years. But I have to say that they are an important piece of Republican politics in this state, for better or worse. I would have more respect for those running the Lollar campaign if they pointed out the differences between their guy and the other Republicans running than I do with their spending time worrying about what a group of bloggers thinks. If you disagree with Kline's assessment, prove him wrong and step up your game.
As for myself, it's time to concentrate on the issues. I think Sunday I'll break out the first of several parts of my dossier, which is pretty much complete in several areas, so look for that.
These from a guy who's not even on the 2014 ballot, criticized by someone who's not made the leap onto the ballot yet. Respectively, I'm referring to Martin O'Malley and his favorite burr under the saddle, Change Maryland's Larry Hogan. The story goes like this:
Late last week the blog Politics Maryland reported that State Budget secretary Eloise Foster of the Department of Budget and Management indicated Governor O'Malley directed government agencies to prepare "cost containment plans" to cut spending instead of raising taxes. Change Maryland, the state's leading voice of opposition to a one-party political monopoly in Annapolis, scoffed at the claim that O'Malley would not seek higher taxes or fees in the face of Maryland's looming $510 million structural deficit.

"Every election year, Governor O'Malley promises not to raise taxes, but he has broken this promise every year he has been governor. Under this administration, Marylanders have been slammed with 40 consecutive tax, toll and fee hikes. Now, as he attempts to cement his legacy and further his presidential aspirations, he is back to singing the 'no new tax' tune once again," said Larry Hogan, founder and Chairman of Change Maryland.

During his re-election campaign, O'Malley ran commercials railing against fee and tax increases; after he claimed he was looking for a "diet of cuts" until the state's economy and revenue were stronger. Yet in his second term, he pushed for some of the most regressive taxes and fees we've seen in this administration: increases in the state's gas tax and tolls, a rain tax, and more that disproportionately affect the families that can least afford them.

"In 2012, O'Malley infamously tweeted 'You have to have the guts to make the cuts.' But after seven years, where are the cuts, governor?" asked Hogan. "The facts show that Martin O'Malley has actually increased state spending by over $8 billion — with zero cuts. By the standards of his own rhetoric, Governor O'Malley is gutless," Hogan said.

"The massive tax increases in 2007 were supposed to solve the structural deficit. Then it was the 2012 tax hikes. Here we are again with a shortfall, even after forty consecutive tax increases under this administration," charged Hogan. "Even these outrageous tax increases have not kept up with spending addiction of the O'Malley-Brown administration. This is further proof that this administration simply lacks the courage to say, 'no' to spending."
The proof to Hogan's assertions is in the pudding: our budget is indeed up $8 billion from what it was in FY2007, as I'll show below.
A solution Hogan didn't point out was instead posited by one of his prospective opponents, Charles Lollar. He's been advocating a Taxpayer's Bill of Rights, or TABOR law, similar to one Colorado adopted some years back.
Let's take a look at where we'd be had Bob Ehrlich passed one in 2006. TABOR establishes that the budget cannot grow more than the rate of inflation plus the rate of population growth in a particular year.
Had a TABOR been in place, the budget from 2007 to 2013 would have only grown by the rate of inflation, which the CPI inflation calculator I used pegged at 12.93% over the period, plus Maryland's population growth. I extrapolated the Census figures and used a population estimate I made of 5,650,000 as a "close enough" starting point and came up with this:
Inflation: 12.93%, based on the CPI inflation calculator
Population growth:  4.42% (based on extrapolating Census data to assume a population of roughly 5,900,000 today vs. around 5,650,000 in 2007)
The FY2007 Maryland budget came in at $29.629 billion, including reversions.
The FY2014 Maryland budget is $37.307 billion, including fund raids.
With the TABOR rule and using the last Ehrlich budget as a starting point, anything over $34.77 billion ($29.629 billion + 17.35%) is excessive spending. So Martin O'Malley overspent by $2.537 billion this year, not to mention smaller sums over his first six budgets. So much for having "guts for cuts."
Put another way, the corporate tax that some candidates are tinkering around the edges with could easily be eliminated now if the TABOR was in effect. Meanwhile, those gasoline taxes could be spent strictly on roads. Or, we could have taken a sizable step toward eliminating our $9.8 billion dependence on Uncle Sam – another point brought up by Lollar.
Unfortunately for those looking to vote with their feet, O'Malley/Brown will be the beneficiary of a giant present dumped in their lap – a bare plurality of the voters of Virginia were foolish enough to elect Terry McAuliffe as governor over the vastly superior Ken Cuccinelli. Now Marylanders who were ready to bail to Virginia will have to wait four years for sanity to be re-established there. And do you think McAuliffe will govern like he got 60% of the vote, calling his 47% a mandate? You betcha.
Fortunately, the Virginia House of Delegates looks to be very safely in Republican hands (it should end up somewhere around 66-34 R) so hopefully McAuliffe can't do too much damage IF Republicans stay strong.
One thing the Virginia race proves: you have to define yourself before your opponent does it for you. Anthony Brown is basically the blankest of slates, so let's get to work.
While Maryland statewide voters will have another 52 weeks to wait until their time has come, there are certain Free State towns and cities where the polls are open today. Of course, we also get some spillover from the races down in Virginia, whose voters may well be sick of the campaign Terry McAuliffe has ran against Ken Cuccinelli – a guy who's actually held elected office and wasn't rejected by his party's own voters four years ago.
Obviously the focus in Maryland has been on those municipal elections in Frederick and Annapolis, where a strong crop of Republicans must be scaring those higher up on the food chain:
Decisions are made by those who show up. That is never truer than on Election Day. And in Maryland, people like you have some important decisions to make.

The polls open tomorrow morning, which means it's time to step up, make a plan for how you're going vote, and stick to it.

Commit to vote now:

(link redacted)
Barack Obama, if people like me made the decisions in Maryland this state would be far better off – instead, they voted against their best interests and re-elected you. Obviously this is boilerplate since he didn't know the only election I'm involved in is the one for the Mobbie Awards. And did his people really write "you're going vote"? Must be taking a break from working on healthcare.gov.
At least the Red Maryland guys have a clue:
It's Election Day in Annapolis and Frederick. We're proud of the hard work our Republican candidates have been doing, and of all the work conservative activists from across Maryland have done to help them on to victory today.

If you live in Annapolis and Frederick; please vote today!
And yes, they have a radio show tonight, expanding Jackie Wellfonder's normal hourlong show to two hours and taking it on the road.
The state Republican party has made a push in these two cities as well. From Chair Diana Waterman:
If you have some free time, consider making calls on election day to remind voters to go vote! Or help at the polls. I'll be working a poll in Annapolis from 4 – 8PM.

Want to help tomorrow? Call (410) 989-2095 in Annapolis and (740) 816-1465 in Frederick. Or make calls from home – all you need is a computer and a phone. Click here to find out how to do it! It's so easy!

In Frederick, we will elect Mayor Randy McClement and Alderman candidates Daniel Cowell, Phil Dacey, Alan Imhoff, Katie Nash, and Dave Schmidt!

In Annapolis, we're going to shake things up and elect Mike Pantelides as mayor and Alderman candidates Allen Furth, Fred Paone, and James Clenny!
Of course, depending on who wins all these contests it will either be a "bellwether election" or "temper tantrum." That's the job of the spinners of the political world who might take a day or two off once the counting ends before firing back up with their thoughts on the 2014 election.
Yes, today ends a chapter in the book of politics, but I'll be around to start on writing the next one as soon as tomorrow – maybe even this evening after the polls close depending on how much work I get done on other tasks.