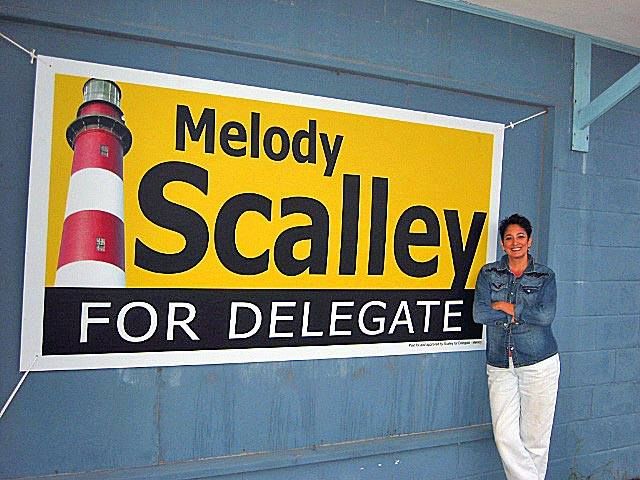 A longtime supporter and fan of this site is once again trying to parlay her talents and activism into a seat in the Virginia House of Delegates.
Thanks to what has become a cascading series of political openings, the 100th District House seat has been vacated by former Delegate Lynwood Lewis. Lewis squeaked by Republican Wayne Coleman by just 11 votes to fill the vacant 6th District Senate seat, an opening created when former Senator Ralph Northam, a fellow Democrat, ascended to the Lieutenant Governor's position in the November election. For residents of Virginia's Eastern Shore, this will be their third election in four months, as the 100th District encompasses the entirety of Virginia's Eastern Shore, with a handful of precincts in the Norfolk area. Accomack County makes up 45% of the district's voting population, with the other of the two Eastern Shore counties, Northampton, making up 18%.
In what's known as a "firehouse primary," Democrats selected their nominee yesterday. Willie Randall is a former Northampton County supervisor, and he will face either Scalley or Rob Bloxom, Jr. as both seek the GOP nod. Bloxom's father, Robert Bloxom, Sr., represented the district for a quarter-century before Lewis became Delegate in 2004.
Scalley was the last Republican to vie for the seat in 2009. Lewis won the 2013 election over independent John Smith, Jr. with 71% of the vote, and was unopposed in 2011. In 2009, Scalley got 35% of the vote against Lewis, who had also been unopposed in 2005 and 2007.
Since her 2009 run, Scalley has remained politically active, both as host of a weekly local radio program and, more recently, as a regional coordinator for Heritage Action covering Virginia and North Carolina. Previously she worked as part of Americans for Prosperity and as Congressman Scott Rigell's Eastern Shore campaign organizer.
She's working up to the Republican version of the "firehouse primary" which will be held at Nandua High School in Onley on Saturday, February 8 at 2:30 p.m. Voters are encouraged to arrive early as registration begins at 1:30. In speaking with her last week, she encouraged supporters to do what she calls "virtual door knocking" by sharing her campaign's Facebook page and make phone calls on her behalf. It's a far more compressed schedule than a normal campaign, as the special election for the seat will occur on Tuesday, February 25.
Scalley is basing her campaign on "common sense, conservative values" and adds that:
 We need someone who has a proven record of working for limited government and concern for the working people who earn the money — not the profligate spenders in state government who don't seem to understand where money comes from.
On Saturday we will find out if Melody's appeal is successful, or if people will vote for a familiar name. Unlike the Senate race, where control of the body hung in the balance thanks to two January special elections, the winner will join a House of Delegates solidly under GOP control as a common-sense counterweight to the liberal lunacy sure to come from the McAuliffe administration.