It's become obvious that the junior Senator from Kentucky has become quite the item in Maryland, since he will be engaged in Free State-related causes supporting state political action committees twice in the space of slightly over a month. In this case, though, the support will be more indirect.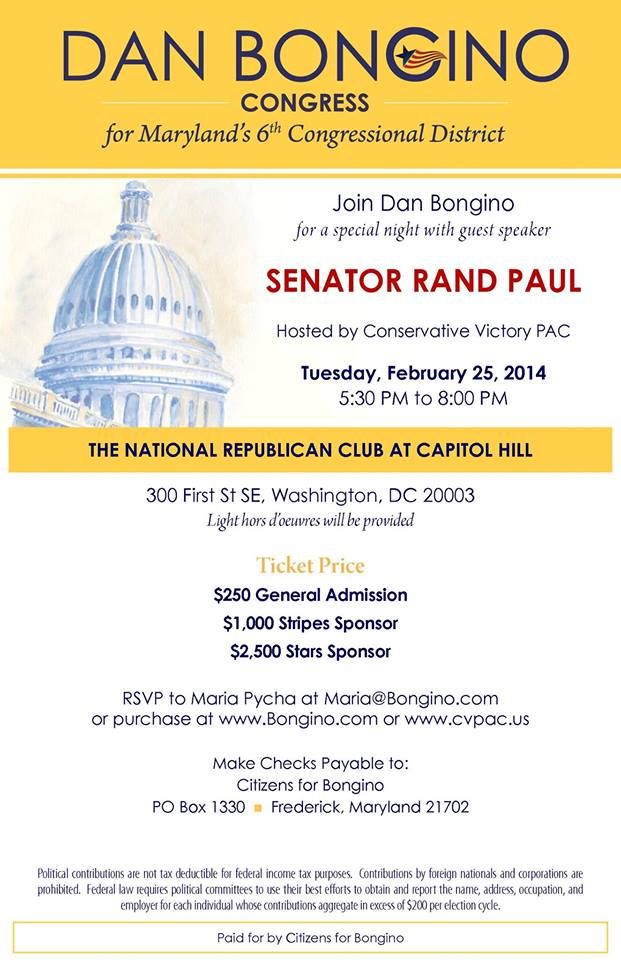 Instead of a relatively affordable event, though, it seems like Dan Bongino and the Conservative Victory PAC are going for more of the high-dollar donors. Perhaps that's a function of holding the event in Washington, D.C. but the event doesn't seem to be aiming for the attendance figures the Maryland Liberty PAC will be seeking a month later – of course, Bongino needs the money in a more immediate fashion as he prepares to presumably take on the deep pockets of incumbent Congressman John Delaney.
Rand Paul, by the way, is no stranger to the Conservative Victory PAC. He also was a featured speaker at a rally last October for Ken Cuccinelli, who narrowly lost the gubernatorial election there and was being mentioned as a candidate for U.S. Senator himself before quashing the rumors in December. For its part, the Maryland-based CVPAC took criticism from some quarters for supporting a candidate in Virginia. (I didn't have as much of a problem with it.) The October event even featured Bongino as a "special speaker" so he knows the group too.
Once again, it's worth pointing out the event is for Dan Bongino's benefit because checks are made payable to Bongino's Congressional campaign. But the CVPAC has plans for local Maryland campaigns as well:
We are launching this year in high gear with a fundraiser in February to support Dan Bongino as the next US Congressman from Maryland's sixth district.  In March, we will roll out a multi-tiered plan to conduct fundraisers as well as grassroots outreach as part of our victory campaign for high caliber Constitutional Conservatives seeking elected office.
That statement was the introduction to the CVPAC January newsletter, available on their website. Presumably they are working on a list of candidates to support in local and perhaps statewide races. (I can think of a couple local candidates who can use the help as they face off against entrenched Democrats and their high-dollar consultants from across the Bay.) So I look forward to seeing if our humble little side of the state is included in that victory campaign.
And if Rand Paul wants to help us out, he's more than welcome to.