So now that you know where I was on Election Night (thanks to Muir Boda) let me shine some light on our party. I'm the guy in the McDermott shirt; hopefully it wasn't a jinx.
Unlike a lot of elections past, I did not work a poll. My outside job had tasks which a) had to be covered Tuesday and b) were up in Dover. I didn't even get home until almost 8:00; fortunately knowing this a couple weeks in advance I could hold my nose and vote early.
Since I wanted a table to write notes on I sat next to Dr. Rene Desmarais, who has admirably remained in the fray despite his primary election loss. I hope the Hogan administration can use his health care expertise. He's the guy at the laptop in the checkered shirt.
Taking my seat for a few minutes was Mike McDermott, who was anxiously looking at results and drawing attention.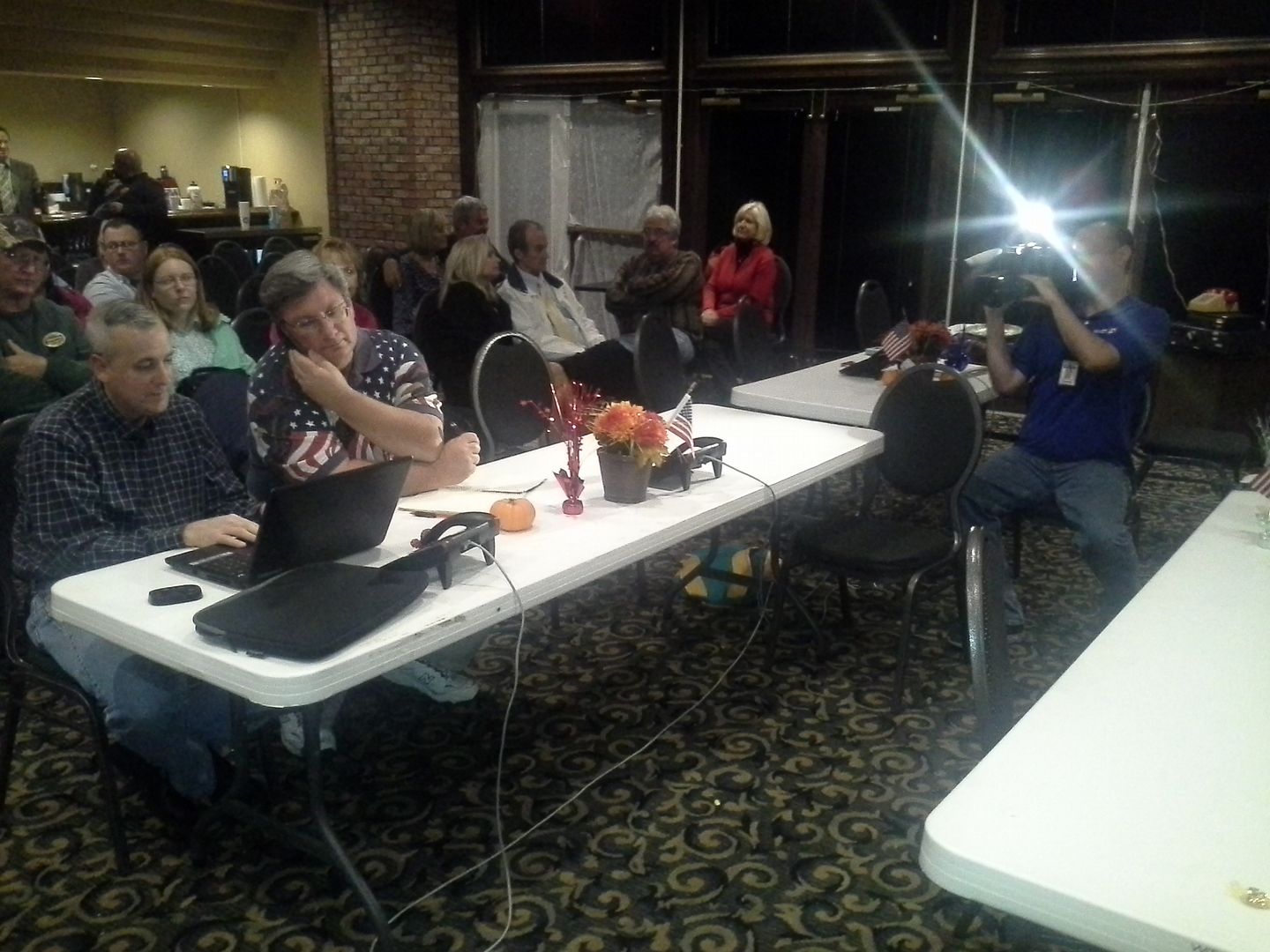 Mike didn't stay all that long. I figure he went home to see his supporters and share the bad news with them, since it was obvious from the get-go he wasn't doing all that well. It turned out that Wicomico was the only one of the three counties Mike won, and it's a margin which is pending absentees. The difference between Michael James in 2010 and Mike in 2014 seems to be that McDermott did poorly in Somerset County, which James carried but Mike lost by almost 700 votes.
Obviously there were a lot of people who craved information. Bob Culver (center, in white) and Joe Holloway (right) were awaiting results.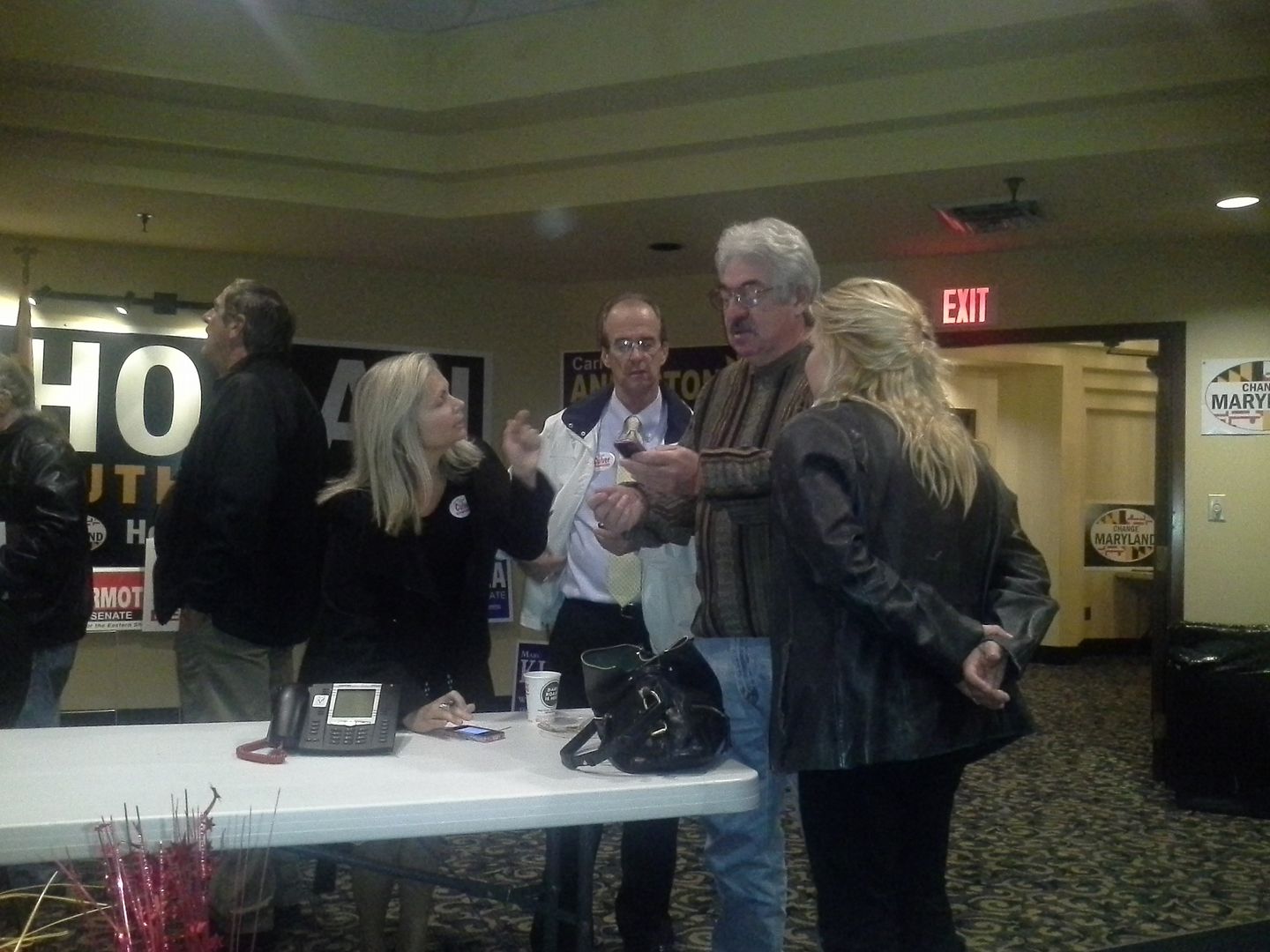 As it turned out, Culver erased a slight early voting disadvantage to rout incumbent County Executive Rick Pollitt by almost 3,000 votes, with just under 56% all told. Holloway had much less to worry about as his Democratic opponent withdrew after the primary and was not replaced by the local party.
The two pictured there were the conservative backbone of the local County Council, and hopefully two newcomers are going to maintain the proper direction.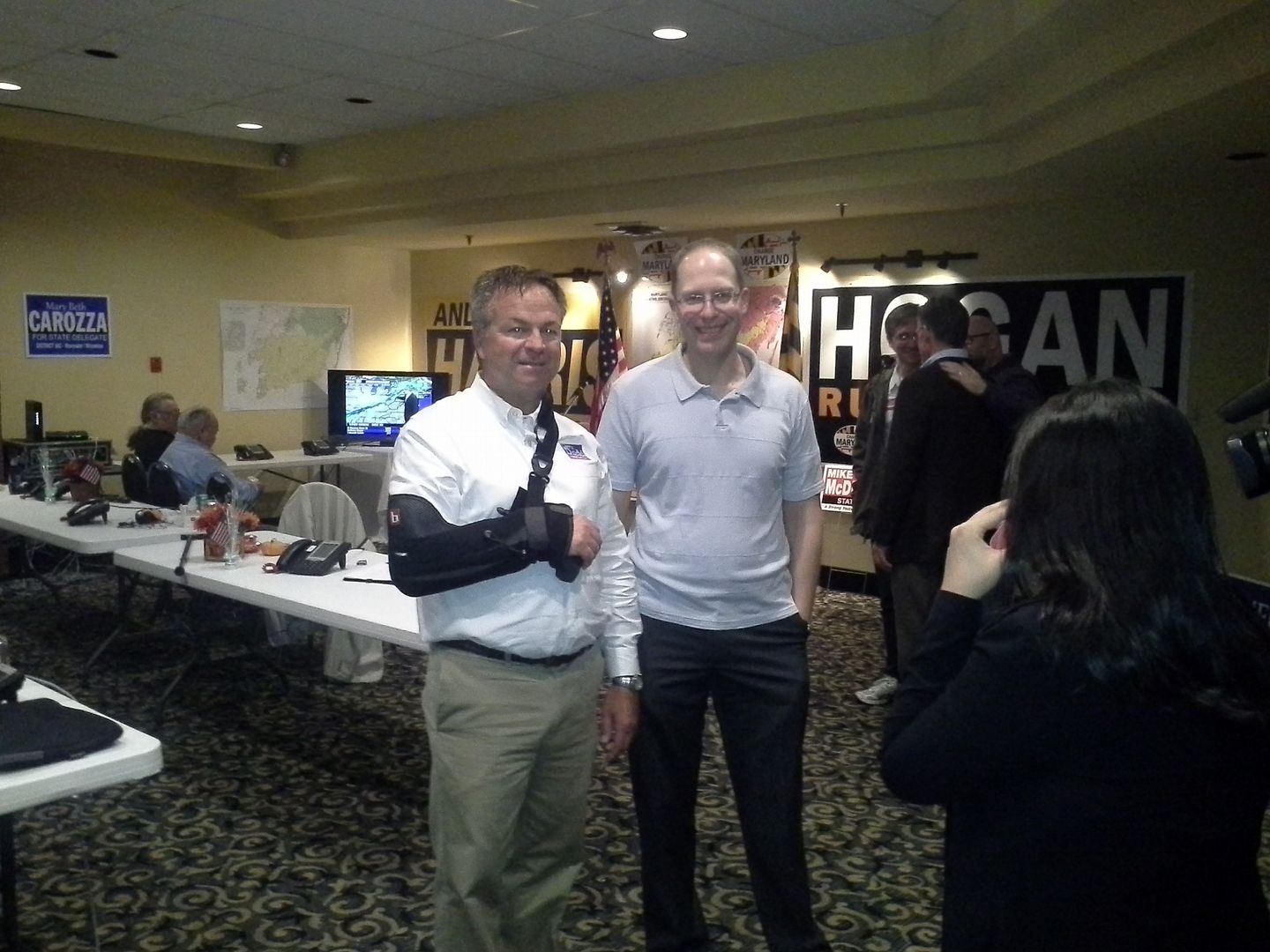 Larry Dodd (in the arm sling) and Marc Kilmer are two of the three "new" Republican members of County Council, although Dodd represented District 5 for 4 years before Joe Holloway defeated him in the 2006 primary. Similarly, John Cannon left County Council after one term in 2010 to run unsuccessfully for a seat in the House of Delegates before winning again last night. Thus, Marc Kilmer is one of just two "new" County Council members; the other being lone Democrat Ernest Davis, who was unopposed for the District 1 seat.
As it turned out, County Council maintained its 6-1 Republican edge. But there are definite things to look out for, as two of those Republicans openly backed Rick Pollitt for County Executive.
I don't think Matt Holloway or John Hall will be opposed to the elected school board Republicans in Wicomico County have sought for years, only to be thwarted by Rick Pollitt and (especially) Norm Conway. Both those obstacles are no more; to his credit Jim Mathias has been supportive of the idea in the past and a Senate bill for the elected school board passed there in 2011. (Conway sponsored a House bill that passed in 2011, but did not in 2012 – nor did a Senate bill that year. No action was taken in 2013 or 2014.)
But Pollitt was quick to point out in debates and forums that four of the six Republicans voted for his latest budget. Two of them, Gail Bartkovich and Stevie Prettyman, did not seek another term, but Matt Holloway and John Hall were the other two. Beginning with the FY2016 budget, it may be a battle to get four votes on County Council if Matt Holloway and Hall maintain their big-spending ways.
I would also love to see the county's speed cameras become a thing of the past, as Culver was the lone voice of reason to vote against their adoption. It's called excising that line item from the budget.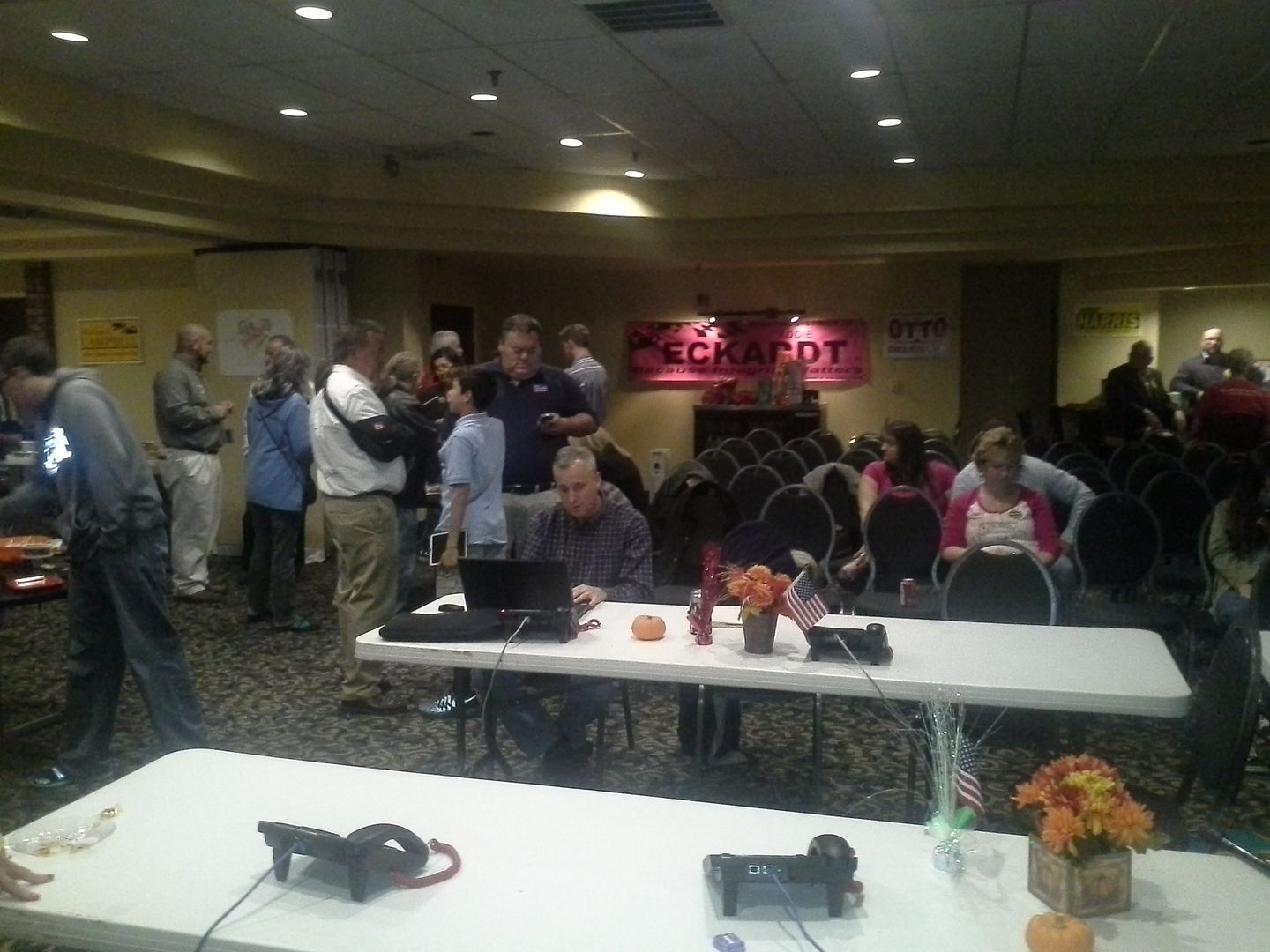 The party itself was relatively well-attended, although I'm certain some candidates had their own gatherings. At its peak there were probably 50-60 people in the house.
But while the news was good on the county front, there's no doubt the star of the show was one Carl Anderton, Jr.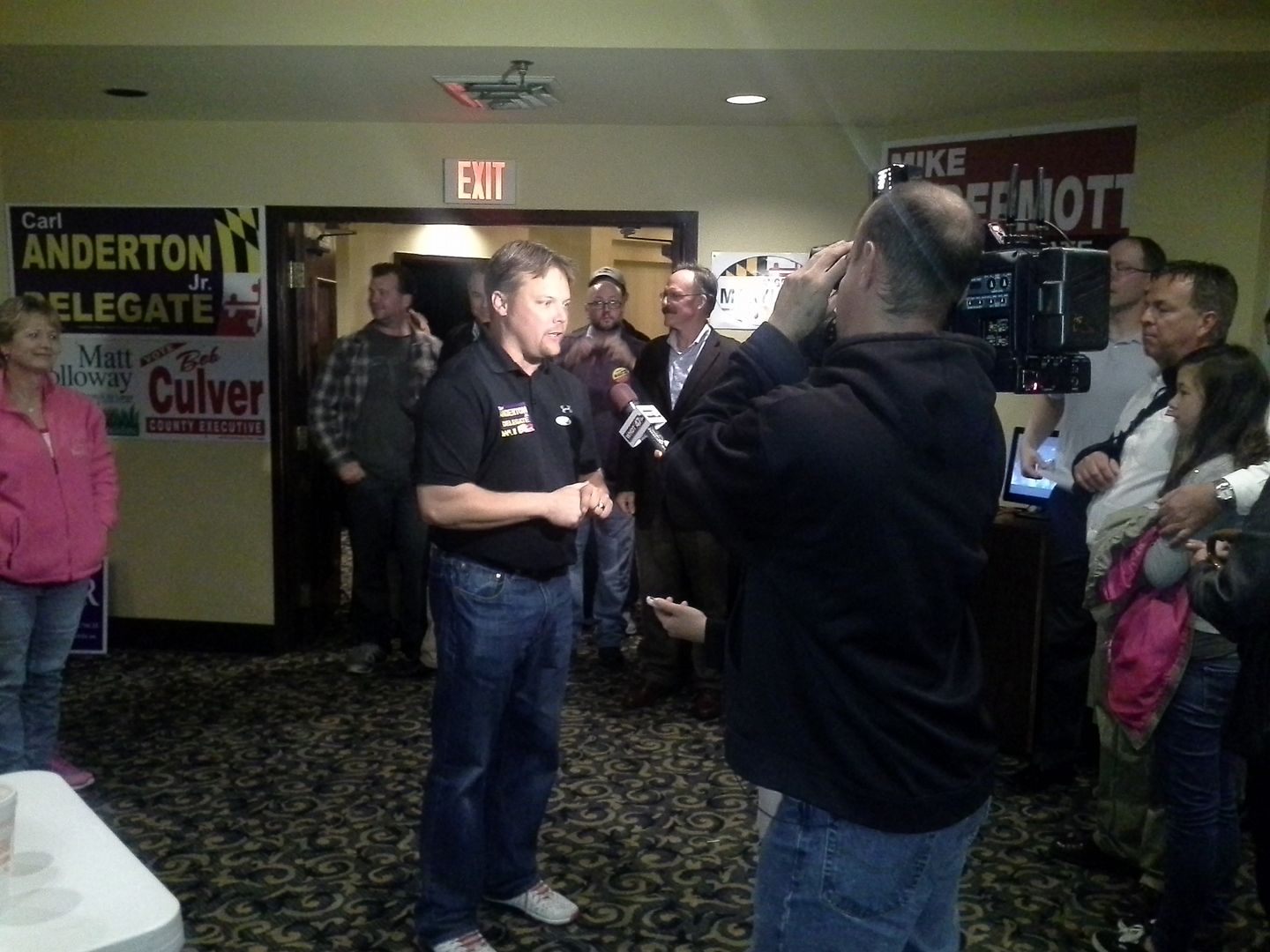 At 9:45 Bunky Luffman, Anderton's campaign manager, sidled up to me and predicted, "I think we've got it." He explained a particular precinct where they were hoping to get 30% of the vote came in down by just 89 votes.
Anderton's win, though, was just the tip of the iceberg. A lot of Titanic Democrats went down last night (with lifetime monoblogue Accountability Project scores shown):
After six terms, longtime Blue Dog Democrat Delegate Kevin Kelly in District 1B (mAP = 40) lost to Jason Buckel.
Delegate John Donoghue (mAP = 9), also a 24-year veteran, was ousted in District 2B by Brett Wilson.
In District 6, 9-year incumbent Delegate John Olszewski, Jr. (mAP = 16) lost his bid for the Senate seat held for 48 years by Norman Stone, Jr. (mAP = 28). Three-term Delegate Michael Weir, Jr. (mAP = 28) was also knocked off.
Longtime District 29 Senator (and onetime Congressman) Roy Dyson (mAP = 26) lost his bid for a sixth term to Steve Waugh. In that same district, 15-year veteran John Bohanon (mAP = 6) trails Deb Rey by 115 votes with absentees to count.
District 34's Senate seat stayed in GOP hands as Bob Cassilly defeated Delegate Mary-Dulany James (mAP =14), who leaves after 16 years.
In District 35A, 20-year incumbent David Rudolph (mAP = 17) lost to Kevin Hornberger.
And we know about 28-year incumbent and committee Chair Norm Conway (mAP = 6) who lost to Anderton.
Most of the damage, though, came from the ranks of "moderate" Democrats. According to the monoblogue Accountability Project, these were the top 10 Democrats and here's how they did.
Delegate John Wood, Jr. – retired, endorsed Larry Hogan.
Delegate Kevin Kelly – lost re-election.
Delegate Joseph "Sonny" Minnick – retired.
Senator Norman Stone – retired.
Delegate Michael Weir, Jr. – lost re-election.
Senator James DeGrange – won with 59% of vote.
Senator Jim Mathias – won with 52% of vote.
Senator Roy Dyson – lost re-election.
Senator John Astle – won with 51% of the vote.
Senator James Brochin – won with 52% of the vote.
Six out of the 10 won't be back and only one of the remaining four won convincingly. Not knowing how most of those who defeated these incumbents will vote, the chances are the divide between the two parties will become more pronounced. Only a couple hardline Democrats (those 10 or less on the mAP) were losers last night, while McDermott was the only Republican to lose in the general election. In the respect that Democrats managed to get rid of two perpetual thorns in their side through redistricting (Mike McDermott and Don Dwyer) it was a success, but the GOP still picked up more seats than they did before the new districts were drawn in 2010.
So the stage is set for what should be a very intriguing (and hopefully, prosperous for this county and state) four-year term.
Finally, I want to go through a little of my thinking on these races. I was perhaps less optimistic than most about the outcomes because I figured Democratic turnout would be about where it was four years ago. But as it happens, turnout is going to be about 46%, which is a significant decline from the 54% posted in 2010. If the Democratic turnout followed that pattern it was about 10% less than I figured it would be, and those that were passionate enough to show up may likely have cast a number of votes for the GOP.
Simply put, the Democratic base didn't show up. Whether it was disillusionment with the candidates or just a general apathy, it looks like the GOP filled the void, to the benefit of the state.
After it was all over, I spoke a little bit with David Warren, who came down here to run the Eastern Shore Victory Headquarters.
He pointed out two key factors that led to Hogan's win: money from the RNC and Republican Governor's Association, and the help – both financially and in volunteers – from the College Republicans, from the national level to all the phone calls made by the local Salisbury University CRs. "Teenagers and college kids get it," said Warren.
David also praised the work of state party Chair Diana Waterman and Executive Director Joe Cluster, saying "what they did was phenomenal." Similar praise was heaped by Warren onto Andy Harris, who put a lot of money into these local races and helped level the playing field.
Finally, I have one more statement. Eight years ago, it was said that:
(GOP leaders are) "going to be flying high, but we're going to get together and we're going to shoot them down. We're going to bury them face down in the ground, and it'll be 10 years before they crawl out again."
I think we're two years early, Mike Miller. Suck on that.