As I predicted in this space a few weeks ago, Rudy Cane has indeed pulled out of the District 37A race; he will leave after 16 years of service to his Dorchester and Wicomico county constituents. While the Delegate is having some minor health issues, the fact that he all but ceased fundraising last year and allowed his website to go dark pretty much revealed his plans. It seems he was in the race simply to keep other interested Democrats away from challenging his would-be successor.
With Cane's withdrawal Wednesday, current Wicomico County Council member Sheree Sample-Hughes will become the Democratic nominee. And unless a Republican who is agreeable to both the Wicomico and Dorchester county Republican Central Committees steps forward before next Monday, it's likely she will be sworn in next January as the new District 37A representative. I think this was the plan all along.
So the questions going forward are twofold: what will happen to the $47,742.40 remaining in Cane's campaign account, and how would Sample-Hughes fare in the General Assembly if no opponent is found?
I suspect a number of Democrats – particularly minority ones – around the state already have their hands out trying to get some of Rudy's leftover campaign cash. In order to close his books according to state requirements, he has to have a balance of zero. Rudy has already transferred $6,000 to Sample-Hughes, which made up most of her cash on hand as of the January filing.
As far as voting record goes, Sample-Hughes will probably be as reliably leftwing as Cane, which doesn't necessarily reflect the makeup of her district. For example, while Cane serves as the Chair of the Agriculture, Agriculture Preservation and Open Space subcommittee of Environmental Matters, he voted for the SB236 Septic Bill in 2012 and against its repeal in 2013 as a member of the Environmental Matters Committee. Cane is also infamous for his strident opposition to an elected school board in Wicomico County, a position which is shared by Sample-Hughes. While they cite the concerns of the minority community, it would be interesting to see how quickly those concerns would vanish should a Republican governor be elected.
Yet this potential Sample-Hughes walkover could be a concern a few years from now, as she may use the Delegate seat as another stepping stone to the Maryland Senate in 2018, as either Richard Colburn or Addie Eckardt may be ready to retire. (Current Democratic opponent Chris Robinson lost to Colburn by 18 points in 2010, so it's likely the winner of the GOP primary will be the Senator.) But with the prospect of a majority-minority district remaining carved out of the strip between Salisbury and Cambridge, she may be difficult to beat (but not impossible – ask Don Hughes, who squeaked out a win over Cane in 1994 in a 3-way race) regardless of voting record.
This came to me from the Wicomico Society of Patriots:
Citizens of Wicomico:

There is a county council meeting this Tuesday, January 21, at 10 a.m. that should not be missed by anyone concerned about their property rights, property values, and drastically increasing levels of taxation.

Your input is essential to let the counsel know how you feel about this county fighting back against legislation and regulation that will significantly effect our way of life here on the shore. The Septic Bill (SB236), the Phosphorus regulations, the Accounting For Growth land use regulations, and the 1.2 billion dollar estimated cost for imposing the Phase II Watershed Implementation Plan (on Wicomico County alone) are in play this Tuesday.

Several weeks ago in conjunction with a County Council meeting our County Executive, Rick Pollitt, pledged his support and that of the county in backing the work of the Clean Chesapeake Coalition. He also pledged $25,000 to help with the work of the Coalition. The Clean Chesapeake Coalition is the working group for those counties and other organizations and individuals who believe strongly that the state's efforts at Bay cleanup, including those listed in the paragraph above, are not supported by sound science and will impose huge costs on individuals and businesses with very little if any measurable gain in the stated goal of Bay water quality improvement. The work of the Coalition is an outgrowth of the activism on the part of those Maryland rural counties who began to organize over two years ago in response to these onerous, questionable, and prohibitively expensive state mandates.

Partly in response to pressure from environmental groups, the Wicomico County Council voted to allow testimony and public comments in a future council work session prior to the council voting whether to go forward with county support for the Clean Chesapeake Coalition, or not. That work session is this Tuesday and should start around 12:30. I hope I can count on you to be there; and please pass the word.
So here's the scoop: bowing to the same environmentalists who take the ideas "not supported by sound science" as gospel, the County Council is going to allow them to speak and try to back the county away from the $25,000 investment in the Clean Chesapeake Coalition. I'm not thrilled about dropping $25,000 on the effort, but if it saves us the $1.2 billion tab the county is supposedly on the hook for it would be money well-spent.
Obviously the same old environmentalist wackos will be there to spout their tired line that we need to pay more to make sure the Bay is pristine. They probably were tipped off to the hearing before anyone else.
I also realize that many of us work for a living; in addition, the weatherman is predicting about 4 to 8 inches of global warming, er, snow for tomorrow. For some, no big deal, but on Delmarva many freak out at the sight of a flake so proceedings may be delayed. It's also worth pointing out that a future vote is in the offing for this so you can make your feelings known after the hearing (if it occurs) as well.
We all want the Chesapeake Bay to be a usable body of water for all those who depend on it. But the question is truly whether the additional taxes and restrictions on our freedom to develop our property as we see fit are worth a marginal improvement in water quality which could be wiped out by inaction by another state. In my opinion, the answer is no.
Update: the work session scheduled for this afternoon has been cancelled. Those environmentalists who worship Gaia may be cursing her for bringing the half-foot of snow and giving the side of common sense more of a heads-up to prepare.
At the risk of making this the return of FNV on a Saturday (because I've featured videos on two posts in a row), I became aware of this video through a pro-liberty friend of mine who found it on a site heretofore unknown to me called The Unsolicited Opinion. While this comes from the People's Republic of California, we can rest assured that there is something similar afoot in Maryland.
Now bear in mind that the landowner didn't wish to develop his property for a residential use, but an AGRICULTURAL one.
The discussion initiated by my pro-liberty friend which made me aware of the video was one on conservation easements; that is a sore subject with me as is the concept of transferable development rights. I pointed this out in my reply:
This is why I've always maintained that development rights should only be sold on a generational basis (20-25 years) and Program Open Space should be chopped out of the state budget. Land taken off the property tax rolls by state ownership means taxes go up for the rest of us.

But in concept, no one really "owns" their property: property taxes = rent to government. Try not paying them and see what happens.
There are many other encroachments on our rights over the last few years, particularly in the septic bill but also in seeing critical areas legislation covering land farther and farther away from bodies of water. What used to be a 100-foot buffer in subdivisions is now 200 feet, for example. It's all done in order to preserve Chesapeake Bay, although whether this overzealous assault on property rights is actually working to that end is a questionable proposition. It seems to me as if the goalposts continue to move in terms of what defines a suitable water quality.
So where should the line between the public good and the interests of the landowner be drawn? Most localities have some sort of zoning code in place, and generally they are thought of as the compromise point between unfettered development and overly restrictive regulations. Unfortunately, the general trend has been towards more restriction – one could consider the tier maps now adopted in most Maryland counties as yet another form of zoning, but with potentially economically disastrous consequences for those hapless enough to be stuck in Tier IV without hope for development potential. It reminded some of us of the "downzoning" controversy we had here in Wicomico County a few years back.
But don't be surprised if some of the stealthier moves in next year's Maryland General Assembly session come in the area of infringements on property rights, cloaked in the guise of "saving the Bay." It's not hard to write legislation so it doesn't take effect until after the election, so the Annapolis liberals can campaign on good intentions knowing the undesirable results will only come when they are safely back in office – four years later they can come back with yet another "fix."
It's time to end that vicious cycle.
On Monday night the Wicomico County Republican Club held its monthly meeting with gubernatorial candidate Blaine Young as the guest. Young spoke for about a half-hour on a number of topics, mainly relating to events in Frederick and surrounding Frederick County, a place where rapid growth over the last several years has come from those he jokingly described as "refugees from Montgomery County."
Blaine outlined his position as President of the Frederick County Board of Commissioners, although that position will soon be abolished as Frederick County will join a number of other Maryland counties which have adopted a County Executive form of government. In fact, just like Wicomico County, Frederick will have a similarly-comprised seven-member County Council as well beginning in 2014.
In speaking to those gathered, though, Young made it clear his biggest influence after completing a brief previous political career as an alderman in the city of Frederick was that of becoming a small business owner. "It woke me up and opened my eyes," he said. Blaine is also a radio host, a daily enterprise he claimed the local papers and liberals hate. But his overall stable of business support between 120 and 140 people, stated Young.
But Blaine made the case that he took the appointment to the Commission in 2010 and subsequently decided to run for a full term because his predecessors "liked to spend money." Instead, the slate he led into office is "a very property-rights oriented commission" which "started slashing away" at a $48 million deficit and turned it into a $29 million surplus. They did so by cooperating with the local Chamber of Commerce to adopt over 200 of their suggestions, eliminating taxes and rescinding "frivolous" fees. The number of county employees had also declined by 400 during his tenure, Young added.
(continued at the Watchdog Wire…)
On Wednesday night over 200 people jammed a converted gymnasium at the Wicomico Youth and Civic Center to hear what interested observers had to say about the prospect of a Tier Map to place the county in compliance with last year's Senate Bill 236, better known as the "Septic Bill." Over two dozen members of the public, including this reporter, stood up to give testimony on the concept of adopting a map as prescribed by the state in the adopted law. For Wicomico County and other jurisdictions without an approved map, the clock is ticking: they've passed a December 31, 2012 deadline to adopt an acceptable map and cannot legally allow a new "major subdivision" of more than seven lots.
At the hearing Wicomico County Council president Matt Holloway made it clear that no decisions would be made at the meeting. Instead, it was an opportunity to solicit public comment on the zoning issue. "(We will) hear input and discuss the septic bill," said Holloway.
Wicomico County's planning director Jack Lenox gave a brief overview of the proposal, noting that while Senate Bill 236 was not a zoning or subdivision bill, it "has the same effect." Two-thirds of the county was already zoned as agricultural-rural, he added.
(continued at the Watchdog Wire…)
As bonus monoblogue content, here is my testimony as prepared for delivery last night:
Ladies and gentlemen of Wicomico County Council,
My name is Michael Swartz and I live on Mount Hermon Road in Salisbury.
The Septic Bill passed last year has been of keen interest to me, not because I'm a farmer, but because when it comes to government I tend to believe the closer the government is to the people, the better it performs.
While I noticed the Septic Bill passed last spring, it really didn't get onto my radar screen until I realized over the following months what the impact would be on the local agricultural industry as well as how our county operates its own affairs. To me, it was another strike by Annapolis in what's been called the "War on Rural Maryland", a case of once again governing in the pursuit of centralized power rather than the benefit of the people.
So I was pleased to see that Delegate McDermott introduced a Septic Bill repeal bill this year in the General Assembly. To be quite honest, I held little illusion it would pass because power gained by the bureaucrats and majority party in Annapolis is rarely given up easily. Still, I took the time to write testimony for House Bill 106, which I will quote from.
In my testimony I wrote the following paragraphs:
There is little doubt that Chesapeake Bay defines Maryland as a state, and, while there are differences in opinion as to the best course to take in preserving the quality of the estuary for future generations, the goal for all is a cleaner Bay. These concerns have already been addressed on many fronts, with assistance from both the state and federal governments.
That assistance is not at question here, because the law which this bill aims to repeal is not a bill to directly clean up Chesapeake Bay. Rather, HB106 corrects an ill-considered measure which, if not changed, will permanently and adversely affect the farmers who create much of the wealth in rural areas of the state like the local government as elected by the people of Wicomico County.
When the county places land in a tier where development is permanently limited by the newly-created law, I believe the landowner is harmed as the potential value of his property is decreased via the lack of development options. Though some landowners have already given up development rights, which was their decision, I do not believe this can be a one-size-fits-all approach as the state is dictating. Instead, I believe that farmers are the best stewards of their land and many have already taken common-sense measures to protect both their investment and the health of the Bay, with planting cover crops being one prime example.
Because they realized our job is to allow farmers and the agricultural industry to engage in the practices they find best, at the end of last year our County Council considered a provision which would allow an agricultural landowner to voluntarily opt into a Tier IV designation. But Maryland Department of Planning and Zoning Secretary Richard Hall made it plain that, "The law pretty much makes clear that agricultural zones are to be in Tier IV, and so to opt in or opt out is not what's in the legislation."
What an attitude exhibited by Secretary Hall! Annapolis knows best, and we should just sit down and shut up. That's not going to happen.
Unfortunately, my testimony and that of others did little good as House Bill 106 was killed in committee. However, I would like to publicly thank Delegate McDermott for sponsoring the bill and Delegate Charles Otto for voting for it in the House Environmental Matters Committee. It should be noted, though, that Delegate Rudy Cane – who ironically enough chairs the Agriculture, Agriculture Preservation, and Open Space Subcommittee within the Environmental Matters Committee, voted to retain a bill which won't do a thing to preserve agriculture – although it may increase the amount of "open space" as farms go bankrupt and become overgrown.
To me, given the small percentage of the Bay's nitrogen problem traceable to rural septic systems, the bill passed last year is akin to using a sledgehammer to kill an ant. Out here, we know better than that.
So, as members of the Wicomico County Council, the ball is now in your court. In my opinion, if we have to have a tier map, let it place the absolute minimum amount of land off-limits to future development. To those of you here from the state or from environmental organizations recommending a more restrictive map, such as what happened in Cecil County last night after their original tier map was rejected, let me just say you may as well prepare for a fight.
I'd like to commend this Council for placing the needs of the people first and holding this hearing. Now let's do the right thing and adopt true Smart Growth, allowing prudent development where land can be improved to its highest and best use.
Here's the PAC-14 video.
I come on at about the 20 minute mark.
Update 2-21-13: Surprisingly, the Senate companion bill (SB391) received a vote in their Education, Health, and Environmental Affairs Committee. It failed 7-4, with the committee's three Republican Senators (Jennings, Reilly, Simonaire) being joined by Democrat Roy Dyson – that part was no shocker.
I knew this would primarily be a symbolic bill because Democrats in Annapolis weren't going to cede back any sort of planning control to the counties upon gaining it in 2012. But I was disappointed in the vote on Delegate Mike McDermott's House Bill 106 for two reasons: the lopsided 19-5 margin and the abandonment of common sense by two Republicans: Delegates Cathy Vitale and Herb McMillan, both of Anne Arundel County.
It's also worth pointing out on a local level that Delegate Rudy Cane, who is the Chair of the Agriculture, Agriculture Preservation, and Open Space Subcommittee within the Environmental Matters Committee, voted to retain a bill which won't do a thing to preserve agriculture – although it may increase the amount of "open space" as farms go bankrupt and become overgrown.
While there is a companion Senate bill, Senate Bill 391, the common procedure once a crossfiled bill is killed in one chamber is for the measure to either be withdrawn or simply not get a committee vote since the other chamber rejected it. We'll see if Senator E.J. Pipkin, who sponsored the bill, presses for a vote anyway to put people on the record.
Since the repeal bill was defeated in committee, it will be up to counties to now either defy the state's edict or go along with it. There is another bill pending – House Bill 1385, also sponsored by Delegate McDermott – to extend the deadline to July 1, but any artificial deadline defeats the purpose of localizing zoning decisions. Wicomico County residents will have their say on the issue Wednesday evening at 6 at the Wicomico Youth and Civic Center; also worth mentioning for my Cecil County audience is they'll have a similar hearing on the Tier Map they already passed tomorrow night at 7:00 at the Cecil County Administrative Building, apparently because the state overlords don't care for it.
Finally, it's very likely that this HB106 vote will be one of the three Environmental Matters Committee votes I use for the 2013 monoblogue Accountability Project. So it looks like Delegates Hogan, Jacobs, Norman, O'Donnell, and Otto have an early lead on getting Legislator of the Year honors. I'd like to publicly thank them for voting for the people (and agricultural industry) of Maryland, even if it was in vain.
For some reason, next week is very busy with meetings in the public interest for local residents.
In fact, that docket begins today with a townhall meeting on the Second Amendment hosted by Congressman Andy Harris and featuring local perspective from Delegates Mike McDermott and Charles Otto. That's going on at noon today out in Ocean City at the Holiday Inn Oceanfront, 6600 Coastal Highway. I would expect my friend Jackie Wellfonder will have full coverage on her site, since I can't make it. (Right Coast Conservative beat Jackie to it.)
After catching a breather tomorrow, Monday's a holiday. But it's not stopping the Daily Times from hosting the first of two City Council forums, this one for residents in District 1. As reporter Jeremy Cox alerted me, The Daily Times "wants to hear what issues matter most in the Salisbury city elections. Whatever issues are voted on by the community will be put to the candidates for their positions and become newspaper stories ahead of the Feb. 26 primary and April 2 general election. Light refreshments will be served."
That Monday meeting will be held at the First Baptist Church at the corner of Delaware and Booth Streets in Salisbury from 5-7 p.m. It's the same location where the NAACP forum was held last month. One thing not made clear is whether mayoral candidates Joe Albero and Jim Ireton would be invited; my assumption is that they are. But since they're not subjected to the primary they may only come to observe the potential council member they'll work with from District 1, whether it's incumbent Shanie Shields, newcomer April Jackson, or the inimitable Cynthia Polk.
On Tuesday there will be a City Council Debate at Perdue Hall (Room 156) on Salisbury University's campus, sponsored by the Salisbury Area Chamber of Commerce. It will run from 7-8:30 p.m. Questions from the public are encouraged, and can be submitted through either the Chamber's Facebook page or via e-mail: chamber (at) salisburyarea.com. (Since there's no mayoral primary, those two candidates will duke it out on March 26, along with the four City Council primary survivors.)
Wednesday turns to a meeting of another sort, as the Wicomico County Council is holding a hearing on the proposed Tier Maps at 6 p.m. in the Midway Room of the Wicomico Youth and Civic Center:
The Sustainable Growth and Agricultural Preservation Act of 2012, commonly referred to as the Septic Bil (sic), enacted by the State of Maryland, may limit the number of residential septic systems allowed on property within the A-1 Agricultural-Rural Zoning District.

The Wicomico County Council will hear public comments regarding the area proposed for limiting septic systems and requests that all interested persons appear at said time and place for the purpose of expressing their views and opinions concerning the matter.

In addition, this legislation may impact the future use and value of your property.
This meeting should bring a lot of spirited discussion, mostly in opposition to the state's taking over of the approval process (as they have to rubberstamp these tier plans, or else certain developments can't be approved.)
Finally, Thursday will bring the second of two Daily Times candidate forums as the hopefuls for District 2 take the stage. This event will also be held at the Wicomico Youth and Civic Center from 5-7 p.m. Voters in that district will need to choose between incumbent Debbie Campbell and first-time aspirants Jake Day or Jack Heath.
Wow. I'm not sure I can make all of those events with my outside work schedule – that 5 p.m. Thursday start looks awful tenuous (and that's my district to boot.) So it may be up to you to see for yourself what all the hubbub is about.
I submitted the following for consideration before the House Environmental Matters Committee.
**********
Testimony in favor of HB106:
Sustainable Growth and Agricultural Preservation Act of 2012 – Repeal
Ladies and Gentlemen of the House:
In the interest of restoring the primacy of local government, I stand as a common citizen in supporting this bill.
There is little doubt that Chesapeake Bay defines Maryland as a state, and, while there are differences in opinion as to the best course to take in preserving the quality of the estuary for future generations, the goal for all is a cleaner Bay. These concerns have already been addressed on many fronts, with assistance from both the state and federal governments.
That assistance is not at question here, because the law which this bill aims to repeal is not a bill to directly clean up Chesapeake Bay. Rather, HB106 corrects an ill-considered measure which, if not changed, will permanently and adversely affect the farmers who create much of the wealth in rural areas of the state like the local government as elected by the people of Wicomico County.
When the county places land in a tier where development is permanently limited by the newly-created law, I believe the landowner is harmed as the potential value of his property is decreased via the lack of development options. Though some landowners have already given up development rights, which was their decision, I do not believe this can be a one-size-fits-all approach as the state is dictating. Instead, I believe that farmers are the best stewards of their land and many have already taken common-sense measures to protect both their investment and the health of the Bay, with planting cover crops being one prime example.
Because they realized our job is to allow farmers and the agricultural industry to engage in the practices they find best, at the end of last year our County Council considered a provision which would allow an agricultural landowner to voluntarily opt into a Tier IV designation. But Maryland Department of Planning and Zoning Secretary Richard Hall made it plain that, "The law pretty much makes clear that agricultural zones are to be in Tier IV, and so to opt in or opt out is not what's in the legislation."
This attitude exhibited by Secretary Hall brings us to the second part of my objection, the idea of local control.
As I stated above, all of us agree Chesapeake Bay is worth preserving. Local governments are just as steadfast toward that goal as those who would dictate to us in Annapolis, and what the Wicomico County Council was proposing was simply another form of public input. It seems to me that's the goal of good government, but this law as interpreted by Secretary Hall seems to reveal the true intentions of the state as sole arbiter of all issues regardless of the local situation.
As county residents we trust our local Planning and Zoning Department would come up with a sound comprehensive plan which addresses Wicomico County's current and future needs. All the Sustainable Growth and Agricultural Preservation Act of 2012 has accomplished is to place another state mandate on what should properly be a local issue. Certainly we know what works in Wicomico County may not necessarily be the best approach for Montgomery County, and vice versa.
To that end, I ask that HB106 be adopted and local counties be allowed to resume the procedures they have found to work best for their local needs.
Respectfully submitted,
Michael Swartz
**********
Later this evening I'll publish the testimony I wrote on SB281. It's more biting than this one.
My guest today is Patrick McGrady, who wears two hats: he's a member of the Harford County Republican Central Committee, but more importantly for our chat today he's also the Chair of the Maryland Liberty Caucus. That and the affiliated Maryland Liberty PAC are pro-liberty groups taking their fight to the key issues affecting all of us in Maryland.
This edition was done a little differently than my previous TQT efforts and more like older incarnations of the concept. It was based on a series of e-mails exchanged between Patrick and I over the course of several days. Obviously this makes it easier on me, but the question will be whether you find it as informative. I believe you will.
Full disclosure aside, here's what McGrady had to say.
**********
monoblogue: My first question regards the Turning the Tides 2013 event. Several conservative PACs were represented and it seemed to me like a natural fit for your PAC to attend. So why did you skip the event as a sponsor?
McGrady: Yes, the MDCAN group and the Turning the Tides 2013 are noble events and we appreciate the serious efforts undergone to make them successful. Our PAC was solicited for a sponsorship, but at the time we were not able to commit the financial and human resources required to make the event worth the cost of sponsorship to our donors and supporters.
I would like to have attended the conference, but I was giving an activism training in Prince George's County to some
very excited conservative activists that Saturday. Perhaps next year.
We have been in communication with Tonya Tiffany and I hope to connect with her this week about how of our conservative and liberty-focused groups can work together on important projects going forward.
monoblogue: I think that is a key, working together. How do you feel you complement some of the other groups, and where do you expect to find your niche?
McGrady: The Maryland Liberty PAC has a focus on identifying and training supporters of liberty in how to win, how to govern, and how to rise through the ranks. We don't believe that anybody should get off the couch and seek statewide or Congressional office – we don't have the ground game to make that happen yet.
And so, we believe in the Major League Baseball strategy: start with the minor leagues, than work your way to the major league. This way, we have ample opportunity to discover how our candidates will govern at the Town Council or Council Commissioner level before they can advance to County Executive or State Senate. We strongly believe that having a strong farm team of candidates and supporters is much better than putting all the money, time and energy on the line every four years.
We can work together on limited government ideas, even when the goals look less than possible. I am more than willing to work with anybody who is trustworthy and principled. We can develop the knowledge and skills needed to win, but you can't fix those two items – I have learned this the hard way.
I have never been accused of being a pragmatist on matters of liberty. For example, I don't want to fix speed cameras, I want them eliminated from our state. I don't want to fix SB236 (the Septic Bill from 2012), I want to repeal it. I don't want Republican big government or Democratic big government – I want Constitutionally-limited government.
And when elected officials vote wrong, the Maryland Liberty PAC will be sure to cause political pain during the election season. If we have to (we will) replace the Republicans and Democrats who vote the wrong way with those who will vote the right way.
monoblogue: I can see the benefits of that strategy. But there's still the process of finding the people to run for office in the first place. Are you recruiting candidates yourself or are they coming to you asking for the help?
McGrady: Both – we have been soliciting for people to run and they have been approaching us.
For endorsed candidates, we offer top-to-bottom campaign management services. We write the literature, we send the mail, order robocalls, and help with fundraising – at no cost to the candidates. We ask only that they govern as they promise they will. With each applicant, we have a serious weeding-out program, and we assure them that if they choose to govern opposite their commitment, we will exercise the same efforts to remove them from office.
monoblogue: So you're a one-stop shop, and it sounds like you go beyond the simple function of a PAC in terms of backing candidates beyond the monetary. I know you had one successful candidate last November – is there a goal you have for 2013, a number of candidates who achieve victory you'd consider a success?
McGrady: More than a specific number of candidates, we are planning to expand our level of influence across the state. We hope to find some candidates in Prince George's, Frederick, Harford, Cecil, and Montgomery counties to start and build a foothold for freedom in Maryland.
We cannot afford to overlook any single local race. And party races either – it's all on the table.
monoblogue: I've already seen evidence of that. You're publicly backing the effort to repeal speed camera laws ("Repeal O'Malley's War on Driving") as well as last year's SB236. When you add that to the post-Sandy Hook push for more gun laws, would you consider your plate already pretty full? And how do you think that will affect your group's 2014 plans?
McGrady: We plan to achieve these legislative goals. We surely have a lot of work ahead of us.
We will find out which legislators represent the views of their constituents,  and then we will tell their constituents. There is a lot of room in primaries of both parties to impact who serves in the legislature. We will build over time, but I predict success for our model.
monoblogue: I noticed you made your first splash back at last fall's MDGOP convention, and I know you serve on a central committee. Are you finding the MDGOP is being responsive to your goals, or is it a matter of educating them as well?
McGrady: As an organization, the Maryland Liberty PAC is non-partisan. With some projects, we are working within the Republican Party for change.
There has been some great response from the MDGOP, and some lukewarm. Maryland GOP elected officials don't take kindly to having their records exposed, and that has caused some tension.
But the fact is that our motives are not biased toward or against any individuals or party affiliations. We care about freedom and respect for (both) the Constitution of the United States and of Maryland. On that front, there is always room for "education."
monoblogue: I completely agree. Hopefully the "liberty" label isn't giving people the impression that you're way out on what they call the "Paulbot" wing of the party.
Then again, I took some time at the MDGOP convention and visited your Liberty PAC suite, finding that a good percentage of those there were younger faces I didn't recognize from other traditional party events. Is this something you've done intentionally or are you finding the message just happens to resonate among that crowd?
McGrady: We are very reasonable and pragmatic people in the liberty movement. Our ideas are positive and will benefit society as a whole, instead of just pockets of either "rich" people or "poor" people. Under economic freedom, individuals can prosper and therefore society can prosper.
The future of the Republican Party and the Democratic Party, for that matter, hinges on people who seek to be independent-minded. We are people who realize that our rights come from God, not government.
People don't like to be fooled, and young people are drawn the ideas of liberty.
We put the call out to all of our membership, and that was who attended the GOP Convention. I don't think it is a stretch to say that our Maryland Liberty PAC organization brought the most new people "under the tent" of the GOP.
monoblogue: Great! Anything else you'd like to add before we're through: contact information, future events?
McGrady: We are excited to be working on so many projects and we hope people will visit our website at www.MarylandLiberty.org. If people have questions for me, I can be reached at 410.357.1234.
Thank you very much for the opportunity to answer these questions– and I hope to see everyone on February 6 in Annapolis for Testifying on the HB106 bill to repeal SB236 and against all the gun bills!
**********
I'd like to thank Patrick for agreeing to the interview. As I read it over, I found out I learned something and I thought I was already pretty familiar with the group. Yet they are one of many proactive groups in Maryland trying to save this once Free State.
It was a pretty packed house last night for the Wicomico Maryland Society of Patriots meeting, in part because it was a joint meeting with Worcester County's TEA Party chapter and partly because we had a strident Constitutional defender speaking. That gentleman is familiar to liberty lovers across Maryland as a leader who conceded that the Democrats and unions will be gunning for his seat next year. "They hate me," said Carroll County Commissioner Richard Rothschild.
But before Richard spoke, we had to get some of the preliminaries out of the way: a prayer, which was originally uttered by Thomas Jefferson in 1801, the Pledge of Allegiance, the assessment by host Dr. Greg Belcher that "I'm pretty confident we'll have some good information" coming out of this meeting, and some words from Sam Hale of the Maryland Society of Patriots, who characterized our situation as "not only fighting for our freedom, but fighting for our lives."
We also introduced a number of elected officials and other public figures, including three members of Wicomico County Council (President Matt Holloway, Vice-President Bob Culver, and former President Joe Holloway), Jim Bunting of the Worcester County Commissioners. and a number of Republican Central Committee members from Wicomico, Worcester, and Dorchester counties. Salisbury mayoral candidate Joe Albero also put in an appearance.
Matt Holloway alerted us to an upcoming hearing regarding how we'll address the provisions of SB236 on February 20 at the Civic Center. It was also announced that Delegate Mike McDermott had filed a bill in the House of Delegates to repeal last year's Senate Bill 236, which provided much of the impetus for tonight's gathering. But as a pair of videos shown tonight revealed, the process has been in the words for nearly three decades.
Indeed, there was a lot to digest in the 2 1/2 hours we held court at The Legacy Restaurant, and I haven't even gotten to what our featured speaker said yet. Granted, some of it – particularly on the Constitutional aspects of holding office – was rehashed from that which he said at the Turning the Tides conference on Saturday, but the Agenda 21 and SB236 information was less familiar. Some of it had appeared in 2011 at a conference he'd spoken at (before SB236 even passed) but a number of predictions Rothschild made within that presentation have panned out.
A pair of guests were pointed out by Richard, and they weren't those you may expect at a TEA Party meeting. But the two came representing the Chesapeake Bay Foundation, venturing into enemy territory as it were. But Richard didn't see it that way, encouraging the group to join the Clean Chesapeake Coalition of seven Maryland counties. And while he contended that conservatives were capable of abating more pollution than our liberal opponents, he assured the CBF representatives that "I am committed to cleaning up the Chesapeake Bay."
Yet Richard also contended that "if it's sound policy it won't need to be forced by the state." SB236 and PlanMaryland both fail that test. Moreover, Rothschild was distressed by the vague and undefined terms in PlanMaryland, giving several examples. To him, "'sustainability' is a euphemism for 'government approved.'"
"I said to the state of Maryland, 'let the free market do its work,'" repeated Richard.
Rothschild went on to explain that in the old days, planning was a map. Now it's a goal, a movement, and a new way of life required by government. The "smart growth" concept was a noble idea, he continued, but it ignores empirical realities. "The facts do not support their assertions," he said. One example of that was failing to take into account that clustering housing units as proponents of smart growth suggest won't raise enough tax revenue per unit to be viable without a massive increase in the tax rate.
And if the numbers don't support the correct assertions, then create new ones. Rothschild criticized the new Genuine Progress Indicator standard, in which some portions increase through negative outcomes – for example, if all of the job producers who make high incomes are driven out of the state, the "income inequality" indicator would reflect this in a positive direction. Never mind the higher unemployment and economic misery sure to follow. "This is Machiavellian," said Richard.
Another facet of this push toward cleaning up the Bay by fiat was the uneven distribution of costs. Using what he termed "rough order of magnitude" costs as an example, in order to cover the increased costs of Watershed Implementation Plan compliance Carroll County would have to raise taxes 10 percent and Frederick County 20 percent. But those property owners here in Wicomico County would be saddled with a DOUBLING of the tax to cover a $1.2 billion overall cost – bear in mind our annual budget is not far north of $100 million.
Yet, as he described later, the state was less than aggressive in addressing the problems at the Conowingo Dam, where over 100 feet in depth of nitrogen-rich sediment has filled in the waterway behind the dam. In severe storms, that sediment escapes into the Bay, wreaking havoc on the uppermost portions of the estuary.
Part of this presentation was handled by Phil Hager, the Carroll County Director of Land Use, Planning, and Development. Rothschild noted that it took a long time to fill the position because "I couldn't find a land use manager who respects the Constitution" until Phil came along.
Hagar focused on some of the nuts and bolts of the law, noting that SB236 was passed in lieu of a BAT (best available technology) law by the General Assembly. Instead, the Maryland Department of the Environment administratively enacted the BAT regulations a week after the session ended last year.
Phil also made it clear that Carroll County was not hurrying through SB236 compliance, instead choosing to address this as part of their comprehensive plan, with ample public input. He added that Cecil County passed its map "acting under duress and protest." Wicomico County is charting a similar path to Carroll County's, holding off on submitting a map until more public input is granted.
Returning to the podium, Richard stated the case again that we can't be so bold and arrogant to presume we know what's best for our children and grandchildren. Too many innovations can take place to assume what is now will always be – for example few know there once was massive concern over reliance on horses, dubbed the Horse Manure Crisis of 1894. Instead of being buried under tons of horse droppings, though, technology intervened as the automobile was invented.
"I personally believe this law demands nullification," Rothschild asserted, adding "if I tried to go the other way (and make zoning less restrictive) I'd be told 'you're violating the law.'" Yet no one bats an eye at this process, whether it be intrusions on property rights, the Second Amendment – which Richard called "a God-given right that's not negotiable" – or any other intrusion. "We (as counties) don't project power," said Richard.
Finally, Richard predicted 2013 would be the year of greenhouse gas in the Maryland General Assembly. The goals are already in place: a 15% reduction from 2006 levels by the year 2020 and 95% reduction by mid-century. The 15% reduction is expected to cost $20 billion, a toll which Rothschild charged would create "devastation of our economy of epic, Biblical proportions."
He closed out by telling the crowd what many of us already harbor as a gut feeling: "It will end in a trainwreck."
On the other hand, I found the meeting as informative as predicted. The good news is that PAC14 taped the proceedings, so at least some of it will be available for future viewing on our cable access channel as well as online.
Yesterday was a good day at the Doubletree Hotel in Annapolis.
Somehow I had managed to miss the first two renditions of Turning the Tides, but when this year's date was announced I pounced on making my way into the event this year. Part of this was the opportunity to network with over 200 of the state's finest conservative minds, but part of it was a guest list dotted with nationally recognized speakers.
Unlike the many GOP conventions I had attended in the same building, there were no hospitality suites on Friday night. Turning The Tides was a one-day affair, which started with a breakfast I unfortunately missed. But I was set up on bloggers' row next to a variety of state and local bloggers (including my "biggest fan" Jackie Wellfonder,) which gave me the opportunity to live-Tweet the event throughout.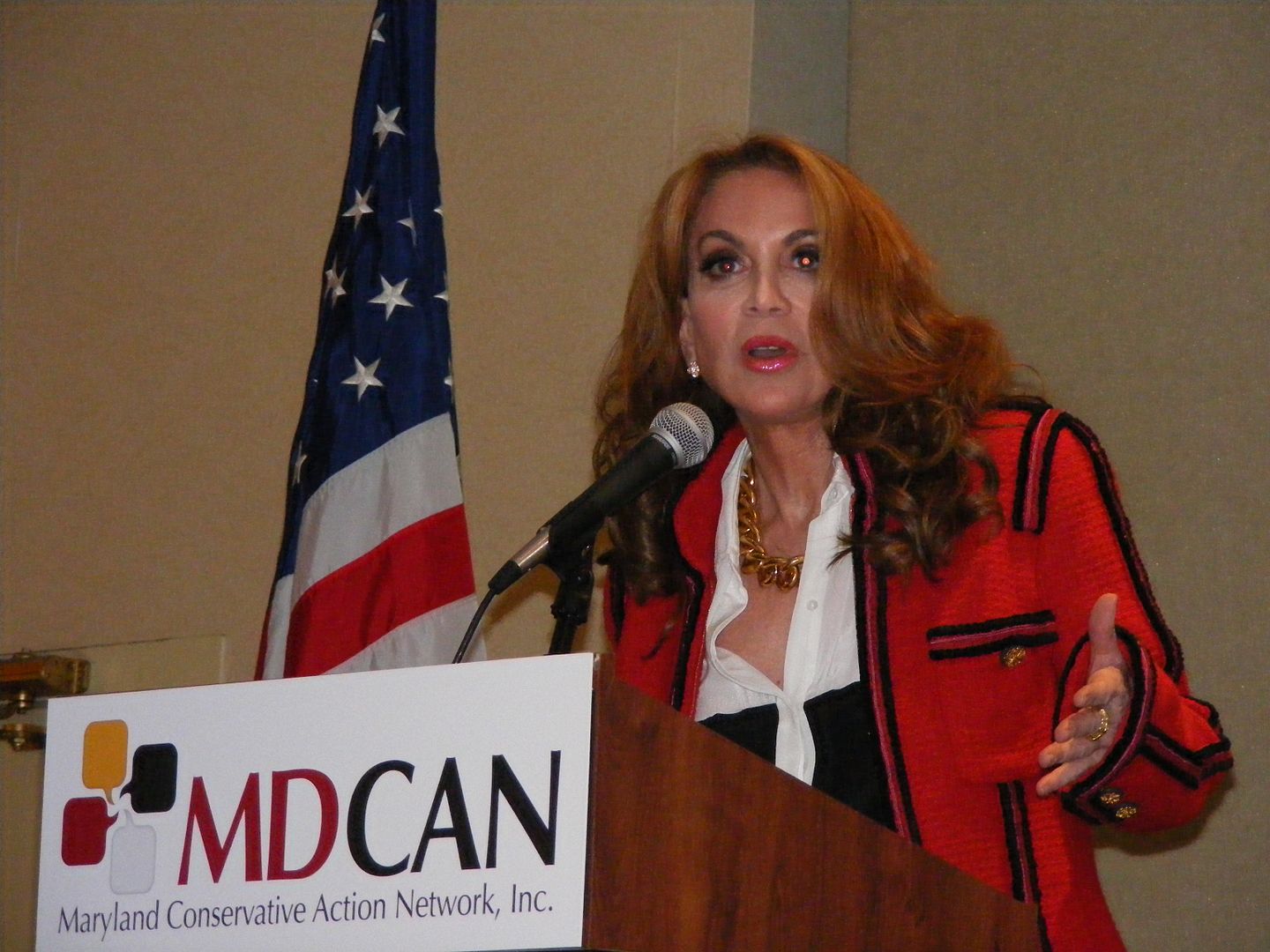 The Tweets didn't take long to build up steam once we dispensed with the preliminaries and heard from our first guest speaker, the exceptionally quotable Pamela Geller. Most people know Geller from her website Atlas Shrugs, which briefly covered TTT here, but she has been a tireless leader in the ongoing battle against radical Islam. (If you follow the link you can also see the extent of the crowd in the conference.)
Pamela praised the conference attendees, who she termed "smeared, defamed, and marginalized for standing in defense of freedom" by the "enemedia." Her key point was defending the freedom of speech, without which "peaceful men have no alternative but to turn to violence."
"Evil is made possible by the sanction you give it," she continued, "Withdraw your sanction." She also called Delegate Nic Kipke, who ignored a boycott call by the pro-Islamic group CAIR, a "rare bird in today's environment (because) truth is the new hate speech, and just telling the truth is an extreme act."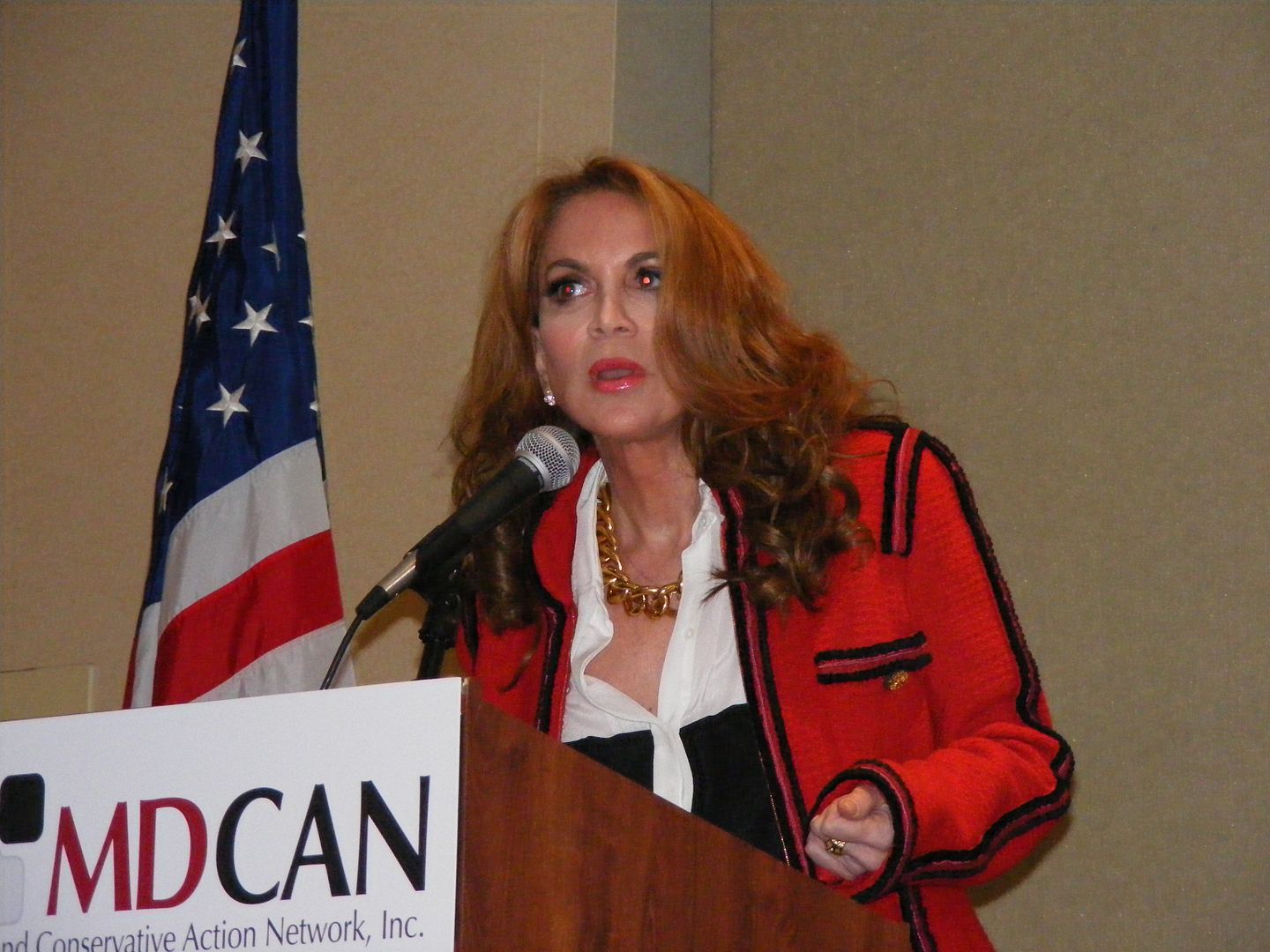 She went on to explain how she purchased ad space on the New York subway in response to anti-Israel ads, but was rebuffed because "the word 'savage' was demeaning. So I had to sue…and I won on all points. Freedom of speech protects all ideas." Ten of her ads were destroyed within an hour, which she termed "a physical manifestation of this war on free speech."
She also detailed her battle against the Ground Zero mosque, telling us the images of 9-11 have been "embargoed" because they offend Islamic sensitivities. "You defeated that mosque (when) everyone was against you."
Yet there is a "sea change" occurring in attitude, she said, citing how comments used to be highly stacked against her, but now run strongly in her favor.
"No war has ever been won on defense," she continued. She begged us to use our "spheres of influence" to fight this fight. "Silence is sanction." We have to contest acceptance of Shari'a, since Mohammed "ain't my prophet."
Geller finished by taking a number of great questions on anti-Shari'a legislation, a nuclear-armed Iran, and the "cultural war" of politics which will include the sale of Current TV to Al Jazeera.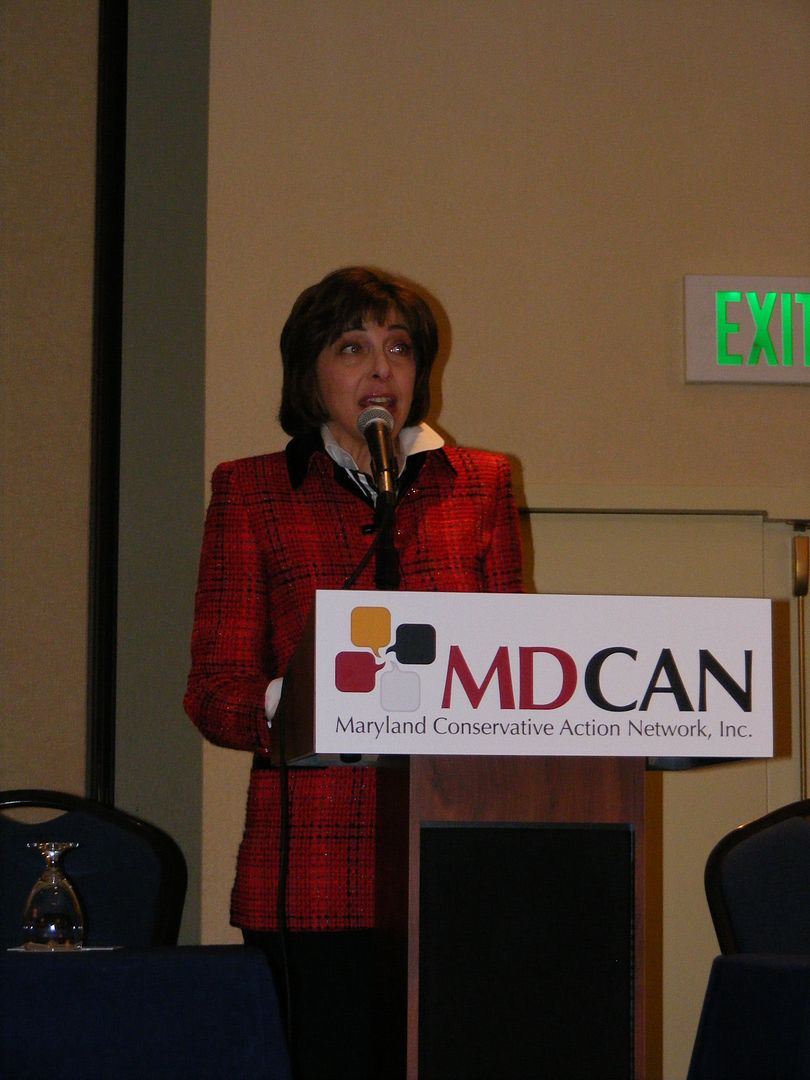 The next speaker, author Diana West, touched on the Current TV sale in her opening remarks as well, as well as the foreign ownership of Fox News. But her remarks centered on her choice in foreign policy, of which she remarked "I'm debuting it here" – with one option to follow the "neoconservative" foreign policy based on universal values. "This has been a disaster." The other side was a more libertarian-style idea: "I subscribe to 'coming home America,'" said West, but they suffer the same flaw in that negotiations with Islamic nations "worse than fruitless (and) dangerous to our liberty."
It begins with love of country, said West, and we would keep the allies with the closest philosophical views. But it would require one radical change: "It would…require leaving the United Nations." (That was perhaps her best applause line, which she said did far better here than the "blank stares" she gets at the Washington Times.)
It would also be designed with the interests of the American people in mind. "We should fight for the American people." Instead, we've begun to negotiate with terrorists, defend Shari'a-based regimes, and tell our military to look askance at "absolute outrages against American beliefs and sensibilities" in Afghanistan and other Islamic nations.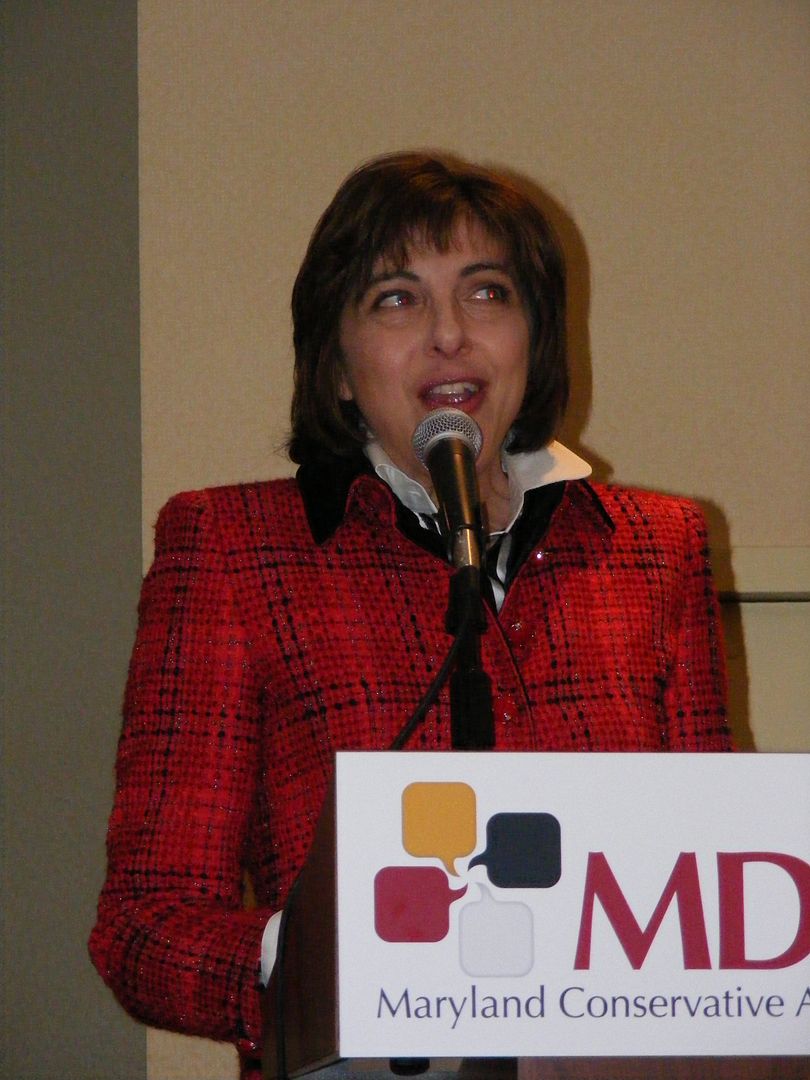 "And why? Why – nobody's answered this – why did the Obama administration lie for two weeks that lawfully-protected free speech in America caused the Benghazi attacks?," asked West. "Why didn't Mitt Romney ask any of these questions?"
The key question, said West, was whether we were fighting abroad to protect liberty at home. "American interests have been blown to smithereens" by leadership, Diana asserted. Our borders are "essentially open" while National Guard troops protect Afghan citizens. Moreover, this is a contradiction to American values because 3/4 of Hispanics want bigger government while just 2/5 of the population at large feels the same.
West outlined a number of changes she would make, from a secretive foreign policy without much Congressional oversight over "a President run amok."
"I have not seen terrible damage from Wikileaks," she continued. "I have seen much corruption and lies on the part of our public officials."
"I don't believe that's the way a republic functions. That needs to change," said Diana. The war of our next generation is not the one we're fighting, but a war against Shari'a. "Liberty is imperiled right here in our back yard," said West, who also called the Islamization of Europe "the great uncovered story of our time."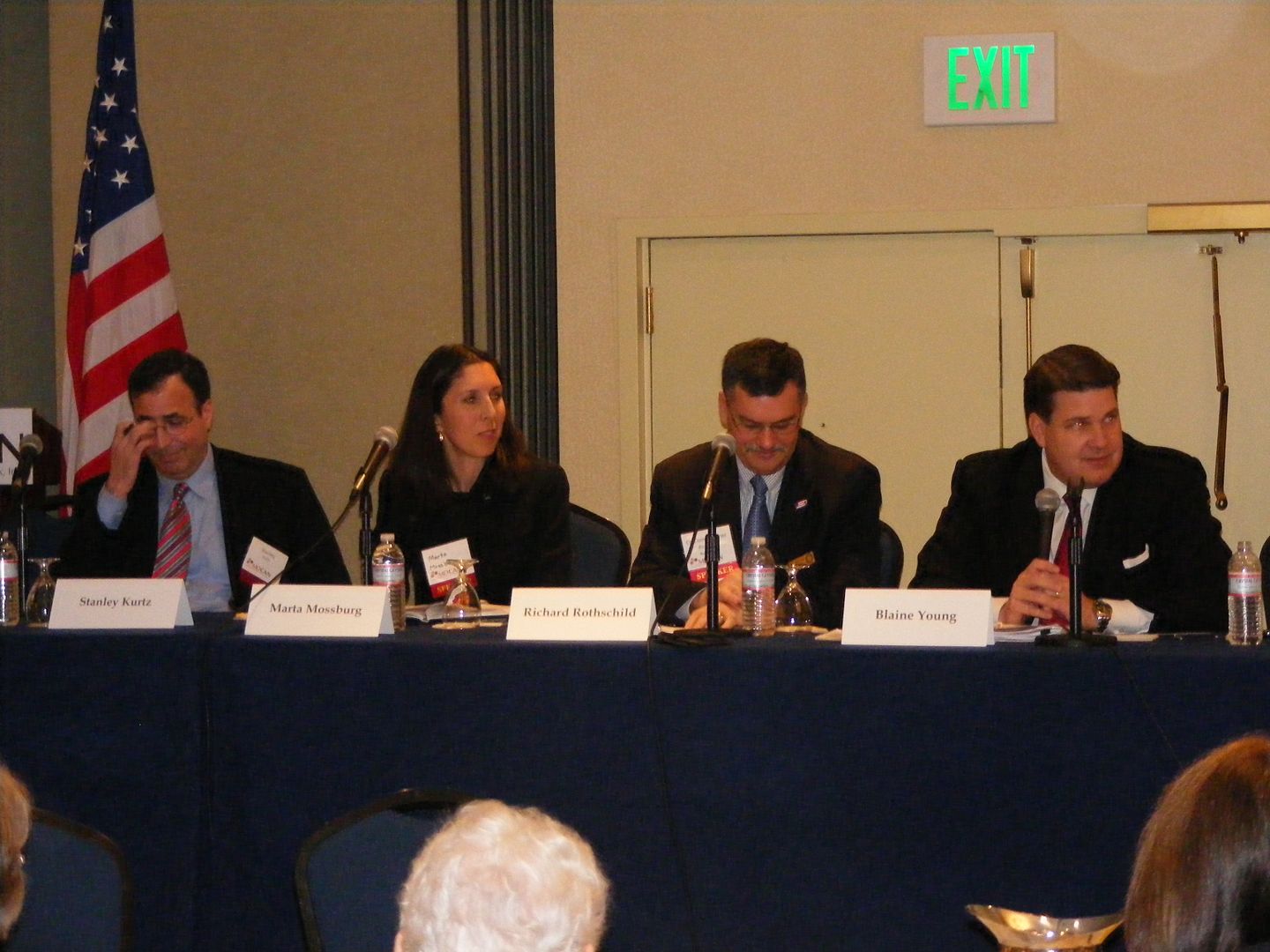 Our first group discussion panel, moderated by writer and columnist Marta Mossburg, featured a solid bank of speakers: Frederick County Commission president (and 2014 gubernatorial candidate) Blaine Young, writer and author Stanley Kurtz, and Carroll County Commissioner Richard Rothschild.
Young started out in a jovial manner, joking about the Geller controversy and about once being a Democrat: "Well, everybody can be misinformed, ill-advised, and brainwashed." But he turned more serious about his assigned topic, telling those gathered "I'm a very pro-property rights person, always have been…property rights is where I'm at."
Stemming from the very first attack on property rights, zoning, which began in the 1920s and has been accepted in most places – Young pointed out Garrett County is an unzoned exception – Blaine turned to the state as it stands and told us "we've never seen an attack like this on the state level," referring to PlanMaryland. "This is a tool, to slow down the rural areas for growth."
But Young's most brilliant point was equating things done "for the Bay" with laws passed "for the children." As I Tweeted:
@blaineyoung – "it's for the Bay" = "it's for the children". That somehow sounds familiar to me. #TTT13

— Michael Swartz (@ttownjotes) January 12, 2013
Indeed, I have mentioned this a number of times over the years – here's one. Great minds think alike?
Stanley Kurtz quickly asserted that "President Obama is not a fan of the suburbs." As a community organizer, those who mentored Obama had the main goal was to abolish them because they were drawing away tax money rightfully belonging to the cities. To that end, Obama "has been a huge supporter" of that movement. "Barack Obama wants to redistribute the wealth of America's suburbs to the cities," said Stanley. He identified the philosophy as the "regional equity movement."
But among the federal programs imposed on the state, the Sustainable Communities Initiative is perhaps the one affecting Maryland the most. "Nobody pays attention to the Sustainable Communities Initiative," despite the fact Baltimore was a "regional planning grant" recipient. It's a program where the federal government pays for regional planning, such as PlanMaryland but on a smaller scale. The goal, though, is to make the receipt of federal aid contingent on adopting these plans, much like schools which accept federal money do so with stipulations placed on them.
And while everyone has heard of Agenda 21, not so many are familiar with the workings of the Smart Growth movement, concluded Kurtz. "Conservatives are missing where the real threat is coming from," warned Kurtz, "We haven't studied the home-grown (regional equity) movements."
But Rothschild was the most strident speaker. "The question of the War on Rural Maryland begs a bigger question: why does this happen?" Richard went on to postulate that it happens "because we let them."
"Those people that disrespect the Bible and the Constitution are invariably the ones who know the least about either of them," said Rothschild. "We (conservatives) are abdicating our responsibilities at all levels of government to do what needs to be done."
"Being a Constitutionalist requires practice," opined Richard. Elected officials need to ask themselves not just 'what would Jesus do,' but a second question: what would Jefferson do?
Elected officials aren't trained to uphold their oath of office and the Constitution. "We're not thinking the right way." As an example, he stood alone in his county in an effort to nullify SB236. A further test was when he went to the recent Maryland Association of Counties meeting and asked six random county officials about what they would do if an order was passed down to confiscate guns in their county.
"Three of them said they don't know, and the other three said they would resign from office," Richard charged. "Not one said they would nullify, interpose, or engage their locally elected sheriff to defend their citizens' Constitutional rights." That was the fundamental problem.
Richard even spoke on comments he made regarding the SB236 Tier IV opt-out provision proposed right here in Wicomico County. (The original post is on the Conduit Street blog.) "They do this because we let them…we are tolerating the intolerable."
"I don't negotiate one-sided contracts…we shouldn't even engage," Richard opined, "Constitutional rights are non-negotiable." Rothschild vowed to work with the Institute on the Constitution to put together a training course on how to uphold their oath of office.
"(Liberal groups are) going to spend a fortune to try to defeat like Blaine and people like me during the next election because they hate us," Richard concluded to a raucous standing ovation. And he's right.
The final session of the morning discussed the "War on Jobs," with Judicial Watch President Tom Fitton and Delegate Nic Kipke, who was introduced as a member of the Maryland Health Reform Coordinating Council. Fitton focused on illegal immigration while Kipke naturally looked at Obamacare. "Nic knows more about Obamacare than the legislators who voted for it in 2010," noted moderator Paul Mendez of Help Save Maryland.
Fitton described his work with Help Save Maryland and other legal groups interested in upholding the idea that workplaces should have workers here legally. But that fight began with Montgomery County Community College giving in-state tuition to illegal aliens. "They thought they could get away with it," noted Fitton. A nice thing about Maryland law, he continued, was that it has a provision allowing citizens standing to sue the government to prevent illegal expenditures of funds.
Hundreds of millions of dollars have been given to illegal aliens who can't work, stated Tom, "Maryland is a magnet for illegal immigration, and the impact on jobs is obvious." Most affected were the construction trades where the majority of contractors, who are law-abiding, are "competing against crooks."
"It's a racket" to keep certain politicians in office, Fitton charged. And speaking of Maryland politics specifically, Tom also alleged there was corruption behind the passage of the ballot initiatives. "(O'Malley) was using his office to promote the approval of the referenda,"
Tom also had kudos for Delegate Neil Parrott, who he'd worked with on the ballot issues, calling him an important figure in Maryland democracy. "We've been proud to stand with him," Fitton beamed.
The lesson here, Fitton said, was that the illegal immigration issue is not automatically a turnoff to Hispanics. He cited polling data which said, in the most recent election, 40% of Hispanics "agreed with the idea of an Arizona-style approach to illegal immigration." It was 13 points more than Romney received among Hispanics at large. "This is a majority issue for us," Fitton claimed.
"We're really in a battle for our lives in a lot of ways," Kipke opened. "It used to be we were in a battle for our rights, but we're also in a battle for our way of life."
He went through a couple examples of the "trainwreck" of Obamacare, one being the fact that the age breakdowns – lumping everyone from age 21 to 60 in a group – will create a spike in rates making insurance unaffordable to young people. (One estimate pegs the additional cost as anywhere from $280 to $400 a month.) "It's almost designed to fail," said Kipke.
The second problem is that the exchanges will essentially all offer the same programs – health insurance has to be approved by and purchased from the state – generally these are the "richest packages available." At this time, Maryland is one of just eight states with an exchange in place. "If Obama is successful, health insurance will be purchased through the state, and it will be the state design," Kipke said.
The Delegate urged us to use him and Delegate Parrott as a conduit to the General Assembly. "If you have access to technology, you should see the stuff that goes on. Bring a camera, we'll tell you where to stand and we'll put you up in front of the next Delegate who embraces socialism. We'd love to get that on video."
That brought us to the lunch break. While most of us grabbed a quick bite to eat, there was a lot going on both inside and outside the lobby.
On the inside, a total of fifteen groups had information tables and other items set up. Here are a few of those: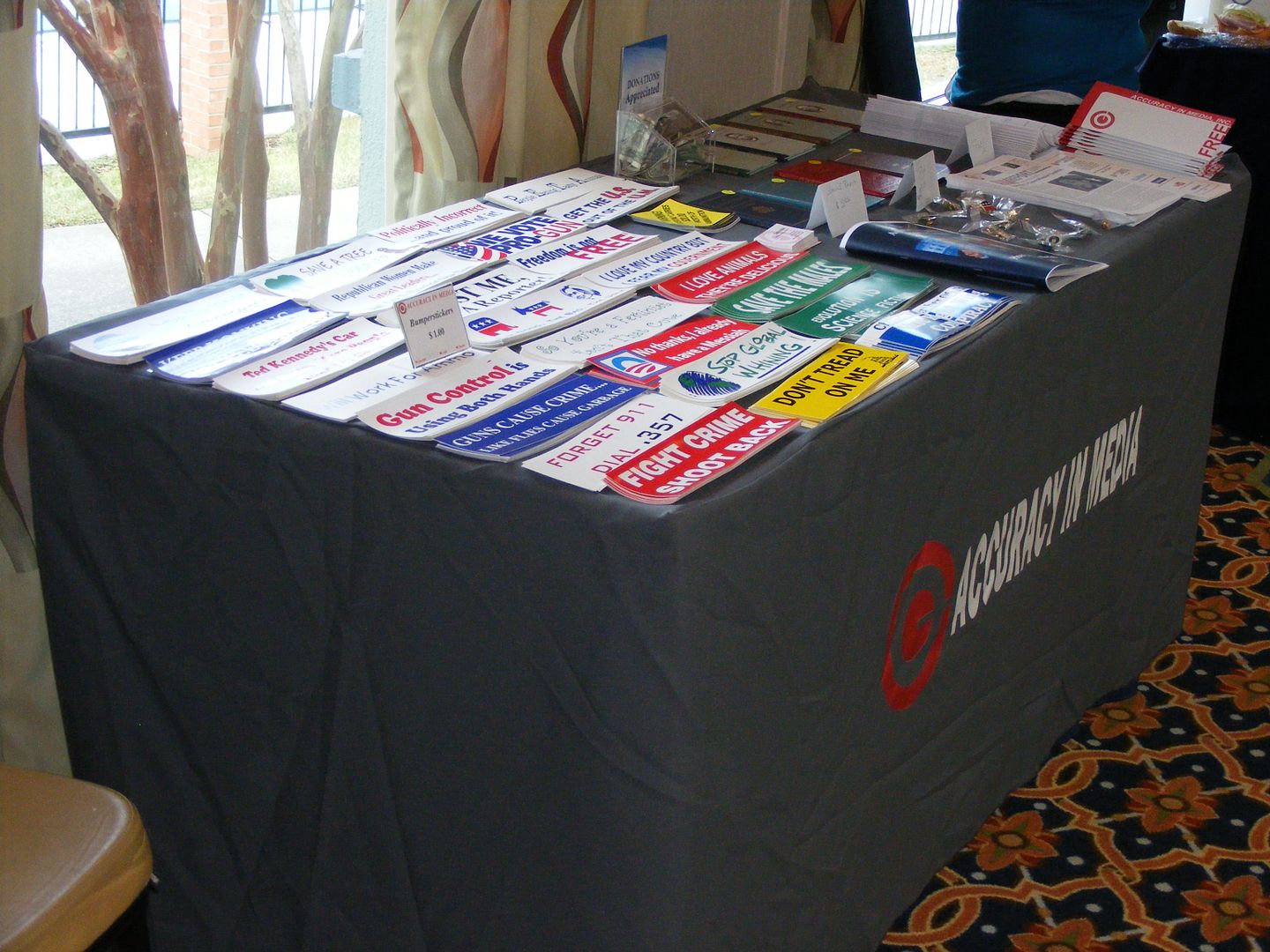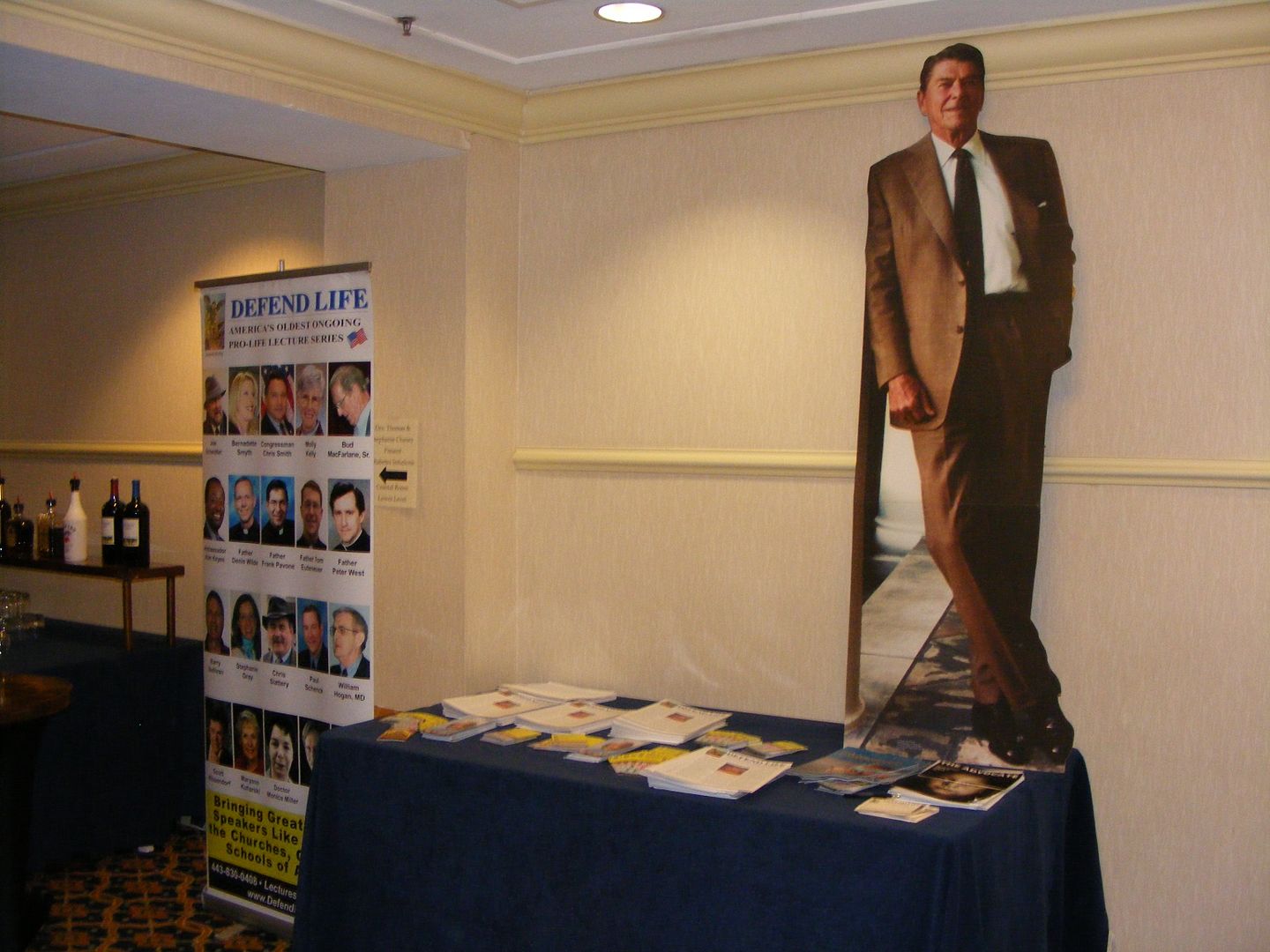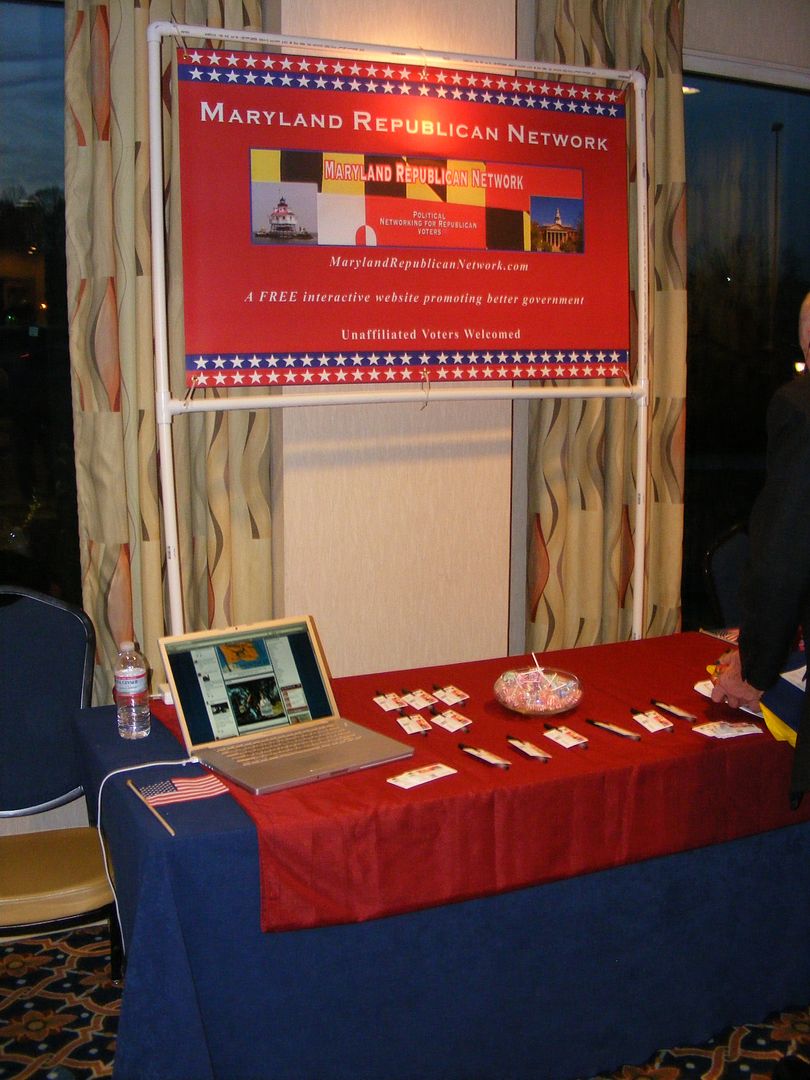 In order, these were Accuracy in Media, Defend Life, Maryland Republican Network, and Election Integrity Maryland. Other groups in attendance were the Franklin Center (sponsor of Bloggers' Row), the Red Maryland Network – which did a live broadcast from the lobby – Institute on the Constitution, Americans for Fair Taxation, Montgomery County Republicans, Stop Agenda 21, Help Save Maryland, the Leadership Institute, Maryland Legislative Watch, Constitutional Conservatives for Maryland PAC, and Conservative Victory PAC.
There were also merchants, with event T-shirts and Breitbart design shirts on sale.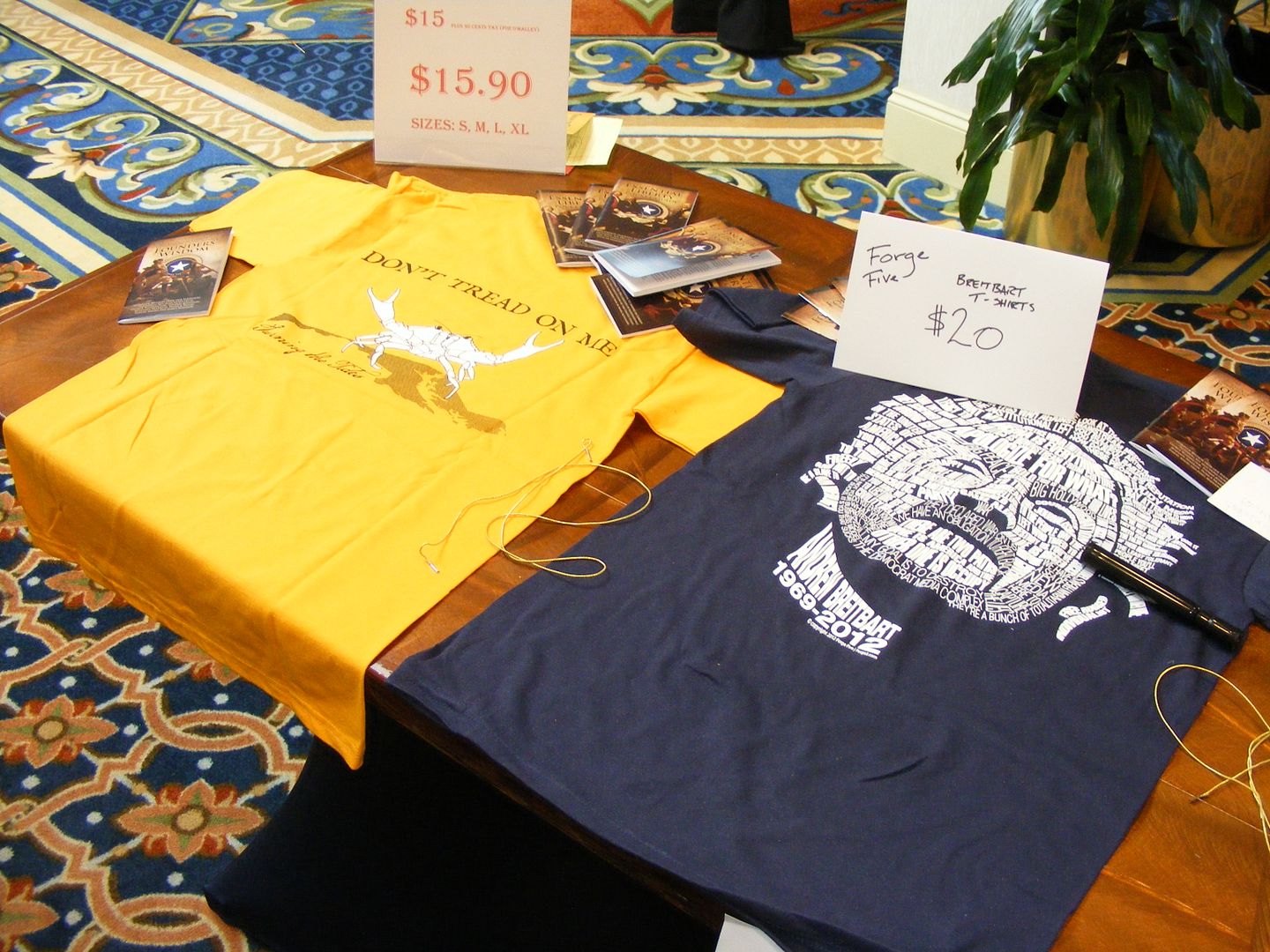 We also had a chance to meet some of the speakers and purchase their books.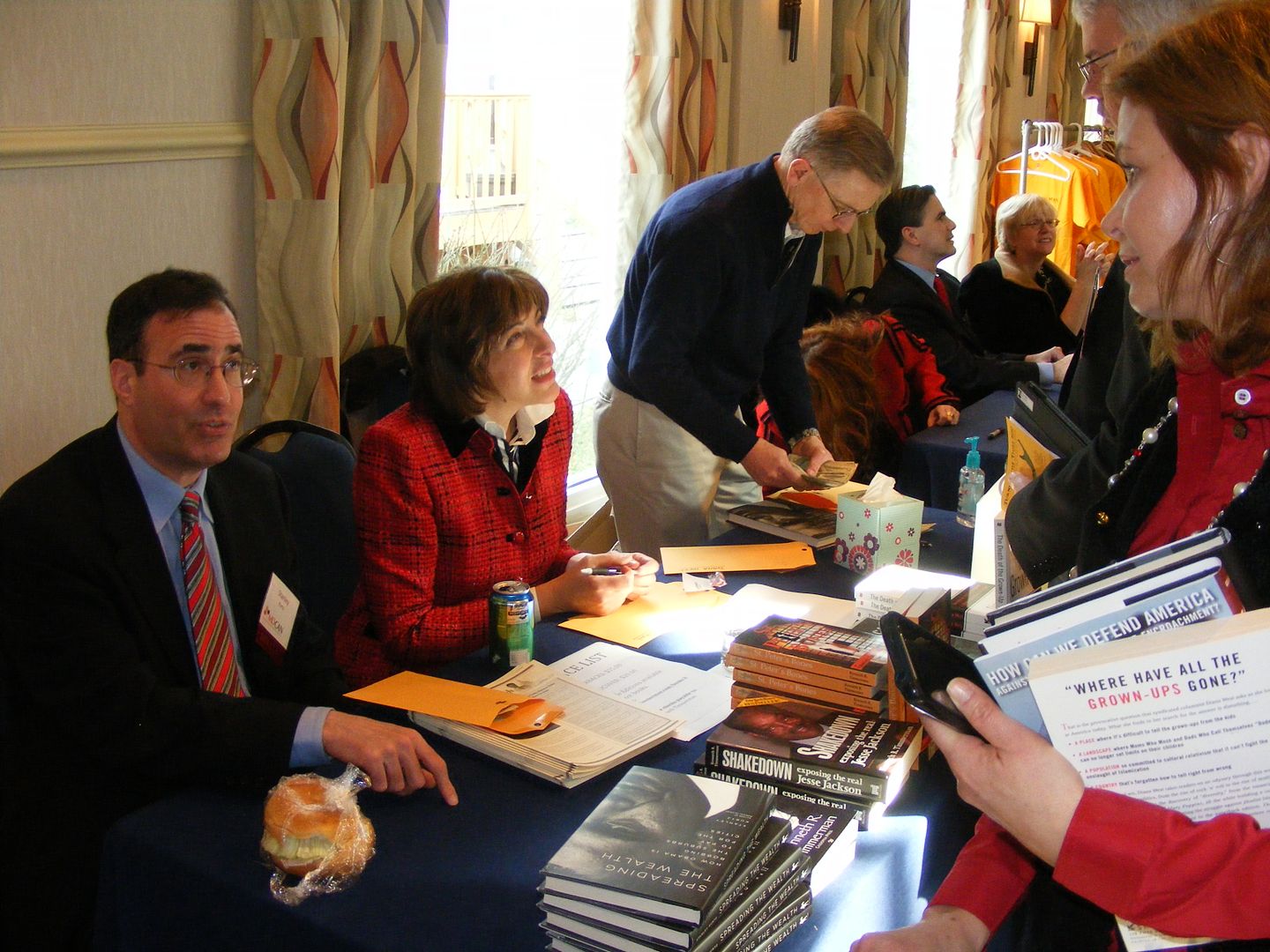 From left to right, represented were Stanley Kurtz, Diana West,  Pamela Geller (crouched), and Tom Fitton. Dun Scott (husband of organizer Cathy Trauernicht) is standing in the center; thanks to Ann Corcoran for the correction.
As I noted, there was also action outside the building. The CAIR protest of Pamela Geller finally showed up two hours after she finished speaking. (Photo by and courtesy of Jackie Wellfonder.)
Yet the ten protesters got media attention. If it weren't for them, I doubt the TV stations would have showed up.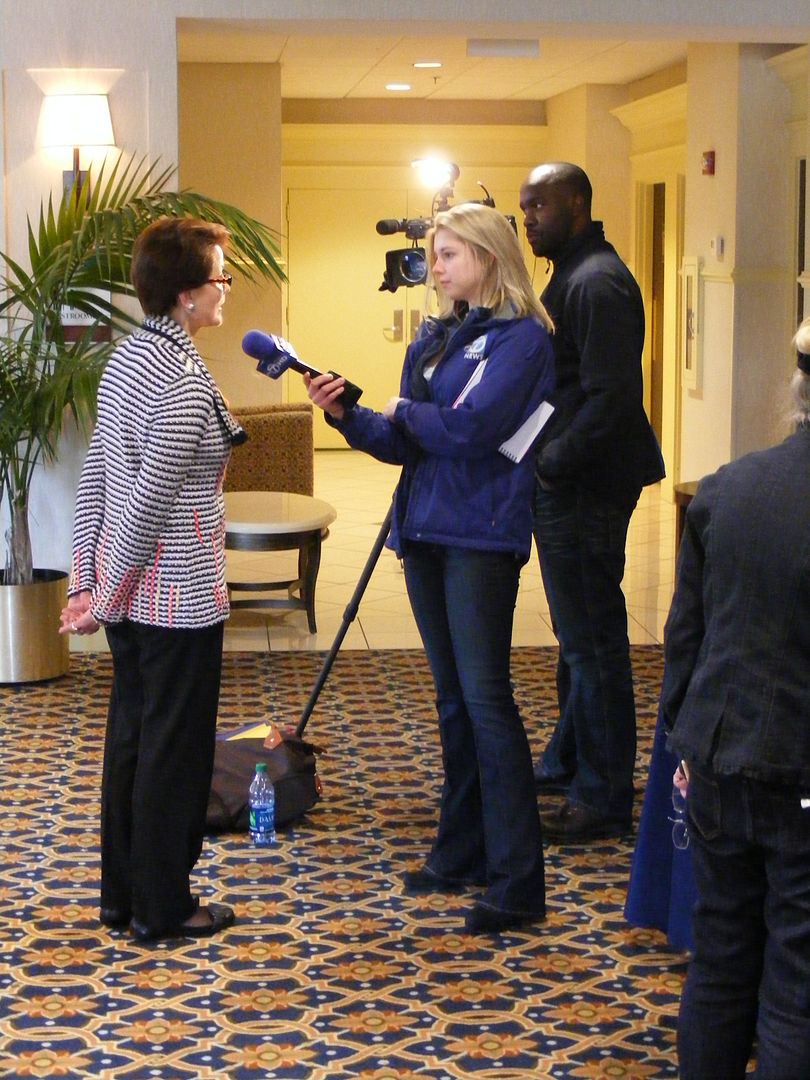 So that's where we stood as lunch concluded. In part 2 I'll cover the four intriguing seminars which occurred afterward and the closing remarks by Jim Rutledge.
It's very funny that I had a slowdown in newsworthy items around the holidays, so much so that I didn't figure on doing an O&E post until perhaps mid-month. But over the last two days – bang! And here you are: bloggy snippets of goodness I felt were worth covering but not to the extent of a full post, just for a paragraph to three.
I'm going to start by promoting an event I plan on attending. Here's what the Wicomico Society of Patriots has to say about their upcoming meeting January 15. The speaker will be Carroll County Commissioner and leading liberty advocate Richard Rothschild:
Who should attend?  Anyone who intends to continue to live and work on the Eastern Shore.  Elected officials will be in attendance.  This legislation impacts all of us, regardless of political orientation or affiliation, and all are invited to attend, listen, and question.  Two short videos will precede Commissioner Rothschild's presentation to be followed by a question and answer session.  Mark your calendars now; you do not want to miss this meeting.  Alert your family, friends and neighbors. (Emphasis in original.)
Well, I'm alerting my neighbors and anyone else who stops by here. This will be a joint meeting of both the Worcester and Wicomico Society of Patriots, and will be held Tuesday, January 15 at 6 p.m. at Mister Paul's Legacy Restaurant (1801 N. Salisbury Boulevard in Salisbury), a very nice facility familiar to those who follow liberty locally.
The SB236 law is perhaps the most heinous assault on property rights the state has ever produced in the name of Chesapeake Bay. In return for addressing a tiny percentage of the nitrogen problem in the Chesapeake, thousands of rural landowners could have their properties rendered worthless. So far Wicomico County has not submitted a map to the state, which in theory prevents certain subdivisions from being built at the present time.
A more damning check on progress is the national economy, but that's a different subject. One potentially negative effect was discussed by Herman Cain in a recent commentary and it bears repeating, See if we haven't heard this refrain in Maryland a time or two:
Democrats do not understand business very well. They don't understand that when you pass a law that imposes new costs on businesses, those businesses will do what they can to mitigate the effects of those costs. When you make it more costly to hire people, there will not be as many people hired.

The fact that these real-world impacts are now being announced, as if no one anticipated them, is both entertaining and highly disturbing. We are being governed by people who don't understand the impacts of their policies, people who think they can simply mandate anything and it will happen with no unintended consequences. I hope their ignorance doesn't cost you your job.
You can say what you will about his support for the FairTax and the (unsubstantiated) allegations which derailed his run for President, but Herman Cain has common sense a-plenty about the effects of government regulation on the economy. The language of "mitigating costs" has real-world effects: cuts in hours and smaller paychecks for many millions of families whose breadwinners labor in a number of service industries, particularly food service. They may need to take a second (or third) job to make ends meet, and who knows how many out there are hiring?
And don't dare rush from second job to third job either, at least in Maryland. A recent appeal from the Maryland Liberty PAC has these memorable lines:
Every speed camera in Maryland is an ATM machine for Martin O'Malley and his cronies in Annapolis.

Instead of cutting out wasteful spending to make ends meet like our families do, O'Malley invents new schemes to rob us of every penny we earn.
If you don't think that's true, consider that I personally witnessed the mobile speed cameras in operation during schools' winter break on at least two occasions. I thought the idea was to make schools safer during the school year. (Yet they balk at allowing teachers to have guns.)
Of course, a couple years ago I told you how one local municipality was bending the rules, so those of you who read here know that speed cameras are truly a scam to fatten both county coffers and those of the operators who expect this to be a big business going forward. Rather than "reform and revisiting the speed camera law," the Maryland Liberty PAC has the grand idea of having the speed camera law repealed. I fully support that effort.
I'm not as passionate, though, about one blogger's call on Delegate Don Dwyer to resign now after being charged in the wake of a boating accident last summer. Certainly Dwyer has serious charges against him, but I would rather wait until his day in court has come and his fate is determined. Perhaps this was a "'one-time occurrence' which will not affect his performance in Annapolis." (Oh wait, that was when Delegate Kumar Barve was arrested for DWI in 2007.)
The hypocrisy angle has been played up gleefully on the left, and if Dwyer is convicted I may change my mind. But the facts in the case seem to suggest the other boater was perhaps more at fault for the accident which left five children and Dwyer injured, so I think caution is in order.
Less cautious is the group Accuracy in Media, which released a statement that sees the acquisition of Al Gore's little-watched Current TV by Al Jazeera as "an unacceptable danger to American citizens by further adding to the potential for home-grown Jihadists inspired by Al Jazeera's inflammatory programming." They also note that Time Warner Cable is dropping the channel.
While the punch line has generally involved Al Gore, the fact that he's walking away with $100 million in what can be termed oil money has no lack of irony. And to think, he could have taken Glenn Beck's money instead.
Yet there's another side of the Al Jazeera issue not being mentioned:
The hearings, (Accuracy in Media head Cliff) Kincaid said, should also examine the fact that 30 public television stations around the U.S. are already airing Al Jazeera in violation of Federal Communications Commission (FCC) rules.

Florida broadcaster Jerry Kenney uncovered this aspect of the scandal and filed an FCC complaint over it. He discovered that Al Jazeera and other foreign propaganda channels are being provided to public television stations through the MHz Networks division of the Virginia-based Commonwealth Public Broadcasting Corporation.
This is a list of stations affiliated with the MHz Networks – notice many of them are in large cities with a significant Islamic population.
But the government's lack of oversight doesn't stop there. In a new study, the Center for Immigration Studies criticized the federal government for not enforcing visa laws:
Report author David North, a CIS fellow and respected immigration policy researcher, comments, "It is incredible that after the would-be Wall Street bomber, the Times Square bomber, and the two 9/11 pilots were all found to have student visas, the Department of Homeland Security makes so little effort to pursue corrupt visa mills, flight schools not authorized by the Federal Aviation Administration, and needless language schools. National security requires the enforcement of our immigration laws."
Interesting tidbit: very little taxpayer money goes to this agency, the Student and Exchange Visitor Program (SEVP.) They make most of their money on a $200 fee would-be students pay. But the SEVP apparently doesn't care whether the student is going to an elite university or diploma mill set up to give foreign students a reason to come to the country – as long as they collect the fees it seems like they're happy campers. Sounds like a typical governmental agency.
Another typical government move was pointed out by a group you're going to be hearing more about in a couple weeks. The Coalition to Reduce Spending called the recent fiscal cliff agreement the product of a "can-kicking Congress." CRS head Jonathan Bydlak also noted:
The longer Congress continues to act fiscally irresponsible, the longer the American people will have to wait for the return of a healthy and prosperous economy.
He's precisely right on that assertion. And the reason you'll hear more from the group: Bydlak is also the January 15 "Ten Question Tuesday" guest, and that plug is a good point to bring this post to a close.