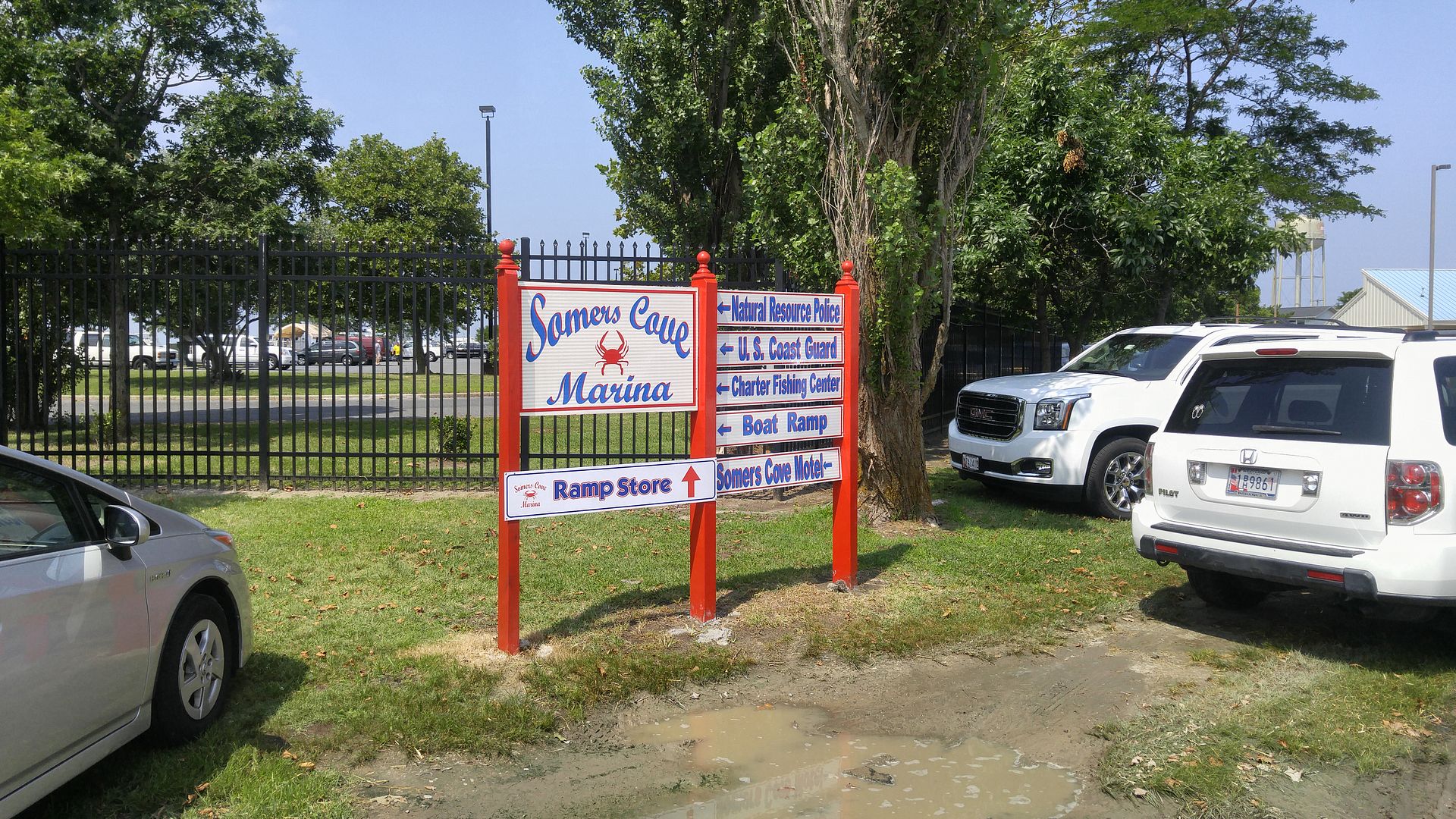 It was awful tempting to jump on into that water, but several thousand people managed to sweat their way through another hot Tawes Crab and Clam Bake. While Republicans tend to have a little more presence in the area, some of the Tawes regulars were absent because the event coincided this year with the Republican National Convention in Cleveland.
That convention minted the GOP Presidential nominee, who seemed to be pretty popular.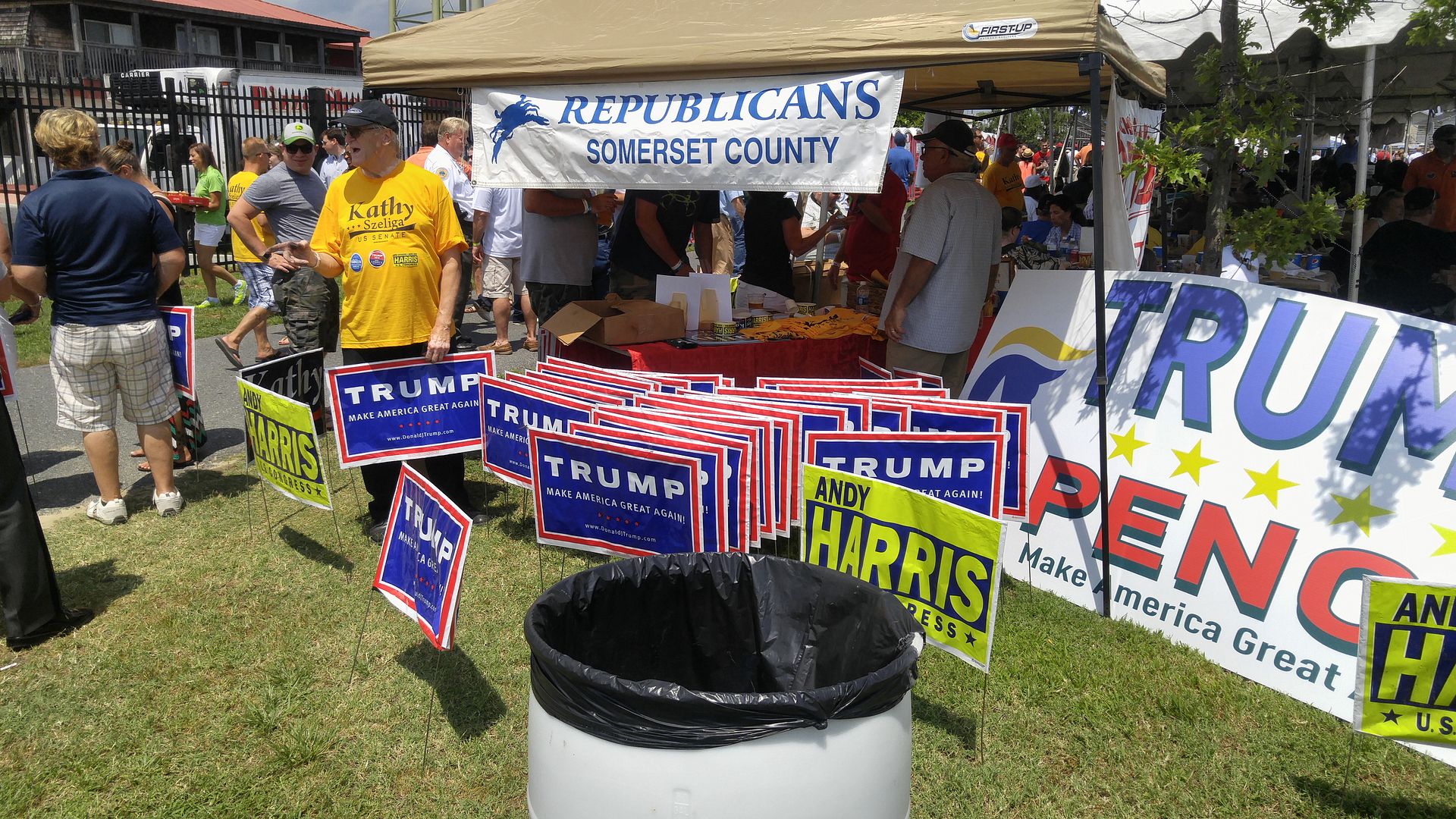 That group of signs dwindled little by little, as Trump adorned a number of tents. On the other hand, there were far fewer Hillary signs – but the Democrats also had their crowded space.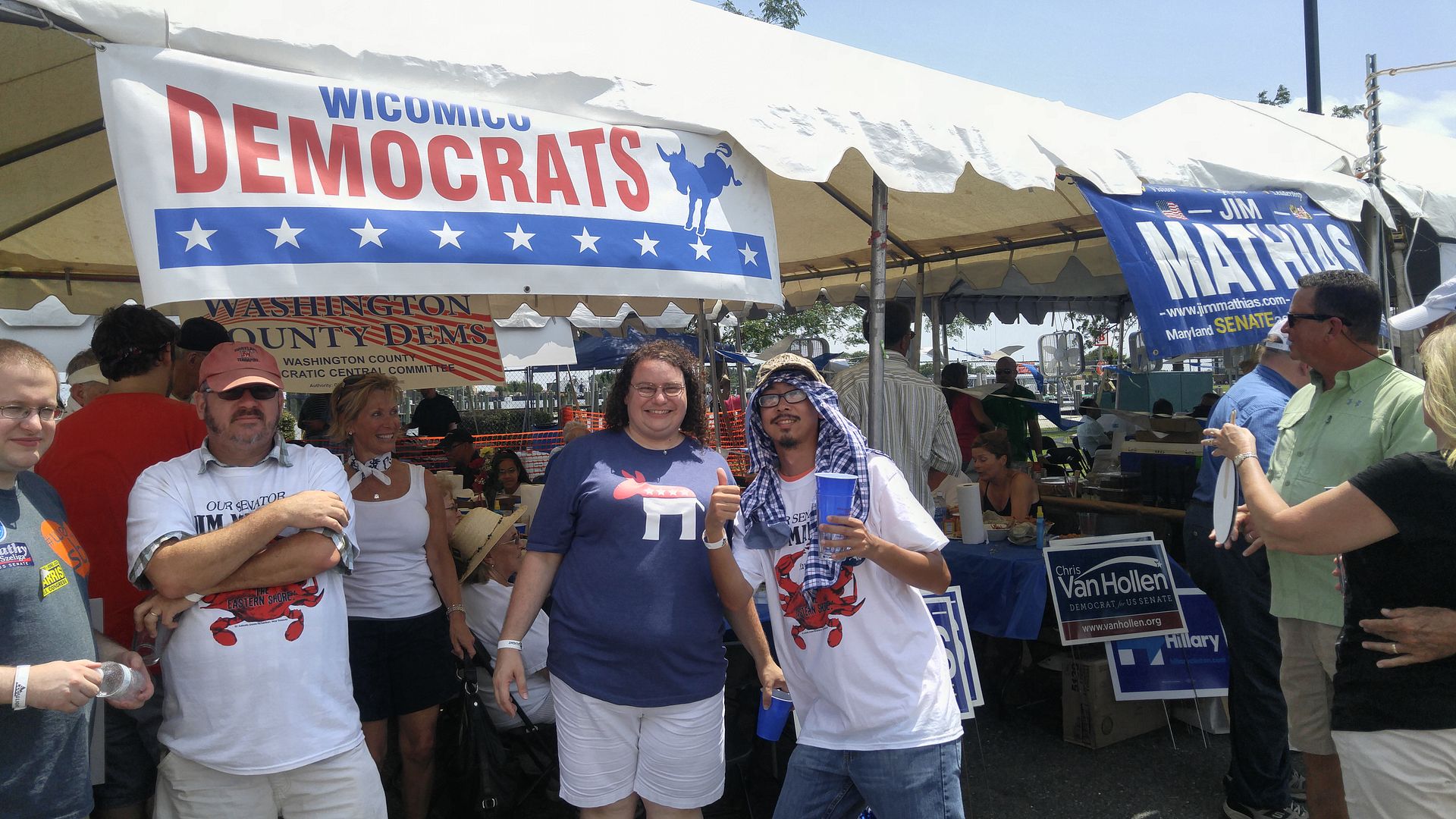 Sarah Meyers (in the blue shirt) is a friend of mine, and she was tearing her hair out as the coordinator there because they overbooked the space. (You may see her at the Democratic Convention next week, as she will be there as a page.) By the same token, the Somerset Republicans only went with one tent as well and it was packed, too. So both parties had close quarters.
Yet the businesses seemed to have ample space. I didn't peek into every tent, but many of them (as well as businesses lining State Route 413 into Crisfield) had a simple message: welcome Governor Hogan.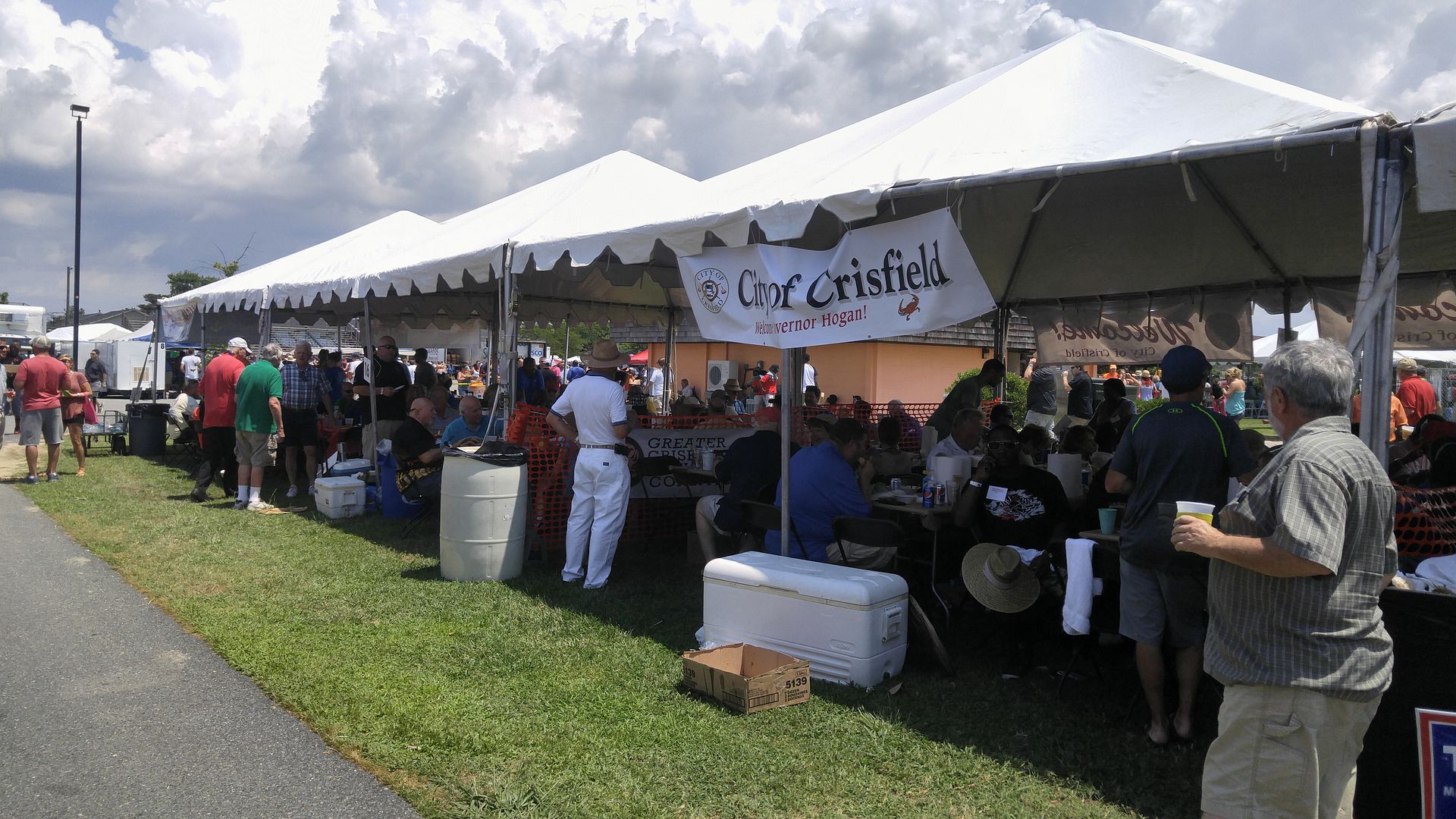 Even lobbyist Bruce Bereano, who always has the largest space, got into that act.
Yet among those businesses I did pick out I found an odd juxtaposition there, particularly under the auspices of the local economic development commission.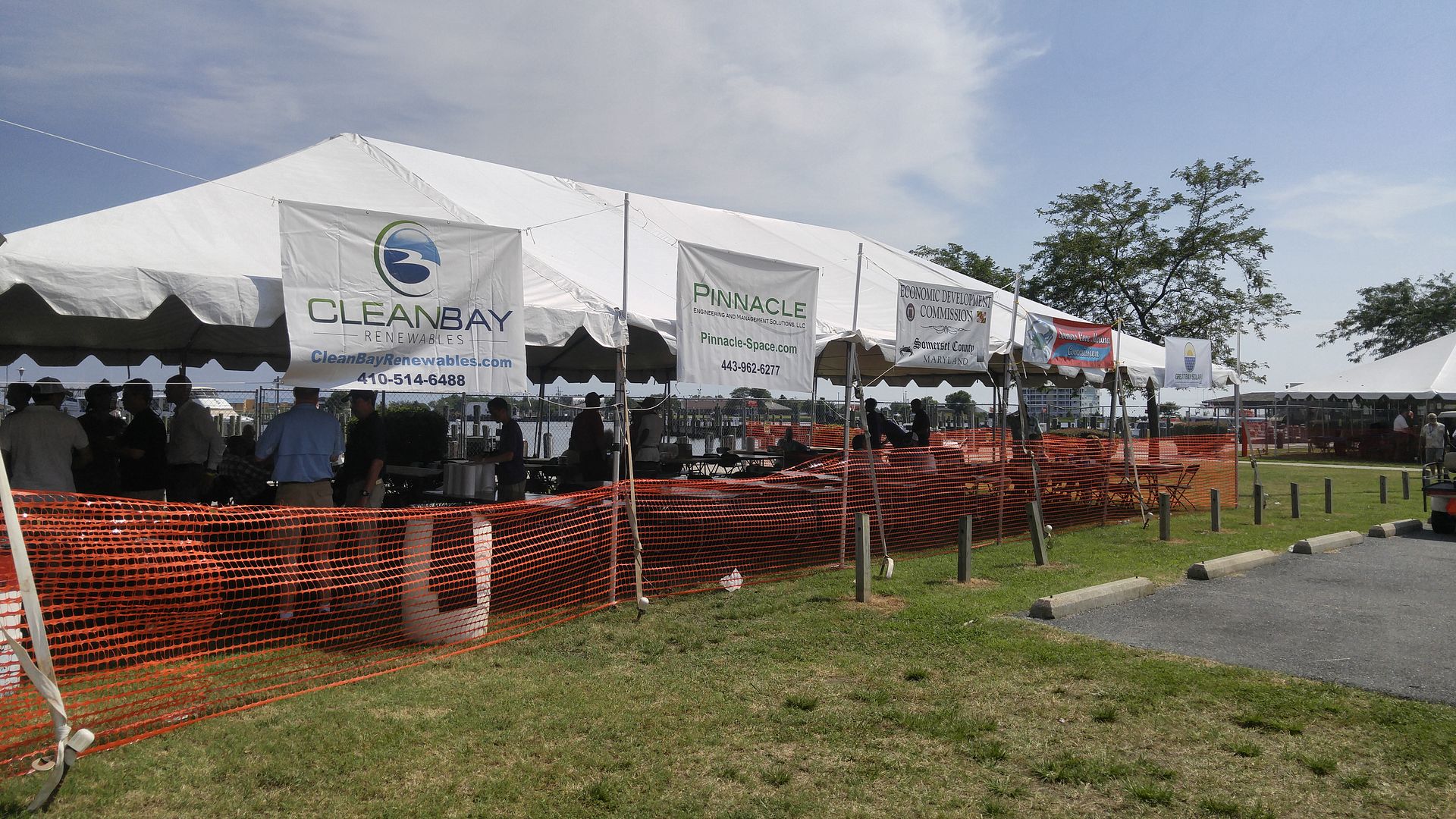 In order, these businesses are Cleanbay Renewables, which is a chicken waste recycling firm, Pinnacle Engineering, which services NASA, the Somers Cove Marina Commission, and Great Bay Solar I. The last is interesting because this project was originally supposed to be wind turbines, but objections to the siting of the turbine towers from the Navy forced the company to go solar, making lemonade out of lemons. With the exception of Pinnacle, the state has sort of forced the market for the other two businesses.
Yet on the other side was a law firm that objects to the approach the state is using to clean Chesapeake Bay through its Clean Chesapeake Coalition. They believe much of the problem comes from the sediment that leaches out from behind Conowingo Dam in severe storms.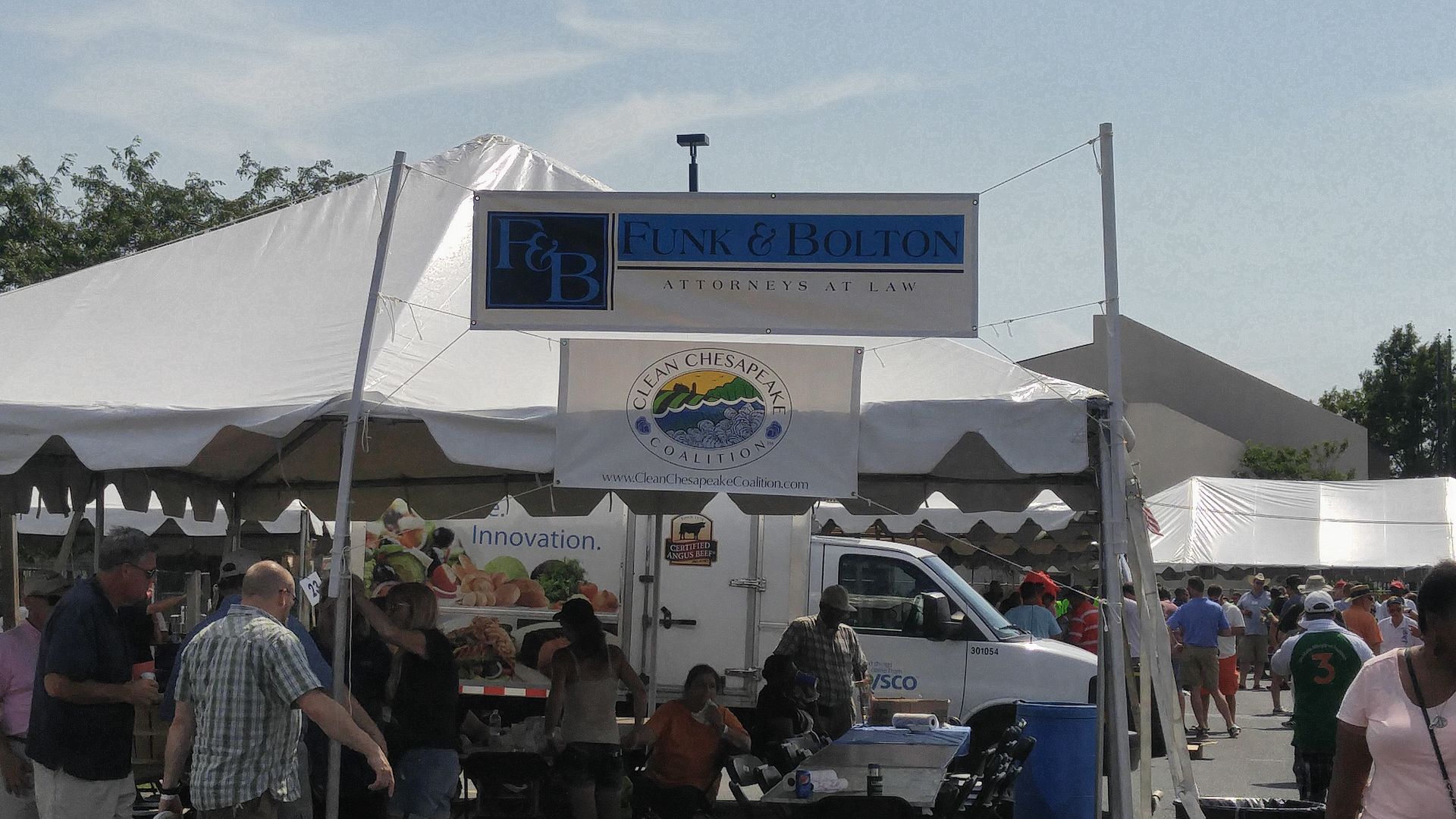 I happen to think the CCC has a pretty good case.
Speaking of business, the food business did pretty well there. Almost too well.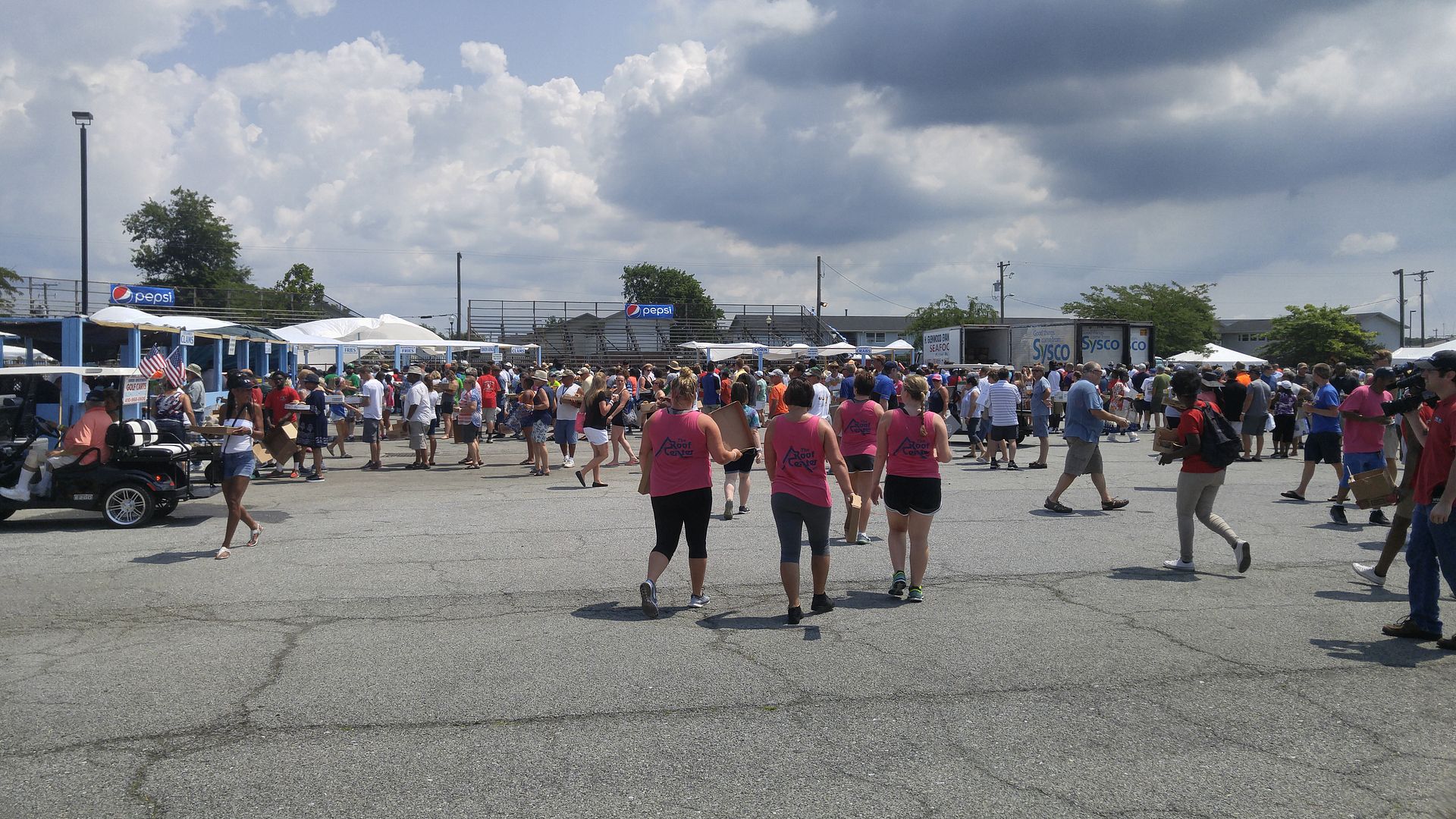 According to my cell phone camera, which took all my photos today, I took that picture at 12:01 as I walked over to get in line for food. Here is the end result, 46 minutes and four lines later.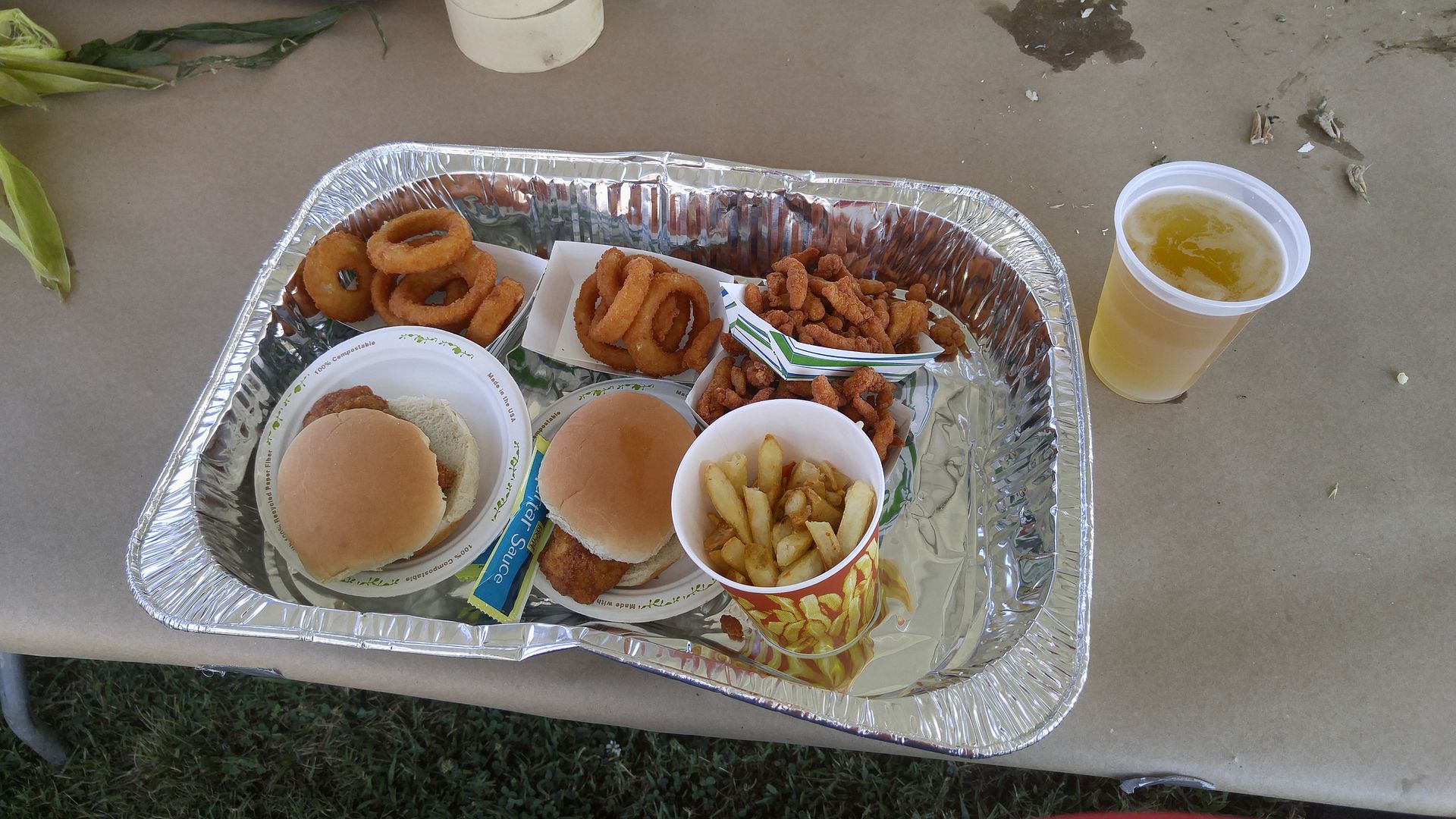 I actually asked for the onion rings as I inched closer to the front of the French fry line. And I certainly don't fault the crew because they worked hard, even toward the end when I snapped this.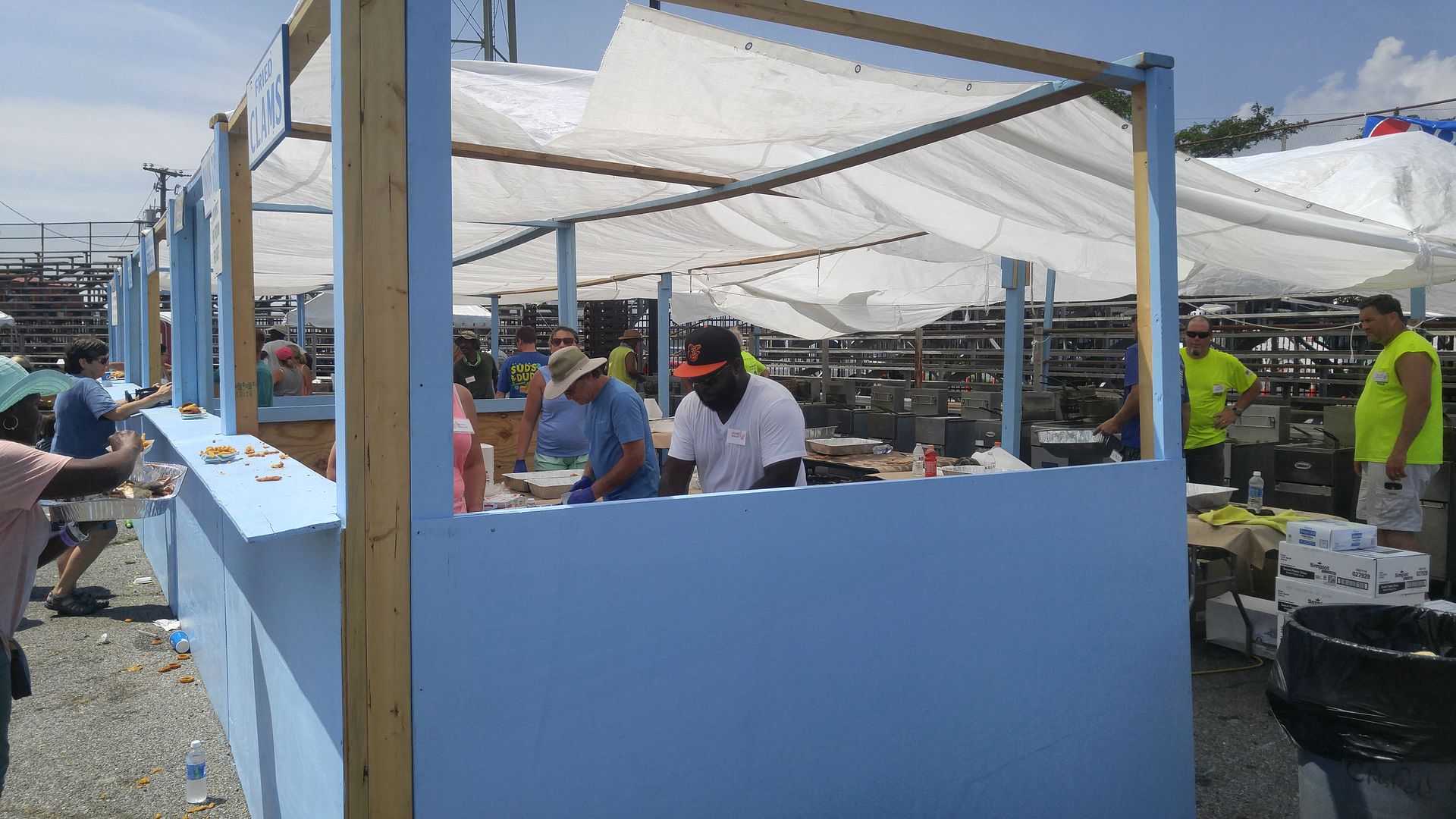 I think the issue is the increasing use of "runners" who get multiple orders of food and slow down the lines. It seemed like every third person in line was one, which meant those who just wanted to fend for themselves had to wait.
The guy who didn't have to wait in line was Governor Larry Hogan, because I don't think he ate a bite.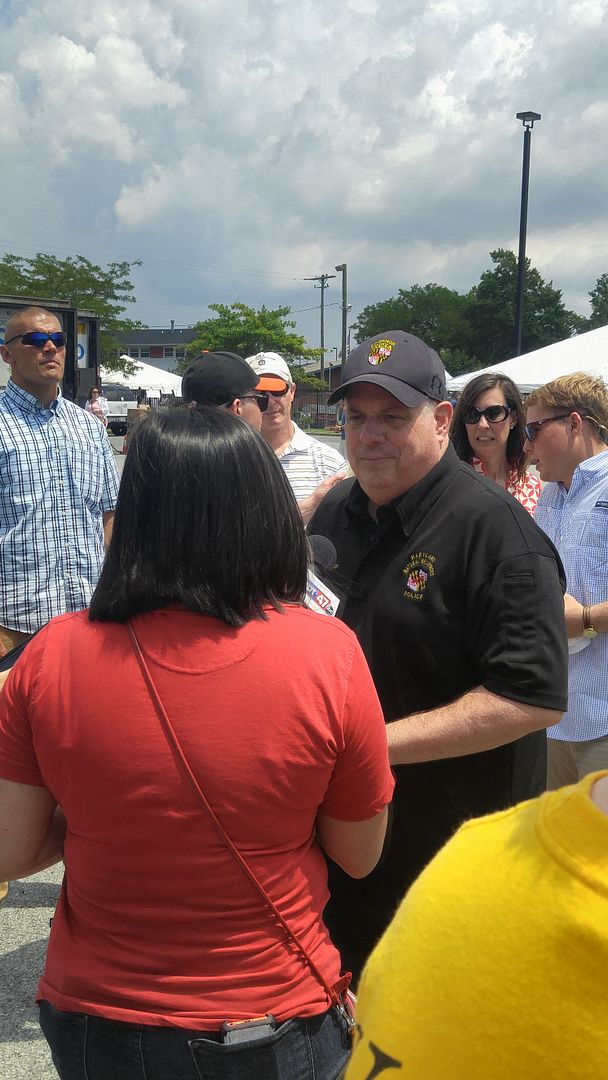 This is a second segment of time lapse. I took this photo above in the area where the food lines were at 1:57 p.m. Now, let me ask you: where's Hogan?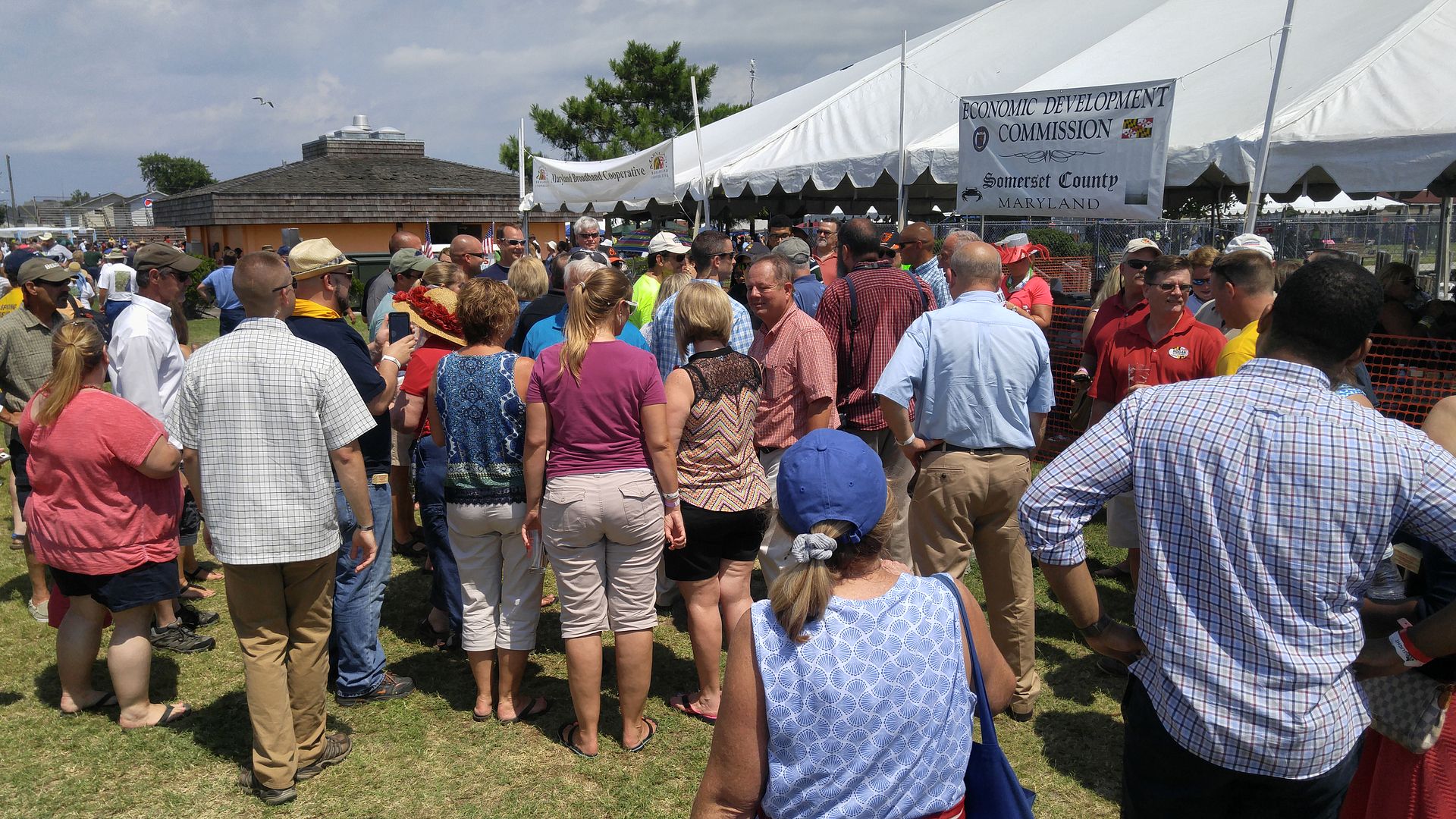 He's barely visible in the center of the photo, obscured by Delegate Charles Otto in the pinkish shirt. In 35 minutes he had advanced maybe 80 yards thanks to the crush of well-wishers who wanted to shake his hand, have a photo with him (although he suggested it in a number of cases) and perhaps say their piece. I was in the latter group as I wanted to thank him for his stance on the Presidential election. Larry commented that he had noticed the reception I've received on social media a couple times as it echoed a lot of what he had seen on his.
Stay strong, Governor.
The two major-party candidates for U.S. Senator were also there. Now I missed Democrat Chris Van Hollen – perhaps because I didn't recognize him walking around – but I did get a glimpse of Kathy Szeliga from the GOP.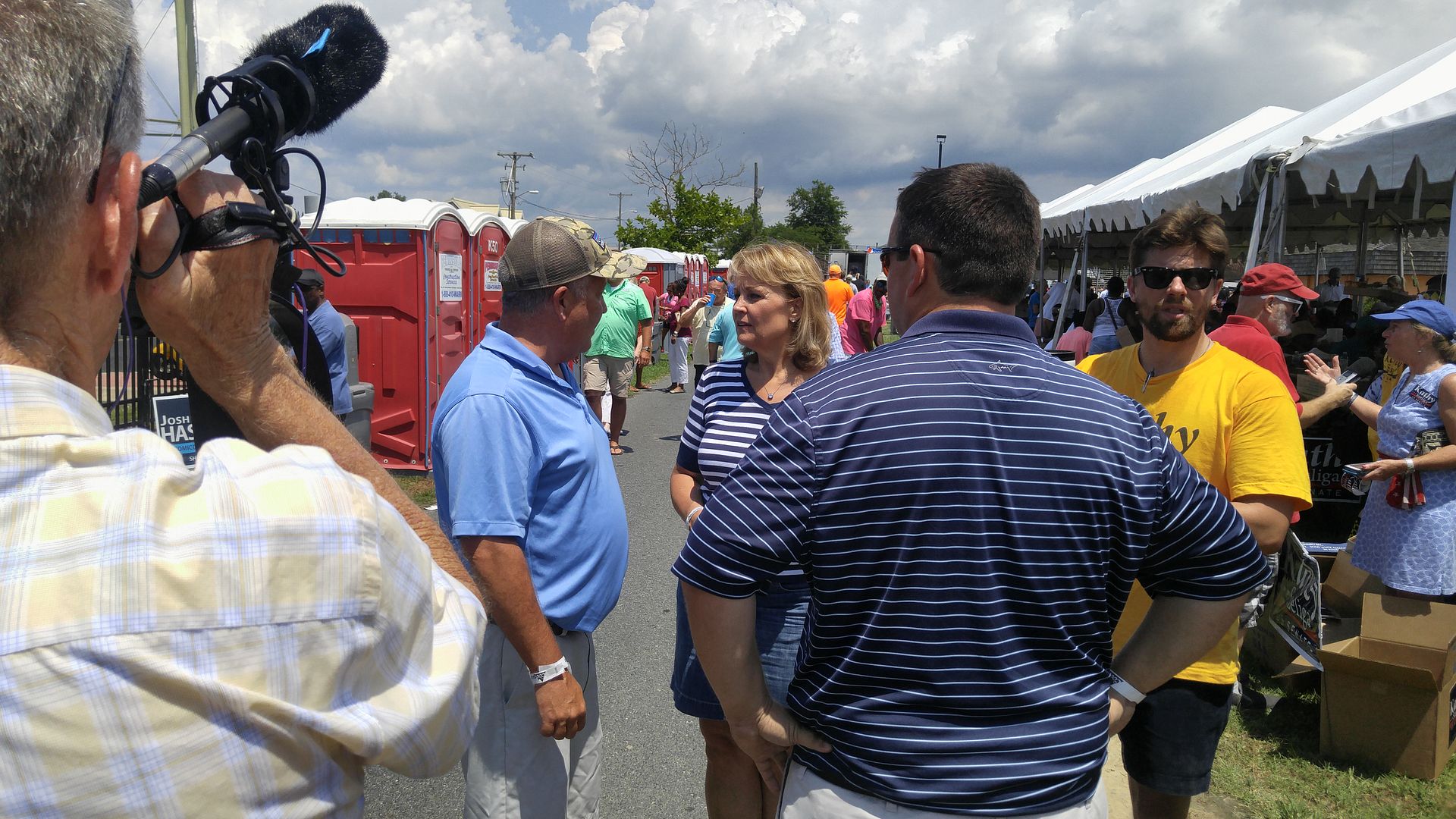 Of the people I saw and photographed, she was one of the few I didn't speak to at least a little bit. I don't blame her – our paths just didn't cross but once.
Of course, a few locals managed to be in front of my camera, such as Delegate Mary Beth Carozza, who brought her family and a batch of others from Worcester County.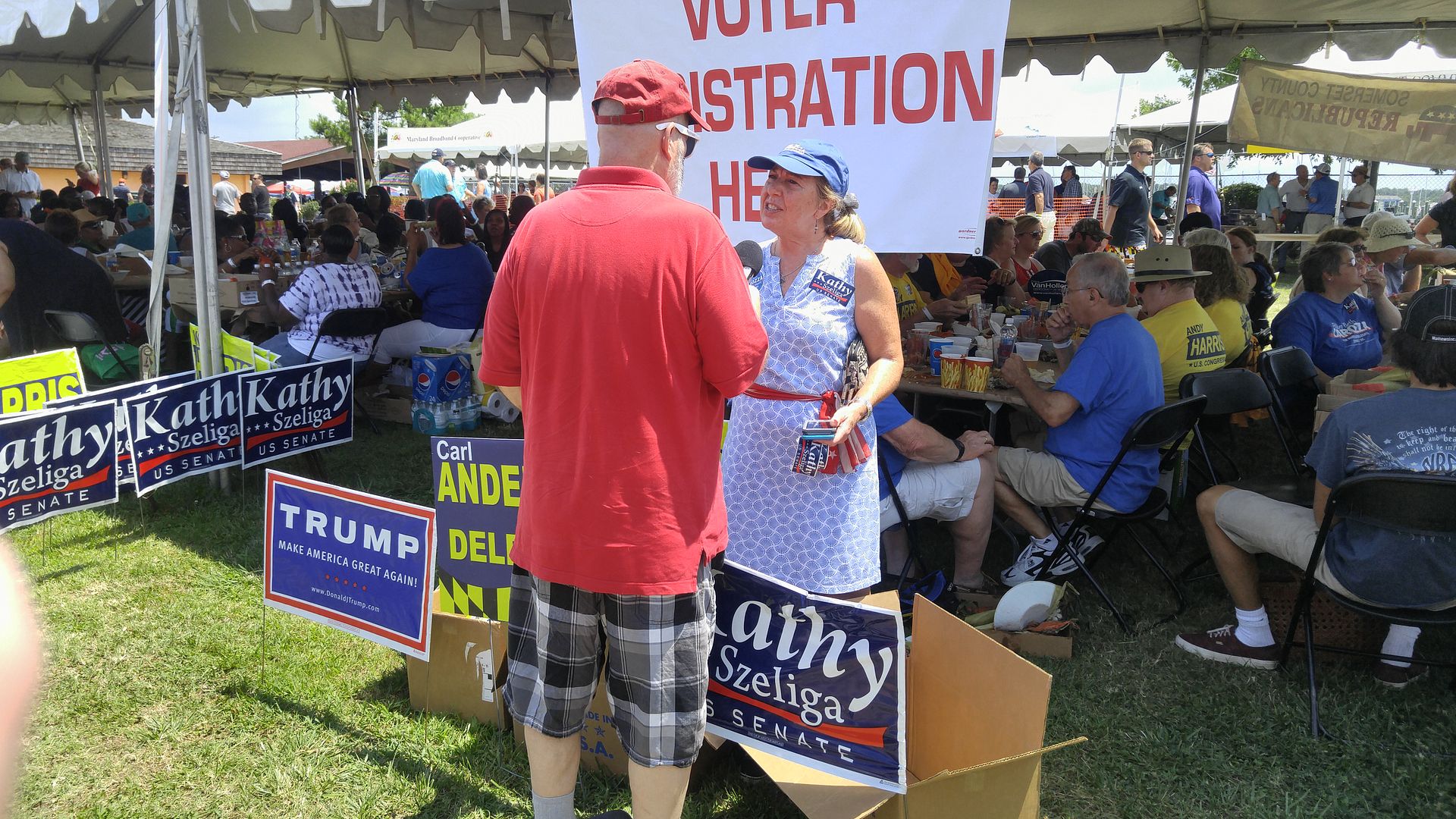 She was speaking to Duane Keenan from Red Maryland.
The other half of Worcester County must have come with Senator Jim Mathias, who had a number of folks with a matching shirt to his. He was a little peaked by the time I took the moment to thank him for his assistance with the school board election bill.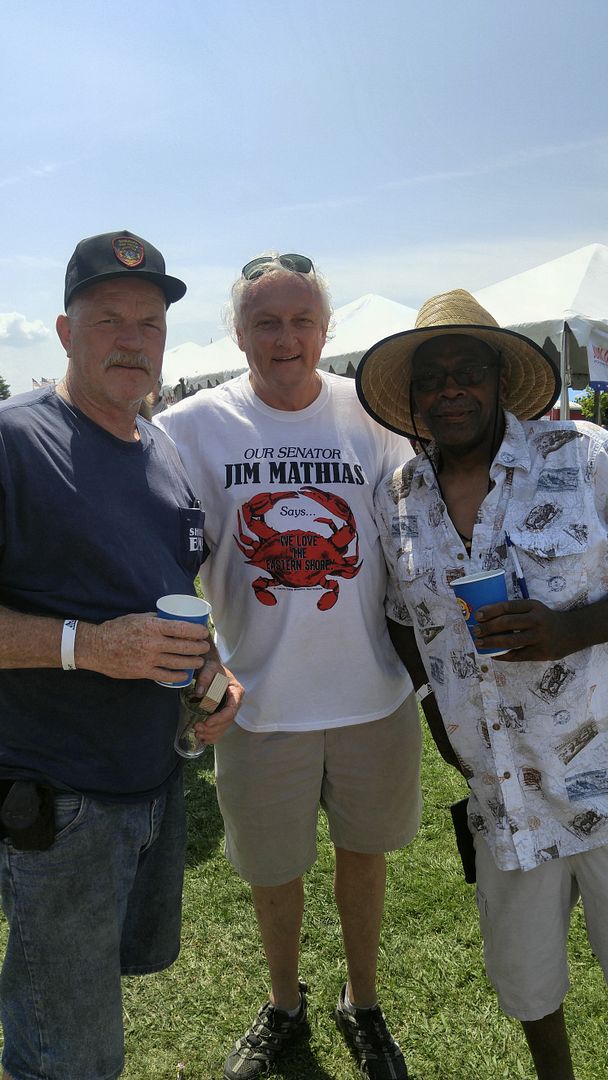 Yet while we had hot and cold running politicians there, we also had a lot of media asking questions. I noted Duane Keenan above, but here's Ovetta Wiggins of the Washington Post (right) speaking to Jackie Wellfonder. Jackie made the cut in Ovetta's story.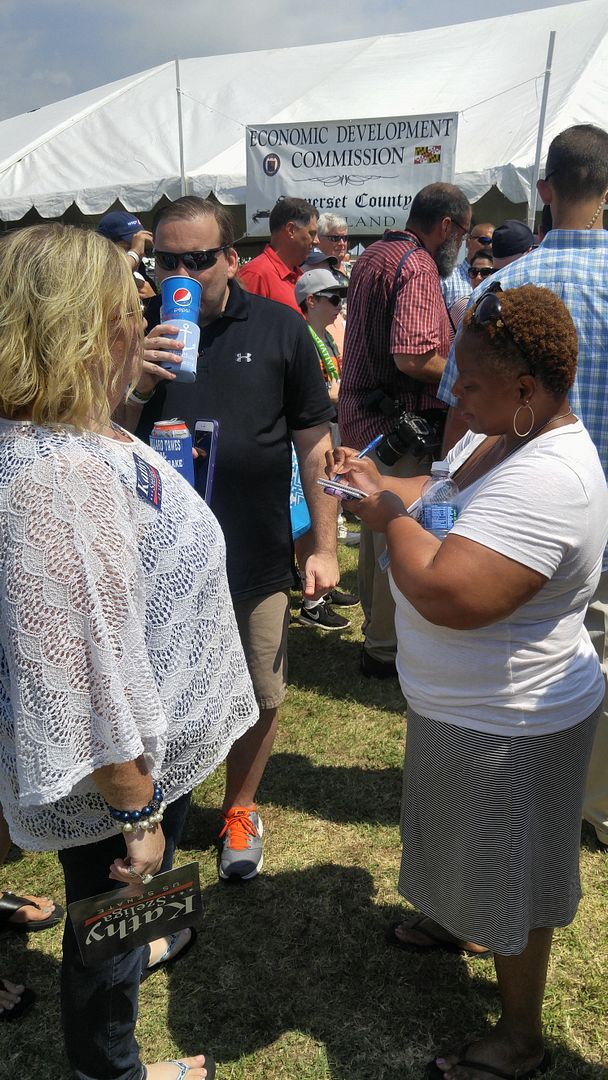 I also had the pleasure of meeting Mike Bradley, who hosts WGMD's morning show out of Lewes, Delaware. Since his station covers a fair amount of the lower Shore in its signal, he was interviewing some of the local players. It's a very good show that I catch once I cross into Delaware on my way to work.
And it could be that the Tawes event is becoming one for the greater Delmarva area. A delegation of elected officials from the First State included Representative Tim Dukes, who covers the Laurel and Delmar areas in his 40th District.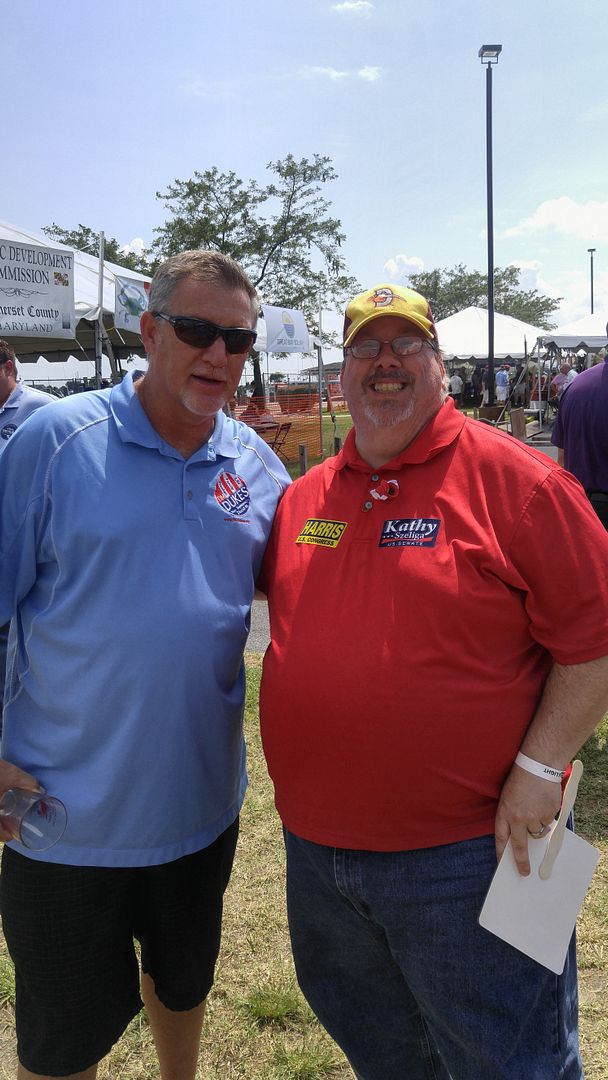 The reason I'm in the photo on the right: it was taken by Dukes' fellow representative (and Minority Leader in the Delaware House) Danny Short of Seaford. Since we're neighbors with Delaware it was nice to see some of their elected officials, too.
In that respect, this coverage was a little lacking because I did a lot of walking and talking to a number of nice folks from around the state. I want to say I overheard Jackie Wellfonder say this, but Tawes really is "like a big 'ol family reunion." We don't often see a lot of politicians travel across the bridge but for attending Tawes, so you have to say hello and speak your piece when you can.