The other day I came across an interesting photo of District 38C Delegate candidate Judy Davis. In case you were wondering, she's running as the Democrat against Mary Beth Carozza in the newly-created district that covers northern Worcester and eastern Wicomico counties. Given that some portion of the district comes under the jurisdiction of Sheriff Mike Lewis and his wildly popular (at least in a local sense given the national attention) stance on the Second Amendment, this photo says a lot. Reportedly the thumbs-down was on an answer which expressed Harris's support for gun rights.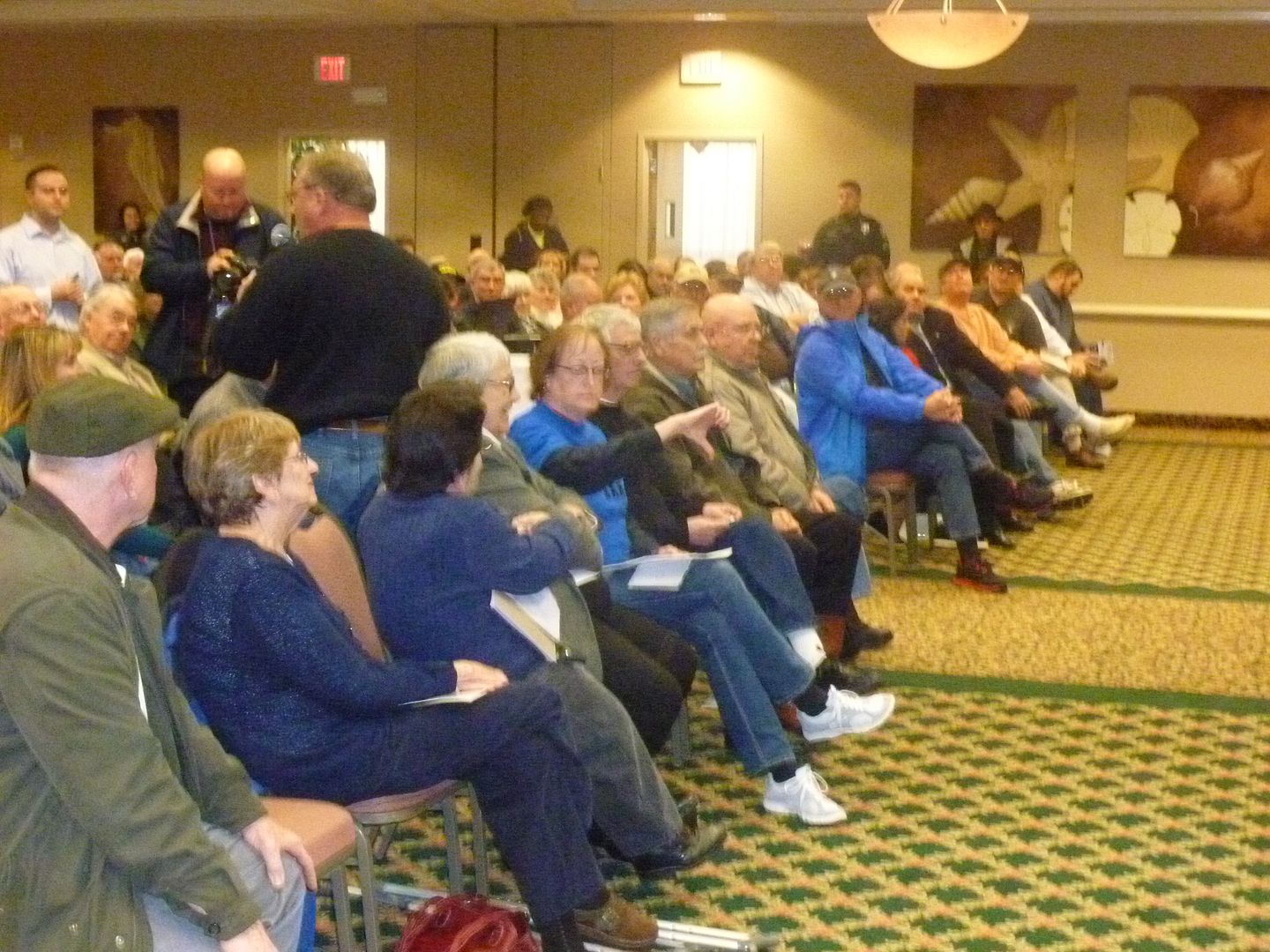 The person alerting me to this wrote:
In February 2013, Congressman Andy Harris held a town hall meeting in Ocean City to show support for this nation's 2nd Amendment. A heckler was among the crowd sitting in the first row. The lady introduced herself as a teacher and showed her disdain for the right of Americans to own guns by disrupting the entire proceedings.

Attached are photos of this heckler (Judy Davis) and now she is running for the House of Delegates on the Democratic ticket.
While I trust my source, I wanted a little more information. As it turns out Judy Davis is a blogger too, and she has a photo page with this photo which places her at the event in question. In her photo you can clearly read her blue "Assault Weapons Ban" shirt, which she was wearing in the above photo. On her page the caption reads:
Dr. No Town Hall Meeting, Ocean City, Feb. 22, 2013 – Ron Pagano and Judy Davis, Lower Shore Organizing Committee members.
"Dr. No" is the local liberals' pet name for Andy Harris, and in the above photo Pagano, who ran for a Wicomico County Council seat this year before withdrawing from the race post-primary, is two seats to her left. Her photo page also shows her and Pagano at another gun control rally in Annapolis later that spring.
The Second Amendment is not something Davis discusses on her site; to be fair neither does opponent Mary Beth Carozza. Yet while Carozza mentioned her appearance at a Second Amendment rally earlier this year, Davis wrote this in a response on her campaign Facebook page on September 22:
Citizens are entitled to own a gun, however, I support the requirement of a criminal background check prior to the purchase of a weapon. Anyone who works with children is required to have this screening. Also other positions , such as, Taxi Drivers, Fire Fighters, Security Guards, Special Police Officers, etc., submit to a Background Check. Significant Mental health issues can be identified this way. The National Instant Criminal Background Check System allows gun buyers to make a purchase within a few minutes of completing the application… I recognize the importance of hunting and recreational target practice to our community.
Thus, Davis completely misses the point about the true function of the Second Amendment. It's not about hunting or target practice, it's about a check and balance on powerful forces, up to and including a tyrannical government such as our Founding Fathers fought against. A handgun is the equalizer between Davis, who's not a large woman, and a potential attacker who is larger and stronger than her. By the same token, a semi-automatic weapon (commonly miscast as an "assault weapon") is an equalizer between being able to defend your property and family or being helpless.
While the percentage of single-issue voters who base their vote on the Second Amendment is not high, many thousands in that district own one or more firearms. Their concern about state and federal imposition on their rights has driven many of these residents to protest in Annapolis or simply show up at the Harris town hall to state their opinion. It's Davis's opinion that's out of step with the district, and the fact she's trying not to dwell on it makes me wonder what else she would hide until it came for a time for a tough vote in the House of Delegates.