Western Maryland is blessed with an enormous amount of cleaner burning natural gas and we need an all of the above approach to energy. I am concerned that there has been a knee-jerk reaction against affordable energy production in our state. Maryland is definitely behind the curve because this administration has decided to politicize the issue rather than take a balanced approach to ensuring we have access to clean and affordable energy sources to power our homes and businesses and grow our economy.

States throughout the country including our neighbors develop their natural gas resources safely and efficiently. Many of these states are realizing an economic boom through gas and oil exploration and are working in concert with groups like the Natural Resources Defense Council to harness these vast resources of domestic energy in an environmentally sensitive way.

Larry Hogan, in response to a WYPR-FM candidate survey, May 2014. (Emphasis mine.)
Three years later, western Maryland is still blessed with an enormous amount of cleaner-burning natural gas, but on Friday Governor Hogan decided it would be better to leave this valuable resource in the ground rather than create jobs and economic opportunities for a section of the state that lags behind the rest of Maryland when it comes to those two very things.
Perhaps we should have seen this coming, though: the temporary moratorium that was in place stemmed from a bill that Hogan allowed to become law without his signature rather than veto it back in 2015. The bill, which as originally introduced was laughably intended to "protect our health and communities," was amended from a ban extending to 2023 to a prohibition intended to last until October of this year, when the Maryland Department of the Environment was to have regulations in place. But, as Governor Hogan noted in his press conference announcing the new fracking ban, Maryland envisioned the most stringent regulations in the nation – a roll of red tape that would have amounted to a de facto ban if enacted.
And to illustrate the political pressure Radical Green can put on wobbly members of the GOP, bear in mind that the original third reader vote on the 2015 House bill had 45 opposed, but that number whittled down to 33 once the Senate version passed and the House bill (as amended to match the Senate version) went to third reader. The wobblers who changed their votes were Delegates Anderton, Afzali, Beitzel, Carozza, Krebs, Malone, McComas, Miele, Shoemaker, and West. (This list is ten because two Delegates who voted "no" originally were absent the second time, but Afzali changed her vote after the fact to be truly gutless. Interestingly enough, Delegates Anderton, Carozza, Krebs, and Shoemaker all changed back three days later when the Senate third reader came to the House while Delegate Saab opted to join the dark side.) Conversely, the Senate only had two votes correctly in opposition all along, Senators Hough and Ready.
Now we can add Larry Hogan to the list that has wobbled and fallen – this despite a mountain of evidence that hydraulic fracturing, which has been ongoing for over six decades, is safe when done properly. Even the EPA, which put out a final report in the waning days of the Obama administration, noted they found scientific evidence that hydraulic fracturing activities can impact drinking water resources under some circumstances. Yet many of the circumstances they point out could occur at any chemical plant, and they note:
Data gaps and uncertainties limited EPA's ability to fully assess the potential impacts on drinking water resources locally and nationally. Because of these data gaps and uncertainties, it was not possible to fully characterize the severity of impacts, nor was it possible to calculate or estimate the national frequency of impacts on drinking water resources from activities in the hydraulic fracturing water cycle.
So should I point out again that over 2 million wells have been hydraulically fractured over the last six decades without incident? It seems to me that past performance should be a very good predictor of future results, particularly as the technology advances. And if you read the report, you'll note that the uncertainty of cause even extends to those limited, rare incidents blamed – many times falsely – on fracking and most publicized by Radical Green.
No one denies there is risk with hydraulic fracturing – just as there are documented issues with low-frequency noise and impacts on bat population with wind turbines and potential for environmental impact as more and more solar panels are spread over the landscape to significant effect – but the rewards from fracking, as measured by both local economic benefits and the lessening of reliance on foreign energy supplies, have been found to outweigh the risks in nearly every jurisdiction where fracking is possible, while the recalcitrant others (Maryland and New York) have believed the hype over the facts.
While Maryland is a small part of the Marcellus Shale formation that has produced the resurgent energy industry in a region that first benefitted over a century ago from an oil boom – there's a reason we have motor oil from Pennzoil and Quaker State and it's not because the brand names are cute – this is a time when the domestic oil and natural gas industry is in a holding pattern. Crude oil prices in the $40-50 a barrel range and a relatively constant balance of natural gas supply and demand means that Maryland missed the boat by about a half-decade in the current cycle, but an increased potential in natural gas exports – coupled with a multi-billion dollar investment in Maryland's Cove Point facility for LNG exporting that's slated to come online later this year – means our state would have been in good position to benefit in a few years' time once natural gas exploration began and delivery infrastructure was put in place. (People tend to forget that part of the equation, too.) But politics, embodied in the baseless fear caused by a noisy environmental lobby, ruled the day Friday.
Allow me to let you in on a dose of common sense: there's no way in hell Radical Green will give Larry Hogan any credit for what he did on fracking come election time. You can bet your bottom dollar that they will flock to whoever the Democrats end up anointing in their primary because their main goal isn't a clean environment but to have statists in charge of government. Yes, the rank-and-file who might send a couple hundred dollars to the Chesapeake Bay Foundation every year may really care about the health of the bay, but when the people who benefit most from it are the ones who determine the annual "grade" for the cleanliness of the Bay one has to wonder how much of their thumb is placed on the scale. After all, if the Bay had a grade of A and was pristine H2O, what need would there be for a CBF?
The oil and gas industry doesn't depend on a government subsidy – they just want a fair and predictable regulatory scheme. But a state which has no problem bending the energy trade by mandating a certain percentage of electricity comes from solar energy and demanding ratepayers subsidize an offshore wind farm seems to have an issue with the source that's been proven reliable over time and is known as a job creator.
As a ratepayer and voter, I was willing to accept the slight environmental risk of fracking in return for a more prosperous state overall as well as more inexpensive and reliable energy. (And yes, I know that the area in question isn't one where I live. But if I ever secure a piece of land nearby and someone wants to pay me for the right to use my land to explore for energy resources, I'm glad to oblige. No one has yet assessed the Delmarva Basins on which many of us live for their energy potential.)
In 2014, Allegany and Garrett counties provided almost 1/4 of Larry Hogan's margin of victory as he carried the duo by 16,466 votes in an election he won by 65,510 votes. Add in adjacent Washington County and that number becomes 35,274 votes, or over half his victory margin. At the risk of losing thousands of votes in that region, Larry Hogan has acquiesced to an environmental lobby that's not going to give him any credit, any dollars, or any votes for the decision he's made.
I suppose Larry Hogan thinks he's got an all-of-the-above electoral strategy, too. But at a time he could have changed Maryland for the better, he instead foolishly chose to surrender to the naysayers.
I don't quite think I have to reintroduce myself to all of you, but it truly has been a long time since I sat down and wrote a piece for the consumption of my readers. (Editing Cathy's last piece and writing two articles for the Patriot Post doesn't really count for that purpose, nor does updating my Shorebird of the Week Hall of Fame page to add a couple player moves.) Unfortunately, things won't improve on that front for some time, but the opportunity which presented itself to take my writing time was one I could not pass up.
But in this interregnum, we were given the bill to "repeal and replace" Obamacare, and since we are told President Trump has threatened to find primary opponents for any Republican who opposes it, I think I'm safe in calling this package Trumpcare. It's still a government entitlement because there was a replace added with the repeal, and that already put a strike against it in my book.
The document I am going to base my initial impressions on will be the "talking point" document put out by the House GOP. To be honest, I really don't have time at this point to read the original 123-page bill in depth, although I downloaded it for future reference and glanced through it to help with this piece. I look at this website as what the House Republicans are using as their chief selling points to the bill, so presumably this is their vision for federally-sponsored health care going forward. We have lived under Obamacare for about three years (as I recall, the major provisions did not all take effect before 2014, although some were in place shortly after the bill passed in 2010) so we know its effects: sizable increases in insurance premiums, a massive expansion of Medicaid (paid for in large part by Uncle Sam) to ratchet up the number of people with health insurance, subsidies for those who have less than a certain income yet are forced onto or choose to partake in the individual insurance market, the reduction in the number of competing insurance companies in many areas of the nation (some have just one insurer available to them), and the virtual elimination of catastrophic health insurance plans as insufficient for the needs of those insured. There were also a number of regulations and restrictions on insurers put in place, key among them the requirement of children being covered under a parent's policy through the age of 26 and the elimination of discrimination based on pre-existing conditions.
With this massive incursion into private industry, for the first time the federal government required purchase of a product under penalty of law – those who chose not to buy health insurance were subject to a "shared responsibility payment" collected by the Internal Revenue Service. Imagine if you had to buy a car every four years whether you were happy with the one you had or not, and you may have the idea of how people felt about this. Obviously the economics of it were to make everyone pay a little something, but that's not the way a free country is supposed to work for something that's not essential to core functions of government.
Here are some of the provisions within the American Health Care Act (AHCA):
It "dismantles" the Obamacare taxes on prescription drugs, over-the-counter medications, health insurance premiums, and medical devices.
Okay, so far so good, although I suppose the definition of "dismantle" is in the eye of the beholder. I glanced through that section of the bill and it looks like this would not take effect immediately but at the end of this year. As a whole, individuals may see a little bit of savings but it won't be something they will notice.
It eliminates the individual and employer mandate penalties.
This is perhaps the best news of all, but there is one huge catch to this: instead of paying this as a tax provision, you would have to pay a penalty to the insurance company in the form of a surcharge on premiums if you start up insurance again after not having it for a period of time. And that catch basically negates the whole benefit of removing the IRS from the equation, although I suppose an insurer could use the waiver of this surcharge as an incentive to bring people in.
It maintains the prohibition on charging more or denying insurance based on pre-existing conditions.
I have a big problem with this – not that it wouldn't necessarily benefit me because I have asthma but because the idea for an insurance company is to make a profit by balancing the risks shared by the vast pool of policyholders with the expenses incurred by reimbursing those insured for loss. If someone is very likely to be a net loss to the insurer because they have a pre-existing condition, it should be the right of the insurer to refuse service. After all, banks don't lend money at the prime interest rate to people who have poor credit records or no verifiable means of income because that would put their capital at too much risk for the return, so they either refuse the customer outright or charge an interest rate commensurate with the risk. That should be the right of a private insurer, too.
I was reading on social media that Maryland once had a high-risk pool for such patients, which was bankrolled by the state. While it's not the use of taxpayer money that would be my most favorite, it is a state's right to do so if they chose and there was nothing wrong with that system because it wasn't directly competing with the private sector.
It keeps the provision of dependents being on their parents' plan until they are 26.
This is another bad feature of Obamacare that should be buried with the rest of it. If you are 26 you should be able to stand on your own two feet and either be working for someone who offers insurance or be able to afford a plan on your own. (Or choose not to have insurance, which would be your right – although not necessarily recommended.)
AHCA also establishes what it calls a Patient and State Stability Fund.
Over the next nine years, the federal government will give out $100 billion to the states to assist them with their goals of insuring every citizen. I read quickly through this section and there are some provisions that give me heartburn: there are strings attached to the expenditure of the money and the states are required to come up with a larger and larger portion of matching funds for whatever they use the money for, up to 50 percent by the end of the program in 2026 – assuming, of course, this doesn't become a more perpetual giveaway (which I'm convinced it will.) There is $15 billion allocated to this over the next two years and $10 billion per year after that, and I'm sure states will say this isn't enough because they like that financial crack of Uncle Sugar's money.
Modernize and strengthen Medicare by transitioning to a "per-capita allotment."
The legalese on this one is beyond my scope of comprehension, but to me the idea of modernizing Medicare would be that of sunsetting it, not strengthening it.
Enhance and expand Health Savings Accounts.
One of the better features, although it would be even better with the free transfer of money between HSAs and other entities such as an IRA or 401 (k). If you needed more money in a particular year you should be able to move it without penalty.
A monthly tax credit for those who can't afford insurance, up to $14,000 per year.
A subsidy under a different name. Basically they are replacing one tax scheme with another, still targeted to particular people.
All in all, I think the repeal should take place without the replace. It seems to me that we had a whole political movement and a bumper crop of angst spring up over the last eight years because people did not want any part of the government interference in their health care that Obamacare brought to us. Over that time, we lived with the disappointment of Republican excuses: "we're only one half of one third of government," "we have the House and Senate but the President won't sign this," "we can't defund because there would be a government shutdown," and so forth. After 2016, there was a Congress and President who campaigned on repeal, and yet you give us this?!?
A better alternative may be the plan presented by Senator Rand Paul, although it's not perfect either. But it's better than the GOP alternative, which is a great letdown for those of us who waited for the moment to eliminate the (not so) Affordable Care Act.
By Cathy Keim
Michael mentioned a serious problem in his Monday post, "At throats", which is that we are no longer able to talk to our fellow citizens if their political bent is different than ours. I have been pondering this problem for some time without coming to any conclusions as to how to fix the issue.
Two events Tuesday illustrated the problem. First, I received a phone call that evening from Congressman Andy Harris inviting me to a tele-townhall if I would just stay on the phone. I joined the teleconference and what I heard was interesting because of the shift from previous townhalls that I have attended. I'll admit that I have not been to a townhall in a while, but they used to be similar in that the questions from the audience were directed at pushing Harris to the right on issues. The tele-townhall last night fielded questions that were decidedly geared towards pushing Harris to the left.
One lady flat out asked Rep. Harris when he was going to impeach President Trump. Others inquired about funding for Planned Parenthood, stating that they did not want it cut. Another questioned Trump's connection to Russia and the election. Another question was about the Affordable Care Act (ACA) and once again, the person asking was not in support of repealing it.
There was also the questioner who implied that Harris was dodging his duties by having tele-townhalls instead of holding in-person events. Andy explained once again, as he has repeatedly over the last few weeks, that he would resume holding townhalls in person once the GOP plan for repealing and replacing ACA was made public for discussion. (Editor's note: one is tentatively scheduled for the Easton area on March 31.)
Rep. Harris patiently and competently fielded the questions. He explained that President Trump was the duly elected president with a large Electoral College majority and that a month into his administration was premature for discussing impeachment. He pointed out that Planned Parenthood (PP) provides only one item that other health care facilities do not provide and that is abortion. All the other functions of PP could be provided by existing health care facilities. He also pointed out that PP separates out each service that they provide so that they can appear to be doing much more health care than abortions. For example, if a woman comes in for an exam which includes a pap smear, a physical exam, and a prescription for birth control pills, this would be counted as three separate services even though it was all included in the one visit. This is how they inflate their record for health care services in comparison to the abortions they provide.
Finally, he explained that the false divide between giving government funds to PP that could only be used for health services, but not abortions, is obviously a sleight-of-hand trick. My explanation of this is: Anyone can see that if I give you money to spend on your gas bill, but not on your electric bill, that you will say fine, no problem. You can now use the money that you would have spent on your gas bill to pay your electric bill and I will be happy that you didn't use my money on your electric bill. This robbing Peter to pay Paul does not sit well with citizens that do not want to pay for abortions.
One person stated quite bluntly that he preferred that abortions be subsidized because unwanted children would grow up to be in prison and that would cost him more to pay for 15 years of prison than the cost of an abortion. Congressman Harris made the case for life in the face of this common argument for death.
After the teleconference call concluded, I watched President Trump address Congress.
The women in white were grouped together to make their statement of disapproval for President Trump. While their stated reason for dressing in white was to align themselves with the suffragettes that fought for the right to vote, the real reason that the feminists are against Trump is because they are afraid that he will take away their ability to seek an abortion at any point in a pregnancy.
Even when he made statements that were appealing to a broad section of Americans to come together, the women in white sat on their hands. A few of them even made thumbs down gestures to show their disapproval for the president.
Overall, I felt that President Trump made an appeal to all sectors of our country to come together and work to make America a better place. If he is successful in his efforts to encourage the economy, then many will put aside their differences and be pleased that the nation's economy is stronger.
This may buy the Trump administration some breathing room, but there is a strong contingent of unhappy people that will not be dissuaded from praying for the demise of Trump no matter how well the economy hums along. This anti-Trump group comes from both the left and the right, making for strange bedfellows indeed.
As a Tea Party participant, I can vouch for our desire to strengthen our nation, to protect and live by our Constitution, and to leave our nation strong for our children and grandchildren.
The forces that are gathering to oppose the Trump administration as evidenced in the Harris tele-townhall and the President's address to Congress are being presented as a grassroots outpouring like the Tea Party, but are very different in their outlook. They are pro-big government, pro-death, pro-regulation, and pro-big spending.
To Michael's point about being at each other's throats, I don't see any way to get these two groups together any time soon. Their visions of America are so different that they really cannot coexist, and the die is cast in a way that we will inexorably move toward one or the other. The Trump administration will have to fight for every inch of ground it seizes from the entrenched bureaucracy, and since the GOP elites have not shown the desire to fight for the win up to now it will be interesting to watch and see if they will finally join the struggle.
The result of a special election in Delaware's 10th Senate district, way up there in New Castle County, was discouraging to First State Republicans who were thisclose to regaining the State Senate for the first time in decades. Instead, the Democrats reached into their vastly deep pockets and bought themselves a seat, spending about $100 a vote to hold on to the State Senate in a district they were already about 6,000 votes in based on registration. (While they didn't have a majority of the registered voters, they had the most significant plurality. In fact, the results indicated either unaffiliated voters slightly favored the GOP or the Republicans did a little better turning out their voters – just not good enough.)
Perhaps the most interesting takes were from libertarian Delaware-based writer Chris Slavens. Taking to social media, he opined the time was now to work on an old idea for which the time may have come: a state of Delmarva that takes in the remainder of the peninsula. My thought on this: what would the makeup of this new state really look like – would it be a red state?
Let's start with the basics: based on the 2015 Census estimates this state would have a total of 1,444,288 people.
945,934 in Delaware (556,779 in New Castle County, 215,622 in Sussex County, 173,533 in Kent County)
453,226 in Maryland (102,382 in Cecil County, 102,370 in Wicomico County, 51,540 in Worcester County, 48,904 in Queen Anne's County, 37,512 in Talbot County, 32,579 in Caroline County, 32,384 in Dorchester County, 25,768 in Somerset County, 19,787 in Kent County)
45,128 in Virginia (32,973 in Accomack County, 12,155 in Northampton County)
Having that number of residents would allow for two Congressional seats, with the most likely and logical divisions being either New Castle + Kent County (DE) or New Castle + Cecil + Kent (MD) + the northern extent of Kent (DE). It's most likely they would split evenly, with a Democrat representing the Wilmington area and a Republican winning the rest.
On a legislative level, there's somewhat of an apples-to-oranges comparison because of the nature of each state's districts – Delaware's 41 representatives and 21 Senators represent smaller districts than the 12 Delegates and 4 Senators who come from Eastern Shore counties in Maryland. (In reality, there's a small portion of Harford County that gives the Eastern Shore its delegation of 12 and 4, as the 35th District straddles Cecil and Harford counties.) Meanwhile, the Eastern Shore counties in Virginia are represented by one Delegate and one Senator they share with the other side of the bay. It's only a fraction of a Delegate district.
Regardless, in terms of raw numbers, Delaware's Senate is split 11-10 in favor of Democrats – however, Maryland balances it out with a 3-1 Republican split among its districts to push the GOP ahead 13-12. But Eastern Shore Virginia voters send a Democratic senator to Richmond so the parties split 13-13 in this case.
As for their lower houses, the Democrats control Delaware by a 25-16 margin but that would be tempered by the 11-1 edge Republicans have on the Maryland Eastern Shore. With a 27-26 advantage, Republicans would control the Delmarva House 28-26 when the one Republican Delegate is added from Virginia.
That closeness would also be reflected in election results. In 2016, the Delmarva race would have been watched to practically the same extent as New Hampshire, which also had four electoral votes and was razor-close. Based on the totals in all 14 Delmarva counties, the result would also have mirrored that of the Granite State:
Hillary Clinton – 322,702 votes (47.58%)
Donald Trump – 320,387 votes (47.24%)
Gary Johnson – 21,690 votes (3.2%)
Jill Stein – 8,351 votes (1.23%)
all others – 5,094 votes (0.75%)
In most states, the margin would have triggered an automatic recount. But imagine the attention we would have received from the national press on this one! Hillary carried New Castle County, of course, but the other county she carried was on the other end of the "state" and population range – Northampton County, which is the smallest of the 12.
Even the Congressional race would have been close. I am using the three Congressional race results (Delaware – at-large, Maryland – 1st, Virginia – 2nd) as a proxy for a Senatorial race.
generic Republican – 316,736 votes (48.8%)
generic Democrat – 308,891 votes (47.59%)
generic Libertarian – 14,739 votes (2.27% in DE and MD only)
generic Green – 8,326 votes (1.28% in DE only)
all others – 398 votes (0.06%)
This despite a voter registration advantage for the Democratic Party, which holds 441,022 registered voters (43.24%) compared to 317,263 Republicans (31.1%) and 261,735 unaffiliated and minor party voters (25.66%). Note, though, that the unaffiliated total is bolstered by nearly 34,000 Virginia voters, none of whom declare party affiliation.
So if there were a state of Delmarva, there would be a very good chance it would rank as among the most "purple" states in the nation, with frequent swings in party control. (Because each state elects a governor in a different year, there's no way to compare these totals.*) Most of the counties would be Republican-controlled, but the largest county would have its say in state politics. Yet it would not dominate nearly as much as it does in the present-day state of Delaware as the additional population leans to the right. Moreover, practically any measure coming out of the legislature would have to be bipartisan just by the nature of the bodies.
But if a state of Delmarva ever came to pass, everyone's vote would definitely count.
* Based on the McAuliffe-Cuccinelli race in Virginia (2013), the Hogan-Brown race in Maryland (2014), and the Carney-Bonini race in Delaware (2016) it comes out:
total Democrats (McAuliffe/Brown/Carney) – 292,196 votes (50.41%)
total Republicans (Cuccinelli/Hogan/Bonini) – 273,928 votes (47.26%)
total Libertarians – 7,342 votes (1.27%)
total Green (DE only) – 5,951 votes (1.03%)
total others – 235 votes (0.04%)
Note that Carney provided 248,404 votes of the Democrats' total since he ran in a presidential year, while Hogan put up only 100,608 GOP votes to the total because he ran in an offyear election. (Virginia's aggregate was less than 15,000 votes.) That's why it's hard to compare, because Hogan actually prevailed by a larger percentage margin than Carney did.
There was a little bit of play in the news over the last few days about the refusal of Congressman Andy Harris to hold a live townhall meeting, instead opting to hold "tele-townhall" meetings where constituents in certain parts of the district can be on a conference call with their concerns. Naturally, the handful of liberals and Obamacare lovers (but I repeat myself) are calling Harris a chicken who's afraid to come before those he represents. (And they know about calling Harris chicken. This is an oldie but goodie.)
So I had a comment on social media about this.
The (Daily Times) letter writer is misrepresenting the idea of why Andy Harris is holding back on in-person townhall meetings. First, it's been stated in news reports that he wants to have a GOP replacement plan in place before he discusses the subject in an open forum, which makes sense in that respect – anything else is purely speculative. Obviously there is sentiment for keeping the ACA around, but there are also some who want the repeal without the replace.

And it's also worth pointing out that Harris, far from being "a paid tool of the pharmaceutical industry," received more in individual donations during the last election cycle than PAC donations. 62.5% of his contributions were individual, according to FEC records. Compare this to a Congressman like Steny Hoyer, who received only 28.2% of contributions from individuals, and ask yourself who's being bought and paid for by special interests.
Yes, the writer tossed that Big Pharma tidbit in, so I had to set things straight once again.
Speaking of setting things straight, there is a pro-Obamacare group who is putting together a series of what could be called "empty chair" townhall meetings through the First District. Since they already knew Andy's stance on having townhalls under the logical circumstance of not having a bill to discuss, what better way of sandbagging him than to have meetings and making him out to be afraid to face his constituents?
Yet I am quite confused about the one in Salisbury, which is scheduled for sometime this Friday. (One Facebook page says 3 p.m. but the other info says 6 p.m. Of course, they must know my calendar because I have a church event so I can't make it.) If it's at 6 p.m. there's a pretty good chance the media will cover it.
But since the true intent of these sponsors is not just to keep the Affordable Care Act around, but allow it to morph into their true dream of single-payer, cradle-to-early-grave government health care for the masses (imagine the VA and its issues on steroids) it may be a good idea for some of the folks who provided the opposition at last Saturday's pro-illegal immigration rally to show up at this event and ask our own questions about the not-so-Affordable Care Act. I'd like to have their excuses for why it's failed in its intention to insure all Americans, why the exchanges set up in state after state have gone bankrupt, and why the insurance that's been deemed acceptable has to cover so much when many in the market were pleased with their catastrophic-event plans? I'm sure you can think of others, not to mention that obvious lie about being able to keep your plan and doctor.
Anyway, we know the Left is still completely butthurt over Donald Trump becoming President – so much so that they are taking inspiration from the TEA Party.
I sort of stumbled across this site, which is a clearinghouse of town hall events held by members of Congress. It sounds innocent enough, and yes there is a public service aspect to it. But if you go to their "about" page, you find the real idea is distributing "a practical guide for resisting the Trump agenda." So I downloaded my own copy of the "Indivisible Guide" for reference, and right up front the writers admit the following:
The authors of this guide are former congressional staffers who witnessed the rise of the Tea Party. We saw these activists take on a popular president with a mandate for change and a supermajority in Congress. We saw them organize locally and convince their own MoCs to reject President Obama's agenda. Their ideas were wrong, cruel, and tinged with racism — and they won.

We believe that protecting our values, our neighbors, and ourselves will require mounting a similar resistance to the Trump agenda — but a resistance built on the values of inclusion, tolerance, and fairness. Trump is not popular. He does not have a mandate. He does not have large congressional majorities. If a small minority in the Tea Party could stop President Obama, then we the majority can stop a petty tyrant named Trump.

To this end, the following chapters offer a step-by-step guide for individuals, groups, and organizations looking to replicate the Tea Party's success in getting Congress to listen to a small, vocal, dedicated group of constituents. The guide is intended to be equally useful for stiffening Democratic spines and weakening pro-Trump Republican resolve.
Of course, an event like Friday's isn't quite the same as a Congressional townhall because the panelists aren't worried about re-election – and quite frankly, the vast majority of those who will be there wouldn't vote for Andy anyway. In this case, the idea is to sow just that little bit of doubt in the minds of those who are otherwise strictly given a dose of propaganda. Notice that the event is targeting to a community that is more dependent on Obamacare and government assistance than most.
In this day and age of trying to eradicate the Obama agenda against America, the left is fighting the rear-guard action they didn't think they would have to. The fun thing about the Indivisible page is their "action page" where "Actions are listed provided their hosts agree to resist Trump's agenda; focus on local, defensive congressional advocacy; and embrace progressive values." Front and center on this page are these area events, so the truth is out.
So let me ask a question: where's their complaints about our esteemed Senators? Where is their local townhall meeting?
Perhaps the "silent majority" that elected Donald Trump better start speaking up.
Earlier today I spent a little time at the "No Ban No Wall No Registry" rally in downtown Salisbury, which was countered by a (more or less) silent protest on the outside. I was only there about 45 minutes, since I had more pressing family business to attend to, but I think my stint there gave me the flavor of the event. So I have some pictures and quotes I jotted down from representative speakers.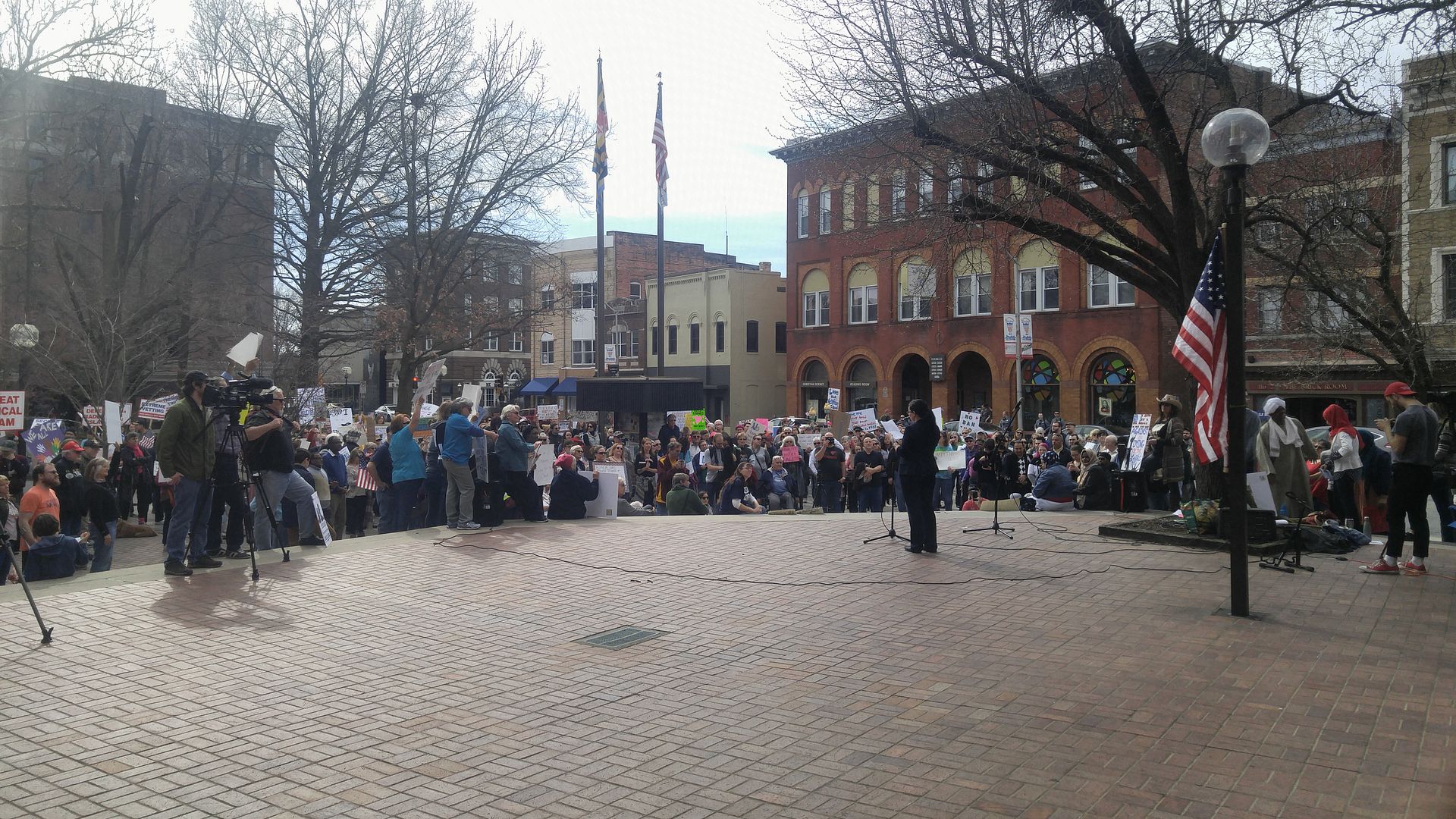 My obligatory crowd shot. I believe the event was supposed to begin at 1:00, so I took this about a half-hour into it.
On such an event as this my basis of comparison is the Tax Day TEA Party I attended at that very same location in 2009. Considering that prior event was held on a rainy, chilly weekday afternoon and this one was on an unseasonably warm February weekend (a holiday weekend to boot) the turnout seemed rather small – maybe 300 people. Also note that perhaps 75 of these people were there for the "Resist the Resistance" counter-rally, so my estimate is of about a 3:1 ratio of rallygoer to protestor.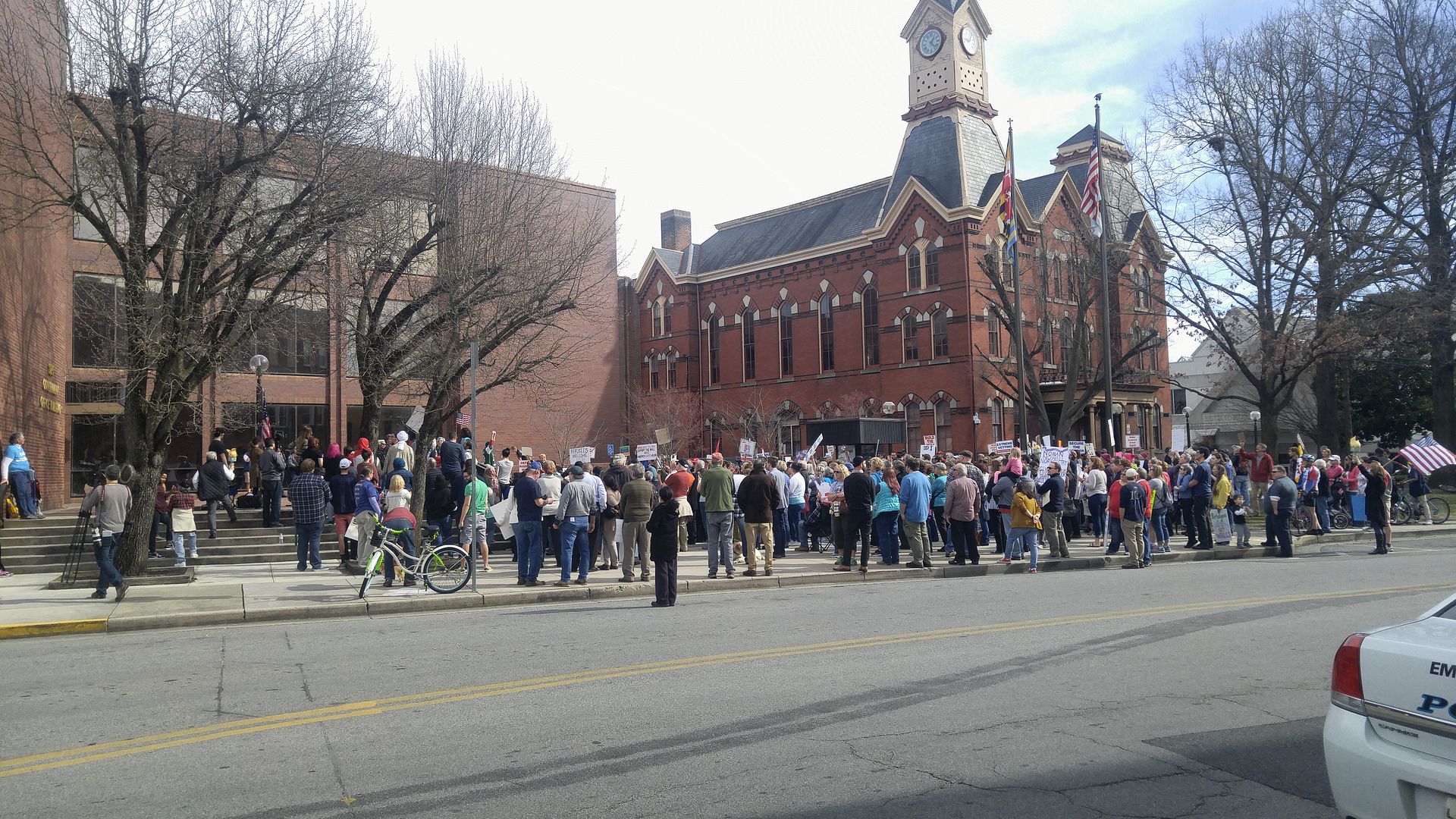 This second crowd shot above came about 20 minutes later, from across the street. Notice the police car parked there, as there were perhaps 4 or 5 pairs of Salisbury police officers surveying the group from different vantage points. Overall, the gathering was rather peaceful and the event organizer only chastised the counter-group once when I was there for being disrespectful. This is a sampling of the counterpoint; however, they were more scattered around the outside. The cheers and chants weren't coming from them.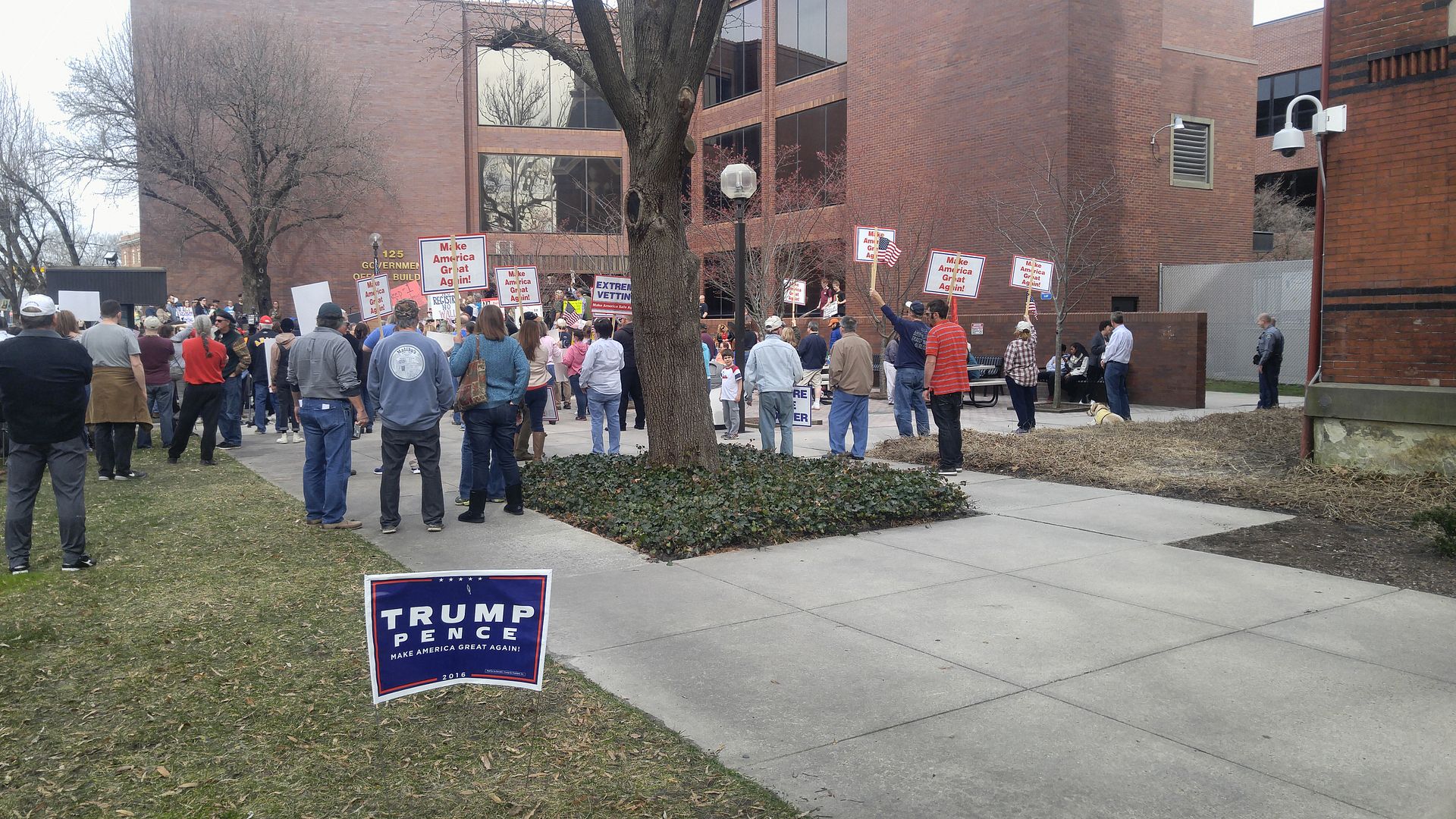 As with any protest worth its salt, there were signs expressing a variety of points of view.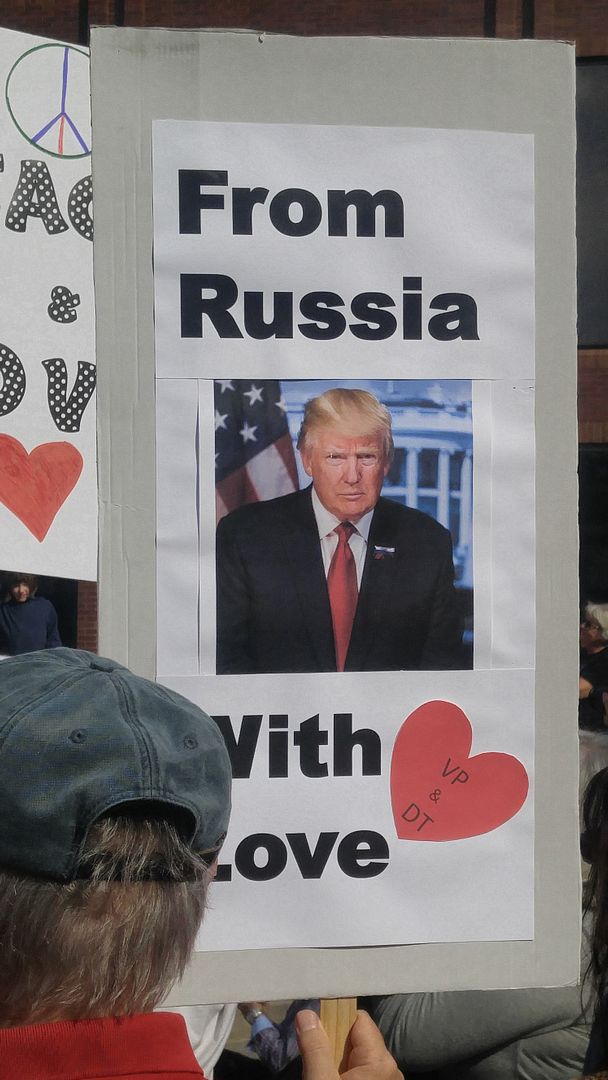 I'm surprised the bearer wasn't asking for the birth certificate. Oh wait, wrong president. But this wasn't necessarily supposed to be an anti-Trump rally.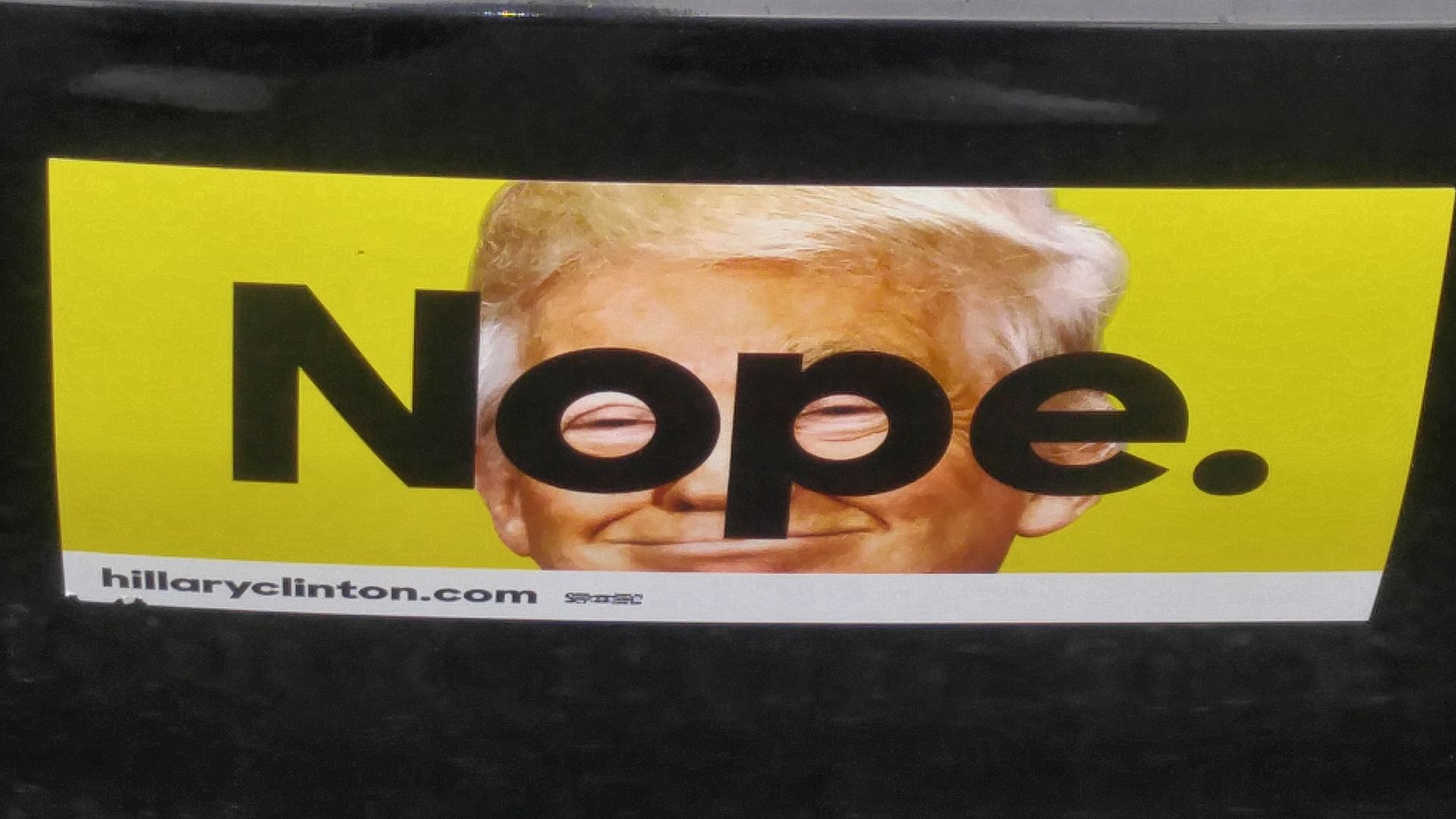 Well, then again… but to be fair, this was spotted on a car in the nearby parking lot. I would presume the person who slapped it on wasn't at the library, though.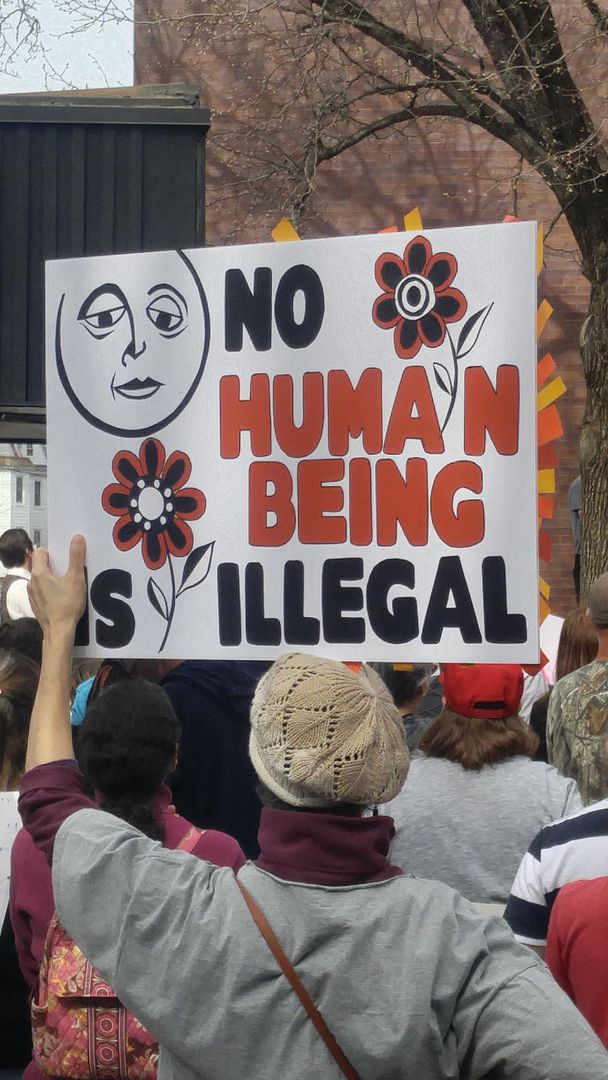 True, but many do illegal acts, and in the case of our subject matter crossing the border without permission, identity theft – which many "undocumented migrants" do in order to secure work authorization – and overstaying visas are criminal acts.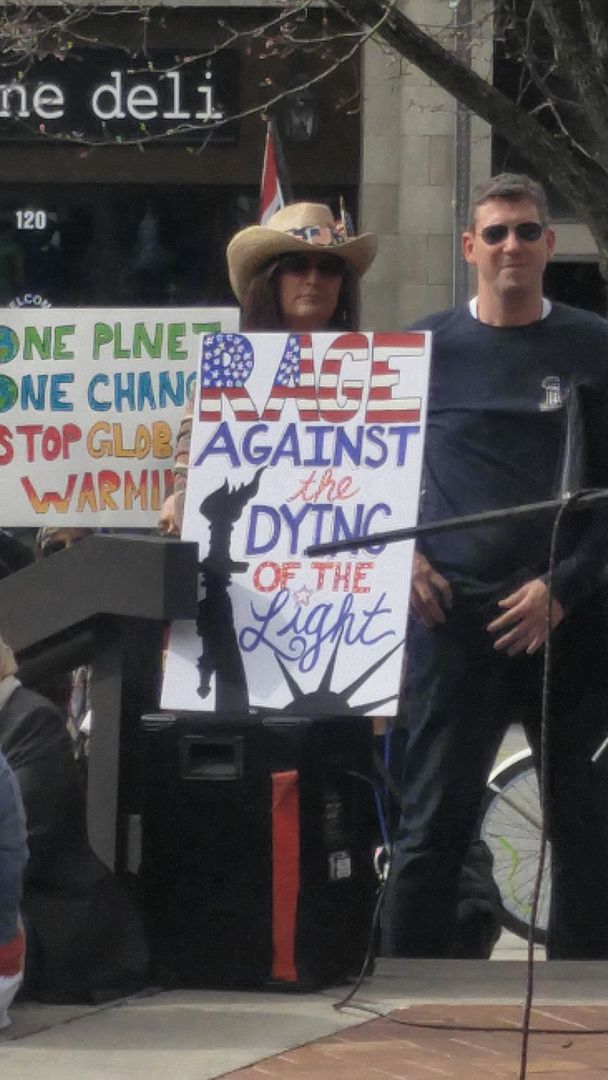 I agree with this one as well, particularly with regard to the below sign.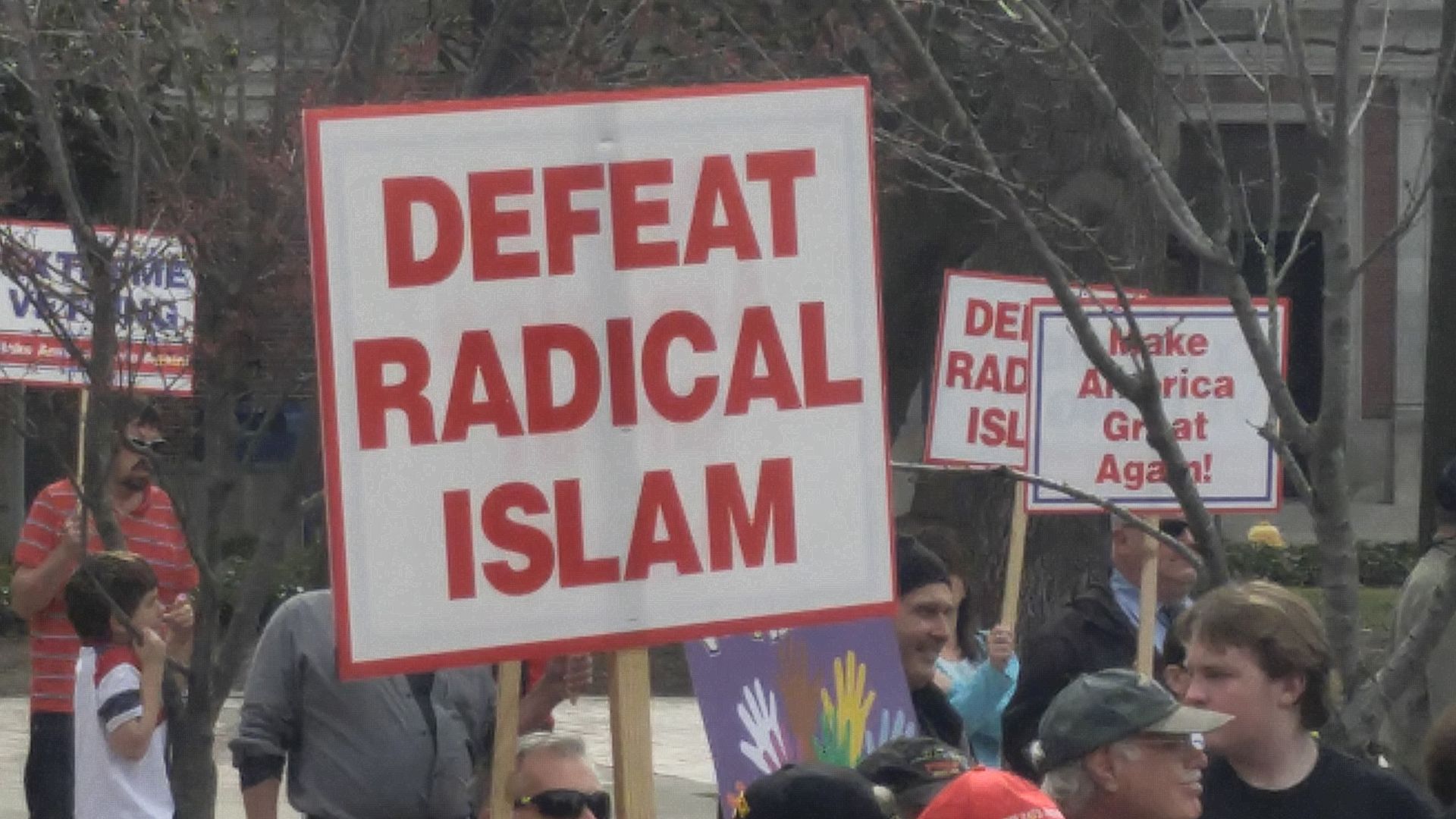 Radical Islam is more of a threat to that light than a temporary pause in accepting refugees and immigrants from particular nations. Shari'a law is not compatible with our Constitution. And looking at the other sign in the top photo, I didn't think global warming was a concern with this one. Today's global warming feels pretty darn good, actually. And, by the way, spellcheck is your friend.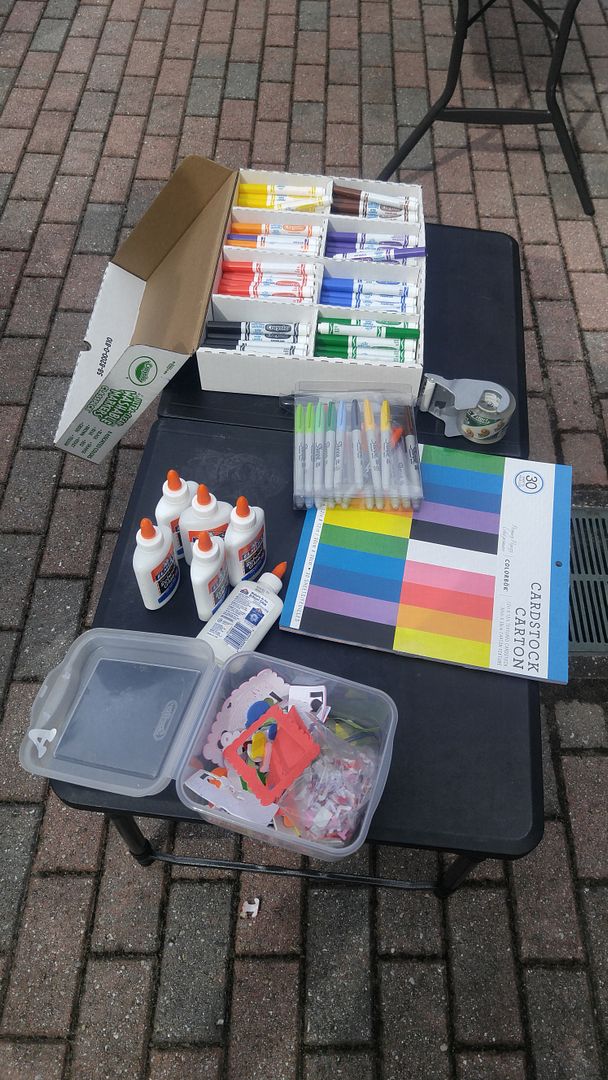 Rather than take a photo of the kids drawing on the posterboards (making more signs?) I took this shot. They're not old enough to know better, although I fear that what they are exposed to isn't going to lead them in a positive direction.
I did not write down the names of the speakers, so forgive me on that. More important than the names, though, was their sentiments. One high-school age girl who claimed she was brought up in a mixed home (Muslim and Catholic) was afraid she would be "hated and harmed by those misinformed" and that with continued scapegoating of various groups America will unmake itself.
I recall this girl talked about the internment of the Japanese in America during World War II, which was primarily because FDR considered them a threat as we were fighting their homeland. Yet no one is talking about rounding up Middle Eastern males and putting them in a camp – the idea is just to have more "extreme vetting" of a group which has been proven to have a propensity toward committing acts of terror both here and elsewhere.
Another woman (most of the speakers I saw were women, particularly college-age and below) exhorted the audience to educate themselves and not to believe various news sources, including blogs. Hey, I resent that remark – come tell me I'm lying. I certainly will cheerfully admit my bias toward limited, Constitutional government, and I believe Trump's action regarding immigrants is within his purview. (The Washington judge and Ninth Circuit got it wrong. The law – which dates from the 1950s – clearly states Trump can take this action, just as the last six presidents have.)
I'm not sure if it was the same speaker, but it was noted as well that the Likovich family (the organizer is local college student Molly Likovich) has received "a lot of hateful words." I don't condone that tone, either, but please remember hateful words aren't the exclusive province of the Right.
Something I noticed in further remarks was when a speaker was talking about having respect for all religions, including those who choose not to follow any religion, that last part got the loudest cheer. What someone does with their immortal soul is between them and God, but I found, sadly, I wasn't surprised by that sentiment there.
I also heard the opinion that we all have blanket stereotypes of people as human beings. But by the same token, this speaker said "Ignorance is not bliss, and knowledge is power." We had to admit to ourselves these stereotypes and try to change our behavior. The question I have, though, is change it to what? Should we just accept the false notion that all cultures are equal and just let things go? That's not possible in a civilized society. And while she asked us to "never stop fighting for humanity," the question becomes which behaviors and cultures are assets to humanity and which are detrimental.
But the last speaker I heard before I departed the scene took the cake.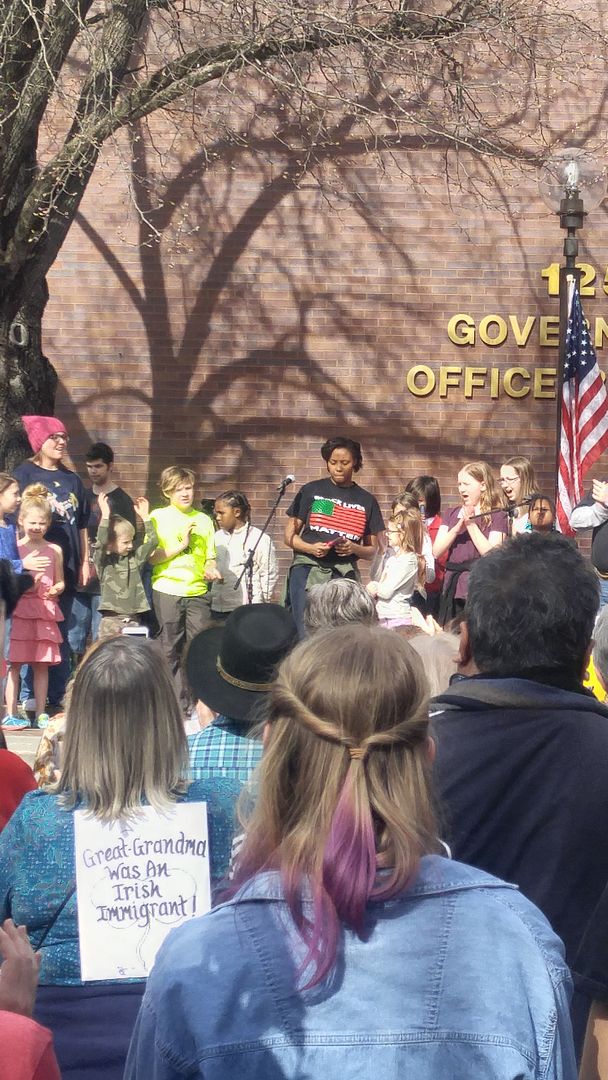 Thanks to my erstwhile fellow WCRC officer Jackie Wellfonder, I found out this speaker's name is Amber Green, and yes she is sporting a BLM shirt. Jackie had a video of Amber's whole speech up on her social media, so I listened again.
Amber was very riled up, which is fine, but when she told the older generation "it's time for you guys to sit down" and let the younger generation take over because "we have a lot to say," well, from what they had to say I don't think they have the maturity or common sense to take over yet.
To show how naïve these people are, remember that one of the speakers said humans have "blanket stereotypes" about each other. Young lady, that cuts both ways. Unfortunately, there is a group of relatively young humans out there who use the blanket stereotypes given to them by their religion as an excuse to murder and maim people, in the belief that dying themselves in the act is their surest way to 72 virgins in paradise. Again, I will admit that I heard only a portion of the remarks but I don't recall any of the speakers condemning that behavior. Instead, we had to be tolerant of their beliefs because they have the notion that there is moral equivalence between all cultures and religions. So if someone came to the event with a Confederate flag, would they be as forgiving because – remember – all cultures are equal?
I also recall one of the speakers revealing that Molly and several of the other event organizers participated in the Women's March last month. At least this rally didn't feature the pink hats, which did little but make those women look foolish.
Good thing there was a little levity about the place, not to mention the bottled water on the table above the sign.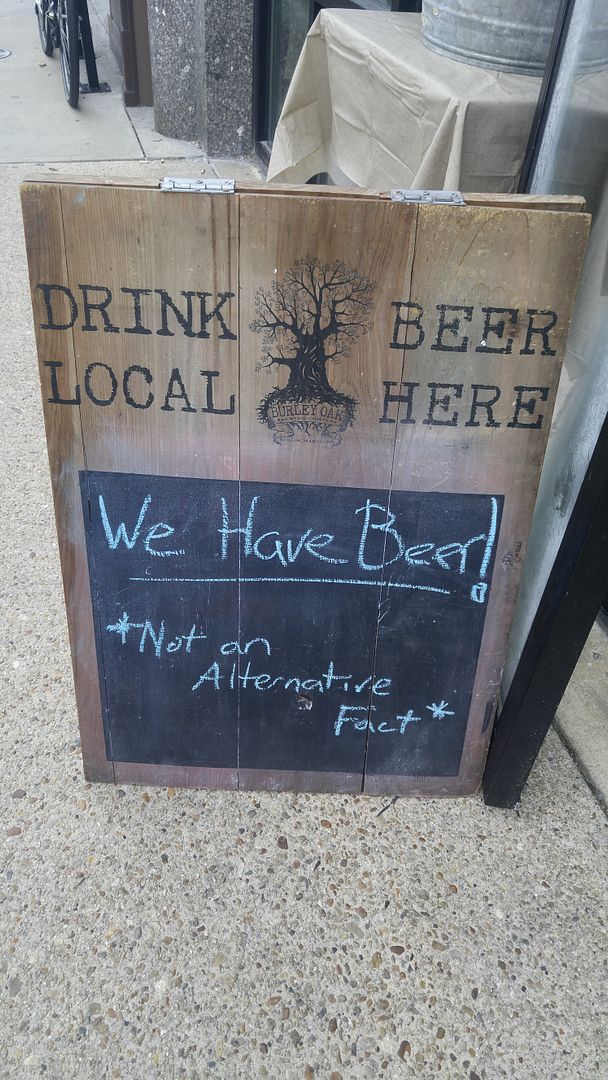 Maybe what we need is a beer summit, and apparently from what I read on social media several of the pro-Trump people went to this establishment to have a few adult beverages. Yet it's the organizers who need it so they will figure out a little bit of common sense. Lord knows they need something to get through the next four to eight years because they'll have to deal with Donald Trump and Mike Pence for that long. Despite Michael Moore's fantasy, Hillary Clinton is nowhere on the succession list.
But do you know what was most silly about this rally? These people have already forgotten something I observed during the 2016 campaign: the more extreme the rhetoric and vitriol toward Donald Trump, the more people embrace him. All this affair did was sow the seeds of division in our nation deeper, but that may have been the goal all along. And despite the glowing coverage in local media, it will just take one terror attack in the name of religion to obliterate the points made today.
Saturday could be an interesting day in Salisbury.
I'm sure you know I am writing a book on the TEA Party (more on that in a bit) so one restore point I like to return to in my political memory was the first Tax Day TEA Party we had out in front of the Government Office Building. On a rainy Wednesday afternoon there were probably 400 to 500 people in attendance. Three months later we celebrated Independence Day with a gathering of perhaps 200 to 300. (Sadly, I wrote great pieces on both events but the demise of my photo repository means the photos are dead links. Someday I will rectify that – but I have to find the photos on my old external hard drive, which I also have to find! *sigh*)
Anyway, Saturday could be the flip side of the TEA Party since there's a completely different protest planned, called the "No Ban No Wall No Registry" Salisbury rally. And unlike the TEA Party of yore, this one will have a counter-protest called the "Resist the Resistance" rally. I'm guessing that the opposition to Trump will have the larger numbers, if only because they've secured a little bit of publicity for their event and it's something that indeed unites certain segments of the community.
Yet I have to question their sincerity, since they haven't batted an eyelash when the last six presidents have put up a similar ban of some type against particular countries, not to mention the recent change in policy toward Cuban refugees. (However, I may give them the benefit of the doubt if they chastise Trump's predecessor for that change.) I also have to question their reasoning as to why we should not secure our borders, which is our right as a sovereign nation. Once upon a time we were more secure in the fact that two oceans and inhospitable terrain shielded us from the world, but no more. By the same token, is it not our right to know who is visiting the nation and for what purpose? If only they were against a registry for firearm owners, we may be on to something.
While I agree that Donald Trump is a lowering of the standard one should expect from the President, so was Hillary Clinton. (Thus, I voted for the Constitution Party nominee.) I can't promise anything because I also have a family commitment that day, but if I have the chance I may wander down there to see what's going on and maybe play reporter once again. Lord knows I haven't been much of a blogger lately because I've spent a lot of time working on The Rise and Fall of the TEA Party.
So it's on that front I'm going to make my final point of the night. I had envisioned the book being done by this fall, but recently I have had a different opportunity placed before me that I think is worth pursuing for some other personal and professional goals I have. At this time, it will take a significant portion of my already limited free time so in order to give this a fair shake I think a more realistic timetable for the book is now the first half of 2018. I'm going to put it on pause for a few months, with the hope that this opportunity may morph into something else that would give me the time back.
One other benefit: it can give me a chance to see how this resistance movement pans out and how it compares to the grassroots TEA Party. So there is that, and Saturday will be the first chapter of that story.
With the whole Trump transition, controversy over various nominees, and other distracting background noise, there are a lot of subjects which have been placed on the back burner – one of them is renewable energy.
I noted a few days back that two pipelines stalled under the previous administration were kicked back into gear once Trump came into office, but at the very end I alluded to two battles shaping up in the Maryland General Assembly. One was the overturning of Governor Hogan's proper veto of the "sunshine tax," which I discussed a lot on the Facebook page of the Maryland Climate Coalition (a motley crew of environmentalist wackos, leftist faith-based groups, and a union or two.) The other is their misguided attempt to ban fracking in the state (SB740/HB1325) which has 23 of the 47 Senators as co-sponsors and over 60 members of the House of Delegates.  (Think of the sponsor lists as a handy guide for voting for their opponents in 2018.)
A couple days later, I received an e-mail from someone at the National Council for Solar Growth (NCSG), which I gather is a non-profit because she wrote "We're in a dash to get as much exposure as possible in fear that our funding may soon be pulled. :(" According to their website, they are a 501 (c)(3) organization "with a mission to educate homeowners and businesses about the economic and environmental benefits of PV solar," and some of the benefactors listed are the Departments of Energy and Housing and Urban Development, along with the Global Solar Council and PACENow, which is a financing mechanism that adds an assessment to your property tax bill.
One thing that is worth reading on their website is a case study on return on investment, using a home in Massachusetts as an example. This family spent $55,000 on a 10 kW system, which is probably double the amount some homeowners would require. But once you knocked off rebates, tax credits, solar renewable energy credits, and net metering, supposedly the cost came down to just under $30,000. Realize, of course, most of this "savings" is a subsidy by state and federal governments. In Maryland's case, the "sunshine tax" that Hogan vetoed would increase the number of solar renewable energy credits utility companies have to purchase – basically they created an artificial market where none existed. In the case of this Massachusetts family, their upfront cost was defrayed by $3,725 and it would continue at that pace for another nine years.
All told, the family would put in about $30,000 but taxpayers and ratepayers would kick in $54,750 – $21,225 up front and $33,525 over the next nine years. The case study also said the family was receiving income of about $350 monthly from the utility company for net metering. It seems like a sweet gig, which is probably why I see Solar City trucks all over the place. But would they be as prevalent if the public money spigot were shut off? I think not, and remember our friend was fretting about NCSG losing their funding. The market may not be sustainable at this point, nor will it become so. Over time, the panels will begin to lose efficiency and may not end up saving them anything.
And then I started thinking about some of those who have been financing the Left over the years, particularly a "green energy" guy like Tom Steyer. Instead of working to mature the market and taking the risks inherent in building it while allowing people to choose whether they wish to participate or not, those financing Radical Green have instead been backing the idea of forcing people to adapt via government fiat. Don't want to buy a solar energy system for your house? Well, we will just make the utility companies pay for it and they'll just pass the cost onto you. Can't find enough private financing to build the market? We'll just lobby for our own carveouts and earmarks in the name of "saving the planet." Instead of assisting those interested, they impose their preferences on everyone.
I think a great example of this is the electric car. Once upon a time, way back when, there were rudimentary electric cars produced. But people found it was cheaper and easier to use the internal combustion engine, and the American love affair with the automobile began. As opposed to mass transit, for one thing the automobile equates to freedom of movement: you are not at the mercy of waiting for the next train or bus nor are you restricted to going only to places they serve.
So I suppose it's a concession from the Left that they decided electric cars are worth an "investment." The problem is that they aren't necessarily suited for freedom of movement in the respect that they have a limited range – it's almost like you have a leash on yourself unless you know of places you can charge up, and that's not even really an option because, as opposed to five or ten minutes at the local Wawa filling up, you would need at least a half-hour to charge enough for 90 miles. But the government is still trying to bring that market up to speed, to turn a phrase.
Consider the Chevy Bolt, which GM bills as an all-electric vehicle with a range per charge of 238 miles. It's built on the same platform as their sub-compact Spark, but instead of setting you back about $17,000 as a Spark would a Bolt retails for $37,495. (Some of that is returned in a federal tax credit of $7,500 – again, no one is giving tax credits on the regular Spark. My older daughter and son-in-law would love that, since they both own a Spark.) But to do things right, you would need to install a home charging station, which costs about $1,000 – of which 30% is rebated in another federal tax credit. It requires at least 40 amp, 240 volt service so a rule of thumb is that you will use about 30 kWh to go 100 miles. Driving 1,500 miles a month (not uncommon around here) and that means additional electrical consumption of 450 kWh, which is about 50% of a typical home's usage for a month. So much for net metering.
So let's recap: you're using far more electricity, limiting your range of motion, and costing taxpayers about $8,000 for dubious gain. (And I haven't even discussed how they get the materials for the battery – hint: it's not very eco-friendly.)
In essence, what has been going on for the last thirty years is that we have transferred billions of dollars from hard-working taxpayers to those who profit from a belief that mankind can save their planet from the scourge of climate change, which is laughable on its face. As I have said for years, I have no real issue with energy efficiency but that should be sought on a market standpoint, not because we are forced into it or made to pay for it. There are certain things which create abundant energy quite cheaply and reliably: coal, oil, and natural gas. At one time – before my time – we were told (falsely, as it turned out) that nuclear power would be so cheap they wouldn't have to meter it.
With a government that's spending $4 trillion a year, isn't it time to let these giveaways to Radical Green go away? And before you argue about Big Oil and its "subsidies," read this. America's economic engine needs reliable and inexpensive energy to run at peak efficiency, and on this cloudy day with relatively calm winds I'm not seeing much from those other sources.
For whatever reason, these days I get a lot more e-mail from the Democratic Party than I do the Republicans. (Perhaps the GOP stuff ends up in my junk mail somehow?) A lot of the time the Democrats' stuff is comedy gold, although they are getting more than enough mileage out of vilifying the already easy to vilify Donald Trump.
Now I'm going to do something I try not to do here, and that is accept their word as gospel for the sake of argument. Lord only knows what kind of Astroturf George Soros, Peter Lewis, and other big-money far-left donors can gin up for rent-a-mobs, but as I said this can suffice as their case. This is an excerpt from an e-mail I got today.
Republicans are frantically trying to dodge their constituents who want answers about what's going to happen to their health care.

Virginia Congressman Dave Brat recently complained that "since Obamacare and these issues have come up, the women are in my grill no matter where I go." Another Virginia Republican, Congresswoman Barbara Comstock, skipped out on "office hours" with her constituents after dozens showed up to ask about her Obamacare replacement plan.

When Arkansans showed up at Senator Tom Cotton's office to ask about their health care, staffers locked the door and turned them away. Sixteen constituents showed up at Congressman Peter Roskam's office in West Chicago to voice their concerns about repealing the Affordable Care Act and were told their meeting had been abruptly canceled. Congressman Mike Coffman from Colorado was caught on camera sneaking out of a constituent event through a side door to avoid his constituents' questions about health care.

After more than 200 people submitted questions for a Facebook town hall with Sen. Thom Tillis, the senator logged off 11 minutes into the 30-minute event.

The Affordable Care Act is more popular than ever. Millions of Americans are reaping the benefits of access to affordable care — and 30 million stand to lose their health care if the law is repealed.
Again, this all may be "fake news" but here's something that's not fake: those who don't want Obamacare repealed are probably the few profiting off of it at the expense of the many, which constitutes a great deal of working America. Since the RCP average has tracked the question in 2009, there has never been a majority in favor of Obamacare. To say it's "more popular than ever" is true to the extent that it's less of a dog than it has been.
And the other "fake news" is that oft-repeated claim that Americans will lose their health care if the Affordable Care Act is repealed, and that's not so. It's federal law that emergency care has to be provided regardless of ability to pay. Nor is this considering how many people have decided to take their chances with the tax penalty since it would be less expensive than health insurance.
So this is a message to Republicans who are getting cold feet about repealing Obamacare: find yourself a fire and warm them up – let's do this thing. The Democrats are so full of crap their eyes are brown: America wants Obamacare to be gone!
Yet there is the question of cost, because medical expenses are, well, expensive. I have a theory on that, though, and it relates to a similar phenomenon in another aspect of life.
Look at the cost of college tuition as an example. To some, the cachet of a degree at a prestigious university is irresistible, and they will pay whatever it takes to get it. Some people who are more academically suited to a state university still demand to go to an Ivy League school, and those schools know this. They also know that a) these students will likely go many thousands in dollars in debt, and b) they get paid up front by the federal government. Whether the student pays back his or her loans or not is immaterial to them because they got their money, and because of that these schools are padding their tuition and fees because they can. Maybe it's to increase their endowments, but oftentimes it's to provide non-educational amenities.
Let me share a story with you. I went to college from 1982-86 at Miami University in Oxford, Ohio. It was selected because it had the program I sought to major in and was in-state so my tuition was lower – although higher than most others, as it had the reputation of being the best state school in Ohio academically. (So there was a little bit of cachet factor, too.) Very nice campus, relatively solid education. I would have been happy to see my older daughter go there, but she had other plans.
My wife at the time was a non-traditional student who had gone to another school before having the older daughter in question (I'm her stepdad.) So, after we married, she enrolled at the University of Toledo, which is more of a commuter school. Yet one thing they had was a state-of-the-art recreation center, paid for by the state since UT is a state school, too. I got to enjoy the facilities on occasion since my ex was a student, and they were nice. Soon enough, all of the other state schools were getting in line to have similar facilities put up and sometime in the 1990s, well after I graduated, Miami got theirs. While it may have been beneficial for the small percentage of those who majored in physical education, the real reason these were put up was so each of these state universities would have something to attract students. More students = more tuition and fees = job security for the thousands of university employees. And as I said: they got their money up front, never mind the students were saddled with debt for a decade or more. (As I recall, I didn't finally pay my student loans off until 2001 or so.)
Now look at the medical field. Obamacare placed it in a similar position to that of state universities because it was flush with federal cash – as originally envisioned, people would either have their medical care paid for directly by the federal government (Medicaid) or they would give insurance companies a captive audience with relatively few choices via the exchanges. Insurance companies, in turn, were supposed to have "risk corridors" and other accounting tricks and bailouts to make them whole – the only people who would be left holding the bag would be the ones who actually paid for the insurance, and many of them on the individual market received subsidies from Uncle Sam, too as well. No wonder it cost a trillion dollars a year.
The weakness of the Obamacare system is that there's no real incentive to cut costs. Yet there are two groups of beneficiaries who stand to lose the most if the ACA is repealed: those who are getting the subsidies or "free" insurance from the government and those providers who have been able to just keep raising prices because there's a massive pot of money they want to get their paws into. Therein lies the rub: Obamacare is now in a place where it cannot be just cut cold turkey – there has to be a year or two transition period, and of course that gets into election time.
It's worth reminding readers that Obamacare has its roots in what some dubbed Romneycare: the insurance mandate Massachusetts put into place several years before. To be quite honest, that is where the solution lies. Perhaps it would be appropriate to block-grant funding to states for a interim period of up to three years and allow them to tailor their own programs and set up funding mechanisms. States can choose to have all the bells and whistles or they can choose to invest their resources elsewhere, and that's the way it should be. I think this would take care of most (but not all) of those who are getting the largest benefits. The others can vote with their feet if they so choose: government is not supposed to be all things to all people.
On the cost side, I think any and all federal insurance coverage mandates should be scrapped, allowing states to set their own systems and priorities. Now it can be argued that having 50 different systems would be difficult for a health insurance provider to navigate, but auto insurers already do this. There are advocacy groups out there that suggest how states can streamline the process by being similar to other states, so I suspect most states will have health insurance requirements that are fairly similar. Maryland may have the extreme in required coverage on one end while Texas may be the flip side. Because of this, I'm not sure selling insurance across state lines is necessarily doable in the respect that I can't buy a Texas policy living in Maryland. But states should be encouraged to allow insurance products that reflect everything from the catastrophic coverage health insurance was originally to the Cadillac plans that pay for everything, even your hangnail or gender reassignment surgery.
So, the replacement for Obamacare is a more free market and freedom of choice to participate. Sorry, Democrats, but Obamacare has to go to help make America a healthy nation again. If Andy Harris has a townhall, hopefully he will stand his ground and make the case for repeal.
By Cathy Keim 
The topic of immigration is huge because we have so many areas to cover. Just for starters, there is legal immigration, asylum seekers and refugees, temporary visa holders for work or education, and illegal immigration. Then we could go deeper into family reunification policies, green cards, health issues, and security issues. Despite reading on the topic for years, I am not an expert, but I have formed some opinions and probably you the reader have too.
First and foremost, it is okay to discuss this issue despite the elites, the media, the politicians, and the academics trying to make it taboo. If you raise any concern, no matter how small, about immigration you are instantly labeled xenophobic, Islamophobic, and all the other usual epithets like racist, bigot, and hater.
It is the government's job to protect its citizens. One of the ways to protect the citizens is to control who comes in and out of the country. For the open borders types, I would ask them if they lock their doors on their houses? I can remember when most of us didn't bother to lock our doors, but that was a long time ago when I was a child. Today, most people lock the doors to their home whether they are home or away because they want to control access to their possessions and more importantly to themselves.
In most of our nation, a simple lock is sufficient, although security systems are popular if you go by the signs posted discreetly in front yards. In the Middle East, South America, and Mexico homes of the upper class are more like forts with walls, iron bars on the windows and even armed guards for protection. May we never reach the point where each of us must build a fortress to feel safe.
However, that day may come if our government continues to fail in its duty to secure our borders and control who comes into our country. So now is the time to have the discussion about immigration and to speak our minds freely without regard to the "pure of heart" liberals that try to impose their "religion" of tolerance upon us.
Christianity is hated by the liberals and yet they whip it out of the bag to beat us over the head with how we should be kind and loving to the refugees. They are hypocritically calling upon us to obey their interpretation of Christianity which just happens to mean open the gates and let everybody in.
Christians are called to "do unto others as you would have them do unto you", but that is an admonition to individuals, not for government policy making. The liberals purposely blur the lines between the government's duty to protect its citizens and the Christian obligation to be kind.
The Bible is clear that it is the duty of the Christian to take care of their own family, then to reach out to others. One way of taking care your family is to be sure that they are fed, housed, and safe. Even the liberals would call in child protective services if you left your child (or dog) in an unsafe environment, yet they want to turn the entire country into an unsafe environment by bringing in refugees that cannot be vetted due to the turmoil in their home countries.
There are an estimated 60 million refugees around the world. Exactly how many of those refugees do the open borders people want to bring to America? What are the principles that they use to select who should come? Why do they tell themselves that they are "pure of heart" for wanting to save the refugees, when they do it with money that is confiscated from taxpayers by force?
We the taxpayers are xenophobic, etc. etc. ad nauseum, if we do not cheerfully pay our taxes and watch them be used to bring in people that do not want to assimilate and live by our laws and customs. Why are the feminists that were so nasty at the Women's March not protesting against Sharia law which says that women are not equal to men, that honor killings are fine, and the female genital mutilation is great? Why, as a Christian, should I stand aside so that these great evils can be brought into our culture on equal footing with our Judeo-Christian Western values?
All cultures are not equal. All religions are not equal. This must be acknowledged before we can have a reasonable discussion of how our nation should proceed. I absolutely want my elected representatives to have the backbone to state clearly that America is founded on Judeo-Christian principles and we want to continue to function under them. That implies that we should not import people en masse who do not believe in our country's laws and customs and have no intention of assimilating.
Because we are a good and kind nation, we can most certainly send aid to war torn countries including doctors, nurses, teachers, and missionaries that volunteer to go. We have done exactly that throughout our history. At present, we are being hectored by the nine non-governmental agencies that bring in refugees to continue and even increase the number. If you will look at Ann Corcoran's Refugee Resettlement Watch blog, you will see that Ann has documented over and over again that these NGO's are almost completely funded by the American taxpayer and therefore, they cannot share the gospel of Jesus Christ with any of the refugees they help.
One of the arguments being foisted upon Christians by the left is that because we are bringing Muslims to America in great numbers, we can more easily preach the gospel to them, except that the supposed Christian organizations bringing them cannot speak the name of Christ due to the government funding. Besides, where does it say in the Bible that preaching the gospel should be convenient?
John Quincy Adams, our sixth president, spoke about Islam almost two hundred years ago. If we were more aware of history we would realize that this assault by jihadists upon Western culture is nothing new.  His observations are still worth heeding.
The precept of the Koran is, perpetual war against all who deny, that Mahomet is the prophet of God. The vanquished may purchase their lives, by the payment of tribute; the victorious may be appeased by a false and delusive promise of peace; and the faithful follower of the prophet, may submit to the imperious necessities of defeat: but the command to propagate the Moslem creed by the sword is always obligatory, when it can be made effective. The commands of the prophet may be performed alike, by fraud, or by force.
I will acknowledge that many Muslims do not want to be constantly warring with their neighbors, but that doesn't change the truth that this is baked into their belief system.
I will close with an illustration from an incident I read about in Tampa, Florida years ago. You may remember Sami Al Arian, who was finally deported to Turkey for helping fund terrorists. Before he became a well known name for his terrorist activities, he came to Florida to teach at the University of South Florida. He and his fellow jihadists went to a nice little neighborhood mosque and beat up the faithful and took over the mosque. The Muslims who had started the mosque were forcibly removed from leadership and the mosque became the al Qassam Mosque as it is still named. Al Qassam was a Palestinian terrorist, an apt name for a mosque that was taken by terror from its rightful owners.
This article in the St. Petersburg Times states:
In May 1987, more than a dozen people stormed a Ramadan service at the mosque that would later become a spiritual and political base for Sami Al-Arian, accused of being the North American leader of the Palestinian Islamic Jihad.

The dissidents tried to drive out the worshipers, according to a Hillsborough County sheriff's report. A woman identified as Hala Al-Najjar swung a large purse, knocking over a pregnant woman who later miscarried.

At the time, this newspaper called it a "scuffle between two Moslem sects." In hindsight, the "scuffle" was one in a dramatic series of struggles at mosques throughout the country between fundamentalist and moderate Muslims.

(snip)

It is unclear whether Al-Arian would call himself a Wahhabist, but in taking over the Tampa mosque, his disciples appeared to follow the Wahhabi script. They drove out moderates, handed title of the mosque to the Islamic trust, and received secret funding linked to Saudi Arabia, documents show.
My point in relating this incident from almost 30 years ago is that when push comes to shove, it is the violent sect of Islam that rules. The bully rules the schoolyard. Thus by importing Muslims en masse into our country, no matter how peaceful the first ones are, we are opening our doors to increasing strife.
In fact, Nonie Darwish, the director of Former Muslims United, says:
Muslims need to know that the world does indeed have a justifiable and legitimate concern about Islam and actions done in the name of Islam by Muslims. Muslims need to look at themselves in the mirror and see the world from the point of view of their victims. Instead, the West is sacrificing its culture, values, laws, pride and even self-respect. Muslim culture needs a wake-up call telling them that, sooner or later, non-Muslim nations will close their doors to any kind of Muslim immigration if the jihad culture continues. That will also be a strong message to Muslims already in the West who still believe in jihad.
Unfortunately, Islam does not lend itself to a reformation.  To the jihadists, Islam still exists as John Quincy Adams described it:
In the seventh century of the Christian era, a wandering Arab of the lineage of Hagar, the Egyptian, combining the powers of transcendent genius, with the preternatural energy of a fanatic, and the fraudulent spirit of an impostor, proclaimed himself as a messenger from Heaven, and spread desolation and delusion over an extensive portion of the earth. Adopting from the sublime conception of the Mosaic law, the doctrine of one omnipotent God; he connected indissolubly with it, the audacious falsehood, that he was himself his prophet and apostle. Adopting from the new Revelation of Jesus, the faith and hope of immortal life, and of future retribution, he humbled it to the dust, by adapting all the rewards and sanctions of his religion to the gratification of the sexual passion. He poisoned the sources of human felicity at the fountain, by degrading the condition of the female sex, and the allowance of polygamy; and he declared undistinguishing and exterminating war, as a part of his religion, against all the rest of mankind. THE ESSENCE OF HIS DOCTRINE WAS VIOLENCE AND LUST: TO EXALT THE BRUTAL OVER THE SPIRITUAL PART OF HUMAN NATURE. (capitals in the original.)
The immigration debate needs to be held publicly and it looks like the Trump administration is going to do so. Each citizen needs to be informed and contact their leadership from the president down to local officials as to what they think the correct policy should be.
I was sitting on some stuff from my old friends at API for awhile, but I decided it was getting a little too stale and broomed it. Luckily for both of us, events and more concise blogging make for a far better analysis, to wit from the Energy Tomorrow blog and Mark Green:
President Trump's executive orders clearing the way to restart the Keystone XL and Dakota Access pipelines are welcome indeed. Both projects represent great opportunity for U.S. jobs, consumer benefits, economic growth and strengthened energy security.

At the same time, the significance of the White House's action goes beyond a pair of important energy projects. It's a signal that long-needed energy infrastructure will once again be able to advance in this country – under regular-order reviews and approval processes – providing broad benefits to millions of Americans. That's huge.

Both projects had become political footballs, with political agendas trumping science, factual analysis and careful, lawful governmental review.

Keystone XL was reviewed five times by the U.S. State Department, which said the pipeline and the Canadian oil sands it would deliver to U.S. refiners would not significantly impact the environment. It enjoyed strong, bipartisan support from the American public, which saw the privately financed project as a job creator and economy grower. The builders of Dakota Access followed regular permitting and approval processes – only to see politics prevail over the rule of law – with the 1,172-mile pipeline just 1,100 feet from completion.

President Trump's executive orders allow both projects to get on track again. API President and CEO Jack Gerard:

"We are pleased to see the new direction being taken by this administration to recognize the importance of our nation's energy infrastructure by restoring the rule of law in the permitting process that's critical to pipelines and other infrastructure projects. Critical energy infrastructure projects like the Keystone XL and the Dakota Access Pipelines will help deliver energy to American consumers and businesses safely and efficiently."
I find it amazing just how little of the DAPL was controversial: it would be like driving from here to Key West to stay free at a Gulf-front cottage for a week only to find the last bridge is out and no repairs are scheduled for the month.
While I'm sure the folks in the media work hard to keep a sharp eye out for pipeline mishaps in this day and age, the fact that there's a "dog bites man" quality to these stories means that they're a pretty safe way to get oil and natural gas from one place to another. To hear Radical Green tell it, we should have totally contaminated Gaia ten times over by now, so the fact that we haven't means either we do a good job of keeping environmental damage to a minimum (which, in the long run, pays dividends for these energy companies) or Mother Nature does a pretty good job of healing itself. (Consider the Deepwater Horizon from the more immediate perspective to that of more recent vintage, when those studying had to speculate on mental health of residents because the seafood coming from the Gulf was deemed safe.)
There won't be a whole lot of jobs from DAPL now (since there's less than 1/4 mile remaining to be built) but there will be jobs with Keystone. More importantly, this commentary from API reflects their optimism that the Trump administration will be more amenable to their interests, something that was missing over the last eight years despite the industry's relative prosperity.
Closer to home, here's hoping that streak continues: there's been a full-court press on the Radical Green side to keep Democrats in line regarding Governor Hogan's veto of the "sunshine tax" but also, more behind the scenes, there's a call for a permanent fracking ban in Maryland. For that I have two words: big mistake. Our options should remain open, particularly since the regulations are being finalized.
America has abundant energy in many places, so if you have it you may as well use it for our good. No need to keep it in the ground – that's the place for the pipelines to go. Let's get to work.
By Cathy Keim
Before I formed thee in the belly I knew thee; and before thou camest forth out of the womb I sanctified thee, and I ordained thee a prophet unto the nations. Jeremiah 1:5 (KJV)
The 44th March for Life was held this past Friday. I was able to go on the bus from St. Francis de Sales Parish here is Salisbury, as they graciously opened their extra seats to several of us fellow pro-lifers that were headed to the biggest pro-life gathering in the world. Many of the hardy souls on board the bus had been to the March for Life for years.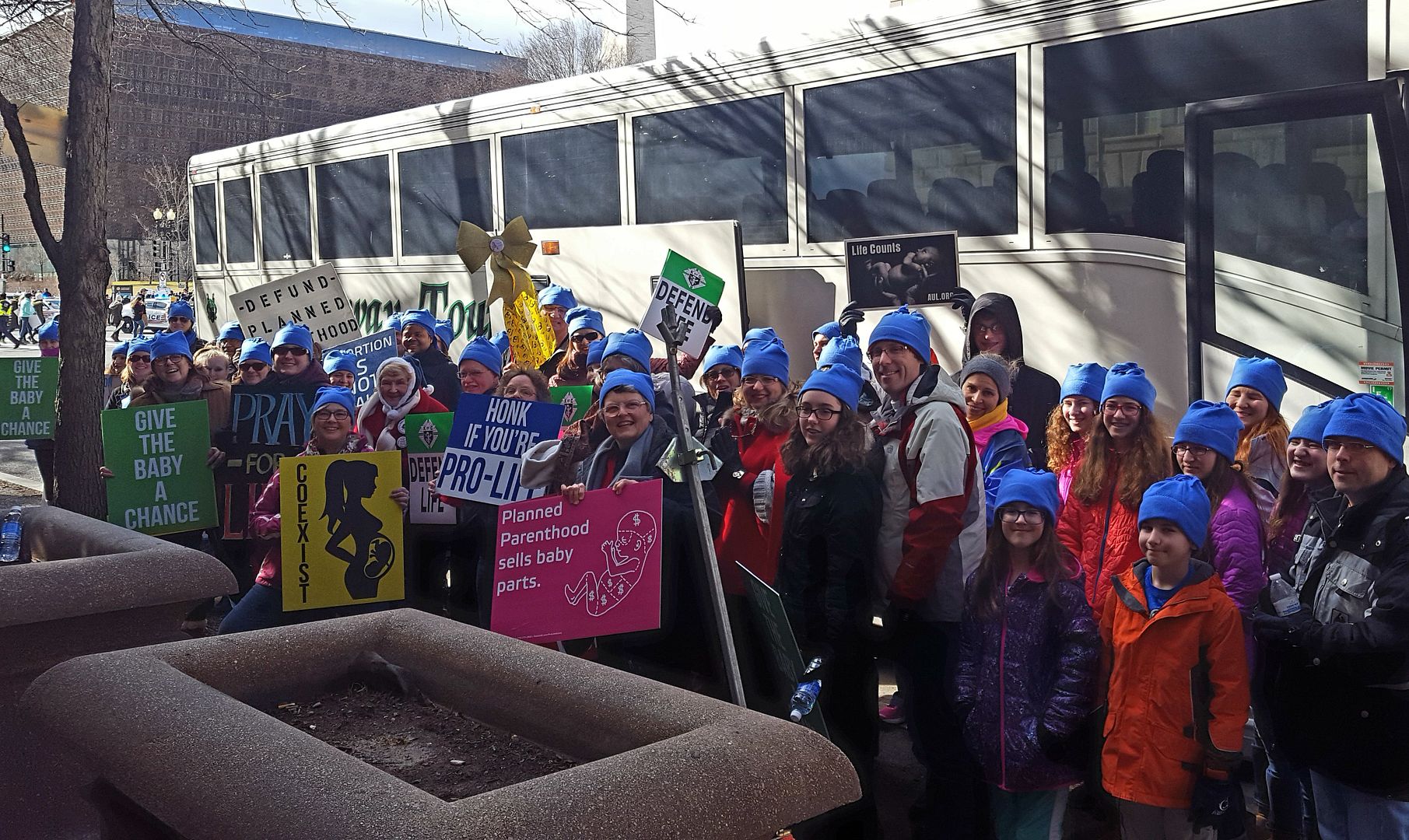 The mood was upbeat as we rolled towards D.C. Not only was the weather mild for January, but there was excitement that change was possible. After eight years of the most relentlessly pro-abortion president in our history, there was now a new administration that was showing itself to be aligned with the pro-life movement.
The ladies that organized the bus had the whole operation down to a science after years of practice. We were all issued matching hats that the Loving Life Committee had made so that we could keep together. There was a big bow on a fishing pole to keep an eye on when the masses started moving. Best of all, there were fabulous home baked cookies for the trip home when we were cold and tired. I don't think that I could have made the trip with a nicer bunch of people. As the photo above shows, we represented both young and old.
The bus dropped us off near the Washington Monument and we tried to get through the security perimeter. This was a new addition to the event and it was not able to process the mass of people quickly enough to get us in there for the opening speeches. However, we could see them on the big screens and hear them over the loudspeakers.
Kellyanne Conway and Vice President Mike Pence were there to bring greetings from President Trump and to assure the crowd that President Trump was behind the pro-life movement. Once they had finished and departed, the security scanners were abandoned and we could enter.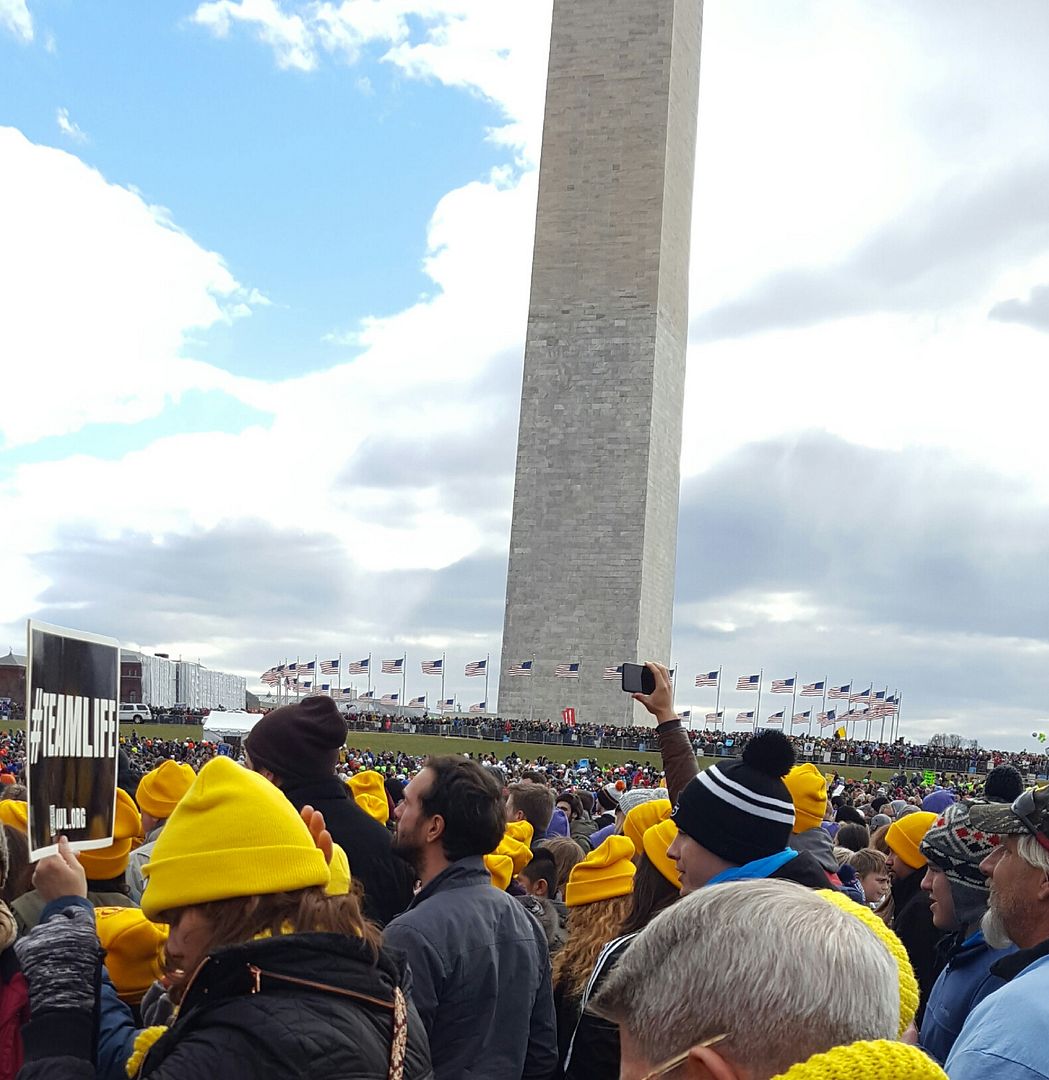 There was a large group of politicians on stage, but due to the time given to Vice-President Pence, they were not even introduced by name. Representatives Chris Smith (R-NJ) and Mia Love (R-UT) and Senator Joni Ernst (R-IA) spoke for the group and pledged that they would defund Planned Parenthood.
Archbishop of New York Cardinal Timothy Dolan, Baltimore Ravens tight end Benjamin Watson, former Planned Parenthood Director and founder of "And Then There Were None" Abby Johnson, Mexican Telenovela star Karyme Lozano, author and radio host Eric Metaxas, [and] Bishop Vincent Matthews of the Church of God in Christ, who advocates for adoption in the African-American community.
Without the loudspeakers and the big screen, I would have seen and heard nothing since the crowd was so large. The organizers did an excellent job of planning and keeping the event on schedule, especially with the huge surprise of Pence appearing.
Next was the actual march to the Supreme Court. The crowd was so massive that I could not really get a feel for the crowd until we hit the upslope at Capitol Hill. I took a picture in front of me and one behind me and this is what I saw.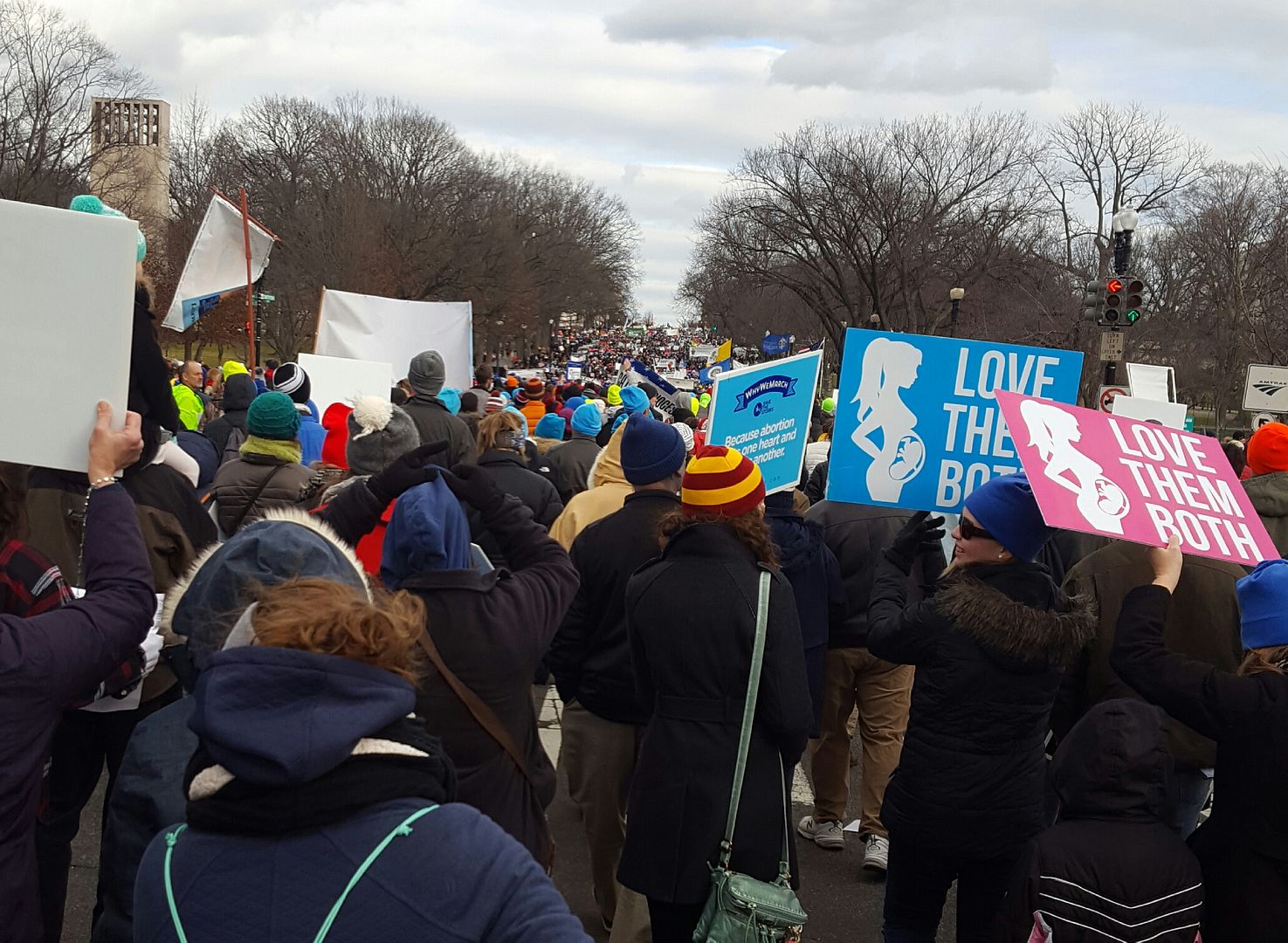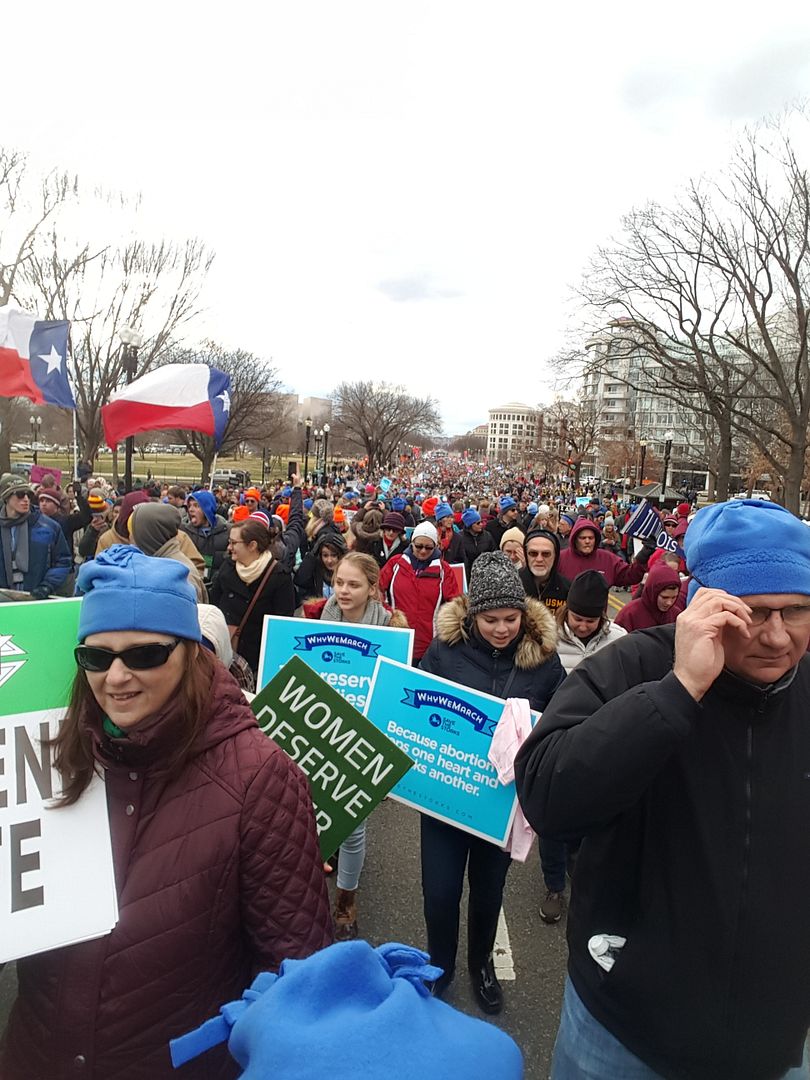 The crowd was good natured and happy to be moving after standing in the cold. There were many young people present, which brought a vibrancy that was often missing at Tea Party events. We finished the march at the Supreme Court, then everybody disbanded to head for home.
My thoughts as we stood in front of the Supreme Court were about how wicked the men were that made the decision to declare open season on all the babies in America with their faulty ruling in Roe v. Wade. About 57 million babies are estimated to have been murdered in the womb since 1973 and millions more will continue to be murdered unless the politicians get the courage to stand up and end this atrocity.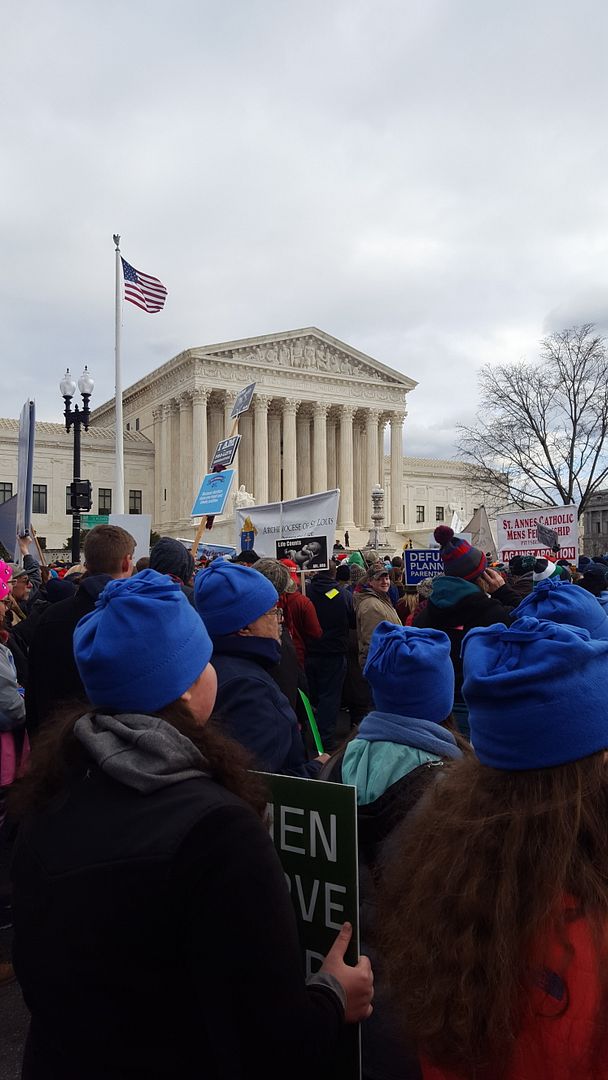 In the third debate between Hillary and Trump, the topic of abortion came up. Hillary spoke glibly about women and their rights. The words rolled off her tongue as she had clearly rehearsed the answer to achieve this polished response, complete with a heartfelt plea for the mothers.
A quick point of my own is that if a mother is truly concerned about her health being compromised by the pregnancy, she is just as able to have a C-section as she would be to have an abortion. The pregnancy is terminated either way, but the obvious difference is that the baby lives on rather than dying. That is the whole point of the abortion discussion. It is not the health of the mother; it is that the desired result is the death of the baby, wiped away as just another inconvenience by the pregnant woman.
Next Trump took on the issue and compared to Hillary's polished wording, he sounded clumsy. At the time, I was struck by the difference between the deceptive smoothness of Hillary's words and the blunt, jarring words blurted out by Trump. Watch for yourself.
I knew that many people would mock his defense of life including many on the pro-life side, because they were not convinced that he meant it. I have also heard pro-lifers rail against leaders that have gotten caught in the media storm of a poorly-worded answer about abortion. The pro-lifers are so concerned that their cause will be set back by an unguarded answer, that they will turn on any poor soul that makes a misstep and is dragged under by the media storm. Does the name Todd Akin ring a bell?
The fear of the media has caused many a pro-life politician to tone down their beliefs and to use euphemisms rather than upset voters. At the third debate, Donald Trump expressed the dismay that any normal person should feel at the horror of a baby being murdered in its last day in the womb. I took note right then and there that he might be the man to stop the abortion industry in its tracks.
President Trump observed the Women's March the day after his inauguration and then sent his senior advisor, Kellyanne Conway, and his Vice-President, Mike Pence, to personally represent him at the largest pro-life march in the world less than a week later because, in all truth, the Women's March was about one thing: abortion. Once again, Donald Trump does not sit back and take the abuse. He counterattacked by endorsing the pro-life movement.
The mood was upbeat at the March for Life because people knew that there finally was a president who was not afraid to take the political risk of standing boldly for life. He has stated that he will nominate a pro-life Supreme Court justice.
President Trump signed an executive order on Monday barring federal funds from organizations that promote abortion around the world, including the International Planned Parenthood Federation, in what activists say is the president's first major pro-life action while in office.
Suddenly the impossible seems possible. Could we as a nation finally overturn the grave injustice of Roe v. Wade?
No ordinary politician could make the effort without being hammered to the ground by the media, the opposition, and his own party. Despite the GOP having a pro-life plank, there are plenty of Republican politicians that would love to avoid the issue completely.  Now is the time for the politicians that have only paid lip service to pro-life issues in the past to develop some backbone, stand up, and be counted. I would remind them that  they are elected to serve our country, to stand on principle, and to protect the citizens' rights to life, liberty, and the pursuit of happiness. They should seize this opportunity to pass laws protecting babies!  Instead of cringing before the Planned Parenthood lobby and the media, they should act. It is better that they stand for life at this crucial moment than to worry about their re-election, for courage is doing the right thing in the face of evil. It is better to strike the blow for life than to miss the moment and retain your seat for years to come. Abortion destroys the lives of the women that choose abortion, their babies, and their families.
When our nation returns to its roots and declares that all lives are valuable from conception until natural death, including the disabled, then we will be able to say that we stand for liberty and justice for all.