By Cathy Keim
"Action springs not from thought, but from a readiness for responsibility." ― Dietrich Bonhoeffer
"Silence in the face of evil is itself evil: God will not hold us guiltless. Not to speak is to speak. Not to act is to act." ― Dietrich Bonhoeffer
There is going to be another Protest Planned Parenthood rally in front of the Easton Planned Parenthood facility on Saturday, October 10, 2015. Once again this will be in conjunction with over 330 protests across the nation.
Michael covered the last protest but since then several more videos have come out from the Center for Medical Progress. If you take the time to watch them, you will see Planned Parenthood staff discussing that they must be careful how they approach the issue of selling baby parts because it wouldn't play well as a newspaper headline. They were correct on that count. More disturbing, though, is watching as they pick through the pieces of a baby to see how much it would be worth if sold to a tissue procurement firm.
Father Frank Pavone of Priests for Life writes:
In our day, many Christians shy away from the word 'protest,' but there is no reason to do so. To affirm good means to reject evil. To stand up for what is right means to protest what is wrong.

When people realize the atrocities going on in Planned Parenthood, such as the harvesting of body parts, and when they have the courage to view what an aborted baby actually looks like, a voice of protest arises from inside of them: "No, this is wrong; this must stop!"

At that point, every human being is at a crossroads: we either act on that voice of protest or we silence it.
Too many times we squelch the voice of protest because it is easier, we are busy, it would be embarrassing, or we just don't know how to go about protesting. Maybe we feel like it won't make any difference anyways.
And with that decision another part of us dies. Carly Fiorina said at the last debate that:
I'd like to link these two issues; both are incredibly important. Iran and Planned Parenthood. One has something to do with the defense of the security of this nation. The other has something to do with the defense of the character of this nation.

You haven't heard a plan about Iran from any politician up here, here is my plan. On day one I will make two phone calls, the first to my good friend to Bibi Netanyahu to reassure him that we will stand with the state of Israel. The second to the Supreme Leader to tell him that unless and until he opens every military and every nuclear facility to real anytime, anywhere inspections by our people, not his, we the United States of America will make it as difficult as possible to move money around the global financial system, we can do that, we don't need anyone's cooperation to do it. And every ally and adversary we have in the world will know that the United States of America is back in the leadership business, which is how we must stand with allies.

As regard to Planned Parenthood, anyone who has watched this videotape – I dare Hillary Clinton and Barack Obama to watch these tapes. Watch a fully formed fetus on the table, its heart beating, its legs kicking while someone says we have to keep it alive to harvest its brain. This is about the character of our nation, and if we will not stand up and force President Obama to veto this bill, shame on us.
I think Carly Fiorina correctly connects the Planned Parenthood issue as equal in importance to the Iran agreement. The horrible Iran deal weakens our physical security while the Planned Parenthood holocaust destroys our moral character.
We have become so used to millions of lives being stamped out in their mother's womb that we are numb to the horror. It is time to shake off our slumber and rise to the call to action. For many, this first step of standing with a sign in front of an abortion provider may seem difficult, but think of the alternative which is to let your conscience die piece by piece. Once you take action, you will find that it frees you to take other steps.
The media speaks with a monolithic voice to lull you into complacency. Because they repeat the same meme over and over again, people think that everybody is in agreement on the issue.
I talk to lots of people that think that there is nothing that they can do to change things or they think that they are not brave enough to face the disapprobation of their family and friends. Give it a try and see if standing up for the defenseless is not worth the effort.
Another point that Father Frank Pavone makes is:
When you look at the organizations that help sponsor these events, you will find people and groups who pour out their time, money, and energy all year long to provide alternatives to abortion and healing after abortion. Some of the organizers are pregnancy centers and maternity homes. Abortions do not happen because of freedom of choice, but because some people feel they have no freedom and no choice. The same people who come out and protest a Planned Parenthood on a Saturday will volunteer at a pregnancy center during the week. Moreover, they reach out to provide counseling and healing to those who have had abortions. We who reject abortion do not reject those who have had abortions, but rather embrace them with mercy and forgiveness.
As I looked around at our last Protest Planned Parenthood rally, I saw people that use their time and money to help their community in many ways from supporting pregnancy centers, to helping the homeless, mentoring children, and advocating for the value of life at every stage. These are the acts of free people choosing to help others. The government would prefer that we numb ourselves with senseless entertainment while they control how everyone lives.
Join us as we protest against the evil of abortion and selling baby parts for profit. Let us stand for the defenseless.
Think back with me, if you will, to those frosty days of last winter and early spring. Remember when Rush Limbaugh seemed to mention Wisconsin Governor Scott Walker on an almost daily basis as a guy who knew how to take it to liberals? There was a point where people were openly clamoring for him to get in the GOP race, thinking he – not Jeb Bush – was the man to beat. After all, the Democrats had thrown the kitchen sink at Walker three times without beating him, even after he stared down the unions in Wisconsin and got them to blink.
In the post-mortem of Walker's shuttered campaign, my take in general is that he shouldn't have waited until June to get in. Had he jumped sooner, it's possible that some of the others at the bottom may have taken a pass because he may have used his reputation to line up support. Granted, I'm sure some of his most inside people knew weeks in advance what Walker's intentions would probably be, but waiting until later can be seen as indecisive or not having the fire in the belly.
But I want to talk about my thoughts on Walker as a potential President. As my faithful readers know, I do a lot of reading and comparison on candidates to find the one I think is best. He or she may not be on top in the polls at the moment, but this is after all the time for choosing.
Early on, based on reputation, I thought Scott Walker would be one of my top picks but he disappointed me at every turn. I didn't see him as the conservative answer we needed on several issues, and his sliding back and forth on a few was worrisome. At the time of his suspension I had just wrapped up the dossier on entitlements and he had a plan that was somewhat conservative but also had some strains of big government like age-based tax credits. With me, he never really got the traction to get out of the middle of the pack.
On the other hand, Rick Perry usually did well and he would likely have finished in my top 5 based on his thoughts about shifting power to the states in many areas. But he was outside the top ten cut, so no one really noticed he was withdrawing.
Walker's rapid decline in the polls came as people began coming to the realization that he was a nice enough guy and maybe can fight on a state level, but not a particularly accomplished debater. Truthfully, he wasn't adding much to the race until his Hail Mary regarding curtailing public sector unions and establishing national right-to-work. (States would be allowed to opt back out, so never fear – the Democrats who run Maryland into the ground would have demanded a Special Session to appease their union toadies.)
It's a great idea, but it looks like someone else will have to run with it now.
A couple weeks ago I covered the first of four hearings on the potential for an elected school board. At that time I pledged to add some history and context to my remarks from the other day.
First of all, the recent history of the attempt to get an elected school board has both a local component and a state component. I was elected to the Republican Central Committee in 2006, and one item which we agreed to pursue was an elected school board. Unfortunately, the composition of county government at the time didn't lend itself to further action on the subject. It wasn't until the election in 2010, when a GOP supermajority was elected to County Council, that local legislative action occurred.
In both 2011 and 2012, the County Council passed legislation on a 6-1 party-line vote to ask the Maryland General Assembly for the enabling legislation for a referendum question to be set before voters. It would simply ask whether voters wanted to adopt an elected school board.
The 2011 version of the bill, HB1324/SB981, was sponsored by six local Delegates and both local Senators, and each version passed its respective legislative body overwhelmingly – the only "nay" vote came from Delegate Nathaniel Oaks of Baltimore City. SB981 passed both houses, but the amended House version did not return to the Senate for a vote.
In the House, the Ways and Means Committee amended the bill in a curious way. They revised the referendum question to read, "Are you against changing the changing the current method of selection of the members of the Wicomico County Board of Education of appointment by the governor?" It seems the idea was to confuse the voter.
The next year HB966/SB99 was introduced by the four Republican delegates and both Senators. This time, though, the bills did not progress beyond the hearing stage.
In 2013 and 2014, no legislation was passed locally nor was any introduced in the General Assembly. The feeling was that there were three roadblocks to the process: Rudy Cane, Norm Conway, and Rick Pollitt. None of those three survived the 2014 election, so we were hopeful the process would be on its way once 2015 began.
There were two key differences in the 2015 version of the bill, though. In an effort to foster a united front, County Council allowed for the idea of a hybrid elected/appointed board of five elected and two appointed by the County Executive with approval from the County Council. Indeed, that version passed 7-0 and was sent up in February.
But the bill was stalled in committee, with the problem determined to be the lack of having both Senators on board. Senator Mathias requested more hearings and public input on the issue, so County Council has arranged the four hearings with plenty of time to pre-file a bill once the hearings are over.
It's been pointed out frequently that Wicomico County is one of the few without an elected board. Back in 2002 just half of Maryland's counties had an elected school board. Since then, Caroline, Cecil, Dorchester, Harford, Prince George's, Somerset, and Talbot counties have switched over to elected (or mostly-elected) boards, while Anne Arundel County now has retention elections for its appointed members.
So the precedent for change is certainly there on the Shore and around the state. A number of counties have been allowed to proceed with their wishes over the last dozen years, but there always seems to be a roadblock when it comes to us. It is long past time to clear the way for us to decide as so many others in the state get to.
I am aware there are naysayers who say it doesn't matter who is on the school board for the tune is called in Annapolis. But we have some creative folks around here who may figure out a few alternatives to really help our schools become better, and I don't think they would have a prayer of being appointed through the process in place. Let them make the case to the parents who vote, not the faceless bureaucrats in Annapolis.
While the category of entitlements is worth 13 points, the only people who would get all thirteen are the ones who would embark on an orderly sunsetting of all the familiar entitlements: Social Security, Medicare, Medicaid, and Obamacare. I don't think any of the contenders would go that far, but we'll see.
But it also helps to tell me about their vision of the role of government, for the perfect candidate would be most interested in limiting the size and scope of government to a Constitutionally appropriate level. Those who are most willing to divest power to the states and stay out of their affairs will do best. That last part is worth 14 points but also depends quite a bit on previous categories such as education and taxation, among others, as well as fiscal responsibility.
We will then be down to the catch-all category of intangibles and the coveted monoblogue endorsement.
Since he dropped out of the race, I'm off the hook for Rick Perry. That's sad because he was tracking as a dark horse in my race. Nevertheless, I soldier on with 16 contenders now.
It's pretty much given that GOP contenders would drop Obamacare like a bad habit, so the question is: what comes after?
Among other things, Jeb Bush's plan would shift the program to the states, with the federal government maintaining a hand in catastrophic coverage and tax credits for premiums.
Ben Carson is a strong supporter of health savings accounts, which have the benefit of allowing people to share their burden. His idea is to have the government fund each for $2,000 per year.
Chris Christie hasn't put forth a replacement plan – but he expanded Medicaid in New Jersey under Obamacare.
Allowing people to buy health insurance across state lines through the Health Care Choices Act is the Ted Cruz plan.
"Let's try the free market," says Carly Fiorina, with states managing their own high-risk pools.
Jim Gilmore thinks there are good things about Obamacare, such as the ban on denial for pre-existing conditions and coverage by parents to age 26 but he thinks states can handle those. He would favor a proposal offered by Rep. Tom Price in 2013 that encouraged interstate sale of insurance, premium tax credits, and HSAs.
Lindsey Graham isn't specific about "cost-effective, market-driven reforms" aside from favoring association plans.
I think the Mike Huckabee solution is to pass it on to the states.
As he has in other areas. Bobby Jindal has an exceptionally comprehensive plan to replace Obamacare.
John Kasich would adopt what he calls the "Ohio Model" nationwide.
Whatever George Pataki does to replace Obamacare, it would include the pre-existing condition regulations.
Rand Paul favors HSAs, allowing insurance to be sold across state lines, and a tax deduction for all health care expenses.
Tax credits and regulatory reform highlight the Marco Rubio plan.
Rick Santorum has backed HSAs, tax credits, and selling insurance across state lines but now advocates "federal support for everybody to be able to go out and get the plan they want."
Through a spokesman, Donald Trump's campaign vowed to make insurance available across state lines and give individual tax relief.
Scott Walker plans to revert authority to the states and install sliding-scale tax credits based on age to go with the HSAs and selling policies across state lines.
On Medicaid:
On Medicare:
HSAs may be the panacea for Medicare, too. Why not? Ben Carson seems to have one solution.
Means-testing, increasing the eligibility age, and standardizing deductibles make up the Chris Christie plan.
Ted Cruz opposed the "doc fix" bill because he wanted reforms to give seniors "more power and control."
The same "get our house in order" argument applies here for Carly Fiorina.
I found nothing to pin down Jim Gilmore's position.
Means-testing and raising the eligibility age are reform starting points for Lindsey Graham.
"I will kill anything that poses a threat" to Medicare (as well as Social Security), Mike Huckabee thunders.
Premium support and Medigap reform highlight Bobby Jindal's plan.
John Kasich argues entitlements have to be "innovated" to survive.
George Pataki would increase co-pays.
Rand Paul sponsored Medicare reform legislation in 2013 that would have voucherized Medicare, but he's supposedly backing off that a little bit now.
The Marco Rubio vision for Medicare would involve a premium support system, based loosely on Medicare Advantage.
Rick Santorum would change it via increasing the eligibility age or changing the COLA structure.
Because it's "not fair," Donald Trump won't cut Medicare (or Medicaid.)
In 2013 Scott Walker was in favor of cutting Medicare (and Social Security) but it would likely fall on younger workers.
Social Security proposals seemed to fall into three tiers. Most candidates, with the exceptions of Gilmore, Huckabee, Jindal, and Trump, would raise the retirement age. But few (Bush, Christie, Paul, Rubio, and Santorum) advocated for means testing and fewer still (Cruz, Jindal, and perhaps Kasich) had the guts to advocate for partial privatization. Ben Carson even went a bit farther with the idea to allow for wealthier seniors opting out (although it sounds like the money paid in would be forfeited.)
I wasn't expecting high scores, so it's no surprise my best candidate has just 7 points.
7 points – Bobby Jindal
6 1/2 points – Ted Cruz
6 points – Ben Carson, John Kasich
5 points – Rand Paul, Scott Walker
4 1/2 points – Jeb Bush, Lindsey Graham, Marco Rubio
4 points – Rick Santorum
3 points – Chris Christie, Jim Gilmore, George Pataki
2 points – Carly Fiorina, Mike Huckabee
1 point – Donald Trump
Next will be the last major category, role of government.
Oftentimes when I do a review, I listen to the music first then read up on the backstory to fill in details. In the case of this fresh release by British-based Tumbler, the story behind it explains in large part why the album is a gem, a bit of a throwback in an era with Autotune and bands that stress rhythm over harmony and acquiring bling over musicianship.
Instead, Tumbler's album is a woven tapestry of simple songs that show a number of musical influences. For the most part it's performed by two guitarists: Richard Grace and his eighteen-year old son Harry – one of Grace's half-dozen – who the elder Grace called "music-wise, the most ambitious of them all." They have a few guest musicians along the way for spots of percussion and piano, but the father and son perform most of the musical work.
Knowing now that the songs were primarily written by a guy who's achieved a certain age and station in his life explains a lot. As Richard Grace put it:
The songs on this album come from a cave full of stuff written over the years and played together in crowded kitchen concerts where guitars are everywhere and everyone knows the chords.
That note gave me the "ah ha!" moment to explain the subtle David Bowie sound in the opening song Moments (she reappears) and the Beatles influence I detected in Don't think twice (she says), the bouncy pop tune that follows it up.
Given the circumstances of the writer, it's easy to see how many of the ballads have a poignant message. You almost have to be a parent to truly get Sleepy bananas are cool or Flowers and miracles, which seem autobiographical in nature.
Romance is also a recurring theme in "You Said" whether it be the opposites attract message of London girl, the duet Call me sentimental, the opening track Moments, or the closing ballad Rowan tree. Even sweeter is the lengthy ode Dennis and Jean, which celebrates a long sixty years of marriage in a old-fashioned relationship.
Yet the elder Grace has a sense of humor, too. For some reason the rocker Businessman blues makes me think of Donald Trump (but doesn't everything make you think of him these days?) And Dead man's bones made me laugh out loud. Who knew an autopsy could be funny?
As I said above, the elder Grace wrote ten of the twelve songs on "You Said." Son Harry wrote tracks seven and eight, Bueller and Break or fall. These two venture a little more into a pop influence, but Bueller still has the touch of romance that comes along with the happiness of happenstance falling just right. Break or fall takes a string buildup and morphs into a hook-filled song that seems to be the lead single.
Realizing that these songs were written over a number of years as just something Richard Grace enjoyed doing, perhaps he is leaving a pair of legacies: one is the obvious message behind the songs, but the other is getting his "most ambitious" son a head start in the music business.
As a whole, this was one of the best I've heard this year because it was songs already honed to a sharp edge combined with someone who detailed them just right. Most likely this will land somewhere in my annual top five, but if you don't want to just take my word for it you can listen for yourself.
Maybe there's some more in that "cave of stuff" for a round two.
Tonight I had a choice: expand once again on a topic I wrote about for today's Patriot Post or go to Third Friday and see the sights. Our military prowess is important, but this one was more fun.
Hundreds of people agreed with me. The first photo was taken looking west from Division Street while the second was from within the Plaza. They were taken perhaps 20 minutes apart.
I hadn't taken ten steps into the Plaza when I saw City Council member Laura Mitchell and husband Miguel heading out. Seems like Third Friday is the place for people I know. But I wasn't really expecting this guy, who's about 30 miles from being "downy o'shun."
Yes, that's former Delegate Don Murphy hanging out with current Delegate Carl Anderton and Jackie Wellfonder, at whose behest I took the photo.
But there were two people looking for votes at tables. One was mayoral candidate Jake Day, who has no one on the ballot against him, and the other was Muir Boda.
He had a well-stocked table, but then Muir's been a Third Friday fan for a long time.
One element which contributes to its success is the music. This month The Larks were playing on the Plaza.
That photo came out pretty well for being taken in the twilight. The earlier sunset made the event finish after dark.
And as it was winding down, it was plain to see that a block of Division Street was one giant sidewalk chalk canvas. They probably had 200 boxes scattered around Third Friday; fortunately, there's not much chance of rain although there is a 100% chance of traffic rolling over the colorful street.
Tonight was the second-to-last outdoor Third Friday of the year, although there will be outdoor events associated with it from time to time over the winter months. Throughout this year, it seems the crowds have been excellent and the city is trying to expand on the success with First Saturday and the trolley between Salisbury University and downtown which runs on weekend nights.
With all that is going on this weekend around the region, Third Friday seems to be holding its own. Salisbury's had its share of bad news over the last decade, but this golden goose continues to produce each warm-weather month.
On a night with a reasonable chance of precipitation, the final home game of the season, the 2015 Delmarva Shorebirds completed a five-game sweep of the first-half division champion Hickory Crawdads. They also managed to finally crawl over the 200,000 mark in season attendance, with an all-time franchise low of 203,520 making it out to Perdue Stadium. If the original forecast had held, the team would have suffered its first sub-200,000 season.
While the statistic seems bleak, though, the truth comes out on further study. On a per-game basis, the attendance was remarkably stable between 2014 and 2015: just three fewer per game. The average of 3,230 tracks with recent performance where the team has existed in that attendance range for a decade or more.
What was lacking this year, however, was home dates. While every team in the South Atlantic League is assigned 70 home dates and 70 road games scattered throughout the year, Mother Nature can be downright uncooperative at times. The average SAL team lost four dates due to rain this year, but Delmarva had the fewest openings with 63. Just getting to league average and assuming normal attendance at each game would have made the difference between sweating out 200,000 fans or a modest uptick in attendance from last season.
One culprit for this issue is the very field the team plays on. Imagine this scenario: a weekend full of promotions is on tap, but the area gets a gullywasher Friday afternoon and another significant drenching Saturday morning. Not a drop falls during the time the games are scheduled, but two dates are lost due to "wet grounds." That situation seems to play out in Delmarva almost every year with the field's poor drainage and this year we indeed lost a couple games like that. This has been a sore spot for years: I love going to the games, the food is pretty good (I liked the buffalo chicken brat I finally tried at the last game, for example) and I didn't mind the price increase for a Thirsty Thursday beer because it was larger. But if I show up on a clear evening and the game is called because we had a cloudburst earlier that day, I'm not a happy camper.
For a number of years I have had a fairly consistent list of "pans." But about a month ago I stumbled onto an article in Ballpark Digest by Zach Spedden that detailed some very exciting changes coming to Arthur W. Perdue Stadium.
The first phase involves redoing the drainage for the entire field, literally stripping it to bare earth and starting over. It got underway just days after the final out was recorded.
(Photo credit: Delmarva Shorebirds)
Presumably next season the field will be better able to handle an inch or two of rain in an afternoon thunderstorm, draining it away in time for the game.
But I can't wait to see the changes slated for the 2016 offseason – which hopefully gets a late start.
Between the 2016 and 2017 seasons, the Shorebirds will make several improvements to the ballpark. In what (Shorebird General Manager Chris) Bitters called a "key piece" to the renovation, a new boardwalk-themed wraparound concourse will surround the field. New tiers will be added to the current group area down the right-field line, while the left-field side will see an increase in group and standing room options as well as slope adjustments to the current berm seating. Also in the works is a plan to remove the current metal bench-styled seating in the second level in favor of fold-down stadium seats.

The goal in making these adjustments to the berm, group, and standing areas is to give fans who prefer to wander during their visits more options, all the while making the stadium feel less congested on crowded nights. "That's going to be a huge hit, particularly on our busier nights," said Bitters. "When we are full now, people are hanging out on the concourse," reflecting a demand for more comfortable standing room.

One of the most crucial aspects of this phase of the renovation will be a brand new videoboard. Perdue Stadium has used the same videoboard since opening in 1996, which, according to Bitters, limits what the Shorebirds can do from a promotional standpoint. With a more modern board, he said that fans can expect better animations, more interactive promotions, and instant replays as part of a more modern experience. "For our fans, having seen those at Camden Yards and other ballparks, they kind of have come to expect that stuff."
Now THAT will be worth following on Facebook. Its net effect may be similar to FirstEnergy Park in Lakewood, which also has a 360 degree concourse. If it's made wide enough, there could be cafe-style seating out there, giving casual fans the option to scope out the action behind the center fielder while enjoying a bite to eat and adult beverage.
And maybe – just maybe – we can get back to what Thirsty Thursdays once were, with the game followed by an hourlong concert by a local/regional band. Those were great!
Naturally, all this would come at a price. I'm not privy to any inside information, but the question to me is not if but when ticket prices and parking fees go up. The limited-government conservative in me is already a little perturbed that the taxpayer piggy bank was raided to pay for this – hopefully we get the extra tax revenue from increased attendance and interest to make it a zero-sum game. $4 million may not seem like a lot, but if ticket prices went up $1 it would take well over a decade to pay for itself through that avenue, not counting interest. It seems to me, though, that the county was looking for more of a buy-in from 7th Inning Stretch LLC, the team's owner. (Like a number of other facilities, a privately-owned team plays in a publicly-owned stadium. Wicomico County owns Perdue Stadium.)
So the pieces are being put into place: a new long-term agreement between the team and county, improvements to Perdue Stadium to satisfy both the Orioles and the fans, and a likely continuation of their longstanding player development contract when it comes up for renewal next season.
Soon the only thing I might be able to pan would be the Orioles' scouting staff. With the proposed facility improvements, all that's missing is another trophy to go with the two gathering dust after 15 and 18 years, respectively. Playoff baseball has been AWOL from Perdue since 2005, and that's way too long.
As soon as I heard a commercial from CNN comparing tonight's Republican presidential debate to a prizefight, I knew it wouldn't be worth watching.
The thing I find most interesting, though, is that by elevating Carly Fiorina to the "big kids table," the withdrawal of Rick Perry, and the absence of Jim Gilmore for whatever reason, they had just four for the initial debate: Lindsey Graham, Bobby Jindal, George Pataki, and Rick Santorum.
Now I am a transcript guy – I would rather just read a speech than watch it because it takes me five minutes to work through an hour-long speech in real time. But I think the also-ran debate came closest to my idea when this all started, and it would probably be great reading because with only four contenders and 90 minutes to kill, we could actually have either good depth or a great variation of questions.
And even in those four you have a good variety of viewpoints: two governors and two Senators, with one of the governors also having Congressional experience. One of each category is currently in elected office while the other has been in the private sector for a decade. They also run the gamut from the moderate wing of the party to the social and fiscal conservative outskirts.
On the other hand, the other 11 in the later debate will have most of the oxygen sucked out of the room by one Donald Trump. So far in the campaign I have been less than impressed with him, but Trump is on top of the polls because a lot of people want a complete shakeup in Washington and assume he's the guy for the job.
So I'm sure the coverage and spin will be all about what The Donald said, did, and had for a postgame meal. Will that make the voters any more informed? I doubt it.
Generally speaking, the media as a whole is not favorable territory for conservatives. Particularly in the last two cycles, we have seen the media given the perception that they shaped the GOP campaign. John McCain was a media darling until Barack Obama secured the nomination and McCain chose the then-obscure and tough-taking Governor Sarah Palin for a running mate. All media passes expired at that point.
In the 2012 campaign we had a similar phenomenon to the Trump insurgence at about the same point in the campaign. It came from an outsider who made his mark in business and had the additional appeal of being a minority and a cancer survivor, with an economic plan that would change the entire system. It was simply amazing how much dirt was found on Herman Cain, and if you ask me, the media was scared to death that Cain could beat Barack Obama by being a competent minority who is conservative. If Ben Carson pulls ahead in the polls, you can bet your bottom dollar they will be out to find or make up something that will stick.
So it makes me wonder why the media hasn't really gone after Trump, hounding him like Palin or Cain. I just have that sense that the dirt on Trump is waiting until he closes in on the nomination and it's too late to change.
There is the chance such an event would further galvanize support for Trump, but as much as they have glossed over Hillary's record I doubt it. (While the GOP debates are being promoted as must-see TV, it's interesting to me how they have limited the Democratic debates to a half-dozen or fewer. Less risk of a gaffe.)
If you were watching I hope you enjoyed it, but I had more productive pursuits this evening.
I am struck by the difference between two recent meetings.
Last week I covered the first hearing regarding the prospect of an elected school board. Yesterday I also read a story by Susan Canfora in the Salisbury Independent about the city's rejection of a park land donation sought by the county.
In the former case, the arguments for and against were delivered in a relatively quiet room, but those who were out to save the forest burst into applause with each speaker on their side and cheered when the measure died for a lack of a motion. Canfora's report noted that the City Council meeting was standing room only, with more people spilling into the hallway. Having been to that venue before, I know the room can get 80 to 100 people in it if you all inhale and exhale the right way.
Of course, there was resolution in the county's case – the city said no to the donation. On the other hand, the process of getting an elected school board is in the early stages of its latest iteration. So in that respect I am doing a little bit of an apples-to-oranges comparison, but I did see a useful tool in understanding the approach one side may choose in the school board debate.
Those who favored the expansion of the ball fields grounded their argument in economic terms. They could cite concrete facts and forecasts of how much impact these tournaments have locally, in dollars, cents, and jobs. Softball tournaments bring in hundreds of players each summer, and those participants have to eat, sleep, and play someplace.
Conversely, those supporting the forest played to the emotions of the audience and City Council. Suddenly that 35 acre plot of land was a magnet for low-impact tourism and a vital part of the natural beauty of Wicomico County. Just for sake of reference, 35 acres covers about 1/16 of a square mile. The Centre of Salisbury sits on about 58 acres, so this forest plot is barely half the size of that parcel.
Those same appeals to emotion come out when opponents of an elected school board bemoan the loss of "diversity" they are sure would come about with an elected board.
It's always intrigued me that those who wail loudest about diversity are the least diverse of any group – sure, they may fill quotas with every possible variation of outward appearance and behavior trait under the sun, but when it comes to diversity of thought: forget about it! It's the side that's afraid to hold presidential candidate debates because their standard-bearer, the one who fills the "woman" quota their party wants to check the box of, might have to actually defend her record (or lack thereof.)
But let me back up the focus. To me, diversity is for ideas, which is why legislative bodies often split along party lines. I highly doubt the NAACP, the teachers' union, or any of the other opponents of an elected school board will stop trying to participate in the process when an elected board finally comes to fruition. They will certainly have a slate of candidates, and those candidates will probably have a monetary advantage in their respective races. On the other hand, I would certainly push for the most conservative school board possible. Hopefully I get more victories than the other side, but I doubt either will have a clean sweep and it may be there are times they have to meet somewhere around halfway.
Regardless of what Don Fitzgerald may claim, there is some cronyism involved with the current system. Rarely does a complete political outsider get a seat on the school board because the current system has as its judge and jury political insiders up and down the line. (The same would hold true with a nominating commission.) The best chance for a concerned citizen would seem to be the electoral process, particularly since the system as envisioned would rely mainly on districts of about 20,000 people – not an unmanageable size for a small, well-organized campaign. Granted, there may be times when running countywide could be an advantage but my suspicion is that those couple spots will be filled with current board members who already have name recognition.
If there's one lesson I want the class to remember, it's this: you can easily figure out which side has the facts and which side runs on emotion. Diversity is the reddest of herrings, so don't let them fool you into thinking their idea of the concept is anymore than skin-deep.
Last Thursday about 40 people gathered at the Wicomico Youth and Civic Center to speak out on the prospects of an elected school board for Wicomico County. When I saw the full parking lot I thought I would never get a seat; alas, most of them were here for a kids consignment sale going on simultaneously at the venue. I took the photo as I walked in and the crowd only increased a little bit.
But the County Council presented a number of options available, broken down into three categories: fully elected, a hybrid of elected and appointed members, or the status quo of a fully-appointed board.
Further subdivision of the elected option provided for either a five-member elected board based strictly on County Council districts or a seven-member elected board with five district plus two at-large to mimic our County Council. Meanwhile, the hybrid option would have five members elected from the County Council districts with the other two appointed by either the governor, the County Executive, or a nominating commission. That nominating commission could direct the governor on which members are acceptable in an all-appointed option or we could stay with the current system of appointment.
Out of 22 who spoke, 14 preferred an all-elected option. Woody Willing addressed the diversity concern, stating "there's no better way to have diversity than electing seven people." Ann Suthowski, who was "in favor of a 100 percent elected school board," pointed out that four of the seven members work or worked in education, three lived within a mile of each other while the eastern and western ends of the county were not represented, and as far as she could ascertain only one member was under 60 years of age with kids in school.
Turning to Senator Jim Mathias, at whose behest the hearings were scheduled, Suthowski concluded that elected school boards were good enough for the other two counties he represented, so why not Wicomico?
Others who backed the elected board saw it as a way to promote fiscal accountability. Kay Gibson bemoaned her lack of choice in the matter when half her property tax dollars went to education – as she put it, being "taxed without representation."
Transparency and parental involvement were also common themes. Dr. Mark Edney called an elected school board the "most transparent, democratic approach," as opposed to the "secretive, crony-driven process" we had in place. Dave Parker stayed on that theme, revealing that a previous Appointments Secretary told him, "we don't much care who (the Central Committee) interviews."
"I like this governor," added Parker, "but I don't want him selecting my school board."
Involvement was key to Donnie Scholl, who thought an elected board would "maximize parental involvement."
But the handful who preferred the hybrid or appointed boards had their reasons. Kelsey Maddox said "if I had to choose, I would say hybrid." She rejected the notion that the 90 or more percent of counties with elected boards had the best system simply by virtue of the sheer numbers.
Current WCBOE president Don Fitzgerald was in the "if it ain't broke, don't fix it" camp. He also bellowed that the current school board has "worked hard in this community" and that he was no crony.
Most of the elected board naysayers, though, circled their wagons around the diversity concept. Gary Hammer, who heads the local teachers' union, said his body was not against an elected board but previous proposals "did not account for diversity." He believed there should be more than a yes-or-no choice between elected and appointed. Another former board member, Jon Sherwell, added that "effectively, an appointed board can be diverse." He also questioned some of the assumptions made by the We Decide Wicomico group and others, arguing that he was appointed despite being unaffiliated.
Local NAACP head Mary Ashanti added that the appointed board has "given us an opportunity" and remarked "the issue for me is how it will be written in the referendum." But whether it will get that far may be up to Delegate Sheree Sample-Hughes, who warned that the Ways and Means Committee in the House was interested in preserving diversity and having public input. (No one in our local delegation sits on that committee, which heard last year's bill.)
As it turned out, about half of those present spoke, although Sample-Hughes was the only legislator to testify. No one on County Council chose to add remarks, nor did Senator Mathias or Delegates Carl Anderton and Mary Beth Carozza, who also listened in.
The next hearing will be at the Delmar Elementary School on Foskey Lane next Tuesday, September 22. I won't be there so sometime in the next few days I will have a message for that hearing. When it comes out, feel free to share.
Subtitled, the year of the monsoon.
I found this year I took very few pictures compared to past years. Some of that was the weather, where the skies gushed forth just before our slated 1 p.m. start. It forced us all under the pavilion but those on the outside rows were still soaked.
This also meant the silent auction was ruined. We ended up with a live auction later.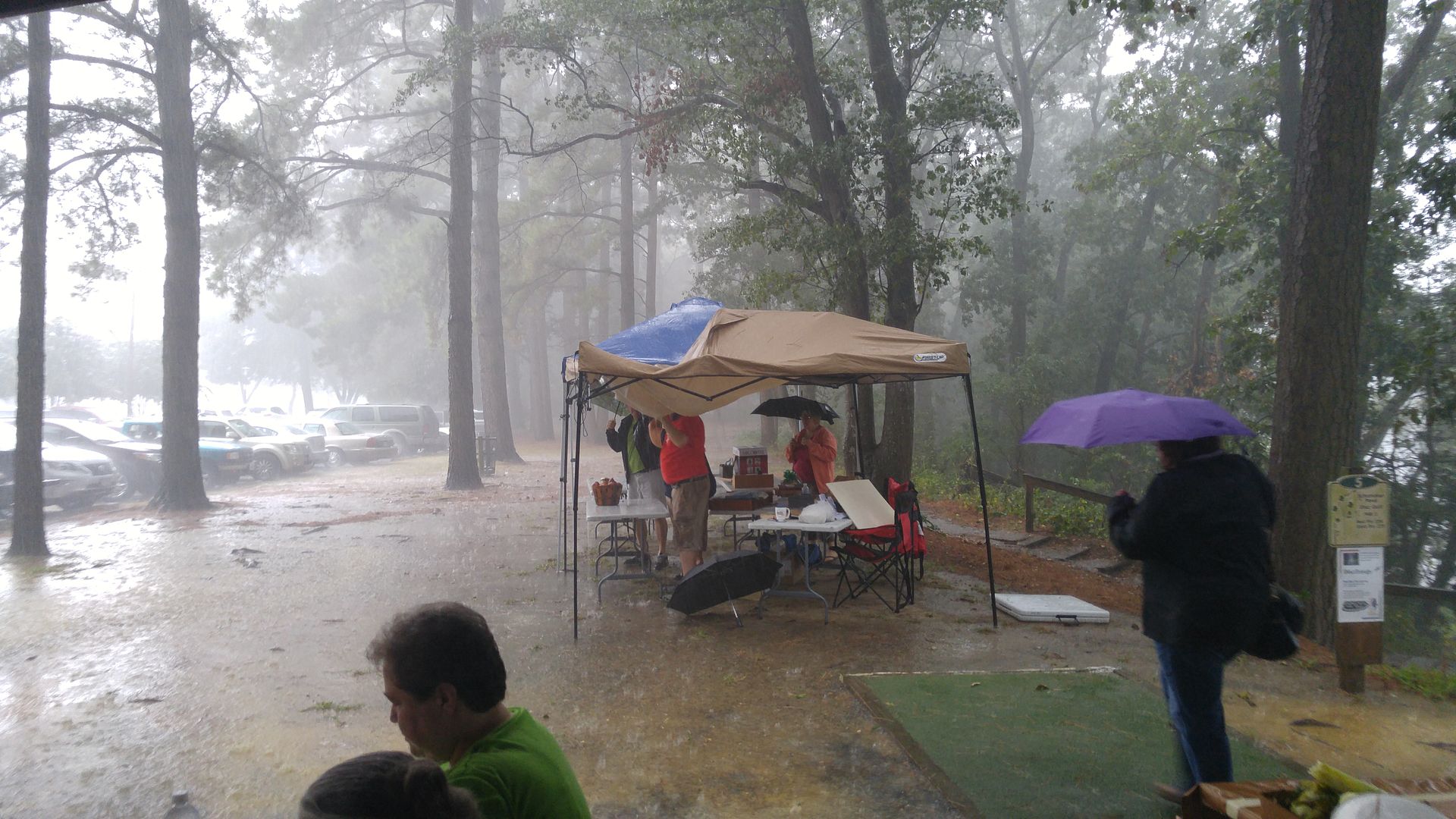 Yet the pouring rain didn't spoil everything. We made a special presentation to Jim Jester, our club's volunteer of the year. A plaque is one thing, but a fine cigar can be quite another. Both were kept dry.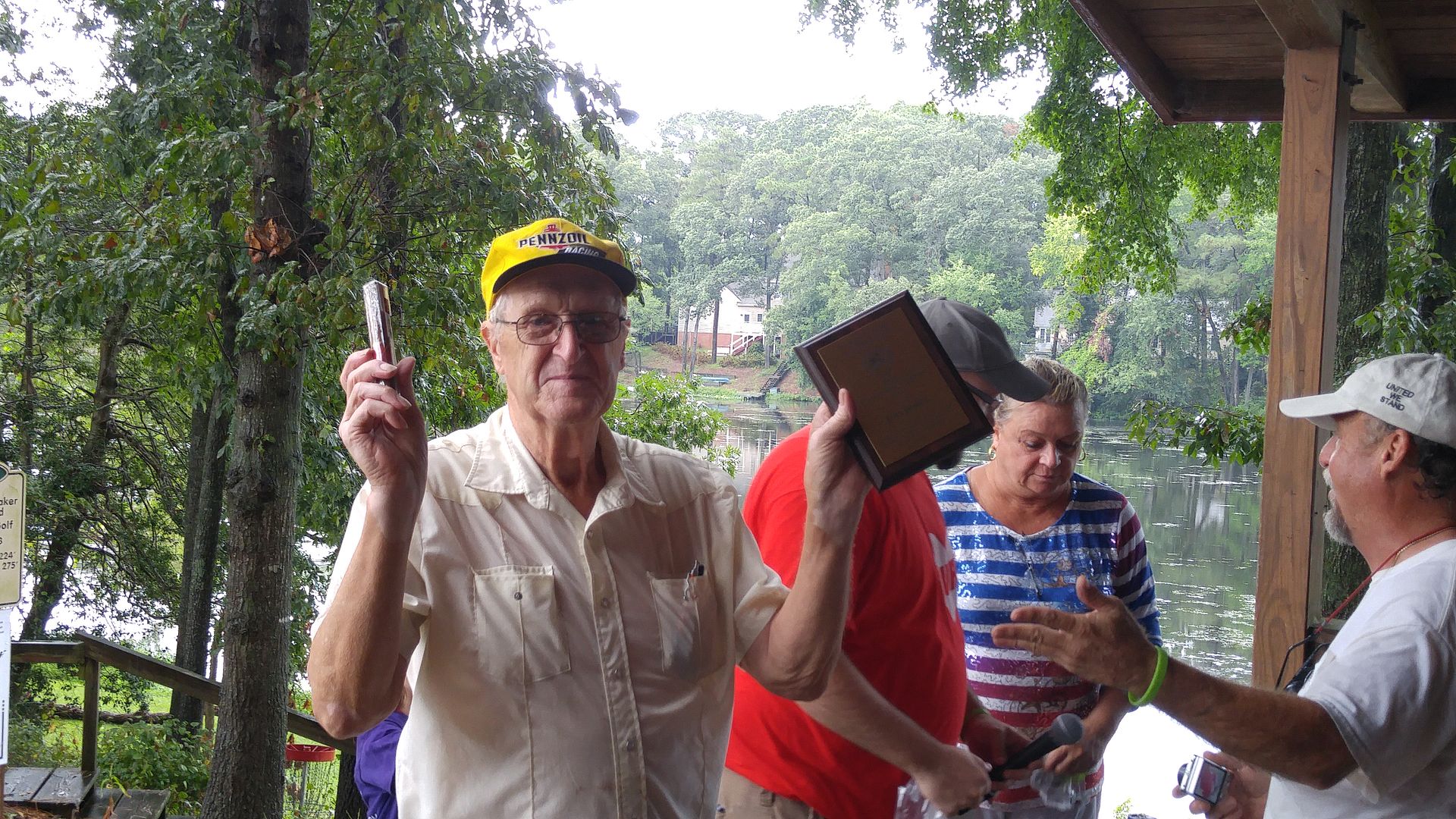 And the crabs apparently were good because we had to do a quick order for another three or four bushels. (The crab eaters at my table gave them good reviews.) The corn also went fast, but at least some of the produce was donated.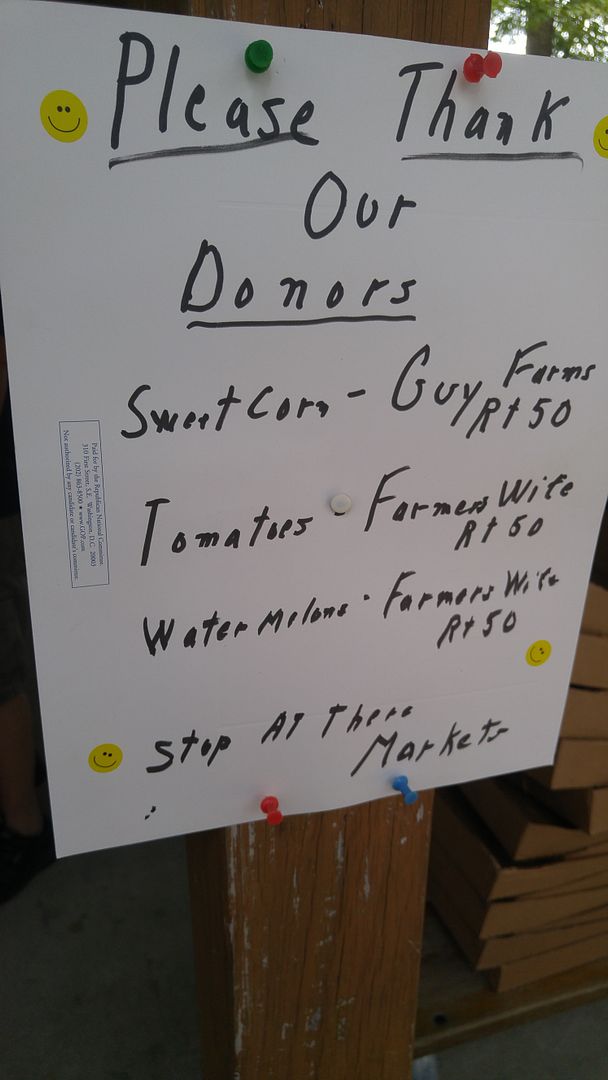 While the elected officials didn't speak formally, most made the rounds of the event. Being early in the term, they didn't need to campaign, but the awareness group We Decide Wicomico had a number of yard signs.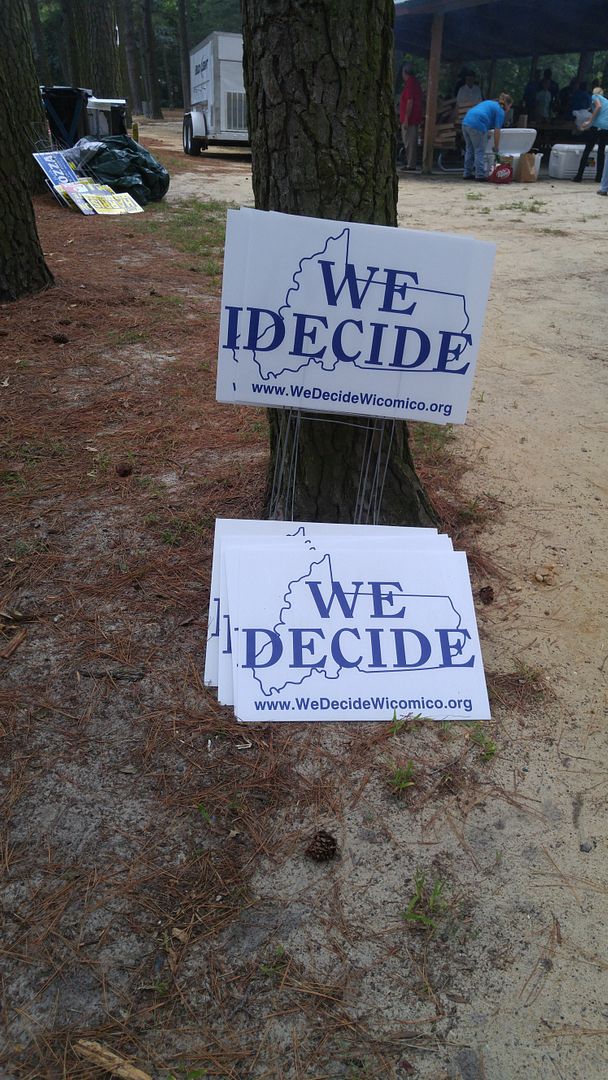 There were a lot of elected officials there, but I think the award for coming the farthest goes to Johnny Mautz. I grabbed the photo from Julie Brewington since she tagged me in it.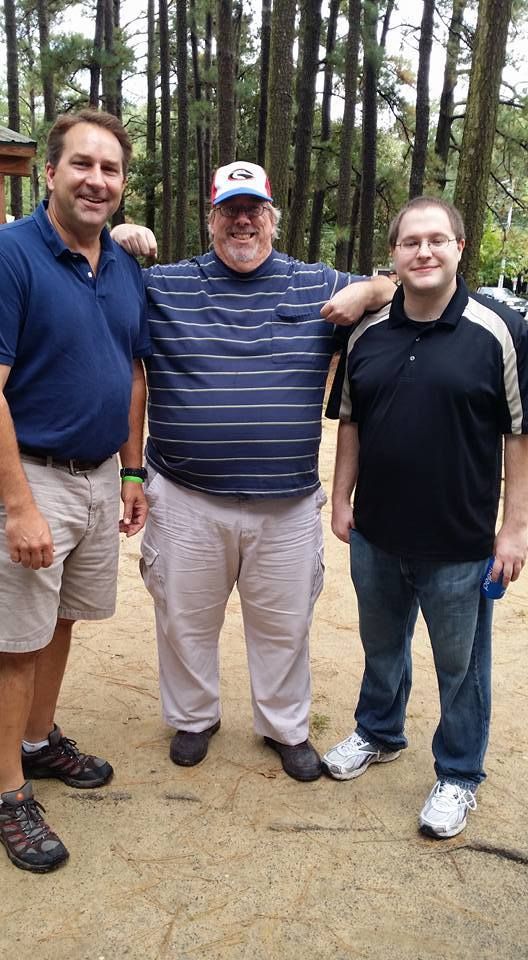 We also had Senator Addie Eckardt, Delegates Carl Anderton, Mary Beth Carozza, and Charles Otto, and a host of local pols from County Executive Bob Culver on down. But the most surprising no-show to me was Congressional candidate Mike Smigiel, who I figured would drop by. Granted, a Congressional district has a lot going on during any given Saturday but there was nothing I noticed on his calendar except a missed opportunity.
Hopefully the 2016 version will avoid the monsoon and make a lot of money for the club. Once the rain left, it wasn't a bad afternoon and some people ventured to the outside tables. Let's if we can't fill the outside tables as we have before and have a lucrative silent auction.
Have you ever heard of Hawaiian Slack Key guitar? Me neither, but Stephen Inglis has been playing it for years and his talents are featured on his latest collection, which came out in June.
So I was interested in not just listening to the album but learning a little bit more about the difference between the old standard guitar and Hawaiian Slack Key. Long story short, it began when the guitar was introduced to the islands in the 19th century and involves loosening the strings to create different chord patterns and a unique technique of playing, rather than the standard blues-based progression.
The genre seems to have a devoted fan base, though. Later this month Inglis will be playing Tokyo at a festival featuring the guitar form, but he also has a date this fall in Texas at a regional folk gathering. Stephen already has a brief tour set for October out west.
Nor will he won't be out of place there. Inglis borrowed from other forms of music to put together his latest release. For example, the mandolin on Cold Sunday gives this song a bluegrass feel with its prominence.
h
Yet despite the different techniques and the number of instruments involved, I found the album suffered a little bit from a lack of memorable songs. Usually in a review most of the songs will stick out at me for something like Cold Sunday did, but in this case there were only a few. I liked the lyrical storytelling of Maria Luisa, Our Younger Days, and the title track, and the opening song Blind With Haste was a good introduction.
On the other hand, the one track I really didn't like was the duet Don't Postpone Joy. The voices didn't seem to mesh well, so it perhaps should have just employed one of the two.
Obviously Inglis comes from a unique musical direction, but there is only so much you can do with acoustic music in a popular sense. There's not the breakout capability here like you had with Bob Marley for reggae or Bob Dylan electrifying folk (and being booed for it by the purists.) "Learning You By Heart" is a nice enough album, but may not be the vehicle for broader appeal.
Then again, any musician appreciates gaining fans – even just one at a time. When I can, I always invite you to listen for yourself.
When we on the east coast think of tropical music, we gravitate to reggae or Caribbean songs, but you may just dig this island sound of a different sort.