It was about seven or eight years ago that I first came in contact with the group called Americans for Limited Government. One of their projects that I participated in for awhile was called Liberty Features Syndicate, which (as the name implied) was a syndication service that generally catered to small newspapers. For perhaps a year, I was one of their writers and every so often I would find out one of my 600-word columns was placed in some small-town newspaper. That was a neat experience, particularly the very first time when I found out my column was in a Kentucky newspaper fitting that description. For a moment I thought I was destined to be the next Ann Coulter. (Now I'm glad I'm not.) They also do the NetRightDaily site, which is where I first discovered Marita Noon as they also carry her weekly op-ed. Somewhere in their archives I'm sure most of my columns survive.
All that has gone by the wayside, but I remain Facebook friends with current ALG president Richard Manning. Over the last few months, though, I've been dismayed to see how a group which claims to be for limited government has climbed aboard the Trump train. A case in point was something they posted last week, which I want to use as an educational tool. It's called "Trump's the nominee, deal with it." I'm going to go through it a little at a time and share my thoughts as we go.
Donald Trump is the nominee and the establishment is going to have to deal with it. These anonymous GOP sources speculating on what the process would be if Donald Trump chose to withdraw from the race for president should be identified and forever run out of the GOP.
I find this rhetoric to be disheartening and a little disingenuous. Manning should remember that 56% of the Republican voters did not support Trump, but when it came time for that group to be represented at the RNC Convention Trump was right there with the "establishment" to shut it down. It was a coordinated effort, so don't tell me Trump is not part of the establishment when it serves his purpose, and vice versa. Personally, I believe the whole "Trump will withdraw" story is wishful thinking on the part of some, but given his meteoric personality it's not outside the realm of possibility. If anyone deserves to be "forever run out of the GOP," though, it's the Trump/RNC "enforcers" who were at the convention intimidating the grassroots supporters of needed rule changes. That action was one of the reasons I left the party leadership.
Where were they when Mitt Romney was outed telling donors that 47 percent of the people were on government assistance, creating the exact class warfare narrative that the Democrats craved? These anonymous, cowardly whiners were more than likely busily making fortunes at the GOP trough.
Probably the same place they were when Trump alienated women voters with his remarks about Megyn Kelly – except those weren't surreptitiously recorded like Romney's remarks were. The Democrats are going to attempt their tactics of division regardless of what the Republican nominee says. The one thing to criticize Romney for? He was off by 2 points – it was actually 49 percent. One would think that a group advocating limited government would embrace that fact as a reason to begin work on the issue. The truth hurts sometimes.
The only reason that this circular firing squad story exists is because the D.C. establishment class cannot get over that Jeb lost and with his loss, their every four-year financial windfall went away. And that's the ugly truth, Donald Trump's real failure is his unwillingness to spend millions in consulting fees to keep the GOP consulting vultures at bay. If these consultants had not lost the popular vote in five of the past six presidential elections, they might have some validity in their concerns, but they are proven losers, and Trump doesn't like losers.
This is perhaps Manning's best point, but by making it about Trump he makes a mistake. Trump may not be using the consultant class, but the problem is that he's losing just like in the other five elections (and the current polls track similarly to theirs.) If Trump were running at 60% in the polls Manning would have a great point, but the only thing about Trump at 60% is his negatives. We should hope that the consultant class withers on the vine, but the way to do that is through limiting government so there's less financial incentive to be a consultant.
So, now they are all-in in trying to stop Trump, and by fostering speculation that he might drop out, they give their cohorts in the mainstream media the excuse to replay some mistakes that Trump has made and the campaign is trying to move on from.
They don't have to replay mistakes because Trump creates a fresh batch on an almost-daily basis.
It is time to root out these conspirators to elect Hillary Clinton president, and not allow them to hide under the cloak of invisibility that cockroaches and vermin depend upon.
Someone really needs to do an exhaustive study on how many Democrats crossed over in the open primaries to help make Trump the GOP nominee. Oh, wait, those aren't the conspirators Manning is referring to? My contention all along is that the only candidate Hillary could beat was Donald Trump, so I suppose the real conspiracy was within the group that talked Trump into running when there were already several in the race – remember, Trump was among the last to announce.
For the rest of us, Donald Trump is the only chance to end the Obama expansion of federal government power, his disastrous EPA regulations, Obamacare and his use of the enforcement powers of the Executive Branch as weapons against his political enemies.
For Trump, any and all of these will eventually be negotiable except for the last one. Given the ferocity of his attacks against his former Republican foes, I don't doubt that Trump has an "enemies list" of his own, and it won't be all the groups who have tormented conservatives the last eight years. The conservatives will remain in the crosshairs because Trump didn't need party unity anyway.
Moreover, The Donald yo-yos between wailing about "draconian rules" regarding federal land and advocating the federal government remain in control of it. His stated health care plan repeals Obamacare, but he also vowed to make a deal with hospitals to take care of the poor at government expense. EPA regulations are bad unless you're pandering to Iowa corn farmers.
In short, I truly don't see any real support for limited government from Trump, which makes me wonder why ALG is involved in this election. To be honest, I'm sure Americans for Limited Government is a relatively modest group, living on a comparative shoestring as one of many thousands of advocacy groups around Washington, D.C. (That in and of itself is rather ironic. If they don't like the inside-the-Beltway culture perhaps their headquarters should be in flyover country.) They take Trump's outsider image to heart, even though he has donated thousands of dollars to political candidates on both sides.
But simply being an outsider with little political experience does not necessarily equate to limited government. And while some argue that with Trump we at least have a slim chance of success, let me remind you that failure to constrain government will once again be a Republican trait if Trump wins and governs on a platform where Obamacare is replaced by other government involvement, regulations are addressed in a capricious manner, and entitlements like Social Security and Medicare are off limits to needed reform, let alone the true limitation of government that can be achieved by sunsetting the programs over a multi-decade period to provide an orderly transition.
I use this as a cautionary tale about consistency. If you believe the group's mission statement, it's a curiosity to me why they involved themselves in this race:
We are leaders in identifying, exposing and working with Congress and state legislatures to prevent the continued expansion of government. Never shying away from the big issues, ALG is perpetually ahead of the issue curve taking on issues like the $100 billion International Monetary Fund line of credit while others are still trying to spell IMF. This aggressive, non-partisan approach to the threats posed by an ever expanding government to our basic freedoms gives us the ability to honestly present the limited government perspective both inside the beltway and most importantly around the country.
It's clear to me that neither Donald Trump nor Hillary Clinton will lift a finger to limit government; rather, they will rearrange the deck chairs on the Titanic. I can understand the fear of Hillary Clinton being a third term of Barack Obama, but who's to say Donald Trump wouldn't be a third term of George W. Bush, where government expanded at an alarming rate, too? There were several other candidates who were willing to begin the process of rightsizing the federal Leviathan, but Trump prevailed as the "Republican, not the conservative" nominee. It's troubling to me that the folks at ALG let party override principle and fear take the place of common sense.
So despite the admonition of Manning and friends, the only nonsense we need to stop is continually claiming that not voting for Trump is a vote for Hillary. One can be #NeverTrump and #NeverHillary at the same time. There are other candidates out there who hew closer to the principles of limited government, and one of those things which holds them back is the perception that no one other than a Republican or Democrat can win. In the end, the decision is up to the voters, so what ALG needs to do is return to stressing the value of limited government rather than shill for one flawed candidate against another.
Now that I have made my way onto the exit ramp, perhaps this is a good time to alert you about where I may wish to go.
I was told that leaving the Central Committee would be quite liberating, and I can see that being the case. Then again, I probably wasn't your typical member anyway – early on, one of my cohorts was very concerned about my website and, honestly, he had some good points. Over the years I learned just how far I could take certain things and when it was right to keep things under my hat. I mentioned in my announcement post that I wouldn't be covering certain meetings or the state convention anymore, and I have to admit there were a lot of readers for the state convention posts. But I suspect the next one will be more of a wake anyway, and I've already done my share of those.
It's worth noting that my website predates my tenure on the WCRCC by about a year, since I was formally sworn in back in December 2006 at one of those wake conventions I noted - it was immediately after Bob Ehrlich lost and we found out the MDGOP was thousands and thousands of dollars in the hole. Among the things I wanted to do early on with my site was to speak about issues, which led to this comment about my site in 2006. (The original is lost, but the quote was placed here.) The author of the quote is Stephanie Dray, who was once a Maryland-based blogger (and part of the erstwhile Maryland Bloggers Alliance) but graduated to be a successful writer of historical fiction:
"This blog about Maryland politics is located in Salisbury, and that's a good thing. In any discussion of Maryland politics, the Eastern Shore tends to be neglected. Monoblogue attempts to pick up the slack. Unusual for conservative commentary, the tone of this blog tends to be wonky. There's a slew of useful links on the right-hand side, and it's filled with content. A handy resource for those looking to learn more about Maryland politics."
I know I have maintained a fair share of issue-oriented writing, mainly regarding manufacturing, the energy industry (which is how I became acquainted with Marita Noon), and other business-related items, but I think it's time to focus more on that wonky tone in preparation for a post-Trump conservatism that will be infused with a heavy dose of libertarianism. One question I may need to ponder upon in these writings is the conflict and tension between the ideas of libertarianism and the authority placed on us by faith and religion. It's argued that we cannot legislate morality, so how and what distance from the straight and narrow shall we place the guardrails?
So instead of doing so much reporting and interpretation of events - particularly on the horserace aspect of elections, which I know I concentrated a lot on in the 2014 gubernatorial campaign – I'm looking to shift focus and begin exploring the benefits of limited government. In addition, there are certain cultural influences I think need to be broadcast and expounded upon. (That's one reason I miss having Cathy Keim's commentary on my site, but I'm sure her hiatus is just temporary.)
That is the first lane of my road. In the other lane is a project I've started on, but progress has been somewhat slow. Once I clear some commitments out of the way, though, I'm hoping to have more time to write my second book. Instead of being based on a series of blog posts I did like So We May Breathe Free was, this will be all original writing.
As one who was a member of the TEA Party movement, I have experienced this political phenomenon firsthand. There are many who have written the obituary of the movement, but I think there's a need to look at the entirety of the TEA Party era, explore its impact, and, if its death has already occurred, do the autopsy. It's the basic premise of the book I've started to write, although as I do research I'll be interested to see how my theories bear out. Perhaps it was really all a mirage.
Just as a Christian is called to be in this world, but not of this world, perhaps stepping away from active participation in the political process may be the best way to have a perspective on it. While I was bad at it anyway, now there's no call to be an apologist for the actions and views of our candidates Donald Trump, Kathy Szeliga, and Andy Harris. Truth be told, I'm sure that even Donald Trump and Hillary Clinton aren't completely bad people, but neither of them is a person of their word and we always need honest leadership.
When I was a child, we always looked up to those who would run for President. Richard Nixon resigned when he failed to uphold the honor of his office, but otherwise it was a situation where, while you may not agree with the people who ran for President on a political basis, you still found them trustworthy. Gerald Ford, Jimmy Carter, Ronald Reagan, Walter Mondale, Michael Dukakis, George H.W. Bush: all fine men who differed in their political views but were men of character.
But when Bill Clinton ran for and won office, all that changed. The Democrats of the last 24 years (Bill Clinton, Al Gore, John Kerry, Barack Obama, Hillary Clinton) seem to be flawed individuals. Bob Dole, George W. Bush, John McCain, and Mitt Romney were not perfect, either, but I thought them honorable and decent in character.
Unfortunately, 2016 is the election of the flawed individual. I'm actually saddened that my involvement in the political process has coincided with the coarsening of political culture, and I feel that maybe the better step is to proceed as a recovering (albeit very low-level) politician. It's been said that those who don't understand history are doomed to repeat it, so my job now is to attempt to change history's course in some small way by enlightening people about the advantages of liberty and, perhaps, the benefits of spiritual liberation.
That's my road. I'll surely be moving at a slower pace than I used to, but feel free to follow along nonetheless.
With the recent promotion of Yermin Mercedes, it's fortunate that the Shorebirds have a batter who is on a tear at the plate. While he doesn't present as much of a power threat, there's no denying Randolph Gassaway is on a roll with an 11-game hitting streak in which he's batting .439 (18-for-41), bringing his average up over 60 points in the process. As of yesterday his slash line was .337/1/3/.817 OPS in 25 games since being promoted from Aberdeen (where he began the 2016 campaign going 8-for-18 in 5 games.)
If the name seems vaguely familiar to Shorebirds fans, it's worth pointing out that Gassaway was on the Shorebirds' disabled list for several weeks in the 2014 season, never appearing in a game here. He was sent on a rehab assignment to the GCL Orioles before being redirected to Aberdeen for the rest of the season. In 2015 he spent the season with the IronBirds, hitting .273/0/22 in 60 games and splitting his time between corner outfield positions.
Originally drafted in the 16th round by the Orioles in 2013 out of Riverwood High School in Sandy Spring, Georgia, Gassaway started out as a first baseman but has found a home in the outfield since his second year in the pros. He replaced the promoted D.J. Stewart in left field for the Shorebirds (even wearing the same jersey number) and has played a clean 23 games so far. With another 30 games or so left in the season, it's possible that Randolph can get around 200 plate appearances for his Shorebird campaign as a good audition to begin next season with his first full-season team, perhaps in Frederick. Having just turned 21 earlier this season, he's gained enough experience to get his chance. The question is whether he can take advantage of his size (Gassaway is listed at 6′-4″, 210 pounds) to get more of a power stroke – he's been more of a gap-to-gap doubles hitter in his career, projecting out to about 30 in a full season so far in his career.
It's been a slow climb with a couple detours for Gassaway, but he has the potential to move up quickly for 2017 if his hot streak becomes a consistent .300 average the rest of the way.
Commentary by Marita Noon
America's rush to renewables has invited corruption and fraud.
Researcher Christine Lakatos and I, together, have produced the single largest body of work on green-energy crony-corruption. Our years of collaboration have revealed that those with special access and influence have cashed in on the various green-energy programs and benefitted from the mandates, rules, and regulations that accompany the huge scheme. Dozens of the projects, including biofuel, which required the unwitting investment of taxpayer dollars have failed – leaving employees without jobs, buildings without tenants, taxpayers without repayment, and cronies without pain (even snatching hefty bonuses on the way down). Most people know about Solyndra, the first bankruptcy, and some may know about Abengoa, the biggest bankruptcy, but there are many more.
These big projects allowed the politically connected to bilk taxpayers of billions and is the definition of corruption. But, there's fraud in renewable energy, too – and, while it doesn't hit us as hard as taxpayers, it does cost us as consumers.
Wednesday, July 20, representing the latest fraudster to be convicted – but not the first and surely not the last – "a jury found an Indiana man guilty of securities fraud and other crimes connected to a massive biodiesel fraud scheme," reported Greenwire. It turns out, Jeffrey Wilson and his multistate cohorts pretended to manufacture biodiesel, which allowed them to claim renewable fuel credits – known as Renewable Identification Numbers or RINs. The Department of Justice said Wilson's actions resulted in a $20 million loss to investors, $140 million in revenue, and $56 million in criminal profit.
I know more than most about the corruption surrounding green energy, but I hadn't followed this. I dug further.
Just two weeks earlier, two men in Florida pled guilty to a "multistate biodiesel fraud scheme." Biodiesel Magazine says Thomas Davanzo and Robert Fedyna operated several shell companies that were used to facilitate the "multistate scheme to defraud biodiesel buyers and U.S. taxpayers by fraudulently selling biodiesel credits and fraudulently claiming tax credits."
Six months before, on December 21, 2015, two men were indicted on "101 charges alleging they abused incentives offered to companies that produced biodiesel fuels." According to The Morning Call: "A federal prosecutor says they took subsidies for fuel they did not produce and sold renewable energy credits to unsuspecting buyers." The charges include conspiracy, wire fraud, filing false tax documents, obstruction of the Internal Revenue Service, and obstructing a federal investigation. The indictment claims Dave Dunham and Ralph Tommaso used a complex scheme that reached from Lehigh Valley, PA, to Washington state and into Canada and allowed them to apply for and receive government subsidies for producing clean diesel.
Also in 2015, two Las Vegas men and an Australian man were sentenced to federal prison for schemes to generate and sell fraudulent biodiesel credits. In another case, Rodney Hailey, owner of Clean Green Fuels in Maryland, was convicted of selling $9 million in counterfeit RINs from his garage without even trying to make biodiesel. Hailey's neighbors called authorities because they were alarmed by the "profusion of luxury cars" that showed up in his "suburban Baltimore neighborhood" – 22 in all, claims a report in Bioenergy Connection. Then there is Jeffrey David Gunselman, owner of Absolute Fuels in Lubbock, TX, who was indicted by a federal grand jury in Texas for lying about producing biodiesel fuel and selling the resulting renewable fuel credits. Reports indicate that he generated some 48 million RINs without actually producing any biodiesel fuel. He's remembered for using his ill-gotten gain to purchase, among numerous luxury items, a demilitarized Patton tank.
The most interesting biodiesel fraud case may be that of Philip Rivkin, founder and chief executive of Houston-based Green Diesel who is now serving a 10-year sentence for selling fraudulent RINs. Over a seven-year period he concocted an elaborate scheme that included, according to Bloomberg: "a three-story steel skeleton crammed with pipes and valves" – some of which were not connected to anything. In late 2008, Green Diesel did reportedly produce a batch of about 130,000 gallons of biodiesel, but the quality was "too poor for commercial sale."
Biodiesel RINs have become a valuable commodity because, as a result of the Renewable Fuel Standard (RFS), refiners are required to blend biofuels into the nation's fuel supply and the RINs supposedly prove they've complied. Rivkin sold more than $78 million in sham RINs. He bragged about building a $500 million company without any debt. When he fled the U.S. in 2011, prior to his 2014 capture, he did so in his $3.4 million Canadair Challenger jet.
These cases of RIN fraud are just those who've been caught – but they all have a common thread. They aren't the names we are used to in the green-energy corruption story like billionaires Warren Buffet and Tom Steyer or former politicos like Al Gore and Bill Richardson. They aren't cronies who've used political connections to work the system. They are fraudsters who found a way to fortune through the flawed RFS – first enacted by Congress in 2005 and expanded in 2007 – which contains a credit-trading program.
In a July 25 report on the RFS, Marlo Lewis, Jr., a senior fellow at the Competitive Enterprise Institute, explains: "Each gallon of biofuel produced is assigned a unique 38-digit Renewable Identification Number (RIN). When a refiner sells a gallon of biofuel in the motor fuel market, it earns a RIN credit. A refiner that does not meet its annual obligation by actually blending and selling biofuel can comply by purchasing surplus RIN credits from another refiner that exceeded its obligation. A refiner can also bank surplus RIN credits to meet up to 20 percent of the following year's obligation."
Because the law requires ever-increasing quantities of biofuel be produced – even beyond what consumers want or most vehicles can handle – RINs offer refiners a way to presumably meet the mandates while providing the market with what it wants. But, according to Brendan E. Williams, American Fuel and Petrochemical Manufacturers executive vice president, biodiesel RINs are especially lucrative: "Ethanol RINs stay attached to physical gallons of ethanol until the ethanol gallon is blended with petroleum.  This separation usually occurs at terminals, which are rarely owned by ethanol producers. Once ethanol is blended, the RIN is detached and becomes a tradable commodity.  Therefore, rather than a refiner or ethanol producer, it is often the terminal operator who does the blending that controls ethanol RINs.  A refiner that has a terminal rack at the refinery for local gasoline distribution can also do this blending, but this is not the usual situation because refineries are not located everywhere.  Biodiesel RINs work differently. EPA allows biodiesel producers to detach the RIN as soon as the biodiesel is produced. There is no requirement for biodiesel to be blended to petroleum diesel before the RIN is detached. This difference highlights why there is more fraud in biodiesel. The biodiesel fraudsters lie about producing physical biodiesel just so they can generate RINs on paper to sell. This is made possible based on the previously mentioned fact that there is no requirement for biodiesel to be blended with petroleum diesel." A graphic in the Bloomberg report adds: "Biodiesel RINs tend to cost more than ethanol RINs or other types because they are scarcer and can be used to satisfy multiple requirements under the Renewable Fuel Standard."
"RIN swaps," according to Bloomberg, "are usually agreed upon between companies, traders, and brokers via email, phone, texts, and chatroom messages." The onus is on the buyers, "if the RINS are found to be fraudulent, the holder has to purchase new credits to replace the phony ones" – and the new credits must be purchased at the current price that may be higher than the original purchase.
Of course, the refiners' purchase of RINs – and in the case of fraudulent RINs, the double purchase – is passed on to the consumer. We are stuck holding the bag for the fraudsters' get-rich-quick scheme that is enabled by the RFS.
"Because refiners can buy them to satisfy their obligations to introduce renewable fuels into the national market," Scott Irwin, an agriculture economic professor at the University of Illinois, according to The Morning Call, calls the RINs: "valuable." He explains: "A combination of little regulation, the small-business nature of biodiesel producers and higher-than-expected prices for credits produced a rash of fraud. … It was kind of set up for fraud."
Because the EPA, whose expertise is in things like oil spills and air pollution, isn't equipped to handle these cases of sophisticated financial fraud, Bloomberg reports, it has reached out to the Commodity Futures Trading Commission – "which is itself stretched thin because of its responsibilities under Dodd-Frank." The lack of oversight made the RFS biodiesel program a "government playground for con artists."
The biofuel fraud is just one prong in the growing push for RFS reform. The economic and technical realities of the "blend wall," as detailed in Lewis' report, is another. On July 27, Bloomberg chronicled the history of the unlikely third prong: big green groups' biofuel blunder. They've now turned against ethanol due to the agricultural runoff in waterways and conversion of prairies to cropland. Environmentalists, who once championed biofuels, are now seen as a factor in "improving the odds that lawmakers might seek changes to the program next year."
Reforming the RFS is not a partisan issue. Free market advocates don't like the mandates. Consumers resist been forced to purchase something they don't want. Environmentalists don't like the loss of prairie land and damage to the water supply. Rep. Peter Welch (D-VT) says the RFS has "truly been a flop. The environmental promise has been transformed into an environmental detriment."
The only resistance to calls for RFS repeal or reform comes from the biofuel producers lobby – though as I've previously addressed, corn ethanol would likely still be blended into our fuel supply at about the current levels as it is a valuable oxygenate that increases octane.
Lewis concludes his report with this admonition: "Congress should repeal the RFS so that consumer preference and competition, rather than central planning policies, determine which fuels succeed or fail in the U.S. marketplace. Failing that, Congress should sunset the RFS so it ends after 2022. In the meantime, the EPA should cap mandatory biofuel sales at the E10 blend wall, while allowing biofuel producers to sell as much additional renewable fuel as consumers actually want to buy."
Every politician in Washington talks about getting rid of waste, fraud, and abuse. Getting rid of the RFS would go a long way to achieving that goal.
The author of Energy Freedom, Marita Noon serves as the executive director for Energy Makes America Great Inc., and the companion educational organization, the Citizens' Alliance for Responsible Energy (CARE). She hosts a weekly radio program: America's Voice for Energy - which expands on the content of her weekly column. Follow her @EnergyRabbit.
This evening I may have made some of the more radical Trumpkins happy: I resigned from the Wicomico County Republican Central Committee and as an officer of the Wicomico County Republican Club. It was the time of my choosing.
My original draft of this piece was much more angry and bitter, but I think now on reflection that it's just a mounting frustration with all things political. I can see the iceberg as I'm standing on the deck of the Titanic but no one hears my warnings.
This is the time of year that I normally would begin the process for putting together volunteers to help out at the Wicomico County Fair, Good Beer Festival, and Autumn Wine Festival. But after a lot of thought, I realized that I would be lying to myself if I thought I could sit at a Republican table and hand out signage and trinkets for a candidate who I cannot support in Donald Trump. It got me thinking that we supposedly have all these new people who are willing to support Trump but would not support previous Republicans we worked hard to elect, so they can take over that duty.
In the last few months I have made a number of steps on my life journey, deepening in my faith. Now I understand I should be the forgiving sort, and if the reported conversion of Donald Trump to be a "baby Christian" is the truth, then I am pleased to hear it. But there also have to be deeds associated with the words, and the problem I have with Trump is that his version of the truth changes like most people change their socks. I find the lack of consistency to be an issue; while I know no one is perfect I would at least like to see him work in that direction. To borrow from the message I listened to Sunday on 3 John, Trump to me is still more of a Diotrephes and not enough of a Demetrius.
Because of that change, I've also realized that the party I have occupied for most of my adult life (aside from the two years I was classified as a Democrat because of my own Operation Chaos I did as a college student) has moved away from me. A party steeped in conservatism and willing to stand up for Judeo-Christian values would have laughed Donald Trump out of the race before we even counted the votes in Iowa because he has very little of either. And while the GOP talked a good game over the last eight years saying what they would do for the sake of government restraint via conservative principles if they were given enough power, their rank-and-file voters (well, the plurality of rank-and-file voters) decided to select a candidate who is, on balance, not for limiting government or for conservative ideals. This group of 44% of the Republican voters instead elected a television star and huckster whose claim to fame is a brand that's always for sale; a man to whom practically everything is negotiable at some point. Call me hardline, but I have principles that are not negotiable.
Trump is correct in noting that he was running for the Republican Party, not the Conservative Party, but until he came along during most of my life it was understood that the Republicans were the conservatives. Not anymore.
So I have become a free agent. A party that embraces Donald Trump is no party for me. Certainly I will lean heavily to the right, but I think it's time I freed myself from the shackles of having to be a spokesperson for a party that nominated so poorly for the top of the ticket.
While I am at it, I have to make a couple other observations. There are a lot of Trump supporters who are vowing not to support Larry Hogan in 2018 because he won't vote for The Donald – a stand from Hogan that I applauded and let him know that I did. So let me ask them: are you going to find a primary opponent? I can't wait to see that one. While I'm not the greatest fan of everything Hogan has done, I must say that you Trump backers are looking up the wrong hill to die on. If you want to push Hogan to the right, it's called giving him more conservatives in the General Assembly, not tossing a governor who has a reasonable chance at a second term where he can do a lot for the GOP - like redistrict the state in a fair manner.
I also have something to say to the "party over everything" people, mainly those heavily involved in the Maryland GOP, who keep saying "not voting for Trump is a vote for Hillary." I'm not voting for Hillary either, so neither side gets a vote from me. What you can't seem to get through your heads is that, if Hillary is indeed elected in November, the moment she won the election was the moment you helped to nominate the extraordinarily unpopular, boorish, often truth-challenged Donald Trump to be the GOP standard-bearer. Not only did I not vote for him in the primary, I spent many weeks in the summer of 2015 researching candidates and can tell you that all but maybe one or two of Trump's opponents would have been far better on top of the ticket. You chose to ignore me (and a lot of others who said basically the same thing) so you'll get either a humiliating loss in November or a Republican president who will likely govern like the worst of Democrats, with the added "bonus" of making Congressional Republicans vote against their President. There were always a handful who voted against Bush's government expansion, but most sold themselves out based on "party over everything."  And what did it get us? Farther away from the ideals of our Founding Fathers, that's what.
Unfortunately, the damage is yet to come: a lot of good people will be hurt by the short-sightedness of the portion of the GOP electorate that picked Trump. But I'm done carrying their water as a party officer, just as several of my friends and cohorts have already done. I was hoping against hope for a convention miracle; alas it was not to be.
This decision, however, will lead to a few changes here: no longer will I cover the Wicomico County Republican Club or the state party conventions. I may attend events after the election, but for now I think it's better I do my own thing.
I guess the way I look at it there are three possibilities here: either Trump is going to lose to Hillary, he will beat Hillary and govern exactly as I predict he will, or he will be a great President and I will have assessed him incorrectly. Truly I wouldn't mind being wrong for the sake of this great nation, but I have no evidence to believe I will be.
Finally, if I offended any of my erstwhile peers by my manner of springing this on you as the meeting tonight drew to a close, I'm truly sorry. But I believed I owed you an explanation. Some have been supportive and others not so much but that's what I expected. It's been a fun and rewarding ten years in the local Republican Party (not to mention another decade I did the same in Ohio) but all things must pass. So let it be.
A few days ago I mentioned the manufacturing advocates the Alliance for American Manufacturing (AAM) in a post regarding their convention plans. I wasn't surprised to see they were very pleased with Hillary Clinton's remarks, including a plan to "pass the biggest investment in new, good-paying jobs since World War II." Ah yes, the old "investment" in infrastructure, where taxpayer money will be shoveled to cronies and unions in an effort to build things we may not need or use (like facilities for public transit, bike paths, and so forth) at the artificial "prevailing" wage. Spend five dollars, waste two or three more – they don't care because it's all on the credit card anyway.
It sounds to me just like the promises regarding the "stimulus" package from Barack Obama, officially known as the American Recovery and Reinvestment Act (ARRA) of 2009. Those "shovel-ready" jobs actually turned out to be, among other things, government backstopping certain public-sector jobs that may have been destined for the chopping block. Only a small portion of the over $800 billion spent actually went to infrastructure, but ARRA was sold as an investment in infrastructure. So pardon me if I expect little good to come from Hillary's plan.
Anyway, last night I read a contention that was more interesting (and realistic) from American Enterprise Institute scholar (as well as professor of economics and finance) Mark J. Perry. Here is the money line:
The bottom line is that America's abundant and low-cost natural gas and electricity have more than offset higher labor costs in the U.S. and have contributed to the strongest profitability in a generation or more for U.S. manufacturers. Within three years, and possibly even sooner, it will be cheaper for most U.S. companies to manufacture goods for the American market at home, compared to producing those same goods in Asia. (Emphasis mine.)
Of course, that prediction is fraught with peril. We could regulate our way out of the energy boom by continuing to mandate the use of expensive, inefficient renewable energy sources (or, in lieu of that, transfer payments from utility providers), we can maintain the oppressive tax climate that has been one of many reasons companies are choosing to go offshore – any bean counter will tell you it's better to pay 15% tax than 35% – or actually enact the increasing minimum wage that unfortunately Donald Trump is now supporting. Any or all of these are possible regardless of who wins the Oval Office.
And that's the shame of it all. Over the course of the nation's history, we have seen America become a great industrial power only to lose its advantage to upstarts like Japan and China. (Then again, we wrested the title from the British in the 1800s so things are always fluid.) These Asian nations took advantage of newer technology and less expensive labor to attract American manufacturing jobs that were in older, less efficient unionized plants, despite the fact these items would have to shipped back thousands of miles to their primary market.
But here we have the chance to get some of this back, and my fear is that too many people want to keep the status quo in place as a political issue rather than solve the problem. We talk about being a free market insofar as trade is concerned, but I contend that we need to work on freeing our own market:
Toss out these federal and state regulations and carveouts that only benefit special interests or large, established competitors trying to corner their respective markets.
Encourage the adoption of right-to-work laws so unions are forced to compete and sell the benefits they provide for the cost to workers.
Instead of debating whether the minimum wage should be increased or not, we should be debating how quickly we phase it out. The true minimum wage is zero, which is what workers who are tossed out of a job when companies can't afford the increased labor costs will earn.
In reading the GOP platform (and I'm just going to ignore the Democrats on this one, since they aren't selling themselves as free-market, limited-government types) I saw some attention paid to these issues, although their approach seems to be more of just controlling growth and pruning around the edges than a wholesale reduction. Needless to say, that platform could be completely ignored by the elected members of the party from Donald Trump on down if the idea of enriching their friends, rather than the supporters of the other side that have engorged themselves over the last eight years, remains in place.
Sadly, over most of the last century it hasn't really mattered which side was in power because government has grown regardless of who was in charge. (The one exception: the Harding-Coolidge era of the 1920s, when the federal budget was drastically reduced – and annually balanced - after World War I. In a time where we are stuck with Trump, Clinton, or maybe Gary Johnson, what we really needed was a Coolidge. Bobby Jindal was probably the closest we had in the GOP field.)
I began this whole process by talking about infrastructure, and there's a legitimate need for prudent spending on upgrades where it is appropriate. Sometimes there is a need for a new federal or state facility. But I have also seen how the government uses infrastructure to maintain a cash cow, with my favorite example being the Ohio Turnpike I grew up close by.
You see, the original plan was to eliminate the tolls once the bonds to construct the road were paid off in the 1980s. (This was promised when the highway was built in the early 1950s – my dad remembers them staking it out a few miles from his house.) But then they decided that some new exits were necessary (which they were) so they decided to build those. Then it was adding a third lane in each direction between Youngstown and Toledo (a process still going insofar as I know, since I haven't been that way in a couple years), then renovating all the rest areas (twice in thirty years, and ditto), and so on and so forth. Forget the promise to remove the tolls once the highway was paid off – they constantly spend money on projects that weren't within the original scope, perpetuating the agency that runs the Turnpike.
In theory, we could spend money from now until doomsday on government-sponsored projects. Some contractors would benefit, but others would be left out in the cold because there's a certain procedure required to bid on and win public works contracts. But it wouldn't necessarily be the best use of our funds – and by that I don't mean the money in the public till but the money that we earn for our collective pockets. If we really want to get manufacturing going and bring it back to America, we need to maximize their potential for meeting our marketplace. They may make mistakes, but that should be up to the market to pick winners and not the government.
One of the more effective relief pitchers the Shorebirds have had this season, Jay Flaa has gotten a little more work in lately. After pitching in a routine that generally put him on a starter's schedule of sorts – pitching about every four to six days – Jay was used three times in four days on the Shorebirds' most recent homestand, picking up his fourth win and second save on the year in consecutive contests against Kannapolis. Over the year Jay has put in 23 appearances, good for 38 2/3 innings, and carries a 4-0 record with a 3.49 ERA and 1.16 WHIP. Flaa is stingy with both hits and walks allowed, with only 29 hits and 16 walks so far this season.
The Orioles selected Flaa in the sixth round last season, making him the highest pick from North Dakota State University in 21 years. Jay is a native of North Dakota, so it may be the reason he wasn't sought after in previous drafts – there aren't a whole lot of scouts traversing that territory, and those that do are likely looking for the next Wayne Gretzky. So Jay stayed in-state after high school ended. (It's worth noting that a number of his NDSU peers over the last few seasons have tried their luck in independent leagues after college, so scouts may be taking more notice.)
I think Flaa has the potential of being one of those late bloomers: having turned 24 in June, Jay started out a little older than his peers at each level. After making one appearance in the Gulf Coast League, Flaa was a shutdown pitcher at Aberdeen last year, pitching 20 2/3 innings in 14 games with a 1.31 ERA and a WHIP of 0.73 from allowing just 15 baserunners (10 hits and five walks.) Those numbers have regressed a little bit here against sturdier competition, but Jay adjusted well after a tough April where his ERA was 6.14. (That was mainly the result of one bad outing against Greensboro where he allowed four runs in 1/3 of an inning.) Showing that he's durable enough to pitch on back-to-back days is an important step for a relief pitcher, especially since he's also proven himself as more of a middle reliever as well. (Flaa made four consecutive three-inning appearances in May and June.)
Given his reasonably high draft status, presumably Jay will be ticketed for Frederick either to wrap up this season or for 2017 as a bullpen leader. And one more interesting thing: given his uncommon last name, I figured in searching Baseball Reference there was only one Flaa who's played in the pros – but I was wrong. He may or may not be related, but Arnold Flaa had a brief 19-game minor league career playing in the Class D Eastern Shore League in 1948, for Cambridge. It's uncanny how the younger Flaa's baseball path led him to the Eastern Shore as well.
It's not all that likely people know that the woman who is probably Salisbury's most famous widow – Mitzi Perdue – had such an interest in politics. We got to hear about that and her support for Donald Trump during our meeting Monday night.
Once we dispensed of the introductory business, we turned the meeting over to her and Perdue spoke for more than a half-hour on a number of topics – or as she called them, "things on my mind." She was very pleased to see several younger people in the group, pointing them out as "VIPs" among us.
But after recommending the new Dinesh D'Souza movie "Hillary's America," saying "you'll love it," Mitzi revealed that she had been for Donald Trump "a long time." She related a story that many were familiar with: the renovation of the Wollman Rink in New York City. It was a project the city had tried and failed to do for several years before Trump convinced the city of New York to give him a $3 million budget and six months to get the job done. Not only did he do so, but he made a profit. "I want somebody who is really competent," said Perdue, "and cuts through the red tape." It went along with her belief in smaller government and lower taxes.
Yet while Mitzi had a longstanding interest in politics, telling us "politics attracts me," she could never take the step into running for office. It was so "incredibly tempting" though that she decided to enroll in campaign school. But there she learned that a candidate's primary job was to deny their opponent's identity, and she could not run under that condition. Perdue lamented the fact that campaigns aren't about honesty or truth, pointing out the 65,000 negative ads run against Trump. As "a writer by trade," Perdue thought "the amount of distortion was staggering." She added her belief that Trump was "a product of where he came from," as he grew up in Queens.
In addition, Mitzi related her opinion that in this election we are "up against an extinction-level threat." While she asked the response of several in the room about their most important issues – and got solid answers such as illegal immigration, radical Islam, the economy, and so forth, she considered our national debt as the biggest threat. Citing a book by Reinhart and Rogoff called This Time Is Different: Eight Centuries of Financial Folly, Perdue contended that when debt becomes too great, it brings about the end of nations. Because Donald Trump "understands balance sheets," Mitzi believed he could best address the issue. "I want a businessman who knows how to say 'no'," she explained.
But when Perdue was asked about illegal immigration, she noted the research that shows all the new jobs this century accrued to immigrants, which led to stagnant wages. "Labor is a commodity," said Perdue, who also noted that, while immigrants are paying $13 billion a year in taxes, they are using $100 billion in services. "I love that (Trump) is for our citizens," she said, adding that's in part because "we don't protect our borders." A border wall is "very doable" with modern technology, she added. As an further benefit, it would slow the drug trade. "My hatred of drugs is unending," Perdue explained.
Her next campaign task was going to be difficult, though: she was seeking a position she had contemplated as a national coordinator of volunteers. This person would evaluate the skills and aptitudes of those who wanted to work for the Trump campaign and give them appropriate tasks. Since Mike Pence had a slightly different strategy, Mitzi thought the job may not pan out.
A final question dealt with coordination between the campaigns of Trump and Maryland's U.S. Senate hopeful Kathy Szeliga, but it morphed into a discussion about credibility since President Bush had used up a lot of his during his term of office. "Trump is cut from a different cloth," said Perdue. As for the coordination (in particular signage) that may be up to the state and local parties.
It was an interesting talk, more or less aimed at people not sold on Trump – that would be me. Perhaps I will address this at a later date.
As for the meeting, I was pressed into service to give the Central Committee report. So I updated the club on the Board of Education, an upcoming local fundraiser for Kathy Szeliga to be held on August 20, and progress in planning the Lincoln Day Dinner.
Delegate Carl Anderton gave us an update, assessing that "everything is going great," and that his immediate agenda would be that of trying to get local priorities funded in next year's budget as he meets with the budget secretary.
Other issues Anderton found important were the impact of the Maryland Department of the Environment and of Obamacare, particularly the "numerous issues" constituents were having if their Obamacare plans lapsed due to non-payment. If it was a choice between that and cable, "stretch the cable bill," said Anderton. Overall, he believed "the Lower Shore delegation is busting their humps" for us.
Speaking on the Department of Natural Resources, Joe Schanno pointed out two upcoming issues would be Sunday hunting and controlling the deer population because our area was seeing more frequent car vs. deer accidents.
We learned that we would have a GOP headquarters in the same location the Trump headquarters occupied, with the opening in late August – perhaps coordinated with 3rd Friday. Speaking of that event, Shawn Bradley stressed the need for volunteers at the GOP table there.
We "may need more volunteers" for the Crab Feast September 10, added Jim Jester. The club also authorized a package for sponsorships, which will shortly be available along with tickets to the event.
Regarding our two local womens' Republican groups, Michelle Bradley reminded us the Greater Wicomico Republican Women would next meet August 11 at Adams Taphouse, with Delegate Christopher Adams being the featured speaker. For their part, the Republican Women of Wicomico will come off their summer break with a Brew River lunch meeting on September 7 with county Chair Mark McIver speaking, then have their Constitution Day gathering on the 17th of September, said Ellen Bethel.
Nate Sansom gave us a rundown on the local Teenage Republicans, who will get back together in August and plot out their strategy to work with both the Trump and Szeliga campaigns.
We also heard from Don Murphy, who came to thank the Central Committee for its support in sending him to the convention as a delegate. He noted that he "had never seen as much contention and dissention" at any other convention he had attended as he had seen during the Rules Committee fight. And while he was one of maybe 7 or 8 from Maryland who voted against the rules, he was one of those who did so as a Trump backer. "What Ted Cruz did was wrong," added Murphy.
Yet as contentious as the GOP gathering was, Murphy believed it was "not even close" to what the Democrats were experiencing. "Hillary is our common enemy," Don concluded.
So it was a very interesting meeting. The next one is slated for August 22 with a speaker to be determined.
Commentary by Marita Noon
In his less-than-enthusiastic endorsement of Hillary Clinton as the Democrat's choice for President, Sen. Bernie Sanders decried "Greed, recklessness, and illegal behavior" and declared that we couldn't let "billionaires buy elections." Perhaps his opposition research team discovered what we have about Clinton's connections with the very entities he despises: Wall Street – which he's accused of "gambling trillions in risky financial instruments;" and "huge financial institutions" that he says: "simply have too much economic and political power over this country."
Wall Street and its "huge financial institutions" are Clinton allies – supporting both her campaign and donating big bucks to the Clinton Foundation.
In the batch of Democrat National Committee (DNC) emails WikiLeaks made public on July 23, DNC Research Associate Jeremy Berns tells his colleagues: "She [Clinton] doesn't want the people knowing about her relationships on Wall Street." He adds: "She wants to achieve consistency and the best way to do that is to keep the people ignorant."
For the past four years, I've collaborated with citizen activist/researcher Christine Lakatos (she's been at it for six years) on what we've called: President Obama's green-energy crony-corruption scandal. Together we've produced the single largest body of work on the topic. In her blog, the Green Corruption Files, she posts her exhaustive research – what I affectionately refer to as the drink-from-the-fire-hydrant version. I, then, use her research to draft an overview that is appropriate for the casual reader.
More recently, our efforts have morphed to include the Democrats' presidential nominee, as Lakatos found the same people are her "wealthy cronies," too.
In Lakatos' most-recent, and final Green Corruption File, released on July 19, she states: "While there are numerous ways you can 'buy access to the Clintons,' I'm only going to connect the dots to the Green Gangsters, which we've already established are rich political pals of President Obama, as well as other high-ranking Democrats and their allies, who were awarded hundreds of billions of 'green' taxpayer cash."
Her lengthy report is "devoted to proving beyond a reasonable doubt that the Democrat presumptive presidential nominee, Hillary Rodham Clinton, is not on only in bed with Big Money (Wall Street, the Uber-Rich, special interests groups and lobbyists) and Dark Money (Super PACS and Secret Cash), she's also bankrolled and is in cahoots with – directly and through her husband and her family foundation – the wealthy Green Gangsters, who are robbing U.S. taxpayers in order to 'save the planet.'"
While the dozens of pages prove the involvement of names you know – like former vice president Al Gore, former Governor Bill Richardson, and billionaire donors Tom Steyer and Warren Buffett, and names you likely don't know: David Crane, John Doerr, Pat Stryker, and Steve Westly – I've chosen to highlight the Clinton's Wall Street connections that have benefited from the green deals that were cut in the Obama White House and that will continue on if Clinton wins.
Lakatos points out: "Clinton's 'ambitious renewable energy plans' move far beyond Obama's green mission that has been rife with crony capitalism, corporate welfare, and corruption." Along with more climate rules, she "wants an open tab for green energy." Remember the DNC's official platform includes: "the goal of producing 100 percent of electricity from renewable sources by 2050″ and "a call for the Justice Department to investigate fossil fuel companies for misleading the public on climate change."
Three Wall Street names of my limited-word-count focus are Goldman Sachs, Citigroup, and Bank of America. Each is a top-contributing Clinton campaign supporter and a Clinton Foundation donor. They have benefited from the hundreds of billions in taxpayers dollars given out for green energy projects through the Obama Administration. All three have expectations that Clinton will continue the green programs put in place by the Obama administration.
Goldman Sachs – donated between $1 million to $5 million and the Goldman Sachs Philanthropy Fund has contributed between $250,000 to $500,000 to the Clinton Foundation.
As Lakatos pointed out in previous reports, Goldman Sachs is connected, via various roles, to at least 14 companies and/or projects that won green taxpayer cash – a tab that exceeded $8.5 billion. One specific example: Goldman is credited as the "exclusive financial adviser" for the now bankrupt Solyndra ($570.4 million loss). Then there is now-bankrupt SunEdison – an early Goldman Sachs investment. SunEdison received $1.5 billion in federal and state subsidies. And, in 2010, Goldman Sachs handled the IPO of government winner, Tesla Motors that was awarded $465 million from the Department Of Energy (DOE) ATVM program – they got much more if you factor in the state and local subsides: $2,406,805,253 to be exact. Also, according to Goldman, "In May 2013, [they] helped raise over $1 billion in new financing for Tesla Motors."
Citigroup/Citi Foundation – donated between $1 million to $5 million to the Clinton Foundation.
This big bank is connected to approximately $16 billion of taxpayer money. Lakatos, in 2013, reported that Citi was actively involved in securing the 1703/1705 DOE loans; was a direct investor; and/or served as an underwriter for the initial public offering (IPO) of at least 16 of Citi's clients that received some form of government subsidies. One green company where Citi is a major investor is SolarCity, which has been subsidized through various stimulus funds, grants and federal tax breaks at the tune equaling almost $1.5 billion. Billionaire Elon Musk is CEO of Tesla and Chairman at SolarCity. He's a Clinton Foundation donor ($25 million to $50 million) and Hillary supporter, too.
Bank of America/Bank of America Foundation – donated between $500,000 to $1 million to the Clinton Foundation.
Bank of America, amongst other green efforts, participated in Project Amp – a four-year, $2.6 billion project to place solar panels on rooftops in 28 states. At the time, the Wall Street Journal reported: "Bank of America Merrill Lynch unit will provide $1.4 billion in loans for the project," of which "the financing is part of Bank of America's plan to put $20 billion of capital to work in renewable energy, conservation and other clean technologies that address climate change." In the final days of the DOE loan program (September 2011), the DOE awarded a partial guarantee of $1.4 billion loan to Project Amp. According to a press release, Bank of America increased its second environmental business initiative from $50 billion to $125 billion in low-carbon business by 2025 through lending, investing, capital raising, advisory services and developing financing solutions for clients around the world.
It's important to remember that climate change – which is the foundation of the green agenda – is part of the Clinton Foundation's mission statement: "In communities across the globe, our programs are proving that we can confront the debilitating effects of climate change in a way that makes sense for governments, businesses, and economies." Additionally, the Foundation's coffers were enriched when Clinton and her State Department staff solicited contributions from foreign governments to the Clinton Global Initiative, as we detailed in our coverage of her clean cookstove campaign.
In addition to Clinton's obvious Wall Street connections, one of the many startling realizations that can be gleaned from the report on Hillary's Horrendous Hypocrisy, is the fact that these companies – some of which would not be in existence without the grants and tax credits – that received millions in taxpayer dollars, took our money and gave it to the Clinton Foundation and to the Clinton Campaign. As was the case with Clinton Foundation donor/campaign fundraiser George Kaiser, these billionaires are making lucrative profits, at taxpayer expense, from bankrupted green companies like Solyndra.
In short, we, the taxpayers, are subsidizing the well-connected millionaires and billionaires – and Hillary Clinton is part of all of it. Meanwhile, she admonishes the average American to combat climate change by driving less and reducing our personal use of electricity.
Bernie Sanders was right to be alarmed. Huge financial institutions do have too much political power. Wall Street billionaires are trying to buy Clinton the White House. In return, she'll be sure their green energy investments pay off for them by demanding that America go green.
The author of Energy Freedom, Marita Noon serves as the executive director for Energy Makes America Great Inc., and the companion educational organization, the Citizens' Alliance for Responsible Energy (CARE). She hosts a weekly radio program: America's Voice for Energy - which expands on the content of her weekly column. Follow her @EnergyRabbit.
On several occasions, since my brief dalliance with a company and website called American Certified - which, alas, is no longer in business – I have cited a group I first ran across around that timeframe called the Alliance for American Manufacturing (AAM.) I have also pointed out that their perspective comes from their backing, as it is a conglomeration mainly composed of unionized steel manufacturers – so I always assumed they were more in line with the Democratic Party than the Republicans, which traditionally have been more in favor of free trade rather than protectionism.
So I had an e-mail in my back pocket that I was going to mention in a piece like this. Originally it laid out AAM's plans for both conventions, but I received an updated version of their plans for the Democratic convention confirming that's where the effort would be.
Here was their slate for the GOP in Cleveland:
AAM is hosting the Keep it Made in America tent, a space located just outside the Quicken Loans arena where we are chatting with convention-goers about ways to grow American manufacturing jobs. We also are speaking at a number of state delegation breakfasts, sharing with local, state and national lawmakers the issues that we think must be on their policy agendas.
AAM president Scott Paul added in a blog post last week:
(T)rade and the atrophy of middle-income factory jobs are dominating the national political discussion. Trump talks about it constantly. But he's not alone, and this is the first time in the post-World War II era that we've seen both party candidates take the issue so seriously.

It's better late than never. Before you write off Trump's bellicose "45 percent tariff" rhetoric as low-brow protectionism - or find the change of heart on the Trans-Pacific Partnership that Hillary Clinton experienced on the trail a little too politically convenient - keep in in mind that a lot of our fellow Americans agree with this sentiment. They certainly do here in Ohio.
The logic behind free trade, though, is that nations benefit when value is maximized and it may be possible to add more value to a product in another location than it is in America. Yet the AAM argues – correctly to an extent – that nations like China take advantage of the rules by not dealing fairly through a policy of subsidizing industries and currency manipulation.
On the other hand, though, AAM will certainly be pulling out all the stops for the Democrats in Philadelphia, including what they describe as a "scene-setting Town Hall meeting":
The Alliance for American Manufacturing (AAM) is hosting a conversation about why these issues matter for our economy, our children's future and our politics today.

Recent focus group and polling data show these topics are driving voters' decisions on which candidate to select. Both Hilary Clinton and Donald Trump have been aggressive in defining their plans for trade and manufacturing.

Confirmed Speakers Include:

Gene Sperling, key economic adviser to Hillary Clinton
Leo Gerard, president of the United Steelworkers
Rep. John Garamendi (D-CA 3rd District)
Mark Mellman, award-winning pollster for Democratic leaders
Scott Paul, president of the Alliance for American Manufacturing
Mike Langford, president of the Utility Workers Union of America
Tom Conway, international vice president of the United Steelworkers
This to me represents less of an exchange of information as it would be an echo chamber.
Protectionism and punishing corporations that choose to offshore manufacturing is one possible answer, of course. But the thing I always think about when this conversation comes up is the East German Trabant automobile that was hopelessly stuck decades behind the times when Germany finally reunited in 1990. Because it had a protected market, what incentive did Trabant have for improvement?
Unfortunately, a short-sighted government-centered approach that saw manufacturers as cash cows for big government and favored the big guys over leaner, hungrier start-ups through regulation too burdensome for smaller competitors to withstand has done as much (or more) to curtail American manufacturing as our trade policies have. While I certainly don't believe many of our larger trade agreements were tailored to suit our interests enough, for the most part it's the complexity of the deals and how they worked out exceptions for certain industries and players that is the issue. If we simply said "we won't tariff your stuff if you don't tariff ours" and both sides stuck to it, eventually the market would find its own level. America should be able to use the advantages of a predictable legal system, well-educated workforce, abundant sources of energy, and outstanding transportation network, but they are negated by the policies in place that I describe above.
The generation of my grandparents won World War II by being able to produce within our borders much of the material and equipment needed to keep a two-front fighting force going. Can anyone honestly say we could do that today? I don't wish us to be on a war footing, but I'm convinced America can be a place that makes things again. It's a simple matter of policy over protectionism, and adopting a hands-off approach at the federal level (yes, there's that limited government idea of mine again) would be the best course of action. I just don't think AAM would be willing to listen to that argument.
As I did from last month, I'm building on 3rd Friday to provide another edition of WLR. But in this installment I'll profile a local group doing good through music.
The "official" 3rd Friday group playing on the Plaza stage was a Salisbury University-based group called The Benchwarmers, who I would say had more of a jazz feel than straight up rock. But they won the right to play through a battle of the bands, so here they were.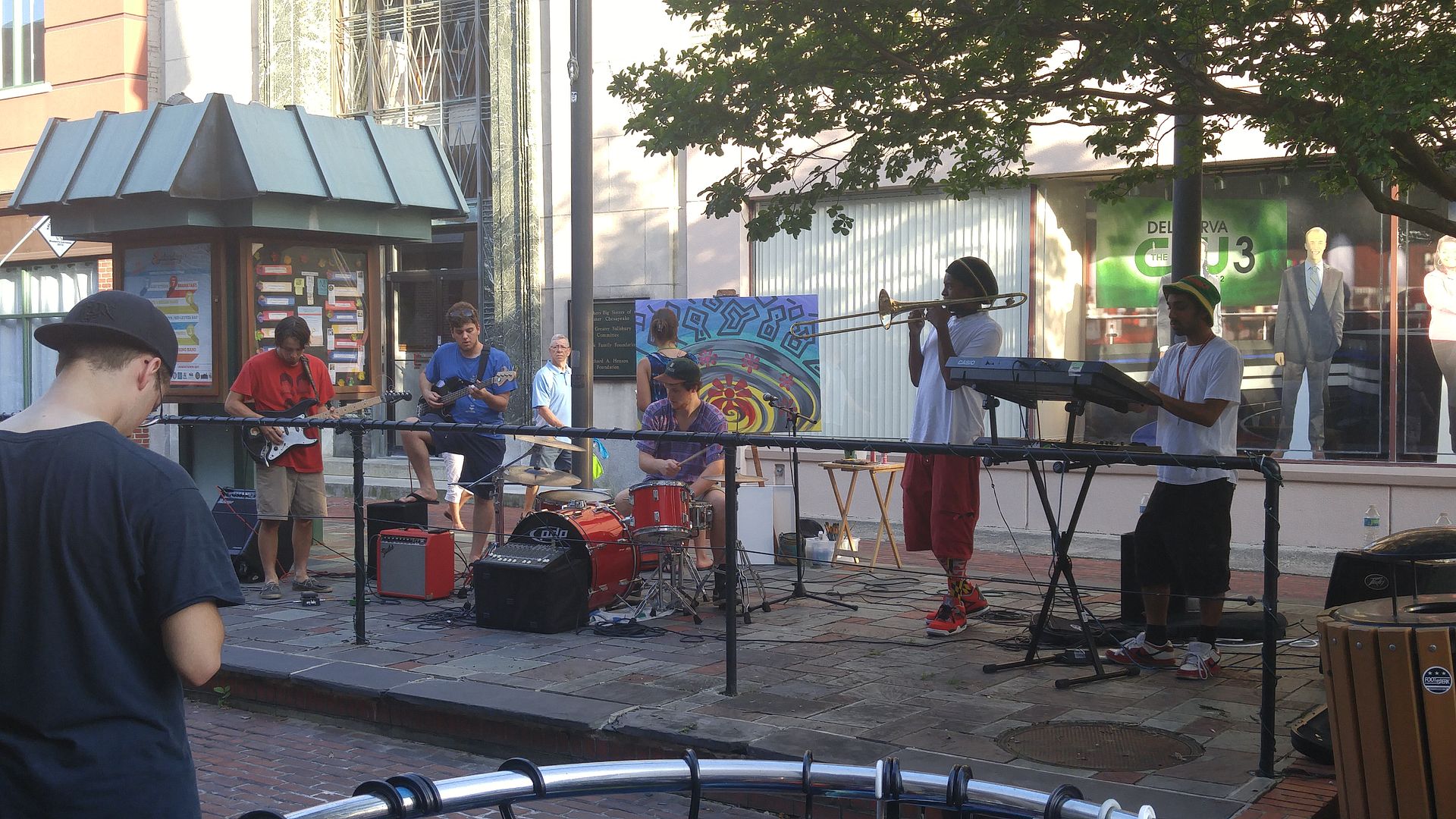 I still haven't figured out the idea of the painting being created behind the group, but to each his or her own, I guess.
Now if you stood in just the right spot, you could hear the Plaza stage in one ear while Alex & Shiloh played in the other one, outside at Roadie Joe's.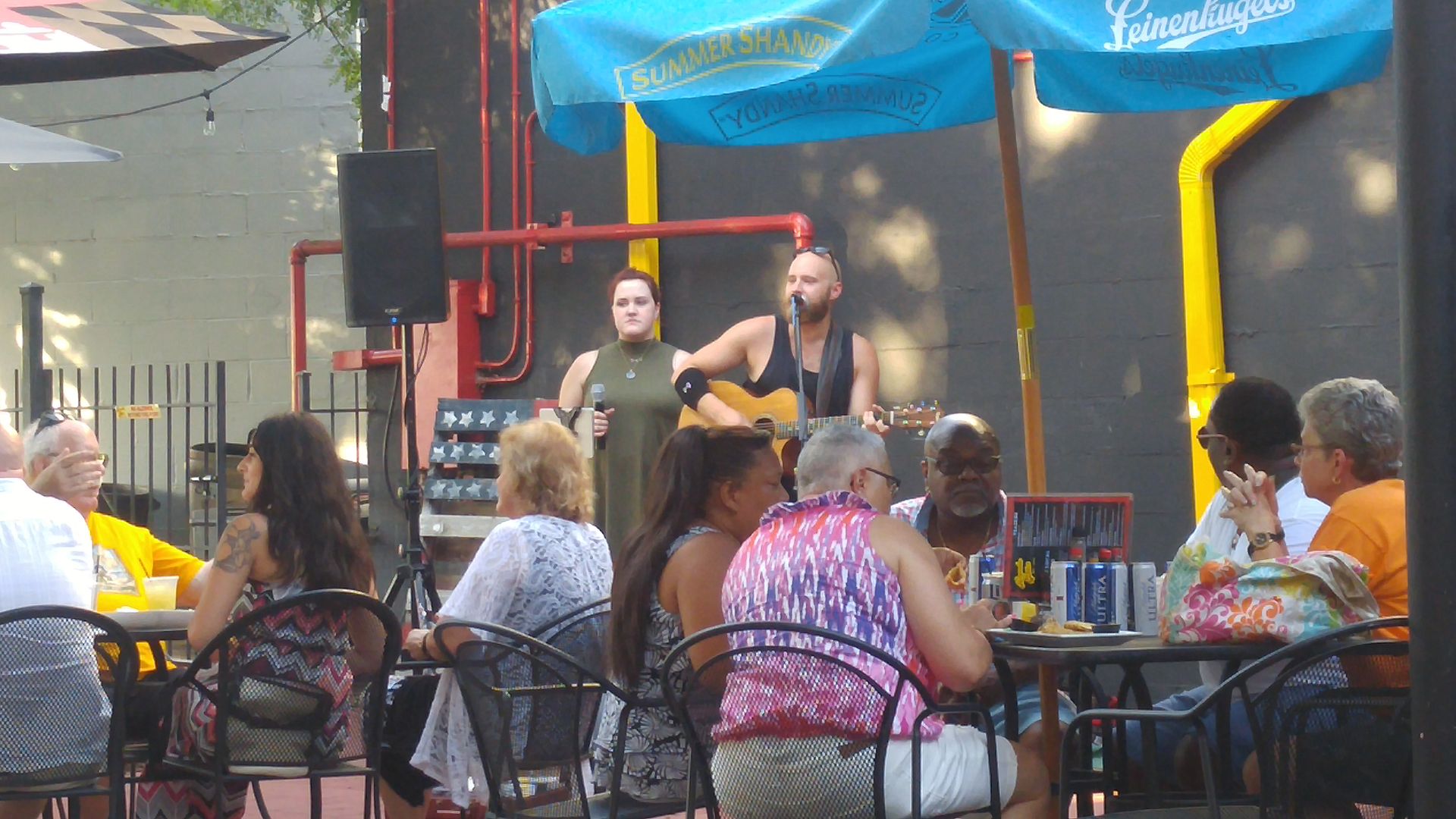 The management at Roadie Joe's has definitely picked up on the concept of having outside live music during 3rd Friday and bringing in business, as the outside tables are generally filled. (Kim and I ate there last month, as I noted in WLR 69.) It's nice because if the main stage doesn't strike your fancy you can browse on over to that end of the Plaza.
I didn't stay for the Roadie Joe's nightcap act this time because I knew I would be back downtown the next night for a benefit called "Fire Up the Bands," sponsored by the Maryland-8 chapter of Hogs and Heroes, a motorcycling group dedicated to supporting military and first responders.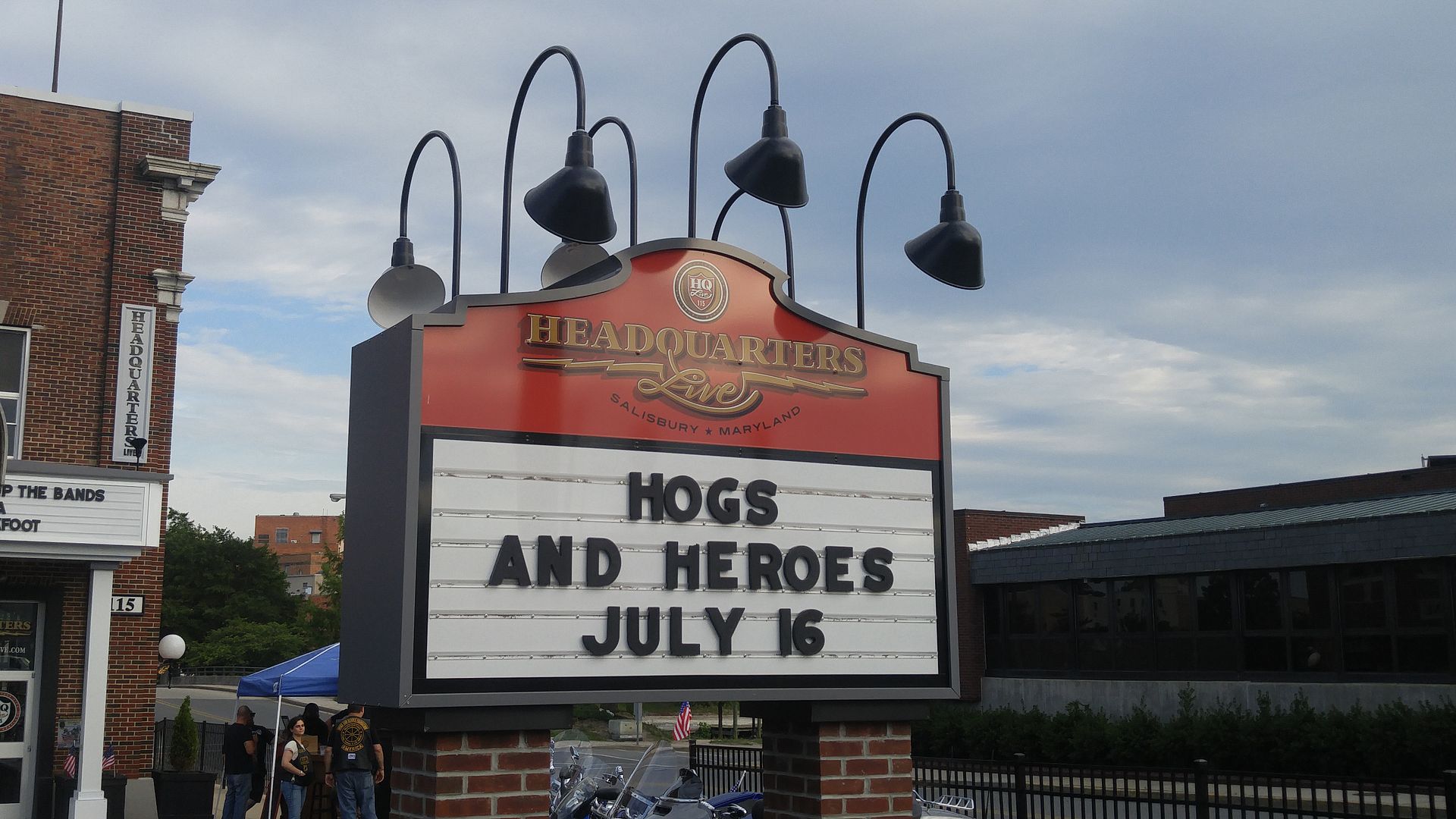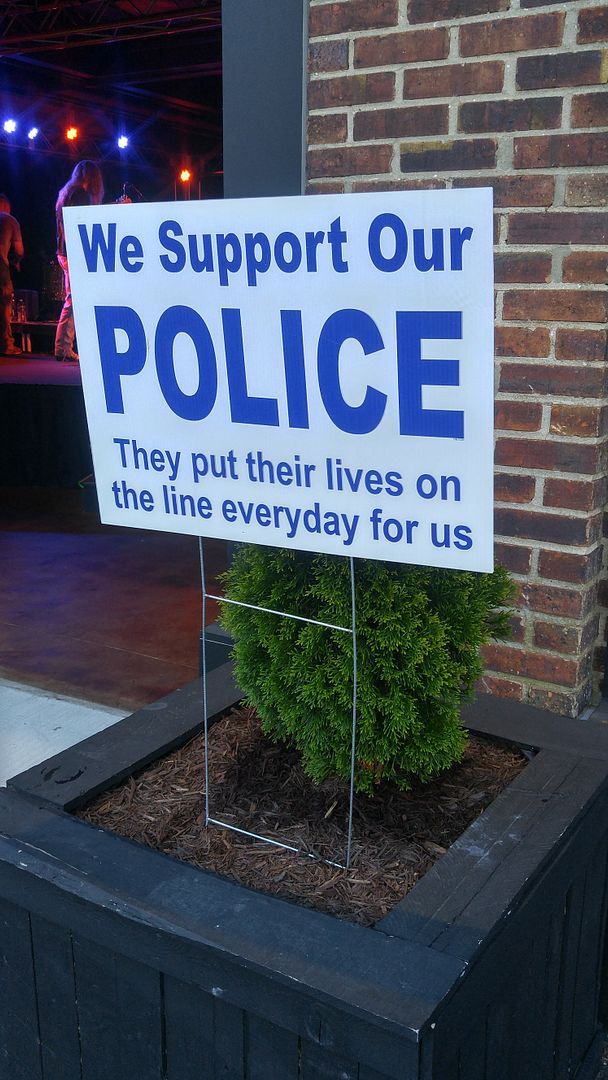 While there were originally three bands on the bill, a late change cut things down to two. Meanwhile, there was a silent auction going on and the leadership of Hogs and Heroes was giving away door prizes between bands.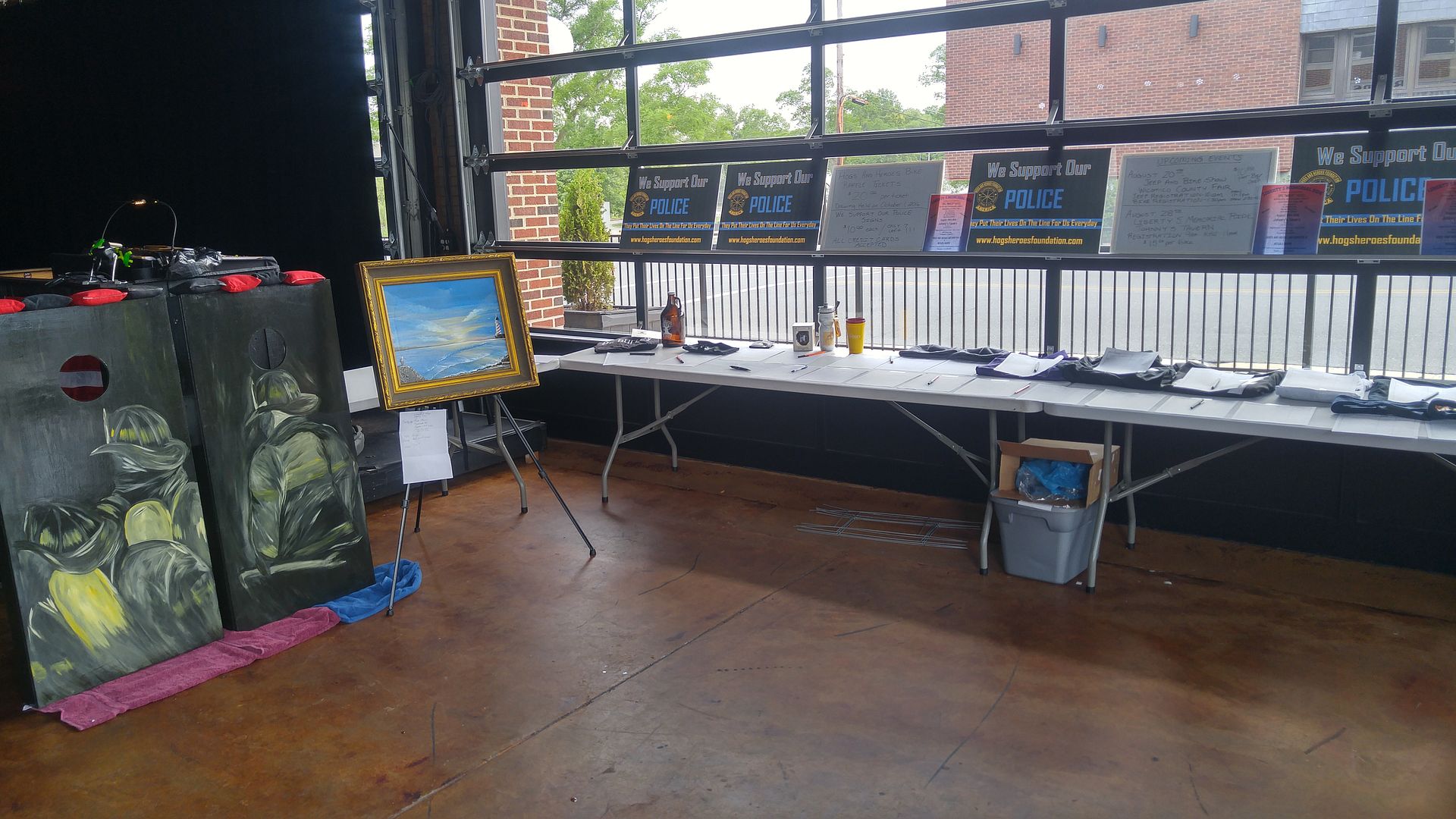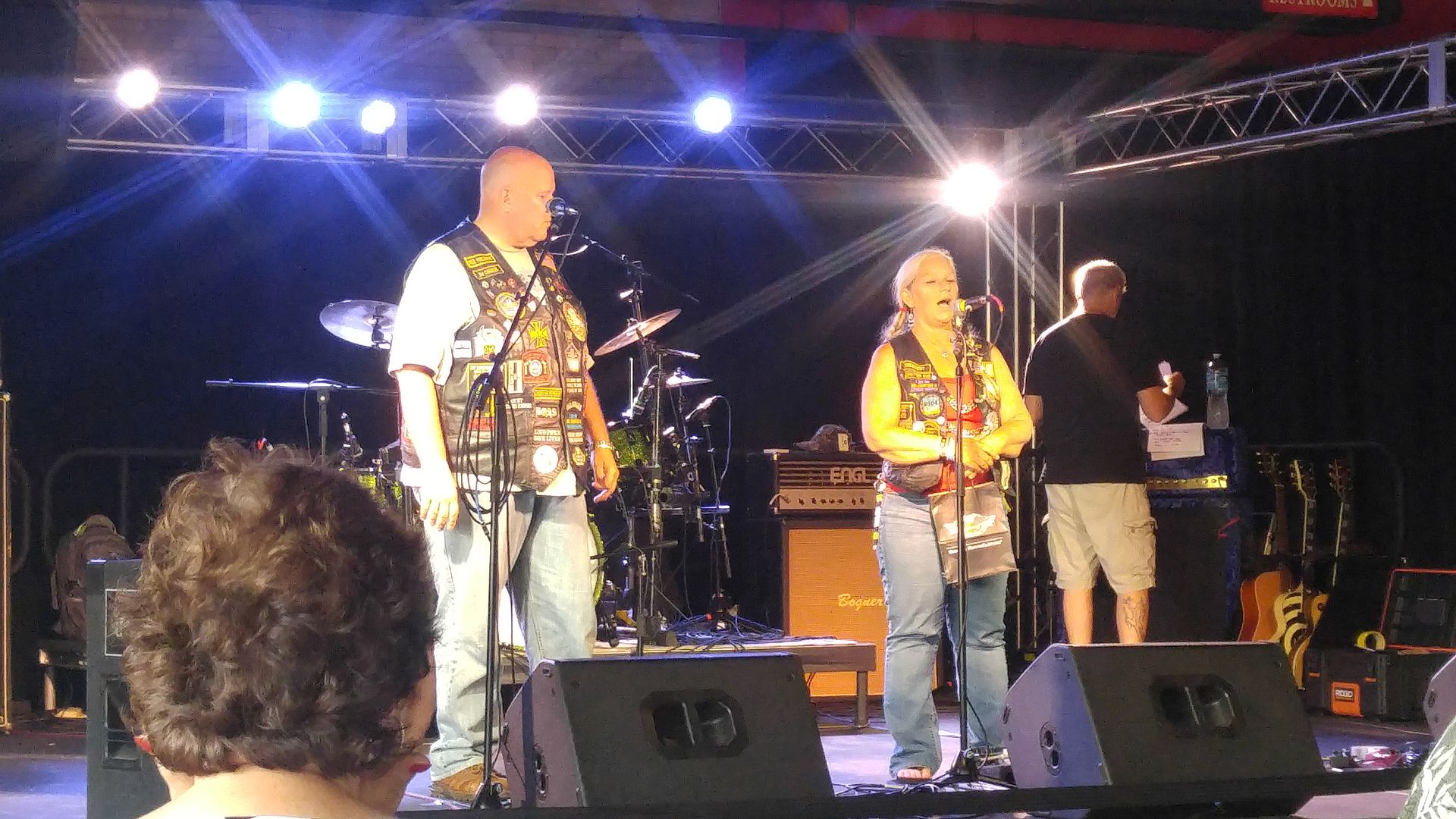 But the evening began with a group I had just seen at the Concert for a Random Soldier a couple months back, Scrapple.
After noting the sudden passing of Lewes firefighter Tim McClanahan in a training accident, Scrapple played a hard-rocking set that featured songs like the Black Crowes' Remedy, Love Removal Machine from The Cult, Godsmack's Keep Away, and Pearl Jam's Even Flow, just to name a few. They also found time for an original song of theirs, which I thought was cool.
Once Scrapple finished, I went outside to stretch my legs, see some bikes, and watch the sun set over a cloudy downtown. There was a rain shower that passed harmlessly by during the show.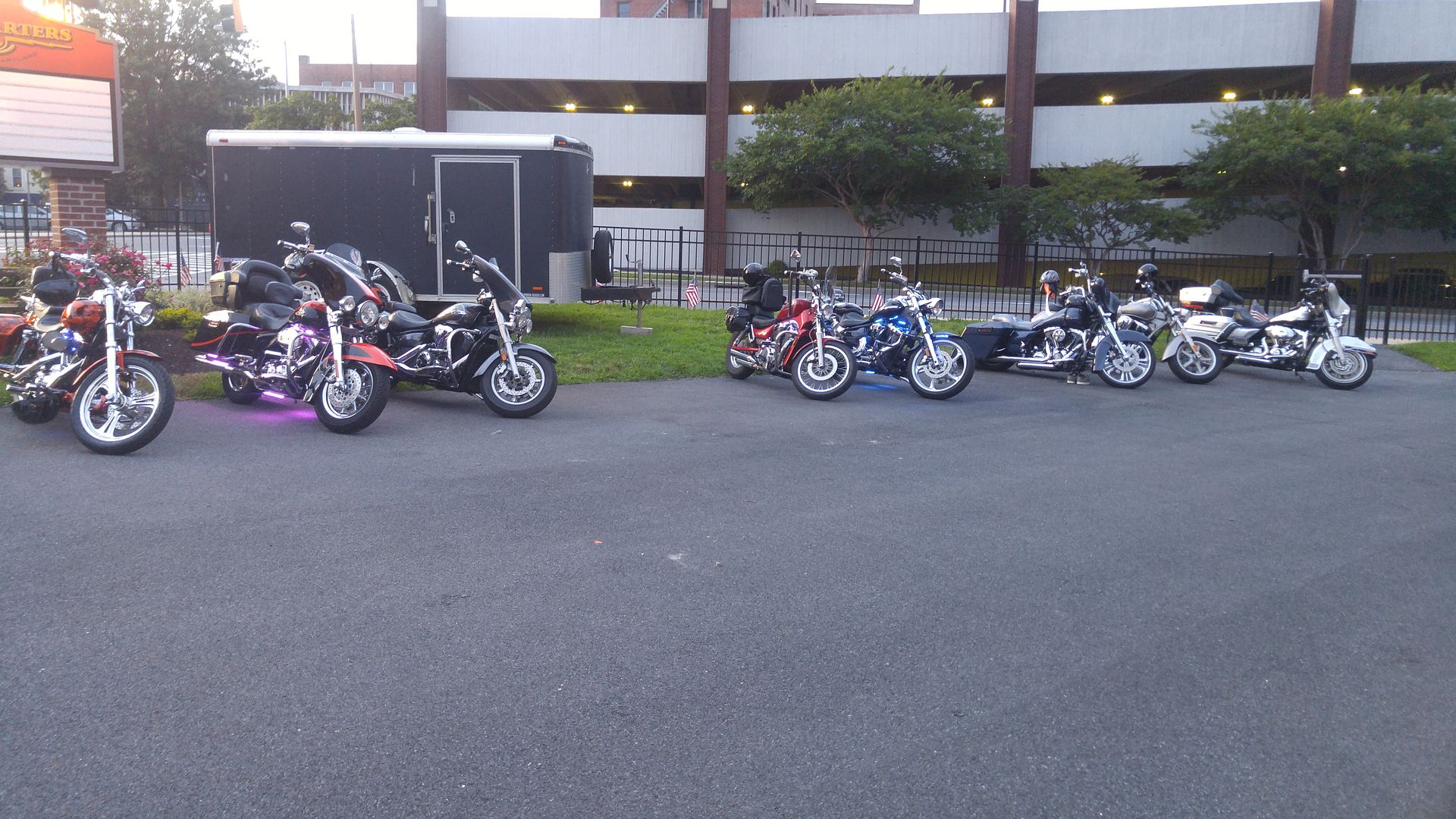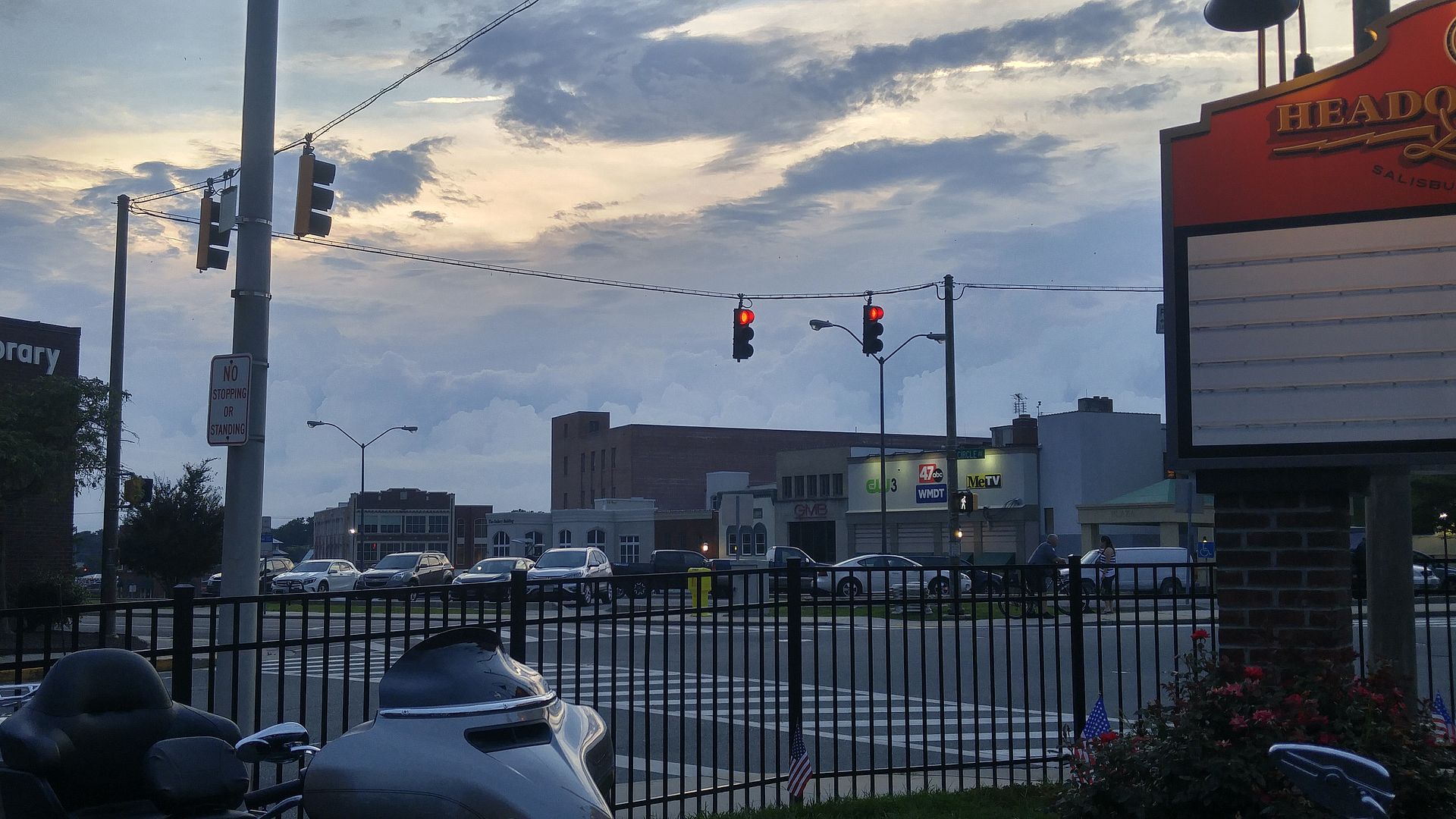 The second band on the bill was Lime Green, which I know has a number of originals to its credit based on their online presence. But they chose to play just one, their most recent called Pemberton Park.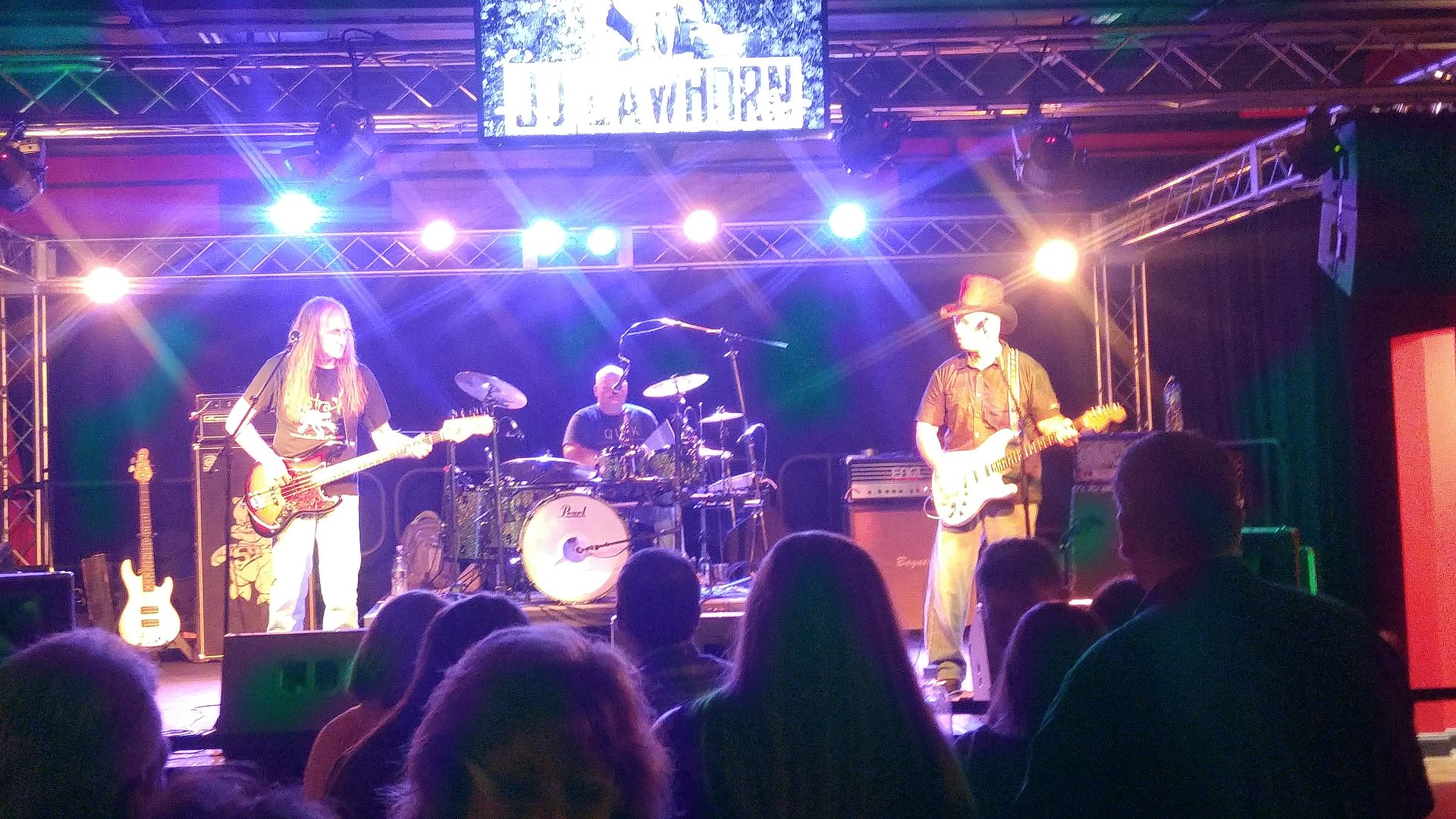 Yet Lime Green still had a lot of unique musical ideas, like buttressing the old Pink Panther Theme into Pink Floyd, playing forgotten classics like The Ballad of Curtis Loew by Lynard Skynard or Snortin' Whiskey by the Pat Travers Band, and absolutely blowing me away with their closer originally done by Rush. I never thought I would hear the first part of 2112 done as a cover, but they did Overture/The Temples of Syrinx. Damn, that was cool. I'm still smiling thinking about it.
Because the original intention was to have three bands, Scrapple came out and played a second set that started with Rush as well. But as they did when I saw them previously, they took Working Man and transitioned it into War Pigs by Black Sabbath. Their second set was heavier and more modern, with songs from Buckcherry, Marilyn Manson, Staind, and Tool among the selections.
But they got a little help when they went retro blues and did One Way Out, a song made popular by the Allman Brothers.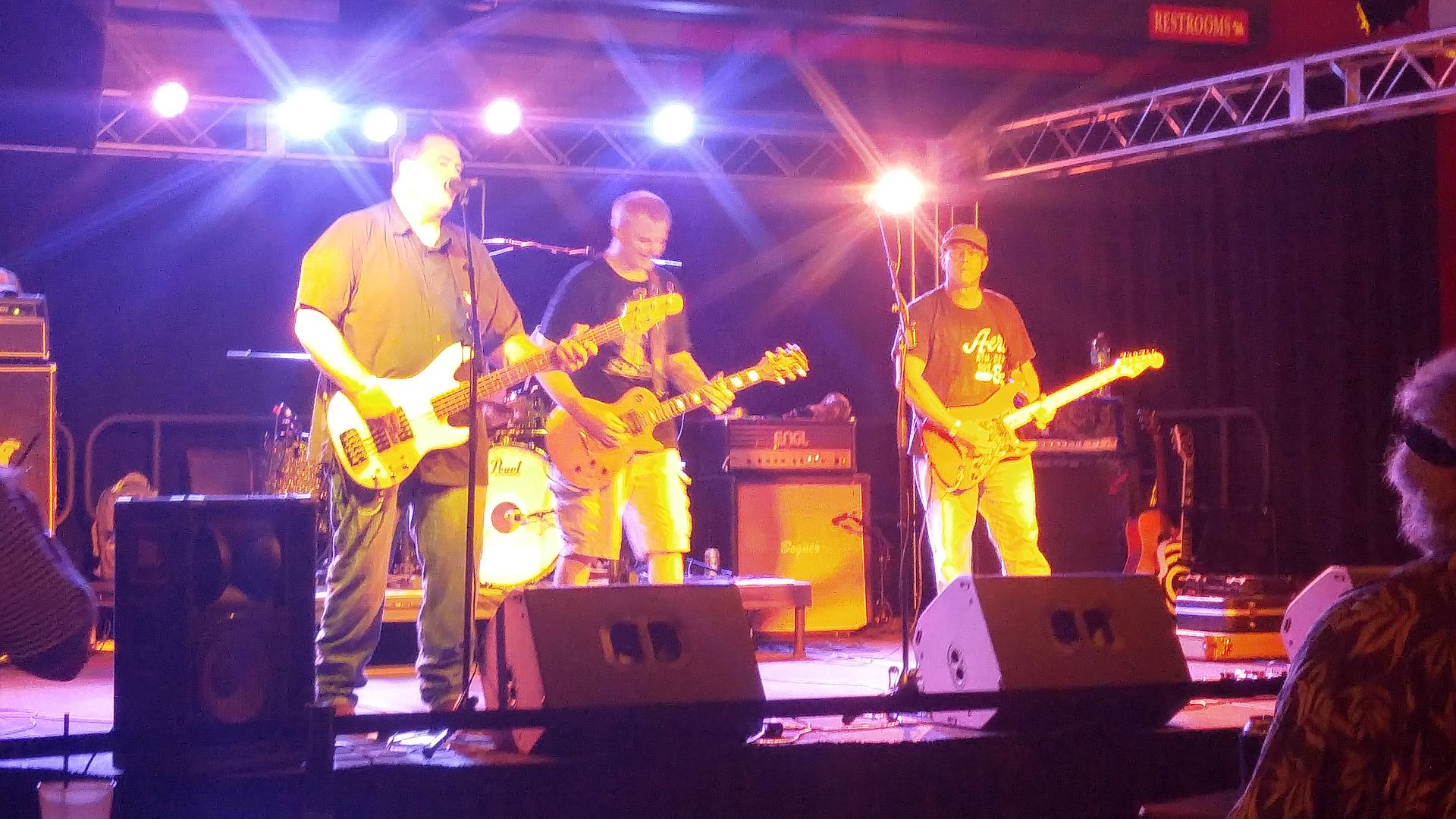 There was also a fun drum solo toward the end.
If I have one thing to say about Headquarters Live as a venue, though, I have to say that taking pictures in there is a royal pain with a cell phone camera. Unless you catch the lights just right, they come out awful. The best pics I had were with the doors open when it was still light out, which is why you get one photo of Lime Green.
But my night wasn't done. A friend of mine has been bugging me to see his band, so I went back over to Roadie Joe's to catch Copious Poor.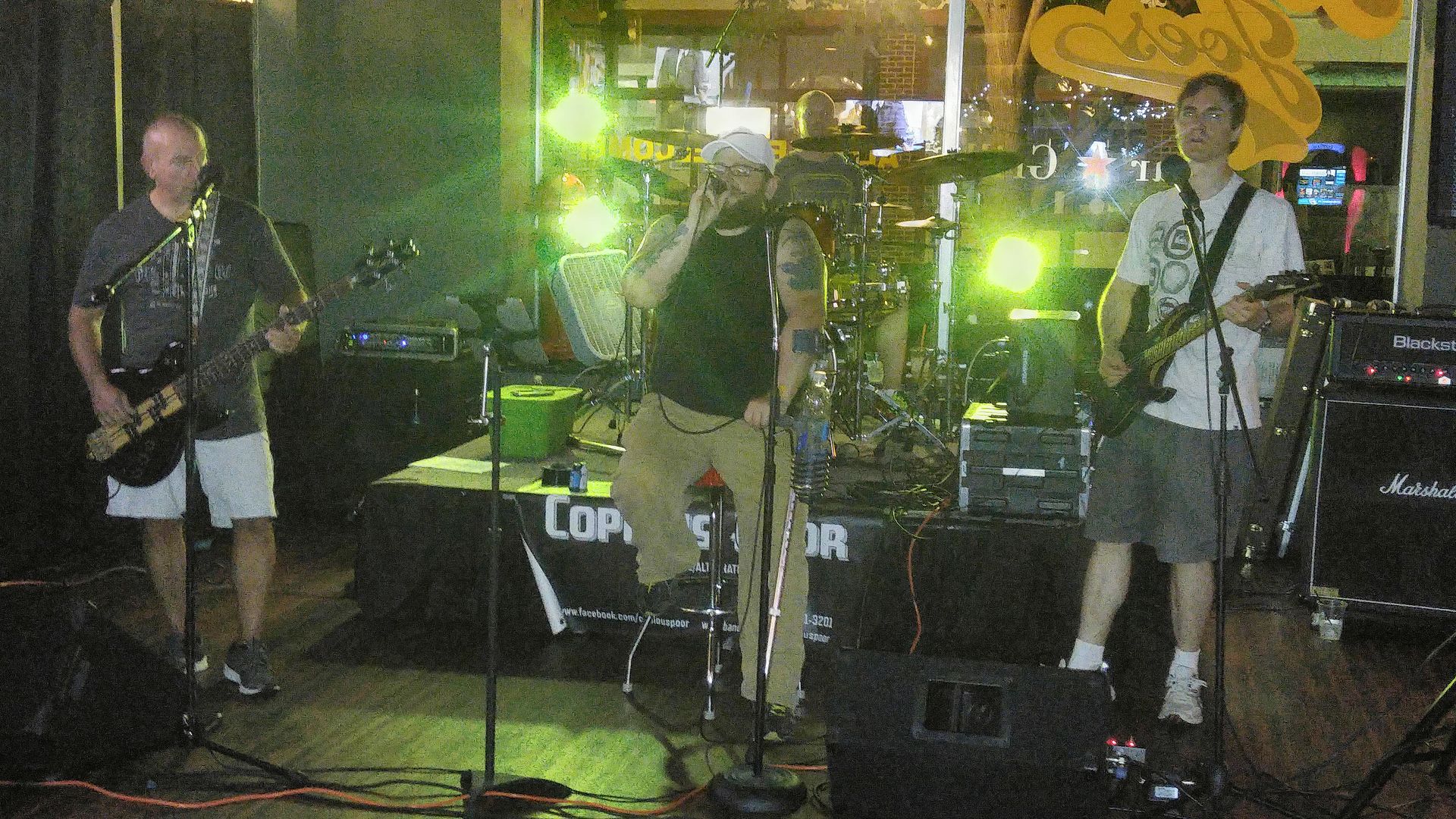 While they admitted they needed to get a sound person, the selection of songs was pretty good. I particularly enjoyed their rendition of a song I have occasionally used the video from on this site, Bound for the Floor by Local H. (You may see it again November 9.)
So once again it was a good weekend of local rock for firefighters that can always use a helping hand. It reminded me that local bands are among the quickest to respond when there's a need to lend their talents for a good cause – or just to make an evening a little better.
At one time I planned on writing a rebuttal to all the Trump items I put up this week yesterday, but after all the events of the convention I decided it was better to hold off for a week or so and let emotions simmer down a little bit. It also gives me a chance to attend two of my meetings and gauge the mood of the electorate, so to speak – so perhaps after all that I will pick up that baton and share my thoughts on both Marita Noon's commentary regarding Trump's energy policy and the entire Art of the Deal series. Right now, emotions are too high and points will be missed.
It's no secret I didn't support Donald Trump for the Republican nomination, nor will I be backing the Clinton/Kaine ticket. (Hell, the guy doesn't even know our part of Maryland exists because he thought Virginia shared a border with Delaware.) Yet I still have an interest in the downticket races, and this year I will be following the advice of Ted Cruz and voting my conscience. (Or, if you prefer, Ivanka Trump, who said, "I vote based on what I believe is right for my family and for my country." So will I.) But the combination of the Democratic convention taking over the news cycle and my general fatigue with the Presidential race means I may look at some other stuff for a little bit.
One thing I was asked to look at by my friends at the Patriot Post for this week was the prospects for Republicans in the downticket federal races. (If you get their "Weekend Snapshot," the article is prominently featured there as well.) But I find a little bit of fault with my editor because my original concluding sentence was, "The next four years could be the most interesting and unpredictable times our nation has ever known." My thought in that sentence was to invoke the old adage "may you live in interesting times" as we seem to be cursed into a choice leading us toward them. To me, this may be the election where more people vote against someone that affirmatively vote for a candidate.
(To that end, can we install the "none of these candidates" option like Nevada has? I could see factions in all four parties on the ballot in Maryland who would love a do-over: Republicans who are anti-Trump, Democrats who backed Bernie Sanders, Libertarians who would like a more doctrinaire candidate than former Republican Gary Johnson, and Jill Stein of the Green Party who would happily move aside for Sanders, too.)
Just think about Congress for a moment. In poll after poll it's shown to be one of the least popular institutions in the country, but voters send all but a small handful back term after term until they decide to retire. Maryland is a good example of this, with the longest-tenured Congressman being Steny Hoyer (17 terms), followed by Elijah Cummings with 10, Chris Van Hollen and Dutch Ruppersberger with seven apiece, John Sarbanes with five, Donna Edwards with four (plus a few months), Andy Harris with three, and John Delaney with two. Since Edwards and Van Hollen both sought the Senate seat, those districts will open up – but thanks to blatant gerrymandering, they are likely to be gravy trains and "lifetime appointments" for Anthony Brown and Jamie Raskin, respectively.
Aside from the one term of Frank Kratovil here in the First District as a "blue dog" Democrat carried on the Obama wave in an otherwise GOP-dominated area, you have to go back almost forty years to find a handful of one-term wonders that Maryland sent to Congress. Both our current Senators came to the job after serving multiple terms in the House, as would Chris Van Hollen if he wins the Senate seat. Kathy Szeliga, on the other hand, has served just a term and a half in the Maryland House of Delegates – although compared to other GOP Senate candidates in recent years that almost qualifies as "career politician," too.
Yet while our GOP candidate supports Trump and has an uphill battle to win, she was criticized for skipping the convention as well:
Some (GOP convention) delegates who wished to remain anonymous to avoid antagonizing another party member privately expressed discontent and disappointment with Szeliga's and Hogan's absences in Cleveland at a time when unity is a key goal of their party after a fractious primary season.
Of course, Andy Harris was there in Cleveland, but he's in an R+13 or so district with far less to worry about. It was better for Szeliga to be in Crisfield meeting voters with her opponent there.
So while I will talk about the convention in at least one piece I'm considering – and my invited guests may decide on their own to look at the Presidential race – I'm going to step back from it for a little bit. It's the pause that will refresh me.