Here at my site I have, on rare occasions, reviewed a non-fiction book which interests me from a political angle. For the first time, though, I'm today reviewing a fictional novel – but it's one which could, more or less, be ripped from current headlines.
In The Founder's Plot, at a time not-so-far removed from the present, Michael DiGrasso is elected as governor with the promise to get tough on illegal immigration. The one aspect of the story which is a little unbelievable is the part about being elected in California on that particular platform, although I suppose those few taxpaying citizens who remain in the Golden State could be motivated enough to do such a thing as conditions in the state continue to deteriorate from an onslaught of illegal immigrants. We have seen evidence of this outrage recently in the small town of Murrieta, California.
Regardless, DiGrasso is elected and immediately puts his plan into action. The secondary storyline of The Founder's Plot shrewdly looks at the situation through the eyes of Carlos and Marisol Costellano, illegal immigrants who had made a home in America despite their lack of legal status. Over several years, Carlos had worked his way through a variety of jobs to the point of being a skilled laborer, investing his earnings into the purchase of the duplex where his family lived. Also residing in the duplex are the Castellanos' good friends Julio and Carmella Perez, whose grown children also work their way into the story.
Yet it's not just characterization, as Victoria puts a lot of work into the book's details. While he glosses past the machinations of putting the tough immigration law into place, he doesn't skimp on the political dealings which occur after the law takes effect and it becomes clear that DiGrasso means business. Nor are we spared the backstory explaining DiGrasso's dogged determination and desire to make a stand against where he believes America has veered from the path intended by those who created our nation. In that regard, he gets assistance from some powerful friends.
On the flip side, Victoria adroitly creates a setting where we follow Carlos into an underworld of selling forged documents to fellow illegal immigrants as he desperately tries to make additional money for his growing family. While DiGrasso is only a man Carlos sees in the news, he senses DiGrasso is serious about enforcing the new immigration law and has to consider whether to pull up stakes and move to another state or even return to Mexico after years away.
The book's seminal event is perhaps its most realistic prospect: a legal challenge to DiGrasso's immigration law survives to the Supreme Court, which rules that it goes too far in its restrictions. The governor's open defiance of the Court's decision leads to protests and calls for his impeachment by California opposition leaders. Unsurprisingly, Victoria relates how some in DiGrasso's own party are too weak-willed or blinded by political opportunism to stand up for a state's right to enforce its own laws.
The accurate detail continues in the depiction of DiGrasso's dealings with a skeptical, questioning press around the country. The harsh questioning from penny-ante television "legal experts" is expertly dissected by DiGrasso, whose confident answers – ones which cite well the Founders' original intent – make you wish DiGrasso was a real governor putting these personalities in their place.
As the book continues on, both protagonists wrestle with a number of moral dilemmas. Castellanos finds he's a good salesman of the forged documents, but keeping that job secret from his wife and staying one step ahead of the law takes its toll – yet to stop the activity exposes him to the prospect of additional harm. Similar family issues also leave DiGrasso wavering on whether to continue his defiant stance or find compromise with those who claim the law is too difficult on immigrant families simply searching for a better life.
I read The Founder's Plot over several sittings, but it was crafted in such a way that getting deeper into it made it harder to put down. Running at 341 pages, Victoria puts together a gripping tale full of twists and turns which can't be anticipated, leaving the reader trying to guess how the story would come out. The ending turns out to involve the President and may come as a pleasant surprise given the caliber of politicians and entities involved.
While Victoria has a degree in journalism and experience in the writing field as a longtime newsletter writer and editor, it's a giant leap to writing fiction in a believable manner. Perhaps a pickier review would speak more to the lack of development of certain minor characters and subplots which could have been excised from the book, but overall I found The Founder's Plot to be an excellent political thriller – as I said, the farther I got into it, the harder time I had putting it down. Those who like their fiction taken from the events of today would be well-served to pick up and read Victoria's debut fictional effort.
A slightly different version of this is crossposted at Watchdog Wire.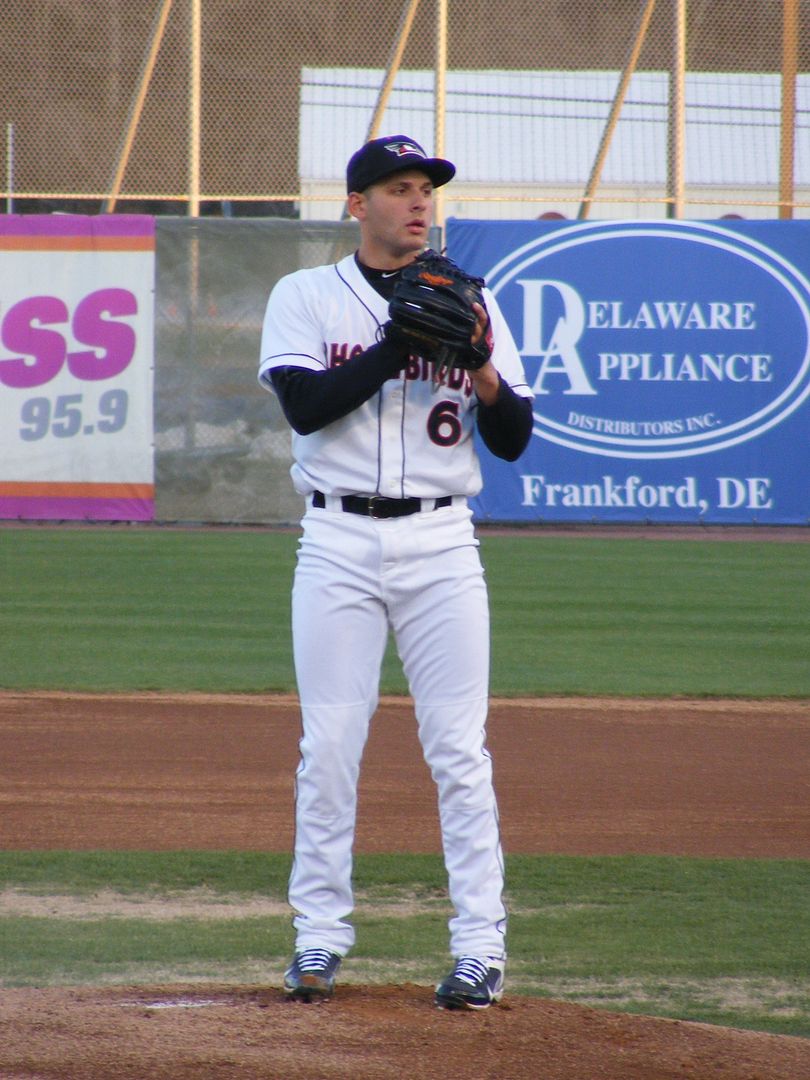 If the Orioles had their way originally, Austin Urban might have been here a season or two ago. In 2010 they drafted him out of high school in Johnstown, Pennsylvania as a 27th rounder – instead, he opted to go to Penn State before eventually transferring to Des Moines Area Community College in Iowa and then being drafted by the Cubs in 2011. While he signed with Chicago after the draft, he never threw a pitch for their organization because he missed an entire season with a back problem before drawing his release.
Long story short, it's been a series of nicely documented personal and professional detours, but perhaps Urban is now where he needs to be. So how is he doing?
Austin put together a decent campaign for Aberdeen last season, going 3-5 with a 3.32 ERA and 1.56 WHIP, mainly due to a high rate of walks – 29 in 57 innings. (However, 21 of them came in his first four professional outings, covering 21 1/3 innings.)
Still, if there's one weakness in Urban's game, it is that tendency to give up walks – so far this season he's allowed 30 in 52 1/3 innings, and with just 30 strikeouts to go with them it doesn't seem Urban has yet mastered a put-away pitch. But the overall numbers are improving after a tough start, as Urban is 3-4 with a 4.47 ERA. A 1.68 WHIP is still too high, but Urban has done a good job as the successor to the promoted Jimmy Yacabonis as closer, garnering four saves in the second half.
Austin seems to pitch better in a bullpen situation. He was the #6 starter in the six-man Delmarva rotation to start the season but was moved to the bullpen by mid-May when results weren't those desired by the Orioles. But with his whirlwind career, it's easy to forget he just turned 22 last week so his development isn't necessarily behind schedule and the Orioles obviously thought enough of Austin to give him another chance after he spurned their original draft offer.
Urban will be a story to follow in the coming months, to see if he can improve his game enough to keep being promoted up the system.
Once again, thousands came to Crisfield and heeded this advice.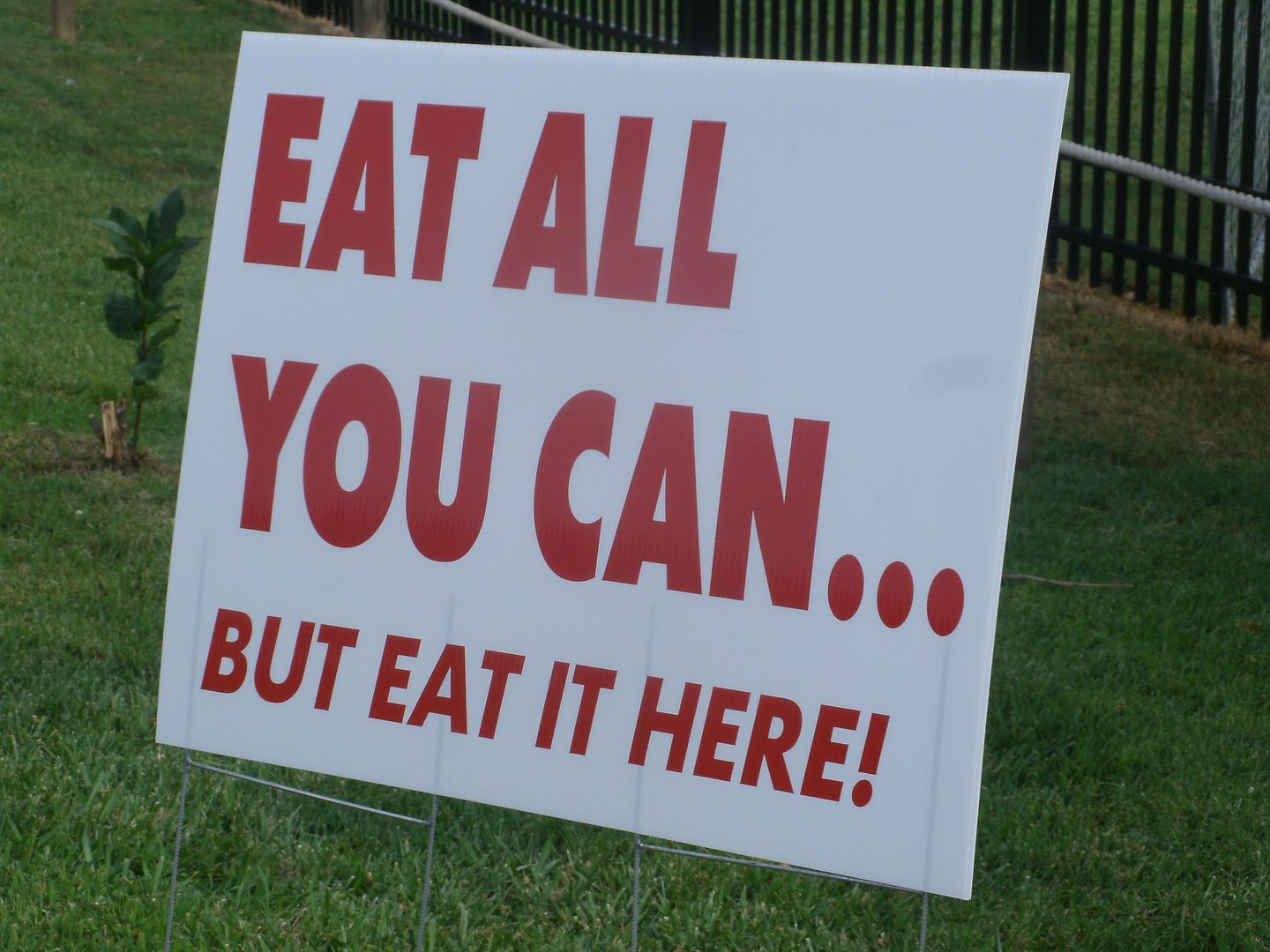 Somers Cove Marina was set up a little differently this year, but the real difference was that the attendees didn't soak through their clothes this year – instead, the day was cloudy but relatively comfortable, with only a small touch of humidity. Most years this setup – by a local engineering firm, naturally – would be oh so handy. But not so much this year.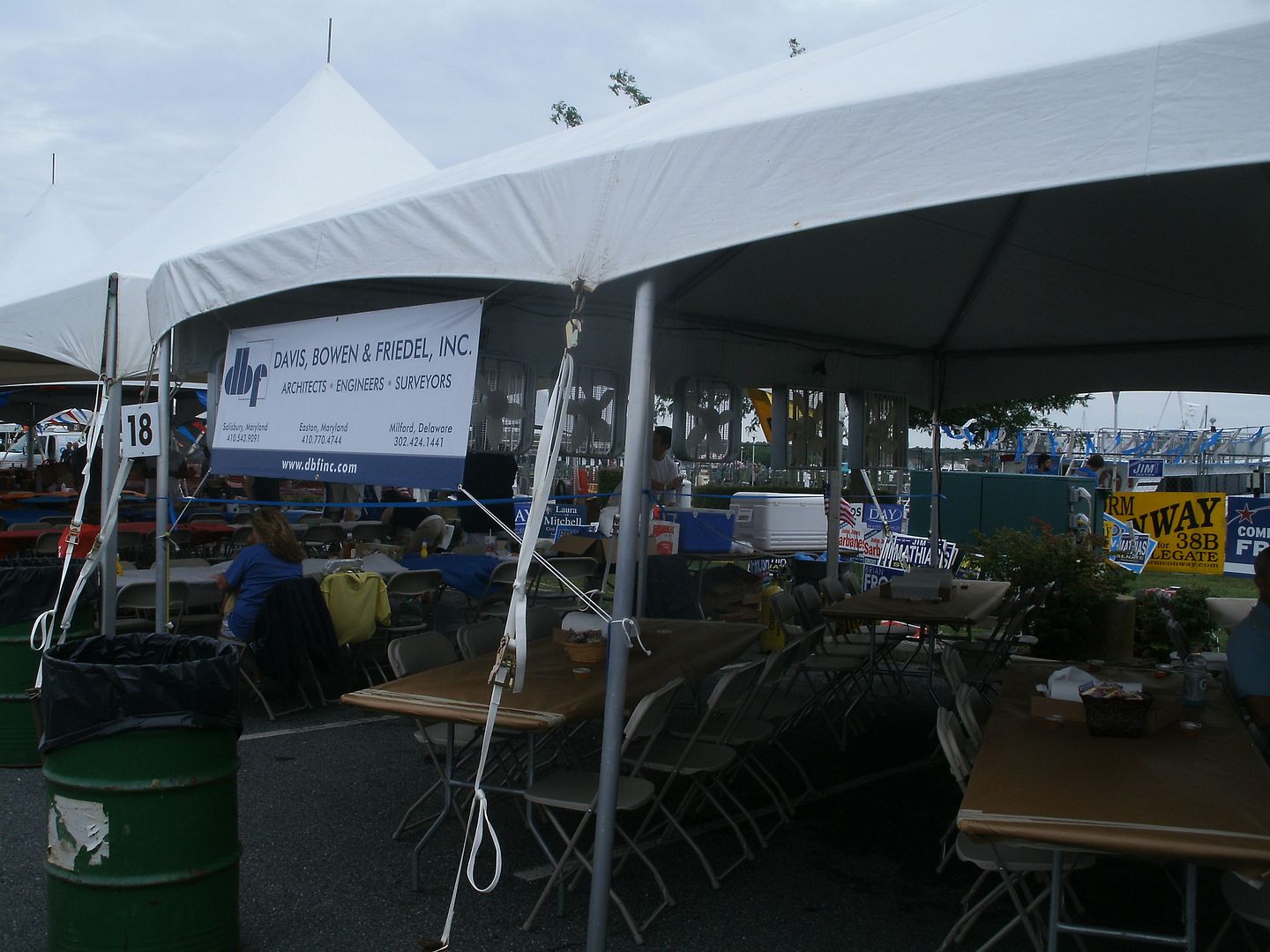 One key difference in the arrangement this year was the prominence of this tent.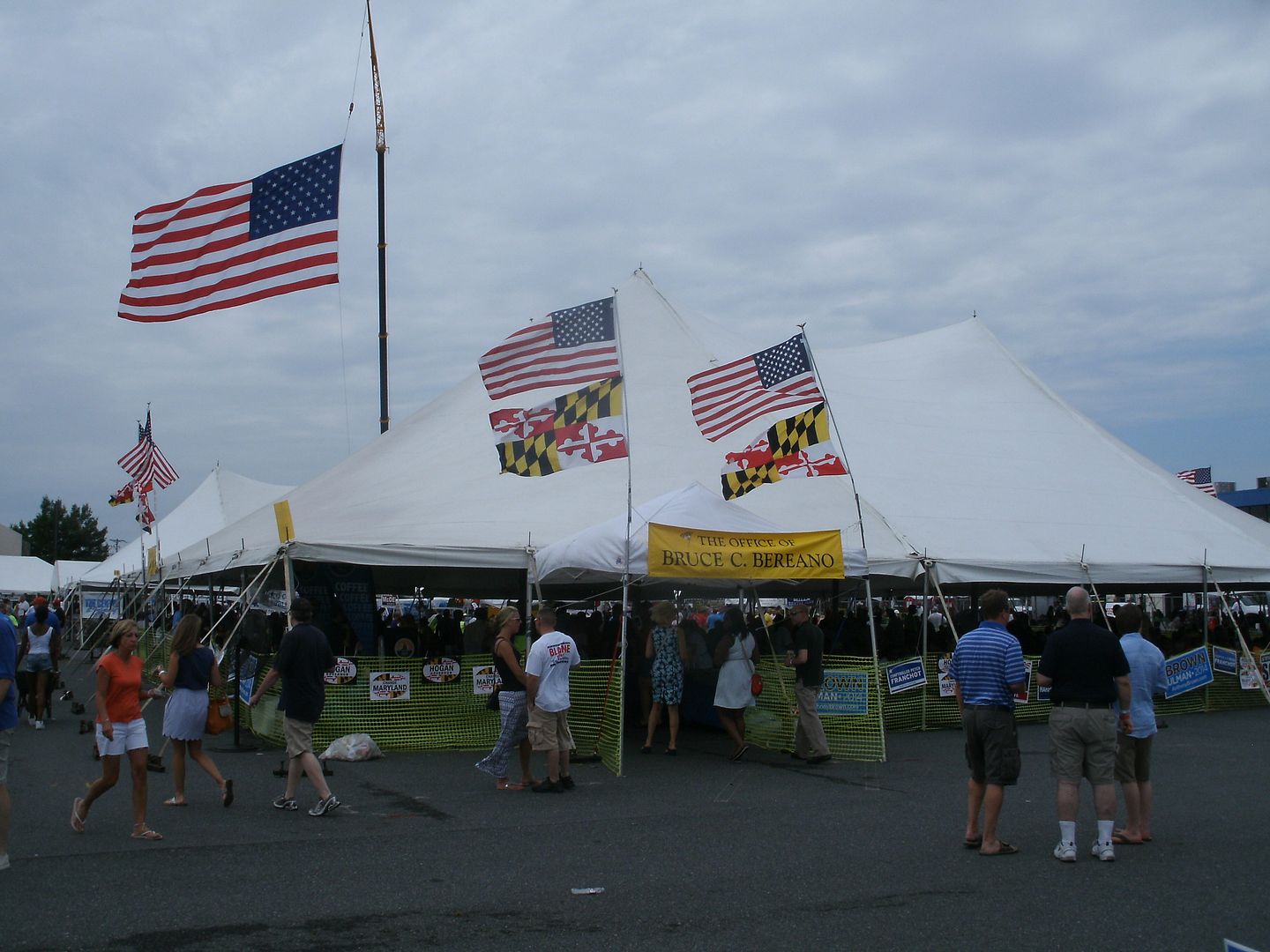 Annapolis lobbyist Bruce Bereano always has a crowded party, and it's a bipartisan affair.
The GOP tent this time was set up behind Bruce's, and it was a hub of activity for the Republican side. A lot of local and state hopefuls were there at some point.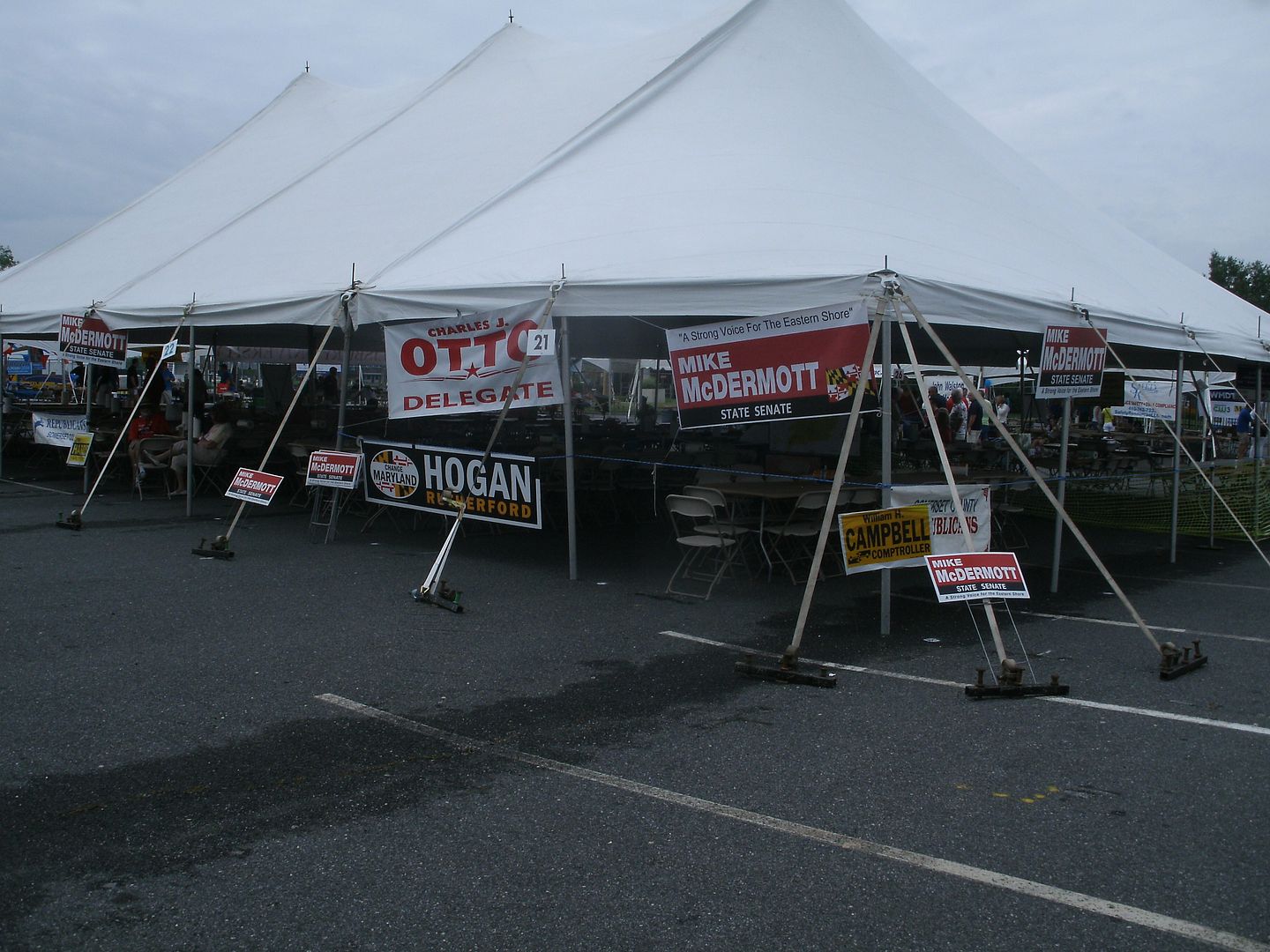 GOP gubernatorial candidate Larry Hogan decided to have his own space, which ended up by the side entrance.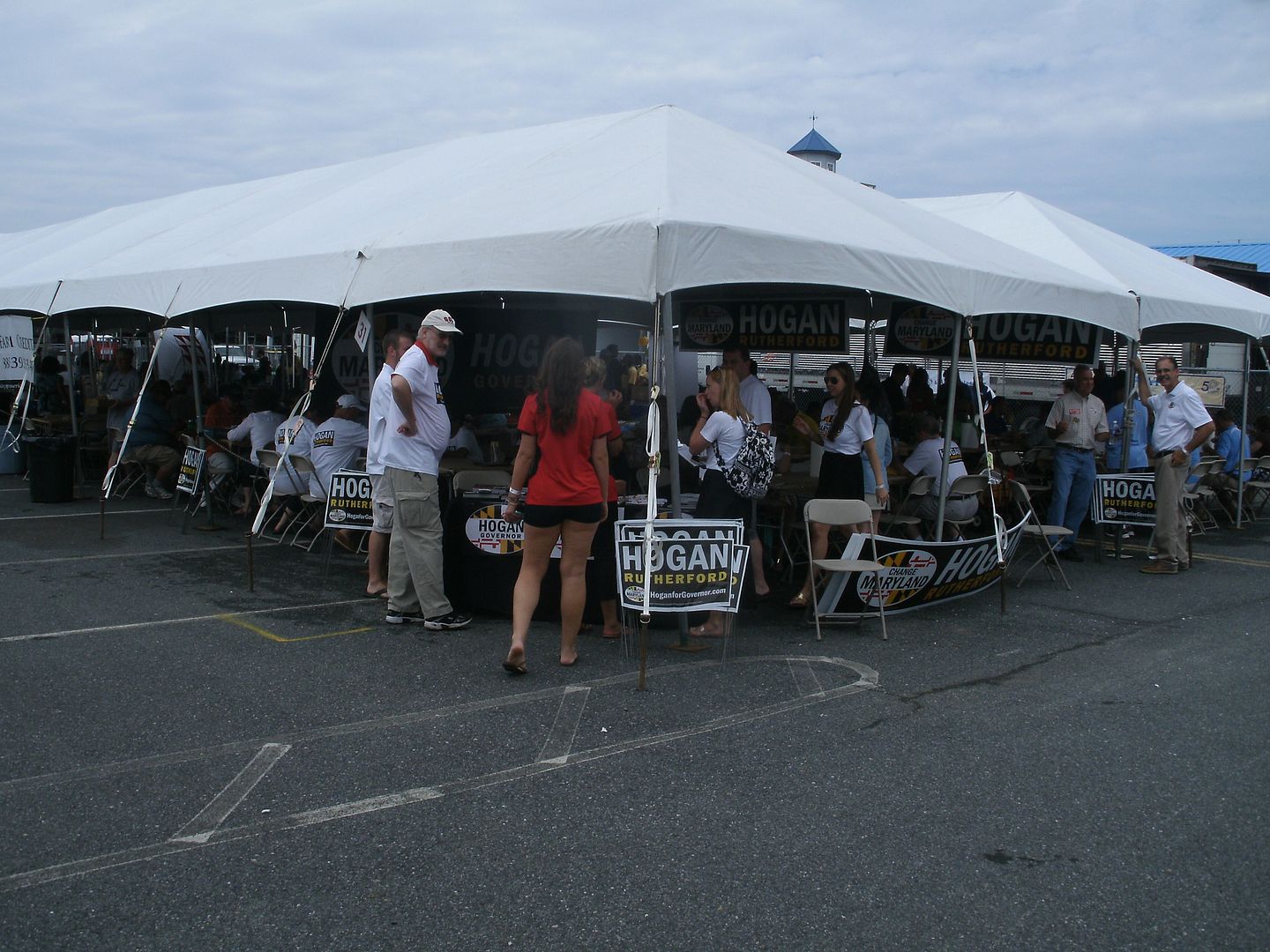 On the other side of the Republican tent and just around the corner, the Democrats were set up close to their usual rear location along the waterfront. Salisbury mayor Jim Ireton was holding court there. (He's in the white at the center, in shades.)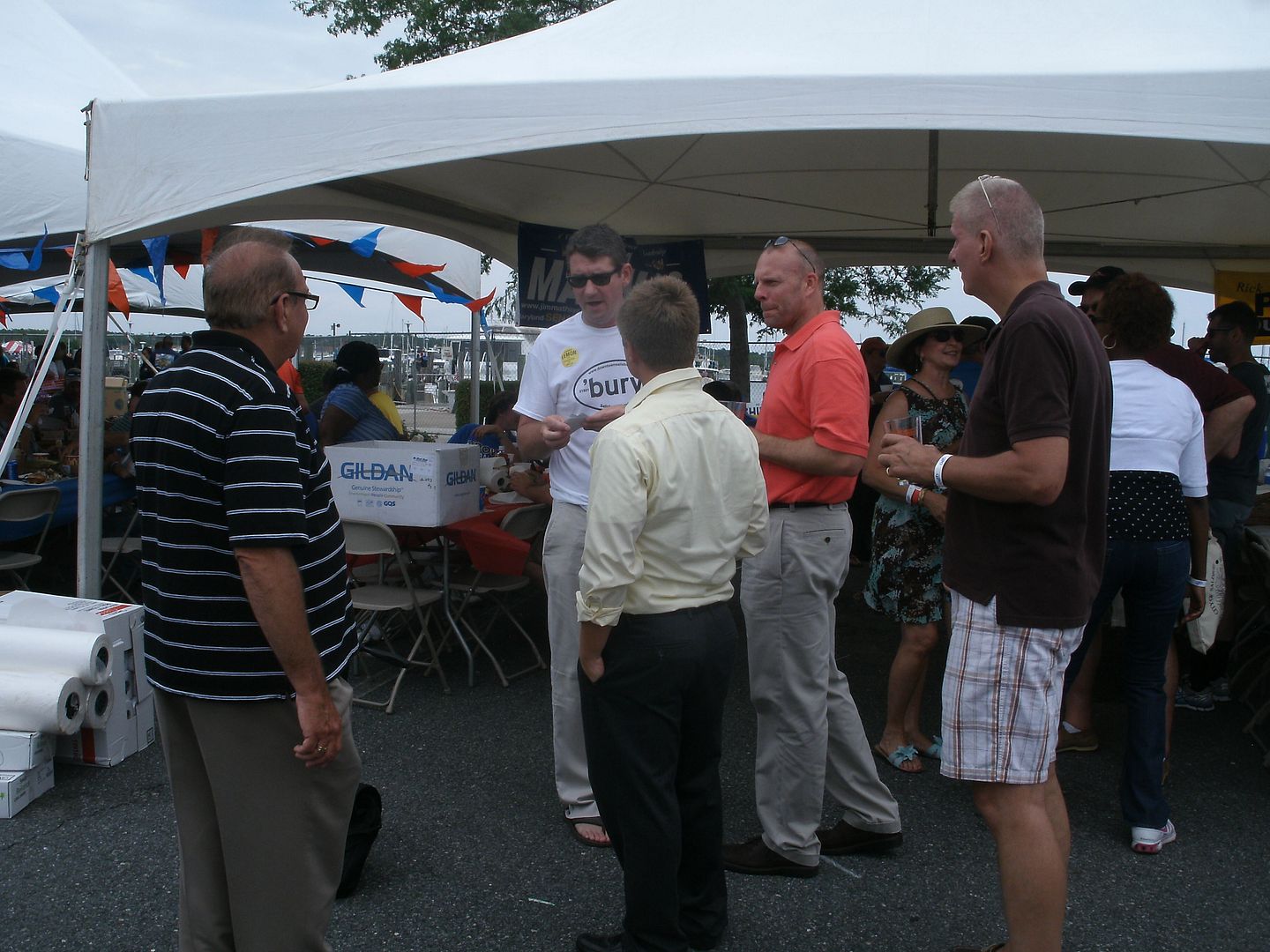 By and large, though, most of those in attendance were interested in one thing. See the light blue lean-to to the left of the Sysco trailers in the photo below? That's where the crabs were being served, and the line indeed stretched that far back 15 minutes before the announced noon opening – they really start serving about 11:30 or so.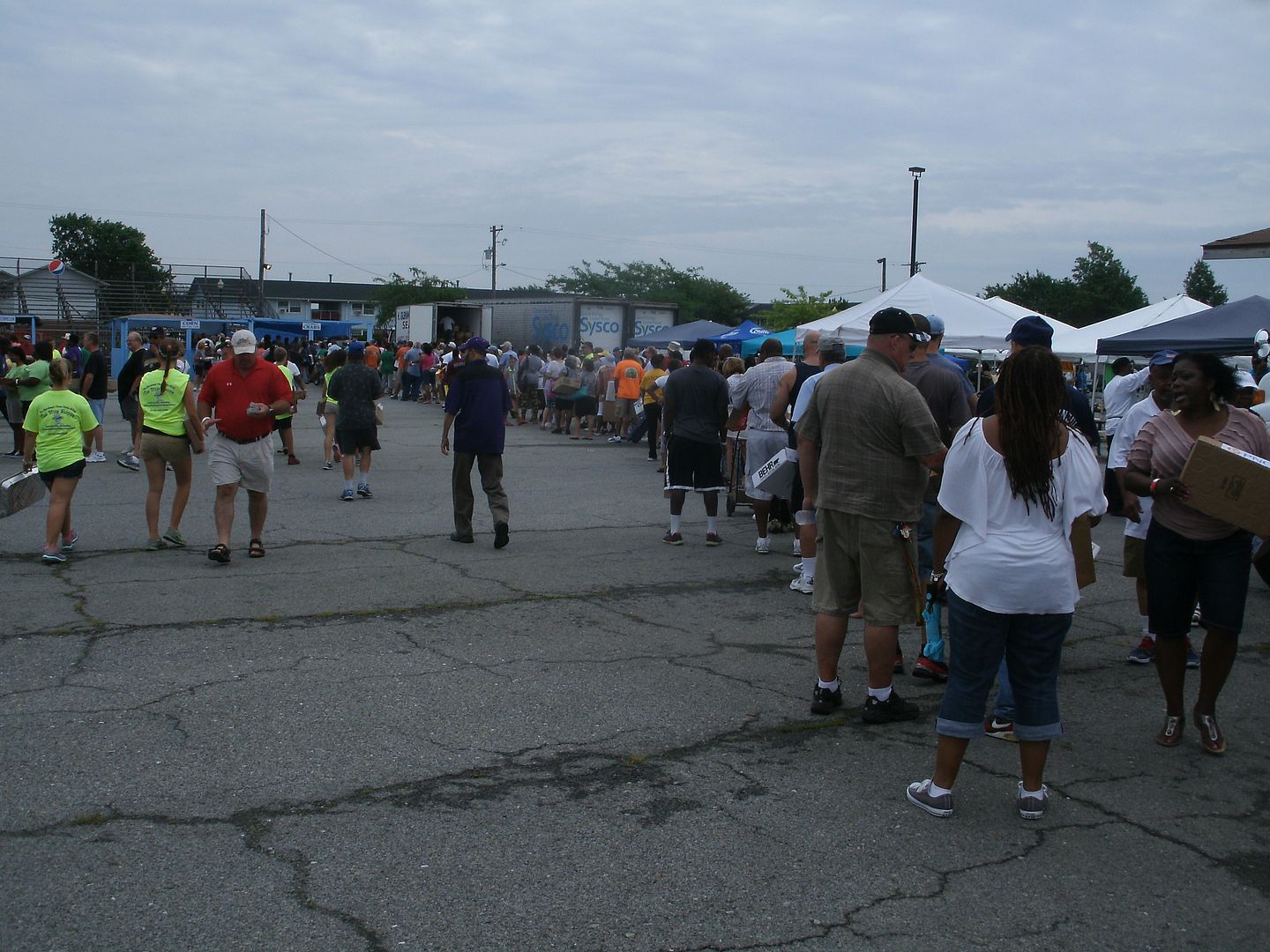 I think the longest wait I had was about 10 minutes for the Boardwalk fries. As it turns out, I'm not a crab eater – but I like the fried clams and the fish sandwiches. Oh, and there's a few politicians there too, but I'll get to that in due course because I can find the political in a lot of things – except perhaps this.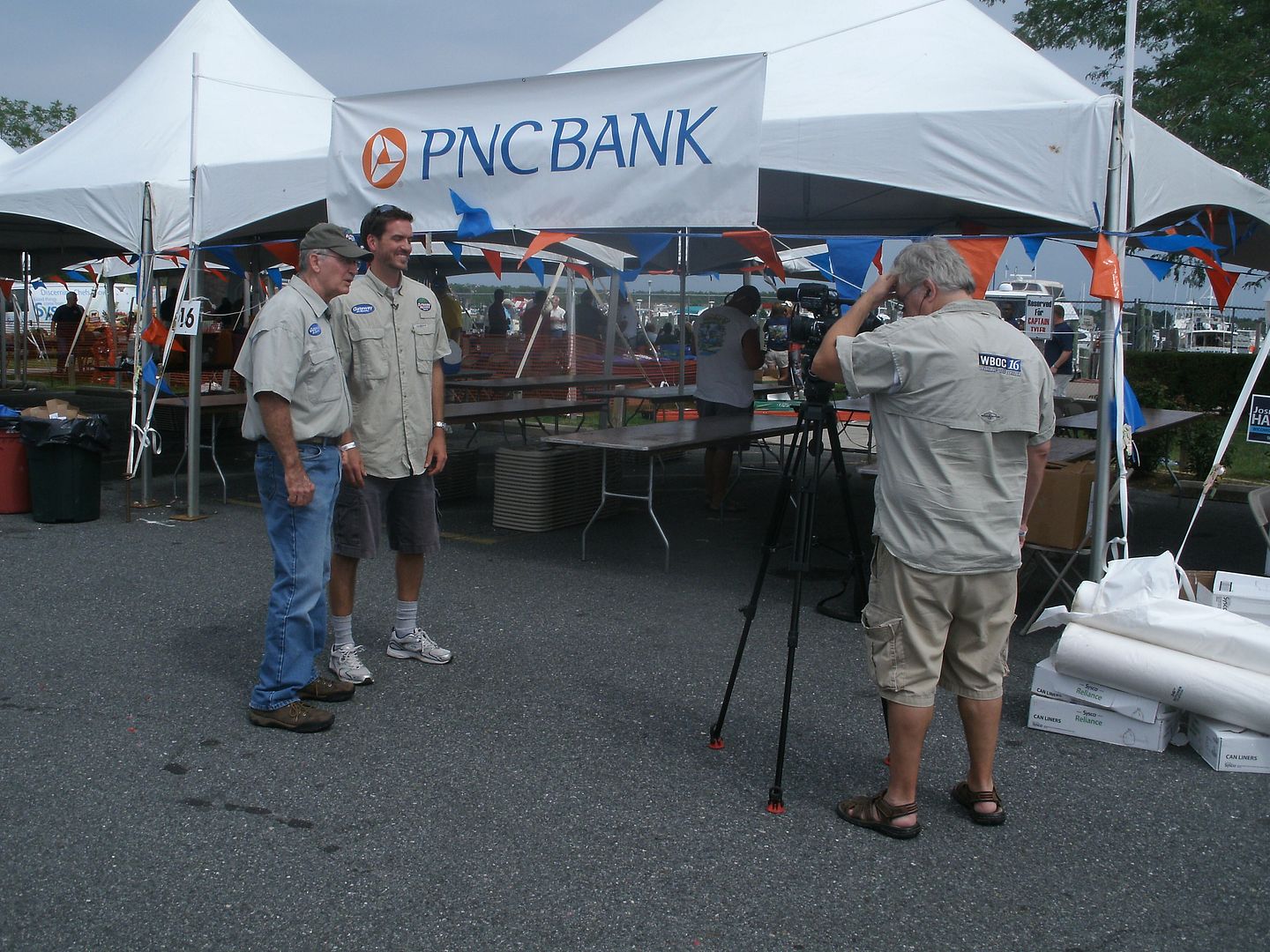 The hosts of a locally-produced show called "Outdoors Delmarva" always seem to find time to tape a segment here.
Another local business I always find at Tawes made a very classy, and apolitical, gesture this year.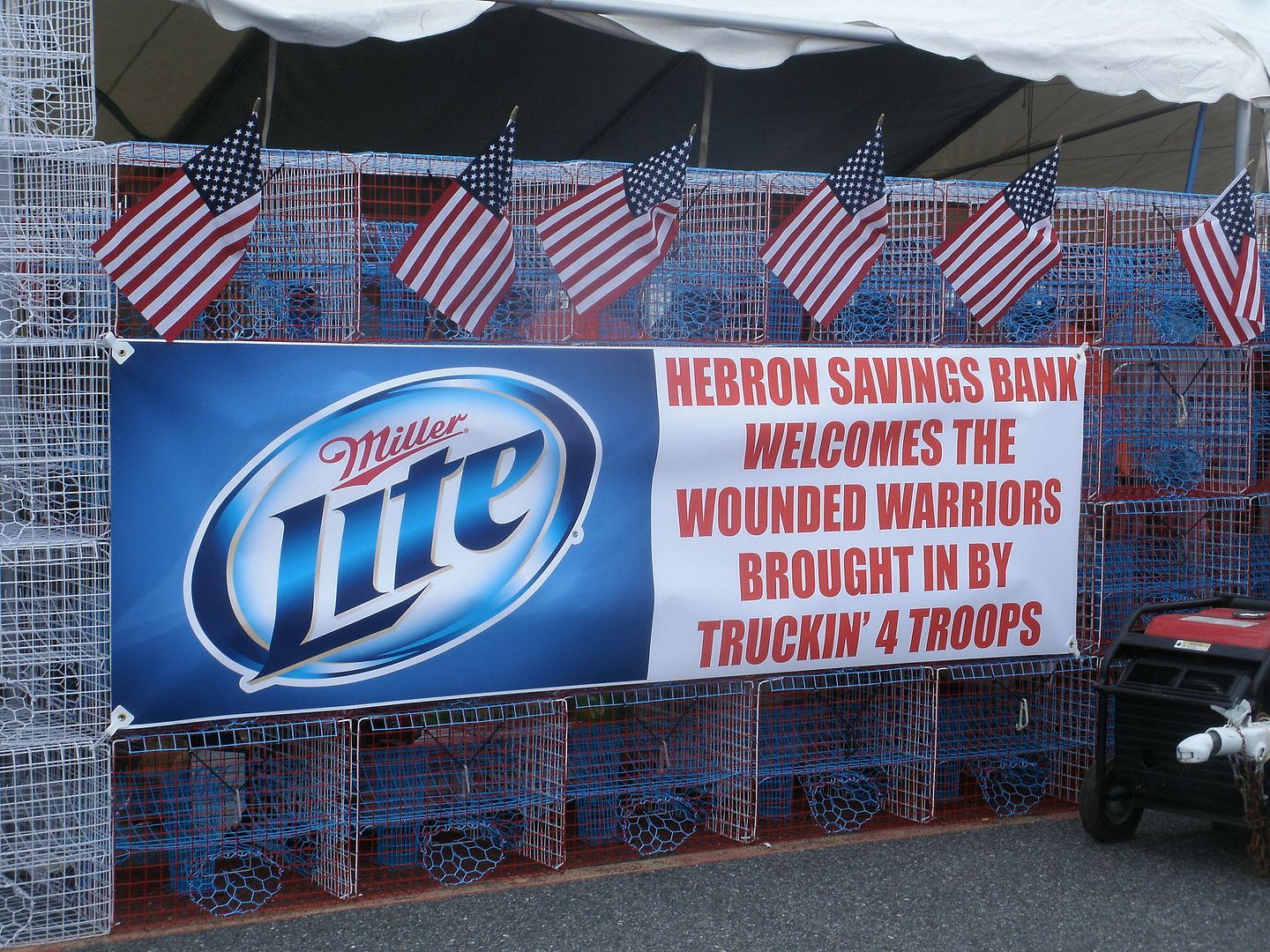 But I do find the irony in some things. For example, those of you familiar with the Hudson case may appreciate some here.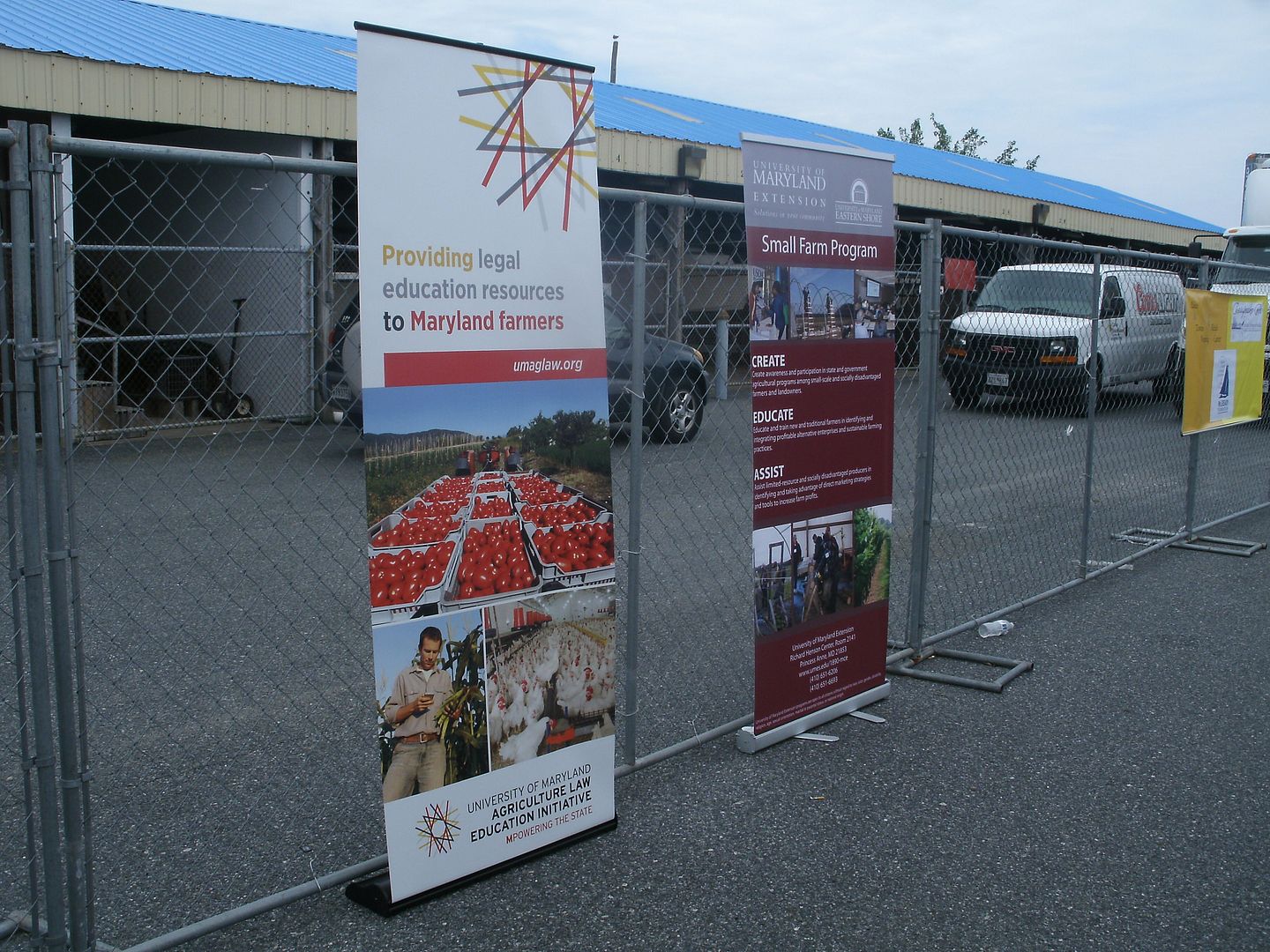 It seems to me the UM law school was on the other side of the fence before, as opposed to this group, part of the Clean Chesapeake Coalition, which tends to take agriculture's side as well as that of local government.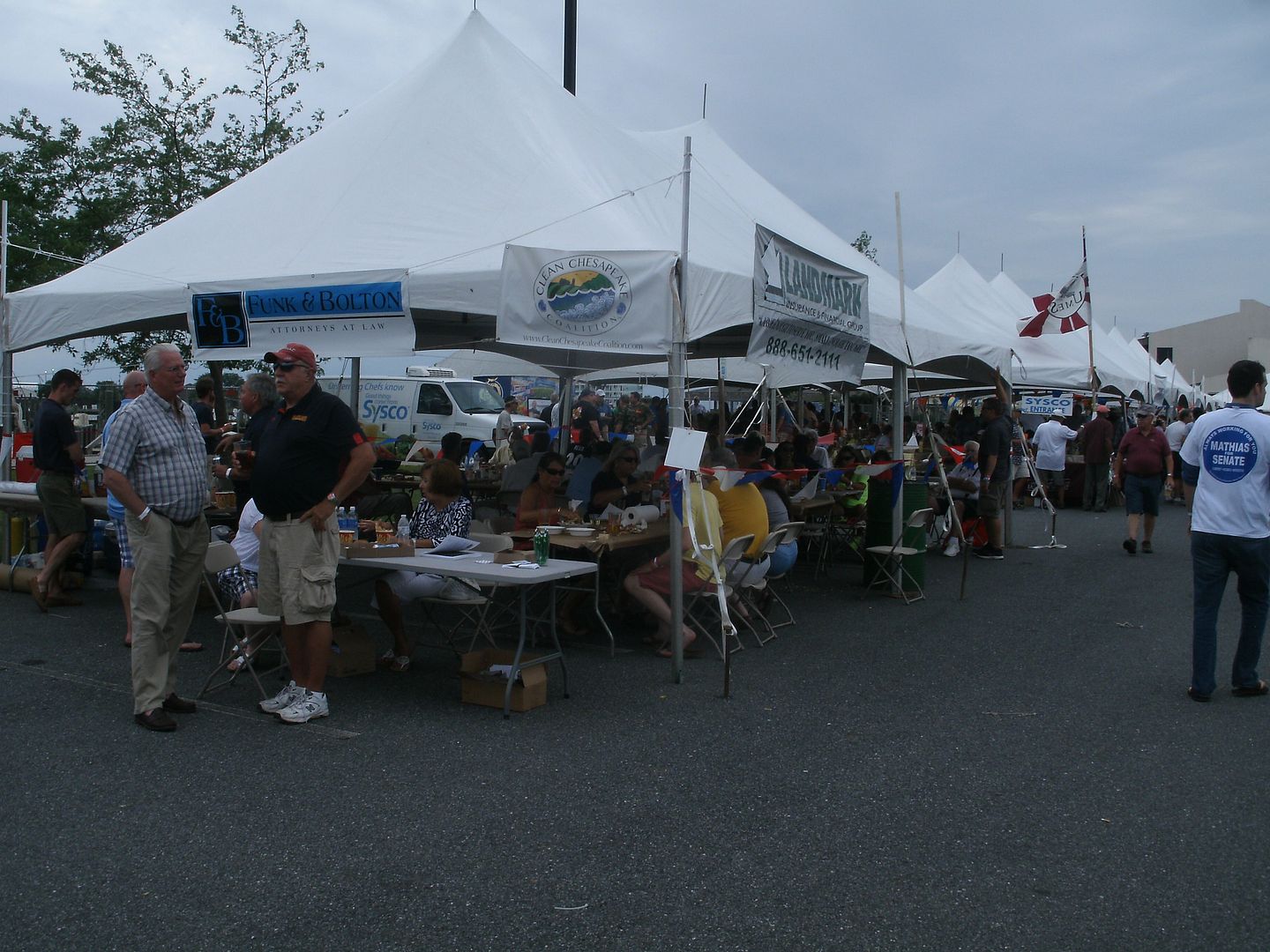 One other thing worth pointing out is the media frenzy this event creates. Here's Delegate (and Senate candidate) Mike McDermott being interviewed. Wonder how much they actually used?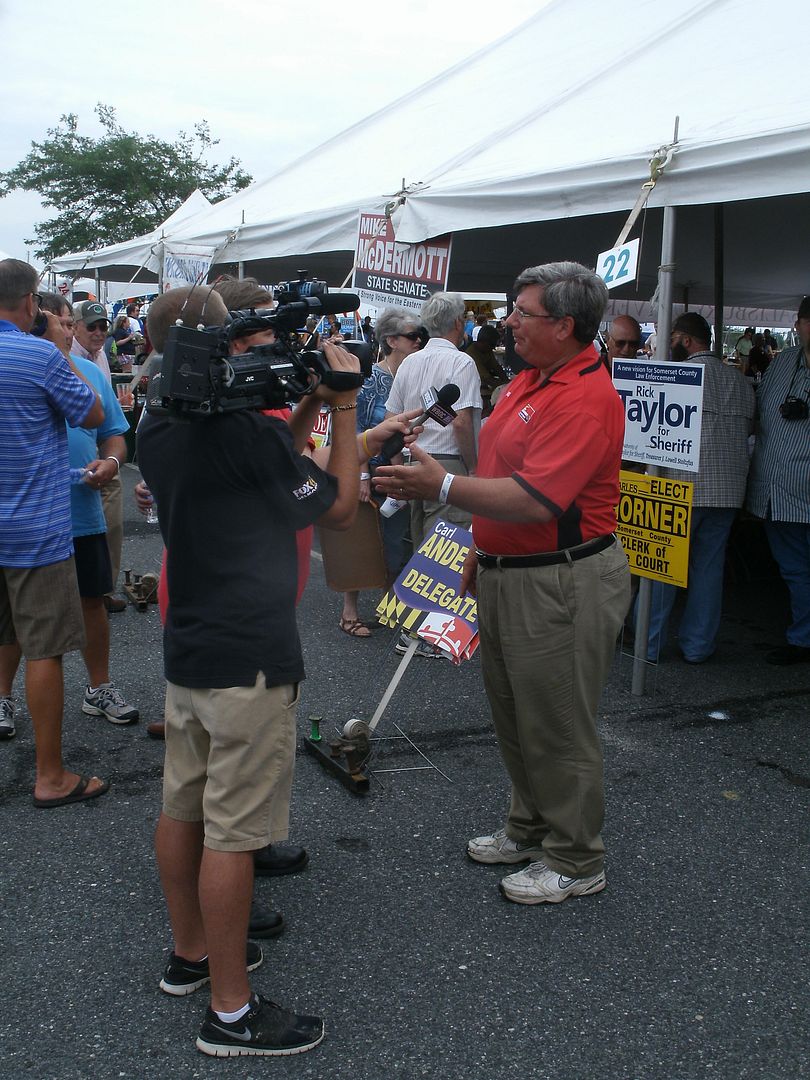 Most of the excitement occurs when the top members of the respective tickets arrive. Hogan had the tent but didn't come until the event was well underway. His entrance was rather modest.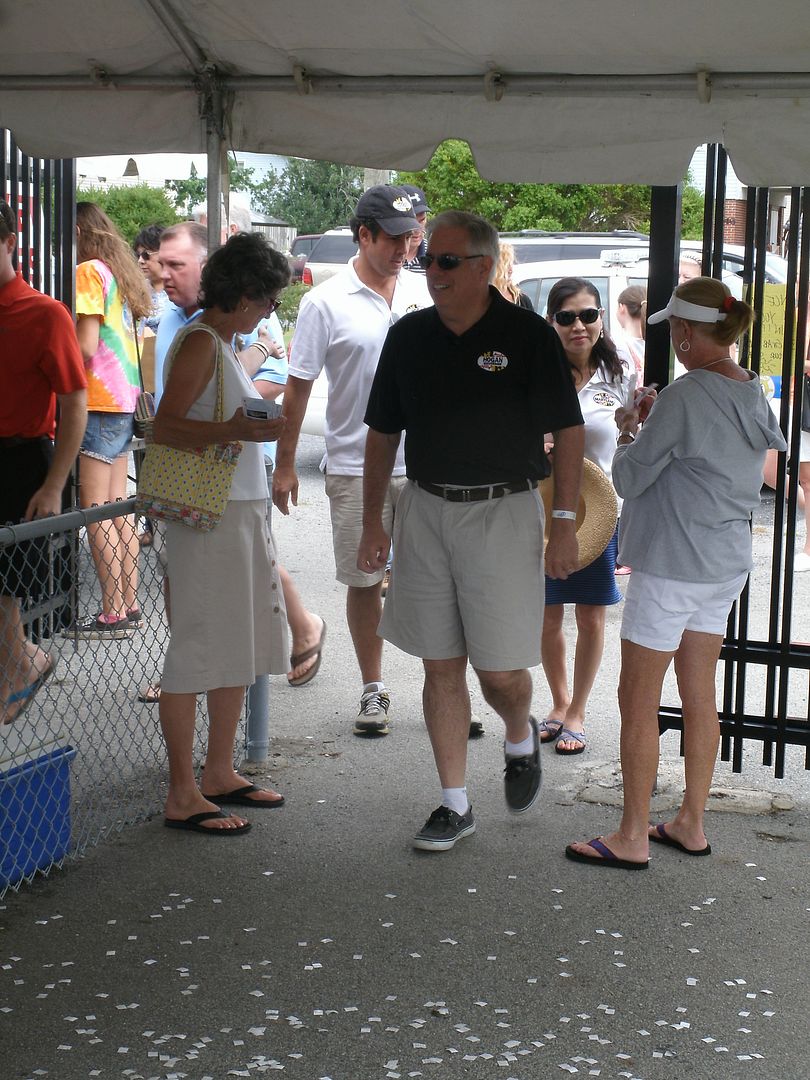 Oh, did I tell you pretty much everyone in the tent was waiting for him?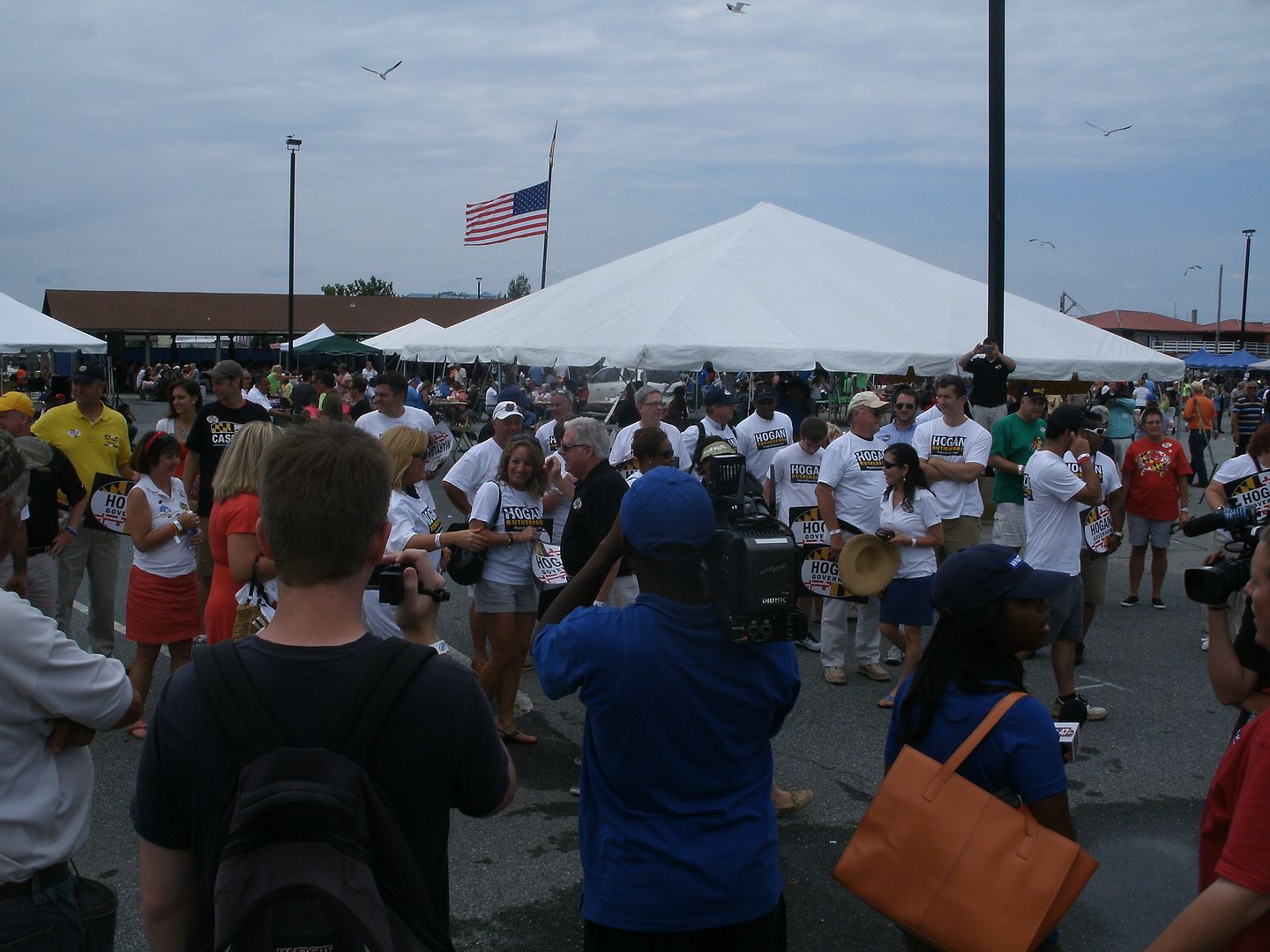 Naturally, everyone wanted to get their quote from him – perhaps even the tracker from the Brown campaign. I'm told Hogan has one.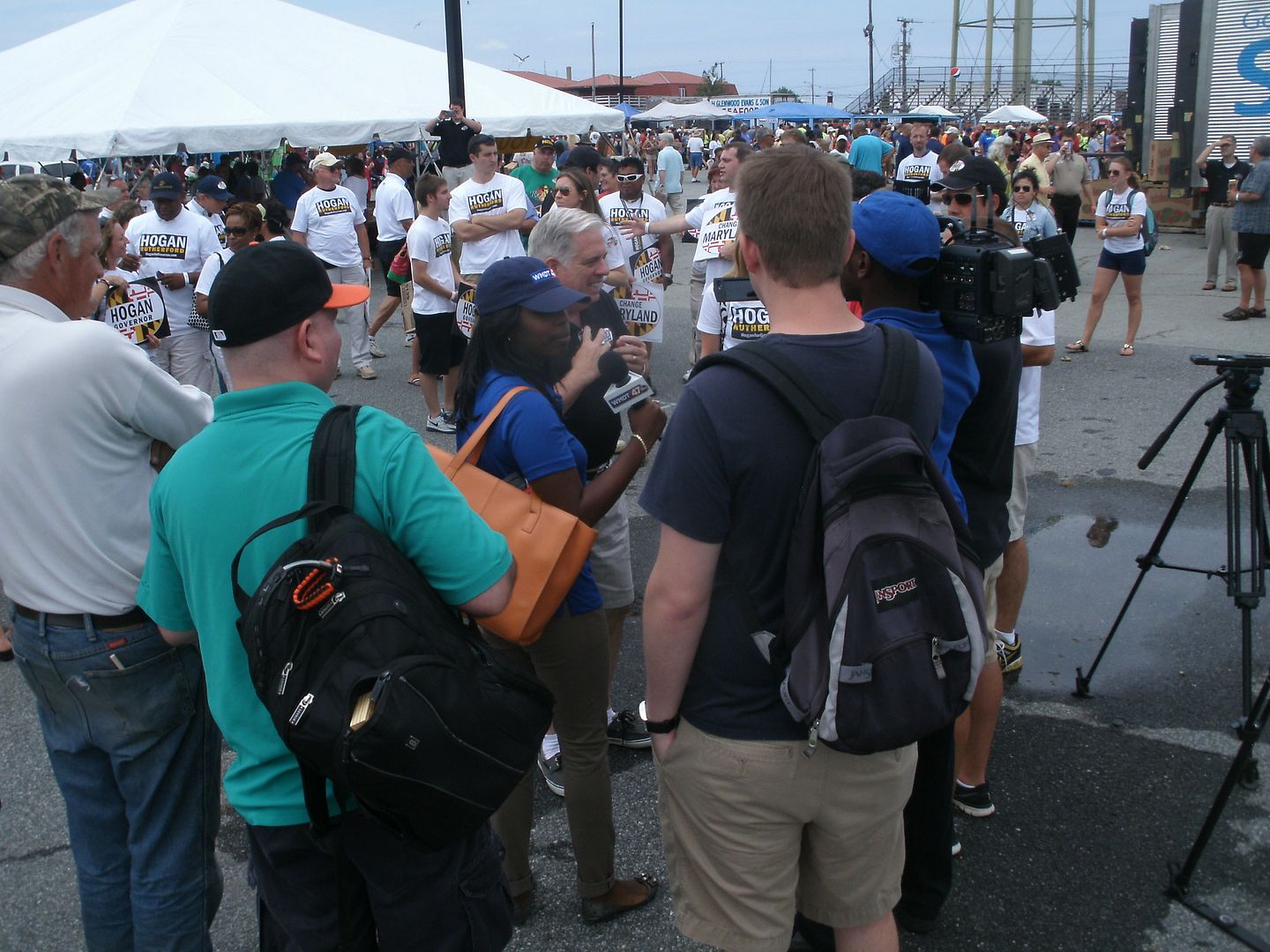 While I've been critical of the Hogan campaign throughout, the way their team handled today was outstanding. This was the first stop I noticed him making after all the interviews were through.
In case you can't read the sign above, it's the tent of the Somerset County Economic Development Commission. To me, that was the perfect place to be seen.
They took a little time to meet and greet; they being both Hogan and running mate Boyd Rutherford. But the point was that I didn't see them walking around much – instead they were engaging voters.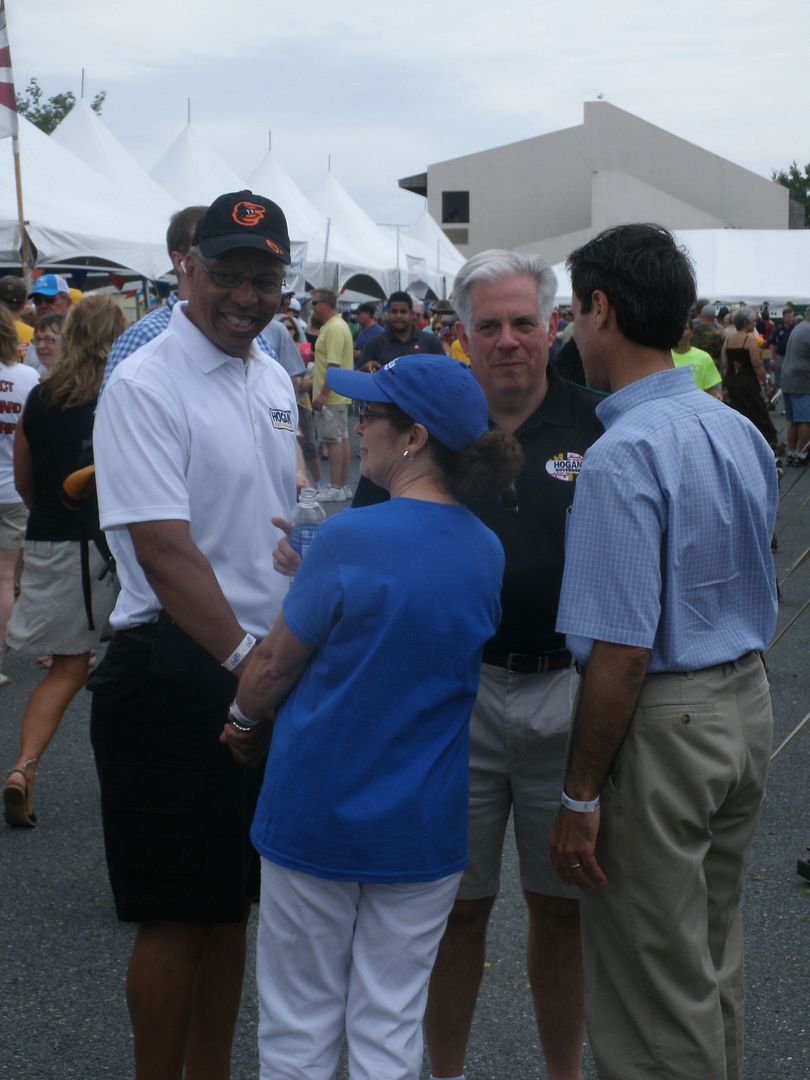 As I noted earlier, there were a number of other politicos there, but the statewide Democrats were not well-represented. I did see their AG nominee Brian Frosh. He's the small guy in the center, violating the Don Murphy rule about not wearing white.
Notably absent, though, was the top of their ticket, Anthony Brown. It's odd because he's been here a few times.
One guy who wouldn't dare miss this is local Delegate Charles Otto (center.) His Democratic opponent is the just-replaced former mayor of Crisfield, which certainly made for interesting retail politics for them.
A guy who lost his primary, Muir Boda (left) was out supporting those who won – and yes, Johnny Mautz was in the house. Muir's with Democratic Wicomico County Council candidate Josh Hastings (right.)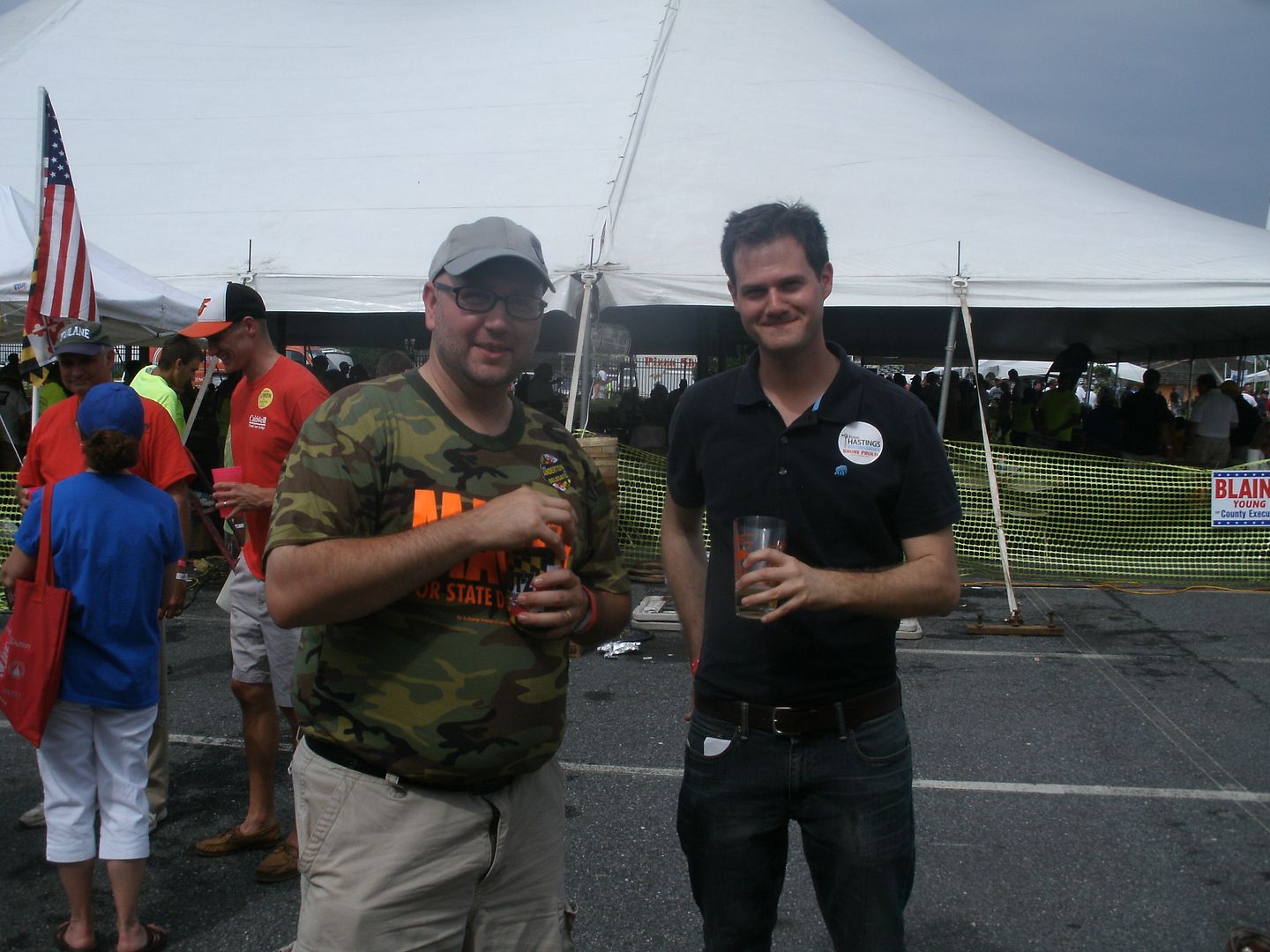 All told, there were a lot of people there. I took this panoramic shot about quarter to three, which is just before those who had their fill begin to trickle out.

One other difference was not seeing all the Red Maryland crew there, although I did speak to Duane Keenan, who does a radio show on their network. Another media guy trying to drum up business was Phil Tran, who you couldn't help but notice.
The other new media people I saw there were Jackie Wellfonder – although she hasn't blogged about her experiences yet, she did burn up Twitter – and Jonathan Taylor of Lower Eastern Shore News, who has his own photo spread.
But as the event came to an end, we know that by week's end Somers Cove will be back to normal.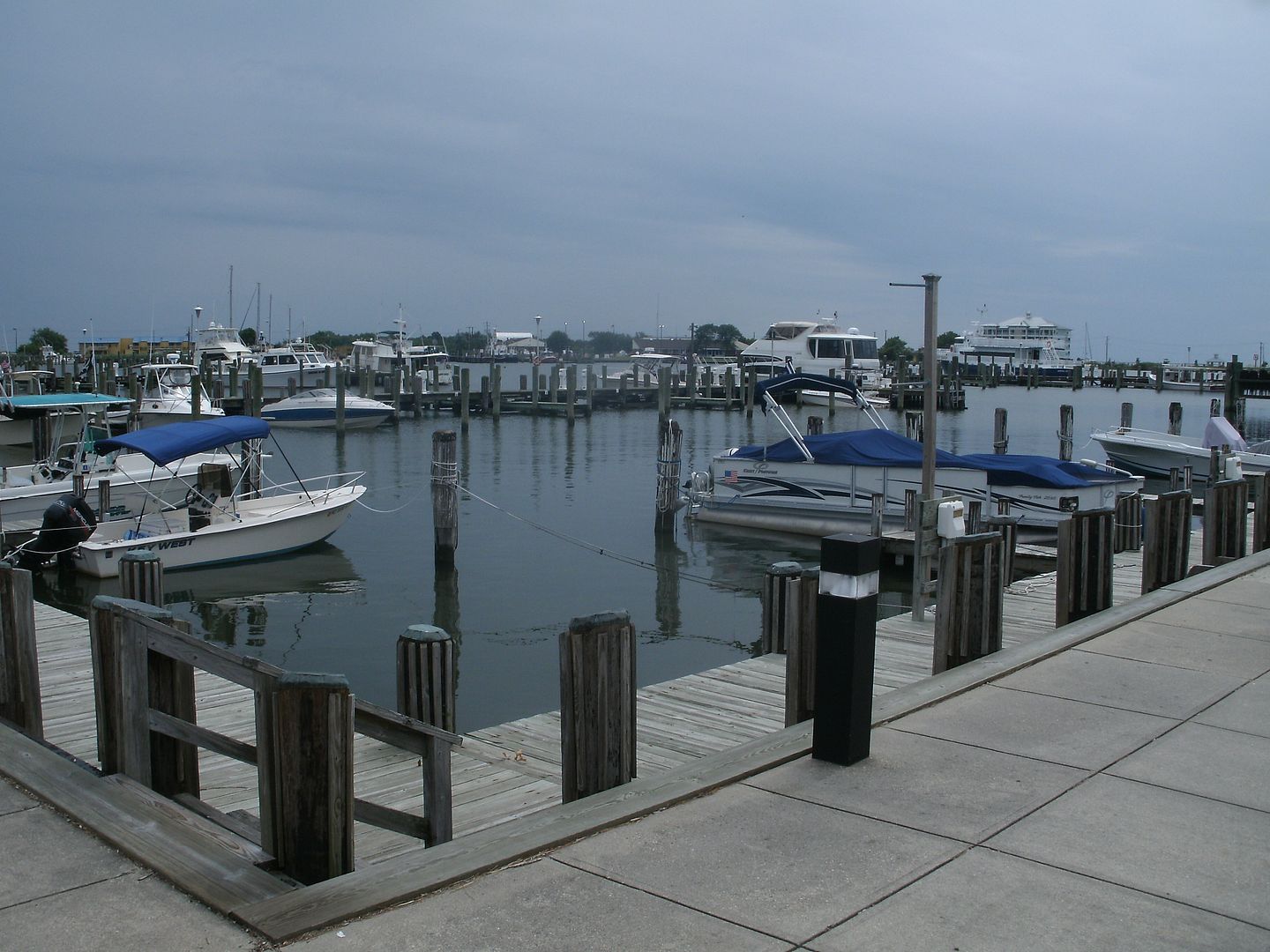 In 2015 the Tawes event should be good for sizing up the lone statewide race in 2016. While Barbara Mikulski has given no indication on whether she will retire, the soon-to-be 78-year-old senior Maryland Senator may not like being in the minority come next year and could decide to call it a career. We should know by next July.
Crisfield is the southernmost town in Maryland, but one day per summer it becomes the state's political capital. Anyone familiar with Maryland politics knows that a summer tradition is standing around on the blacktop at Somers Cove Marina waiting for crabs and watching politicians try to create a show of support. But this year's affair promises to be somewhat different than ones in years past, perhaps getting the feel of one held the year after the previous gubernatorial election.
This is because, for the first time, we already know for sure who the nominees will be. In years past we had a primary just weeks away but that's no more. So Anthony Brown will be there, presumably with a cadre of blue-shirted volunteers who will head straight to the AFSCME tent. Larry Hogan's posse will arrive at some point and the question will be how much smaller will his be, as it always seems Republican groups are smaller.
If things hold as they have over the past few years, there will be a steady stream of traffic going by the GOP tent, if only because Bruce Bereano's bipartisan party is generally right across the walkway; meanwhile, the Democrats will hole up in the opposite corner by the cove, near a place I generally go to get some shade as I walk around. The only difference is that shade may not be such a requirement – the forecast for Crisfield tomorrow is for temperatures only in the upper 70s but a chance of rain throughout the afternoon after a stormy early morning. It could affect the business portion of the event, as a number of local businesses use this as a party for their employees and clients. (It's not just politicians having a good time – I have some beer pong photos from a few years back. I was not a participant.)
I have no insight as to how ticket sales are doing, aside from knowing we sold most of our allotment. I do know this will be the ninth straight one I've gone to (beginning in 2006) and a lot of things have stayed pretty constant. Something worth noting from 2006 is that then-Governor Ehrlich skipped the event – and lost. Martin O'Malley didn't skip the event in 2006 and 2010, and won.
But instead of blast-furnace hot as is usual, we may be drowned rat wet. Fortunately, there are tents but those cardboard box halves may come in handy as makeshift umbrellas. (Pro tip: don't forget the box half, although occasionally campaigns will be one step ahead and bring a bunch. It's a good place to use old bumper stickers.)
In any event, be looking for me. I got my ticket last week and will be there with my little camera taking pictures as I have for most of the last several years. I have a lot of good memories of Tawes and met some fine people, so there's no reason to stop going now.
I've heard a lot of talk about nominees who are RINOs and sitting out the election because so-and-so won the primary and they don't want to vote for the "lesser of two evils," and it always amazes me because this doesn't happen on the other side. Here's a case in point from a fawning AP story by Steve LeBlanc about Senator (and potential Presidential candidate) Elizabeth Warren.
Now, Warren is continuing her fundraising efforts, with a planned Monday event with West Virginia Democratic Senate hopeful Natalie Tennant. Tennant, West Virginia's secretary of state, is vying with U.S. Rep. Shelley Moore Capito for the seat held by retiring Democratic Sen. Jay Rockefeller. Capito is favored and holds a hefty cash advantage.

Capito's campaign has also been quick to target Warren, calling her "one of the staunchest opponents of coal and West Virginia's way of life."

Warren has conceded that she and Tennant — who, like (Kentucky Democrat Senate nominee Alison Lundergan) Grimes, has criticized Obama's plans to limit carbon emissions from the coal industry — don't agree on everything, but can come together on economic issues facing struggling families.
So it's obvious that the Democrats have their own 80/20 rule, but unlike some on our side they don't take their ball and go home based on the non-conformance of the 20.
We had our primary, and at the top of the ticket there were 57% who voted for someone else besides our nominee – many of those live here on the Eastern Shore, where David Craig received 49.6% of the vote and carried seven of the nine counties. There can be a case made that Craig's running mate, Eastern Shore native and resident Jeannie Haddaway-Riccio, was a huge factor in his success here, but the fact remains that this area I live in was one of the two areas Hogan was weakest (the other being southern Maryland, where Charles Lollar resides.) These are votes Hogan will need, and surely many will migrate his way because he's the Republican nominee.
On the other hand, Anthony Brown got a majority of the Democratic vote and carried all but a few counties. Those three on the Eastern Shore, plus Carroll County, aren't places Brown would expect to win in November anyway – except perhaps Kent County, which was the lone county Heather Mizeur won and which only backed Mitt Romney by a scant 28 votes in 2012.
The path to victory for any statewide Republican candidate is simple, because Bob Ehrlich did this in 2002 – roll up huge margins in the rural areas and hold your own in the I-95 corridor. Ehrlich won several rural counties with over 70% of the vote in 2002, and got 24%, 38%, and 23% in Baltimore City, Montgomery County, and Prince George's County, respectively. When that formula didn't happen in 2006, he lost.
Granted, demographic changes and other factors may not allow Larry Hogan to pick up 65% of the vote in Anne Arundel County, 61% in Baltimore County, or 56% in Charles County, but it's possible he does slightly better in Prince George's and may hold some of those other areas. Turnout is key, and we know the media will do its utmost to paint Anthony Brown as anything other than an incompetent administrator and uninspiring candidate – as the natural successor to Martin O'Malley, who has done a wonderful job further transforming this state into a liberal's Utopian dream at the expense of working Maryland families, one would have expected Brown to have picked up at least 60% of the Democratic primary vote.
Yet you can bet your bottom dollar that even the most diehard Mizeur and Gansler supporters may hold their nose but will still push that spot on the screen next to Anthony Brown's name. They may have several points of contention with Brown on key issues, but the other side will push those aside to maintain power.
Perhaps Natalie Tennant over in West Virginia had misgivings for a moment about inviting Elizabeth Warren for a fundraiser, but she realized that there is a segment of her would-be supporters who would gladly contribute more to her campaign to meet Senator Warren, despite the fact they are on opposite sides of a particular issue. To Warren, the end goal of holding that seat in her party's hands and maintaining a Democrat-controlled Senate was more important than conformity with the one place where Tennant may go against leftist orthodoxy.
If we're to upset the apple cart here in Maryland, we have to deal with the obvious flaws in Larry Hogan's philosophy and platform at the most opportune time – when he takes office.
Editor's note: These were originally prepared for my American Certified Sausage Grinder blog as two different pieces but not used there. It's a good opportunity to introduce readers who haven't gone there to check it out (although I have to ask – why haven't you already?) to the somewhat different style I employ there. Think of it as a sampler plate.
Last Thursday – a day early due to the Independence Day holiday – the Bureau of Labor Statistics announced the June unemployment rate had decreased to 6.1%, which is the lowest rate in nearly six years. A total of 288,000 jobs were added in June; in addition, an extra 29,000 jobs were added in adjustments to April and May's figures.
All this should be good news, but manufacturing jobs only increased by 16,000 over the period. This brought the ire of Alliance for American Manufacturing president Scott Paul, who complained that:
While the low-wage recovery progresses full bore, the June jobs report shows that high-wage job growth is at a standstill. Manufacturing accounted for only 5.6 percent of job growth in June, far below its weight in the wider economy. Construction job growth was even slower.

Looking for a reason why? It's all about public policy. Our growing trade deficit with China, currency manipulation by overseas competitors, and a paucity of investment in infrastructure are leaving factory jobs at a virtual standstill. President Obama's vision of creating 1 million new manufacturing job during his second term is way off track.
According to AAM, the total manufacturing job growth over Obama's second term stands at 156,000 – far short of the pace necessary to achieve a million new jobs before 2017. That pessimism extends to the public at large, as a Rasmussen Poll indicated just 23% of Americans believed the unemployment rate will be lower next year.
On the other hand, writing at the Shopfloor blog, economist Chad Mowtray of the National Association of Manufacturers took a more optimistic view, calling the report "mostly positive news." And while he stressed that wages were increasing at a solid clip, he also pointed out that labor force participation rates were still a source of worry.
Strangely enough, a report on exports for May also came out Thursday, as the Commerce Department announced U.S. exports of goods and services hit a record $195.5 billion high. Many in the steel industry – as well as dozens in Congress – are awaiting next week's determination on possible dumping penalties against South Korea, while other exporters are lobbying for Congress to act on re-authorization of the Export-Import Bank before the September 30 deadline. Going forward, these determinations could affect future unemployment numbers as well as prospects for those who want to make things in America.
On a state level, though, the news was better.
In order to make things in America, workers are needed. And recently released employment data from the Bureau of Labor Statistics shows manufacturing employment was up year-over-year in May in 44 of the 50 states. (Page 17 here.)
With all the winners, though, it may be time to ask about the losers. The six laggards in the field were Alaska (down 1,800 jobs), California (down 1,400 jobs), Georgia (down 900 jobs), Kansas (down 1,700 jobs), Maryland (down 600 jobs), and North Carolina (down 300 jobs).
Alaska is an interesting case as it reflects in part the fortunes of its oil industry – just a few short years ago it was the only state gaining manufacturing jobs long-term over the decade from 2001-11. But a steady decline in oil production has hampered its local economy, and the state lost nearly 13% of its manufacturing jobs over the last year.
The other significant loser is Kansas, but a regional university's study predicts an upswing in manufacturing employment over the next three months.
Out of the six where manufacturing employment declined, there is no clear political or labor pattern which can be discerned. Four of the six states have legislatures controlled by Republicans, but that's fairly proportionate to the 28-17 advantage Republicans have overall. Three of the six are right-to-work states, which also reflects the close 24-26 split between our national composition of right-to-work vs. forced unionism states.
Conversely, the states which did quite well over the last year tended to be the ones bordering the Great Lakes. Minnesota (up 4,400 jobs), Wisconsin (up 1,400 jobs), Illinois (up 900 jobs), Indiana (up 2,900 jobs), Michigan (up 8,500 jobs), Ohio (up 5,800 jobs), Pennsylvania (up 3,100 jobs), and New York (up 600 jobs) all benefited, with Michigan's first-in-the-nation increase by itself making up for the six states which lost workers. It appears a healthier auto industry is leading the charge.
I'm breaking into my normal Sunday to bring you the latest polling on this race.
While it's not precisely what Maryland Republicans are hoping for, there is a little crack as the Hogan electoral door is slightly ajar. Bear in mind that a projected matchup polled by the Washington Post last month had Brown leading 51-33, so his support is retreating while Hogan's has grown. Perhaps people are realizing what I wrote last month on Brown's lead:
It's a counter-intuitive result when you look deeper into the poll's questions to find that Democrats want the next governor to lead the state in a different direction from Martin O'Malley by a 58-34 margin. Yet they have given Anthony Brown a significant primary lead and would presumably back him in the general election.
Then again, it's very rare that Maryland votes in its own best interests anyway – they would rather genuflect to an all-encompassing government which distributes crumbs in an arbitrary and capricious manner, depending on the favored status of prospective recipients, than breathe the air of freedom and opportunity for all. But there's always a first time, and as for the rest some areas of the state still have common sense.
So Hogan has picked up a little bit, but more importantly Brown has been driven under the 50% mark. Conventional wisdom holds that an incumbent under 50 percent is in trouble, so this should be added motivation for conservatives to work for an upset.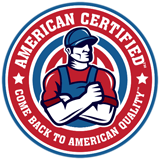 I had a varied palette of posts last week at my Sausage Grinder blog, touching on such diverse subjects as immigration, business climate, and entitlements. Segregated from each other, they may not make as much sense to the whole but the idea behind the site is to look at regulatory aspects and how they affect the practice of "made in America."
Let me begin by noting that my AC cohort Ed Braxton may have stepped on my toes a little bit, but his contribution was a nice look at the sheer volume of regulations businesses in our nation have to deal with on a federal level. One Congressman is trying to SCRUB all that away. (The bill text is here.)
Those regulations, at all levels of government whether federal, state, or local, are chipping away at the perception business owners have about the local business atmosphere. For the third consecutive year, the website thumbtack.com partnered with the Kaufmann Foundation to gauge business friendliness – and the results were an overall disappointment. With states like Maryland and Delaware already shut down legislatively for the year, relief is nowhere in sight.
Meanwhile, with the number of Congressional calendar days for the 113th Congress dwindling to a precious few, there's really not much action we could expect on the federal level; moreover, that time limit will also stop us from addressing entitlements like Social Security. I thought the "big, smelly elephant in the room" characterization was apt, particularly as we've let it linger for nearly a decade without a serious crack at reform.
There is an added bonus this week. I noticed two pieces I sent in over the Independence Day holiday weren't picked up – not sure if my editor missed them because he was out or just what happened. (I do a lot of AC work on the weekends, so it should have been nothing unusual.) Since they actually relate with each other, and I don't believe in letting good writing go to waste, I will post them – slightly modified for flow, of course – here this evening.
And don't worry – my editor has three new pieces I wrote yesterday, on hot-button issues, to help fill the AC site. They should be up this coming week.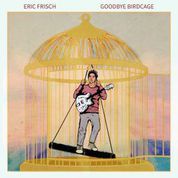 When I read the description of Eric Frisch's debut full-length effort called "Goodbye Birdcage" I expected something different and refreshing. In my mind's eye I was thinking along the lines of finding some obscure half-century old vinyl record from a bygone pop era.
Unfortunately, while Frisch brings some of that spirit and sound into the present day, "Goodbye Birdcage" has nearly as many misses as hits. It's a ratio which may have lent itself to a less ambitious effort where Eric concentrated on the best five tracks and worked on the production end.
The sound Eric was going for is well established on the opening track, Pretty Girls. It has the requisite horn section and doo-wop style harmonies which remind the listener of retro pop. The video is sort of amusing as well, and captures the offbeat vibe I think Eric was looking for with the overall composition.
Another effort in that vein is the next song, Telephone. Not only did Eric nail the style of music he was shooting for with that song, the lyrics tell a story in a compelling manner that makes it the album's best song.
On "Goodbye Birdcage" I thought the ballads tended to be a little heavy on the production, rather than being clean. One case in point was Learn To Swim, which could have been a better song with a somewhat different chorus at the end. Similarly, one would expect the title track to be on the uplifting side, but it instead sounded sad and mournful.
And then there were the tracks which just made me wonder. Perhaps The Sun In Santiago would have worked better as an acoustic track, but the production used made it a little tedious. And heaven only knows why the crowd noise was in Heaven Only Knows.
Luckily, things got better with the final three tracks. All Over Town was sort of a reprisal of the theme of Pretty Girls, but Stick Around had a more conventional, guitar-driven sound. And while I listened to Mary Ann expecting one lyrical payoff, Eric surprised me by taking the story in a different and unexpected direction.
The album is a pretty brisk one, clocking in at just 31 minutes long for the nine songs. It's a length which suggests that the choice of going to EP length, cutting out a couple tracks, and using this as a sampler may have been a better one. It also shows the pitfalls of self-production, as it was unclear whether some of the chatter between and within tracks was there to add ambiance or just something missed in post-production. Overall, the album had a analog tone, which fit with the idea of the sound.
I wanted to like this one, but there are too many songs which aren't worth the listen. If you're into music that's retro, though, you may get into it. It may not win a lot of converts but if there's the potential for you to be one, listen for yourself.
This article was actually going to be about one piece of information I received, but then I got another which I can tie in. I do that every now and then.
The TEA Party movement, depending on how you determine its beginning, is somewhere between five and seven years old now. Thousands upon thousands of activists have participated in it, but in reality conditions have generally become worse in terms of its main fiscal goals.
It's a well-documented lack of success, and perhaps that lack of reward is frustrating those who want real positive change. Take this piece I received an e-mail the other day from an area TEA Party group lamenting the writer's Independence Day plans.
This year for the July 4th Holiday I spent it doing laundry or something mundane like that. No family gathering, no special commemoration or meditation on my part to mark this critically important day. I cannot let this happen again.

When I think of the miracle of the founding of this nation and the sacrifice made by millions to preserve it I am ashamed that it passed like another day, a long weekend. I'm sure most of you reading this didn't abuse this important day to the extent that I did – hopefully. I serve in a position of leadership in this organization; I know better. God forgive me but God help me to do better not just next year but every day from this point on.

This organization didn't participate in (a local) event due to lack of interest from the membership. We didn't walk in the July 4th Parade, also due to lack of interest. The Summer BBQ will most likely be pushed out again due to lack of interest. These are perhaps less important than what we do daily to mark the miracle that is this precious nation BUT they are outward expressions of our commitment to each other, to this nation, to our God in front of others. If we don't stand up in front of an unschooled community every chance we have, how can we hope to shift this paradigm?

I know we are all tired, exhausted, hardly able to pay our bills and take care of our families. Perhaps we are in our senior years and feel that we have paid a hefty price already. Many of us are weary from trying to inform a willingly uninformed public, legislature, clergy, education system, healthcare system, etc. I get it; I'm part of that tired and huddled mass.
If you go back on my website you'll find numerous references to TEA Party gatherings, local meetings of an Americans for Prosperity chapter, or the Wicomico Society of Patriots – these are all groups which flourished for a brief time but then died due to lack of interest, leadership issues, or both. Some of those organizers have moved into the mainstream of politics, but many others found that activism too difficult to keep up when their family's financial survival was at stake.
But then we have the diehards, among them the purists who will accept no compromise. That's one lament of Sara Marie Brenner, a conservative activist who announced on her Brenner Brief website yesterday that she was taking a hiatus from her news aggregation website and radio show.
I bring this up as I've interviewed her for my now-dormant TQT feature as well as talked about a venture she launched late last year. While I definitely haven't agreed with her on everything and incurred her wrath by pointing out the lack of viability of her many past and present enterprises in the new media world, I think she makes some very good points in her lengthy piece.
For one, I nearly laughed out loud when she wrote about the Ohio PAC where $7,000 or the $7,400 raised went to the leader's own company knowing that the Maryland Liberty PAC has a similar history – the majority ($14,826.03) of the nearly $26,000 MDLPAC spent last year went to Stable Revolution Consulting. It's one thing to collect money for a cause, but the same people who question the Larry Hogan connection with Change Maryland may want to ask about that arrangement as well.
As a whole it seems that some in the TEA Party movement can't be happy unless they either amass power and wealth for themselves – making them little better than the big-government flunkies they decry – or refuse to compromise on one particular issue, forgetting that they may need their conservative opponent for some other pressing issue tomorrow. Brenner brings up two hot-button items of interest – Common Core and Glenn Beck's charity effort to assist the unaccompanied minors streaming over our southern border from Central America. On these I only agree with her 50% but as I said she makes other good points.
I don't blame Sara Marie for backing away from the fray; that's her decision just as it was to get involved in the first place – and I wish her nothing but the best in her ventures as she follows her other passions. But we have to remember that the other side wins when we stop fighting.
It was a more hopeful tone from the other side of the TEA Party:
I hope that we will always remember that no matter what the political ideology, we must find commonalities if we are going to make any progress. I hope that we make a concerted effort to reach out in peace to at least one person over the summer that we have heretofore had disagreements. We know that the truth is on our side as long as we deliver it in peace and love.
Now if anyone would have sour grapes and wish to take their ball and go home, it might be me given recent election results. Believe it or not, though, after nearly two decades in the political game I am still learning and listening, so losing an election won't crush or define me – it just means I retire with a .500 record. But I'm still going to participate because it's important, if not necessarily lucrative.
The trick is getting new people into the fray to replace those who can't go on for whatever reason. Because I have a talent for writing – or so I've been told – I have soldiered on with this website for going on nine years. It may not be the most useful or unique contribution, but it's what I have.
So those who have departed will be missed. However, they are always invited back once they recharge and reload because we can always use the help.
When your partner behind the plate leads the league in hitting, one has to take his chances when he gets them. Fortunately, Austin Wynns hasn't been an offensive slouch this season, giving manager Ryan Minor multiple options for firepower at the plate.
One of four catchers drafted in the first ten rounds by the Orioles last year – and the only one with college experience, as the Orioles drafted him out of Fresno State University – Wynns found himself being the predominant catcher for Aberdeen last season and batted a respectable .235 with 21 RBI in 54 games. The offense is even better this season as Wynns has bumped it up to a .263 mark, also improving his OPS from an anemic .557 to .618 this season.
The experience has helped Austin be the better defensive complement to fellow catcher Chance Sisco, who has the offensive tools to also be DH. Wynns has nabbed 19 of 55 would-be base stealers this season, a 35% average, a better fielding percentage, and has allowed just 5 passed balls compared with 13 for Sisco.
As the much older of the two Shorebird catchers, the 23-year-old Wynns can look at other late-blooming defensive-minded catchers in the Orioles chain like Caleb Joseph, who didn't make his major league debut until he was 27 but has held down the fort in the absence of Matt Wieters. Austin appears to the be the type who will make slow, steady progress up the ladder.
I'm not on the Jim Ireton e-mail list, but a friend of mine forwarded this to me. The reference is to a Baltimore Sun editorial which ran on Monday.
From: Jim Ireton <jimiretonformayor@gmail.com>
Date: July 9, 2014 at 1:50:45 PM EDT
To: undisclosed-recipients:;
Subject: You might find this interesting about Andy Harris….

I saw this in today's Baltimore Sun and thought you might find it interesting, too.

http://www.baltimoresun.com/news/opinion/editorial/bs-ed-harris-20140707,0,4748548.story

It concerns his actions against the residents of Washington, D.C.:

"There are several notable elements in this imbroglio. First, anyone who believes that Dr. Harris might change his mind because of a potential economic threat to his district doesn't know Dr. Harris, a man not given to self-doubt or the concerns of others. This is someone who actively fights against efforts by the EPA to reduce pollution flowing into the Chesapeake Bay and to forestall the effects of climate change and rising sea levels, either of which would be far more ruinous to his waterfront district than a mere summer boycott.

More remarkable is that Dr. Harris, a reliable Club For Growth and tea party acolyte who so often preaches against an overbearing federal government, is so proud to have thwarted the will of District residents. The decriminalization measure has the support of 80 percent of the populace, according to a recent poll."

-Jim
It may have been just idle chatter, but at the bottom of the e-mail was the authority line: "Authority: Ireton for Maryland. William C. Duck, Jr., Treasurer." Before Jim can worry about 2016, though, there is the matter of getting through another election in Salisbury; however, at this early stage no opponent for Ireton has stepped forward.
Despite only being the mayor of a relatively small city, Ireton has been attracting notice in progressive Maryland circles. There was the rumor last summer that Doug Gansler had Ireton on his short list for his running mate; he eventually selected Delegate Jolene Ivey. The "Ireton for Maryland" campaign account is still active, although he has filed what are known as ALCEs for the filing deadlines this year, affirming he has neither raised nor spent $1,000 over the preceding periods since his last full filing back in January. At that point Ireton had $1,384.68 in his account, much of that from the transfer of over $2,100 from his mayoral campaign. He supplemented this income with a fundraiser on his behalf last November, spending several hundred dollars on attending and supporting various Maryland political causes and events.
But to make a run against Harris, Ireton would have to open a federal account and no move in that direction has been made.
The entire incident surrounding the Sun editorial centers around an amendment Harris made to the District of Columbia's budget preventing the funding of a measure decriminalizing marijuana. In response, outgoing District mayor Vincent Gray and local advocacy groups called on District residents to boycott the Eastern Shore as a vacation destination. (Judging by some of what I saw on July 4th, the call wasn't heeded.)
To an extent, I actually disagree with Harris. Although it's not a true state's rights issue because the District of Columbia is not a state and depends on Congress to dictate its budget, I would tend to favor allowing them as much local control as possible. Decriminalizing marijuana is not the Constitutional issue that, say, an overly restrictive gun law would be. It doesn't bother me that Maryland did it, and it wouldn't bother me if the District of Columbia did, either. Decriminalization is a somewhat sensible middle ground between the outright ban some states still have and the larger steps taken by Colorado and Washington state. If those two states can find success in accommodating the legal and recreational use of marijuana with the prospect of ill effects from overuse, the idea may spread. If not, the window will close on advocates just like Prohibition did once it was discovered that criminal activity skyrocketed as people willingly ignored the ban.
Yet the Sun doesn't hide its disdain for Andy, either:
House Republicans have long made kicking District government around a veritable sport and, as Del. Eleanor Holmes Norton has observed, often do so to raise their standing among conservatives. And that would be classic Andy Harris — to confidently impose his will on others with a breathtaking level of moral certitude. As a state senator, his one-man crusade against students screening X-rated movies at the University of Maryland College Park five years ago included an unsuccessful effort to tie state funding to the development of a college "porn policy."

In Annapolis, however, Dr. Harris was mostly a preening pest who made sanctimonious speeches on the Senate floor that annoyed even his GOP colleagues. In Washington, he's among enough like-minded right-wing zealots to cause real trouble. Those who make their living in the tourist trade on the Eastern Shore are just collateral damage, victims of a congressman's runaway ego. The self-serving amendment is likely to be tossed out by the Democratically-controlled Senate; a cure for the district's bigger problems can only be achieved by its voters in November.
Actually, the Sun is right in one respect – we can cure many of our district's bigger problems by getting rid of the current Annapolis regime in November, replacing them with people who have respect for our way of life and our values. For that, though, we need cooperation from elsewhere in the state.
But I think the "runaway ego" is exhibited by a newspaper which becomes more shrill as its readership fades away, yet still deigning to exhibit the sheer condescension to posit that Congress can do a thing about climate change and the supposed rise in sea levels which would follow. (Given recent temperature trends, I'd say Harris has a point.) Even if I don't agree with him on this particular issue (as well as a handful of others) I still believe having about 400 carbon copies of Andy Harris in Congress would help turn this country in the right direction.