By Cathy Keim
Editor's note: We are fortunate indeed that Cathy attended Tuesday's event in Annapolis and filed a first-hand report with her observations. Maryland was the third-to-last stop on this 50-state tour, which began way back in January and stopped in Dover back on their primary election day, September 13. The final stop is Wednesday in North Carolina.
Pray. Vote. Engage.
Tuesday I joined about 50 other folks from Salisbury on a bus sponsored by the Salisbury Prayer Breakfast Committee to attend the Franklin Graham rally in Annapolis. Jack Savage was our intrepid leader. We pulled out of the Wicomico Youth and Civic Center parking lot at 8:30 in the morning and headed north.
We assembled on Lawyer's Mall with a crowd that swelled to over three thousand and began to spill into the street. Volunteers were handing out American and Christian flags. It was a well-organized event. There were several Christian schools in attendance. It was good to see the smiling, young people.
Dennis Agajanian warmed up the crowd with his exceptional guitar picking and then led the crowd in some traditional hymns including How Great Thou Art, which has a long history in the Billy Graham crusades. The crowd was enthusiastic and sang robustly.
Franklin Graham came to the podium and immediately led off with, "Our country is in trouble." No political party, nor any individual can turn it around – only God can do it. As a nation we are spiritually, racially, economically, and politically divided. We need to pray.
The he turned to Nehemiah 1 and explained how the Jews had been carried off to exile in Babylon as slaves. God had brought judgement upon their nation because they didn't repent from their sins. Nehemiah was a slave in the king's palace in Babylon. He heard about how the remnant of Jews left in Jerusalem were suffering because the walls were broken down.
Nehemiah petitioned the evil pagan king for permission to return to Jerusalem and the king granted it. There were enemies at every hand determined to thwart the rebuilding of the walls, but Nehemiah persisted and in 52 days, the walls were rebuilt.
Walls are meant for protection. Gates can be opened or shut depending on the need. Our moral walls and gates are down and any type of wicked thought and activity and teaching can come and go. Our educators, big business, politicians and – sadly to say – many of our churches are more concerned about profits and political correctness than they are about God's truth and His righteousness. Nehemiah fasted and prayed and confessed the sins of himself, his people, and his fathers.
He confessed the sins of his nation. When we consider the sins of our nation, where do we even begin?
Graham encouraged us to hold hands and pray for the sins of our nation as each of us felt moved, then asked those in the crowd to confess their personal sins. He added that he didn't fully understand the father's sins, but he encouraged us to pray and confess for the sins of our fathers. Next Graham prayed for Governor Hogan, Lt. Governor Boyd Rutherford, for the workers in the capital, and for our law enforcement officers.
Then he gave an explanation of the gospel message that Jesus Christ came to save sinners. It is only through Jesus Christ that we can find salvation. Not only does our nation need healing, but our individual hearts need healing. Graham stressed that God loves us, but we have a problem called sin: a disease of the human soul that separates us from God. God is a holy and just God. As a human race, we have all sinned and come short of the glory of God.
"But God so loved the world that He gave His only begotten son that whosoever believes in him should not perish but have everlasting life." John 3:16.
Then, being a technological age, Graham invited anyone who had just prayed for new life to text 21777 and type in the word "Decision" so that literature would be sent to you.
After his religious message, Graham pivoted to more of a historical reminder. He recalled that when he was growing up everybody was worried that "the Commies were coming." During his grade school years his school had drills where you got under your desk in case of nuclear bombs. He pointed out that hiding under your desk was not very helpful, but we practiced anyway. We had bomb shelters with food that was to last for 40 years. It as inedible, but it would last. Then the Berlin Wall came down and secularism came in and there was no difference between secularism and communism because both are godless.
We removed the Ten Commandments and prayer from our schools. Patriotism and the pledge of allegiance are out. Our kids have no idea what is right or wrong.
We have been lied to about the separation of church and state. That whole discussion was about protecting the citizens from State sponsored religions. He said that the Grahams came from Scotland, where the Anglican Church was the state-sponsored religion of the English kings. They tried to force the Scots to be Anglicans, but the Scots said they had no Lord but the Lord Jesus Christ. So the English kings cut off their heads even before ISIS. The ancestors of Billy Graham came to America for religious freedom.
Today the secularists are trying to change our understanding of freedom of religion. For generations we knew the meaning of the term was that you can live your faith freely, and share it as desired. This has devolved into a concept of freedom of worship, meaning that you can worship in the confines of a church only. You cannot live out your Christian faith in the world.
We need Christian men and women to run for office. Look at your candidates in the presidential race. Graham succinctly assessed that, "it has been interesting this year."
But it isn't only about the presidential election. We need to vote thoughtfully on the local level and we need to encourage Christians to run for office. Christians should run for the school board, but they should come ready to fight because the enemy is poisoning our children's minds. Progressives - which is just another word for atheist - get pornographic books onto 7th grade reading lists. Note that if you fight back, the progressives will call you intolerant. Smile and say no.
We must take our schools back as we are losing our nation.
The church must wake up. Pray and get involved: in the last election 20 to 30 million evangelicals stayed home. People complain about the rigged voting, added Graham, but if 30 million more voters showed up, they couldn't rig that election. He mentioned the 2008 Coleman/Franken Senate race in Minnesota that was decided by 220 votes sending the vile, anti-God Franken to the Senate. (Editor's note: it should be pointed out that Norm Coleman led on election night – a large number of questionable absentee ballots "found" during the recounts put Franken on top. Note that Minnesota had a radical Democrat Secretary of State in charge of that election, too.)
Graham then asked the people to take his Pledge to God and Country:
Honor God at home.
Honor God in public.
Honor God with my vote.
Pledge to pray faithfully for my country.
Register to vote.
Pledge to engage in my community and run for office if God leads.
Graham asked that those who take the pledge text "America" to 21777 to receive access to a digital copy of Decision magazine's election special.
Graham closed with this exhortation: Our job as Christians is to make the impact of Christ known to our fellow citizens. Be an advocate for God's truth. Turn our country back to "In God We Trust."
Dennis Agajanian led the crowd in God Bless America and America to close the event.
Well, that was an overview of what was said at the rally yesterday, at least as best I could take notes. I had no complaints with anything that Franklin Graham said. It is certainly true that no matter who is elected president next month, that person will not be able to fix America. They may help or hurt our country, but they will not be able to "fix" it. Our walls are down and we are sinking under the flood of ills that besiege us.
Our current presidential race is the prime example of where our low morals have led us. All the people that are moaning that this is despicable should ask themselves what else can we expect when we have turned our backs on all that is good and noble and true and have encouraged the basest type of behavior in our citizens.
It is time for us to begin our long march to retake our culture. We have allowed the progressives free rein in our schools, our culture, our churches. We must stand for the truth. It will not be easy as the truth is not respected nor sought by many. But stand we must.
I'm going to close with several photos I took at the event.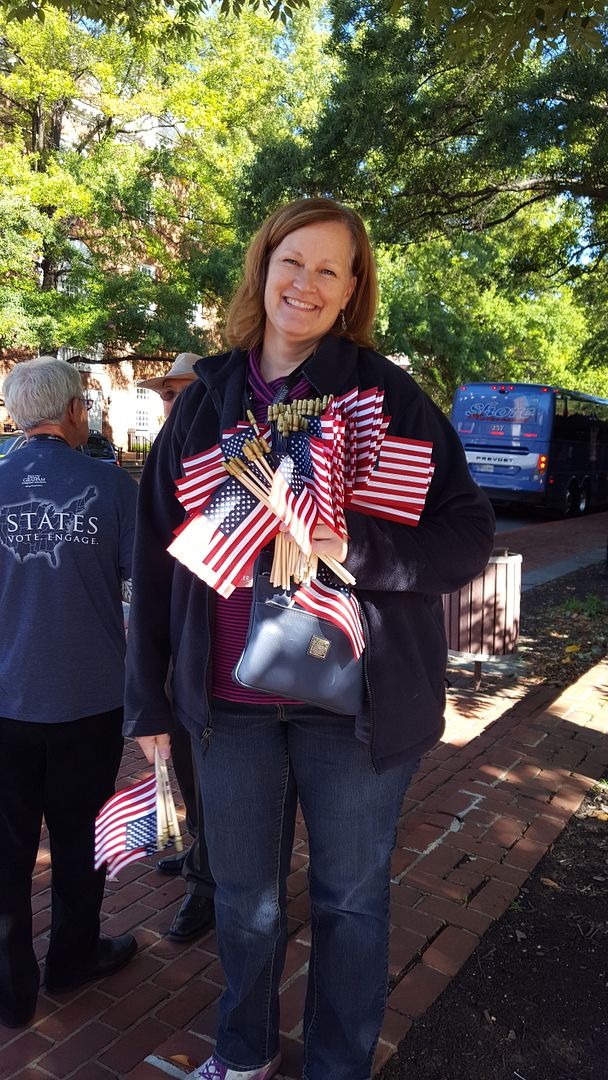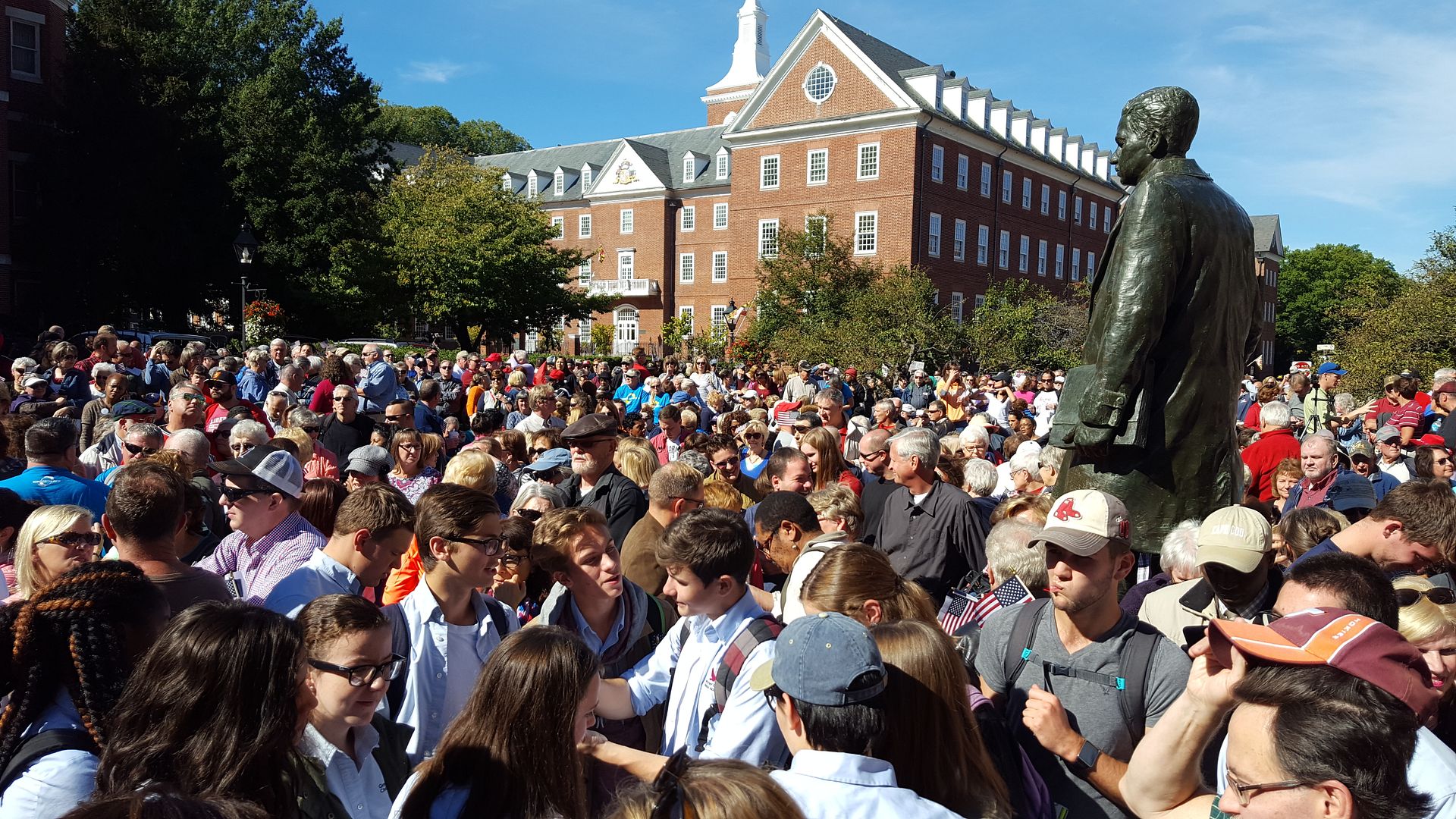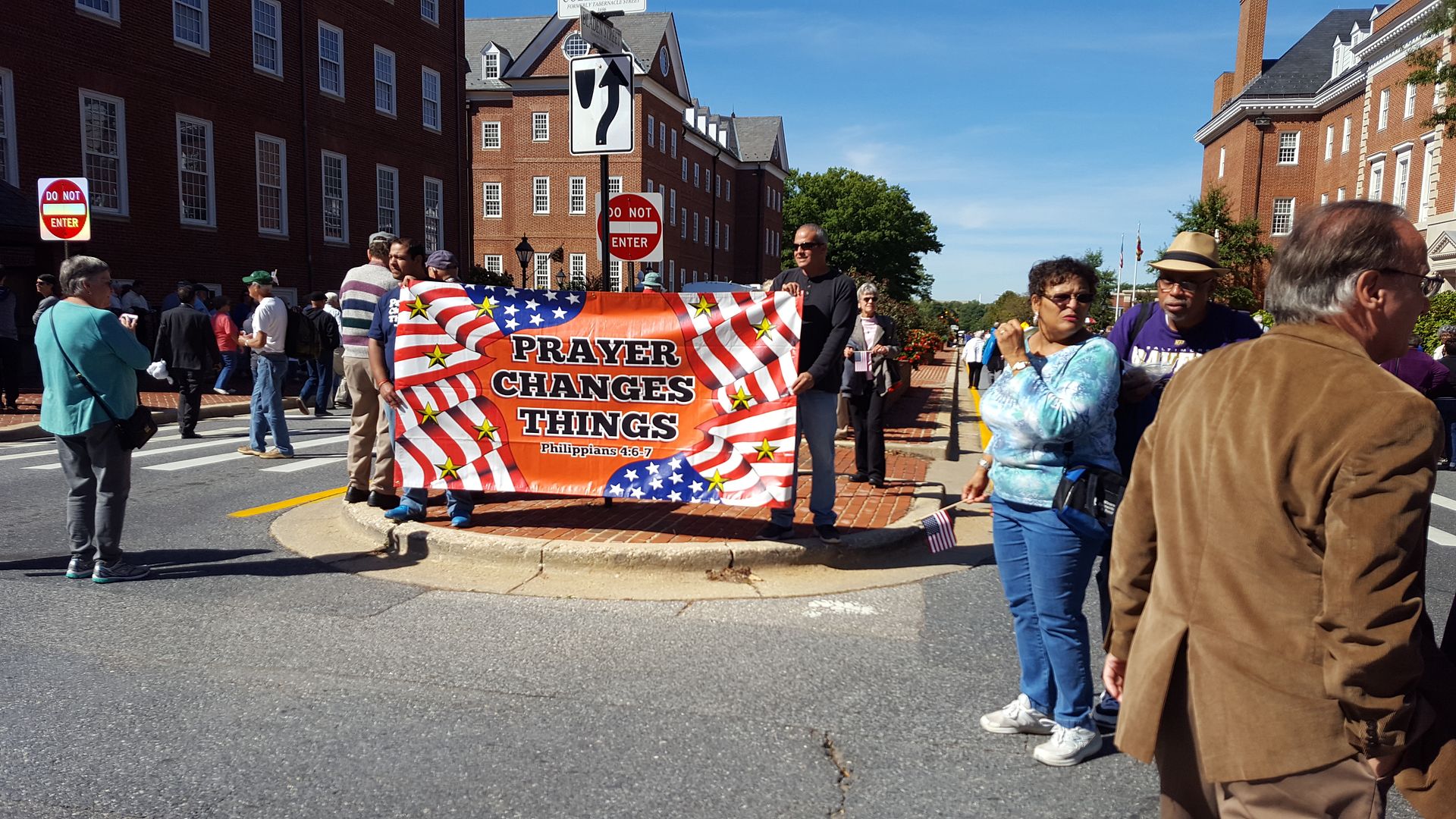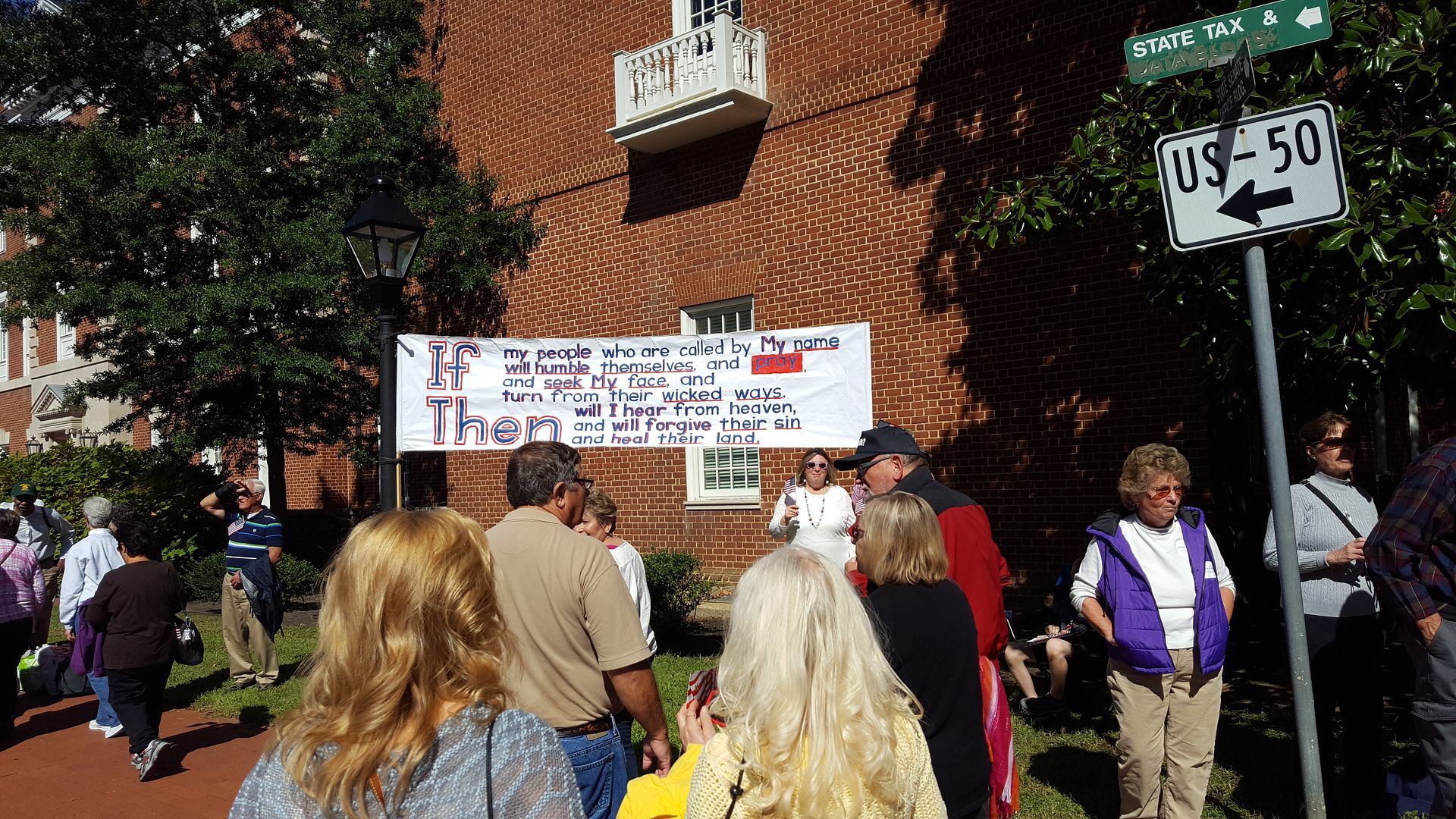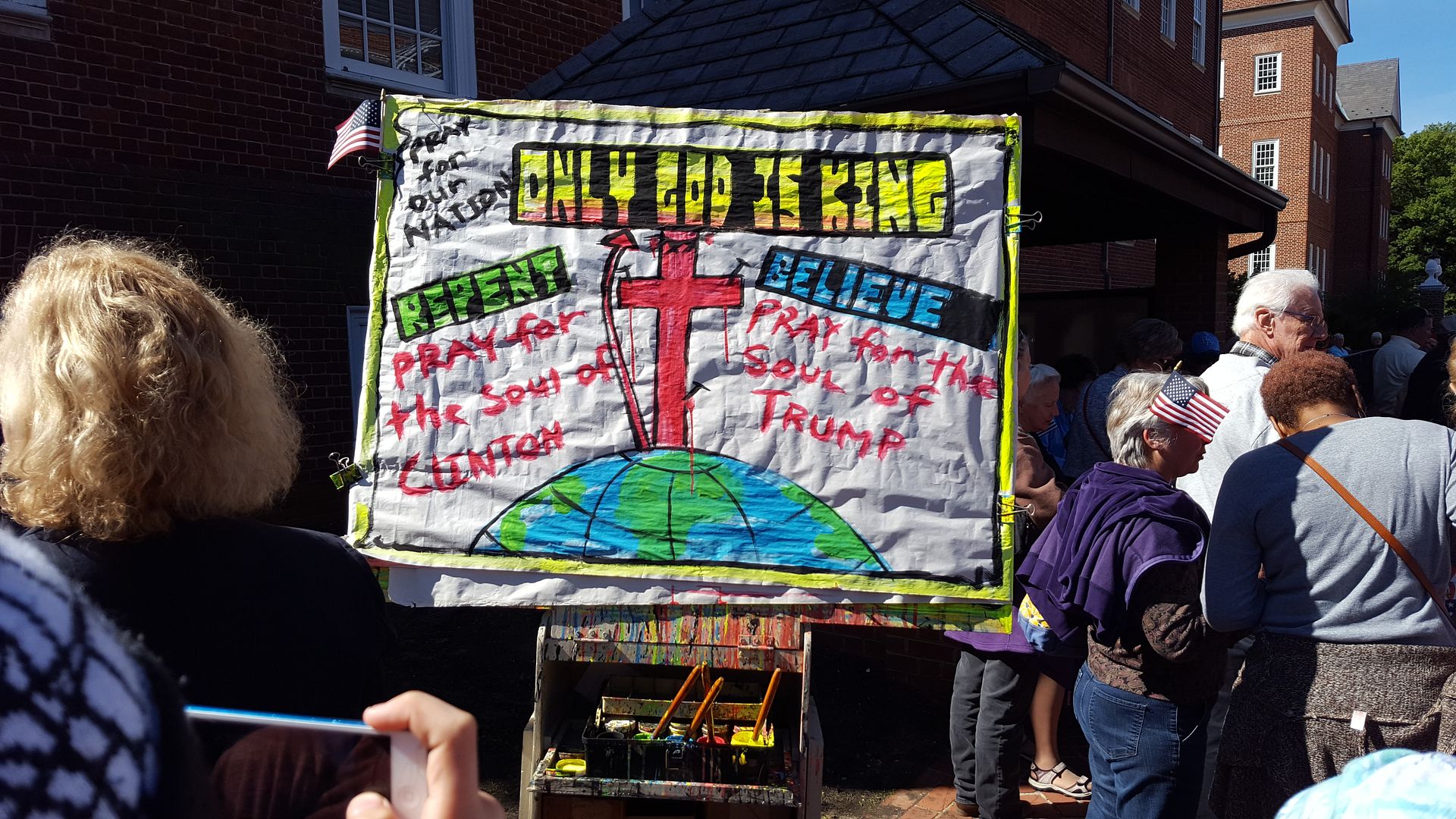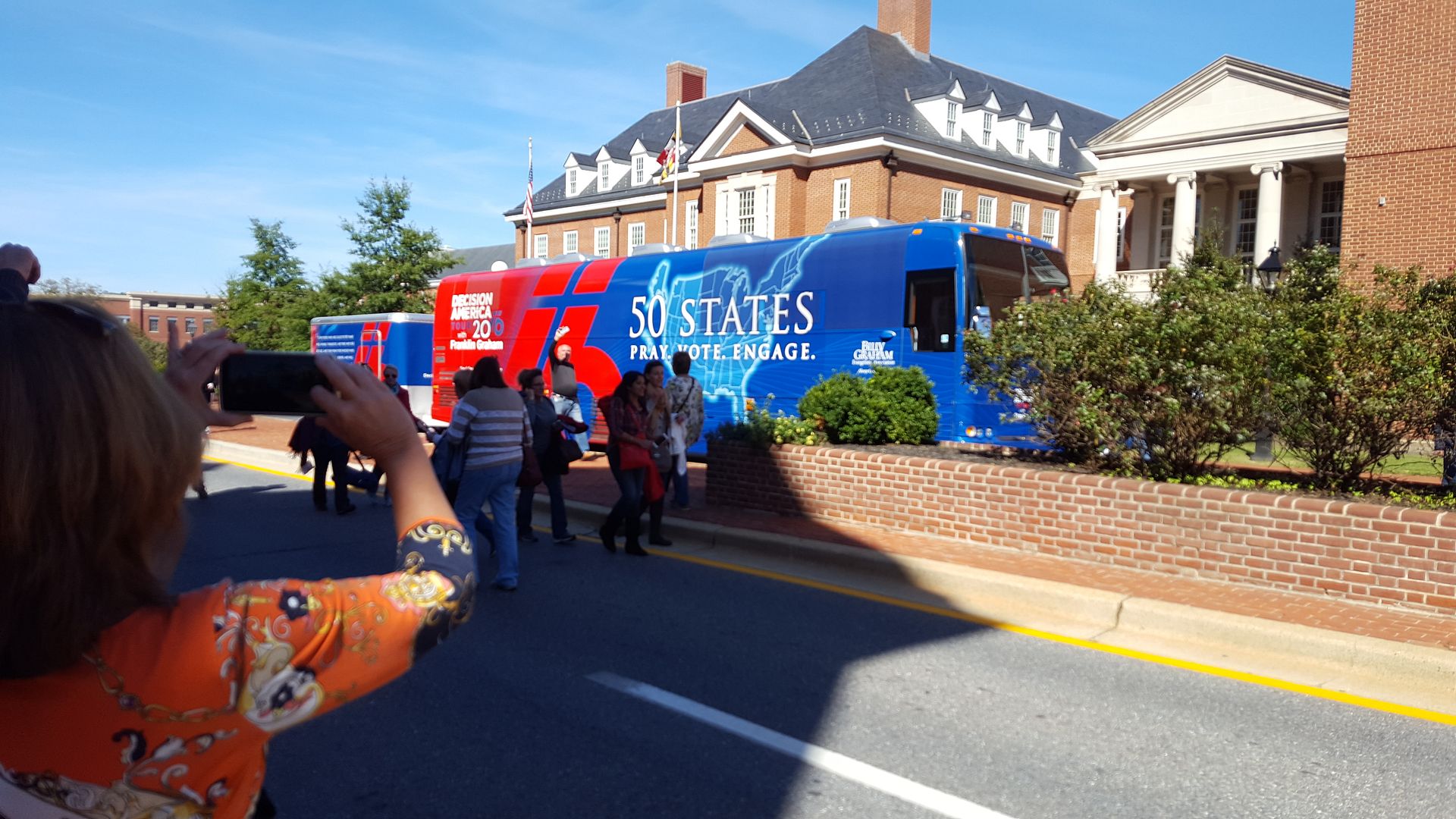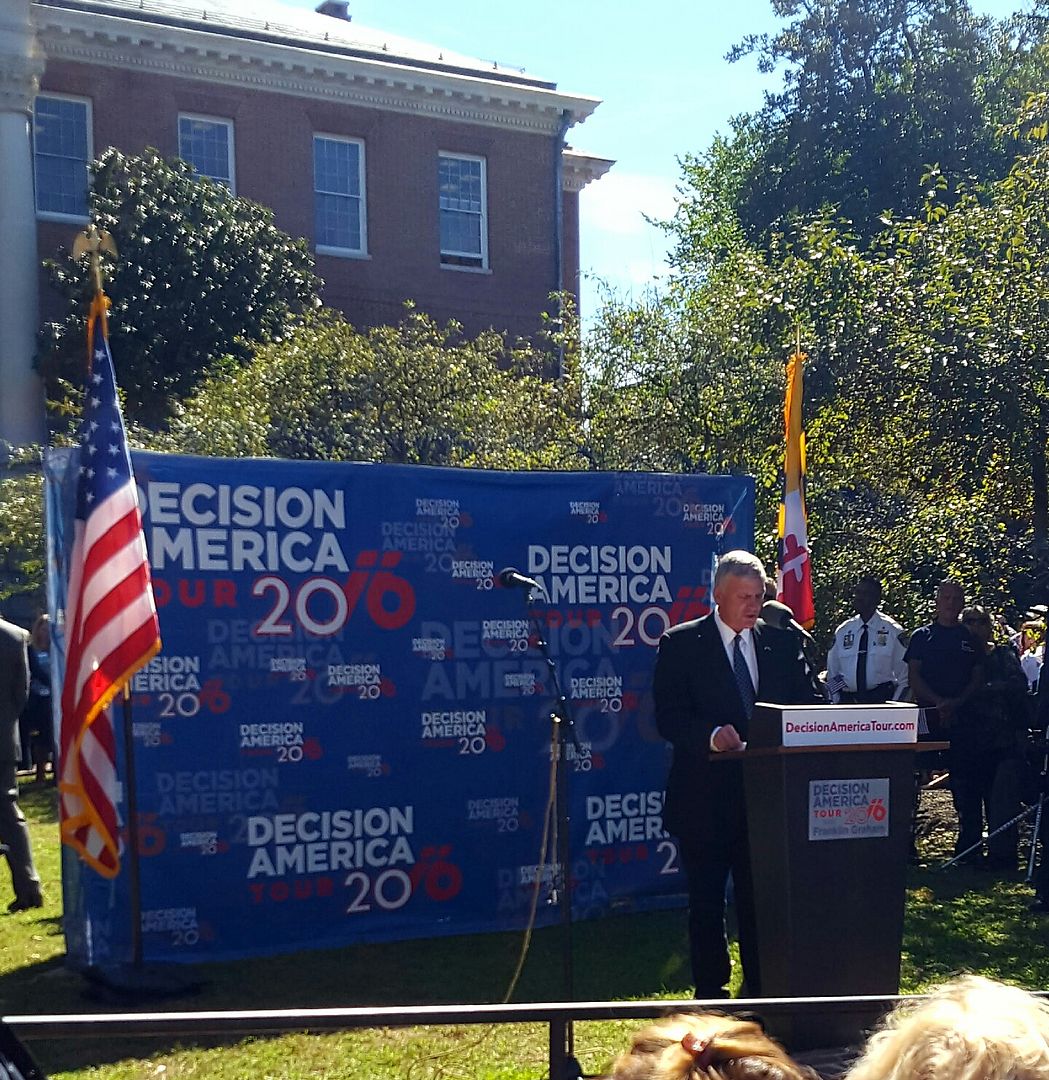 Postscript:
As editor, I concur with Cathy's assessment.
And I sought for a man among them, that should make up the hedge, and stand in the gap before me for the land, that I should not destroy it: but I found none.
Therefore have I poured out mine indignation upon them; I have consumed them with the fire of my wrath: their own way have I recompensed upon their heads, saith the Lord GOD. (Ezekiel 22:30-31, KJV)
Christians, it may be uncomfortable and you may lose some worldly things, but it's time to make up the hedge.
Commentary by Marita Noon
At the end of September, the Organization of Petroleum Exporting Countries (OPEC) surprised the markets by agreeing to a production cut. As soon as the 14-nation deal was announced, oil prices jumped more than 5 percent to some of the highest levels since the crash two years ago. (Editor's note: Locally prices at the pump are relatively unchanged because the area was mildly affected by the Alabama pipeline break earlier in the month, so prices were just beginning to recover.)
The proposed output cap is historic and represents a shift in the "pump-at-will policy," as Bloomberg called it, "the group adopted in 2014 at the instigation of Saudi Arabia."
Many analysts see that the Saudi gamble, aimed at putting American producers out of business, has failed. While U.S. oil production is down from last year's highs and bankruptcies are up, the industry has become more efficient and the cost of extracting oil from shale is continuing to come down – resulting in the sixth straight week of an increased rig count and the 15th without a decrease. Wall Street Journal (WSJ) reports: "Many oil producers believe drilling in some U.S. regions can be profitable even with oil prices in their current range of $40 to $50 a barrel."
Additionally, U.S. crude stockpiles have fallen for the fifth consecutive week – as have crude imports. American drivers are consuming more gasoline than ever. Exploration budgets, due to the low oil prices, have been slashed with the predicted result of lower production in the next few years. It appears that demand is catching up with production and prices have been creeping up since February's lows. Phil Flynn, senior market analyst with the PRICE Futures Group explains: "While supply is still at a historically high level for this time of year, strong U.S. demand and rising U.S. exports are cutting down the glut."
Meanwhile, the social costs of low-priced oil have been high for OPEC members – hitting Saudi Arabia especially hard. The cartel's biggest producer has lost billions of dollars of revenue, which has resulted in a 20 percent pay cut for its ministers, reductions in financial benefits for government employees, and an increase in fees and fines, and cuts in subsidies, for all in the kingdom. Fear that the loss of the coddled lifestyle could throw the country into chaos, according to industry veteran and consultant Allen Brooks, likely convinced Saudi Arabian officials to moderate their position. The view from Bloomberg concurs: "Saudi Arabia's willingness to do a deal, in particular, demonstrates the economic pain lower oil prices has caused producers."
Iran, OPECs other majordomo, has, due to sanctions, gotten used to austerity and is now seeing its economic pressures easing and its oil exports increasing. It, therefore, heading into the OPEC meeting, appeared to be rejecting the Saudi output offer and dashed hopes of a compromise to cut crude production. The Financial Times quotes one Gulf OPEC delegate as saying: "All producers are hurting."
The surprise came on Wednesday, September 28, when, after two years of failed attempts at an agreement and months of dialogue leading up to the meeting, "Saudi Arabia agreed to take on the bulk of OPEC's proposed cuts," wrote the WSJ. The headline from the New York Times read: "OPEC agrees to cut production, sending oil prices soaring."
The proposed cuts are moderate in reality, only 1-2 percent of the 14-nation cartel's 33.2 million barrels a day of production and they represent less than 1 percent of total global production. Yet, the announcement buoyed markets and added power to the previously mentioned price momentum. According to CNN Money, the agreement offers "powerful symbolism."
While the price of oil received a bounce from the news that has given the industry cautious optimism, it is not expected to have a big impact on the price of gasoline. Oil prices are now expected to stay near $50 a barrel through the end of the year and below $60 a barrel through 2017 – which will likely mean an increase of a few cents a gallon at the pump. Julian Jessop, chief global economist at Capital Economic, in CNN Money, called the situation "a period of 'Goldilocks' oil prices" – low enough to help consumer spending and "high enough to keep major producers afloat."
The slight bump in prices the proposed deal adds to the upward trend is enough to send some producers back into the oil field and encourage another burst of drilling. That increased production will have a self-leveling effect on prices. As prices go up, production increases. As more oil enters the already-glutted market, prices come down.
Additionally, the OPEC agreement is only a plan. It isn't finalized. That could happen in Vienna in November if, and it is a big if, the members can agree on who will make the cuts, when the cuts will go into effect, how long they will last, and how they will be enforced. While all 14 countries – and non-OPEC producers such as the U.S. and Russia – will benefit from higher prices, no one wants to be the one taking the cut. Iran, Libya, and Nigeria are all trying to increase production that has been stifled due to sanctions or conflict. Plus, as WSJ reports: "OPEC has a long history of agreeing to production cuts, only to have the pact collapse when countries change their minds." CNN Money adds: "cartel members also have a tendency to overshoot production quotas."
So, while the OPEC announcement is "not a game-changing move that will send oil prices shooting back up towards the $100 a barrel level," as The Guardian reported, it is big news that brightens prospects for the energy industry while keeping things just right for consumers.
The author of Energy Freedom, Marita Noon serves as the executive director for Energy Makes America Great Inc., and the companion educational organization, the Citizens' Alliance for Responsible Energy (CARE). She hosts a weekly radio program: America's Voice for Energy - which expands on the content of her weekly column. Follow her @EnergyRabbit.
As you likely know, I'm not supporting either of the two major party candidates on the ballot. Both Donald Trump and Hillary Clinton are flawed personalities who I find untrustworthy and feel would do damage to a concept I believe in: a federal government properly restrained by the Constitution and conducted in accordance with traditional Judeo-Christian values.
So that leaves me with a lot of choices – in fact, there's not just the four who are on the ballot in Maryland but (as of this writing) 42 write-in candidates. Now some just want attention or are crackpots, so I have eliminated those who have not selected a vice-presidential running mate. After doing so, there are ten remaining – all four on the ballot and six write-in hopefuls. I've already eliminated Trump/Pence and Clinton/Kaine, so that leaves eight. In this phase I will eliminate the ones who would not be obvious choices.
On the ballot we have the Libertarian Party, which is represented by former New Mexico governor Gary Johnson and his running mate, former Massachusetts governor William Weld. Obviously I have a significant amount of libertarian views, but there are areas I have concerns with them. However, I know enough about where they stand to advance them to round 2.
On the other hand, the Green Party, which is represented by Dr. Jill Stein and running mate Ajamu Baraka – who incidentally was selected over Maryland's Green Party U.S. Senate candidate Margaret Flowers and former U.S. Senate candidate Kevin Zeese – is far, far, FAR too far to the left for my consideration.
So that's the folks on the ballot. But what about the six write-ins?
The Constitution Party is represented by Darrell Castle and Scott Bradley, and simply based on the name and philosophy of fealty to the Constitution will move forward.
James Hedges and Bill Bayes represent America's oldest third party, the Prohibition Party. It has an interesting platform that combines a number of very conservative viewpoints on some issues with a far more progressive approach to others, which is reflected in the candidacy of Hedges. I think it will merit further study, although they may well not be my first choice.
Lynn Kahn (and running mate Kathleen Monahan) tried to get on the Maryland ballot as independents, but could not reach a sufficient number of signatures to do so. Overall, the biggest problem I see with Kahn is one of philosophy: she seems to believe that government can be fixed to be more efficient and accountable through a number of methods, but I believe the government needs to be fixed by the Constitutional means of rightsizing government. To me, her ideas are not the fix we need so this ticket is out.
In the little bit of time I have looked through their platform, I believe Evan McMullin and Mindy Finn have a good chance at securing my vote, so I will advance them pending my further research. Because they are write-in candidates, it may not matter that the person listed by the Board of Elections as VP candidate (Nathan Johnson) is not the person McMullin intended to be his running mate, although it is a rookie mistake.
I think Marshall Schoenke and James Mitchell are very honest and forthright people who earnestly believe they are statesmen, with a God-fearing (if somewhat muddled populist) platform. But they have a huge problem: because both reside in Illinois, they are ineligible under the Twelfth Amendment as I read it.
So despite the fact the website has some pretty good music on it (Schoenke is a professional musician) I have to eliminate them from further consideration.
Tony Valdivia and running mate Aaron Barriere are political neophytes. Valdivia's introduction stressed campaign finance reform, but he doesn't have a website to check his issues out, which is a drawback for me. Basically the story seems to me that he decided over the summer the top two choices weren't to his liking so he decided to run himself and has secured write-in positions in a number of states besides Maryland. It's a nice story, but from the few minutes with which I listened to what he had to say it seemed like he's more centrist and populist than I would prefer. So he is out.
I also have a dark horse in the race who announced he has filed as a write-in candidate in Maryland as of today, one which was suggested to me so I will look into their platform as well: Tom Hoefling and Steve Schulin of America's Party. What I'm interested in seeing is whether there is anything they offer beyond their position on social issues to address the other concerns I have.
This means my final five, which I will begin studying more in earnest, represent four parties and one independent: the Libertarian Gary Johnson, the Constitution Party's Darrell Castle, the Prohibition Party's James Hedges, Tom Hoefling of America's Party, and independent Evan McMullin. As I did for the GOP candidates, I will focus on ten key issues: education, Second Amendment, energy, social issues, trade and job creation, taxation, immigration, foreign policy, entitlements, the role of government, and other intangibles.
I think I can do this in a week, so look for an update seven days hence.
The firestorm of protest over leaked eleven-year-old remarks by GOP presidential candidate Donald Trump has roiled the race, with a handful of Republicans withdrawing their endorsement and others wringing their hands as this story launched just in time to get certain coverage at the Presidential debate tonight.
So here are a few bullet points and stream-of-consciousness thoughts on the situation.
Someone had this tape laying around just waiting for the proper moment to release it, and that person obviously supported Hillary Clinton. Had this come out in February we may have had a completely different nominee so this is a good reinforcement for the theory that the media – once again – orchestrated the campaign with the assistance of Hillary's supporters to make sure the GOP nominated its weakest candidate.
Whether this is locker-room banter or not is irrelevant. It seems the Republicans I know are bending over backwards to tell me this is a common thing, and men often talk this way in their unguarded moments. I'm not going to argue that point, but shouldn't we demand a little more from our candidate?
And since when has it been appropriate to refer to women in such a way? Does "never" ring a bell?
This argument often goes on to discuss either the fact that Bill Clinton was a sexual predator or that Hillary Clinton has done far worse criminal acts during her adult life. But this isn't relevant to me, nor should the fact it's 11 years old be an excuse. We don't have evidence that Trump's apology was more than half-hearted nor can we say he's contrite over the fact he's sought to sleep with other married women while married himself. Again, should we not expect higher standards from those we call on to be leaders?
Two weeks ago, before the first debate, Donald Trump had caught up to or passed Hillary Clinton in the polls. Since then not only is he suffering from the subpar performance in his first go-round against Hillary but he now has to deal with this issue. The lack of preparation for his campaign has really shown.
Yet those people who believe we need to replace Trump on the top of the ticket are going to have a rude awakening. People are already voting, ballots have been printed, and in general it is too late to change. A plurality of GOP (?) voters chose Trump, and at every juncture where this could have been prevented it wasn't. I've said this before: you break it, you bought it.
Unless the current trends cease – and it will be very interesting to see the polls come Monday and Tuesday – we may begin to see an electoral bloodbath. Last week saw Trump slip behind in Ohio and Florida, where he had been leading. Soon he may be down to those states which are reliably Republican, but don't add much to the Electoral College. Those states that have voted Republican the last four cycles only contribute 180 electoral votes, while the same scenario for Democrats provides 242. (This is amazing when you consider who the Democrats ran in 2000 and 2004.) But even a few of those old reliable states are close in the polling, with a worst-case scenario rapidly becoming a 400-vote Electoral College win for Hillary as she racks up all the East Coast and West Coast states, the Rust Belt, and the desert Southwest.
So, yes, this is a bimbo eruption Hillary could benefit from – again. And it's all the fault of people who decided that party trumped principle, the heavy dose of statism we've endured over the last eight years called for a heavier dose of populism (with a dash of revenge for perceived wrongs tossed in) and the bathwater needed to be tossed whether the baby was in it or not.
As I said before, Hillary became President the moment Donald Trump secured the nomination. All that's left is the formality.
All right, this is one that is very intriguing. Take a musician who may not be a household name himself, but realize that you KNOW most of the songs on the album because they were done by artists you've heard – particularly Survivor and .38 Special. Jim Peterik was a founding member of the Ides of March as well as Survivor, but has also worked with a number of other artists as a songwriter, including the aforementioned .38 Special.
Yet what you get on this album isn't just a paint-by-numbers retrospective of a long career that began way back in 1964 with a group called The Shon-Dels that evolved into the Ides of March. Instead, Peterik headed down to Nashville and put a brand new spin on this classic rock. Imagine the Ides' 1970 hit Vehicle performed as a slow jam, with primarily a keyboard accompaniment, or Eye of the Tiger done in a bluegrass/country style and tempo. Other Survivor songs like Is This Love, The Search Is Over, or I Can't Hold Back also get an acoustic country treatment – but High On You is treated with a Caribbean flavor while L.A. Goodbye (another Ides of March hit) becomes a piano-based ballad that's a highlight of the compilation.
But while Peterik has performed the most with the Ides of March and Survivor (along with a couple other lesser-known groups, Pride of Lions and Lifeforce), he wrote many of the songs for .38 Special. This is what he did with Caught Up In You:
I daresay you won't hear that on the classic rock station. Meanwhile, Hold On Loosely is recast as a slow acoustic ballad.
There are also songs that Peterik wrote for others on this as well. I never had really heard That's Why God Made The Radio, but it was a song written years before its 2012 release on the Beach Boys' album of the same name. (Peterik had worked with Brian Wilson in his solo career, too.) This version could have stood up in the 1960s with its vibe. And the last classic song was the one I liked most: redoing the Sammy Hagar song Heavy Metal (from the soundtrack of the 1981 movie of the same name - one of my all-time favorites) as more of a heavy blues song. I was wondering what he would do with it, and the treatment paid off.
Tucked in toward the end of the album are two recent original compositions: the gospel-influenced Miracle At Ground Zero, and the introspective The Same Muse, where he sings about music being "the only love I know." I suppose if one of your claims to fame is being a co-author of "Songwriting for Dummies," you would have a knack for putting together good tunes.
So to wrap things up, I guess the way I can best describe "The Songs" is to let you know that you might know the songs, but chances are you'll also enjoy the music. After all, Jim Peterik started playing and singing professionally the year I was born, and since then it doesn't look like he's missed a beat.
I'm going to pick up on this saga where I left off last week. The 2012 season brought Oriole magic back to the minds of Charm City fans who, for over a decade, had little to cheer about between football seasons. But a loss in the ALCS meant there were improvements to be made, so Dan Duquette quickly set to work during the Hot Stove League season.
Trade 8 (November 20, 2012) - Orioles trade infielder Robert Andino to Seattle Mariners for outfielder Trayvon Robinson.
Andino is still remembered in Baltimore for the last day of the 2011 season, when his base hit defeated the hated Boston Red Sox and, coupled with a stunning comeback by the Tampa Bay Rays against the Yankees, knocked the BoSox out of the playoffs. Some consider it the birth of the Orioles' recent renaissance. But Robert slumped in 2012 (although he played well in the postseason) so Duquette shipped him off to Seattle. Andino would spend barely a half-season there, compiling a (-0.3) WAR before being traded to Pittsburgh for a player to be named that never was. Andino resurfaced in the big leagues briefly last month with the Miami Marlins, the team Baltimore got him from back in 2009. It's more than Robinson can say – he spent one season between Bowie and Norfolk before being allowed to sign with the Dodgers as a minor league free agent. Since then Robinson has played with four organizations and split time between two independent league teams this year. I'll call this one a push.
Trade 9 (November 30, 2012) – Orioles trade minor league pitcher Jhondaniel Medina to Pittsburgh Pirates for infielder Yamaico Navarro.
Apparently Duquette was looking for infield depth, but Navarro didn't stick long with the Orioles – most of his time with the organization was with Norfolk, although he compiled 0.1 WAR in 8 games with the O's before latching on with teams in Korea and Japan over the last three seasons. On the other hand, the 23-year-old Medina has worked his way up to the AAA level with the Pirates, meaning they could still get a return on the deal four years later. In this respect it is similar to the Jim Thome deal (Trade 5.) A push, but could still be a Baltimore loss.
Trade 10 (April 10, 2013) – Orioles trade pitcher Luis Ayala to Atlanta Braves for minor league pitcher Chris Jones.
This was sort of a head-scratcher at the time – Ayala was a solid veteran pitcher who had a good season for Baltimore in 2012 but struggled in his first two outings in 2013. Luis pitched the rest of the season with the Braves, picking up an 0.4 WAR for the campaign before signing for the next season as a free agent with the Washington Nationals. An attempt at a 2014 reunion with the Orioles fell flat as Ayala pitched briefly at Bowie, but he was still active in the Mexican League this season. Jones pitched mainly in Norfolk for three seasons before being dealt to the Los Angeles Angels in a 2016 spring training deal (Trade 35.) Slight loss for Baltimore, but could eventually be a push or better thanks to the later trade.
Trade 11 (April 28, 2013) – Orioles trade minor league pitcher Rob Delaney to Los Angeles Angels for catcher Chris Snyder.
Delaney was a "just in case" pitcher the Orioles had signed for minor league camp, although he had brief stints with Minnesota and Tampa Bay in 2010 and 2011, respectively. Once the season began at Norfolk, he was lit up and didn't fare much better at AAA for the Angels, pitching his final game by mid-June. Delaney replaced Snyder on the Salt Lake roster, where he was the starting catcher. For the Orioles, though, Snyder played in just 9 games in two different stints as backup (for a WAR of 0.0) and spent most of his lone season in the organization at Norfolk. The next season he was signed and released by the Nationals before a short run as a AAA catcher with Texas led to Snyder voluntarily retiring in April 2014. A push.
Trade 12 (June 30, 2013) – Orioles trade minor league infielder Ty Kelly to Seattle Mariners for outfielder Eric Thames.
Believe it or not, this trade is still an active one in terms of value. While Kelly never made it to Seattle, after the 2014 season he was traded again to St. Louis for minor league pitcher Sam Gaviglio, who is still active with Seattle's AAA farm club in Tacoma. So they can still score from this deal. (Kelly eventually made his MLB debut this season for the New York Mets.) Meanwhile, Thames languished in the Gulf Coast League for a rehab stint before a forgettable 36 games with Norfolk. He was lost on waivers to Houston after the minor league season ended but has spent the last three seasons playing professionally in Korea. A push, but could still be a Baltimore loss.
Trade 13 (July 2, 2013) – Orioles trade pitchers Jake Arrieta and Pedro Strop to Chicago Cubs for catcher Steve Clevenger and pitcher Scott Feldman.
Jake Arrieta was a prospect for whom the Orioles ran out of patience. As his ERA climbed with each season in Baltimore, the team decided it needed a more reliable starter and sent Jake off to Chicago for the rental of pending free agent Scott Feldman. Pedro Strop was a decent relief pitcher who sweetened the deal for the Cubs as a return if Arrieta was a bust, while the Baltimore native Clevenger was Duquette's third try at trading for a backup catcher. Of course, no one knew that Arrieta would blossom to be a Cy Young winner for the Cubs, racking up an aggregate 19.4 WAR in four seasons in Chicago (compared to 0.3 WAR in four Baltimore seasons) while Strop has chipped in with 4.4 more Wins Above Replacement in his seasons with Chicago. For Baltimore, Feldman had an 0.7 WAR but they couldn't sign him to a deal – he eventually went to the Houston Astros as a free agent and now pitches in the AL East in Toronto's bullpen. Clevenger had just an 0.3 WAR for Baltimore in three seasons. So the deal looks like a huge loss for Baltimore, but there is a potential silver lining in a later trade (Trade 32) since Clevenger was the price the Orioles paid to get Mark Trumbo (and his 1.6 WAR in 2016). Overwhelming loss for Baltimore, but may even out some over time.
Trade 14 (July 12, 2013) – Orioles trade minor league outfielder Russ Canzler to Pittsburgh Pirates for minor league pitcher Tim Alderson.
This turned out to be a strictly minor league deal. While Canzler had a modest amount of MLB time with Tampa Bay and Cleveland, by this point he was bouncing on and off 40-man rosters with regularity. Canzler only played in the Pirates organization through the end of the 2013 season, later on trying to grab a spot with the Yankees and Phillies before his career closed in 2015. Alderson spent about one full season in Norfolk before being released, moving on to minor league stints with Oakland and Washington then independent baseball in 2016. A push if there ever was one.
Trade 15 (July 23, 2013) – Orioles trade minor league infielder Nick Delmonico to Milwaukee Brewers for pitcher Francisco Rodriguez.
Looking for that elusive shutdown reliever, Baltimore sent a decent prospect out for the veteran closer "K-Rod" – and promptly used him mostly as a setup guy. Their reward? An 0.1 WAR and watching him return to Milwaukee in free agency, where he would be an All-Star for the next two seasons before being traded to Detroit for this year. However, Milwaukee only had Delmonico for a season before a suspension for amphetamine use led them to release him after the 2014 campaign. He's now playing in the White Sox organization. Slight win for Baltimore.
Trade 16 (July 31, 2013) – Orioles trade minor league pitcher Josh Hader, outfielder L.J. Hoes, and their 2014 Competitive Balance Round A draft choice to Houston Astros for pitcher Bud Norris. The Astros selected outfielder Derek Fisher with the draft pick on June 5, 2014.
Hoes had just been called up to the Orioles when he was sent across the stadium for Norris, as the Astros were in town when the trade occurred. It led to the unique situation of Hoes getting his first MLB hit off Norris, the player he was traded for, the next day. In three seasons bouncing between the Astros and AAA, Hoes compiled a WAR of 0.2. He ended up coming back to Baltimore in a cash deal last November but spent the season in Norfolk. For his part, Norris gave the Orioles a great 2014 season (15 wins plus another in the playoffs and 1.9 WAR) but in roughly 2 seasons with the Orioles only compiled an aggregate 0.7 WAR. After a disastrous start to 2015 Norris was let go in August and has gone on to pitch with San Diego, Atlanta, and the Los Angeles Dodgers, who released him last month. If the trade were straight-up Hoes for Norris, it would be almost even. But the fact that Fisher has smartly rocketed up to AAA in 2 1/2 seasons for Houston means the strong potential for this trade to be a significant loser. And then you have Hader, the first draft pick in a Duquette draft to be traded away, who was involved in a six-player deadline deal with Milwaukee in 2015 that netted the Astros outfielder Carlos Gomez and pitcher Mike Fiers. While Gomez contributed a net WAR of 0.0 in about a season with Houston (he was released and signed with the Texas Rangers in August) Fiers has put up a WAR of 1.3 in a little over a season with the Astros, where he remains active. Clear loss for Baltimore.
Trade 17 (August 30, 2013) – Orioles trade minor league outfielder Xavier Avery to Seattle Mariners for outfielder Mike Morse.
The final trade of the 2013 season sent Avery, who had played sparingly for the Orioles in 2012 but was in Norfolk at the time, for the pending free agent Morse. Avery would play one season in the Mariners' chain before leaving for AAA stints with three different teams in 2015. The Orioles re-signed him for 2016 but he never got out of Norfolk. Only the fact that Avery never panned out makes this deal a slight loser since Morse managed to accrue a (-0.5) WAR in just 12 Oriole games before an injury ended his season. Morse went on to have a decent season for San Francisco in 2014, but fared worse for Miami and Pittsburgh before his career ended the next season. Slight loss for Baltimore.
As you can tell, the 2013 trading season was not Duquette's shining moment. In ten trades Duquette only won one and was significantly burned on at least two others. Most of the rest had little effect, and it may be why Baltimore slumped to an 85-win season. So it was back to the drawing board for Dan, who had plenty up his sleeve to begin 2014.
Commentary by Marita Noon
President Obama's flagship policy on climate change had its day in court on Tuesday, September 27. The international community is closely watching; most Americans, however, are unaware of the historic case known as the Clean Power Plan (CPP) – which according to David Rivkin, one of the attorneys arguing against the plan: "is not just to reduce emissions, but to create a new electrical system."
For those who haven't followed the Environmental Protection Agency's (EPA) rule, here's a brief history that brings us to up to date:
EPA published the final CPP rule in the Federal Register on October 2015.
More than two dozen states and a variety of industry groups and businesses immediately filed challenges against it – with a final bipartisan coalition of more than 150 entities including 27 states, 24 trade associations, 37 electric co-ops, 3 labor unions, and about a half dozen nonprofits.
On

January 21

, the U.S. Court of Appeals for the District of Columbia denied a request for a stay that would have prevented implementation of the rule until the court challenges were resolved.
On

February 9

, the Supreme Court of the U.S. (SCOTUS), in an unprecedented action, before the case was heard by the lower court, overruled, and issued a stay that delays enforcement of CPP.
The Court of Appeals was scheduled to hear oral arguments before a three-judge panel on

June 2

, but pushed them to September 27 to be heard by the full court – something the court almost never does (though for issues involving "a question of exceptional importance" procedural rules allow for the case to proceed directly to a hearing before the full appeals court).
The court, which is already fully briefed on a case before hearing the oral arguments, typically allows a maximum 60-90 minutes to hear both sides and occasionally, with an extremely complex case, will allow two hours. The oral argument phase allows the judges to interact with lawyers from both sides and with each other. However, for the CPP, the court scheduled a morning session focusing on the EPA's authority to promulgate the rule and an afternoon session on the constitutional claims against the rule – which ended up totaling nearly 7 hours. Jeff Holmstead, a partner with Bracewell Law, representing one of the lead challengers, told me this was the only time the full court has sat all day to hear a case.
One of the issues addressed was whether or not the EPA could "exercise major transformative power without a clear statement from Congress on the issue" – with the 2014 Utility Air Regulatory Group (UARG) v. EPA determining it could not. Republican appointee Judge Brett Kavanaugh noted that the UARG scenario "sounds exactly like this one."
Judge Thomas Griffith, a Bush appointee, questioned: "Why isn't this debate going on in the floor of the Senate?" In a post-oral argument press conference, Senator James Inhofe (R-OK) pointed out that the debate has been held on the Senate floor in the form of cap-and-trade legislation – which has failed repeatedly over a 15-year period. Therefore, he said, the Obama administration has tried to do through regulation what the Senate wouldn't do through legislation.
"Harvard law professor Laurence Tribe, one of Obama's mentors," writes the Dallas Morning News: "made a star appearance to argue that the Clean Power Plan is unconstitutional."
Judge Karen LeCraft Henderson, a Bush appointee, concluded: "You have given us all we need and more, perhaps, to work on it."
The day in court featured many of the nation's best oral advocates and both sides feel good about how the case was presented.
For the challengers (who call CPP "an unlawful power grab"), West Virginia Attorney General Patrick Morrisey, who along with Texas AG Ken Paxton, co-lead the case, reported: "We said (then) that we were looking forward to having our day in court on the merits. Today was that day. I think that the collective coalition was able to put very strong legal arguments forward, as to why this regulation is unlawful, and why it should be set aside."
But the case has its proponents, too, and they, also, left feeling optimistic. In a blog post for the Environmental Defense Fund, Martha Roberts wrote about what she observed in the courtroom: "The judges today were prepared and engaged. They asked sharply probing questions of all sides. But the big news is that a majority of judges appeared receptive to arguments in support of the Clean Power Plan." She concluded that she's confident "that climate protection can win the day."
The Wall Street Journal (WSJ) summarized the session saying that stakeholders on all sides were left "parsing questions and reactions, and searching for signs of which way the judges are leaning." U.S. News reported: "The judges repeatedly interrupted the lawyers for both sides to ask pointed questions about the legal underpinnings of their positions."
The decision, which is not expected for several months, may come down to the ideological make-up of the court: 6 of the judges were appointed by Democrat presidents and 4 by Republicans. Though, according to WSJ, Obama appointee Judge Patricia Millet "expressed concern that the administration was in effect requiring power plants to subsidize companies competing with them for electricity demand." She offered hope to the challengers when she said: "That seems to be quite different from traditional regulation." Additionally, in his opinion published in the Washington Post, Constitutional law professor Jonathan Adler, stated: "Some of the early reports indicate that several Democratic nominees posed tough questions to the attorney defending the EPA."
Now, the judges will deliberate and discuss. Whatever decision they come to, experts agree that the losing side will appeal and that the case will end up in front of the Supreme Court – most likely in the 2017/2018 session with a decision possible as late as June 2018. There, the ultimate result really rests in the presidential election, as the current SCOTUS make up will be changed with the addition of the ninth Justice, who will be appointed by the November 8 winner – and that Justice will reflect the new president's ideology.
Hillary Clinton has promised to continue Obama's climate change policies while Donald Trump has announced he'll rescind the CPP and cancel the Paris Climate Agreement.
The CPP is about more than the higher electricity costs and decreased grid reliability, which results from heavy reliance on wind and solar energy as CPP requires, and, as the South Australian experiment proves, doesn't work. It has far-reaching impacts. WSJ states: "Even a partial rebuke of the Clean Power Plan could make it impossible for the U.S. to hit the goals Mr. Obama pledged in the Paris climate deal." With Obama's climate legacy at stake, the international community is paying close attention.
And Americans should be. Our energy stability hangs in the balance.
The author of Energy Freedom, Marita Noon serves as the executive director for Energy Makes America Great Inc., and the companion educational organization, the Citizens' Alliance for Responsible Energy (CARE). She hosts a weekly radio program: America's Voice for Energy - which expands on the content of her weekly column. Follow her @EnergyRabbit.
As you surely can tell I haven't been writing nearly as much on politics the last couple months. I suppose having a Presidential election that reminds me of a nasty toothache will do that to you, and the root canal I need isn't scheduled until the middle of November when the hoopla and post-mortems finally die down.
But one thing I have done as of late and shared via Facebook is see where states are polling and how that affects the Electoral College. In my last rendition Friday, the news wasn't as promising for Republicans who pinned their hopes on Donald Trump. I'll grant that the map is flawed in the fact that not all states are polled equally and it's based on the last poll or groups of polls released and shared on the RCP website, but in this one Hillary enjoys a 313-219 lead (Iowa and its 6 EVs last polled a tie.) Out of the three I have done so far on a weekly basis it is the worst. The difference between this and previous maps can be traced to recent polling placing Clinton in the lead in Florida, North Carolina, and Nevada. Flip those 50 EVs, give Clinton Iowa, and do you know what? We have a 269-269 tie.
(In that case, the Constitution dictates that the House votes – by state – and the majority rules. Republicans have the larger delegation in a majority of states so they would likely vote for Trump.)
The trend, though, seems to be working away from Trump. It's also worth considering that the most recent polls were compiled after the first debate so Trump's subpar performance may be reflected in these new polls shifting momentum Hillary's way.
So the question really comes down to whether the Republicans are more afraid of Hillary or the Democrats are more afraid of Trump. At this point, both candidates seem to have consolidated the support of their party regulars to the tune of 90 percent or more – the #NeverTrump movement has seen the defection of conservative heavyweights such as Mark Levin and Ted Cruz, both of whom succumbed to the aforementioned fear of Hillary and set principle aside for party. (I'm not as worried about Hillary, since my faith assures me God is really in control. So I will vote my principles – I just haven't decided for whom, but I can assure you it won't be for at least three people on the Maryland ballot: Clinton, Stein, and Trump.)
Thus, the #NeverTrump and #NeverHillary groups are much like those who would not vote for Mitt Romney in 2012, John McCain in 2008, or Al Gore in 2000. Trump is too moderate-to-liberal for principled conservatives and Hillary is too corporate and war-mongering for the progressive Left. But for now they are a far smaller part of the electorate than the large percentage who won't vote because they think it won't matter. In my life I have missed two elections – one in college because I didn't get my absentee ballot back in time, and the other because I was moving shortly and it was a local election. I consider it a privilege, not to be taken lightly.
I'm pleased to see that Darrell Castle of the Constitution Party and Evan McMullin (a conservative independent) are on the Maryland list of write-in candidates – they are among those I would consider. A vote with conscience is never wasted, despite what those desperate to preserve the R/D duopoly may say. And who knows? If we had the 269-269 scenario with the exception of one state won by the longshot candidate, it is possible for that person to win – especially if he's conservative and House Republicans thumb their nose at Reince Priebus. I probably have a better chance of winning Powerball, but otherwise the conservative, pro-liberty movement is in for rough times ahead.
If Donald Trump doesn't want to be in the Al Gore position of winning the popular vote but losing in the Electoral College, it's obvious where he needs to be.
In his debut album, which was released June 10, Jess Wayne impressed me with his songwriting ability and ability to recruit a very solid band behind him. It's not bad for a guy who gave up life as a successful Colorado bankruptcy lawyer seven years ago to move to southern California and find himself in the music business. No, really, that's his story and I suspect he's sticking to it. If he gets successful enough in his second career, I'm sure he knows people who know people who have the juice to get a biopic done.
So it's quite ironic that one of the better songs on this album is the biting wit of Say Goodbye Hollywood. And for a relatively new professional musician, Jess has many of the emotional bases covered in his songs: for example, the sad regret of Taken You Home Last Night that opens the album slips right into the cynicism of Better Get Used To It. In turn, we get the familiar "I'm deep in the doghouse" theme of Make It Up To You.
That's not to say "Ride The River" is a paint-by-number effort, as there are a lot of categories and genres covered by these ten tracks. Taken You Home Last Night gives me a weepy country vibe, but Better Get Used To It comes across more like smooth jazz to me, while Make It Up To You seems more adult contemporary. If I were to have a complaint about these first three songs, it would be in the way Wayne sings them – he seems to want to dictate each lyric rather than letting it flow out of him. I don't know what the order of recording was, but it seems like it takes him until the fourth track Hold On to let it rip a little bit vocally. Jess isn't ever going to win "The Voice" but he has nothing to be afraid or ashamed of as a vocalist as he learns how to shape songs to his voice.
It starts to come together a lot better on the back half of the collection, as Jess makes Say Goodbye Hollywood into a fun song, keeping it light for Next Time Around. Why Don't You Lie To Me comes across as a pleading, as a lyrical twist eventually makes the song make sense. Meanwhile, up until then the band was rather tight as well – the Jess Wayne Band has a number of musical veterans in it, and this shows.
So I was a little disappointed in the strange drum line in Garden Song because it took away from the humorous yet poignant lyrics. Aside from that slight flaw, though, I thought the band was effective in being the background, particularly as there are several guests contributing bass, vocals, and harmonica, (In particular, the bassist who played on "Ride The River" is not the touring/live performance bassist.) While I generally frown on self-production – especially from budding artists – having his bandmate, keyboardist John Matthew Rosenberg, as co-producer likely smoothed over some of the excess these self-producers often have. ("Ride The River" production is credited to Rosenberg and Douglas Jessop, which is Wayne's real name. Jess Wayne is a combination of his last and middle names.)
Luckily, I felt Wayne and his band saved the best for next-to-last. I thought the album's highlight was the blues number How Do You Know, which has a great riff and a fantastic use of call-and-response, with the background vocals coming off just right. All I Can Do For Now provides the coda for the album, which is just ten songs but rather lengthy – Wayne puts a lot of meat on the bones of these songs, as all but two run four minutes or more.
And to be quite honest, knowing Wayne's backstory is good for getting a perspective on the album. (I normally prefer to listen first, then read up on the artist later so as not to prejudge.) I think as Wayne learns his craft and figures out how to use a rather unique vocal style he could be successful. The album release was backed up by a modest tour in California, Arizona, and Colorado (with his Denver show billed as a "reunion of family, friends, and colleagues") so he seems to be working hard at this musical journey.
While you can sort of pin Jess down in the adult contemporary genre, there's enough overlap of styles that most people can find something to like about it. (In my case, it was the blues song.) But don't take my word for it – listen for yourself and see what you think.
As you likely are aware, Thursday evenings during the summer were reserved for my Shorebird of the Week feature. But tonight, and ongoing for a few weeks anyway, I'm going to resume baseball coverage.
A few days ago I saw the lament of an Orioles fan who pondered what could have been. Given the team's pitching woes over the course of the season, he wailed, could they have been better with a starting rotation that included Eduardo Rodriguez, Zach Davies, or other pitchers the team traded away to help themselves during a pennant chase several years ago?
As a Tigers fan, I feel his pain. In 1987 they were victimized by what is considered to be one of the greatest thefts in baseball trade history.
In the thick of the AL East race (at the time, each league had just two divisions rather than the current three), on August 12 the Detroit nine found themselves 1 1/2 games behind Toronto for the division title. They decided Doyle Alexander, who was pitching for a Braves team that was enduring another mediocre season near the bottom of the National League, would be an upgrade over longtime Tiger Dan Petry in the rotation. Alexander was a 36-year-old veteran righthander that was in his seventeenth big league season and was a valued commodity – the Tigers trade would be the sixth and final trade involving him during his lengthy career.
Doyle indeed helped the Tigers overcome their deficit by going 9-0 the rest of the way during the regular season, but folded like a cheap suit in the 1987 AL playoffs, losing both his starts as Detroit lost to an 85-win Minnesota team that would have placed 5th in the then 7-team AL East. In two-plus seasons Alexander finished just 29-29 with Detroit - including a 6-18 mark in 1989, his final season. That 1989 season marked the sudden end to a great Tiger run during the 1980s that netted two division titles, a pennant, and a world championship. A veteran team went from seasoned to past its prime.
In return for Alexander the Tigers sent the Braves a former 22nd round draft choice who was languishing at the AA level with a 4-10 record and hefty 5.68 ERA; a pitcher who would walk more batters than he struck out in that 1987 campaign. But this pitcher righted the ship the next season enough to reach the big leagues at the age of 21, and the Tigers had no clue whatsoever that John Smoltz would end up being a linchpin of the dominant Braves pitching staff of the 1990s as well as a Hall of Famer. It seems like a extraordinary price to pay for an average pitcher, doesn't it? But that's the fun and uncertainty baseball fans enjoy in that regard, perhaps more than any other sport because each team has such a vast minor league system of developing players to choose from, and for every John Smoltz a team acquires it may get 100 guys who never sniff AA ball.
So I decided to spend a few Thursdays as the hot stove season gears up for those non-playoff teams evaluating just how the Orioles have done with their trades in recent years. In their case, it's doubtful anyone will soon top the Eric Bedard deal with Seattle that brought the Orioles two of their current stars (Adam Jones and Chris Tillman) as well as two others who spent time with the Orioles. Only one of the five players the Orioles got back in return for Bedard did not play for the team – Tony Butler (a onetime Shorebird and a 3rd round pick by Seattle) didn't make the majors thanks to injuries derailing his career. But at the time of the trade the most renowned player coming to Baltimore was George Sherrill, a workhorse relief pitcher who the Orioles flipped to the Los Angeles Dodgers a year later to acquire two players, including pitcher Steve Johnson. Jones was a young player with a .230 lifetime batting average and .627 OPS in 73 games for Seattle over the previous two seasons, while Tillman and pitcher Kam Mickolio would make their MLB debuts with Baltimore. Mickolio would pay dividends later on as part of the deal to get slugging infielder Mark Reynolds from Arizona, with Reynolds playing a significant role on the 2012 Orioles playoff team.
As you can see, trades can take on a life of their own. So over the next few weeks I'll consider the Dan Duquette era and his penchant for raiding the minor league system to fill big league needs, as well as other trades he's made. Is he doing the team good or getting fleeced?
Perhaps the best direct measuring stick of how a trade benefitted a team is the statistic known as WAR (wins above replacement.) This is a complex calculation designed to show how many wins a player provides compared to an average replacement player from the minor leagues. As I write this, the leading MLB player in that category is Mike Trout of the Los Angeles Angels, who has compiled a WAR of 10.5 this season. In other words, if the Angels had played the season with a replacement-level player, they would have won 10.5 fewer games. (Considering the Angels are well under .500, they would really be lost without him.) Using the Alexander-for-Smoltz trade as an example, Detroit got a aggregate WAR of 6.4 in three seasons with Alexander, but Atlanta had a total of 67 wins above replacement with 20 seasons of Smoltz – so the Braves were an obvious winner in that regard, never mind the 13 playoff appearances, five pennants, and one world championship Smoltz helped the Braves to win vs. one division title for Detroit with Alexander.
So there will be a easy way to compare players as I work through these trades in the Duquette era. This week I will review his first season, which will cover Duquette from his hiring in November, 2011 through the conclusion of the 2012 season – a season where Baltimore made the playoffs as a wild card for their first postseason in 15 years.
 Trade 1 (December 1, 2011) – Orioles trade minor league pitcher Randy Henry to Texas Rangers for catcher Taylor Teagarden. Also included in that deal as a player named later was minor league infielder Greg Miclat, who was added December 8.
This is an interesting trade to dissect. It was one of the first steps in a housecleaning of the minor league system built by previous GM Andy McPhail and it gave Duquette a reliable veteran backup to Matt Wieters. But in Teagarden the Orioles received a WAR of (-0.6) in two seasons, meaning Teagarden was theoretically losing the Orioles games. On the other hand, neither Henry nor Miclat ever made the major leagues, as both topped out at the AAA level in the next three seasons. Miclat was eventually lost by Texas in minor league phase of the Rule 5 draft to St. Louis, where he spent his final season in their system. In this case, a negative WAR is better than no WAR at all, and Teagarden did his job for the Orioles. Slight winner: Baltimore.
Trade 2 (December 8, 2011) – Orioles trade minor league infielder Tyler Henson and minor league pitcher Jarret Martin to Los Angeles Dodgers for pitcher Dana Eveland.
Eveland was (and is) the embodiment of the 4A-type guy who hangs on because he pitches with his left arm. The Orioles were Dana's seventh MLB team in eight seasons, and he still soldiers on five teams later (including a short stint with the Orioles' AAA Norfolk affiliate in 2015) as 2016 draws to a close. In one season with the Orioles he compiled a WAR of 0.2 before sitting out the 2013 season and resurfacing with the Mets organization in 2014. Henson lasted one season in the Dodgers system before signing a series of minor league deals with the Philadelphia Phillies, retiring after the 2015 season without appearing in the big leagues. Martin spent three seasons as a fringe prospect in the Dodger chain before washing out, playing briefly in Milwaukee's system last season and rattling around the independent Can-Am League this season. It wasn't much, but Eveland did his job for a short time. Slight winner: Baltimore.
Trade 3 (February 6, 2012) – Orioles trade pitcher Jeremy Guthrie to Colorado Rockies for pitchers Jason Hammel and Matt Lindstrom.
This was a rare Duquette trade involving all major league players. Guthrie was arguably the "ace" of the Orioles, but that didn't say much for a team mired in mediocrity as he led the AL in losses in 2011. He only lasted a half-season with the Rockies before being traded to Kansas City for Jonathan Sanchez, who finished out the season with the Rockies before being let go. So the overall WAR for the Rockies was (-1.0), with Guthrie posting a (-0.6) and Sanchez an (-0.4). Guthrie was a solid back-of-the-rotation starter for the Royals until 2015. On the other hand, Hammel put in two decent seasons for the Orioles (compiling a 2.9 WAR) before signing with the Chicago Cubs as a free agent, while Lindstrom would be flipped later on in 2012 for Joe Saunders (see Trade 7 below.) Lindstrom contributed a 0.7 WAR in his stint with the Orioles, while Saunders added another 0.8 WAR – and won the wild card game against Texas. Clear winner: Baltimore.
Trade 4 (April 21, 2012) – Orioles trade minor league infielder Josh Bell to Arizona Diamondbacks for a player named later. Minor league pitcher Mike Belfiore was that player, added May 12.
Bell was acquired by the Orioles in the aforementioned trade involving George Sherrill, and had appeared in 78 games at the major league level. Most of his time with Arizona was spent at the AAA level but he got into 21 games with the big club, compiling a WAR of (-0.4). Bell left as a minor league free agent and has played for four MLB organizations, in Mexico and Korea, and in independent league baseball (in 2016) since. Belfiore climbed the ladder over the next two seasons, making his one and only MLB appearance at the end of the 2013 season. He then pitched in the Tigers organization for two more years. Mike ended up with a WAR of (-0.1). A push.
Trade 5 (June 30, 2012) – Orioles trade minor league catcher Gabriel Lino and minor league pitcher Kyle Simon to Philadelphia Phillies for designated hitter Jim Thome.
This is the first of those classic deadline deals where the Orioles were the buyer and Phillies the seller. As of this date, Lino (who is still only 23) has advanced in the Phillies system as far as AAA, but spent 2016 at the AA level. Simon briefly made it to AAA in three seasons in the Philadelphia system but has pitched the last two seasons in the independent Atlantic League. Thome, meanwhile, spent the final 32 games of his (potentially Hall of Fame) career with Baltimore as their DH, going 2-for-15 in the playoffs and compiling a 0.0 WAR. Unless Lino breaks into the big leagues for more than a cup of coffee for Philadelphia, this trade is about even. A push, but could still be a Baltimore loss.
Trade 6 (August 13, 2012) – Orioles trade minor league infielder Carlos Rojas to Cleveland Indians for minor league pitcher J.C. Romero.
Obviously the Orioles hoped the veteran lefthander (who made his name a decade earlier with the Twins) had a little more in the tank, but what they got was four mediocre innings of work for a (-0.1) WAR while the Indians got the final 10 games (in 16 days) of a career minor leaguer's playing. Romero was still active until last winter, but the Orioles were his last MLB stop. A push.
Trade 7 (August 26, 2012) – Orioles trade pitcher Matt Lindstrom to Arizona Diamondbacks for pitcher Joe Saunders.
I noted Lindstrom was part of the Jeremy Guthrie deal with Colorado but he was sent out to Arizona for another starter in Saunders, who would turn out to be a rental. However, while the WAR differential was rather small (0.8 WAR for Saunders vs. 0.3 WAR for Lindstrom) the importance of Saunders' contribution in terms of playoff pitching makes the deal worthwhile – as well as accruing to the Orioles' side of the ledger in the earlier Guthrie trade. Clear winner: Baltimore.
So through the 2012 postseason not only was Duquette's team a winner on the field but also in terms of trading with 2 clear wins, 2 slight wins, and 2 pushes, with one still to be determined. Next week we will look at the runup to the 2013 season, which would finish in a disappointing manner. Did the trades help create the situation?
Commentary by Marita Noon
When New York's Democrat Governor Andrew Cuomo gushed over SolarCity's new solar panel factory in Buffalo, New York, the audience likely didn't grasp the recently-revealed meaning of his words: "It is such a metaphor – a symbol of everything we're doing."
The 1.2 million square foot building, being built by the state of New York on the site of a former steel plant, is looking more and more like another political promise of help for one of the poorest cities in the state that ends up enriching cronies without ever achieving any potential for the people.
Yes, it is a symbol of everything they're doing.
Previously, during her first senatorial bid, Hillary Clinton also promised jobs to the economically depressed region of the state of New York – 200,000 to be exact. Citing a report from the Washington Post, CBSNews states: "Jobs data show that job growth stagnated in Upstate New York during her eight years in office, the report said, and manufacturing jobs dropped by nearly a quarter." The Post's extensive story reveals that jobs never materialized – despite "initial glowing headlines." It claims: "Clinton's self-styled role as economic promoter" actually "involved loyal campaign contributors who also supported the Clinton Foundation." Through federal grants and legislation, she helped steer money to programs, companies, and initiatives that benefitted the donors but failed to reverse the economic decline of the region.
Now, new corruption charges reveal the same pay-to-play model linked to Cuomo's upstate "Buffalo Billion" economic revitalization plan – and the promised jobs also look they will never materialize.
Back on January 5, 2012, Cuomo announced a $1 billion five-year economic development pledge for Buffalo.  It was to be the governor's banner economic initiative with the SolarCity factory as the cornerstone and a pledge of 1,460 direct factory jobs. Other companies, including IBM and a Japanese clean-energy company were also lined up.
With the state-of-the-art solar panel factory ready for equipment to be installed, the wisdom of the entire program is being scrutinized – and is coming up short.
First, on September 22, two of Cuomo's closest aides – along with several others – were charged in corruption and fraud cases involving state contracts worth hundreds of millions of dollars. Addressing the press at his Manhattan office, U.S. Attorney Preet Bharara asserted: "that 'pervasive corruption and fraud' infested one of the governor's signature economic development programs. Companies got rich, and the public got bamboozled," reports The Observer. Bharara described the bid-rigging and bribery arrangement: "Behind the scenes they were cynically rigging the whole process so that the contracts would go to handpicked 'friends of the administration' – 'friends' being a euphemism for large donors. Through rigged bids, state contracts worth billions of dollars in public development monies, meant to revitalize and renew upstate New York, were instead just another way to corruptly award cronies who were willing to pay to play."
The 79-page criminal complaint notes that campaign contributions to Cuomo poured in from people connected to the bribe-paying companies as soon as those businesses began pursuing state projects.
One of the companies that received the lucrative contracts was LPCiminelli – run by "Cuomo mega-donor" Louis Ciminelli. He allegedly offered bribes to Cuomo confidante Todd Howe – who has admitted to pocketing hundreds of thousands of dollars from developers to rig bids on multimillion-dollar state contracts linked to Buffalo Billion projects.
Ciminelli received the $750 million contract to build the SolarCity plant. The Buffalo News cites Bharara as saying: "the state's bidding process for the factory being built for SolarCity at RiverBend in South Buffalo turned into a 'criminal' enterprise that favored LPCiminelli, where company executives were given inside information about how the deal was to be awarded."
Part of Cuomo's deal with SolarCity – in which the state owns the building and equipment with SolarCity leasing it under a 10-year deal – requires the company to meet a timetable of job-creation quotas or pay hefty penalties. Even before the building was complete, however, the company slashed its job commitment from 1460 to 500. According to the Investigative Post, SolarCity claims it will still employ the original number, but due to automation, the majority of them will not be at the Buffalo plant. With the state's $750 million investment, that works out to $1.5 million per manufacturing job. In a press release, Cuomo promised 1460 "direct manufacturing jobs at the new facility."
Even the 500 jobs will only materialize if the plant actually starts production – currently slated for June 2017. SolarCity's future is, as Crain's New York Business puts it: "uncertain."
Amid the company's myriad problems are the facts that it has never been profitable, nor does it have manufacturing experience.
In February 2014, SolarCity's stock price peaked at about $85 a share. Today, a share is less than $20. Microaxis gives it a probability of bankruptcy score of 48 percent. Crains reports that it posted a $251 million loss in Q1 2016 and a loss of $230 million in Q2. To "stop the bleeding," Elon Musk (a donor to both the Obama and Clinton campaigns and the Clinton Foundation), who owns more than 20 percent of the company, announced that Tesla (of which he also owns more than 20 percent) would purchase SolarCity – this after as many as 15 other potential buyers and investors looked at the company and decided to pass. SolarCity even considered selling the solar panel manufacturing business.
Both SolarCity and Tesla are, according to the Buffalo News, facing a "cash bind" – this despite receiving billions in federal and state grants and tax credits as I've previously addressed. Tesla is described as "cash-eating electric vehicle and battery making businesses." For SolarCity, its model – which finances its solar panel installations in order to make a profit on a lease that can be as long as 30 years, while it collects the lucrative government incentives worth billions (a practice for which Solar City is currently under Congressional investigation) – requires constantly raising new money from investors. Once the Tesla deal was announced, SolarCity's lenders started to pull back.
The Buffalo News reports: "Stock in SolarCity…now trades for $4 a share less, or 19 percent less, than what Tesla is offering – a gap indicating that investors are uncertain the deal will be completed." Additionally, the deal is being challenged by four separate lawsuits – which could delay the deal. Addressing the merger, one analyst said: "We see a lot more that can go wrong than can go right."
Then there is the manufacturing angle. Originally, the Buffalo plant was going to manufacture high-efficacy solar panel modules developed by Silevo – a company SolarCity bought in 2014. Crain's reports that it will instead produce complete solar roofs: something it says "Dow Chemical recently abandoned after five years because it could not find a way to make a profit on the technology." But then, the Buffalo News says: "The initial production in Buffalo is expected to include photovoltaic cells that SolarCity purchases from suppliers and are used in the products that will be assembled in the South Park Avenue factory."
Whatever the plant builds or manufactures, getting it operating will be expensive – even with the New York taxpayers owning the building and equipment – and will drain scarce cash from SolarCity at a time when its financing costs have increased.
Buffalo residents wonder if they'll be stuck with the world's largest empty warehouse and without the promised jobs.
No wonder the entire project is in doubt. Because of the Cuomo administration corruption allegations, other proposed job-creators, including IBM, have pulled out until the probe is completed.
For now, Cuomo is not a part of the criminal complaint – though his name is mentioned many times – and he claims he knew nothing about it, nor does he think he's a target of the ongoing federal probe. "It is almost inconceivable the governor didn't know what was going on," Doug Muzzio, a professor of public affairs at Baruch College, said. "And if he didn't know what was going on, you can argue he should have known."
Bharara has suggested that the better name for the program would be: "The Buffalo Billion Fraud and Bribery Scheme."
Yep, the Buffalo Billion project is a "symbol" of the political promises and crony corruption – "everything we're doing" – that takes taxpayers dollars to reward political donors and then walks away when the jobs don't materialize.
The author of Energy Freedom, Marita Noon serves as the executive director for Energy Makes America Great Inc., and the companion educational organization, the Citizens' Alliance for Responsible Energy (CARE). She hosts a weekly radio program: America's Voice for Energy - which expands on the content of her weekly column. Follow her @EnergyRabbit.
Let's start off with my initial emotions on this announcement: disappointment, then resignation. I think this adequately captures both sides of the equation going forward, so allow me to elaborate.
I consider myself a limited-government conservative, or perhaps better described as a conservative with libertarian tendencies in a number of respects and areas. I often write about the idea of "rightsizing" the federal government down to a point where it does the minimum required of it in the Constitution, and this worldview affected my perception of the 2016 Presidential field. Ted Cruz was not my overall first choice out of the group, but of those remaining when Maryland's day in the sun came back in late April he was – by miles - the best remaining choice in terms of my stated desire to reform the federal government in a Constitutional manner.
On the other hand, I had already heard and seen enough from Donald Trump to know that he wasn't going to significantly improve the situation inside the Beltway. He had already backtracked and capitulated on enough campaign issues for me to see that he wasn't going to be trustworthy enough to be the GOP standard-bearer. Although we went for a period of about 2 1/2 months before the Republican National Convention with the idea that there still were chances to derail the Trump train, the national Republican party (and Trump zealots) did their best to make sure that the "victory" Trump won (dubious at best, thanks to the number of open primaries) with just a plurality of the Republican vote would stand. In the end, many supporters of Ted Cruz as well as John Kasich were browbeaten into acceptance – the rest became the significant number of #NeverTrump folks out there, of which I was one. I would not accept Trump as the nominee, and my conscience would not allow me to work within an organization that promoted someone of dubious value to the conservative movement.
So when Ted Cruz stood at the podium of the convention and exhorted everyone to vote their conscience, I considered it a highlight of an otherwise pathetic coronation of The Donald as Republican nominee. My confidence in Trump upholding the planks of the GOP platform was about the same as the confidence that he could go a week without being on the media for saying something asinine – in both cases, about zero. The fact that the Trump people booed Ted Cruz off the stage was proof that they weren't principled enough to stand before conservatives to defend their candidate when his bona fides were questioned.
Obviously I was not thrilled to see Cruz fall off the #NeverTrump wagon after all that transpired between Trump and "lyin' Ted" during the primaries. (Of course, that assumes he was really ever on it.) But as Christians we pray to have our trespasses forgiven as we would those who trespass against us, and from the tenor of Cruz's comments in his statement I think he has forgiven Donald Trump for what he said during the campaign as simple competitive rhetoric.
And Cruz has a number of political calculations he has to account for, too. After November the election season turns to the 2018 cycle, and Cruz is part of it as the junior Senator from Texas. Certainly there are already people in Texas politics smarting from the very fact that Cruz upset the establishment choice of former Lt. Gov. David Dewhurst in the GOP primary there four years ago, but former Gov. Rick Perry is one of those rumored to be considering a 2018 run for Cruz's seat. Opponents cite the alienation of Trump voters as just another factor against Cruz, since there's also the perceived blame for the 2013 government slowdown and the reputation for being a boat-rocking troublemaker that Cruz carries. (It should be noted that all that baggage was supposed to sink Cruz's presidential campaign early on, but he outlasted most of the rest of the field that was supposedly more palatable to the electorate.)
For all his issues, it's clear that for Ted Cruz to have a political future he had to modify his stance on Trump, and that was made more convenient by the unqualified Democratic candidate and the pledge he took to support the Republican. Over the next four years he is more useful in the Senate than martyred by his own rhetoric.
So let's say Trump loses, Cruz retains his Senate seat, and the Clinton/Kaine team continues the damage done by Obama/Biden. The question is whether people will be as passionate about Cruz in 2020 or if they will consider him damaged goods? Assuming Trump loses and doesn't wish to try again at the age of 73, the early favorite in 2020 has to be Mike Pence – just as the first rights of refusal went to Sarah Palin in 2012 and Paul Ryan this year. But there will certainly be a crop of those who didn't grasp the brass ring this year looking to seize the nomination: I would strongly suspect that group includes Cruz, John Kasich, Marco Rubio, Rand Paul, Scott Walker, and Bobby Jindal. All of them (except Kasich, who briefly ran in 2000) were first-time candidates – the political world seems to be that of just two strikes and being out, which eliminates guys like Rick Santorum and Mike Huckabee as old news. All but Kasich also seek the votes of strong conservatives, with Kasich being more of a moderate.
At this point I would still like to see Bobby Jindal make a 2020 run, as there's little chance one of the 2016 crop knocks him off as the king of my hill. But someone new could strike my fancy or there could be a significant moderation in Jindal's political views. Still, I would welcome Ted Cruz to the fray with open arms, knowing he had to do those things he may not have liked in order to keep his position of leadership in the conservative movement.
As for me, I remain #NeverTrump whether it's politically damaging or not. Since politics is not my job I have little to lose but a lot to gain as I work to convince people of the benefits of limited government and support those inside politics who advocate it with actions, not words.