I don't know the artist personally, but I get the impression Kevin Jenkins has spent a lot of time in church – not just worshiping, but listening.
The reason I say this is not because he led off his latest release with a remake of Norman Greenbaum's Spirit In The Sky, a song I reviewed as part of the True Groove "Fully Re-Covered" compilation a few months back. Instead I make that judgment based on the feel and lyrical tone of several of the other eight songs on "Til the Story's Told," which came out last month.
Take as examples the title track, which features the harmonica of David Barnes and has a definite gospel influence to it, or even the prayerful Before You Close Your Eyes where keyboardist Nick Rolf adds his touch.
(The backbone of Jenkins' band, where he is the bassist and lead singer, is Tomas Doncker on guitar and Mo Roberts and Michael Faulkner splitting drum duties on various tracks. Alan Grubner adds the violin on the lead single Janie's Silver Lining, while Heather Powell provides backing vocals on a few songs. A lot of hands went into telling this story.)
Janie's Silver Lining is actually a good representation of the overall sound, which would not be out of place on the adult contemporary charts. The same goes for the more bluesy Tangled Up, where its harmonies stood out with me, or the lengthy Kings Of Everything with its intro reminiscent of old ragtime music.
But those aren't the only twists and turns on Jenkins' latest effort. "Why do we believe in fear?" asks the appropriately-named ballad Why, while County Line has a country feel with its pangs of regret. Perhaps the only sour note is taking the end of the upbeat rocker Crazy Weather and adding 45 seconds or so of the opening chant of Spirit In The Sky. I got that it was an effort to bookend the collection, but Crazy Weather stood on its own as one of my two prime picks on the album – the other is the title song Til The Story's Told.
As I noted above, this record would appeal most to those who like adult contemporary music. It's one you could put on while you work and enjoy in the background – maybe even on repeat as the nine songs clock in at just under 42 minutes. The spacing of slower versus more upbeat songs is rather good, so it makes a nice addition to the growing True Groove catalog.
By Cathy Keim
So who needs Martin O'Malley when Larry Hogan will carry on his work?
I was astonished to read that Governor Hogan is expanding the You've Earned It! mortgage assistance program from the original $20 million to an additional $70 million. (Hat tip: Gwen Cordner.)
The program is aimed at assisting potential buyers, particularly members of the so-called "Boomerang Generation," who are employed and have good credit but are saddled with student debt that is proving a barrier to homeownership. These young people are more likely to live with their parents than were young people one or two decades ago and they are saddled with significantly more student loan debt than their predecessors.
The student loan debt in America is over $1 trillion dollars and growing. The federal government supports 95% of student loans and is making billions of dollars of profit on them. There is no incentive by the Feds or by the colleges and universities to cut the spigot. As tuition rises each year, the students borrow more money only to find out when they graduate that there are no jobs for them to earn enough to support themselves and pay their loans.
Another neat trick is that you cannot get out of paying back your student loans by going bankrupt. There is no escape. Is it any wonder that young people who are graduating with a national average of $29,000 in college loan debt must live in their parents' basement because they cannot pay their loans and live independently on a barrista's salary?
In a Wall Street Journal interview, Dr. Richard Vedder of the Center for College Affordability and Productivity links the tuition increases to "the 50-fold growth in federal student financial assistance programs since 1970. Former Education Secretary Bill Bennett was mostly right when he said federal aid programs enabled colleges to raise tuition fees, helping to fuel the academic arms race."
Why do so many people need a college degree? Many of the jobs that require a college degree did not require it in the past. We can thank the government for that also. Businesses used to administer tests to see if the potential employee had the skills necessary to fill the position. The government struck down testing as unfair, so many businesses switched to a college degree requirement as a way to screen applicants without running foul of the government.
Over time the value of the bachelor's degree was diminished and now many jobs require a master's degree forcing more students into school longer and causing more debt.
This situation is a serious problem for all of us. We need our younger generation to be buying consumer goods, especially cars and homes, to keep the economy humming. They must do their part, even if the government has to step in to "help" them again. It helped them acquire student loan debt and now it can help them acquire mortgage debt.
But the story doesn't end there. These mortgages must be for homes in a certified sustainable community. And who determines what is "sustainable?" This group:
Sustainable Maryland is a certification program for municipalities in Maryland that want to go green, save money and take steps to sustain their quality of life over the long term. Sustainable Maryland Certified is a collaborative effort between the Environmental Finance Center (EFC) at the University of Maryland and the Maryland Municipal League to replicate the success of theSustainable Jersey initiative throughout the Mid-Atlantic States, beginning in Maryland.
To become a certified sustainable city, the city must have a green team comprised of municipal workers, city leaders/businessmen and diverse citizens. This is a standard tactic to get leaders onboard a project and others will follow because if "Joe" is on it, then it must be ok. The city can apply for tax credits and grants to bring improvements such as bike paths or renovating old buildings. The municipal workers on the green team get paid for their efforts (it is part of their job), but the citizens are volunteers because their hearts are in the right place.
(Note: Salisbury is registered, but not certified yet. Snow Hill and Berlin are certified sustainable cities.)
(Editor's note: one of the Sustainable Maryland "primary partners" is the Town Creek Foundation, which never met a Radical Green program it didn't like.)
Once these debt-laden former students are ensconced in their subsidized mortgage home, they will be ready to marry and produce the next generation of liberty-loving citizens. The next generation will be taught in the fully implemented Common Core method, which will ensure that they never hear of their heritage as Americans. They will be assessed and evaluated from pre-school to the workforce. The thousands of data points gathered will ensure that they are nudged gently into the correct attitudes so that they will fit into the new world order. Teamwork and cooperation will be their strong suit while individuality and thinking deeply on any subject will be discouraged.
The water in the pot is almost to a boil. If we don't jump this presidential election, I fear it will be too late.
When TJ Olesczuk came to the Shorebirds in early June after a brief stay with Frederick, he started off like a house on fire. TJ went 9-for-16 in a series at Kannapolis, hitting his first professional home run and knocking in nine runs. In short, for that series he was a one-man wrecking crew for Intimidator pitching. But I wanted to see how he would do after a few weeks, and as players often do they cool down after a torrid start. Earlier this month, Oleschuk was benched for a few days after his average tailed below .250 for the first time as a Shorebird.
That pause seemed to refresh TJ's bat because over the last five games it has slowly heated up again. Olesczuk went 3-for-11 in three games at Hagerstown but has stepped it up with six hits in two games against Lexington. The second-worst pitching staff in the league has been battered by the Shorebirds over the last two days and TJ has used them to spring his average up 33 points for a .283/3/31/.836 OPS slash line.
I'm not sure how they do it, but 40th round selections seem to thrive with the Shorebirds. Olesczuk joins Garrett Cortright as last-round picks who are succeeding at this level. Taken out of Winthrop University, the 23-year-old New York product got into 7 games at Frederick, going 3-for-19 before being sent down to perhaps a more appropriate level considering he toiled in the Gulf Coast League last summer. There he hit .265/0/12/.659 OPS in 34 games.
Only one of the four outfielders who began the season with Delmarva is still here – Elier Leyva, last week's SotW. Jay Gonzalez and Conor Bierfeldt have been promoted while Jamill Moquete has missed most of the season with an injury. Thus, the chance is there for TJ to hold down left field for the rest of the year and get another 50 games or so under his belt – all told, he has only played in 72 games over two seasons. It's an opportunity to show the Orioles he's not just an organization guy picked to fill out a low minor league roster.
If he can keep his average around the .280 level he should get another bite of the apple at Frederick – if not this year, then certainly in 2016. Like Bierfeldt before his promotion, Olesczuk has a knack for driving in runs – those 31 are in as many games, so imagine how far up a prospect list a player could go if he kept that up for a full season.
Even getting to 50 RBI in 80 or so games played would open some eyes, so let's hope TJ can keep going.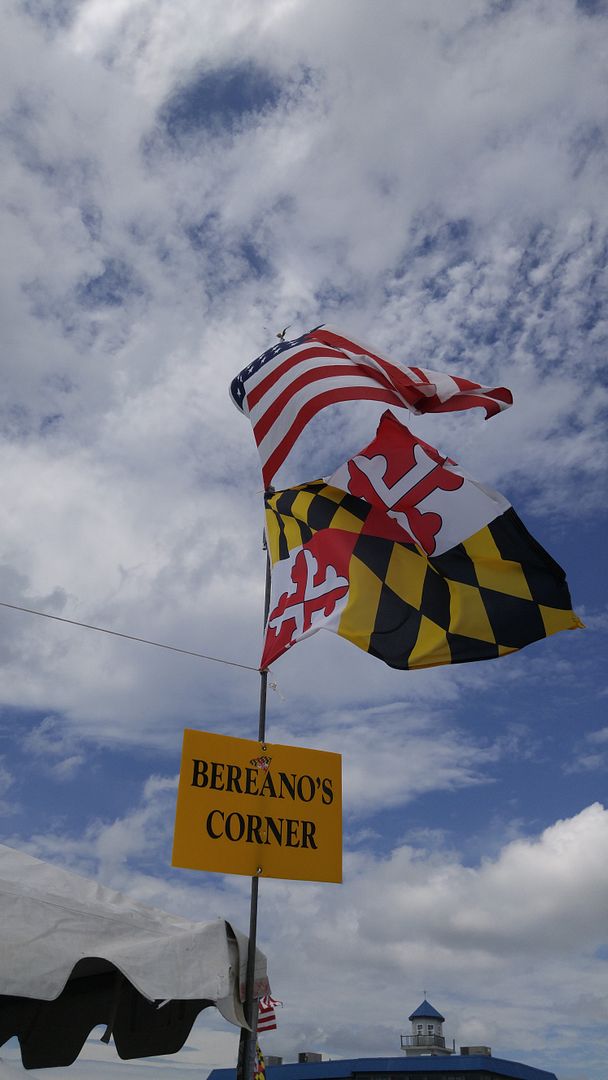 Bereano's Corner was in roughly the same location, but there was a lot of strangeness about this year's event.
Our tent was in a new location. Some liked the idea of being along the marina, but the traffic walking by wasn't as brisk as we had when we were in the middle, next to Bereano.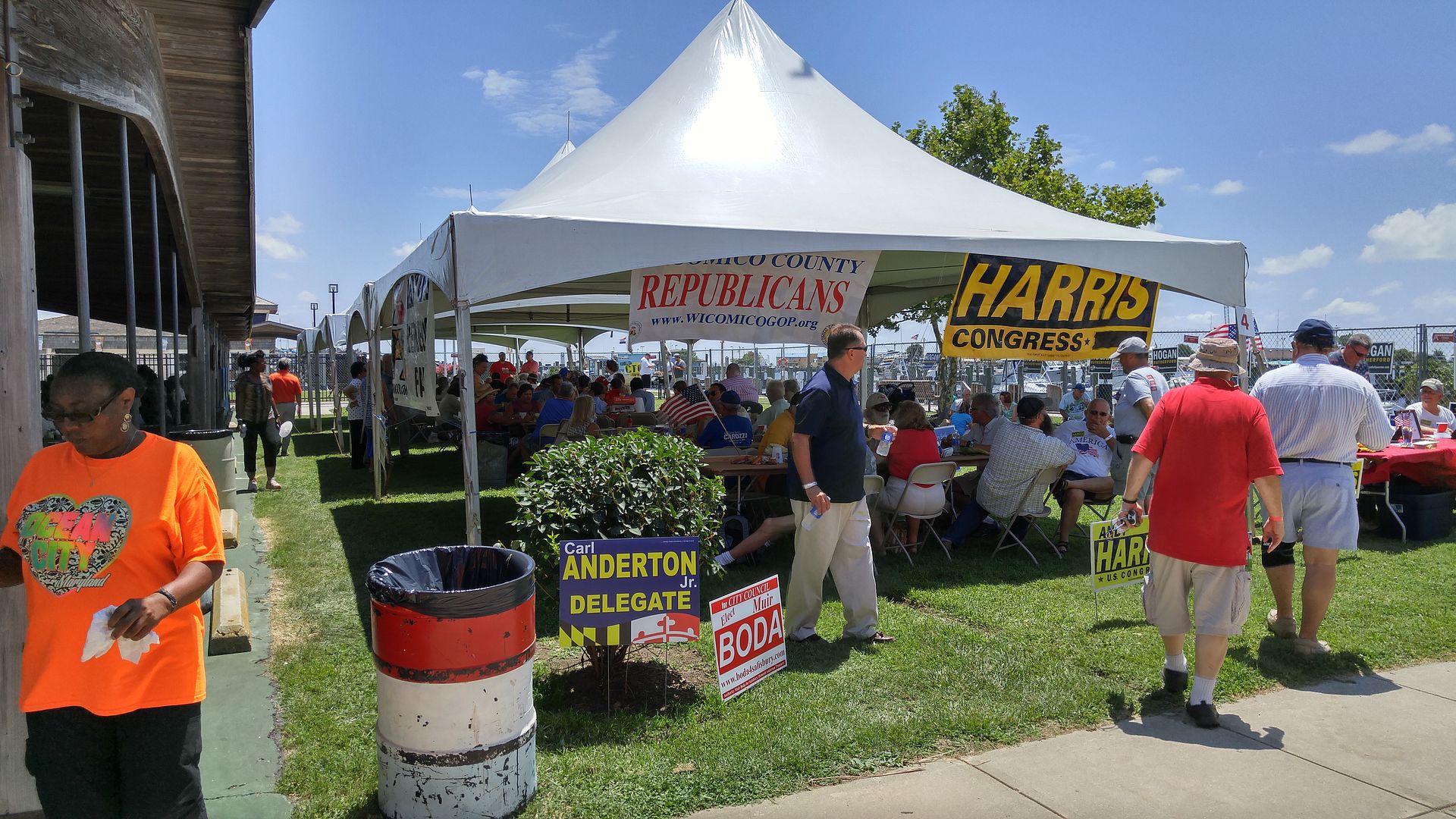 It did have a great space for signage that many took advantage of.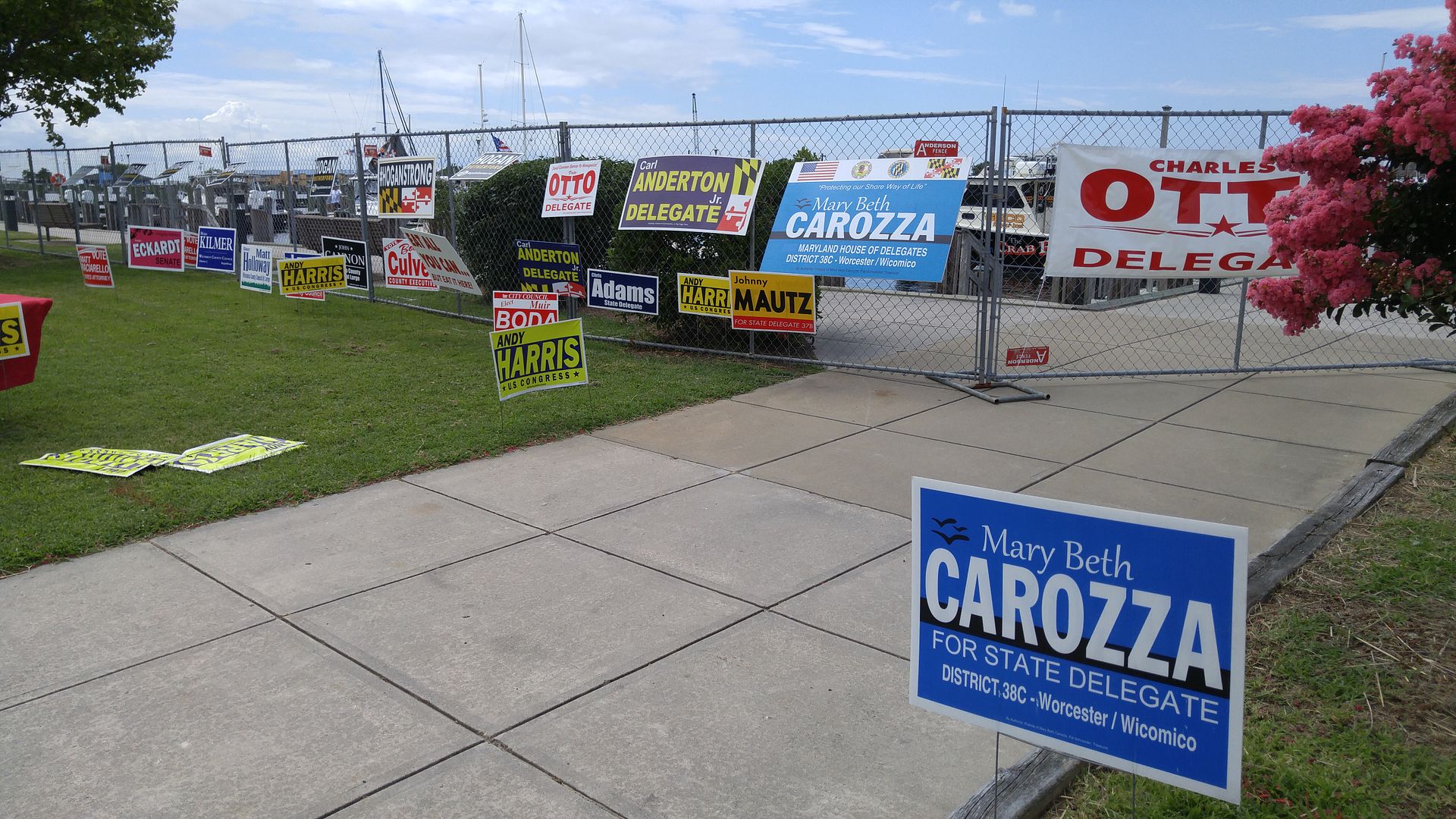 Being on the grass, we also had our share of bloodsucking biting flies. Speaking of bloodsuckers, the Democrats were less than thrilled with their location as well. Normally they have been the corner tent in this line.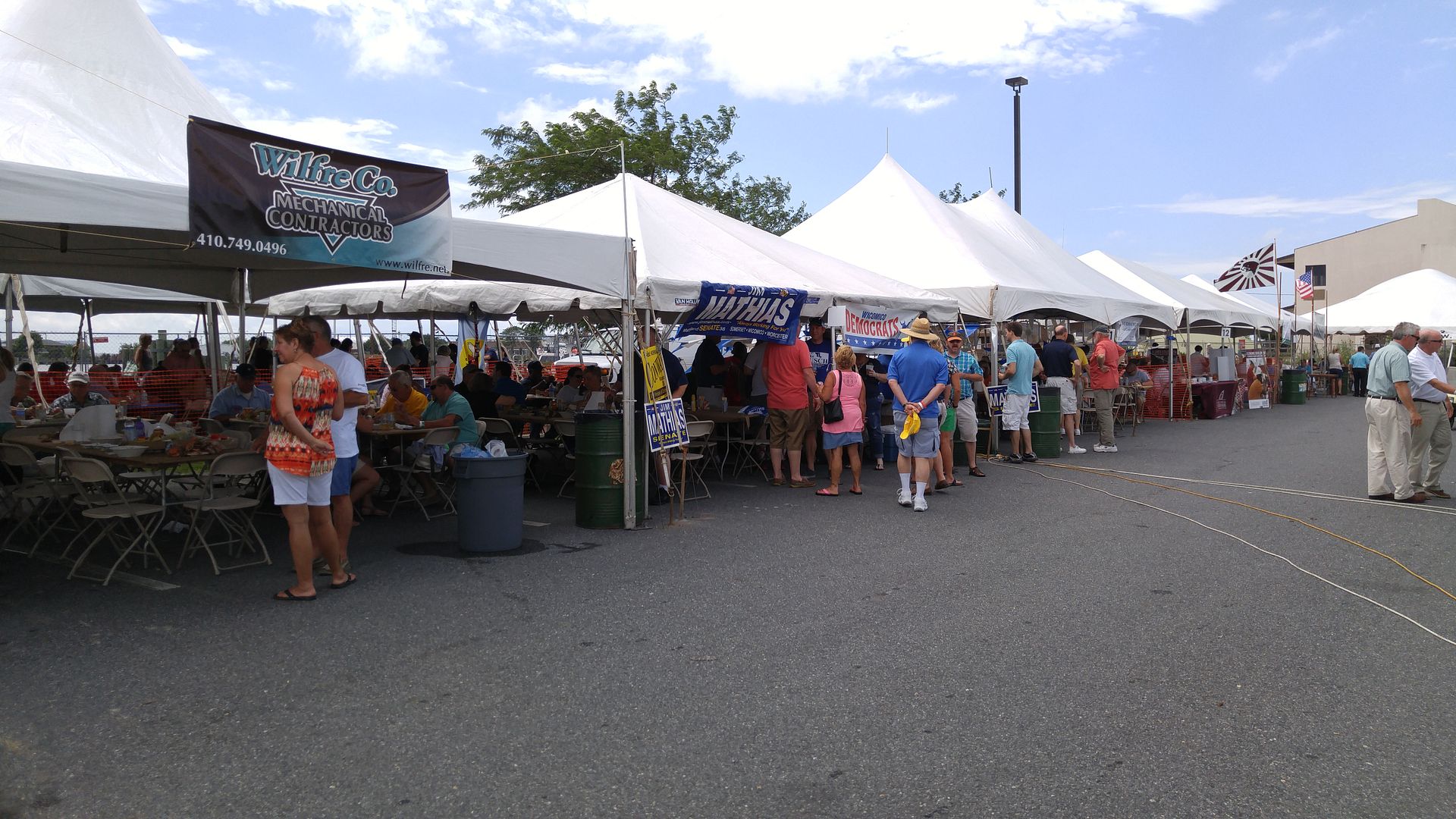 But they did have the keg, not that I had anything from it. They also had an interesting table within.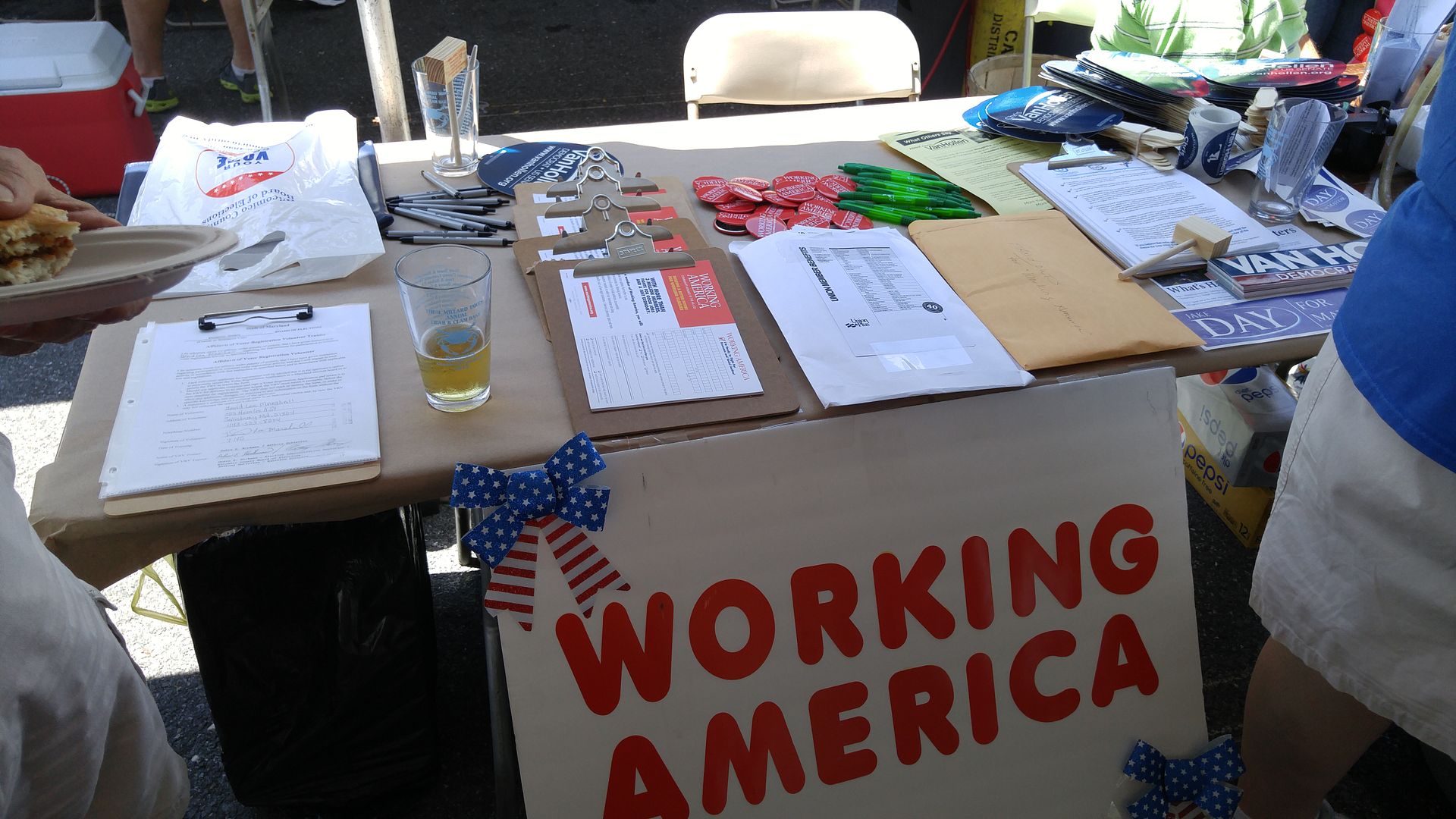 While I am part of working America I'm not a member of this AFL-CIO affiliated organization, so it's no surprise to find them in the Democrats' tent. There were a handful of folks walking around with their red shirts on, but Big Labor didn't have the presence here they did during the O'Malley years. Maybe they are laying low until next year.
There were quite a few businesses there, although it was a different mix than I recall from previous years.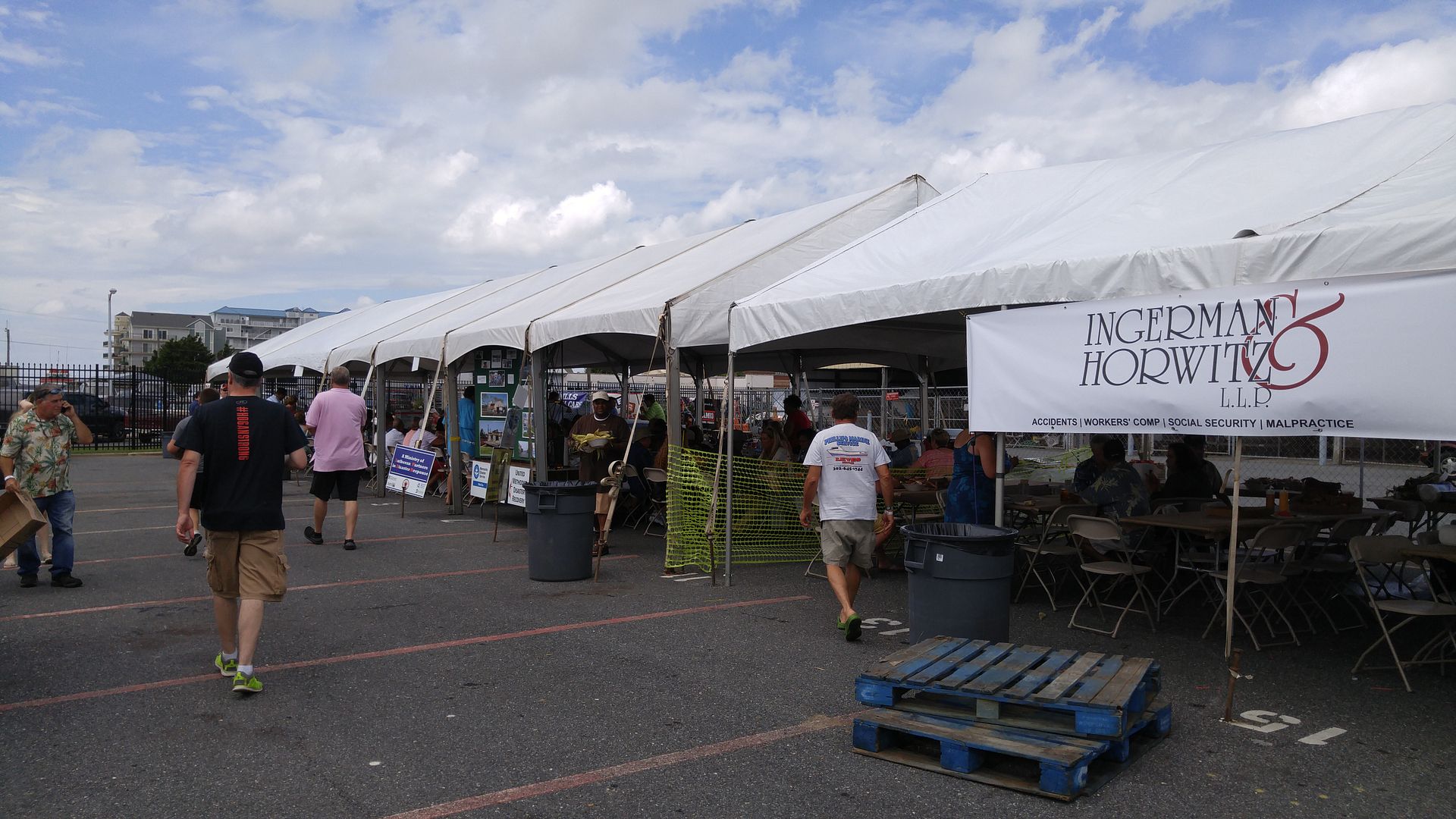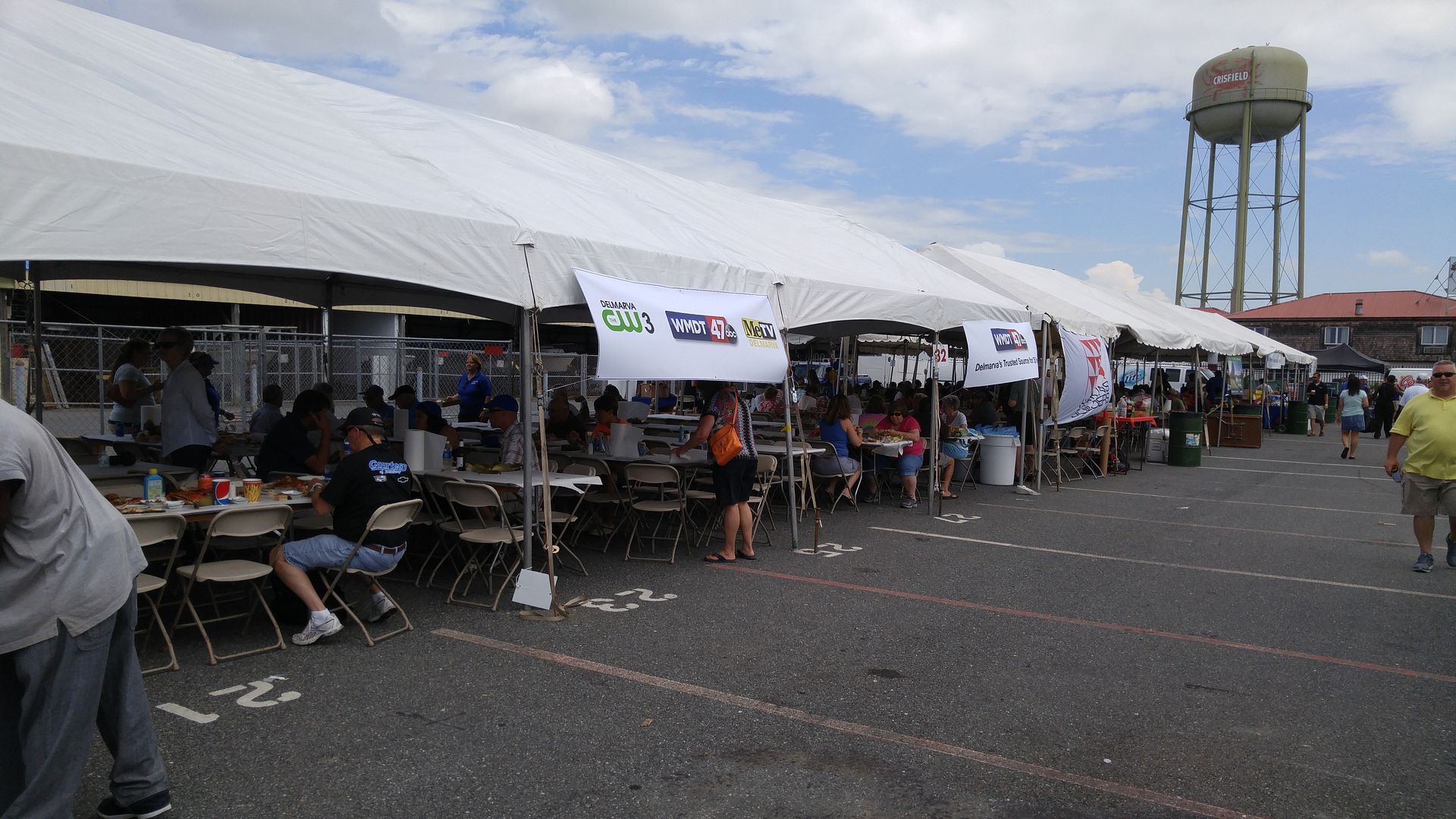 Some enterprising youth took the occasion to be their own business people. Those in orange were "runners" and on their shirts it read they were working for tips.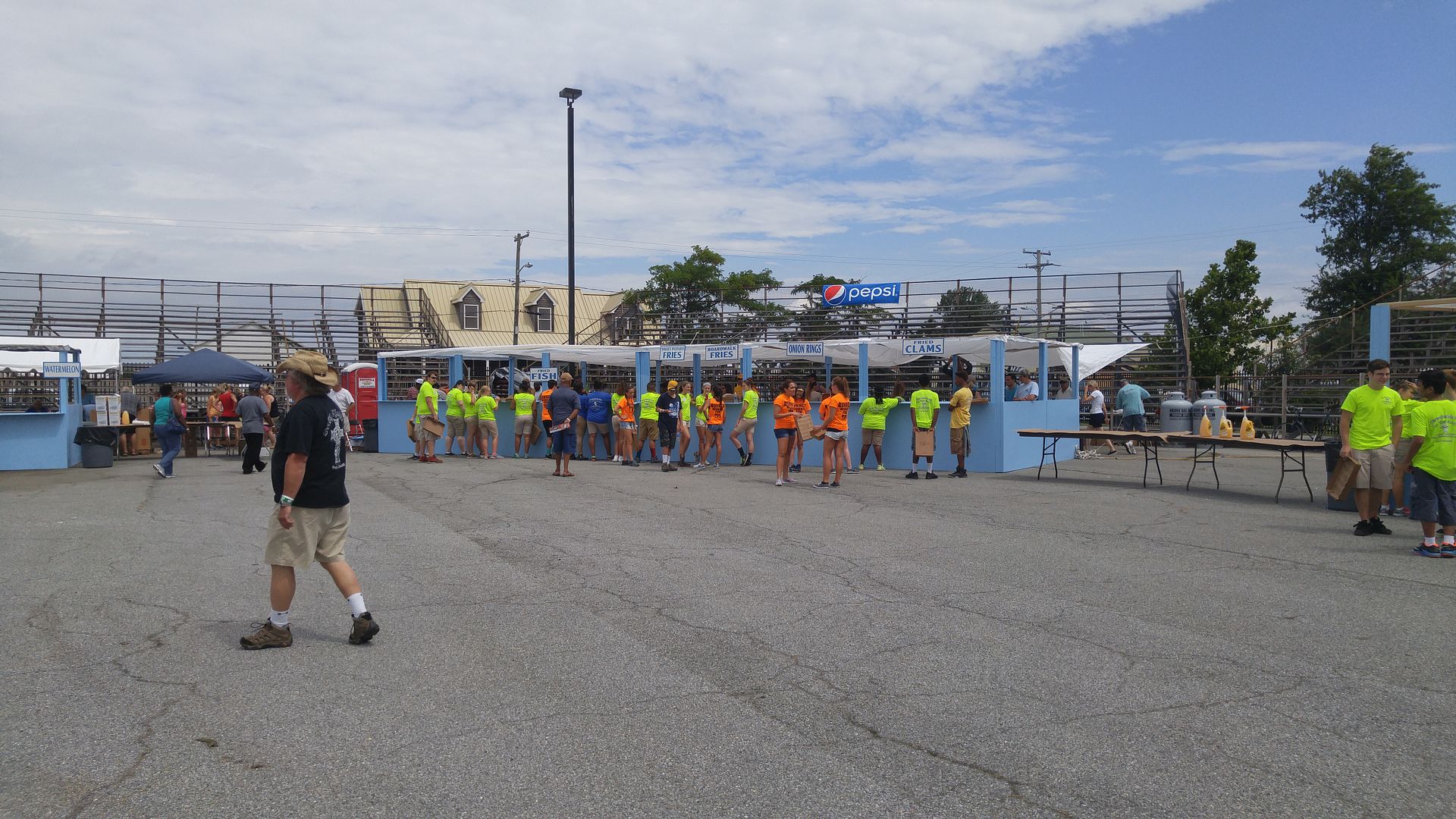 Hopefully they made more money than those who annually charge $10 or $20 for parking in their yard. I don't think business was as brisk for them because attendance seemed off from last year.
Government and public entities were well-represented, too. Interesting how the environmentalists are cozy with the economic development group.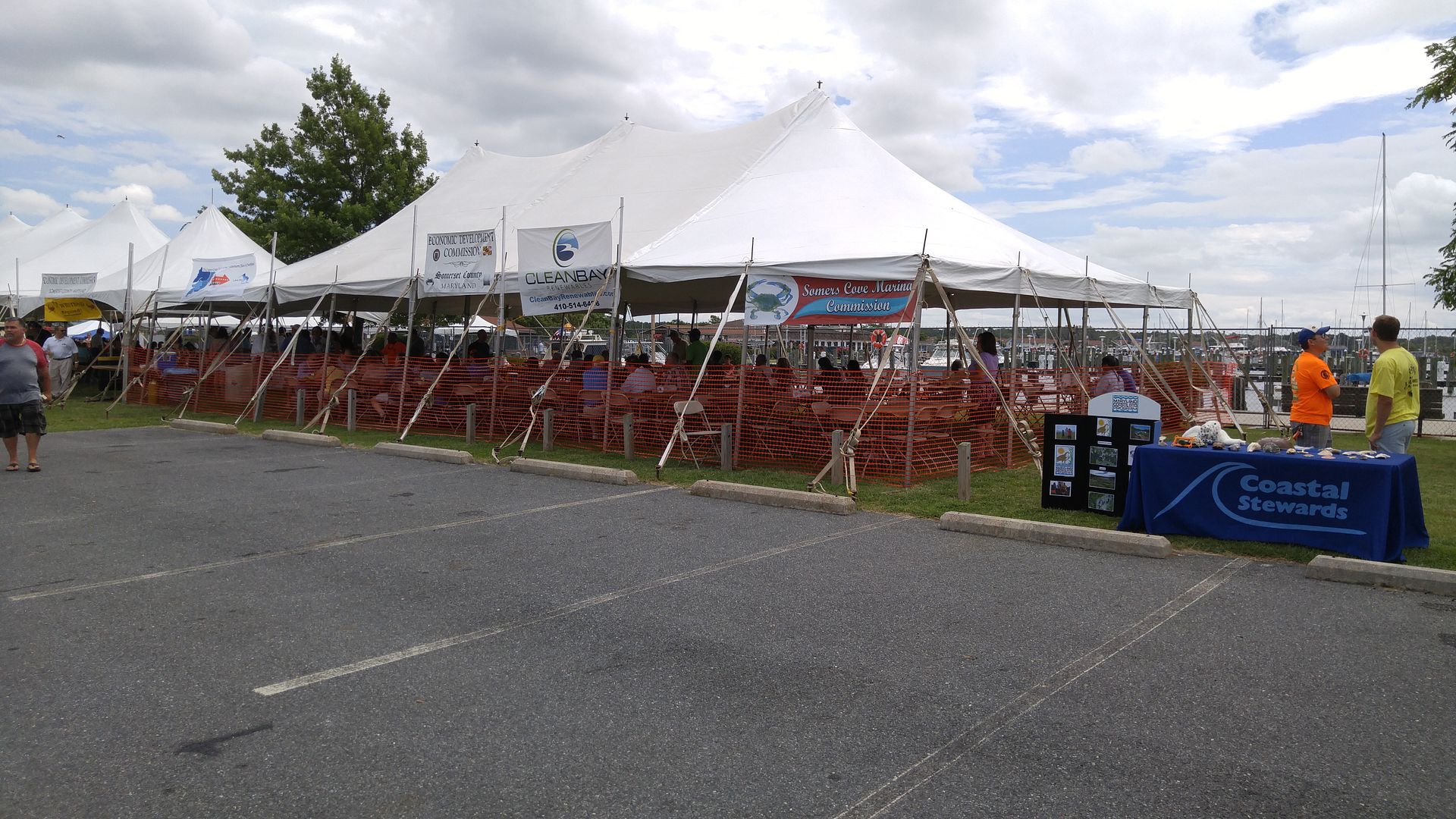 I think the University of Maryland – Eastern Shore was next to the Democrats, but Salisbury University was really trying to make a splash.
While there were a lot of differences in this year's rendition of Tawes, some things never change. Lobbyist Bruce Bereano always has the biggest tent.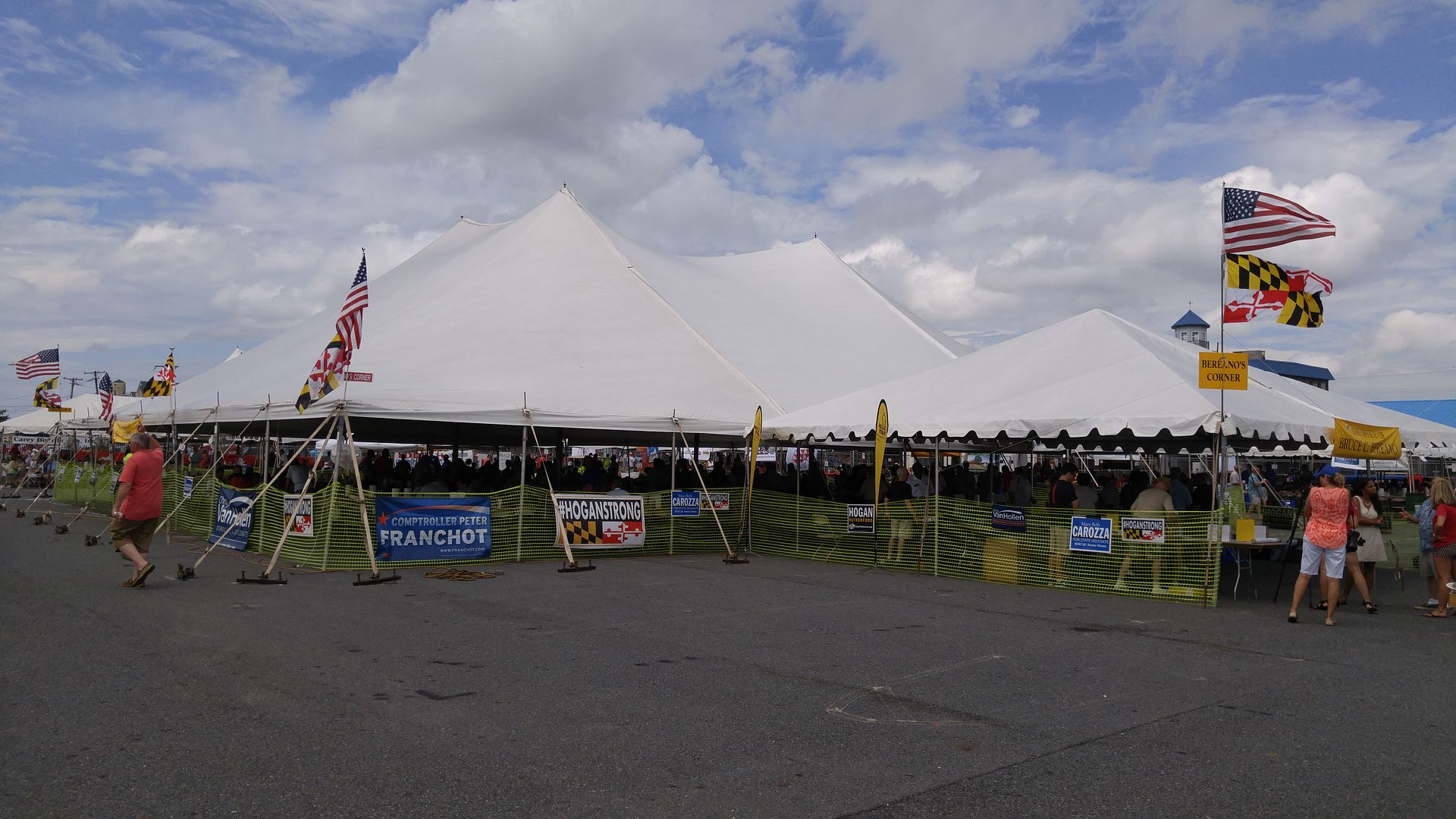 Another constant is a ton of good food, particularly of the fried variety. This was my spread.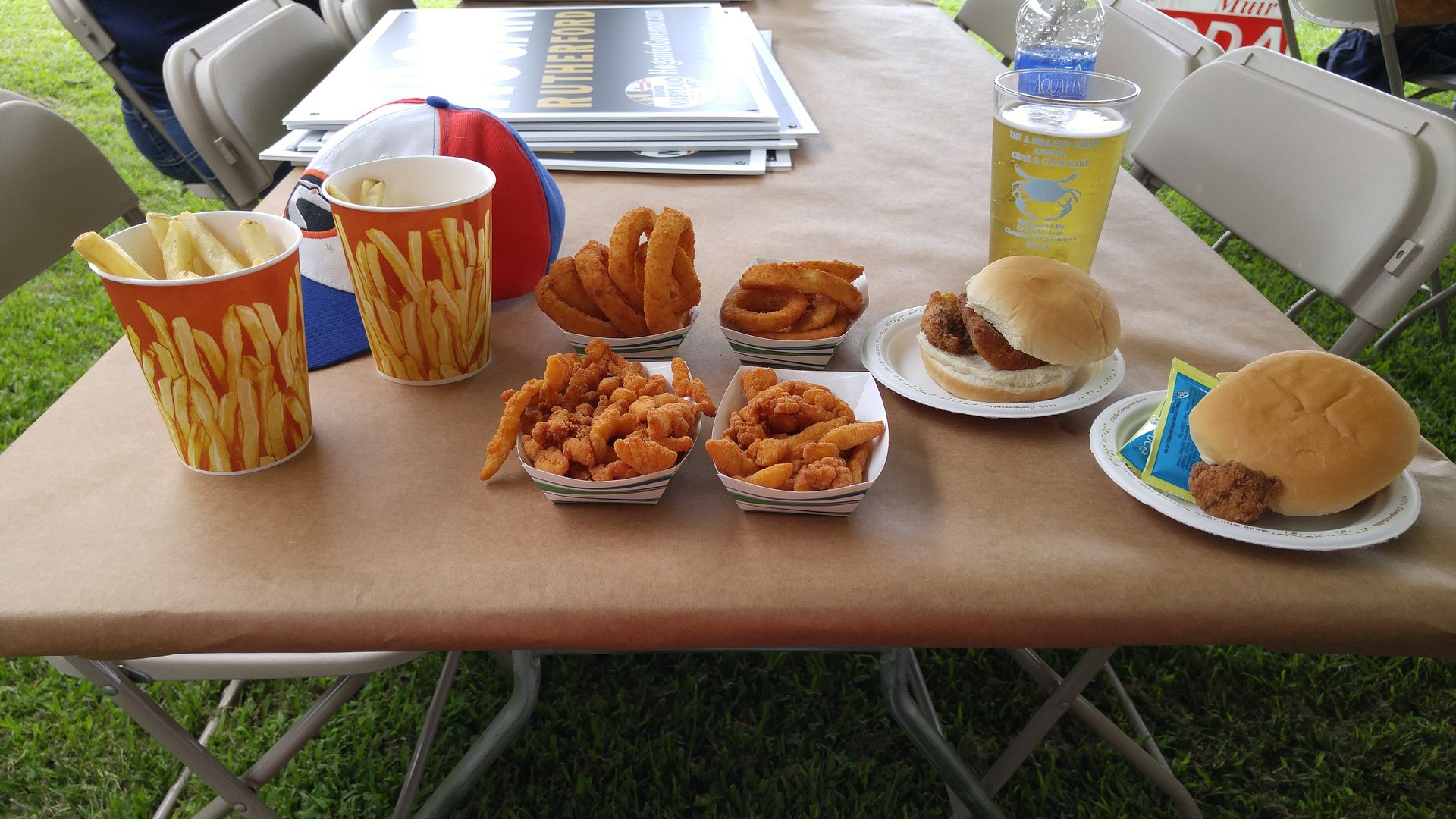 Not a salad in sight – in my dietary defense, I skipped breakfast. But it was all very good, aside from a little lack of fileting on one of the sandwiches. It was a trifle bony.
(No, I don't like crabs – so don't ask.)
This event also draws media like the food on the ground draws seagulls. Here's Delegate Carl Anderton being interviewed by local television.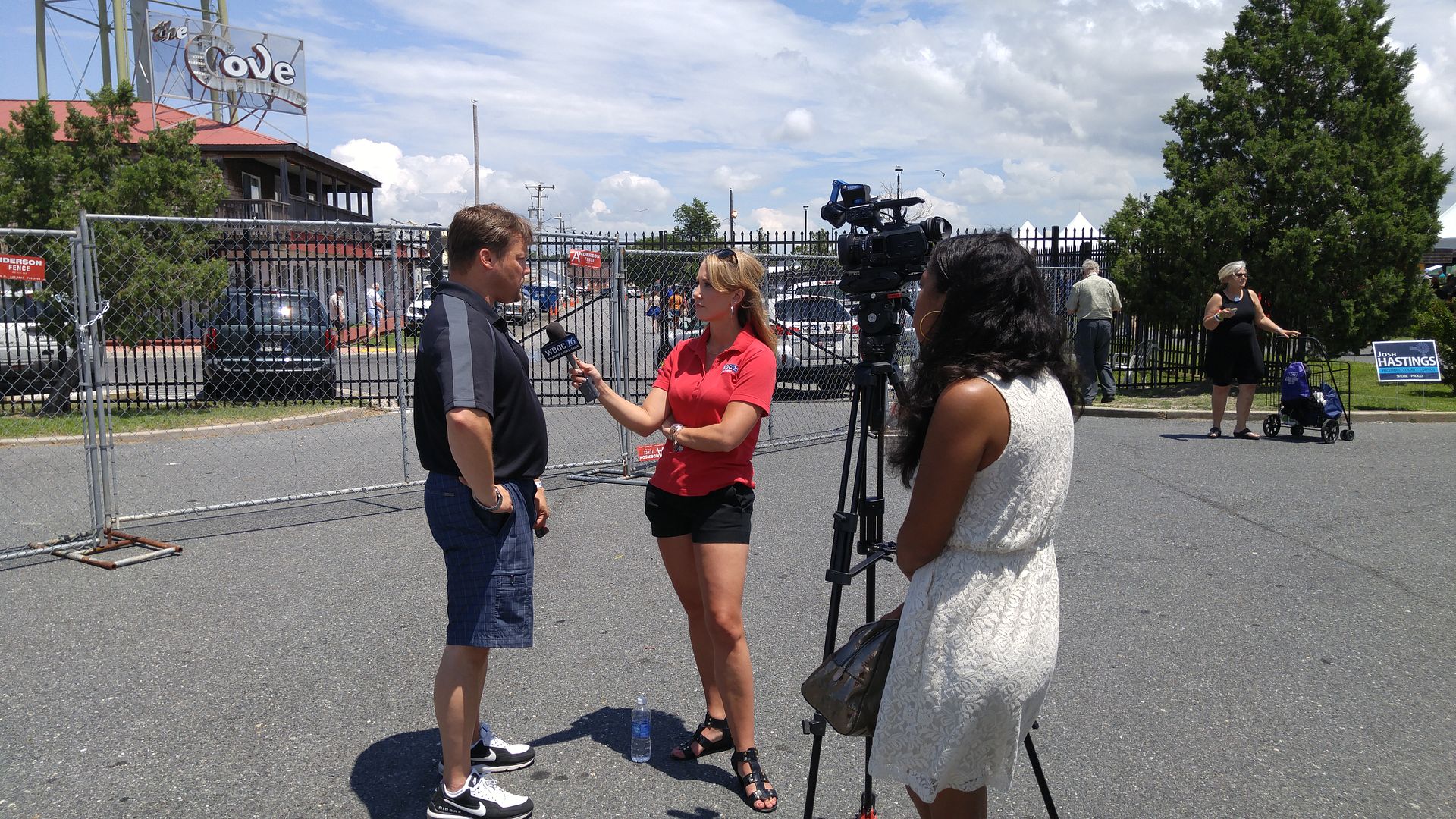 Both local Salisbury stations were there doing live shots and interviews.
And while the faces may change, the political aspect never does. You have the newcomers trying to make a good first impression, like U.S. Senate hopeful Chrys Kefalas and his millennial posse.
By the way, I had to look up that Kefalas is 35 because he appears a decade younger.
You have old hands looking for new positions, like Congressional candidate Mike Smigiel (in the center). He had a batch of "I Like Mike" buttons.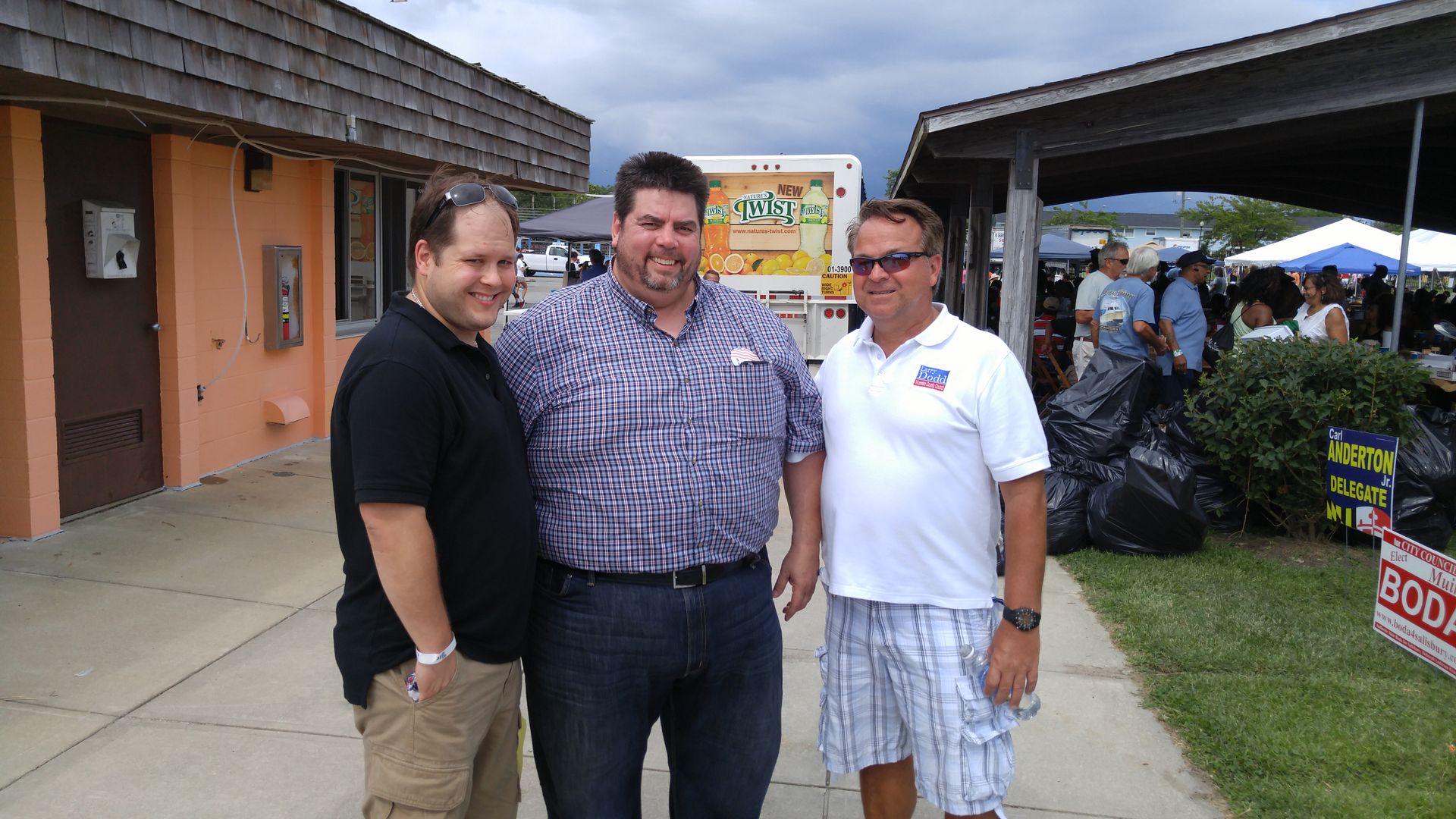 County Councilman Larry Dodd is on the right, and I apologize for not recalling the gentleman on the left's name.
And then there were established officeholders like my 2015 monoblogue Accountability Project Legislator of the Year, State Senator Justin Ready. He's talking to Jackie Wellfonder, who probably has some sort of social media record for photos with the most officeholders and general friends of hers.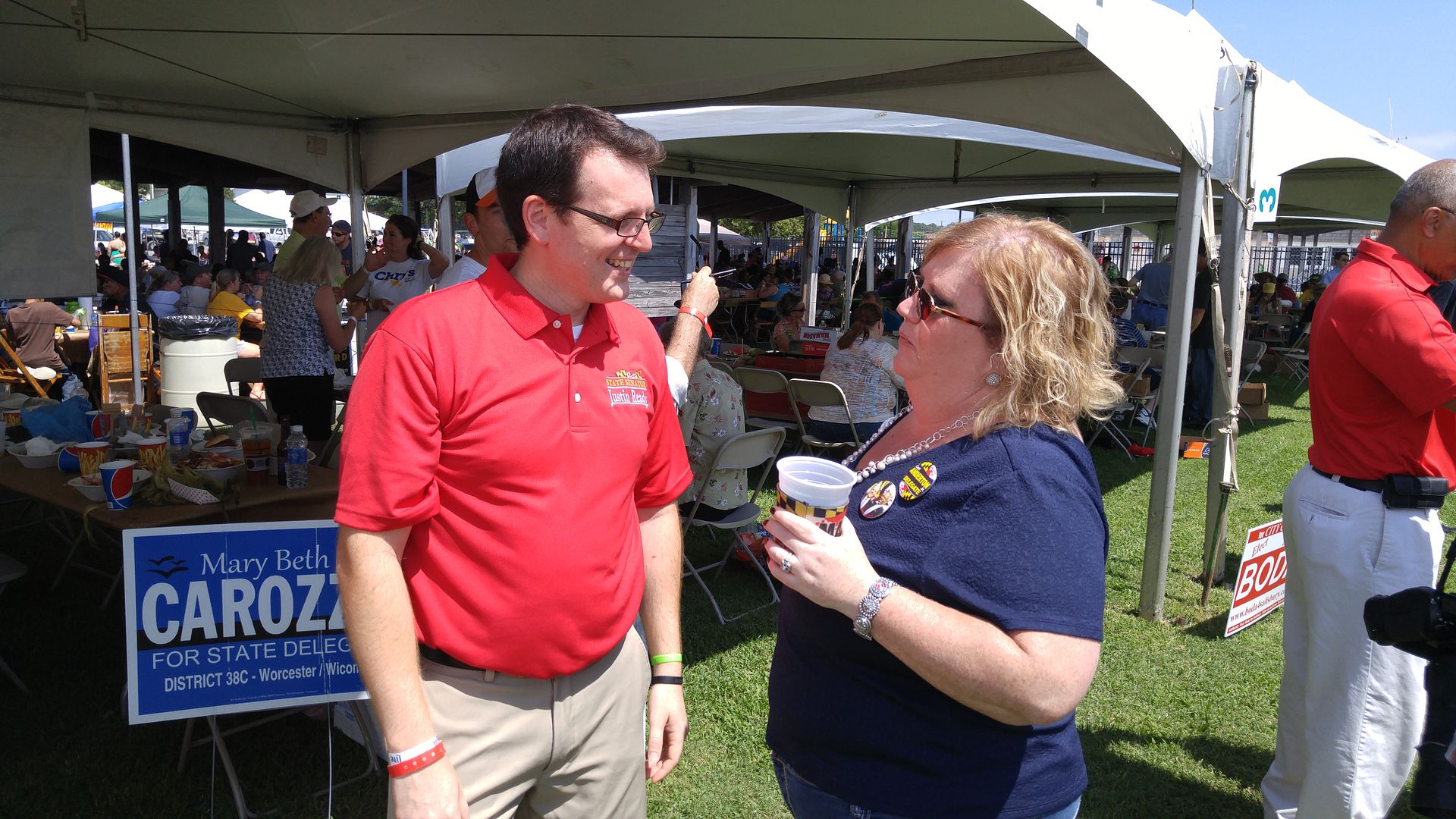 I think I've already seen her picture with our Lieutenant Governor, Boyd Rutherford. He's the distinguished-looking guy in the center.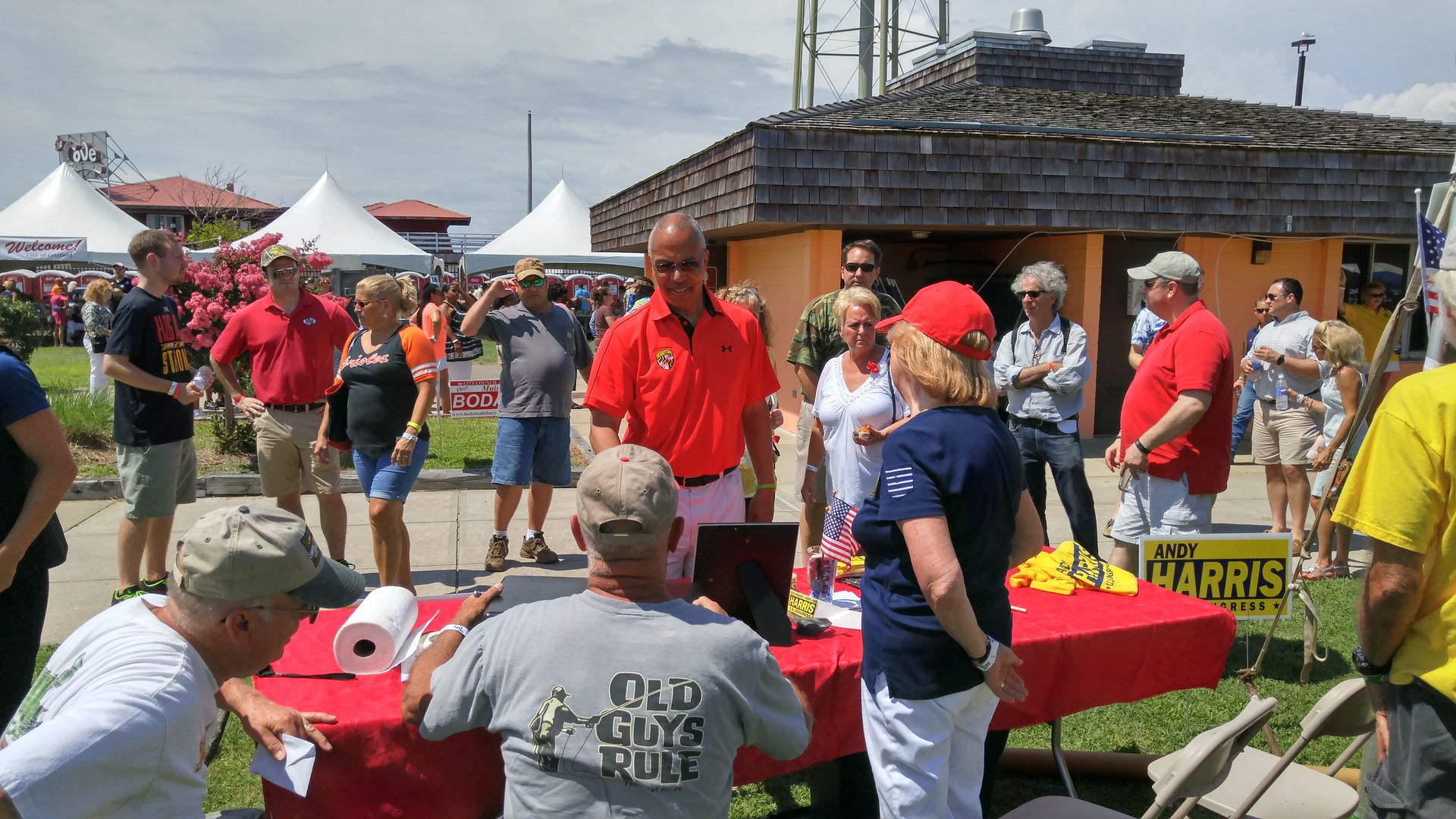 One final difference was the weather. While it was relatively comfortable, with a gentle breeze, the clouds rolled in toward the end.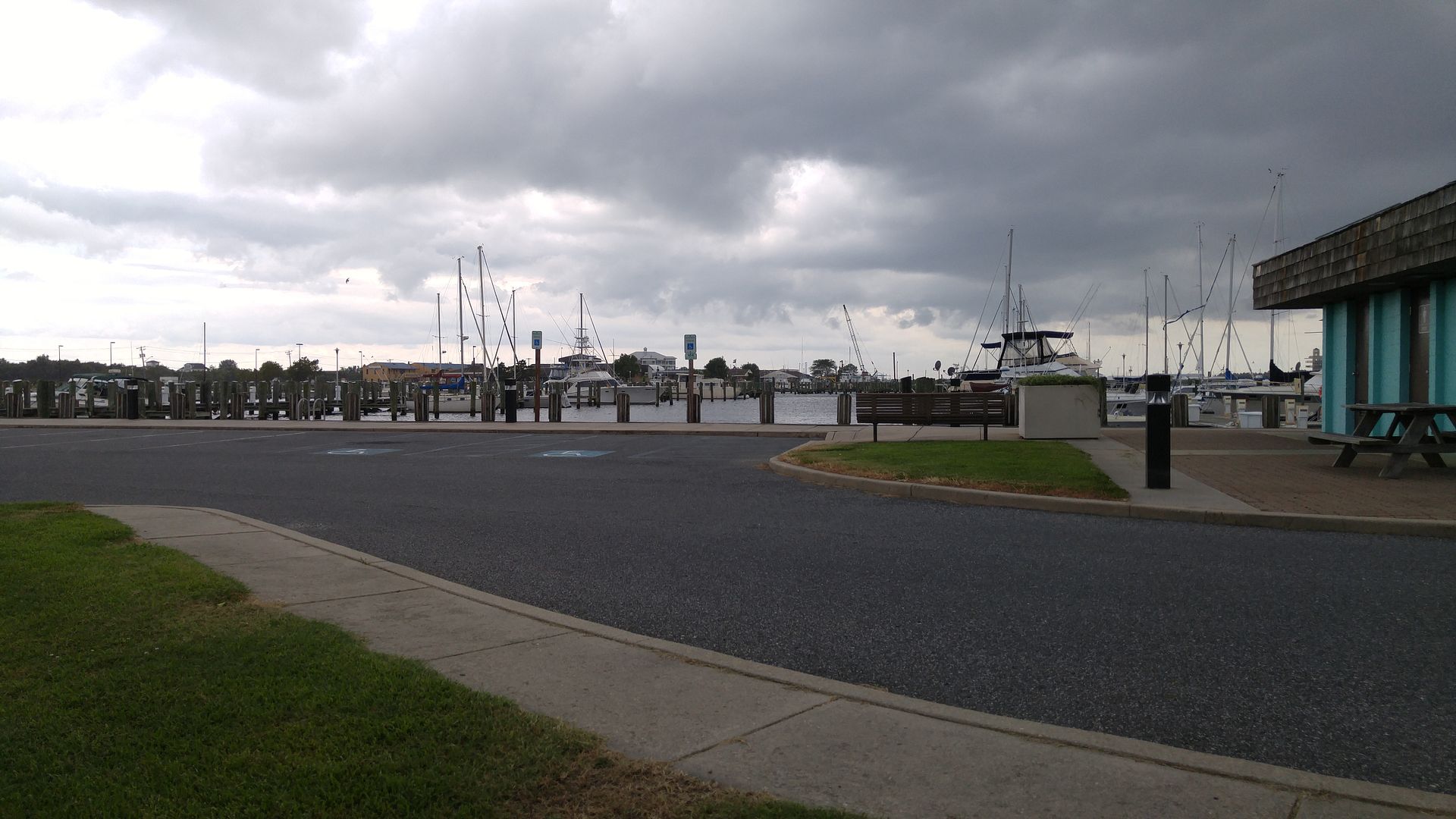 I left about 20 minutes before the scheduled 4:00 close, and by the time I got to my car about 1/2 mile away it was raining lightly. Before I got out of Crisfield it let loose and poured, so those who stayed to the bitter end either got under a tent or looked like drowned rats (or both.)
It was a fitting end to an event which was good, but perhaps a little off kilter. In fact, I was discussing the future of this gathering with someone who compared it to the Salisbury Festival – a venerable event that didn't change and eventually withered away. Since the cost went up this year (to $45 a ticket) we'll see how it affects the plans for next year.
As for me, I'd like the center location back.
Since Scott Walker is joining my presidential sweepstakes already in progress, I need to catch him up with the areas of education and the Second Amendment. So you'll read them here, but I will also add them in their proper rank in the category at large, since I will come back and refer to it later.
Early on, I really liked Scott Walker and figured he would rank near the top of my choices. That may indeed happen, but how does he fare on these two issues?
I'll begin with education:
Scott Walker has a mixed record on the important subject of Common Core. He will say he's against it, but hasn't gone out of his way to eliminate it in Wisconsin. And while his state has gone farther than most to install a measure of school choice, there are a number of restrictions and only certain families qualify, so it's not always a case of money following the child.
Like Huckabee and Graham above him, Walker is a strong backer of homeschooling. He also has shown the teachers' unions he's the boss, but has been silent on what he would do with the Department of Education and doesn't speak a great deal about local control. This puts him more squarely in the middle of the pack.
Total score for Walker – 2.5 of 5.
On the Second Amendment:
Like Bobby Jindal and Jeb Bush, Scott Walker has loosened the gun restrictions in his state over his time in office. But while he has claimed on separate occasions that he is "a firm defender of the Second Amendment" and is "proud to stand up" for it, I don't see the forceful advocacy and bully pulpit ability that we need, so he ranks a little below the upper tier.
Total score for Walker – 4.8 of 6.
I'm working on the next segment for later this week, although I'm finding the information is coming in a slightly different format than in the first two parts. Regardless, the hard part is looking for similar information on 15 (soon to be 16 or maybe even 17) candidates. But that's what you pay me for. (Oh wait, I'm working for free? Call it a labor of love, I guess – although there is a tip jar to rattle.)
Tomorrow, though, I take a break for state politics. See you in Crisfield.
Unfortunately, the Second Amendment continues to be under assault from those who misinterpret its meaning to believe the "well regulated militia" is the National Guard and that the only ones who should have guns are the police and military (except when the latter are on base, of course.)
So the question for me is relatively cut and dried; my job is to determine how well these candidates would lead on reversing this trend if they were elected president. No more talk of a so-called "assault weapons" ban, but instead encouraging states to allow reciprocal concealed carry and convincing Congress to roll back the existing gun laws. What part of "shall not infringe" do they not understand? You'd think they were on the Supreme Court with their poor understanding of law and the Constitution.
Anyway, this category is worth up to six points and those who wish to make us more free to defend ourselves from whatever comes along score better than those who say, "well, maybe except for this instance" or "you know they were talking about muskets back then, not AR-15s."
Ted Cruz is one of those who gets that. He's been a staunch defender of Second Amendment rights, features his record prominently on his campaign website, and correctly notes that it's not just about self-defense. My very minor complaint regards some provisions in this bill he co-sponsored with Senator Grassley a couple years ago – for one, the "Cruz Task Force" may be a little overbearing.
Total score for Cruz – 5.8 of 6.
Rand Paul gets the same score as Cruz, but for a different reason. Even though the District of Columbia is in the wrong regarding its gun laws, it does seem a little hypocritical that Rand is trying to block their laws through Congressional action. If it wasn't good enough for Andy Harris to do it on the marijuana issue, then Rand Paul should not either. But he's actually more strident on gun rights than even the NRA, correctly noting that mass shootings could be stopped (or even prevented) by armed citizens.  It's also interesting that he equates the Second Amendment with the Fourth Amendment.
Total score for Paul – 5.8 of 6.
Mike Huckabee talks a lot about defending the Second Amendment and the rights of gun owners, and he gets the idea that it's there to defend our liberty. Presumably he would also not stand in the way of enhanced carrying laws based on his assessment of the Dylann Roof situation. Plus he owns several AR-15s, and while the Left made light of that pencil analogy it really is true. In a lot of ways, Mike gets it and hopefully he can lead on the issue. My only concern is he would simply play defense as opposed to pushing back the frontiers of ignorance on the issue like those above him are doing.
Total score for Huckabee – 5.4 of 6.
Just slightly below my top tier as well is Marco Rubio. While he also is steadfast on the Second Amendment being there for self-protection – and walks the walk as a gun owner and concealed-carry permit holder who would like to see reciprocity – there are limits to how far he takes the Second Amendment. The Undetectable Firearms Act is simply a method to keep otherwise law-abiding citizens unarmed in an era where 3-D printing technology is now able to create firearms made of the resin used in that process. Again, please refer to "shall not infringe."
Total score for Rubio – 5.3 of 6.
I wish I had a little more on the plans Bobby Jindal has for America regarding the Second Amendment, since he doesn't cover them on his campaign site. However, if he is as active a supporter for gun-friendly reforms as President as he was as governor, we would be in fine shape. Even the restriction he added allows for its removal when appropriate.
And while he doesn't put in the same terms as Cruz or Paul, Jindal has a fairly good understanding of the importance of the Second Amendment. So he's right up among the highest tier hopefuls with a score over 5.
Total score for Jindal – 5.2 of 6.
Much like Jindal, Jeb Bush has a solid pro-gun record as governor, which he touts with regularity unlike Bobby. (I like the quote about the Second Amendment being the original Homeland Security in the last piece.) But I worry about expansion of instant background checks that Bush favored. It's only based on his state track record that he ranks as highly as he does, as Bush is silent on the issue on his campaign site.
Total score for Bush – 4.8 of 6.
Maybe the one thing I don't like about Lindsey Graham and his approach is the defensive posture. I'm glad you will stand against further intrusions on our rights, but the jury is still out with me on the incremental approach coming back. A couple things stand out in his favor, though: advocating for concealed carry reciprocity and understanding that home defense may require more firepower, much as the idiots on the Left may snicker.
Yet he criticized Ted Cruz for making a similar remark about protecting liberty. Since I have a sheriff who knows confiscating guns is a suicide mission, I have to come down on Cruz's side. That is why Graham is looking up at him in my rankings.
Total score for Graham – 4.8 of 6.
Like Bobby Jindal and Jeb Bush, Scott Walker has loosened the gun restrictions in his state over his time in office. But while he has claimed on separate occasions that he is "a firm defender of the Second Amendment" and is "proud to stand up" for it, I don't see the forceful advocacy and bully pulpit ability that we need, so he ranks a little below the upper tier.
Total score for Walker – 4.8 of 6.
What passes for a Second Amendment record for Rick Perry is really a batch of peripheral issues – all nice, and feathers in any governor's cap, but not necessarily moving the ball down the field. (Although, clarification on Castle Doctrine is important.) And while he's for concealed carry even in schools, he's not as big on open carry. Maybe there's logic to that, but why stand in the way of a state? If you don't want to carry openly, you don't have to – unfortunately, due to a politically motivated indictment, Perry can't carry legally right now anyway. I think Rick would be okay, but not as good as others.
Total score for Perry – 4.2 of 6.
As someone who claims the Second Amendment is there to protect the First, I was dismayed to find no reference to the issue on the Rick Santorum campaign website. I know Rick feels that an armed America is a safer America – which I believe is correct – but was disappointed to read that we have "reasonable accommodations in place" when it comes to gun laws. No, we really don't – "shall not be infringed" is very clear language to me as a reasonable accommodation.
Total score for Santorum – 3.2 of 6.
Honestly, I don't know what to make about Ben Carson. There are times (as well as on his website) where he at least says the right things, and as we all know he has no voting record on the issue to glean information from. But he's also stated that "assault weapons" should only be available for rural Americans before trying to walk back and further clarify where he stands.
Maybe he is "evolving" on the issue, but something tells me that he would work his way to the wrong side if elected.
Total score for Carson – 3.0 of 6.
Because Carly Fiorina has only run for office once, in 2010, we don't have a lot from her. In her California Senate race, she came out against the assault weapons ban that was being discussed at the time, correctly noting that the features gun control advocates thought were dangerous were instead harmless. That was good, but in the story it's also reported she would take a "wait and see" approach on further bans.
So while she claims to be a Second Amendment supporter, she didn't elaborate on this when she had the best opportunity to do so. That's rather alarming to me.
Total score for Fiorina – 2.8 of 6.
Perhaps Donald Trump has evolved over the last 15 years, but the guy who once called for an assault weapons ban is now claiming our Second Amendment rights are being taken away. As he gets farther down the campaign trail, I hope we get more clarity on his hawkish views on guns, including which infringements would be eliminated. At this juncture I hear only platitudes as other issues are being lost with the Donald's immigration remarks. More on that in a future installment.
Total score for Trump – 1.2 of 6.
Chris Christie is not what you would call a friend of the Second Amendment. He did little to reverse New Jersey's draconian gun laws, which are so extreme innocent drivers face prison time, but at least realized that more wouldn't help him become president. Now it's about the "right balance." But nobody is being fooled by Christie's changing stance. Still, he's against concealed carry and so-called "assault weapons," so electing him would be a step backwards for gun advocates.
Total score for Christie – 0.5 of 6.
George Pataki took advantage of tragedy to push through what was then billed as the nation's strictest gun control laws, adding "we hope other states follow." Now he believes states should put limits on gun use. I will give him a modicum of credit for believing we need no new gun laws, but that stance may change with the next headlining incident.
Total score for Pataki – 0.1 of 6.
Next in line, for seven points, is the world of energy. I suspect this will provide some separation as gas prices haven't been the issue in recent months, so not all candidates are speaking out on the issue. But I'll see what I can dig up on it.
By Cathy Keim
On July 8, 2015, the House passed HR 5, the Student Success Act, which is the reauthorization of No Child Left Behind (NCLB). This behemoth of a bill weighing in at 800 pages will guarantee that every child that graduates from high school is ready to attend college or start in the workforce without remediation. Yes, you read that correctly.
The hubris of our Washington elite putting into law that every child that graduates from high school will need no remediation is amazing. Just that one statement alone assures me that the 800 pages are filled with bureaucratic overreach.
What kind of measures must be in place to assure that grandiose statement? This is the same government that cannot get patients seen at the VA hospitals in a timely fashion, yet they are proclaiming that every child that graduates from high school in these United States will be stamped proficient to advance to the next step of their lives by the Department of Education.
I can think of only one way that they might even pretend that this could be true and that would be by dumbing down the system so that more children could meet the criteria, but even that is not going to convince me that the government can achieve their goal.
Just try to think of anything in real life that can be achieved 100% of the time. You can't come up with much, can you? (Remember that NCLB declared that there would be 100% proficiency in reading and math in the entire US school system by 2014.) You can check out American Principles in Action's 24 points for plenty of details on why this is a terrible bill.
HR 5 was brought up in February 2015, but was pulled because the Republican leadership could not get the votes to pass it. They have used the time tested ruse of bringing it back in the summer when parents are not paying attention to school issues.
It narrowly passed, 218 to 213, with every Democrat voting no, and 27 courageous Republicans joining them. This is similar to the TPA battle where a few Republicans joined the Democrats in opposing another awful bill.
Of course, their reasons for opposing were completely different, just like the TPA fight. Once again it gives me pause when I find myself on the same side as the Democrats.
One of the reasons given for conservatives voting for HR 5 was that the Senate version, SB 1177, the Every Child Achieves Act, (ECAA) is even worse. The reasoning goes that by voting for HR 5 it preempts the Senate version, so that even if the Senate passes their bill, it will be forced into conference rather than the Senate bill coming directly to the House.
From past experience we all know that what comes out of the conference back room will very likely be worse than what went in.
Andy Harris voted yes on HR 5. I called his office to inquire what his reasons were for voting yes, but I have not received an answer yet.
I called Senators Cardin and Mikulski's offices to inquire if they had any statements out about this bill. Senator Cardin's office said that he supports the bill in general, but is concerned about the Title I funding following the child since it might allow money to go to schools that don't need it rather than to the schools originally intended.
(Editor's note: one selling point given for the SSA is that it would allow certain parents who have children in failing schools a choice in where to send their children for their education, although the choices are limited to just public and public charter schools. This is the meaning between the lines of Cardin's remarks.)
Senator Mikulski's office said she did not have a statement out yet, but that she is against No Child Left Behind. Since ECAA is a reauthorization for NCLB, which actually expands it, we will just have to see how she decides to vote.
Generally speaking the Democrats seem to be against this bill due to the Title I funding shift potential and also because they fear it could lead to universal vouchers.
The Republican leadership crows that HR 5 is returning education issues back to state control. If so, why do they need 800 pages to do this?
The Senate should take this bill up in the coming weeks, so please call your senators and explain to them why they should vote no. Their offices need to be bombarded with parents telling them to not expand on No Child Left Behind.
However, the best reason is the one given by former Delegate Michael Smigiel, who is running for Congress in the First Congressional District. When I asked him whether he would support HR 5 he replied, "I would do away with the Federal involvement in education as it is not authorized by the Constitution. The individual States should determine educational standards for their own States. I led the fight against Common Core and argue and voted against No Child Left Behind."
While that is the correct reason for opposing ECAA, our current leadership is not impressed by the concept. Until we can elect sufficient Constitutionalists to represent us, we will have to rely on a massive phone campaign to get the attention of the DC crowd.
When a compilation has 15 tracks and runs over 62 minutes, you hope there's a lot to like. Indeed, there is quite a lot of good stuff on this guitar (and sitar) player's latest solo effort, which he describes in part on his Facebook and Soundcloud pages as "Bollyrock." It's appropriate as Mathur was born in India but now makes his home in Switzerland.
"9 to 3″ has a wide range of songs which don't just show Mathur's instrumentation but his sense of humor as well.
The humor is reserved more for the interior tracks, though. The album leads off with the country-feeling Sitting By The Cradle, a song that evokes a little bit of an Eagles vibe, and gets backed up by the rockabilly Walking On The Water. Its harmonies have made the song something of an independent digital radio hit, as it's charted in the Top 200 for a few weeks (#192 as of last week, although it peaked a few notches higher.)
There are a trio of other songs on the record which I could see as radio-friendly as well. View From The Top has some nice hooks in it, while adult contemporary fans will likely enjoy the love song Sleepy Moments. But the more likely and catchy candidate for mainstream radio would be Password Love, a song that begins to exhibit the humorous flair in Mather's writing.
Leading off the songs that have the probability of making you chuckle is Latin Lover, which has a jazzy note to it. I could just smell the "Polo trailing behind" on that one. The more acoustic and biting All Up To Vanity scores because we all know someone who fits that bill, and most of us can relate in some way to Surfing Girl (Cyber Monday Mix). My only question on that is: who uses Myspace anymore?
Also presented in a unique manner is My World (SOS To The Universe), which employs a children's chorus and spoken word interludes to create a song that tries to be deeper than three-minute pop pablum. It does a good job of sounding important, although the looping is a little bit cloying toward the end.
Where "9 to 3″ begins to slip is the vocal presentation on slower songs, with one exception. I just don't think Mathur has the voice to carry off otherwise worthwhile ballads like Nothing Really Matters, Oh Angel, or Tell Me Why Do I Still Love You. Nothing Really Matters actually ventures a bit into power ballad territory, while the other two are obviously more romantic.
On the other hand, Mathur's vocals work much better for a bluesy-feeling song like Love Madness. It also employs the call-and-respond style found regularly in blues-based music to great effect, with a variety of tricks to keep the listener's interest. I found that to be my favorite song of the "9 to 3″ album. It's also worthwhile to note that it was one of two songs (Sitting By The Cradle being the other) where fellow lyricist Mary Lou van Wyl lent a hand.
Mathur is a musical veteran, having began his career almost 40 years ago in his native India before moving on to Europe a decade later and finding success with a band called Mainstreet. So while he surely knows his way around the production side of things, it reminds me again why I tend to have issues with self-produced work. A different pair of ears would have convinced him to drop either the narcissistic I Song or its extended version that closes the album, I Mantra. "I want it all and I won't let go and I want it now" is an annoying enough sentiment, but add more sitar and make it longer? Maybe there's an Andy Kaufman-esque joke in there that I don't get, but I thought 11 minutes of all that between the two was rather excessive.
Shakespeare once said, "Brevity is the soul of wit." Deleting the latter two tracks would have made this a far better effort; instead "9 to 3″ is more of a mixed bag with several solid tracks brought down by a few lowlights. But I encourage you to be the judge and listen for yourself.
I harbor no illusions that my post from the other day regarding the declining optimism of Maryland business owners goaded him into action, but today Governor Hogan announced the formation of a Regulatory Review Commission (RRC), charged over the next three years with "(f)ixing our burdensome antiquated, broken and out-of-control regulatory environment in Maryland." The ten members of the RRC are volunteering their time to "focus like a laser beam on these issues", said Hogan.
It's interesting that the Democrats are claiming the Augustine Commission (which was created in the waning months of Martin O'Malley's second term) was intended to address these issues and saying Hogan shouldn't need three years to address the problem. How soon they forget that Larry's Change Maryland organization was convening business summits over the last three years to gain the business perspective, not to mention the fact it was their administration which put out a number of these job-strangling regulations in the first place.
To me it's just sour grapes. Ask yourself: had Anthony Brown won, would curtailing regulations be a priority? Thought not. The Augustine Commission report would have been filed and ignored.
But I hope the RRC has the latitude to go beyond just regulations and into other areas like taxation and, more importantly, looking into where other states succeed. Take a state like Texas, where hundreds of thousands of jobs have been created (as a net gain over jobs lost, not as a one-for-one swap) over the last decade. What attracts these entrepreneurs and leaders, and what assets can Maryland use to emulate their gains? Granted, a good portion of the Lone Star State's gain came from abundant energy resources that Maryland can't match, but there are other areas we may be able to do as well or better if we make that a goal. Unfortunately, over the last eight years our state took its cues from states like California and New York, places where capital and population have been fleeing.
Another question is just how cooperative these Democrats, who are already trying to take credit for the little bit done in 2015, will be to the RRC's agenda as they submit their findings.
Take the "rain tax" as an example – a Democrat introduced the vastly watered-down bill that eventually passed, so they will surely henceforth try and take credit for ending the "rain tax." But the mandate for affected counties to have a watershed protection and restoration fund did not go away (page 4 here) – it's just up to the county to fill it, and most will likely retain some version of the "rain tax." The actual repeal of the "rain tax" on this Hogan-sponsored bill was killed in committee by the Democrats therein on a straight party-line vote. (I used that vote as one of the committee votes on the monoblogue Accountability Project.) So it's a fairly safe bet the Democrats are only paying lip service to the issue of regulations now because to them more is better – that's how they've run Annapolis for most of the decade I've lived here and probably my whole life before that.
So the RRC can't just exist in a vacuum. Now that Larry Hogan has experienced the way Democrats in the General Assembly basically gave the finger to his mandate, he will need in the coming months and years to take a page from the Reagan handbook and go straight to the people. Democrats may claim the last election was about "divided government" but the motivation was clearly behind a more conservative direction for the state.
While I would have preferred a more rapid formation for the RRC, this is a definite feather in the cap for Larry Hogan. Let's hope that it's not just for show but instead gives us an agenda even the Democrats can't stop.
As is often the case with players from the Caribbean region, a team can rarely be sure what they will get when they sign a player. The traditional scouting avenues of organized high school, travel team, and college don't exist to the same extent so it's more difficult to judge competition.
It's even tougher to do so in Cuba, but the Orioles took a $180,000 chance anyway and signed outfielder Elier Leyva last year.
So Delmarva fans weren't quite sure what to expect when Leyva was assigned here in April, and unfortunately Elier had a hard time with the transition. At April's end he was hitting just .186 and after May the average had only crept to a .215 mark. But Ryan Minor has been patient with the 24-year-old Cuban and it's been rewarded as Leyva has hit .284 since (including a sizzling .338/.797 OPS in June.) While he has slumped somewhat of late, bringing his current numbers for the year to .244/2/26/.644 OPS, Leyva is still more consistent than he was early on and seems to be cutting down on the rookie mistakes I noticed at the start of the season.
Although he's only been in professional baseball since April, the expectations were fairly high – Leyva's bonus money was equivalent to that of a 9th or 10th round draft choice. Fortunately, for the most part Leyva's trajectory over the season has been upward so he has the easy potential to finish with numbers in the .270 average and .700 OPS range. (He's also had the benefit of regular playing time – by week's end he will pass the promoted Jay Gonzalez and become the team leader in games played with 73.) With another 56 games remaining on the schedule, a finish with numbers akin to those he posted in June makes a late-season cup of coffee in Frederick a possibility.
Cuban coffee would likely be just fine for the Orioles' brass, who have invested a lot into their outfielder. We'll see if he's worth it.
It was apparent from the start that Jake Day was a guy in a hurry. Not content to learn the ropes as a member of Salisbury City Council, he ascended directly to its leadership. So I'm not really surprised that he made his expected run for mayor of Salisbury official earlier tonight at Headquarters Live.
Yet there are some things which stick out about Day's agenda and record which I find to be of concern. It's possible he may have addressed these in his remarks, since I was not at the event, and he may certainly feel free to comment here. But I would like to know first of all what he plans to do to keep up Salisbury's neighborhoods and not create a city full of red-headed stepchildren to the spoiled brat of downtown. Certainly downtown development has a place in the city's renewal but there are other avenues worth considering too.
Granted, downtown revitalization was Pillar 1, Strategy 1 of his original vision for Salisbury from two years ago but there are about 95% or more of the city's residents who live in the rest of the city so their needs have to be kept in mind as well.
Another question I have is what will become of the "rain tax" he and most of the rest of City Council (save District 3′s Jack Heath) voted for last year. What specific projects will the money go to, and is there a point when the job will be completed, negating its need? I understand he has a multi-decade goal in mind, but there are a lot of blanks instead of answers on how to get from point A to point B.
One thing the Daily Times story alludes to is the possibility of a race between Day and current Mayor Jim Ireton; however, I don't see that happening. The simple reason is that if Ireton wanted to secure another term he would have made his intentions known already. I know we have more than a month before the filing deadline but the word on the street is that Ireton wants to switch jobs with Day and run for a County Council seat in his District 4.
If it's a race between Ireton and Day for mayor, certainly the city would be better off with the more even-keeled Day at the helm. Ireton's bullying style is wearing thin.
But I want to keep my powder dry for the time being and see if a more conservative, business-minded candidate emerges. So don't include me in the hoopla surrounding Day just yet.
For the last month (and some time beyond) there has been a war of words between supporters of the former Chair of the Maryland Young Republicans, Brian Griffiths, and backers of the current Chair Kory Boone. It's a situation which brings back thoughts of the Ws being missing on the computer keyboards when George W. Bush came into office in 2001 – in fact, Boone's reaction is reminiscent of Bush's as he is being rather silent about the whole thing.
On the other hand Griffiths continues to speak out, admonishing the new leadership by saying on his Red Maryland website that "(i)t's a shame that they are wasting their time in office with minutiae and nonsense instead of being the 'competent' slate that they promised everybody they would be. Maybe it's time to drop the vendettas, stop focusing on national YR politics, and see the big picture."
Let me preface this by saying I was once in a smaller pair of shoes in my life – for a year (2000) I was president of the Toledo Metro Area Young Republican Club. And I'll cheerfully admit that it was a learning experience for me and they probably would have done better if someone else had stepped up to the plate. But I was asked, so I accepted – maybe if my life at the time had been more settled it would have gone better.
One thing I learned, though – and the same thing is holding true in Maryland – is that Young Republican clubs tend to be cyclical. A crop of interested people start the club and they become the core group which runs it for a half-dozen years. But then that group ages out, moves away, or actually succeeds in winning elective office and suddenly no one is there to take over. About 6 to 8 years ago we had a Lower Shore YR chapter but it eventually became inactive. As it stood, dwindling interest meant the time was right for new leadership, and Maryland will get it.
But the change isn't coming easily, and Griffiths doesn't seem to be embracing it. Despite his promise that "I intend to make this (recent MDYR convention) my last Maryland YR event," he's since spoken out about proposed bylaw changes and fretted about losing the opportunity for Annapolis to host the 2017 national YR convention, an event which Griffiths admitted he was skeptical about in the beginning.
Meanwhile, questions have arisen about the financial state Boone inherited when he took over the leadership of the MDYRs. In a recent audit made available online, MDYR treasurer Eric Beasley essentially threw up his hands:
Given the lack of information (about the recent financial past), the MDYR Treasurer cannot establish a historical trend and create realistic goals for the organization to prosper in 2016 and 2018.

These issues highlighted above can be directly linked to a lack of efficient record keeping and management within the organization. Due to the severity of the issues, The MDYR Treasurer will be requesting all bank statements which are not available online and sending the entirety of financial information to a 3rd party auditor for review. The auditor will not be an active official within the Republican Party or any Republican-affiliated organization, elected or appointed. The individual will also have extensive experience with maintaining financial information.
Even if you chalk this up to sloppy record-keeping, the fact that the group is down to one chartered local group and a dearth of members (a paid membership which allegedly excluded Griffiths) is enough to make one believe that, first of all, the group really can't be damaged anymore by the actions of its current leadership – if that were indeed the goal, which I doubt – and secondly, at least someone gave enough of a damn to want to steer the group in a new direction. Perhaps their fundraiser was a failure, as Griffiths charges, but they at least tried to have an event and spread the word that the YRs are active in the state.
When he came to our Central Committee meeting last month, Kory noted his goals for his tenure were to "establish local chapters (and) get local people elected." First of all, the fact that he came to our local meeting to introduce himself was an improvement over the previous chair, who only seemed to show for events where he could somehow promote the Red Maryland brand, and secondly, Boone expressed goals that seem rather attainable with some field work and promotion.
The last crop of Lower Shore Young Republicans had among them a current staffer for Congressman Andy Harris (who also serves as president of the Wicomico County Republican Club), a former WCRC president who is now a County Councilman, and another who attempted to secure a Delegate seat in a difficult district but put up a good race. With Salisbury University being the logical feeder group of College Republicans (their incoming President went to WiHi here), there's no reason a YR group can't make it here if the state leadership shows some support – and it will eventually accrue dividends for the local GOP.
Brian Griffiths had his time in the sun, so it's time for him to let someone else lead.
Oh, and by the way, those who harp on reaching out to the minority community may wish to know Kory is a member of same, from the desolate frontier (at least in GOP terms) of Prince George's County. It's not important as to how he does the job, but to those for whom perception is reality that's a bonus.
So I look forward to seeing what Kory Boone can do.