It's been awhile since I was entitled to go to the state convention, but what a few hundred Wicomico County voters tried to do was undone by a much smaller number last month, so I have returned like the prodigal son.
My first convention back will be in Solomons, which as I recall was the home of my favorite convention, the spring 2012 one where we elected Nicolee Ambrose as National Committeewoman in a contentious vote over Audrey Scott. This one will probably not have the same amount of angst, although we may see issues with the three bylaw amendments on the docket.
The first is a lengthy proposal to create a process for Central Committees to fill legislative vacancies. After the debacles we saw last year as Governor Hogan picked members of the General Assembly to fill out his cabinet and lead departments, it became a priority to come up with a way of doing so lest the General Assembly take our power away (which still could happen.)
In a nutshell, the amendment allows a county to create its own process but leaves as a default the state-prescribed method. In looking it over briefly, the fight may be over the call to submit "name(s)" to the Governor, as some would prefer the Central Committee submit just one name as was custom until the most recent round of appointments.
That controversy led to the second bylaws amendment, which a perverse sort of "loser pays" arrangement for entities taking legal action against the state party, just like Carroll County did last year. I think this one will create the loudest arguments, to be honest.
Third is a proposal to give the Maryland Black Republican Council full voting status on the Executive Committee. If so, they would join the Maryland Federation of Republican Women, the Maryland Federation of Young Republicans, and the Maryland Federation of College Republicans as voting members of that committee. (Conversely, the Teenage Republicans and Heritage Council are non-voting members.) As I recall, we had a lot of rancor about giving the YRs and CRs an Executive Committee vote a couple years ago, in a voice vote that was literally cast as we were being ushered out the door. So we'll see.
The one resolution that I'm aware of (barring others introduced from the floor for our consideration) deals with the redistricting commission, so that should be no issue. I don't think there's 10 percent of the party that likes the way we do it now.
But all work and no play makes Republicans a cranky bunch. Fortunately, unlike the last couple conventions I attended, we will have no shortage of hospitality suites to check out.
A list sent out by the state party shows no less than a dozen different suites. While the host counties of Calvert and St. Mary's and Montgomery County have their parties, the headlining parties will be competing affairs between supporters of Ted Cruz and Marco Rubio. Not to be left out, all three major U.S. Senate hopefuls – Richard Douglas, Chrys Kefalas, and Kathy Szeliga, who is piggybacking with Congressman Andy Harris – will have suites on separate floors. Add in local Congressional candidate Charles "Sam" Faddis and the aforementioned Black Republican Council, throw in a couple wild card suites, and it should be a fun evening tonight.
Naturally some of the conservative blogosphere will be there, so we'll see what sort of coverage we can drum up. Whether the era of good feelings brought on by Larry Hogan's election will subside this time or wait until spring when we elect a new National Committeeman and National Committeewoman along with slates of convention delegates and alternates remains to be seen.
For now I'm just going to enjoy the moment because, I hate to admit, I sort of missed these gatherings during my hiatus. Glad to be back.
By Cathy Keim
It seems ridiculous to even be addressing oversensitive students at expensive, overrated colleges when Paris has just endured brutal terrorist attacks. One would think that the reality shock treatment of these events would stop the complaining, but that is not going to happen.
President Obama has led the way with his racially divisive, politically motivated statements since he was elected. Rather than leading a united America, he has taken every opportunity to drive wedges deeper between our different ethnic groups.
I return to the words of Victor Davis Hanson, who explores the president's actions:
Race largely determines whether Obama comments on pending criminal cases such as those of Trayvon Martin or Michael Brown or keeps silent about such cases as the murder of Kate Steinle. If Professor Henry Louis Gates had been white and the arresting officer black, there would have been no beer summit. Obama would have kept mum if Trayvon Martin had been white or had successfully killed George Zimmerman and survived their fight — or had been shot in a fight by another African-American. A typical weekend bloodbath in Chicago, Baltimore, or Detroit earns no presidential editorialization.
Of course, President Obama is a product of our Ivy League university system, so he is just regurgitating what he learned there. Here is where the real danger lies. The students that seem so ridiculous to those of us that function in the real world, graduate and go on to get jobs at leftist think tanks, in the government, or remain in academia. They do not enter the real world and grow up. Rather they stay in "safe spaces" and spew out their warped views on all of us by the megaphone they obtain by the media coverage of the think tanks, by the regulations they produce in the government, or the young students they infect as they teach.
David French points out that:
…perhaps the most pernicious aspect of the entire morally bankrupt system is its balkanizing effect on our fragile, multiethnic democracy. Universities are creating an entire class of people who are race/gender/sex-obsessed, viewing themselves less as Americans than as advocates for their particular ethnic or cultural tribe. The result is endless racial conflict, constant rage over sex and gender, and numerous innocent, resentful casualties of the never-ending quest for utopia. Is it any wonder that college students now face a "mental-health crisis?
This fixation on sex and gender issues has led to the additional danger of being accused of date rape. Every student must be aware that they may be accused of a sex crime and their life ruined in the ensuing melee. It seems that at most colleges it is guilty until proven innocent when it comes to date rape.
I think that David French hits the nail on the head when he states:
Conservative parents have often reduced themselves to expecting that their kids will waste their college years — either wildly drunk, wildly liberal, or both — and then hope and pray that they muddle through, earn their degree, and get a job so that "real life" will "straighten them out." Sometimes it does, sometimes it doesn't, but parents rarely seem to question the decision to feed their own children to the lawless, malicious beast. We do what we're expected. We do what we must. And we deliver our kids to the very institutions that seek to destroy us.

Conservatives possess the power of the federal purse. Conservatives possess the power of the state purse in most states. Millions of conservative parents help guide (and pay for) their kids' college choices. Given this reality, helplessness and impotence are a choice. It's time for a cultural and political war against the intellectual and legal corruption of the university Left.
Although I am addressing the university system here, I would add that the same holds true for the government schools K-12. Parents need to stop feeding their children to the beast. Pull your children out of the government schools. We have lost control of the system and it is not working for the good of our children. Parents need to exit the system completely and let it collapse.
The university system needs to be examined closely and you need to know your child before you let them go to university. If your child has no clear purpose, then do not send them to be indoctrinated or to party at huge expense. They can drink themselves silly for much less while working at an entry-level position. When they realize that is not how they want to spend their life, at least they won't be buried in school loans.
The current craze for everybody needing a college degree is due to the government forcing companies to stop giving aptitude tests. Businesses used to have tests that they gave to job-seekers that would help them find who had the skills to fill the position. When the federal government decided that was unfair, businesses used a college diploma as a way to weed out their applicants, thus spawning the expensive race for a diploma which has resulted in many students attending college that neither have the interest nor the desire to really be there.
If one major corporation would eliminate the degree requirement for employment, the floodgates would open and others would follow. The diplomas in certain areas have become so worthless in predicting whether a person can write or read at a college level that it is time to remove this obstacle to employment.
For many jobs some on-the-job technical training or a few courses at the community college would better prepare the applicant with the skills needed. If your child wants to go into a field that needs extensive training such as engineering or the sciences, then you can still avoid the expense and drama of the party school college environment by taking courses online, or utilizing a community college for the first two years. Then when the student is older and has proven that he is ready, you can send them off to a carefully selected institution of higher learning. There are still a few out there that have not succumbed to the insanity, but do due diligence to find them and don't depend on out-of-date information since the inexorable push is to the left.
This is a long war on our country and our children's education is the battlefield. You must wake up and realize that the government school system is not what it was when you were a child. You cannot undo over the supper table in an hour what is being force-fed into your child for hours each day and when they leave for university, the phone call once a week is no match for the powerful persuasion of professors and peers.
Your duty as a parent is to train and equip them to face the onslaught once they are ready. Do not send them out to do battle until they are prepared.
By Cathy Keim
"What did it profit that I read the greatest human ideas of the so-called 'liberal arts' in the books I got hold of. My thinking was enslaved to corrupt desires, so what difference did it make that I could read and understand these books? I delighted in learning, but I had no divine context for what my mind picked up. I had no foundation to discern what is true or certain. I was standing with my back to the light, so that the things that should be illuminated were in shadow, even though they were in front of my face." ― Augustine of Hippo, Confessions
Last week I attended a talk on marriage by Msg. Charles Pope. His message was excellent, but one thought that he tossed out at the very end in response to a worried parent's question about their child keeping the faith in college really hit me. He opined that going to college might not be the best choice anymore because the college campus has become a cesspool. (In the context of marriage, the hook up culture certainly qualifies as a cesspool that is damaging many young peoples' futures emotionally.) But he further clarified his comment by pointing out that St. Augustine observed that one cannot learn truth when one's mind is consumed with lust. Thus, Msg. Pope concluded that the current depraved moral state of universities might render them unsuitable places for a young person to study with any hope of actually learning what is good and true.
Victor Davis Hanson writes that:
The truth is that the university is a dysfunctional institution. Free speech no longer exists. Trigger warnings, micro-aggressions, and safe zones have created a climate of fear and bullying on campus. Affirmative action criteria emulate the abhorrent "one-drop" rule of the Old Confederacy. Campus identity is defined by race and gender, but never class. Annual hikes in tuition exceed the rate of inflation. Faculty are paid widely asymmetrical compensation for instruction of the identical class, depending on archaic institutions like tenure and seniority. Non-teaching personnel have soared. Graduate PhD programs have proliferated, even as jobs for their graduates have shrunk. Undergraduate university graduation rates have declined. College graduates are assumed to earn high-paying jobs; but the dismal rate of bachelor's degrees translating into employment commensurate with staggering college costs and student-loan debt would prompt federal investigations of fraud and false advertising in any other institution."
The next day I received an email from a friend with the link to James O'Keefe's undercover videos of college officials destroying copies of the Constitution because a "student" felt offended by it.
I was rather perplexed as to why James O'Keefe would have chosen that stunt for his newest expose, but next we have the outrageous behavior at Mizzou.
Then I received the following piece from a young acquaintance about PC behavior run amok on modern liberal arts college campuses.
Liberal arts schools all over the country have apparently gone insane. At Claremont McKenna College, a young woman has been publicly shamed, plastered all over the internet, and had to resign her position as junior class president not for verbally or physically attacking or belittling someone, not for bandying about racial slurs, and not even for personally wearing a Halloween costume deemed "offensive," "racist," or "culturally appropriative" by the People Who Decide Such Things. No, no – she committed the thought crime of (horror of horrors!) posing for a picture with two people whose costumes could be considered crass and stereotypical. And so, for the insubstantial, subjective "crime" of hurting people's feelings, even though she herself was not wearing a costume that could be offensive to anyone aside from those who enjoy decent music, this girl gets her photo posted and re-posted, gets to be the subject of mockery and derision around the world, and is forced to resign her position because the Student Body President believes she can no longer "effectively represent students in her class." Remember, though, that while CMC has become a decidedly "unsafe space" for her, she is the "aggressor" and villain here.

Meanwhile, at Yale, that shining paragon of intellectualism, two professors are on the mob-rule chopping block for an even more intellectual and intangible thought crime: the opinion – conveyed in a measured, respectful email – that maybe, just maybe, the annual PC clamor over Halloween costumes is overblown. This "hateful" email triggered an immediate call for these professors to resign their positions, and even resulted in some students claiming that they could not bear to live on Yale's campus anymore because they felt "unsafe." Just watch this video and remember: the meek, bespectacled professor standing calmly in a crowd of students is the villain; the "brave" young woman hurling abuse and profanity in his face, while gesturing wildly in a way that seems to indicate she is a hair-trigger away from physically attacking him, is a social justice warrior, and, therefore, our hero.

I'd like to ask a question: let's theoretically postulate that these individuals, this CMC student and these Yale professors, have, as their detractors seem to be assuming, the worst of intentions. Let's accept, for the sake of argument, that all three are inveterate racists, but change none of the other facts in these scenarios. What is an appropriate "punishment" for their behavior? Should they be fired from their jobs? Lose their scholarships? Be kicked out of school? Should their insensitive photos and meekly worded (er, I mean, "hateful") emails follow them for the rest of their lives, affecting their employment prospects, their dating lives, and everything else they do for the rest of forever? Does relatively inoffensive or even meek, non-confrontational "racism" justify the permanently life-altering consequences this kind of public shaming entails? I'd honestly like to know, because the more I see internet lynch mobs tear apart their prey, the more it astounds me that, although the Modern Illiberal Left has disavowed things like the death penalty and demanded second, third, and fourth chances for all manner of criminality, thought crime is seemingly the one offense for which the punishment must be absolute and for which there is no mercy.

Finally, I'd like to end with a reminder that most of the "social justice warriors" who jump into these things seem to forget: what's good for the goose is good for the gander. PC is not an ideology that remains static, and while you might be comfortably ensconced in the "enlightened" crowd right now, how long before the wheel turns and you find that an opinion or two of your own is no longer popular or PC? From my recollection, many of my old college friends who posted the CMC Halloween costume story with positive and socially conscious affirmation, likely have Facebook photos lurking from seven years ago of themselves in costumes and/or situations that, stripped of any context, could make them appear racist, insensitive, or culturally appropriative. I wonder how many of them think on the fact that their own lives could have been irrevocably altered and their reputations destroyed – all for nothing more than a Halloween costume.
The universities have a stranglehold on our young people due to the diploma being required for many jobs and professions. One wonders though if the insanity has reached the tipping point where parents and students will refuse to enslave themselves to outrageous school loan debt in order to attend these cesspools?
Update: Turmoil at CMC continued last Thursday "with the resignation of Dean of Students Mary Spellman, who had angered students with her email to a Latina student saying she would work to serve those who "don't fit our CMC mold." Spellman later apologized." (Emphasis mine.) Dean Spellman's mistake was to upset the sensitive student that she sought to help by sending an email that was deemed insufficiently politically correct thus outraging the student more.
(Editor's note: watch for Part 2 tomorrow evening.)
You know it's been a bad day when this is what you see first thing on social media, and it refers to "has been to run" as past tense:
I cannot tell you what an honor it has been to run for President of the United States of America. My parents came to this country 45 years ago searching for freedom and a chance.

When I was born, we lived in student housing at LSU, and never in their wildest dreams did they think their son would have the opportunity to serve as Governor of Louisiana or to run for President.

They raised me to believe Americans can do anything, and they were right, we can. But this is not my time, so I am suspending my campaign for President.

Going forward, I believe we have to be the party of growth and we can never stop being the party that believes in opportunity. We cannot settle for The Left's view of envy and division. We have to be the party that says everyone in this country – no matter the circumstances of their birth or who their parents are – can succeed in America.

One of the things I will do is go back to work at the think tank I started a few years ago – where I will be outlining a blueprint for making this the American century.

We must show the way forward on growing our economy and winning the war against terror, and especially defeating radical Islam.

I realize that our country is off on the wrong track right now. Everyone knows that, but don't forget, this is still the greatest country in the history of the world – and every single one of us should start every day by thanking God that we are fortunate enough to be US citizens.

Now is the time for all those Americans who still believe in freedom and American exceptionalism to stand up and defend it. The idea of America – the idea that my parents came here for almost a half a century ago – that idea is slipping away from us. Freedom is under assault from both outside our borders and from within. We must act now, we do not have a moment to spare.
Now is that something you'd hear from Donald Trump or any Democrat? Don't think so.
This truly saddens me: here was a candidate who I agreed with to a large extent on all of my key issues. Looking at them piece by piece Jindal was in my top five on every one. Every. Freaking. One. The wonk in me loved his detailed plans, which seems to come naturally if he led a think tank.
But if there were two things for which I would fault Jindal's campaign, it would be these.
First of all, he got in too late. Granted, hindsight is 20-20, but a person who doesn't have a great deal of name recognition needs to overcome that with an early start. Jindal was the first to announce after Donald Trump did on June 16th. Consider this: of the five candidates who announced after Trump, two are now out (Jindal and Walker), one's never been a factor (Gilmore), and the stock of the other two has fallen such that Chris Christie fell out of the main debate this time and John Kasich is losing friends quickly with his debate performances. Jindal should have jumped in right before Memorial Day – that month probably lost him 5 or 6 points early on, and if he had been in that range he would easily have made the initial prime-time debate. He never got past the "kiddie table" debate where Carly Fiorina did.
The second is never adequately countering the prevailing "Louisiana is a failure" narrative. Making budget cuts is never popular, and Jindal took pride in having less spending even now in his final year of his second term, then his predecessor did. I think it's a badge of honor in terms of right-sizing government but if you read the liberal Louisiana media each day it's a drumbeat of bad news. Simply put, Jindal refused to raise taxes and that was his cardinal sin in the eyes of the media in Louisiana. The low-information voters were the ones giving him low marks on the polls despite the job creation record Jindal had.
Of course, the last time a very outspoken conservative governor was placed on a Presidential ticket, she was absolutely trashed in the media. But if a non-governor wins the nomination, he or she would be wise to consider Jindal as the VP choice given his executive experience. There's no doubt the media is in the tank for Hillary so we may as well be pedal-to-the-metal conservative on the GOP ticket. Screw the establishment.
As for me and my choice, I may keep my powder dry and options open. Indeed, some candidates scored better than others but more information has come out and perhaps some issues take higher precedence with recent events. So we will see.
Tonight the City of Salisbury embarked on a new chapter in its government as its City Council changed hands. Ironically, the person running the meeting at the beginning would shortly become the city's mayor – Jake Day wielded the gavel for the last time, departing slightly from the agenda to ask for a moment of silence for the people of Paris.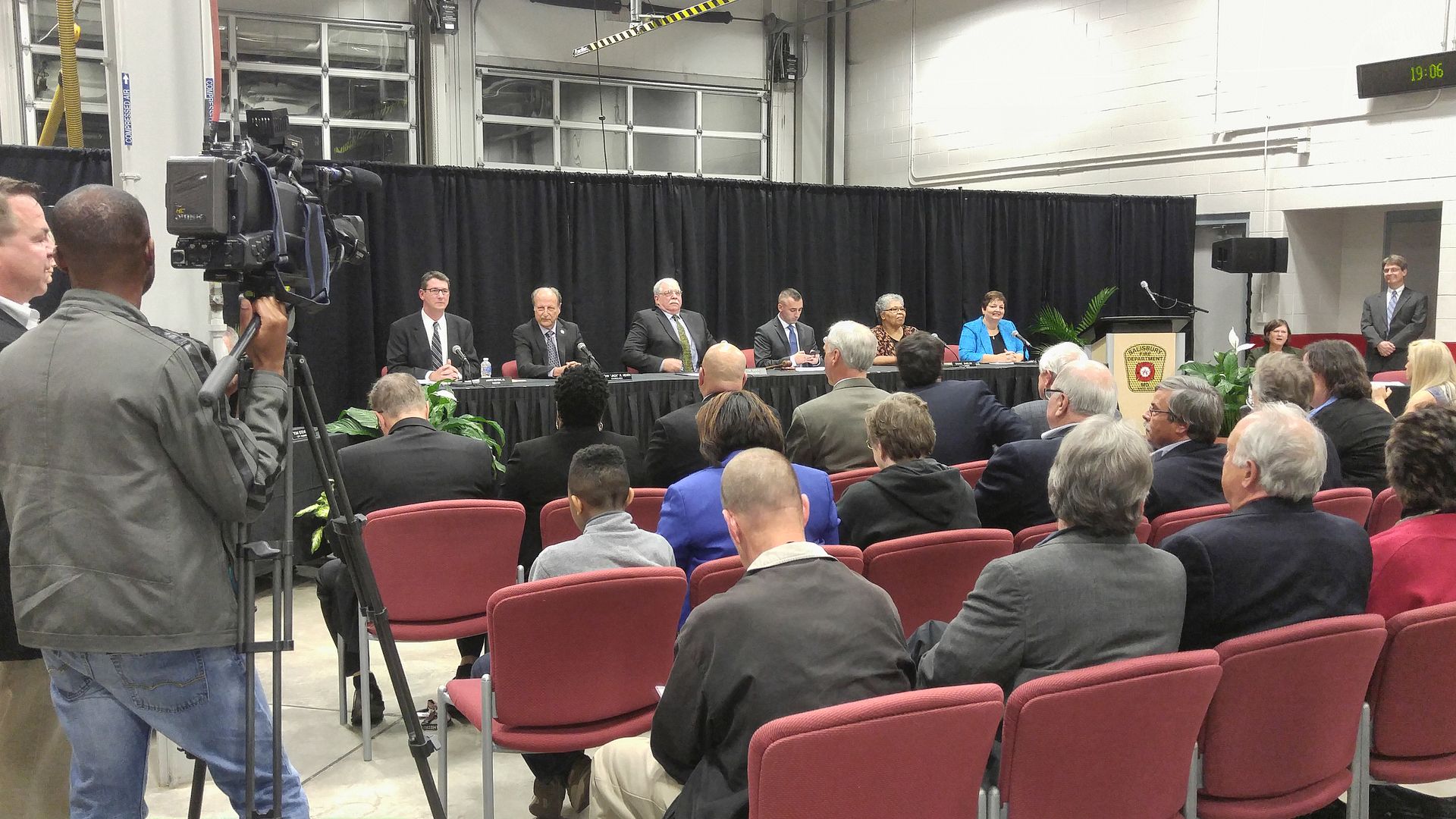 But the first to make comments was outgoing mayor Jim Ireton, who credited the "unsung heroes" who voted for him twice as mayor but "await(s) the incredible things we'll do together" during the next four years. Ireton also noted later that changing just one person on council can make a profound difference in the body.
Jack Heath, who won election to a full term, noted he "came to know the power of the city and the goodness of its workers." The man he defeated, Tim Spies, said the last 4 1/2 years were "good for me" and believed the city had a terrific future, with high expectations. He encouraged more people to make a Monday night of getting to Council meetings, adding afterward it was half-price burger night at the Irish Penny to cap off the evening. Public service for him was "fulfilling" with no end to opportunities, Spies said later.
Outgoing Mayor Ireton noted on Spies, "We would be well to have 33,000 Tim Spieses in the city."
The other Council member leaving, Shanie Shields, vowed "I'm not going anywhere." Not only would she be there for her successors, she planned on using her newfound time to make County Council meetings. In speaking of Shields, Ireton noted that the Salisbury he grew up in was a "place of 1,000 moms" and Shields was one of them. Shields, he added, reminded him never to forget our best work is ahead of us.
Noting the overflow crowd in the garage of Station 16, Laura Mitchell also hoped they would stay involved. "I would love to see more of this." Day wrapped up that portion of the evening to noting Council had "exceeded my expectations."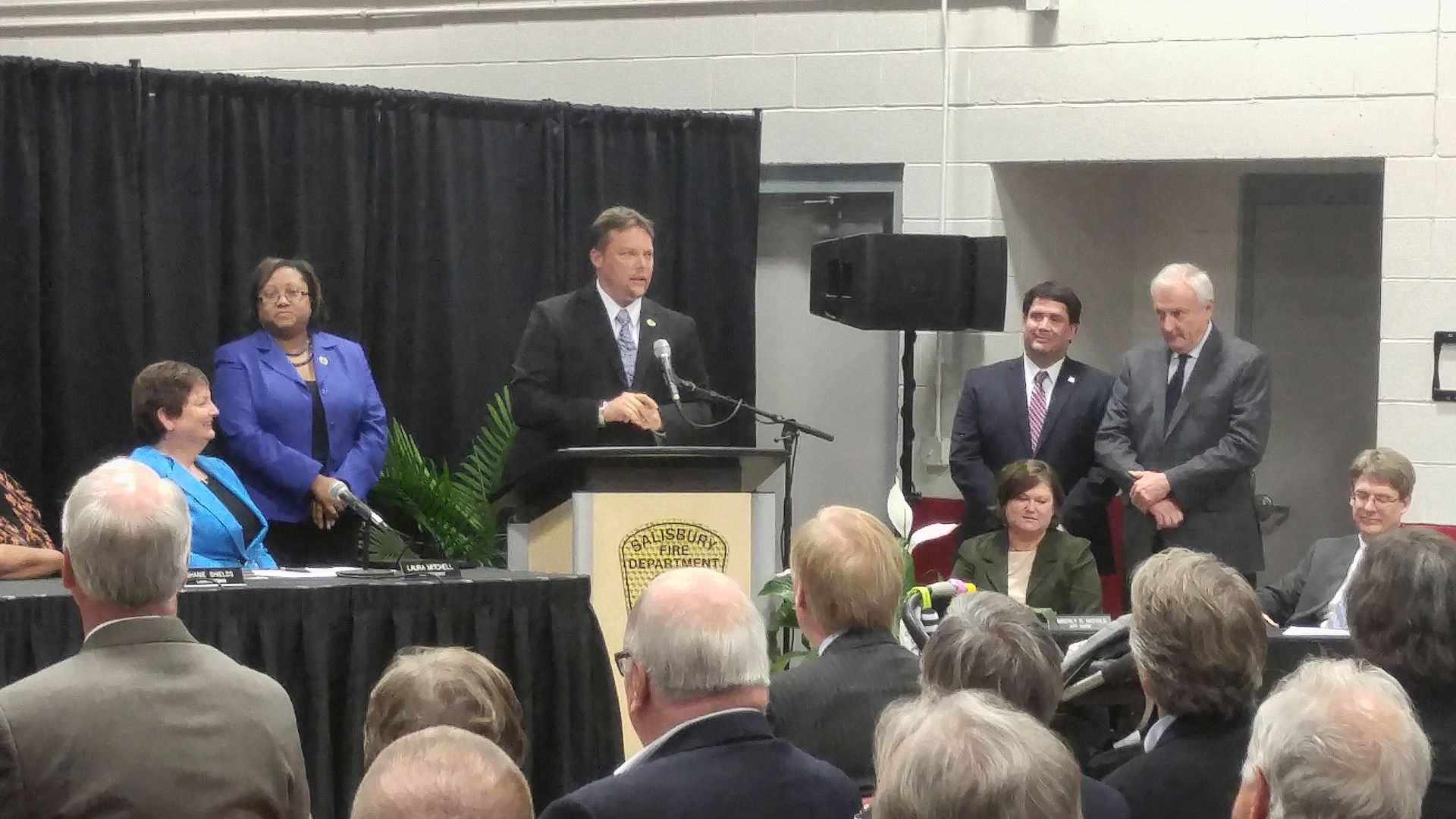 Ireton and Day, with help from Delegates Christopher Adams, Carl Anderton, and Sherrie Sample-Hughes, and Senator Jim Mathias, presented certificates to Shields and Spies. Anderton also revealed to the audience that Governor Larry Hogan had come through his cancer treatment successfully and was deemed cancer-free, which brought rousing applause from the gathering.
Once those who were leaving were honored, it was time to turn the page and swear in the new members. The Council went first, then Jake Day, with his wife and daughter by his side.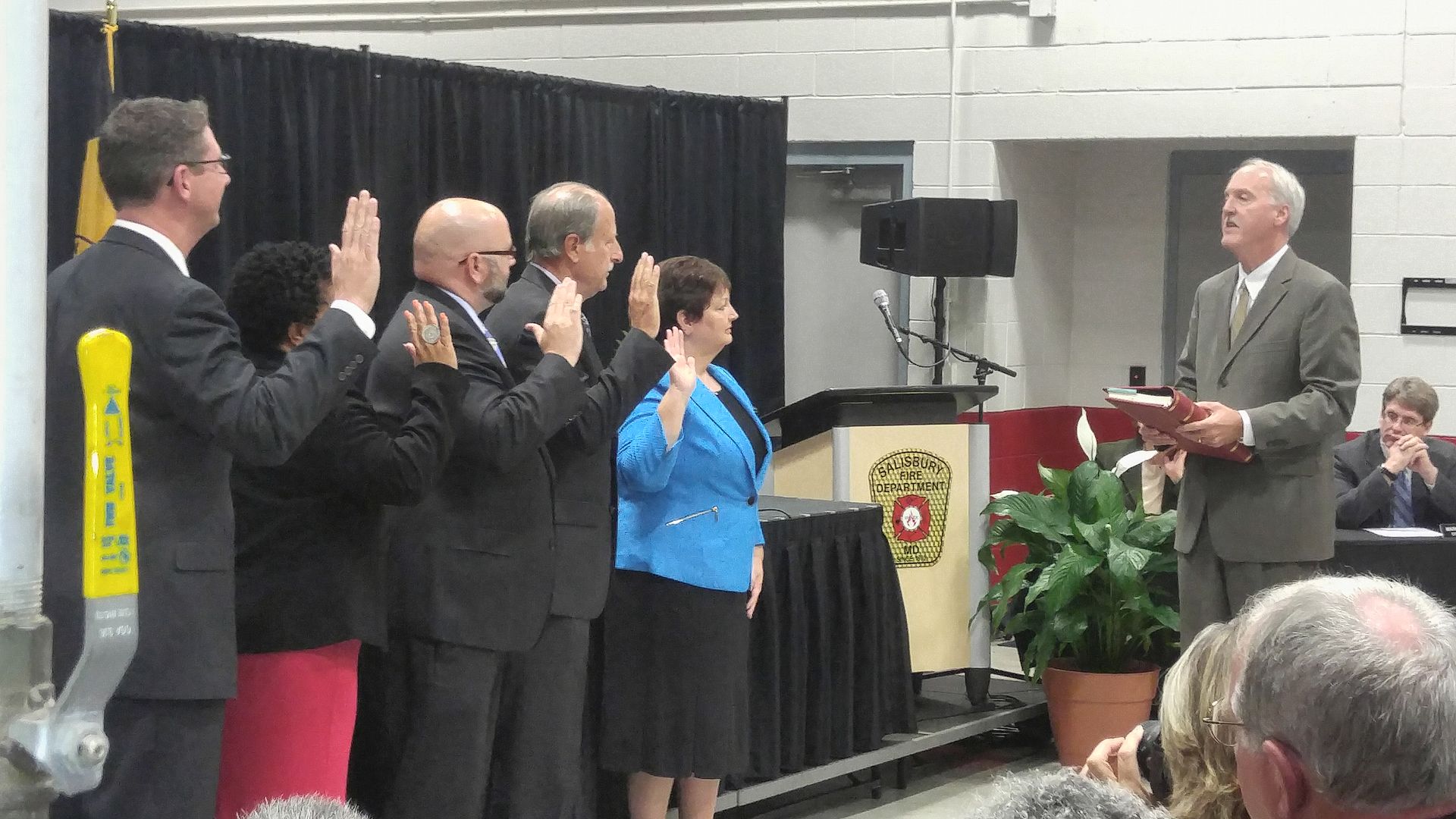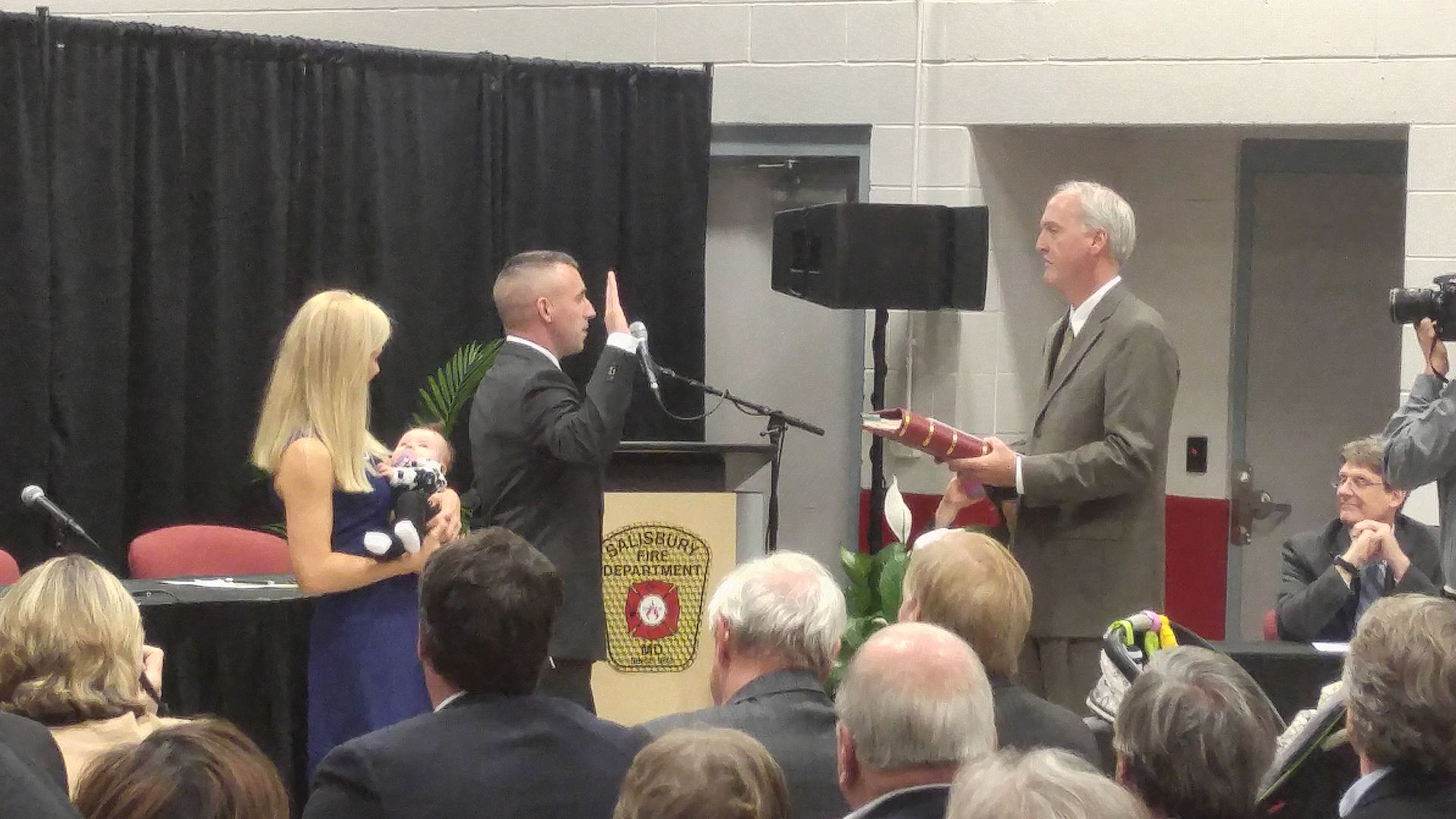 Our featured speaker was Comptroller Peter Franchot, who let us know "I'm a huge fan of Jake Day."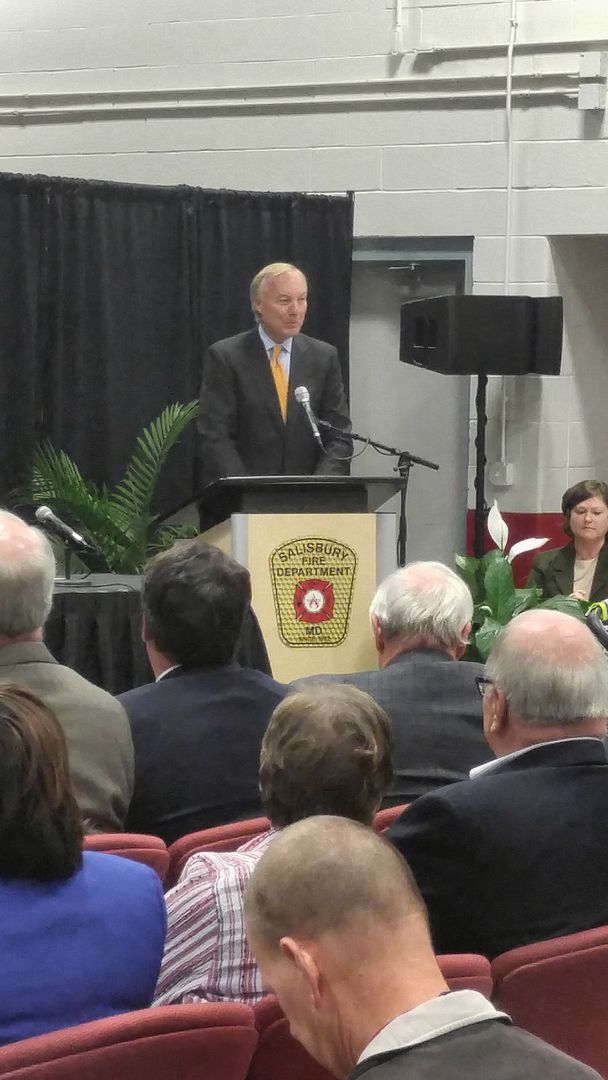 In his relatively brief remarks, he praised Salisbury as "a city on the rise" with "fresh talent (and) new energy." We were crucial to the state's economic fabric, concluded Franchot.
The Council did have a little work to do, though: electing officers. In what turned out to be uncontested votes by acclamation, Jim Ireton nominated Jack Heath to be Council president and Muir Boda nominated Laura Mitchell to its vice-president.
Once again, we heard remarks from the new Mayor and Council. Day made a laundry list of promises, concluding with a vow "we will give you a Salisbury we can be proud of."
It was noted that Muir Boda had won after multiple tries for office, to which he responded, "I'm finally here." Even though it was a long process for Boda, he was nowhere near as emotional as April Jackson, who choked up when she said, "I wish my dad could be here." A well-known community leader, Billy Gene Jackson died earlier this year. Once she regained her composure, she told the crowd, "I'm ready to go. Not to go home, but to get to work!"
As the new Council President, Jack Heath said mutual respect and inclusion was "his pledge." Once he spoke, he rapped the gavel and declared the meeting to be adjourned.
Because it comes on board at this point in the year, the Council will get to ease into its duties a little bit – the city's budget isn't due for a few months. But we will have crime and economic development to deal with, and that's a pretty full plate as well.
I think they'll do just fine. To wrap up, here's a guy I'm proud to call friend, Muir Boda, and his wife Briggit.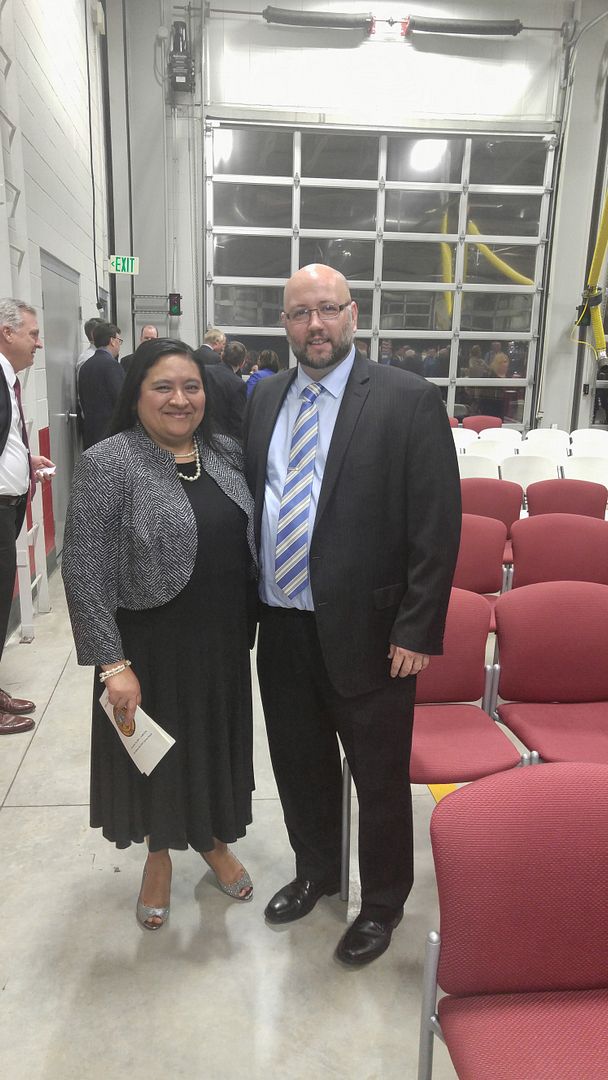 It took six years, but I'm pleased my support finally helped make him a winner. My advice to him? Get used to having your picture taken.
To borrow a phrase from Delegate Carl,Anderton, let's get to work!
A few weeks ago freshman Senator Ben Sasse from Nebraska made what is called his "maiden speech" on the Senate floor, and it was a thoughtful critique of the Senate's rules and the partisan arguments that the body has devolved to.
He cited a number of Senate icons: Daniel Patrick Moynihan, who Sasse praised for his curious nature; Margaret Chase Smith, who was unafraid to question those in her own party – even when she agreed with them on principle; and Robert Byrd, who cared most about the Senate as an institution. I realize this is about a 30-minute speech, but you can break away from the Ravens or Redskins game today to take the time to listen – and avoid having the foibles of those two losing teams spike your blood pressure.
In all seriousness, though, two of the points Sasse makes regard the constant travel and fundraising as well as the reflexive talking points they need to recite to create soundbites for the voters back home. It's really not supposed to be that way, and to me Sasse's speech can be part of an argument I have made over the last several years.
When you consider what the legislative branch was originally supposed to be, it's clear that the House was supposed to be of the people, who, if they found out the person they sent to represent them was a scoundrel, only had to wait two years to toss them out. To those who argued at our formation, it seemed like an appropriate enough time for representatives to establish themselves and still be accountable.
On the other hand, Sasse notes that an argument was made by some of the writers of the Constitution that Senators should have lifetime terms. As it was, they agreed Senators should have lengthier tenures of six years.
Yet the key differences between the House and Senate as originally applied was the latter's equal representation from each state and their selection by the respective state legislatures rather than the voters. Each state, regardless of population, was entitled to two members of the Senate – it was the result of a compromise between larger states which thought they should have a larger share of the say in our affairs and smaller states which felt like they should get their voices heard as well. Thus, little Delaware and its fewer than 60,000 inhabitants at the time would have equal status in one house of the legislature with Virginia, which had a population over ten times greater. While we now have the concept of one person, one vote for our states to abide by in all their legislative bodies, including their equivalents to the national House and Senate, the Senate was excepted.
Prior to the adoption of the Seventeenth Amendment in 1913, the Senate was inhabited by whichever two people the state legislature deemed worthy for the job – thus, you had statesmen and scoundrels alike, with absenteeism an ongoing issue. As part of the Progressive movement of the early twentieth century, direct election of Senators by the people was proposed and ratified. Fast forward a century and what do you find? Statesmen and scoundrels, who now have to hustle for campaign cash to be re-elected every six years and don't always show up, either. While the argument can be made that the Senate is far more accountable now, it doesn't seem to give the people any more faith in Congress. So why not revert back to the old way?
For one thing, we've seen the interests of states recede in our political system. More and more, the states are becoming simple lines on a map that give out different colored license plates because the federal government runs roughshod over their interests. Indeed, there is a Constitutional supremacy of the federal government but this should stop at affairs each state should be equipped to handle on its own.
Sasse alluded to the short-term thinking of the Senate in this era, and that's also reflected in the body's makeup. Several successive "wave" elections have radically changed its makeup, reflecting voter preference of the day: the leftist tide that ejected the Republican majority and brought Barack Obama to office at the end of last decade yielded to the rightward TEA Party wave that retook the House for Republicans in 2010 and the Senate four years later. Had the Senate been insulated from the fickle nature of the voter, change would have been more gradual. Certainly, ascending Republican fortunes on a state level would be gradually shifting the Senate rightward, but at a slower pace.
Restoring the pre-Seventeenth Amendment method of selecting Senators would also make state legislative elections far more important, as chances would be great that at least one Senator would come up for reappointment during a term. States that value diversity, moreover, could make their own waves with their appointments and not leave it to the will of the voters. Also, without the worry about advocating a politically incorrect viewpoint – lest their opponents make a campaign commercial out of it – Senators would be more free to speak their minds and engage in the style of debate Sasse advocates.
It's generally the Left which advocates for getting money out of politics, so what better way would there be than to take the direct election process for Senators out of the hands of the voters entirely? Just in Maryland alone, it's a certainty that the candidates running for the open Senate seat on the ballot next year will spend $15 million or more to get through a contested primary and general election because they have to secure more votes (at least in the Democratic primary, where much of that $15 million will be spent) than Sen. John Barasso did to easily win his 2012 election in Wyoming. To keep his Senate seat from Wyoming, Barasso got 184,531 votes – that total would have placed him a distant second in the 2012 Democratic Senate primary here in Maryland, let alone being an also-ran in the general election. And Maryland, in turn, is small potatoes compared to states like California, Texas, or Florida.
This may seem like a counter-intuitive argument to make from one who has forcefully argued that our local school board should be elected for accountability's sake. But I agree with Sasse that the bureaucracy in the federal government has become its fourth branch, one which is contributing to the imbalance between the legislature and executive branches. Currently we have an executive run amok, although he's just the latest in a string to do so. It's a philosophy expressed by the phrase attributed to Clinton advisor Paul Begala: "Stroke of the pen. Law of the land. Kinda cool."
Directly or indirectly, the people were made responsible for at least a portion of two of the three branches of government, electing a House of Representatives and a slate of presidential electors that rarely stray from the party line of how the state as a whole voted. Their interests were balanced out by the states, represented in the Senate, and the judiciary which wasn't selected by the people but by the executive with the permission of the Senate. (This insulated them from undue influence.)
In the manner of "progress" we have moved to a system where Senators are just another class of politicians. Certainly I have my favorites among the group, but as a whole I think we may be better served by going back to the original system. We realized the mistake of the amendment following the direct election of Senators (Prohibition) and repealed it in short order, so there is precedent for removing this error as well. Let's bring back the balance.
In an off-putting sort of way, this is a good, well-crafted album. This despite the fact that it's a collection of "not quites" – not quite country, not quite folk, and not quite acoustic. Poor Hatton seems to sing a lot about not quite having relationships as well, as this is a collection filled with poetic odes to lost loves. In some curious manner, though, he makes it all work for ten solid, reflective songs.
"Walls" kicks off with the brief, country-tinged Backed By The River before switching gears into the lively, harmonica-flavored Brothers and upbeat Going Home. Along with the snappy drum line of Plastic Dreams, these are some of the less somber songs on the album.
It was also about that point I began to notice Hatton employs an interesting technique of building his songs, adding instruments at times you wouldn't expect. In the case of my pick for best song on the album, She's Gone, Hatton starts with acoustic, brings in bass early on, adds harmonica at the first bridge, and drums at the second so that it's a rocker by the end. This is something other artists employ, of course, but Hatton's approach is more unique than most. He's credited with playing everything but the drums, so it was likely the tracks were laid separately and added after the basic acoustic guitar.
Whether it's a brief full-band bridge on Oncoming Lights (for Casey), the harmonica midstream on I Feel Fine (Everything's Alright), the drumbeat on Roanoke, or the brief full-band with electric guitar on Coast To Coast, Hatton builds the songs with the acoustic then adds the other instruments as fluorishes, generally at the bridge between stanzas. Only Wish I Had The Sense, the last song, stays almost exclusively acoustic, with just a bit of maybe a mandolin featured. Naturally this style lends itself to playing solo in small venues, which is where the lyrics can shine.
Ban Hatton isn't a household name in the music business, and I don't quite think this compilation will quite make him one. But like many of his songs, I think this is the first step in a progression which may lead him to more regional exposure – frankly, being from Virginia I'd be surprised if he hasn't played someplace around here before. If not, this may be the time to road-test these stories of heartbreak.
So listen for yourself, and if you like it give the poor guy something to write a happy song about.
By Cathy Keim
Editor's note: It was through complete happenstance that Cathy sent me this account yesterday, but in the wake of the terror in Paris I thought it was incredibly good timing so we can prepare for when our turn comes – and it will come.
Earlier this week I was able to attend a class on Civilian Response to Active Shooter Events (CRASE) sponsored by the Maryland State Police. It was taught by Corporal Ted Antal and Trooper First Class Steve Hallman.
The poster announcing the class states: "The world we live in is changing rapidly and threats to our way of life are all around us. Come out for an evening of learning how to increase your chances of surviving an active shooter event. The Civilian Response to Active Shooter Events (CRASE) course, designed and built upon the Avoid, Deny, Defend strategy developed by ALERRT in 2004 provides strategies, guidance, and a proven plan for surviving an active shooter event. Topics include the history and prevalence of active shooter events, the role of professional guardians, civilian response options, medical issues, and drills."
The class lasted a little over two hours and was packed with information to get you thinking about what you would do to survive if caught in a Ft. Hood, Columbine, Sandy Hook or Aurora, Colorado situation. They made the point that these shooter events are increasing, with 160 Active Shooter Events identified by 2013.
The Department of Homeland Security defines the Active Shooter as "an individual actively engaged in killing or attempting to kill people in a confined and populated area; in most cases, active shooters use firearm[s] and there is no pattern or method to their selection of victims."
The instructors pointed out that an active shooter event (ASE) is different than a robbery or an assault. The shooter's sole intention is to kill, so your strategy must recognize this fact and plan accordingly. They also advised everybody to join the DO NOT NAME THEM campaign. These killers are cowards that want notoriety by their wicked deeds. Do not give them that satisfaction. Do not use their names, as that is what they were seeking.
The next segment of the presentation was very interesting as it delved into the psychology of a disaster response. Amanda Ripley in her book, The Unthinkable: Who Survives When Disaster Strikes – and Why explains how with a little training the brain can function much better when a traumatic event occurs.
She applies three steps to the response cycle:
1. Denial
2. Deliberation
3. Decisive Moment
The faster that you can move through denial and deliberation and get to the action of the decisive moment, the more likely you are to survive the earthquake, fire, or ASE. The instructors used videos, recordings of actual events, and simulations to drive home their points, one of the most important being that Ms. Ripley found: "Most unexpectedly, she discovers the brain's ability to do much, much better, with just a little help."
Despite the horror of the situations that the troopers were presenting, they kept coming back with that point: Training can increase your ability to respond to a crisis. While civilians are not going to have the resources or the ability to access the type of training that the military and police take part in, we are still able to take responsibility for our families and ourselves. Even if somebody is able to call 911 when an ASE occurs, the police will not arrive for crucial minutes. You are on your own to survive until help arrives.
You are not helpless. You can take action to Avoid, Deny, Defend. If you can exit the situation, then do so quickly and then call 911 for help. If you cannot escape, then deny the shooter access to you. Barricade yourself in a room, but don't just curl up in a fetal position. Prepare to defend yourself with whatever you have available. Be creative and think outside the box.
Finally, they reviewed what happens when the police arrive. I found this section very interesting as they explained the priorities of the police. They are not there to help the wounded. They are there to stop the killing. They will not stop, even for an injured partner, until they stop the killers. The logic is obvious once you think about it: if they stop to help people, the killer can continue to kill others. Once the killers are stopped, then they switch to stop the dying, and finally evacuate the area.
For your safety when the police arrive be sure to follow commands, show your palms, and do not move. If you are armed, put the gun on the floor. The police are coming into a dangerous situation and they cannot know whom the bad guys are. Do not complicate the situation for them. They will probably shout at you because their adrenalin is pumping too. Just do what they scream!
Trooper Hallman suggested that you buy some tourniquets and have one in your desk at work and one in your car. Blood loss is the primary cause of death in a shooter event, so being prepared to stop the bleeding from a gun wound can save a life. Sadly, people do bleed to death before the EMS teams can get into the building.
You can purchase a tourniquet that you can put on yourself or another person for about $25. Having some emergency medical supplies in your desk at work, car, and home can save lives.
Another tip that I have heard before is to carry a tactical flashlight. You can temporarily blind an assailant with the bright light and/or you can hit them with it.
None of this information is going to turn you into Rambo, but it could buy you precious time to escape or survive in a disaster. Just taking the time to think through some situations and buy a couple of medical supplies could have great benefits.
A last word from Corporal Antal and Trooper First Class Hallman was that if you are involved in a disaster, be aware that there will be long lasting mental trauma from the event. Be sure to reach out and get the support that you need from professionals, family, or friends.
The next CRASE training is not scheduled yet, but you can write to Trooper First Class Hallman at Stephen.Hallman@Maryland.gov for further information. This presentation is well worth attending.
By Cathy Keim and Michael Swartz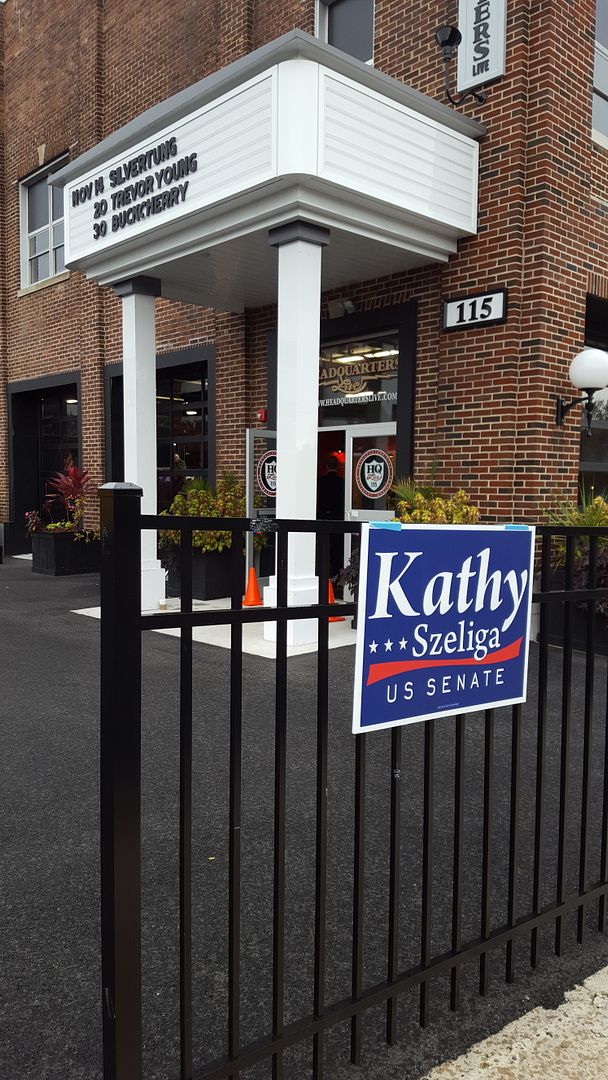 This afternoon about fifty people gathered at Headquarters Live in Salisbury for the Kathy Szeliga for U.S. Senate announcement tour. It was a political who's who for the Eastern Shore with Delegates Carozza, Otto, Anderton, and Adams there to support their fellow delegate, Kathy Szeliga, as she formally jumped into the U.S. Senate race. Also present were State Senator Addie Eckardt, County Executive Bob Culver, County Councilman Marc Kilmer, Sheriff Mike Lewis, and State's Attorney Matt Maciarello.
Congressman Andy Harris started off the introductions for Delegate Szeliga, who once served as his chief-of-staff. He was enthusiastic in his support for her Senate bid.
Businesswoman Michelle Fager was next on the podium proclaiming Kathy Szeliga as the poster girl for the American Dream. Fager related the story about how Szeliga started with very little, but began building a construction company with her husband while raising two sons and going to college.
College Republican Elizabeth Swan followed saying that Delegate Szeliga's life story inspires college students to believe that the American Dream is still alive.
Finally we reached the main speaker. Delegate Szeliga gave a stump speech emphasizing her common man background. She met her husband in Ocean City thirty-six years ago when he was a Bonfire busboy and she made subs. They eloped a few months later when she was only 18. They believed in the American Dream and worked hard to achieve it.
Once they had a construction company, she realized the amount of regulation and paperwork that inundates small businesses. She is for reining in government because of this experience.
She went on to work as Andy Harris' Chief of Staff when he was a State Senator and then was elected to the House of Delegates in 2010.
In her remarks, Szeliga noted things are finally moving in the right direction in Maryland with the election of Governor Hogan, so now it is time to switch to Washington. As a grandmother, she added, you look at your grandchildren and wonder if they will have the opportunities that you had or will they just have a pile of debts? Is the American Dream fading?, asked Szeliga.
It is not too late to turn it around, she said. Szeliga is running with three goals: to improve the quality of life, improve security, and improve the schools. As she described it, the federal government is too big, too distant, and too gridlocked. The paralyzed federal government can't meet our basic needs in the areas of health care or fighting terrorism.
America is exceptional, Szeliga continued. Americans are motivated by love of life, love of family, and love of country, and she will work for these goals. She asked for our votes so that she can go to Washington.
Given yesterday was Veterans Day, Szeliga also pointed out she is an Army brat. Her father served 20 years in the Army, and she didn't meet him until she was one year old because he was deployed when she was born. Moreover, her grandfather signed up on the day after Pearl Harbor and fought in North Africa during WWII. With that in mind, she believed we needed to fix the VA.
Szeliga made a point that Michael has brought up on occasion regarding vocational education. We need kids to consider honorable jobs like plumbing rather than just assuming all the good jobs require a four year degree – after all, you can't outsource your plumbing to China. Every child is unique.
I asked her about a bill she sponsored last year, HB 1513, better known for being the effort to change the composition of the Harford County Republican Central Committee.
Kathy seemed quite perplexed why I would bring up old stuff. I said I was asked to inquire about that. She said that bills often get proposed to start a conversation, but once they get discussed and unintended consequences become evident, then they are dropped. That bill never went anywhere when it was realized that it was not worth pursuing. This is good that many bills never make it out of committee because many of them do not deserve to move forward, but they do allow conversations to occur.
I also asked her about this quote:
GOP lawmakers in Washington currently are divided over an effort to tie government funding to cuts for Planned Parenthood. Asked about the debate, Szeliga said she would support legislation to keep the government open even if the measure did not address funding for the organization, which performs abortions and other medical procedures.
"I think it is unwise to shut down the government," Kathy said. She said that when government is shut down the taxpayers are just giving the government workers a paid vacation, but the contractors and small businesses don't get paid and it is hard on them.
She would be willing to shut down the government in exceptional cases, though.
I should add there were no questions from the floor, so I asked my questions privately later. It was a love fest, not a serious PR time, although the Daily Times had a reporter there and WBOC and WMDT had cameras there.
The Salisbury stop was the last on a three-day announcement tour. And while he wasn't there to make the announcement in person, it should be recorded that City Councilman-elect Muir Boda made his first endorsement as an elected official:
Kathy has served diligently in (the) Maryland House of Delegates and earned her right as a leader in the House of Delegates serving as the Minority Whip. She is an extraordinary legislator and I believe her experience and her abilities will serve her well in the United States Senate.

With all of that said, I wholeheartedly endorse Delegate Kathy Szeliga for the United States Senate. Kathy stands out above all others in the field who are running for the Senate and I firmly believe she is the best choice for Maryland to represent us in the United States Senate.
So her campaign is coming together, although polling would suggest she's slightly behind another (undeclared) candidate for the nomination. With fundraising reportedly off to a strong start, though, Szeliga should be considered among the top tier of challengers for now.
Beginning a three-day announcement tour in Annapolis yesterday, Delegate Kathy Szeliga made what many considered the worst-kept secret in Maryland politics official: she's tossing her hat into the ring for a seat in the United States Senate. But it's not just any seat: if you believe the Washington Post, it's the Mikulski seat.
Regardless, she becomes the first elected Republican to seek the seat, which will probably draw a crowd: ten years ago, the last time an open Senate seat came up, nearly thirty hopefuls – elected officials and perennial candidates alike – took their shot at the brass ring. Eventually surviving the primaries were Rep. Ben Cardin and Lt. Gov. Michael Steele, with Cardin prevailing by ten points on Election Day.
The 2016 version of this scrum may bring three Democratic House members together, as Donna Edwards and Chris Van Hollen are already in and Elijah Cummings is thinking about it. (In turn, this will make next year's General Assembly session interesting as several state legislative members consider the vacated seats.) On the other hand, the GOP side is currently occupied by Richard Douglas, who ran in 2012 but finished second in the primary behind Dan Bongino, onetime Ehrlich administration lawyer Chrys Kefalas, disabled Navy veteran Anthony Seda, and Szeliga. There is also the possibility Harford County Executive (and former State Senator) Barry Glassman may get in, according to this piece at Maryland Reporter.
Some suspected Maryland's lone Republican member of Congress, Andy Harris, would make a bid but it appears he's backing his onetime chief of staff. "I know her to be a tough, smart woman from Baltimore who's not afraid to take on the political establishment to get real results for Maryland families," said Harris in a statement.
Meanwhile, it didn't take long for the candidate to fire up the e-mail appeals. If this is her basic message, she seems to riding the populist wave (as opposed to full-throated conservatism.) Here's a sample.
We have a paralyzed government incapable of solving even our most basic needs. I for one can no longer standby (sic) waiting for those we've sent to Washington to solve our problems, because they haven't. And I'm not naïve enough to think I can just ride into the Senate on a white horse and do it all by myself. It's going to take a lot of new people who aren't professional politicians to step up – average citizens with college degrees and others without. Goodness knows, they can't be any worse than the gang running things now!

Deep in our hearts, most of us – regardless of political preferences – believe in the promise of America and the power of the American Dream. We are agents of change motivated by our love of God, family, state and country. We want to rediscover a way of life as it used to be; when things really did work.

I want to serve in the US Senate to champion those forgotten Americans who are decent, responsible citizens yearning for the opportunity to work hard, pay the bills, raise a family, live a full life and yes, dream again what we seem to be losing – the American dream.
Unfortunately, when she comes to Salisbury tomorrow I can't be there, so I'm doing the next best thing and sending my cub reporter. I think Cathy will give me the coverage I need as a vital race begins to take better shape.
You wouldn't think much about South Dakota, which is a state squarely in flyover country and fated to be close by – but not the center of – several economic, cultural, political, and geographic phenomena. It lies just off the booming North Dakota oil fields, dosen't have a major league pro sports team like neighboring Minnesota does, misses the campaign excitement of Iowa just across the Big Sioux River, and is one state east of the majesty of the Rocky Mountains.
Yet South Dakota has one neighbor that it's trying to emulate, and the impetus behind that is, in part, from a candidate who's been destroyed electorally in that state by running as a populist liberal, Rick Weiland. He's a guy I've quoted, featured, and snickered at on occasion here, but give him credit for not giving up. At least he's not tossed me off the mailing list – perhaps bad press really is better than no press at all.
After having his doors blown off in the midterm Senate run last year, he put his energy into a website called TakeItBack.org, which has lent itself to an initiative called South Dakotans for a Non-Partisan Democracy. Its goal is to scrap partisan elections in the state via a referendum on next year's ballot in order to match its neighbor to the south, Nebraska. Not only is Nebraska the only state to have a unicameral legislature, but they elect all of its members on a non-partisan basis with the top two finishers in the primary advancing to the general election regardless of party.
Given that South Dakota has Republican domination, certainly the cynic can easily argue Weiland is just trying to fool the voters, albeit with the backing of a popular local talk radio host. Yesterday they announced the initiative had more than enough signatures to make the ballot for 2016 – South Dakota is a state which allows citizen-driven referenda without a corresponding act from the legislature.
I'm sure this is a rhetorical exercise because Maryland doesn't allow citizen initiatives, but it makes me wonder how the Maryland conservative movement would fare under such a system if it were introduced here? Obviously there are thousands upon thousands who almost reflexively vote for the first Democrat they see on the ballot, but what if that security blanket were taken away? The Justice Department didn't want to find out in one city, but eventually relented.
We didn't have a primary in the recent Salisbury election, but if we had (as was the case in previous elections) the lone white candidate would have been eliminated in District 1 (a majority-minority district), one minority candidate would have moved on in District 2 (also a majority-minority district), and a minority candidate would have been eliminated in District 3. Racial minority hopefuls ran in three districts but won just one seat in these non-partisan elections.
But Salisbury scrapped its partisan primaries some years ago, allowing candidates who are unaffiliated to run on an even playing field with those having partisan backing. Arguably this may have helped Muir Boda, although he was successful in far greater measure based on the work he put in. We'll never know if not being specifically identified as a Republican would have helped or hurt his cause, although having a slew of statewide Republicans helping him may have yielded a clue to the discerning voter.
Unlike South Dakota, which doesn't have a Congressional gerrymandering issue because there's only one House member from the state (it's less populated than Delaware), Maryland Denocrats stand in the way of non-partisan solutions because they run the show. They even complain about the Hogan redistricting commission because (gasp!) drawing boundaries in a way that makes geographical sense could make the Congressional delegation 5-3 Democrat – never mind it's a closer proportion to voter registration than the result of the current scheme Martin O'Malley put in place. While the House of Delegates comes relatively closer in proportion to registration numbers, the districts there were still drawn in such a fashion that safe GOP districts on average have more population than safe Democrat ones.
If my home state can do a redistricting reform, so can Maryland. If going to non-partisan elections is a worthy goal – and I suspect some of my unaffiliated friends may agree – the first step should be getting the districts in order.
Political junkies know the first Friday of the month will generally bring the unemployment rate and job creation numbers from the previous month. As of Friday, the government told us we were at 5% unemployment for the first time since the Bush years, when economists talked us into a recession. (This was back when tepid job growth actually increased the unemployment rate. Of course, people blamed the president at the time.)
Be that as it may, though, there were no net manufacturing jobs created during the month, a fact which concerned pro-manufacturing organizations like my old friends at the Alliance for American Manufacturing. To quote their president, Scott Paul:
Underneath the euphoria over a good topline employment number is this fact: Manufacturing hasn't gained a single net job since January. 

That's terrible news for our economy. The effects of China's industrial overcapacity can be seen in waves of layoffs in American steel, aluminum, and other manufacturing sectors. This weakness in factory hiring comes at a very inconvenient time for the proponents of the TPP, which analysts predicted will widen our record manufacturing trade deficit. (Emphasis in original.)
Regarding the TPP, the U.S Business & Industry Council (USBIC), an advocacy organization for small businesses, said in a statement that the TPP is full of "special deals" for multinational businesses. USBIC president Kevin Kearns:
The TPP is anything but the free trade agreement it purports to be.  The use of the term 'free trade' is simply a codeword designed to attract the support of Congressional Republicans who lurch zombie-like to support anything so labeled, without examining the fine print.

A real free-trade deal could be written on a single sheet of paper, with commitments to remove all tariffs and non-tariff barriers of any kind.
Over at the National Association of Manufacturers (NAM), writer Linda Dempsey demanded a thorough review of TPP's provisions. All this makes it clear that manufacturers are wary about the effects of this trade deal. I also covered some of the other potential pitfalls on Friday for my weekly Patriot Post piece, which leads me to wonder: just who the heck is for the deal?
Well, actually, NAM is part of a broad coalition of business interests seeking the deal, which makes it less of a Main Street vs. Wall Street issue and mote of a tug-of-war between union interest in protectionism and businesses after free trade. But one question worth asking (as Kearns does) is why we need over 5,000 pages of agreement to clear the trade docket? One can also ponder what benefits we really get as the largest partner by far – it's not a coalition of equals by any stretch of the imagination, although depending on the source the per capita GDP has been measured slightly higher than ours for partners Australia and Singapore.
If there was ever a case where the devil is in the details, this may be the one. I noted in Friday's article that time is not of the essence – the 12 nations have up to two years to ratify the agreement, with only 6 (one being the United States) being enough to enable it under certain conditions. (It boils down to we have veto power, and Japan also might depending on the direction of its GDP compared to the dozen as a whole. The Japanese are close to the 15% of total TPP GDP needed to sink the deal if they don't pass it. By the way, we have a roughly 65% share so we are by far the biggest frog in this little pond.)
The concept of free trade works best among equals. Unfortunately, there aren't many peers at the level of the United States so you get the complexity of the TPP, which I won't dare profess to understand. Just on gut instinct I think the acronym KISS is in order here but when it comes to modern government it seems we can only weave tangled webs.