By Cathy Keim
In the long ago year of 1988, my husband and I made the decision to homeschool our children. I had previously made up my mind that I would teach my children to read figuring that if they could read, then they would be able to handle whatever came at them in school. Even in those faraway times, we had serious concerns about what and how things were being taught in the government schools. Our plan progressed to the point that we enrolled our first child into a small church school where the parents all participated in the school in various professional or volunteer positions. Since I had a Bachelor of Science in Chemistry, I was given the sixth grade science class four days a week. This meant that my younger children had to go into the nursery manned by other volunteer parents.
I had taught our oldest child to read at age four, which I told the teachers when they were testing him for grade placement. They scoffed at me and said that he had just memorized the books from me reading them to him. They whisked him away to test him and came back to inform me with great wonder that he could read.
That should have tipped me off that trouble lay ahead as I was openly discounted from having any knowledge of my own child since I was just a parent. They wanted to push him ahead to the first grade class, but I didn't want him to be with older children. They allowed him to enter kindergarten and I began teaching sixth grade science.
Within days, my sweet little son came home from school swaggering and bossing around his younger sisters. They were beneath him now that he was a big guy that went to school! I was astonished at the change. Next I found out that the kindergarten teacher was having my son read to the other children while she took care of other matters.
I was diligently preparing science lessons and science experiments to wow my sixth graders. Instead, I found that they had a pecking order firmly in place as to who was the smartest student and who was the dumbest student and they were not interested in learning for the joy of learning.
I was blown away that as early as sixth grade this very small class of students being taught by loving Christian teachers and parents was jaded and uninterested in learning for the sake of learning. I began to question why I was depositing my little ones in a nursery while I taught uninterested students and my own son was getting an inflated ego, but not learning much.
That was the end of our schooling experience. We became homeschoolers and never looked back. For many years, I did not encourage parents to homeschool. I figured it was a personal choice and I knew how much time and effort it took, so I didn't push it on people. If anyone asked, I would wax lyrical on the many benefits of homeschooling. The benefits were many and well worth the hard work that I put into the homeschooling, but I didn't push people to join me.
Times have changed though. If my husband and I thought the schools were bad in 1988, we had no idea what was coming down the pike. Now, whenever anybody asks, I am quick to tell them that homeschooling is the best choice. If they cannot homeschool, then their next option is a private Christian school. I would not send my child to a government school, not for the magnet program, the sports team, or the IB program. The indoctrination, the mediocrity, and the violence make it impossible for me to advise anybody to go to a government school.
My husband and I wanted our children to love to learn and to know how to find the information they needed to learn whatever they needed to learn. In the lower grades I taught to completion (that was how I described it). It meant that they didn't move ahead until they were rock solid on the foundational knowledge. It is hard to do algebra if you don't know your basic math facts. You can't write well if you don't know grammar.
I could write on and on about this, but I don't have to since my friend, Sam Sorbo, just wrote They're Your Kids: My Journey from Self-Doubter to Home School Advocate. With her usual incisive wit and to the point plain speaking she makes the case for homeschooling. I have written a few pieces on the ills of Common Core, but Sam puts the information at your fingertips in a quick-to-read, but devastating review of our government schools. Then she picks you up and puts your feet on the path to success as she encourages you to join her and her family on the daily adventure that is homeschooling.
I laughed out loud when she told about her son becoming the swaggering big man after a short time at school. I had witnessed the same unhappy transformation in my own son back in 1988. Happily, I can join Sam in telling you that your children can come home and shed these unwanted changes.
Sam explains how you can pick up your homeschool and travel for work or vacations without missing a beat. We found this particularly helpful since my husband would have conferences in wonderful locations like Boston, San Francisco, or Sanibel Island. We would study up on what museums, zoos, aquariums, historical sites, or geological wonders were going to be available at the conference location.
Each family will have their own unique homeschool style based on their interests and their needs. Parents, you will know your children and the bonds will be deeper between your children since they will not be separated from you and from each other for most of their waking hours. When you identify a problem area for your children, you will deal with it because they are with you and it must be done. Too many parents send their children off to let the teacher fix the problem.
This book is like hearing myself talk as Sam hits one point after another that I dealt with as a homeschooling mom. She addresses the insecurity that I believe all homeschooling moms feel from time to time (or let's be honest: daily!). When you ship your children out each day, you can blame the school or the teacher or their peers when things go wrong. When you are the teacher, you feel that it all is on your head. The truth of the matter is that as parents we are responsible for our children's education, so whether you homeschool or get somebody else to educate your child, you as the parent are still where the buck stops.
As Sam puts it: "Let's not fool ourselves: homework is home school, just with more pressure, later in the day, when everyone's tired, hungry, and grouchy." So why not skip outsourcing the most important job you can ever have and bring it home. Read Sam's book and if you have questions, just drop me a comment. You can start your own family's adventure.
Here is a clip of Sam's interview on Fox and Friends about her book.
Commentary by Marita Noon
Any comprehensive review of green energy and its politics and policies has to include the name of wealthy liberal Tom Steyer – who has been called the environmental movement's new "Daddy Warbucks."  Having made his billions from his tenure atop Farallon Capital Management – much of it from coal projects around the world – Steyer apparently had an environmental epiphany and now wants to atone for his past sins by trying to save the planet from manmade climate change.
He is using his wallet to try to elect candidates who will promote policies and energy plans that agree with him. And that plan is "green." As I've previously reported, he spent nearly $75 million in the 2014 midterms and intends to top that for the 2016 election cycle. Steyer - a long-time donor to Democratic causes - was a 2008 Hillary Clinton supporter. After her campaign failed, he emerged as a bundler for Obama in 2008 and again in 2012. Additionally, Steyer is a Clinton Foundation donor, and last year, at his San Francisco home, he held an expensive fundraiser for Clinton's 2016 presidential run.
Along with researcher Christine Lakatos, whose Green Corruption File was recently praised on the Michael Savage Show, I've repeatedly addressed Steyer's involvement through our work on President Obama's Green-Energy Crony-Corruption Scandal. Anytime there is a pot of government money available for green energy, as Lakatos found, Steyer's name seems to be attached to it. Some of the most noteworthy include: Sungevity, ElectraTherm, and Project Frog – all funded by Greener Capital (now EFW Capital), which is a venture firm that invests in renewable energy, with Steyer as a known financial backer.
Steyer claims to have "no self-interest" in his political activism. The Los Angeles Times quotes him as saying: "We're doing something we think is good for everyone." Yet, as Forbes columnist Loren Steffy points out, he is spending his fortune lobbying for "short term political gains" rather than into research and development "aimed at making renewables economically viable."
While he may say what he is doing is good for everyone, the policies he's pushing are good for him – not for "everyone." The Washington Post called him: "The man who has Obama's ear when it comes to energy and climate change." In California, where he has been a generous supporter of green energy policies, he helped pass Senate Bill 350 that calls for 50 percent renewable energy by 2030. California's current mandate is 33 percent by 2020 – which California's three investor-owned utilities are, reportedly, "already well on their way to meeting." It is no surprise that California already has some of the highest electricity rates in the country. Analysis released last week found that states with policies supporting green energy have much higher power prices. In October, Steyer spent six figures for an ad campaign calling for the next president to adopt a national energy policy similar to California's: "50 percent clean energy mix in the U.S. by 2030″ – which will raise everyone's rates.
With Steyer's various green-energy investments, these rate-increasing plans are good for him but bad for everyone else – especially those who can least afford it. And, it is the less affluent, I recently learned, he's targeting with predatory loans for solar panels through Kilowatt Financial, LLC, (KWF) – a company that listed him as "manager" on corporate documents. KWF recently merged with Clean Power Finance and became "Spruce." The financing structure used, according to the Wall Street Journal (WSJ), allows "homeowners to get solar systems at no upfront cost and then to pay monthly for the use of the power generated. Homeowners end up saving on their total electricity use, while financing companies get steady revenue over 20 years." WSJ, points out, the KWF financing can be offered to "people who wouldn't be approved otherwise."
In the KWF model, contracted payments come from homeowners and "create a steady and reliable income stream, part of which is owned by its venture investors, including Kleiner Perkins." About the arrangement, KWF chairman and Chief Executive Daniel Pillmer said: "Kleiner Perkins will make a lot of money." Apparently, the money to be made is from selling the loans that are then securitized on Wall Street – much like the "sub-prime" mortgage crisis that offered loans to people who couldn't qualify with "traditional lenders." KWF's website brags: "We support financing terms for almost every customer and provide ways for dealers to participate in the pricing process to generate even more approvals and create even lower consumer rates." KWF offers "Instant Approvals, even for customers with lower credit scores" and "Same-as-Cash and Deferred Payment Offers." In these types of payment plans, a low rate is usually offered in the beginning and increases retroactively if all the terms of the loan are not met.
In this model, the homeowners don't actually own the solar systems – which means KWF receives the benefit of the federal tax incentives, such as the 30 percent federal "Investment Tax Credit," designed to benefit the owner of the solar system.
It is practices like this that have drawn the ire of Congress. Several congressional Democrats sent a letter to the Consumer Financial Protection Bureau that warned about the similarities between the solar industry and what led to the subprime mortgage crisis: "easy initial financial terms, increased demand and a rapidly expanding industry." These factors create a high risk potential that could, ultimately, be harmful to consumers. Similarly, Republicans sent a letter to the Federal Trade Commission that noted pressure from Wall Street is reportedly leading companies who use "potentially deceptive sales tactics" – which doesn't sound like it is something that is "good for everyone."
Yet, it is these very types of finance products, promoted by Steyer's Kilowatt Financial that Greentech Media reports are "doing well."
While Steyer claims to want to give everyone a "fair shake," his pet policies increase costs for everyone, and offer a hand-shake for Wall Street. Steyer and his billionaire buddies win, "everyone" else loses. This is how the green-energy crony-corruption scandal works: the political pals profit while the taxpayers get fleeced.
The author of Energy Freedom, Marita Noon serves as the executive director for Energy Makes America Great Inc., and the companion educational organization, the Citizens' Alliance for Responsible Energy (CARE). She hosts a weekly radio program: America's Voice for Energy - which expands on the content of her weekly column. Follow her @EnergyRabbit.
If you have read my site over the last couple weeks, you'll know that I had a fascination with how the slates of delegates and alternate delegates to the Republican National Convention came together. As it turned out, there were four of them:
The Conservative Club slate, which was the first one out. It featured ten Delegate and nine Alternate Delegate candidates, of which only seven actually ran. Four of those on the Delegate ballot were state elected officials.
The Trump slate, which obviously featured more backers of Donald Trump to add to the total he has. Of the 22 they fielded, seven were state (or federal) elected officials. Both the Trump slate and Conservative Club slate featured the soon-to-be-elected as National Committeeman David Bossie, who was the overall top vote-getter among Delegates.
The Cruz slate, which as I was told was an unofficial slate but featured those who worked for and trusTed Cruz. Their 22 hopefuls had just one state elected official, but two others who ran unsuccessfully in recent elections.
And finally, the Unity slate, which was an effort to bring all of the camps together. It intentionally excluded current state elected officials.
Out of 96 who ran, 67 (by my count) were on one of the slates, and while it didn't guarantee election it bears noting that only Steve Schuh, who had the advantage of hosting the convention, beat the odds and won without being on a slate. The other 21 victors were on at least one slate.
So how did the slates fare?
The Trump slate. It was no surprise that this slate was built for success, as it was heavy on elected officials. All but one of those who ran for Delegate finished in the upper half of the field, with five of the eleven slots taken by Trump backers. Collectively they received a healthy 30% of the vote. The success was even more pronounced in the Alternate Delegate field, where the names were less familiar so voting was based more on the slate. Again, all but one finished in the upper half of the field and an amazing eight of the eleven were chosen, overwhelming the rest with 46.6% of the vote.
The Conservative Club slate. Had they ran with a full field, they would have presented a decent challenge to the Trump backers. Still, all but one of their ten Delegates finished in the upper half and they won four of the eleven slots when you count Bossie. House of Delegates member Deb Rey would have made it five but she just missed the top eleven by an eyelash. They finished with 26.5% of the Delegate vote as a group. As for Alternate Delegates, two of their choices did not actually participate in the election. Of the seven who did, six finished in the top half of the field with one making it to Cleveland. Their 23% of the vote was solid for just seven participants – had they fielded eleven, they may have made the low 30s.
The Unity slate. In a race based as highly on name recognition as this one, not taking elected officials was destined to cut into overall success. Their Delegate field ran the gamut from third overall to 60th (of 61), with nine finishing in the top half and three of the top eleven Delegates. Overall they picked up 23.6% of the collective vote. On the Alternate Delegate side they placed seven in the top half and advanced four to the national convention – Marcus Alzona just missed making it five - scoring 33% of the Alternate Delegate vote.
The Cruz slate. Out of their 11 selections for Delegate, just six finished in the top half and only two in the top twenty – their best Delegate finisher was Deb Rey, who as I noted just missed the field in 12th. Collectively they picked up only 17.8% of the ballots. The news was a little better for the Alternate Delegates – although only three finished in the top 20, two of those made the Cleveland field. The Cruz crew got 23.8% of the Alternate Delegate vote overall.
So in terms of those going to Cleveland, the score was Trump 13, Unity 7, Conservative Club 6, and Cruz 2. This adds up to more than 21 because David Bossie was on both the Trump and Conservative Club slates, Kory Boone was on both the Conservative Club and Unity slates, Cynthia Houser was on both Trump and Unity, and Alirio Martinez, Jr. and Christina Trotta had the trifecta of Conservative Club, Unity, and Cruz. (No wonder Trotta finished third and Martinez eleventh.)
But how did the monoblogue Slate do? Here's the list I voted for, which began with crossing out the Trump backers and most of the elected officials.
Delegates:
Don Murphy (3rd, Unity)
Deb Rey (12th, Cruz/CC)
Maria Pycha (14th, Cruz)
John Fiastro Jr. (16th, Unity)
Faith Loudon (19th, Unity)
Michael Smigiel (21st, Cruz)
William Campbell (22nd, Cruz)
Julie Brewington (27th, Cruz)
Gus Alzona (34th, Cruz)
Donald Frazier (40th, Cruz)
Patricia Fenati (43rd, Cruz)
Alternates:
Christina Trotta, 3rd (Cruz/CC/Unity)
Gloria Murphy, 6th (Unity)
Alirio Martinez, Jr., 11th (Cruz/CC/Unity)
David Dobbs, 18th (Cruz)
Chike Anayanwu, 21st (Cruz)
Daniel Lathrop, 23rd (Cruz)
C. Paul Smith, 25th (Cruz)
Samuel Fenati, 27th (Cruz)
Luis Puig, 29th (Cruz)
Nathan Weirich, 30th (Cruz)
Robert Charles, 34th (Cruz)
Combined the monoblogue slate received 22.6% of the total Delegate vote and 27% of the total alternate vote – not counting the 100% of the votes that mattered, which would be mine.
So I pray that these folks who are going to Cleveland make some wise decisions for us when it comes to the platform, rules, and even perhaps reconsideration of the presumptive nominee if he continues to drift away from what I've always understood to be Republican principles on all three legs of the conservative stool.
Having done this before and not been on any sort of slate, my advice to those of you wishing to try in 2020 is to get on one. Unless you have stratospheric name recognition in the party, it's highly doubtful you'll advance to the national convention based on past results. It's a sad state of affairs that this process generally benefits the "establishment" but it is what it is, and the best way to combat it seems to be putting together a slate. Remember, the bottom half of this field was littered with non-slate hopefuls, distasteful as that may seem.
When I last left you, I was commenting on having to get up at 6:45 for breakfast. Given that this was our election day and the polls were yet to open, this was the scene around the hotel on available spaces.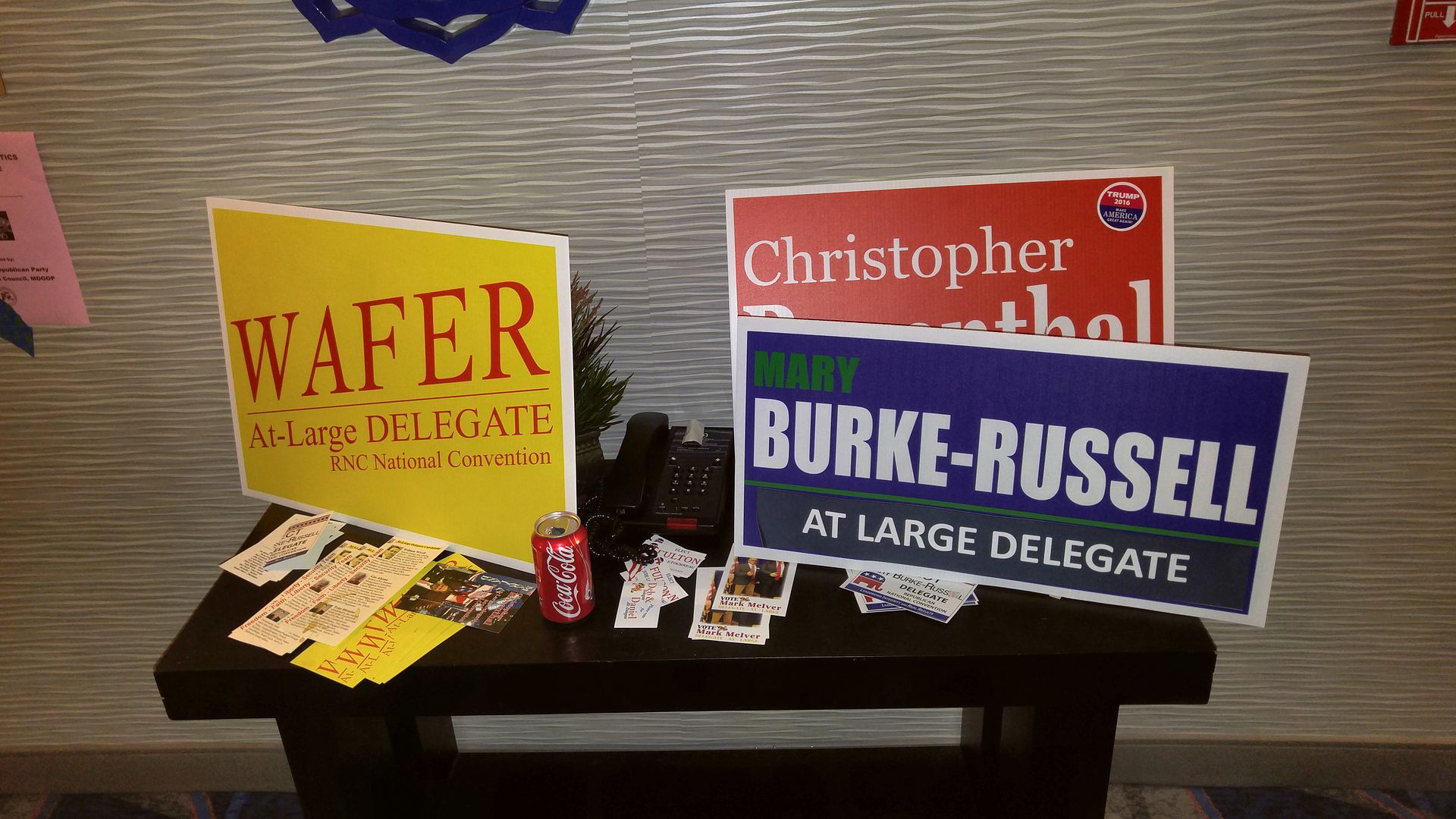 Aside from the Coke can (which, as an aside, is a drawback to this hotel because Pepsi products are difficult to come by), I often wonder what non-political guests think about all this. I'm sure they are amused.
On the way back to breakfast from putting my stuff in the car (on a glorious morning) I snapped this shot of the convention hall.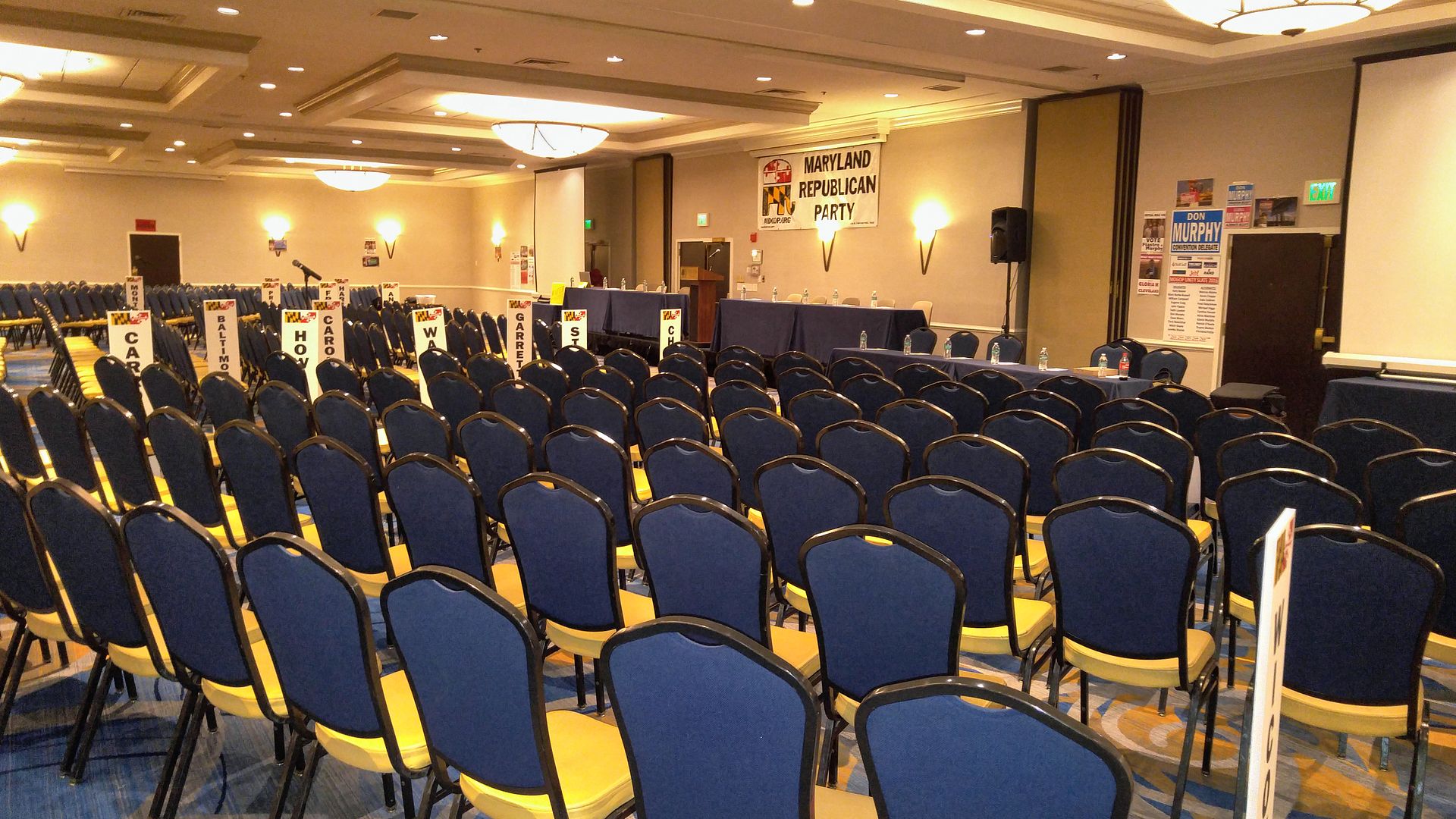 One tangible improvement was our county signs, which have finally been upgraded after a decade.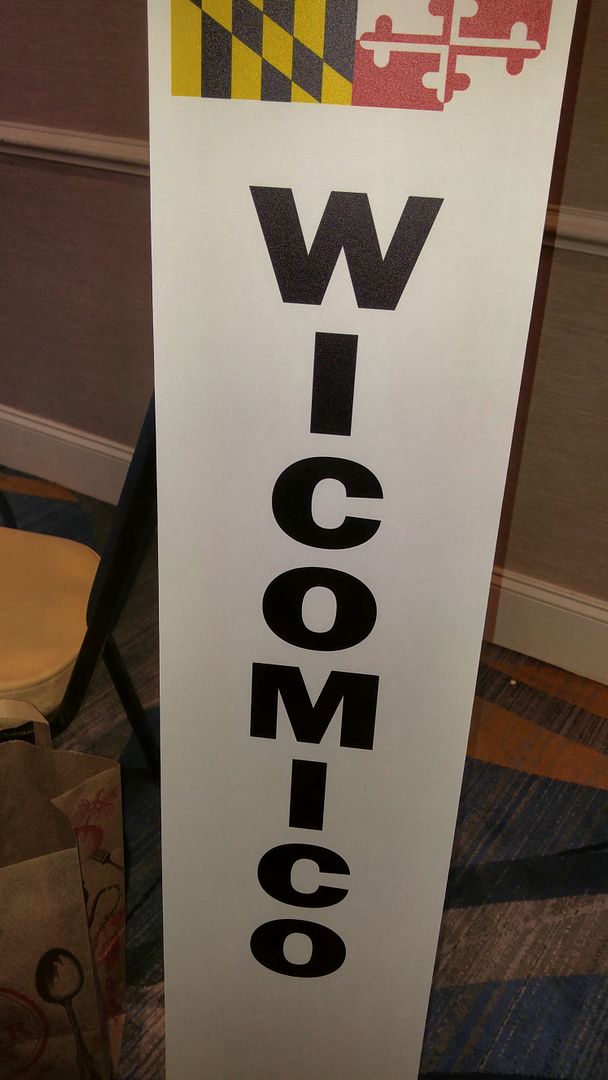 Our breakfast speaker was introduced by the recovering MDGOP Chair Diana Waterman, who was thrilled to report her hair was growing back after the chemo and surgery she has endured for her fight against breast cancer.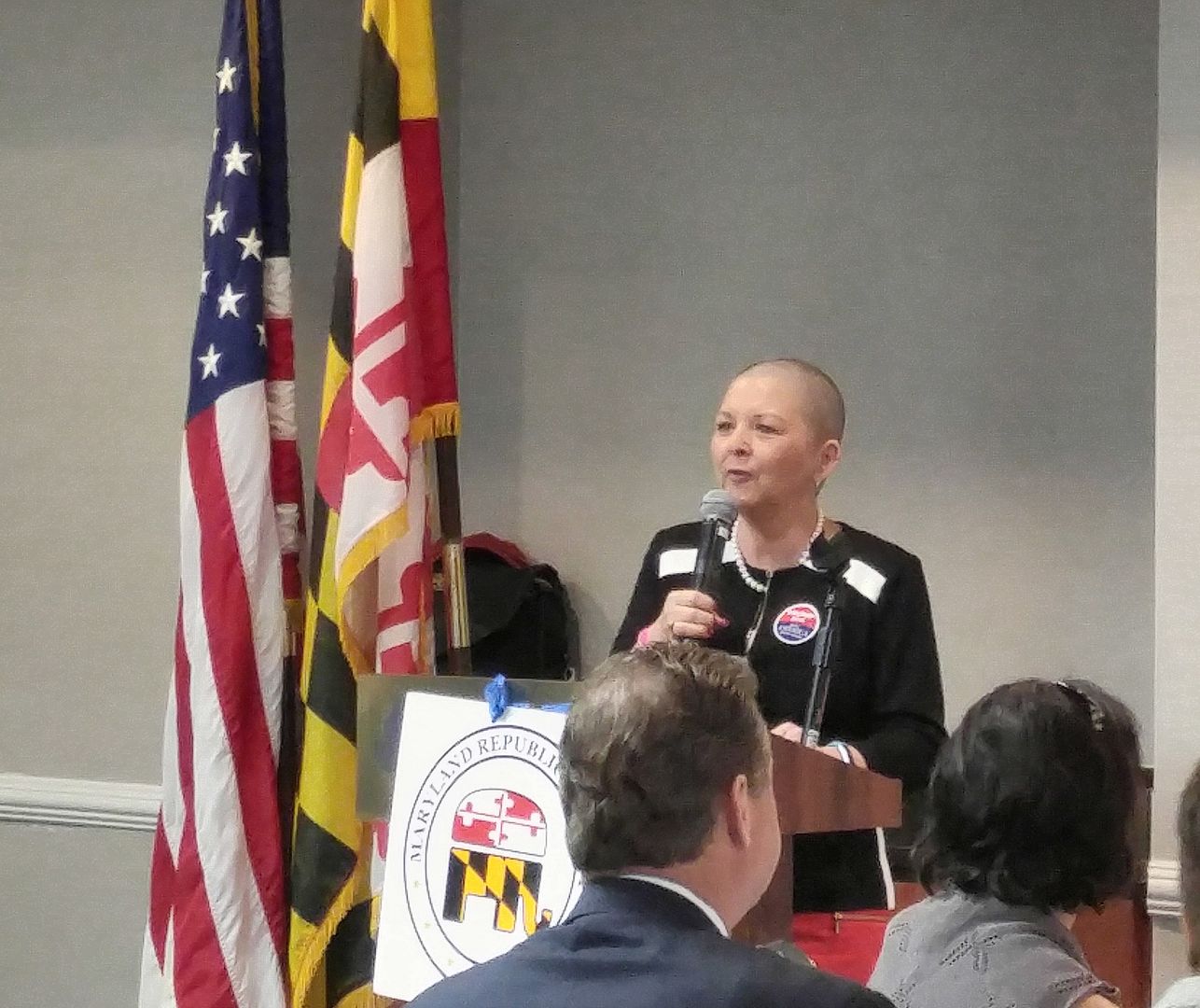 She called Anne Arundel County Executive Steve Schuh "a great Republican." Schuh began his remarks by noting this was the "most unusual election in at least 100 years."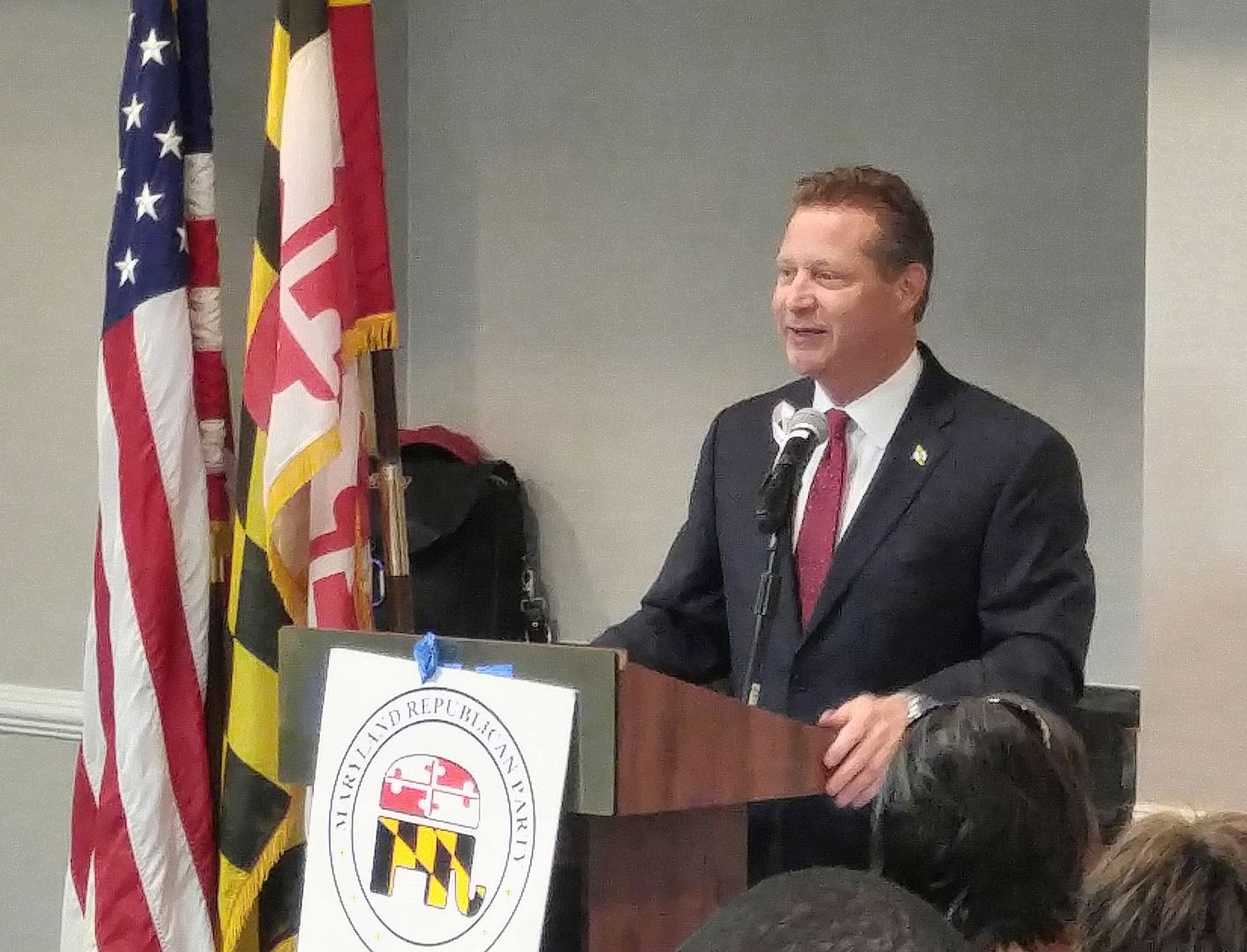 But Schuh went on to praise Donald Trump for tapping into several "electoral undercurrents," particularly when he brought up the issues of immigration and national security. Yet while he said the "misgivings were understandable," Schuh has "come to peace with a Trump candidacy." Steve then outlined a number of stark differences between Democrats and Republicans: the role of government, immigration, Second Amendment, free speech (where the Left uses "shoutdowns as a weapon of choice"), taxation, private property, and life itself. It was a "belief in limited government and personal responsibility" that set the two major parties apart, Schuh added.
Schuh's rather brief remarks allowed me to grab a good seat for the convention itself, which featured a number of reports in the morning. I wasn't satisfied with how most of my photos came out inside the hall, so you will have to read about most of what was said inside without the visual aids.
Annapolis Mayor Mike Pantelides welcomed us to his city, noting that the Maryland GOP "got involved in my race in a very big way" and allowed him to win by a narrow 59-vote margin. Encouraging us to note on social media that the event was being held in Annapolis, Pantelides also called both County Executive Schuh and Governor Hogan "mentors to me." His was the one city in Maryland with Republican leadership across the board: mayor, County Executive, and Governor, Mike added. Solid Republican principles and leadership could provide solutions, concluded Pantelides.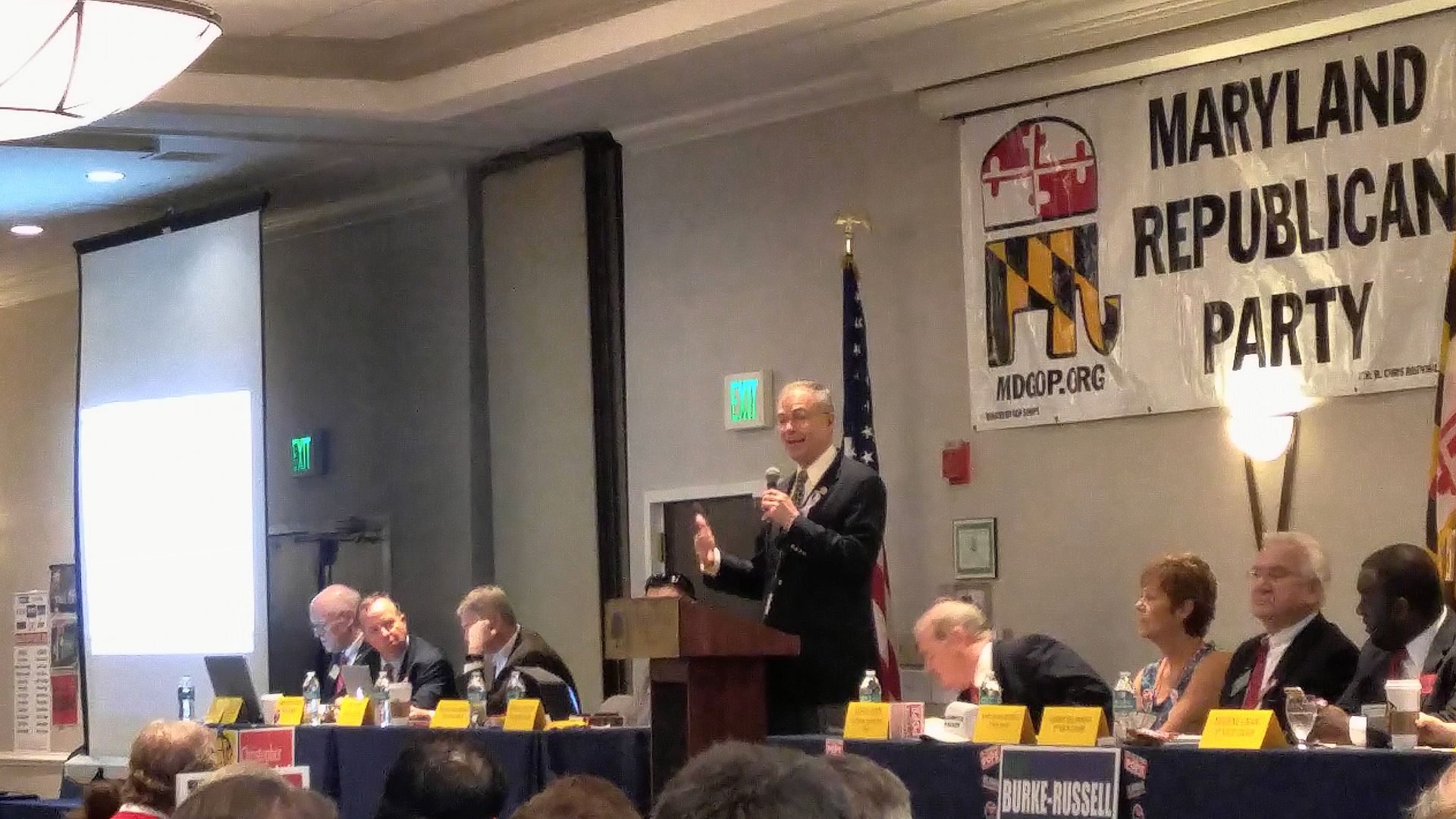 This photo of Congressman Andy Harris came out all right, and so did his message. He warned us that the Democrats have "a lot of assets" to throw at Governor Hogan in two years, so we needed to raise millions of dollars to assist him. But there were some advantages we had, too: for example, the sign denoting the reduced toll rates at the Bay Bridge is "like a Republican ad."
Turning to the national scene, Harris noted we could not have another four years of liberal policy. And even though he endorsed Ben Carson in the GOP race, he came out to say, "I'm a Donald Trump guy 101% now." He also told us there was no fight between Trump and Speaker of the House Paul Ryan, despite what the media would lead you to believe.
We had two legislative reports, one from Delegate Nic Kipke and the other from Senator J.B. Jennings.
Kipke believed that we were "at the precipice of…another surge of Republicans" added to the House ranks. "There are a lot of seats in play for us," he assessed, particularly when Larry Hogan won in 21 more House districts than the Republican House candidates did. And the Democrats "are losing their minds" about it: Kipke gave the example of the bill allowing felons to vote before completing their sentences. Despite the fact 80% of Marylanders disagreed with this, and many of the General Assembly Democrats agreed with the veto, "the Democrats require compliance," said Kipke – so the veto was overridden.
There were Republican-backed items we should be proud of, though, said Nic – another budget with no new taxes, the elimination of preschool testing, and the adoption of P-TECH schools, beginning in Baltimore City. Republicans are "leading on issues, big and small, that make sense," said Kipke. He also awarded their Republican of the Year award to state Executive Director Joe Cluster.
Regarding the felon vote, Jennings later added that it actually failed 28-18 the first time, but was allowed to be reconsidered and passed 29-18.
One thing Senator Jennings stressed was the devious ways Democrats tried to flout the rules; in one example they tried to put one Senator on two committees, which is a no-no. They also worked hard to fix bad bills to make them more palatable.
But the problem Senate Republicans have is that "we are short five votes." Getting to 19 votes would allow Republicans to sustain filibusters and kill the worst legislation. And there may be a lot of it next year: Jennings remarked that year 3 of an administration is where major pieces of legislation come out.
In between the legislative reports, MDGOP Chair Diana Waterman gave her report. She opened by welcoming new members but also remembering members who had recently passed, including my late cohort Blan Harcum who passed away earlier this year. She also announced the traditional June Red, White, and Blue Dinner would be pushed back to a date in early September because of the convention.
Diana also had a comment about the so-called "Republican war on women" when she asked "where is the 'war on women' when the Republicans have two (federal candidates) running and the Democrats have none?"
Waterman also gave the newly created Chairman's Elephant Award to Dwight Patel, but the key remark to me was an offhand one where Diana referred to chairing "my last convention" in November. If so, Diana would conclude a remarkable four-year run where she took over a party in crisis and guided it to electoral success.
We then heard from our National Committeewoman and National Committeeman, respectively Nicolee Ambrose and Louis Pope.
Much of what they said was a rehash of what they told the Executive Committee on Friday night, although this time Nicolee came equipped with a slideshow. Here are the party's goals for the new Precinct Captain recruitment program.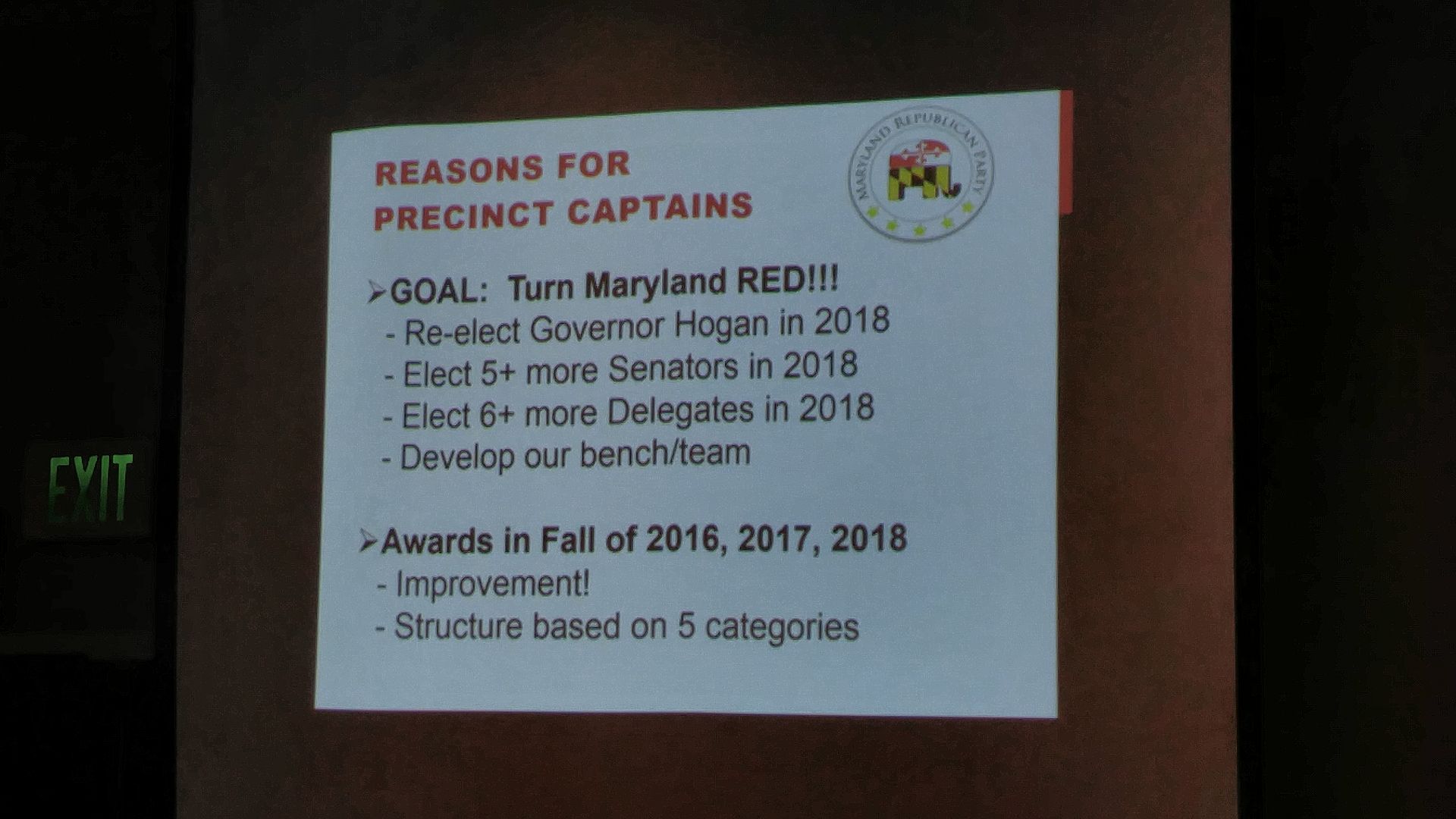 She also had a lot of these handy flyers to distribute.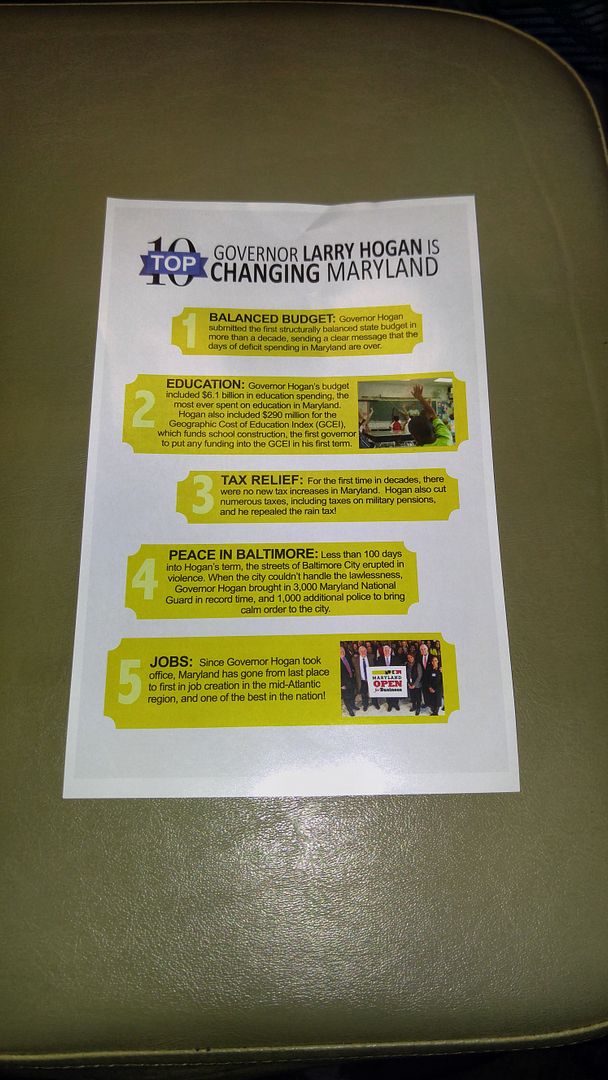 I'm only giving you the top five – for the rest, come see us when we are out and about in the community.
Louis reiterated that this year's convention "will be about unity," for it's the RNC's "#1 job" to elect the President. And while Pope believed the GOP has "an amazing array of tools to make sure we win this year" and has "tremendously expanded minority outreach" over the last four years, it all comes down to our candidate. Pope conceded that "Trump changes our plans quite a bit," and added it may "take a little bit of sculpting of (Trump's) policies" to have effective minority outreach. But Louis also contended the "Trump effect (on downticket races) is not going to materialize."
Pope's remarks concluded the morning session. I went out to eat my lunch (with Andy Harris, no less) and saw this nice display from someone who would like to join him on Congress.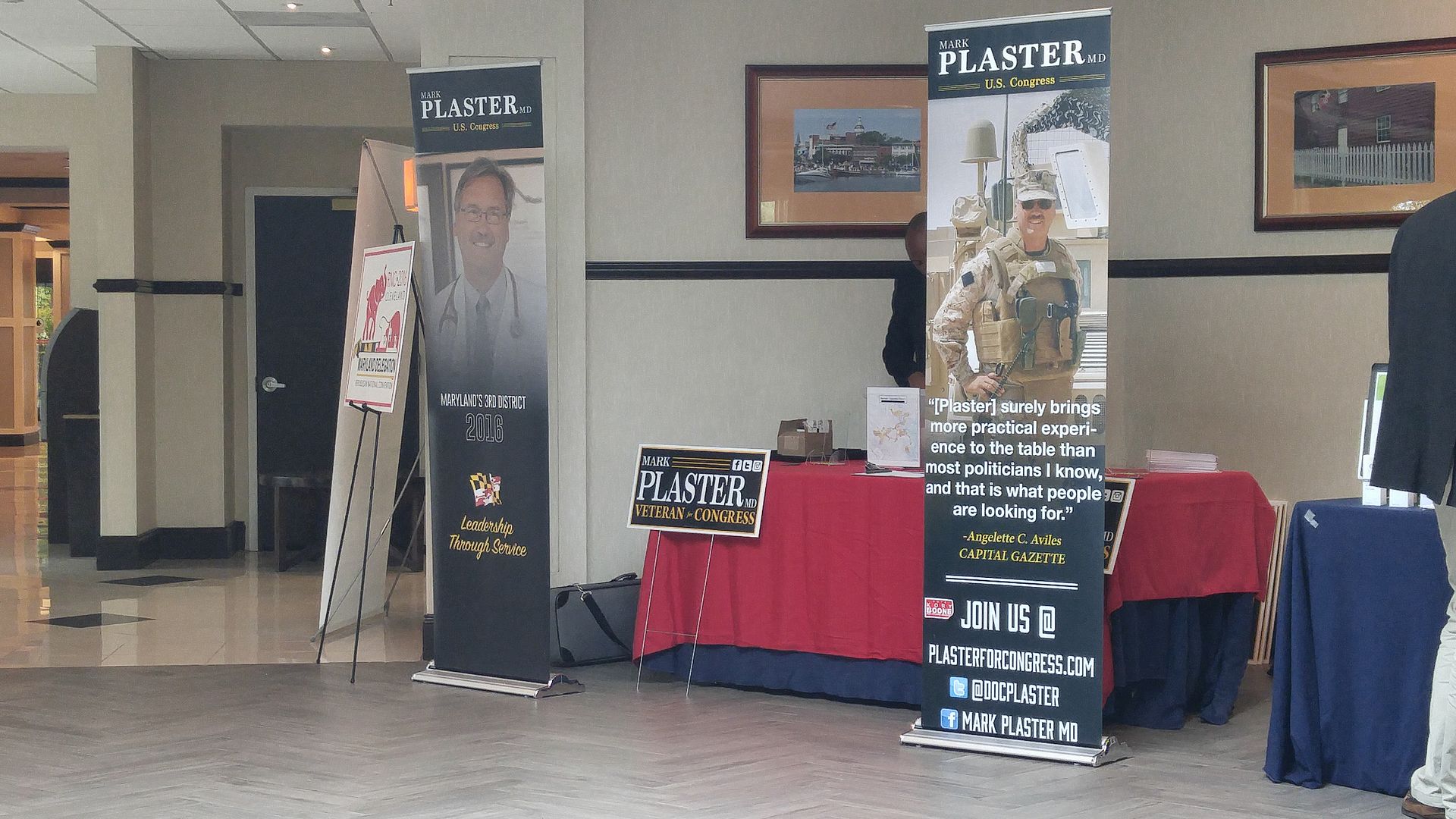 I was less interested in this swag, although I could have picked up a Cruz hat, too.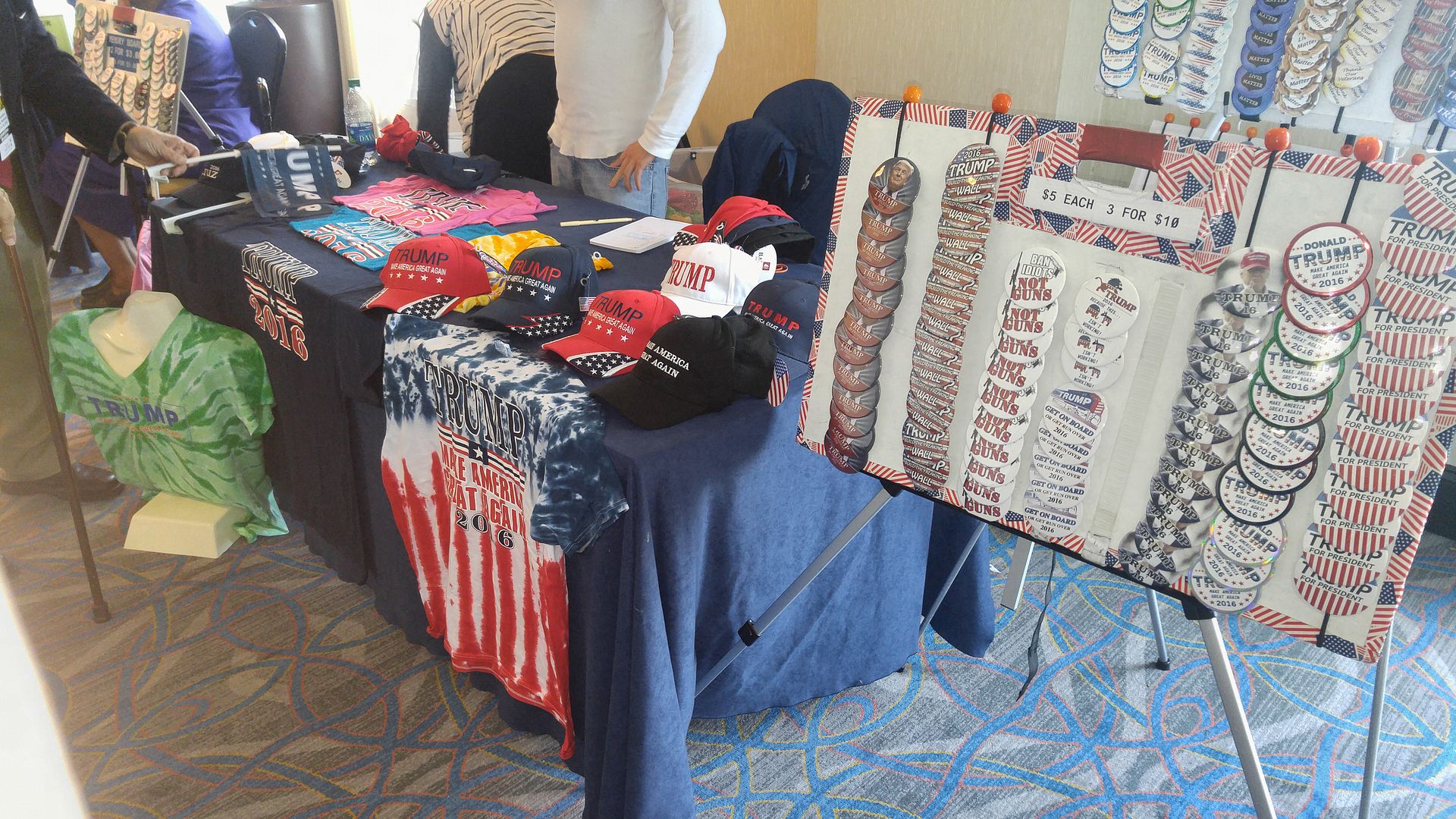 I also spied the potential National Committeeman making last-minute preparations.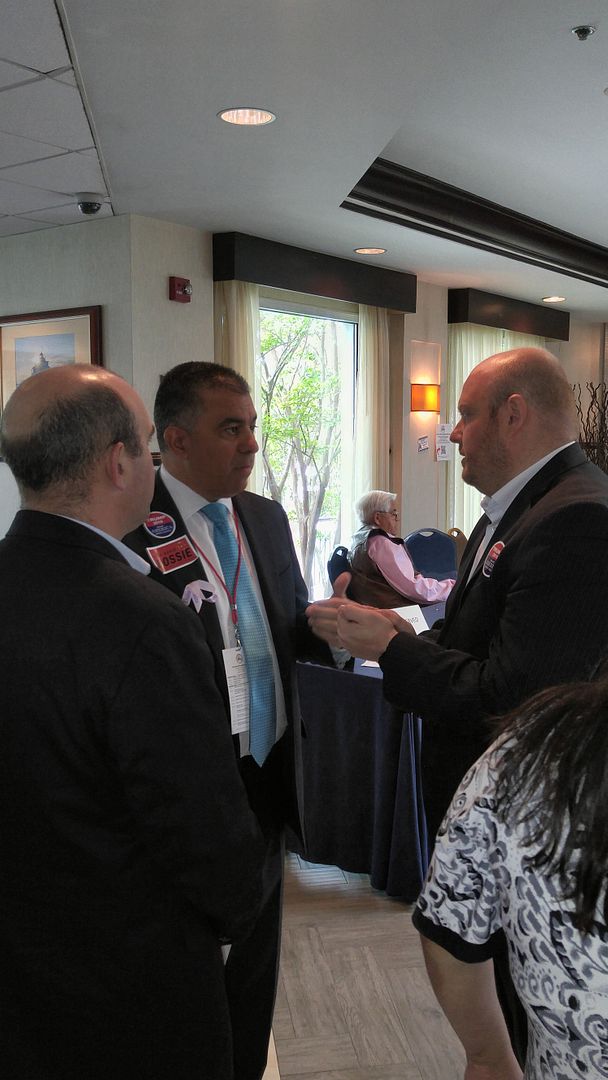 One other task I had to perform was voting for Delegate and Alternate Delegate. Because I refused to add to the Trump slate I only voted for four winners, including the guy voting immediately after me.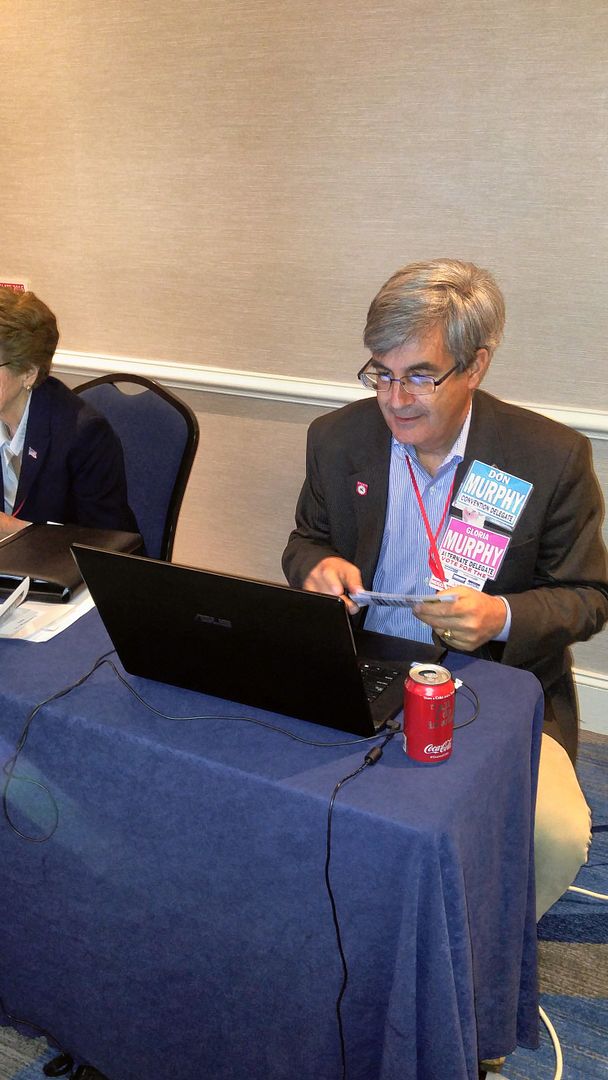 At these conventions it seems like Don Murphy is my shadow. But he and Gloria should enjoy Cleveland, since they were two of my four that won.
The system was neat and easy – we knew the winners five minutes after we voted, as I will explain shortly.
Up first was the National Committeewoman election. Since that was a walkover for Nicolee Ambrose, I can simply comment that she had one of youngest members of the General Assembly, Delegate Robin Grammer (a member of the "Dundalk Revolution") nominate her and Senator Steve Waugh second her. Both were results of the hard work Nicolee has done to elect more Republicans as both flipped Democratic districts. And I really liked Waugh's line about how Republicans "focus on putting air conditioning in the classrooms and not transgenders in the bathrooms."
We then had the National Committeeman election. Because the nominating and seconding speeches came in alphabetical order of the candidates, Bossie's went first. Nominating Bossie was the highest elected federal official in the state, Andy Harris, who said David represented "a new way of thinking" that we need.
But the jaws hit the floor for the seconding speech, as Joe Steffen notes on his site in more depth. None other than Nicolee Ambrose delivered the dagger to her associate's heart. "This is serious, serious business," said Nicolee, and "we need a fighter."
Despite that blow, Pope could counter with some firepower of his own. Lieutenant Governor Boyd Rutherford nominated Pope, recalling how he had worked with Louis for years in the Howard County party and that he's been fighting for the GOP. His seconding speech, delivered by Martha Schaerr of Montgomery County, added that Pope was "a tireless, trustworthy leader."
The focus shifted back to Bossie for his remarks, and he closed the sale by saying "I believe I can bring a lot…to the Maryland Republicans." It was "critical to have new blood in leadership," David went on, and while he promised to raise Maryland's profile, he also said "we must not cede ground to liberal Democrats, anytime."
Pope could only appeal to the masses with his experience and passion, countering, "I've spent a lifetime working for the Republican Party…I stand on my record of accomplishment."
But Pope's defense was to no avail. It was clear when the first four jurisdictions to report (Allegany, Anne Arundel, and Baltimore City and County) picked Bossie by a combined 56-8 margin that the rout was on. In terms of our voting system the count was 365-188, but in actual bodies it was 182 to 91 – a perfect 2-to-1 margin. Pope only carried eight counties (Caroline, Cecil, Frederick, Garrett, Howard, Prince George's, St. Mary's, and Talbot) and in four of the eight it was a 5-4 verdict. Only Garrett (6-0), Caroline (7-2), and St. Mary's (7-2) were big wins for Pope. (Wicomico County was 7-2 for Bossie.)
This was an emotional moment as the baton was figuratively passed, but we still had work to do.
There was a resolution that would allow the Bylaws Committee to perform what I would call a curative function, making minor changes to the bylaws in places where references were incorrect, misspellings, and so forth. They would report and we would review changes at the Fall Convention. That passed by a voice vote with one objection.
The first Bylaw amendment was an effort to both restore voting rights to the various ancillary organizations (Maryland Federation of Republican Women, College Republicans, Young Republicans, etc.) and set standards for their inclusion. But after some discussion and debate, it failed by a 188-361 vote (105-167 in terms of voters,) falling far short of the 2/3 majority needed.
The second one was less controversial, although there was enough of an objection to a lengthy lame duck period for party officers to transition after our organizing conventions (such as will occur this fall) that the date of takeover was amended back to January 3 rather than based on the day after the Governor or President of the United States is inaugurated. As amended it passed 438-99, although the amendment barely passed 283-258. (It was behind until Montgomery County sealed the deal.)
All this concluded just in time for the Delegate and Alternate Delegate results to be revealed.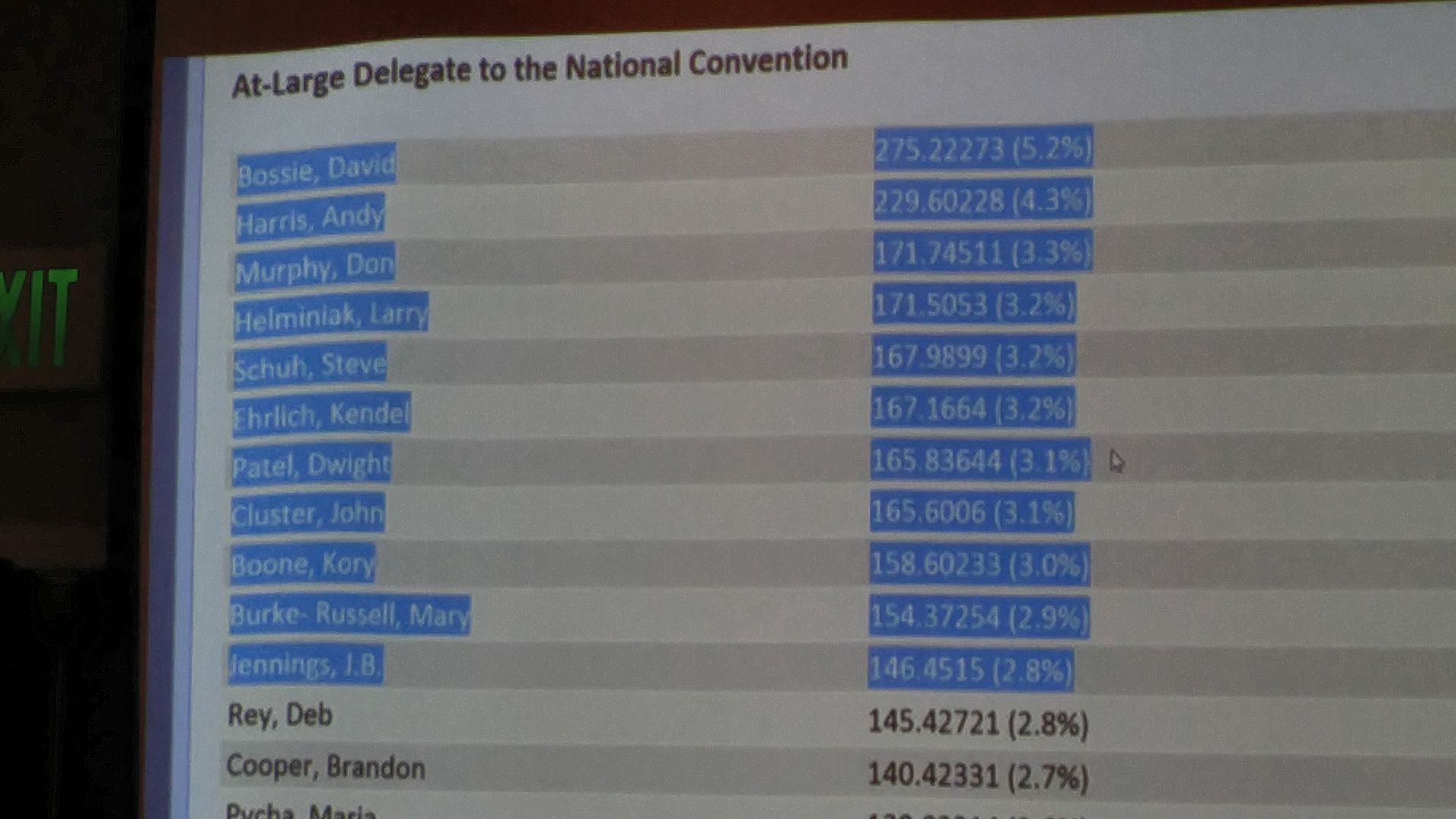 As I said above, I only ended up voting for four winners: the two Murphys, Christina Trotta, and Alirio Martinez, Jr.
We then got to hear from our candidate for U.S. Senate, Delegate Kathy Szeliga.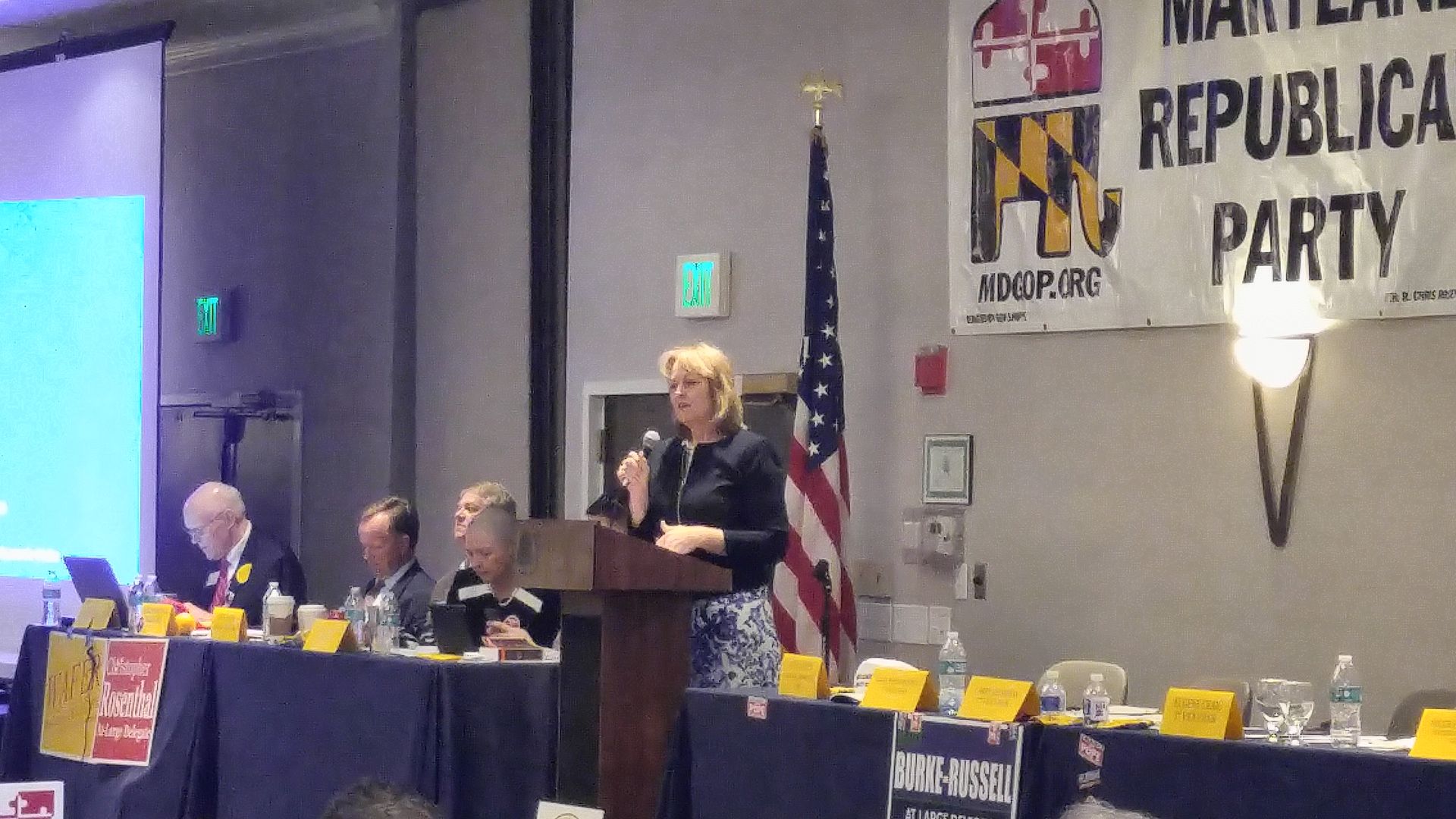 Kathy thanked us for her support, then added that Bossie and Ambrose are "going to do a great job for us." She also added that the fourteen U.S. Senate candidates are "unified and together."
And while she gave something of a standard stump speech recalling her middle-class background, she noted that the business they created was "struggling like many small businesses in the country." Repeating her message that Washington is broken, she chastised the Democrats for electing their "golden boy" Chris Van Hollen, pointing out that since he's been in office the national debt has tripled and calling Van Hollen an "attack dog" for Nancy Pelosi, Barack Obama, and Harry Reid.
"Together we can change Washington," the candidate, who Nic Kipke had earlier called "relentless," concluded.
Our final task was to select electors, which necessitated us gathering in groups by Congressional district. Our district has the largest number of Central Committee members so we all crammed into one corner of the hall to hear several nominations. For the second time in a row, I nominated the First District winner: Diana Waterman, who prevailed over five others. The others will be Tony Campbell, Jane Roger, Faith Loudon, Cathryn Grasso, Dick Jurgena, Loretta Shields, and Alan McMahon.
Once Diana Waterman announced her choices for the at-large electors would be Ellen Sauerbrey and Michael Steele, we could finally adjourn. Next time is slated for Frederick this November – the question is whether it will be a wake, a celebration, or some combination thereof?
It had been awhile since I had been to the DoubleTree in Annapolis, but seeing the place was like old home day. While the MDGOP often holds its conventions there, it hadn't hosted one in some time – in fact, Fall 2013 was the last one. But this time instead of the big news being the impending candidacy of Larry Hogan, it was the presumptive nomination of this guy.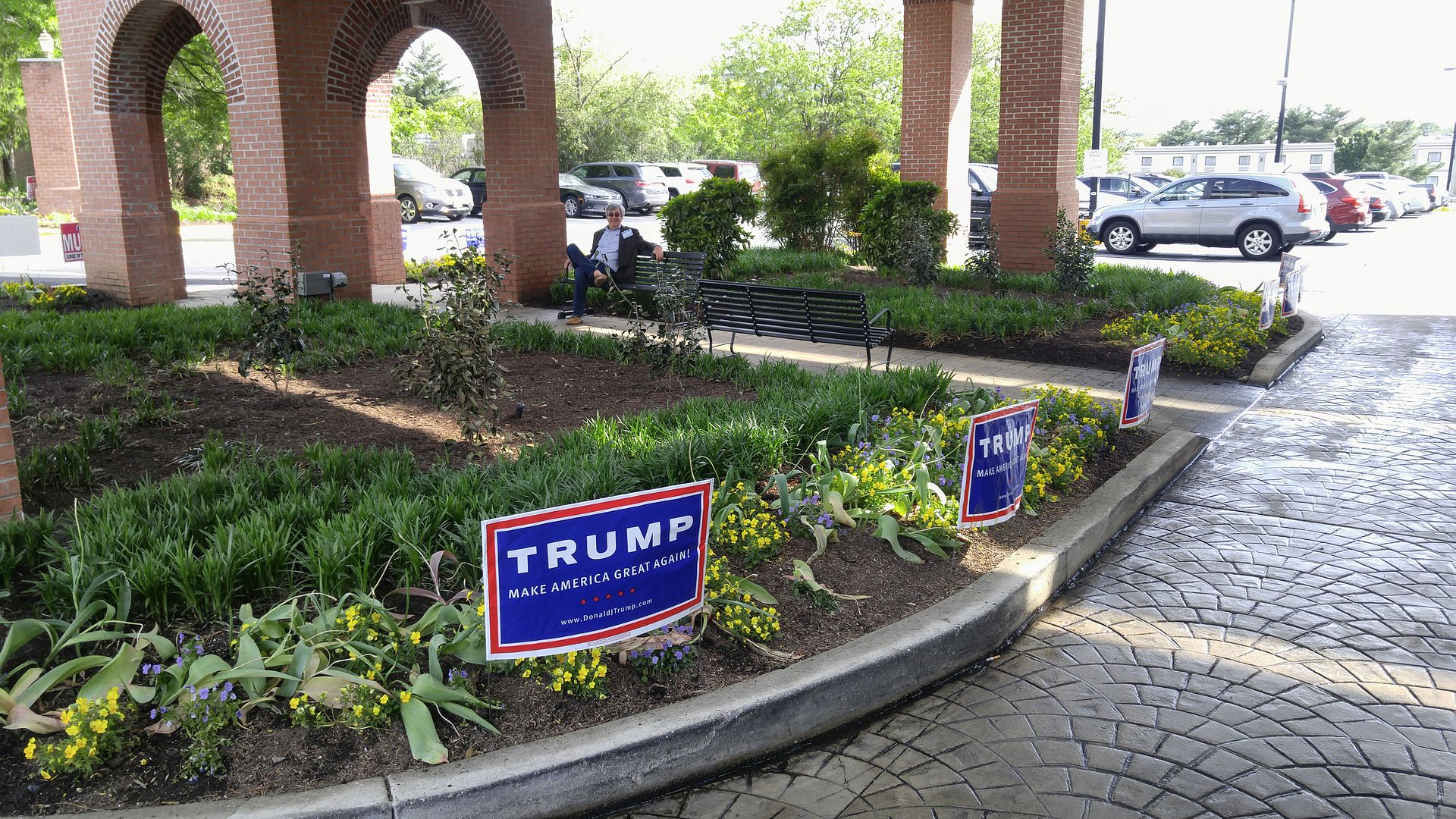 (No, not Don Murphy sitting on the bench – I'm referring to the guy who supposedly will make America great again.)
Also different than our last visit was the number of sponsors.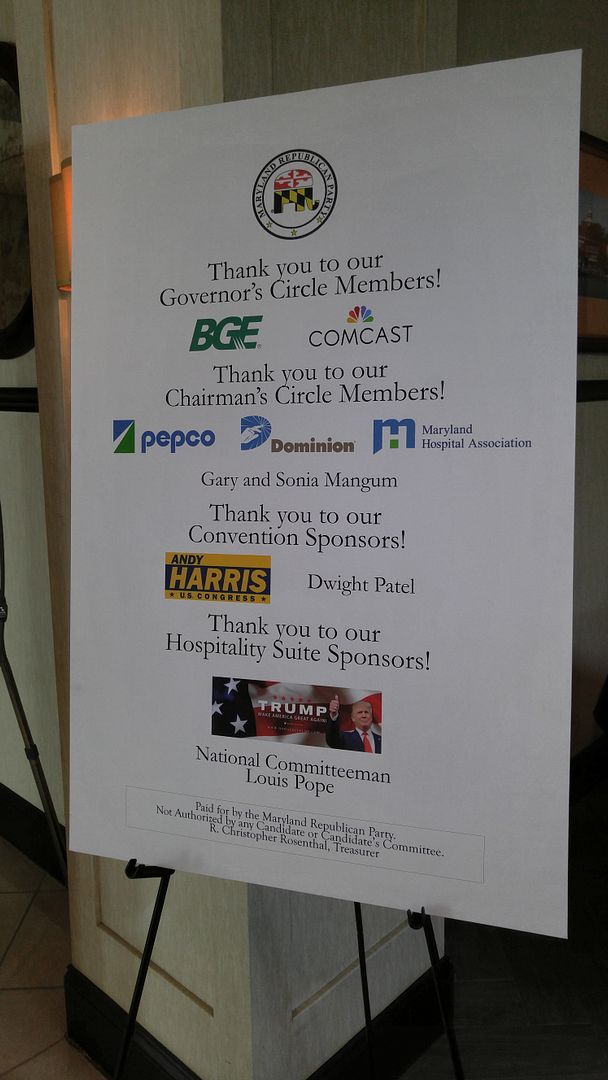 It sure doesn't hurt to have a governor from your party. But the story of this convention was all the electioneering going on. As I pointed out earlier this week, 98 people were seeking office and some were on this "unity slate."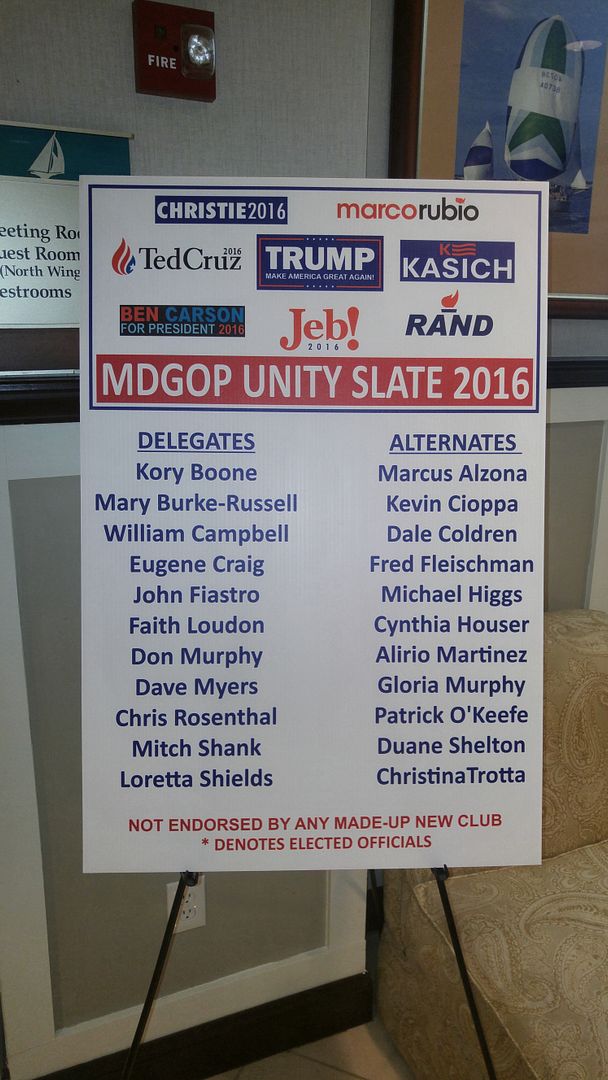 The idea was to take some folks from each of the campaigns and send them off to Cleveland to represent us. But after I had the chance to freshen up and get registered, those who represent us in the Maryland Senate made for my first stop of the evening. I could freshen up with some light snacks and an adult beverage.
(Note that Donald Trump is adding to that $2 billion in free media coverage on the adjacent TV. I didn't say it was flattering.)
Speaking of media coverage, these two erstwhile associates of mine were doing their semi-annual Friday night internet radio show from the convention lobby.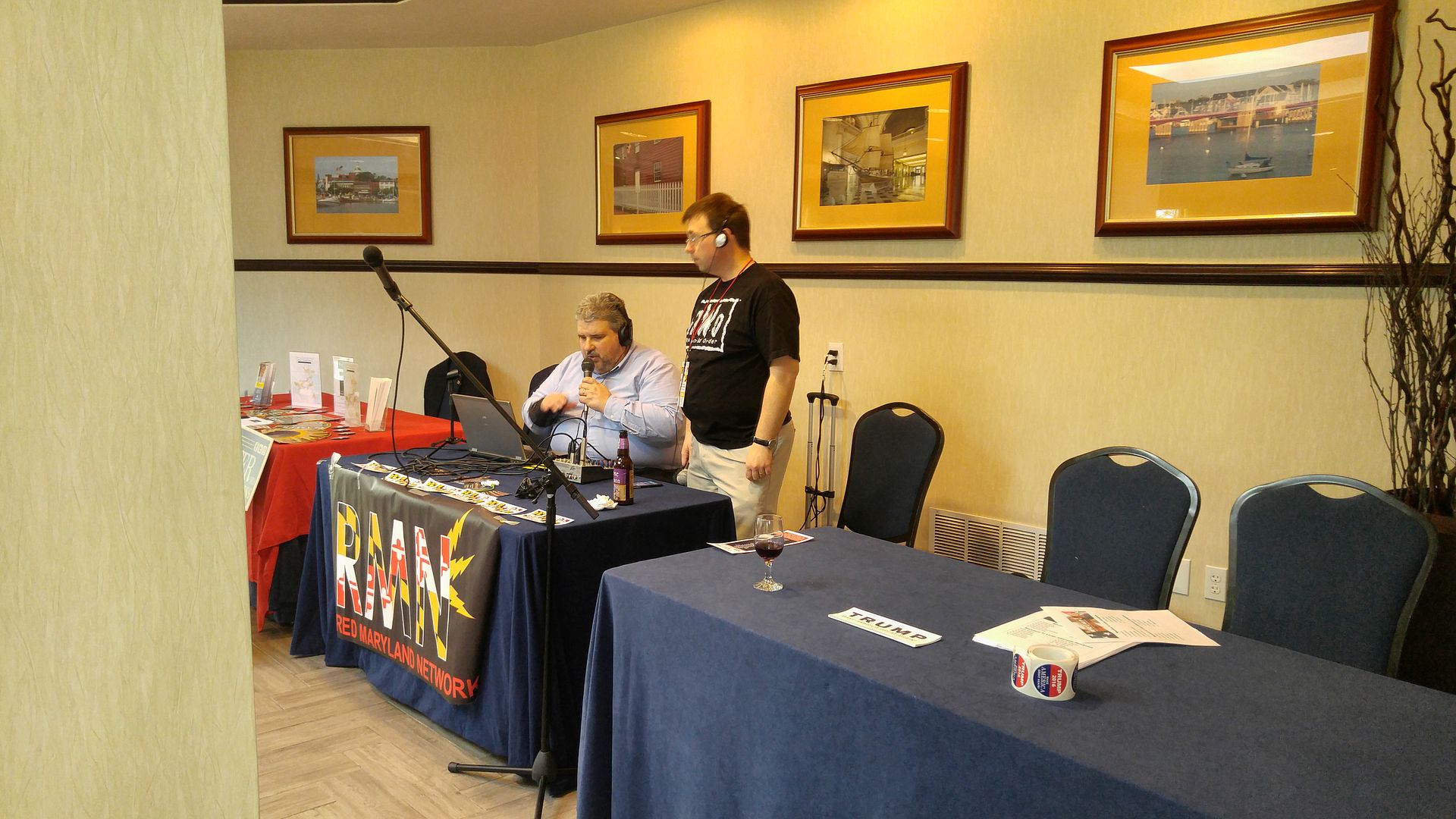 I wasn't listening so I have no idea who they dragged on as guests, aside from me not being one of them. I was downstairs at the Executive Committee meeting, where I found out the MDGOP had "a great fundraising quarter…our best since 2006," according to party treasurer Chris Rosenthal.
But Diana Waterman had a message. "We must get behind Mr. Trump," she said, "Trump is a helluva lot better than Mrs. Clinton." Yet she also urged us to be respectful to those who can't support our nominee.
She also pointed out that there's no Republican "war on women" in Maryland given the fact two of our Congressional nominees are women versus none for the Democrats.
After National Committeewoman Nicolee Ambrose updated us on some of the upcoming goals and events for the GOP, National Committeeman Louis Pope discussed the national scene, stating regarding this year's primaries, "the goal was to have as fair of a nominating process as possible." He added that the debate control "worked very well."
Pope was looking forward to Cleveland, saying he was "preparing for a unified convention" and predicting Donald Trump "will be a pretty cool nominee." As he saw it, the convention will be a "four-day infomercial for the Republican Party."
Yet the Presidential election was to the benefit of local parties as well, added Pope, because they could use the national race as a tool for local fundraising, allowing them to build up their war chests.
We also learned about two proposed bylaw amendments and a resolution, which I will simply foreshadow because they will be covered more in-depth in part 2.
The Executive Committee was done in remarkable time, meaning that shortly after 8 I could go see what was going on. This was my initial stop.
It wasn't a place I stayed long, for obvious reasons. But it appeared they were having a good time celebrating their presumptive nominee status.
My second stop was nearly as uncomfortable, but I did see Louis Pope there and wished him luck.
If you look closely in front of his sign, you can see Louis behind the other gentleman. He apparently held court in his suite for most of the evening, as I didn't see him circulating. Nor did I see his opponent David Bossie, who co-sponsored the suite I stopped at later.
First, though, the prize for most appetizing spread went to the host County Executive Steve Schuh.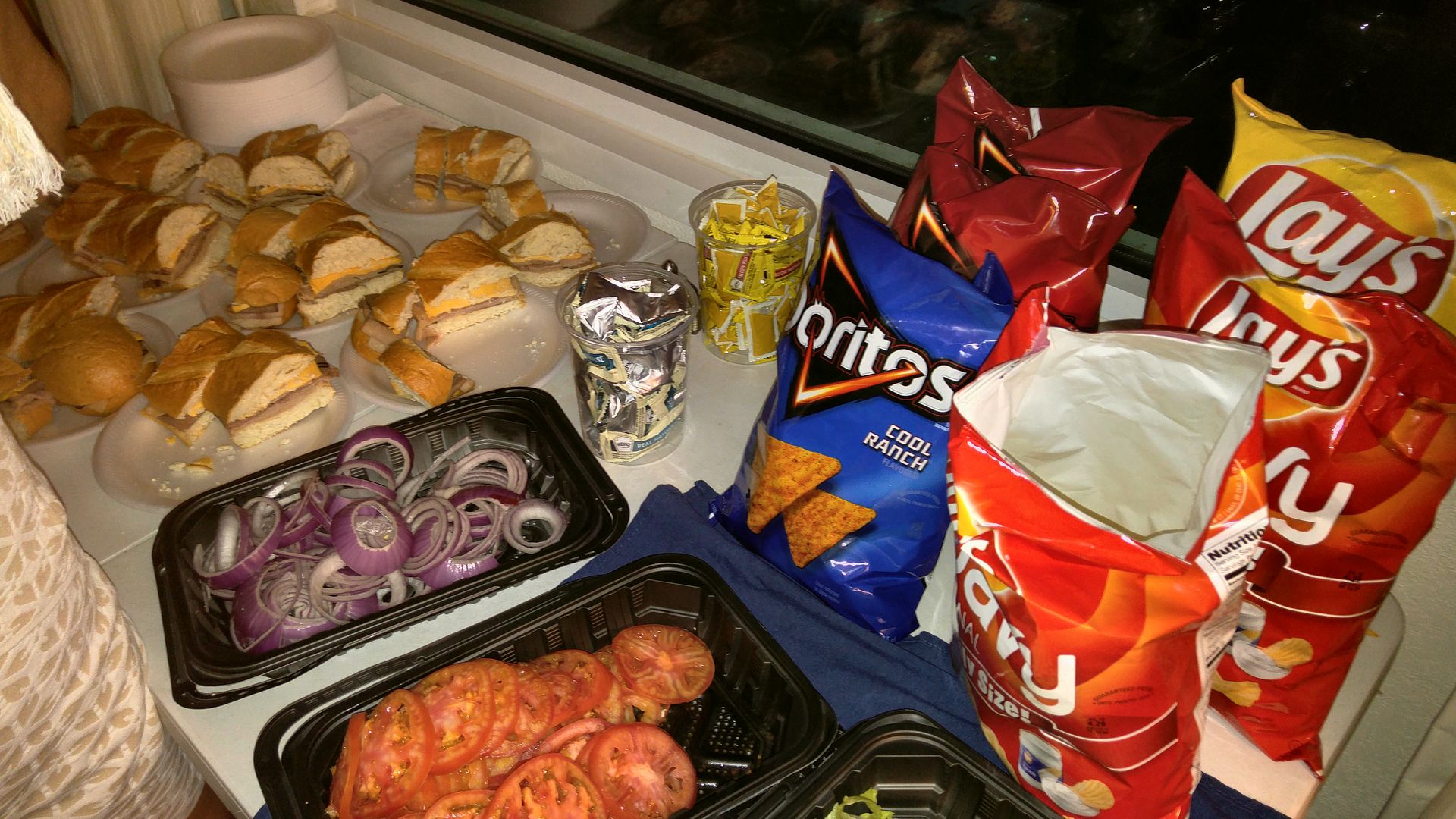 This doesn't show the vegetable tray and chicken on the other table. Oftentimes there's not enough good stuff to eat at these hospitality suites but between the spring rolls at the Maryland Senate pre-party and Schuh's suite, my appetite was satisfied. I was there quite awhile, eating and talking to Senator Justin Ready.
Next, I went upstairs to the Conservative Club suite. But since I didn't see Bossie, I didn't hang out too long there.
As it turned out – at least judging by the times on my photos – the Harris/Szeliga suite was where I stayed the longest. It was a happening place.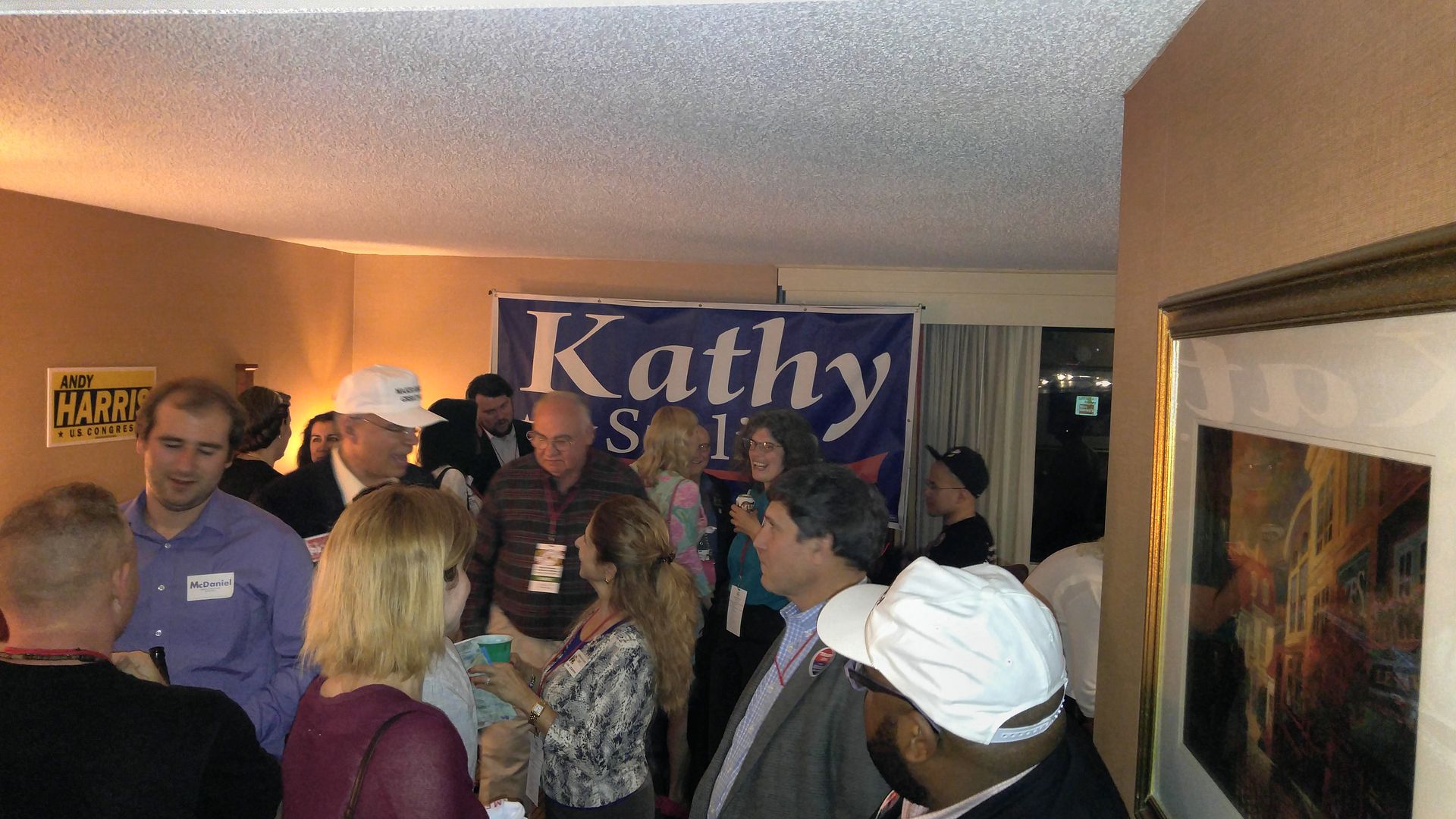 It's where I ran into an old friend of mine, Maria Ialacci of PG County, and my partner in crime Heather Olsen. So I was there awhile, although I retreated to the hall so I could hear and cool off – it was hot in there, and when I say it's hot it's downright uncomfortable to most people.
So I got to see the co-star of that show as she happened by.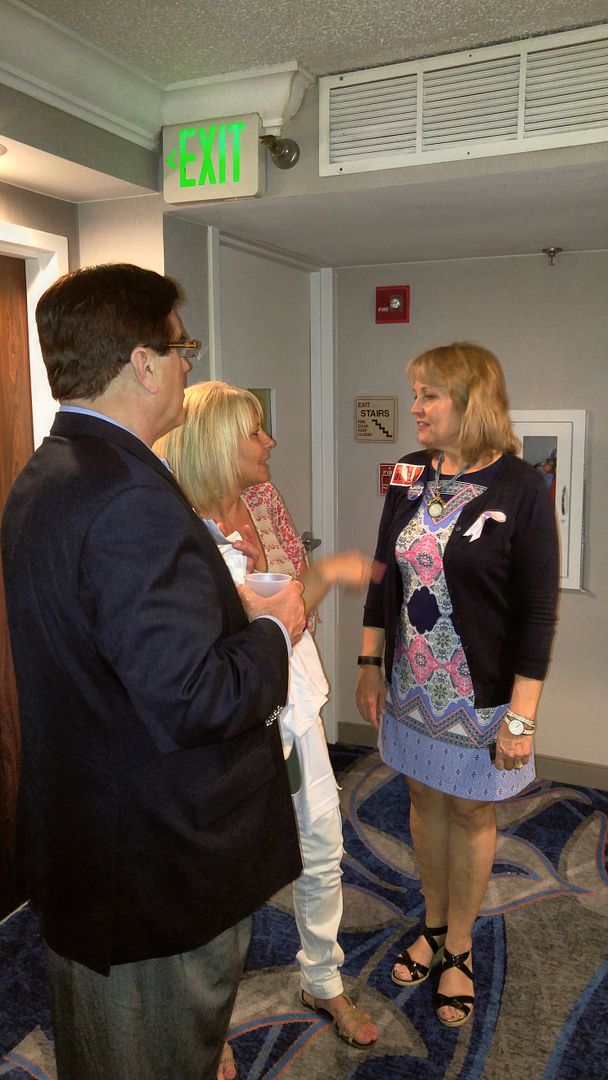 I still haven't spoken with Kathy Szeliga, but at least I have seen her so that's a start.
My penultimate stop was a suite that wasn't on the "official" list but somewhat underground – both literally and in spirit.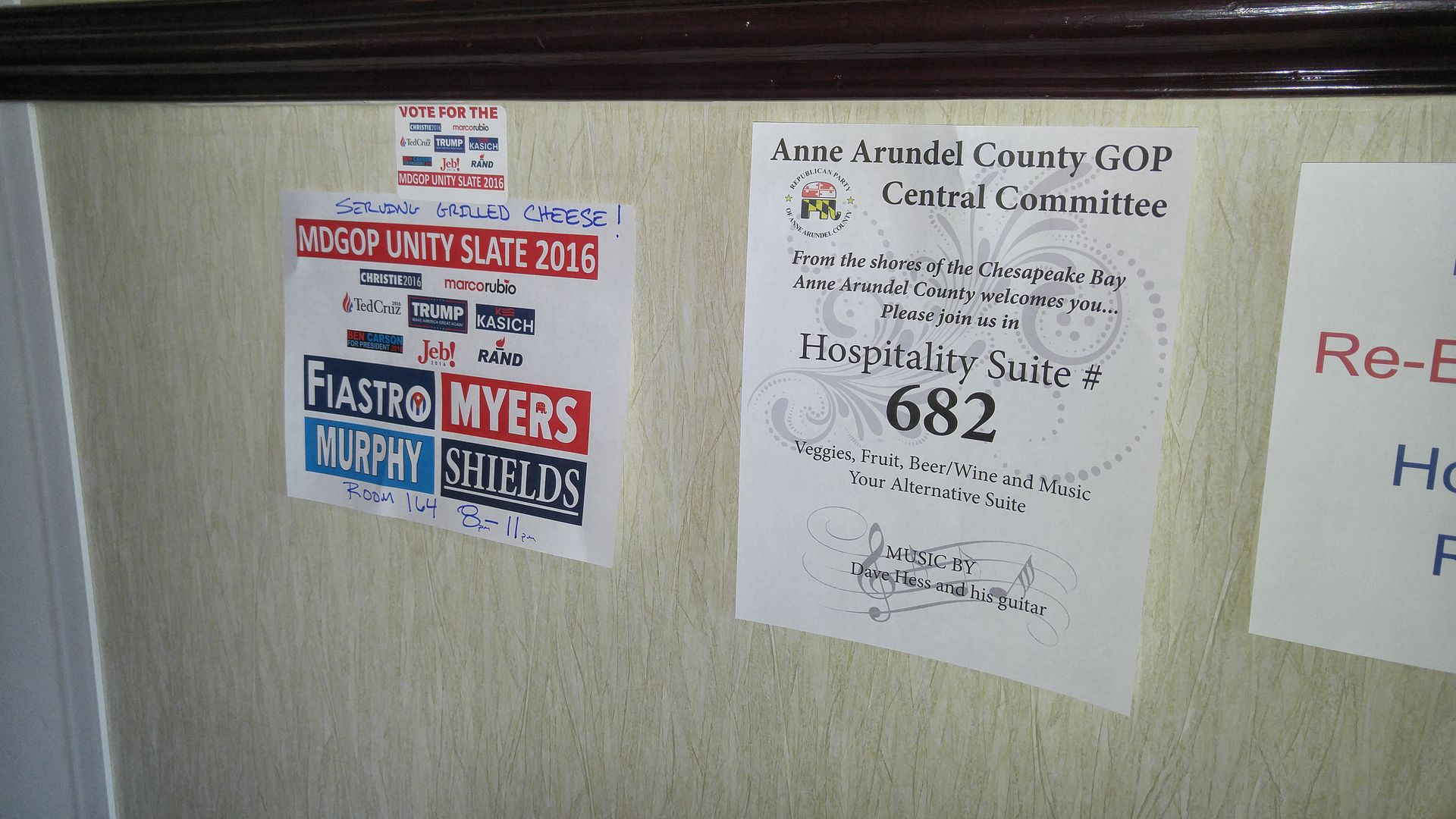 The only one down on the first floor, the combined suite of Don Murphy and John Fiastro was the famous grilled cheese suite, with Fiastro doing most of the flipping.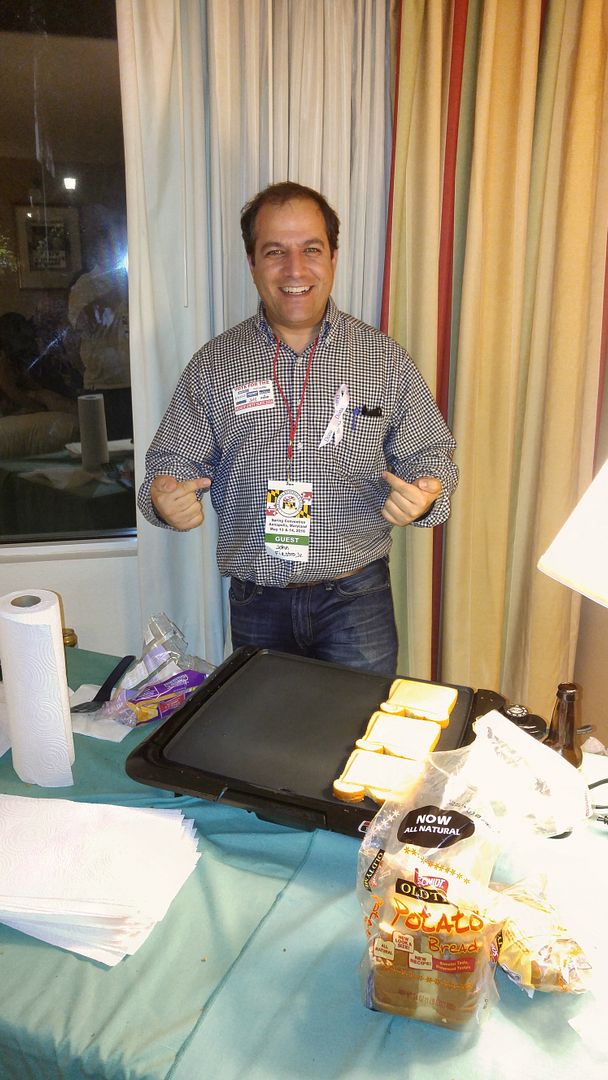 Let's see what they can do with this.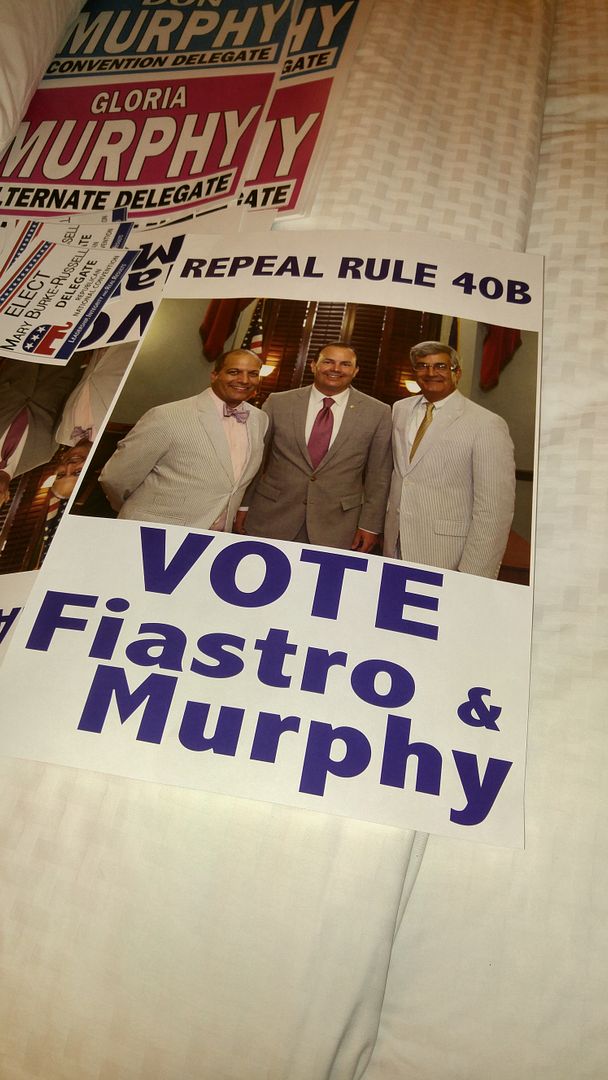 I did not take a picture at my last stop, which was definitely a shame because Delegate Tony McConkey and his wife Susan did an after-hours (after 10 p.m.) ice cream suite. (They also had it during our lunch break today, but I didn't go.) Now I was a little worried since it was situated just 2 doors from my room, but it must have died down by the time I talked to my sweetie and finally went to bed because I pretty much slept like a log. The hard part was getting up at 6:45 to get ready for breakfast, which is where I will pick things up tomorrow in part 2.
While I did not serve in the military, one rite of passage I did endure right around my 18th birthday (way back in 1982) was having to register for Selective Service. Obviously I was fortunate enough to not come of age at a time where we needed a military draft (those years were spent under the "peace through strength" of the Reagan and Bush 41 administrations), but even so we have been able to fulfill our military requirements with those who voluntarily enlist. Whether it was done out of love of country or as a means to secure benefits on the other side, people of both genders have served with pride and distinction as paid volunteers. It's a system that works.
So I was surprised to see a Republican representative, Rep. Duncan Hunter of California, introduce a bill called the "Draft our Daughters" Act. Females have always been exempt from Selective Service and being drafted into the military, for several good reasons. But Hunter wants to change this. (As clarification, this is the son of the onetime Presidential candidate I endorsed back in 2007. The elder Duncan Hunter retired from Congress once his son ended his military service and could get the Congressional seat.)
I understand the trend is now to try and get women into more combat roles, as some misguided attempt at equality. Setting aside the obvious differences in strength and physical ability, one has to consider the ramification of females being taken prisoner as well as the simple biological fact that they bear our children and it's not going to be feasible to send pregnant women to the front lines.
And while dads are reluctant yet still willing to send their sons off to war, I suspect that drafting their daughters is going to cross the line. We haven't employed the draft since Vietnam, and that conflict was less than popular – thousands of men ducked the draft by whatever means they could. Imagine the rate of refusal among women, who as far as I know haven't exactly been clamoring to get involved in the issue.
It's just another attempt at creating a social engineering laboratory out of the military, and quite disappointing to see a Republican as lead sponsor.
Before the season began, the baseball pundits were excited about two players ticketed for the Shorebirds, as they were the first two players Baltimore selected in the 2015 amateur draft. While he was considered a 1st round selection, Ryan Mountcastle was actually the second choice for the O's but the first high school player Baltimore picked, taken from Paul J. Hagerty High School in Oviedo, Florida.
Mountcastle seems to be a slow starter at each new level. While he had two hits in his pro debut, he started in a 4-for-27 slump for the GCL Orioles last season before rebounding to hit .313/3/14/.760 OPS in 43 GCL games. Later last year with Aberdeen, Ryan only hit .212 (7-for-33) in 10 games to wrap up the season. But the Orioles seem to be willing to push the 19-year-old prospect, and he had some growing pains here, hitting just .162 in 18 April games.
But the turn of the calendar may have been the impetus to get Mountcastle going, as he has hit .412 in May (14-for-34) to bring his average up to a very respectable .245 mark. While that's not going to win a batting title, it's a positive development to create a .245/1/8/.653 OPS slash line. It puts him in a good position to be in the high .200s by the end of the first half – and remember, he's playing against competition that averages a couple years older. (One interesting split Baseball-Reference features is performance against older/younger players, and Mountcastle likes younger pitching – he's 2-for-4 with his home run and a double against pitchers younger than he. Too bad there's so few in the SAL.)
Another area playing the full season will allow Ryan to develop is his fielding, which is reasonable but not consistent (6 errors in 25 games.) With the exception of 3 GCL games where he played third base – and committed two errors - Mountcastle is being developed as a shortstop and has had plenty of opportunity to be a consistent part of the lineup. Granted, as a first round pick the Orioles invested thousands of dollars into, he will have a lot longer leash and more of a shot than the guy they picked in the 24th round.
Continuous improvement, though, will allow the Orioles to believe they are getting their moneys' worth.
(Update: I was surprised to find Bossie read this piece and sent along pages of additional Presidential Coalition donations since 2006, to the tune of almost $140,000.)
Do you think Louis Pope is feeling the heat? I got a second letter from him Monday; this was the letter I alluded to Monday evening and was hoping to get to yesterday.
There were one passage in it that I found interesting. It talks about his opponent's lack of party experience and Pope's fundraising ability:
I now have competition in my race for re-election. My opponent has not yet served in any of the (party-related) jobs listed above, nor on a Central Committee or any party office. I wholeheartedly invite him to become more involved on the local & state level over the next few years. Experience pays in politics and I am one of the most experienced members of the Maryland Republican Party as well as the RNC. My seniority on the committee is important as I am able to direct RNC resources and funds back to Maryland.

The final piece of the puzzle needed for success at both the MDGOP and RNC is the ability to continually fundraise. Virtually ALL of our money comes through donations and you can only get those by making thousands of phone calls along with e-mails and letters to my personal donor base. Over the last two decades I have helped raise millions of dollars for MDGOP and our local & statewide candidates in Maryland, as well as Presidential candidates. (Emphasis in original.)
As we have seen in the last several months, GOP voters are perfectly comfortable with eschewing experienced politicians for someone who has done practically squat for the Republican Party until the day he decided to run for President representing it. And perhaps this is the problem with Pope's experience: those who have stayed in an office too long tend to lose touch with their electorate, and become immersed in a world divorced from reality. Pope moved up the Republican ranks over a couple of decades, making it to state party chair in a good year to do so (2002.) And it seems the glide path for a former party chair involves serving in a different capacity with the RNC, since both Pope and former National Committeewoman Joyce Lyons Terhes were state party chairs at one time – Audrey Scott thought she could get in on that, too, but the Central Committee voters thought differently four years ago.
But I have to question whether that much in "resources and funds" accrued to the state party before Larry Hogan became governor. When I first became a Central Committee member in 2006, the Maryland Republican Party was worse than bankrupt financially – for years we were saddled with debt and things really didn't come around until Hogan was elected. (And note that he used public financing to do so.) Perhaps Pope escaped Audrey Scott territory by being less than specific about dates and fundraising totals, but there were a lot of lean years while Pope was in office.
But Bossie's organization has been no slouch, either. As part of the Citizens United umbrella, their Political Victory Fund has donated $119,000 so far this cycle to 40 different candidates, including a $5,000 shot in the arm to Kathy Szeliga's Senate campaign (as well as a radio ad) and $3,500 to Andy Harris. In addition, this 2014 release shows the Presidential Coalition (another offshoot of Citizens United) donated over $33,000 to state candidates during that cycle.
I don't doubt the Republican establishment likes Pope, as he's been one of their loyal footsoldiers for many years. But perhaps it's time for a new chapter, some fresh ideas, and a different style. One thing that struck me about Pope's letter was how much it looked back at accomplishments rather than forward at goals. While there's the idea of supporting the GOP nominee for President, the fact that Donald Trump begins with a "yuuuge" 325,000 vote deficit here in Maryland to Hillary Clinton (in a state which only has 677,000 unaffiliated voters compared to almost exactly 1 million Republicans) means that a more realistic goal is to concentrate on keeping a Republican governor and chipping away at the Democratic majority in the General Assembly – if the GOP succeeds there, they can finally control redistricting for the first time in decades and perhaps have districts more fairly drawn based on geography and not politics.
As I said a couple weeks ago, twelve years is enough. Looking back into the past is nice, but I prefer to look forward when I can.
Commentary by Marita Noon
On Monday, May 2 the Colorado Supreme Court ruled on what the New York Times (NYT) called: "a lengthy battle for energy production." The court's unanimous decision to strike down two cities' limits on fracking is a victory for oil-and-gas companies and a "disappointment" to anti-fossil-fuel activists. Several states, including Colorado's neighbors, New Mexico and Texas, have faced similar anti-oil-and-gas initiatives that have also been shot down.
The Colorado Supreme Court reached the same conclusion as the lower court: the fracking bans put in place by Fort Collins and Longmont are "invalid and unenforceable" because state law trumps the local ordinances. A report from Colorado Public Radio states: "The ruling will have an impact on other Front Range communities – including Broomfield, Lafayette, and Boulder – that have approved restrictions on fracking. The court clearly said that these efforts are illegal."
The consequences of the decision are "comparatively small," according to NYT, as the land now opened up for exploration represents only a fraction of Colorado's oil-and-gas development. "More significant, said experts on both sides of the conflict, is that the rulings shut down future efforts to stop fracking in local jurisdictions." Colorado Attorney General Cynthia Coffman said that she fears the ruling will not end the divisive debate. "Instead some activists will continue to push anti-development initiatives undermining the state's record of local cooperation on these policy issues."
The NYT points out: "Spurred by the rise of hydraulic fracturing, Colorado has become one of the nation's largest producers of oil and gas. The state has more than 50,000 active oil and gas wells."
According to a press release, the Colorado Petroleum Council "welcomed the decisions for upholding the state's primacy in overseeing oil and natural gas permitting and curtailing 'arbitrary bans' on fracking that could cost local jobs, deprive state and local governments of tax revenue and limit access to energy resources."
Upon hearing the news, I tweeted: "Great news! Colorado Supreme Court Strikes Down Local Fracking Bans." Almost immediately, @AllNewSux responded: "@energyrabbit Hooray…now we can all drink poisoned water here in Colorado!"
What is @AllNewSux thinking? He is regurgitating outdated propaganda as study after study – though funders are disappointed with the results – determine, as did the three-year study by the University of Cincinnati released in February: "hydraulic fracturing of oil and gas wells … does not contaminate ground water."
The University of Cincinnati study, reports the Free Press Standard: "aimed to measure methane and its sources in groundwater before, during and after the onset of fracking." It concluded, "dissolved methane was detected in all sampled wells, however, no relationship was found between the methane concentration and proximity to natural gas wells." The results of the study were released by Dr. Amy Townsend-Small, the lead researcher, during a February 4 meeting of the Carroll County Concerned Citizens in Carrollton, OH – part of a coalition of anti-fracking groups. Townsend-Small stated: "We haven't seen anything to show that wells have been contaminated by fracking." Her revelations must have been a shock to the group whose pre-meeting promotion included this comment: "We saw the debate about fracking's impact on groundwater methane in Pennsylvania and the results of failing to have predrilling or baseline data for comparisons. Dr. Townsend-Small's study provides landowners with that baseline data and helps to differentiate shale sources from non-shale sources of methane."
The Free Press Standard asked Townsend-Small about plans to "publicize the results." She said there were "no plans to do so." Why? "I am really sad to say this, but some of our funders, the groups that had given us funding in the past, were a little disappointed in our results. They feel that fracking is scary and so they were hoping this data could lead to a reason to ban it."
Just a few months earlier, October 2015, a Yale study, reported in Nature World News, came to the same conclusion: "Fracking does not contaminate drinking water." The article, which ties in an earlier EPA report, states: "Yale researchers have confirmed that hydraulic fracturing – also known as 'fracking' – does not contaminate drinking water. The process of extracting natural gas from deep underground wells using water has been given a bad reputation when it comes to the impact it has on water resources but Yale researchers recently disproved this myth in a new study that confirms a previous report by the Environmental Protection Agency (EPA) conducted earlier this year."
Then there is the 2014 research from Duke University's Nicholas School of the Environment that found: "(The) gas data appear to rule out gas contamination by upward migration from depth through overlying geological strata triggered by horizontal drilling or hydraulic fracturing." Addressing the study, Hoppy Kercheval, in the West Virginia MetroNews, said: "Fracking opponents should be held accountable as well, and this new research illustrates some of their alarmist proclamations are just wrong."
In 2013, the "highlights" of a study on the Fayetteville Shale in north-central Arkansas announced: "No relationship between methane and salinity in groundwater and shale-gas wells."
A year earlier, an EPA study that sampled well water at 61 homes in the famed Dimock, PA area, and "found health concerns in only five of them." According to the Washington Times, "drilling is not the root of the problems in Dimock" as "the substances found include arsenic, barium and manganese, all of which are naturally occurring."
The aforementioned studies don't include myriad comments from public officials stating the same thing.
Perhaps, this preponderance of evidence is what caused so-called expert Anthony Ingraffea to base his recent testimony at the federal trial regarding whether Cabot Oil & Gas was a "nuisance to two families" on "speculation." In its coverage of the "sparsely attended" February 2016 trial, Philly.com points out: the plaintiffs were "unable to establish that chemicals from hydraulic fracturing got into their water, or that the drilling caused illness." Coverage at the conclusion of the trial added: the plaintiffs "maintained that the methane contamination disrupted their lives and deprived them of the enjoyment of their property."
During the trial, the plaintiff's expert witnesses, both known anti-drilling activists, each acknowledged that they had no direct proof of claims they were there to support. Under cross-examination, hydrogeologist Paul Rubin admitted that he had not identified a specific pathway from any of Cabot's natural gas wells to the plaintiff's water supply. Regarding his "theory" about causation of the plaintiff's allegedly impacted water, Ingraffea, was asked: "In fact, you're going to tell me I think or I'll ask you that's speculation on your part, it is not?" He responded: "You can call it that, sure." The questioning continued: "You don't have any direct proof of that, right?" Ingraffea agreed that he didn't have direct proof and said his theory was "most likely" the cause.
Additionally, the trial discovered that the plaintiff's water troubles actually began months before Cabot began drilling nearby. The judge repeatedly called out the plaintiff's attorney for going "over the line." U.S. Magistrate Judge Martin C. Carlson dismissed the property damage claim against Cabot, because as Philly.com reports: "the plaintiffs introduced no evidence that their property values had been affected." Additionally, one of the plaintiffs, Scott Ely, "spent $700,000 to build his 7,000-square-foot home – after the water went bad." Carlson, however, ruled that the plaintiffs had "elicited enough evidence that Cabot had been a nuisance." A jury awarded $4.24 million to the two families based on nuisance.
Anti-fracking activists, like @AllNewSux, likely point to the award (which is being appealed) and see it as proof that fracking contaminates ground water. Though, a careful read reveals that no such evidence was found – only the "most likely," theory, and speculation common among anti-fossil fuel claims.
One has to wonder how many more studies and court cases have to be carried out before the fear mongering and activist community finally stop wasting public money to kill jobs and raise energy costs.
The author of Energy Freedom, Marita Noon serves as the executive director for Energy Makes America Great Inc., and the companion educational organization, the Citizens' Alliance for Responsible Energy (CARE). She hosts a weekly radio program: America's Voice for Energy – which expands on the content of her weekly column. Follow her @EnergyRabbit.
You may recall that I wrote about the "Conservative Club" and its slate of proposed Delegates and Alternate Delegates to the Republican National Convention, and that discussion came up briefly tonight at our meeting (which was actually to interview candidates for the Wicomico County Board of Education; the discussion came as we were tallying the ballots for ranking the candidates for submission.) Later on, I observed in an e-mail to another member that there will probably be a "Trump slate," "unity slate," and any other number of combinations.
So, lo and behold, I came home to see my mail for the day. One of the two envelopes to me had a letter I'll get to tomorrow evening, but the other had these sentences:
I was honored to be asked by the Trump Campaign to be a Trump Delegate. I will be running on the Trump Slate.

(snip)

As a central committee member, you play a very important role in the future of our Country. Thank you for your service. I respectfully ask for your vote as a Trump Delegate to the National Convention representing Maryland.
Indeed Trump will have a slate. Without revealing the name of the letter writer, I can tell you this person ran in our Congressional district but did not win because he wasn't one of the "official" Trump delegates. (Editor's note: I stand corrected, this person alerted me to the fact he DID NOT run in the primary. My error.) And while I happen to know this person is a businessman, I have to question his wisdom when he "believe(s) that he will stay true to his promises and fight and scrap for our future." It's taken Trump just a few days to flip and flop on some key issues, so I have to ask why this tendency wasn't as obvious to everyone else as it was to me?
The letter writer is a nice guy, but I'm afraid he's going to get egg on his face before this is all over by supporting Trump.
I hope someone publicizes the Trump slate because it will make a handy guide of people I can skip voting for come Saturday. (Turns out they did.) I think I have a pretty good idea of who I'll favor, but there's still a lot of research to do before I make my decisions on that front.
Update: There is also an official Cruz list, so I encourage you to start there with your voting.
If you want to talk about an absolute scrum, look no further than the list of candidates for Delegate and Alternate Delegate to be presented to us at next Saturday's Maryland Republican Party Spring Convention. Between the two races there are a total of 98 people vying for the 22 positions that will be available for Central Committee members and/or proxies to vote upon.
A lot of them are well-known names: 16 are current state or federal elected officials – Andy Harris is one of those trying for a spot – in addition, all of the party officers are on the ballot as well as a host of other elected officials, candidates, and familiar faces such as Anne Arundel County Executive (and former Delegate) Steve Schuh, two-time Comptroller candidate William Campbell, unsuccessful Congressional aspirants Faith Loudon and former Delegate Mike Smigiel, and even the onetime First Lady of Maryland Kendel Ehrlich. But there are several dozen activists and people who ran for the positions in the primary but failed to be successful. The insurgent campaign of Donald Trump vaulted a lot of unfamiliar names to the Cleveland convention because many of Maryland's elected officials backed other candidates.
With so many in the race it's only natural to see slates formed. Here's one from the "Conservative Club" of Maryland:
I have no idea who runs the Conservative Club, where their meetings are, and whether I owe them any dues, but I can tell you a little about their slate:
I have previously endorsed their top two candidates for National Committeewoman and National Committeeman.
Six of their ten At-Large Delegates previously ran as Cruz delegates or alternates: Boone, Brewington, Loudon, McConkey, Pycha, and Rey. Two of the others were Rubio delegates (Cluster, Patel) and the other two did not run. Bossie is a natural pick as he's trying to be National Committeeman.
Three of their At-Large Alternate Delegates previously ran as Cruz alternates: Alzona, Lathrop, and Trotta. O'Keefe was a Rubio delegate, while the others either did not run or were unaffiliated.
So this seems to be a combination of Cruz and Rubio supporters under the conservative banner. Fair enough, although I can question Patel's conservative bonafides when I see a photo like this:
Silent majority of what? It's not a majority of Republicans in the country, since Trump still has only a plurality. And to me, backing someone who's not going to advance many conservative principles is not worthy of being in a Conservative Club. So I think I'll skip that name on the ballot.
Obviously there are not any Trump delegates from April running in this election since the voters of Maryland blindly sent them to Cleveland. But out of the field who ran for the seats in April there are a number who are trying again, and it will be interesting to see how they fare in round 2. In my case, I'm looking to send as many Cruz delegates as possible to hopefully bring some sanity to the Maryland delegation – however, it is likely there will be a Trump slate as well and that group is to be avoided. I may have to bring my own list and check names off as I figure out their allegiances.
One other aspect of the race that fascinates me is the sheer volume of people and ballots that need to be created. When I ran in 2008 for a at-large post, there were only about 25 of us and I think the voting and tallying took about 45 minutes. One problem is that our voting system is a somewhat proportional one based on the county you represent and its relative voting strength – as I recall, the bulk of the modest amount of support I received came from Eastern Shore counties and their votes weren't much in the scheme of things. It's better now, but thanks to variances in the voting strength and number of members on a Central Committee, a member from Anne Arundel County has about four times the power as a Montgomery County member – or, for that matter, my vote from Wicomico County. Because their strength is diluted so much by having 48 members (the maximum allowed by law) each of the nine of us on the Wicomico County Central Committee are roughly at par with each member of Montgomery County's CC – they just have a lot more bodies. Anne Arundel only has 13 members, so they each have a lot of say.
Long story short, I'm told they will have an electronic system in place for this so I hope it goes smoothly. I would like to be home before church on Sunday.
It's just another aspect of what could be the most contentious convention in the ten years I have attended them.
Those who actually watched and paid attention would have known this days or weeks before I did, but this morning I received an e-mail announcing the demise of PJTV, the video arm of the PJ Media internet site. The reason I didn't pay attention is because if I've watched PJTV a half-dozen times, that would have been accidental – not to say that it was or wasn't quality work, but I'm the type of person who would rather read the State of the Union speech than waste an hour watching it. Movies and television really don't interest me all that much, although I'm fine with watching a ballgame on the tube. And thanks to the power of the internet, the PJTV contributors will still be getting their message out on their own.
Still, I have a soft spot for PJ Media (which used to be Pajamas Media) because, once upon a time, I was a contributor to their site. (I was their Maryland state correspondent for the 2010 election, since we were considered a possible swing state with a key gubernatorial election, and also contributed a handful of articles like this one in the months afterward. They paid very well for the latter.)
But the site has changed since I was last contributed there. While it was once primarily political, in recent years it's gone to a more general-interest site where increasing emphasis is placed on non-electoral areas like parenting, faith, and lifestyle. (It still features one of my favorite writers, Victor Davis Hanson, though.) Presumably the more or less modest amount of advertising they have on the PJMedia site (which has improved itself graphically over the years, evolving to a relatively clean design that reminds me of the of the homepage I have with the Microsoft Edge internet browser I use) is enough to pay their bills.
On the other hand, the PJTV side was a little confusing because it was a mix of free and subscriber content. Obviously the subscription base wasn't enough to justify the continued expense, as a Daily Beast story by Lloyd Grove (which references the ubiquitous unnamed "former employees and outside observers") claims:
Several former employees and outside observers described the two enterprises as money-losing ventures whose advertising revenue and online traffic—8.3 million unique visitors in the first quarter of 2016 for PJMedia.com, according to a Google analytics tracking figure provided by a PJ Media spokesperson—were hampered because much of PJ TV's content was behind a paywall and available only to subscribers. (The spokesperson declined to specify the number of subscribers, explaining that the information is proprietary).
8.3 million unique visitors in a quarter translates out to about 92,000 a day. Even being generous and saying 10% were PJTV subscribers, that's only 9,200 daily viewers and you have a hard time getting advertisers with that audience.
And having written recently about Erick Erickson's struggles to get The Resurgent off the ground (which doesn't feature its own video channel and may have to scrap its subscriber-based model, much to my disappointment) it's becoming clear that the political audience is becoming so fragmented and fatigued that they are just tuning out. This particular cycle has become less about issues and more about celebrity, and it's very hard to compete with that with political commentary even if it is on the humorous side.
Naturally the creation and demise of enterprises on the internet is nothing new, and survival is tough - I have outwitted, outplayed, and outlasted probably thousands of political sites over the years, but at some future time the end will come to this one as well. There are a number of websites and ideas that I have been a part of, such as Red County, Conservative Weekly, and American Certified, which failed to last. All of them reached a point where the time and effort placed into keeping up the website as opposed to other, more productive pursuits outweighed the satisfaction (or revenue) one got from creating the content. I decided early on this would not be all political because if it had been it wouldn't have made it two years, and even on my site I have started and stopped various features when they became too much of a burden. For example, spending three hours transcribing a phone interview every week because the software to do it wasn't affordable to me led to the demise of Ten Questions.
When I was much younger, half a lifetime ago, MTV was blamed for shortening the attention span of youth to a point where their education was suffering. Johnny couldn't read because he was not interested in a 50-minute English class. Perhaps the same is happening to long-form entertainment such as a TV network, such that PJTV was.
But the real issue is that we are spoiled: the internet is more or less free, although you pay a provider to place you there. What I think PJTV has become the latest to find is why should people pay for content when they can get comparable entertainment for nothing? I don't have that answer because, if I did, this wouldn't be an enterprise which probably pays me millage per hour to create. (Is this an appropriate moment to remind people I have a "donate" button?)
With the absolute mass of content now available thanks to the World Wide Web, there really is no such thing as "must-see TV" anymore. PJTV won't be the last to learn that lesson.