Over the years I've noticed the local music community is more than willing to help out and I've been to several of these benefits over the years. But last Saturday it was time to assist one of their own and pay tribute to a special woman who was a great example of this willingness to help out her community.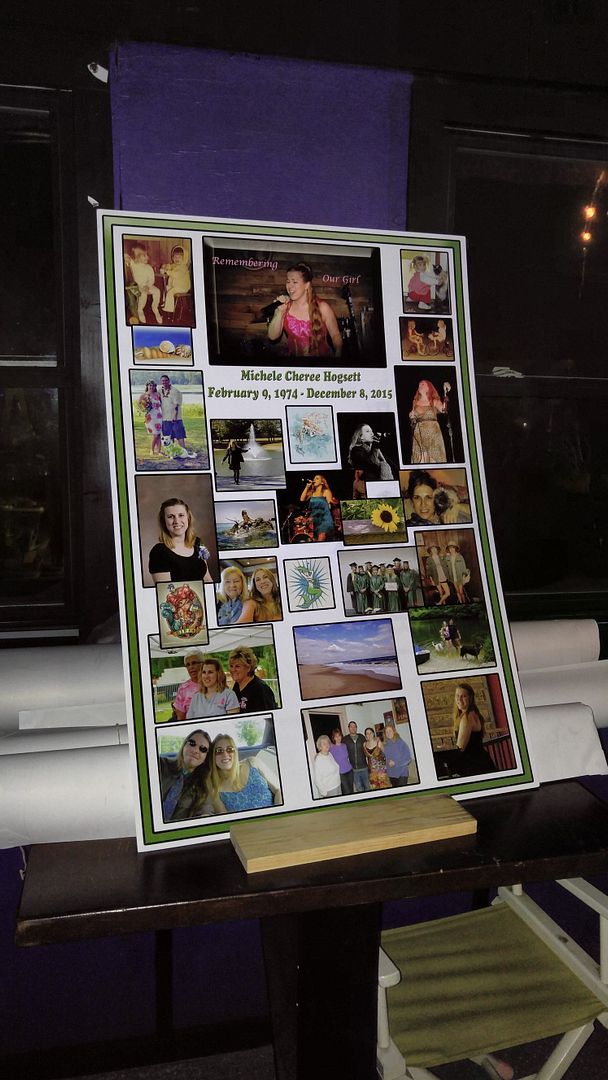 In December Michele Hogsett finished her seven-year battle with breast cancer. Some may know her as the lead singer of Semiblind and the duo Dog & Butterfly, others as DJ Siren, and still others as the woman who put together the annual (Save the) BreastFest until this past year when she became too ill to continue. But four bands volunteered their time to help her husband Jim out with all the expenses incurred.
The board I began the post with was one of several that were placed in the venue. They are a great memorial in photos to Michele's life so I'll use them to divide this piece up.
I got there about a half-hour late, so I arrived about halfway through Fish Whistle's set.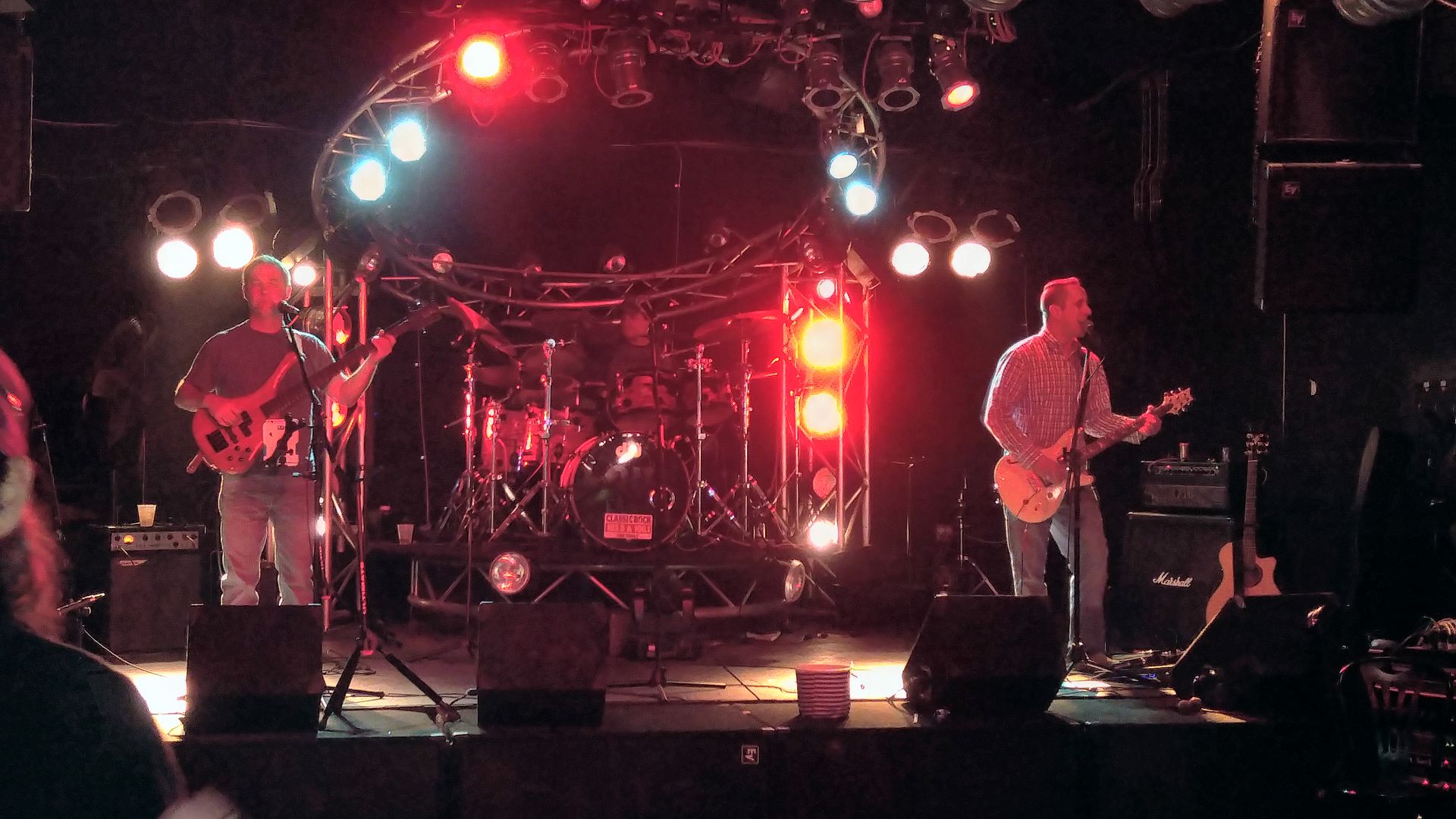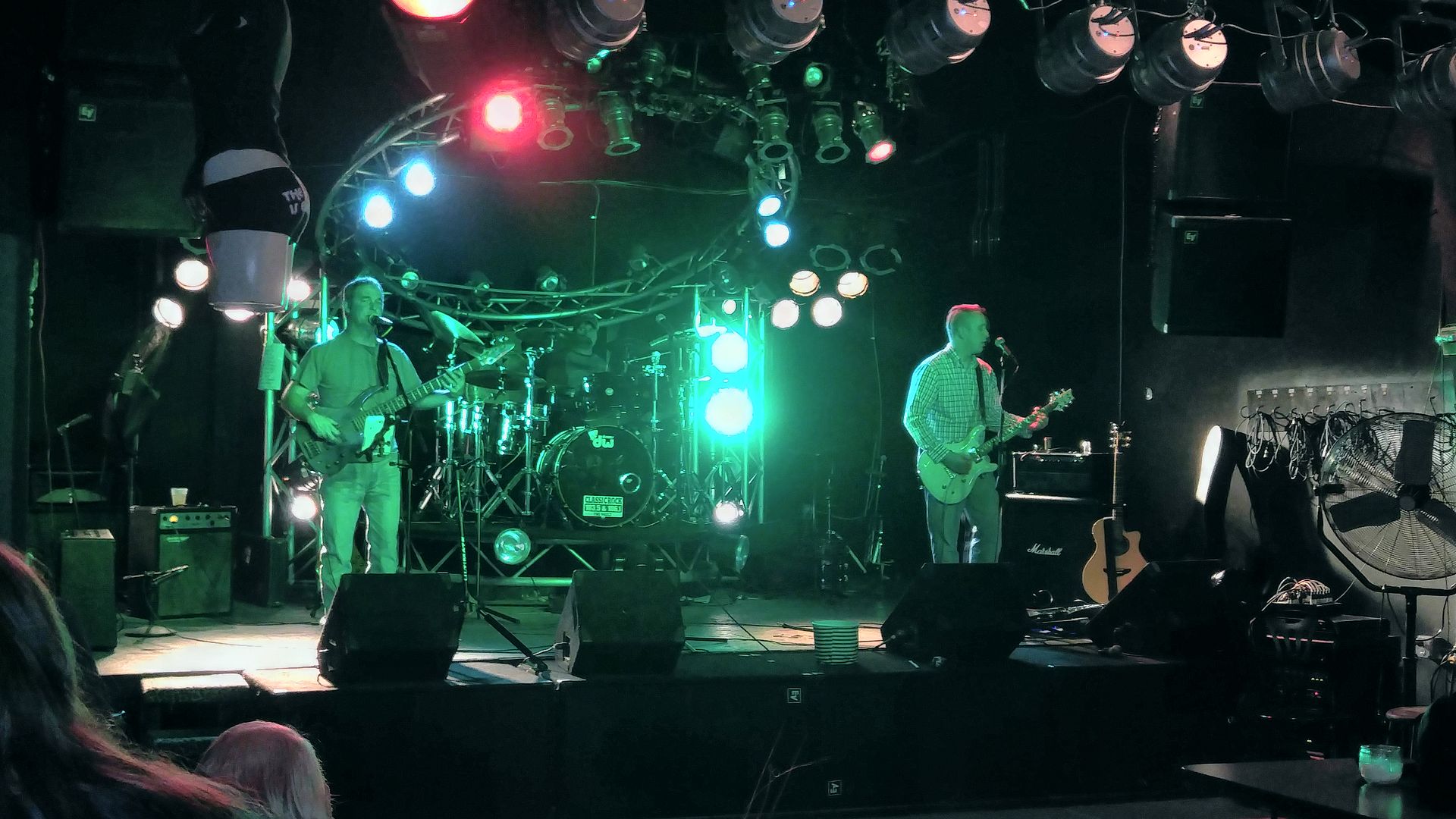 The trio, which has a former member of Semiblind in drummer Mike Edgerton, played a set heavy with Pink Floyd and Van Halen, among a host of other favorites. They set a good tone for the rest of the show.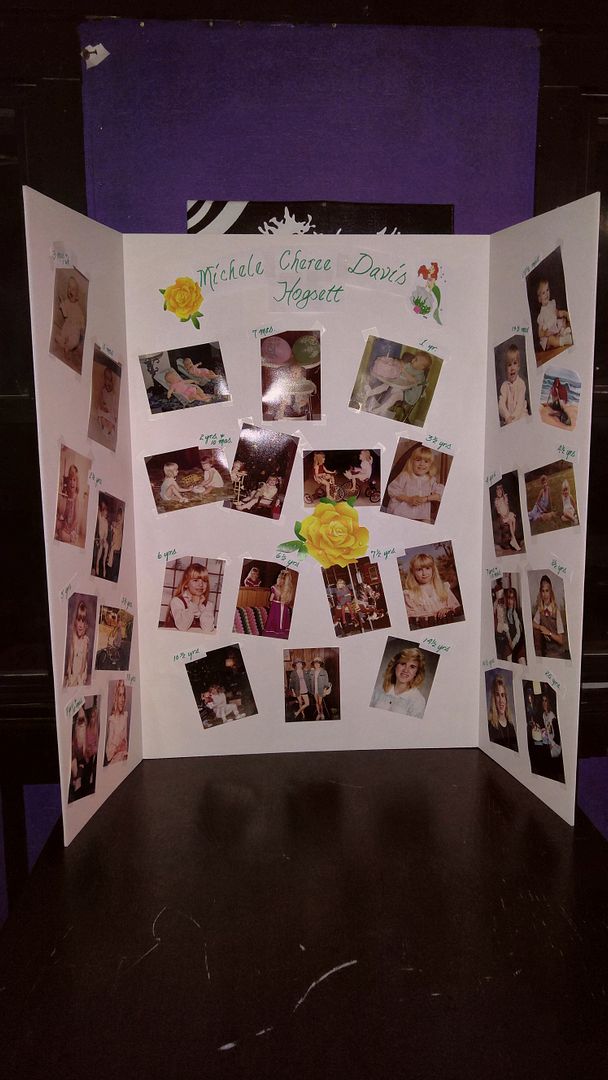 If you can't read the banner behind them, I'll let you know Black Tide Rising was the next band up.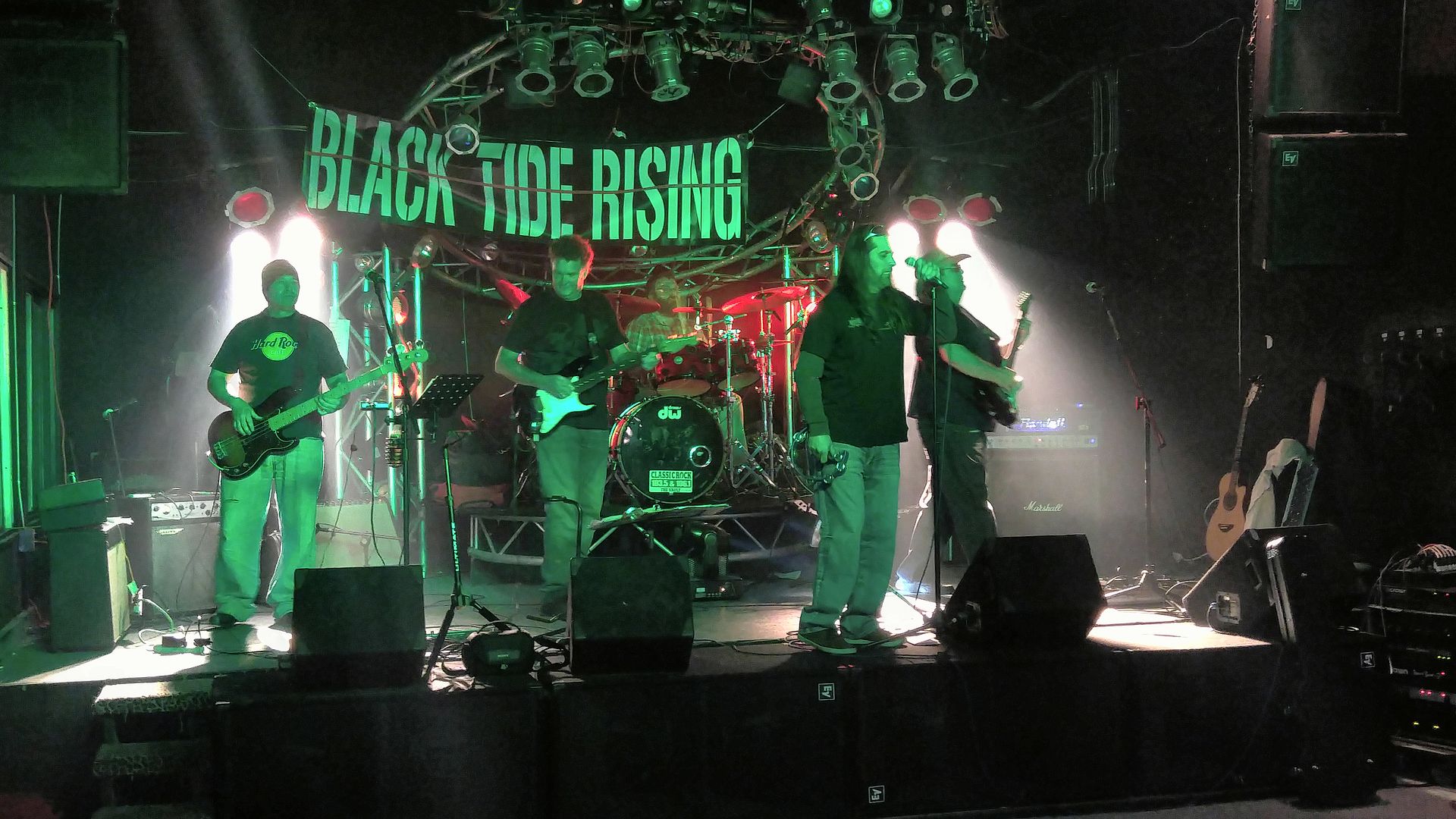 They were a little heavier on 1970s stuff, but they had help from Susan Witchey (who sings for the band Witches Brew) on the old Grand Funk Railroad classic I'm Your Captain (Closer to Home).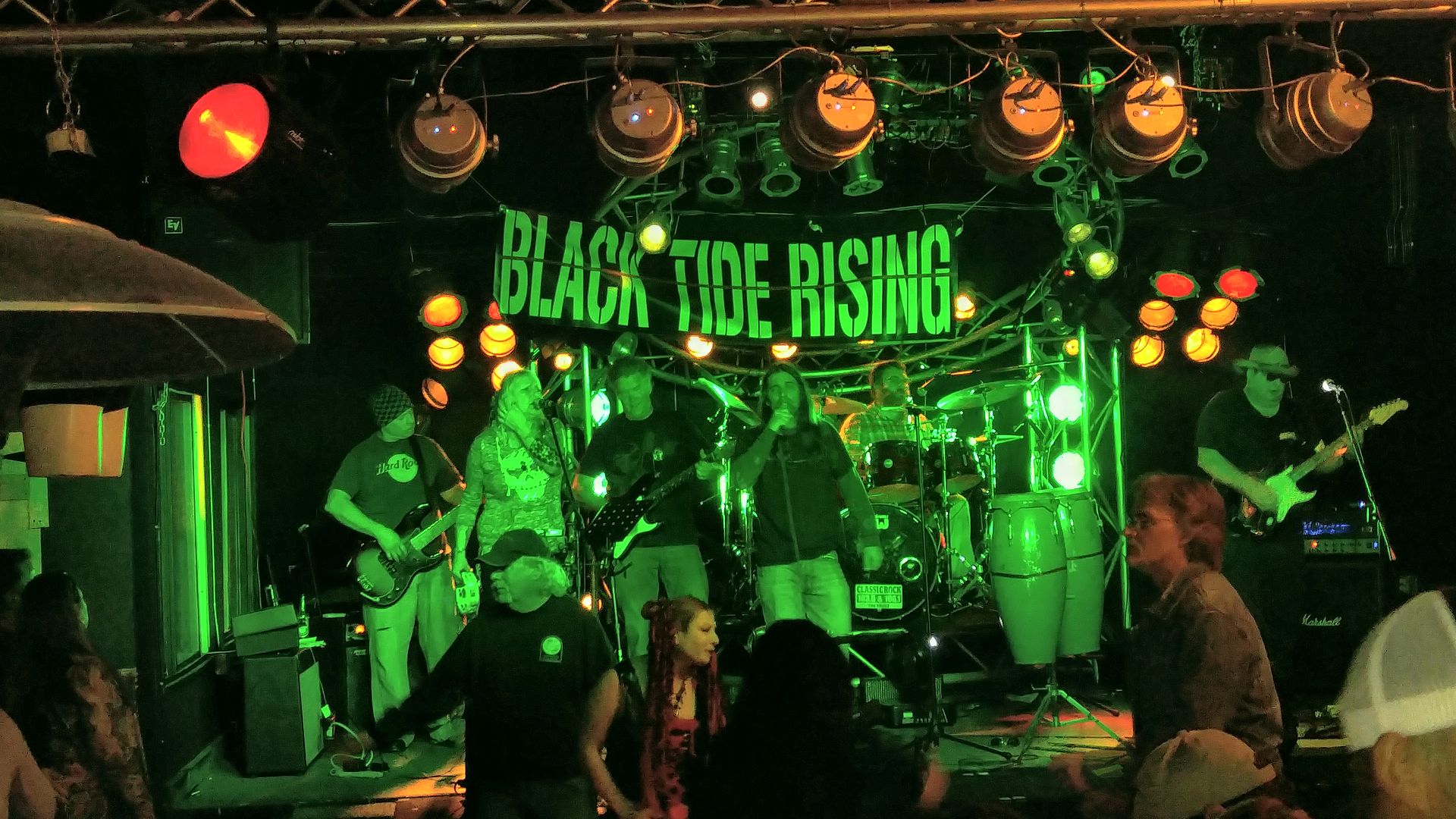 BTR also included some songs you don't hear every day, such as Silent Running by Mike & the Mechanics. It was funny because he said he'd buy a drink for anyone who knew the song – I could remember the title but had to Google the band.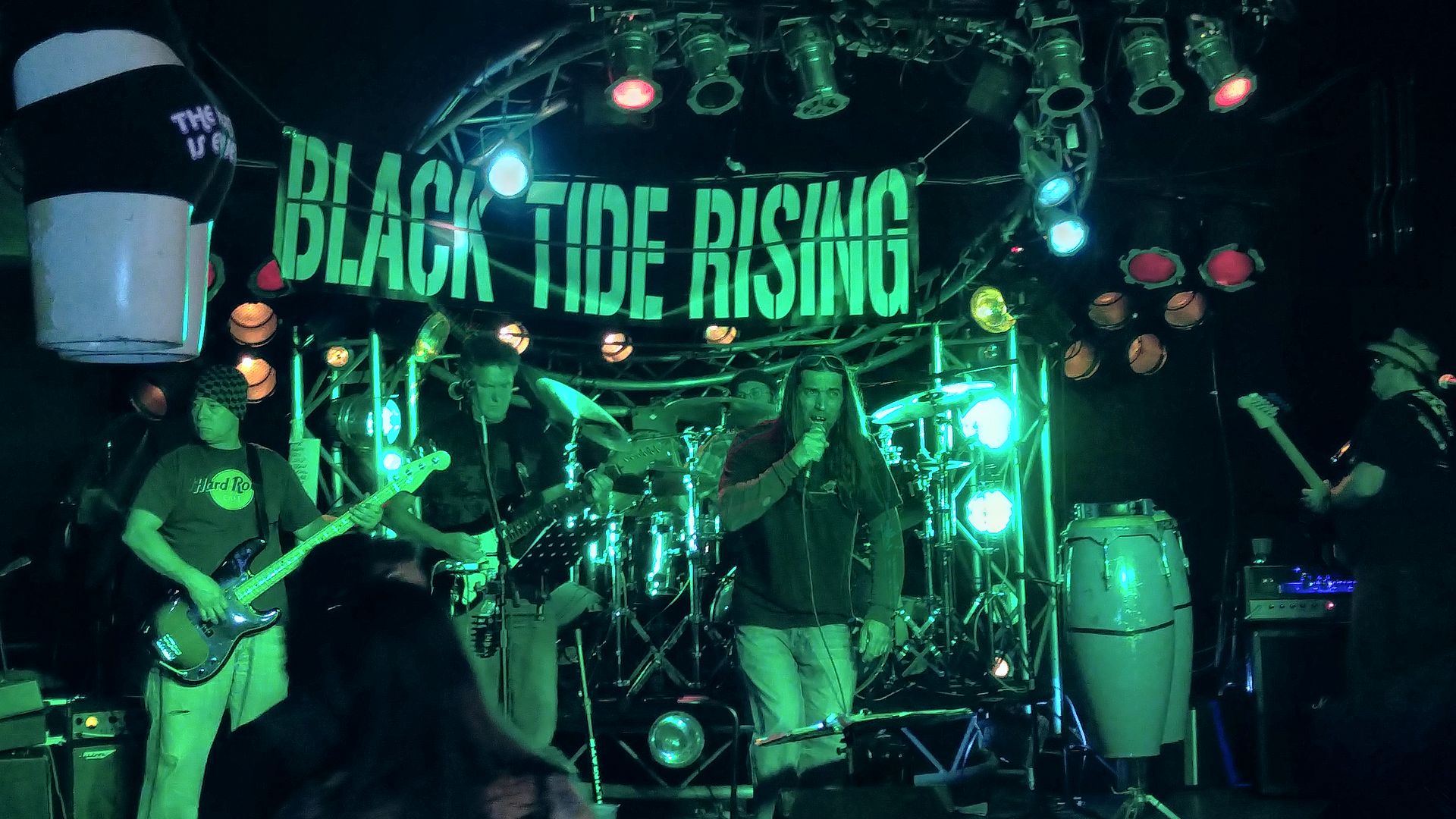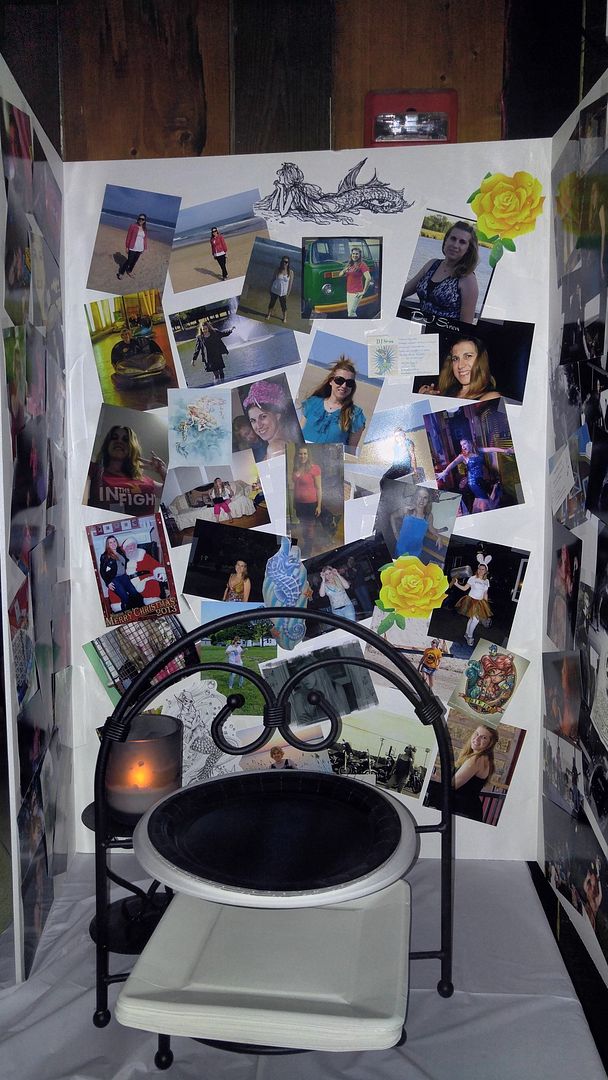 The Breakers were the penultimate band for the evening. They went back another decade, starting out with a Beatles song. Soon after, Susan was helping them out with much of the set.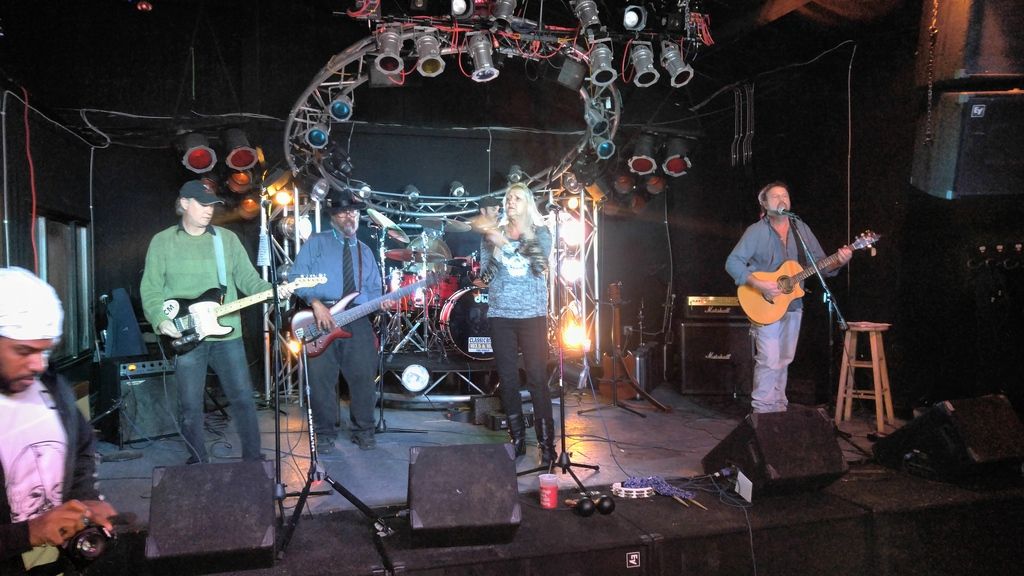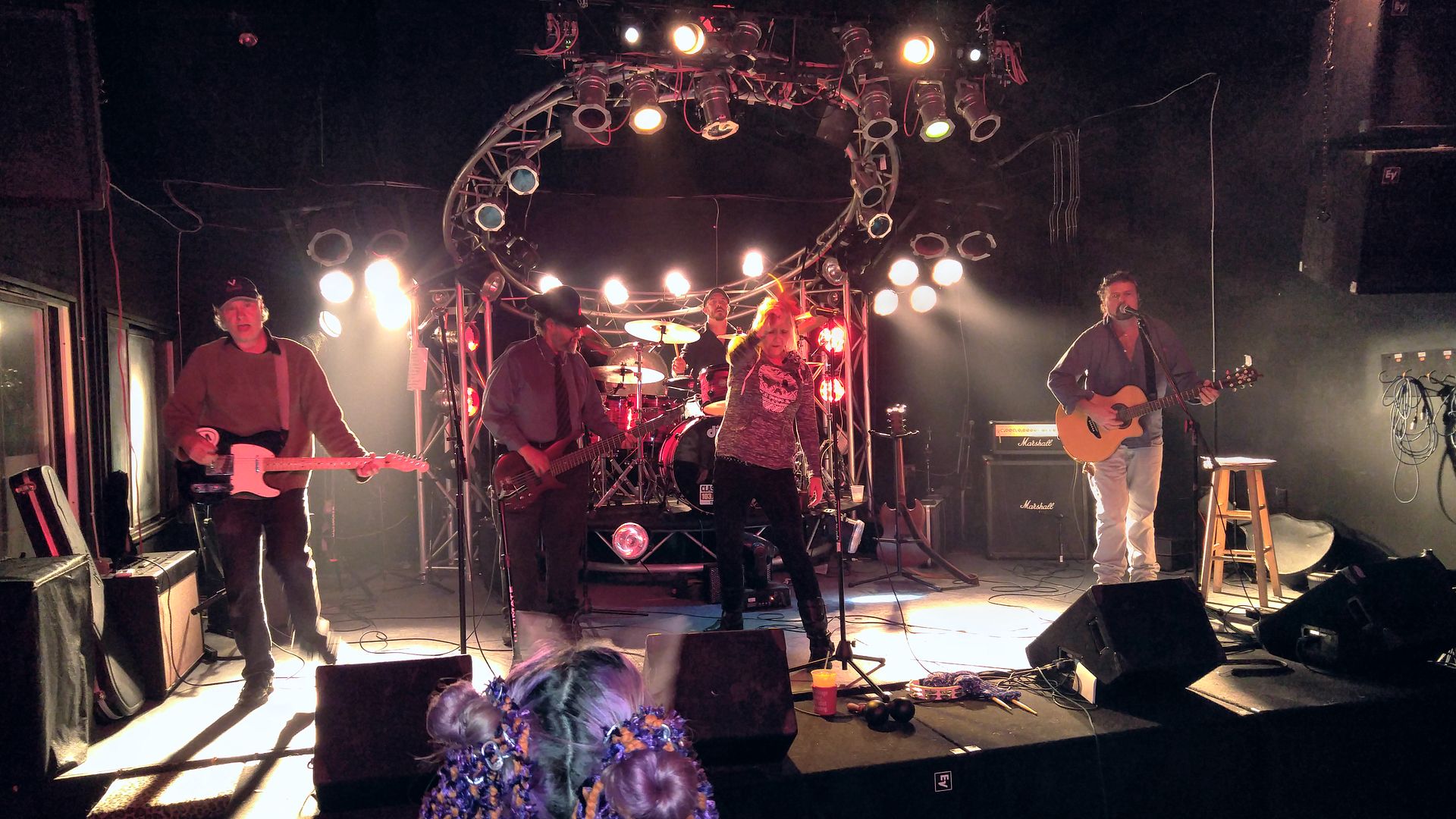 Speaking of cool cover tunes, I seem to recall their last song was Hymn 43 by Jethro Tull. Years ago a friend of mine gave me the record – still have that vinyl somewhere in a closet.
There were a few cool things available in a silent auction, too.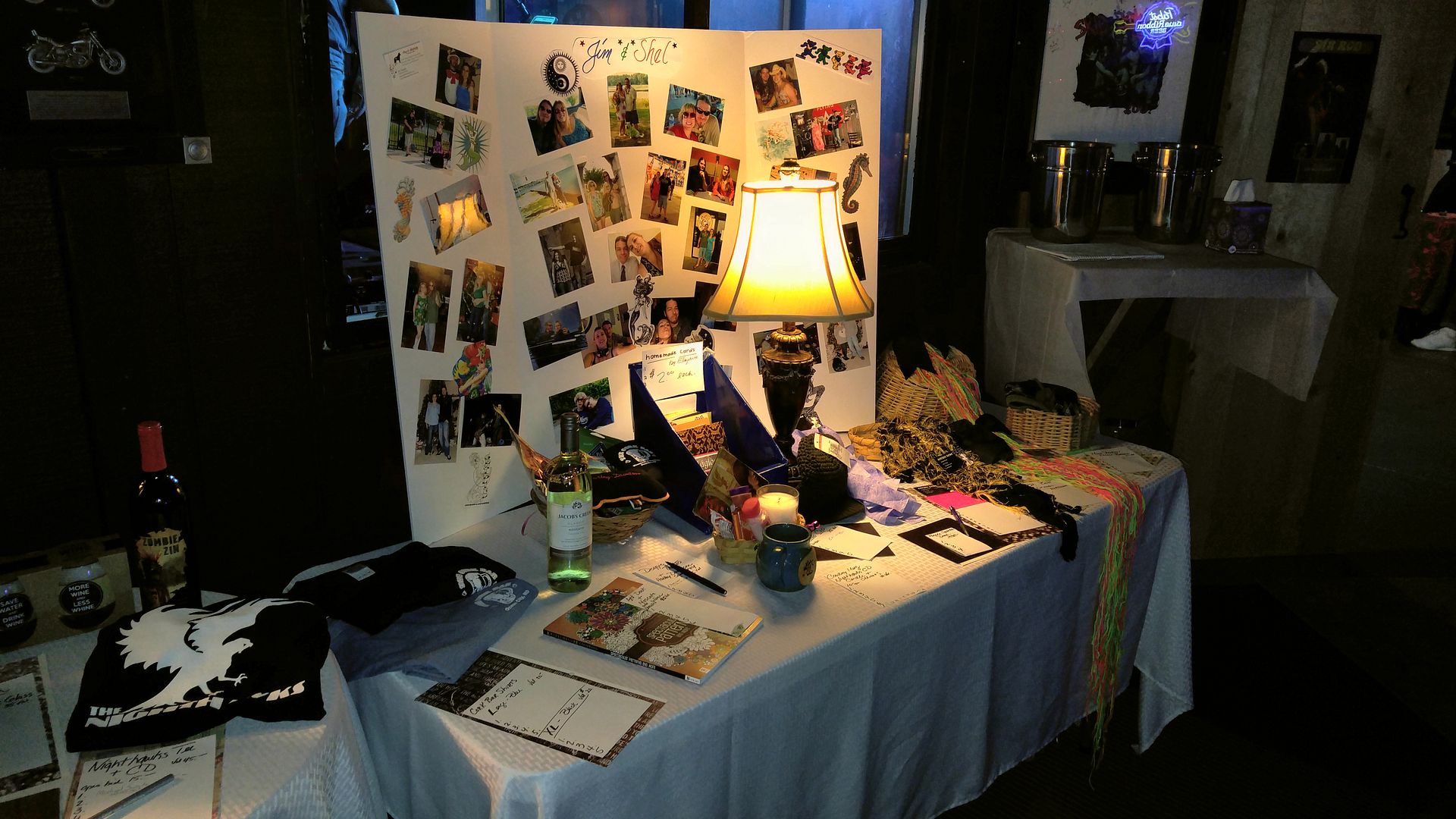 Between these and the 50/50 raffles, there was a nice amount raised. During the breaks, we also heard from some friends of Michele and Jim who gave testimonials to her character. One piece of news that cheered me was the vow to bring back BreastFest after last year's hiatus. It was a great part of Delmarva Bike Week and had become a recognized auxiliary event.
The last band of the night was Lime Green. Is this shot rock and roll or what?
I just love that dry ice fog machine.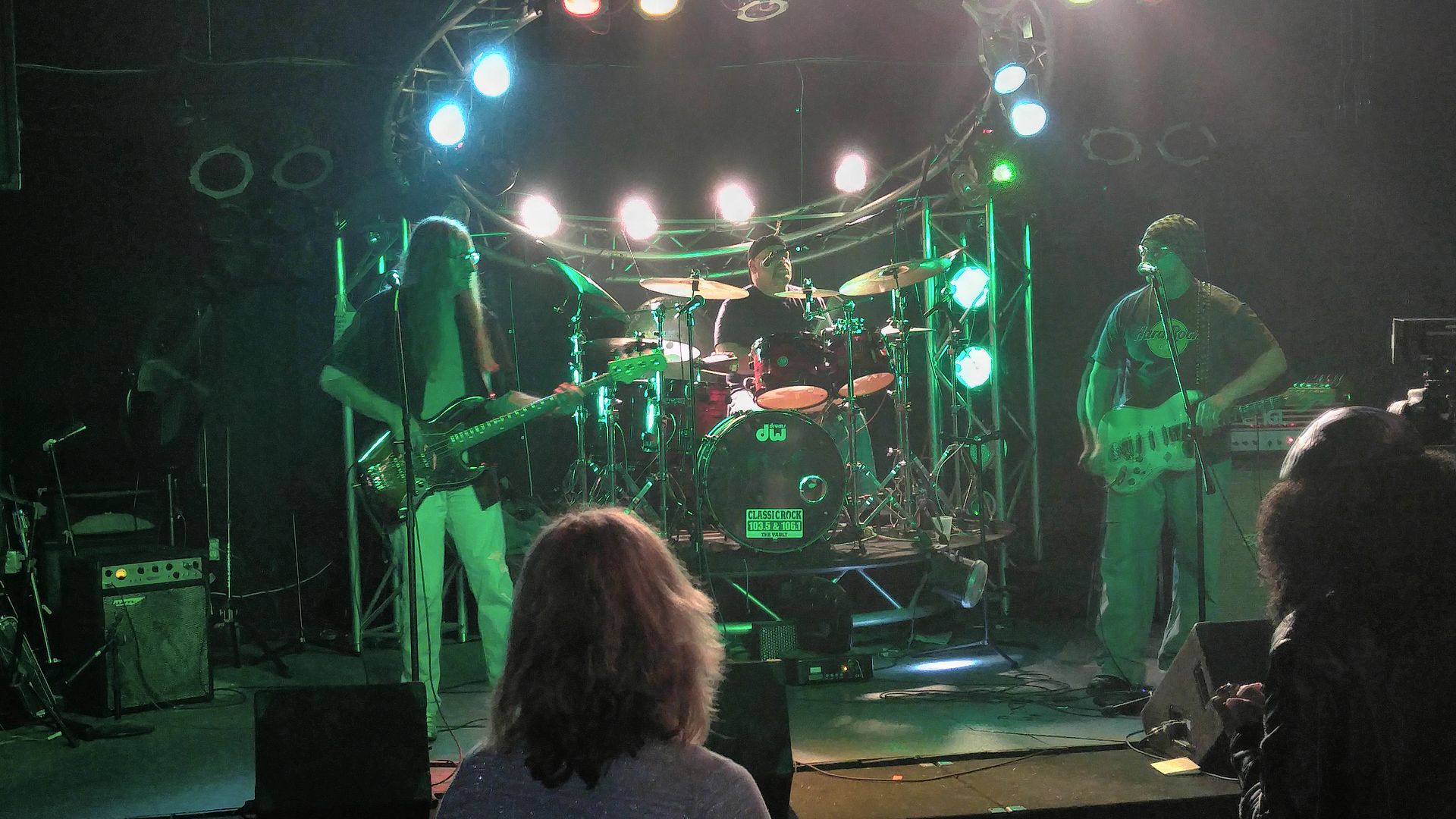 I will also tell you that the lighting and sound at the OC House of Rock was very well done. They really, really loved that green lighting for Lime Green (naturally.)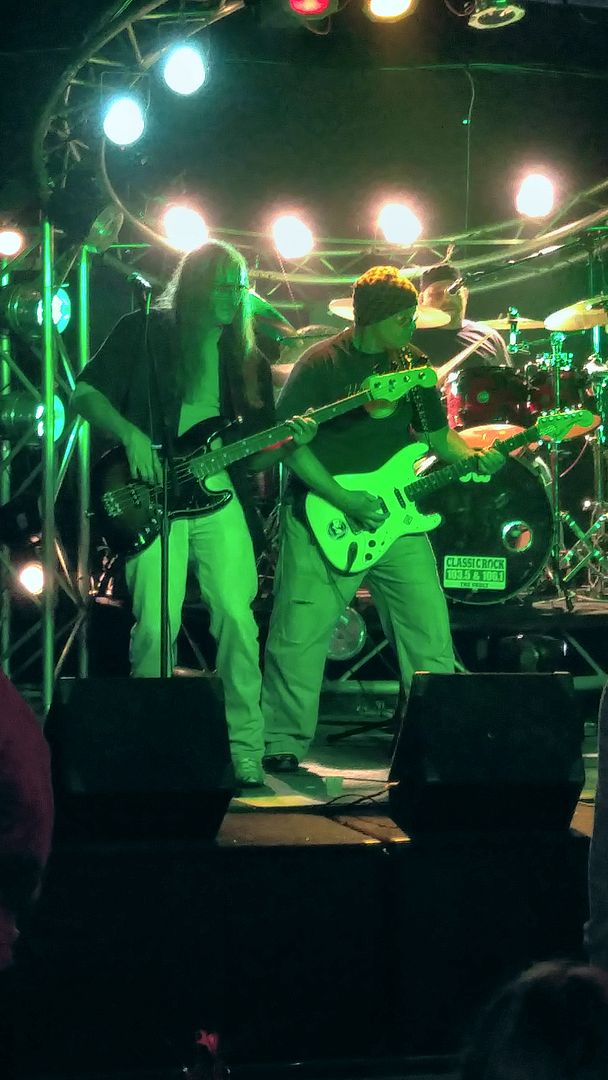 Lime Green did a veritable potpourri of songs, everything from TLC's Waterfalls to Folsom Prison Blues. Susan jumped in for some on their set as well.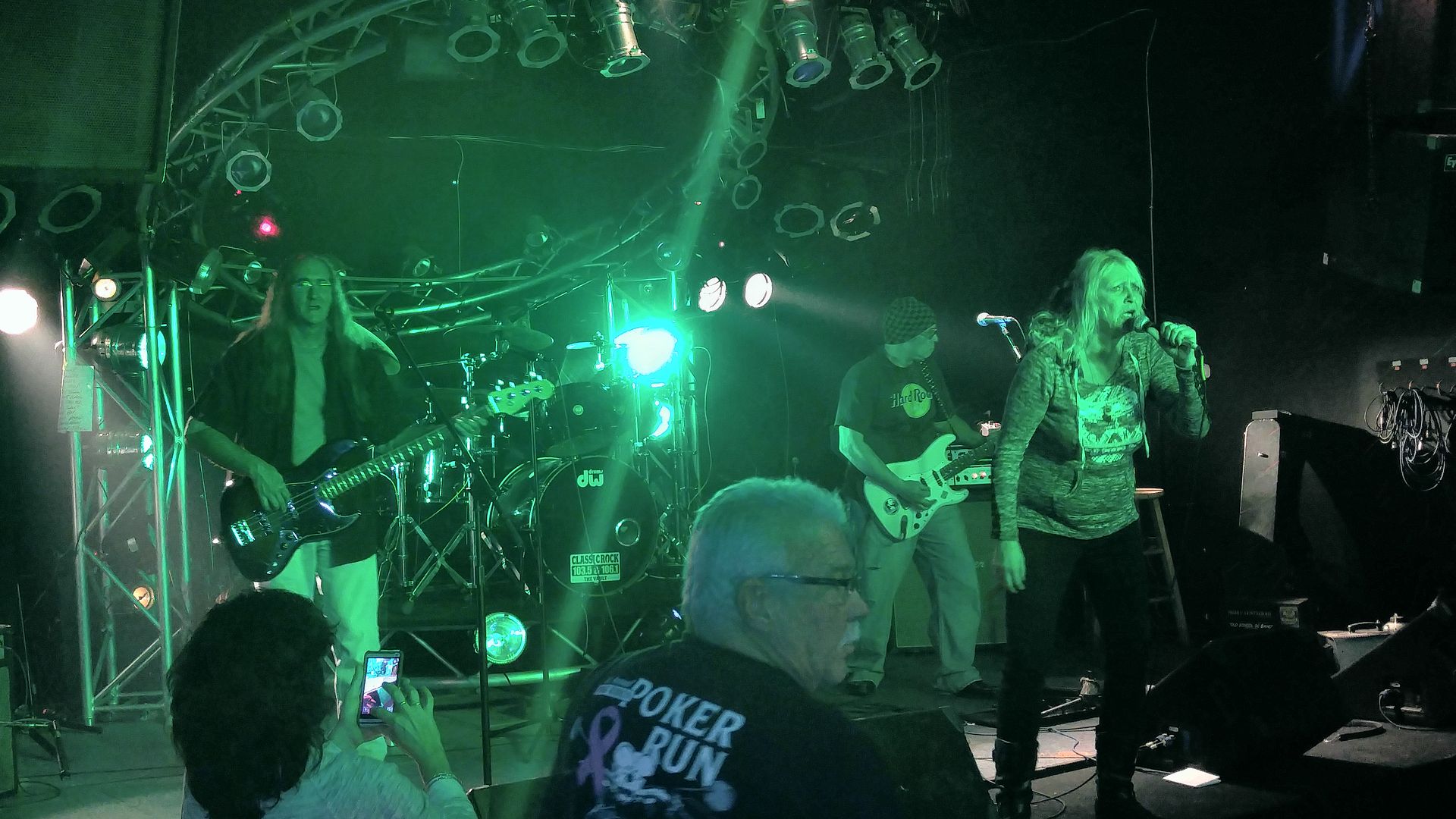 They also played an original they're planning on shooting a video for this spring at Pemberton Park outside Salisbury. So what is it called? Pemberton Park, of course.
Afterward, a lot of people stuck around to wish Michele's husband Jim well. Jim didn't bring his guitar for this show, but I'm hopeful he can carry on with his music as the grieving process continues. While Semiblind was better known as a cover band, Jim and Michele wrote and recorded a number of originals as well. Maybe Michele's legacy can carry on as the inspiration for new music.
No use letting cancer defeat two talents, I say.