In years past, our Central Committee used to make a gentlemen's bet on the election results and I was often the one who prevailed. But I seem to recall I had a rough go of it the last couple times out and these days I have no idea if my crystal ball is broken or not. Undaunted, here are my slightly educated guesses on how this election will turn out locally, statewide, and nationally.
First of all, national turnout will be about 124 million votes, which will be down from 2012 but not as bad as I once predicted.
The important race: Hillary Clinton will pull out a fairly close popular vote race by 1 or 2 points nationwide, but fails to eclipse 50 percent just like her husband. However, there is a highly distinct possibility we may live the 2000 election all over again: the Electoral College very well could finish 279-259 Trump and the straw that breaks Hillary Clinton's back will be losing Florida. Trump will win 30 states but Florida will be the dagger the GOP regains to defeat Hillary. Also from the 2012 map Trump will regain Colorado, Iowa, Nevada, New Hampshire, and Ohio for the GOP, plus one Electoral College vote in Maine. (That one vote in Maine could be key if Florida and Pennsylvania trade places, with the former going to Clinton and the latter Trump. If Trump takes one Congressional district in Maine he would prevail 270-268, but if that elector decides to go with the other three Maine electors it becomes a tie.)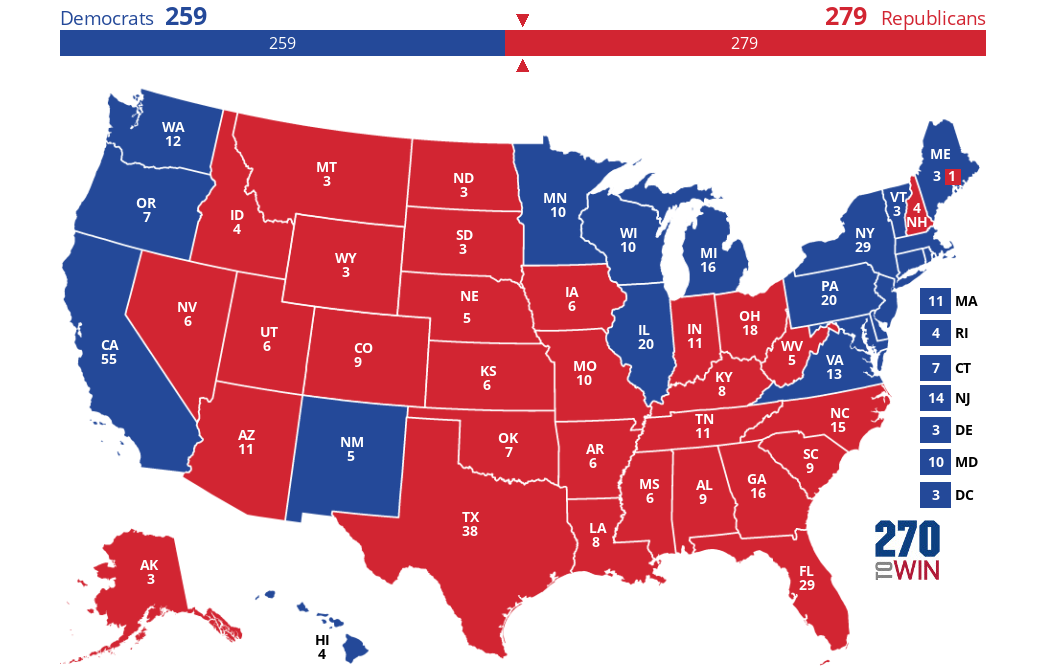 Click the map to create your own at
270toWin.com
The reasons neither candidate breaks 50 percent: about 4.5% for Gary Johnson, 1.5% for Jill Stein, and various write-in candidates will split roughly 2% of the vote. This means Hillary beats Trump by something like 46-45 or 47-45. But if Hillary wins in the Electoral College by keeping Florida (or another close state like North Carolina or Ohio), by dawn on Wednesday the caterwauling about #NeverTrump begins, conveniently forgetting that not only was Trump a weak candidate propped up by initial incessant and fawning media coverage that (as if by magic) turned more negative when he won the nomination, but Gary Johnson and Jill Stein took enough from Hillary to deny her a majority, too.
The suspense will be much less in Maryland, where Trump will lose but not as badly as polls once suggested. Out of 2.6 million votes cast (again, down slightly from 2012) Hillary will get 56.1% and Trump 38.7%. Among the rest, Gary Johnson will get 3.3%, Jill Stein will pick up 1.2%, and write-ins the rest. Evan McMullin will get the majority of counted write-in votes, eclipsing the 5,000 mark statewide. I think Darrell Castle comes in next with around 1,100, which almost triples the 2012 Constitution Party candidates Virgil Goode and James Clymer (both ran under that banner as the party had split factions.) This would be astounding when you consider there were over 10,000 write-in votes cast in 2012 but most of those weren't counted. (The actual top vote-getter among write-ins back in 2012 was Santa Claus with 625 – Goode was second.) Thanks to McMullin, though, this year the stigma behind write-ins will be broken somewhat.
On the Wicomico County level, Donald Trump will carry the county with ease, with 63.7% of the vote compared to 32.8% for Hillary. Gary Johnson will hover around 2.3% here and Jill Stein at 0.4%; in fact, Evan McMullin will beat her by getting 0.6% of the vote. Of the other 100 or so votes, I figure Darrell Castle gets about 45.
Looking at the U.S. Senate race, I think that Chris Van Hollen wins no more than eight counties but those will be enough to propel him to victory with 61.1% of the vote, compared to Kathy Szeliga's 37.8%. Margaret Flowers will get 0.6% and various write-ins the rest. Wicomico will be one Szeliga wins, but not quite as strongly as Trump – she gets 59.3% of the vote while Van Hollen has 40.3% and Flowers 0.2%. Not backing Trump will give Szeliga a larger undervote than normal, while Van Hollen may actually exceed Hillary as independents split their tickets.
Andy Harris will be returned to Congress, but not by as much as previous years. He will get 60.7% of the vote both overall and in Wicomico County, but Joe Werner's 35.9% of the vote districtwide will shrink to 33.8% here. The Libertarian Matt Beers will have 3.2% districtwide but do somewhat better here, with 5.2% support in Wicomico County. Because of the nature of the First District, don't be surprised if Harris runs slightly ahead of Trump (mainly across the Bay.) The Maryland Congressional delegation will remain 7-1 Democrat, with Amie Hoeber and Mark Plaster coming the closest to ousting the incumbents but losing by single-digits.
On the questions, I believe Question 1 will get in the neighborhood of 80% statewide but maybe 75% here. The biggest controversy will be that Question A's Option 2 will win a plurality of the vote but not quite a majority – a spirited Democrat effort will pull Option 2 down to 48% but Option 1 will get just 32%, with 20% opting for the hybrid. Otherwise, all the charter amendments will pass by healthy margins of 65 to 80 percent in favor.
Across the border, I fear Delaware will vote for more of the same then wonder why their state isn't getting better. Basically the state will have the same political composition with different names on the nameplates in Congress and state executive offices – not that Sussex County agreed with it, but they will be outvoted as usual by the New Castle Democrat machine.
So that's my take on how it will go – do readers have ideas of their own? And just as an aside, while early voting had historically high turnout, the reason will end up being that people just wanted to wash their hands of this election. Voting a week early enabled many to tune the election out – they did their civic duty and now could get on with life.
We will see on Wednesday how shocked and surprised I am. I was certainly shocked with the state-by-state figuring I did to predict a 2000 repeat.