Last night the Wicomico County chapter of the NAACP held a candidate forum in the historical Chipman Cultural Center near downtown Salisbury. I snapped this photo last night for Facebook and as you can see it was in close quarters.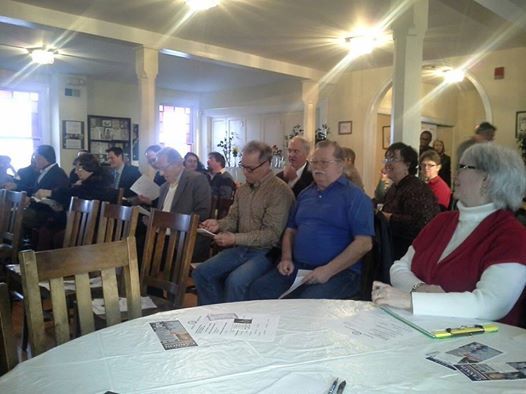 The event featured most of those running for County Executive and the seven County Council seats, with a handful of exceptions I'll note in my second part. What I've decided to do in part 1 is summarize what each of the County Executive candidates said, with a little bit of opinion as needed.
As has normally been the case, Orville Penn was last night's moderator and he asked questions with an eye toward the minority perspective – in one case, asking the County Executive candidates for a specific commitment to placing minorities in paid policy positions.
The evening began, though, with remarks and an invocation from local NAACP leader Mary Ashanti, who reminded us that the questions we submitted from the audience "won't offend or insult the candidates." This was an issue during last year's municipal primary forum.
We heard from the County Executive candidates first, with both Bob Culver and incumbent Rick Pollitt there to answer questions. Since Culver spoke first, I'll begin with him.
Culver, who currently serves on County Council in an at-large position and ran unsuccessfully for County Executive in 2006, make his case quite simply: "I feel like the county is (going in) the wrong direction." While we didn't need to replicate the successes of other counties, we did have two necessary items on the to-do list: maintain our status as the #1 agricultural county in the state and create jobs. "Teach young people how to work," said Culver.
So when he was pressed about hiring minorities, Culver noted there had to be some effort on their part as well. Getting an education and showing a "desire to get ahead" were key. "Everybody should be valued on their knowledge and education," Culver added.
Crime was an issue as well. Bob seemed to assign more blame to the victim of a recent shooting involving a Maryland State Police officer in Delmar, calling it "truly a shame," but noting "you don't go to a state police barracks with marijuana in your car." He also conceded there will be bad people and "we can't cure all the ills in the world," even though we have an outstanding sheriff and State's Attorney.
Turning to the subject of a recent audit of our Board of Education, Bob took Pollitt's decription of it as "troubling" and added "troubling is not the right word for it." Culver stated those who read the audit "will be appalled." He advocated giving the Board no more than required for maintenance of effort until they managed their finances properly, but also wanted the children to be as technologically advanced as possible.
"We've got to get out and get jobs." That was Bob's initial answer to the question on the County Executive's role in job creation. That gave Culver the opening to discuss his small business experience. He also stressed teaching kids how to work – perhaps in a WPA-style program – but he added the county is not here to create jobs, only to be an enabler in job creation.
Incumbent Rick Pollitt is running for a third term as the county's first (and thus far only) County Executive. He pointed out the difference between him and Culver would be in their respective approaches. His was one of stressing relationships.
But since the office was created in 2006, the county has seen a severe recession which has "redefined the rules" and created "a new normal." We needed to get out of the "silo mentality" and leverage other areas of government to succeed.
As far as minority recruitment, Pollitt stated his goal all along has been to have government "reflect the face of the county." But it wasn't just diversity in racial or gender terms, but also in geography as well. "We didn't want to have everything in Wicomico County run by old white men who live in Salisbury," said Rick. Pollitt added that he tries to recruit diversely, including in outlets tailored to minority readership, But in the most recent major opening for the Department of Public Works, no minorities applied. And when the question was continued to elicit a specific commitment, Pollitt pointed out "experience shows the pool can be shallow."
On the whole, though, Rick was willing to create a context where diversity is encouraged.
When it came to crime, the current executive made the case that we have to deal with the root causes. We are not among Maryland's wealthy counties, he added. One thing he was working on, though, was the rate of recidivism, trying to find "those people that could be saved." There he was consulting with activist Ron Pagano, who you will hear from in Part 2 as a candidate for County Council in District 5.
As I stated before, Pollitt found the Board of Education audit "troubling," but also believed many of the expenses were legitimate. "Clearly there needs to be a tightening up of the accounting," conceded Rick. Pollitt added that an upcoming efficiency study report from the Sage Policy Group would be of great assistance in creating the FY2015 budget.
On job creation, though, Rick believed "it's something we've got a pretty good record on." He also thought that an "upside" of going through the recession is that "it's given us time to step back and take a good hard look at who we are and who we want to be." But the way out of the doldrums is through economic development.
Some of his successes in creating a positive business environment, though, have been to decouple the personal property tax rate from the real property tax rate so that businesses have saved money on their tax bills, eliminating the inventory tax over a five-year period, and making a manufaturer's tax exemption automatic. "We are putting together the climate" for businesses to succeed, opined Rick.
In their closing statements, the two candidates played off each other, since they have known one another since the seventh grade.
Culver noted that while he disagreed with the means, he also thought he and Pollitt had several points of agreement, too. He pledged to help Wicomico County grow and expand it to the next generation.
Pollitt thanked Culver for generating more interest in the office, and noted he was approaching this like a job application. Philosophically, Pollitt said "my basic pattern is gettting people engaged." He reminded those in attendance that his job was the result of people losing confidence in their leadership and seeking a new alternative. It wasn't just "rights" as citizens, though, but there were duties and obligations incumbent upon us as well to be involved. Finally, Rick saw the seeking of "collaborative dialogue" as the key difference between himself and Culver.
Since I have a post already set for tomorrow, I will look at the County Council hopefuls on Sunday.