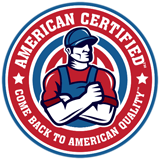 Wouldn't you know it: I begin a series only to bump it in week 2 because of MDGOP debate coverage. So this will truly be two weeks in review, but I'm sure you really don't mind.
I begin by asking the question: can America keep making things? I found an interesting perspective on the question and added my own thoughts. But I also found that workers, STEM-based or not, should be flexible and highly-trained. (And while it doesn't pertain directly to AC, I was pleased that one of our gubernatorial candidates has the same line of thinking.)
In order for our manufacturing economy to succeed, though, we need to have others around the world play fair. Unfortunately, not only China has been caught cheating on trade, with them and other countries threatening up to 500,000 steel jobs, but right here at home one group of American manufacturers is concerned that federal regulators unfairly have them in their crosshairs as well.
Longtime readers know as well that I'm excited about America's ongoing energy boom, and in this case I look at how manufacturing can benefit, with a little help from regulators. And while the EPA is trying to do away with the coal industry through onerous regulations, Congress on the other hand is trying to rein in that body run amok with accountability and transparency.
I'm sure in the next couple days – since the unemployment rate is always released on a Friday, for weekend analysis – we will get spin on it, but this is another pre-launch piece I wrote last month on May's unemployment numbers.
*********
On the first Friday of this month, analysts cheered the new low unemployment number of 6.3 percent, a low not seen in nearly six years. Moreover, the economy added 288,000 jobs – although that news was tempered by a labor force participation drop of more than 800,000 workers.
Yet out of those 288,000 jobs, just 12,000 were added in the manufacturing sector. That was "surprisingly weak," according to Alliance for American Manufacturing (AAM) president Scott Paul. The AAM, an advocacy group backed mainly by the United Steelworkers union, contends that 5.8 million jobs could eventually be created by stopping currency manipulation by China, citing a recent Economic Policy Institute report which called the practice the "primary cause" of our trade deficit.
On a similar front, economist Chad Mowbray, who writes for the Shopfloor blog for the National Association of Manufacturers, detailed a number of "nagging challenges" for American manufacturers, leading off with the weak 0.1% first quarter GDP growth announced last week. (Editor's note: that number has since been revised to a negative 1 percent growth.) Mowbray added that high marginal tax rates and uncertainty about health care costs could be factoring into the slow market growth.
In all these cases, policymakers in Washington are at loggerheads on how to proceed. A bill to deal with the currency manipulation was introduced last year and has bipartisan support, but mainly from Democrats. Unfortunately, that side seems to be placing more time and effort into trying to increase the minimum wage, which is a political nonstarter and is thought by many, including the nonpartisan CBO, to be a job killer. Republicans seem to be content with introducing bills to tweak around the edges on both tax reform and health care, but know there's little chance of them advancing through the Senate, particularly six months before the midterm elections.
The situation, then, remains a challenging one. If, as some analysts have cited, the weather played a factor in slow economic growth, that excuse will dissipate in the summer sun. The question of whether the May jobs report was a mirage or portends better things is important, but there's little doubt that if the manufacturing sector lags behind any recovery it will impede our progress going forward.
*********
It's been a busy week, but I'll keep monitoring the manufacturing market.