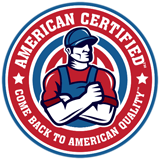 As you likely recall from previous posts, recently I announced my newest client, American Certified, and earlier this month I joined three other bloggers to kick off the blog portion of the e-commerce site. My subsite is called The Sausage Grinder, and in that space I focus on issues of importance to making things in America; specifically, the areas of trade, energy, and regulation.
And while I had discussed the possibility of cross-posting between my site and TSG, I think it may work out better – since I strive to do three to four posts a week for the American Certified site – to debut a weekly feature where I summarize and link to my posts on their site. You'll find the subject matter and style are different enough to where it almost seems like it's not my writing. In truth, I model these posts on those I submit twice weekly to the Patriot Post, with a different "sweet spot" of about 300-400 words.
In my debut, I pondered the effect of new power plant regulations on the coal industry. There's something else I'll share about that one shortly.
Next, I tackled energy issues and political involvement as part of a Kentucky visit by National Association of Manufacturers President/CEO Jay Timmons. I didn't note this in the story, but NAM endorsed Mitch McConnell during the visit and he indeed emerged victorious against primary challenger Matt Bevin.
The final two I'll highlight could have served as a couplet, for I discussed the GOP thawing toward a higher minimum wage and the fact that wages for STEM workers aren't increasing rapidly because we have a glut of them in this country, despite calls by some to allow more foreign STEM workers in.
If you read about the new power plant regulations, you'll notice I alluded to a previous article I wrote. When I sent in pieces to populate the blog in the week or so before launch, I was assuming they would all find their way onto the site, but it looks like some didn't. If they're not going to be used, I may seed them in with this week's regular posts as supplemental material – why let good writing go to waste? The pieces are more or less evergreen.
But since having the context is good, here is the post about the rally, titled "Ohio rally first of several condemning steel dumping."
**********
In advance of a Commerce Department ruling expected in July on whether South Korea is illegally dumping a product known as Oil Country Tubular Goods, or OCTG, the first of several rallies organized by the advocacy group Alliance for American Manufacturing (AAM) occurred last week in Lorain, Ohio. The U.S. Steel Lorain Tubular site was selected to be first as its products compete directly with those Korean imports.
Sen. Sherrod Bown (D – Ohio) claimed that imports comprised half of the American OCTG market, with South Korea being a major culprit. In its own report, the AAM suggests that "(t)hese conditions make it impossible for domestic mills to take advantage of strong demand resulting from drilling in shale gas fields."
But a local news report noted all was not bad news, as another Lorain steel plant unveiled that same day a $110 million electric arc furnace which promises to create 450 jobs. The Republic Steel facility got a sendoff from Ohio Lt. Gov. Mary Taylor and several Republic Steel officials, who pointed out the new furnace adds 1 million tons of capacity for the plant and could add $1 billion in economic activity to the state and local area.
**********
Finally, by all means you should check out the other bloggers (Ed Braxton, George Pitsakis, and Kim Pezza) as well. They touch on a number of different subjects and give the site a more well-rounded perspective.