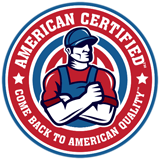 Regular readers know I've talked regularly about business and industry, particularly with an eye toward restoring manufacturing to our American shores. At one time our nation was the undisputed leader in the world when it came to making things, but now China is poised to overtake us as the world's largest economy because we buy millions and millions of their exported items. This didn't happen overnight, and the recovery won't be a quick one, either. Still, there have been a number of websites and other retail endeavors which specialize in American-made products; however, a new regional player in the field is emerging and there's a good reason I believe this is important.
Philadelphia, Pa. – On May 15th, americancertified.com will open its doors, finally making it easy to find the best American made products. American Certified (AC) provides motivated consumers with the information they need when it comes time to vote with their wallets.

In recent years, a trend has emerged; consumers have shown a preference toward "buying American." A survey of one thousand statistically selected Americans conducted by AC shows nearly 80 percent of Americans prefer buying American products, with over half of respondents willing to go "out of their way" to buy American, while nearly 40 percent responded that they are willing to spend more to purchase an equivalent American product.

Serial entrepreneur and inventor, Marvin Weinberger, is launching American Certified to increase consumer awareness while encouraging the resurgence in American manufacturing.

"We started American Certified because we love this country and want to help producers connect with customers who share their unique interests and values," said Weinberger. "This is good for business, good for the consumer and good for America."
This press release came out last week, and American Certified will be featuring e-commerce through Amazon, with the added benefit of a directory of "makers" expected to eventually exceed 100,000:
In addition to the e-commerce store, American Certified is building a first of its kind directory of more than 100,000 "makers" (including farmers and manufacturers). The directory membership is free and open to all; participation in the AC store is not required.

Completing the voluntary, but comprehensive, certification provides makers with an official seal certifying the American content of their products. In addition, makers can specify other attributes about their business, including characteristics as varied as whether woman owned, a veteran employer or recognized for green practices. The directory will empower customers to make informed purchases, while at the same time providing qualified companies with a new channel to directly reach shoppers interested in purchasing their goods.
Perhaps you're beginning to wonder just why I'm featuring this business. I'm hoping one day they'll be a paying advertiser on this site, but my current interest is much simpler:
Finally, American Certified will feature news and blogs depicting thorough analysis and trends related to the most recent happenings in American manufacturing and consumption. Members of the press and AC shoppers can sign up for a free weekly news summary, reporting on the Buy American movement from all sides, without bias.
I'm pleased to announce I will be one of those writers, running a section I'm calling the Sausage Grinder. It will deal with how trade law and regulations are affecting the prospects of making things in America. (The name was inspired by the Otto von Bismarck quote: "Laws are like sausages, it is better not to see them being made.")
It may seem like an unusual combination, but in order to create a movement there has to be progress made on several fronts and apparently the fine folks at American Certified believed I'd be a good fit. I look forward to building this additional audience.
So this week I'll begin putting together content for the site, as I already have a few story ideas to begin. On occasion I will be crossposting between this site and the Sausage Grinder, but if you have an interest in American jobs I would suggest bookmarking the site when it goes live May 15.
Ingenuity, made in America. By the way, "entrepreneurshop" was how I originally mistyped the title and I liked the Freudian slip enough to add it in.