After a hiatus from blogging, political hatchet man turned fiction writer Joe Steffen – best known as the "Prince of Darkness" – turned his attention to my old friends at Red Maryland. At the risk of getting carpal tunnel problems, I have a few observations about this argument between the two sides.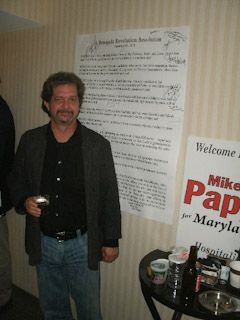 First of all, let's discuss the characters. You may recall the fall 2010 convention, where I took these photos. The bottom photo may be hard to read at this scale, but it was posted on the wall at our fall 2010 state convention – GOP activists may recall that gathering as the wake for those who believed Bob Ehrlich would be the savior or our party because he had just been trounced by Martin O'Malley on an even worse scale than his 2006, despite overt help from the state and national Republican parties. So we had a lot of interest for Chair that year and Joe decided to make his statement as part of the "Renegade Revolution." In short, we were a group which was fed up with the whole incumbent protection attitude, which led to the Rule 11 resolution Heather Olsen and I spent 2011 trying to get approved, to no avail.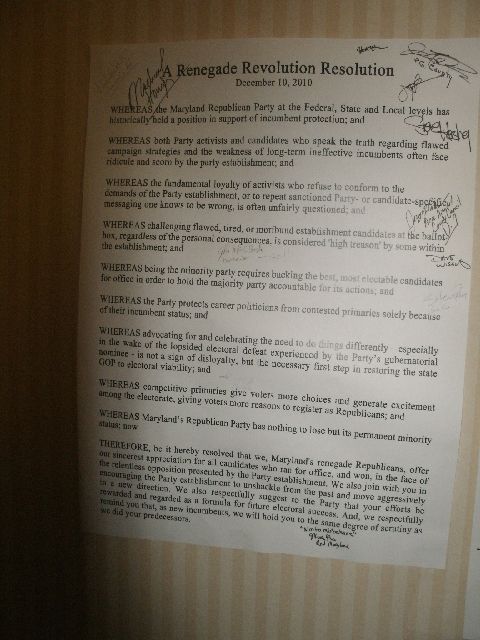 As for Red Maryland, most longtime readers are aware I am what they refer to as an "erstwhile" contributor. I crossposted there perhaps a couple dozen times between about 2007 and 2011 – more, I'm sure, than some of those they still list as contributors. For a couple years afterward I was still listed as a contributor, but the list was culled probably about the time I threw in my support for Collins Bailey for state party Chair over Red Maryland co-founder Greg Kline. Despite that, I've also been a guest on a number of their extant radio shows, with the exception (oddly enough, since we are both officers in the same political club) of Jackie Wellfonder's show and perhaps the one Mark Newgent hosts now. I've probably been on their airwaves a half-dozen times, enough to be heard but certainly not a frequent guest.
Also, to keep the players straight, it should be known that Jackie Wellfonder (and Andrew Langer, while he was there) are exclusively radio hosts and don't blog with Red Maryland. Sorry if all this bores you, but I want to make sure people know just who is involved here. Generally when I start discussing Red Maryland, at least one of the players gets up in my face about something I wrote, and I think one of their favorite descriptions of me is that I'm "passive-aggressive." Water, meet duck's back. If I didn't think I had something to add, I would ignore this tete-a-tete.
Anyway, I read what Steffen had to say about this purloined letter the good folks at Red Maryland sent out to Maryland GOP candidates in order to drum up business, one Joe calls a "protection racket." Honestly, I didn't have a problem with that letter – sure, I'm questioning the wisdom of $5 a spot on their radio shows when one on a terrestial station which reaches a broader and more diverse audience can be had (at least here locally) for just a few dollars more, but it is what it is. I haven't caught a Red Maryland radio show recently to see how this approach is doing. (Jackie's is the only one I listen to on a semi-regular basis – the others just aren't my cup of tea.)
Moreover, I'm quite aware they are now a part of the Baltimore Sun, which seems like a case of strange bedfellows but they got the gig – bully for them. But herein lies the rub.
In the letter, the editors of Red Maryland write:
Using our platforms at BaltimoreSun.com, RedMaryland.com, and the Red Maryland Network we can help introduce you to the public and make sure that your message gets heard.
So are they going from "the premier blog of conservative and Republican ideas in the Free State" to promoting just those candidates and ideas which supply a paycheck? That's how I read the letter – and trust me, all of us bloggers could use a little extra money – but something tells me takers are in short supply. What do we get if no one ponies up?
As I write this, the posts on their front page deal with Charles Lollar's reaction to David Craig's income tax package, the probable minimum wage increase, a piece panning an idea to adopt a Utah-style "hybrid" primary system (proposed by the aforementioned Collins Bailey), several promotions for radio shows, Sun editorials, and their monthly poll, and one piece by contributor D.C. Russell on the state of Prince George's County politics. With the exception of Russell's article, there was really nothing I could construe as introducing candidates or making sure a message gets heard; on the other hand, they have already endorsed a handful of candidates, including gubernatorial hopeful Larry Hogan. Conversely, Charles Lollar has been regularly criticized on Red Maryland – sometimes deservedly so.
Steffen goes on to be critical of Jackie Wellfonder and Mark Newgent for their roles outside Red Maryland, claiming they do take money for what he termed "political favors." That fact both Wellfonder and Newgent have political clients for their various enterprises isn't in dispute, though – it's whether they have adequately explained their roles.
Now perhaps it's because I know Jackie quite well, but I've been aware for awhile that she has a consulting company and has been on the payroll of at least two campaigns this election cycle – Senator Steve Hershey, as Steffen mentioned, and also Christopher Adams, a candidate for Delegate. However, she has featured a number of candidates on her website and radio program and I think she treats them rather fairly. Yes, she is a Larry Hogan backer but candidates seem to know this up front and agree to speak with her anyway.
By the same token, I'll take Mark at his word that he's gone through the Hogan situation, as it came up one time in a chance conversation we had that he was doing work for Change Maryland. And that's fine, too. As Red Maryland has explained, it takes the unanimous vote of the four editors to make the endorsement, and obviously sharp eyes will be going over Larry's campaign report to see if any campaign funds went their way. (Newgent has also admitted to being on the Hogan team for opposition research.) So whatever Newgent is getting, he's only a fraction of the team.
Now this brings me to the crux of the matter: why would this e-mail be received by saying, "(a) bunch of us got this, and had a nice little laugh" – isn't Red Maryland supposed to be a "premier" blog?
I suppose if I wanted to I could argue a claim to the premier blog insofar as "ideas" go, since I have come up with some discussion items, suggestions, and resolutions in the past. Now if you want to talk about a premier marketing blog, yes, they've more than earned that title – otherwise, why would we even be discussing Red Maryland in the first place? For all I know, this unnamed group may laugh at my website too but no one knows about it.
So when did Red Maryland cross the point of derision? Was it the fawning over Larry Hogan, or maybe Greg Kline's bid to become Maryland GOP Chair where he finished a distant third? Maybe self-promotion has gotten into the way of their original purpose, but all I know is that they (and their detractors) have become the sideshow sucking up all the oxygen in the room. Are we really that bored with the candidates we're putting up – the ones who are working hard to get elected?
Respect takes a long time to earn, but can be gone in an instant. The Red Maryland crew continues to claim that #IntegrityMatters, but it's apparent that a number of people question whether they have any left.