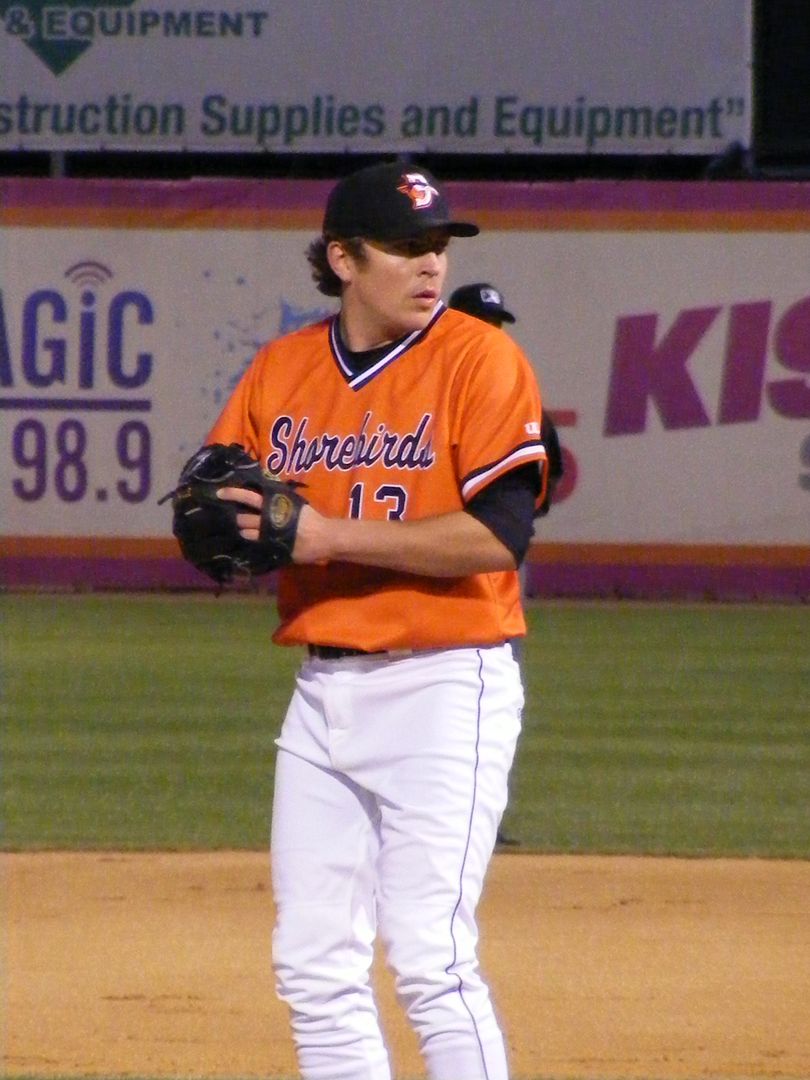 Streaks are made to be broken, and somewhere along the line the 15-inning scoreless streak Jimmy Yacabonis has put up to open his Shorebird career will come to an end. In the meantime, however, he's proving to be a reliable closer for a resurgent Shorebird staff which has been the strength of the team for most of the season.
Jimmy, who came to the Orioles organization through St. Joseph's University in Philadelphia, leads the South Atlantic League with 10 saves to date. The 22-year-old New Jersey native had somewhat of a prospect status coming in, as he was drafted in the 13th round last year and pitched for Aberdeen rather than down in the Gulf Coast League, the usual fate of players coming from smaller colleges. While he only picked up four saves for the IronBirds, Jimmy closed out in 12 of his 18 appearances and allowed just 15 hits in 29 2/3 innings last year. Even with a high walk rate – 14 free passes in 29 2/3 innings – his WHIP was an outstanding 0.98, and that's probably the basis for his achieving closer status with Delmarva this year.
If there's any flaw with Jimmy's game, it is the base on balls. Batters are only hitting a puny .122 against Yacabonis this year (and just .149 last year) so his pitches are apparently difficult to square up. Unfortunately, too many fall outside the strike zone so 10 walks already in 15 innings may be a concern going forward as he reaches higher levels with more discerning hitters. Out of 14 appearances, only three are "clean" in terms of facing the minimum number of hitters (in other words, a 1-2-3 inning.) Of course, Oriole fans of yore may remember a sloppy but effective enough reliever by the name of Don Stanhouse, but unlike "Full Pack" Jimmy is on the right side of walks vs. strikeouts.
Yacabonis is getting enough outs to achieve the saves, and that's what counts.