It had been awhile since I had been to the DoubleTree in Annapolis, but seeing the place was like old home day. While the MDGOP often holds its conventions there, it hadn't hosted one in some time – in fact, Fall 2013 was the last one. But this time instead of the big news being the impending candidacy of Larry Hogan, it was the presumptive nomination of this guy.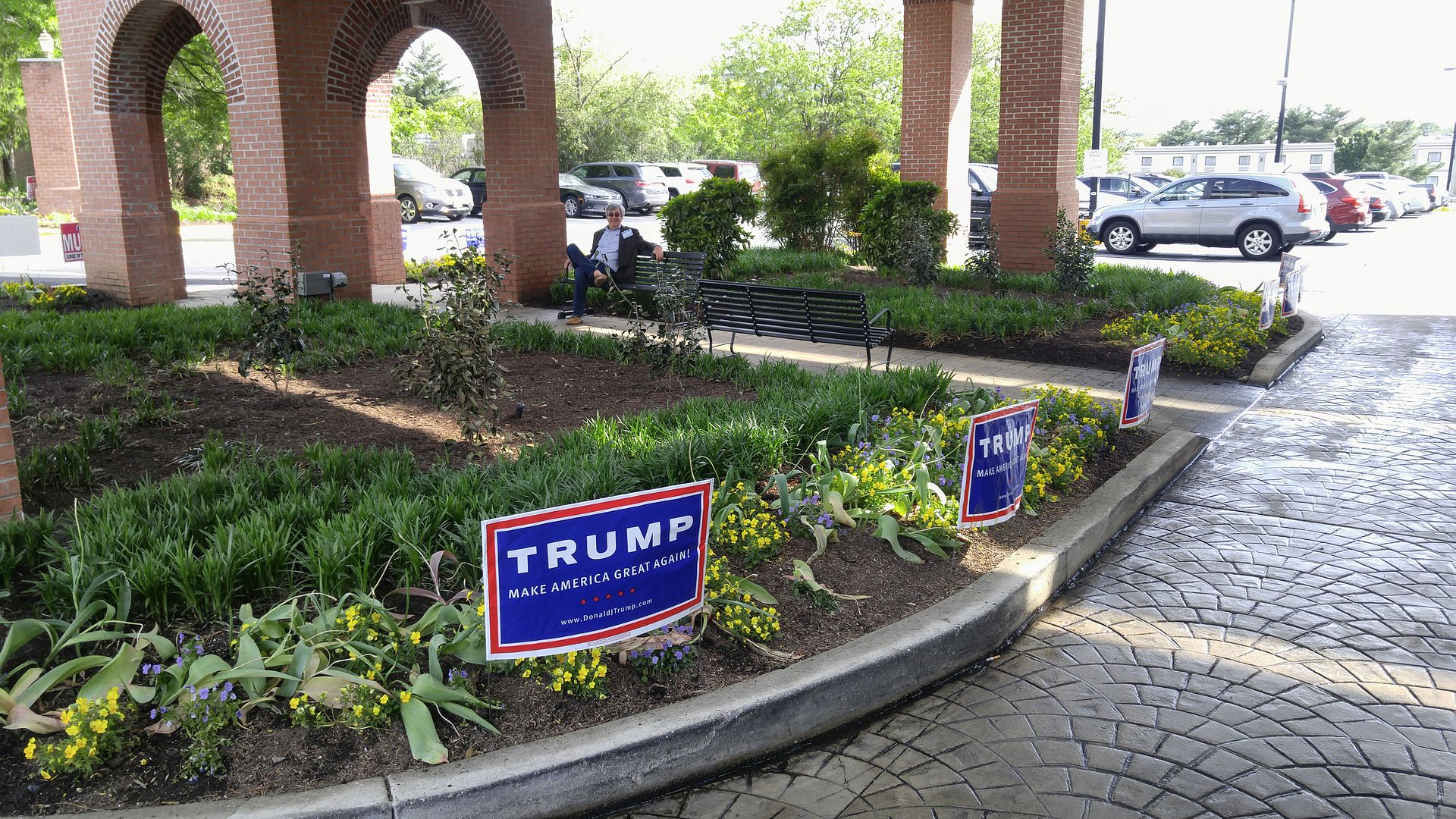 (No, not Don Murphy sitting on the bench – I'm referring to the guy who supposedly will make America great again.)
Also different than our last visit was the number of sponsors.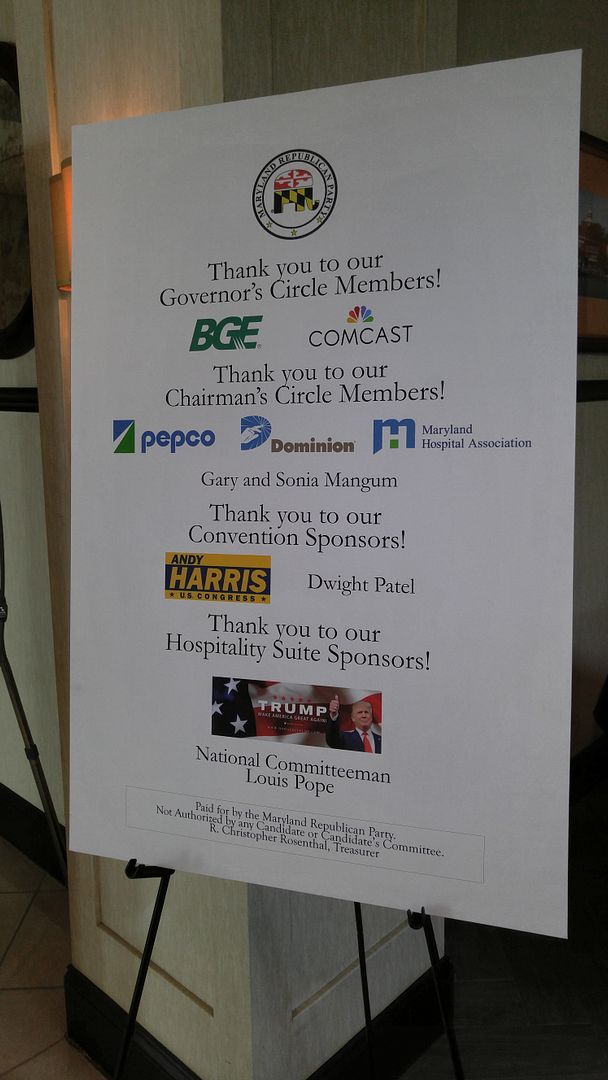 It sure doesn't hurt to have a governor from your party. But the story of this convention was all the electioneering going on. As I pointed out earlier this week, 98 people were seeking office and some were on this "unity slate."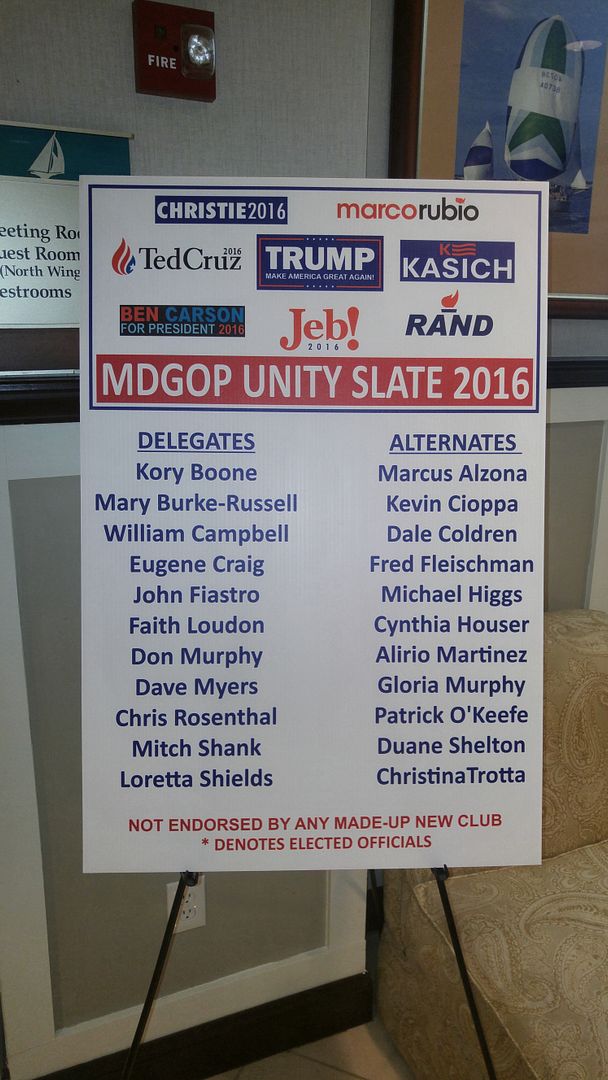 The idea was to take some folks from each of the campaigns and send them off to Cleveland to represent us. But after I had the chance to freshen up and get registered, those who represent us in the Maryland Senate made for my first stop of the evening. I could freshen up with some light snacks and an adult beverage.
(Note that Donald Trump is adding to that $2 billion in free media coverage on the adjacent TV. I didn't say it was flattering.)
Speaking of media coverage, these two erstwhile associates of mine were doing their semi-annual Friday night internet radio show from the convention lobby.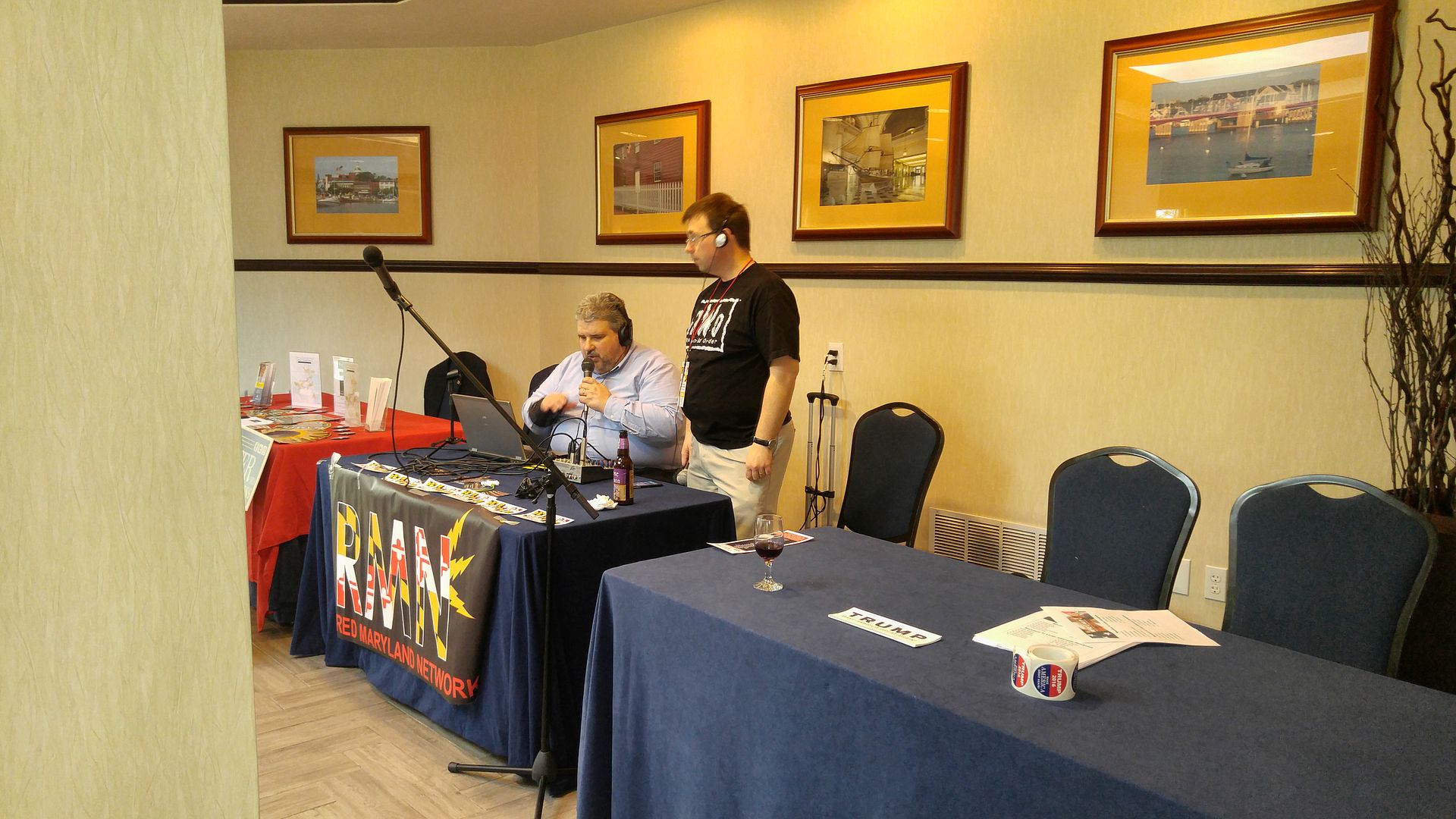 I wasn't listening so I have no idea who they dragged on as guests, aside from me not being one of them. I was downstairs at the Executive Committee meeting, where I found out the MDGOP had "a great fundraising quarter…our best since 2006," according to party treasurer Chris Rosenthal.
But Diana Waterman had a message. "We must get behind Mr. Trump," she said, "Trump is a helluva lot better than Mrs. Clinton." Yet she also urged us to be respectful to those who can't support our nominee.
She also pointed out that there's no Republican "war on women" in Maryland given the fact two of our Congressional nominees are women versus none for the Democrats.
After National Committeewoman Nicolee Ambrose updated us on some of the upcoming goals and events for the GOP, National Committeeman Louis Pope discussed the national scene, stating regarding this year's primaries, "the goal was to have as fair of a nominating process as possible." He added that the debate control "worked very well."
Pope was looking forward to Cleveland, saying he was "preparing for a unified convention" and predicting Donald Trump "will be a pretty cool nominee." As he saw it, the convention will be a "four-day infomercial for the Republican Party."
Yet the Presidential election was to the benefit of local parties as well, added Pope, because they could use the national race as a tool for local fundraising, allowing them to build up their war chests.
We also learned about two proposed bylaw amendments and a resolution, which I will simply foreshadow because they will be covered more in-depth in part 2.
The Executive Committee was done in remarkable time, meaning that shortly after 8 I could go see what was going on. This was my initial stop.
It wasn't a place I stayed long, for obvious reasons. But it appeared they were having a good time celebrating their presumptive nominee status.
My second stop was nearly as uncomfortable, but I did see Louis Pope there and wished him luck.
If you look closely in front of his sign, you can see Louis behind the other gentleman. He apparently held court in his suite for most of the evening, as I didn't see him circulating. Nor did I see his opponent David Bossie, who co-sponsored the suite I stopped at later.
First, though, the prize for most appetizing spread went to the host County Executive Steve Schuh.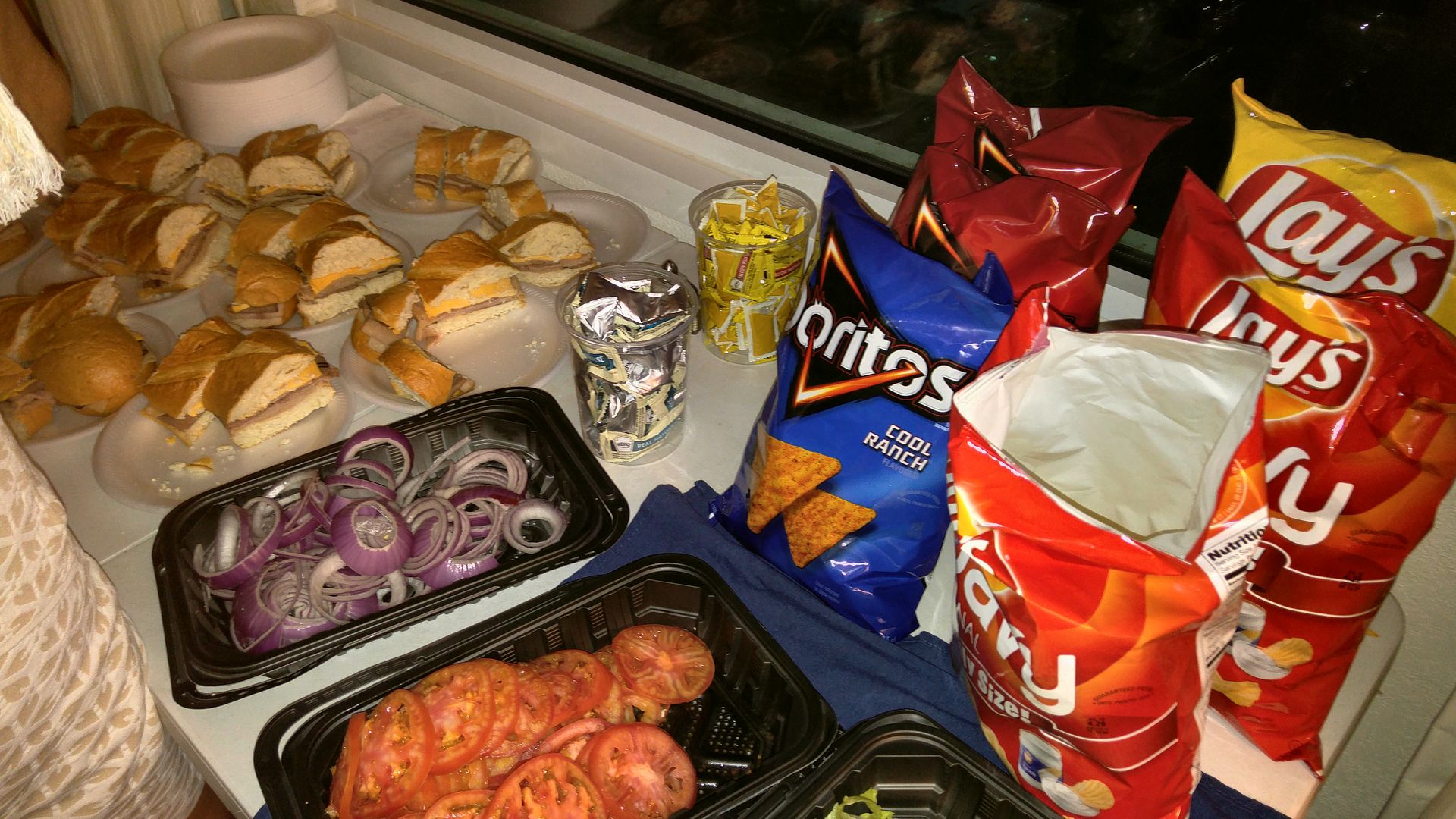 This doesn't show the vegetable tray and chicken on the other table. Oftentimes there's not enough good stuff to eat at these hospitality suites but between the spring rolls at the Maryland Senate pre-party and Schuh's suite, my appetite was satisfied. I was there quite awhile, eating and talking to Senator Justin Ready.
Next, I went upstairs to the Conservative Club suite. But since I didn't see Bossie, I didn't hang out too long there.
As it turned out – at least judging by the times on my photos – the Harris/Szeliga suite was where I stayed the longest. It was a happening place.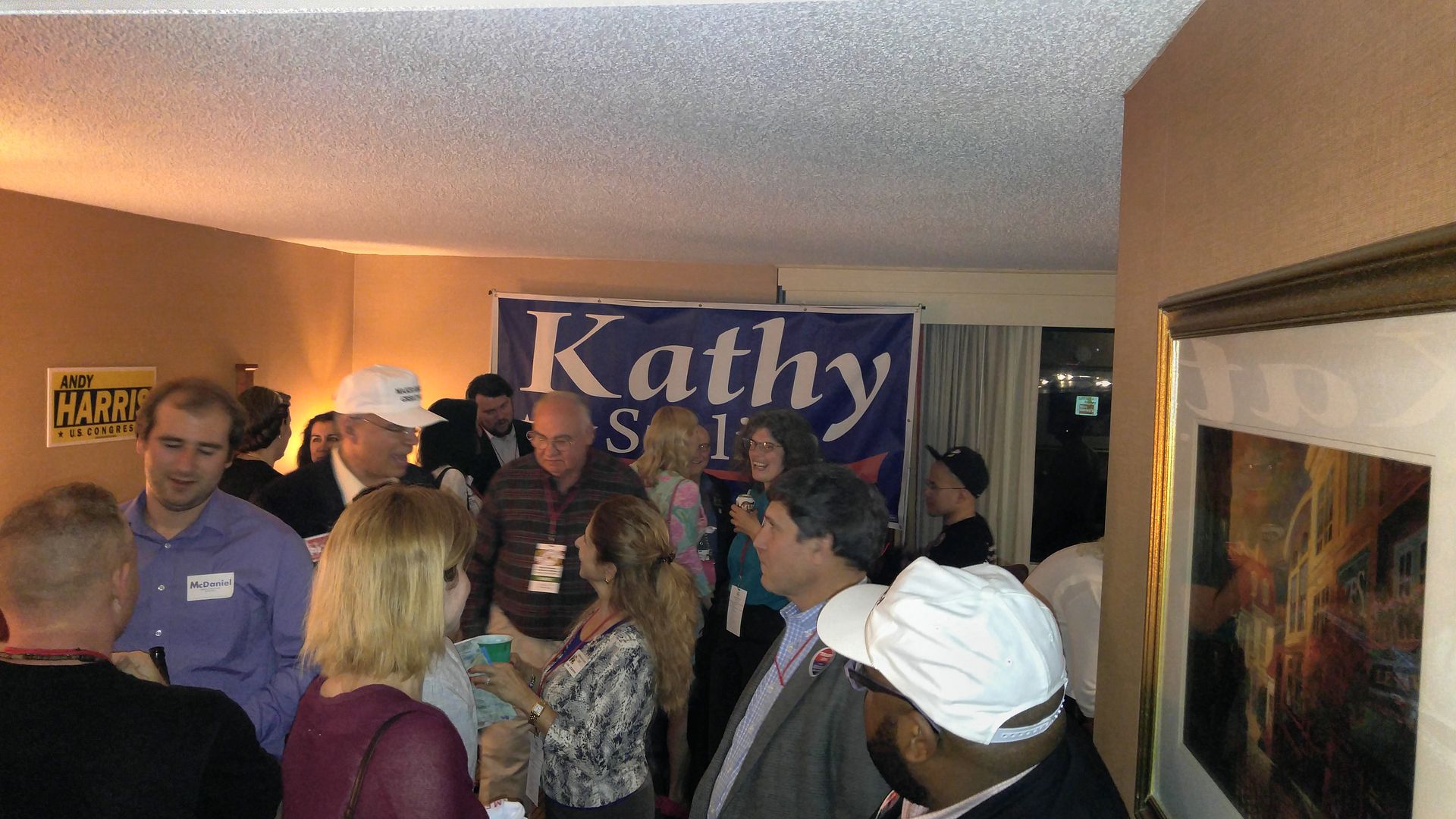 It's where I ran into an old friend of mine, Maria Ialacci of PG County, and my partner in crime Heather Olsen. So I was there awhile, although I retreated to the hall so I could hear and cool off – it was hot in there, and when I say it's hot it's downright uncomfortable to most people.
So I got to see the co-star of that show as she happened by.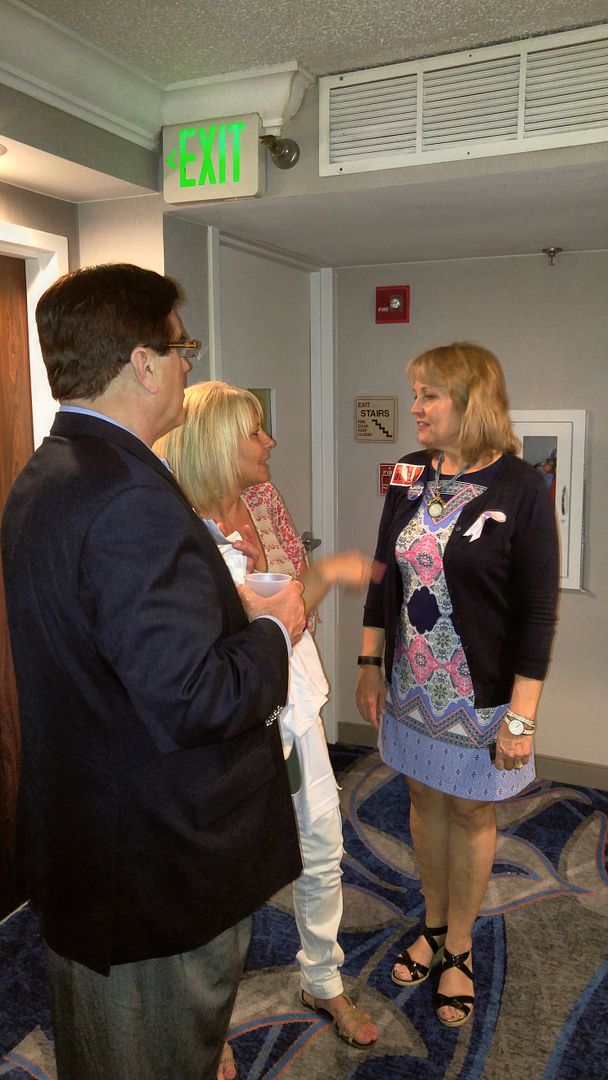 I still haven't spoken with Kathy Szeliga, but at least I have seen her so that's a start.
My penultimate stop was a suite that wasn't on the "official" list but somewhat underground – both literally and in spirit.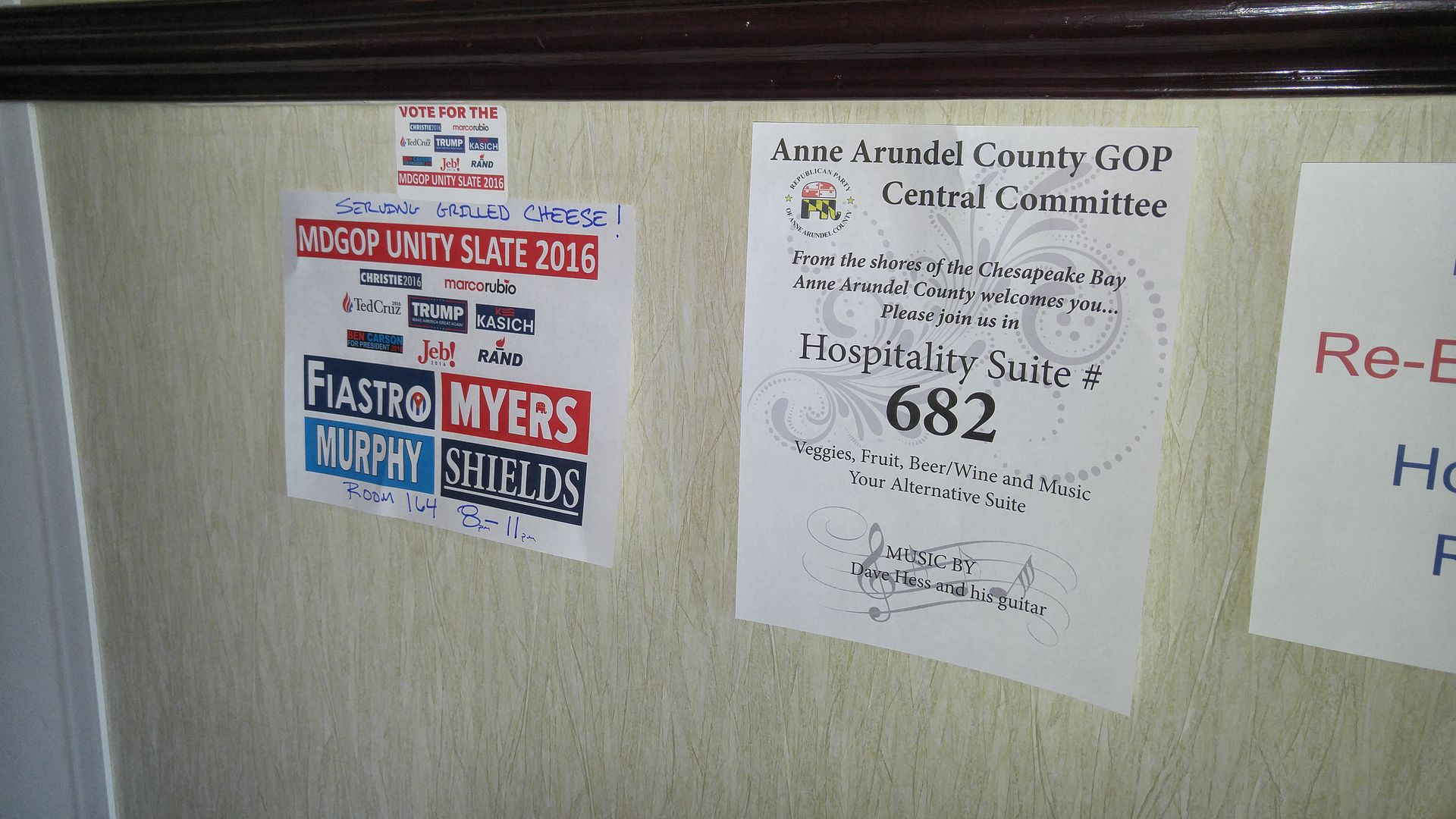 The only one down on the first floor, the combined suite of Don Murphy and John Fiastro was the famous grilled cheese suite, with Fiastro doing most of the flipping.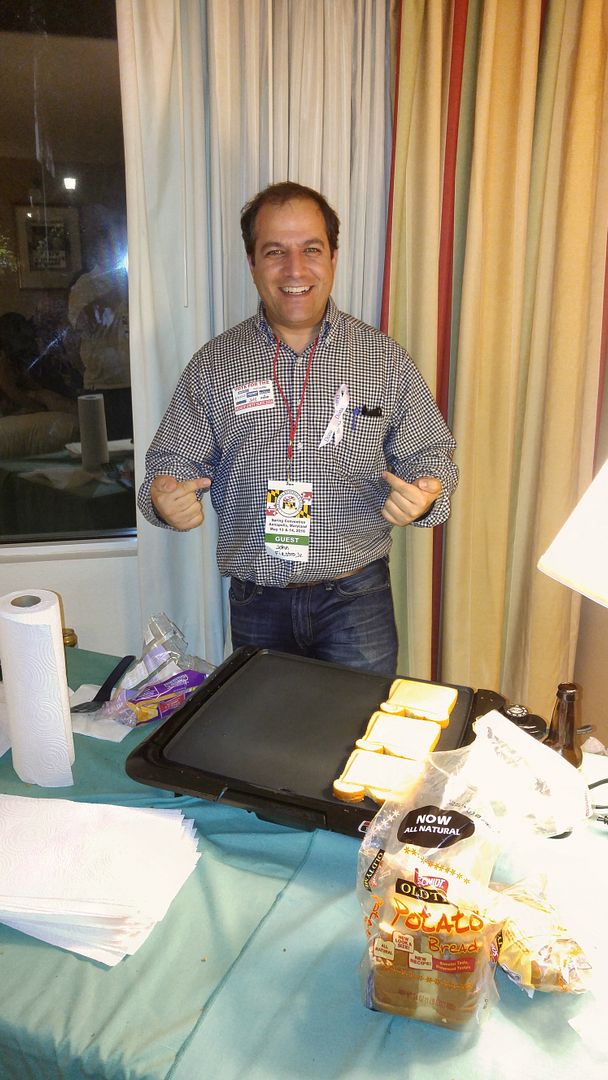 Let's see what they can do with this.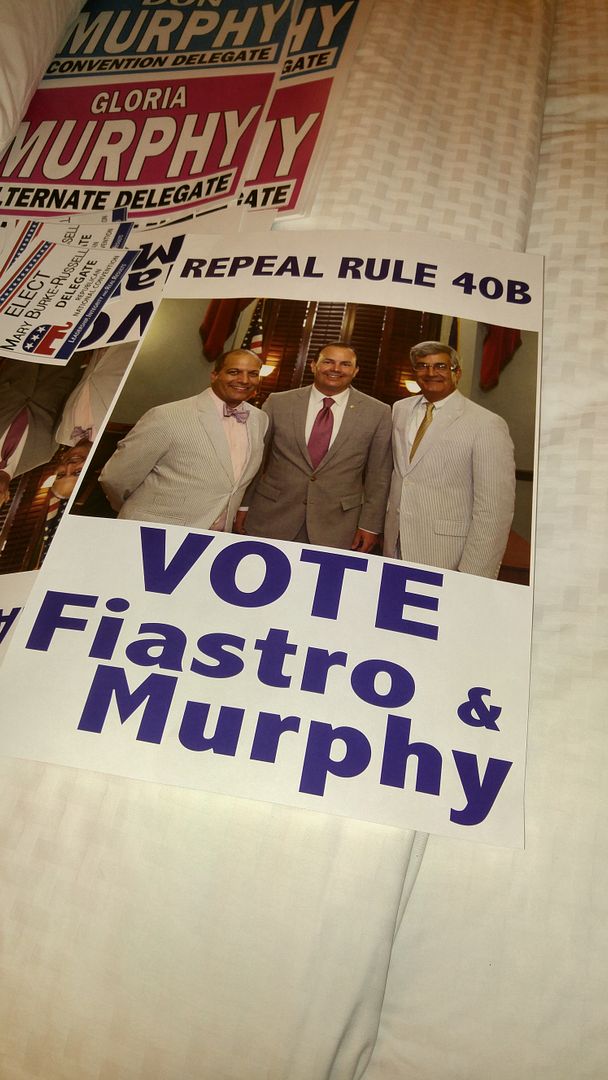 I did not take a picture at my last stop, which was definitely a shame because Delegate Tony McConkey and his wife Susan did an after-hours (after 10 p.m.) ice cream suite. (They also had it during our lunch break today, but I didn't go.) Now I was a little worried since it was situated just 2 doors from my room, but it must have died down by the time I talked to my sweetie and finally went to bed because I pretty much slept like a log. The hard part was getting up at 6:45 to get ready for breakfast, which is where I will pick things up tomorrow in part 2.