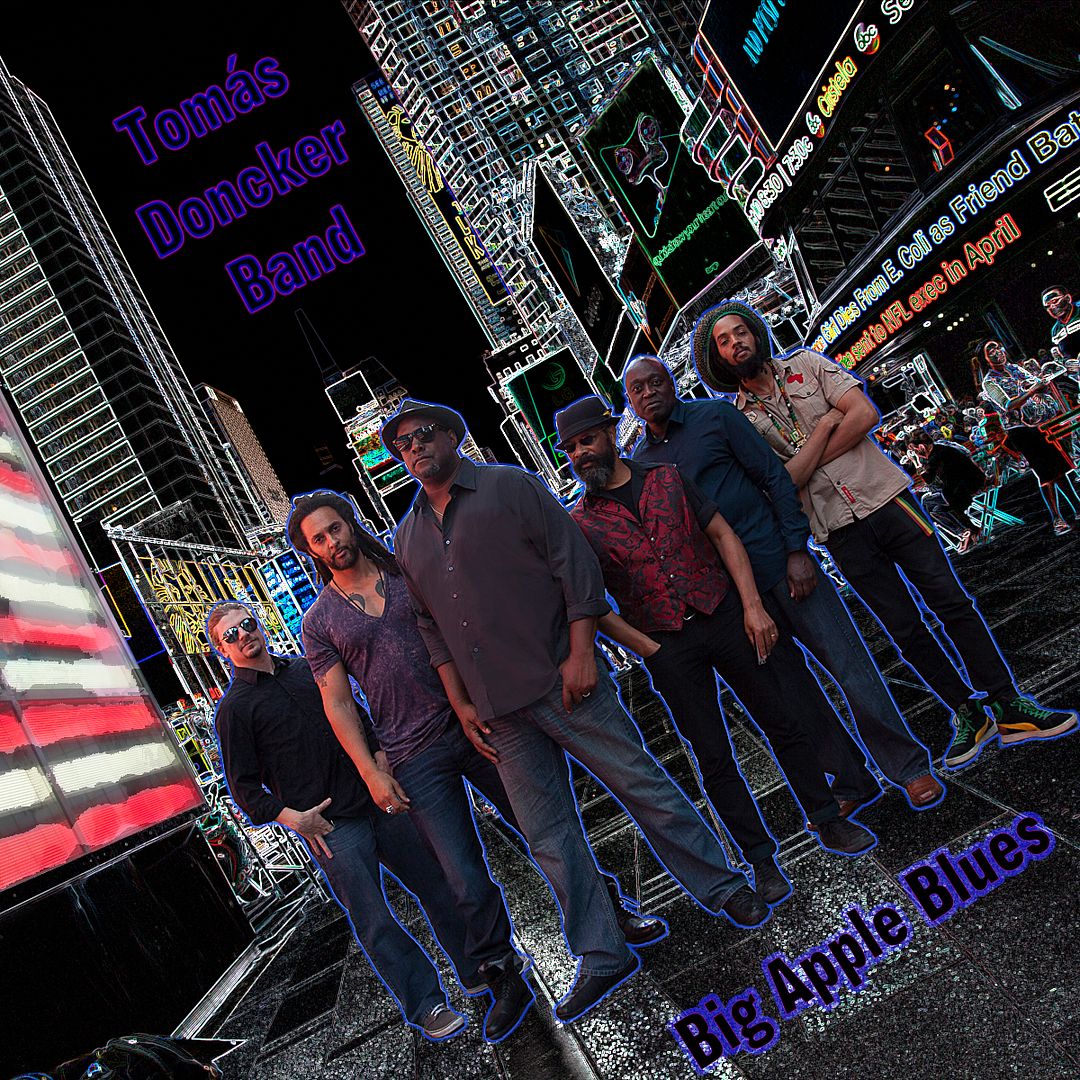 For the second time in just over three months, Tomas Doncker and his band will put out a new release. And while the last compilation mostly featured his remakes of classics by blues legend Howlin' Wolf, this time he teams up with a Pulitzer Prize-winning poet.
To be released next Tuesday – with a more formal sendoff during the Dodge Poetry Festival the following weekend – "Big Apple Blues" features ten original compositions between Doncker and poet Yusef Komunyakaa, who won the Pulitzer Prize for poetry in 1994. It's the second time they've teamed up, and while I didn't listen to the first piece between the two I noticed that Komunyakaa has more or less perfected the art of song lyricism as opposed to poetry. While they may seem like two peas in a pod, writing lyrics which make sense musically doesn't always come naturally to a poet. There's only one instance, Can't Say No, where Doncker's vocal limits are stretched by the song's lyrics.
So while there are a handful of songs which sound a little too poetic, like The New Day, Coney Island, or the spoken word portion of Hellfighters of Harlem, the lyrics also do a great job of painting an image, like the "Sunday go-to-meeting clothes" of The New Day. The poet's influence also very apparent in At The Midnight Hour as well as the reversed chorusing of Little Blue Room, one of the better tracks on the album. That song flips the typical lyrical arrangement around in a clever manner.
Meanwhile, true to its name, the album takes you on a musical tour of New York City as many of ten songs contain some sort of reference to the Big Apple.
Now some of this is lost on me since I'm not from New York and haven't ever been to the city. But if you strip away the lyrical assistance and focus on the music, you'll notice that there's somewhat of a jazz influence to it. However, it's brought home to its blues roots by the liberal use of David Barnes's harmonica on many tracks as the lead instrument carrying the tune. It provides a smoky jazz feel to the title track and shuffles its way through That Horse, just as a couple examples.
Yet other parts of the band shine through on other tracks, such as the guitar work in Ground Zero and horn section of Fun City, which closes the album. What struck me as a little odd was ending Fun City with 30 seconds of city noise. It's a minor quibble considering the ten songs combined run just over 43 minutes, but maybe 10 to 15 seconds of that would have been enough.
One thing this new release shows, though, is the talent of Tomas Doncker's band. They successfully pulled off a good tribute to Howlin' Wolf yet made this subtle but noticeable change in musical direction without missing a beat. Given the rapid succession of releases it wouldn't surprise me that both were in the pipeline at about the same time.
So if this is representative of true Big Apple blues, the genre seems to straddle the edge of jazz moreso than rock. I think it's rather fitting that I'm reviewing this on the same weekend as the Autumn Wine Festival here because it seems like something that would fit right in there. But don't take my word for it – listen for yourself and if you like it, go ahead and pick it up when it becomes available Tuesday.