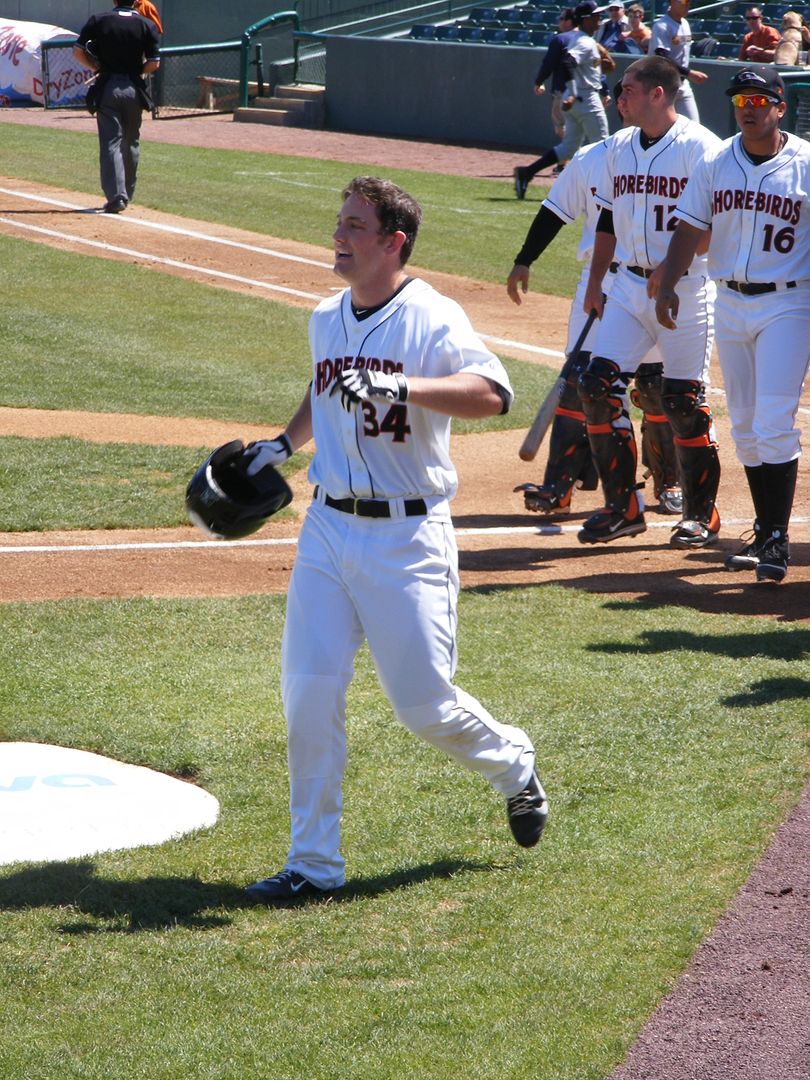 Normally I base my selection of Shorebird of the Week on performance, whether expected or actual, but once in awhile I take a photo and decide it just has to be used. Sunday was one of those times, and Conor Bierfeldt was the subject. It was his reaction after smashing a walkoff 2-run homer to seal a 5-3 extra-inning victory over Charleston, a win which set the tone for an eventual second 5-0 win later that afternoon.
The home run was also important for two other reasons: it was Bierfeldt's first in a Delmarva uniform after finishing second in the NYPL last year with 12 round-trippers, and it finally ended a season-long home run drought by the Shorebirds at Perdue Stadium in the season's 12th home game. (Bierfeldt is in a three-way tie for the team lead with that one home run.)
Unfortunately, the blast didn't end Conor's slump at the plate. The designated hitter/outfielder hasn't been doing a lot of hitting as he's off to a .156 start (12-for-77) with just the one home run and 10 RBI. It's disappointing because Bierfeldt put together a .264/12/36/.862 OPS season for Aberdeen last year, excelling despite being a low-round selection (29th) from a small college, Western Connecticut State University. Nearly half of his 61 hits during the 2013 season were of the extra-base variety. The 23-year-old native of the Nutmeg State was expected to provide a power bat for the Delmarva lineup but has been seemingly overmatched so far, and shouldn't be able to blame cold weather as an excuse because he played in the Northeast as a prep star.
Yet while he is a power hitter, his 24 strikeouts are only 5th most on the team and he leads the clubs with 13 walks drawn so his on-base percentage is close to .300 – for a guy hitting .156 that's very good.
Obviously the hope is that Bierfeldt's bat gets hot with the weather – we are scheduled for summer this year, right? – so the Shorebirds can stop being on the losing end of so many 3-2, 2-1, and 1-0 games. Over a season, we could expect Conor to hit a couple dozen longballs and hope at least a few win us some ballgames. I like seeing that exuberance on a player's face.