Most newspapers will use their Sunday edition before the election to either make the most key endorsement, such as for governor or president, or summarize their endorsements into a ballot guide for voters.
I'm not a newspaper, but I have a news source. And I'm urging you (all of you, including the ten friends you drag to the polls) to march right into that ballot box, look for every Republican name on it, and check that box right next to it – making sure, of course, that the ballot summary agrees with your steady diet of Republicans and doesn't show a "calibration error."
Let's begin from the top. Does this state really need a third term of Martin O'Malley? Thought not.
I will grant that Larry Hogan wasn't my first – or second – choice for the GOP nomination, but I also have to admit as well he has run about as good of a campaign as a Republican can run statewide in Maryland and picked up national attention for it. Yes, I would like him to be stronger on the Second Amendment and I cringed when I heard him say no to addressing social issues, but the overall electorate in this state is still conditioned to believe that there's a right to privacy and gay marriage is no big deal. They need a little work yet. Let's at least get someone who won't be completely hostile to those interests like Anthony Brown would be.
(And yes, I hear the Libertarians caterwauling in the corner. When you get to double-digits with a candidate, we'll talk.)
Actually, though, I must say some bloggers have a point about the Libertarian candidate for AG, Leo Dymowski. But the election is about more than the failed "war on drugs" – although I agree with that particular assessment, I would also like the AG to fight on other issues. Unfortunately, the late start Republican Jeffrey Pritzker got means the chances are good that we'll have to endure four years of gun-grabbing Brian Frosh; however, every vote counts and stranger things have happened.
For 2018, though, I think a county-level State's Attorney needs to make that step up. It's something Matt Maciarello should consider.
And we have a more than qualified Comptroller candidate in William Campbell. My main mission in two festivals was, every time I came across a Maryland voter from outside our county, to push the candidacy of one Bill Campbell. Everyone knew who Larry Hogan was but not enough knew of this fine gentleman. If Maryland voters have a clue they will choose Campbell.
And then we have local races. Frankly, I'm not too worried about Andy Harris although it would be helpful for Sixth District voters to add Dan Bongino to the GOP roster at the federal level. But there's a lot at stake on the General Assembly front.
Try as we might, we had to concede the District 37A seat for this term to Sheree Sample-Hughes. If she gets more than single digits on the monoblogue Accountability Project I will be shocked. Otherwise in District 37, you know its a conservative district when even one of the Democrats is running on a platform of lower taxes and less government. But why have conservative-lite when the real thing is attainable?
Even if we sweep those three District 37 seats, though, we don't really gain anything because three of the four representatives are already Republican. But in District 38 we can reclaim the Senate seat lost in 2010 to a liberal Democrat and take over a seat in the House of Delegates to bring us closer to that magic number of 47, where, as I understand it, we can work around Democrat-controlled committees. (A Hogan win may make that necessary more often.) Aside from that splotch of blue in our county we can work on for 2018, I'd like the Eastern Shore painted red, gaining the one Senate seat and one House seat we can contribute to the GOP effort statewide.
And then we have Wicomico County, which needs a strong leader in Bob Culver. We've done eight years with the affable bureaucrat Rick Pollitt, but those eight years have seen our county backslide economically. We can blame the national economy to some extent, but other surrounding counties seem to be succeeding – so why haven't we?
Unfortunately, the problem Culver has is that two of the Republicans who will likely be on County Council are already stabbing him in the back. With one Democrat assured of victory in Council District 1, it makes the County Council races very important. We know District 5's Joe Holloway is a conservative who will win and Marc Kilmer in District 2 has an excellent chance to join him, but the John Cannon vs. Laura Mitchell race is a key along with Larry Dodd vs. Josh Hastings in District 3. Both Democrats are trying to convince voters they'll be fiscal hawks, but don't be fooled. We need the 6-1 Republican majority to have a potential 4-3 conservative majority behind Bob as he tries to right the ship. Finding good local candidates is a priority for 2018 as well.
As for the issues on the ballot, I've already urged a vote AGAINST Question 1 because it's a weak excuse for a lockbox and Maryland taxpayers deserve better: send it packing and insist on a 3/4 majority provision to be voted on in 2016. On Question 2, I think on balance it's a good idea but it will also demand vigilance, as Election Integrity Maryland's Cathy Kelleher points out in a Sun editorial opposing the question.
Lastly, I must say this is the time for conservative voters to shine. The fact that early voting had as many Republicans as Democrats by percentage statewide and by raw numbers on the Lower Shore (despite a registration disadvantage of about 10 percent) indicates the GOP is more keenly interested in this election. But I want to run a few numbers, with the photo below telling the tale.
For this exercise, I used the voter proportions illustrated in the recent Gonzales Research poll, which is probably a fairly realistic model. I assumed undecided voters would remain in proportion with their trend (as opposed to breaking for the challenger) and left 1% for other candidates, write-ins, etc. (I also didn't figure in the 50,000 or so registered to minor parties – if they vote they'll not influence the result significantly.)
The sheet on the left is my calculations using a Bob Ehrlich Republican turnout from 2002, 68% of Republicans.
The sheet on the right is the same calculations for Democrats and the unaffiliated, but assuming a turnout like we saw in the Presidential election two years ago, when 78% of Republicans came out – even though Maryland was considered a lost cause for Mitt Romney.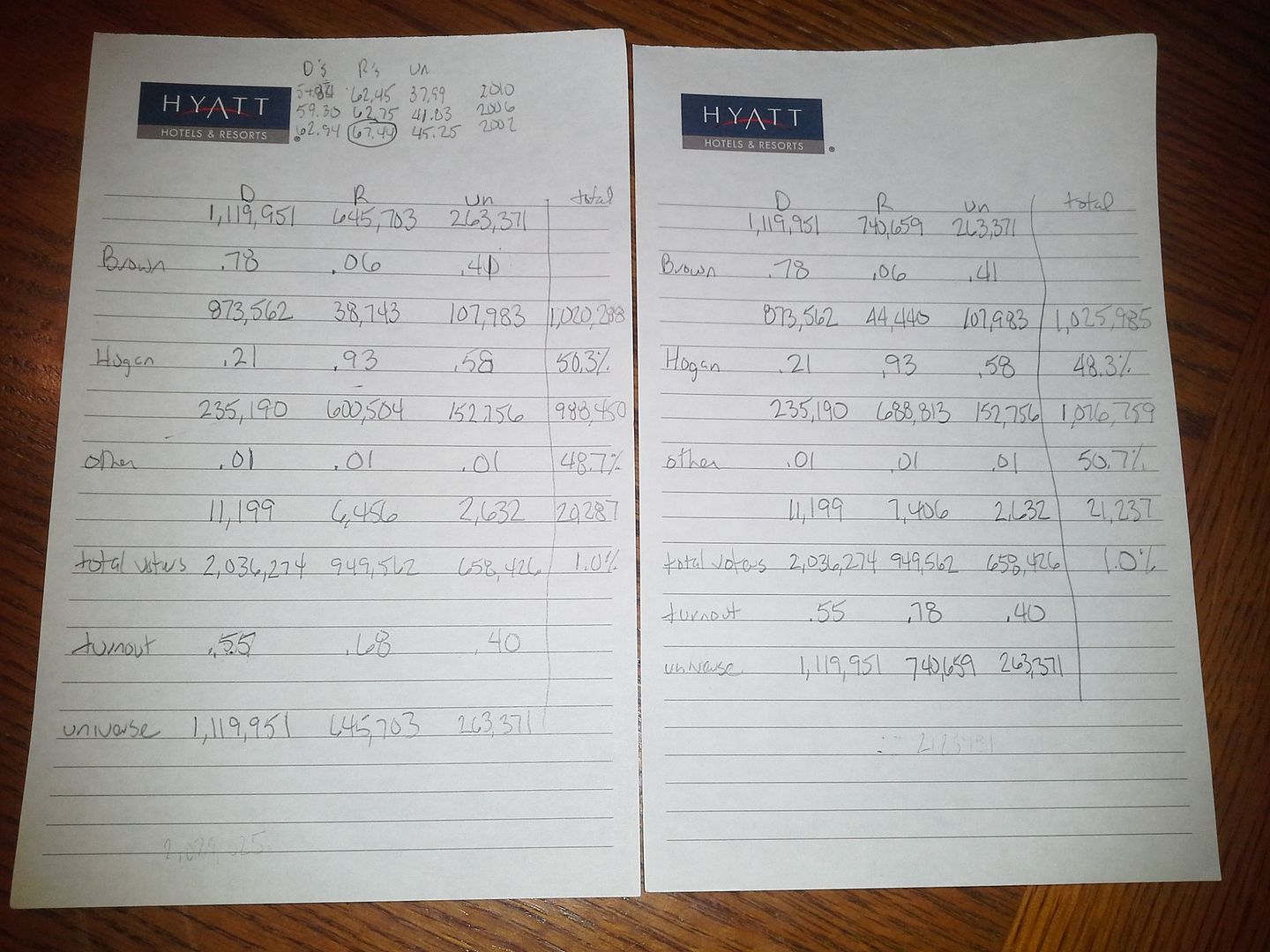 Indeed, we turn from crushing disappointment to "winner, winner, chicken dinner" simply by getting an extra 1 in 10 Republicans to turn out.
If Republicans turned out like that for an election which was an almost foregone conclusion in this state, hopefully this simple calculation will provide the incentive to Maryland Republicans to come out in a gubernatorial election where they have a shot to sneak away with a close victory!
Early voting numbers were encouraging, but Tuesday it will be time to finish the job.
Update: Hey, I missed a key set of races. It's not a partisan race, but M.J. Caldwell is a far more qualified jurist than the guy Martin O'Malley picked based on his last name. And speaking of O'Malley picks, there are two others on our ballot who we can remove from office and perhaps allow for the first crop of Larry Hogan appointees. So vote "no" on continuance in office for Kevin Arthur and Andrea Leahy.