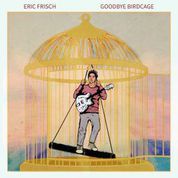 When I read the description of Eric Frisch's debut full-length effort called "Goodbye Birdcage" I expected something different and refreshing. In my mind's eye I was thinking along the lines of finding some obscure half-century old vinyl record from a bygone pop era.
Unfortunately, while Frisch brings some of that spirit and sound into the present day, "Goodbye Birdcage" has nearly as many misses as hits. It's a ratio which may have lent itself to a less ambitious effort where Eric concentrated on the best five tracks and worked on the production end.
The sound Eric was going for is well established on the opening track, Pretty Girls. It has the requisite horn section and doo-wop style harmonies which remind the listener of retro pop. The video is sort of amusing as well, and captures the offbeat vibe I think Eric was looking for with the overall composition.
Another effort in that vein is the next song, Telephone. Not only did Eric nail the style of music he was shooting for with that song, the lyrics tell a story in a compelling manner that makes it the album's best song.
On "Goodbye Birdcage" I thought the ballads tended to be a little heavy on the production, rather than being clean. One case in point was Learn To Swim, which could have been a better song with a somewhat different chorus at the end. Similarly, one would expect the title track to be on the uplifting side, but it instead sounded sad and mournful.
And then there were the tracks which just made me wonder. Perhaps The Sun In Santiago would have worked better as an acoustic track, but the production used made it a little tedious. And heaven only knows why the crowd noise was in Heaven Only Knows.
Luckily, things got better with the final three tracks. All Over Town was sort of a reprisal of the theme of Pretty Girls, but Stick Around had a more conventional, guitar-driven sound. And while I listened to Mary Ann expecting one lyrical payoff, Eric surprised me by taking the story in a different and unexpected direction.
The album is a pretty brisk one, clocking in at just 31 minutes long for the nine songs. It's a length which suggests that the choice of going to EP length, cutting out a couple tracks, and using this as a sampler may have been a better one. It also shows the pitfalls of self-production, as it was unclear whether some of the chatter between and within tracks was there to add ambiance or just something missed in post-production. Overall, the album had a analog tone, which fit with the idea of the sound.
I wanted to like this one, but there are too many songs which aren't worth the listen. If you're into music that's retro, though, you may get into it. It may not win a lot of converts but if there's the potential for you to be one, listen for yourself.