When I last left you, I was commenting on having to get up at 6:45 for breakfast. Given that this was our election day and the polls were yet to open, this was the scene around the hotel on available spaces.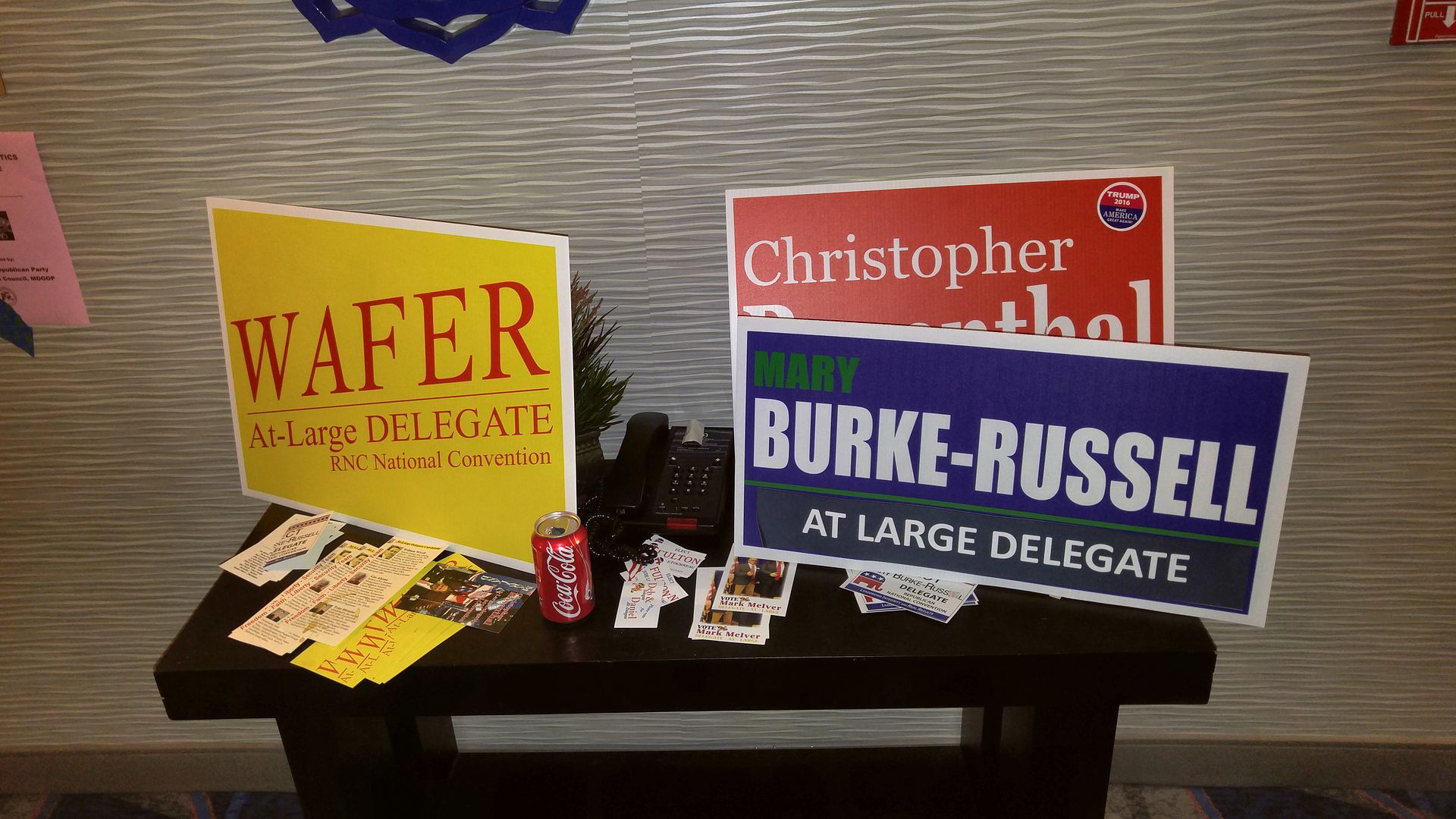 Aside from the Coke can (which, as an aside, is a drawback to this hotel because Pepsi products are difficult to come by), I often wonder what non-political guests think about all this. I'm sure they are amused.
On the way back to breakfast from putting my stuff in the car (on a glorious morning) I snapped this shot of the convention hall.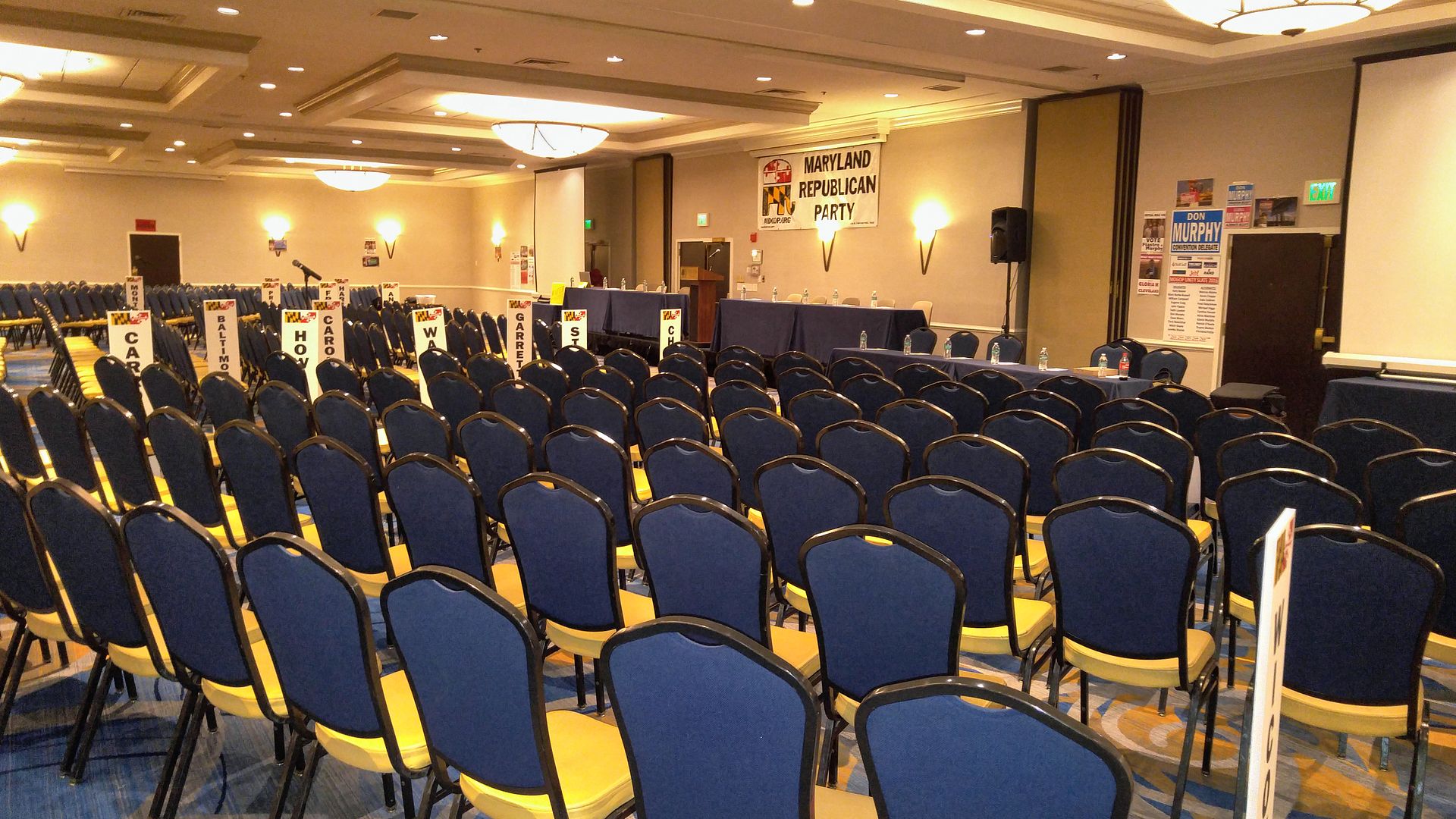 One tangible improvement was our county signs, which have finally been upgraded after a decade.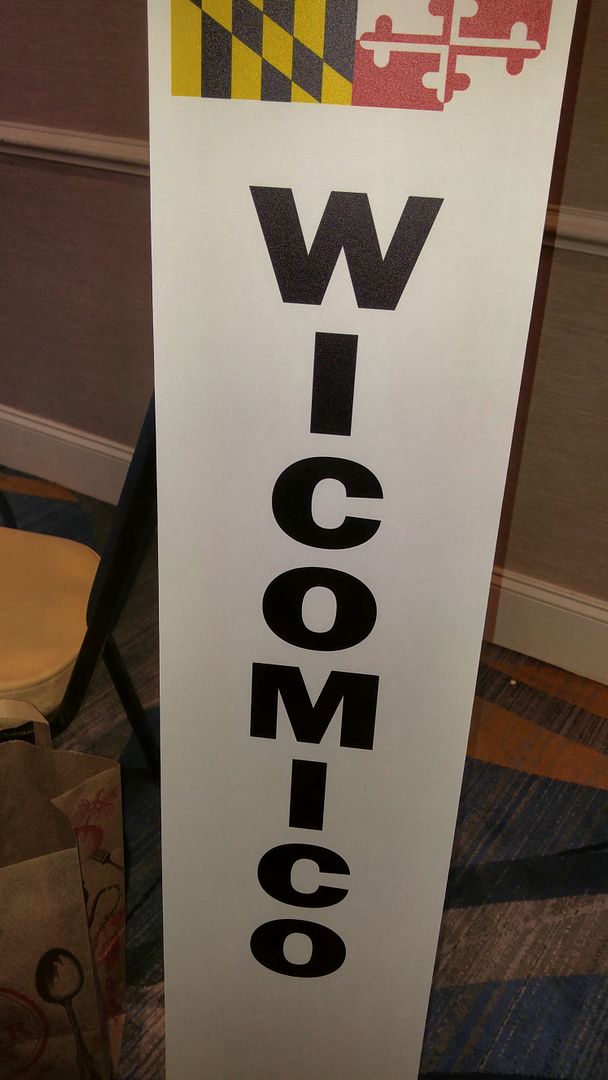 Our breakfast speaker was introduced by the recovering MDGOP Chair Diana Waterman, who was thrilled to report her hair was growing back after the chemo and surgery she has endured for her fight against breast cancer.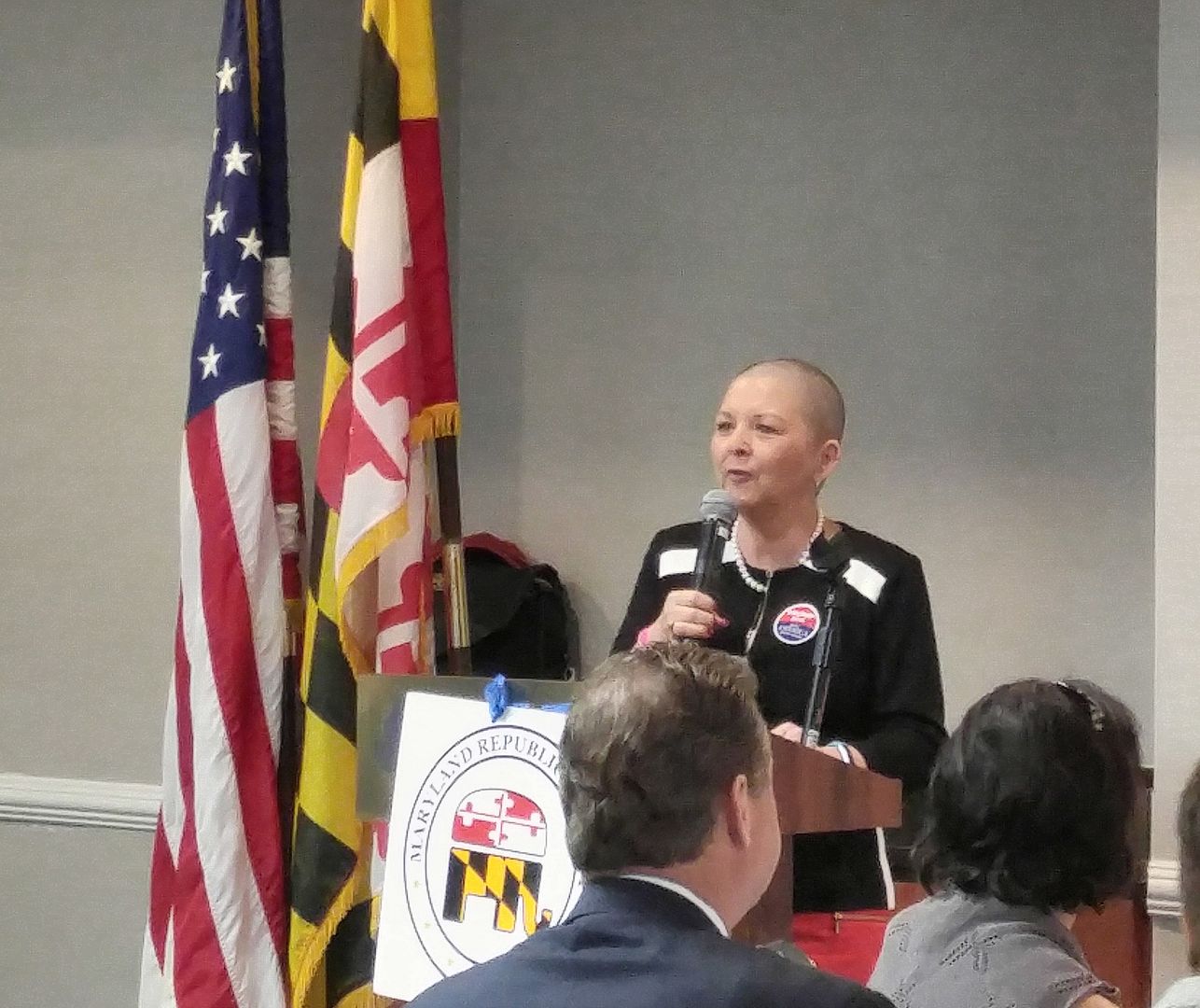 She called Anne Arundel County Executive Steve Schuh "a great Republican." Schuh began his remarks by noting this was the "most unusual election in at least 100 years."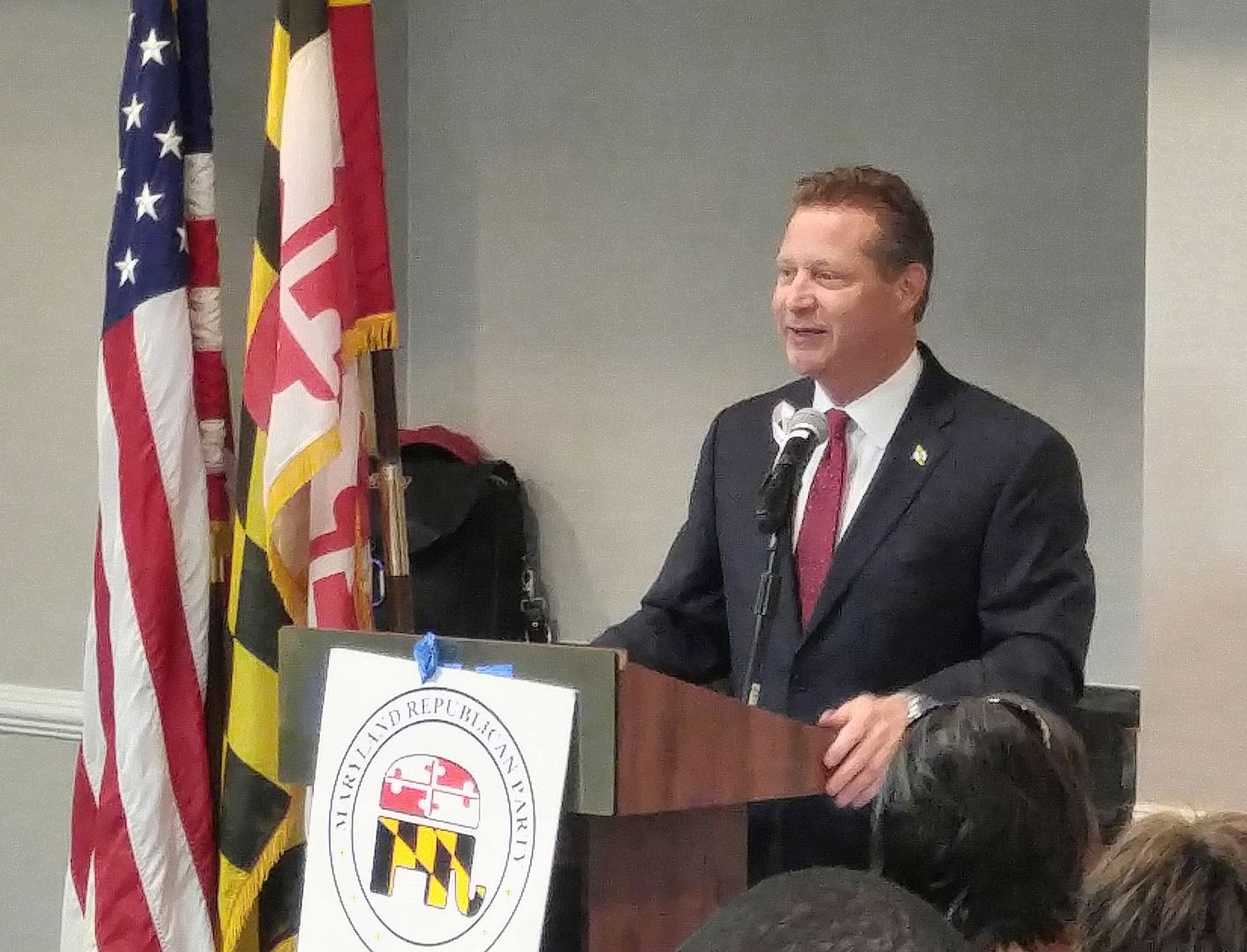 But Schuh went on to praise Donald Trump for tapping into several "electoral undercurrents," particularly when he brought up the issues of immigration and national security. Yet while he said the "misgivings were understandable," Schuh has "come to peace with a Trump candidacy." Steve then outlined a number of stark differences between Democrats and Republicans: the role of government, immigration, Second Amendment, free speech (where the Left uses "shoutdowns as a weapon of choice"), taxation, private property, and life itself. It was a "belief in limited government and personal responsibility" that set the two major parties apart, Schuh added.
Schuh's rather brief remarks allowed me to grab a good seat for the convention itself, which featured a number of reports in the morning. I wasn't satisfied with how most of my photos came out inside the hall, so you will have to read about most of what was said inside without the visual aids.
Annapolis Mayor Mike Pantelides welcomed us to his city, noting that the Maryland GOP "got involved in my race in a very big way" and allowed him to win by a narrow 59-vote margin. Encouraging us to note on social media that the event was being held in Annapolis, Pantelides also called both County Executive Schuh and Governor Hogan "mentors to me." His was the one city in Maryland with Republican leadership across the board: mayor, County Executive, and Governor, Mike added. Solid Republican principles and leadership could provide solutions, concluded Pantelides.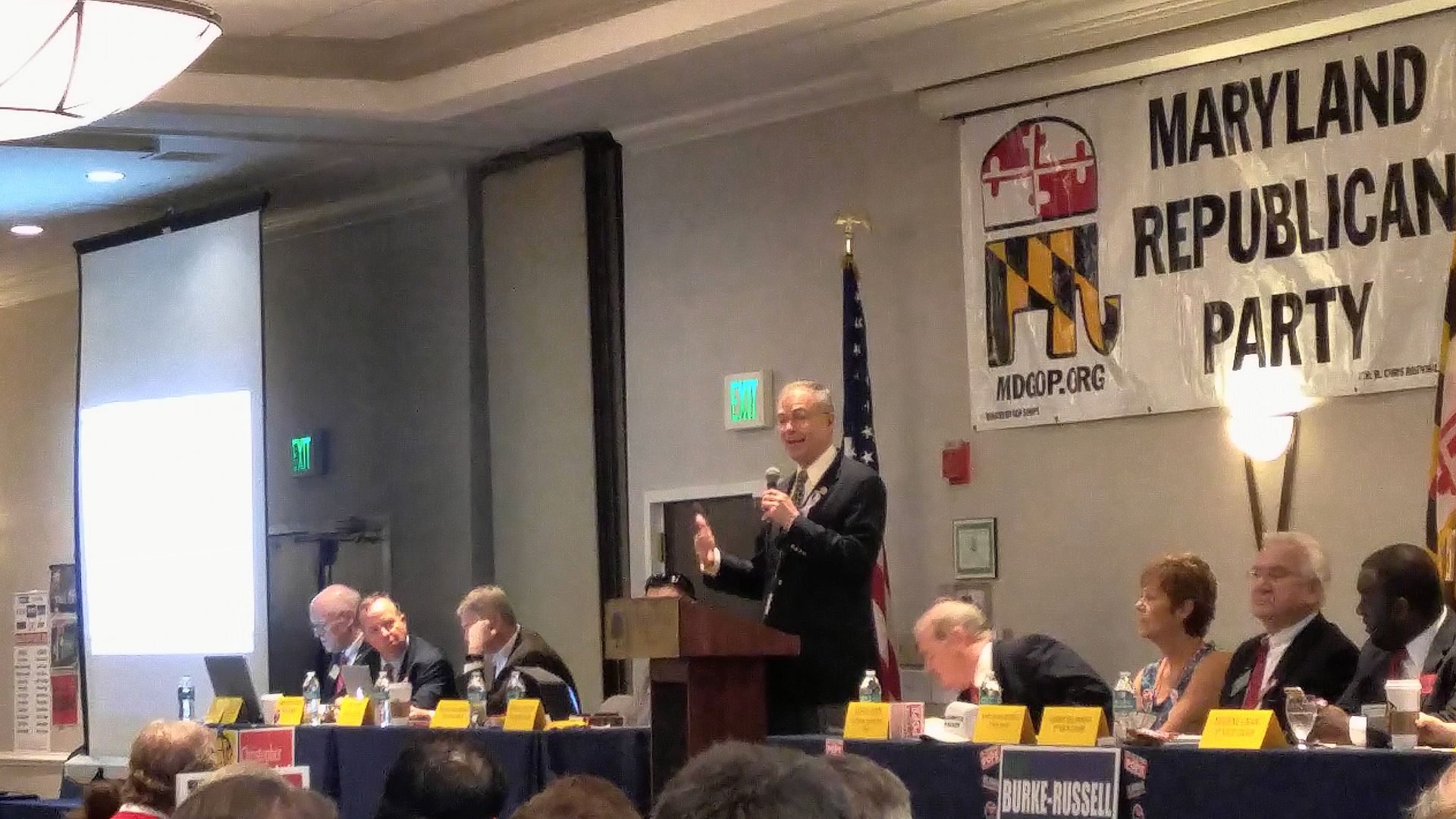 This photo of Congressman Andy Harris came out all right, and so did his message. He warned us that the Democrats have "a lot of assets" to throw at Governor Hogan in two years, so we needed to raise millions of dollars to assist him. But there were some advantages we had, too: for example, the sign denoting the reduced toll rates at the Bay Bridge is "like a Republican ad."
Turning to the national scene, Harris noted we could not have another four years of liberal policy. And even though he endorsed Ben Carson in the GOP race, he came out to say, "I'm a Donald Trump guy 101% now." He also told us there was no fight between Trump and Speaker of the House Paul Ryan, despite what the media would lead you to believe.
We had two legislative reports, one from Delegate Nic Kipke and the other from Senator J.B. Jennings.
Kipke believed that we were "at the precipice of…another surge of Republicans" added to the House ranks. "There are a lot of seats in play for us," he assessed, particularly when Larry Hogan won in 21 more House districts than the Republican House candidates did. And the Democrats "are losing their minds" about it: Kipke gave the example of the bill allowing felons to vote before completing their sentences. Despite the fact 80% of Marylanders disagreed with this, and many of the General Assembly Democrats agreed with the veto, "the Democrats require compliance," said Kipke – so the veto was overridden.
There were Republican-backed items we should be proud of, though, said Nic – another budget with no new taxes, the elimination of preschool testing, and the adoption of P-TECH schools, beginning in Baltimore City. Republicans are "leading on issues, big and small, that make sense," said Kipke. He also awarded their Republican of the Year award to state Executive Director Joe Cluster.
Regarding the felon vote, Jennings later added that it actually failed 28-18 the first time, but was allowed to be reconsidered and passed 29-18.
One thing Senator Jennings stressed was the devious ways Democrats tried to flout the rules; in one example they tried to put one Senator on two committees, which is a no-no. They also worked hard to fix bad bills to make them more palatable.
But the problem Senate Republicans have is that "we are short five votes." Getting to 19 votes would allow Republicans to sustain filibusters and kill the worst legislation. And there may be a lot of it next year: Jennings remarked that year 3 of an administration is where major pieces of legislation come out.
In between the legislative reports, MDGOP Chair Diana Waterman gave her report. She opened by welcoming new members but also remembering members who had recently passed, including my late cohort Blan Harcum who passed away earlier this year. She also announced the traditional June Red, White, and Blue Dinner would be pushed back to a date in early September because of the convention.
Diana also had a comment about the so-called "Republican war on women" when she asked "where is the 'war on women' when the Republicans have two (federal candidates) running and the Democrats have none?"
Waterman also gave the newly created Chairman's Elephant Award to Dwight Patel, but the key remark to me was an offhand one where Diana referred to chairing "my last convention" in November. If so, Diana would conclude a remarkable four-year run where she took over a party in crisis and guided it to electoral success.
We then heard from our National Committeewoman and National Committeeman, respectively Nicolee Ambrose and Louis Pope.
Much of what they said was a rehash of what they told the Executive Committee on Friday night, although this time Nicolee came equipped with a slideshow. Here are the party's goals for the new Precinct Captain recruitment program.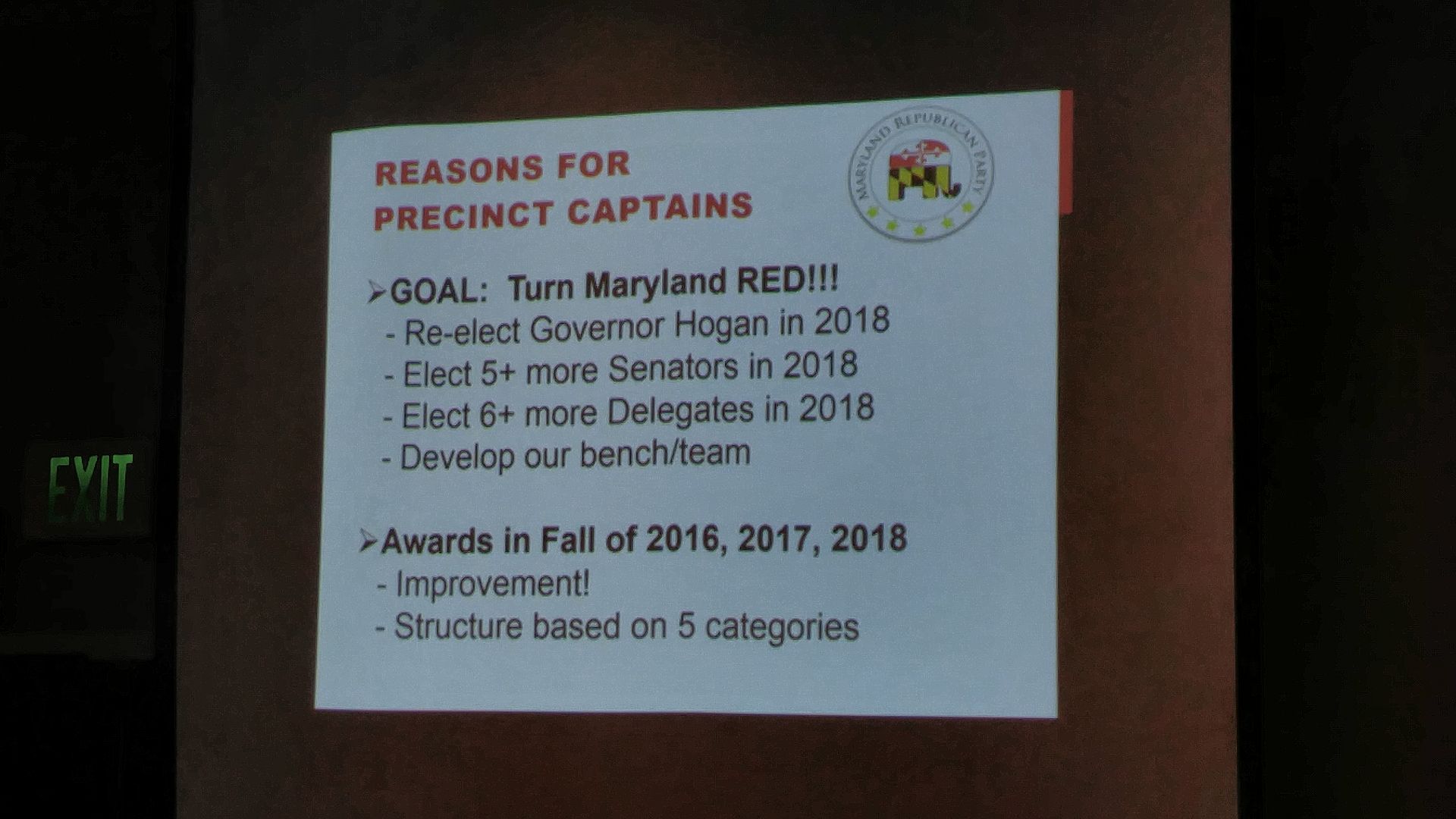 She also had a lot of these handy flyers to distribute.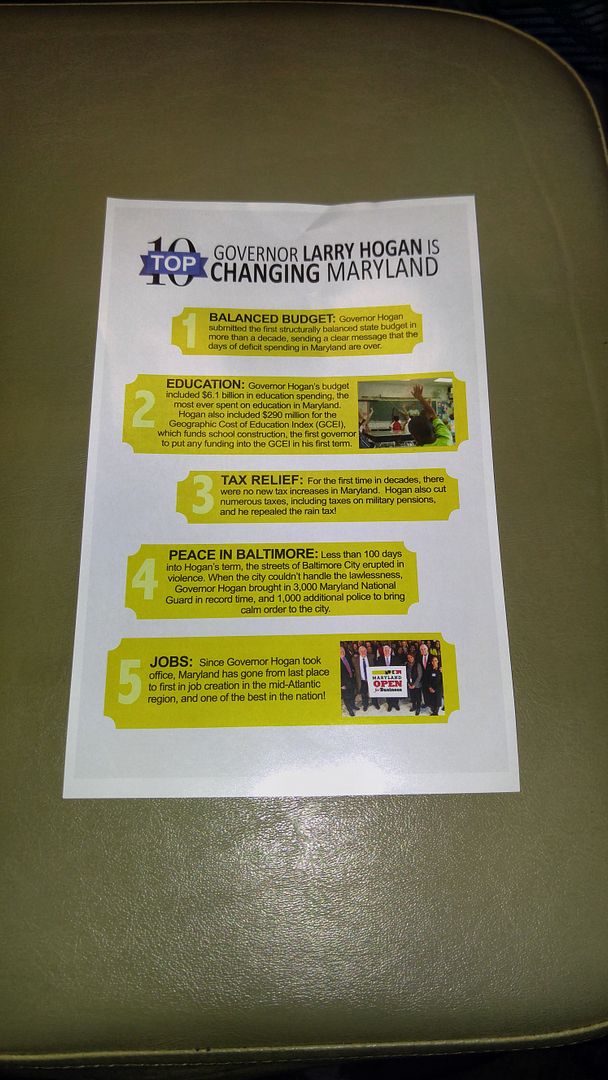 I'm only giving you the top five – for the rest, come see us when we are out and about in the community.
Louis reiterated that this year's convention "will be about unity," for it's the RNC's "#1 job" to elect the President. And while Pope believed the GOP has "an amazing array of tools to make sure we win this year" and has "tremendously expanded minority outreach" over the last four years, it all comes down to our candidate. Pope conceded that "Trump changes our plans quite a bit," and added it may "take a little bit of sculpting of (Trump's) policies" to have effective minority outreach. But Louis also contended the "Trump effect (on downticket races) is not going to materialize."
Pope's remarks concluded the morning session. I went out to eat my lunch (with Andy Harris, no less) and saw this nice display from someone who would like to join him on Congress.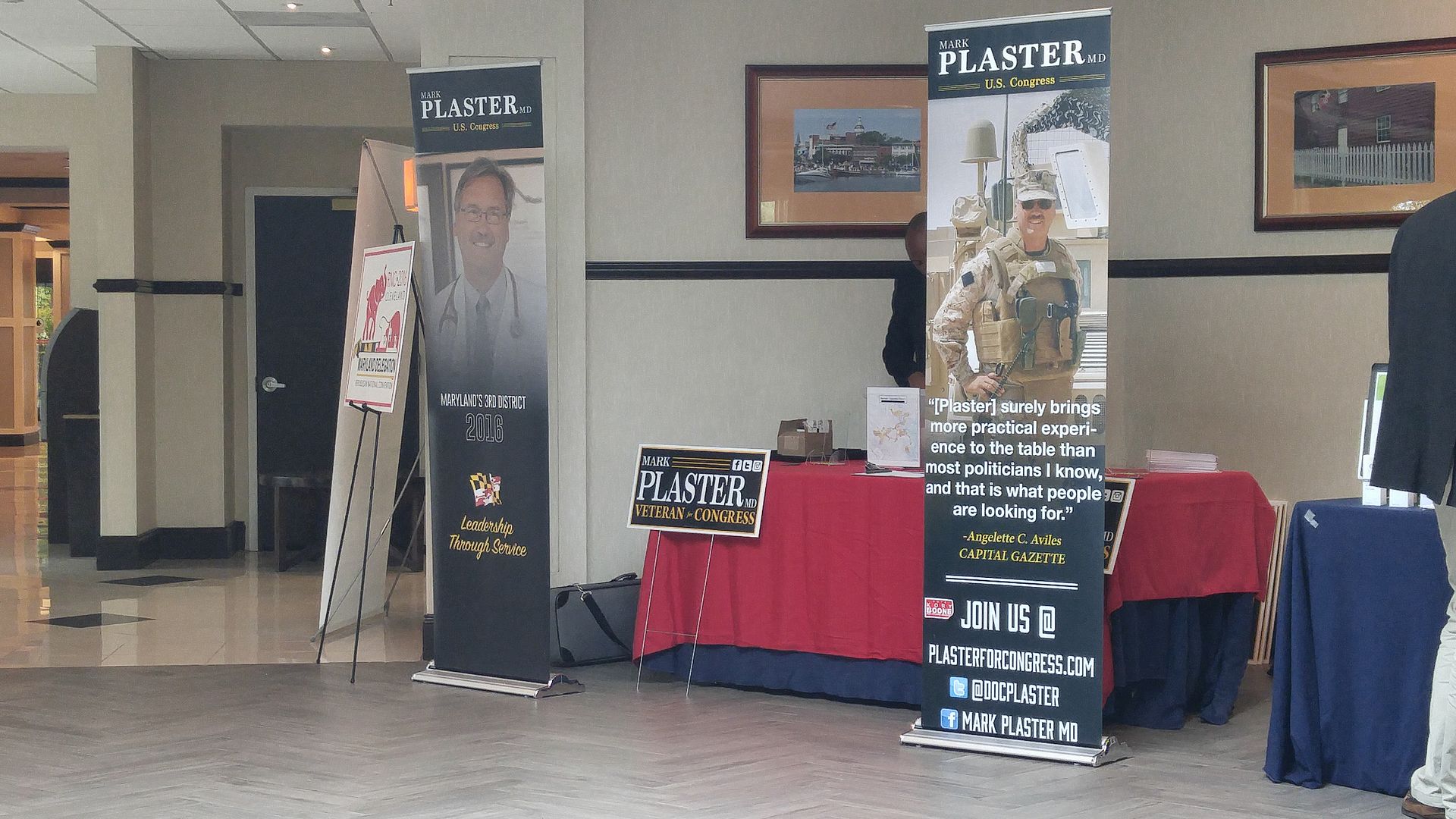 I was less interested in this swag, although I could have picked up a Cruz hat, too.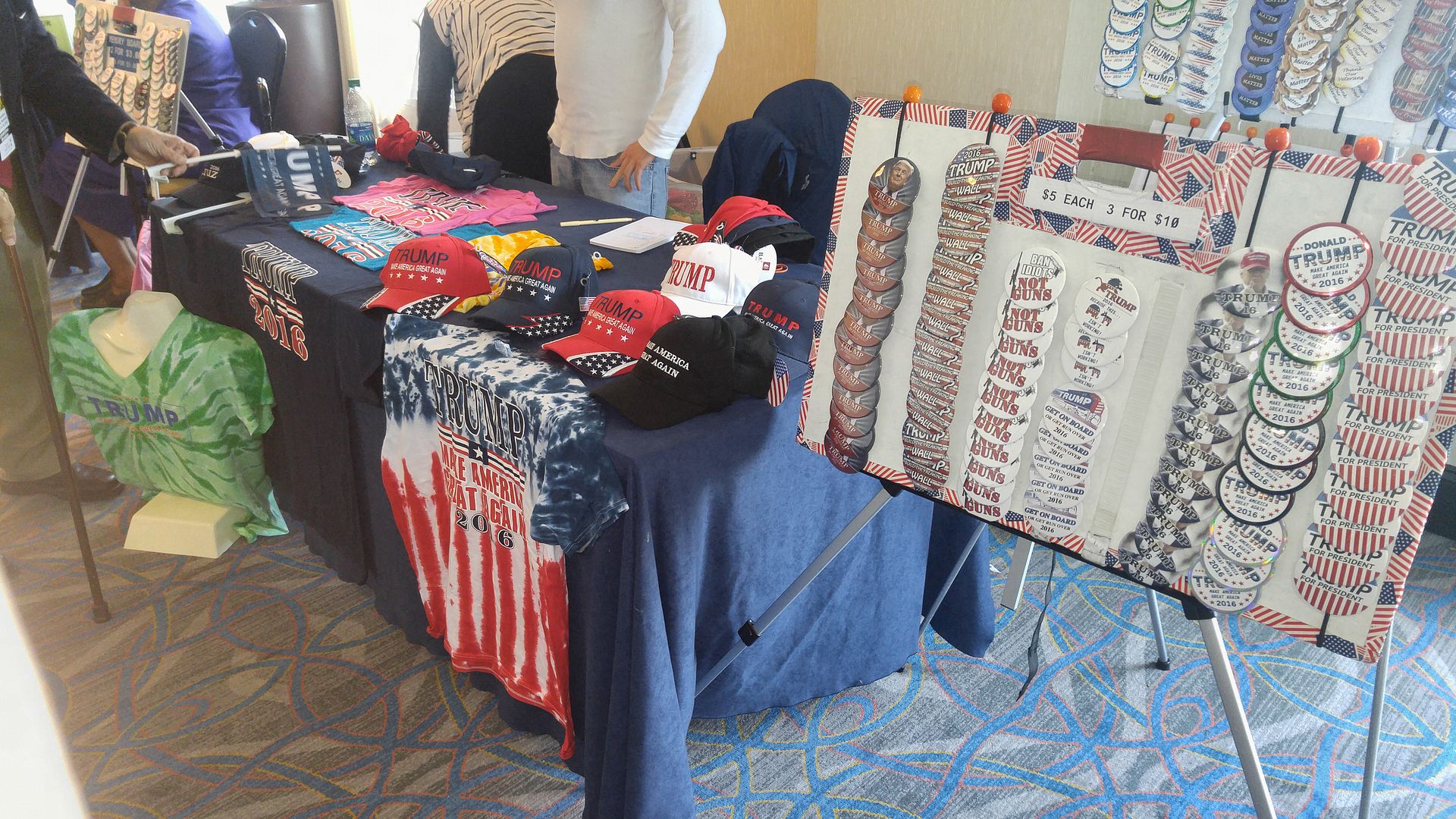 I also spied the potential National Committeeman making last-minute preparations.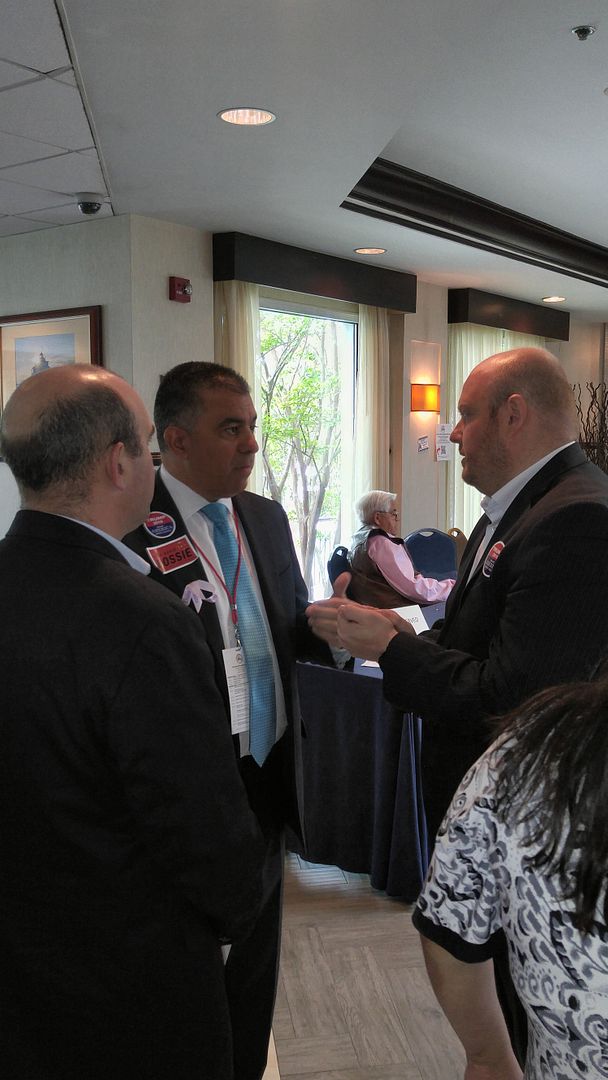 One other task I had to perform was voting for Delegate and Alternate Delegate. Because I refused to add to the Trump slate I only voted for four winners, including the guy voting immediately after me.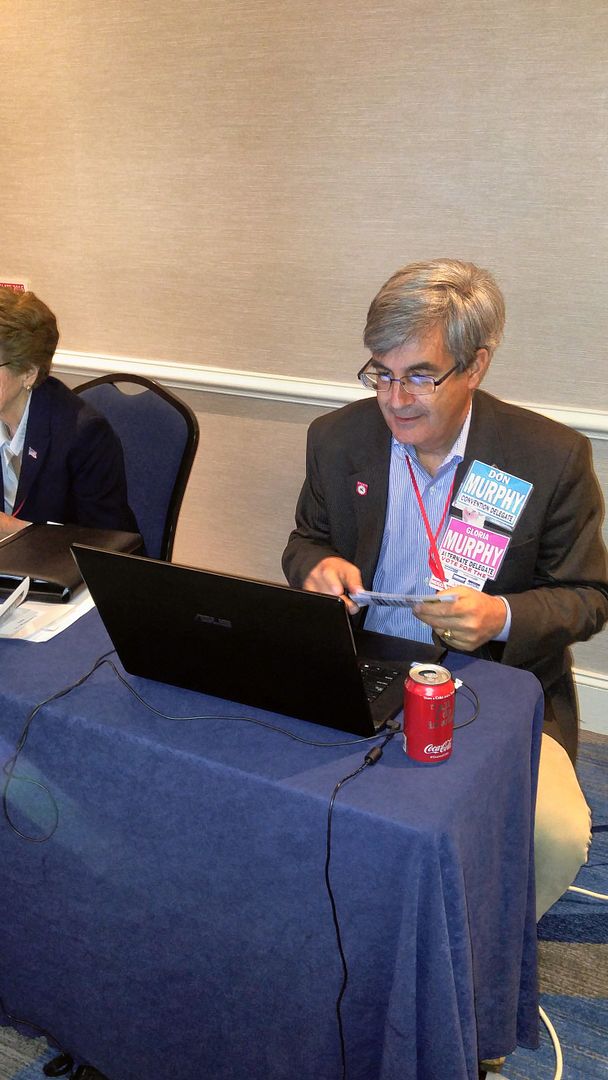 At these conventions it seems like Don Murphy is my shadow. But he and Gloria should enjoy Cleveland, since they were two of my four that won.
The system was neat and easy – we knew the winners five minutes after we voted, as I will explain shortly.
Up first was the National Committeewoman election. Since that was a walkover for Nicolee Ambrose, I can simply comment that she had one of youngest members of the General Assembly, Delegate Robin Grammer (a member of the "Dundalk Revolution") nominate her and Senator Steve Waugh second her. Both were results of the hard work Nicolee has done to elect more Republicans as both flipped Democratic districts. And I really liked Waugh's line about how Republicans "focus on putting air conditioning in the classrooms and not transgenders in the bathrooms."
We then had the National Committeeman election. Because the nominating and seconding speeches came in alphabetical order of the candidates, Bossie's went first. Nominating Bossie was the highest elected federal official in the state, Andy Harris, who said David represented "a new way of thinking" that we need.
But the jaws hit the floor for the seconding speech, as Joe Steffen notes on his site in more depth. None other than Nicolee Ambrose delivered the dagger to her associate's heart. "This is serious, serious business," said Nicolee, and "we need a fighter."
Despite that blow, Pope could counter with some firepower of his own. Lieutenant Governor Boyd Rutherford nominated Pope, recalling how he had worked with Louis for years in the Howard County party and that he's been fighting for the GOP. His seconding speech, delivered by Martha Schaerr of Montgomery County, added that Pope was "a tireless, trustworthy leader."
The focus shifted back to Bossie for his remarks, and he closed the sale by saying "I believe I can bring a lot…to the Maryland Republicans." It was "critical to have new blood in leadership," David went on, and while he promised to raise Maryland's profile, he also said "we must not cede ground to liberal Democrats, anytime."
Pope could only appeal to the masses with his experience and passion, countering, "I've spent a lifetime working for the Republican Party…I stand on my record of accomplishment."
But Pope's defense was to no avail. It was clear when the first four jurisdictions to report (Allegany, Anne Arundel, and Baltimore City and County) picked Bossie by a combined 56-8 margin that the rout was on. In terms of our voting system the count was 365-188, but in actual bodies it was 182 to 91 – a perfect 2-to-1 margin. Pope only carried eight counties (Caroline, Cecil, Frederick, Garrett, Howard, Prince George's, St. Mary's, and Talbot) and in four of the eight it was a 5-4 verdict. Only Garrett (6-0), Caroline (7-2), and St. Mary's (7-2) were big wins for Pope. (Wicomico County was 7-2 for Bossie.)
This was an emotional moment as the baton was figuratively passed, but we still had work to do.
There was a resolution that would allow the Bylaws Committee to perform what I would call a curative function, making minor changes to the bylaws in places where references were incorrect, misspellings, and so forth. They would report and we would review changes at the Fall Convention. That passed by a voice vote with one objection.
The first Bylaw amendment was an effort to both restore voting rights to the various ancillary organizations (Maryland Federation of Republican Women, College Republicans, Young Republicans, etc.) and set standards for their inclusion. But after some discussion and debate, it failed by a 188-361 vote (105-167 in terms of voters,) falling far short of the 2/3 majority needed.
The second one was less controversial, although there was enough of an objection to a lengthy lame duck period for party officers to transition after our organizing conventions (such as will occur this fall) that the date of takeover was amended back to January 3 rather than based on the day after the Governor or President of the United States is inaugurated. As amended it passed 438-99, although the amendment barely passed 283-258. (It was behind until Montgomery County sealed the deal.)
All this concluded just in time for the Delegate and Alternate Delegate results to be revealed.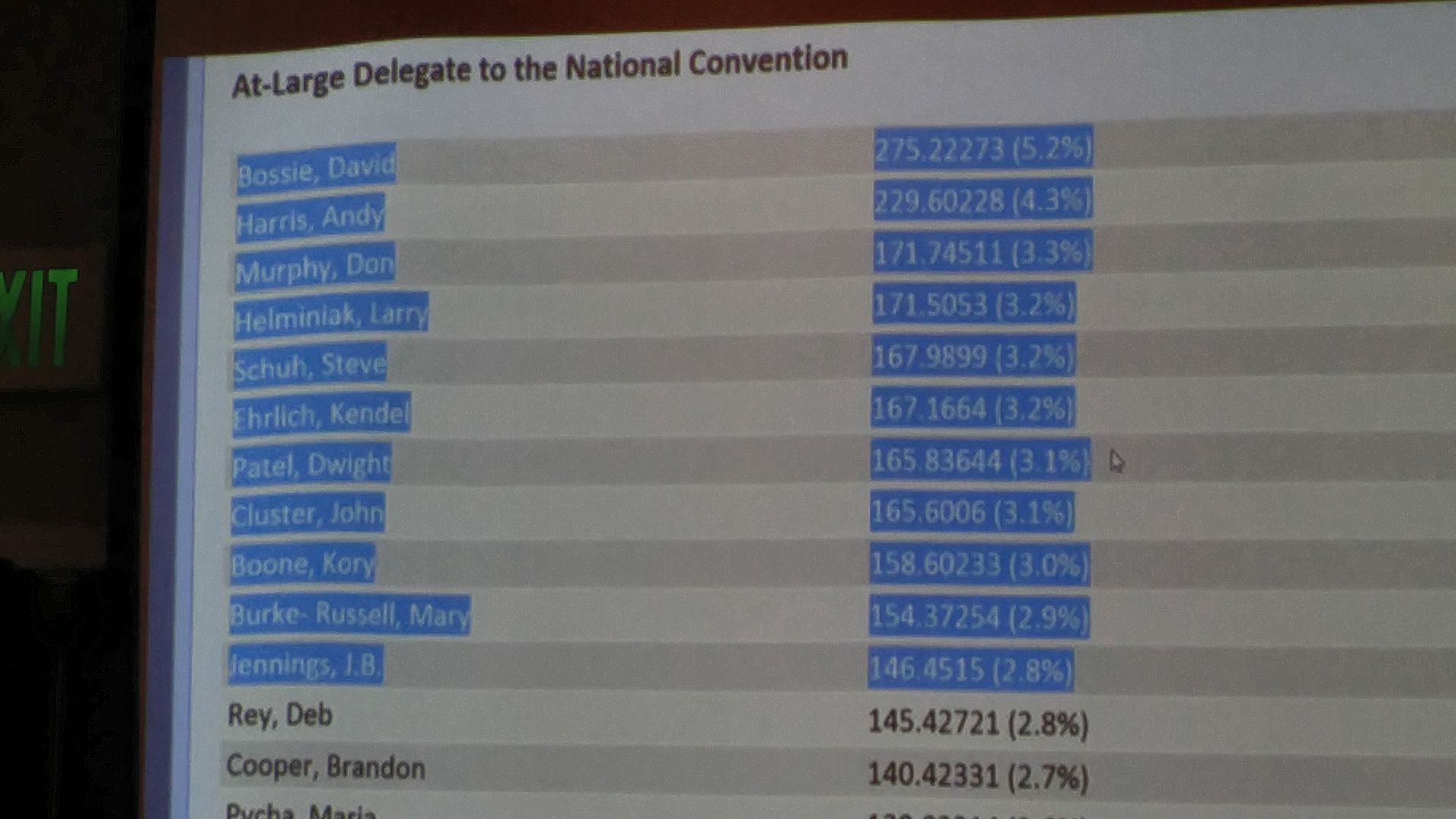 As I said above, I only ended up voting for four winners: the two Murphys, Christina Trotta, and Alirio Martinez, Jr.
We then got to hear from our candidate for U.S. Senate, Delegate Kathy Szeliga.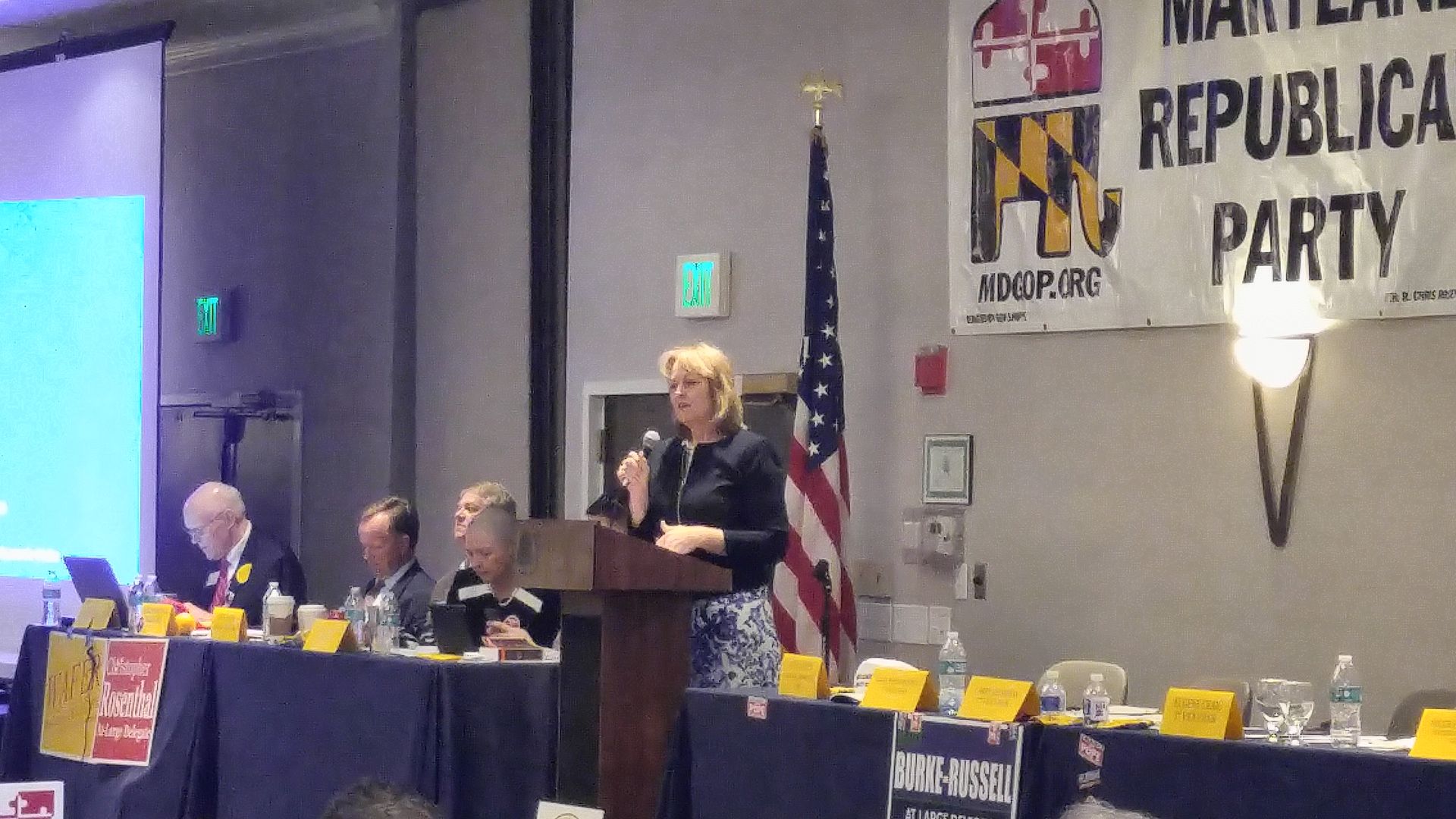 Kathy thanked us for her support, then added that Bossie and Ambrose are "going to do a great job for us." She also added that the fourteen U.S. Senate candidates are "unified and together."
And while she gave something of a standard stump speech recalling her middle-class background, she noted that the business they created was "struggling like many small businesses in the country." Repeating her message that Washington is broken, she chastised the Democrats for electing their "golden boy" Chris Van Hollen, pointing out that since he's been in office the national debt has tripled and calling Van Hollen an "attack dog" for Nancy Pelosi, Barack Obama, and Harry Reid.
"Together we can change Washington," the candidate, who Nic Kipke had earlier called "relentless," concluded.
Our final task was to select electors, which necessitated us gathering in groups by Congressional district. Our district has the largest number of Central Committee members so we all crammed into one corner of the hall to hear several nominations. For the second time in a row, I nominated the First District winner: Diana Waterman, who prevailed over five others. The others will be Tony Campbell, Jane Roger, Faith Loudon, Cathryn Grasso, Dick Jurgena, Loretta Shields, and Alan McMahon.
Once Diana Waterman announced her choices for the at-large electors would be Ellen Sauerbrey and Michael Steele, we could finally adjourn. Next time is slated for Frederick this November – the question is whether it will be a wake, a celebration, or some combination thereof?