In case you missed part 1, which dealt with Friday night, you can catch up here.
I was in bed reasonably early for a convention, in part because there weren't a whole lot of hospitality suites to be found and in part because I wanted to cover breakfast with this immediately recognizable guy.
The former GOP national chair is always a welcome guest at MDGOP proceedings, and as a breakfast speaker he set a good mood for the day by predicting "we're going to be back in our winning ways this year."
But his message went back a few years, to when Michael took over the national party, which had become too "comfortable and cozy." He saw his mission as one "to rebrand a party which had become moribund," one where the gap between rhetoric and principles had become so large it snapped. "I'm so sick and tired of people blaming our principles for their failure to lead," said Michael. "What we believe in is time-honored and true."
Similarly, Steele noted that the state party had gone through its share of "definitional moments" and was ready to do so again. We needed to avoid being a party defined by what we are against and not what we are for, as we've "often found ourselves at odds with the very people that we want to represent." We need to "talk about freedom but connect it to life."
Taking that to a more local level, he noted that people are expecting leadership from the Central Committee members in the effort to "turn the elephant."
Revolutionizing the MDGOP has to be our first priority – Michael Steele. #MDReps #mdcons

— Michael Swartz (@monoblogueUS) April 26, 2014
"We're not looking back, we're looking forward," said Michael. "Revolutionizing the (Maryland Republican) Party is our number one priority." People are hungry for authenticity, leadership, and vision, he added. He got a token of our appreciation, too.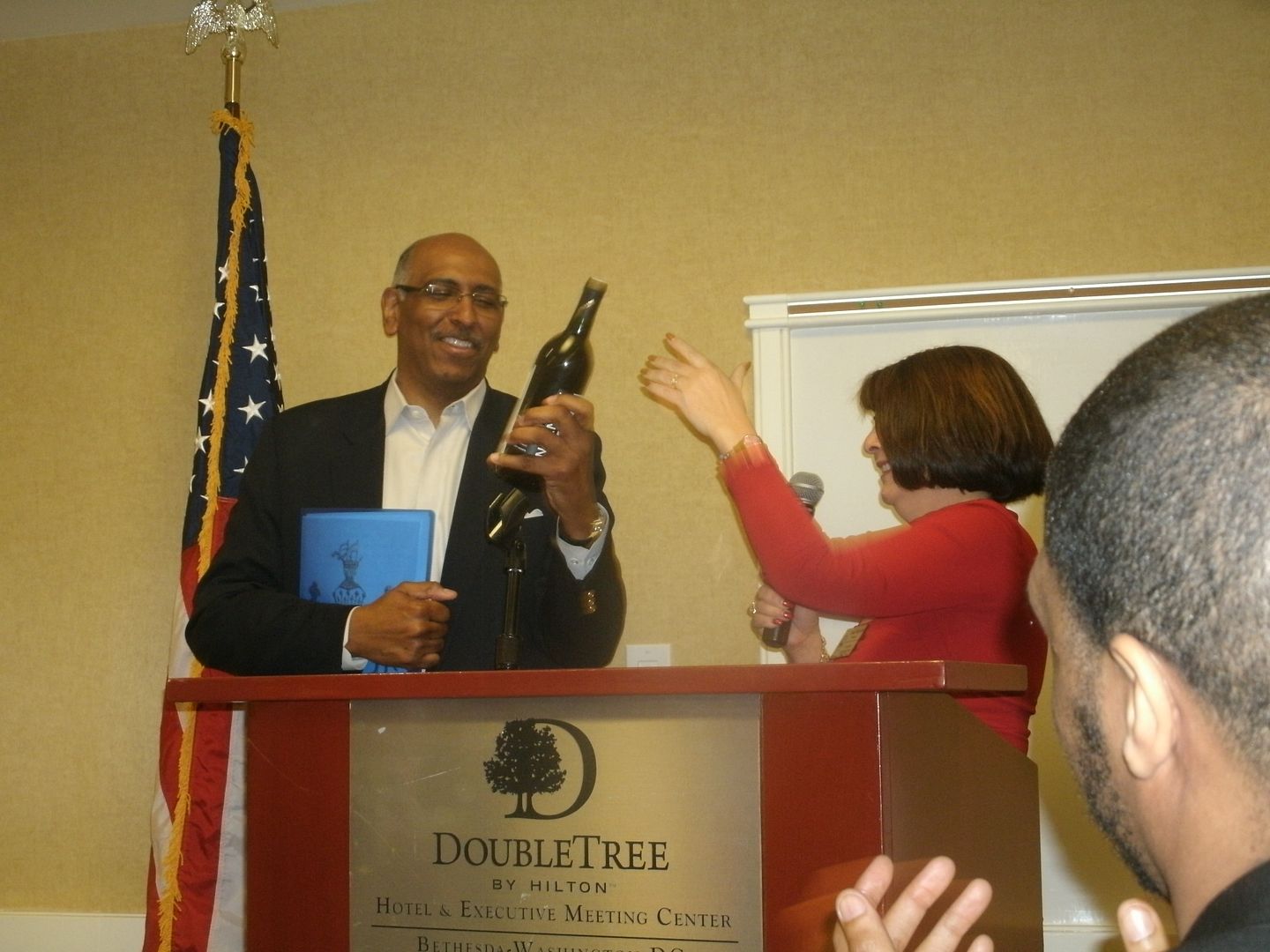 The wine is a Maryland red wine from Linganore called Black Raven. Diana thought it was a "providence" that she was thinking about how to thank our speakers as she drove by the winery. I had a shot of the bottle but, alas, I was too close and it came out way too bleached out. After breakfast, I had to gather my things and check out as well as make one other stop.
Instead of having a Friday evening suite, Larry chose to host a breakfast suite with Chick-fil-A items. Of course, all I was hungry for was information, so I spoke to Hogan about his experience on the Eastern Shore with our farmers. I found he has a fairly good idea about what they stand to lose should phosphorus regulations go through, so that was a plus. And I added to my weekend collection, a shot which included Larry's wife Yumi.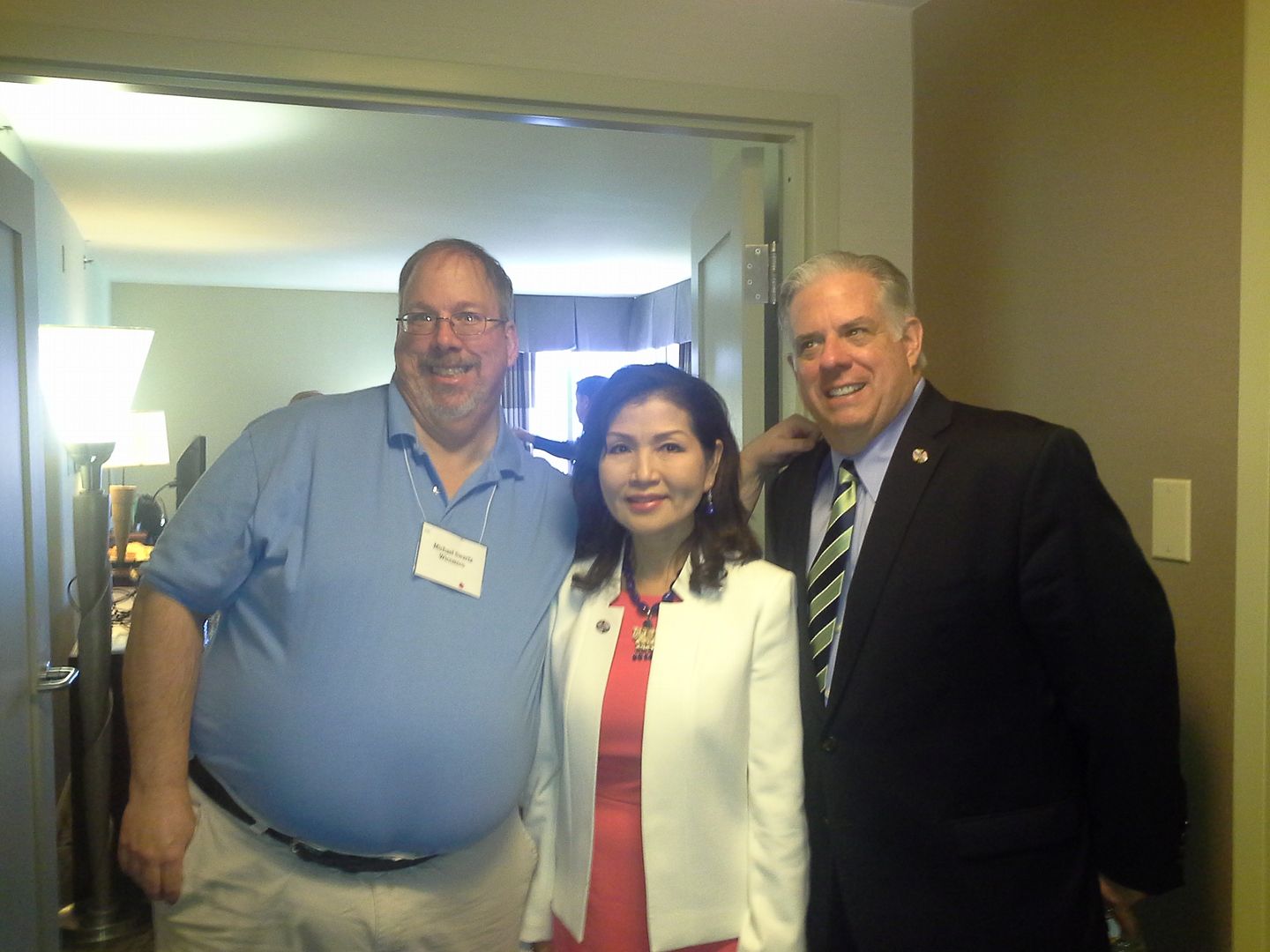 It's a bit askew because I was looking at two cameras at once. So I grabbed a Hogan-labeled bottle of water as I walked out and headed back down. With the stops, I missed much of what – from the part I did hear – was an interesting panel discussion by conservative black Maryland Republicans.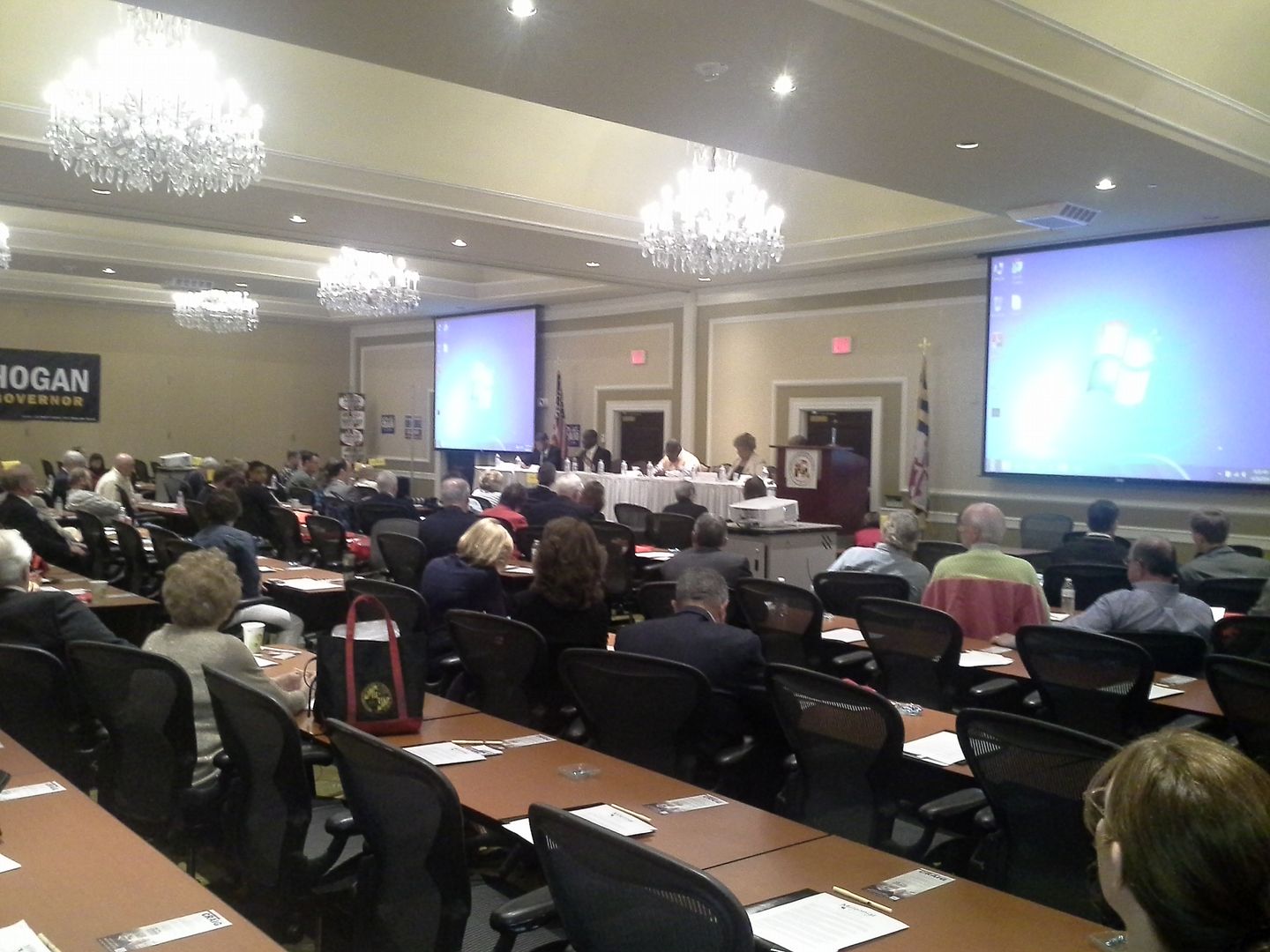 After that finished, I checked out some of the displays in the lobby. This one was new that morning.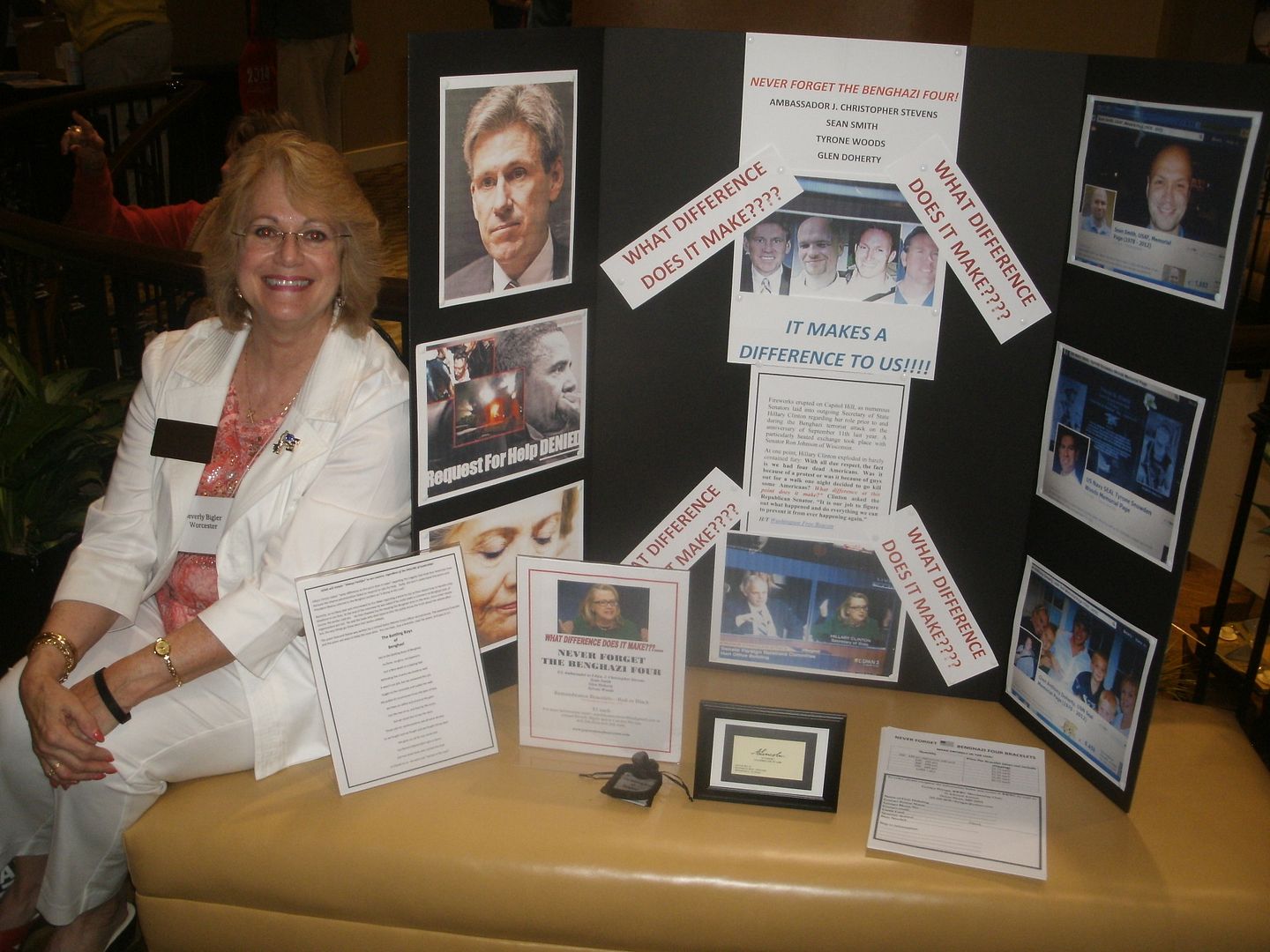 As I understood it, my Worcester County cohort was selling "Benghazi bracelets," which will be gray and black. Obviously that's still on the minds of many people to whom it does make a difference. I also spied a more modest display that morning from the Lollar team.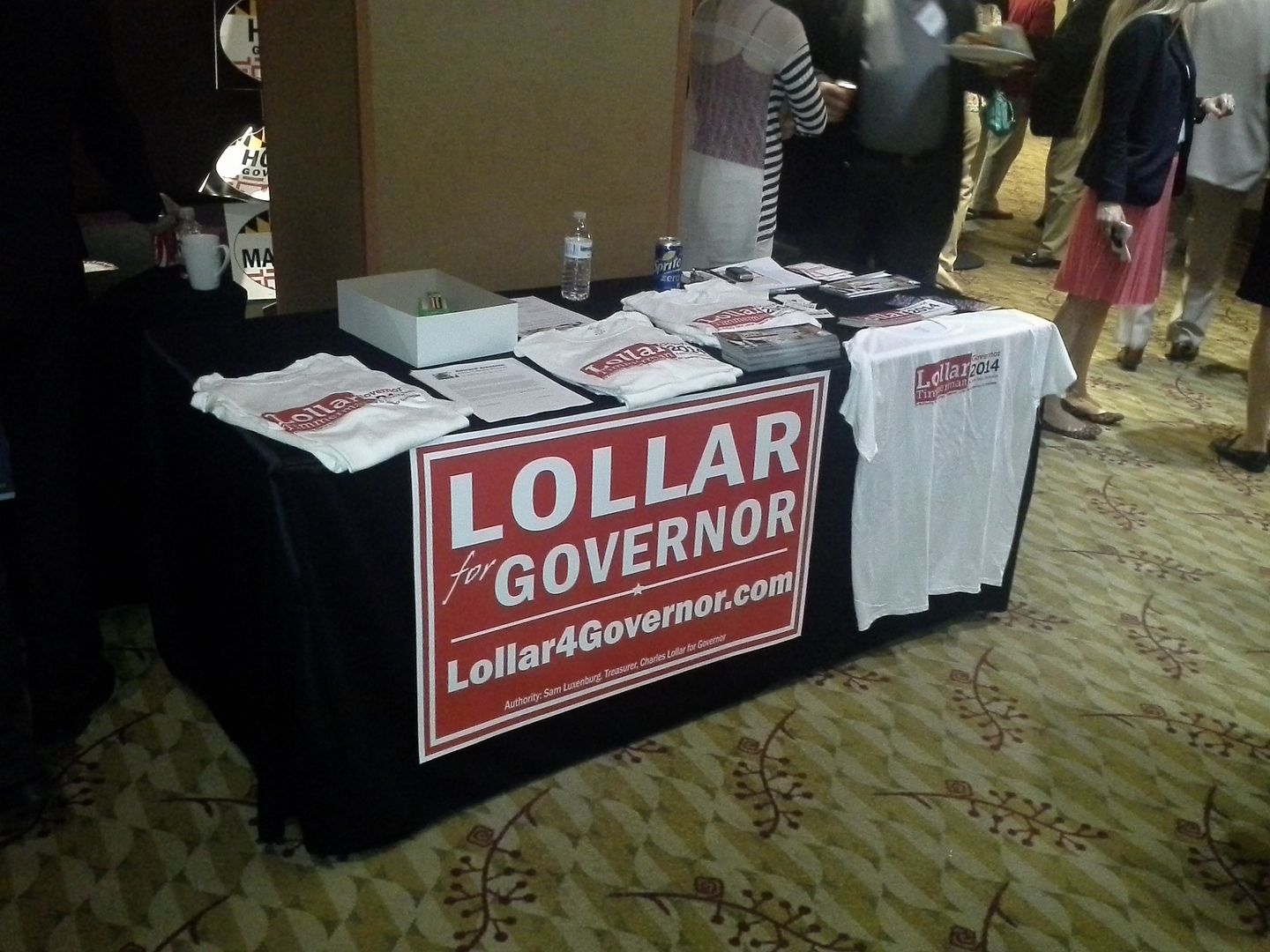 I was remiss in not getting a photo of Ron George's table, although I think it's visible in the lobby photo in part 1. Of the four candidates, though, Ron had the least presence with just the table. Craig had a table and suite, as did Lollar, while Hogan had his breakfast suite, a folder at each table place, and hallways festooned with these.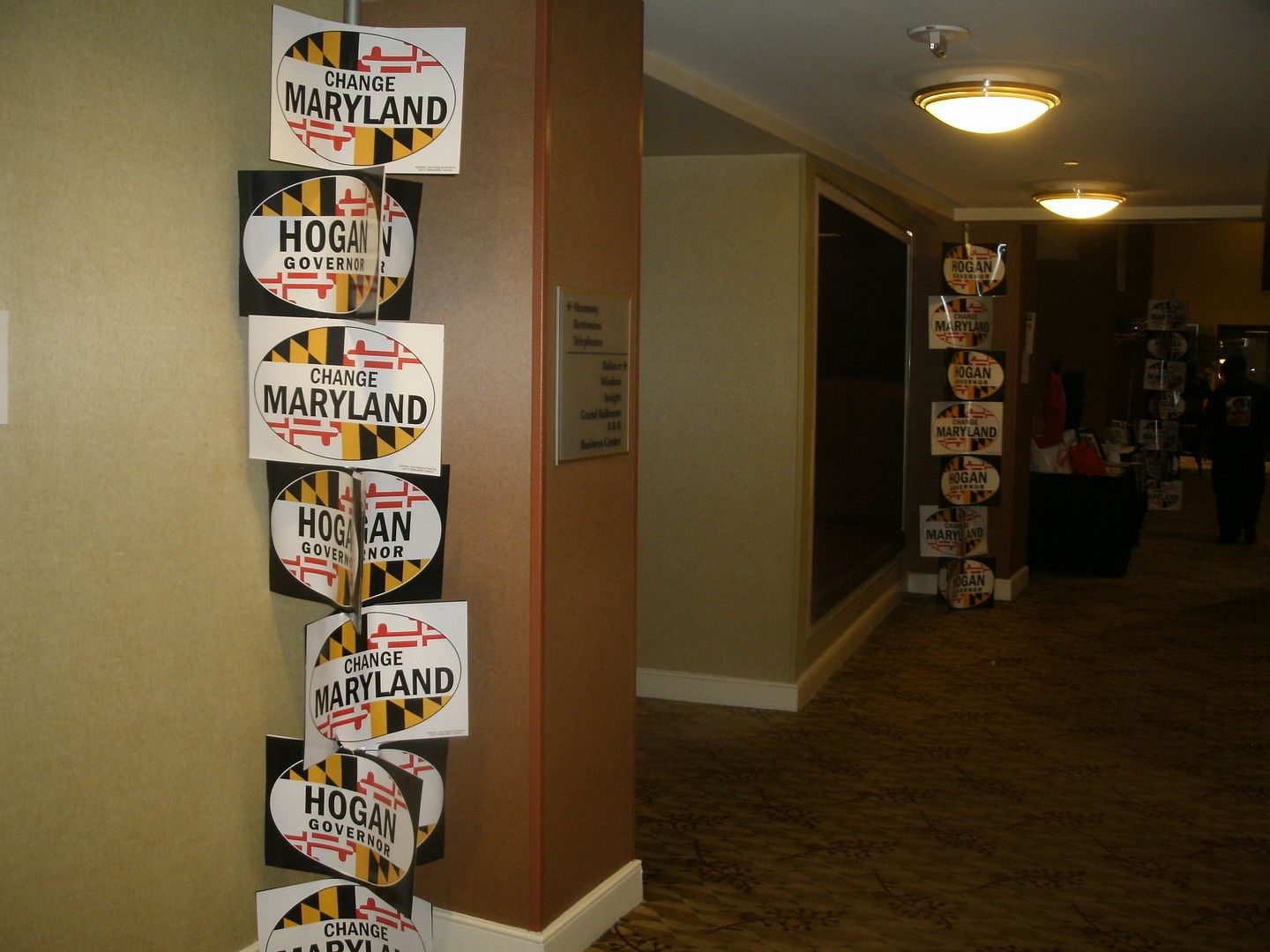 In due course, you'll understand why I thought it was important to make that comparison. Once that mini-tour was complete and I was checked out, it was time to begin the convention proper.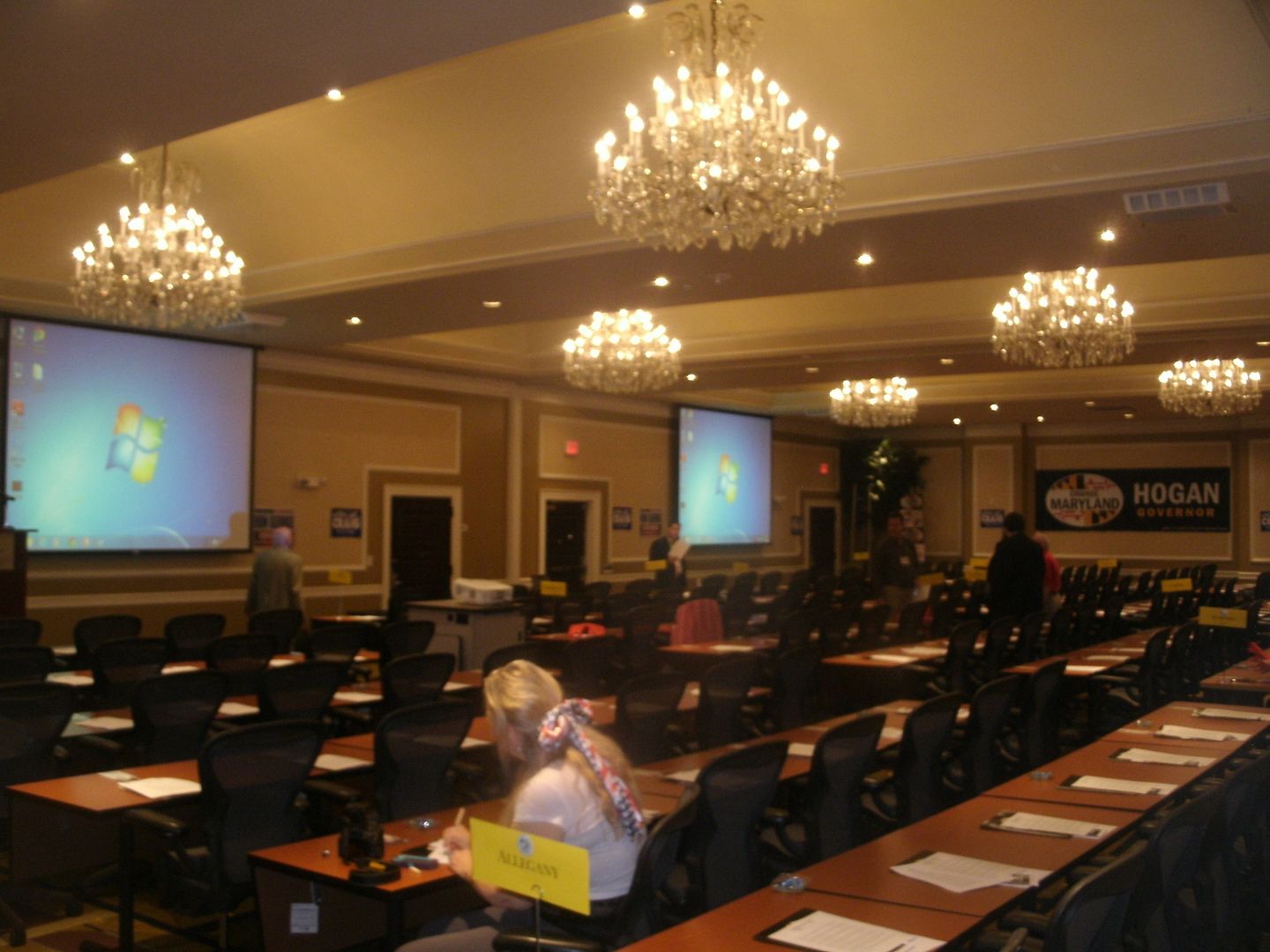 The first report was a legislative report from Delegate Gail Bates, who's now running to become a Senator. She pointed out we don't get our way much, but did achieve some good things: recoupling the estate tax to federal law, pieces of election reform – particularly on voter rolls – and straightening out the pit bull mess to place responsibility on dog owners regardless of breed. These, however, were outweighed by a litany of bad: a budget which continues a pattern of overspending revenues, increasing the minimum wage despite outcry from small business, decriminalization of marijuana, the "bathroom bill", and the health exchange, said Bates.
We next received the bad news of the treasurer's report from Executive Director Joe Cluster. The one positive note was that we were "right on course to meet our goals this year" after a slow start. This wasn't her convention podium, but I wanted to show a shot of Party Chair Diana Waterman to signify her Chairman's report.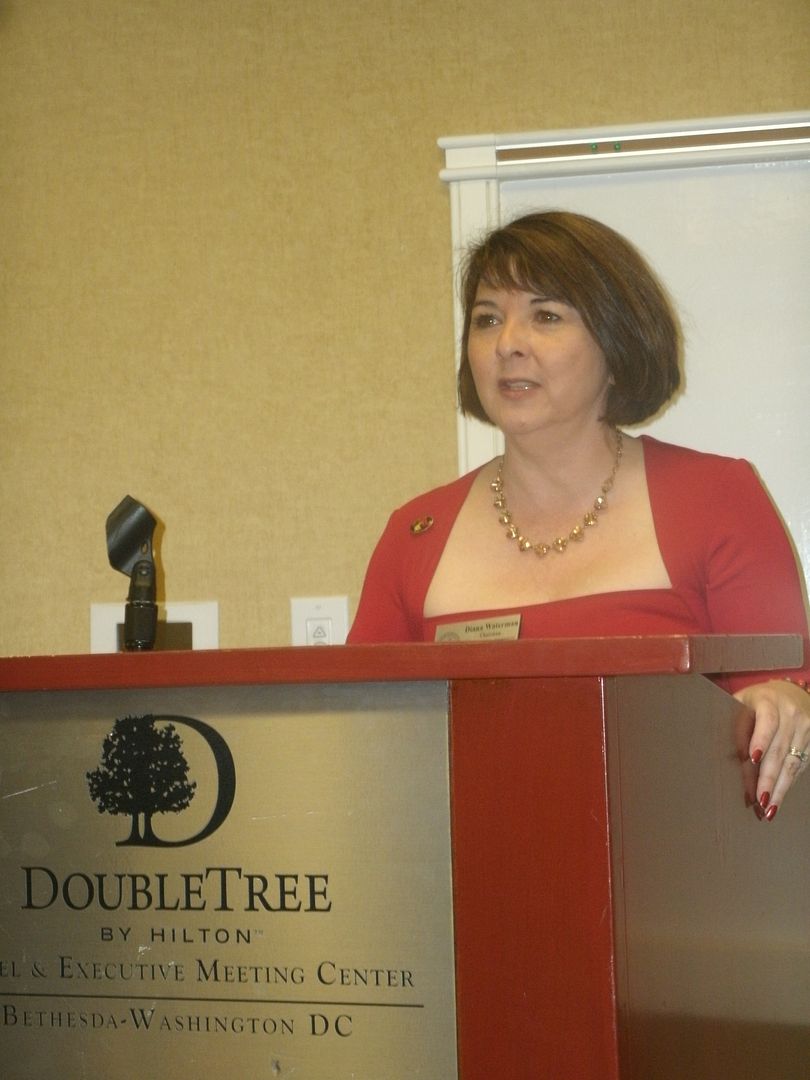 She had one key announcement:
@DianaWaterman: All four candidates will be at May 31 Salisbury #MDGOP guv forum. Look forward to being at SU.

— Michael Swartz (@monoblogueUS) April 26, 2014
She also recounted recent events like the Reagan Ball and Johns Hopkins gubernatorial forum, but her message stressed the needs for turnout on Election Day and unity after the primary.
In an extension of the forum he moderated, Tony Campbell decried the lack of credibility the party had built in the 16 years he had been involved, and stressed that we needed to find issues that people connected with. This election was the combination of time and opportunity we had been waiting for, though.
Brian Griffiths gave a brief Young Republican report mainly focused on upcoming events, while the College Republicans gave no report because their incoming president, Christine McEvoy of Johns Hopkins, was studying for exams. Thus, the morning continued with National Committeewoman Nicolee Ambrose and her visual aids.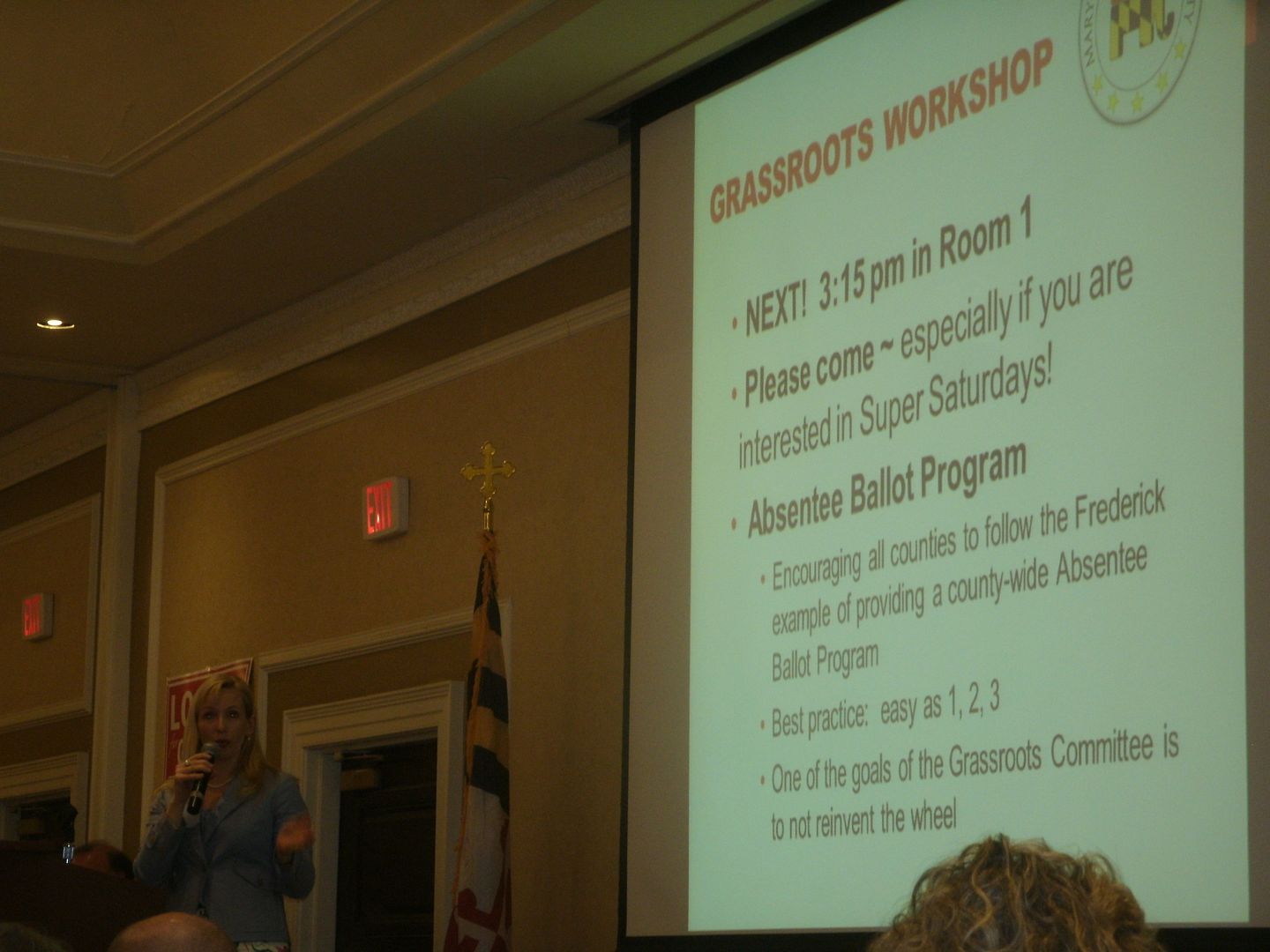 While Ambrose talked briefly about what the national party is doing, her focus has been on grassroots work in Maryland, particularly the Super Saturday program. Next Saturday, May 3rd, that program comes to Ocean City just in time for Springfest. A second one is in the works for June 21 in Montgomery County. Further ones for the fall will be determined over the summer, as there is an application process. She also stressed that every county should be looking into an absentee ballot program, particularly the larger ones.
But I thought this slide of upcoming events was cool.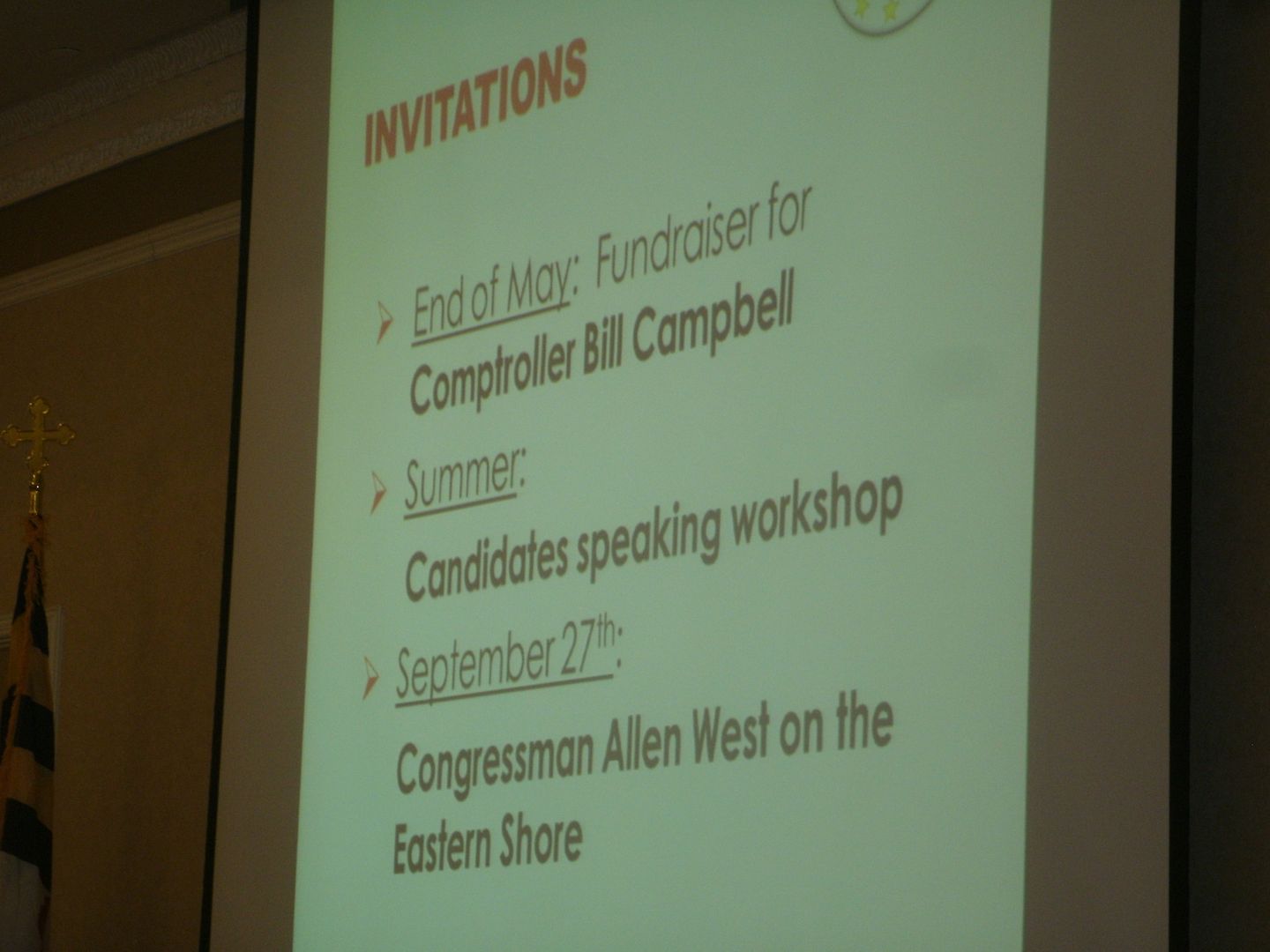 It's not just on the Eastern Shore, though, it's right here in Salisbury. Do we need a better excuse to have a Super Saturday for Wicomico County? After all, the good Lt. Col. West shouldn't arrive until the afternoon.
Louis Pope piled on to what Ambrose said as he gave his National Committeeman report, but also believed the June primary was an advantage to Central Committee members – those who win have a four-month period to learn the ropes, while the returning/retiring members could mentor the newbies.
Turning to the 2014 election, Pope quipped, "if you liked 2010, you'll really like 2014." The national GOP's goal was to take the Senate, and with the recent Florida special election showing "it's all about turnout," coupled with the McCutcheon decision by the Supreme Court, the potential was there for a great year.
On a state level, Pope believed Wisconsin is a "model" for us – similar size, and a state controlled by Democrats until the last cycle. It all comes down to turning out Republicans.
Finally, we were through most of the reports, and we found out we had a quorum of 236 of 303 members present. But it was troubling that several counties were well short of their allocation. We're used to this from Baltimore City, which, try as they might, has a hard time getting people to serve. But there were over half the members absent from Allegany, Calvert, Caroline, Dorchester, and Talbot counties as well. Granted, it was the last convention of the term and not much was on the docket but that's still a concern to me.
The last item we dealt with before lunch was a resolution condemning the introduction of House Bill 1513, sponsored by both the Harford and Baltimore County Central Committees. Thanks to a parliamentary maneuver, the resolution passed by unanimous consent in a voice vote.
We were actually well ahead of schedule, even with lunch, so Diana Waterman added two speakers to the agenda: Attorney General candidate Jeffrey Pritzker and Comptroller hopeful Bill Campbell.
Pritzker was blunt: "Maryland is in trouble." He reminded us he was the first to call for a special prosecutor in the health exchange debacle – a position Doug Gansler would prefer to do away with. "The people need a lawyer," Jeff said. He promised to create a task force to address the laws, seeking to prune away the unnecessary and redundant.
Campbell made the case that we needed to go to places where we were uncomfortable in order to win. For example, he addressed the Maryland State Education Association – not expecting their endorsement, but to make his case nonetheless. Reportedly he got 40% of the teachers' votes, which Bill considered to be very good impact.
We also had the Executive Director's report from Joe Cluster, who told us to focus on four numbers: 6, 19, 48, and 16. These weren't for Powerball, they were 6 of 10 County Executive seats, 19 of 24 county councils or commissions, 48 Delegates, and 16 Senators. "It would make us relevant in this state" if we achieved all these milestones, said Cluster. Joe continued by pointing out both Barack Obama and Martin O'Malley had approval numbers under 50 percent. "People are tired of what they've done to taxpayers," Cluster said. "I don't see any incumbent Republican losing."
He also announced there were plans for Victory Centers in Towson for District 42, and in the District 38 area – Salisbury is in District 38, as is Ocean City. We then got to new business.
#MDReps Regional chairs resolution fails to make it to floor in lopsided vote.

— Michael Swartz (@monoblogueUS) April 26, 2014
The Tweet tells you the result, but how we got there was interesting. I was one of perhaps four who spoke in favor of moving it to the floor, but by the crowd reaction to myself and other speakers I knew the effort was doomed. By the time the roll call got to Baltimore County (only fourth in) the result was obvious: just Caroline County (and its one representative), Dorchester, Howard, Kent, and Queen Anne's favored it (Wicomico was 6-3 against) and the motion died by a weighted vote of 385-91. (In terms of bodies, it was 192-42, with one abstention.) Ten counties were unanimously against it. I thought it would get between 1/3 and 1/2 of the vote, so less than 20% was shockingly low.
But it is typical of the party's "we've always done it this way" mindset.
Before adjourning, we heard yet another plea for unity and turnout from Diana Waterman, who was stalling a little bit because there was a full hour before the afternoon seminars were scheduled. But we finally received the results of the straw poll conducted at the convention.
@Charles_Lollar wins MDGOP straw poll with just 29% of votes, @Hogan4Governor 2nd with 27% @DavidCraig2014 with 26%.

— Michael Swartz (@monoblogueUS) April 26, 2014
Brian Griffiths, a confirmed Hogan supporter, came over to Jackie Wellfonder and I and huffily said, "that's the last thing (Lollar's) going to win." He chalked up the loss to proxies who were in the Lollar camp.
Here are the actual vote numbers:
Lollar – 68 votes (29.8%)
Hogan – 62 votes (27.2%)
Craig – 60 votes (26.3%)
George – 29 votes (12.7%)
undecided – 9 votes (3.9%)
I remember looking quickly at Wicomico's ballots before I handed them over and we split among the four candidates. I think it was 3 Hogan, 3 Craig, 2 Lollar, and 1 George.
But look at what was put into the convention by the candidates. Granted, Charles Lollar had a large and very visible party and David Craig had a lively suite of his own. All but Larry Hogan had lobby tables, with Ron George having very little other presence. I didn't even see him there, although I did see Shelley Aloi frequently making the rounds.
Yet Larry Hogan spent a lot of money for sponsoring the programs, the folders at each seat, the breakfast suite, and the multitude of signs only to come in second by just two votes. (I have it on good authority that one Hogan supporter I know may be switching to Craig – had that person came to that conclusion a little sooner, there would have been a second-place tie.) I would have expected Hogan to get 35 or 40 percent based on the hype.
Unfortunately, my traveling companion needed to get back to Salisbury so I couldn't stay for the seminars. It never fails – had we started at lunchtime, we would have argued the bylaws change clear through dinner. But out of the seventeen conventions I've now attended, this was one of the more quiet and non-controversial. I guess we're fairly united despite the straw poll vote.
It was definitely time to go home and get to work.