By Cathy Keim
Editor's note: We are fortunate indeed that Cathy attended Tuesday's event in Annapolis and filed a first-hand report with her observations. Maryland was the third-to-last stop on this 50-state tour, which began way back in January and stopped in Dover back on their primary election day, September 13. The final stop is Wednesday in North Carolina.
Pray. Vote. Engage.
Tuesday I joined about 50 other folks from Salisbury on a bus sponsored by the Salisbury Prayer Breakfast Committee to attend the Franklin Graham rally in Annapolis. Jack Savage was our intrepid leader. We pulled out of the Wicomico Youth and Civic Center parking lot at 8:30 in the morning and headed north.
We assembled on Lawyer's Mall with a crowd that swelled to over three thousand and began to spill into the street. Volunteers were handing out American and Christian flags. It was a well-organized event. There were several Christian schools in attendance. It was good to see the smiling, young people.
Dennis Agajanian warmed up the crowd with his exceptional guitar picking and then led the crowd in some traditional hymns including How Great Thou Art, which has a long history in the Billy Graham crusades. The crowd was enthusiastic and sang robustly.
Franklin Graham came to the podium and immediately led off with, "Our country is in trouble." No political party, nor any individual can turn it around – only God can do it. As a nation we are spiritually, racially, economically, and politically divided. We need to pray.
The he turned to Nehemiah 1 and explained how the Jews had been carried off to exile in Babylon as slaves. God had brought judgement upon their nation because they didn't repent from their sins. Nehemiah was a slave in the king's palace in Babylon. He heard about how the remnant of Jews left in Jerusalem were suffering because the walls were broken down.
Nehemiah petitioned the evil pagan king for permission to return to Jerusalem and the king granted it. There were enemies at every hand determined to thwart the rebuilding of the walls, but Nehemiah persisted and in 52 days, the walls were rebuilt.
Walls are meant for protection. Gates can be opened or shut depending on the need. Our moral walls and gates are down and any type of wicked thought and activity and teaching can come and go. Our educators, big business, politicians and – sadly to say – many of our churches are more concerned about profits and political correctness than they are about God's truth and His righteousness. Nehemiah fasted and prayed and confessed the sins of himself, his people, and his fathers.
He confessed the sins of his nation. When we consider the sins of our nation, where do we even begin?
Graham encouraged us to hold hands and pray for the sins of our nation as each of us felt moved, then asked those in the crowd to confess their personal sins. He added that he didn't fully understand the father's sins, but he encouraged us to pray and confess for the sins of our fathers. Next Graham prayed for Governor Hogan, Lt. Governor Boyd Rutherford, for the workers in the capital, and for our law enforcement officers.
Then he gave an explanation of the gospel message that Jesus Christ came to save sinners. It is only through Jesus Christ that we can find salvation. Not only does our nation need healing, but our individual hearts need healing. Graham stressed that God loves us, but we have a problem called sin: a disease of the human soul that separates us from God. God is a holy and just God. As a human race, we have all sinned and come short of the glory of God.
"But God so loved the world that He gave His only begotten son that whosoever believes in him should not perish but have everlasting life." John 3:16.
Then, being a technological age, Graham invited anyone who had just prayed for new life to text 21777 and type in the word "Decision" so that literature would be sent to you.
After his religious message, Graham pivoted to more of a historical reminder. He recalled that when he was growing up everybody was worried that "the Commies were coming." During his grade school years his school had drills where you got under your desk in case of nuclear bombs. He pointed out that hiding under your desk was not very helpful, but we practiced anyway. We had bomb shelters with food that was to last for 40 years. It as inedible, but it would last. Then the Berlin Wall came down and secularism came in and there was no difference between secularism and communism because both are godless.
We removed the Ten Commandments and prayer from our schools. Patriotism and the pledge of allegiance are out. Our kids have no idea what is right or wrong.
We have been lied to about the separation of church and state. That whole discussion was about protecting the citizens from State sponsored religions. He said that the Grahams came from Scotland, where the Anglican Church was the state-sponsored religion of the English kings. They tried to force the Scots to be Anglicans, but the Scots said they had no Lord but the Lord Jesus Christ. So the English kings cut off their heads even before ISIS. The ancestors of Billy Graham came to America for religious freedom.
Today the secularists are trying to change our understanding of freedom of religion. For generations we knew the meaning of the term was that you can live your faith freely, and share it as desired. This has devolved into a concept of freedom of worship, meaning that you can worship in the confines of a church only. You cannot live out your Christian faith in the world.
We need Christian men and women to run for office. Look at your candidates in the presidential race. Graham succinctly assessed that, "it has been interesting this year."
But it isn't only about the presidential election. We need to vote thoughtfully on the local level and we need to encourage Christians to run for office. Christians should run for the school board, but they should come ready to fight because the enemy is poisoning our children's minds. Progressives – which is just another word for atheist – get pornographic books onto 7th grade reading lists. Note that if you fight back, the progressives will call you intolerant. Smile and say no.
We must take our schools back as we are losing our nation.
The church must wake up. Pray and get involved: in the last election 20 to 30 million evangelicals stayed home. People complain about the rigged voting, added Graham, but if 30 million more voters showed up, they couldn't rig that election. He mentioned the 2008 Coleman/Franken Senate race in Minnesota that was decided by 220 votes sending the vile, anti-God Franken to the Senate. (Editor's note: it should be pointed out that Norm Coleman led on election night – a large number of questionable absentee ballots "found" during the recounts put Franken on top. Note that Minnesota had a radical Democrat Secretary of State in charge of that election, too.)
Graham then asked the people to take his Pledge to God and Country:
Honor God at home.
Honor God in public.
Honor God with my vote.
Pledge to pray faithfully for my country.
Register to vote.
Pledge to engage in my community and run for office if God leads.
Graham asked that those who take the pledge text "America" to 21777 to receive access to a digital copy of Decision magazine's election special.
Graham closed with this exhortation: Our job as Christians is to make the impact of Christ known to our fellow citizens. Be an advocate for God's truth. Turn our country back to "In God We Trust."
Dennis Agajanian led the crowd in God Bless America and America to close the event.
Well, that was an overview of what was said at the rally yesterday, at least as best I could take notes. I had no complaints with anything that Franklin Graham said. It is certainly true that no matter who is elected president next month, that person will not be able to fix America. They may help or hurt our country, but they will not be able to "fix" it. Our walls are down and we are sinking under the flood of ills that besiege us.
Our current presidential race is the prime example of where our low morals have led us. All the people that are moaning that this is despicable should ask themselves what else can we expect when we have turned our backs on all that is good and noble and true and have encouraged the basest type of behavior in our citizens.
It is time for us to begin our long march to retake our culture. We have allowed the progressives free rein in our schools, our culture, our churches. We must stand for the truth. It will not be easy as the truth is not respected nor sought by many. But stand we must.
I'm going to close with several photos I took at the event.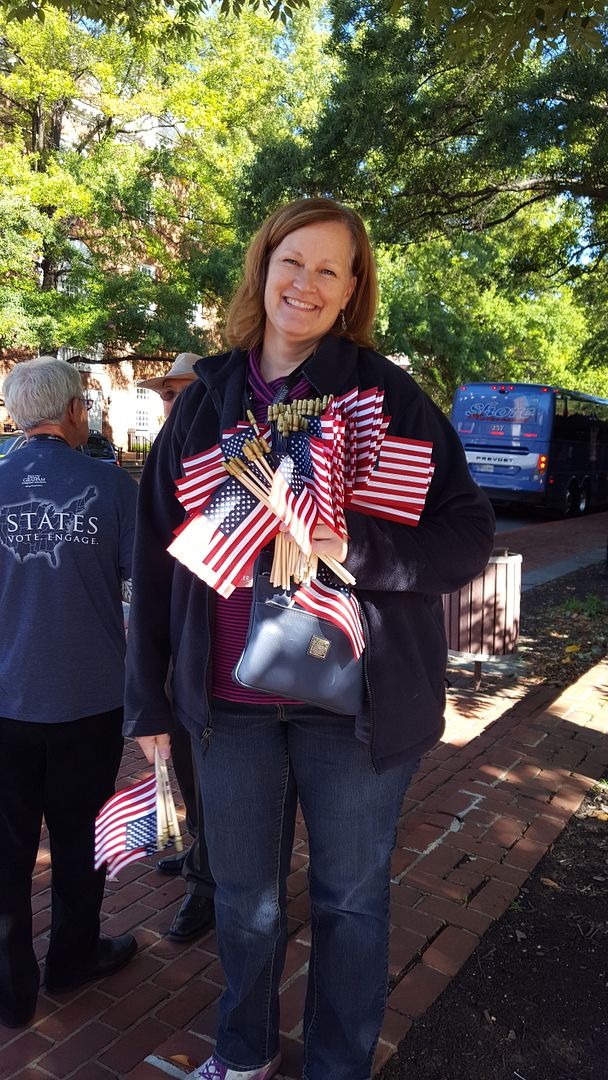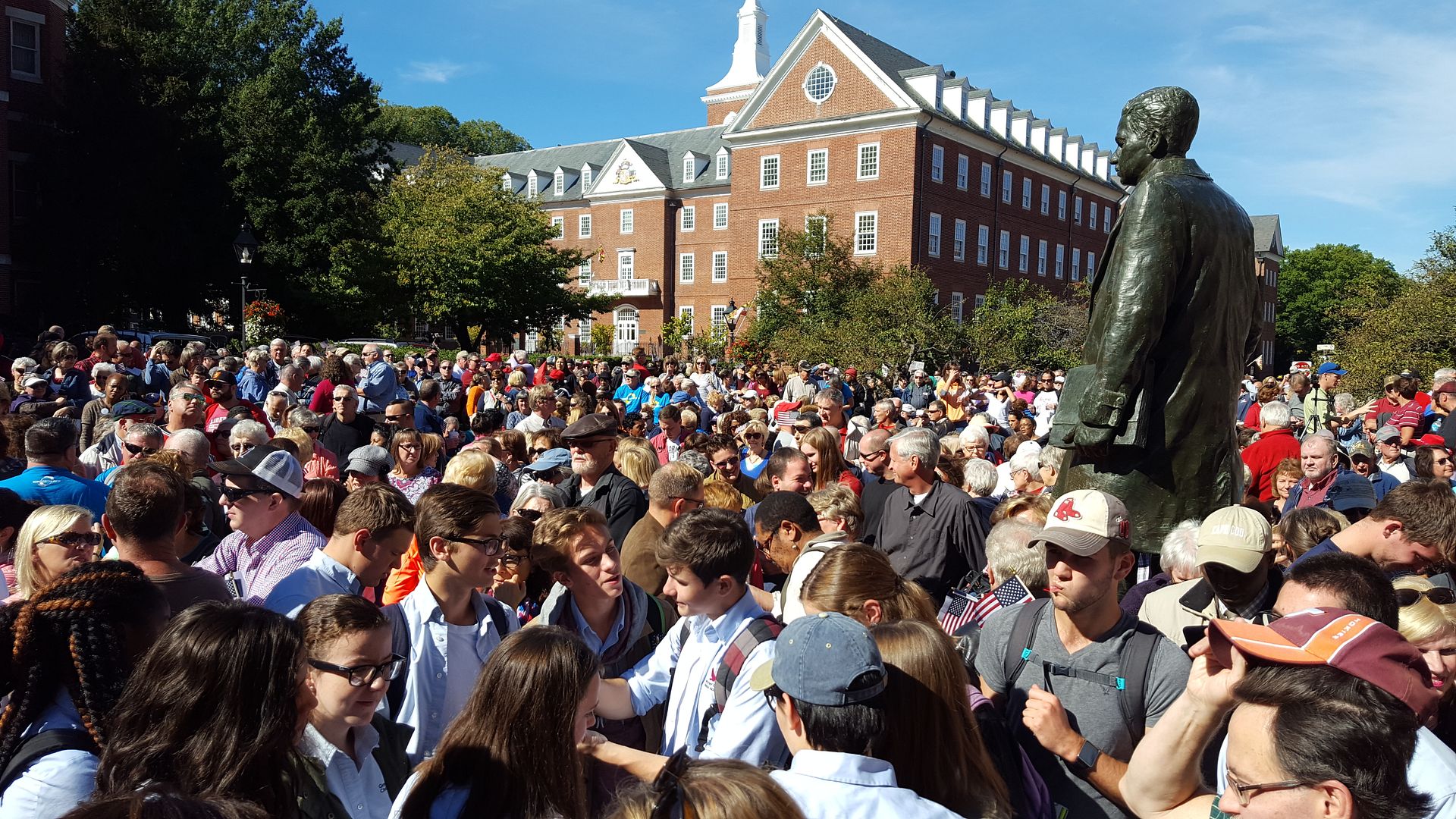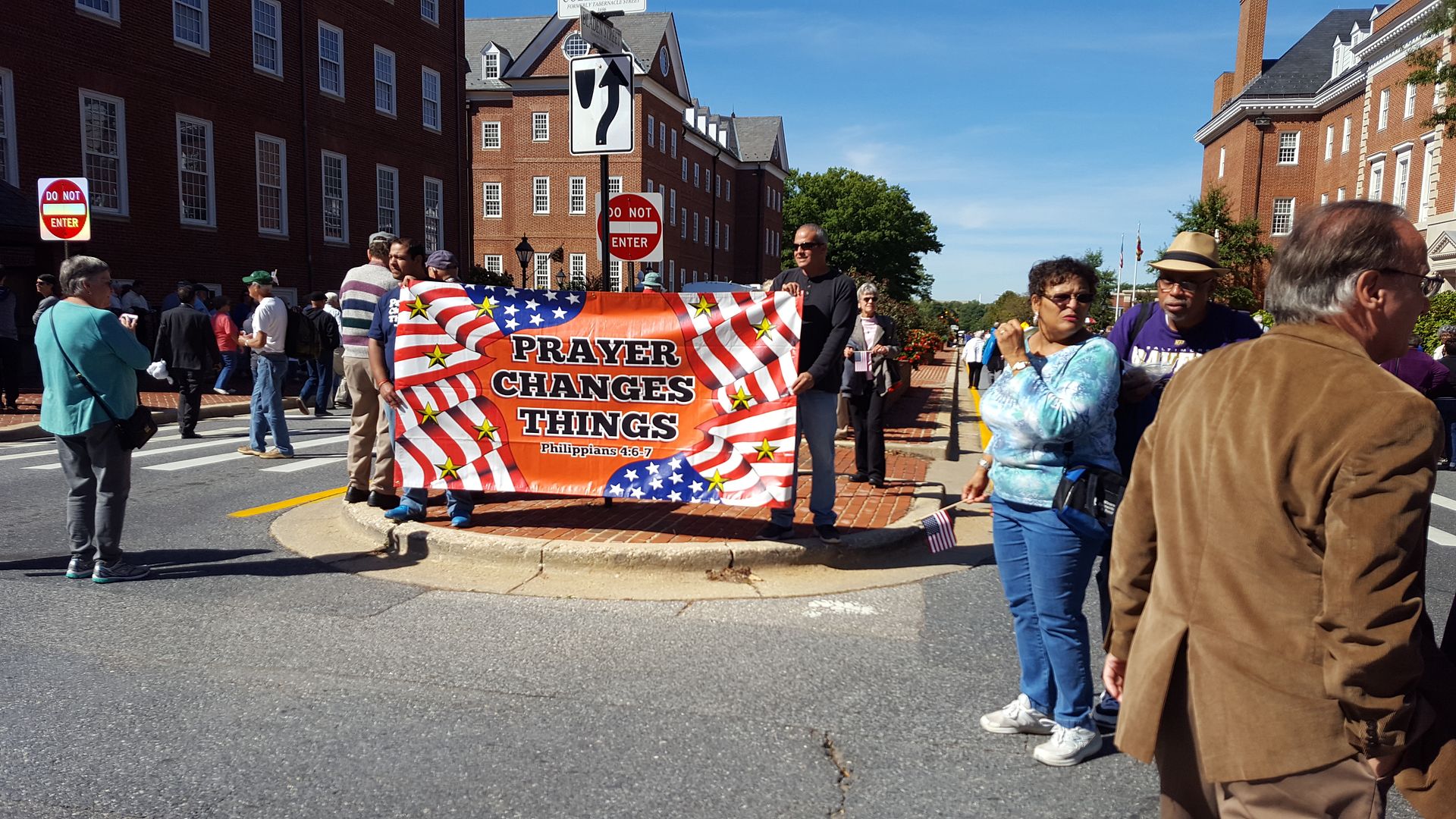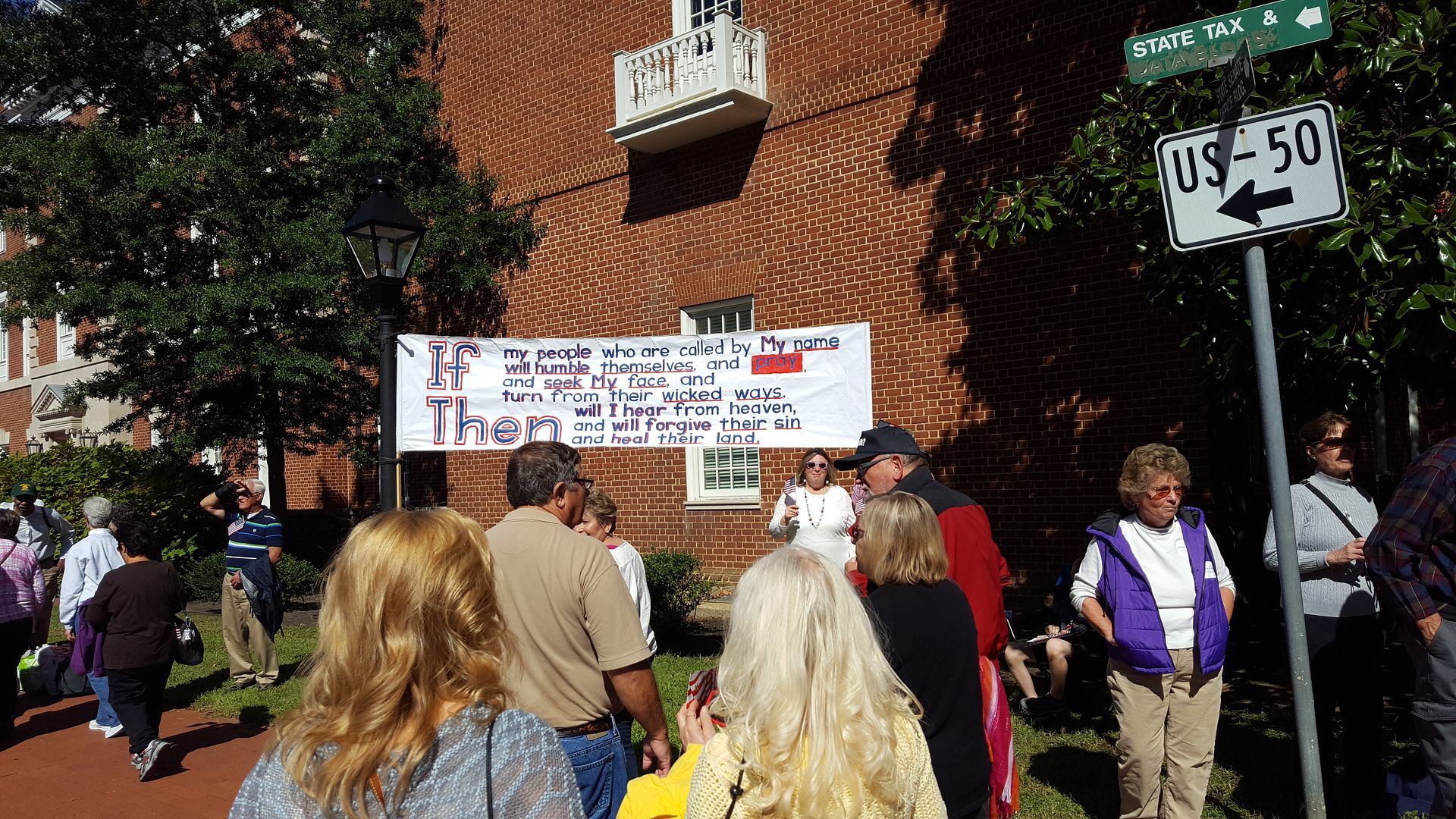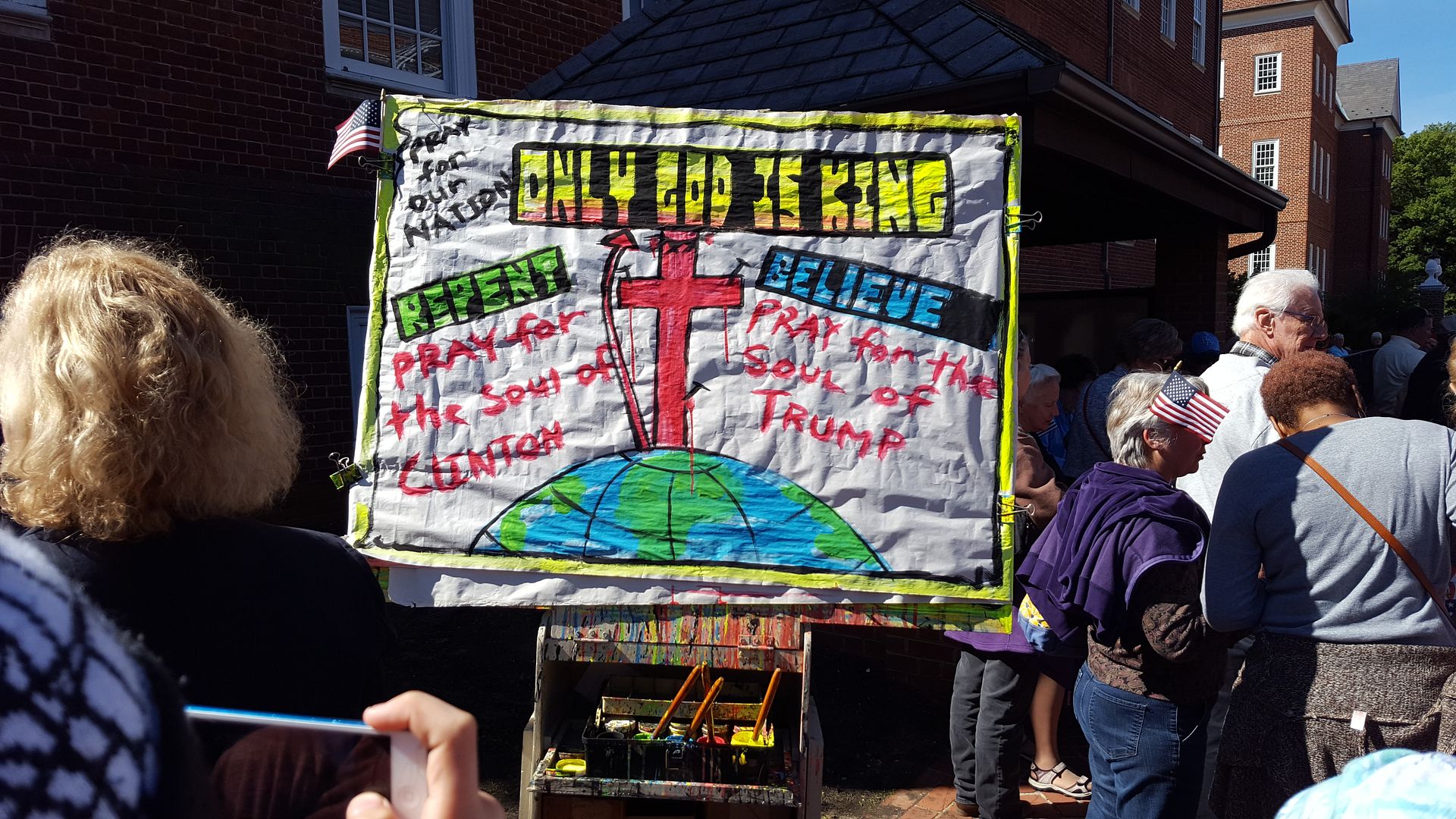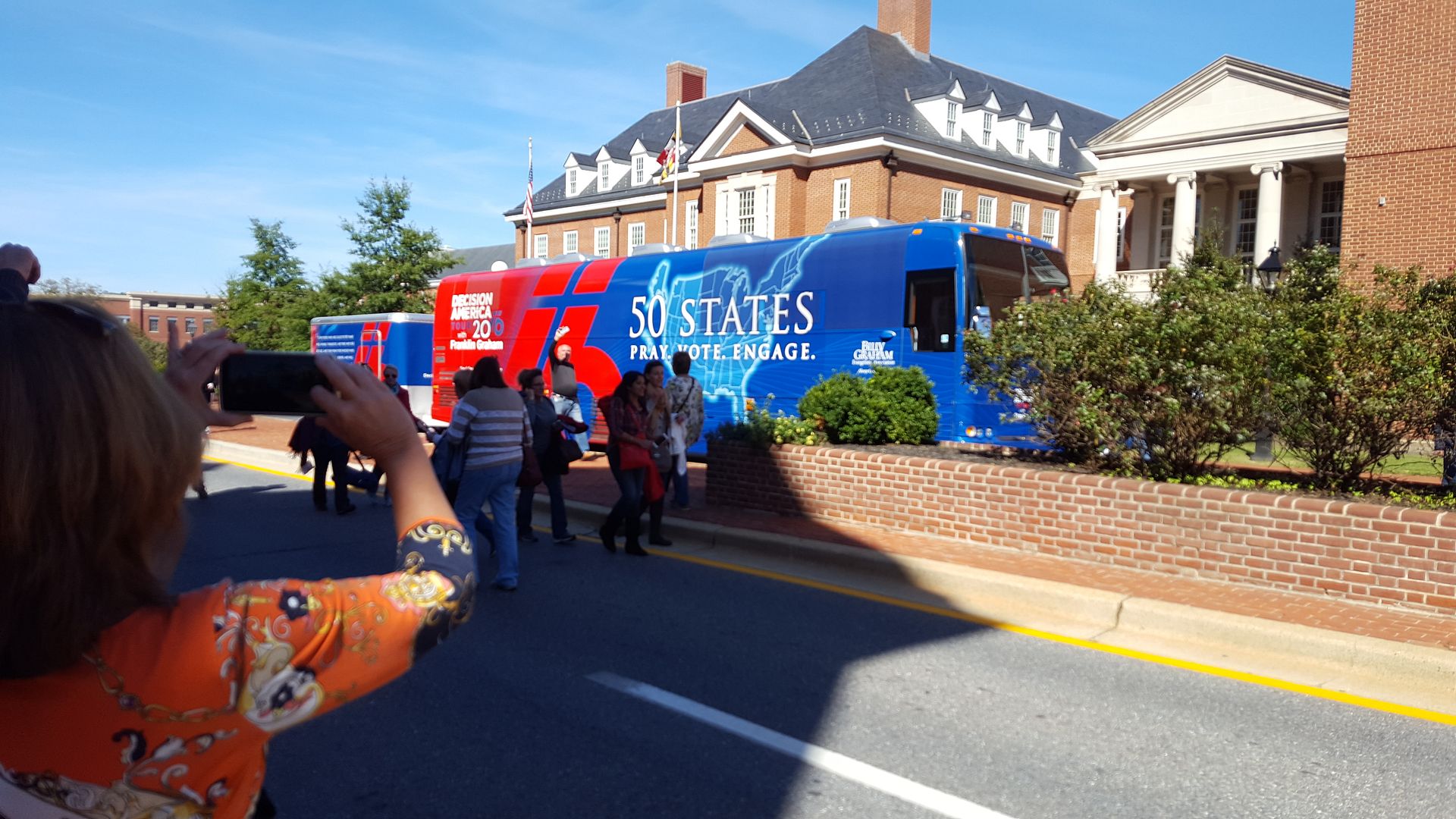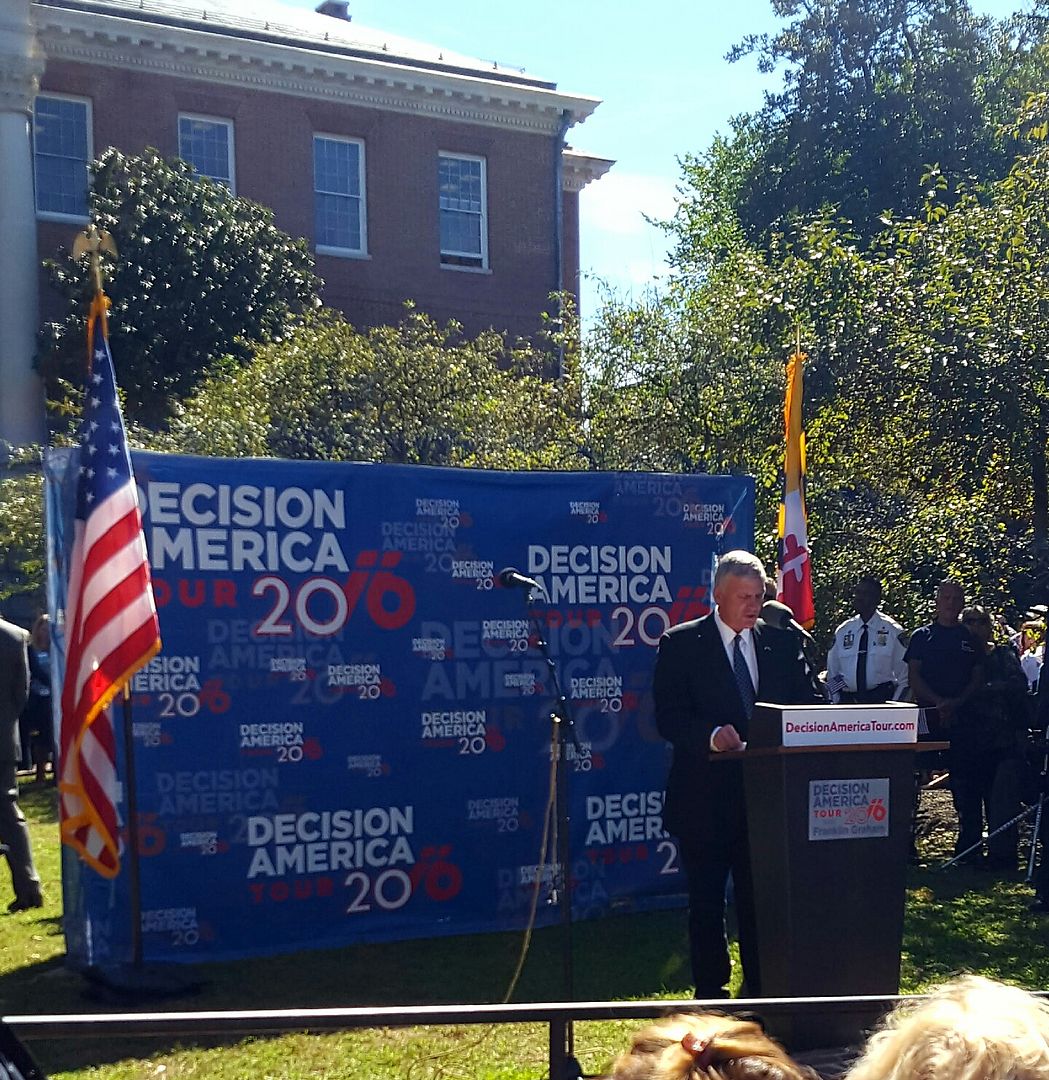 Postscript:
As editor, I concur with Cathy's assessment.
And I sought for a man among them, that should make up the hedge, and stand in the gap before me for the land, that I should not destroy it: but I found none.
Therefore have I poured out mine indignation upon them; I have consumed them with the fire of my wrath: their own way have I recompensed upon their heads, saith the Lord GOD. (Ezekiel 22:30-31, KJV)
Christians, it may be uncomfortable and you may lose some worldly things, but it's time to make up the hedge.