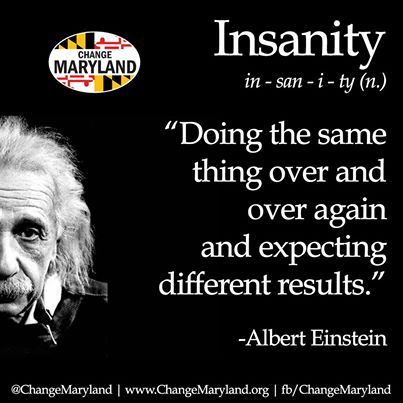 According to John Wagner in the Washington Post, Larry Hogan will formally announce his candidacy for governor on January 21 in Annapolis. It's two months later than some thought he would – and about six months after this observer thought he should get in – but nonetheless the announcement will come a week from Tuesday.
Even with the brief Wagner piece, there are some things to watch for. For example, Jeff Quinton notes that Hogan's campaign chairman is a veteran of the Democratic Glendening administration, although Quinton later concedes James Brady has given mostly to Republicans in recent years. It fits in with the Hogan pattern of emphasizing support from both sides of the aisle, which has been a staple of Change Maryland's rhetoric over the last couple years.
Personally, though, I would be more interested to know which legislators are planning to meet with Hogan this upcoming week. With just 55 General Assembly Republicans – who already have one of their own in the race in Delegate Ron George – the identity of those participants will be vital in knowing how the race will proceed. Obviously if a Democrat bucks party lines to show support for Larry it would be a coup, too.
And while I disagreed with Hogan's decision to wait until January to announce, it will give his campaign the advantage of knowing where his opponents stand financially as reports for 2013 are due this coming week. If one of his three Republican aspirants trails badly in the race, we may see some consolidation knowing from past experience Hogan is willing to lend himself seed money.
Now it's time for something a little different. Due to a confluence of events I couldn't make it to Turning the Tides this year. But in the reports I've been seeing it doesn't appear any of the gubernatorial candidates stopped by. That may not be the case, but I read from Facebook that David Craig's itinerary didn't include the event, and I would have thought either of the other two would have made sure to mention their attendance on social media. Since I'm prewriting this by a few hours I'm waiting to see some of the "blogger's row" coverage but it's disappointing to me if the GOP candidates didn't get there to at least say hello. Maybe that's how the organizers and activists wanted it, but I would be curious to know how (or even if) various campaigns represented themselves.
Anyway, the nine days leading up to Larry Hogan's formal announcement will also be a time of transition for Change Maryland. Who will be put in charge of the 74,000 strong organization while Larry Hogan runs? And can they succeed as Hogan has?
There's a lot to look for in the next week or two on the political front.
Update (h/t Jackie Wellfonder):
@monoblogueUS Ron George was the only one that stopped by.

— Jackie Wellfonder (@Wellfonder) January 12, 2014
Thanks, Jackie! I kind of figured he would be there since it was close by for him.
Update 2: Here's the link to his gubernatorial website, which just has an announcement slide at the moment.