I covered the events of Saturday morning in part 1, so if you enjoyed the "lunch break" I pick up the events with one of the most popular conservative politicians in Maryland.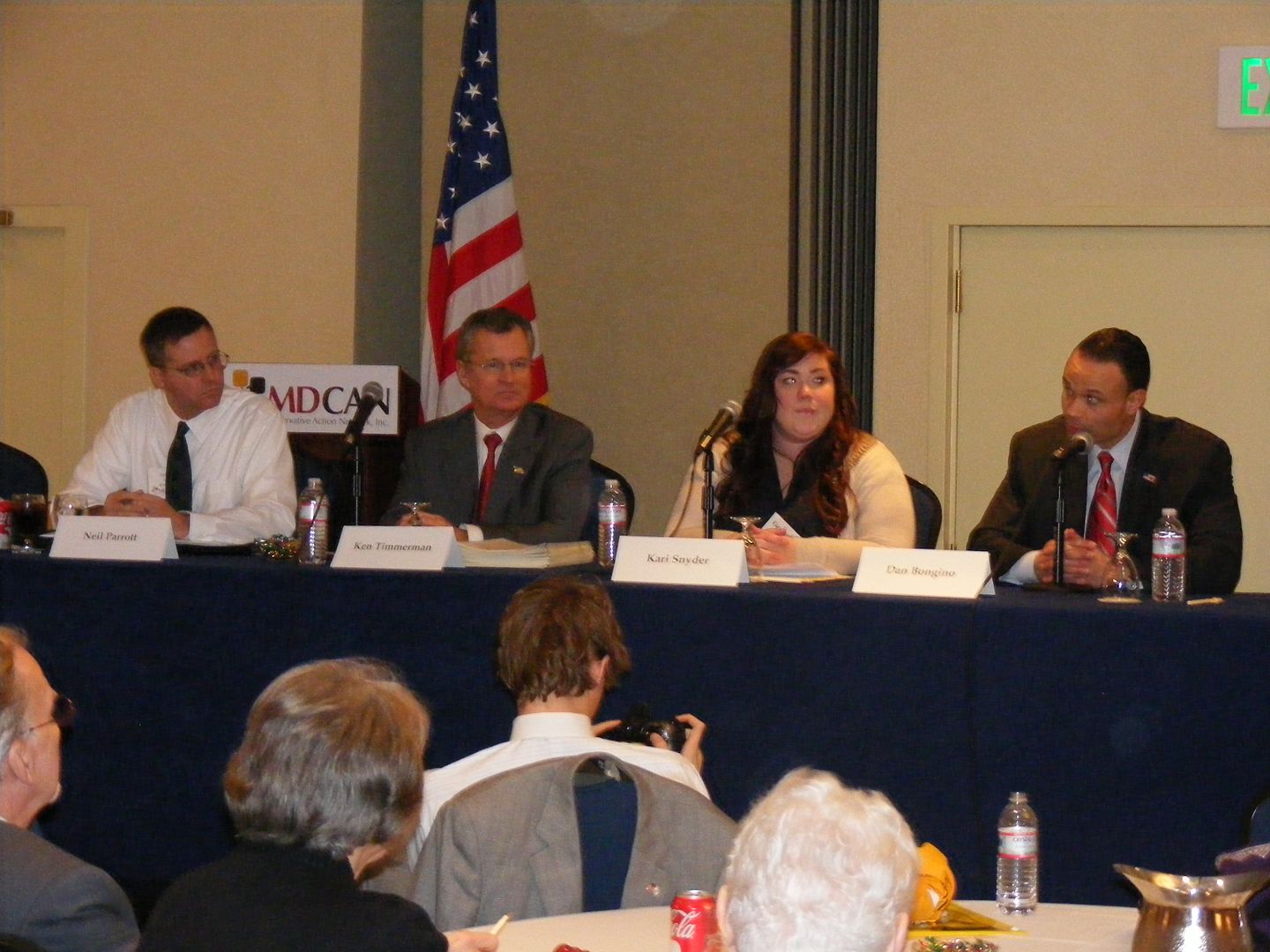 Yes, on the far right of the picture is Dan Bongino. He was the star attraction of a panel discussion called "Changing the Ground Game in Maryland." Moderated by Kari Snyder, the other participants were 2012 Congressional candidate and author Ken Timmerman and Delegate Neil Parrott.
As he stated in his interview here, Bongino had some definite criticism of the MDGOP's efforts and suggestions for improvements. For example, "if you're not registering voters at the gun shows in Maryland in the next two months, you should be arrested for political malpractice."
Obviously Dan harped on the voter registration aspect – "they're kicking our butts" – and how badly we were trounced there, although not to the extent he did in our conversation. But he also spent a lot of his time on the concept of message vs. marketing, rhetorically asking "do you know what the most dangerous branch of government is right now? The media!" Dan also restated the point that "(Barack Obama) ran on our message."
"We've never had a message problem," continued Dan. "We've always had a marketing problem."
Meanwhile, the effects of economic neglect are apparent in Baltimore. "Baltimore City is in a catastrophic economy. There is no economy in Baltimore City," added Bongino.
Another facet lost in this recent campaign was the school choice issue. He called on us to "isolate and humiliate every one of our opponents" who don't support the issue. "It is the civil rights issue of our day," Dan stressed. Yet he had the awareness to realize "we're in the echo chamber now…action matters."
After Bongino received a standing ovation both at the introduction and the close, Ken Timmerman had the unenviable task of following Dan. He chose to focus on his race with Chris Van Hollen, noting that opposition research is very important. Van Hollen "did not know what hit him" when portions of his record were released, so much so that he stopped doing joint appearances.
Other observations made by Timmerman were somewhat obvious to us: first, "Democrats will not vote Democrat lite," and second, "the media is not our friend….don't let them get away with anything." (The easily ascertained evidence of that was the camera crews showing up for the protest outside.)
Ken also spoke on the role of the Maryland (and national) GOP, stating that "They didn't give me any assistance to speak of." It would have been helpful to get good, reliable voter data, for example. Timmerman also warned that "it's easy to introduce malicious software into these electronic voting machines." The technology simply isn't secure.
Timmerman also made the statement that "we have to start with trench warfare" in the Maryland General Assembly and "hit their core beliefs." Ken then went through a list of proposed bills, many of which I noted to myself have been tried. "It doesn't matter if they fail," he went on to say, because "we force them to engage." It provided a nice transition to Neil Parrott's remarks.
However, Neil began by rehashing the previous ballot initiative campaign, saying "we won by getting (them) on the ballot." He went over the several steps to get a referendum on the ballot: approval of the ballot language by the Board of Elections, gathering of signatures, the inevitable defense in court, and finally the writing of the language by the Secretary of State – often that can require another trip to the judicial system to clean up misleading statements, like 2012's Question 5 on gerrymandering which alluded to the Constitution, making it sound like the ballot issue had that imprimatur.
The one thing missing was any sort of campaigning. One obvious problem was a lack of funding; for example on Question 4 we were outspent $1.7 million to $60,000. All that money allowed the proponents of Question 4 to successfully shift the narrative from one of illegality to one of "fairness." "We need to reinvent MDPetitions.com," Parrott explained.
One other well-taken point by Parrott was that Question 7 "sucked the oxygen out of the room." More money was spent on that than the 2010 governor's race.
Activists were well-aware of most of these facts, though. The next session turned our focus to energy issues.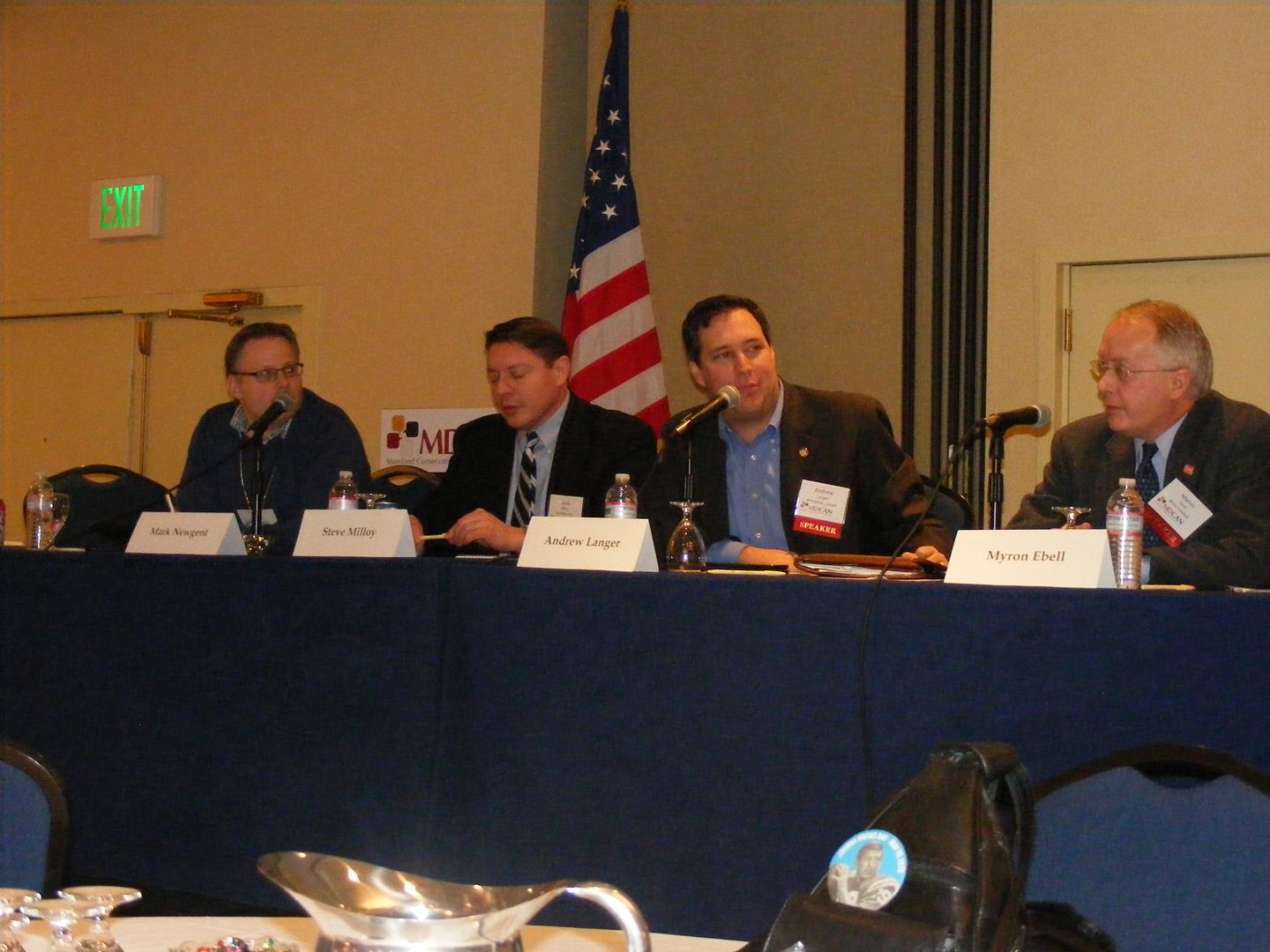 Moderator Andrew Langer of the Institute for Liberty was joined on this panel by journalist Mark Newgent, blogger of Junkscience.com Steve Milloy, and Myron Ebell of the Competitive Enterprise Institute – a source which regularly appears on this page.
Newgent opened by making a salient point: despite the push by the O'Malley administration and the adoption of ill-advised renewable portfolio standard goals, the 1.6% of electricity provided by renewable sources at the turn of the century was now a punier 1.3% as of 2010. Mark also explained that the purchase of a "renewable energy credit" was a purchase of "absolutely nothing," but it was a fine excuse for crony capitalism. Sometimes it even had a negative effect, like a (now-expired) federal tax credit for the usage of the "black liquor" by-product of the wood pulping process; one which produces more carbon dioxide than burning coal or natural gas because they mix black liquor with diesel fuel to burn it.
Newgent followed the money to the Town Creek Foundation, an Easton-based environmental organization. "We're up against some stiff competition,' he added.
"This is the game that's going on," Mark concluded.
Milloy derided the concept of global warming as an excuse to advance policy. "They don't want to know anything about science," he opined. But the small number of people on our side concerned with environmental issues had to deal with a swarm of so-called experts on the Left. "Their fondest dream is to saddle the country with some sort of climate legislation that enables them to have control of the economy," said Steve. "Climate is the best scam they've ever worked."
One statement I enjoyed was Milloy's call to rip your 'Save the Bay' plates off your car. The point was that there's nothing we can do about carbon dioxide emissions, or to fix the Bay, so save your $20.
CEI's Ebell bluntly assessed that "the (energy) myths are winning; in particular, they're winning in states like Maryland." But there was some good news: unlike other states, there was very little potential for vastly more expensive wind or solar power here in Maryland. Other states had much more ambitious schedules for renewable standards; for example, California's goal is 33 percent renewables by 2020. As a result, "they've already driven out most of the manufacturing in their state," said Ebell.
"This is the level of intelligence you're dealing with…you should be shocked, but you should also be really angry," he added.
But the problem with any renewable source of power, explained Myron, was that they weren't terribly reliable. Wind costs more because you also had to build a natural gas plant for the 3/4 of the time the wind didn't blow, particularly in the summer when demand was higher but winds were generally calmer.
Even on the oil front, Myron noted that the 3% of the proven reserves it's claimed we have is a number so low simply because we can't explore many other areas which could potentially have large reserves, such as the North Slope of Alaska.
Speaking of energy, my friend Jackie Wellfonder happened to return with some goodies about this time.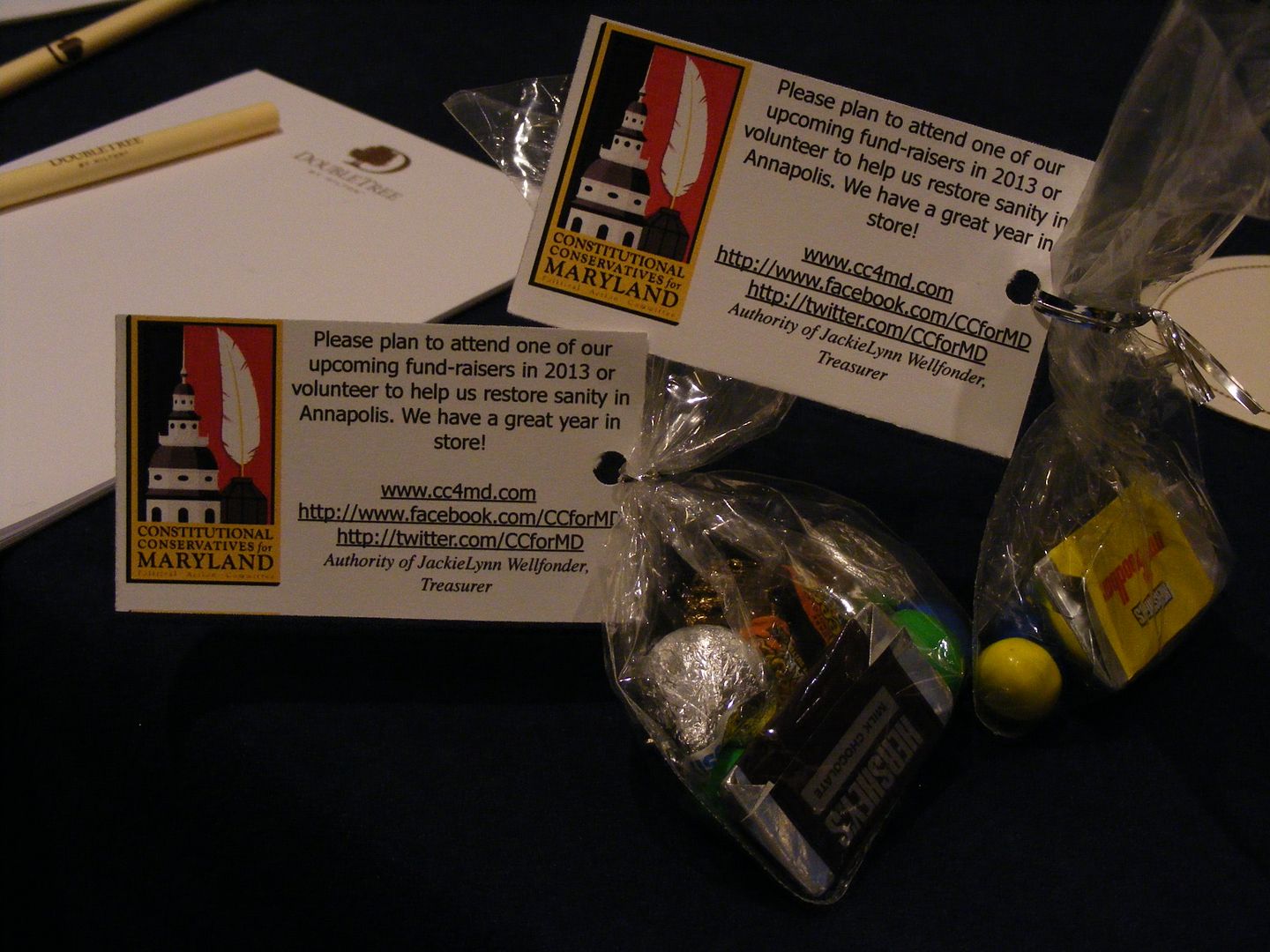 These were handed out at the CC4MD table, an organization for which Jackie serves as treasurer. She must have sensed that I like my chocolate.
As opposed to me not being cheated out of some goodies, the next group was dubbed "The Cheated Generation."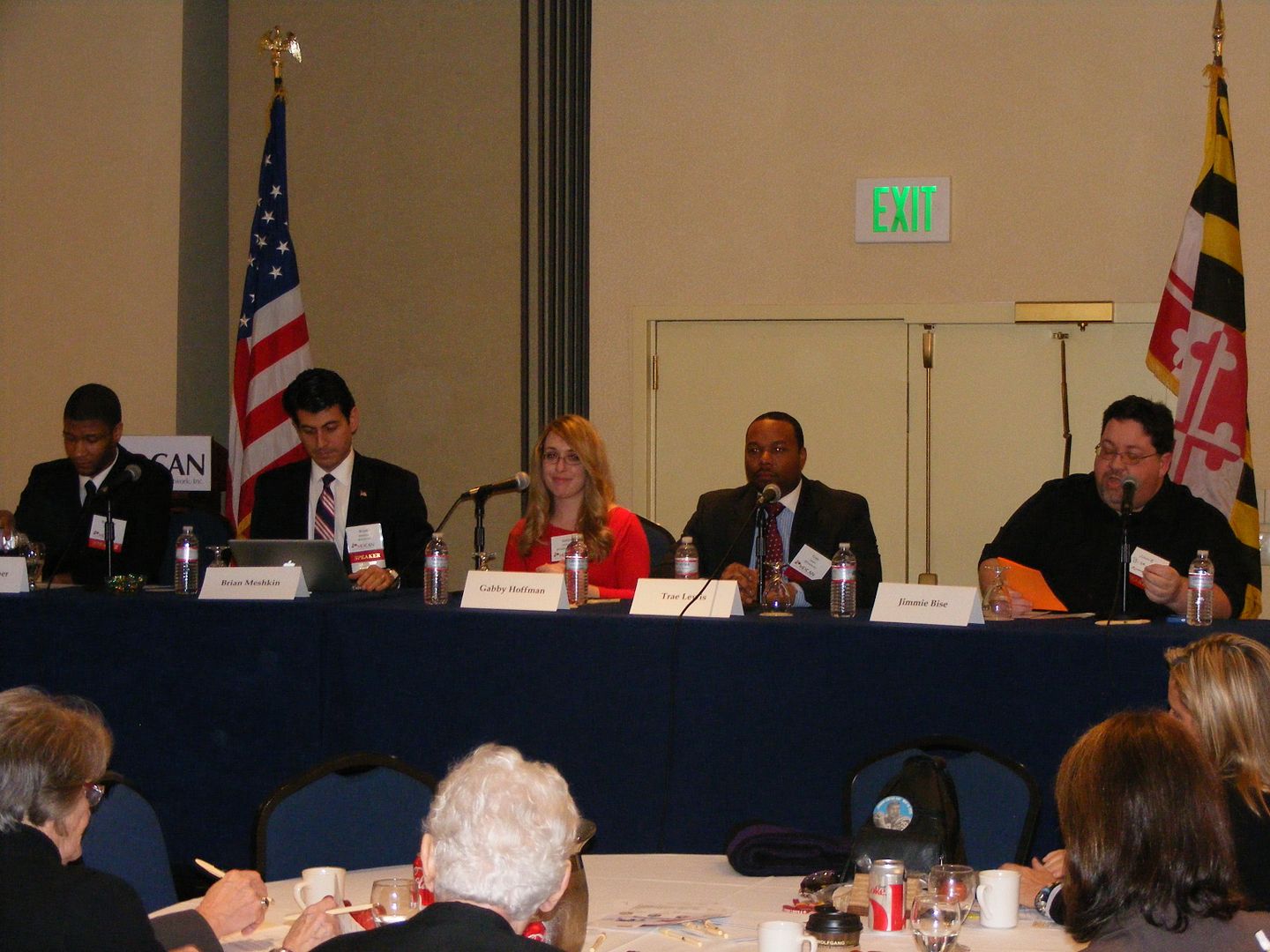 Blogger and radio host Jimmie Bise was the moderator for this group, which included Gabby Hoffman of the Leadership Institute, Baltimore Area Young Republican president Trae Lewis, Brandon Cooper, a campaign coordinator for Dan Bongino, and businessman Brian Meshkin.
Bise opened his segment a little differently, urging people to turn on their cellphones and spread the word on social media using the #TTT13 hashtag for Twitter. (I did, quite a bit.) He added that entitlements are shifting the cost burden from older Americans to the youth, from a group which can't afford this because, among other things, there's $1 trillion in college debt.
Cooper opened up the remarks by remarking on a handout he passed around, one which explained the economic realities younger people face. These mainly stem from student loans, which hamper the average student to the tune of $23,300. "Government spent $500 million on student loans in 1978; $115.6 billion in 2012," the handout revealed. Brandon went on to add that, because the federal government was now the sole distributor of student loans, there were no more price control incentives.
Brian Meshkin chastised the government's tendency from our kids to pay for "selfish excesses." As the only elected Republican in Howard County (a member of the school board) he told us that "education was a huge, huge winning issue."
"No child should be held back by the street they live on," said Meshkin to raucous applause.
There was more cheering as Gabby Hoffman revealed her story as the daughter of Lithuanian immigrants, parents who were now seeing "too many parallels" to the situation they grew up under in the former Soviet Union. And she saved severe criticism for Sandra Fluke, who she called a "repugnant human being…no young woman should look up to that trash." Obviously it followed that Hoffman also believed that giving up on social conservatism was "a completely BS move."
But her message overall was blunt: if you don't learn from communism's failures, we will have it in America. We have to scare young people with the truth, Hoffman concluded.
Trae Lewis began by giving us some bad news: if Martin O'Malley is the Democratic nominee in 2016, we are likely spotting him 215 electoral votes. (Actually, we are doing so regardless of the nominee.) The reason: "he's hitting us where we ain't," meaning the urban centers of America. "The American city is the epitome of what liberal leadership will do for this country," warned Lewis, and there's no reason not to harp on wedge issues like school choice.
"You can't turn a tide from the middle of the ocean," Trae pointed out, "you have to start at the shore and work your way out."
That wrapped up the "cheated youth" segment, but there were several other "cheated" groups. With so many speakers and panels and only a one-day timeframe, there were bound to be some issues which received less coverage so we had what was called the "coalition round-up." This had representatives of groups focusing on immigration, election integrity, the General Assembly, school choice, pro-life issues, and the Second Amendment.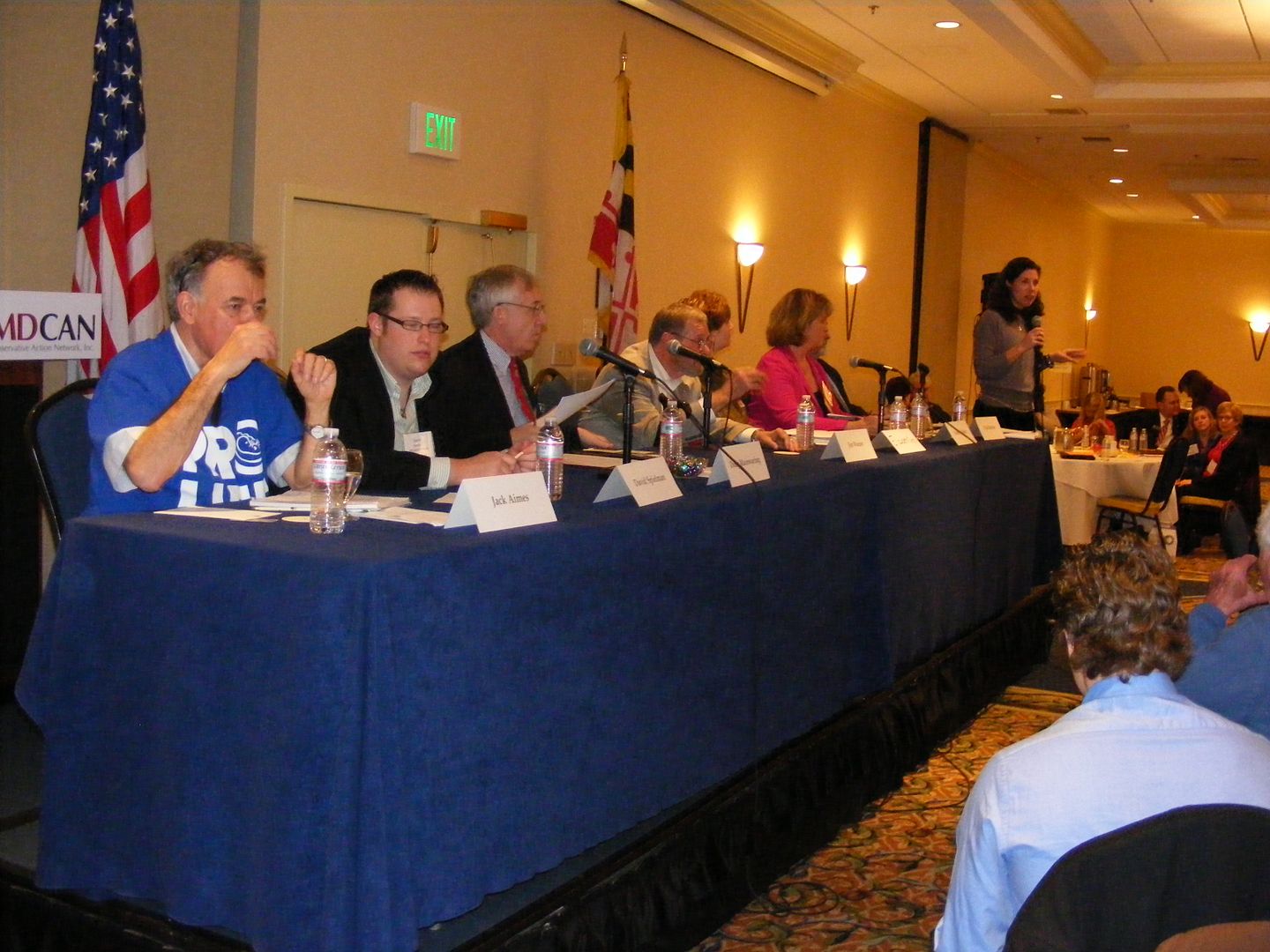 While much of his ground was covered by previous presenters, Paul Mendez of Help Save Maryland repeated the fact that 90,000 more people in Maryland voted against Question 4 than voted for Mitt Romney. And there was an economic benefit even in failure: not only did they delay the implementation of the bill by over a year – saving Maryland taxpayers thousands – over $1 million was pumped in from out of state to pass Question 4.
Cathy Kelleher of Election Integrity Maryland gave a short history of the group, which was inspired to begin after activist Anita MonCrief appeared at the first Turning the Tides conference in 2011. It "started with four people at a kitchen table," but after pointing out thousands of voter roll irregularities over the last year EIM could claim the success of removing 15,000 1,500 dead people from Maryland voter rolls. (Thanks to Cathy for pointing out my overexuberant typo.)
On the flip side of the electoral process was the legislative process, and Elizabeth Meyers introduced her Maryland Legislative Watch group to the audience. This group of volunteers (of which I'm one) reviews every bill introduced to the General Assembly to determine if it's an anti-liberty bill.
While activist and writer Doug Mainwaring wasn't affiliated with a particular pro-traditional marriage group, he worked closely with them in an effort to defeat Question 6. And when asked how an openly gay man can possibly be against same-sex marriage, he quipped "You're an adult. You have children. How can you possibly be a liberal?" Needless to say, Doug brought down the house with that remark.
But Doug was concerned that Republicans and conservatives "are crumbling on this issue." Some examples were National Review, the Washington Times, and Newt Gingrich.
David Spielman, the outreach coordinator for National School Choice Week, told us he was "giddy" about all the school choice talk at this forum. But the problem we had was deeper than just one issue, for Spielman assessed that "Obama was talking to everyone; we were talking to ourselves…we were outmatched, we were beaten."
School choice will take outreach, he continued, but so far over 3500 events had been held over the period School Choice Week had been celebrated. (The 2013 edition begins January 27, but there are no events on Delmarva.)
Jack Ames of Defend Life, who was wearing a shirt emblazoned with the pro-life message he said was free for the asking, but with the promise it would be worn in public regularly, claimed that most people are philosophically pro-life, they're just not actively pro-life. Still, "we're literally killing God's creation." The Defend Life organization, he went on to say, works in three main areas: a lecture tour with several speakers which is available for groups, a magazine, and the "Face the Truth" tours, which feature photos of aborted fetuses. He urged pro-life activists to "be fearless" and do what we can to embarrass Martin O'Malley. (Isn't he Catholic? Wonder how he reconciles his pro-abortion stance in his church?)
Finally, decorated Vietnam veteran and retired NRA attorney Jim Warner gave a roundup of the Second Amendment. He also gave us some sage advice: the only way to stop a bad person with a gun is to have a good person with a gun. Finally, we should "tell the Marxists to go to hell!," Warner shouted.
The "words of encouragement" to wrap up this long day were delivered by 2010 U.S. Senate candidate Jim Rutledge, who took the stage to the chant of "A-G, A-G!" Many (myself included) would like to see Rutledge make a run for Attorney General in 2014.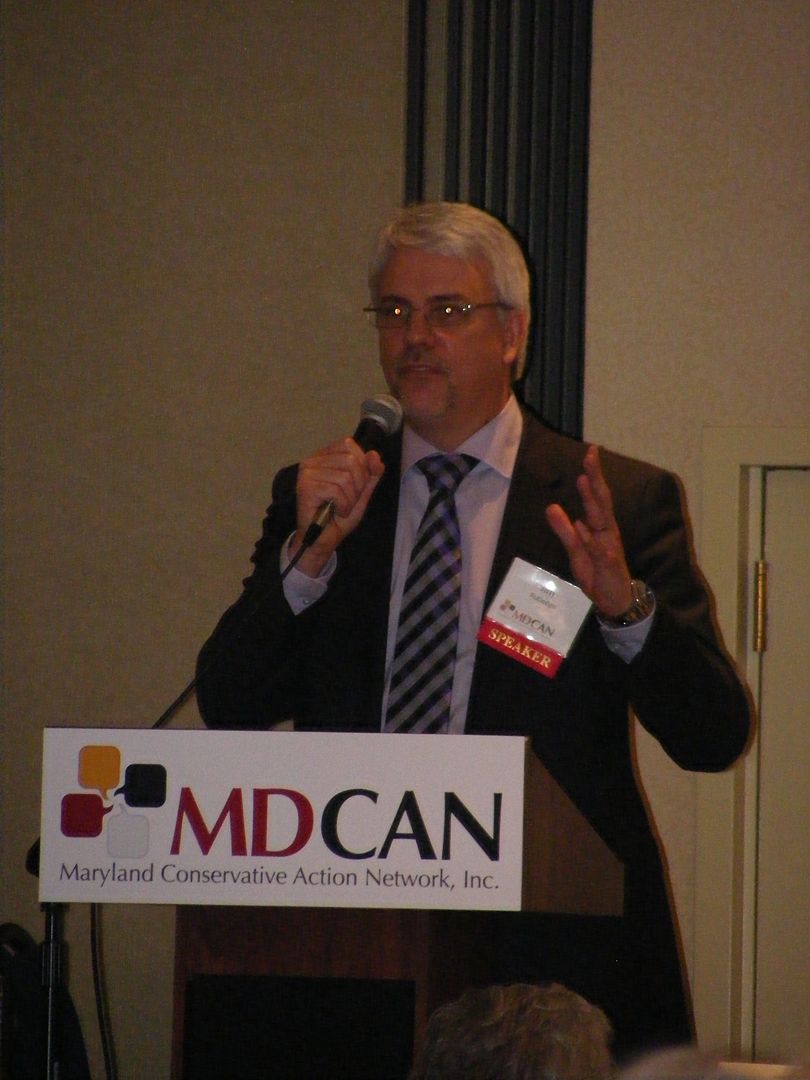 Rutledge pointed out that "a storm…cannot be avoided. We're getting ready to learn some very profound, painful lessons. And that lesson is this: unlimited, centralized power cannot coexist with liberty." Jim blasted the concept of machine politics, one which Maryland had lived under "for far too long." Baltimore City was "a great example" of this; a philosophy where Jim postulated that the machine asks "what you've done to serve the machine?"
On the other hand, liberty asks what your rulers have done for you, Jim thundered in his distinctive, appealing style. Yet too many in Washington, D.C. are "uncomfortable promoting liberty." To that he strongly asserted, "Washington, D.C. cannot fix Washington, D.C."
Meanwhile, Maryland is no better: "We're on our own in this state," said Jim.
There's no doubt that Rutledge was a good choice to motivate the crowd and renew their spirit. It's too bad he's not utilized by the Republican party here in Maryland, but his may be a case of alienating the wrong insiders.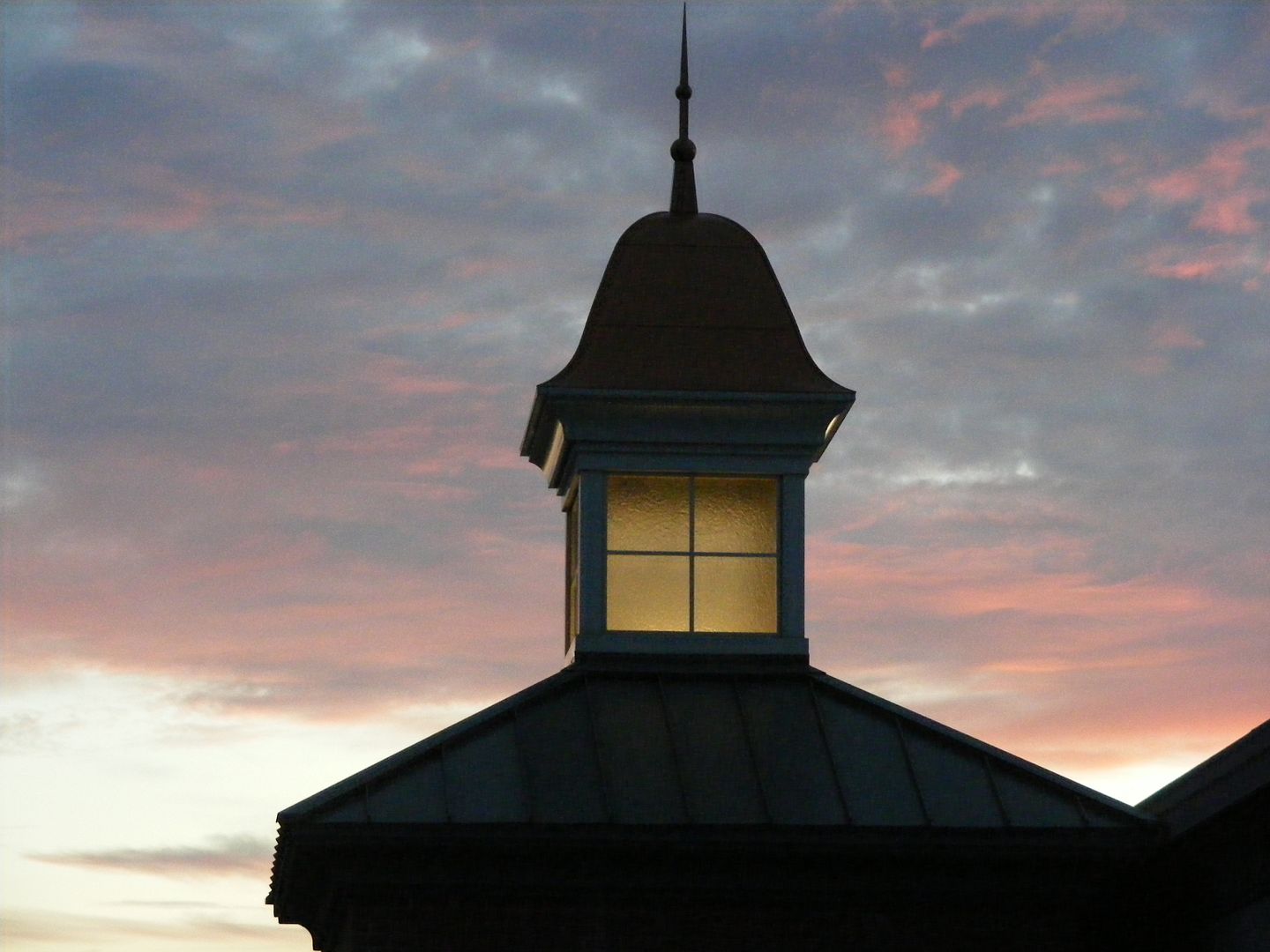 Finally, the day was done. Well, there was a Happy Hour sponsored by the Conservative Action Network, Conservative Victory PAC, Constitutional Conservatives for Maryland PAC, and the Montgomery County Federation of Republican Women. I was also cheered to see some of the Maryland GOP leadership dropped by, as First Vice Chair Diana Waterman and National Committeewoman Nicolee Ambrose were present for at least part of an event where the party wasn't always shown in the best light.
But the question is one of continuing the effort beyond the walls of the Doubletree Hotel. There were perhaps 300 of us who attended the event, but, for example, in 2010 1,044,961 voters were foolish enough to re-elect Martin O'Malley. On the other hand, only 67,364 Republicans voted for the more conservative Brian Murphy in the primary election and just 74,404 voted for the aforementioned Rutledge in his Senate bid. Indeed, we have a problem with our message insofar as not enough people are making the educated, real world proven choice of conservatism.
Yet if 300 people can both reach one voter a month and, in turn, convince that voter to reach one other voter a month, the force multiplier will get us to the 1.2 million votes we will need in 2014. But we have to step beyond preaching to the choir and get in the faces of the opposition. Stop being afraid.
Several people at the conference, both speakers and in general conversation, suggested reading and studying how the Democrats succeeded in several areas, with the closest parallel being the state of Colorado. Obviously they had the weaker message, but the better techniques of making people believe in voting against their interests. So it's our job to remind Maryland voters that the government which is large enough to give you everything is also powerful enough to take it away – don't say we didn't warn you when the excrement hits the fan.