Say what you will about the Maryland Liberty PAC, but it appears they will maintain an aggressive approach to the upcoming General Assembly session. They and an affiliated group called the Maryland Pro-Life Alliance are already sounding the alarm against prefiled legislation.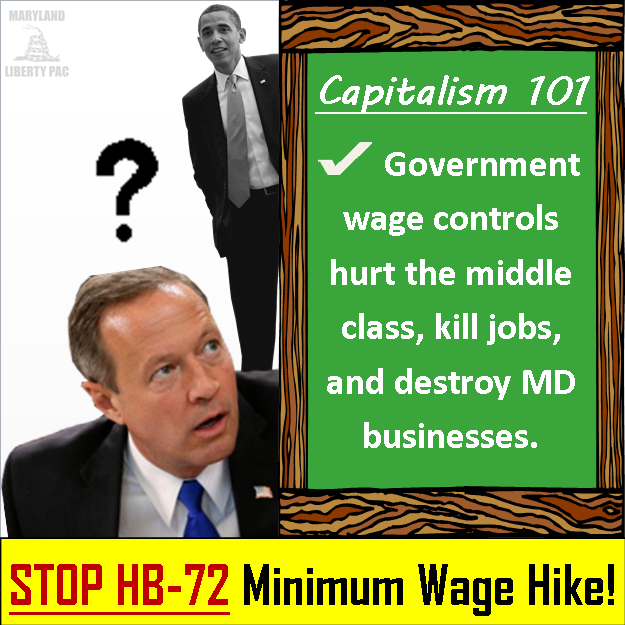 This is in response to a minimum wage bill prefiled by Delegate Keith Haynes of Baltimore City, which would more than double the state's current $6.15 minimum wage (which is superseded by a higher federal law) to $12.50 per hour. Efforts to raise the minimum wage are nothing new, though – this bill from 2013 didn't even get a committee vote.
My guess is this bill meets the same fate; however, there is a move in Montgomery and Prince George's counties to create a regional minimum wage with the District of Columbia. This isn't a surprise given the far-left orientation of the local governments there. This may also be a way of staking a position so far out of the mainstream that a bill like last year's, which increased the minimum wage in several steps, looks like a common-sense compromise. In either case, though, the effect on small Maryland businesses would be devastating.
But while the Maryland Liberty PAC wants HB72 killed, their affiliated Maryland Pro-Life Alliance group is looking once again to get the Pain-Capable Unborn Child Protection Act (PCUCPA) to receive a committee vote.

The "Mac" in question is State Senator Thomas "Mac" Middleton, who the Pro-Life Alliance claims "completely stonewalled" the bill last year. They note that:
Right now, your Maryland Pro-Life Alliance is running ads to pressure Senator Middleton in his district.

He alone holds the key to allowing for an up or down vote on SB-34 in the Senate Finance Committee.
Of course, not only is this a call for pro-life voters in his district and beyond to contact Middleton, but an appeal for money to run ads in his State Senate district. At this point, no Republican has filed to oppose Middleton.
The bill, SB34, was prefiled this year by Senator Ed Reilly. At this point, no companion House bill has been introduced. If and when one is introduced, it will be interesting to see whether Delegate Ron George signs on as a co-sponsor as he's running for governor. I guarantee if he doesn't, the Maryland Pro-Life Alliance will be on his case despite an impressive pro-life resume and support.
It's an aggressive approach, and one which doesn't have fans everywhere in the Maryland Republican Party. But it's said that in war the aggressor sets the rules, and we need to change the playbook.