A couple months ago, the Maryland Republican Party designated yesterday as a Super Saturday for Wicomico County, a day where the MDGOP increased its emphasis on door-to-door and other voter contacts for local candidates. As a culmination to the day, the Eastern Shore Victory Headquarters was the setting for a fundraiser and appreciation party.
Among the state party luminaries who attended the after-party were state party Chair Diana Waterman and National Committeewoman Nicolee Ambrose.
Ambrose noted this area was one of a handful the state party was targeting this time around, with well over 1,000 voter contacts made on this day both from headquarters and door-to-door.
Introducing the candidate was the guy who took Anderton's seat on the Delmar Commission when Anderton became mayor, Bunky Luffman. He told the crowd that Carl "builds consensus" for getting things done and reminded us that Anderton spoke to "chicken tax" sponsor Delegate Shane Robinson, leading to an eventual withdrawal of the House bill. Being Maryland Municipal League head gave Carl a measure of influence.
With that intro, Carl addressed the group.
Among the ideas Anderton spoke about were the prospect of addressing the tax differential, which would require enabling legislation that hasn't been a priority for the incumbent. Another issue where Norm Conway was "a crutch" to keep it from happening is an elected school board. In short, Conway has "failed us miserably time and time again."
He also noted Peter Franchot's case that a large property tax increase will need to be made, blaming the massive debt increase Conway has supported over the years.
While it was his fundraiser, Carl yielded the floor to his special guest, Delegate Jeannie Haddaway-Riccio.
Jeannie recalled that the 2010 election saw House Republicans in Maryland gain six seats, or one for each committee. "We were starting to effect change," she said, particularly on the sub-committees – so the Democrats started doing more work at the committee level where GOP strength was diluted. She added that our side wins the floor debates, but can't win the votes – so having delegates like Carl would help in that regard.
Jeannie was also a popular photo subject. I got a couple as she posed with Muir Boda in the top photo and the host in the bottom.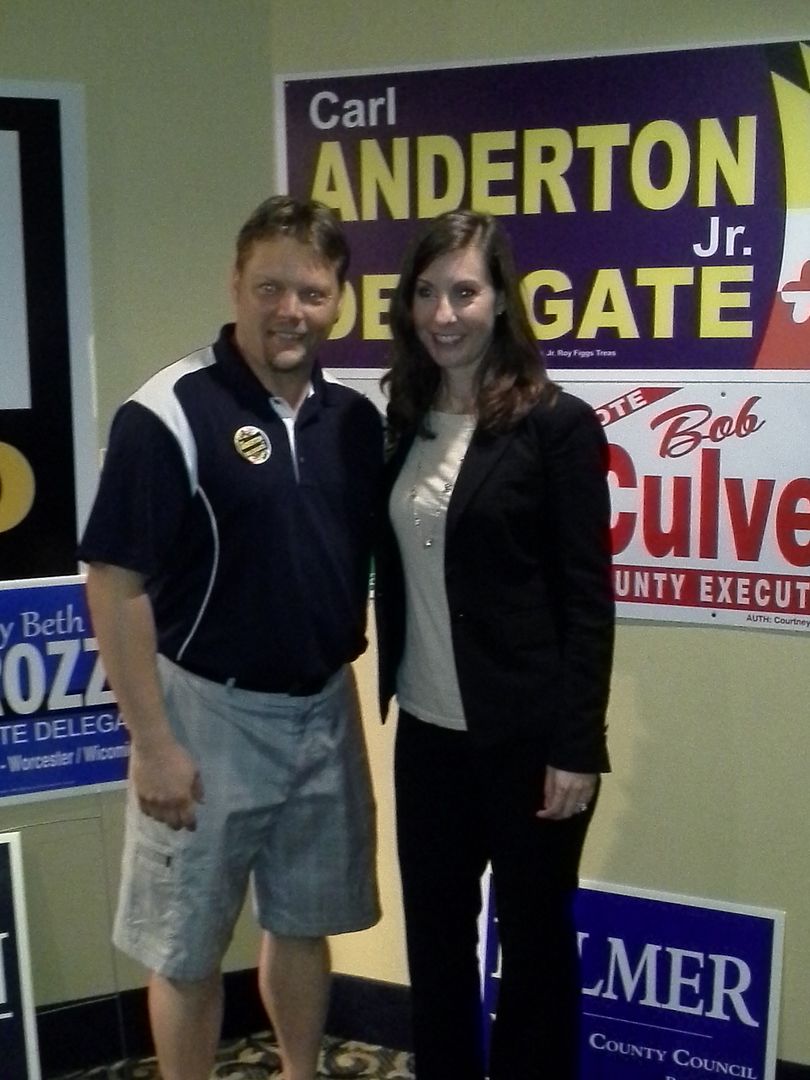 Yet the work wasn't done. Looking at Carl's Facebook page, he noted that they were still hard at work building signs at 10:30 at night. To beat a well-funded incumbent, the workday is long.