To be a well-informed voter, sometimes you need context. Take this example I received from Bill Murphy of the National Republican Senatorial Committee, which was plugging a website called electionharmony.com on Valentine's Day.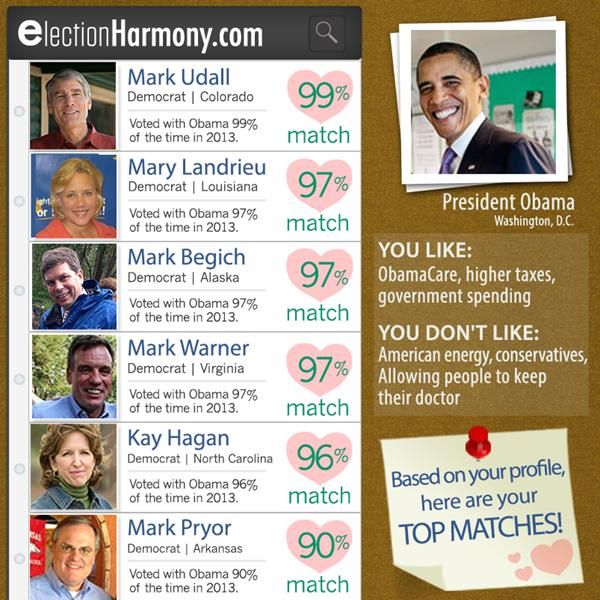 If you go to that URL, you're redirected here, which is the NRSC's blog.
All this is well and good, but I wanted more. So I wrote back and asked Murphy about context: did have have the data for all 100 Senators, for my thought was that – just based on the sheer number of near-unanimous votes the Senate takes – a lot of Republicans would fall into the 75% to 85% range themselves. Murphy's pithy reply: "We're running against the Democrats below. Our priority is to highlight their voting record to their constituents and defeat them in November."
Okay, I get it. But you probably picked a bad week to do this after a number of Republican senators sold out and voted to pass a "clean" debt ceiling bill (a.k.a. blank check) without extracting any concessions whatsoever from the Democrats. It was even more gutless for some Republican senators to vote for cloture only to turn around and vote against the final bill when they knew the Democrats would have the votes to pass it. Mitch McConnell and John Cornyn were two of those who, as far as I'm concerned, voted with Obama 100% of the time last week and I find that unacceptable.
Here's my problem with this approach. Sure, it would be nice to pick up the six seats in the Senate, maintain control of the House, and give Barack Obama a completely Republican Congress to deal with come next year. But will they have the cajones to keep him in check when he uses his pen and his phone to rewrite laws without their consent, as he has done time and time again with Obamacare?
The NRSC supports Republicans in the Senate and tries to find candidates to defeat Democrats. But there are degrees to being Republican. I understand that winning a Senate seat in Maine or Oregon may take a somewhat different candidate than one who can prevail in Texas or South Carolina, but they should all adhere to at least some conservative principles and must have the intestinal fortitude to stand up against overreach of the executive branch, up to and including impeachment. (Yes, I said the i-word.) So what if it's the last two years of Barack Obama's presidency and so what if we would have to survive Joe Biden. (Delaware can get a President before it gets a national park, since they are shut out of both at the moment.) We didn't elect an emperor.
Yet the NRSC will likely try to protect its incumbents, regardless of their merits. Listen, I'm a registered Republican, but sometimes my party gets it wrong. A hokey URL and noting some Democrats vote with their president over 90 percent of the time is one thing, but we also need to present a principled conservative alternative along with a plan to keep the executive branch in check. I haven't seen that come across my e-mail box yet.