Apparently the Maryland State Education Association has some worries about the prospects of two of our local candidates. Almost six months out from the elections and look what I got in the mail yesterday: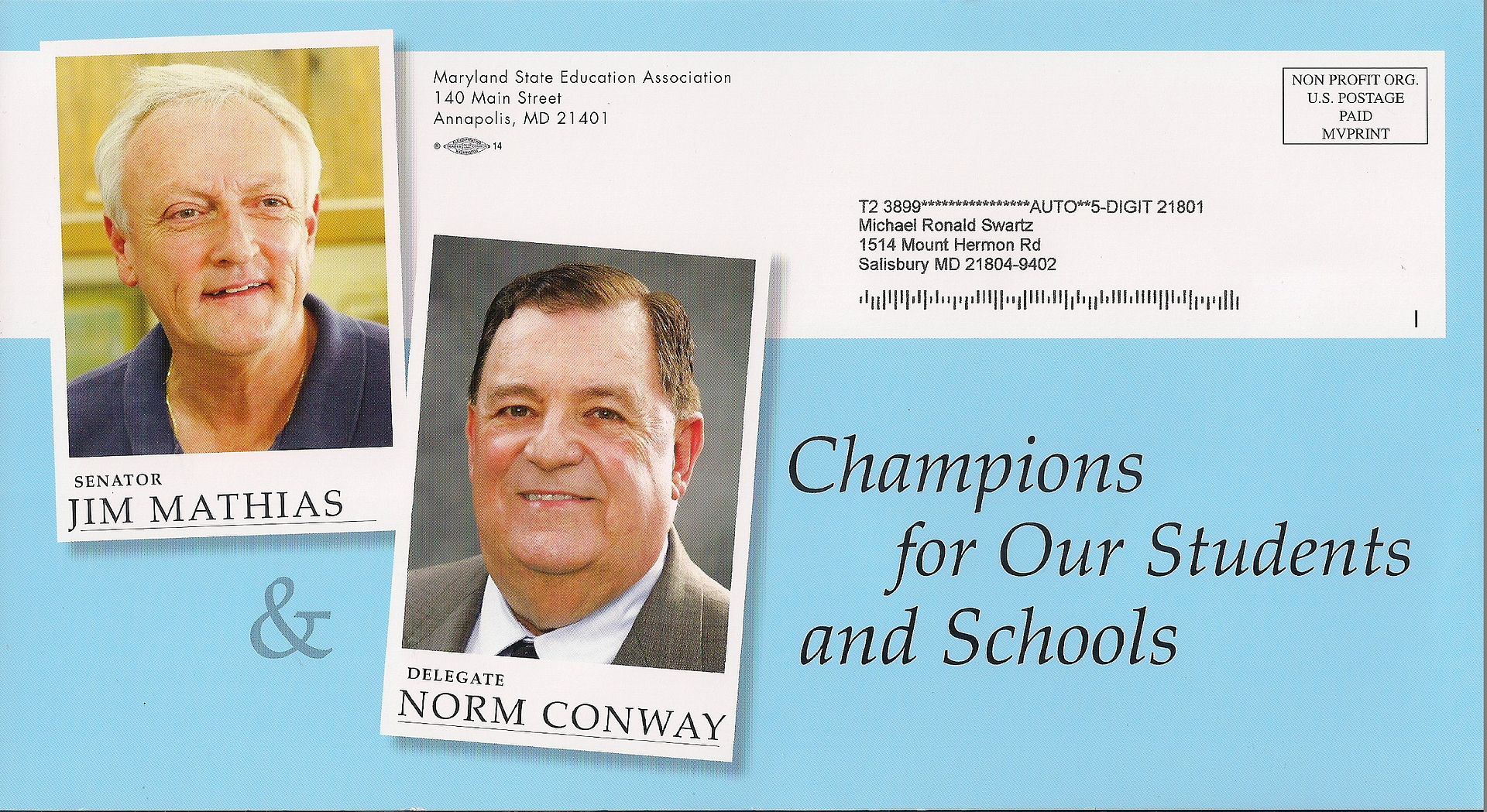 Given that, out of over 150 MSEA-endorsed candidates across the state, the body only "recommended" five Republicans (including Christopher Adams locally) one can come to the conclusion the MSEA is pretty much a shill group for liberals. Although Chris is a fine candidate, the fact that the MSEA endorsed a Wicomico Republican could perhaps be traced to the ongoing fight about disassociation by the local bargaining unit. Nor was an MSEA mailing put out on his behalf, at least not that I'm aware of.
There are a couple things I can tell from this mailer: one is that it came from Board of Election records based on the fact it has my full name like my voter registration does. And it's bipartisan, as a number of Republicans I know have reported receiving it; most likely it went to the truly consistent voters. Something tells me that various groups are going to try and convince voters that Mathias and Conway are practically the second and third comings of Ronald Reagan, but with a softer side – that's why the MSEA is stressing how these two are backing education. That is, though, if you consider throwing money at the issue as backing education.
For example, let's consider that first claim about "record investments in our schools." In Conway's case, let's not forget that he was a prime mover back in 2012 behind legislation to circumvent Wicomico County's revenue cap in order to increase the county's share of education funding. (Conway was a co-sponsor of a similar House bill.) This had the potential of leaving the county $14 million short in their FY2013 budget, and directly led to an income tax increase reluctantly passed by our County Council. Norm voted for both versions of the bill in the House. (Mathias was absent when the Senate bill was voted on.) Those "record investments" had to come from somewhere and a large share came from the pockets of those in District 38 here in Wicomico County. Overturning the will of county voters? Way to be "standing up for Wicomico County," Norm.
And then we have the aspect of pre-kindergarten. While the state's goal seems to be cradle-to-grave control, the bill in question only expands pre-kindergarten to those who meet certain income guidelines, at an annual cost of no less than $4.3 million. Moreover, there is no guarantee that any local children would be impacted – but it provides 160 more potential MSEA union members because the bill mandates an average 1 teacher to 10 student ratio. Of course, both Conway and Mathias voted for the bill – what's a little $4.3 million mandate in the grand scheme of things?
While it's an apples-to-oranges comparison to some extent, the question of the effectiveness of Head Start also leads to questioning whether a formalized school setting does much good for four-year-olds. I guess we'll spend lots of taxpayer dollars to find out.
Scrutiny is also due regarding the "larger voice in how new curriculum is implemented," a claim based on passage of HB1164. It doesn't matter how loud we speak, because money is talking louder – and there's going to be a lot of it needed to enact Common Core standards and testing. This is from the fiscal note for HB1164:
Finally, the full cost to administer PARCC is still unknown. In July 2013, PARCC announced that the summative math and reading tests would cost $29.50 per student. This is a little less than the $32 per student Maryland currently spends on assessments, but it does not reflect several other formative tests PARCC is developing that Maryland may select or the technology infrastructure required in every school to handle the capacity and network requirements to administer the computer-based assessments. Many schools do not have sufficient technology infrastructure to meet these requirements. MSDE is in the process of assessing the technology readiness of Maryland's schools. The local school systems identified over $100 million in needed technology improvements to implement PARCC online. MSDE has contracted with Education Superhighway, a consulting firm, to evaluate the technology gap to implement PARCC online by the 2016-2017 school year. Several states, most recently Georgia and Oklahoma, have recently left the PARCC consortium over cost concerns. There are also long-term budget implications for maintenance and operational costs of assessment administration upon the termination of federal RTTT grant funds to the State and to PARCC. (Emphasis mine.)
In other words, we are once again buying a pig in a poke. Note also that the phrase "Common Core" was excised from the bill after first reading because its reputation precedes it now.
Basically what this bill did was allow Martin O'Malley (and his House and Senate minions) to designate a number of "yes men" who will invariably come to the conclusion that we need more money to throw at the problem. But in reading the bill I fail to see how we in Wicomico County will get a "larger voice," even if one of those appointed happens to be, say, a Norm Conway or Jim Mathias. It won't help.
The mailer urges us to call Senator Mathias and Delegate Conway to "thank them for their leadership on education issues and their work to keep our public schools #1 in the country." It's a way of skirting the election law since they're not openly advocating a vote on their behalf – nothing new here, as conservatives use the same method.
But how about calling them and asking why they really aren't supporting Maryland's school-aged children? Why didn't they advocate for parent empowerment bills which didn't even sniff a real committee vote (it was withdrawn in 2012) in three consecutive sessions this term? Ask them if money shouldn't be following the child regardless of where a parent decides to send them to school, or teach them at home? And while Senator Mathias has been of assistance in the matter, we all should ask Norm Conway why he won't stand up for true accountability and support the right of Wicomico County voters to select their own Board of Education?
Ask yourself: are they protecting the schools as the mailer says, or protecting the children by allowing parents to do their job? There truly is a difference.