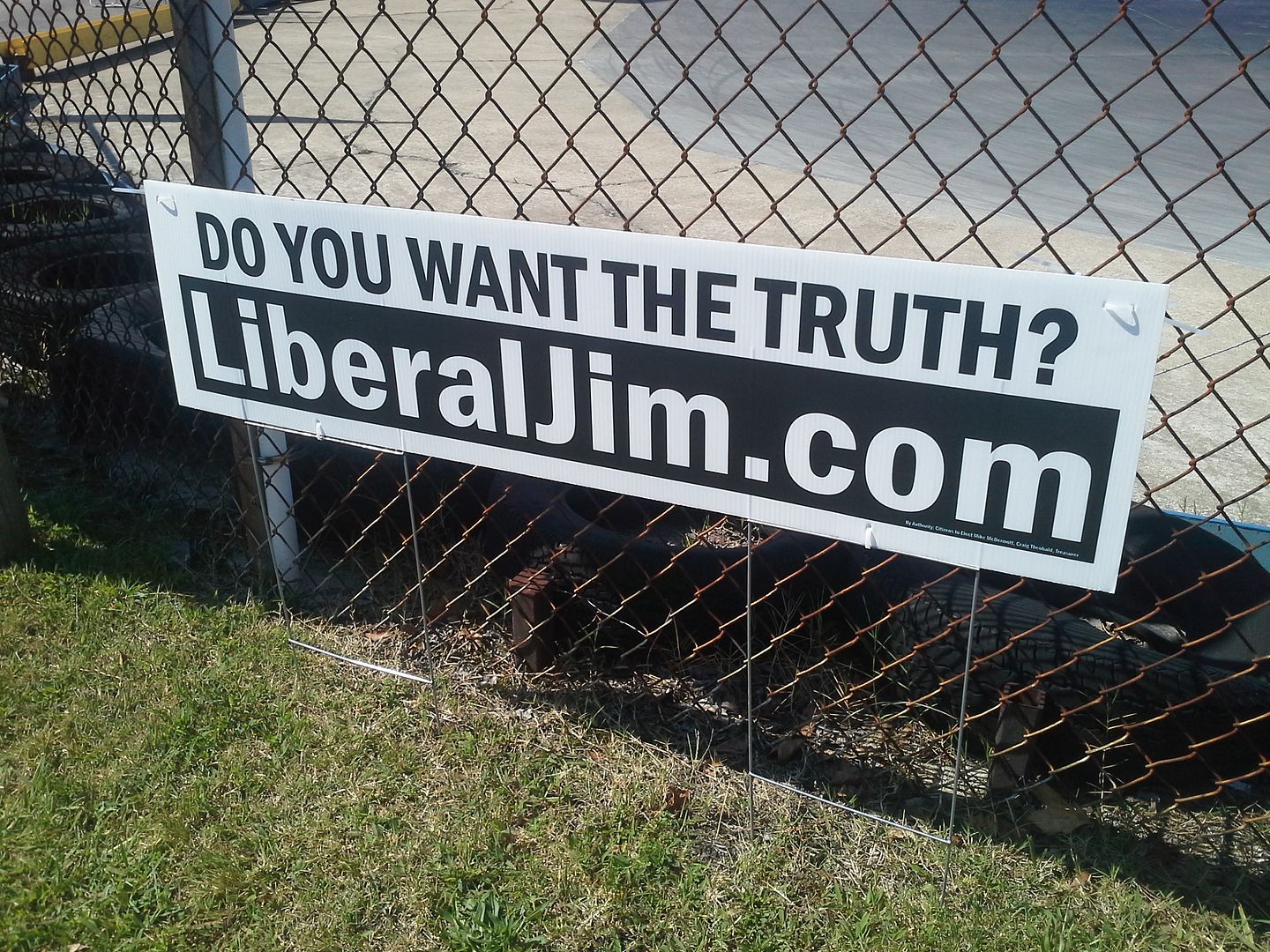 For several years I've done the monoblogue Accountability Project for this very purpose – disseminating the truth about how members of the Maryland General Assembly really vote when the rubber meets the road. There are few races with as clear-cut of a difference as the 38th District Senate race between incumbent Democrat Jim Mathias, whose mAP score as a Delegate from 2007-10 was a 15 (out of 100) and Senate lifetime score from 2011-14 has been 28 (out of 100) and Republican Delegate Mike McDermott, who replaced Mathias in the General Assembly and has a lifetime rating of 84.5 of 100. (The 2014 version of the monoblogue Accountability Project is here.)
But what does this mean in terms of issues? I went back and researched the common votes taken by both men. Since 2012, I have set up the mAP to use bills which received votes in both the House of Delegates and Senate – out of 25 votes, 22 of these would be common. (The other three were committee votes for the respective bodies.) So 66 votes over the last three years' worth of sessions were placed in front of both men.
In 2011 I hadn't changed the rules yet, so while I had standardized the number of votes at 25, only 9 were common. Yet of those 9 common votes, Mathias and McDermott only voted the same on two. In total, out of 75 possible votes, Mathias and McDermott differed a total of 45 times while agreeing on 27 occasions. (Mathias was absent for three votes in that time period.)
Eleven of those 45 votes of disagreement were budgetary. Year after year, Mathias has been a rubber stamp for the annual spending and debt increases put in by the state. It's not just the operating budget but the creation of more and more state debt and all the legerdemain that goes into each year's BRFA. The only agreement between the two: Mathias voted against the original 2012 BRFA.
But in 2011, Mathias also voted to force home care providers into paying union dues, which created an unearned estimated benefit to Big Labor of over $430,000, the crony socialism of the InvestMaryland Act where the state ate its seed corn of future receipts, state law conformity with Obamacare, and the gerrymandered Congressional districts which took effect for 2012.
Mathias also had a hand in some dreadful 2012 legislation, voting for the state health exchange that's only enrolled about 1/3 of the expected number of people at a wasted cost of over $125 million. Some guy named Anthony Brown was taking credit for that until it tanked. On a related front, Jim also voted to establish so-called "health enterprise zones," which was something requested by minority legislators. Wouldn't it make more sense to lift all boats?
But that's far from all of it. Remember that "flush tax"? Mathias voted to double it. Jim also voted to burden the nascent state natural gas industry with the presumption of guilt in well contamination, mandate expensive fire sprinkler systems in new homes, adding thousands to the cost, and punished cellular customers with an expansion of the USTF surcharge. And again, Mathias did a favor to unions by expanding their reach among state employees.
And remember the "doomsday budget"? In that 2012 special session, Mathias voted for the measure that transferred teacher pensions to the counties and forced Wicomico County to raise its income tax and maximize its property tax increase to stay eligible for a $14 million lower maintenance of effort payment. Thanks for the higher taxes, Jim.
2013 was the year with the most departure between the two, as they differed on 15 of 22 votes. Several of these were bills dealing with the state's implementation of Obamacare – including Medicaid expansion which is purportedly covered by federal funds (for now) – but there were other differences. Mathias supported provisions permitting voting by mail and, beginning in 2016, same-day registration during early voting. Both are invitations to voter fraud.
Mathias also voted in favor of the $18 annual surcharge residential customers start paying if offshore wind becomes a reality. (This may be hundreds of dollars annually for commercial customers and thousands annually for industrial users.) Jim also allowed the Maryland Stadium Authority to fund the construction of schools in Baltimore City. I'm not sure what sort of precedent that sets, but is Somerset County any wealthier of an area? Why is Baltimore City getting this new source of debt?
Nor were Jim's union friends left out. In 2013 he voted to enact so-called "service fees" at five state universities and statewide for public school employees.
But the most interesting vote was on the Transportation Trust Fund "lockbox." While it's supposedly in place to prevent the annual raid of the TTF by a governor who can't suppress his appetite for spending, the key to unlock is laughably weak: a 3/5 majority of both houses of the General Assembly. At this point Democrats by themselves could allow the transfer with 13 House votes and 6 Senate votes to spare. Those lucky Democrats, likely in swing district's like Jim's, would have the pass to go against their party while knowing passage is safely in the bag. I sense that Mike McDermott knew this when he properly voted no.
(That Constitutional Amendment is on the 2014 ballot as Issue 1, and I would encourage a vote AGAINST it. Make the General Assembly come up with a real lockbox – either a blanket prohibition or a 3/4 majority, which would require at least some Republicans to buy in – 106 House votes and 36 in the Senate.)
This year's agenda was somewhat less ambitious, but there were still major differences. Mathias dodged a bullet when the bridge-eligible assistance program he voted for proved to not be too expensive (although there was no final expense tally at the point this was updated) but he also kept adding more Obamacare provisions to state law while paying for a needle exchange program in Baltimore city.
On the educational front, Mathias supported a pre-K expansion which will be of dubious benefit (except to public school unions) and supported a workgroup of yes-men studying how to better implement Common Core, which they don't call Common Core anymore. And not only did he once again support a bloated budget, he tacked on a $10 additional fee for pesticide registration. Granted, it's an aggregate of about $130,000 a year but it's yet another burden for businesses.
Aside from the budget bills, though, the supporters of Jim Mathias would probably point to the bills both voted for as evidence of his moderate stance.
In 2011, both voted against the supplemental 3% alcohol tax and in-state tuition for illegal aliens. 2012 brought several points of agreement: voting against a prohibition of arsenic in livestock feed, enactment of same-sex marriage, the "rain tax," the Septic Bill (with a caveat as I'll get to momentarily), and even requiring helmets for moped riders. In the first Special Session that year both voted against the income tax increase.
When I revisited the Septic Bill, though, I noticed there were two Third Reading Senate votes – one for the Senate bill and one including some changes from the House version which passed, which had to be voted on again as amendments to the Senate version. Oddly enough, on the first iteration Jim voted yes but on the final product he was a no vote. Apparently Jim was for tier maps before he was against them?
Anyway, 2013 brought a lot of disagreement but Mathias and McDermott voted alike on some key issues: the gas tax increase, death penalty repeal, driver's licenses for illegal aliens, and the SB281 gun bill all drew their opposition. Credit Mathias with unsuccessfully trying to place a sunset date on the gun law. This year they both fought the minimum wage increase as well as prevailing wage applicability, helped to decrease the estate tax (a rare win for conservatives) and the "bathroom bill."
One thing I noticed in my research, though, is that Mathias rarely offers any floor amendments, whereas McDermott has several per term. Obviously that stage seems to me the one point where Republicans get in their say, giving Democrats more opportunities to be on the record as opposing common sense.
So while it's true that Jim will "stand up to his own party" on some limited instances where tax increases are too obvious, he gives the game away by voting for each budget. I suppose the question is who is really fighting for the district, and in part two of this post I'll look into where McDermott is fighting the other side.