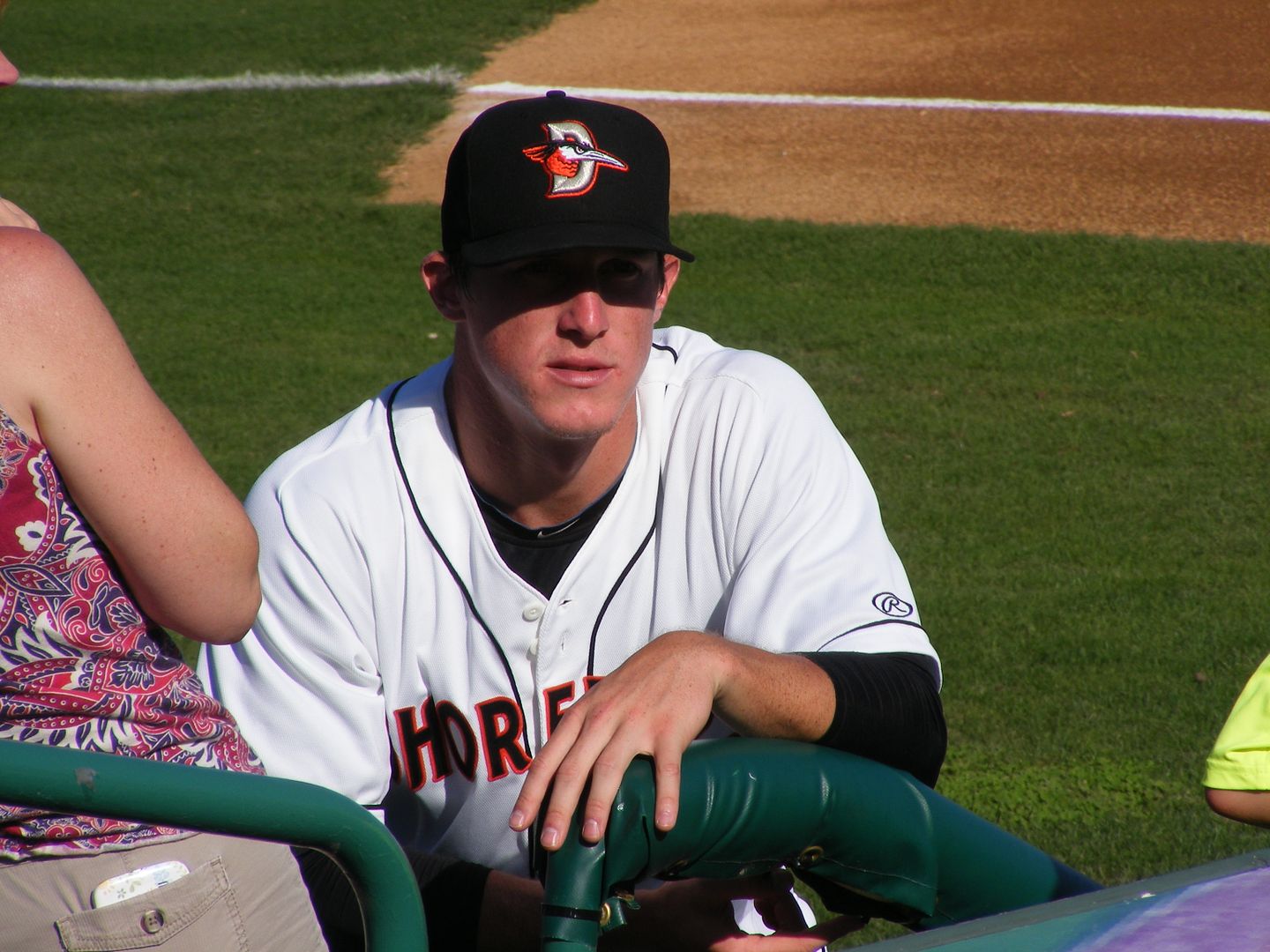 For the Shorebirds in the second half, it's been a tale of patching together a rotation and bullpen. Injuries and players moving around have meant that just two of the original Shorebirds staff are still here; meanwhile, over half have arrived since the second half began. One of those earlier arrivals has done a nice job in the bullpen and leads the second wave with 18 appearances. Until a rough outing last night, Garrett Cortright was statistically the best available bullpen arm.
It's always difficult to pick the last two or three SotW players, but Garrett has pitched well since his July 1 arrival so he gets the nod for the final spot. This is perhaps quite appropriate given Garrett was the last player selected by the Orioles in the 40th round of last year's draft and was the lowest player selected in the 2013 draft to actually play in 2013. (One player drafted after him made his debut this season, but Cortright was the 1,209th player of 1,216 selected.)
Still, the New York native and product of Canisius College has pitched well in the GCL and with Aberdeen over the last two seasons. After going 5-1 with a 1.11 ERA in the Gulf Coast League (40 2/3 innings in 11 games, with a 29/14 K/BB ratio) Corrtright took advantage of a cup of coffee with Aberdeen to pitch five scoreless innings in 2 games at the tail end of 2013. And once he began 2014 in much the same manner – allowing just 1 earned run in 9 2/3 innings – the Orioles decided to push him to Delmarva.
It hasn't been quite as easy here, although Garrett had a sub-3 ERA until last night. Now he's 1-2 with a 3.77 ERA in 18 appearances, spanning 31 innings. He's allowed 33 hits, struck out 21, and walked 11, so Cortright is finding this to be more of a challenge but doesn't appear overmatched. And since he doesn't turn 23 until after the season, there's a chance he could be here to begin 2015 but also the prospect of cracking Frederick's bullpen. Many of the pitchers we're seeing now, though, will be the mainstays of our 2015 staff.
As always, next week I will review the fate of the 22 players who were picked for Shorebird of the Week this season, look at how the Shorebirds stacked up to the rest of the league in various categories, and select my Shorebird of the Year. The week after that I'll do my annual picks and pans, then wrap up until the Shorebird of the Week Hall of Fame Class of 2014 – if there is one – takes center stage in December.