To be honest, I took these photos on Tuesday intending to add them to my coverage – then promptly forgot and posted it anyway. But it doesn't hurt to have a second look back before moving forward. There's really not going to be a lot of fresh news until after the Independence Day holiday anyway, plus it also proves the adage that every picture tells a story.
So I'm going to lead with this one I also posted to Facebook.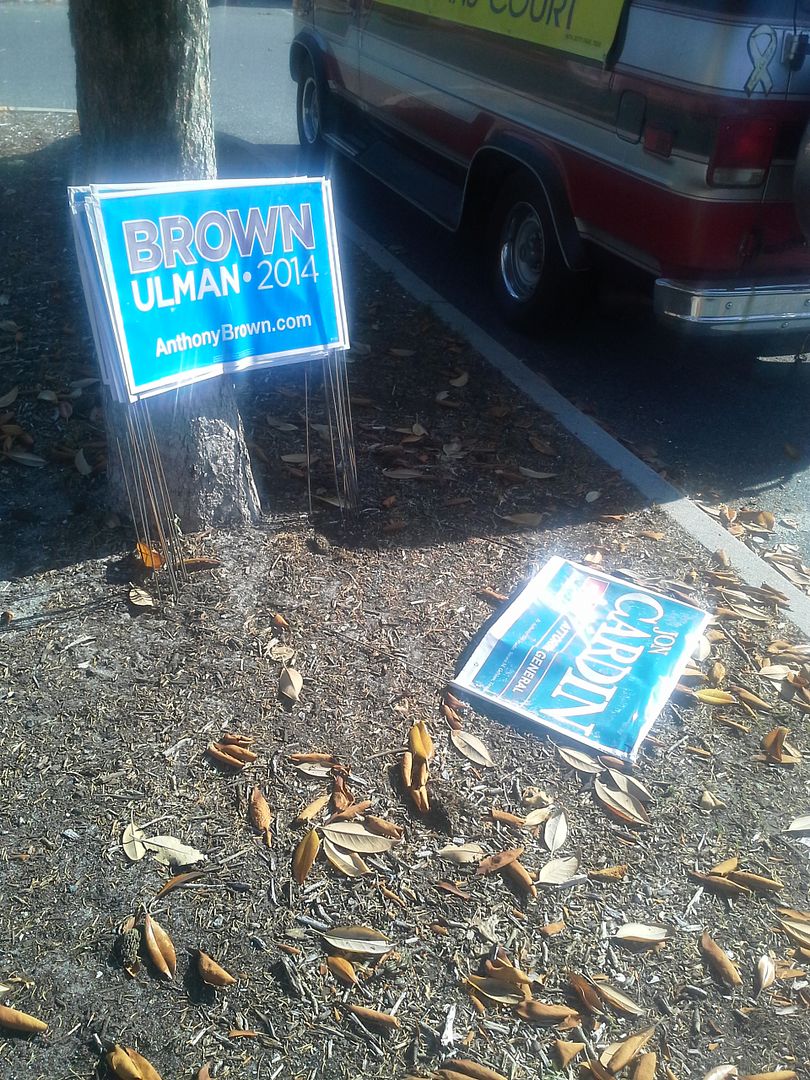 It's interesting to see this pile of Anthony Brown signs, which as I recall were pretty much all of the Brown signs I saw. Now one person suggested that they were originally set within the 100′ limit then relocated against the tree, which is possible – but I doubt it. Instead, my thought was someone left the pile of signs earlier that day or the previous night intending to have the first volunteer at the site place them in the morning – sort of like someone decided to have a insurance exchange website intending to have the thing actually work and not waste millions of dollars.
If you don't get the small details, the large stuff bites you in the ass.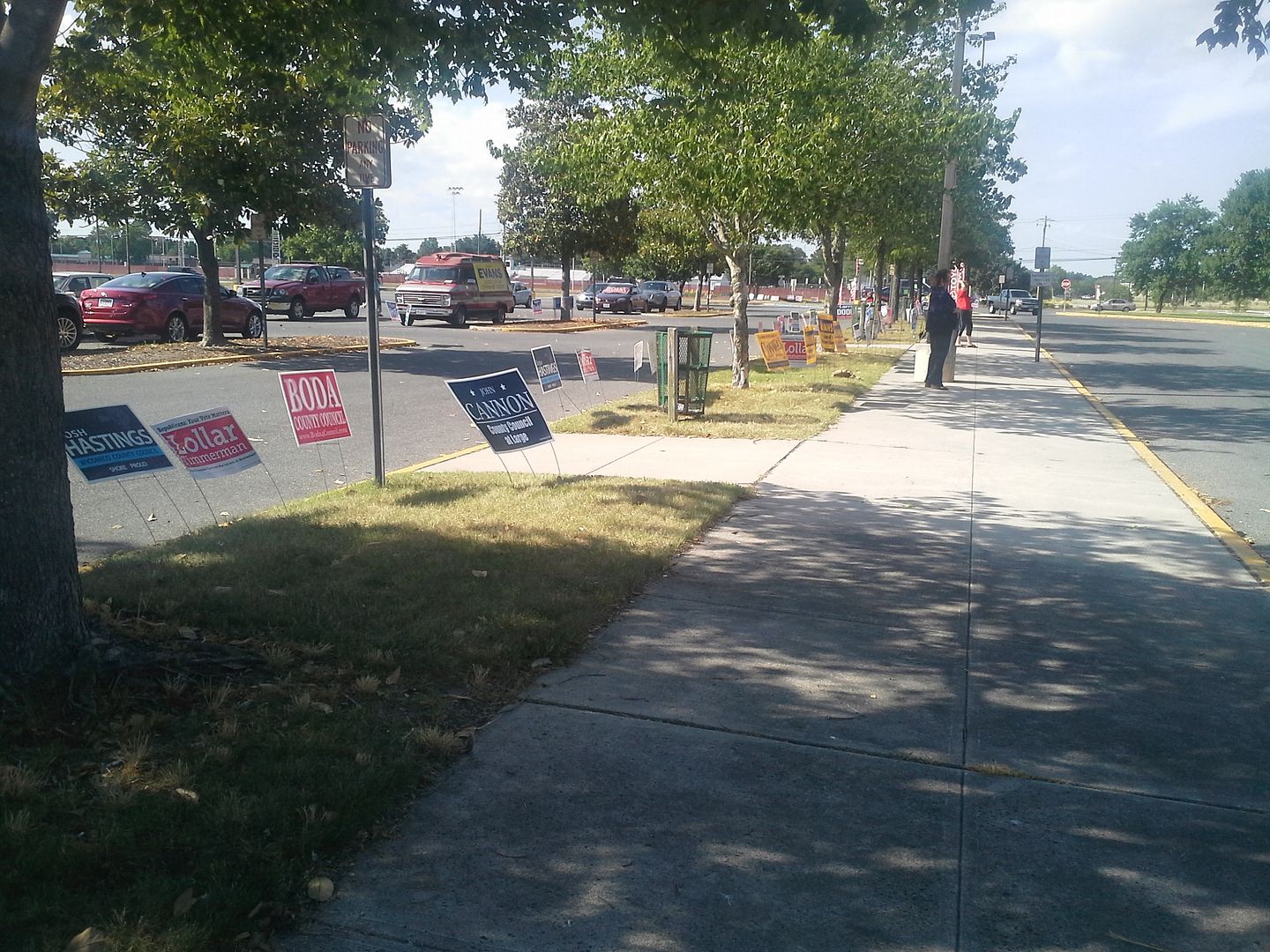 Speaking of signage, I did not count how many signs were out there on the grounds of the Civic Center, but I would suggest the ratio was perilously close to one for every other voter. Interest seemed to be quite low.
I took that picture about 5:00 after I arrived about 4:30. (This was an election day I had to work – I couldn't alter my schedule enough to avoid it.) There were literally three people working the polls when I got there – M.J. Caldwell's wife Pam, a lady representing Circuit Court appointee Jimmy Sarbanes, and Jim Jester, who was doing double duty with an Andy Harris shirt and Mike McDermott sign. This is one of the busier polling places in the county, and only three people were there.
If I saw 100 people vote in the time I was there, it was a lot.
Speaking of M.J. Caldwell, the Republican voters of this county need an education. I would expect about 60-65% of Democrats to blindly support someone named Sarbanes, but 43% of Republicans? Really? Someone selected not on qualifications, but on name recognition by a political hack governor we can't stand? Get real. That has to turn around in November.
Even the news coverage was lackadaisical. Channel 47 did a live remote, but they never came out to talk with us. They probably showed the pictures of an all-but-empty polling place to an audience which can be charitably described as second-best in the market.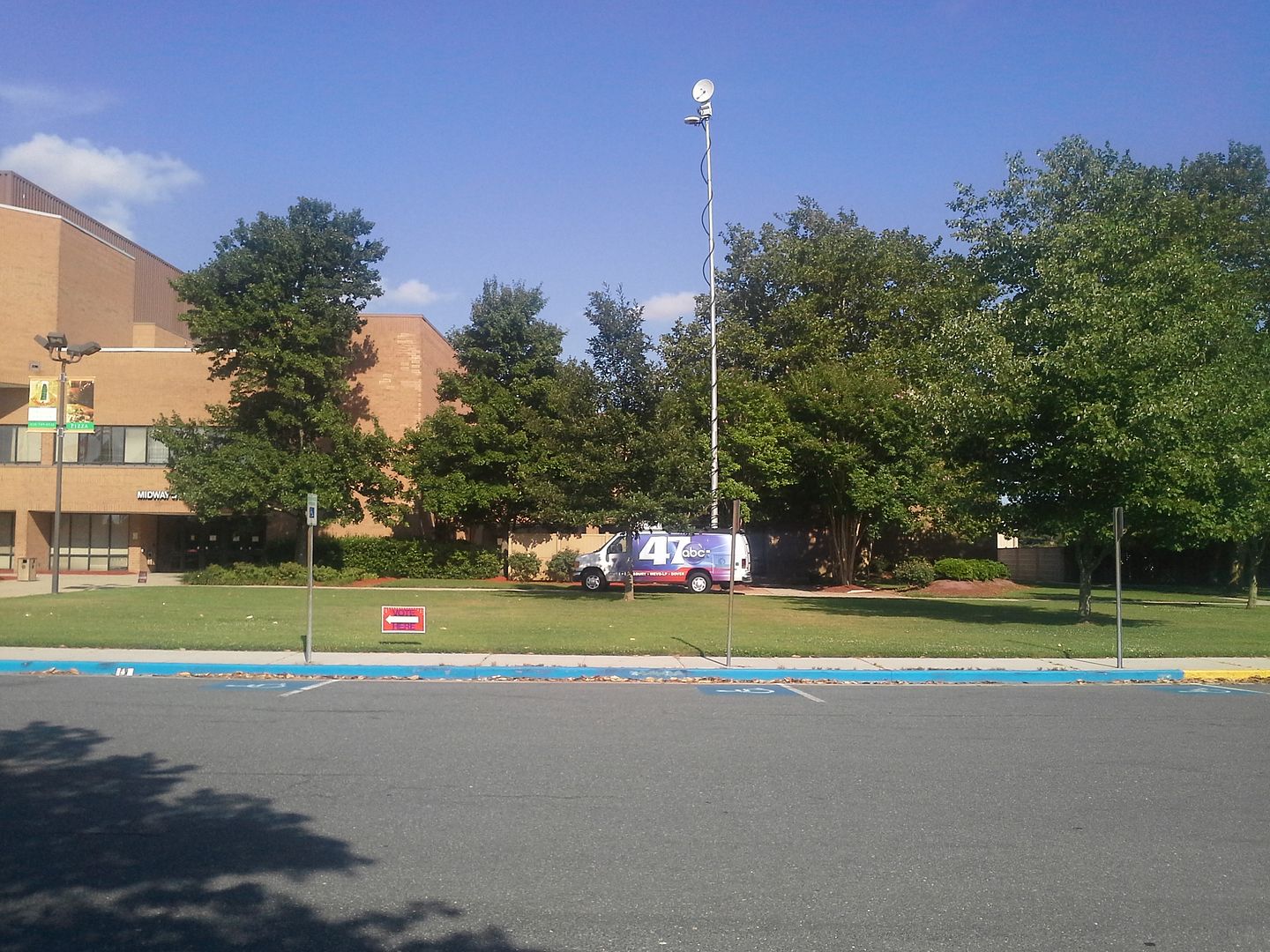 In terms of poll workers, it did pick up after a time. Jackie Wellfonder came along to work this poll.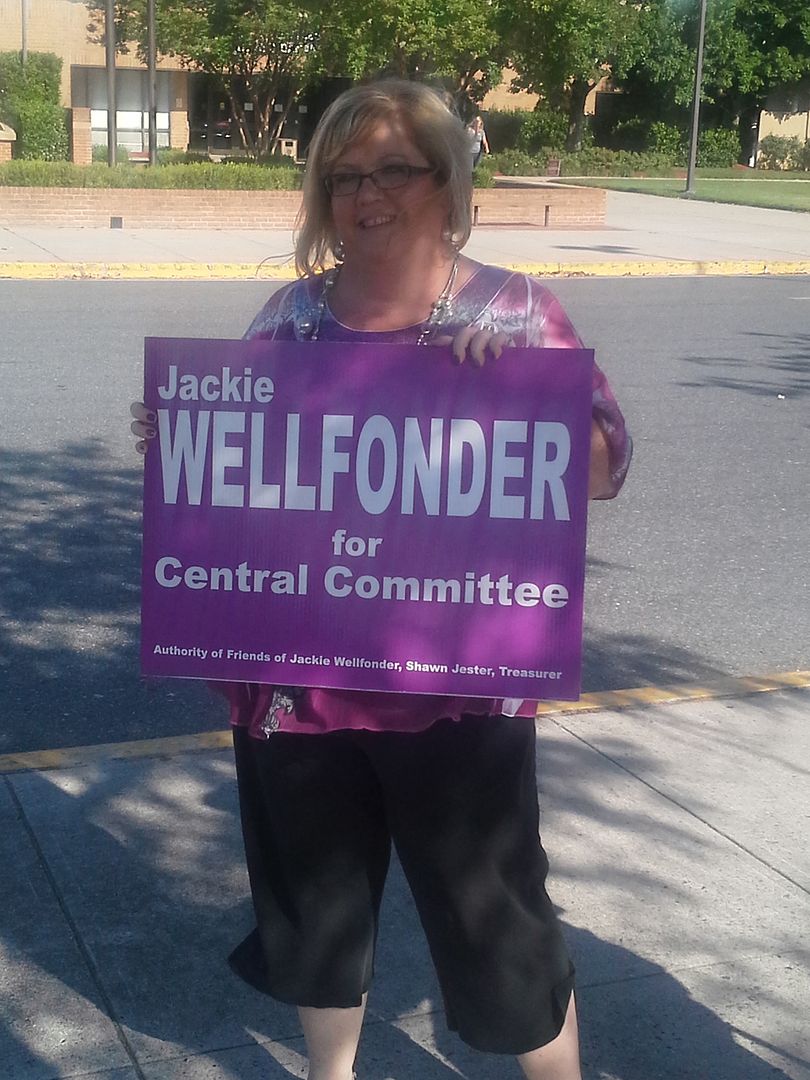 Turned out the face-to-face didn't do either of us much good because we got about the same amount of votes, and that wasn't enough.
Josh Hastings was unopposed in his primary, so all he had to do was await the winner on the GOP side.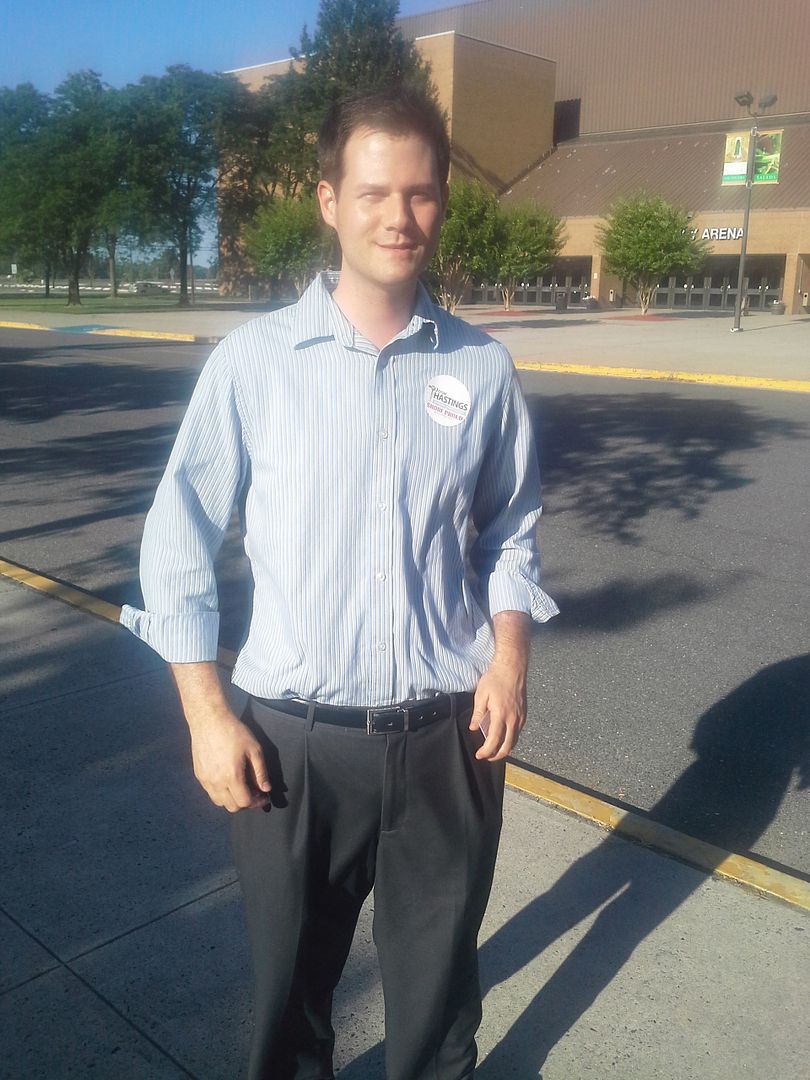 His opponent will be Larry Dodd, who had someone there eventually but he wasn't the social type.
Having worked polls a few times here, I know that after about 7:00 it's pretty well done for the night. So there were a gaggle of people with Hastings who got to talking down the way on the Democratic side, and a few of us for the GOP. It's not like we had voters to convince, as maybe 20 stopped by during the last hour.
At the very end, Carl Anderton dropped by to retrieve his signs as did Jim Mathias. They had a nice conversation, although I didn't get a picture. I was even bipartisan and helped Jim pick up some of the Democrats' signs.
I was in a group which went on to The Cellar Door to check on the returns, but it wasn't really a good night for most of us as you now know.
There were a couple things I learned, though. First and foremost is that Facebook is worthless as a campaign aid unless you want to pay through the nose. Social media isn't really social anymore; it's become commercialized like everything else. I had 60 likes for my Facebook page, which isn't much but it at least gives me insight on how my posts did. (By comparison, Jackie Wellfonder also had a similar page and got 100 likes – but about 60 fewer votes.)
I placed a total of 41 posts on the page, although there was one I shared multiple times. My total reach was 2,718 – it's about 66 per post. Ironically, my best post insofar as Facebook is concerned is the last one I think of as my concession speech, which reached 298 people. A little late, don't you think? But if you figure a good number of those 66 per post see my stuff time after time, it's not all that efficient for the investment.
I didn't have thousands of dollars laying around to get my Facebook page up to 100,000 likes as Change Maryland did, and we only know about the last 30,000 or so because the campaign paid for those – Change Maryland was close to 70,000 when Hogan made it official. So who knows how much he paid for that promotion? More than I had in my pocket.
Anyway, social media isn't really the way to go. But what is?
The second thing I found out is that the public seems to be unmotivated to find out what people really stand for. In race after race, I saw that those who spelled out their platform in the most complete manner lost to those who were a mystery to voters but had name recognition. It also didn't necessarily matter how hard you worked – if John Cannon or Matt Holloway went door-to-door I didn't hear about it, but Muir Boda did and got 18% of the vote to show for it. Tyler Harwood went door-to-door with Greg Belcher (in the same group which at times featured Carl Anderton, Marc Kilmer, and Boda) and finished dead last for Central Committee (Greg was 8th.) Hard work wasn't its own reward, and no good deed went unpunished – or so it seemed. (Nope, Marc corrected me – it was just his lit, not him.)
In short, I'm not sure I did my job very well on a local level. If I have a mission to educate voters, it looks like I have to work a little harder on it – and so I shall. I suppose the one thing about being a lame duck is that I have no election to worry about anymore, so I can speak my mind perhaps a little moreso than political correctness may dictate.
One source of relief is that I have a smaller range of people to keep up with for November. I think we could have done somewhat better coming out of this primary, but at least now I know whose feet I'll have to keep to the fire and who I should be able to count on with a minimum of supervision.