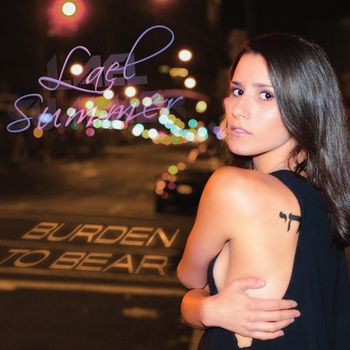 Coming in more or less at the intersection of jazz and soul, New York-based Lael Summer made her full-length debut in January with the album called "Burden To Bear," which served as an extension of an four-song EP she previously released – all of these, including a remake of the Hall and Oates composition Do What You Want, Be What You Are are reprised on "Burden." The other three previously released songs are I Need A Man, which opens the album, Kiss and Tell, and closing song The Good Fight.
For a first effort from a fairly young singer, it comes in as polished beyond her experience and years. She definitely sounds a little older and wiser than a college senior in her early twenties. "Burden to Bear" is an appropriate title for a compilation which lyrically details the life of a modern young woman – as she describes the songwriting process, "I picked through my thoughts, my dreams, my nightmares, conversations, observations and memories and used the fragments of my life to piece together something I could share with others."
The diverse range of songs on the album make for interesting listening, but can be jarring at times. The ballad Make You Whole, for example, comes immediately after the anger and bitterness expressed in You're So Small. The latter song is perhaps the effort at "street cred" with the occasional f-bomb dropped in the chorus, a touch I found unnecessary. Leave the profanity for the rappers. This unevenness is more prevalent among the first tracks: the opener I Need A Man is more funky than the harmony-driven Too Much, while the peppy It's About Soul comes after the ballad, only to be followed by a jazzy number called In Time. It's About Soul is a rather anthemic song telling people it's not about appearances, but about what's inside.
That can also be said about the album's back half, which to me has a much better flow. Beginning with track 7, Kiss and Tell, extending through the Hall and Oates cover, and pushing through the tracks What Do I Know (About Love), Look Around, and Unconditionally, the CD is a good definition of accessible adult contemporary music, hitting on all the right keys. The Good Fight, which was a song carried over from the EP, ends the album on a positive, hopeful note. What Do I Know may be the most pop-accessible song; to me even more so than the cover of Do What You Want.
With the influence of co-songwriter Tomas Doncker, the "sultry singer-songwriter" Summer has succeeded rather well in crafting the eleven songs she and her guitarist co-writer into a solid debut release. Doncker also co-produced the album with fellow contributing guitarist James Dellatacoma – no small feat given the dozen-plus musicians who contributed on the various tracks and instruments.
Having set herself up in a number of different musical camps, rather than taking one genre and mining it to exhaustion, Lael has the freedom to select a musical direction or continue to explore. If you're into the musical genres which could be considered under the umbrella of adult contemporary music, I encourage you not to take my word for it, but listen for yourself.
While Lael hasn't set up any dates to back up her release just yet, she is making the stage as part of a compilation called the True Groove All-Stars, a stable of artists from her True Groove label. Getting out and polishing her live performances would be the logical next step in her musical progression, and it will be interesting to see if she can be wise beyond her years in that regard.