As you likely are aware, Thursday evenings during the summer were reserved for my Shorebird of the Week feature. But tonight, and ongoing for a few weeks anyway, I'm going to resume baseball coverage.
A few days ago I saw the lament of an Orioles fan who pondered what could have been. Given the team's pitching woes over the course of the season, he wailed, could they have been better with a starting rotation that included Eduardo Rodriguez, Zach Davies, or other pitchers the team traded away to help themselves during a pennant chase several years ago?
As a Tigers fan, I feel his pain. In 1987 they were victimized by what is considered to be one of the greatest thefts in baseball trade history.
In the thick of the AL East race (at the time, each league had just two divisions rather than the current three), on August 12 the Detroit nine found themselves 1 1/2 games behind Toronto for the division title. They decided Doyle Alexander, who was pitching for a Braves team that was enduring another mediocre season near the bottom of the National League, would be an upgrade over longtime Tiger Dan Petry in the rotation. Alexander was a 36-year-old veteran righthander that was in his seventeenth big league season and was a valued commodity – the Tigers trade would be the sixth and final trade involving him during his lengthy career.
Doyle indeed helped the Tigers overcome their deficit by going 9-0 the rest of the way during the regular season, but folded like a cheap suit in the 1987 AL playoffs, losing both his starts as Detroit lost to an 85-win Minnesota team that would have placed 5th in the then 7-team AL East. In two-plus seasons Alexander finished just 29-29 with Detroit – including a 6-18 mark in 1989, his final season. That 1989 season marked the sudden end to a great Tiger run during the 1980s that netted two division titles, a pennant, and a world championship. A veteran team went from seasoned to past its prime.
In return for Alexander the Tigers sent the Braves a former 22nd round draft choice who was languishing at the AA level with a 4-10 record and hefty 5.68 ERA; a pitcher who would walk more batters than he struck out in that 1987 campaign. But this pitcher righted the ship the next season enough to reach the big leagues at the age of 21, and the Tigers had no clue whatsoever that John Smoltz would end up being a linchpin of the dominant Braves pitching staff of the 1990s as well as a Hall of Famer. It seems like a extraordinary price to pay for an average pitcher, doesn't it? But that's the fun and uncertainty baseball fans enjoy in that regard, perhaps more than any other sport because each team has such a vast minor league system of developing players to choose from, and for every John Smoltz a team acquires it may get 100 guys who never sniff AA ball.
So I decided to spend a few Thursdays as the hot stove season gears up for those non-playoff teams evaluating just how the Orioles have done with their trades in recent years. In their case, it's doubtful anyone will soon top the Eric Bedard deal with Seattle that brought the Orioles two of their current stars (Adam Jones and Chris Tillman) as well as two others who spent time with the Orioles. Only one of the five players the Orioles got back in return for Bedard did not play for the team – Tony Butler (a onetime Shorebird and a 3rd round pick by Seattle) didn't make the majors thanks to injuries derailing his career. But at the time of the trade the most renowned player coming to Baltimore was George Sherrill, a workhorse relief pitcher who the Orioles flipped to the Los Angeles Dodgers a year later to acquire two players, including pitcher Steve Johnson. Jones was a young player with a .230 lifetime batting average and .627 OPS in 73 games for Seattle over the previous two seasons, while Tillman and pitcher Kam Mickolio would make their MLB debuts with Baltimore. Mickolio would pay dividends later on as part of the deal to get slugging infielder Mark Reynolds from Arizona, with Reynolds playing a significant role on the 2012 Orioles playoff team.
As you can see, trades can take on a life of their own. So over the next few weeks I'll consider the Dan Duquette era and his penchant for raiding the minor league system to fill big league needs, as well as other trades he's made. Is he doing the team good or getting fleeced?
Perhaps the best direct measuring stick of how a trade benefitted a team is the statistic known as WAR (wins above replacement.) This is a complex calculation designed to show how many wins a player provides compared to an average replacement player from the minor leagues. As I write this, the leading MLB player in that category is Mike Trout of the Los Angeles Angels, who has compiled a WAR of 10.5 this season. In other words, if the Angels had played the season with a replacement-level player, they would have won 10.5 fewer games. (Considering the Angels are well under .500, they would really be lost without him.) Using the Alexander-for-Smoltz trade as an example, Detroit got a aggregate WAR of 6.4 in three seasons with Alexander, but Atlanta had a total of 67 wins above replacement with 20 seasons of Smoltz – so the Braves were an obvious winner in that regard, never mind the 13 playoff appearances, five pennants, and one world championship Smoltz helped the Braves to win vs. one division title for Detroit with Alexander.
So there will be a easy way to compare players as I work through these trades in the Duquette era. This week I will review his first season, which will cover Duquette from his hiring in November, 2011 through the conclusion of the 2012 season – a season where Baltimore made the playoffs as a wild card for their first postseason in 15 years.
 Trade 1 (December 1, 2011) – Orioles trade minor league pitcher Randy Henry to Texas Rangers for catcher Taylor Teagarden. Also included in that deal as a player named later was minor league infielder Greg Miclat, who was added December 8.
This is an interesting trade to dissect. It was one of the first steps in a housecleaning of the minor league system built by previous GM Andy McPhail and it gave Duquette a reliable veteran backup to Matt Wieters. But in Teagarden the Orioles received a WAR of (-0.6) in two seasons, meaning Teagarden was theoretically losing the Orioles games. On the other hand, neither Henry nor Miclat ever made the major leagues, as both topped out at the AAA level in the next three seasons. Miclat was eventually lost by Texas in minor league phase of the Rule 5 draft to St. Louis, where he spent his final season in their system. In this case, a negative WAR is better than no WAR at all, and Teagarden did his job for the Orioles. Slight winner: Baltimore.
Trade 2 (December 8, 2011) – Orioles trade minor league infielder Tyler Henson and minor league pitcher Jarret Martin to Los Angeles Dodgers for pitcher Dana Eveland.
Eveland was (and is) the embodiment of the 4A-type guy who hangs on because he pitches with his left arm. The Orioles were Dana's seventh MLB team in eight seasons, and he still soldiers on five teams later (including a short stint with the Orioles' AAA Norfolk affiliate in 2015) as 2016 draws to a close. In one season with the Orioles he compiled a WAR of 0.2 before sitting out the 2013 season and resurfacing with the Mets organization in 2014. Henson lasted one season in the Dodgers system before signing a series of minor league deals with the Philadelphia Phillies, retiring after the 2015 season without appearing in the big leagues. Martin spent three seasons as a fringe prospect in the Dodger chain before washing out, playing briefly in Milwaukee's system last season and rattling around the independent Can-Am League this season. It wasn't much, but Eveland did his job for a short time. Slight winner: Baltimore.
Trade 3 (February 6, 2012) – Orioles trade pitcher Jeremy Guthrie to Colorado Rockies for pitchers Jason Hammel and Matt Lindstrom.
This was a rare Duquette trade involving all major league players. Guthrie was arguably the "ace" of the Orioles, but that didn't say much for a team mired in mediocrity as he led the AL in losses in 2011. He only lasted a half-season with the Rockies before being traded to Kansas City for Jonathan Sanchez, who finished out the season with the Rockies before being let go. So the overall WAR for the Rockies was (-1.0), with Guthrie posting a (-0.6) and Sanchez an (-0.4). Guthrie was a solid back-of-the-rotation starter for the Royals until 2015. On the other hand, Hammel put in two decent seasons for the Orioles (compiling a 2.9 WAR) before signing with the Chicago Cubs as a free agent, while Lindstrom would be flipped later on in 2012 for Joe Saunders (see Trade 7 below.) Lindstrom contributed a 0.7 WAR in his stint with the Orioles, while Saunders added another 0.8 WAR – and won the wild card game against Texas. Clear winner: Baltimore.
Trade 4 (April 21, 2012) – Orioles trade minor league infielder Josh Bell to Arizona Diamondbacks for a player named later. Minor league pitcher Mike Belfiore was that player, added May 12.
Bell was acquired by the Orioles in the aforementioned trade involving George Sherrill, and had appeared in 78 games at the major league level. Most of his time with Arizona was spent at the AAA level but he got into 21 games with the big club, compiling a WAR of (-0.4). Bell left as a minor league free agent and has played for four MLB organizations, in Mexico and Korea, and in independent league baseball (in 2016) since. Belfiore climbed the ladder over the next two seasons, making his one and only MLB appearance at the end of the 2013 season. He then pitched in the Tigers organization for two more years. Mike ended up with a WAR of (-0.1). A push.
Trade 5 (June 30, 2012) – Orioles trade minor league catcher Gabriel Lino and minor league pitcher Kyle Simon to Philadelphia Phillies for designated hitter Jim Thome.
This is the first of those classic deadline deals where the Orioles were the buyer and Phillies the seller. As of this date, Lino (who is still only 23) has advanced in the Phillies system as far as AAA, but spent 2016 at the AA level. Simon briefly made it to AAA in three seasons in the Philadelphia system but has pitched the last two seasons in the independent Atlantic League. Thome, meanwhile, spent the final 32 games of his (potentially Hall of Fame) career with Baltimore as their DH, going 2-for-15 in the playoffs and compiling a 0.0 WAR. Unless Lino breaks into the big leagues for more than a cup of coffee for Philadelphia, this trade is about even. A push, but could still be a Baltimore loss.
Trade 6 (August 13, 2012) – Orioles trade minor league infielder Carlos Rojas to Cleveland Indians for minor league pitcher J.C. Romero.
Obviously the Orioles hoped the veteran lefthander (who made his name a decade earlier with the Twins) had a little more in the tank, but what they got was four mediocre innings of work for a (-0.1) WAR while the Indians got the final 10 games (in 16 days) of a career minor leaguer's playing. Romero was still active until last winter, but the Orioles were his last MLB stop. A push.
Trade 7 (August 26, 2012) – Orioles trade pitcher Matt Lindstrom to Arizona Diamondbacks for pitcher Joe Saunders.
I noted Lindstrom was part of the Jeremy Guthrie deal with Colorado but he was sent out to Arizona for another starter in Saunders, who would turn out to be a rental. However, while the WAR differential was rather small (0.8 WAR for Saunders vs. 0.3 WAR for Lindstrom) the importance of Saunders' contribution in terms of playoff pitching makes the deal worthwhile – as well as accruing to the Orioles' side of the ledger in the earlier Guthrie trade. Clear winner: Baltimore.
So through the 2012 postseason not only was Duquette's team a winner on the field but also in terms of trading with 2 clear wins, 2 slight wins, and 2 pushes, with one still to be determined. Next week we will look at the runup to the 2013 season, which would finish in a disappointing manner. Did the trades help create the situation?
Commentary by Marita Noon
When New York's Democrat Governor Andrew Cuomo gushed over SolarCity's new solar panel factory in Buffalo, New York, the audience likely didn't grasp the recently-revealed meaning of his words: "It is such a metaphor – a symbol of everything we're doing."
The 1.2 million square foot building, being built by the state of New York on the site of a former steel plant, is looking more and more like another political promise of help for one of the poorest cities in the state that ends up enriching cronies without ever achieving any potential for the people.
Yes, it is a symbol of everything they're doing.
Previously, during her first senatorial bid, Hillary Clinton also promised jobs to the economically depressed region of the state of New York – 200,000 to be exact. Citing a report from the Washington Post, CBSNews states: "Jobs data show that job growth stagnated in Upstate New York during her eight years in office, the report said, and manufacturing jobs dropped by nearly a quarter." The Post's extensive story reveals that jobs never materialized – despite "initial glowing headlines." It claims: "Clinton's self-styled role as economic promoter" actually "involved loyal campaign contributors who also supported the Clinton Foundation." Through federal grants and legislation, she helped steer money to programs, companies, and initiatives that benefitted the donors but failed to reverse the economic decline of the region.
Now, new corruption charges reveal the same pay-to-play model linked to Cuomo's upstate "Buffalo Billion" economic revitalization plan – and the promised jobs also look they will never materialize.
Back on January 5, 2012, Cuomo announced a $1 billion five-year economic development pledge for Buffalo.  It was to be the governor's banner economic initiative with the SolarCity factory as the cornerstone and a pledge of 1,460 direct factory jobs. Other companies, including IBM and a Japanese clean-energy company were also lined up.
With the state-of-the-art solar panel factory ready for equipment to be installed, the wisdom of the entire program is being scrutinized – and is coming up short.
First, on September 22, two of Cuomo's closest aides – along with several others – were charged in corruption and fraud cases involving state contracts worth hundreds of millions of dollars. Addressing the press at his Manhattan office, U.S. Attorney Preet Bharara asserted: "that 'pervasive corruption and fraud' infested one of the governor's signature economic development programs. Companies got rich, and the public got bamboozled," reports The Observer. Bharara described the bid-rigging and bribery arrangement: "Behind the scenes they were cynically rigging the whole process so that the contracts would go to handpicked 'friends of the administration' – 'friends' being a euphemism for large donors. Through rigged bids, state contracts worth billions of dollars in public development monies, meant to revitalize and renew upstate New York, were instead just another way to corruptly award cronies who were willing to pay to play."
The 79-page criminal complaint notes that campaign contributions to Cuomo poured in from people connected to the bribe-paying companies as soon as those businesses began pursuing state projects.
One of the companies that received the lucrative contracts was LPCiminelli – run by "Cuomo mega-donor" Louis Ciminelli. He allegedly offered bribes to Cuomo confidante Todd Howe – who has admitted to pocketing hundreds of thousands of dollars from developers to rig bids on multimillion-dollar state contracts linked to Buffalo Billion projects.
Ciminelli received the $750 million contract to build the SolarCity plant. The Buffalo News cites Bharara as saying: "the state's bidding process for the factory being built for SolarCity at RiverBend in South Buffalo turned into a 'criminal' enterprise that favored LPCiminelli, where company executives were given inside information about how the deal was to be awarded."
Part of Cuomo's deal with SolarCity – in which the state owns the building and equipment with SolarCity leasing it under a 10-year deal – requires the company to meet a timetable of job-creation quotas or pay hefty penalties. Even before the building was complete, however, the company slashed its job commitment from 1460 to 500. According to the Investigative Post, SolarCity claims it will still employ the original number, but due to automation, the majority of them will not be at the Buffalo plant. With the state's $750 million investment, that works out to $1.5 million per manufacturing job. In a press release, Cuomo promised 1460 "direct manufacturing jobs at the new facility."
Even the 500 jobs will only materialize if the plant actually starts production – currently slated for June 2017. SolarCity's future is, as Crain's New York Business puts it: "uncertain."
Amid the company's myriad problems are the facts that it has never been profitable, nor does it have manufacturing experience.
In February 2014, SolarCity's stock price peaked at about $85 a share. Today, a share is less than $20. Microaxis gives it a probability of bankruptcy score of 48 percent. Crains reports that it posted a $251 million loss in Q1 2016 and a loss of $230 million in Q2. To "stop the bleeding," Elon Musk (a donor to both the Obama and Clinton campaigns and the Clinton Foundation), who owns more than 20 percent of the company, announced that Tesla (of which he also owns more than 20 percent) would purchase SolarCity – this after as many as 15 other potential buyers and investors looked at the company and decided to pass. SolarCity even considered selling the solar panel manufacturing business.
Both SolarCity and Tesla are, according to the Buffalo News, facing a "cash bind" – this despite receiving billions in federal and state grants and tax credits as I've previously addressed. Tesla is described as "cash-eating electric vehicle and battery making businesses." For SolarCity, its model – which finances its solar panel installations in order to make a profit on a lease that can be as long as 30 years, while it collects the lucrative government incentives worth billions (a practice for which Solar City is currently under Congressional investigation) – requires constantly raising new money from investors. Once the Tesla deal was announced, SolarCity's lenders started to pull back.
The Buffalo News reports: "Stock in SolarCity…now trades for $4 a share less, or 19 percent less, than what Tesla is offering – a gap indicating that investors are uncertain the deal will be completed." Additionally, the deal is being challenged by four separate lawsuits – which could delay the deal. Addressing the merger, one analyst said: "We see a lot more that can go wrong than can go right."
Then there is the manufacturing angle. Originally, the Buffalo plant was going to manufacture high-efficacy solar panel modules developed by Silevo – a company SolarCity bought in 2014. Crain's reports that it will instead produce complete solar roofs: something it says "Dow Chemical recently abandoned after five years because it could not find a way to make a profit on the technology." But then, the Buffalo News says: "The initial production in Buffalo is expected to include photovoltaic cells that SolarCity purchases from suppliers and are used in the products that will be assembled in the South Park Avenue factory."
Whatever the plant builds or manufactures, getting it operating will be expensive – even with the New York taxpayers owning the building and equipment – and will drain scarce cash from SolarCity at a time when its financing costs have increased.
Buffalo residents wonder if they'll be stuck with the world's largest empty warehouse and without the promised jobs.
No wonder the entire project is in doubt. Because of the Cuomo administration corruption allegations, other proposed job-creators, including IBM, have pulled out until the probe is completed.
For now, Cuomo is not a part of the criminal complaint – though his name is mentioned many times – and he claims he knew nothing about it, nor does he think he's a target of the ongoing federal probe. "It is almost inconceivable the governor didn't know what was going on," Doug Muzzio, a professor of public affairs at Baruch College, said. "And if he didn't know what was going on, you can argue he should have known."
Bharara has suggested that the better name for the program would be: "The Buffalo Billion Fraud and Bribery Scheme."
Yep, the Buffalo Billion project is a "symbol" of the political promises and crony corruption – "everything we're doing" – that takes taxpayers dollars to reward political donors and then walks away when the jobs don't materialize.
The author of Energy Freedom, Marita Noon serves as the executive director for Energy Makes America Great Inc., and the companion educational organization, the Citizens' Alliance for Responsible Energy (CARE). She hosts a weekly radio program: America's Voice for Energy – which expands on the content of her weekly column. Follow her @EnergyRabbit.
Let's start off with my initial emotions on this announcement: disappointment, then resignation. I think this adequately captures both sides of the equation going forward, so allow me to elaborate.
I consider myself a limited-government conservative, or perhaps better described as a conservative with libertarian tendencies in a number of respects and areas. I often write about the idea of "rightsizing" the federal government down to a point where it does the minimum required of it in the Constitution, and this worldview affected my perception of the 2016 Presidential field. Ted Cruz was not my overall first choice out of the group, but of those remaining when Maryland's day in the sun came back in late April he was – by miles – the best remaining choice in terms of my stated desire to reform the federal government in a Constitutional manner.
On the other hand, I had already heard and seen enough from Donald Trump to know that he wasn't going to significantly improve the situation inside the Beltway. He had already backtracked and capitulated on enough campaign issues for me to see that he wasn't going to be trustworthy enough to be the GOP standard-bearer. Although we went for a period of about 2 1/2 months before the Republican National Convention with the idea that there still were chances to derail the Trump train, the national Republican party (and Trump zealots) did their best to make sure that the "victory" Trump won (dubious at best, thanks to the number of open primaries) with just a plurality of the Republican vote would stand. In the end, many supporters of Ted Cruz as well as John Kasich were browbeaten into acceptance – the rest became the significant number of #NeverTrump folks out there, of which I was one. I would not accept Trump as the nominee, and my conscience would not allow me to work within an organization that promoted someone of dubious value to the conservative movement.
So when Ted Cruz stood at the podium of the convention and exhorted everyone to vote their conscience, I considered it a highlight of an otherwise pathetic coronation of The Donald as Republican nominee. My confidence in Trump upholding the planks of the GOP platform was about the same as the confidence that he could go a week without being on the media for saying something asinine – in both cases, about zero. The fact that the Trump people booed Ted Cruz off the stage was proof that they weren't principled enough to stand before conservatives to defend their candidate when his bona fides were questioned.
Obviously I was not thrilled to see Cruz fall off the #NeverTrump wagon after all that transpired between Trump and "lyin' Ted" during the primaries. (Of course, that assumes he was really ever on it.) But as Christians we pray to have our trespasses forgiven as we would those who trespass against us, and from the tenor of Cruz's comments in his statement I think he has forgiven Donald Trump for what he said during the campaign as simple competitive rhetoric.
And Cruz has a number of political calculations he has to account for, too. After November the election season turns to the 2018 cycle, and Cruz is part of it as the junior Senator from Texas. Certainly there are already people in Texas politics smarting from the very fact that Cruz upset the establishment choice of former Lt. Gov. David Dewhurst in the GOP primary there four years ago, but former Gov. Rick Perry is one of those rumored to be considering a 2018 run for Cruz's seat. Opponents cite the alienation of Trump voters as just another factor against Cruz, since there's also the perceived blame for the 2013 government slowdown and the reputation for being a boat-rocking troublemaker that Cruz carries. (It should be noted that all that baggage was supposed to sink Cruz's presidential campaign early on, but he outlasted most of the rest of the field that was supposedly more palatable to the electorate.)
For all his issues, it's clear that for Ted Cruz to have a political future he had to modify his stance on Trump, and that was made more convenient by the unqualified Democratic candidate and the pledge he took to support the Republican. Over the next four years he is more useful in the Senate than martyred by his own rhetoric.
So let's say Trump loses, Cruz retains his Senate seat, and the Clinton/Kaine team continues the damage done by Obama/Biden. The question is whether people will be as passionate about Cruz in 2020 or if they will consider him damaged goods? Assuming Trump loses and doesn't wish to try again at the age of 73, the early favorite in 2020 has to be Mike Pence – just as the first rights of refusal went to Sarah Palin in 2012 and Paul Ryan this year. But there will certainly be a crop of those who didn't grasp the brass ring this year looking to seize the nomination: I would strongly suspect that group includes Cruz, John Kasich, Marco Rubio, Rand Paul, Scott Walker, and Bobby Jindal. All of them (except Kasich, who briefly ran in 2000) were first-time candidates – the political world seems to be that of just two strikes and being out, which eliminates guys like Rick Santorum and Mike Huckabee as old news. All but Kasich also seek the votes of strong conservatives, with Kasich being more of a moderate.
At this point I would still like to see Bobby Jindal make a 2020 run, as there's little chance one of the 2016 crop knocks him off as the king of my hill. But someone new could strike my fancy or there could be a significant moderation in Jindal's political views. Still, I would welcome Ted Cruz to the fray with open arms, knowing he had to do those things he may not have liked in order to keep his position of leadership in the conservative movement.
As for me, I remain #NeverTrump whether it's politically damaging or not. Since politics is not my job I have little to lose but a lot to gain as I work to convince people of the benefits of limited government and support those inside politics who advocate it with actions, not words.
By Cathy Keim
While reading some news items on Sunday night, I came across this article in the Baltimore Sun. A 64 year old man was sitting in Wyman Park reading a book when he was maced, knifed, and robbed by assailants that posted the attack on Facebook, thus aiding the police in apprehending at least two of the suspected robbers.  The statistics of increased crimes in Baltimore are reported:
Across the city, robberies continue to rise. There have been 13 percent more robberies committed so far this year, a rise from 3,126 at this time last year to 3,523 this year. Carjackings are up 43 percent, while street robberies have increased 17 percent, though commercial robberies have declined about 10 percent.
However, what I found incredible was the following quote:
Sandy Sparks, president of the Charles Village Civic Association and a founder of Friends of Wyman Park Dell, said she hoped the crime wouldn't deter people from visiting the park, which she said is safe. "We've worked very hard to make the dell a beautiful, restful place," Sparks said. "The last thing we want is to have the impression that it's not safe to go there."
A man has just been violently attacked while sitting on a park bench and yet we are told that the park is safe.  This is demonstrably not true and the statistics show that Baltimore has a serious problem with crime that is increasing.
It is this kind of incoherent thinking that makes me fear for our country.  How could Ms. Sparks even utter those words?  I am afraid that she is afflicted with the same disorder that much of our population seems to be succumbing to: stating obvious lies to forward an agenda.
When the media, political leaders, bureaucrats, scientists, and others in authority state nonsense that is obviously not true – while they continue to ignore the facts in front of them – then it is only a matter of time before the public disbelieves anything that they read or see in the press.
President Obama continues to tell us that our economy is great, but over 94 million Americans are not working and more are underemployed or juggling multiple part-time jobs to make ends meet.  College grads are living at home because they cannot find jobs that pay well enough to be able to pay their student loans and live independently.
The Republican-controlled House and Senate tell us that they are doing everything in their power to block President Obama's agenda, but they keep on passing continuing resolutions and omnibus spending bills that fund his every whim.
Hillary Clinton's campaign says that she has pneumonia two days after she is diagnosed and hours after she leaves the 9/11 ceremony abruptly and almost collapses getting into her van.
Hillary Clinton states under oath that she has turned over all her emails, but additional emails keep popping up.
We are told that we should be happy to accept Syrian refugees because they are being carefully vetted even though we know that cannot possibly be true.  How can you vet somebody that has no documents and their hometown has been bombed to the ground?
I could go on and on, but you are aware of all the lies that are constantly being told in a drumbeat of falsehoods.
Trust is a fragile commodity and once it is broken, it is very difficult to restore.  As the boy who cried wolf in Aesop's Fable found out, if you are a known liar, then even when you tell the truth you will not be believed.  Aesop wrote his fables about 600 years before Christ, so the concept is not new, but plenty of people seem to think that they can pull the wool over the rest of us and get away with it.
Lenin said, "A lie told often enough becomes the truth."  The Soviet Union was known for the disinformation that it spewed out to its citizens and to the world.
We may like to think that we are not like the Soviets, but then ask yourself who said:  If you like your doctor, you can keep your doctor?  This statement has been proven to be a total lie, just like the other fraud:  Your health insurance costs will go down.
Our Founding Fathers were acutely aware of man's weaknesses and flaws, so they wrote our Constitution to separate powers and block any one group of people from gaining complete control of our government.  They also listed in the Bill of Rights a series of guarantees to protect citizens from their government.  Their system only works, though, if the press reports honestly on what is happening and if the three branches of government actually perform their duties.  The last resort is for the citizens to replace their government if necessary.
The executive branch has been overstepping its bounds for the last eight years; a period where Congress has not blocked the executive branch by withholding funds.  The judicial branch has exceeded its boundaries at the Supreme Court level by legislating from the bench.  Congress has ceded power to the courts because it is easier to let the courts decide tough issues than for the politicians to have to take unpopular stands.
Not only can we not believe what we read or see in the various media outlets, but we are further bombarded with politically correct messages which seek to make any deviation from the party line unacceptable.  It is not just considered rude to disagree; it is liable to cost you your job if you refuse to toe the line. (Editor's note: Just ask current Seattle Mariner and former Oriole catcher Steve Clevenger about that.) The claustrophobic feeling of everyone shunning you if you dare speak out is enough to shut most people down.
Standing up for pro-life positions, traditional marriage, different roles for men and women, and obeying immigration laws will result in your dismissal from polite society in many venues.  If you find yourself thinking twice about making a comment that would have been completely non-controversial five years ago, then you are self-censoring.  Something as simple as having more than three children is cause for censure in many circles.
Daring to say that Islam means submission, not peace as is widely stated, and that sharia law is not compatible with our Constitution is considered outside the bounds of civility.
Stella Morabito has an excellent article in the Federalist where she states, "These characters from the dystopian novel The Journal of David Q. Little can help us reflect on the choice between individuality or conformity; between living life exceptionally or as a drone."
Stella has written frequently on the evils of political correctness, but here she really explains what we are up against:
The term "political correctness" had not yet made its way into the lexicon when the book was published. But this passage clearly shows Little feeling the utter loneliness political correctness creates through its force-fed propaganda that sows social distrust and separates people through blind conformity. When there are no outlets for real conversation, you end up in virtual solitary confinement, talking to yourself to preserve your sense of sanity.
As you contemplate what went wrong that we are having so many previously unacceptable activities forced upon us such as boys using girls' bathrooms, elementary age children having sex change operations, women in combat roles, or why our politicians can't use the words "terrorist attack" when bombs go off in New York City, then realize that you are being actively manipulated and the only way to resist is to refuse to conform to the expectations being foisted upon us.
Richard Falknor at Blue Ridge Forum suggests that too many Americans are still getting their news from the mainstream media.
Many rely on their local establishment newspapers (most of which, sadly, reflect the perspective of the National Left for choice of stories to cover, as well as what events and public figures to ignore).

Some rely on Fox News (which has a strong GOP Establishment slant, and thus advances a Globalist Message.) 

What this means: even many dedicated activists are handicapped by getting limited information on fast-breaking developments they need to understand.
Information has always been controlled and manipulated by the forces in power.  Unless you personally were present when an event occurred, then you were dependent on the report from somebody else, whether it be family, friend, or reporter.  What is different now is that everything feels like it could be a conspiracy theory because we have lost our trust in the system: our news media, our politicians, our academics, our scientists, and even many of our clergy.
As Morabito explained, this loss of trust leaves us feeling isolated, lonely, and fearful because if no one is worthy of trust who can we rely on?  In the end, it all comes down to standing on our principles which for Americans means the Declaration of Independence and our Constitution, both of which point to our Creator who gives us unalienable rights.  The Founders were pointing directly to the God of the Bible. Thus, In God We Trust!
As a Republican in Maryland, there are two things you have to account for in a statewide race: you have a smaller pool of party regulars in the voting bank when compared to the Democrat in the race and you will have less money and free media than the Democrat has at his or her disposal. These have been givens throughout the modern political era, and it's a rare Republican who can overcome them.
But I think the idea of playing up just how low-budget a campaign is (against a well-funded Washington insider) doesn't work well as a serious campaign ad. I'm going to share Kathy Szeliga's ad so you can judge whether she plays this shtick (as well as the motorcycle riding angle) too much.
In truth, when I looked up the latest FEC reports (as of June 30), Van Hollen only had about a 2-to-1 cash on hand advantage on Szeliga, with $566,795 on hand. Admittedly, Van Hollen had definitely churned through a lot more money than Szeliga over the previous 15 months covered in his report, but he was also trying to fend off a well-known challenger for the Democratic nomination in Fourth District Congressman Donna Edwards.
And Kathy was determined to squeeze her nickels:
Our fundraising has been going well, but we didn't want to waste a dime, so we shot the ad on an iPhone – saving the campaign thousands of dollars. And TV ads are expensive, so we decided to buy cable and focus on a strong social media push.
She would need more than a strong social media push, though: her 17,126 Facebook likes trail Van Hollen's 21,333, while the margin is even worse on Twitter: Szeliga has just 2,349 followers compared to 28,780 Twitter followers for Van Hollen. (Of course, Chris has more of a national profile as a Congressman so that should be expected. As evidence, current Senator Barb Mikulski has 48,683 followers while Andy Harris has 6,281.)
But since the Democrat is afraid to debate in the hinterlands of the state (or include the third candidate in the race, Green Party candidate Margaret Flowers), perhaps the ante needs to be increased. This is what you really need to know about Chris Van Hollen: a description from his campaign website but edited for more truthfulness by this writer. Normally this would be a blockquote but I have it in normal text to make the edits (deletions struck through, additions in italics) more clear.
**********
Chris Van Hollen has been described as "one of those rare leaders who runs for office because he wants to DO something, not because he wants to BE something." Yet it's what he has done that should trouble the hardworking Marylanders he's trying to win over.
This sentiment captures Chris's approach to public service, an approach that he will bring to the U.S. Senate to fight – and win – for Marylanders who depend on the ever-expanding federal government to deal with on the challenges we face today.
Government-dependent Maryland families can count on Chris to be their champion – because that's what he has been doing for over two decades. As for the rest of you, well, you are correctly described by our Presidential nominee as the "basket of deplorables" because you don't share my 'progressive' vision.
Chris was first elected to public office in 1990, when he campaigned for the Maryland House of Delegates as part of the 'Choice Team,' which unseated an a pro-life incumbent opposed to women's reproductive rights. So I have spent 26 of my 57 years on this planet in public office, and as you will see later on I was groomed for this practically from birth.
In Annapolis, Chris quickly earned a reputation as a champion for progressive causes and a talented legislator who was not afraid to take on blame powerful special interests for problems we in government created – like the NRA, Big Oil, and Big Tobacco – on behalf of hardworking families. I just didn't let on that the NRA never pulled the trigger on a murder victim in Baltimore, Big Oil makes a fraction of the profit for putting in all the work compared to the ever-increasing bonanza we take in with every gallon, and we don't have the guts to actually ban tobacco because we need their tax (and settlement) money.
He led successful fights to make Maryland the first state to require infringe with built-in safety trigger locks on handguns, ban the prospective job creation of oil drilling around the Chesapeake Bay, and prevent tobacco companies from peddling cigarettes to our kids, taking credit even though sales to minors have been illegal for decades. Chris also negotiated an historic tax increase in funding for all Maryland schools. Just don't ask me to increase the choices you have to educate your children by allowing that money to follow your child.
Time Magazine said Chris was "a hero to environmentalists, education groups and gun control advocates." The Baltimore Sun called him "effective" and "tenacious" and the Washington Post dubbed him "one of the most accomplished members of the General Assembly." If you were a special interest that depended on a continual government gravy train, I was definitely your "fair-haired boy."
In 2002 Chris was elected to Congress on a wave of grassroots special interest support, ousting a 16-year Republican incumbent thanks in large part to some creative redistricting. There he brought the same brand of can-do activism socialist failure with him. He led the successful effort to stop big banks from reaping outrageous profits from having student loans as part of their loan portfolio – instead, we made sure Uncle Sam got that piece of the action and rigged the game so that even bankruptcy cannot save most graduates who can't find a job to pay their loans from – and was also credited with helping Democrats win back control of the House in 2006, just in time to steer the national economy into the rocks.  He became a Democratic leader and played a key role in the passage of the Affordable Care Act perpetual annual increase in health insurance rates and deductibles, the Wall Street Reform protection law, and the Economic Recovery Act that helped rebuild our shattered economy has helped saddle us with the worst recovery from recession in the last century.
When the Republicans took over the House in 2010, Chris's colleagues elected him to lead the battle against the Tea Party budget sanity. In that role he has been leading the fight to protect Medicare and Social Security from GOP budget attacks necessary reforms and protect vital investments in education, transportation, medical research and programs for the most needy. We have to buy those votes somehow and grease the right palms – debt is only a number anyway, right?
Chris has also unveiled a comprehensive plan to address one of the greatest challenges of our time – growing inequality in America.  His 'Action Plan to Grow the Paychecks of All, Not Just the Wealth of a Few'  Redistribute Even More Wealth and Create More Government Dependency' has been called a forward-looking blueprint for building an economy a government behemoth that works for everyone the ruling class inside the Beltway.
In the Senate Chris will continue to fight for against bold measures to revive the promise that every individual has the chance to climb the ladder of opportunity and lead a successful and fulfilling life. We Democrats can't let an individual be successful on his or her own, particularly if he or she is a minority.
The son of a Baltimore native, Chris's involvement in social justice and political action began at an early age. Chris's mom and dad were both dedicated public servants, and growing up he saw their strong commitment to making the world a better place.  As a student, he joined efforts to end Apartheid in South Africa and stop the nuclear arms race. And while Chris put himself through law school at night, he worked as a Congressional aide and then as an advisor to Maryland Governor William Donald Schaefer. So in my adult life I have never held a private-sector job or signed a paycheck. But I'm fighting for you because I am down with your struggle to balance a household budget when both parents are working multiple jobs!
Chris and his wife, Katherine, live in Kensington where they have raised their three children.
**********
The above is somewhat tongue-in-cheek, but along the line in this campaign I am very tempted to look at some of the local races on a more issue-by-issue basis, a "compare and contrast" if you will. I have no doubt that Chris Van Hollen is well to the left of most hardworking Maryland families.
But if Kathy Szeliga is as conservative as she says, perhaps we should downplay the "Washington insider" angle a bit because that's not going to play inside the Beltway. The latest voter registration numbers tell the tale: just between the two counties directly bordering Washington, D.C. we find 31% of all state voters. Add in the close-by counties of Charles and Howard and the number edges close to 40%. Put another way, 2 in 5 Maryland voters have some degree of connection to the seat of federal government – even if they don't work directly for Uncle Sam, their area was built on the economic impact of the government bureaucrat.
So the real question has to be about real solutions. Van Hollen cites a lot of things he has worked on, but one has to ask if the work he has done has actually solved the problem. Intentions might be grand for putting together a political webpage, but they don't fly in the real world.
Even if you go back to his earliest days, consider these checklist items: as a youth, Van Hollen worked to stop apartheid in South Africa and against nuclear arms proliferation. Unfortunately, the transition away from apartheid also led to the decline of South Africa as a nation – just like a number of American inner cities in the 1950s and 1960s the nation was a victim of white flight because among those who were liberated were too many who used the occasion to settle scores instead of living peacefully as may have occurred with a slower transition. And that youthful resistance against nuclear proliferation yielded to political partisanship when Van Hollen supported the Iranian nuclear agreement. Perhaps the proliferation he sought to end was only our own.
Or ponder the effects of the policies Van Hollen backed in the General Assembly. Trigger locks became required for all guns sold in Maryland, so there's already an extra expense. And I seriously doubt the bad guys have one on their guns, so if some citizen is shot and killed because they couldn't disengage a trigger lock in order to defend themselves, will Van Hollen apologize or believe more legislation is needed?
And like many liberal policies, Chris took the first step and his cohorts have walked them a mile. We went from banning oil drilling in the Chesapeake (which may not be economically viable anyway, but we have no way of finding out) to thwarting the state's efforts to drill for its proven natural gas reserves in the Marcellus Shale region (as well as other prospective areas including Annapolis and parts of the Eastern Shore.) That cost the state hundreds of possible jobs. Meanwhile, the state of Maryland perpetuates the hypocrisy of encouraging people to stop smoking with a small portion of the taxes they rake in with every pack – a sum that "progressives" annually want to increase as one of the state's most regressive taxes.
Nor should we forget the policies Van Hollen has supported over the last eight years. Just ask around whether your friend in conversation feels they are better off with their health coverage, or if the economy is really doing well for them. If they have student loans, ask them what they think of the price of college. In all these areas, government that considers meddling as its task has made things worse for the rest of us in Maryland.
These are the questions Kathy Szeliga should be asking, rather than joking about her low-budget campaign. The aggressor sets the rules, and to win over the voters the candidate has to define the opponent for them. My definition of Chris Van Hollen is that he's part of the problem, so the task is to make sure voters know that before explaining the solution.
Commentary by Marita Noon
Ford Motor Company made headlines on Wednesday, September 9, when, during an investor conference, CEO Mark Fields told attendees that it will invest $1.6 billion building a manufacturing plant in San Luis Potosi, Mexico, and will move all of its small car production there during the next two to three years.
The announcement was hardly news as Ford has been talking about the shift for more than a year. But in the throes of an election that has both candidates decrying companies that send jobs to low-wage countries, the decision was an invitation for attention. The next day, during a speech in Flint, MI, Donald Trump declared that it was: "horrible." He's previously called the proposed move "an absolute disgrace" and promised to punish Ford with a 35 percent tariff on cars made in Mexico that are then sold in America – which he believes will prevent them from moving production out of the U.S.
No one wants American jobs to go away – and Ford plans to build more profitable vehicles in the plants that currently produce the Focus and C-Max small cars. It claims it is not going anywhere and that the U.S. is its home. Reports do indicate that no jobs at the Wayne, MI, plant will be lost, as it will likely be converted to building the new mid-size Ranger pick-up truck and, possibly, a new Bronco compact sport-utility.
But there's more to the story that isn't generally being addressed.
Earlier this year, Fields told CNBC: "We're always going to invest where it makes sense for business."
Obviously, it no longer makes "sense" to invest in small car production in America. Most of the news surrounding the move to Mexico addressed the benefit of low-cost labor. According to the Detroit Free Press: "The industry has known for decades that domestic manufacturers struggle to make a profit on small cars." In Slate's MoneyBox blog, Jordan Weissmann says: "You can protest that Ford should find a way to consistently churn out profits while manufacturing small cars at home, but that's easier said than done."
The number of auto jobs in Mexico is up 40 percent from 2008, while they are only up in the U.S. by 15 percent over the same period. Reuters reports: "American automakers pay Mexican workers $8 to 10 an hour, including benefits." By comparison, Ford's labor costs average $57 per hour at home.
Even with the huge labor cost differential, American car companies' trucks and SUVs are profitable to manufacture in the U.S. and they are the vehicles Americans want to buy – which should raise the question: Why do car companies make small cars when they can't make them profitably? The answer is the story not being addressed in the current coverage of Ford. And this is where Trump could, possibly, change the outcome.
In a free-market world, companies that want to stay in business should stop activities that lose money and focus on those that make money. Yet the Big Three automakers continue to produce small cars that for years have made little, if any, money.
Business Insider explains: "If Ford is going to keep them around, it needs to address the profit problem. Americans don't want to buy small vehicles at the moment (actually, they almost never want to buy small cars), so Ford's only rationale for continuing to build them is to satisfy the more stringent fuel-economy standards in the future." Those fuel standards are called CAFE – which stands for Corporate Average Fuel Economy. In short, it means that car companies can only sell the bigger vehicles that Americans want if it also produces cars that achieve very high fuel efficiency (including electric vehicles, in which Ford is investing heavily) that results in an "average" of the mandated miles per gallon – which is now 54.5 by 2025.
Merrill Matthews, Ph.D., a resident scholar with the Institute for Policy Innovation, blames the Ford move on, along with other draconian government policies, the CAFE standards: "The CAFE standards, which began in 1975, require auto manufacturers to meet government-imposed fuel economy standards across a fleet of cars. In order to meet those standards, which have been dramatically increased under President Obama, carmakers have to make light, inexpensive cars with high fuel economy to offset their trucks and SUVs with lower fuel economy. And electric cars really help their fuel economy balance. So the companies make minimally or even unprofitable small cars and electric vehicles so they can sell their popular and profitable large products – and hope for a profit in the end. By moving their small cars to Mexico, which has skilled but cheaper labor, Ford hopes to break even or make a little profit off of them."
While the CAFE standards have increased dramatically under the Obama administration, and have also increased costs for consumers, most people don't realize that they are not set in stone. Brad Plumer, senior editor for VOX.com outlines the options: "A new president can revise them, up or down. These CAFE (corporate average fuel economy) rules are scheduled to come up for a midterm review in 2017. At that point, automakers may lobby to allow the standards to rise more slowly – particularly if sales of fuel-efficient vehicles have been sluggish due to low oil prices. Green groups, meanwhile, could push to make the standards stricter, or to have them keep increasing past 2025, to push vehicle emissions down even further."
A President Trump could, perhaps, by promising to allow car companies to make whatever kind of cars they want to make, entice Ford to keep its money in America – though, admittedly, there are other factors (such as trade deals) that make manufacturing small cars attractive in Mexico. CAFE is just one of the many policies that make doing business difficult in America.
Revising the CAFE standards, which could reduce the cost of future cars and would remove government intrusion from vehicle selection, is something Trump can do that would make doing business in America "make sense" again for U.S. car companies. For all business, let's make America a place where it makes sense to invest.
The author of Energy Freedom, Marita Noon serves as the executive director for Energy Makes America Great Inc., and the companion educational organization, the Citizens' Alliance for Responsible Energy (CARE). She hosts a weekly radio program: America's Voice for Energy – which expands on the content of her weekly column. Follow her @EnergyRabbit.
The Pecatonica River meanders its way across the northern section of Illinois as it works its way out of Wisconsin,  slowly winding toward a junction with the Rock River west of Rockford. One would think that a stream hundreds of miles away from the action couldn't be worked into a Civil War story, but author and historian John William Huelskamp succeeds in making this corner of Illinois a key player in the events surrounding the conflict. (Of course, it helps that the Commander-in-Chief at the time as well as the victorious Union general were both connected to that corner of the state in the years preceding the war.)
Huelskamp opens the tale by transporting us to the banks of the Pecatonica in 1857, introducing us to 16-year-old Will and 13-year-old Aaron as they discover the wigwam of the title along its banks. But the action doesn't just occur there – in scenes around the region, from Chicago on the east to Galena on the west, we are introduced to a number of characters whose lives will eventually be intertwined in and around the conflict. The story moves quickly through a number of historical guideposts that set the stage for what's to come, with some of the most interesting pieces being those where Abraham Lincoln is convinced to run first for Senate against Stephen Douglas and later for President as a Republican, with a band of supporters that came to be known as the "Wide Awakes."
But the wigwam was the stage over the next two years to six major characters who became the friends of the wigwam – Will and Aaron, the 15-year-old tomboy Allie, the teenage sharpshooter T.J. Lockwood and his portly fisherman friend Patrick "Trick" Kane – who become part of the pact thanks to a rare errant shot from T.J. – and Allie's 14-year-old friend Jenny Putnam. They come of age as the nation lurches closer to war, with the boys eventually joining the 93rd Illinois Regiment being recruited in the area by Jenny's father Holden Putnam.
In truth, this book could have easily been subdivided into two parts, as the onset of war changed both the tone and the pace. The second portion opens with Elmer Ellsworth,  a "friend and brother" of Allie's – who she had teased about "actin' so stiff and stuffy" in his military drill uniform at the Lincoln-Douglas debate a few years earlier – becoming the first casualty of the rebellion as he was ambushed taking down a Confederate flag from a hotel in Virginia, just across from Washington, D.C. As the hostilities escalate, several of the men of the area become part of what was the 45th Illinois Regiment, while the boys eventually join with the 93rd being formed under Colonel Putnam in August of 1862. A distraught Allie, who has fallen in love with Will, begs them not to go, but Will calmly tells her, "Allie, it is our duty to go. If we don't fight this war, who else will?"
As the 93rd heads south and becomes entangled in the campaigns in Tennessee and Mississippi, we find Jenny and Allie back home, mortified at the prospect of losing their friends – so much so that Allie concocts a desperate plan with Jenny's help to check on their welfare.
There's no question that the warfare takes its toll on those in the small towns in that region of "the Sucker State," with many of their best and brightest men never making it home or returning disfigured or mutilated. The friends of the wigwam are not spared those fates before the story ends with a reunion of some of the survivors along the Pecatonica in 1864. Huelskamp closes the loop with an afterword revealing what happened to many of the main characters, including the six friends of the wigwam.
The beauty of Huelskamp's work as a historian and writer is how the characters are brought to life. There are some accounts from those with integral parts of the story brought to us through the text itself, with Huelskamp providing photos of the actual documents from the battlefield. We get a glimpse at letters sent from the front, military orders as presented, and other documents that explain bits and pieces of the account he puts together.
But much of the work comes from his imagination as to how events could have taken place, even if some of them seem too strange to be true. As an example, the overall story of Allie's journey is one which reads as complete fiction but it was eventually documented as historical fact in the decades after the war came to an end. (However, Huelskamp had to take a measure of fictional license with her to make the overall story more clear.) It takes a long time and great deal of flipping back and forth, though, to recall where some of the characters had appeared before as the different regiments and divisions work their way through the battle southward. Huelskamp takes the broad strokes of how the battles were fought and adds in a mix of fact (based on the first-hand accounts of the letter writers and correspondents) and realistic fiction to tell a fascinating story of life as soldiers who were fighting for the cause of preserving the Union.
With the book being so full of characters, though, it seems to me a few weren't fleshed out as well as they could have. One example was the Negro boy L'il Joe, who the clan discovered hiding in the wigwam as an escaped slave before they assist him on his trek northward. Although he's later brought up in passing, we only get his story as he reports for duty (with his father and two other family members) in a colored regiment near the end of the war and in the penultimate chapter of the book. But since Joe's story wasn't followed upon, it's possible the Negro and Underground Railroad facets of the story were added as fictional tales based on the real events of the era.
In Friends of the Wigwam, Huelskamp combines all the facts and tales into a believable, riveting story that has enough twists and turns to keep you guessing how the story of each participant will end. Perhaps it's not the best summer beach book out there, but if you are into historical fiction or relish the legends of the Civil War, you will be fascinated at how interesting the people and places of this portion of the great state of Illinois became as the War Between the States played out. Those in our region who likely learned of Maryland's place in the war should be fans of this different perspective on history.
It may not be as apparent to the average American as "vacation day" patriotic holidays like Memorial Day or Independence Day, but today a small band of Salisbury residents came to City Park along the Wicomico River and celebrated the 229th anniversary of the signing and delivery of our nascent Constitution to Congress for approval. Once approved, it was sent to each of the thirteen colonies for ratification (Delaware was first, on December 7, 1787) and by the middle of the next year the requisite nine states had ratified the document, which was not yet amended with the Bill of Rights. (That would come a few years later, in 1791.)
So I arrived fashionably on time and was pleased to see the turnout.
It seems like there were a few more people than last year's gathering, and I think the morning start time (as opposed to afternoon last year) may have had something to do with that.
We were presented with a proclamation from Salisbury mayor Jake Day reiterating that the city would be celebrating Constitution Day today. Day is one of the few who could stand and say he was actively defending the Constitution as an Army officer on active duty.
The event also was the culmination of an essay contest where the top two winners were present to be honored with a certificate from the Maryland General Assembly, presented by members of the local delegation Mary Beth Carozza (who was speaking), Christopher Adams, Carl Anderton, and Johhny Mautz. The winning entry was read by Carys Hazel of Mardela High School, with runner-up Nathaniel Sansom of Salisbury Christian School also present to receive his award.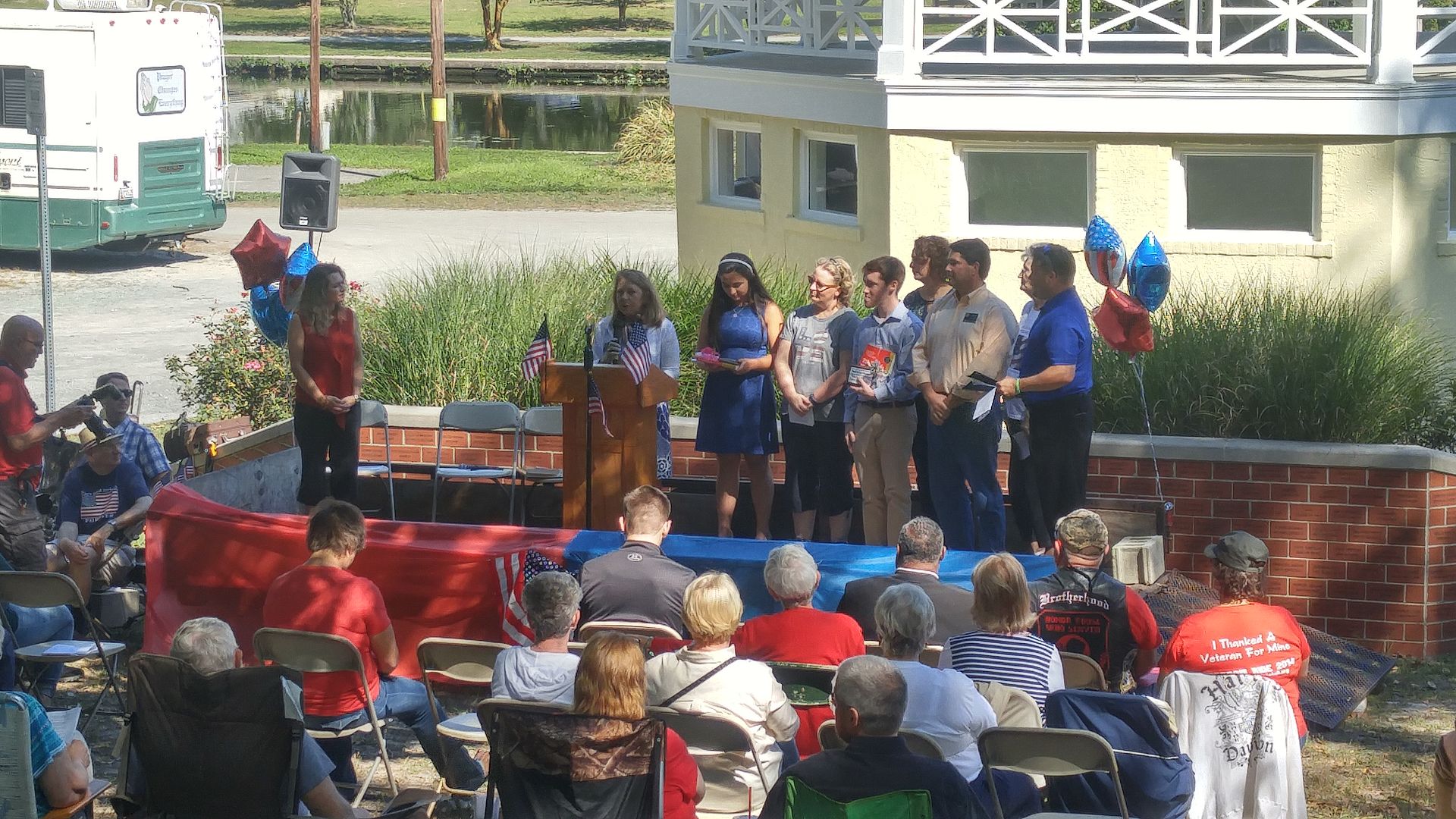 The keynote speaker was Wicomico County Sheriff Mike Lewis.
I wasn't really at the Constitution Day event to give blow-by-blow coverage, but I used the photos to both set the scene and cue up my own remarks, with the address Sheriff Lewis gave as a jumping-off point. Mike spoke at some length about the role of the military overseas and their fight against radical Islam. Certainly I understand the reason that they have embarked on such a mission, but to me it also begs a pair of questions for which we need an honest answer.
To a varying extent, the nation has been on a war footing since 9/11. In that time we have adopted the PATRIOT Act and sent thousands of troops overseas to fight against the proxy forces of radical Islam: the Taliban in Afghanistan, the Saddam Hussein regime in Iraq, and the Islamic State known as ISIS (or ISIL.) But the first question I have is: where does the balance tip too far toward security at the expense of the liberty afforded to us in the Constitution?
This question isn't really new, either: during the Civil War (or War Between the States or War of Northern Aggression, if you prefer) President Lincoln suspended the writ of habeas corpus and arrested members of the Maryland General Assembly to prevent them from meeting as a means of preserving the Union. Eight decades later, President Roosevelt interned Japanese-Americans as a result of their ancestral homeland's attack on American soil. In both instances America was in an active war within its borders or territories, but against a nation-state rather than an ideology as we are today. However, being in a state of war such that we are should not be an excuse for excess and there are many who have pondered the "War on Terror" and its response in the PATRIOT Act and whether the government is using this Long War as a flimsy excuse to consolidate power.
The idea of the government consolidating power leads to the second question: are we truly following the Constitution anymore or is this all just lip service?
Surely there are some who believe the Constitution has been eroding practically since the ink dried on the parchment. Whether they point to Marbury v. Madison being the moment where the judiciary became the most powerful of the three branches, the Civil War being the death knell for state's rights since they no longer had the right to secede if they were dissatisfied with the nation as a whole, or the Sixteenth and Seventeenth Amendments that gave the federal government taxation authority on individuals specifically prohibited in the original and ended the practice of state legislators electing Senators to represent their interests in Washington, there are a fair number that think we need to start over – perhaps with a Convention of States, otherwise known as an Article V Convention. (Years ago I contributed a couple ideas for new amendments, which are still sorely needed. Back then I had good discourse, too.)
I don't want to get into the weeds of determining the merits or problems of such a convention, but the fact that there are people who believe the Constitution needs a tune-up to fix excesses on one side or the other bolsters the argument that the government we have now is not the one originally envisioned by those men who toiled during the spring and summer of 1787 to write a replacement for the Articles of Confederation that the United States was bound to for the first decade or so of its existence. Granted, the Article V method is one prescribed in the document but there's no guarantee the amendments proposed would pass or the resulting Constitution any better for the people.
So the occasion of Constitution Day is bittersweet. Yesterday I wrote on the subject for the Patriot Post, noting that:
Contention over – and advocacy of – limitations to government based on constitutional principles has become a theoretical exercise at best, perhaps in part because few understand the ideas and arguments that were made during the drafting of our government's founding document.
Those who have sworn an oath to enlist in the military or (in my case) to take public office know that we swear to support and defend the Constitution as opposed to an oath to the United States. This is a clear distinction because the interests of the United States may vary by whoever occupies the offices of government at the time, but the Constitution is the set of ground rules which are supposed to define our nation. The key reason I resigned from the Central Committee was because I could not trust the Republican presidential nominee to support or defend the Constitution – rather, I believed he would tear the GOP from what few limited, Constitutional government roots it had remaining. Thus, I felt as a public official that supporting him was a violation of the oath I swore to the Constitution.
Many of those same men who pledged their lives, fortunes, and sacred honor to the American nation and survived the war that brought us independence were those who argued and debated the contents of the pieces of parchment that we consider our supreme law of the land. I pray that a group that is just as divinely inspired can lead us back to a nation that more closely reflects the intentions of these earliest Americans with respect to restoring a government that seeks the consent of the governed, and that those who are governed understand their responsibility in the equation as well. The fact that so few seem to have this inspiration or the desire to take this responsibility as citizens seriously may be what was most troubling about this day in the park.
When the 2015 season came to a close in early September, you may recall that the Shorebirds embarked on a project that, it was hoped, would reduce the number of games lost to weather. By stripping the field down to bare earth and reworking the entire drainage system (along with redoing the sod) I have to say the field looked very good most of the season and perhaps that may have had a little to do with the Shorebirds finishing second in the league in fielding percentage. That set of renovations, along with improved lighting, was the second of three phases in a complete renovation of Arthur W. Perdue Stadium – the first phase, completed during the 2014-15 offseason, concentrated on player amenities.
With the field complete, Delmarva was closer to the league average when it came to openings. No SAL team went without at least one rainout (Columbia, Greenville, and Hickory came the closest by having just one) but the Shorebirds had 65 openings and the league averaged 66.3 per team. However, while attendance rebounded slightly this year to 209,120 patrons, the per-game average fell by 13 fans to 3,217. Given the performance around the league, however, holding virtually steady in attendance can be regarded as a victory: only three of the thirteen returning teams increased their gate average from 2015 to 2016 and the overall league average increased by just 62 per game despite the relocated Columbia Fireflies drawing nearly twice as well as the Savannah Sand Gnats they replaced. West Virginia, Rome, and (particularly) Kannapolis saw precipitous year-over-year declines in their average draw.
The program for this offseason, though, is an ambitious one, and it's already underway.
(Photo credit: Delmarva Shorebirds)
One of the key changes will be all new seats, which includes the replacement of the bleachers that were the general admission seating with regular fold-up box seats. This can be a good thing – if the seats are the same size. While I am slowly losing pounds and inches, my concern is that the new seats may be a little bit smaller than the ones they are replacing since fewer seats fit into the original bleacher space because of armrests, so stadium capacity would decrease by some percentage. Of course, the sections can easily be rearranged to suit thanks to the way the seats were originally laid out (you just drill new bolt holes as needed.) I fit just fine into the seats that were there, thank you, so hopefully us bigger folks will have ample room on the new ones.
It's my understanding that the other key construction project is the extension of the concourse to be a 360-degree concourse, presumably at the level of the top of the outfield fence (so a home run would likely bounce on the concourse.) When I discussed this idea last year, I used another SAL park I've visited as a comparison because I recalled it also had a similar setup.
Lakewood's FirstEnergy Park has most of the same amenities as Perdue Stadium but also uses their outfield concourse for a tiki bar, pizza restaurant, and a third picnic area. It's nice but I think there are other food and drink possibilities that we could use as well, like moving one of the Dippin' Dots carts out there or adding mini-hotdog stands. If some of the areas are made a little wider, such as the triangular area near the foul poles, they can use them to set up for postgame entertainment (such as the Thirsty Thursday postgame shows of a decade ago) or pregame activities like the player autograph sessions we also haven't had in some time.
But the crowning achievement in all this will be the new videoboard. Over the last two to three years the stadium has lost use of the videoboard, the bottom section of the scoreboard (where the player information used to be) and, at times, the scoreboard itself would go on the blink. In truth, a videoboard could serve as a scoreboard with one panel reserved for that purpose. It would also be nice to have an alternate ribbon scoreboard located on the opposite end of the stadium – if the main scoreboard stays in left field, the ribbon would be placed along the first base side. Then you could linger in the outfield concourse but still be able to keep track of the score, inning, balls, strikes, and outs while watching the action.
If you look at the minor leagues from a promotional standpoint, over the last decade the trend has gone away from one-night novelty acts (like Myron Noodleman or Reggi) to a plethora of giveaways of everything from bobbleheads to hats to posters to beach towels to doormats. Fireworks continue to be a staple as well, although my perception is that the difference in attendance isn't all that great anymore – then again, I don't go to more than one or two fireworks nights a season. They've also become far more clever in figuring out ways to fill the sixteen half-innings that a normal game features with games and giveaways.
But something I think would be interesting (and it can be done with a new videoboard) is a game with no between-inning promotions, walkup music, or PA announcer. It would be sort of like those April midweek nights when there might be 300 people actually in the stands, which is neat because you can hear the players and umpires. It's probably not in the cards because it would be a promotion aimed at traditionalists like me – the guy who thinks the designated hitter and interleague play should be eliminated – but put it in the hopper.
And lastly, the concern on everyone's lips regarding the improvements to the stadium is: what's it going to cost me? They raised the parking fee this year to $4 from $3, although I've been a fan long enough to remember when parking was free. (I think some selected ticket prices went up this season, too.) But I have been told that the idea is to hold these fees steady for several years if possible, so once they go up they should be constant for 3-5 seasons.
However, if they eliminate the general admission bleachers for what I would guess is ticketed individual seats, will that now be considered a box seat? Presently there is a $5 difference per seat from general admission to reserved box. My guess is that the new box seats will have their own tier priced somewhere between the current GA price and the reserved box cost (but kept under $10 so it's still considered affordable.)
If you consider the league as a whole, it's something of a wonder that Delmarva makes it to the middle of the pack in attendance because it's among the smallest markets. (The most comparable SAL franchise in terms of population and metro area is Rome. Hagerstown and Hickory are in slightly larger cities and counties, while the city of Kannapolis is of similar size to Salisbury but lies on the edge of the much larger Charlotte metro area. The rest are significantly larger in population.) And once the thrill of getting a new team wore off after the first few years, in recent seasons the attendance has been remarkably consistent at around 3,200 per game – which translates to just over 200,000 per year.
These improvements probably won't bring back the days of 300,000 or more attending Shorebird games over the course of a season, but I think 250,000 can be a realistic expectation if the product on and off the field is improved. For the millions of dollars spent on renovations, it bears noting that each person probably spends at least $20 at the ballpark so an extra 50,000 patrons brings in at least $1 million. If you add that much value to the experience, the dollars spent on renovation will be worth it.
I had no idea until I checked out the hotel the first night I stayed here (to interview for my old job the next morning) that Salisbury even had a minor league baseball team – I basically followed the Mud Hens so I knew a little about the other Tiger affiliates and the other teams in the International League where the Toledo nine plays. Since the Shorebirds were in neither category, I was pleasantly surprised to find that out about the city I would adopt as my hometown.
To be quite honest, though, having a brand new, critically acclaimed stadium (at the time, Fifth Third Field was 2 years old) in a much larger AAA market spoiled me for Delmarva, so I was left a little bit wanting for the first season or so. It took getting used to. But now that I am here and have probably attended a couple hundred games or more, I would like them to stick around so I'm pleased to see someone else wants to improve the Shorebirds' nest and maybe make it like new again.
I can't wait to see what the old place looks like come April. But it would look a lot better with the 2017 SAL pennant on the flagpole.
Commentary by Marita Noon
People in seven states, from South Dakota to Texas, were awakened Saturday morning, September 3, by Oklahoma's most powerful earthquake in recorded history. The 5.8 tremor was centered near Pawnee, OK. Several buildings sustained minor damage and there were no serious injuries.
That we know.
What we don't know is what caused the quake – but that didn't stop the alarmist headlines from quickly blaming it on "fracking."
Green Party presidential candidate Dr. Jill Stein promptly tweeted: "Fracking causes polluted drinking water + earthquakes. The #GreenNewDeal comes with none of these side effects, Oklahoma. #BanFracking"
A headline in Forbes stated: "Thanks to fracking, earthquake hazards in parts of Oklahoma now comparable to California."
The Dallas Morning News proclaimed: "Oklahoma shuts down fracking water wells after quake rattles Dallas to Dakotas."
NaturalNews.com questions: "Was Oklahoma's recent record breaking earthquake caused by fracking?"
A report from ABC claims: "The increase of high-magnitude earthquakes in the region has been tied to the surge in oil and gas operators' use of hydraulic fracturing, or fracking…"
Citing a March 2016 report from the U.S. Geological Survey (USGS) on "induced earthquakes," CNN says: "The report found that oil and gas drilling activity, particularly practices like hydraulic fracturing or fracking, is at issue. Saturday's earthquake spurred state regulators in Oklahoma to order 37 disposal wells, which are used by frackers, to shut down over a 725-square mile area."
Despite these dramatic accusations, the science doesn't support them. The USGS website clearly states: "Fracking is NOT causing most of the induced earthquakes." An important study from Stanford School of Earth, Energy & Environmental Sciences on the Oklahoma earthquakes, which I wrote about last year, makes clear that they are "unrelated to hydraulic fracturing."
While the exact cause of the September 3 quake is still undetermined, geologists close to the research do not believe it is fracking related. (Realize 5.5 El Reno earthquake, centered near the western edge of Oklahoma City, in 1952 was from natural causes.) At a September 8 meeting on Seismicity in Oklahoma, according to Rex Buchanan, Interim director of the Kansas Geological Survey: "There was relatively little conversation about fracking and far more conversation about wastewater."
William Ellsworth, Professor (Research) of Geophysics at Stanford University, told me that while no specific information about this direct case is available: "I don't have any information that would allow me to rule out fracking. However, it is extremely unlikely. Fracking occurs for a few days at most, if at all, when the well is being finished. Wastewater injection goes on continuously for years and years."
The error in the reporting occurs, I believe, because people don't generally understand the difference between drilling and hydraulic fracturing, and produced water and flowback water, and, therefore, merge them all into one package.
Yes, it does appear that the increase in induced, or human-caused, earthquakes may be the result of oil-and-gas development, yet totally banning fracking, as Stein and Hillary Clinton support, would not diminish the tremors.
First, not every oil or gas well is drilled using hydraulic fracturing. As Ellsworth mentioned, fracking is a part of the process used on some wells. However, much of the drilling done in the part of Oklahoma where the seismic activity first occurred is conventional and doesn't involve fracking – which provided a premise for the Stanford researchers' study.
When a well uses the hydraulic fracturing enhanced recovery technology, millions of gallons of water, plus sand and chemicals, are pumped into the well at high pressure to crack the rock and release the resource. When the oil or gas comes up from deep underground, the liquids injected come back to the surface too. This is called flowback water. That water is separated from the oil and/or gas and may be reused, recycled (as I wrote about in December), or disposed of in deep wells known as injection wells – which are believed to be the source of the induced seismic activity.
"Ha!" you may think, "See, it is connected to fracking." This brings the discussion to produced water – which is different from flowback water.
This type of wastewater is produced at nearly every oil and gas extraction well – whether or not it is fracked. The water, oil, and gas are all "remnants of ancient seas that heat, pressure and time transformed," explains Scott Tinker, Texas' state geologist and director of the University of Texas at Austin's Bureau of Economic Geology. He continues: "Although the water is natural, it can be several orders of magnitude more saline than seawater and is often laced with naturally occurring radioactive material. It is toxic to plants and animals, so operators bury it deep underground to protect drinking-water supplies closer to the surface." In Oklahoma, the wastewater is often injected into the Arbuckle formation.
While the hydraulic fracturing process is typically only a few days, the produced water can be brought to the surface with the oil and/or gas for years. With the increased oil and gas extraction in the past several years – before the 2014 bust, the volumes of wastewater also soared. In parts of Oklahoma, ten barrels of wastewater are produced with every barrel of oil. Scientific American reports that some of those high-volume injection wells "absorbed more than 300,000 barrels of water per month."
The authors of the Stanford study were "able to review data about the amount of wastewater injected at the wells as well as the total amount of hydraulic fracturing happening in each study area, they were able to conclude that the bulk of the injected water was produced water generated using conventional oil extraction techniques, not during hydraulic fracturing," writes Ker Than for Stanford. Professor Mark Zoback, lead author of the study states: "We know that some of the produced water came from wells that were hydraulically fractured, but in the three areas of most seismicity, over 95 percent of the wastewater disposal is produced water, not hydraulic flowback water." Ellsworth agrees. Last year, he told the Associated Press: "The controversial method of hydraulic fracturing or fracking, even though that may be used in the drilling, is not physically causing the shakes."
So, if banning fracking won't stop the shaking, what will? The geologists contacted for this coverage agree that more work is needed. While the quakes seem to be connected to the wastewater injection wells, there are thousands of such wells where no discernable seismic activity has occurred. Oklahoma has been putting new restrictions on some of its thousands of disposal wells for more than a year to curb seismic activity and that, combined with reduced drilling activity due to low prices, has reduced the rate of the tremors. In Texas, when the volumes of wastewater being injected into the vicinity of that state's earthquakes were reduced, the earthquakes died down as well. Other mitigation strategies are being explored.
Jeremy Boak, director, Oklahoma Geological Survey, told me: "The Oklahoma Geological Survey is on record as concluding that the rise from 1-2 M3.0+ earthquakes per year to 579 (2014), 907 (2015) and the current 482 (to date in 2016) are largely driven by increased fluid pressure in faults in the basement driven largely by injection of water co-produced with oil and gas and disposed of in the Arbuckle Group, which sits on top of basement. Both the increase and the current decreasing rate appear to be in response to changes in the rate of injection.  There are natural earthquakes in Oklahoma, but the current numbers dwarf the inferred background rate."
Interestingly, most of the aforementioned reports that link fracking and earthquakes, ultimately acknowledge that it is the wastewater disposal, not the actual hydraulic fracturing, that is associated with the increased seismic activity – but, they generally fail to separate the different types of wastewater and, therefore, make the dramatic claims about fracking.
Boak emphasized: "There are places where there are documented cases of earthquakes on individual faults occurring very near and during hydraulic fracturing operations, including one published case in Oklahoma.  These are generally small earthquakes, although some larger ones (M4.0+) have occurred in British Columbia.  Therefore, it is technically very important to maintain the distinction between injection-induced and hydraulic fracturing-induced earthquakes, or we may take the wrong action to solve the problem.  Should the OGS and Oklahoma Corporation Commission (OCC) staff find further Oklahoma examples of such earthquakes, the OCC will take action.  The current issue of injection-induced seismicity must take precedence."
When you hear supposedly solid sources blaming hydraulic fracturing for earthquakes, remember the facts don't support the accusations. Fracking isn't causing Oklahoma's increased earthquakes.
The author of Energy Freedom, Marita Noon serves as the executive director for Energy Makes America Great Inc., and the companion educational organization, the Citizens' Alliance for Responsible Energy (CARE). She hosts a weekly radio program: America's Voice for Energy – which expands on the content of her weekly column. Follow her @EnergyRabbit.
I do not live in the First State of Delaware, but I work there as does my wife. So despite the fact I have no vote in the process, to me tomorrow's primary is important enough to devote a post to. As originally intended, I had a pair of questions to ask of each of the four gubernatorial candidates regarding development and job creation that I sought their answer to so I e-mailed them to each candidate and listed it as a press inquiry. For the record, I only received a response from the campaign of Republican Colin Bonini asking for my phone number to do an interview. But I decided that wouldn't be right to be that one-sided, nor am I a great fan of not having answers in writing. So this piece became more of a general overview.
In a political sense, Delaware is a lot like Maryland: dominated by Democrats who live in one heavily-populated area of the state, while the downstate area is more Republican and conservative. To buttress that point, Democratic gubernatorial candidate (and current Congressman) John Carney was born and lives in the Wilmington area while the two Republicans facing off to oppose him, State Senator Colin Bonini and businesswoman Lacey Lafferty, live in Kent and Sussex counties, respectively.
And in John Carney you also have a Ivy League liberal who's been in government for most of his adult life as an appointee who moved up to Lieutenant Governor for two terms but was defeated in his effort to succeed his "boss" (in a manner of speaking, since the positions are elected separately in Delaware) in the 2008 Democratic primary by current Governor Jack Markell. Undaunted, John just waited until the opening came in 2010 to run for Congress since then-Rep. Mike Castle opted to run for the Senate seat that opened up when Joe Biden became Vice President. (The seat had a placeholder appointee until the 2010 election, which was to finish the last four years of Biden's term. This was the primary Castle lost to Christine O'Donnell.) John Carney won the Delaware Congressional seat Castle was vacating and probably would have been happy to stay in Congress except that Joe Biden's son Beau, who was the odds-on favorite to run for and win Delaware's highest office in 2016, passed away from cancer last year. So Carney seems to be the recipient of the "Delaware Way" of particular officeholders cycling between political jobs.
One thing I noticed in taking a cursory read of Carney's campaign site: he uses the word "invest" a lot. Those in the know realize this means a LOT more government spending and that, to me, is bad for business. Higher taxes aren't the way to attract the clientele that keeps my employer going, either.
But the winner of the GOP primary faces the long odds of trying to overcome Carney, who has name recognition aplenty and will certainly be burning up our local airwaves in the next couple months since Salisbury (and Rehoboth Beach, where the local NBC affiliate's broadcast orignates) is actually the TV market serving southern Delaware.
It's a contest between a man who has been in political office since 1994 (and was elected at the age of 24, meaning he has spent nearly half his life in office) and a woman who apparently began her run almost as soon as the votes were counted from the 2012 gubernatorial election.
There are definitely some things to like about Colin Bonini: he has the good idea to make Delaware a right-to-work state and would encourage the streamlining of state government by offering longtime employees an early retirement package. Legislatively, he has ranked as the most conservative legislator in the Senate (although out of 21 that may not be the greatest achievement.) However, he has the luxury of running from cover as his legislative seat isn't up for election this time and, quite frankly, this may not be the year for entrenched politicians on the Republican side.
At least that's what Lacey Lafferty is hoping for. Now I have heard Lafferty on the radio a couple times (since I often listen to Delaware talk radio) and she seems to have the political style people associate with Donald Trump insofar as running as an outsider. (Like Trump, she was once a Democrat, too.) And the rhetoric isn't far off, either:
Sen. Bonini is the choice of the establishment, but Ms. Lafferty believes she will win.

She's been critical of her primary opponent, referring to him on Twitter as "lazy" and a "buffoon." Sen. Bonini represents part of a failed political culture, Ms. Lafferty said, noting he did not officially unveil his campaign until recently.

"This is what people are sick of," she said. "They're tired of this. They want somebody that they can depend upon."

Sen. Bonini has referred to her as a "fringe candidate," and more recently, he stressed Republican voters should select the person with "the best chance to win in November."

As of Aug. 14, he had about $66,000 on hand, while Ms. Lafferty had $4,400.

Delaware State University professor Sam Hoff foresees Ms. Lafferty pulling in about 15 percent of the primary vote, largely from more left-leaning Republicans.
Apparently there aren't a lot of polls done in Delaware, but the poll I did find has the race at 29-22 Bonini. And since I have heard Lafferty identify with Trump on several occasions, I don't think she would be t
he choice of "left-leaning" Republicans.
I have to give credit to Lafferty for working hard to build a grassroots campaign, with the best philosophical idea I noted from her being that of stressing vocational education. I agree that not all students are college material, but those who can work with their hands and aren't afraid of a little effort can succeed quite well in life. She has quite the distinctive yard signs, too. (Don Murphy would hate them but you have to admit they are artistic.) And I see quite a few of them driving around Sussex County.
So Republican voters of Delaware have an interesting choice to make tomorrow for governor. They can pick the candidate who has lots of experience in lawmaking and owns a very conservative voting record; someone who is likely perceived as the safe choice but may not have the appeal for people to cross party lines.
Or they can select someone who is, to be honest, more of a wild card. We have no idea whether she will be polished on the stump or self-destruct when the people begin to pay attention. It's possible she was a tough-talking conservative the entire campaign but finds out there's not the waste, fraud, and abuse she thinks there is in state government – not to mention has to deal with Bonini as a state senator who would have to push her agenda.
I would be remiss if I didn't note there will be other candidates on the November gubernatorial ballot, including Libertarian Sean Goward – who may be hoping for a boost from the national ticket with Gary Johnson polling in the high single digits. Goward hasn't been one to update his website much, though.
On the other hand, the contest for Lieutenant Governor is solely on the Democratic side, as La Mar Gunn is the only GOP stalwart to run. (He's best known for "losing" the Kent County Recorder of Deeds race in 2014 by two votes – the first recount that the Democratic incumbent Betty McKenna won after Gunn won on Election Day by two votes and won two recounts by similar – but not those exact – margins.) Between the six candidates on the Democratic ballot (Sherry Dorsey Walker, Brad Eaby, Greg Fuller, Bethany Hall-Long, Kathy McGuiness, and Ciro Poppiti) you find varying levels of political experience but more or less the same amount of liberalism – basically peas in a pod.
There's also a Congressional race with one Republican (Hans Reigle), one Libertarian (Scott Gesty), and (again) six Democrats – Sean Barney, Mike Miller, Lisa Blunt Rochester, Bryan Townsend, Scott Walker, and Elias Weir. In looking through their positions, this November you can decide between Reigle, who seems to me a right-of-center sort who would probably fall midway between the most conservative and liberal Republicans in Congress, the fairly classic small-government, non-interventionist Libertarian Gesty, and the Democrat who will be way left of center whoever he or she is. Again, peas in a pod.
I'm not involved with the Delaware Republican Party, but it seems to me they have a harder time getting candidates than even our loony-bin left state of Maryland does. In one respect this prevents bitter primary fights, but there's also the aspect of leaving rank-and-file voters out of the decision. Between the statewide races this year (governor, lieutenant governor, insurance commissioner, and Congressman) the Republicans only have six candidates on the ballot. Democrats match that in either of two prominent races. Note that the voter registration numbers are less dire in the First State compared to Maryland – in Delaware only 48% are Democrats, 28% Republican, and 24% "others." (There are more Democrats in New Castle County, however, than Republicans or "others" in the entire state.)
Unlike Maryland politics, I look at the situation in Delaware as an interested observer rather than an erstwhile participant because, as I said up top, I work in the state. But as one who lives across the Transpeninsular Line I think I speak for the people of Delaware who want their state to succeed. Above all, I want it to be attractive to new residents and prosperous for those already there because that helps to make my paycheck, so vote wisely in the primary.
Since the inception of this website I have written a 9/11-themed piece almost every year (I skipped 2006, which was the first year monoblogue existed.) If you're interested in my personal 9/11 story I wrote it back in 2007.
But now that we have made it to year 15, I think the more apt paragraph is that which I wrote a year ago for the Patriot Post. This was part of my original submission but edited out for length. It's still the truth, though.
As time passes away from the 9/11 attack, we tend to forget that those who best recall the horrific day as working adults are becoming less and less a part of the prevailing culture. The fall of the World Trade Center occurred just before my 37th birthday; in a week I turn 51. On the other side, those entering college this year were toddlers at the time and may not recall the shock we felt as adults.
Add another year to those totals (since I'll turn 52 in a couple weeks) and realize that a child born on that date is most likely a high school sophomore now. Those in our high schools and college now were probably too young to remember their experiences that day – maybe the college seniors will think about how it affected their nap time in kindergarten (if they still do that anymore.) For them, the link is now their history books or their parents, not personal experience.
And as that generation comes to adulthood, they have also been soured on the patriotism and purpose that accompanied our fight against radical Islam, to the point where neither Hillary Clinton nor Donald Trump wishes to commit a great deal of resources to the effort; rather they would use surrogates to do the actual fighting. It's a far cry from the thousands who signed up for the military to take the fight to Osama bin Laden in the weeks after the World Trade Center and Pentagon were targeted. Rather than patriotism, kids now emulate the custom of kneeling during the National Anthem as a form of protest.
While we haven't had an attack equivalent to 9/11 recently, the threat from radical Islam is still there. Since our last observance of Patriot Day Americans were gunned down by Islamist radicals in San Bernardino and Orlando, with other major incidents abroad in Paris, Indonesia, and Istanbul, just to name a few. The world remains a dangerous place and we live in interesting times.
The fact that Pearl Harbor Day and 9/11 occurred almost sixty years apart provides the opportunity to make one direct parallel. While Islamic terrorism is still a campaign issue 15 years after 9/11, we expended a lot of blood and treasure over the following four years after Pearl Harbor, with one of those war heroes successfully being re-elected President in 1956. There was a finality to World War II because the opponent was a governmental entity – once the regimes in Imperial Japan and Nazi Germany surrendered, the war came to an end. But in this case there may not be an end for generations. A decisive military defeat could hasten the process, but subduing this threat isn't solely a military process, just a piece of the puzzle. By definition, terrorist attacks aren't conducted by military forces but by civilians who may use military-style tactics.
So we once again come to the anniversary and remembrance of 9/11, an occasion that almost 1/4 of our population (73.6 million) has little to no memory of because they are under the age of 18. Some of the timeless images will remain, but the actual memories of how Americans were affected will be lost as those who were of Social Security age back then are passing away – this was the generation that fought in Korea and World War II, and we are losing them by the hundreds daily. The rest of us are getting older too.
Let's just hope that we aren't simultaneously losing our collective identity as a liberty-loving nation thanks to the threat presented by the terrorists. In the end, that may be the legacy of 9/11 we have to reject.